---
Traditional bakeries in Singapore
---
Let's face it, traditional bakeries are becoming few and far between. Like our hawker experts, masters of past generations have spent more of their lives handcrafting delicious eats, but they are having a tough job finding successors. It's time to check out these old-school shops and have a taste of their signature item before it's too late.
---
1. Banana pie at Dona Manis Cake Shop
---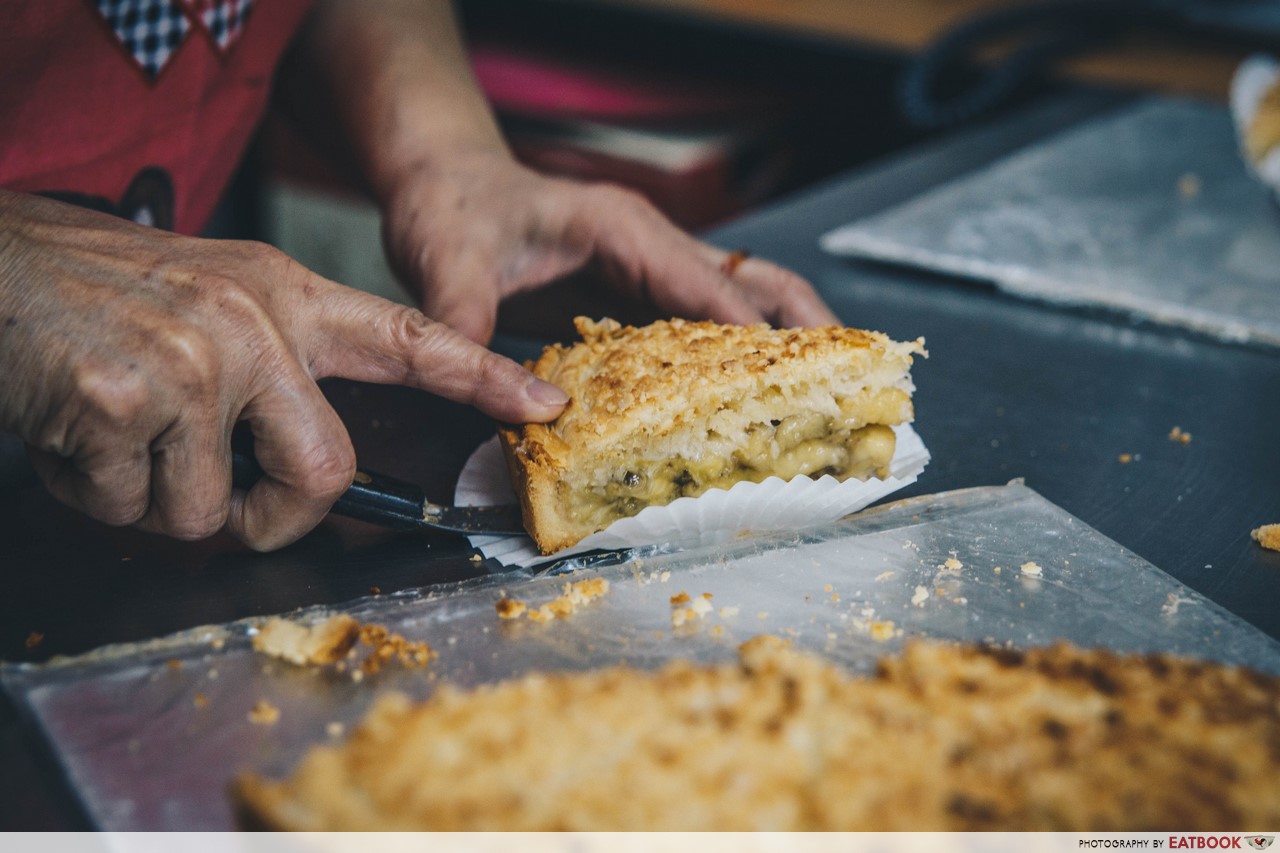 Dona Manis Cake Shop is a humble store that has been in the basement of Katong Shopping Centre for over 20 years. Run by a married couple, the banana pie ($25 per pie, $2.50 per slice) here is considered a not-so-secret gem of the East. The warm, buttery pie is filled with chunks of banana and sprinkled with nuts for a crunchy texture. Their pies and pastries are handmade and baked every day, so you know you're getting them fresh.
Address: 865 Mountbatten Road, #B1-93, Katong Shopping Centre, Singapore 437844
Opening hours: Tue-Sat 10am to 6pm, Sun-Mon 10am to 5pm
Tel: 6440 7688
Website
---
2. Peanut candy at Sze Thye Cake Shop
---
Sze Thye Cake Shop's owner Koh Sun Liang has been making traditional Chinese sweets for more than 57 years. He and his father picked up their skills from the original owners of Sze Thye Cake Shop, and years later his father took over. The business was then passed down to Mr Koh in 1999. The peanut candy ($1.20) here is a must-try. Everything is made from scratch by Mr Koh.
Address: 2 Beach Road, #01-4795, Singapore 190002
Opening hours: Daily 9am to 8pm, closed on the first day of Chinese New Year
Tel: 6337 7010
---
3. Chocolate fudge cake at Lana Cakes
---
Many would speak fondly about childhood memories of eating Lana Cakes' bakes, and if you don't, it's time to remedy that. Chef Violet Kwan has been making her beloved Chocolate Fudge Cakes ($42 for a 800g cake) for more than 40 years at a small bakery in Bukit Timah. Each cake comes with two layers of moist chocolate sponge coated with rich, velvety chocolate fudge.
If you're heading down to Lana Cakes, check out cafes at Bukit Timah or cheap food at Bukit Timah as well!
Address: 36 Greenwood Avenue, Singapore 289239
Opening hours: Wed-Fri 10:30am to 5:30pm, Sat 10:30am to 4:30pm
Tel: 6466 8940
Website
---
4. Ang ku kueh at Lek Lim Nonya Cake Confectionery
---
Lek Lim Nonya Cakes started in 1967, after Mr Leck and his wife learned how to make kueh from a Peranakan teacher. They opened their shop in 1987, when ang ku kueh started to make appearances at first-month celebrations for babies. The shop is now run by third-generation owner Gavan Sing, who is the founder's grandson. Besides the must-try ang ku kueh ($0.50), another popular item at Lek Lim is nine-layered cake ($1.40), which has 10 layers instead of the usual nine. The shop is now halal-certified.
Address: 84 Bedok North Street 4, #01-21, Singapore 460084
Opening hours: Mon-Sat 4am to 6pm, Sun 4am to 2pm
Tel: 6449 0815
Website
---
5. Putu piring at Traditional Haig Road Putu Piring
---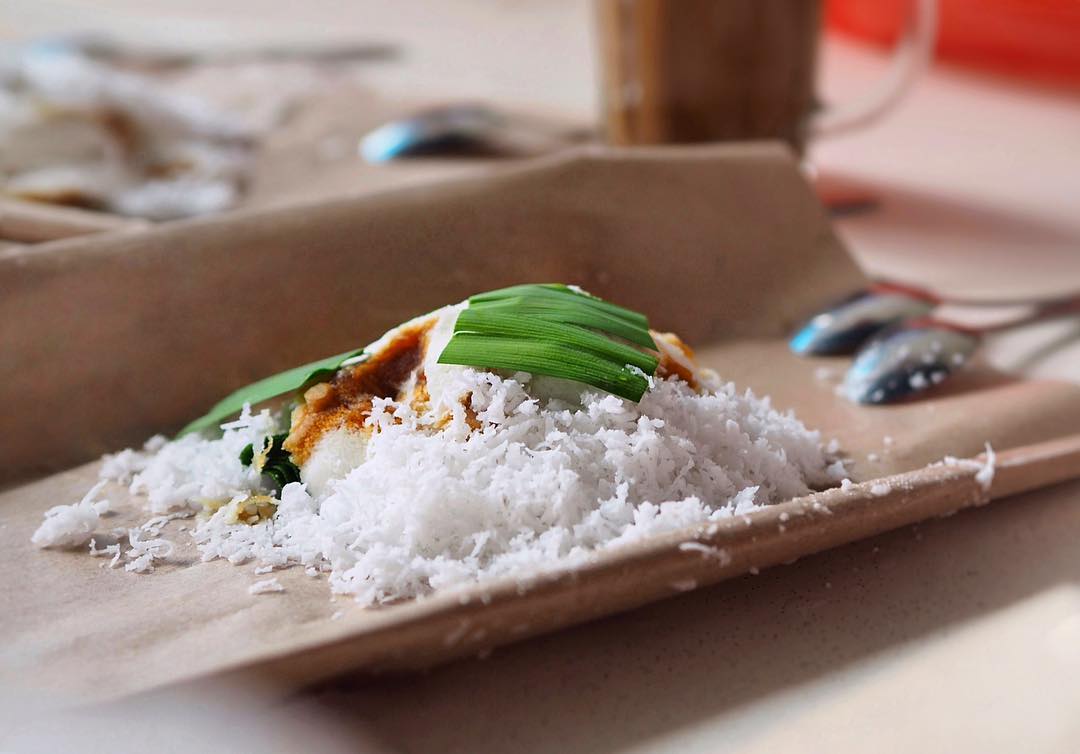 Similar to kueh tutu, putu piring is a steamed treat made with rice flour. Unlike kueh tutu, however, it is usually filled with palm sugar instead of peanuts or coconut. Each putu piring ($2 for five pieces) from Traditional Haig Road Putu Piring comes with a core of gula melaka and is topped with freshly-grated coconut shavings and pandan leaves. Eat it while it's hot to get a taste of the warm, gooey gula melaka!
Address: 970 Geylang Road, #01-12, Singapore 423492
Opening hours: Mon-Thur 11am to 10pm, Fri-Sat 11am to 11pm, Sun 10am to 10pm
Tel: 9456 7573
Website
---
6. Cream horn at Balmoral Bakery
---
Once the trendiest pastry in Singapore, cream horns are quite difficult to find these days, which makes Balmoral Bakery's cream horns ($1.40) a gem. The bakery opened in 1965 and moved to their current location at Sunset Way in 1984. A variety of classic English treats are available here and their Beef Pies ($2) are much raved about as well.
Address: 105 Clementi Road Street 12, #01-06, Singapore 120105
Opening hours: Daily 9am to 8pm
Tel: 6779 2064
Website
---
7. Egg tart at Tong Heng

---
Like many on this list, Tong Heng's employees continue to make their pastries by hand despite the invention of machines that can do the same. Owner Ana Fong is the fourth-generation to run the shop founded by her great-grandfather. Started in the 1920s, the pastry shop is famous for their diamond-shaped egg tart ($1.60), which comes with a flaky, buttery crust and smooth egg filling.
Address: 285 South Bridge Road, Singapore 058833
Opening hours: Daily 9am to 10pm
Tel: 6223 3649
Website | Full list of outlets
---
8. Mini muffin at Ng Kim Lee Confectionery

---
Ng Kim Lee is a treasure trove of cakes, puffs and their signature mini muffins ($0.50 each). These muffins come in classic flavours such as chocolate, blueberry and lemon. Their pandan chiffon cake ($1.20 per slice) is fluffy, fragrant and definitely worth a try too. Prices are cheap, so you can snack all you want on their array of baked goods!
Address: 4 Chun Tin Road, Singapore 599591
Opening hours: Mon-Sat 9am to 9pm, Sun 9am to 1pm
Tel: 6466 3515
---
9. Kaya toast at Chin Mee Chin Confectionery 
---
Started in 1925, Chin Mee Chin is like the mother of all traditional kaya toast joints. Start your day with a kaya toast and eggs set ($3.90) that looks different from what you'd usually get elsewhere. Instead of rectangular toasts, they serve round charcoal-grilled buns that are made in-house. Each bun is split in half and spread with kaya and a square of butter – simple but satisfying.
Address: 204 East Coast Road, Singapore 428903
Opening hours: Tue-Sun 8am to 4:30pm
Tel: 6345 0419
---
10. Bread at Sing Hon Loong Bakery
---
Yes, plain old bread is on this list because not many places can do it like Sing Hon Loong does. This frills-free bakery specialises in loaves of white bread with no fancy-schmancy toppings or fillings. Like clockwork, freshly-baked bread never seems to stop coming out from their ovens 24/7. Customers can choose to have their pillowy loaves spread with butter, kaya or peanut butter at the shop at $6 per loaf. For those who want more, a variety of flavoured buns and loaves are also available. 
Address: 4 Whampoa Drive, Singapore 327715
Opening hours: Daily 24 hours
Tel: 6256 0878
Website
---
Get old-school goodies at these bakeries
---
When you're bored of cafe-hopping, opt for these unassuming bakeries that have been plying their trade for years. After all, their decades of experience have allowed them to optimise their recipes, so you can be sure you're getting the good stuff. Let us know if we missed out your favourite old-school bakery!