---
The best of Alexandra Village Food Centre
---
Alexandra Village Food Centre is one of those food centres with tons of good food yet not as much of a hype as compared to Newton Food Centre or Old Airport Road Food Centre. Perhaps most famed for starting the battle for the best avocado juice, Alexandra Village Food Centre has plenty more to offer, including its famous claypot laksa. Here's a list of the stalls to visit when you're there!
---
1. Depot Road Zhen Shan Mei
---
Depot Road Zhen Shan Mei has made a name for itself selling Claypot Laksa ($4.50). Not only has it been one of Singaporeans' go-to laksa places for years, but it was also  awarded the Michelin Bib Gourmand last year. The laksa has a spicy, lemak gravy that stays warm throughout your meal and retains its spiciness because of the clay pot it is served in.
Find out what else is on the Michelin Bib Gourmand list.
Unit no: #01-75
Opening hours: Mon-Sat 9am to 5pm
Tel: 9088 9203

---
2. Lau Phua Chay Authentic Roasted Delicacies
---
If you're in the mood for roast meats, Lau Phua Chay Authentic Roasted Delicacies has got you covered. Whether it be duck, roast pork, or char siew, the succulent meats coated in their highly-praised duck sauce make for a comforting plate of rice. Pour some chilli over and slurp up the accompanying soup for a satisfying meal.
Unit no: #01-20
Opening hours: Sun-Fri 11am to 7pm
Tel: 9663 6862

---
3. Shanghai La Mian Xiao Long Bao
---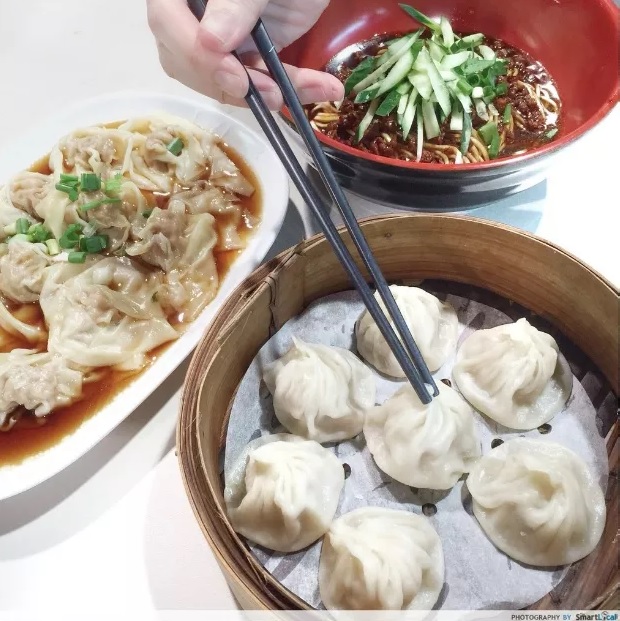 It's no surprise that the queue snaking outside Shanghai La Mian Xiao Long Bao is for their xiao long bao ($4.50 for seven pieces). But in addition to that, their spicy wanton is also highly raved about. Priced at $4 for 10 pieces, the plate of wanton comes sitting in a pool of spicy vinegar sauce, and is topped with even more chilli. However, the heat is not too overpowering, and balances out the sweetness of the dumplings.
Unit no: #01-56
Opening hours: Tue-Sun 11:30am to 8:30pm
Tel: 9737 9936
Website
---
4. Old Punggol Satay
---
Satay is one of my personal hawker food favourites, and few do it as well as Old Punggol Satay. With the choice of chicken, mutton, or pork satay at $0.50 per stick, you'll be able to satisfy the requests of everyone at the table. They also sell ketupat ($0.50 per piece), and infuse pineapple into their peanut sauce for a thicker, more flavourful gravy.
Unit no: #01-52
Opening hours: Daily 12pm to 8:30pm
Tel: 9677 0074
---
5. Dover Road Kai Kee Wanton Noodle

---
Wanton noodles is without a doubt one of Singaporeans' most-loved comfort food. With prices starting from $2.50, the wanton noodles from Dover Road Kai Kee is sure to win you over. Slippery wanton skins filled with well-flavoured minced meat, char siew with the just right amount of charred bits, and springy noodles coated in chilli, oil, and vinegar make for a near-perfect bowl of noodles.
Unit no: #01-09
Opening hours: Wed-Mon 7am to 4pm
---
6. Star Yong Kwang BBQ Seafood
---
Stalls selling BBQ stingray in Alexandra Village Food Centre are aplenty, but the one that stands out among its competitors is Star Yong Kwang BBQ Seafood. Other than their constantly fluctuated prices, their food seems to be pretty well loved. A portion of BBQ Stingray ($20) gives you thick, fleshy stingray coated in their intense sambal belachan, one that people keep coming back for over the years. Another dish you must try here is Salted Egg Prawns ($26). 
Unit no: #01-04
Opening hours: Daily 4:30pm to 10:30pm
Tel: 9247 2018
---
7. Mr Avocado Exotic Fruit Juice

---
Mr Avocado was the first stall selling avocado juice ($2.50) at Alexandra Food Village. It rose in popularity very quickly, and other stalls selling the same drink started popping up left, right and centre. Not only did Mr Avocado popularise the drink, but he also brought Alexandra Village Food Centre into the limelight too, for a full-out war between hawkers for the best avocado juice. Made from a blend of creamy avocado and gula melaka, this juice is thick, much like a milkshake, and many still swear by Mr Avocado over the rest. The only way to see if it really does live up to its hype is to try it for yourself!
Unit no: #01-19
Opening hours: Mon 11am to 9pm, Tue-Sun 11am to 7pm
---
8. Seng Heng Carrot Cake

---
Whether you prefer black carrot cake or white, Seng Heng Carrot Cake does a pretty good rendition of them both. Their house-made kueh is moist and fluffy, and combined with the good ratio of egg. It's not too greasy and comes with chilli that has just the right amount of kick. Their white carrot cake is more popular, but if you prefer the black version, their sweet sauce nicely complements the dish as well. Prices range from $2.50 to $5.
Unit no: #01-24
Opening hours: Mon-Sat 5pm to 11pm

---
9. Tiong Bahru Lien Fa Shui Jing Pau
---
Famous for their crystal dumplings ($0.60 per piece), Tiong Bahru Lien Fa Shui Jing Pau requires you to place your order at least an hour before it's ready for collection. They have several options, including yam paste, sweet bean, and vegetables – all of which are popular among regulars. It's no wonder this stall is listed in 2016's Michelin Guide.
Unit no: #01-10
Opening hours: Tue-Sat 8:30am to 3pm
Tel: 6274 5561

---
10. New Market Teochew Duck Rice
---
Despite selling an array of braised food, the main thing patrons keep coming back for at New Market Teochew Duck Rice is, unsurprisingly, their duck rice. A runny gravy drenches duck meat that is sliced thinly to allow the flavour of the gravy to be fully absorbed. As important as the duck meat and braising sauce is the accompanying chilli sauce, which this stall has nailed. A mixture of chilli, garlic, vinegar, and lime, their dipping sauce is something you'd definitely come back for.
Unit no: #01-84
Opening hours: Fri-Wed 11am to 3pm
Tel: 9384 0959

---
An alternative to IKEA
---
If somehow you get bored of the food at IKEA, or want a change from what's offered at Queensway Shopping Centre, try giving some of these stalls at Alexandra Village Food Centre a shot. Let us know down below which stall is your favourite!
Address: 120 Bukit Merah Lane 1, Singapore 150120
Nearest MRT Station: Queenstown