Zhen Shan Mei Claypot Laksa at Bukit Merah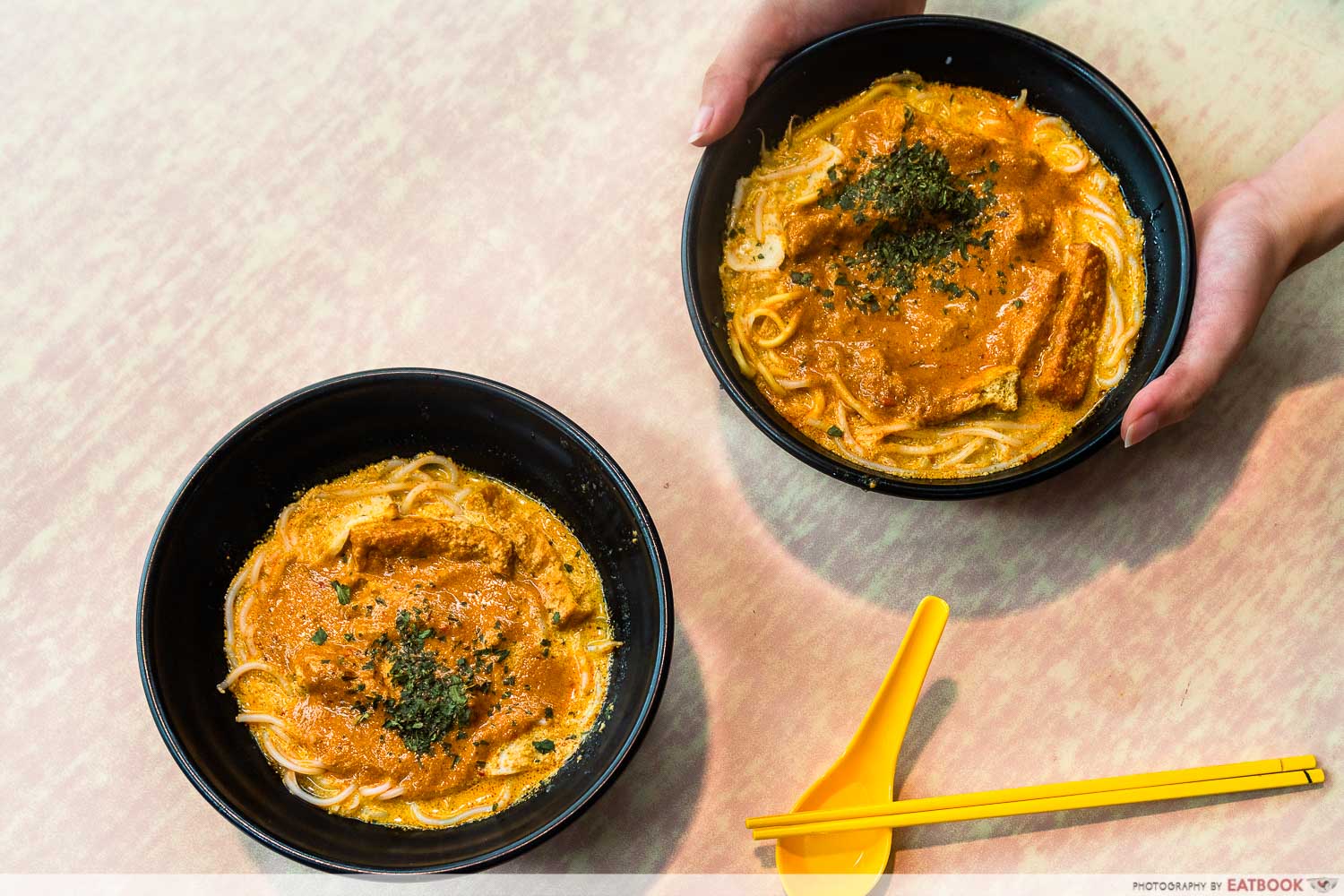 If, like me, you're a sucker for good laksa, a bowl of its thick, lemak broth and noodles is enough to lift your spirits on a gloomy day. Thus, I jumped at the chance to visit Depot Road Zhen Shan Mei Claypot Laksa at Alexander Hawker Centre, known for serving comforting laksa in a claypot.  
I have to address the elephant in the room—this 'claypot' laksa isn't served in a claypot as you would expect, but in a normal bowl. We found out that the owner of Depot Road Zhen Shan Mei Claypot Laksa has ceased to serve her laksa in a claypot, though we were not able to find out why━effectively becoming 'Depot Road Zhen Shan Mei Laksa'. 
Food at Depot Road Zhen Shan Mei Laksa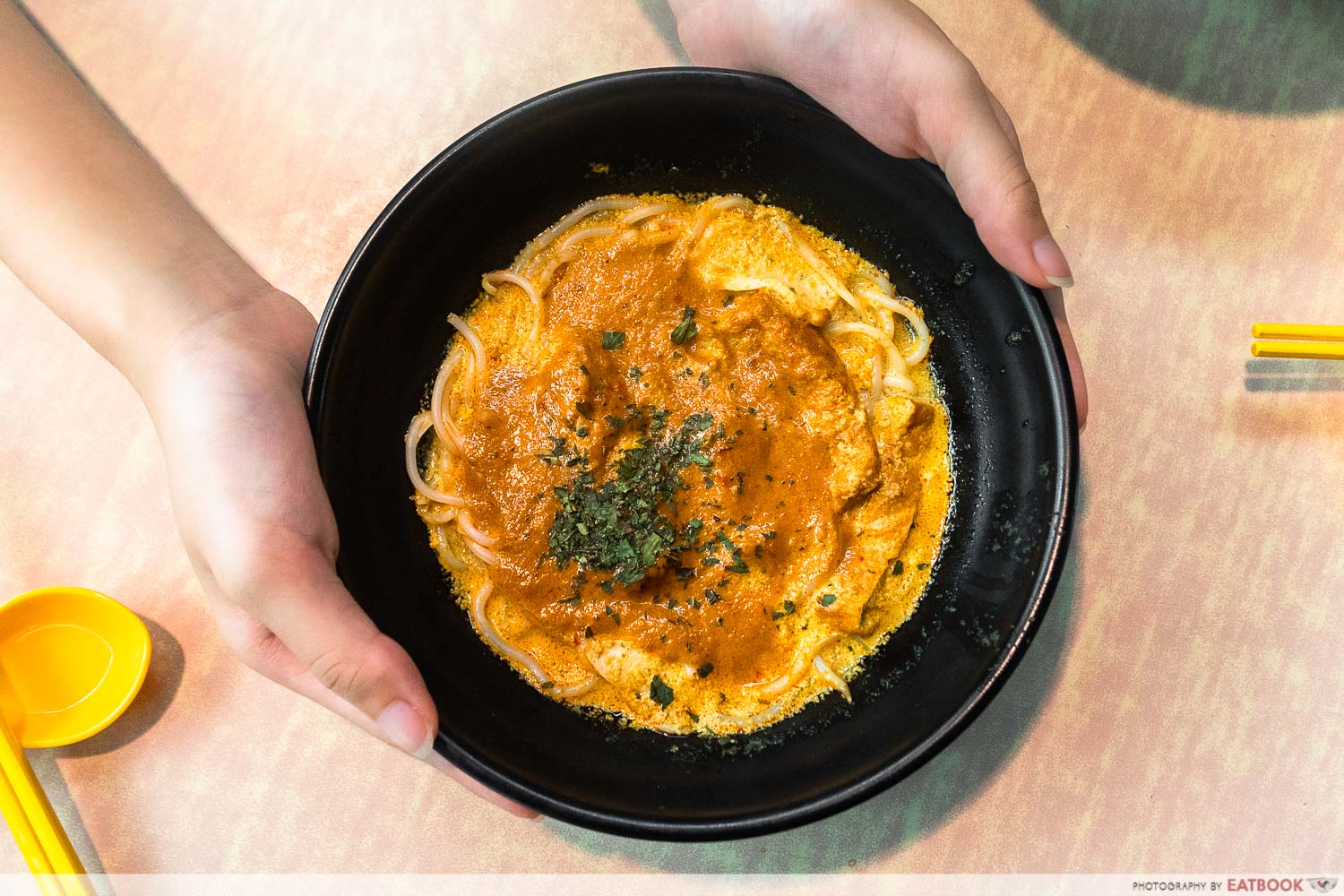 Zhen Shan Mei offers their laksa in three sizes—small, medium and large at $4.50, $5.50 and $6.50 respectively. For the sake of comparison, we got their small ($4.50), and large ($6.50) bowls. The small portion is ideal for small eaters, or if you're looking for a quick snack. 
Thick bee hoon was our choice of noodles for this bowl, and is definitely my top pick overall. The smooth texture and mouthfeel of the slippery bee hoon made it much easier and more enjoyable to slurp up than yellow noodles.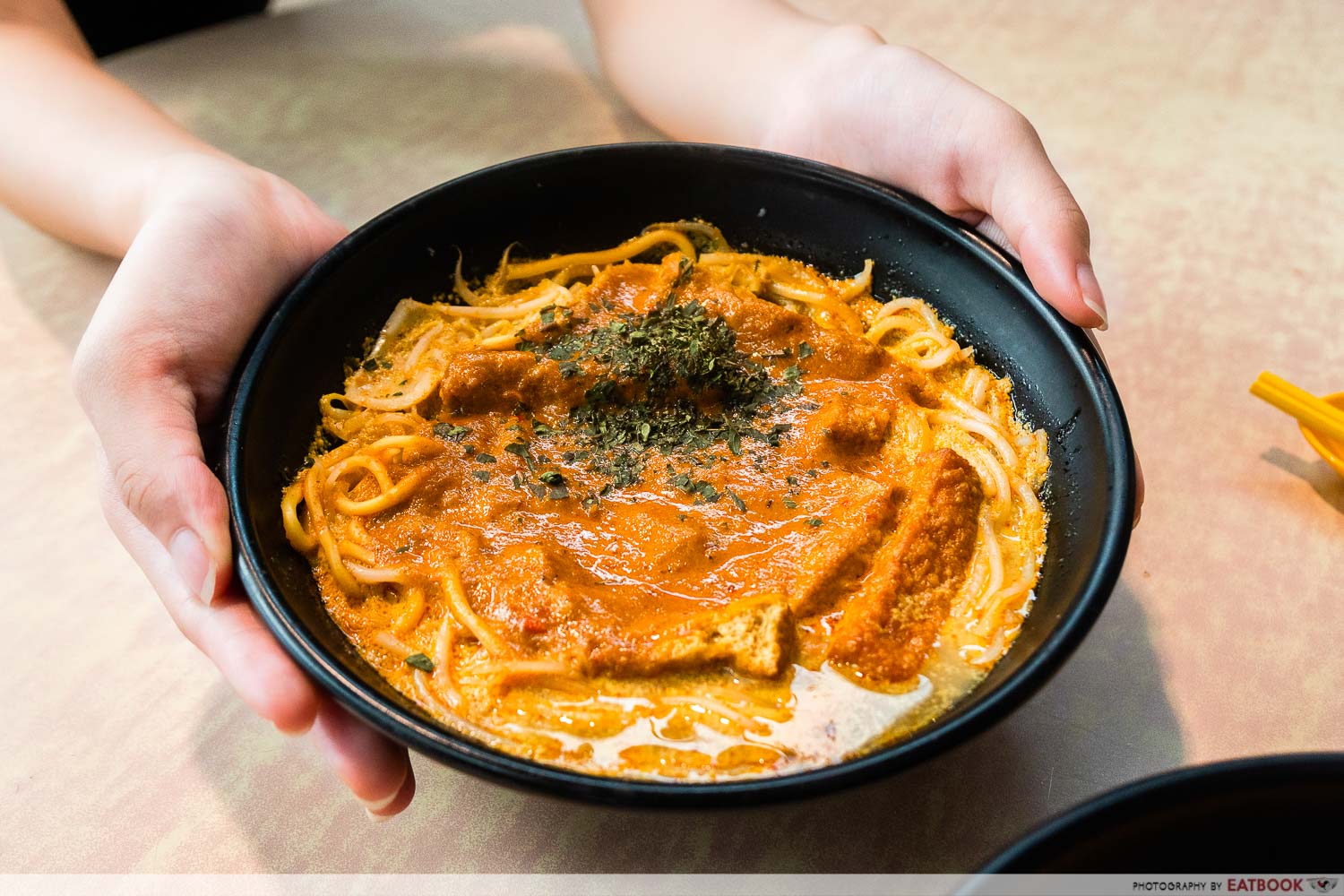 As for the large, we decided to get a mix of yellow noodles and chu mi fen, and added on cockles for an additional $3.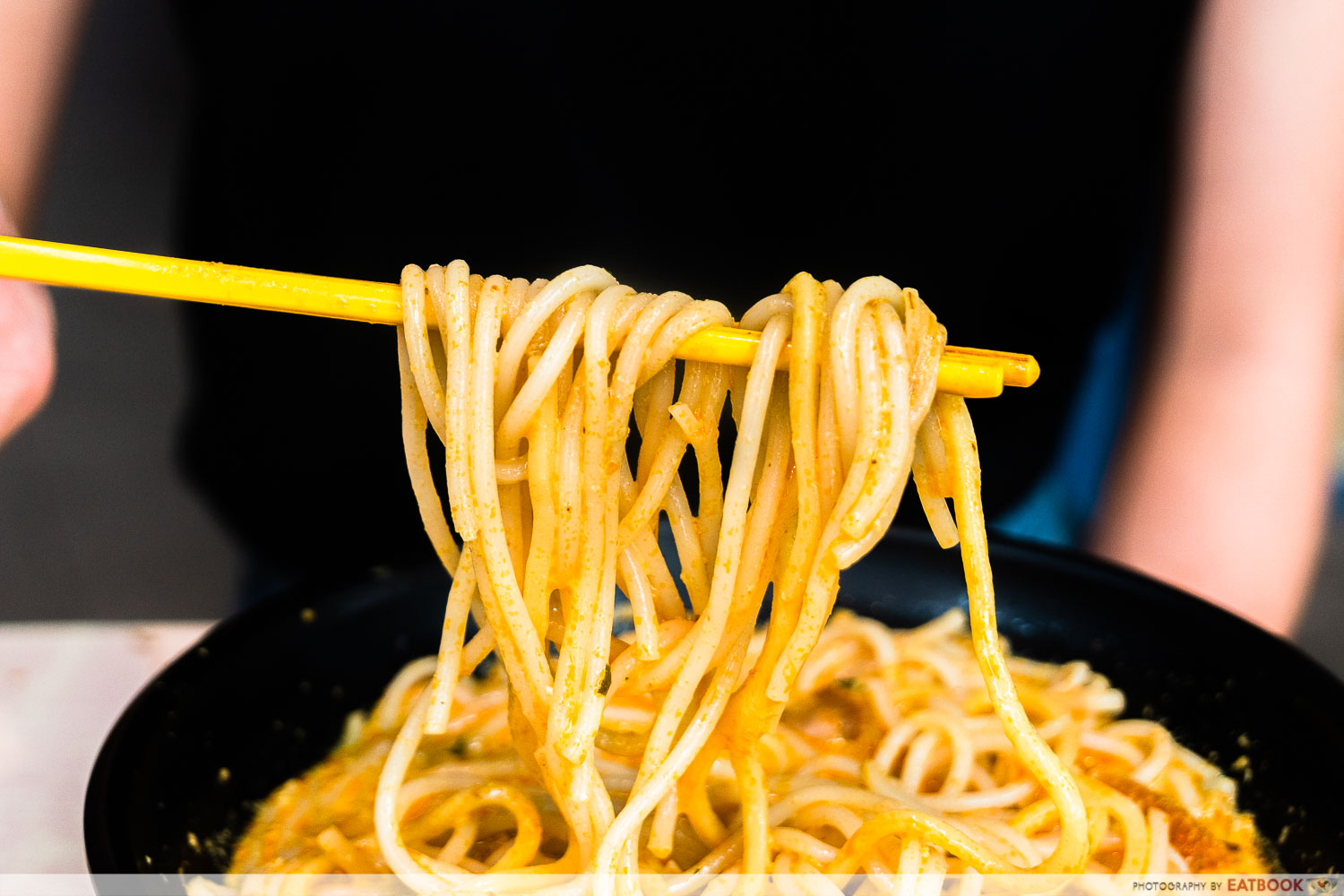 Rather than complementing the flavours of the laksa broth, the alkaline taste of the yellow noodles worked against it and tasted out of place. I love a mix of yellow noodles and chu mi fen in other dishes such as hokkien mee, but not here.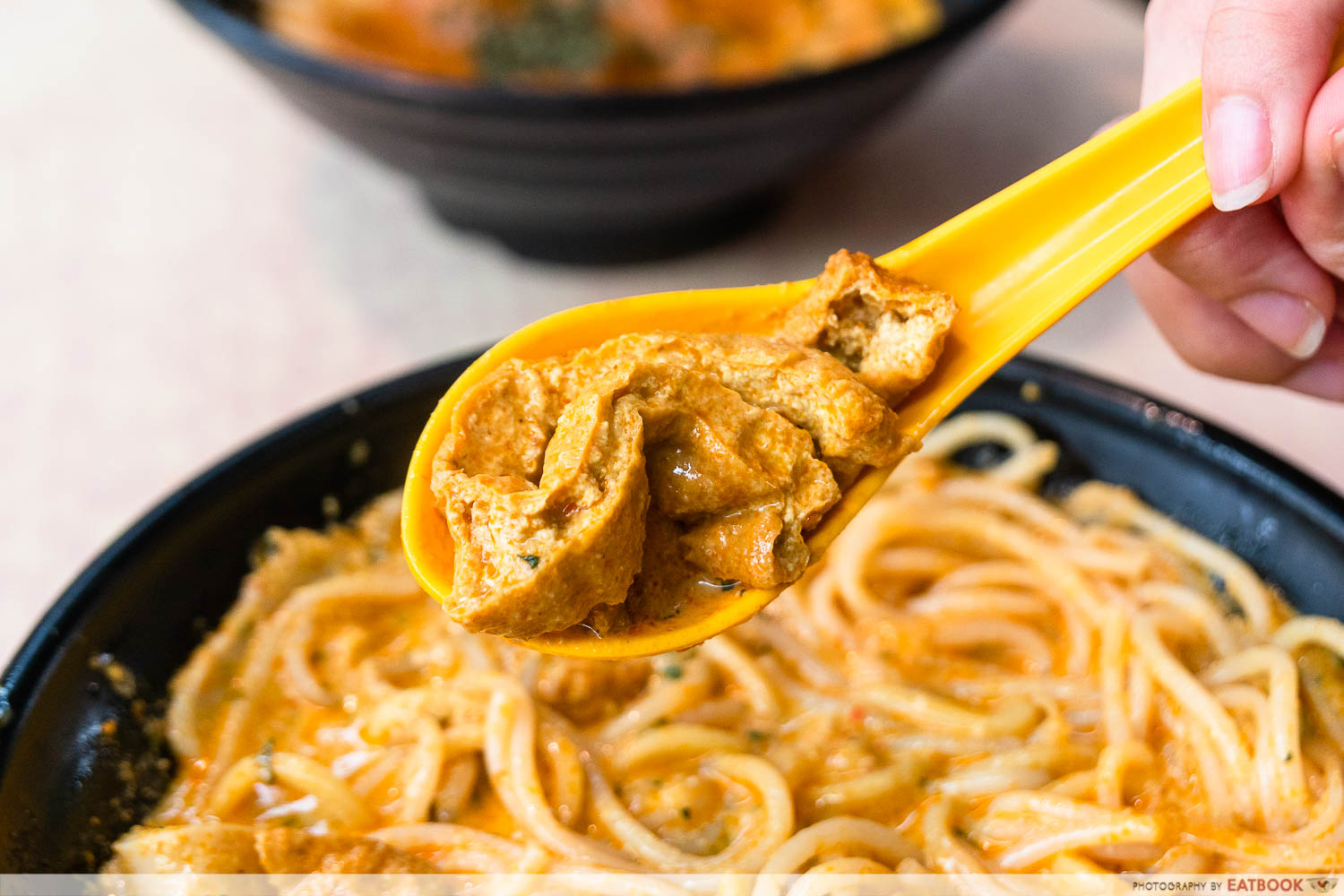 As for the ingredients, each bowl comes with fish cake, fried beancurd, AKA tau pok, prawns, shredded chicken, and bean sprouts.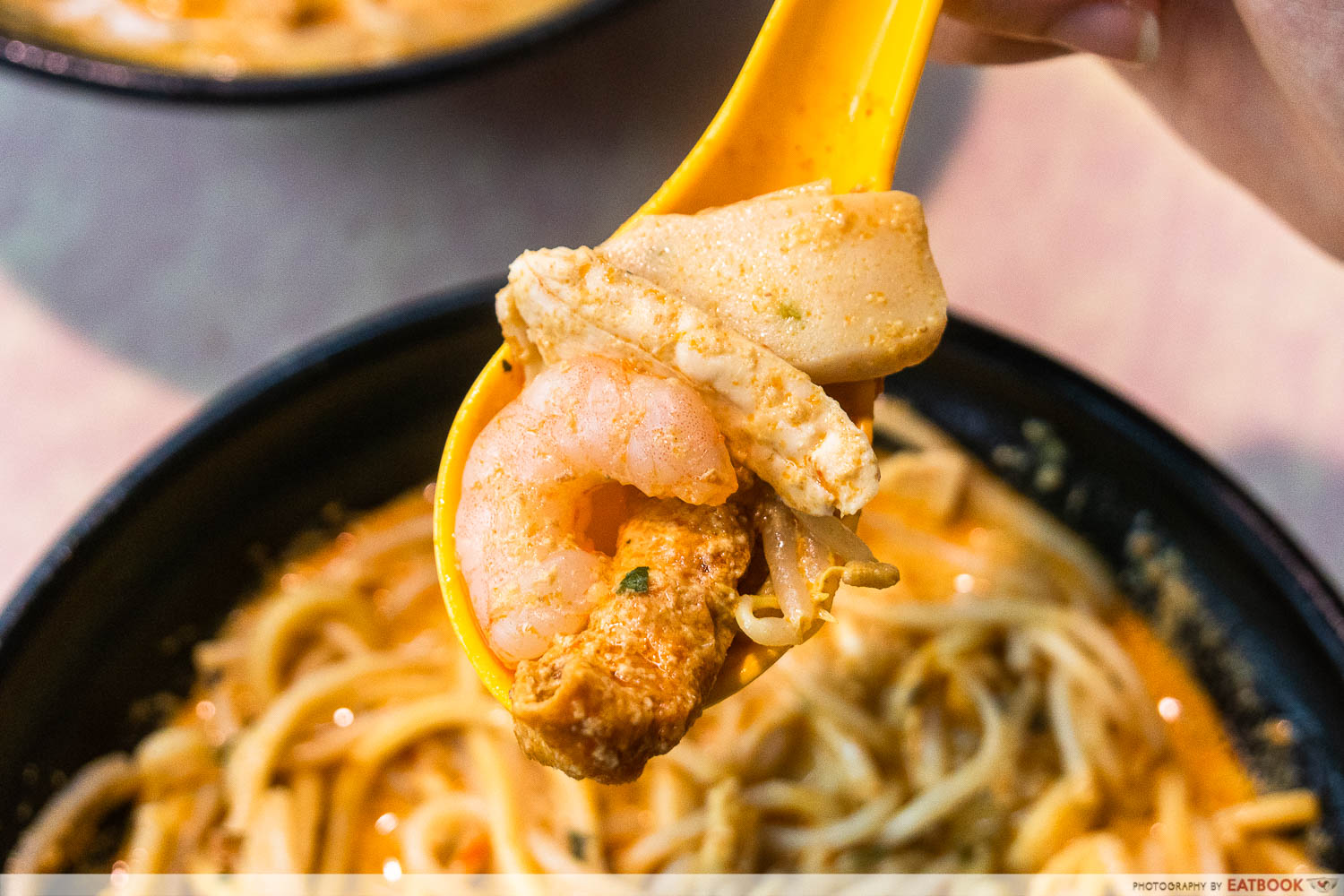 Unfortunately, I have a bone to pick with the ratio of ingredients given. Though there was plenty of fish cake and bean sprouts, there were way too few prawns and cockles for my liking, especially when I'd paid $3 for the top-up.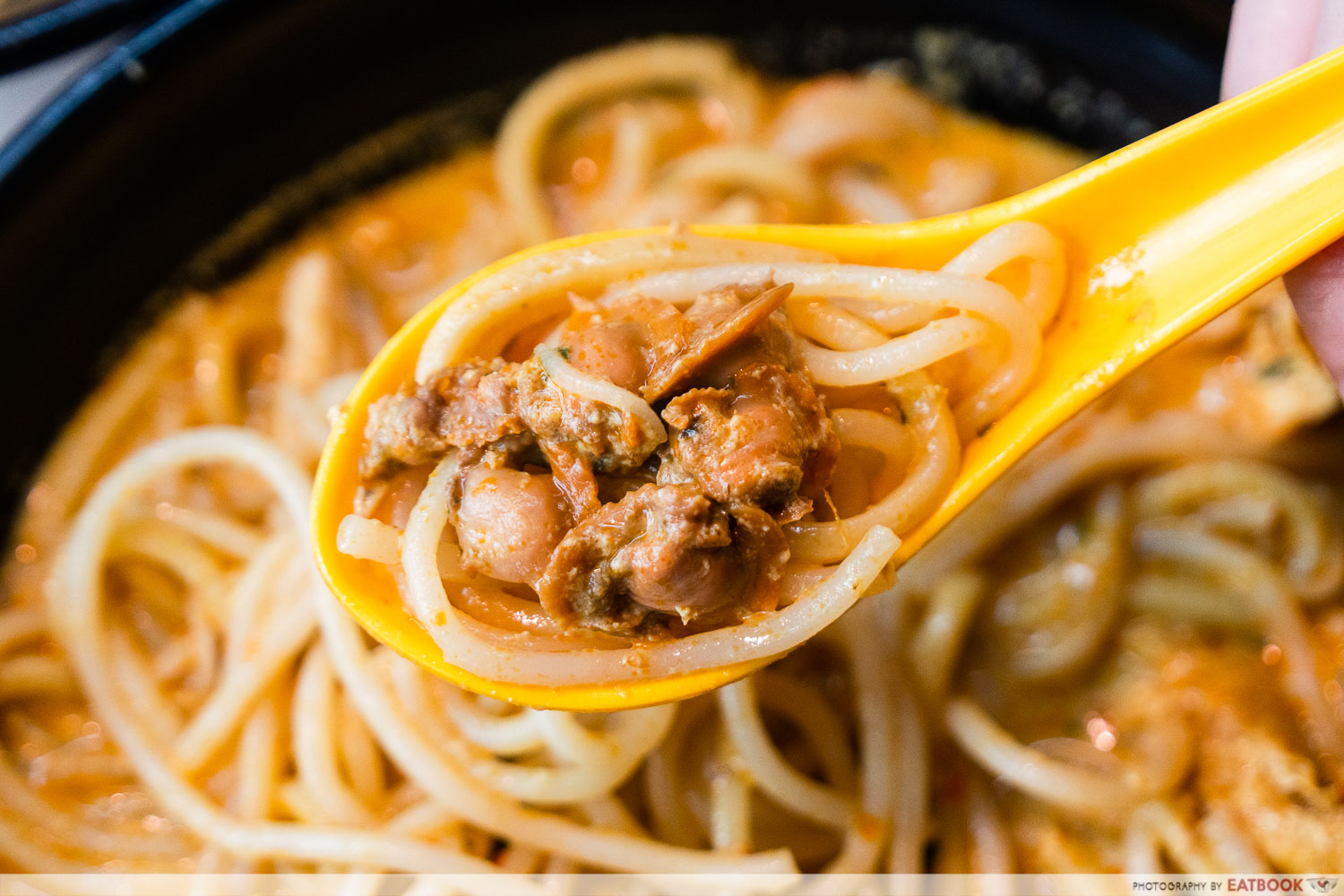 For the record, we only found one prawn in each bowl, and five cockles in the large. It is possible that we visited on a bad day, but my colleague and I felt very let down. Though the prawns and cockles were cooked just right, it was obvious the prawns are of the frozen variety, which in my opinion let down the laksa.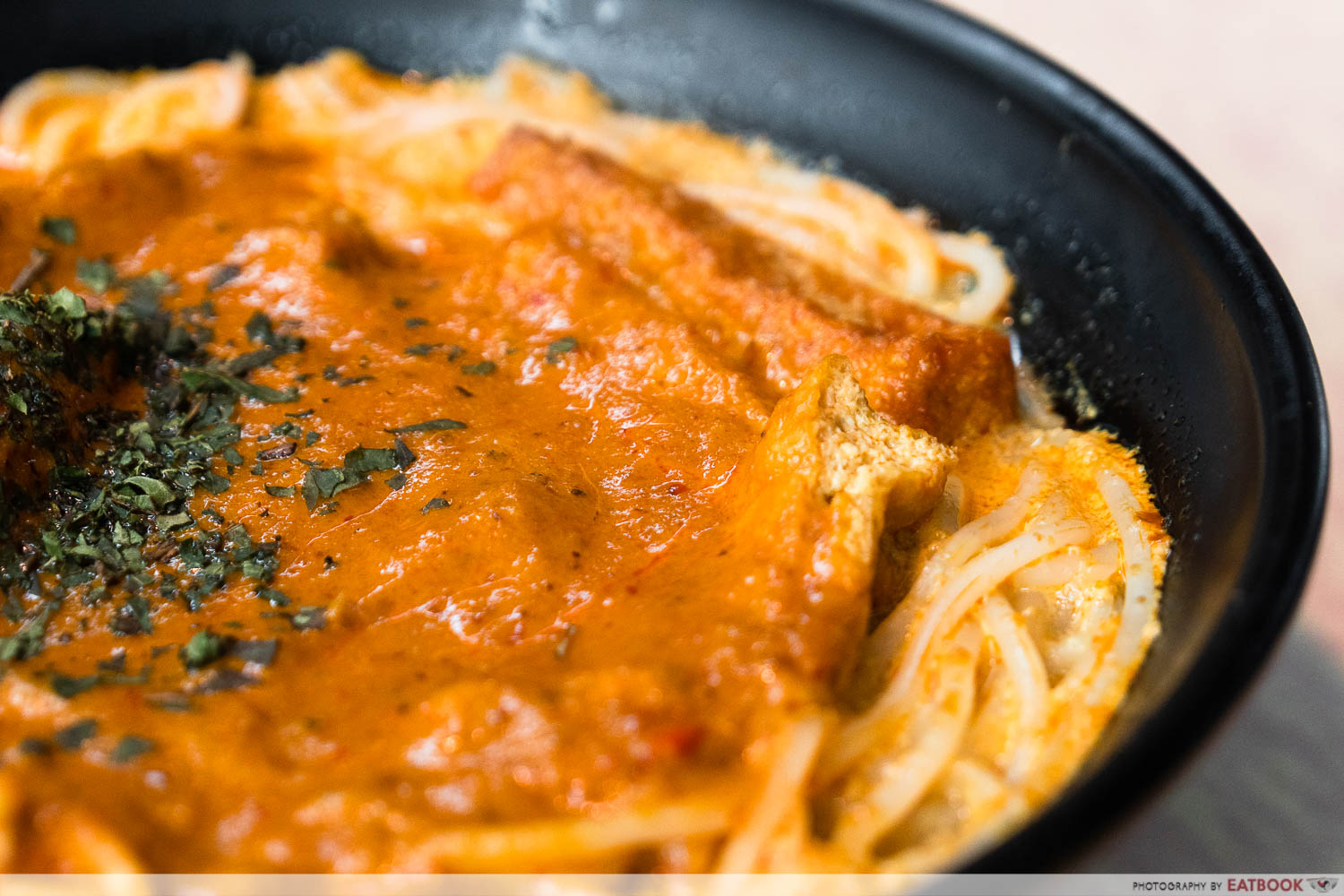 I have to give credit where credit is due, though. I really enjoyed their laksa broth, and I can see why they've won so many awards. The thick gravy poured in each bowl is what sets them apart from your regular laksa stall. A deeper orange than other laksa broths I've had, it made the entire bowl that much more aromatic and intense.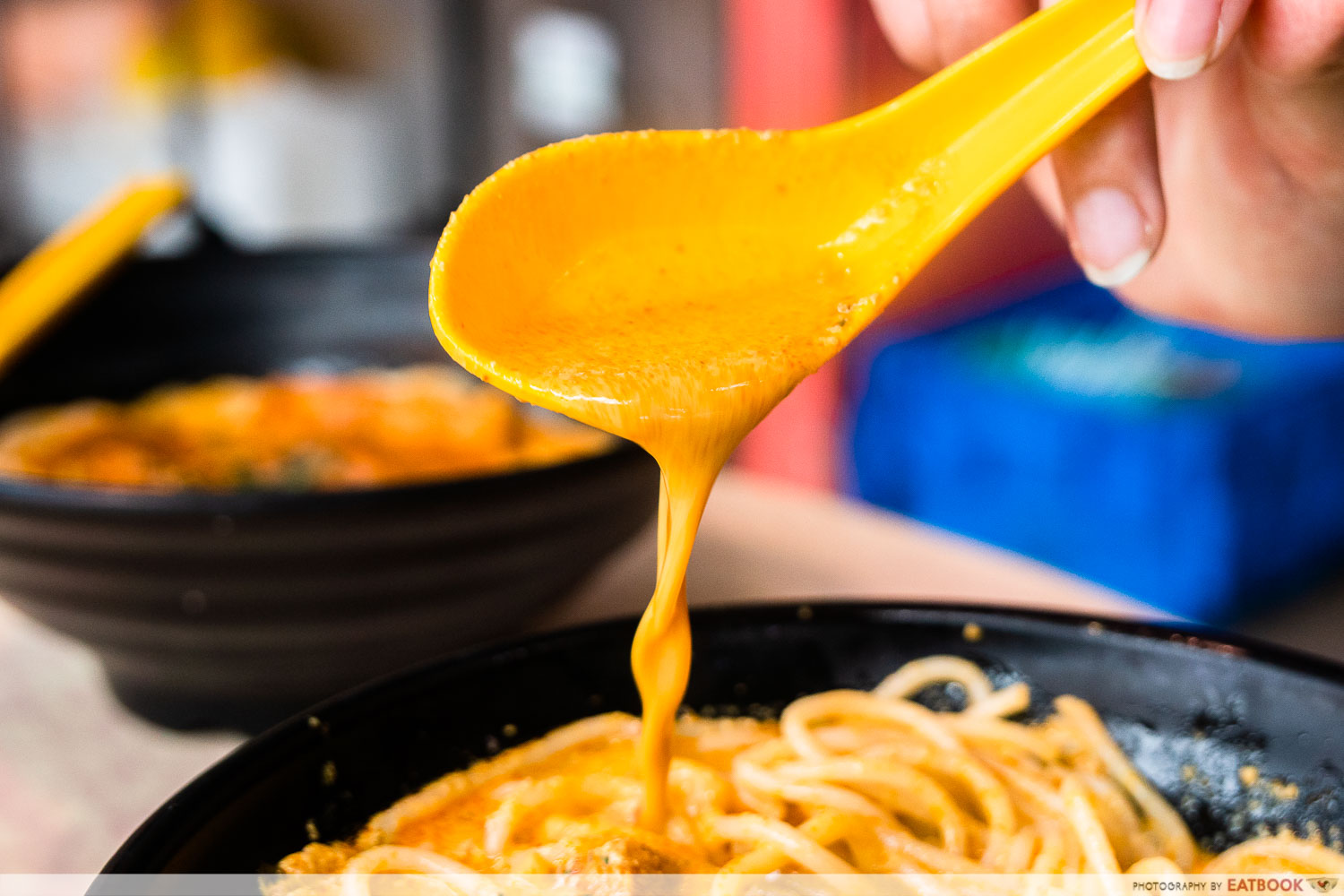 I couldn't help but notice that Zhen Shan Mei's soup is thinner than that of other laksa broths I've had, which made me fear that I was getting a watered-down, tasteless bowl of laksa. However, I couldn't be more wrong. 
It was still lemak, umami, and not too spicy, so I, with my low tolerance for spice, was able to enjoy this laksa comfortably. If you prefer your laksa spicier, you can opt to add a spoonful of sambal chilli. I also imagine that when the laksa here was finished in a claypot previously, the broth would have been further elevated with a smoky touch━so it's a pity they no longer do it.
Ambience at Depot Road Zhen Shan Mei Laksa 
Depot Road Zhen Shan Mei Laksa is a little out of the way if you don't drive. The nearest stations are Queenstown and Redhill MRT Stations, but from there you'll have to take a bus and do a fair bit of walking to get to Alexander Hawker Centre. 
Another thing to note is that this stall closes relatively early, at 3.30pm. Unless you're working in the area or have a long lunch break, it can be quite hard to get your laksa fix from Zhen Shan Mei on weekdays. 
The verdict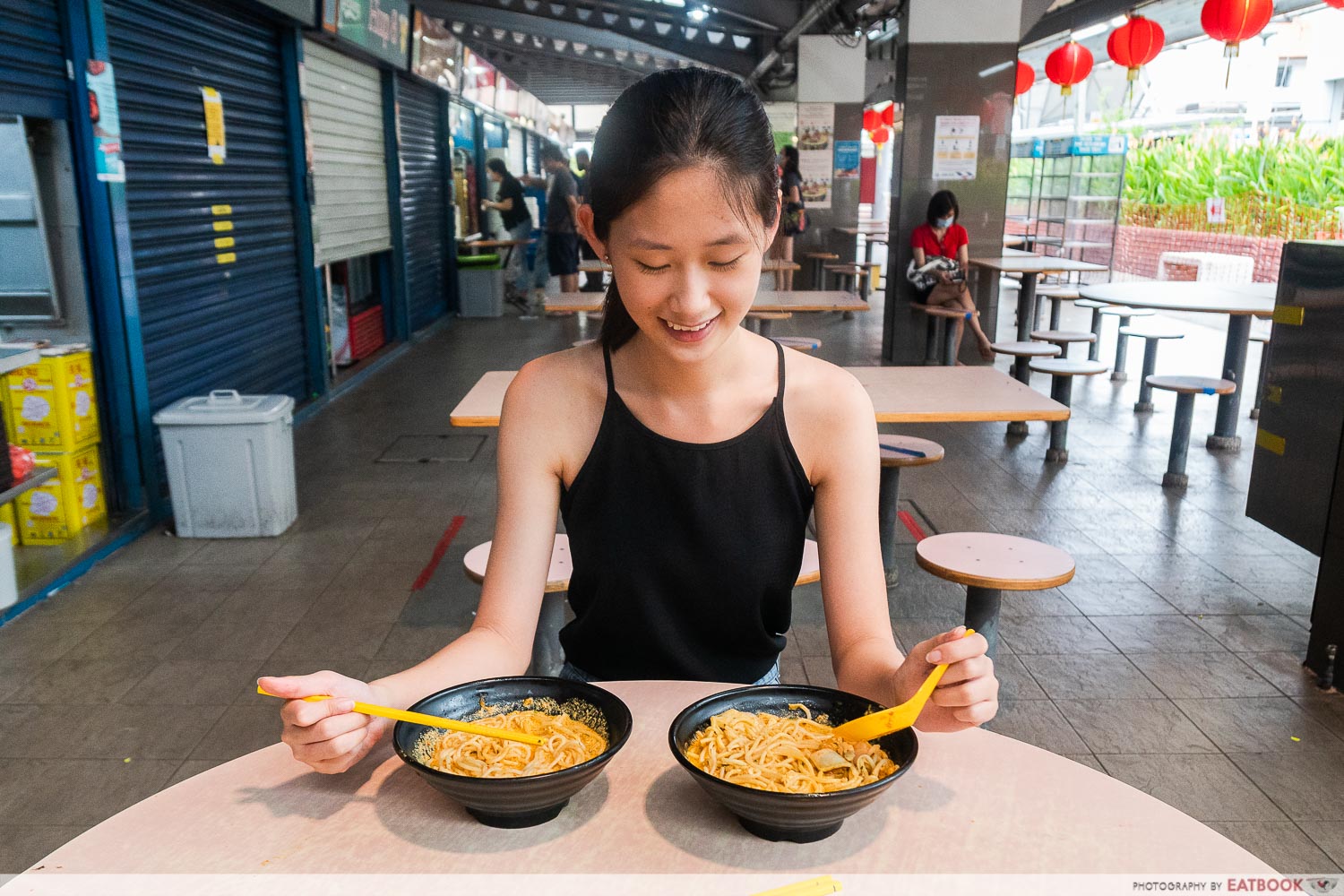 I can't deny that Depot Road Zhen Shan Mei Laksa's broth ticked all the boxes for me, but I can't say the same about the rest of my experience here. From the skimpy ingredients in each bowl, to the unfulfilled expectation of unique claypot laksa, perhaps Depot Road Zhen Shan Mei Laksa's glory days have come and gone. 
If you're looking for more hawker eats, be sure to check out our Jian Zao Ipoh Curry Noodles review for legit Ipoh curry noodles, or check out our list of the best laksas in Singapore.
Address: 120 Bukit Merah Lane 1, #01-75, Alexander Hawker Centre, Singapore 151120
Opening hours: Tue to Sat, 9am to 3.30pm
Tel: 9088 9203
Website
Depot Road Zhen Shan Mei Laksa is not a halal-certified eatery.
15 Laksa In Singapore With Lemak Broth, Springy Noodles, And Fresh Prawns
Photos taken by Zadelin Wong.
This is an independent review by Eatbook.sg.
Depot Road Zhen Shan Mei Claypot Laksa Review: Four-Time Award-Winning Laksa at Bukit Merah
Depot Road Zhen Shan Mei Claypot Laksa Review: Four-Time Award-Winning Laksa at Bukit Merah -

6.5/10
Summary
Pros
– Rich laksa broth 
Cons
– Skimpy with ingredients
– Short opening hours 
Recommended dishes: Laksa ($6.50) 
Opening hours: Tue to Sat, 9am to 3.30pm
Address: 120 Bukit Merah Lane 1, #01-75, Alexander Hawker Centre, Singapore 151120