Jian Zao Ipoh Curry Noodles at Ang Mo Kio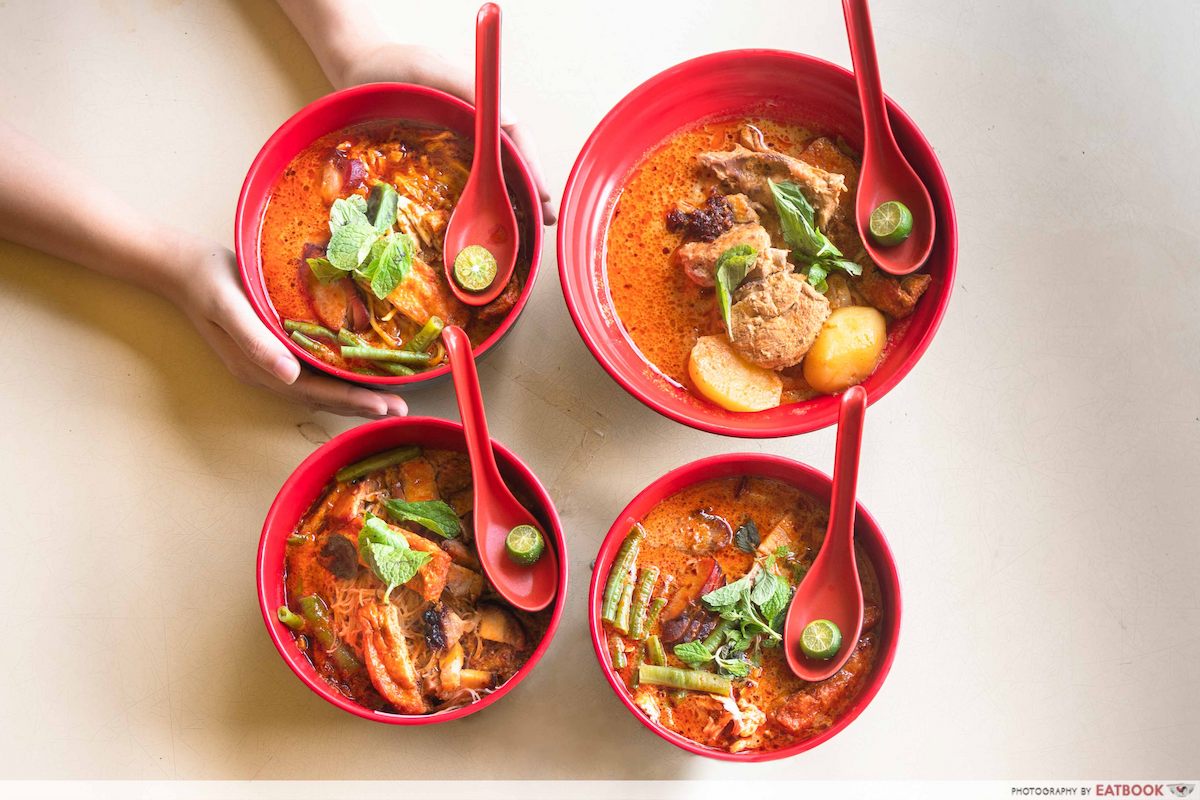 Curry noodles are what I would consider comfort food, especially during the rainy season. Served piping hot, the creamy and slightly spicy broth warms the stomach on days when it's chilly outside. When I saw that Jian Zao Ipoh Curry Noodles had opened at Ang Mo Kio, a few MRT stations from where I live, I decided to head down with my colleague for a try.
In a bid to preserve his grandmother's Ipoh curry noodles recipe, Steven Cheah decided to set up a curry noodle hawker stall with his 23-year-old son Jacky.  He even went back to his hometown for a month to perfect the family's 30-year-old recipe.
Ipoh Curry Chee Cheong Fun Review: Curry Mee And Chee Cheong Fun With Roast Meats In Yishun
Food at Jian Zao Ipoh Curry Noodles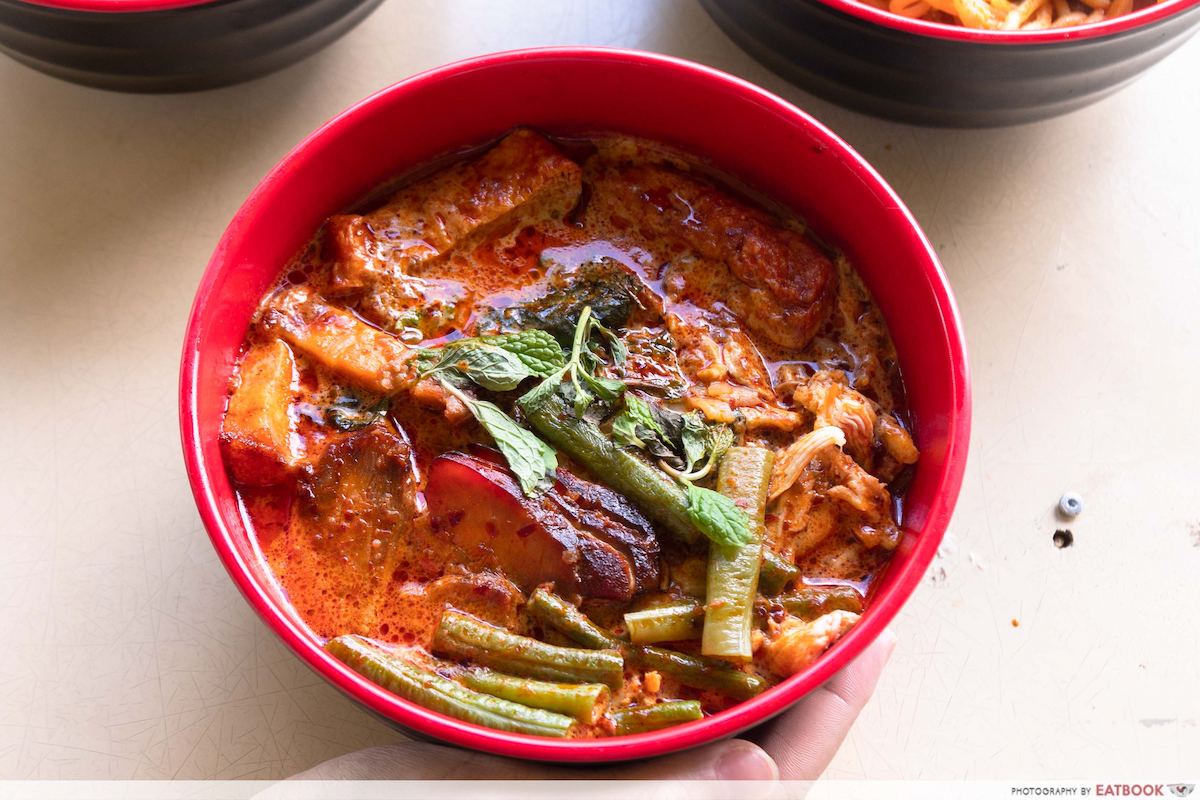 A signature here is none other than their curry noodles, which come with different types of toppings. You can choose bee hoon, yellow noodles or hor fun. We decided to start off with their Signature Ipoh Curry Noodles ($5.50) with hor fun. Right off the bat, the portion was generous for the price.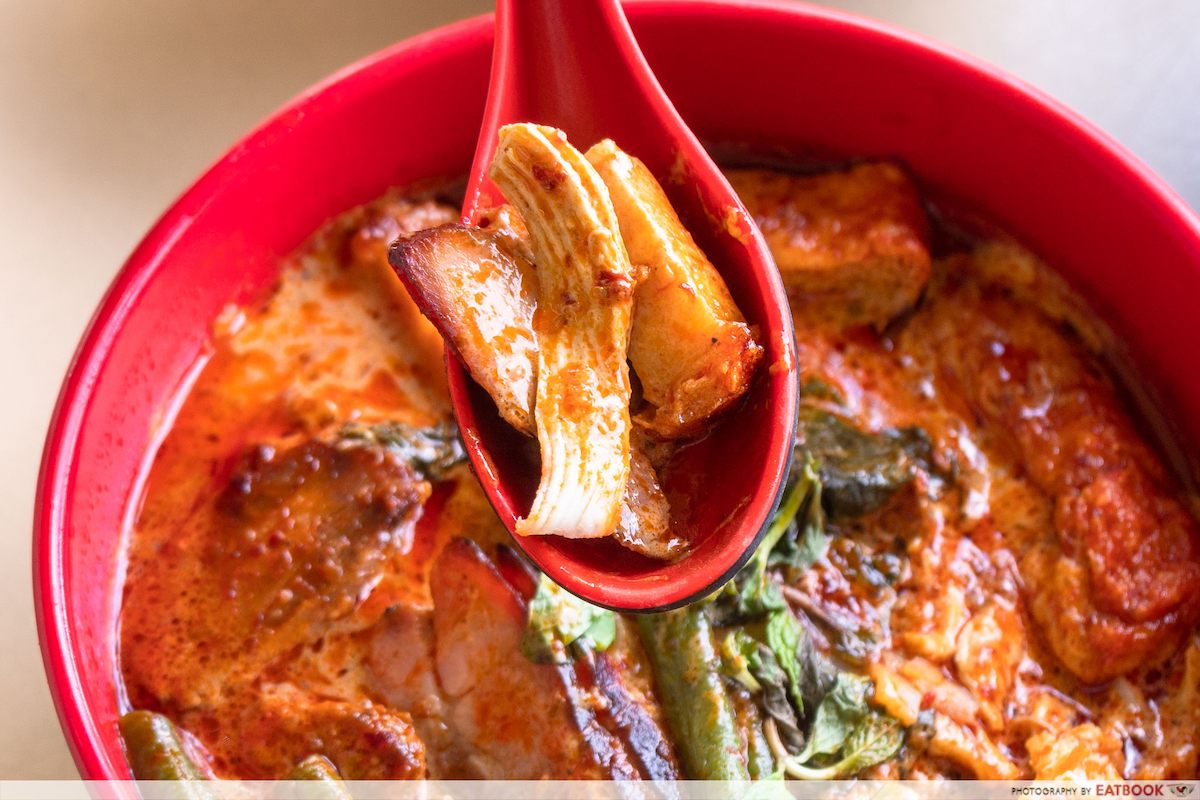 It was the perfect time to dig in, as when we had just arrived, it started pouring heavily, which made the food much more enjoyable. 
I also noticed something different about the curry noodles served here—mint leaves were added as part of the garnish. The gravy was slightly sweet and umami, while a squeeze of lime added tartness, which cut through the greasiness of the broth.
Fu Shi Traditional Roasted Review: KL-Style Char Siew And Roasted Meats With Long Queues At Marsiling
Surprisingly, the coconut and mint flavours were not that prominent. The soup also did not have that spicy kick I was looking for, but it was still a great bowl of curry noodles to have especially on a rainy day.
The char siew and roasted pork are featured in all of their curry noodle dishes, true to Ipoh-style curry mee fashion. In this Signature bowl, there was additional shredded chicken, tau pok, bean sprouts, and long beans.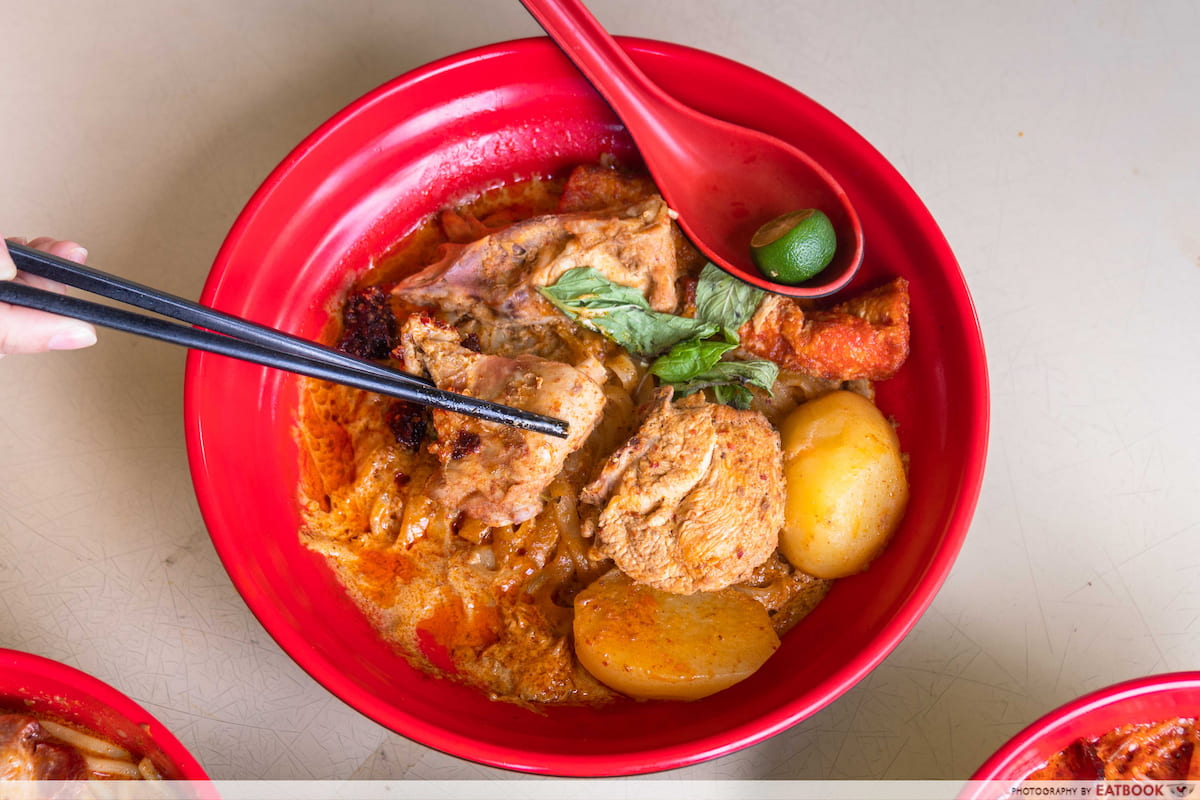 We moved on to the Dry Curry Chicken Noodles ($4.50) with hor fun. To my surprise, there were visible chunks of curry chicken and potato cubes alongside the char siew and roasted pork. Compared to the Signature bowl, the flavour of the curry was not as strong. It was less sweet, but it didn't have the strong curry punch that I was hoping for.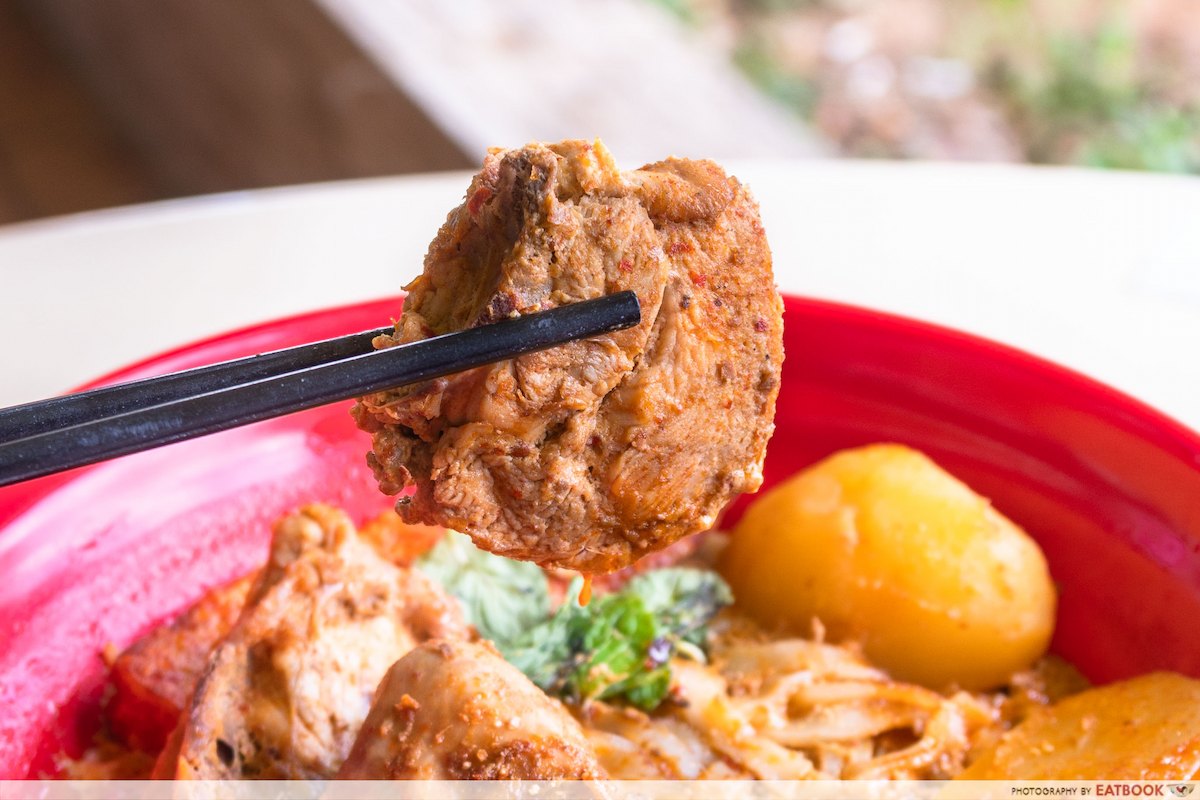 The star of this bowl was definitely the curry chicken. It was cooked till perfectly tender and you could easily bite into it. The chicken did not have a gamey taste either, and it paired well with the noodles. Overall, although the toppings for this bowl were really good, I would go for the soup version instead of the dry.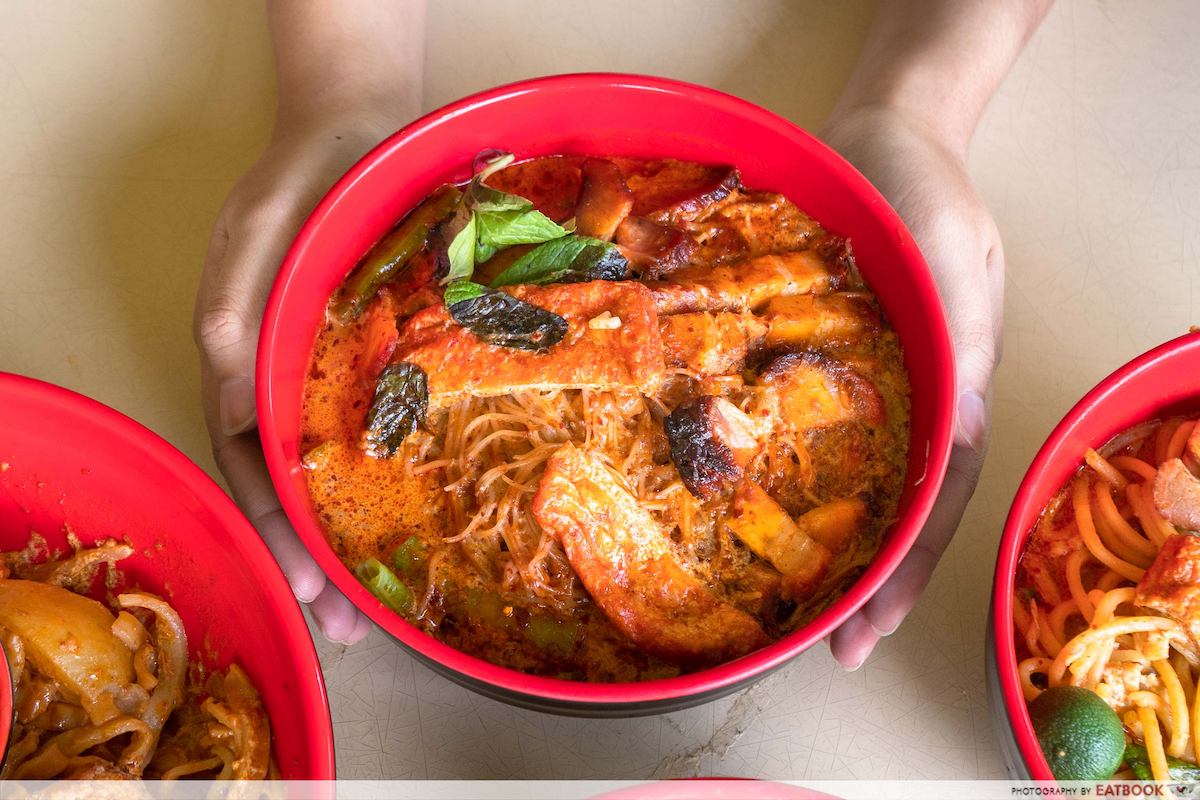 We also ordered the Roasted Pork Roasted Char Siew Curry Noodles ($4.50) with bee hoon. Personally, I am not a big fan of bee hoon, so I was surprised that it went well with the curry gravy.
Normally, I find bee hoon to be a little overwhelming because it is often served in a large portion. However, because this came with the curry gravy, which had a slight spicy kick to it, it was less jelak than what I was expecting.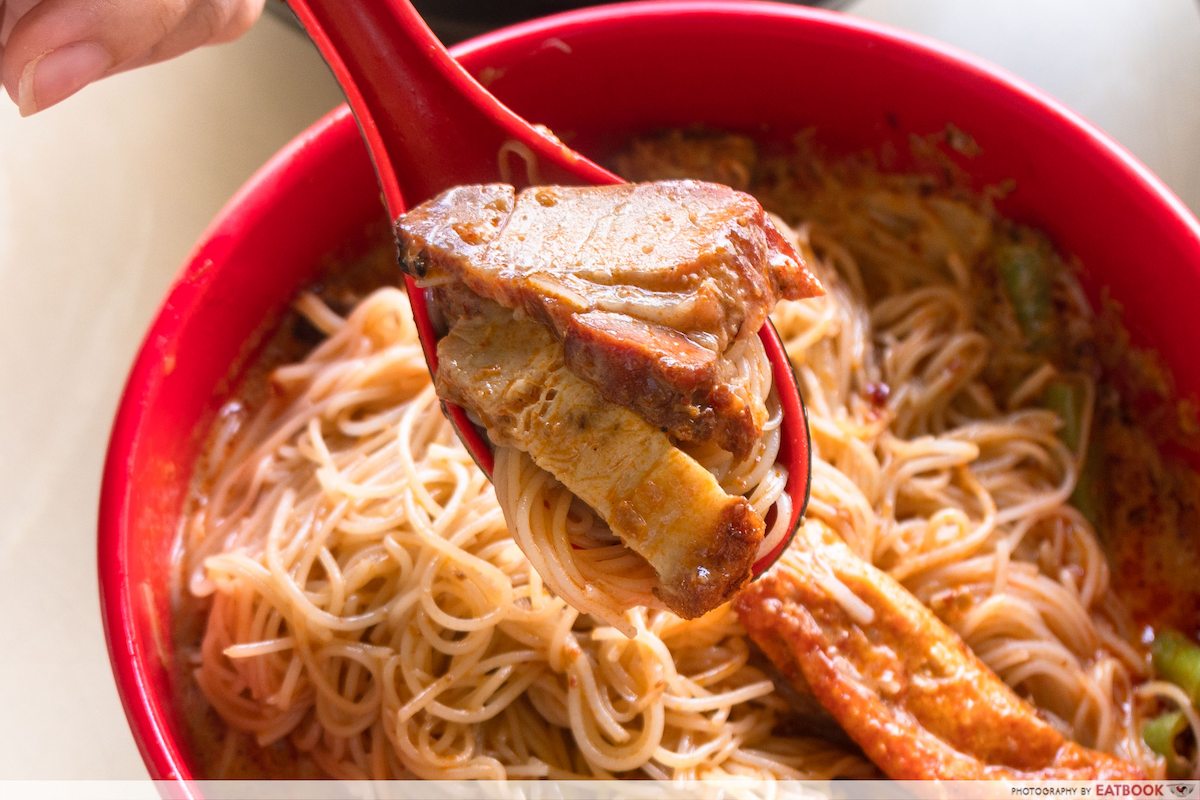 I also liked how the char siew wasn't as sweet as what I usually get at a roast meat stall. The meat was chunky rather than lean, and generous in portion. The roasted pork was tender with a thin layer of crispy skin on top.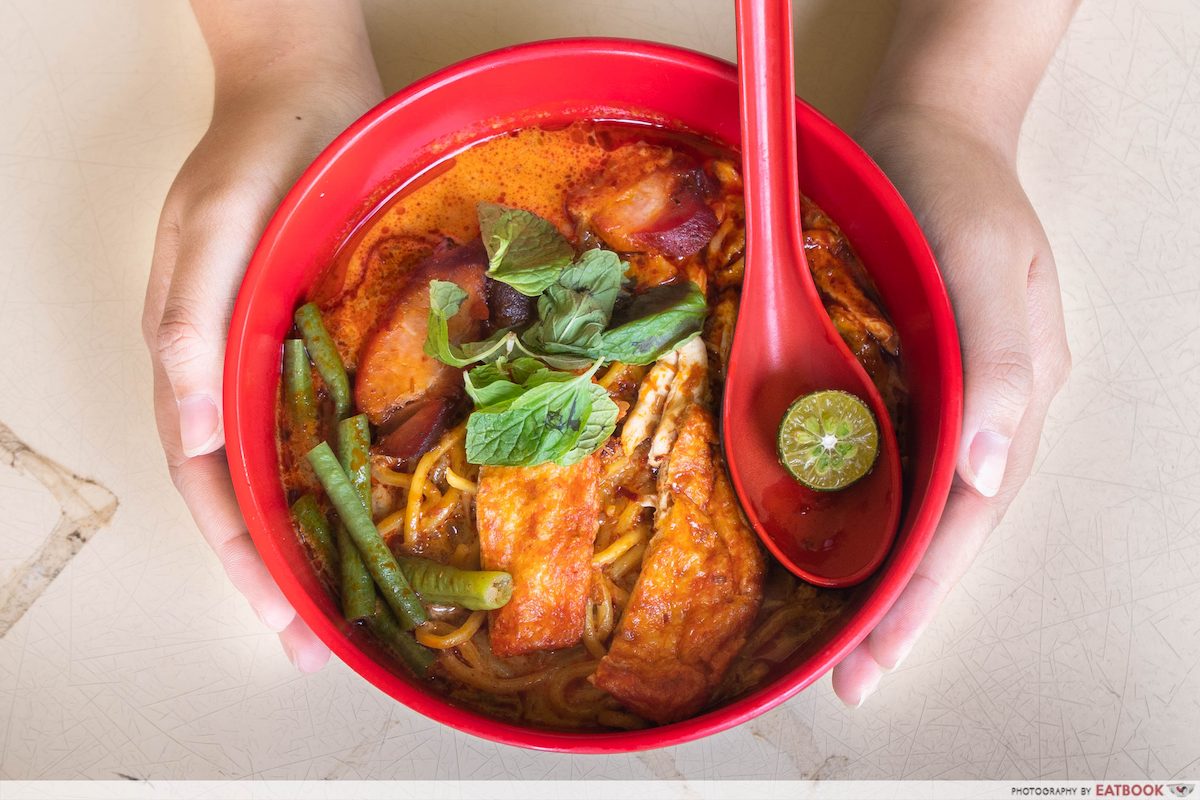 Lastly, we got the Shredded Chicken Roasted Char Siew Curry Noodles ($4.50). I opted for the yellow noodles here, but was slightly disappointed. I felt that the alkaline taste of the noodles did not go well with the curry gravy, which came as a surprise considering how I usually enjoy yellow noodles.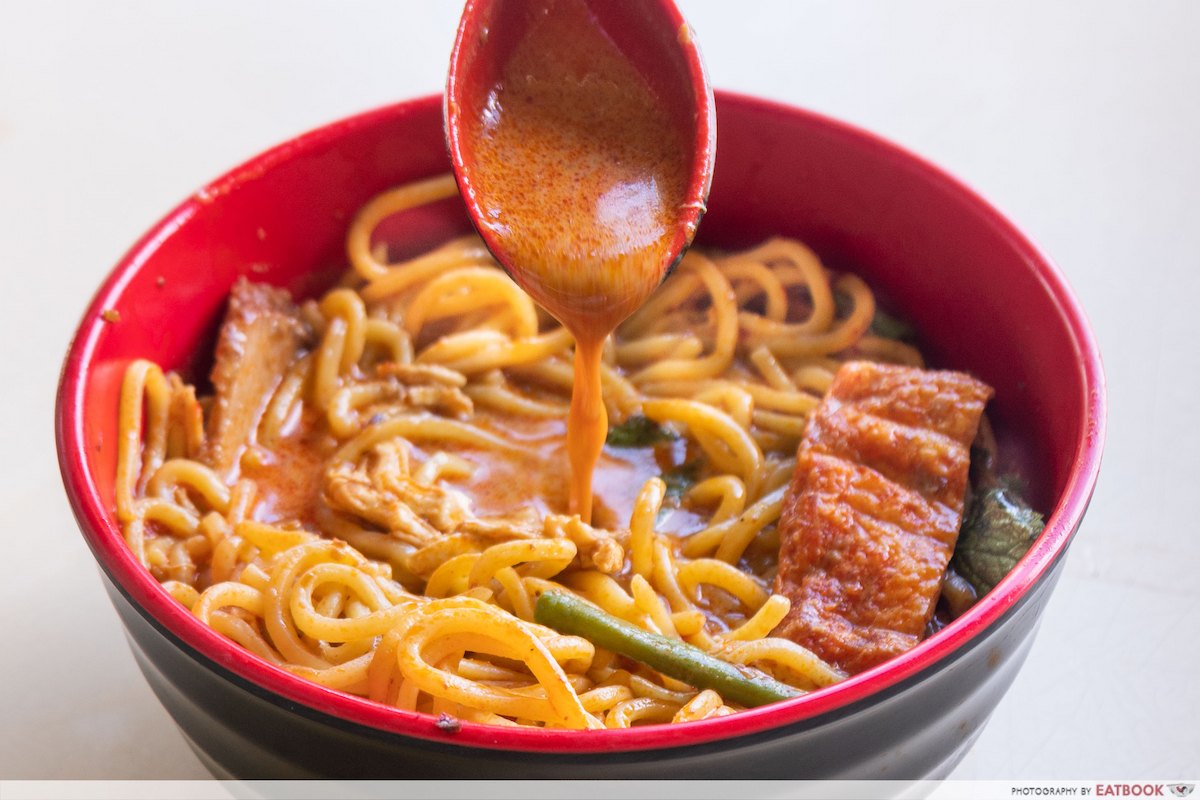 The toppings were essentially the same as before, except that shredded chicken replaced the roasted pork this time. The stall seems to have a special way of cooking all their proteins—even the shredded chicken was tender. I also noticed that extra chilli paste was served on the side, which added a spicy kick to the gravy.
Ambience at Jian Zao Ipoh Curry Noodles
After exiting Ang Mo Kio MRT Station, you need to take a bus from Blk 422. The bus journey takes around two to three minutes, followed by a three-minute walk to the coffeeshop. It was pouring heavily when we had arrived at the bus stop, but luckily for us, there was a sheltered walkway leading to the stall.
The coffeeshop was rather spacious and had a lot of open space, which brought in plenty of fresh air. We took a while to shoot before we could start digging in. Unfortunately, the curry noodles had quickly turned cold. The owner informed us that the curry noodles are best eaten hot as the flavours change after they get cold. So, if you were to come by and get some curry noodles, be sure to have them while they're still hot!
The verdict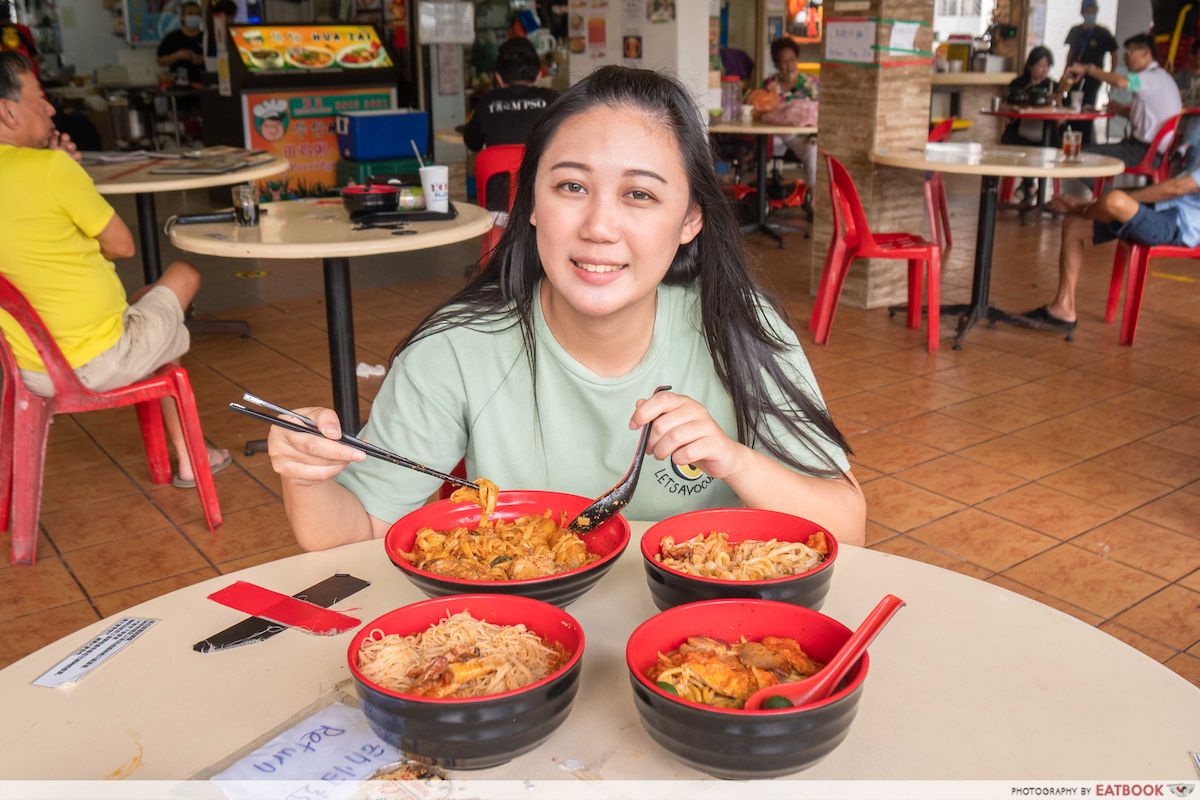 Overall, I was pleased with the generous portions I got for the price I paid. The location was also pretty ideal, as it took us less than 10 minutes to get there from the MRT station. However, I didn't feel that these were the best curry noodles I'd ever had. It could have been because we had the curry noodles cold, which resulted in the altered flavours.
Nonetheless, I loved the creaminess of the gravy and the variety of toppings that came with each bowl of curry noodles. Hopefully, if I'm ever in the area again, I'll be able to drop by and get a hot bowl next time! 
If you're around Ang Mo Kio, do check out our Meng Meng Roasted Duck review. You can also check out our Mikuriya review for affordable Japanese rice bowls! 
Ang Mo Kio
Address: Blk 332, Ang Mo Kio Ave 1, Singapore 560332
Opening hours: Daily 9am to 5pm
Tel: 8903 0877
Jalan Besar
Address: Blk 638, Veerasamy Road, Singapore 200638
Opening hours: Daily 9am to 5pm
Tel: 8903 0877
Website 
Jian Zao Ipoh Curry Noodles is not a halal-certified eatery.
Mikuriya Review: Ex-Sushi Tei Chefs Open Hawker Stall At Ang Mo Kio With Japanese Rice Bowls From $5.80
Photos taken by Zu Yi Kong.
This was an independent review by Eatbook.sg
Jian Zao Ipoh Curry Noodles Review: Legit Ipoh-Style Curry Noodles By Family-Run Hawker Stall In Ang Mo Kio
Jian Zao Ipoh Curry Noodles Review: Legit Ipoh-Style Curry Noodles By Family-Run Hawker Stall In Ang Mo Kio -

7.5/10
Summary
Pros 
– Reasonably priced
– Curry gravy is creamy and smooth
– Convenient location
Cons
– Not spicy enough
– The noodles can get clumpy if you don't eat on the spot
Recommended dishes: Signature Ipoh Curry Noodles ($5.50)
Opening hours: Daily 9am to 5pm
Address: Blk 332, Ang Mo Kio Ave 1, Singapore 560332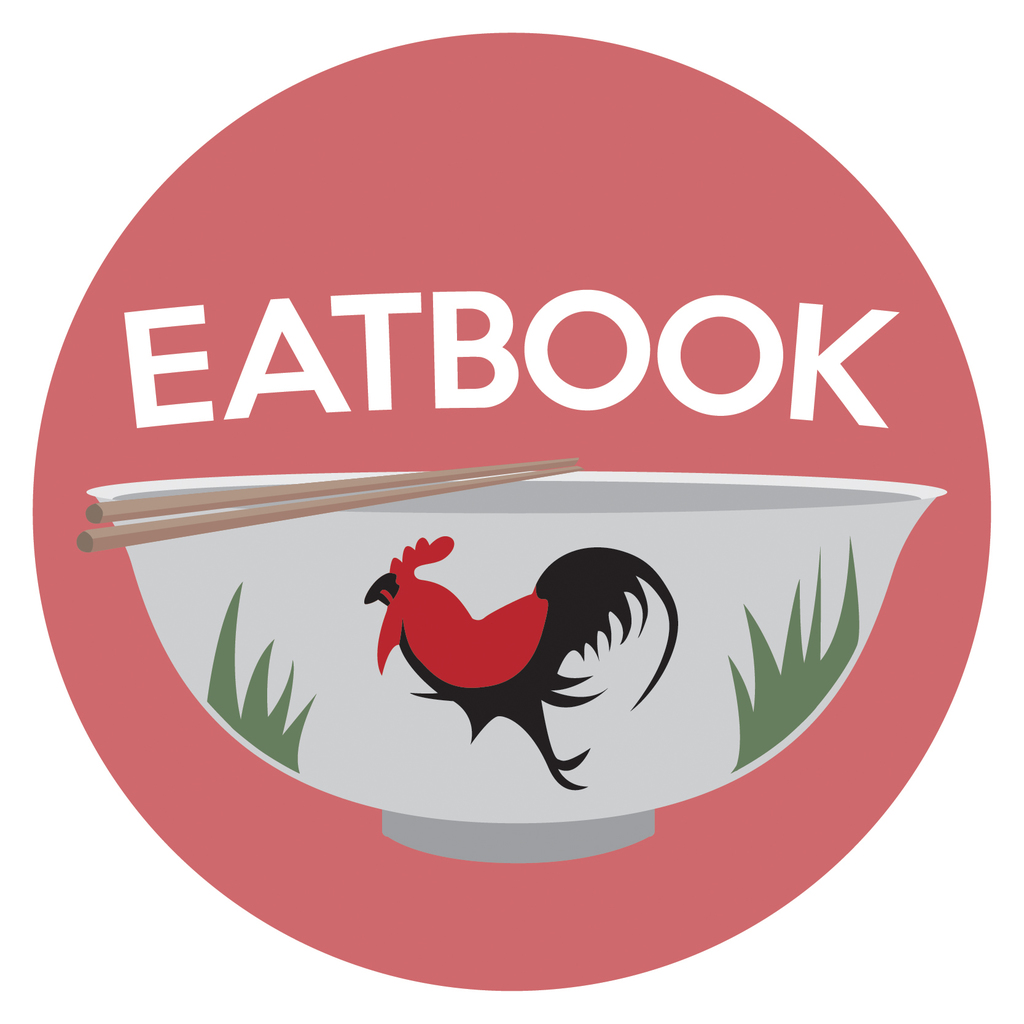 Drop us your email so you won't miss the latest news.