Mikuriya at Ang Mo Kio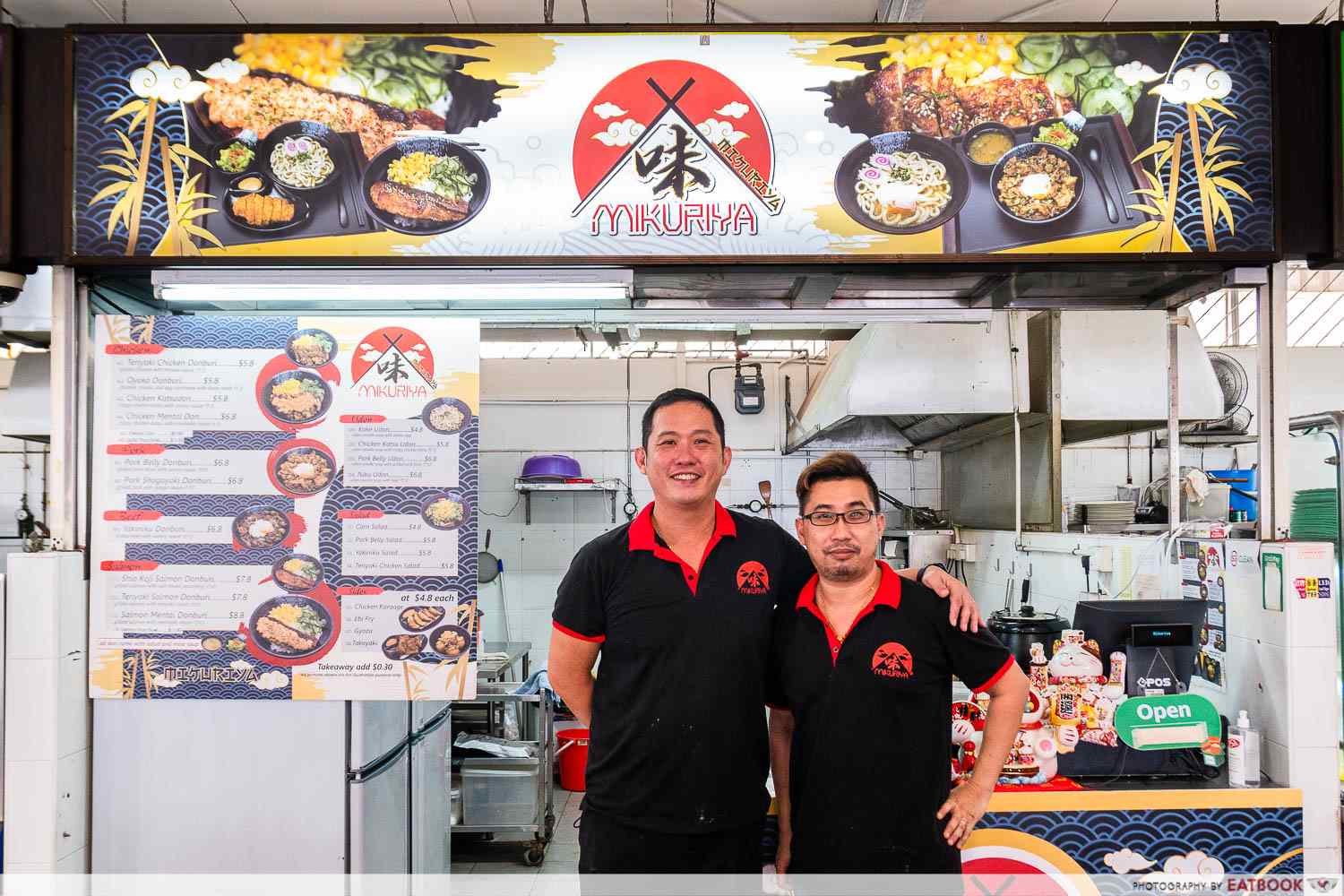 A new Japanese hawker store has opened at Yi Jia Food Centre in Ang Mo Kio, joining the list of numerous chef-turned-hawker businesses. Mr. Dicky Tan and Mr. Ken Ong, who had both worked for Sushi Tei for many years, started a home-based Japanese rice bowl business together before deciding to open Mikuriya.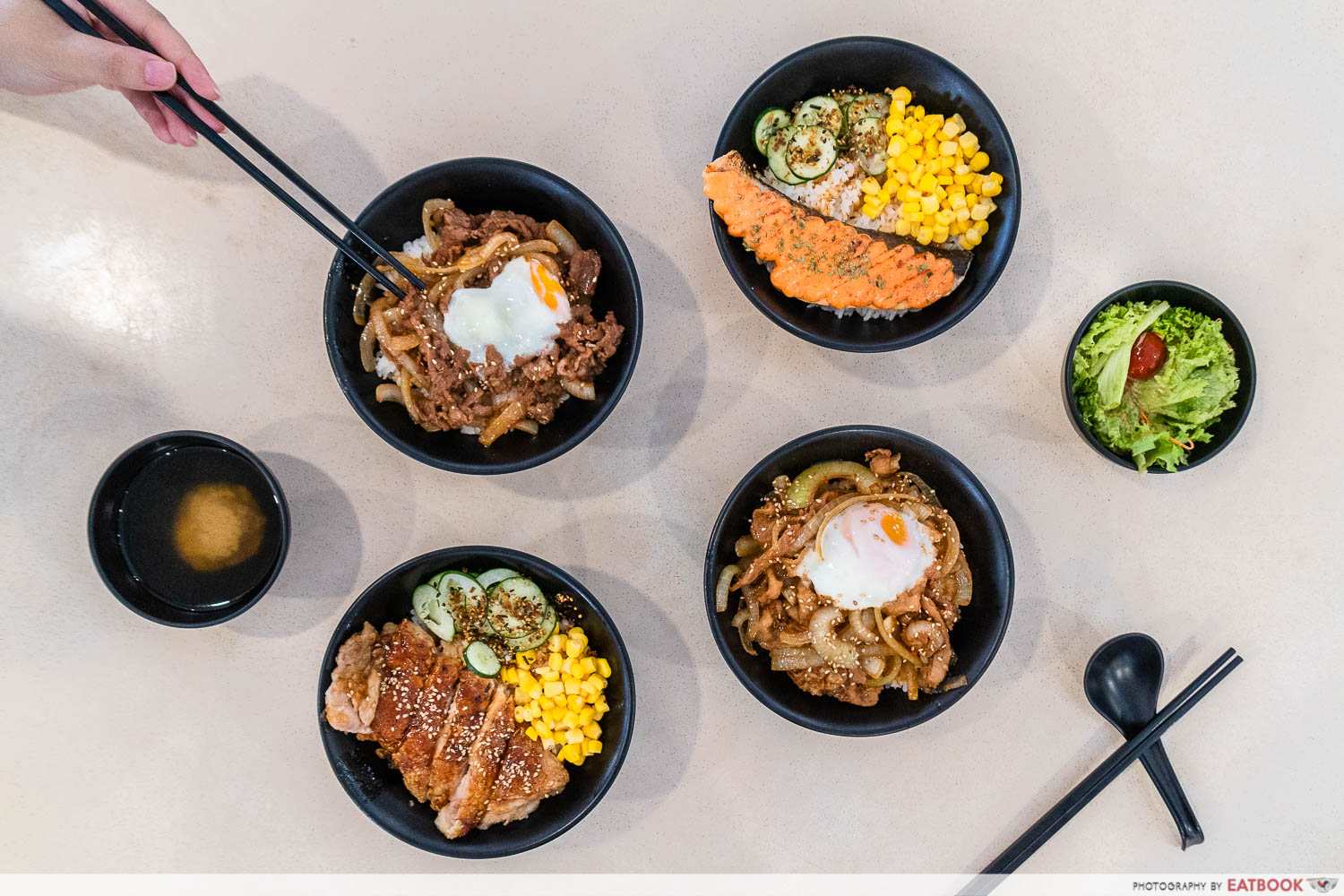 Not only do they have reasonably priced donburi, their menu also includes a variety of udons and sides to choose from. Intrigued by their offerings, I grabbed my colleague, who also happens to stay in the North, along to give this place a go!
SteakGrill Review: Hidden Bistro With Affordable Western Set Lunches From $7 Nett At Ang Mo Kio
Food at Mikuriya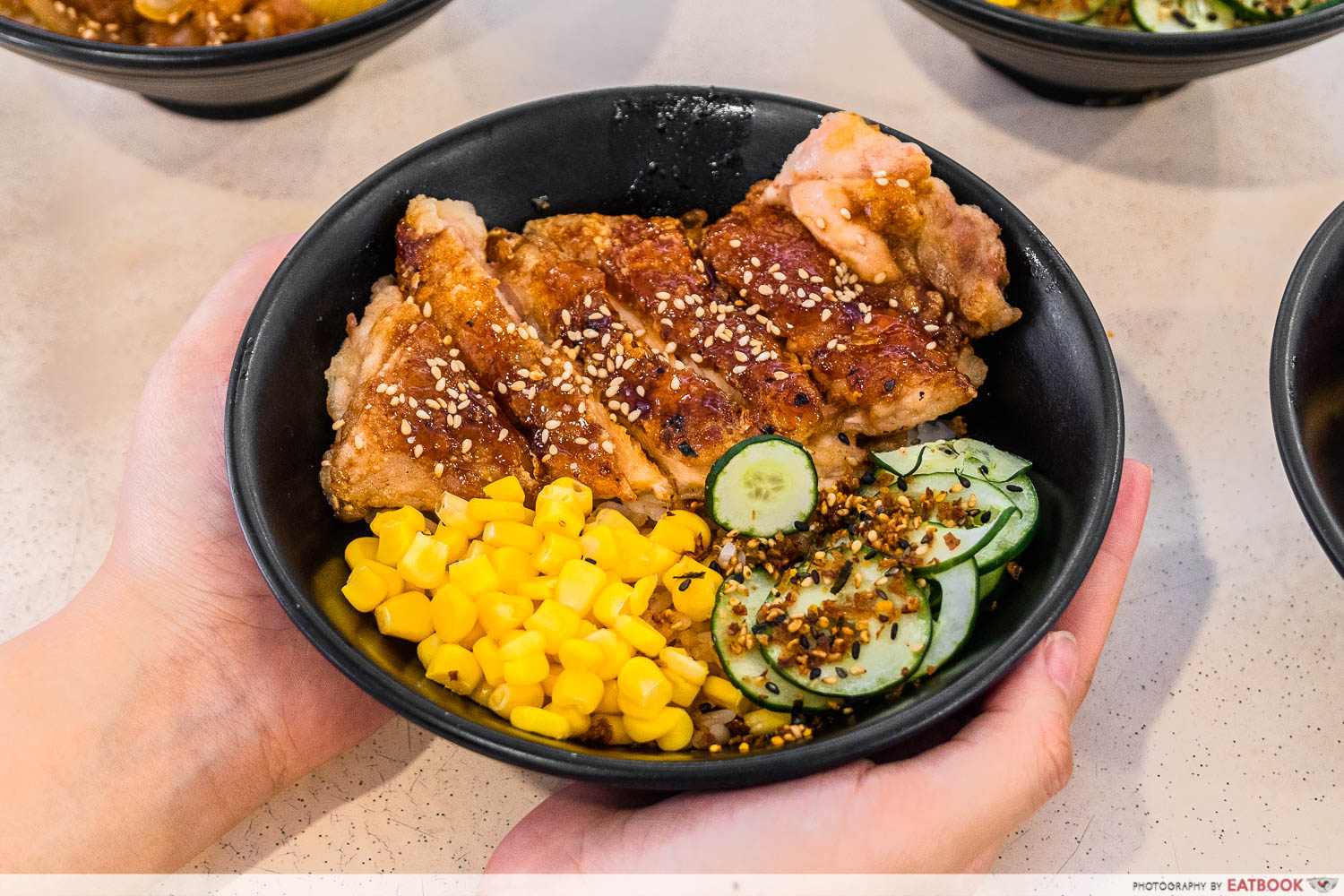 We were going to order udon but they were low on stock, so we settled for donburi instead. We began with the Teriyaki Chicken Donburi ($5.80), which features perfectly grilled chicken on top of fluffy Japanese pearl rice. Every donburi also comes with a complimentary bowl of salad and soup. The chicken was marinated in sweet teriyaki sauce and grilled until the skin was crispy; I was pleasantly surprised that it remained so even after our lengthy shoot.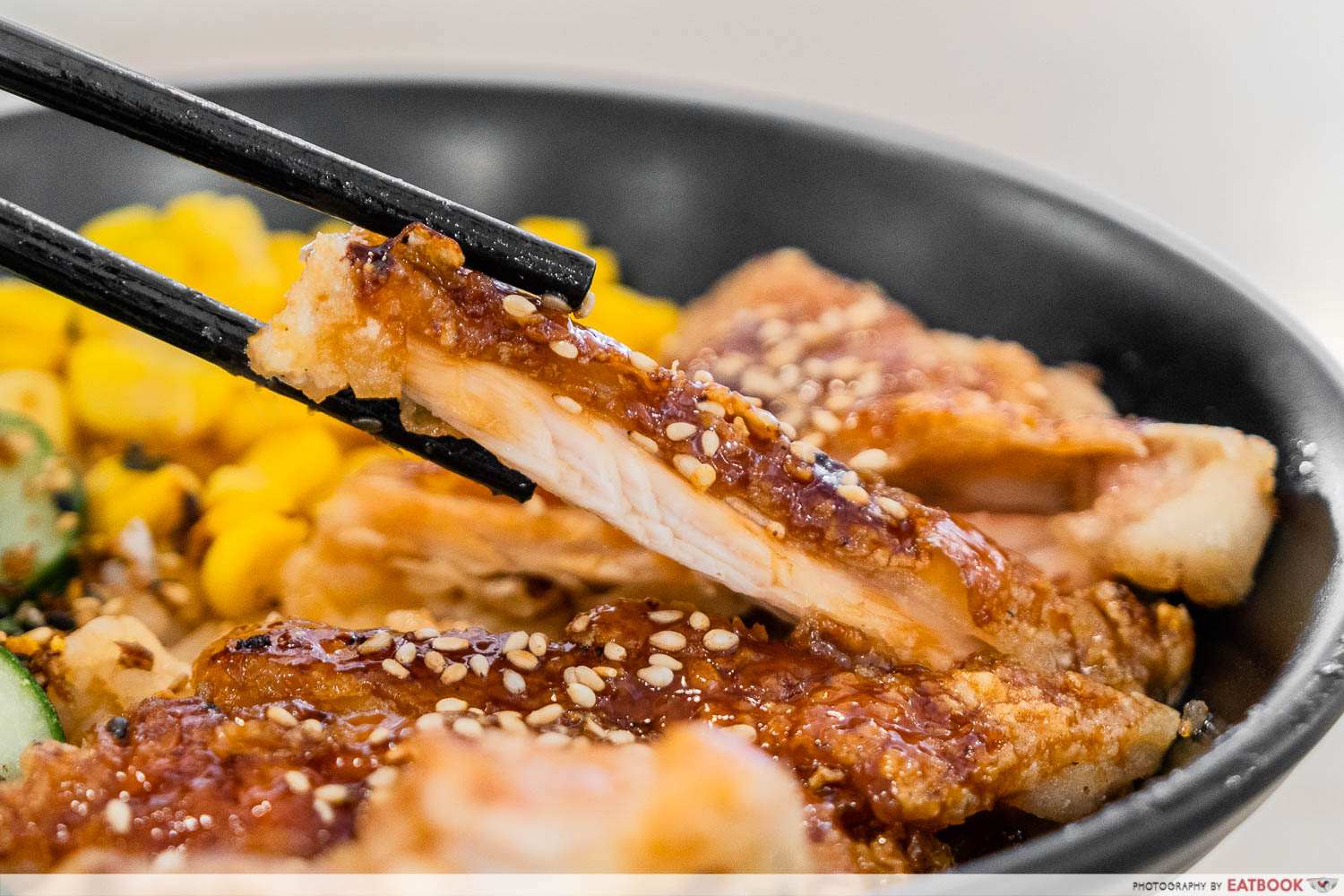 Most teriyaki chicken I've had before lacked flavour, and the serving was often little. This bowl, on the other hand, came with massive chunks of meat that were heavily doused in a sweet teriyaki sauce. The crispy skin added a crunchy texture, which was nice. The cherry on top was the soft and fluffy Japanese rice, as it was not dry and went perfectly with the teriyaki-drenched meat.
AM:PM Cafe Review: Egglet Waffles With Soft Serve Ice Cream By This Ang Mo Kio Cafe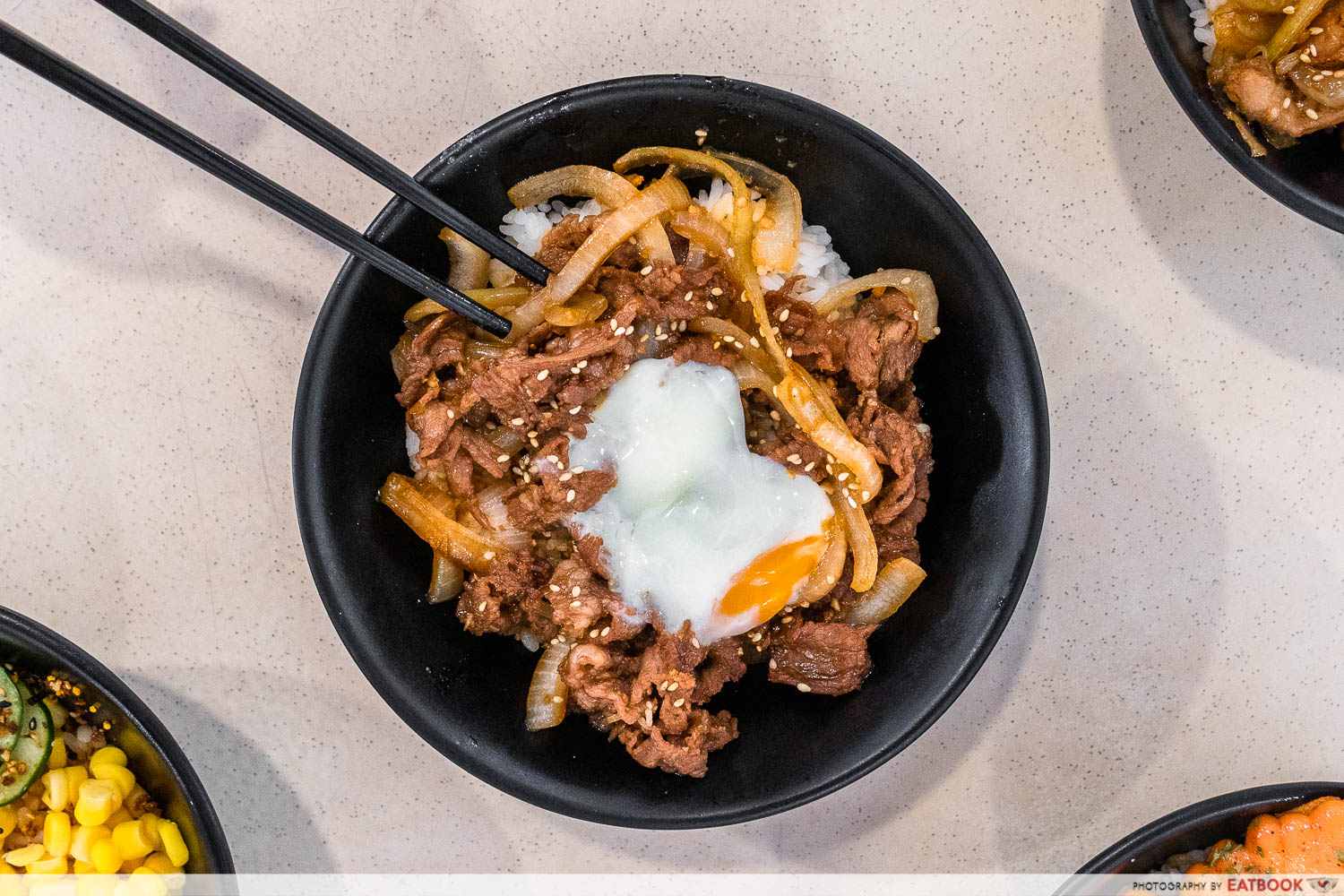 I also ordered the Pork Belly Donburi ($6.80), which consists of thin pork belly slices simmered in the same teriyaki sauce and tossed with sliced onions. This donburi is also served with an onsen egg on top. One thing I noticed about all their donburi is that they are well-portioned, so you get your money's worth.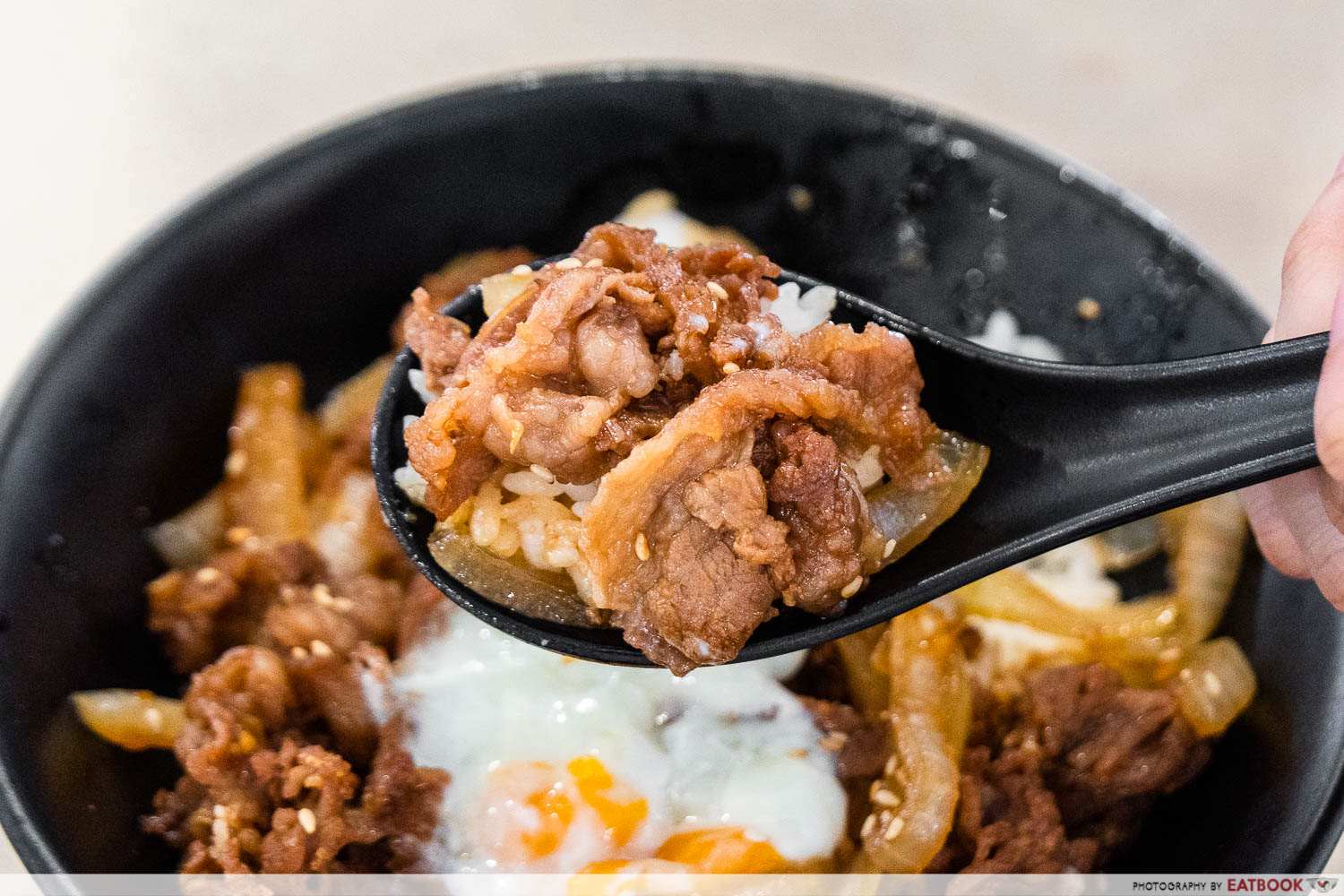 There was a good balance of pork belly and onion, even though I felt that the dish could have used a little more pork belly. Since the meat was simmered in teriyaki sauce, it was pleasantly sweet, and went well with the rice and onsen egg.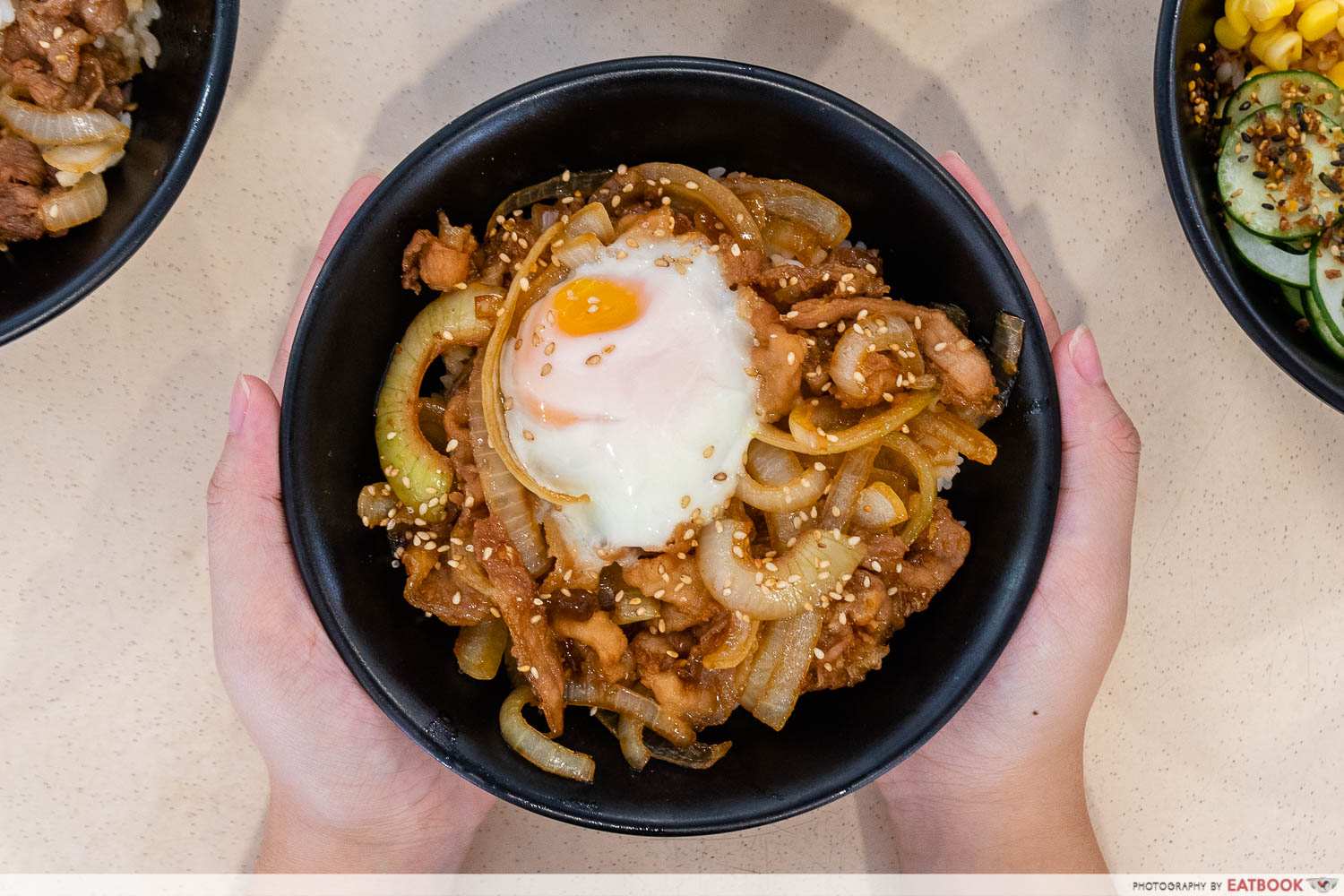 I also got the Yakiniku Donburi ($6.80), which comes with slices of beef and an onsen egg. The beef was also simmered in the sweet teriyaki sauce, but it was grilled longer than the pork belly, making it slightly charred. Personally, I preferred the yakiniku over the pork belly.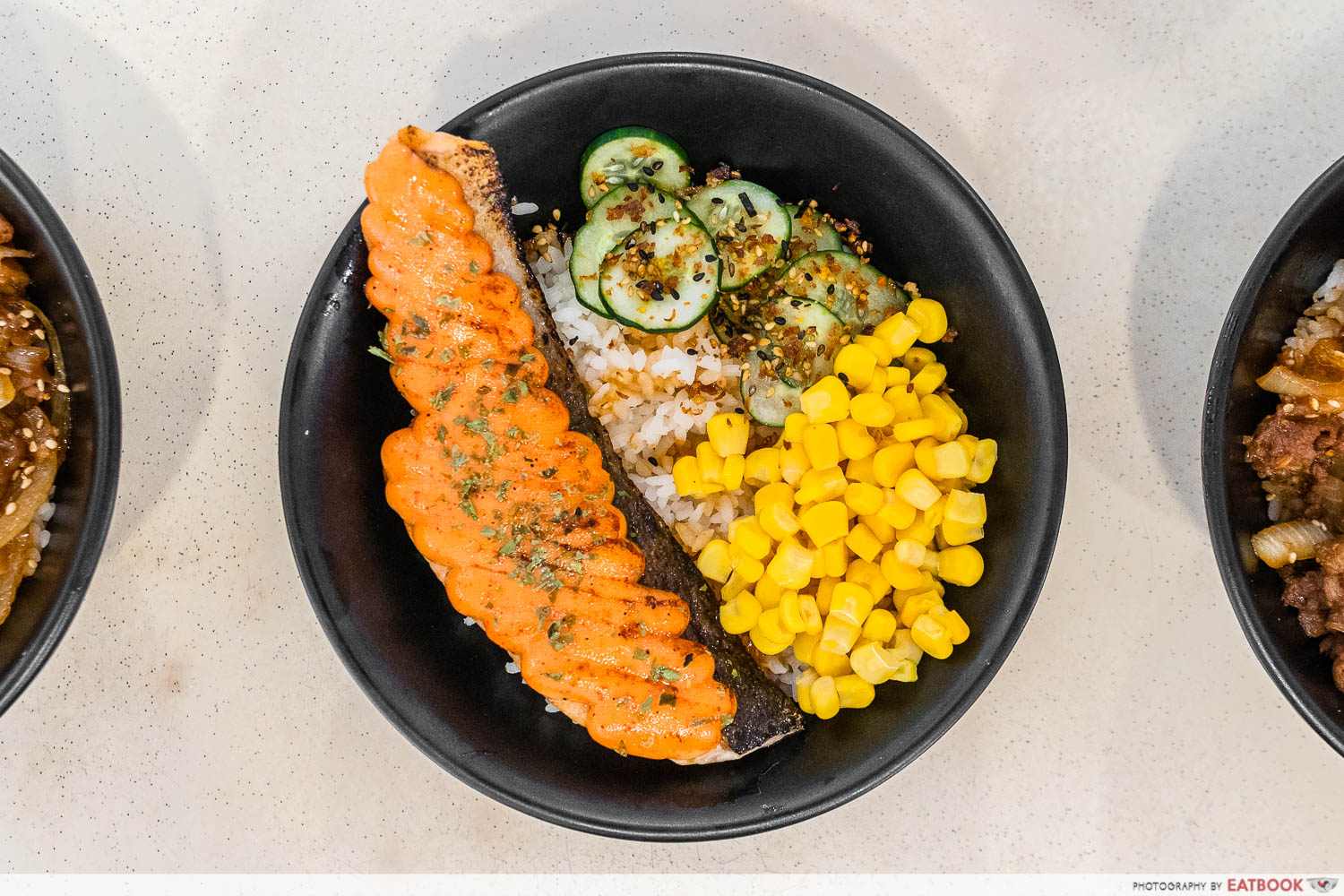 We finished our meal with the Salmon Mentai Donburi ($8.80). It came with a massive slab of salmon fillet and a generous dollop of mentaiko mayo. The fish was flaky and the skin was also grilled to a crisp, but unfortunately it became soggy after our long shoot.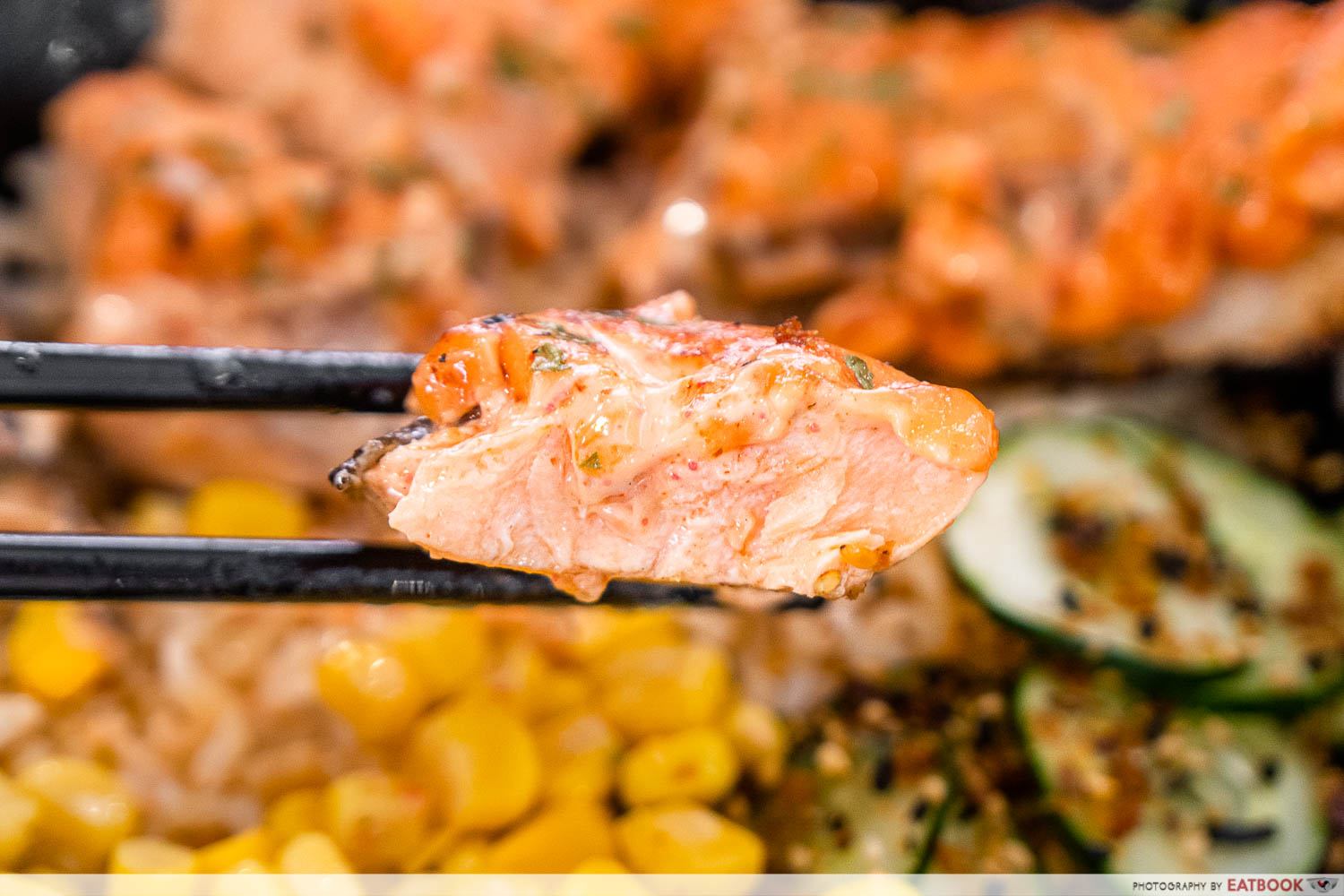 When we took our first bite of the salmon, we were surprised because it was spicy! The owners told us that they spruced up the mentaiko mayo by adding in a spicy sauce for a kick. This proved to be a good move as the sauce has become popular among customers. As mentaiko mayo can be jelak, the spicy sauce helped to cut the greasiness.
Ambience at Mikuriya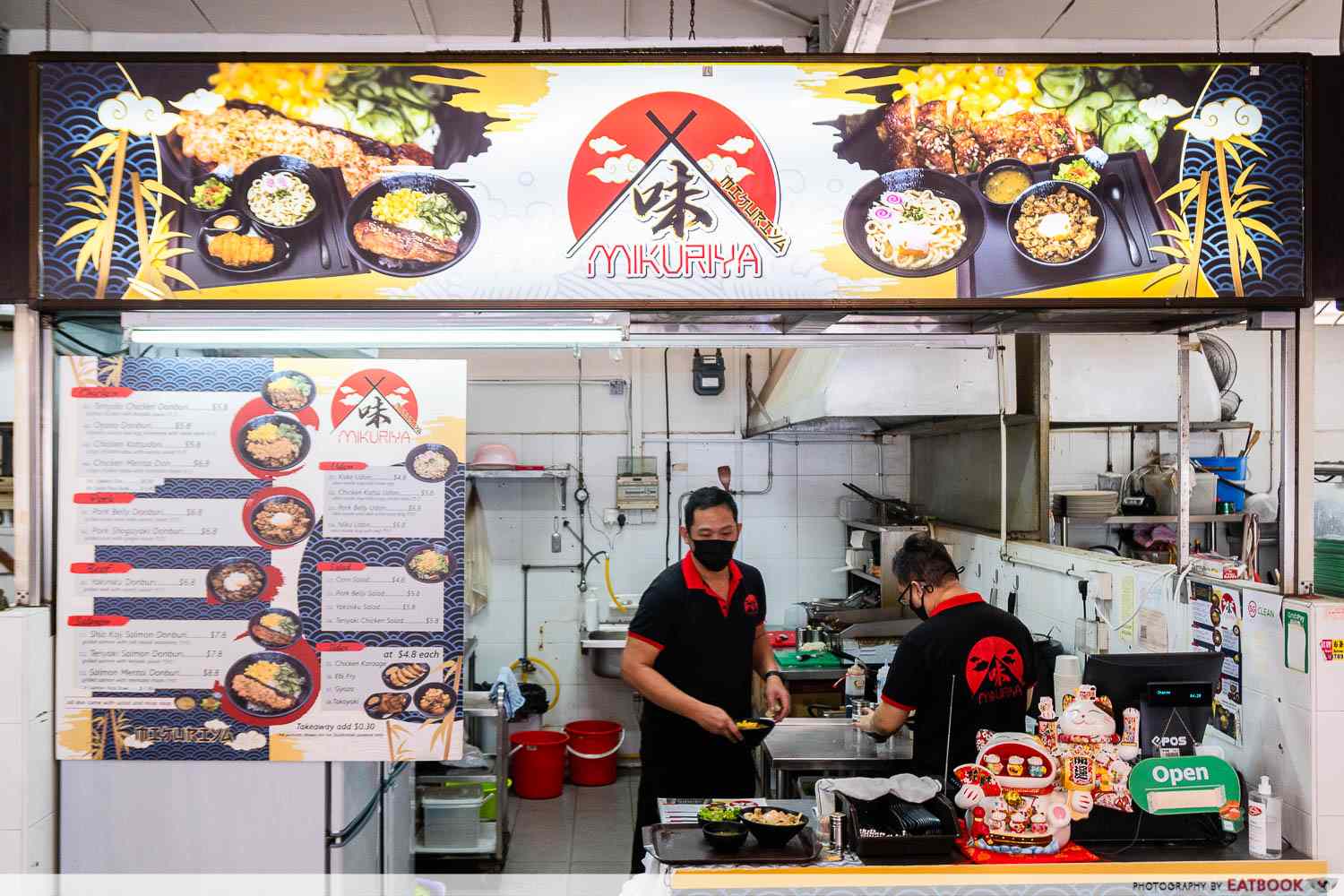 Mikuriya is hidden among the industrial buildings, making it difficult to find the coffeeshop. The bus ride from Ang Mo Kio MRT Station takes about 10 to 12 minutes. Thereafter, it's a five to seven minutes walk from the bus stop to the coffeeshop. If you are driving or taking a cab there, it would be much easier to access.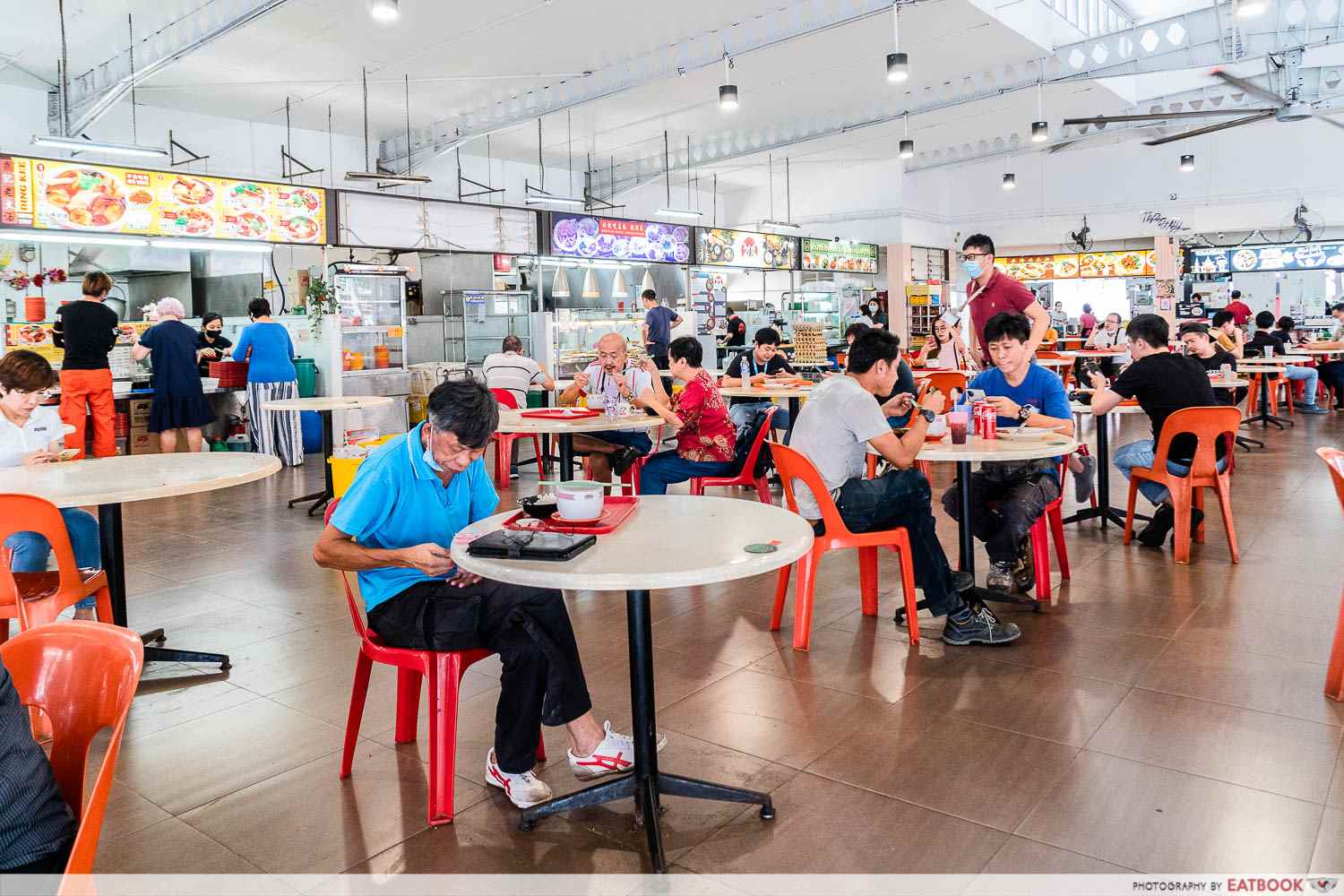 The coffeeshop is similar to a canteen, with plenty of seats and a large ceiling fan to keep you cool in the hot weather. Despite arriving during the lunch hour, we were able to easily secure a table due to the ample seating available.
The verdict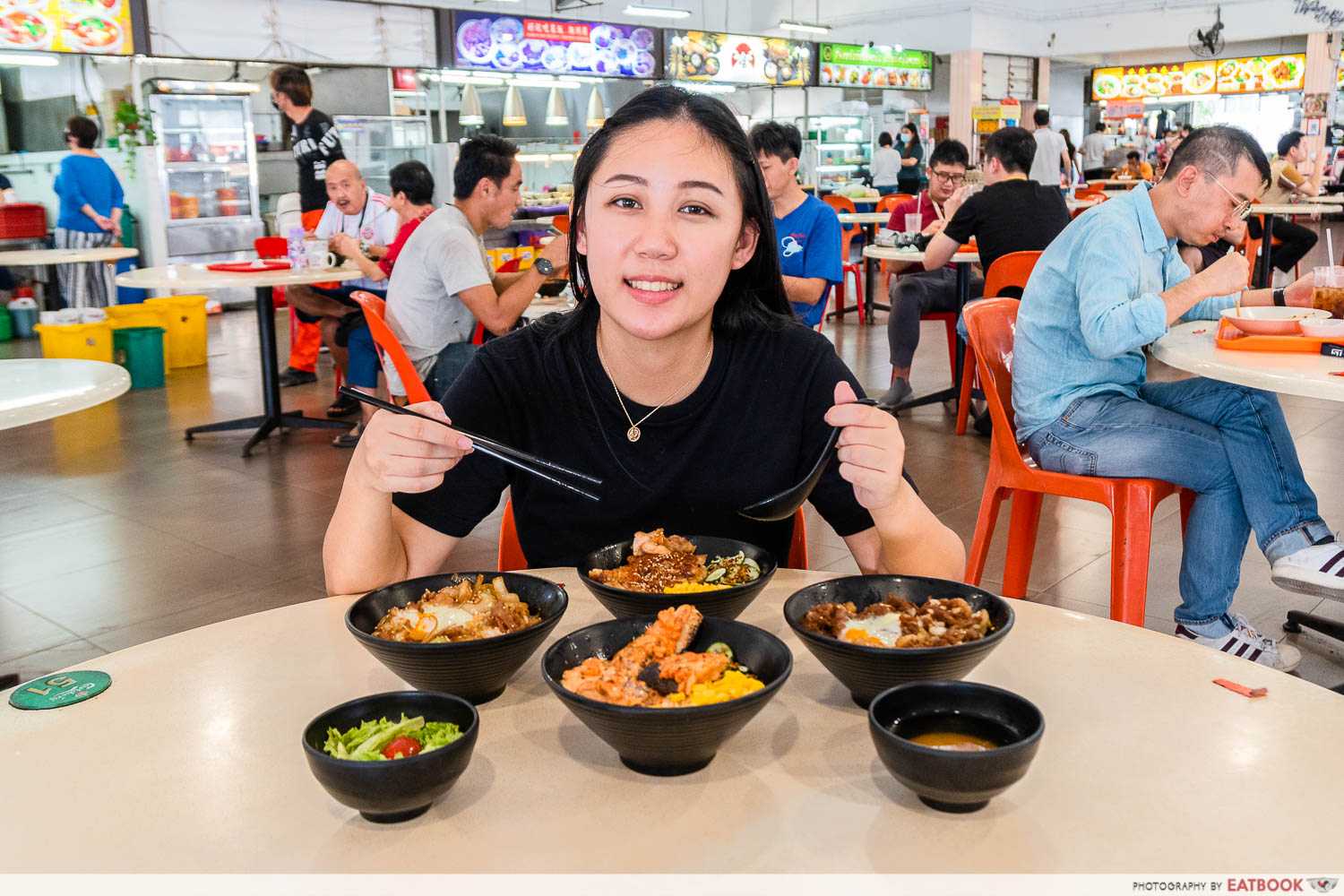 Aside from the inconvenient location, I was pleased with most of the rice bowls. Not only were the prices affordable, the dishes were also delicious thanks to the years of experience from both chefs. If you can get past the inconvenient location, you'll be surprised by what this small hawker stall has to offer.
For more food recommendations around Ang Mo Kio, check out our Shu Heng Bi Tai Mak review for johor-style bi tai mak. Alternatively, you can also check out our Bunsik review for cheese corn dogs, and injeolmi croffles. 
Address: 5036 Ang Mo Kio Ind Park 2, Singapore 569539
Opening hours: Mon-Sat 11am to 9pm
Tel: 9692 5626
Website
Shu Heng Bi Tai Mak Review: Johor-Style Bi Tai Mak In Ang Mo Kio Sells Out By 12pm
Photos taken by Tan Zi Hui
This is an independent review by Eatbook.sg
Mikuriya Review: Ex-Sushi Tei Chefs Open Hawker Stall At Ang Mo Kio With Japanese Rice Bowls From $5.80
Mikuriya Review: Ex-Sushi Tei Chefs Open Hawker Stall At Ang Mo Kio With Japanese Rice Bowls From $5.80 -

7.5/10
Summary
Pros
– Affordable prices
– Spicy mentaiko mayo was delicious
– Teriyaki chicken had crispy skin and a good amount of sauce
Cons
– Inconvenient location
Recommended dishes: Teriyaki Chicken Donburi ($5.80), Salmon Mentai Donburi ($8.80)
Opening hours: Mon-Sat 11am to 9pm
Address: 5036 Ang Mo Kio Ind Park 2, Singapore 569539