AM:PM Cafe in Ang Mo Kio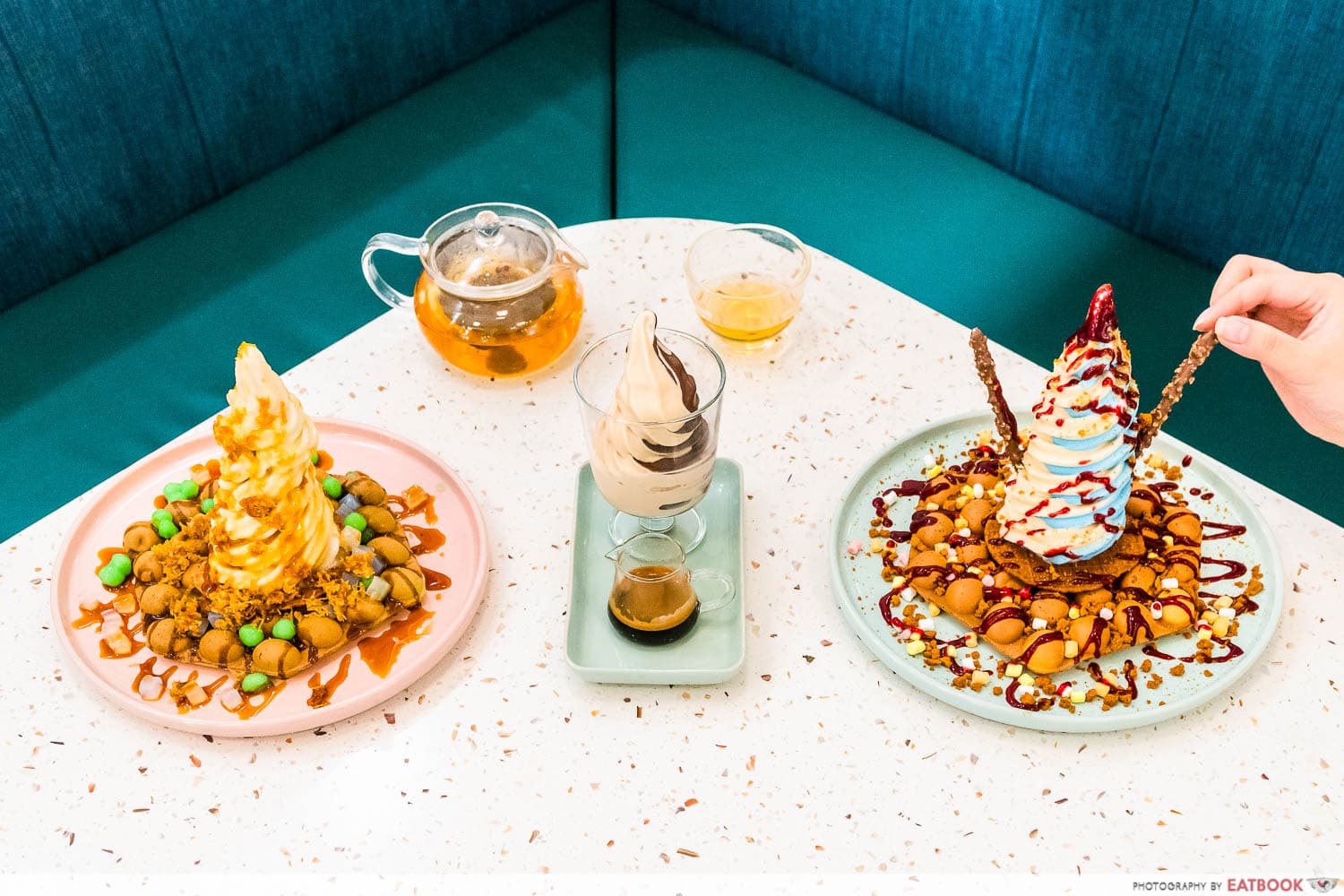 For me, the classic combo of waffles with ice cream is getting a little too repetitive and mainstream. Don't get me wrong, I still enjoy this duo, but I've been looking to try something unique and different. That's when I discovered AM:PM Cafe in Ang Mo Kio.
This name may ring a bell, as they've been around since December 2020. But if you haven't heard of them yet, they are known for their soft-serve ice cream with egglet waffles, which is definitely something new to me. What's more, they are open till 12am on Fridays and Saturdays!
This IG-Worthy Halal Eatery In Pasir Ris Has SG's First Volcano Buns, DIY Pasta, Curry Mee And More
Food at AM:PM Cafe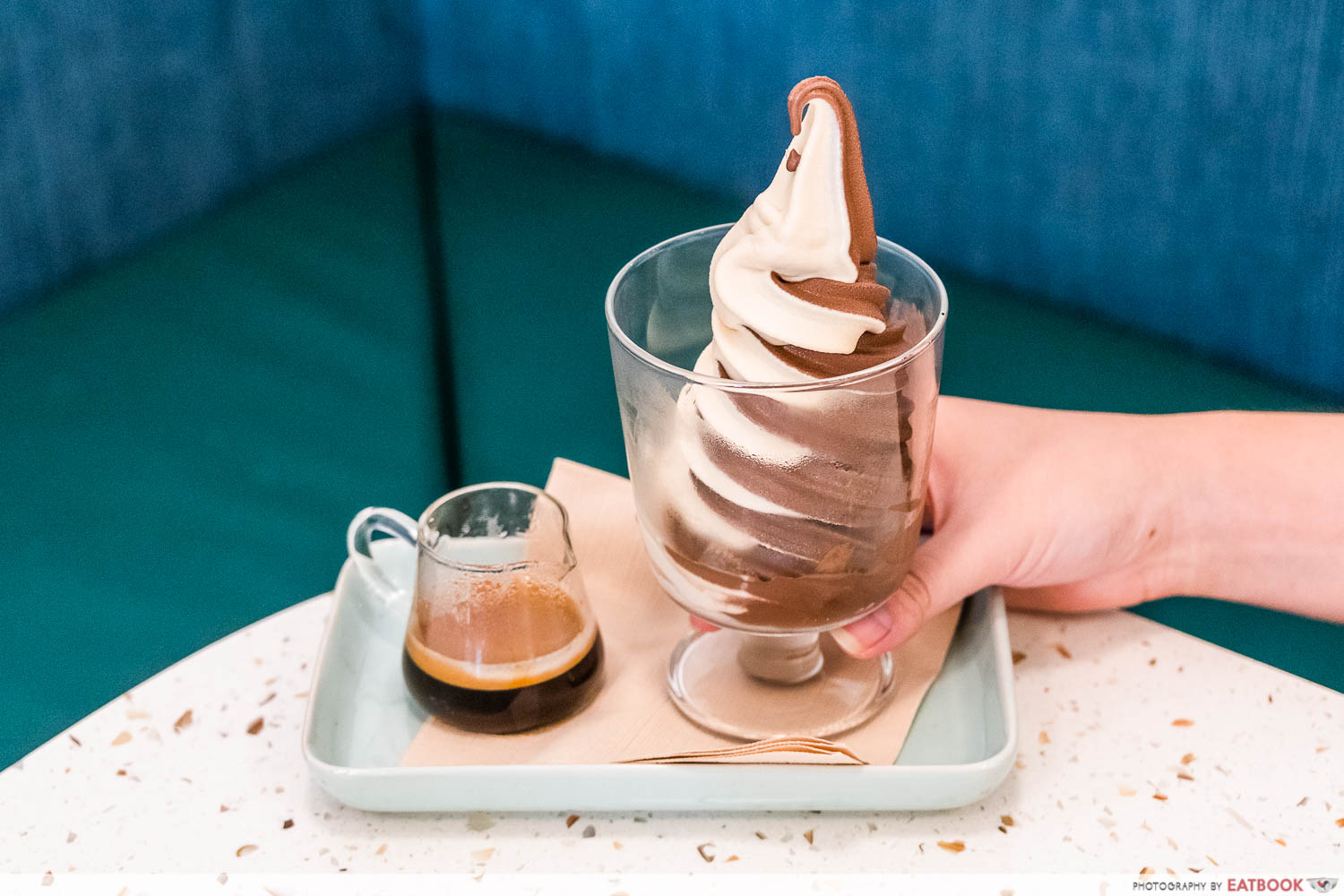 I started my experience with the Affogato ($6.50) as I needed a midday caffeine boost. It came with a salted caramel and chocolate soft serve swirl, and a shot of espresso on the side. At first glance, my colleague and I were shocked at the amount of ice cream we were served. It's one of the tallest soft serve ice creams that I've seen around.
Before pouring the coffee over the ice cream, I had a taste of the Salted Caramel and Chocolate Swirl. The ice cream boasted deep, dark chocolate notes, with a touch of savouriness from the salted caramel ice cream. I felt that the two flavours complemented each other, making this a moreish treat. Moreover, I loved how creamy and smooth the soft serve was.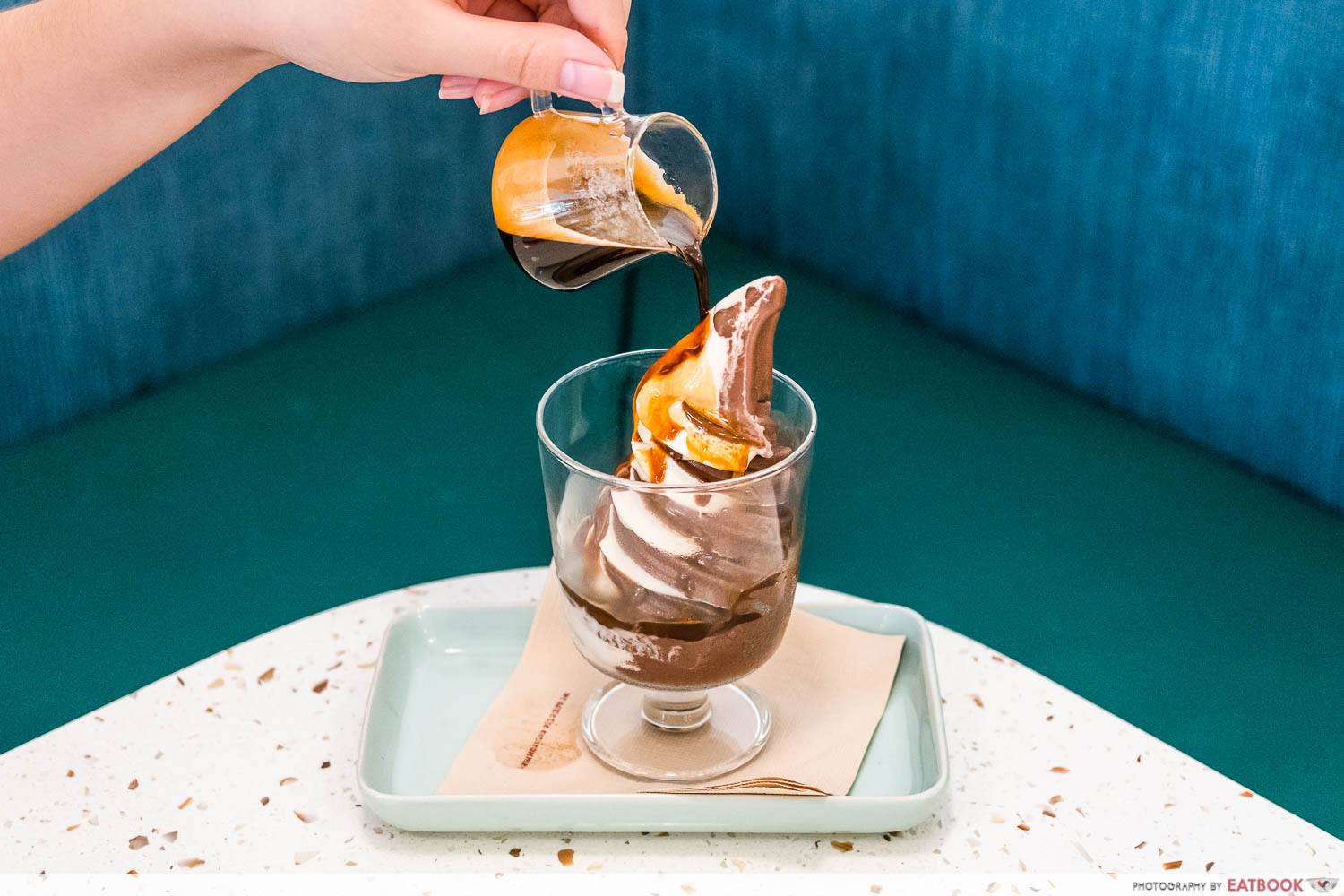 I did enjoy the ice cream by itself, but the addition of coffee definitely elevated the dessert. Now, on top of the chocolatey, caramelly notes, there was a pleasant bitterness, and the additional, robust aroma of coffee. Coffee fans will definitely love this.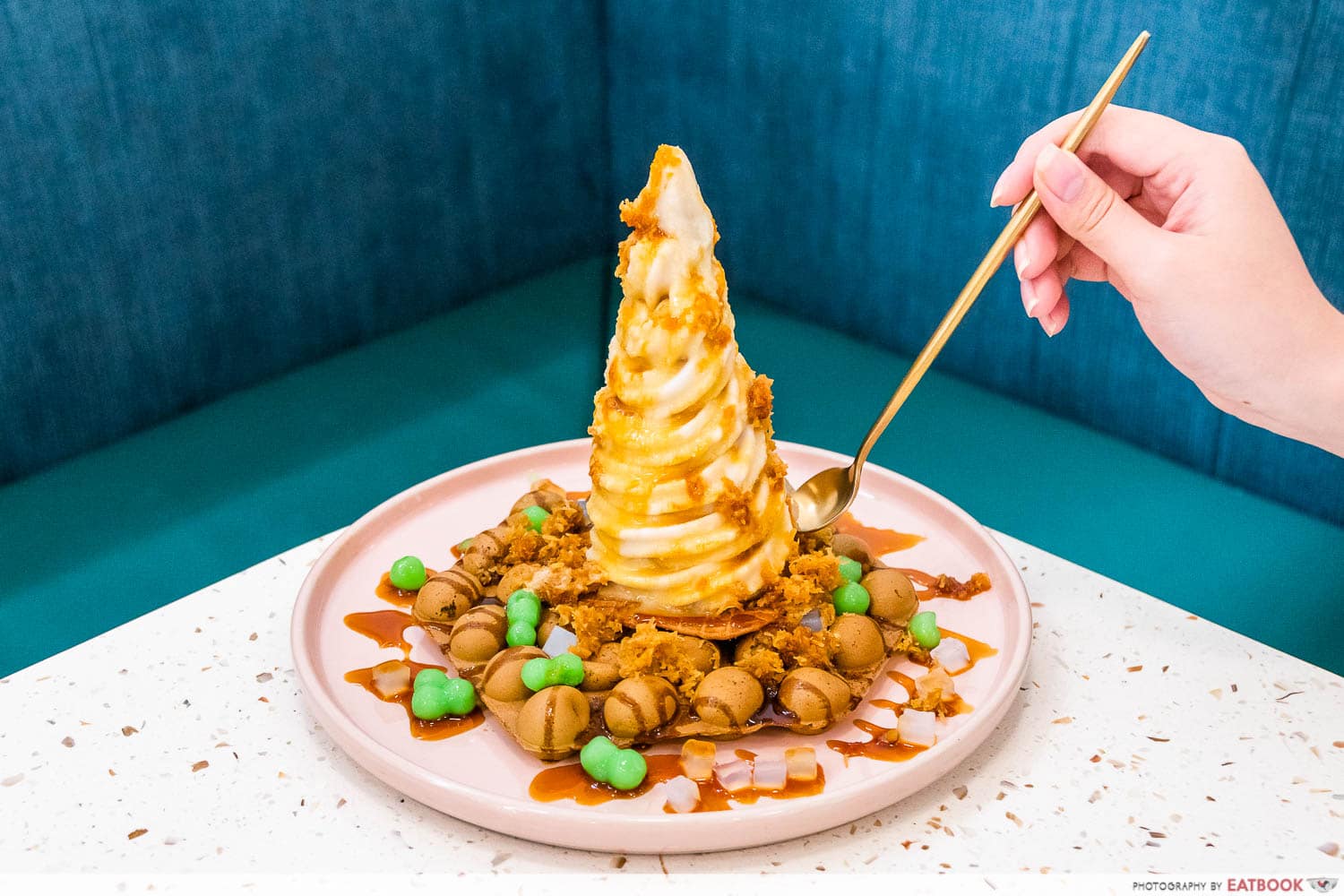 Next, I tried their newest creation—Pandan Delight ($12.50). It comprises a pandan-flavoured egglet waffle, coconut soft serve, nata de coco, green sago, desiccated coconut, and gula melaka. 
To my surprise, the coconut soft serve had desiccated coconut within, which gave it a gritty mouthfeel. It was also not as creamy as the previous soft serve, and melted rather quickly. However, this could be because it's a vegan ice cream. Nevertheless, the coconut flavour was really prominent and it wasn't overly sweet, which I appreciated.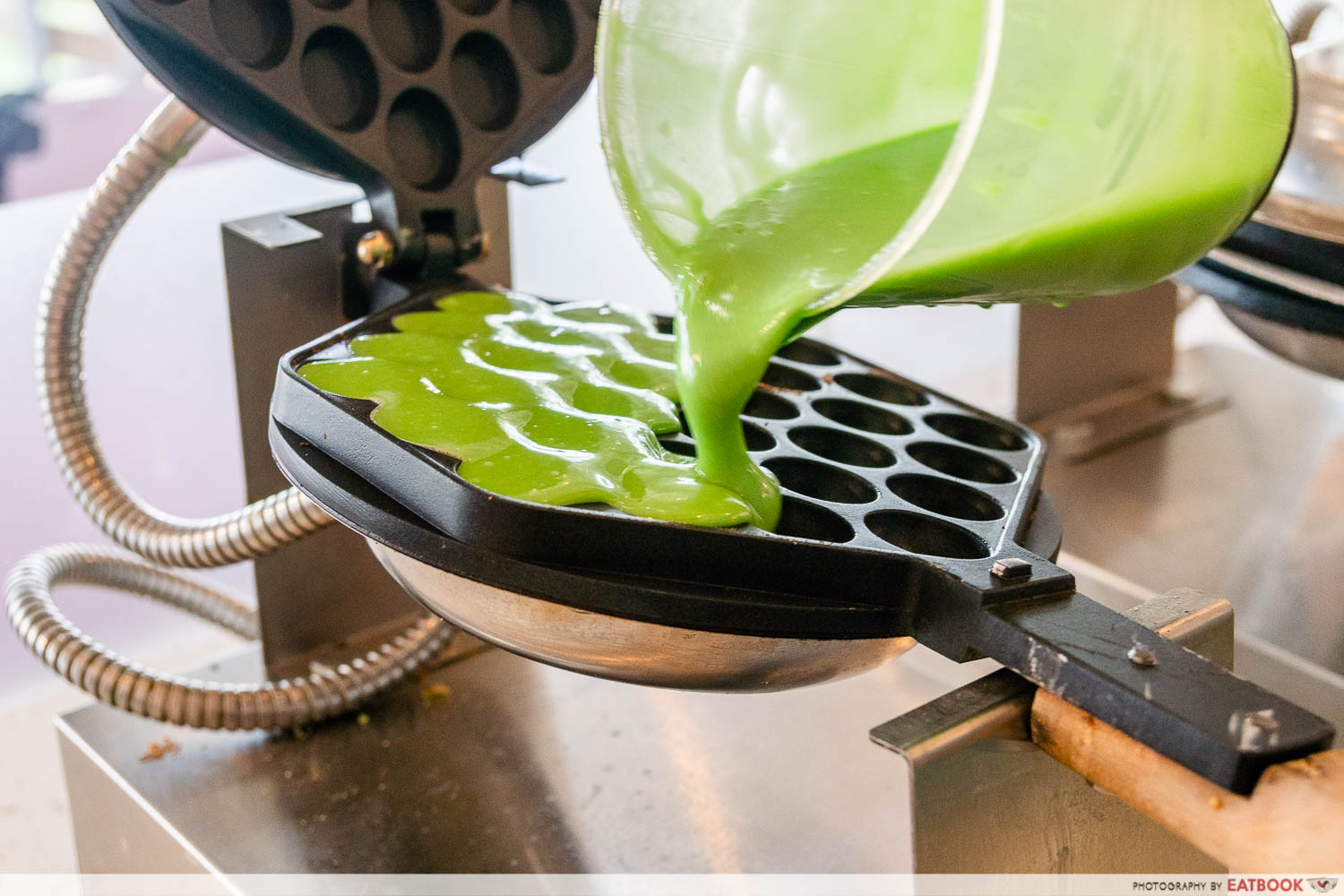 I also enjoyed the pandan egglet base. If you're unfamiliar with egglets, AKA gai dan zai, they're a street snack most commonly associated with Hong Kong.  These little waffle balls were light, airy and slightly chewy, with a lovely, eggy fragrance. What's more, they're made fresh to order, so the waffle was still warm and soft when served. Unfortunately, I felt that the pandan flavour wasn't able to shine through as it was masked by the coconut soft serve and gula melaka drizzle.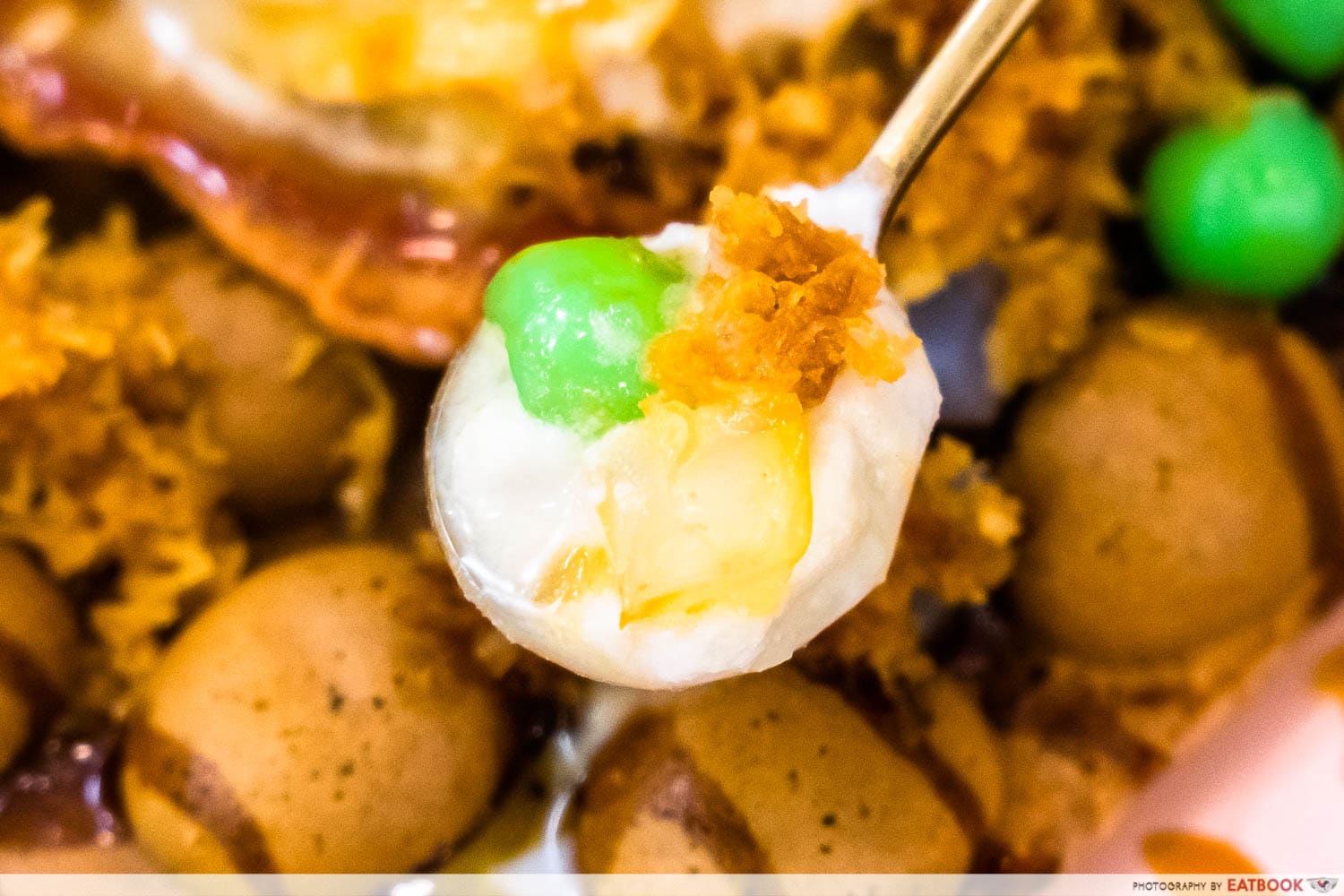 The sago, nata de coco and toasted desiccated coconuts add elements of fun and texture to the dessert. Overall, I felt that the dessert was reminiscent of the traditional ondeh ondeh—heavy with gula melaka and coconut, with a soft, chewy medium.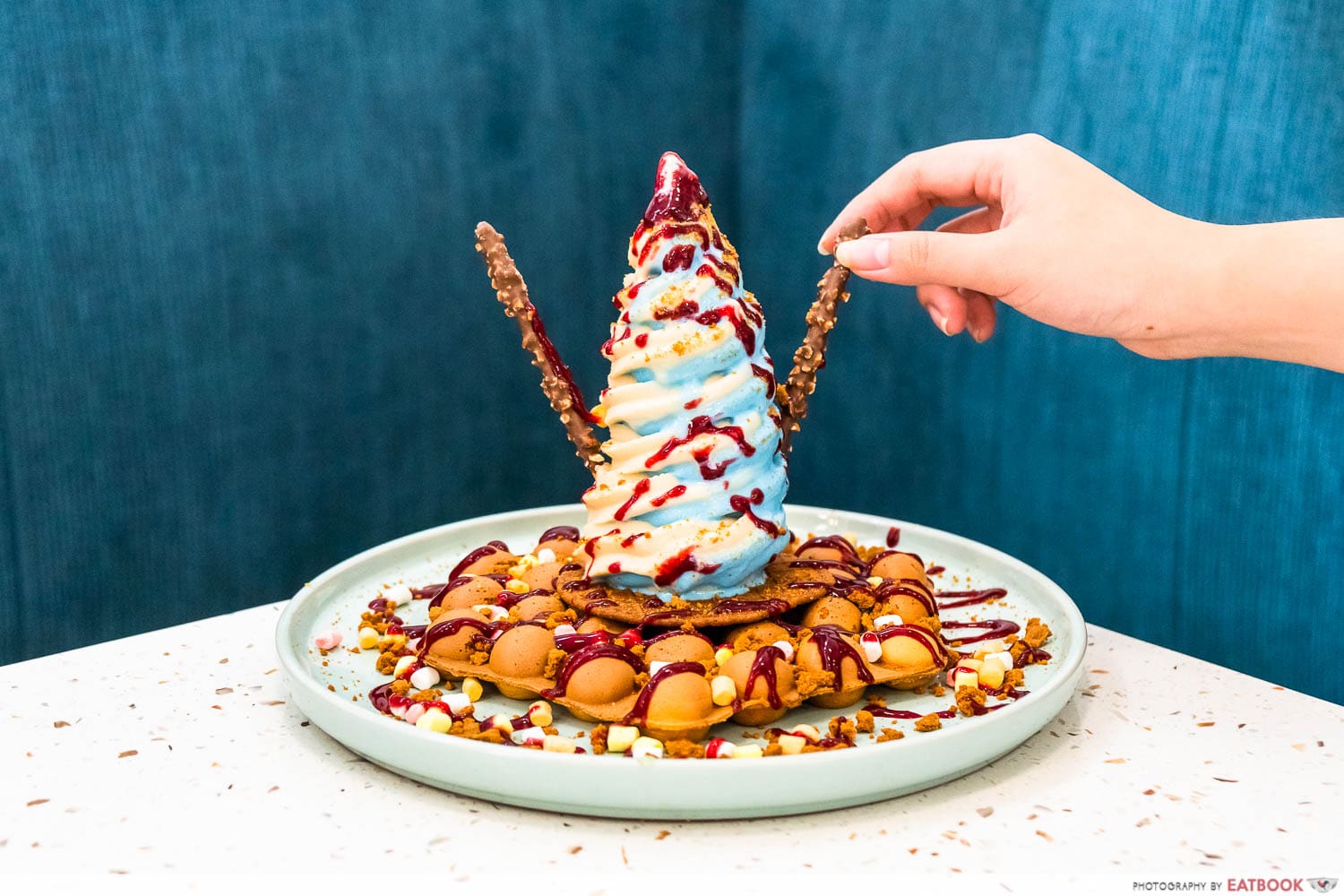 Besides the fixed ice cream combinations, AM:PM's menu also gives you the freedom to DIY your own dessert. You can either enjoy your ice cream in a cup ($4.50), cone ($5.50), or on an egglet waffle ($9). Each serving comes with three toppings and one sauce of your choice. You can also top up $2 for a cup of Americano (U.P. $4) or tea (U.P. $4.50) on the side. 
For my DIY dessert, I went for the original egglet, with Milky and Earl Grey Swirl, topped with Pepero, mini marshmallows, Lotus Biscoff crumbs, and drizzled with their homemade berry sauce.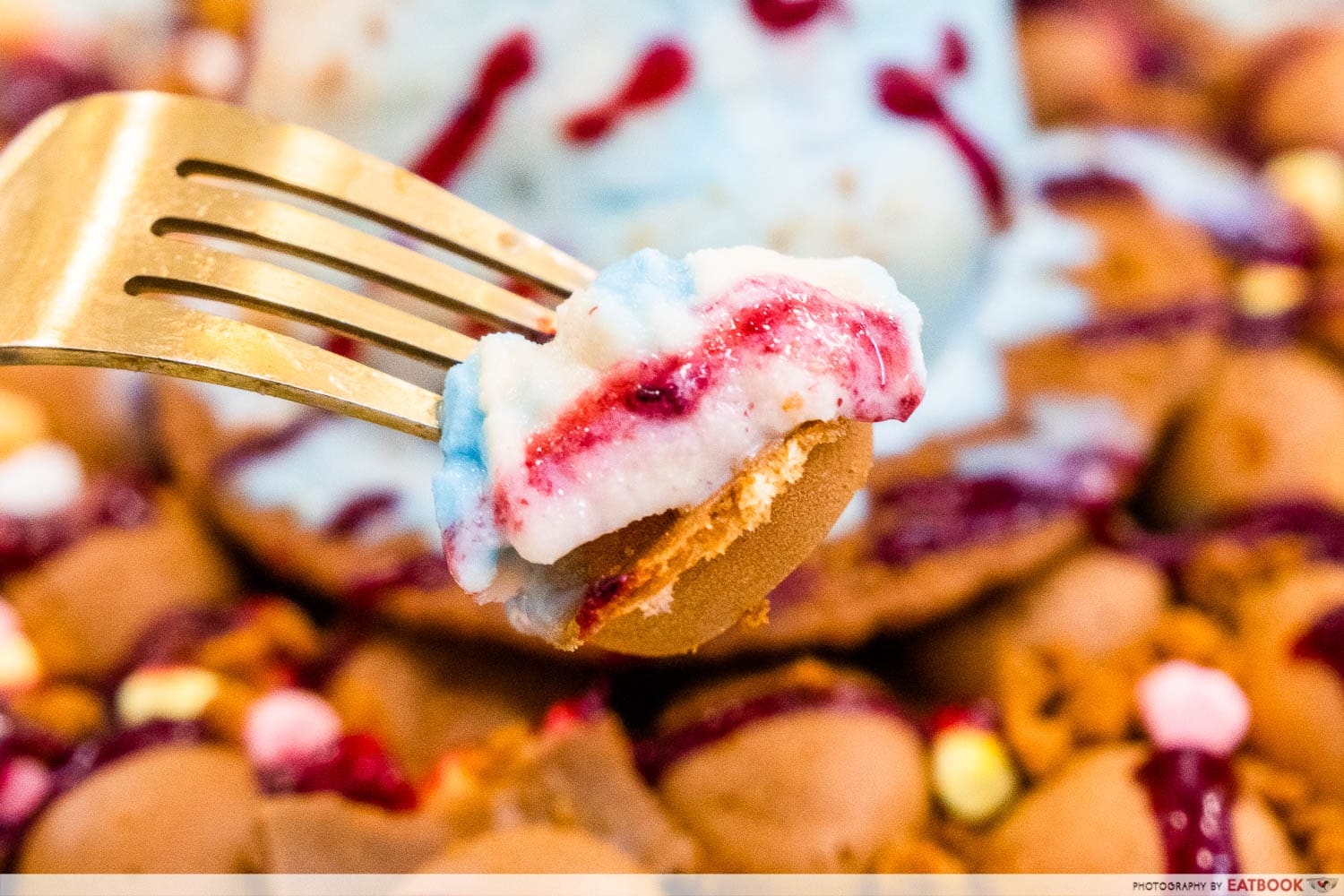 As with the coconut soft serve, the Milky and Earl Grey Swirl melted rather quickly and was a little icy in texture. On the flavour front, the earl grey was fragrant but a bit too strong for my liking. It was also skewed a little sweeter than I would have liked, so it got jelak after a while. 
Thankfully, there was the tangy berry sauce that helped brighten the dessert. It did, however, leave a lingering bitter aftertaste that I didn't enjoy. So, I recommend going for the chocolate or caramel drizzle if you're not feeling adventurous. 
The Humble Scoop Review: Locally Inspired Ice Creams In Flavours Like Ribena Ripple, Honey Lemon And More
Ambience at AM:PM Cafe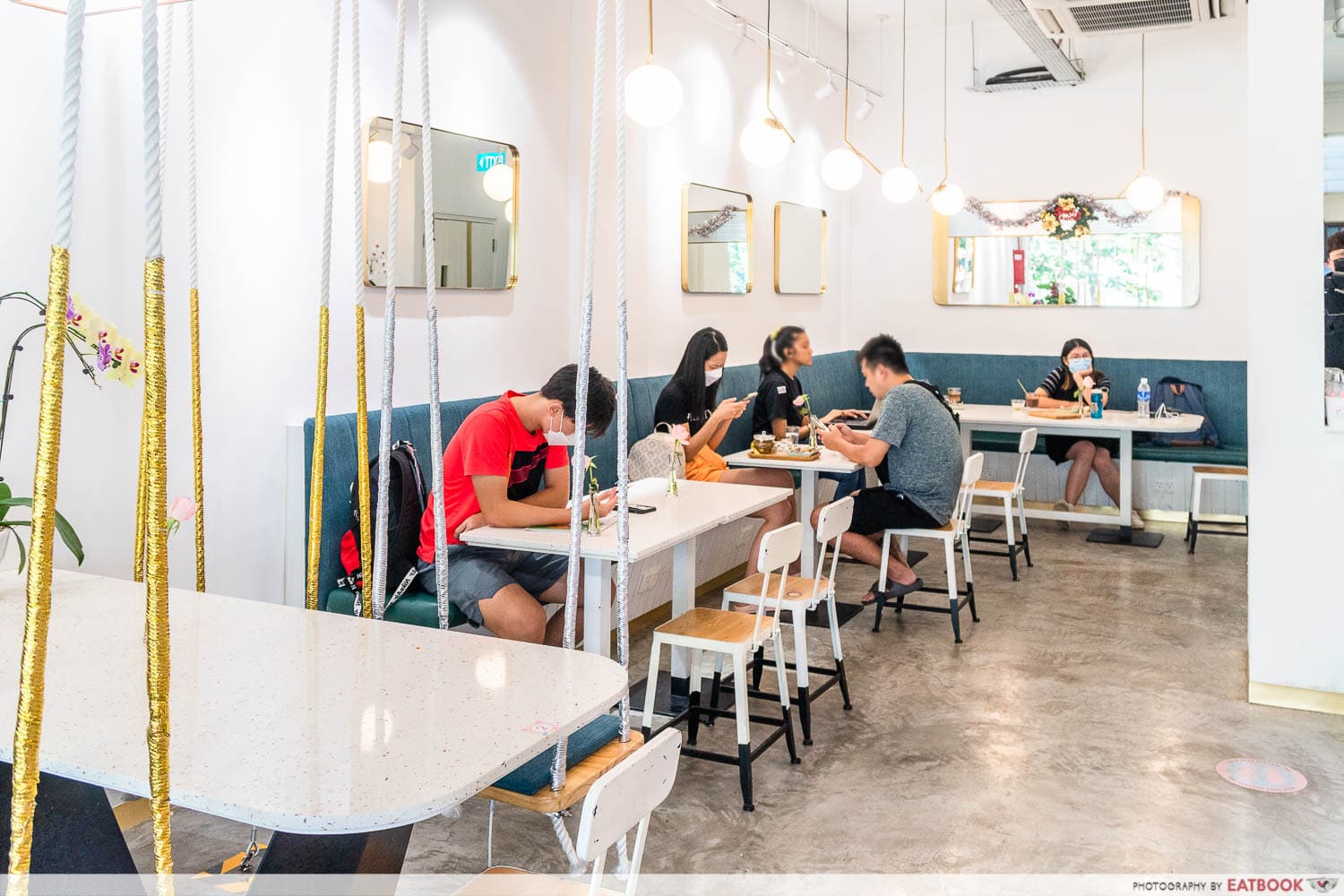 AM:PM Cafe is located within one of the shophouses along Ang Mo Kio Avenue 10. You can either choose to walk or take a bus ride from Ang Mo Kio MRT Station, both of which will take approximately 12 minutes. Although it might be slightly inconvenient, the neighbourhood is rather quiet, so you can enjoy your afternoon tea in a peaceful setting. 
12 Late-Night Dessert Places That Close After 11pm For Muah Chee Gelato, Thai Milk Tea Bingsu And More
The verdict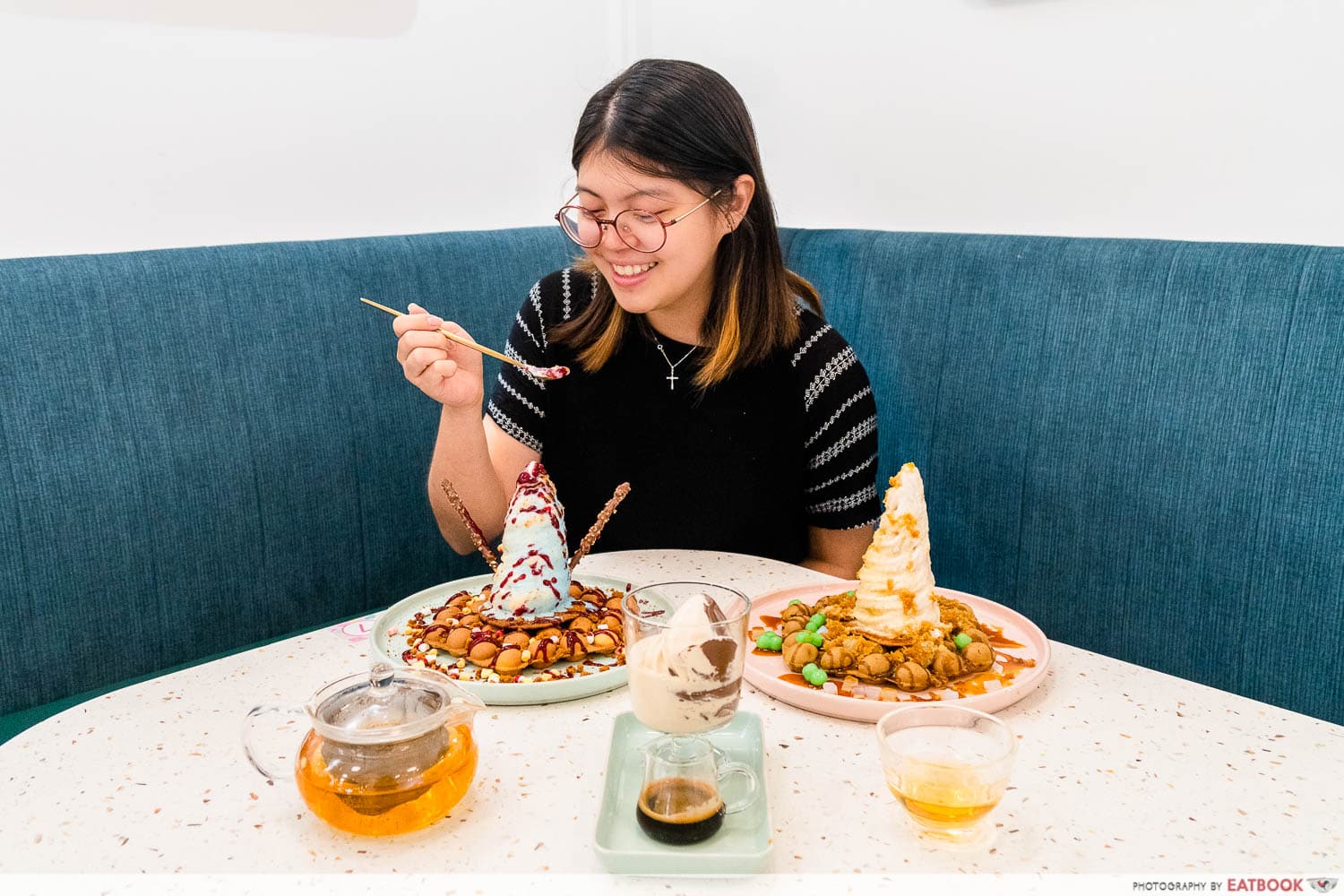 If you are looking for a late-night dessert spot with an Instagrammable interior, AM:PM Cafe is the place to go. What's more, the prices here are rather reasonable for the portion sizes. There were definitely a few hits and misses, but I'll definitely be back for their Affogato.
Do note that some flavours are seasonal. They previously featured Grapefruit Beetroot, and Matcha flavours, which have been replaced with the Coconut, Salted Caramel and Chocolate soft serve, so you can look forward to more flavours in the near future! Top secret, but it has been said that a Bandung flavour is in the making, so keep your eyes peeled on their Instagram Page if that's your cup of tea. 
For more supper desserts places, check out our late-night dessert food guide which features Muah Chee Gelato and Thai Milk Bingsu. Alternatively, check out our Ang Mo Kio food guide which includes Korean corn dogs, $1.30 dim sum, and others. 
Address: 529 Ang Mo Kio Avenue 10, #01-2365, Singapore 560529
Opening hours: Sun-Thurs 11:45am to 10:30pm, Fri-Sat 11:45am to 12am
Website
AM:PM Cafe is not a halal-certified cafe but no pork or lard is used. 
17 Ang Mo Kio Food Gems Including Cheesy Korean Corndogs And $1.30 Dim Sum
Photos taken by Zi Hui.
This is an independent tasting at AM:PM Cafe.
AM:PM Cafe Review: Egglet Waffles With Soft Serve Ice Cream In Ang Mo Kio
AM:PM Cafe Review: Egglet Waffles With Soft Serve Ice Cream In Ang Mo Kio -

7/10
Summary
Pros
– Quiet and cosy ambience
– Value-for-money
– Customisable desserts
Cons
– Slightly inconvenient location
– Soft serve melts too quickly
Recommended dishes: Affogato ($6.50), Pandan Delight ($12.50)
Opening hours: Sun-Thurs 11:45am to 10:30pm, Fri-Sat 11:45am to 12am
Address: 529 Ang Mo Kio Avenue 10, #01-2365, Singapore 560529