The Humble Scoop at Kovan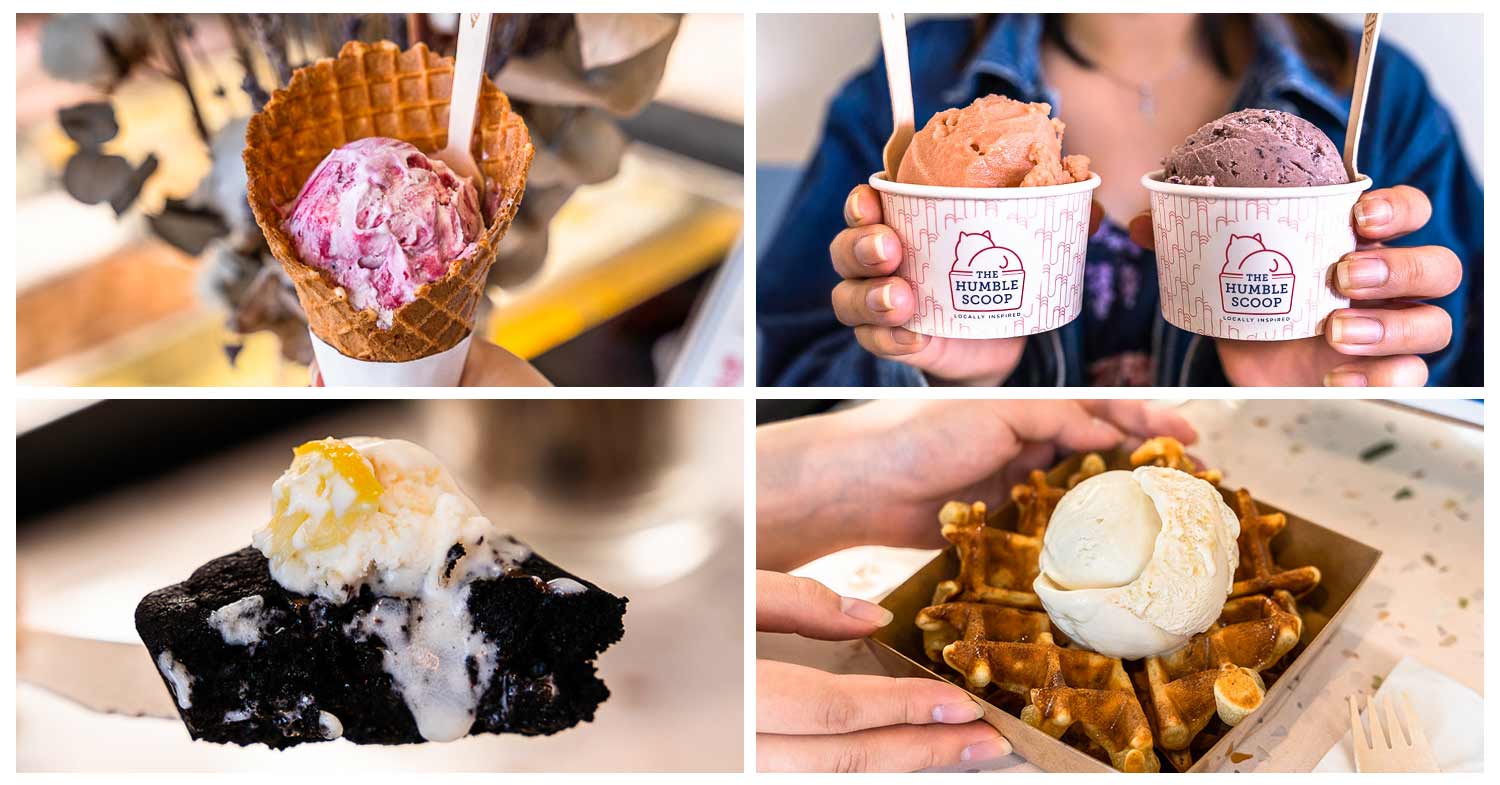 If you are looking for nostalgic desserts with a twist, head down to The Humble Scoop. They offer a range of locally inspired ice cream in flavours such as Pulut Hitam, Guava Sourplum, and Kopi C Siew Dai.Alternatively, they also have more classic flavours including Pistachio, Earl Grey, Old School Chocolate and many others, so there'll definitely be a flavour for everyone. What's more, they are open till midnight, so you can pop by for your supper fix! 
The Humble Scoop, run by Yvonne, Meixuan, and Ivan, first started out three years ago in Katong Shopping Centre, right next to Dona Manis Cake Shop. In July 2021, they expanded their business and launched their second outlet at Stars of Kovan in Upper Serangoon, a much bigger, more central space. 
Food at The Humble Scoop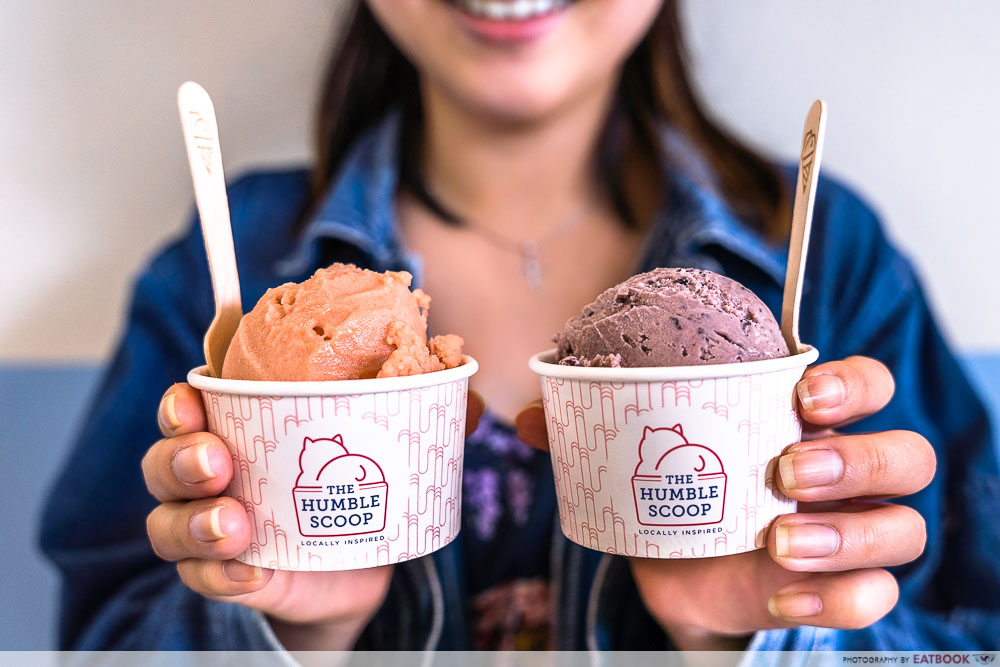 We started off with their crowd favourites: Orh-Bee-Good ($4) and Guava Sourplum ($4) in a cup.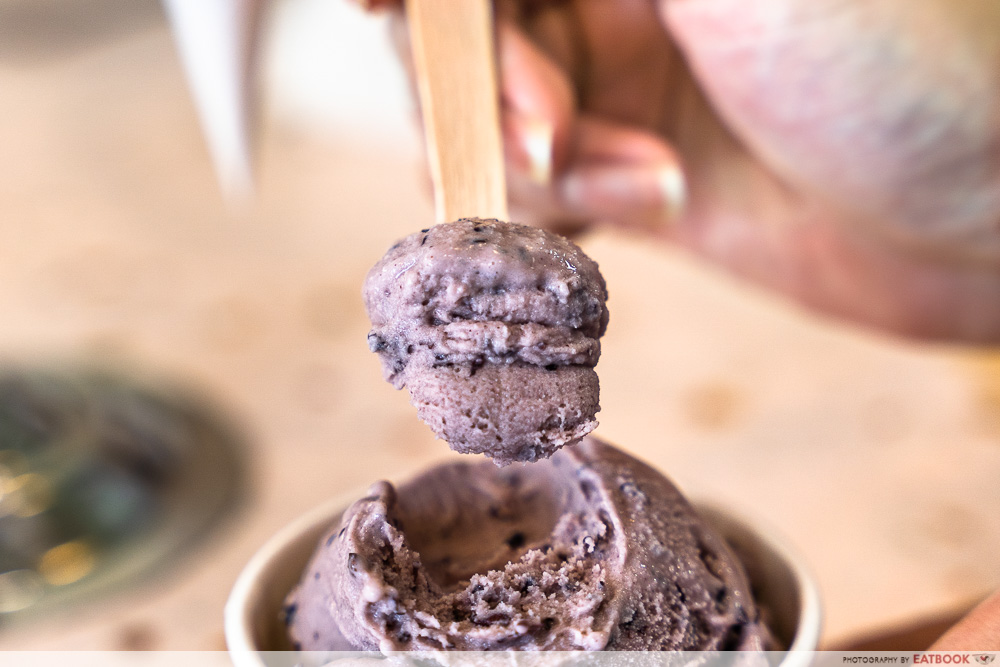 The former, if you can't tell from its punny name, is a pulut hitam-inspired flavour. So think sweet, coconutty, and roasted notes. It also had QQ black glutinous rice within the mix, which brought a nice texture to the ice cream. I was truly amazed by this flavour as The Humble Scoop was able to perfectly recreate and capture the flavours of the hot traditional dessert, and transform it into a cold, creamy treat.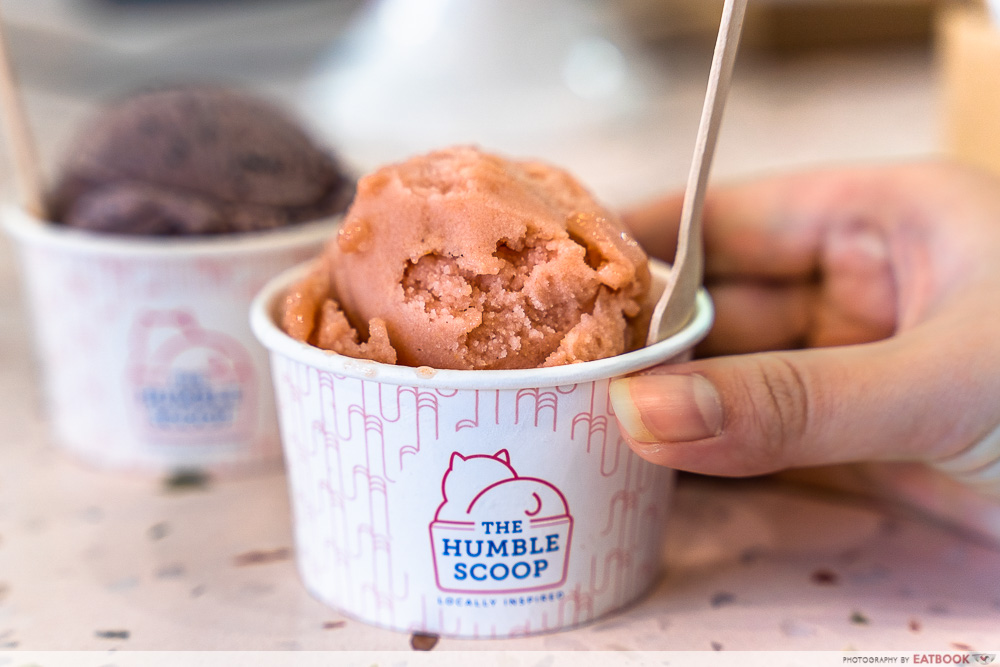 If I have to pick my favourite flavour out of all the ice creams I tried at The Humble Scoop, it would be the Guava Sourplum. Allow me this disclaimer: I may be biased towards this flavour as guava is one of my all-time favourite fruits.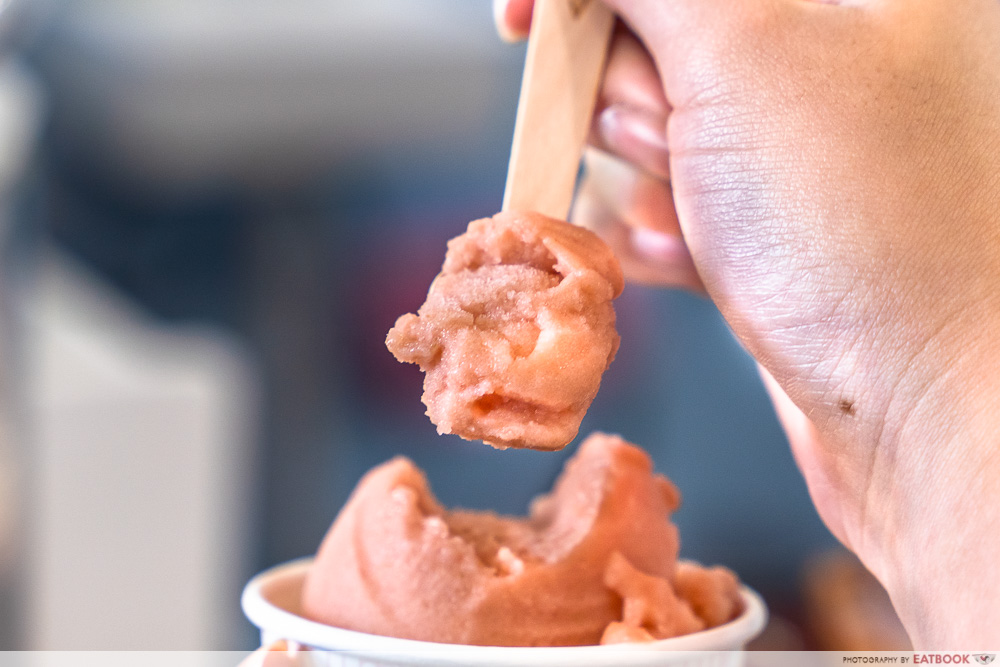 As an avid fan of guava with sour plum, I have to say that the flavour was on point. It was able to capture the guava's fruitiness and tartness, as well as the sweet-sour notes of the sour plum. It wasn't overly sweet, and they were able to balance all of the complex flavours, without overpowering any component. Moreover, its sorbet nature made it even more refreshing. Because I personally prefer sorbets, this item was an undeniable winner for me.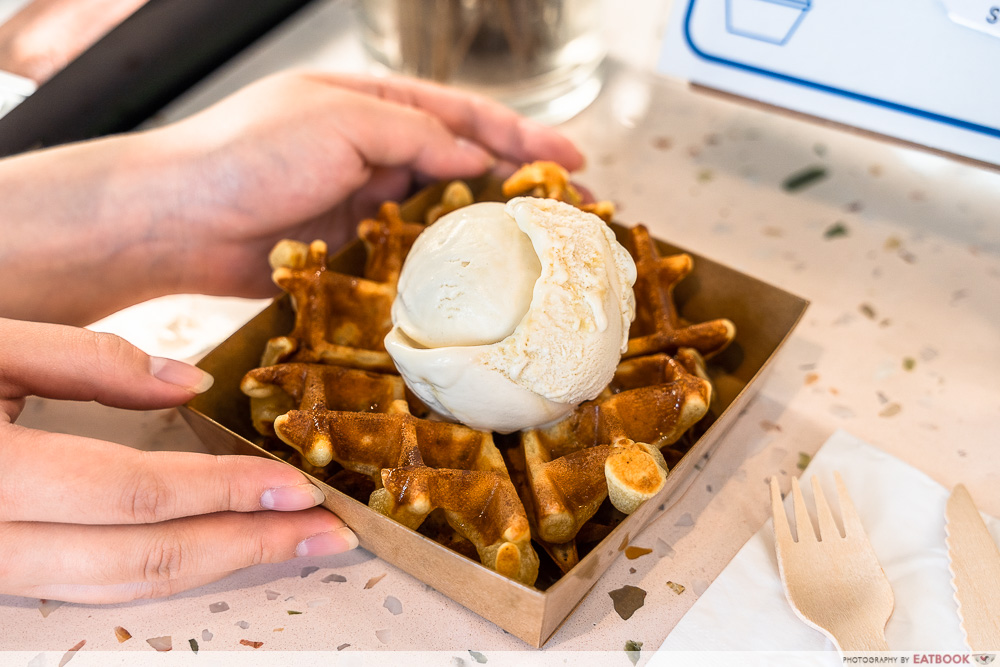 Next, we had the In-Kueh-Dible ($4)—a salted coconut and gula melaka-flavoured ice cream—served on a waffle. 
My first bite of the ice cream had me immediately hooked. The ice cream boasted a deep, caramelly note, with a hint of coconut flavour. I liked how the salt was present as it added a depth of flavour, contrasting against the sweet gula melaka. What surprised me the most was the richness and harmony of the flavours, which I couldn't get enough of. 
Fun fact: the In-Kueh-Dible is inspired by the flavours of chendol and traditional nyonya kueh, where coconut and gula melaka are frequently used.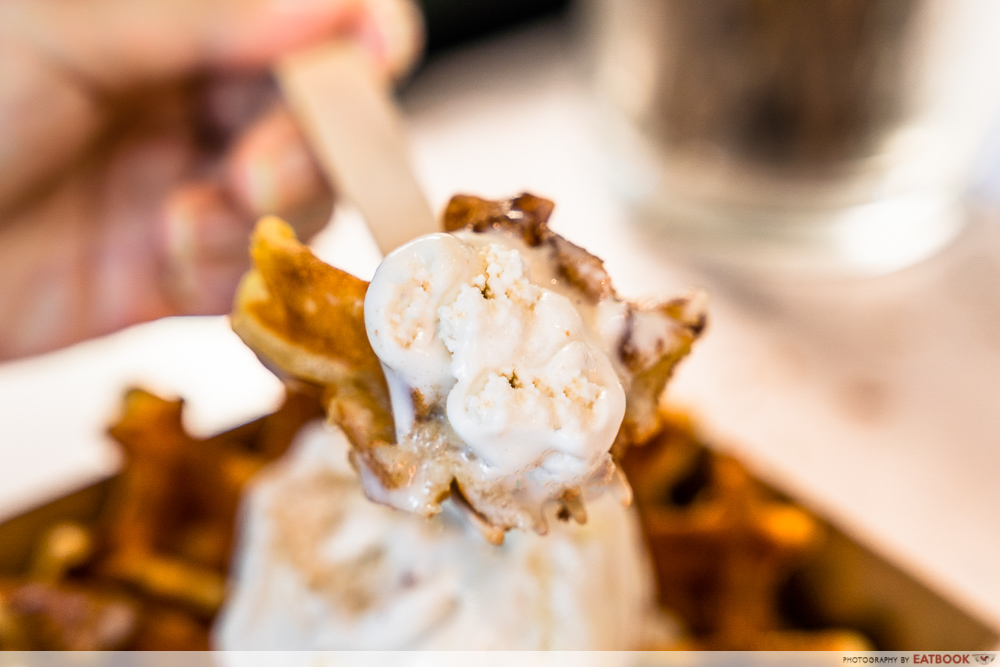 I would highly recommend you zhng-up your ice cream by pairing it with their waffles. The fresh waffle had a lovely crisp exterior, which contrasted well with the light and fluffy interior. The addition of maple syrup also gave the waffle a toasty fragrance, which paired really well with the ice cream. I wouldn't mind simply getting the waffle on its own! This is definitely a must-try here.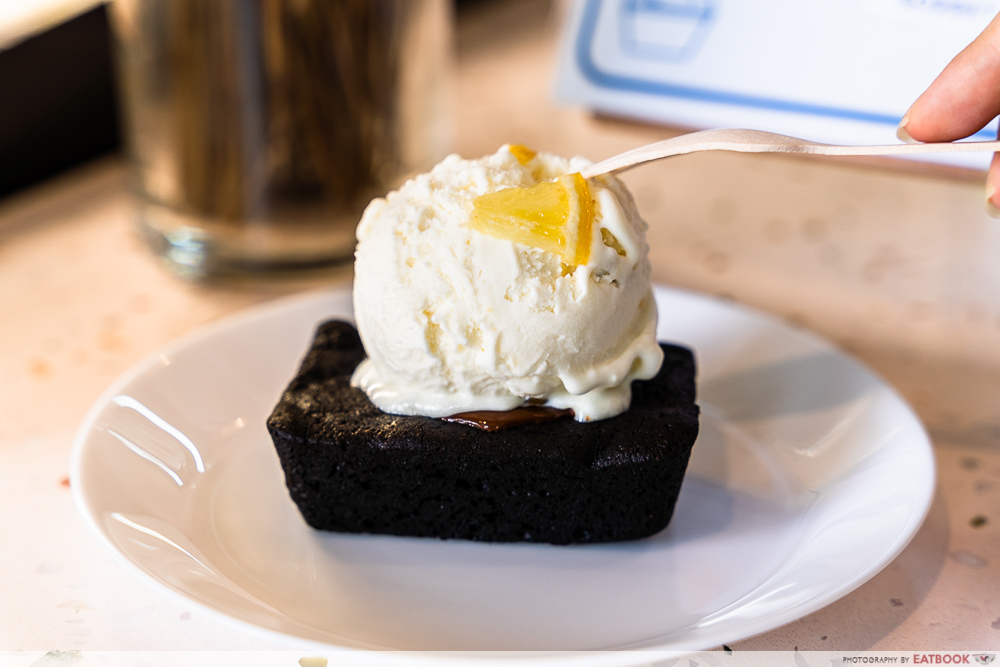 We then moved on to their newest flavour of the month—Honey Lemon ($4)—with the O.G. Brownie (Ooey Gooey Brownie).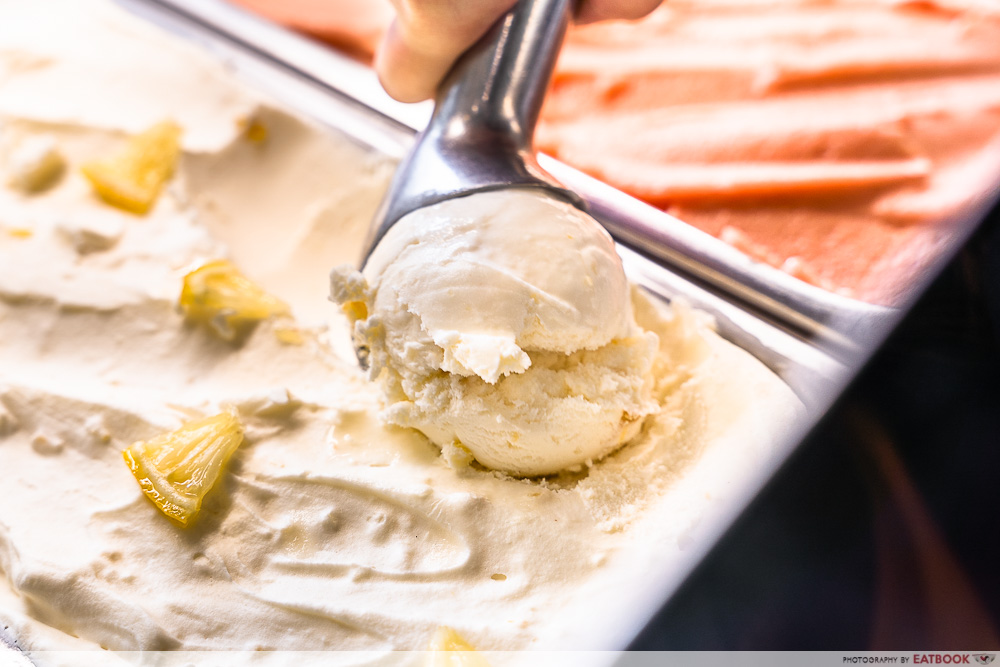 Fans of citrus can consider this, as it had a mellow lemon flavour, tinged with honey notes. As all of their ice creams are made with natural ingredients, it didn't have a strong citrusy note, nor was it too artificially sweet. 
There were also bits of lemon rind incorporated in the ice cream, which lent each mouthful a nice bite. Overall, the lemon flavour was a little bitter for my liking, maybe due to the lemon bits, but that's just a personal preference.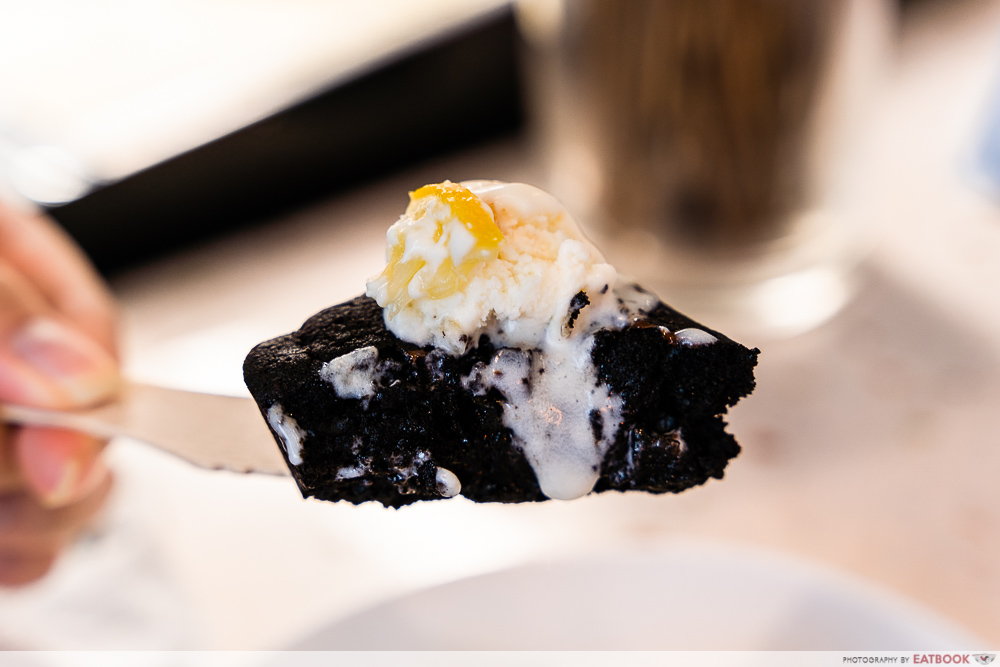 The Honey Lemon ice cream was probably not the most ideal flavour to have with the brownie, as the bitter lemon rinds did not complement the richness of the baked good. Perhaps pairing the brownie with something light or sweet, such as the In-Kueh-Dible or the Atas Ripple, would have been a better combination. 
Overall, the brownie was incredibly rich and decadent. It's got a cake-like crust, with a soft and gooey centre. I would recommend sharing it with your friends.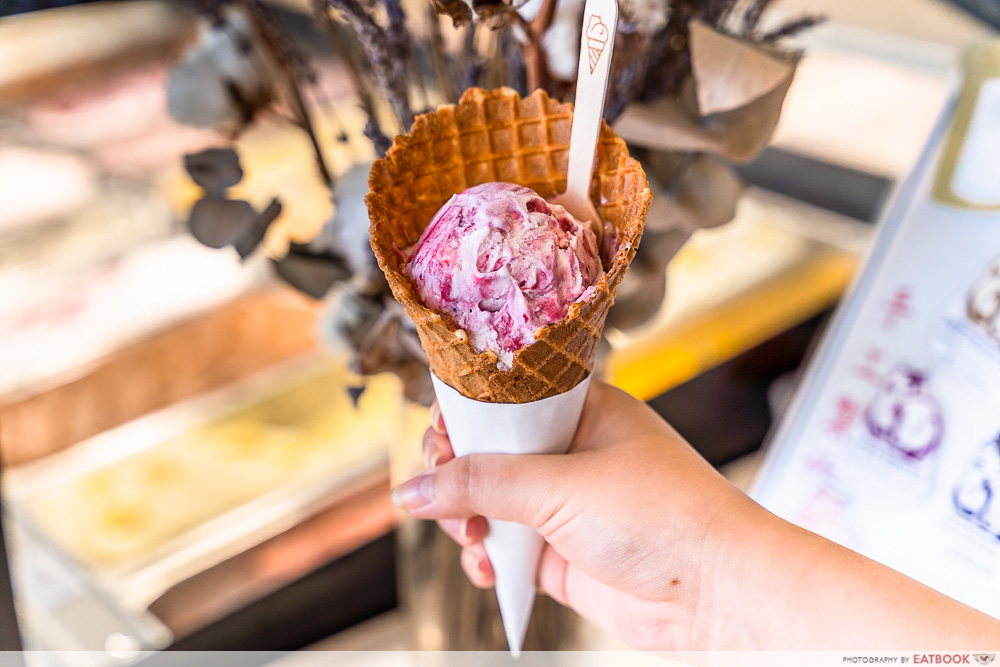 Lastly, we ended our experience with the Atas Ripple ($4) in a cone. The ice cream brings to mind the raspberry ripple ice cream that you can find at the ice cream push carts, but made more fancy. It features a milk ice cream base, with swirls of handmade blackcurrant jam, reminiscent of Ribena.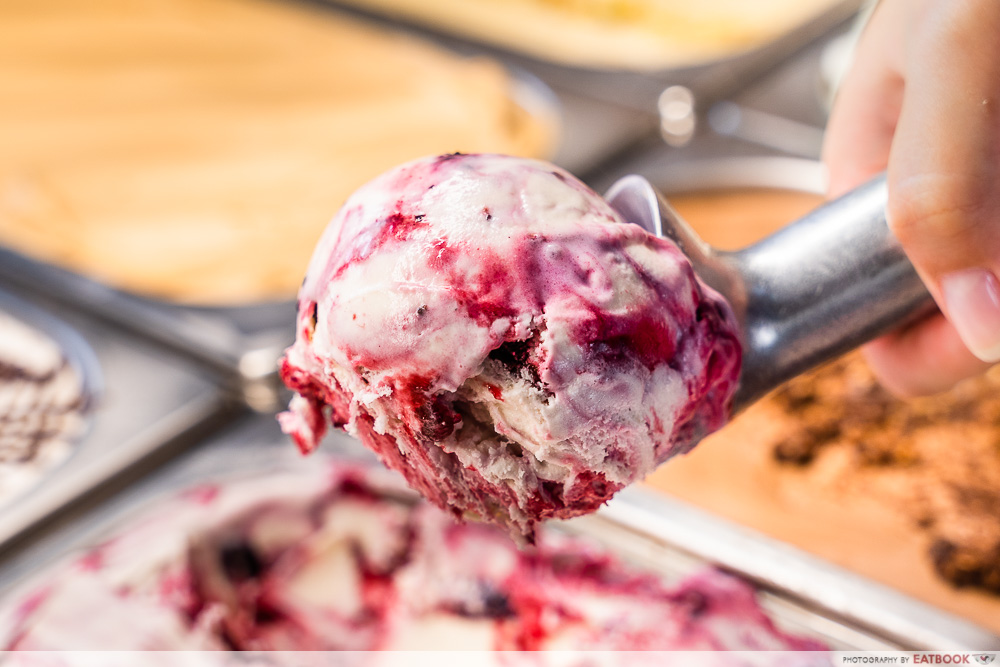 To me, instead of tasting like Ribena, it had a striking resemblance to the raspberry ripple ice cream—a strong vanilla base, with hints of berry fragrance. The Atas Ripple leaned towards the sweeter end, but was balanced out by the tart blackcurrants.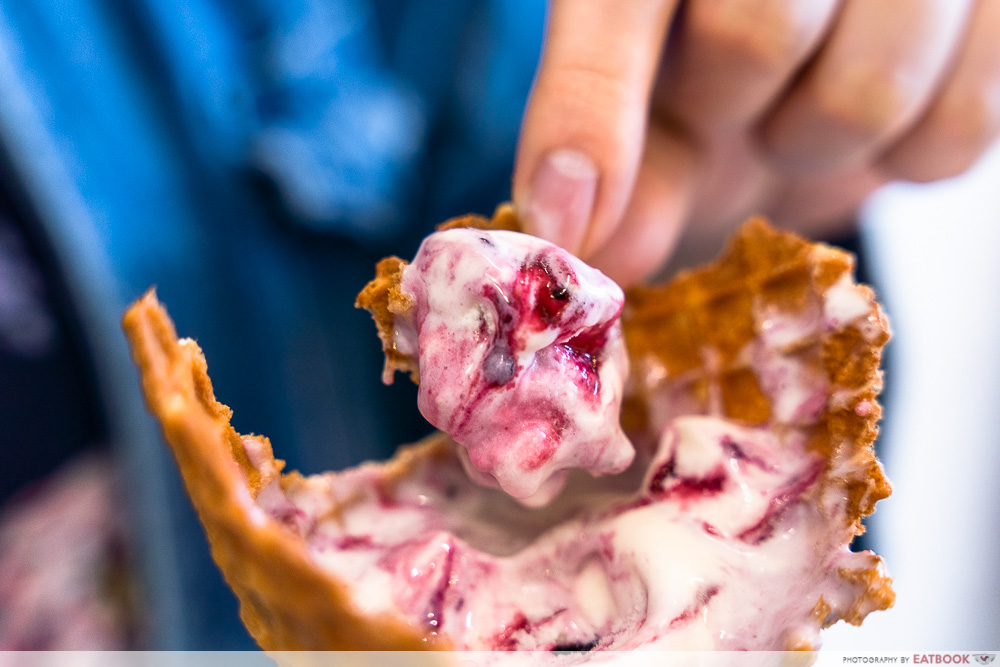 The cone, which was inspired by love letters, stood out to me the most. I thought the idea of turning a well-loved CNY snack into an ice cream cone was smart and creative. My colleague and I are huge fans of love letters so we couldn't stop nibbling off the edges of the cone throughout the shoot. 
Compared to regular cones, the love letter cone was thinner and more crunchy, which I prefer. I would highly recommend eating this when it's fresh as the cone does lose its crispiness when it is left out for too long.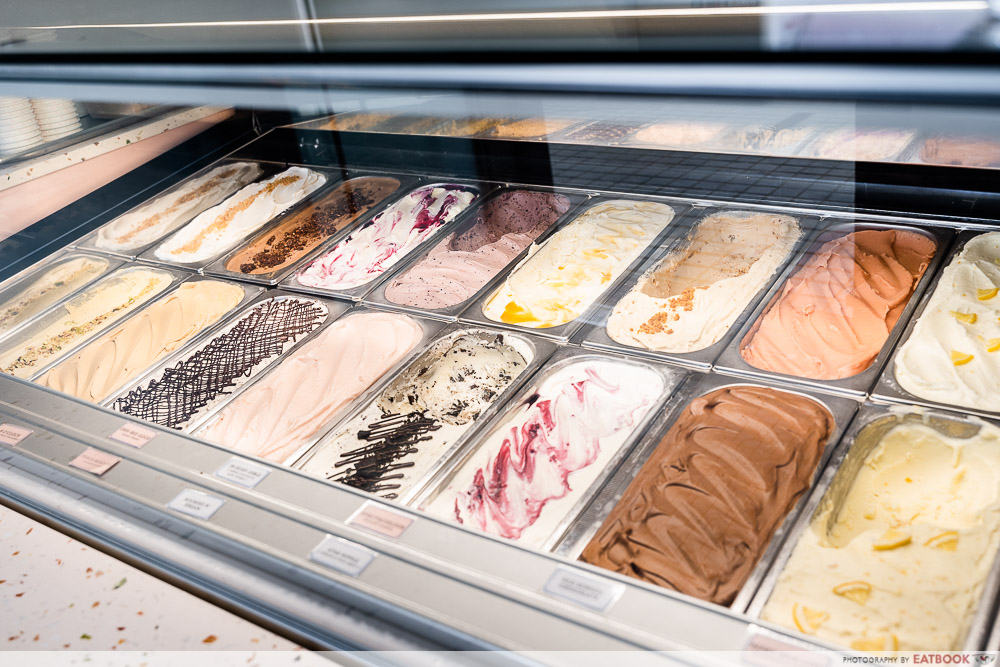 If you were wondering, the team at The Humble Scoop handmakes their ice cream two to three times a week. They have over 30 flavours on a monthly rotation. Due to limited display space and the seasonality of the ingredients, they can only feature 10 to 16 flavours a month. Be sure to check out their Instagram Page before heading down to see what flavours they have in store.
All of the ice creams are made with fresh, natural ingredients, and are lower in sugar than your usual scoop, so you can enjoy your dessert without feeling too guilty.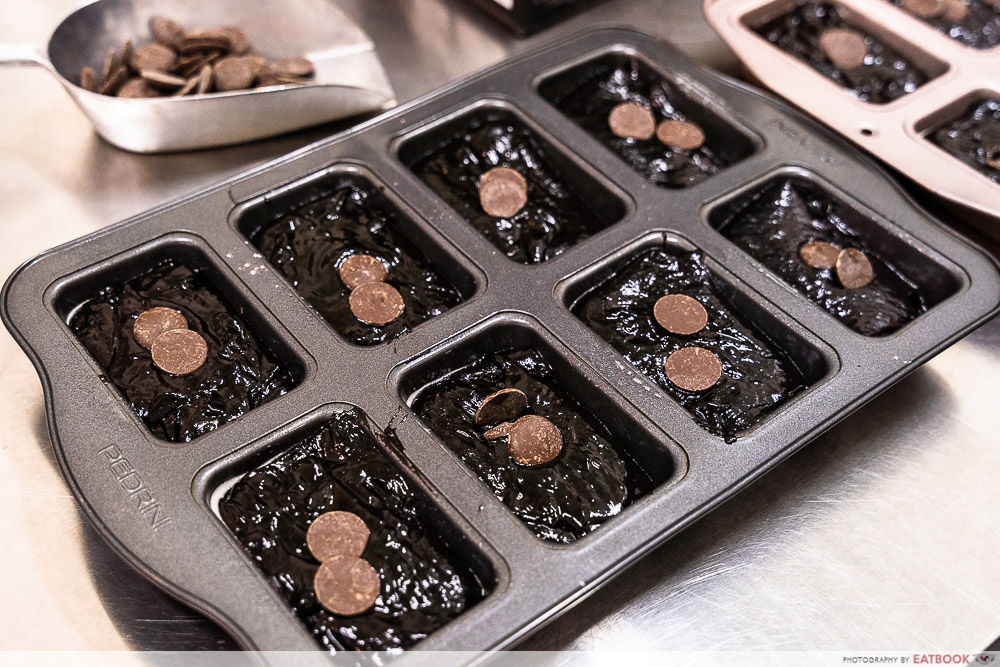 The ice cream flavours at The Humble Scoop are categorised under two series: Basic ($4) and Premium ($5). You can opt to have a scoop of ice cream on a brownie ($8.50) or on a waffle ($8). Otherwise, it's $1 top-up for ice cream in a cone, and another dollar extra for premium flavours. If you're just looking to have the brownie, it's $5, and a plain waffle is $4.50. 
Ambience at The Humble Scoop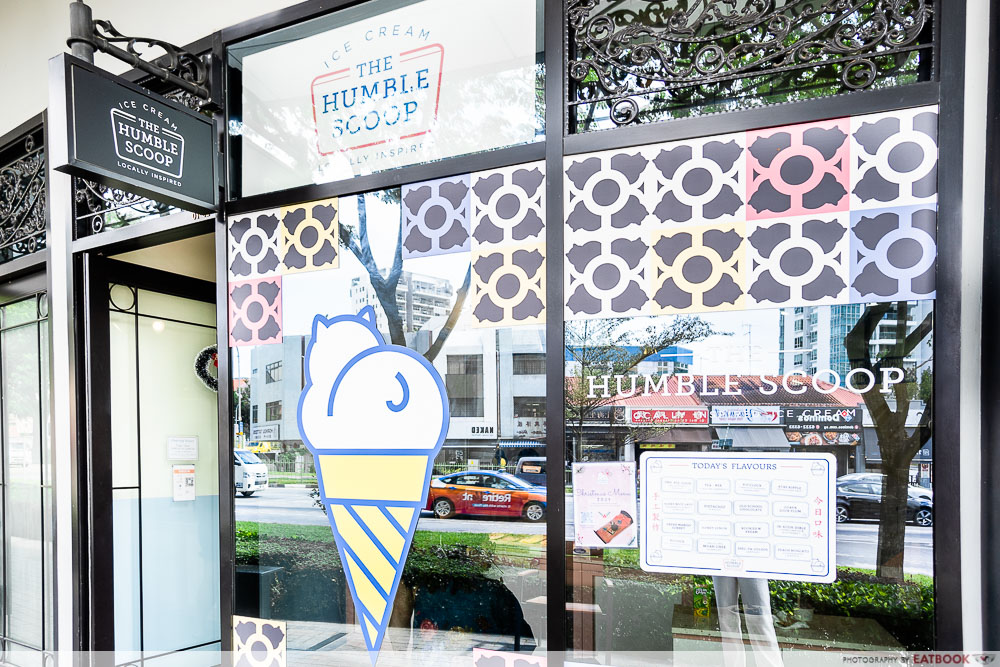 Located a five-minute walk from Kovan MRT Station, this new location is a definite upgrade from its previous outlet at Katong. The Humble Scoop is located in a quaint housing estate area named Stars of Kovan, right opposite Ng Kuan Chilli Pan Mee.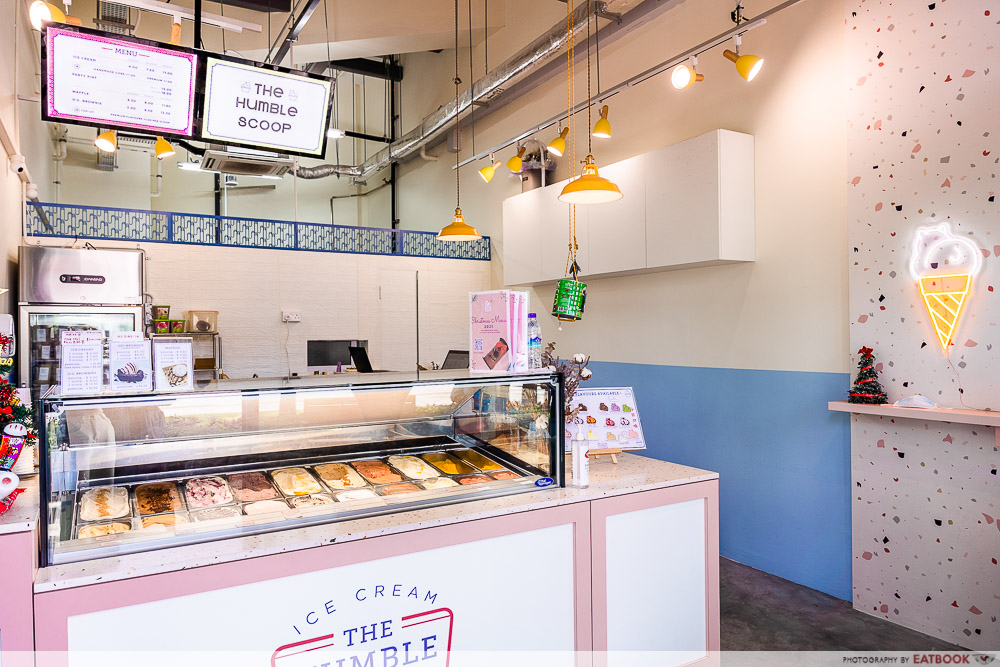 The shop sports lovely pastel pink and blue hues, with a small IG-worthy corner featuring their logo in neon lights. There is no dine-in available, however, there are a few communal chairs around the estate for you to enjoy your ice cream.
The verdict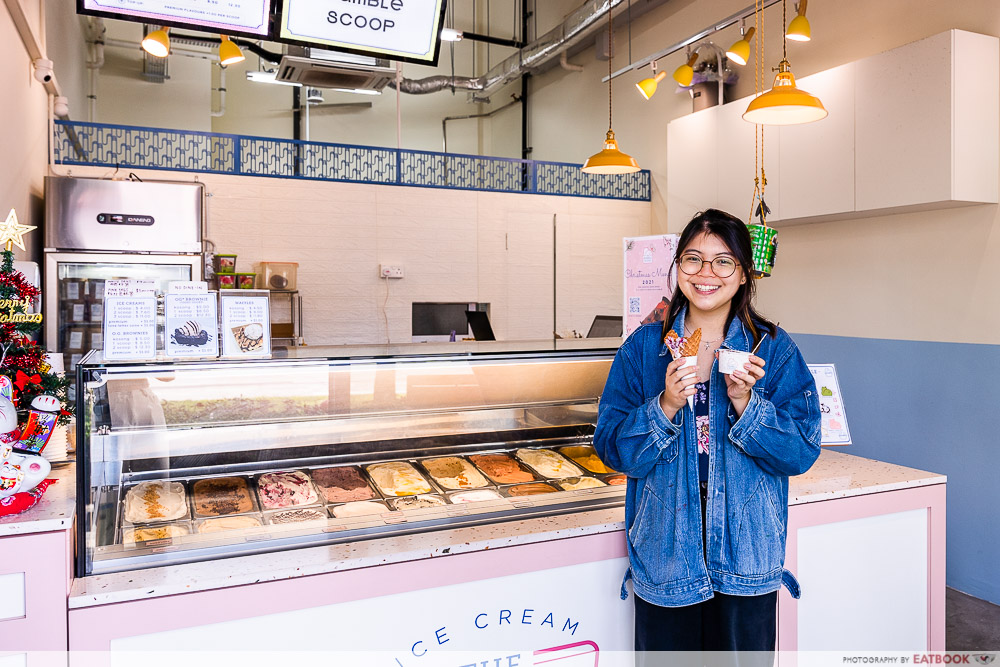 I was truly impressed by The Humble Scoop. From the ideation of flavours to handcrafting their ice cream, I could feel Meixuan, Yvonne and Ivan's passion and enthusiasm for ice cream. I feel that The Humble Scoop stands out from other ice cream parlours with their nostalgic, Singaporean-inspired flavours. I know that I'll be back again if I am ever in the area, and I have my eye on the Sugarcane with Lemon and the Orh Haw!—a hawthorn sorbet that is said to resemble the old-school hawthorn snack.
Do note: if you are looking for a wider selection of ice cream flavours, head down to this new outlet at Kovan as the store is much bigger, so there are more flavours displayed. 
Upper Serangoon
Address: 988 Upper Serangoon Road, #01-02, Stars of Kovan, Singapore 534733
Opening hours: Tues-Sun 12pm to 12am
Tel: 8803 5981
Katong
Address: 865 Mountbatten Road, #B1-92, Katong Shopping Centre, Singapore 437844
Opening hours: Tue-Thurs 12pm to 8:30pm, Fri-Sun 12pm to 9:30pm
Tel: 8803 5981
Website 
The Humble Scoop is not a halal-certified eatery. 
Photos taken by Yi En Chew.
This post is brought to you by The Humble Scoop.
The Humble Scoop Review: Locally Inspired Ice Creams In Flavours Like Ribena Ripple, Honey Lemon And More -

8/10
Summary
Pros
– Nostalgic, local flavours
– Ice creams were not too sweet
– Wide selection of flavours
Cons
– Flavours are on rotation
– No dine-in
Recommended dishes: Orh-Bee-Good ($5), In-Kueh-dible ($4), Guava Sourplum ($4)
Opening hours:  Tues-Sun 12pm to 12am
Address: 988 Upper Serangoon Road, #01-02, Stars of Kovan, Singapore 534733