Famous chilli pan mee in Kovan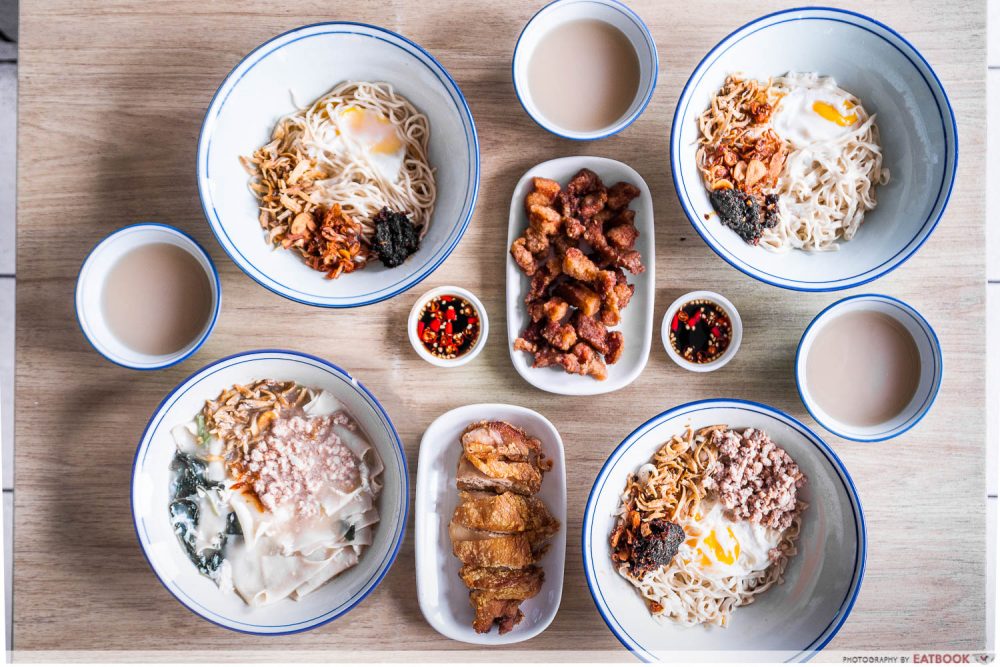 Dry ban mian is one of my newly discovered favourites. Being a late-night supper fan, I was stoked to find a ban mian store that opens for 24 hours, located in a coffee shop along Upper Serangoon Road. located in a coffee shop along Upper Serangoon Road. With that, I had to pay a visit to Ng Kuan Chilli Pan Mee. 
L32 Handmade Noodles Review: Handmade Seafood Ban Mian With Long Queues At Geylang
Food at Ng Kuan Chilli Pan Mee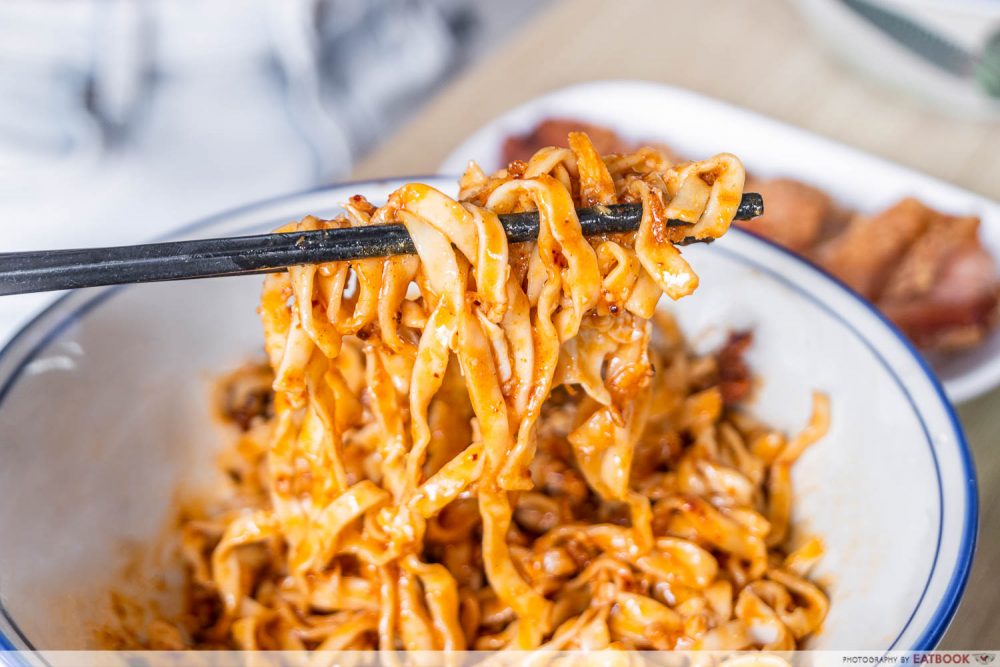 Here at Ng Kuan Chilli Pan Mee, you are given an option to choose from four different types of noodles—you mian, ban mian, mee hoon kueh, or mee sua, in either a dry or soup form. What sets them apart is the addition of fried pork and chicken cutlet alongside the flavourful bowl of noodles. 
Their Signature Ban Mian ($7) includes al-dente noodles topped with minced pork, ikan billis, fried shallots, garlic, a runny egg, and a heaping portion of hae bee-infused chilli.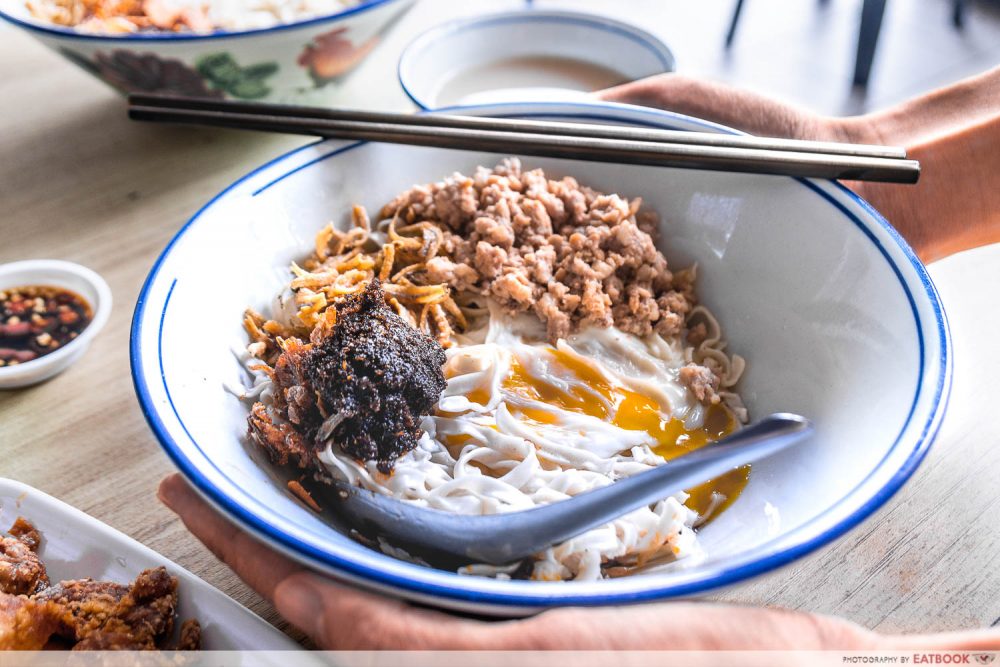 The minced pork, which was juicy with a good amount of fat, is the only component that differentiates their Signature Ban Mian from the other dry noodle options on the menu. Their ban mian had a chewy bite, but it was a little too thin for my liking.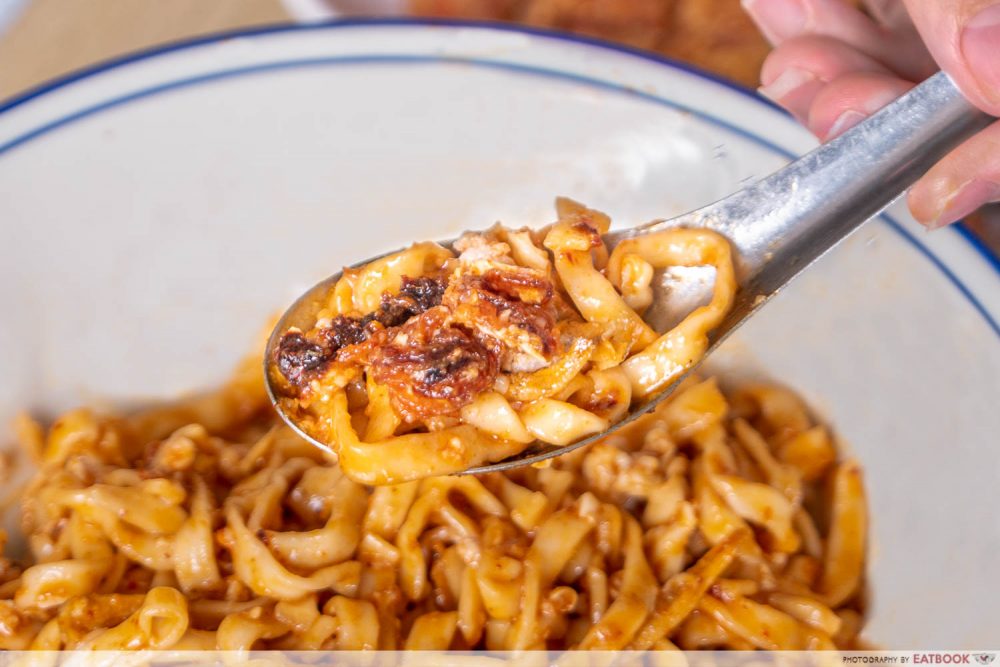 The chilli really stood out as the fragrant aroma from the dried shrimp permeated the noodles with every bite. It coated the noodles nicely, giving it a kick of umami as well. The spice was not too overpowering, and I was still able to enjoy my meal with minimal sweat. Mixing in the egg gave the noodles a silkier mouthfeel, and it also helped to dull the spiciness. 
I tried their Chicken Cutlet Ban Mian ($9) next. The noodles came without the QQ minced pork topping, which was replaced by a decently sized fried chicken cutlet.
The batter that coated the chicken was crispy and well seasoned, but I found that the meat was slightly dry.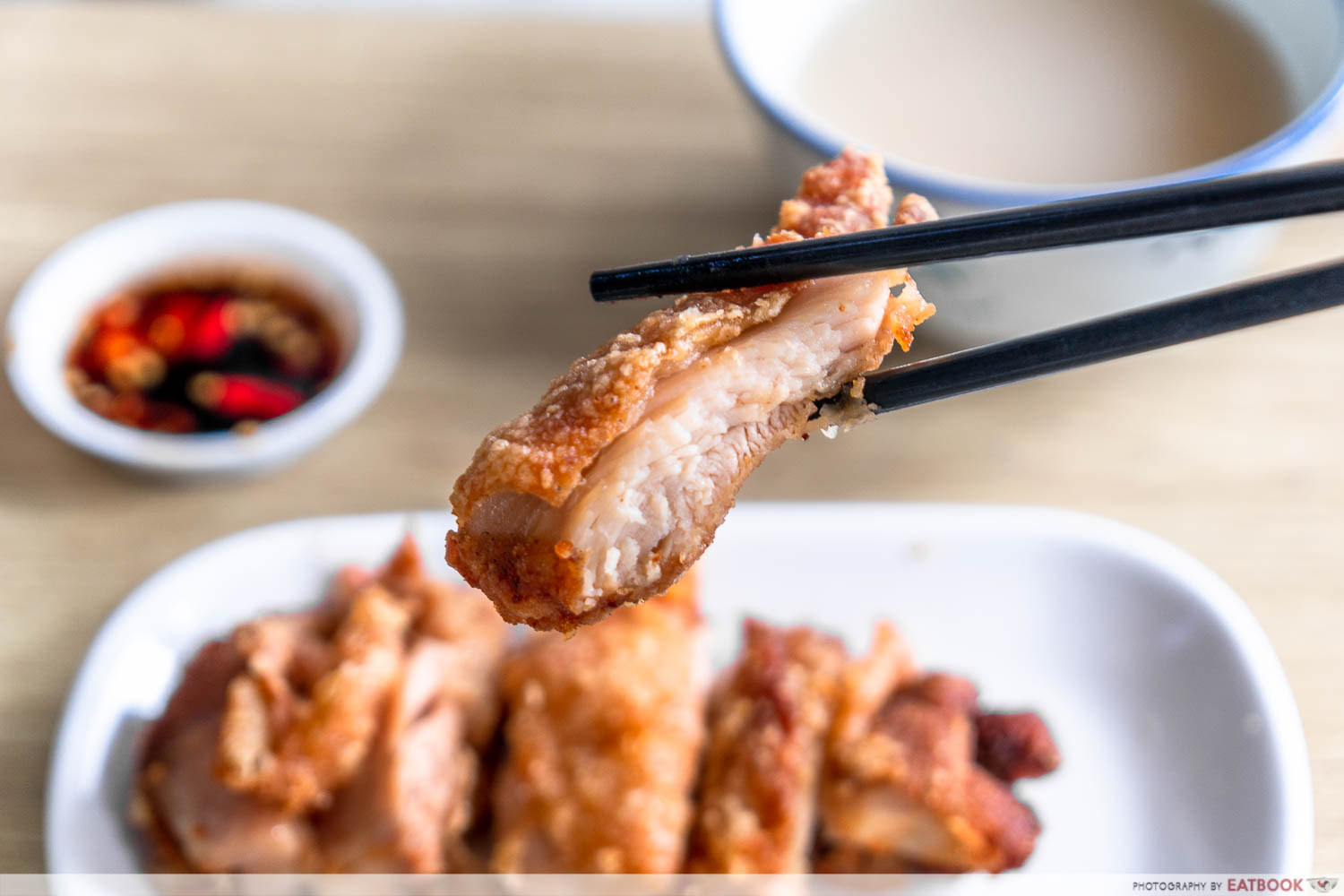 Overall the chicken pairs well with the noodles, as it adds crunch, and completes the bowl with a substantial portion of protein.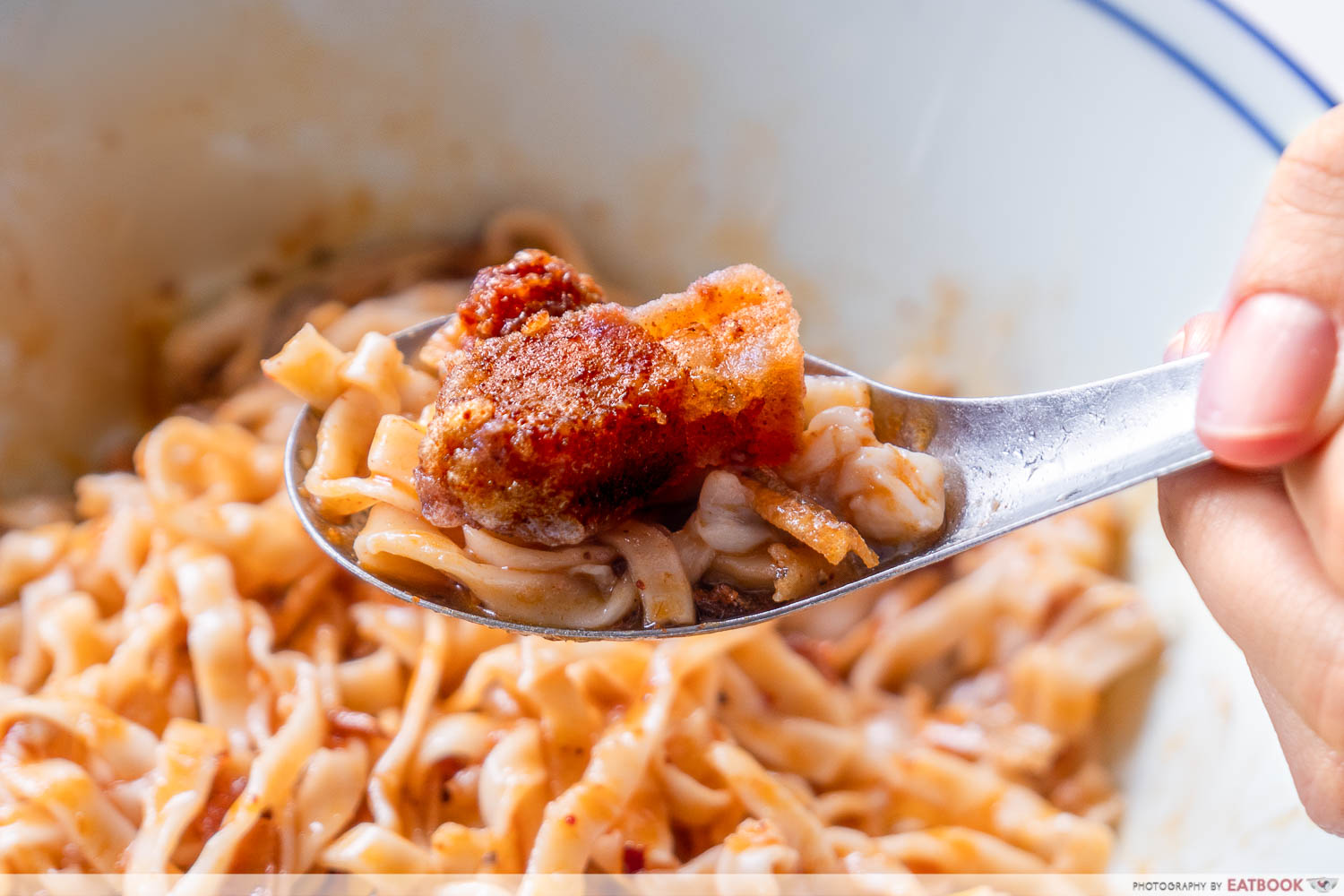 I was most excited to try the Fried Pork Ban Mian ($9). This came with a plate of fried pork belly slices, along with a bowl of dry ban mian.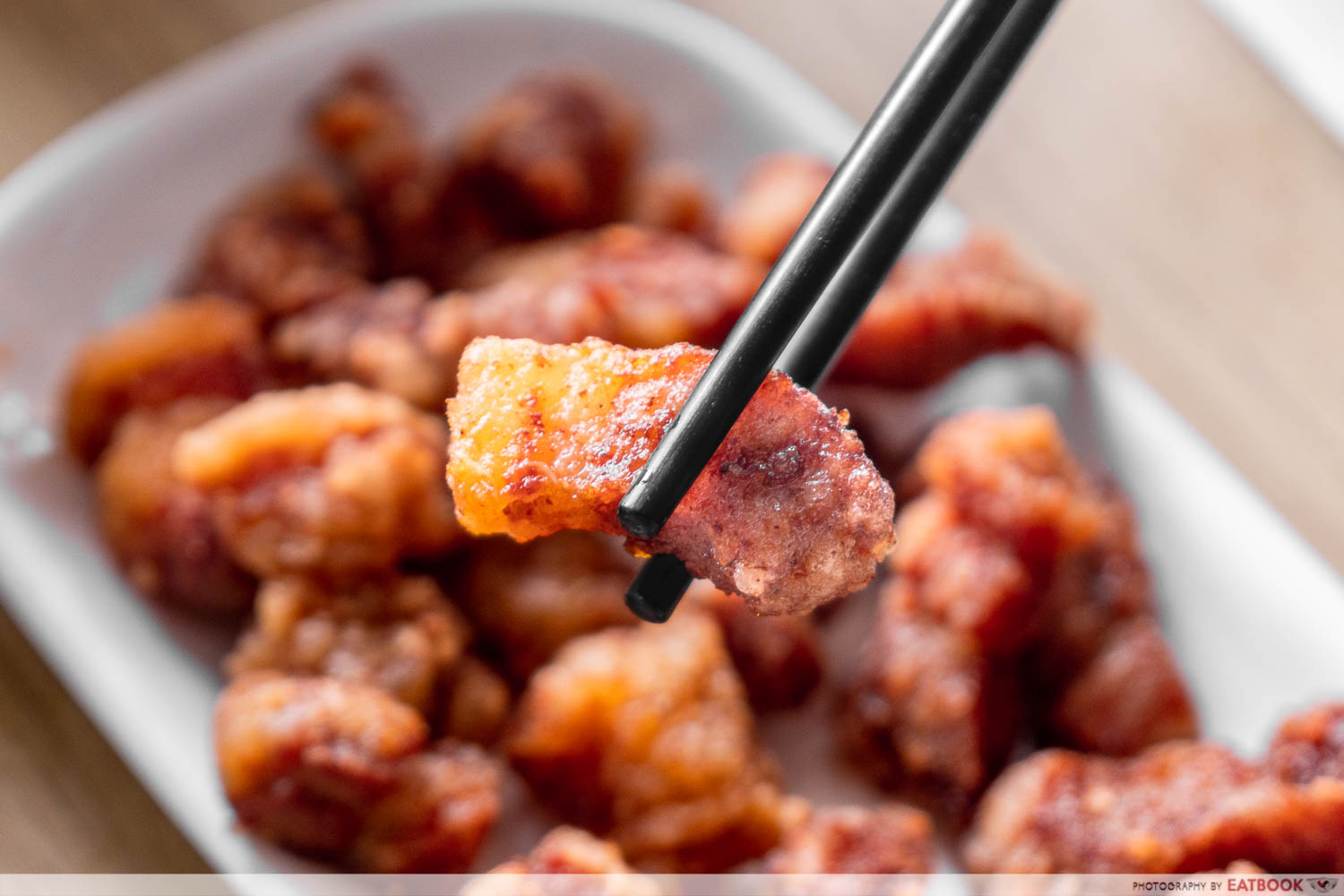 The pork was crispy on the outside, while the fatty upper layer melted in my mouth. The seasoning leaned more peppery, which gave it an oomph that meshed well with a spoonful of savoury noodles. This dish was definitely worth travelling down for, and should not be missed.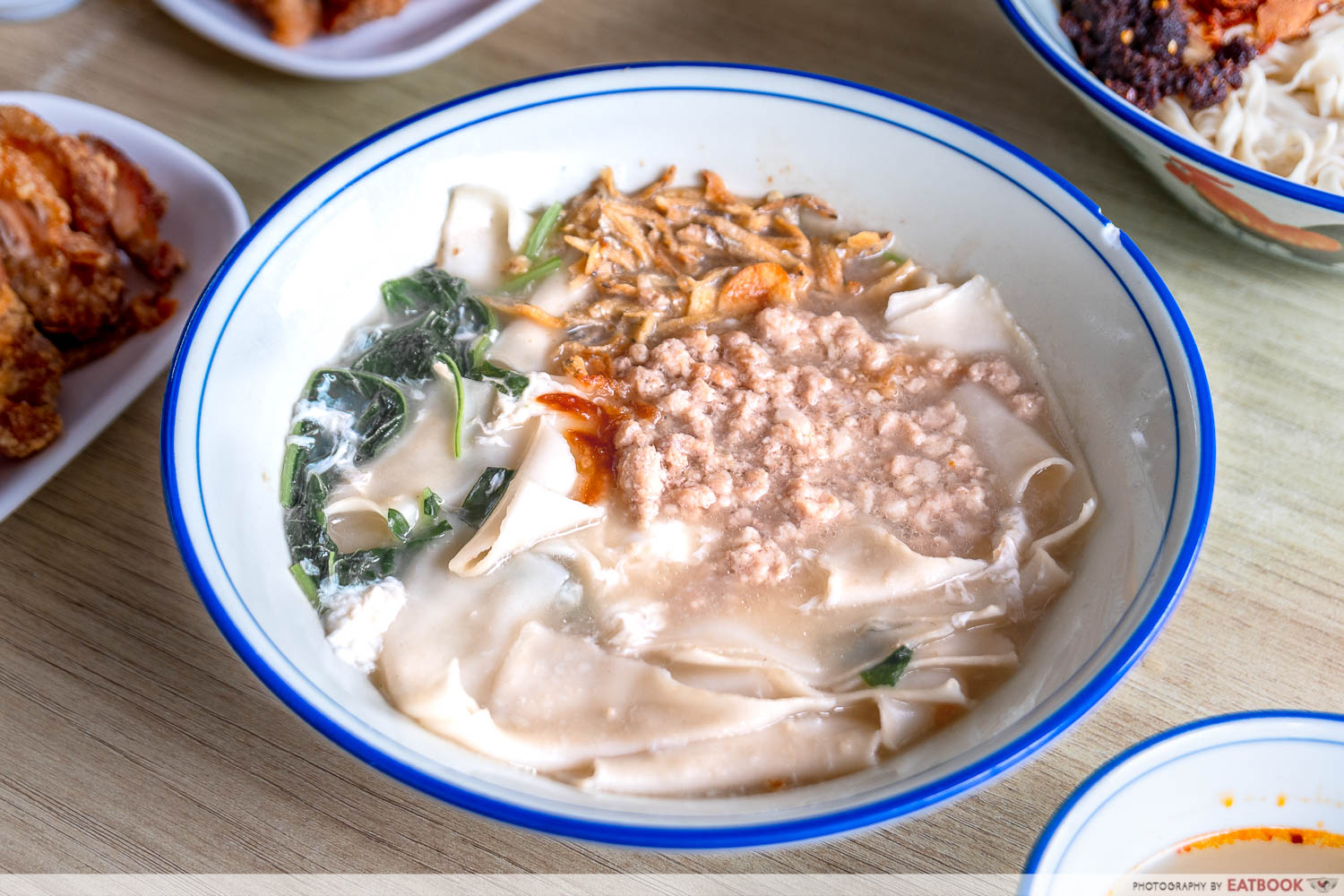 To wash everything down, we opted for their Mee Hoon Kueh Soup ($6). The soup was hearty and gao, packed with a sweetness that is reminiscent of pork bone broth. It came with a generous amount of ingredients including minced pork, spinach, ikan billis, and fried shallots.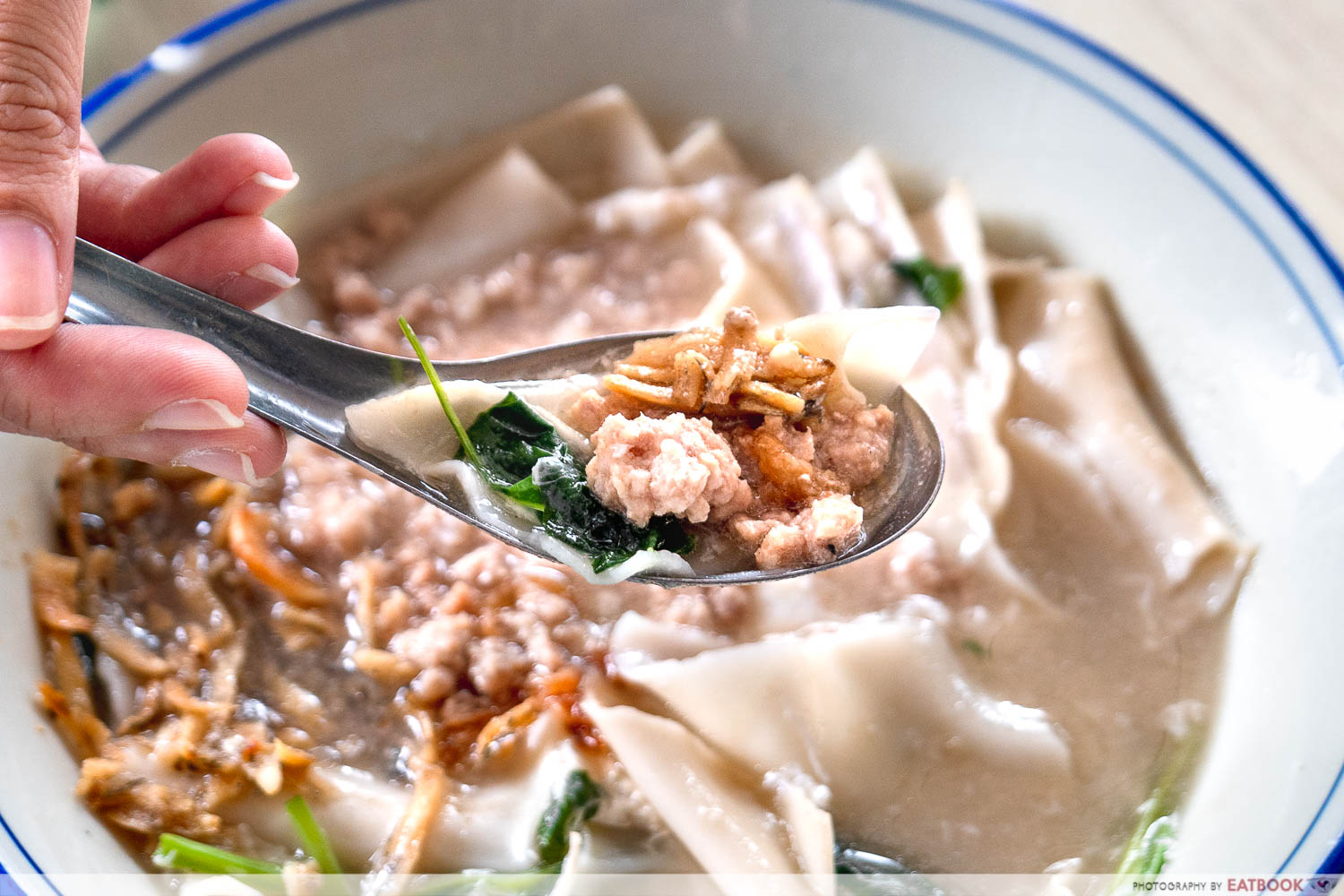 However, the noodles were too soft and thin for me, lacking the bouncy bite of traditional homemade mee hoon kueh. Overall the broth carried this dish, making this a decent bowl of noodles. I would replace the mee hoon kueh for another noodle option such as mee sua or you mian instead.
Marsiling Handmade Mee Hoon Kueh Review: Handmade Ban Mian With Generous Portions Near Woodlands
Ambience at Ng Kuan Chilli Ban Mian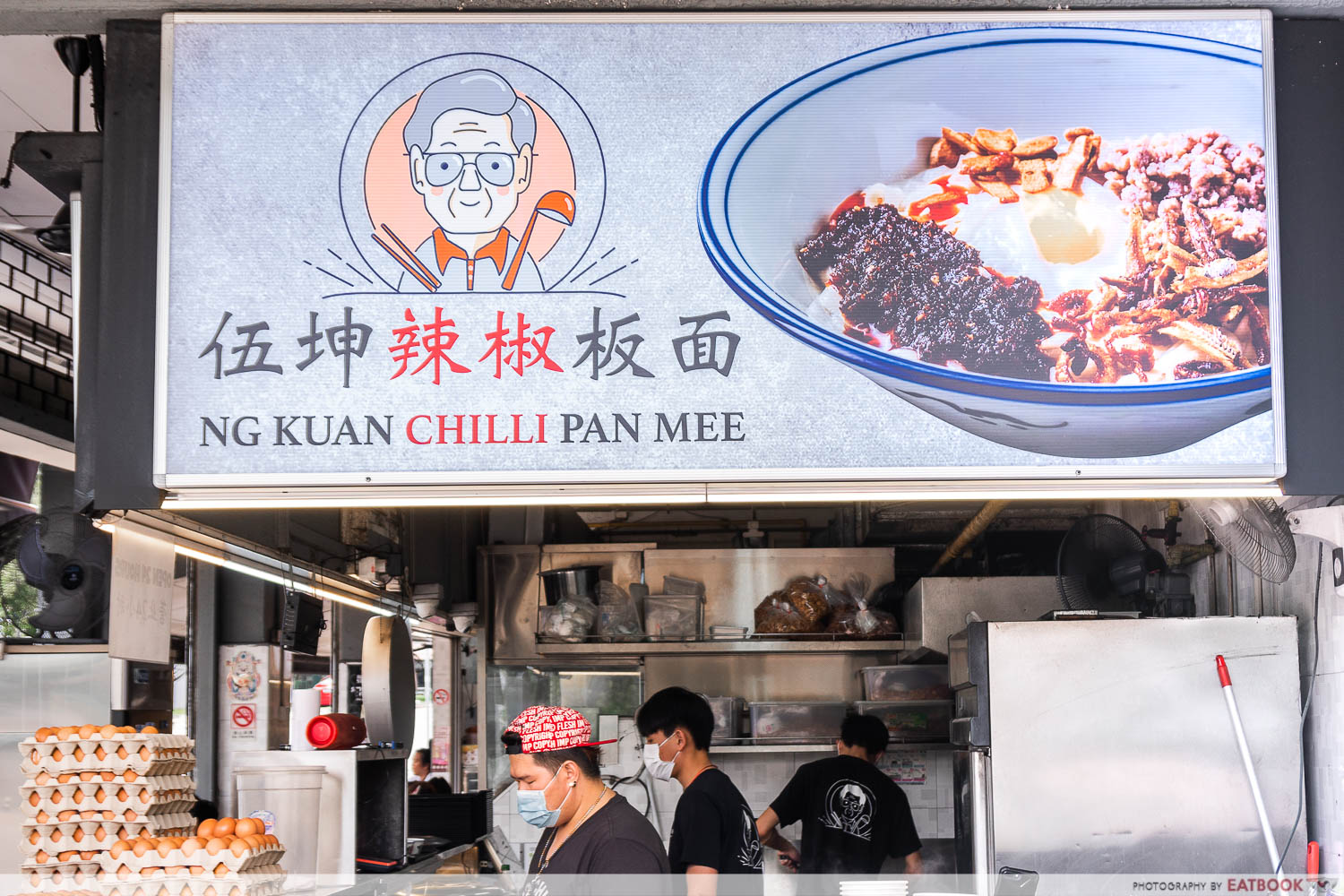 Ng Kuan Chilli Pan Mee is a two-minute walk away from Kovan MRT Station, making it extremely convenient to satisfy your late-night cravings for ban mian. 
It is located within a small coffee shop, alongside a drink store and an American breakfast store. The sitting area is right beside the road, which reminded me of the roadside stalls in Malaysia. The coffee shop is well sheltered and equipped with ceiling fans, so don't be too worried about getting caught in the sweltering heat. 
Mr Mee Hoon Kueh Review: Lor Bak And Bolognese Handmade Noodles At Serangoon Gardens
The verdict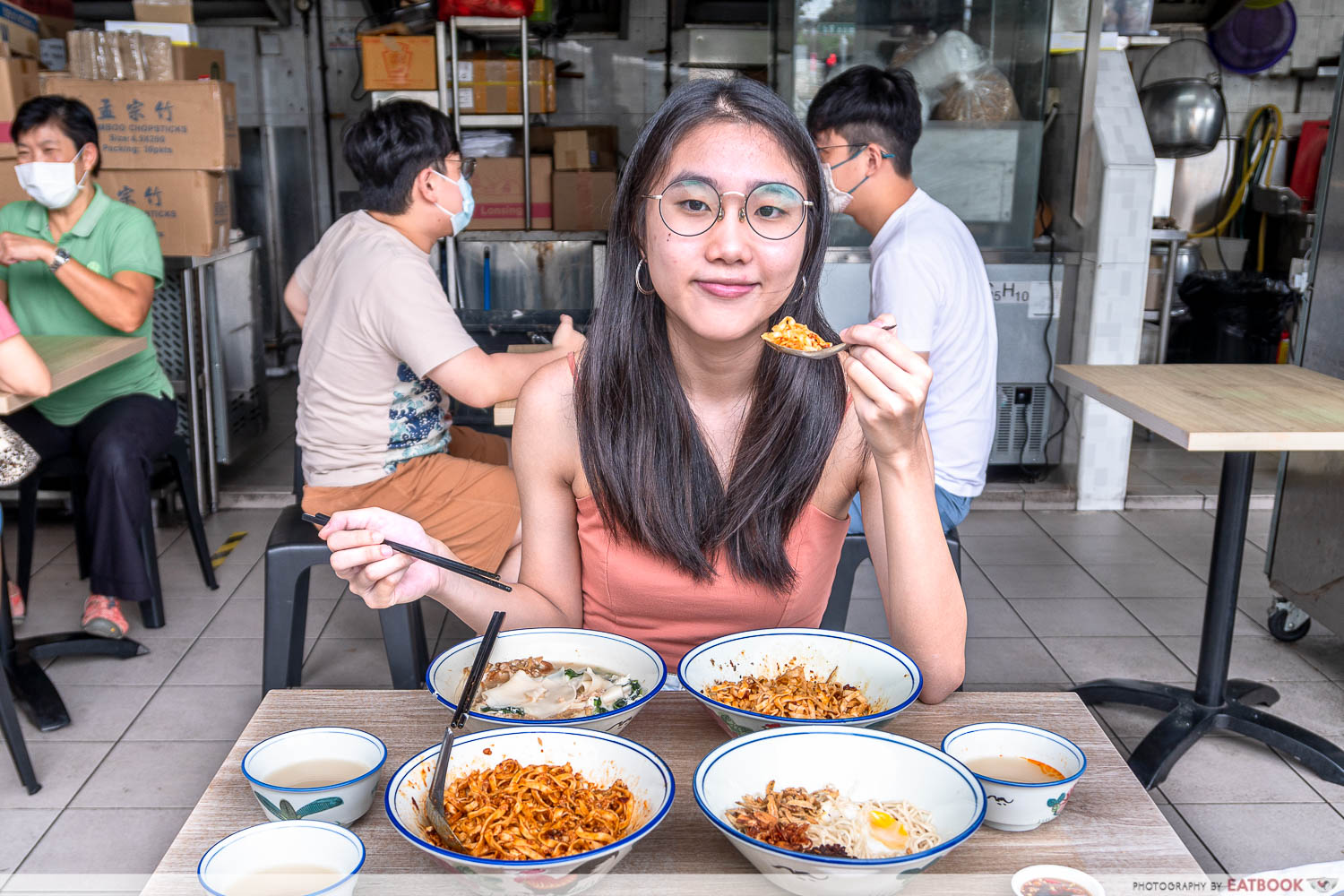 Despite coming here with high expectations due to its fame, I can safely say that the dry ban mian here surpassed my expectations. Having said that, the prices here are slightly steeper, making me less inclined to frequent this store, in favour of my wallet. 
Overall, the dishes were executed well, and will definitely satisfy those who are craving for a late-night fix of ban mian.
If you're looking for more food in the area, check out our Naked Ice Cream review for charcoal waffles and pistachio ice cream till 2am, or our Breakfast Club review for french toast and rosti! 
Address: 941 Upper Serangoon Road, Singapore 534709
Opening hours: Daily 24 Hours
Tel: 8157 8344
Website
Ng Kuan Chilli Pan Mee is not a halal-certified eatery.
Naked Ice Cream Review: New Cafe In Serangoon Has Waffles And Ice Cream, Open Till 2am
Photos taken by Emily Teu.
This is an independent review by Eatbook.sg.
Ng Kuan Chilli Pan Mee Review: 24 Hours Chilli Ban Mian Stall In Kovan With Fried Pork And Chicken Cutlet 
Ng Kuan Chilli Pan Mee Review: 24 Hours Ban Mian In Kovan With Fried Pork And Chicken Cutlet  -

7.5/10
Summary
Pros
– Pork and chicken were very flavourful and crispy
– Dishes are well-executed
– Chilli packs a punch 
Cons
– Slightly pricey
Recommended dishes: Fried Pork Ban Mian ($9), Signature Ban Mian ($7)
Opening Hours: Daily 24 Hours
Address: 941 Upper Serangoon Road, Singapore 534709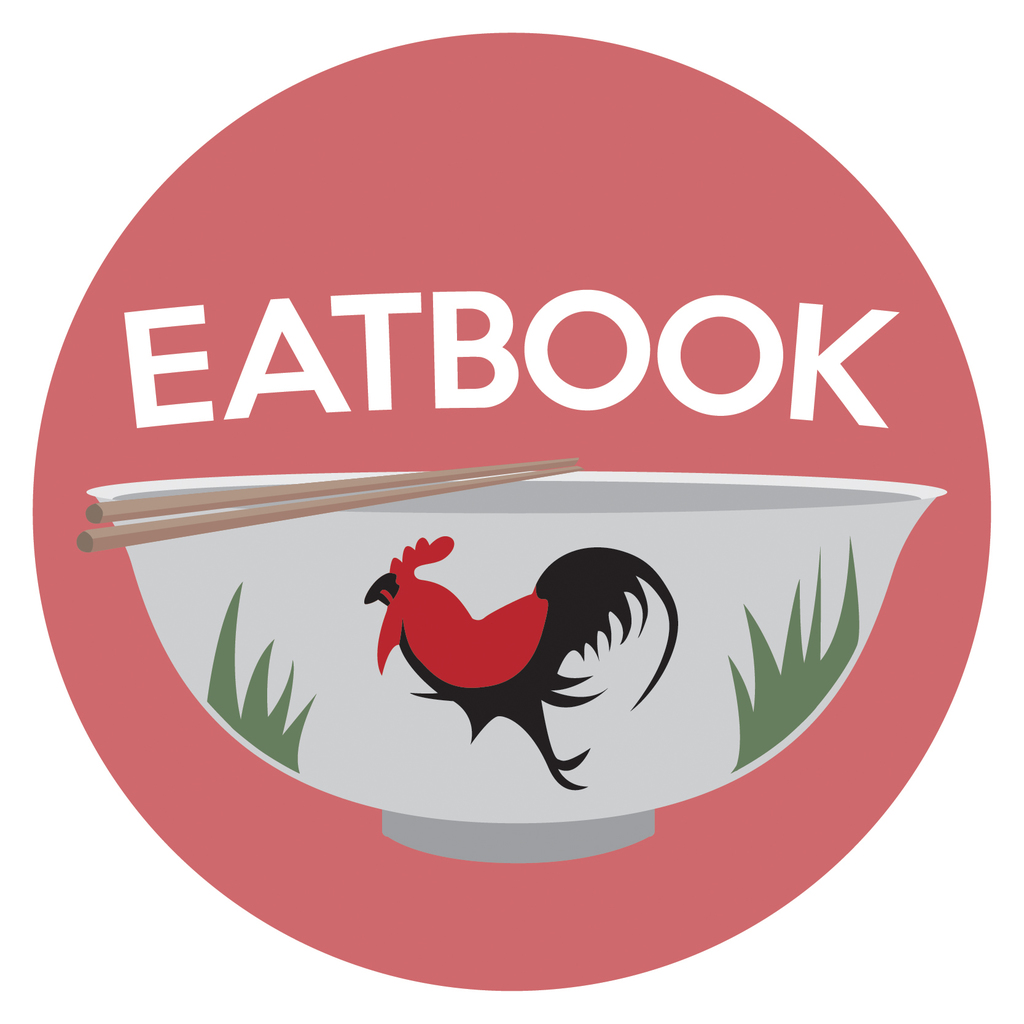 Drop us your email so you won't miss the latest news.