KAAAKIS
serves
halal food at Pasir Ris West Plaza
If you reside in the East, you'll want in on this: there's a brand new halal eatery in Pasir Ris, with seven unique stalls and an IG-worthy space to boot! Just opened in November 2021, KAAAKIS is the spot to bookmark for your next hangout sesh with fellow Easties.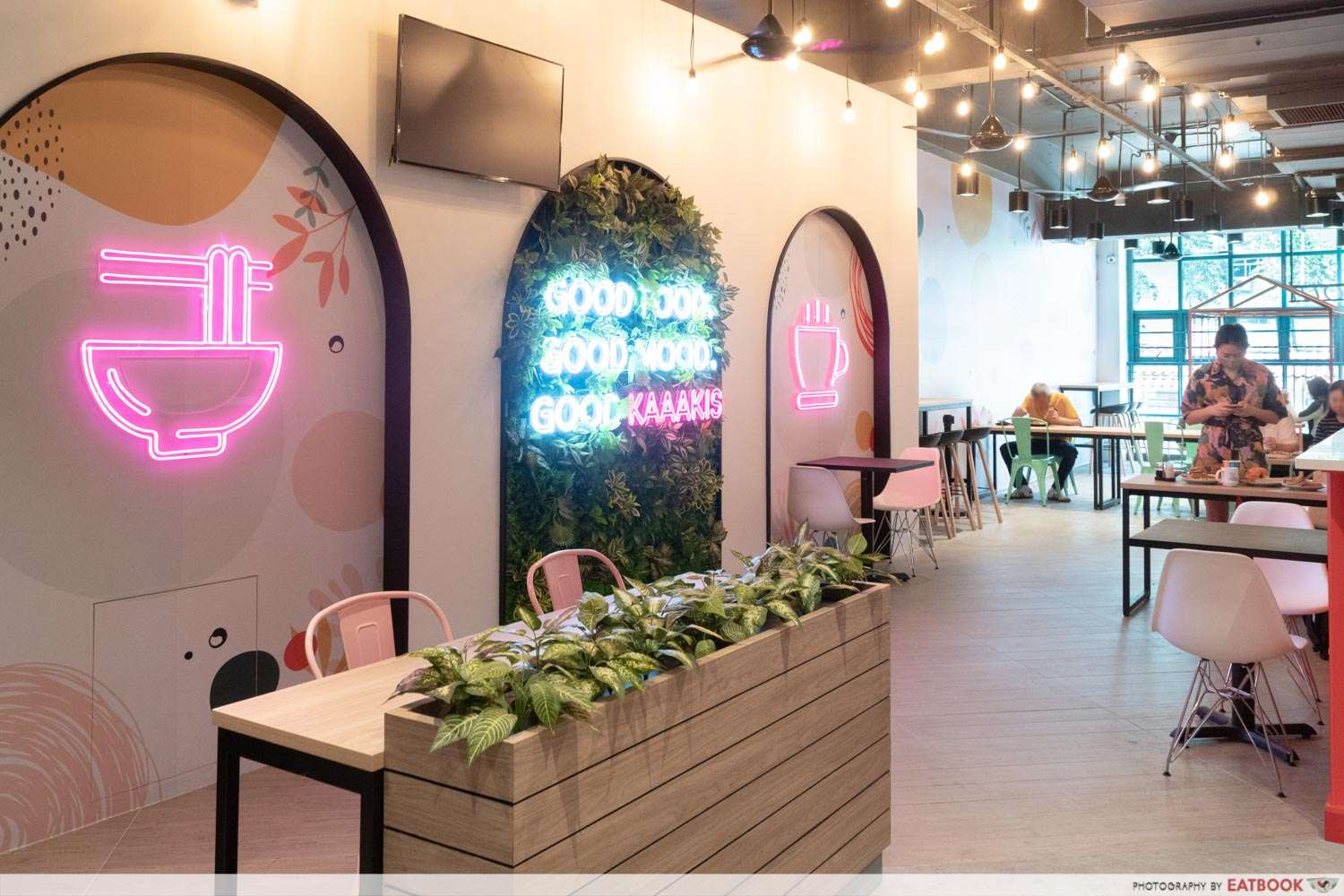 Located right smack in the heartlands of Pasir Ris Street 72, the multi-concept eatery is conveniently located at the entrance of Pasir Ris West Plaza. Steps away from the drop-off point near 7-Eleven, you'll find this dining enclave, fitted with bright and modern finishings that liven up the casual neighbourhood setting.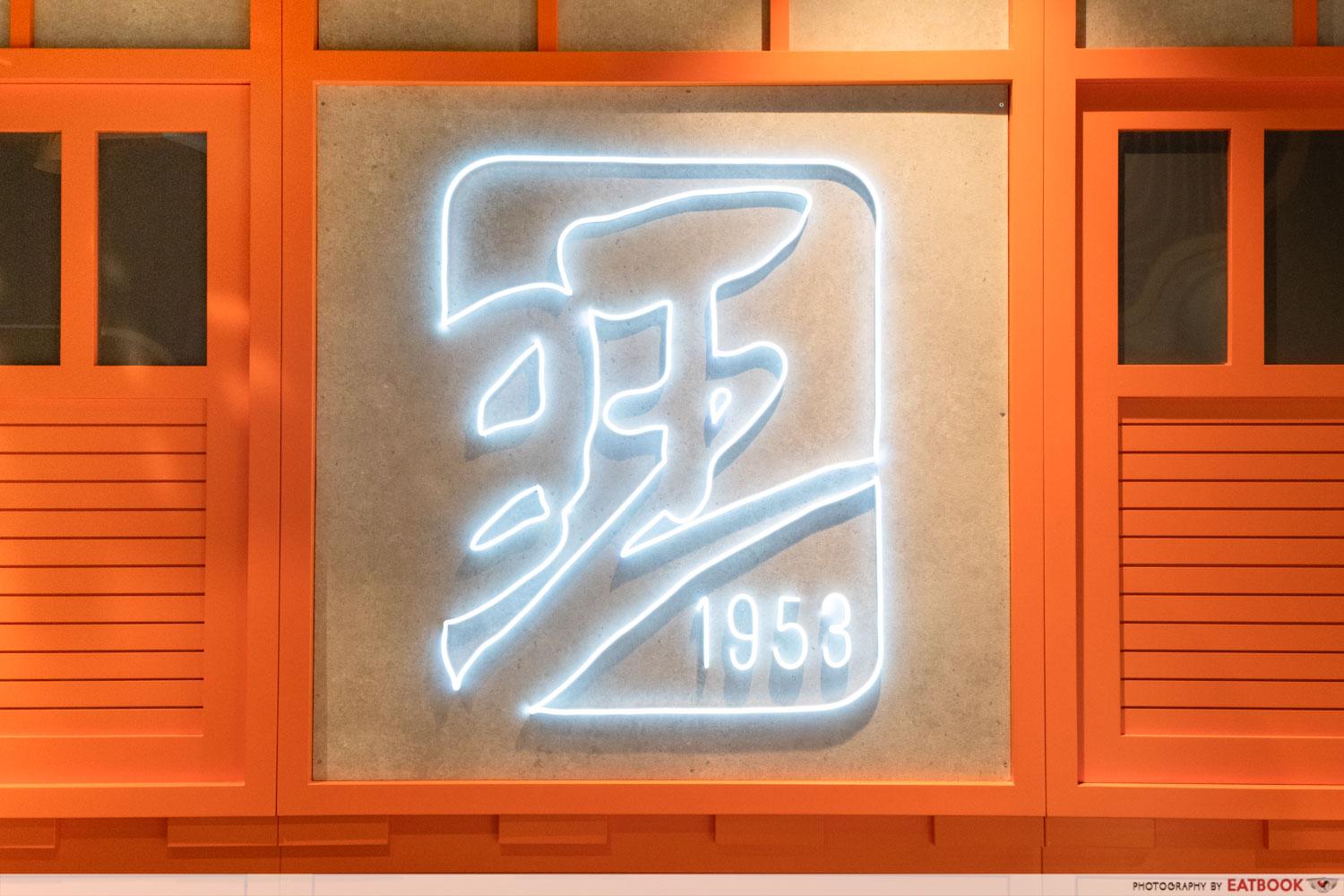 Head inside and pick your table; seats are aplenty and well spaced out, and there are even swing seats for something unique. There are also multiple ceiling fans for better ventilation. You'll even find 'gram-worthy spots, such as a neon-lit wall with cute signage. More seats will be available in 2022 as well.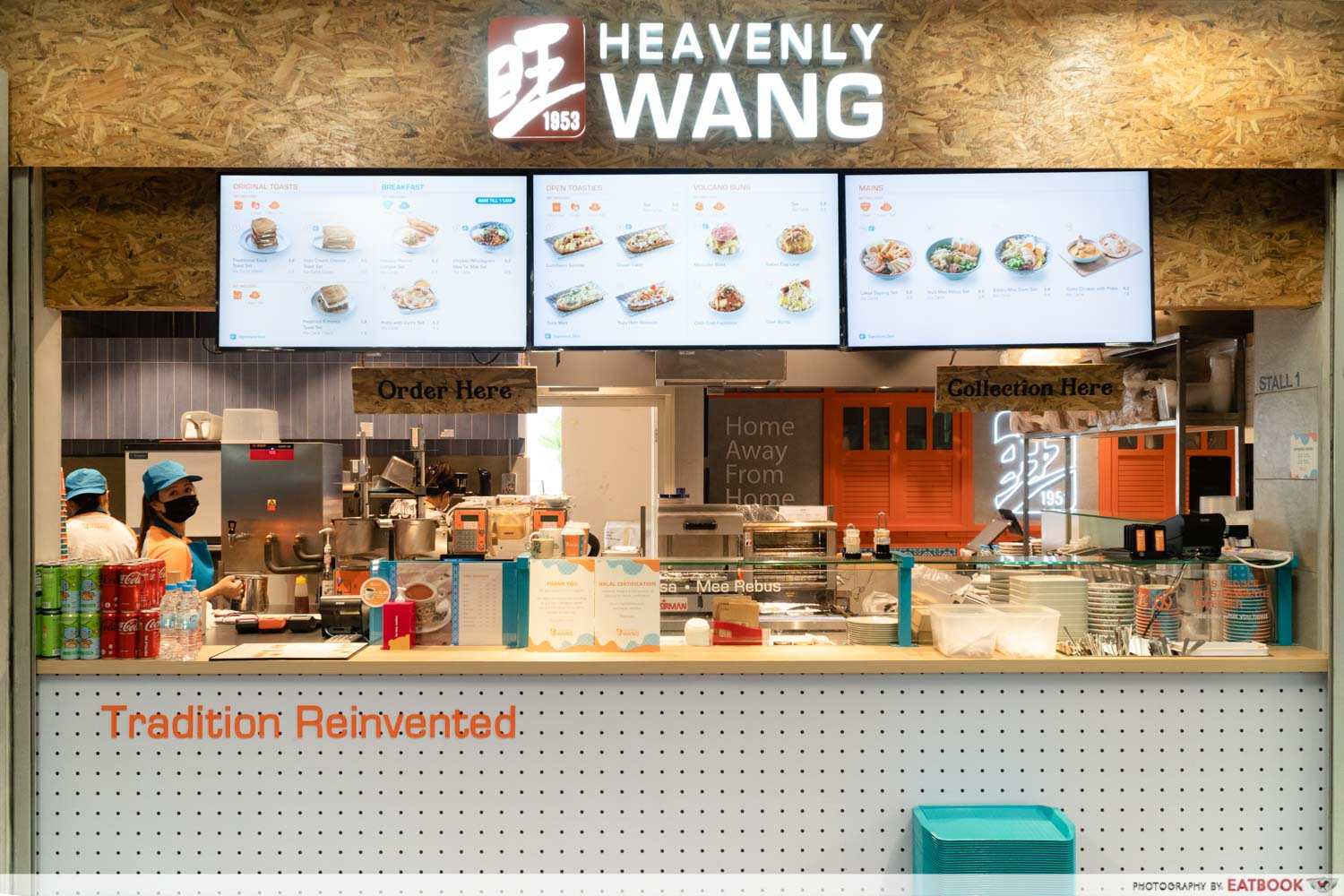 Those who love their breakfast fare can now have it at any time of the day with Heavenly Wang's lineup of local favourites.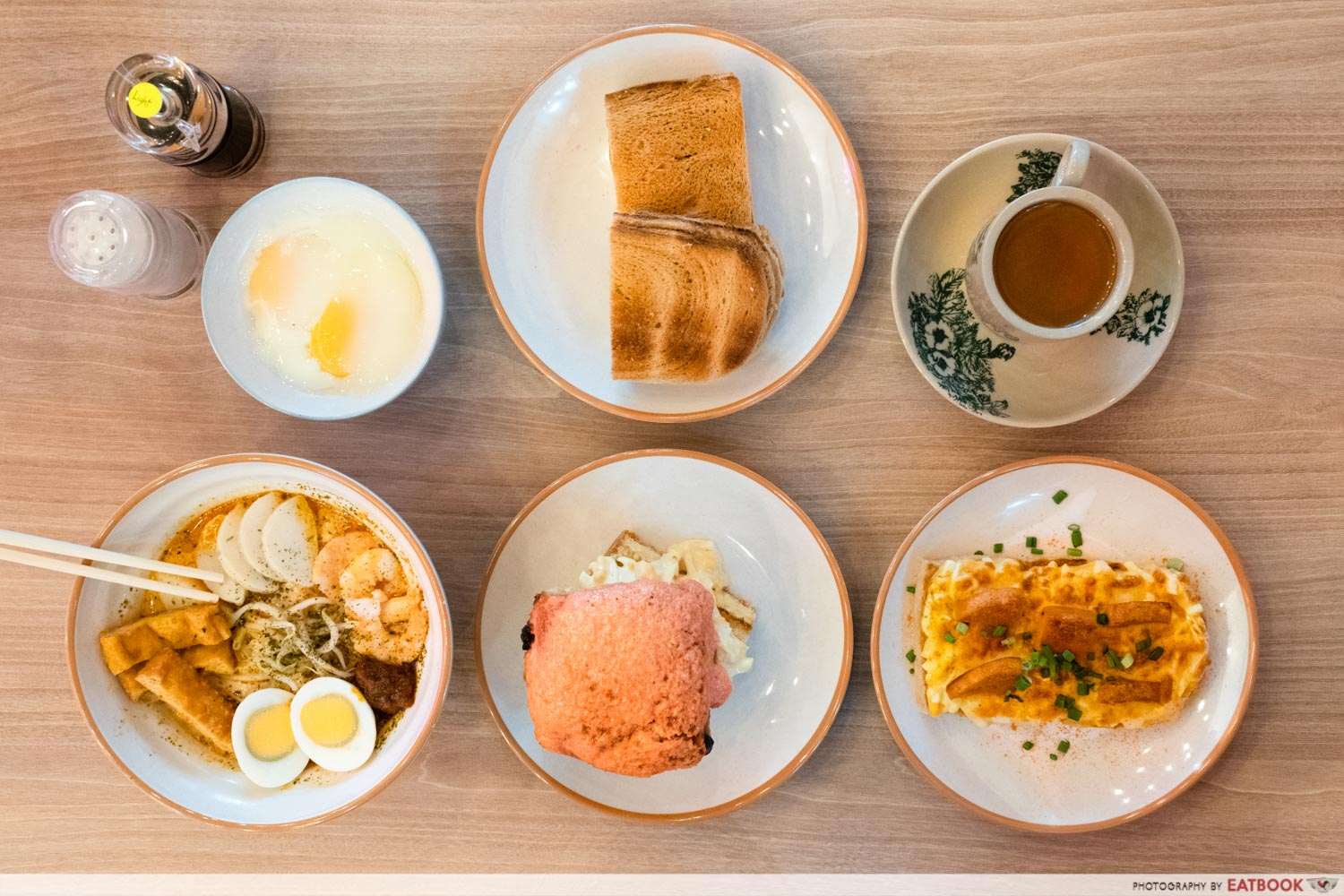 You won't go wrong with the Traditional Kaya Butter Toast Set ($4.80), which comes with four generous slices of kaya butter toast, two soft-boiled eggs, and a hot kopi or teh. Alternatively, if you're up for something more interesting, go for the Yuzu Cream Cheese Toast ($2)!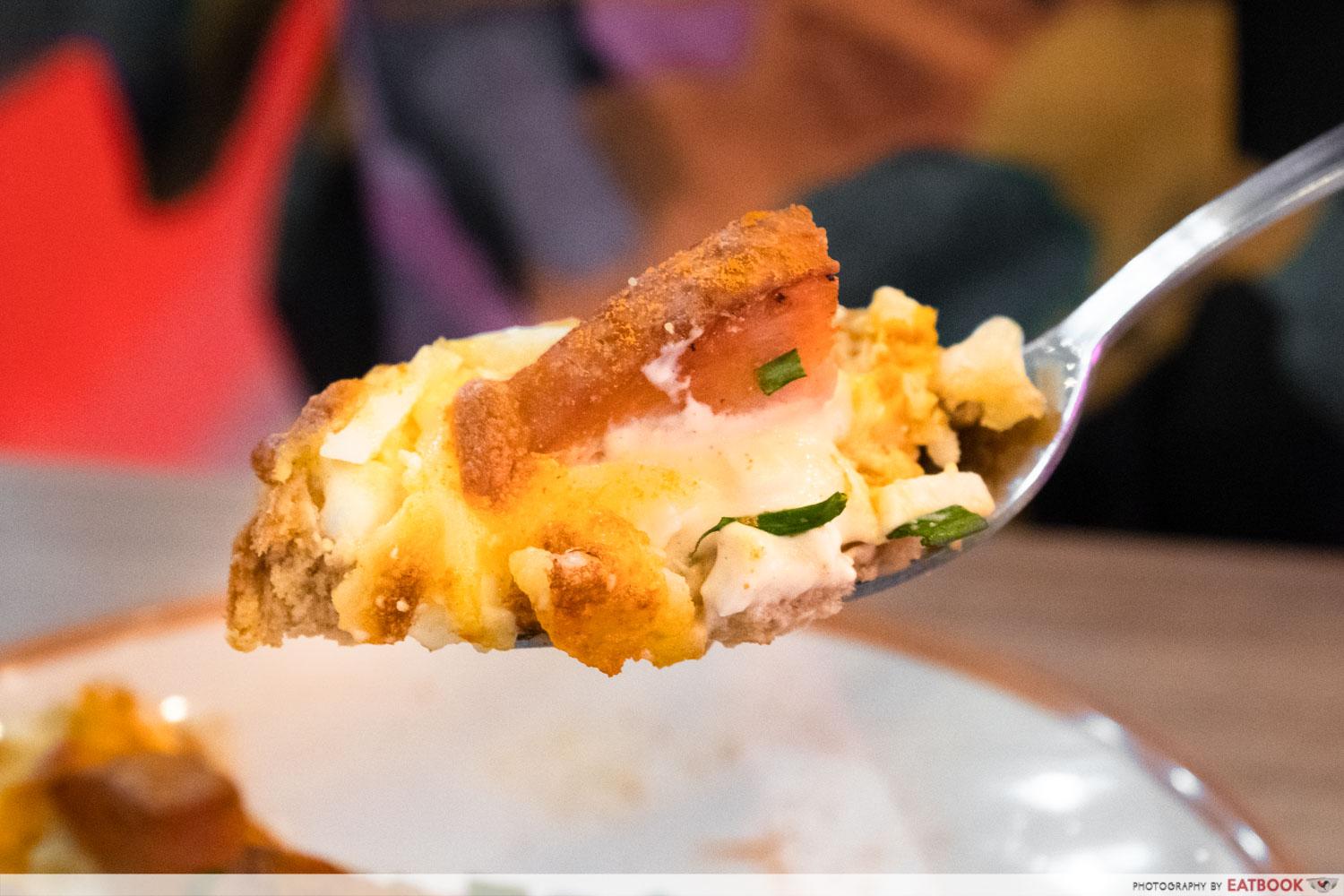 Consider the Open Toasties ($3.60) for a dose of savoury goodness. The Luncheon Sunrise is an open-faced toast loaded with the full works: egg mayo, mozzarella cheese, and savoury luncheon chunks, while the Tuna Melt features shredded tuna instead of luncheon meat.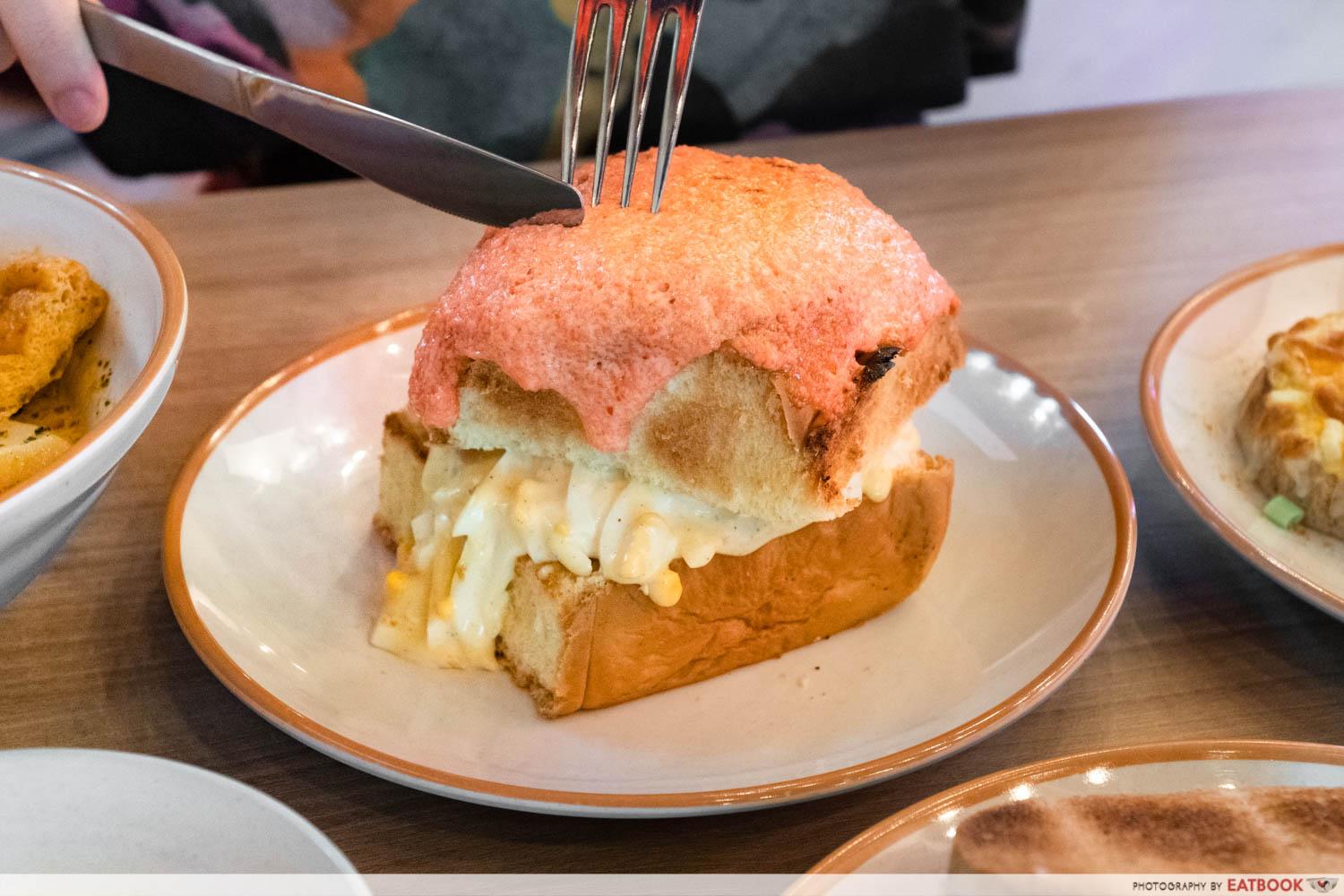 Don't miss the aptly named Volcano Buns ($4.50), too. The Mentaiko Blast sees a mountain of pink-hued mentaiko sauce on a soft toasted bun, with generous egg mayo sandwiched in between. Enjoy the components together for a rich, creamy, and umami-filled bite!
For those who prefer familiarity, there are several local delights to choose from. The signature Laksa Sayang Set ($6.60) comes with a cup of hot kopi or teh and a piping hot bowl of laksa, which is filled to the brim with lemak gravy, fresh prawns, fishcake slices, and a hard-boiled egg.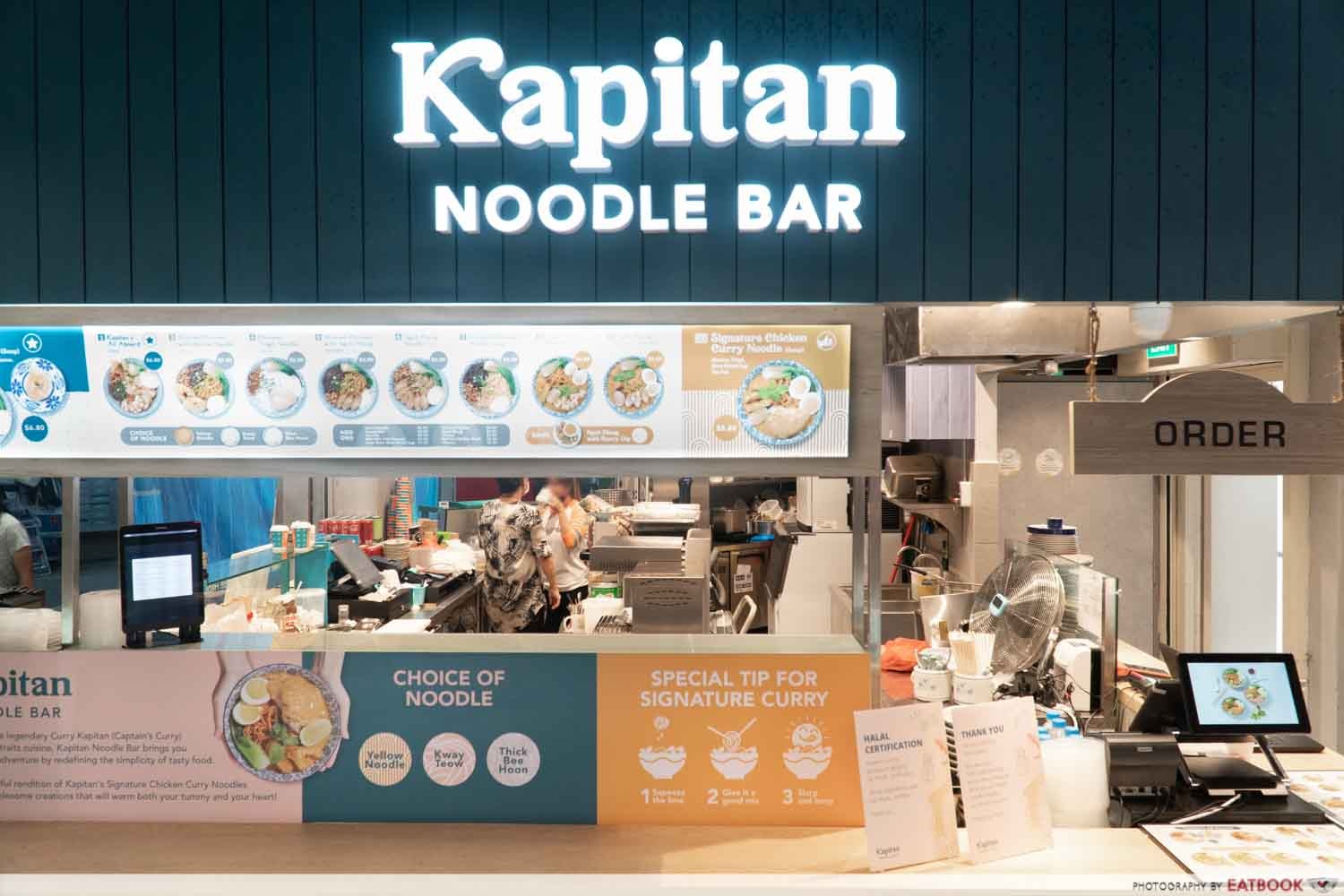 Once you've had your fill of brekkie, move on to Kapitan Noodle Bar, where you'll find an array of noodles available in soup, dry and curry versions. Order Kapitan's All Aboard Dry Noodle ($6.80), which comes with a smorgasbord of toppings, namely minced chicken, prawns, ngoh hiang, ikan bilis with peanuts, fresh greens, a fried wanton, and a sous vide egg.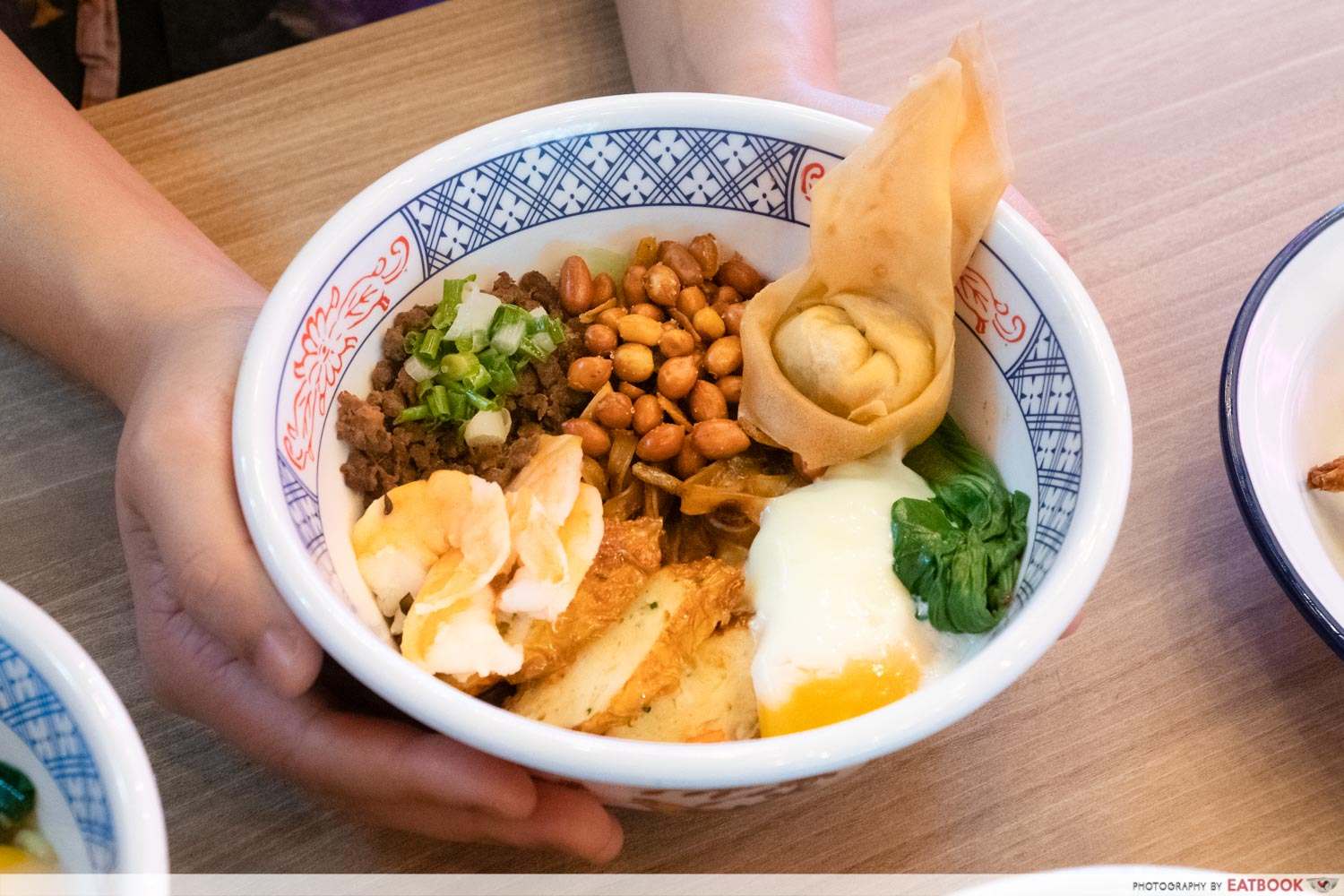 You also get to select from yellow noodle, thick bee hoon, or kway teow; we recommend the latter as it soaks up all the sauces well.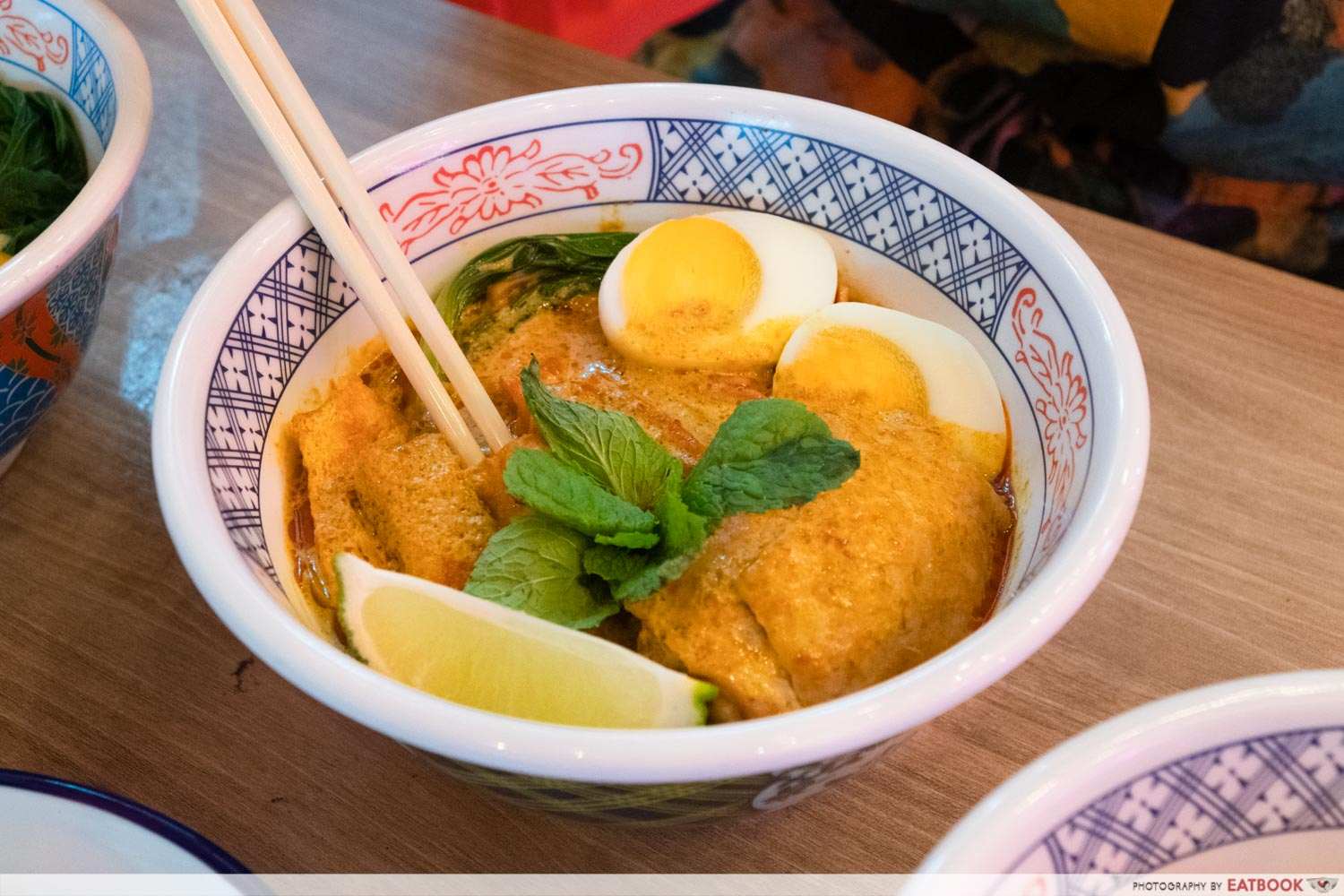 We enjoyed the Signature Curry Chicken Noodle ($5.80) for its traditional flavours and generous serving. Rich and thick with a decent amount of spice, the curry gravy went well with the yellow noodles and tender chicken meat.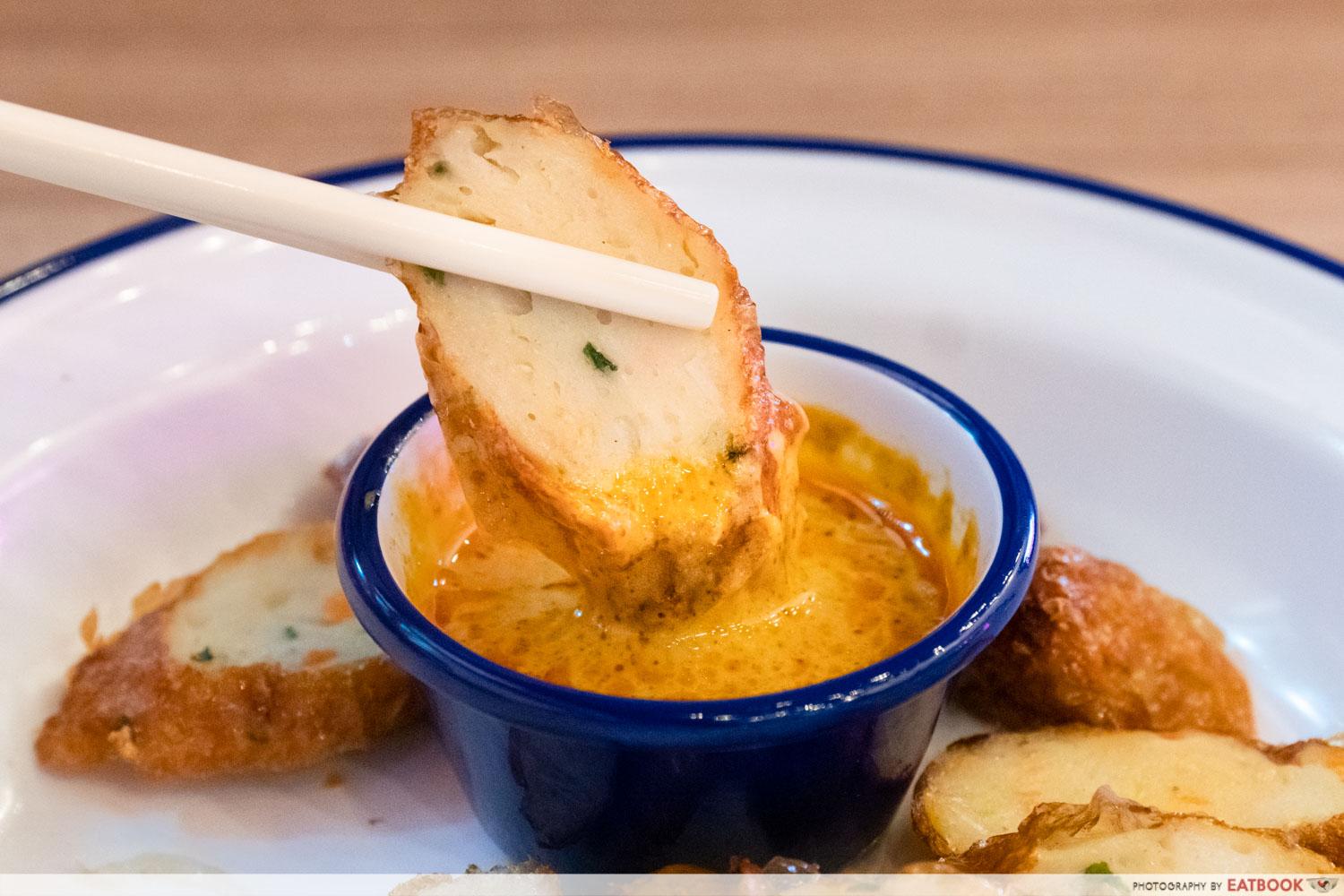 If you're feeling peckish, add on the Ngoh Hiang with Curry Dip ($2.50) that lets you sample their signature curry sauce as well. This savoury snack is great for any time of the day!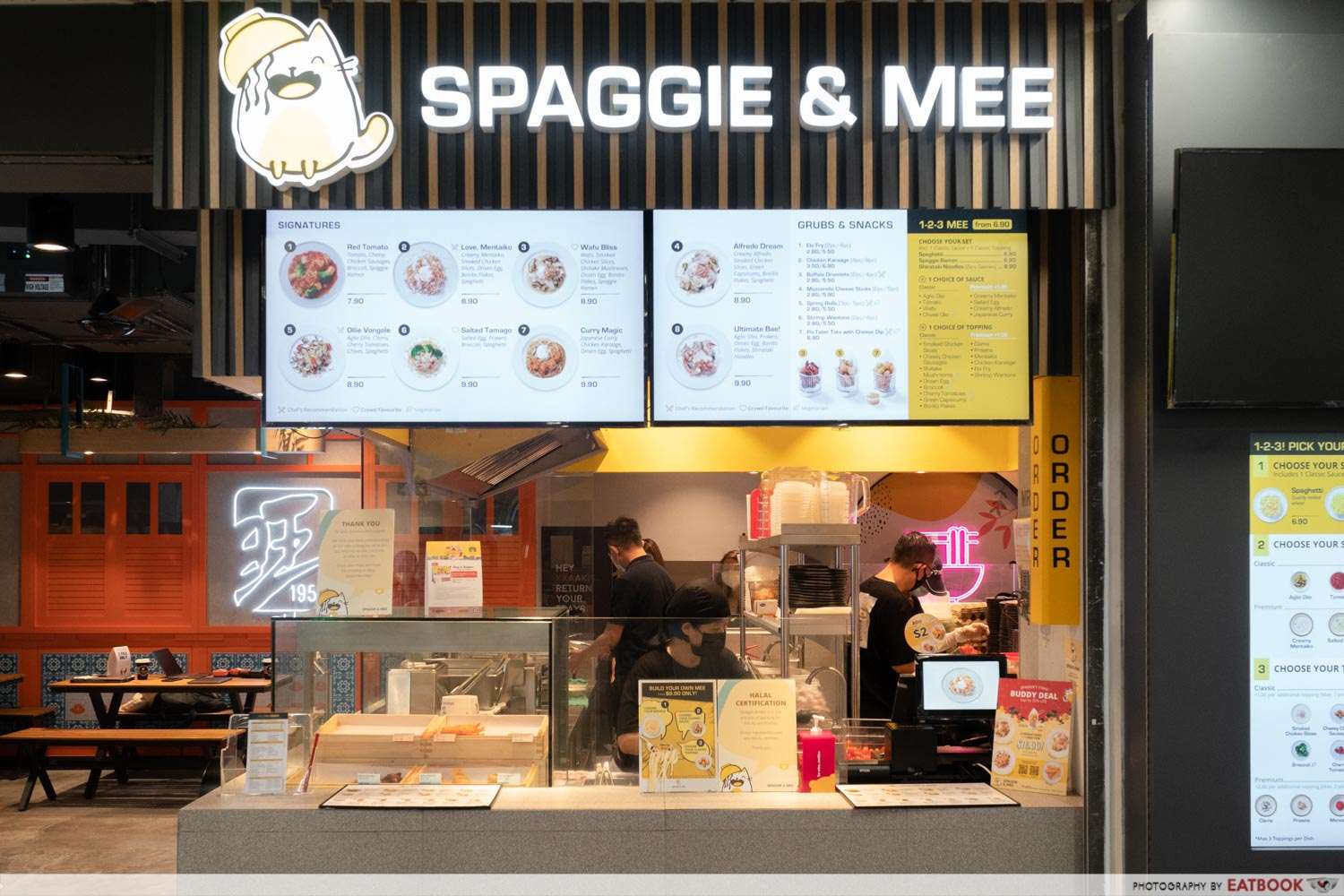 You can satisfy your pasta cravings at Spaggie & Mee, an all-new mod-Sin concept making its debut at KAAAKIS.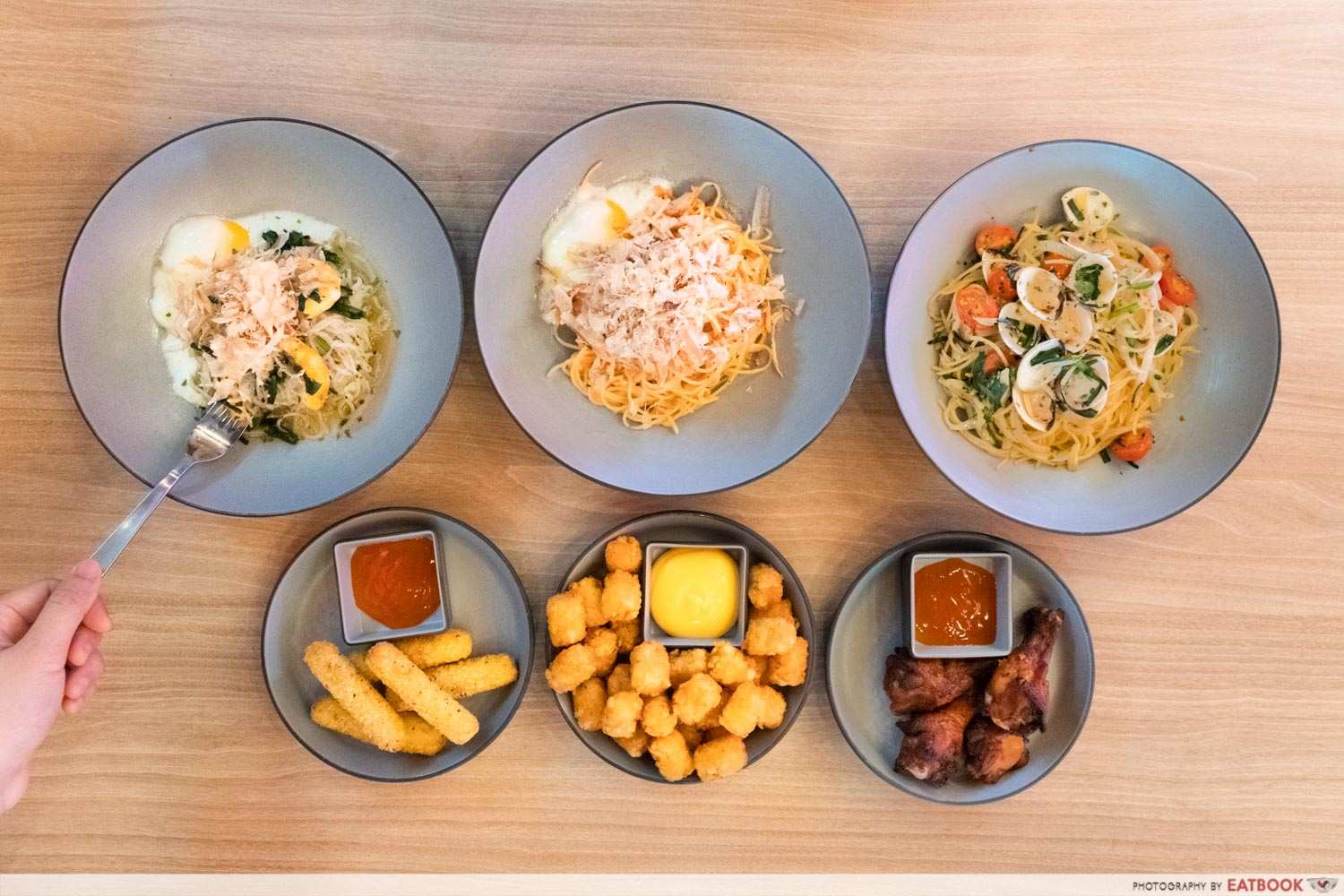 Here you can pick from eight pasta options, including Red Tomato ($7.90) and Ollie Vongole ($8.90). The latter is a light, but flavourful seafood pasta, served with clams and cherry tomatoes.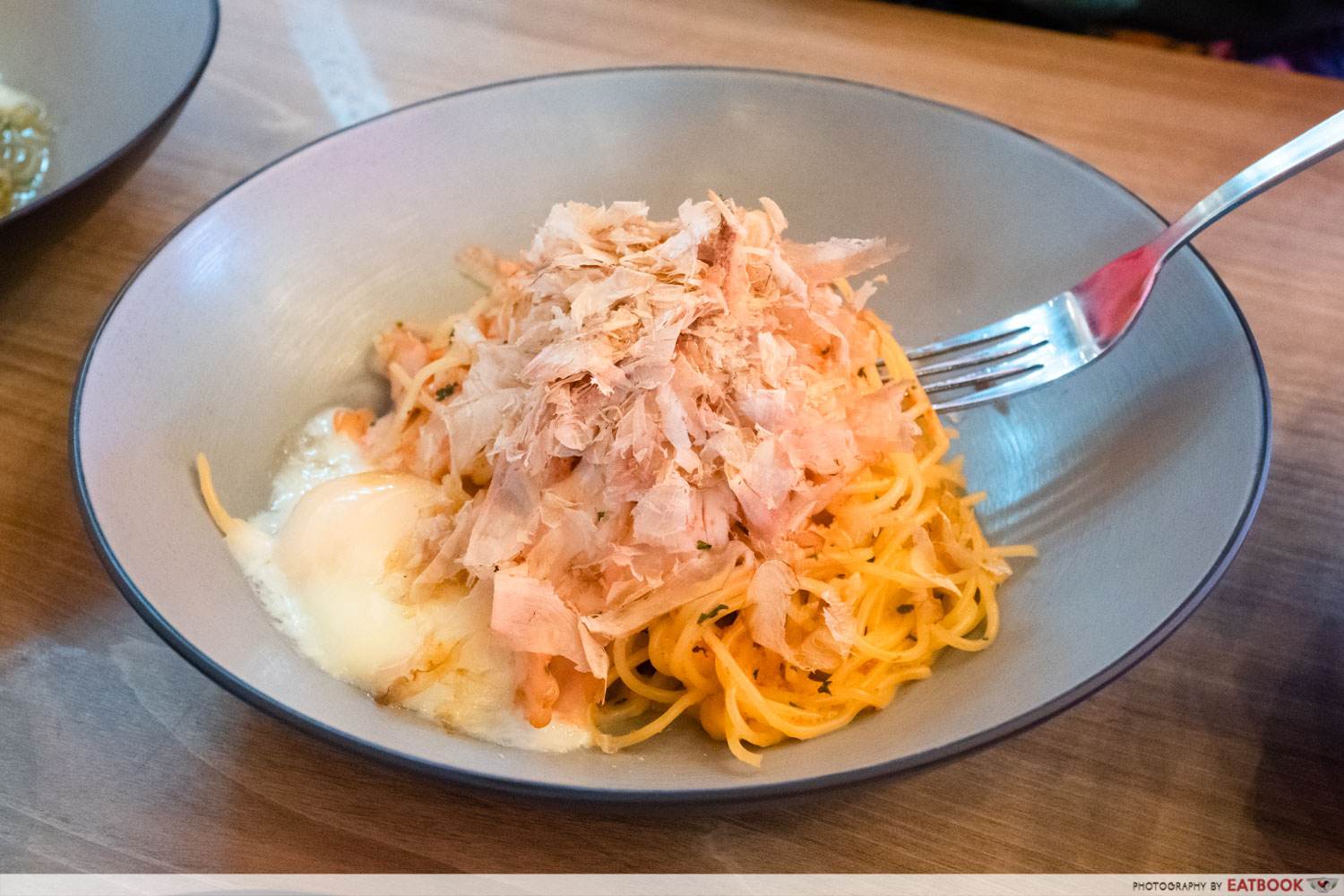 Another popular pick is the Japanese-influenced Love, Mentaiko ($8.90), which combines spaghetti, creamy mentaiko sauce, smoked chicken slices, and an onsen egg, topped with bonito flakes. Break the yolk and mix it into the noodles for a rich and satisfying meal.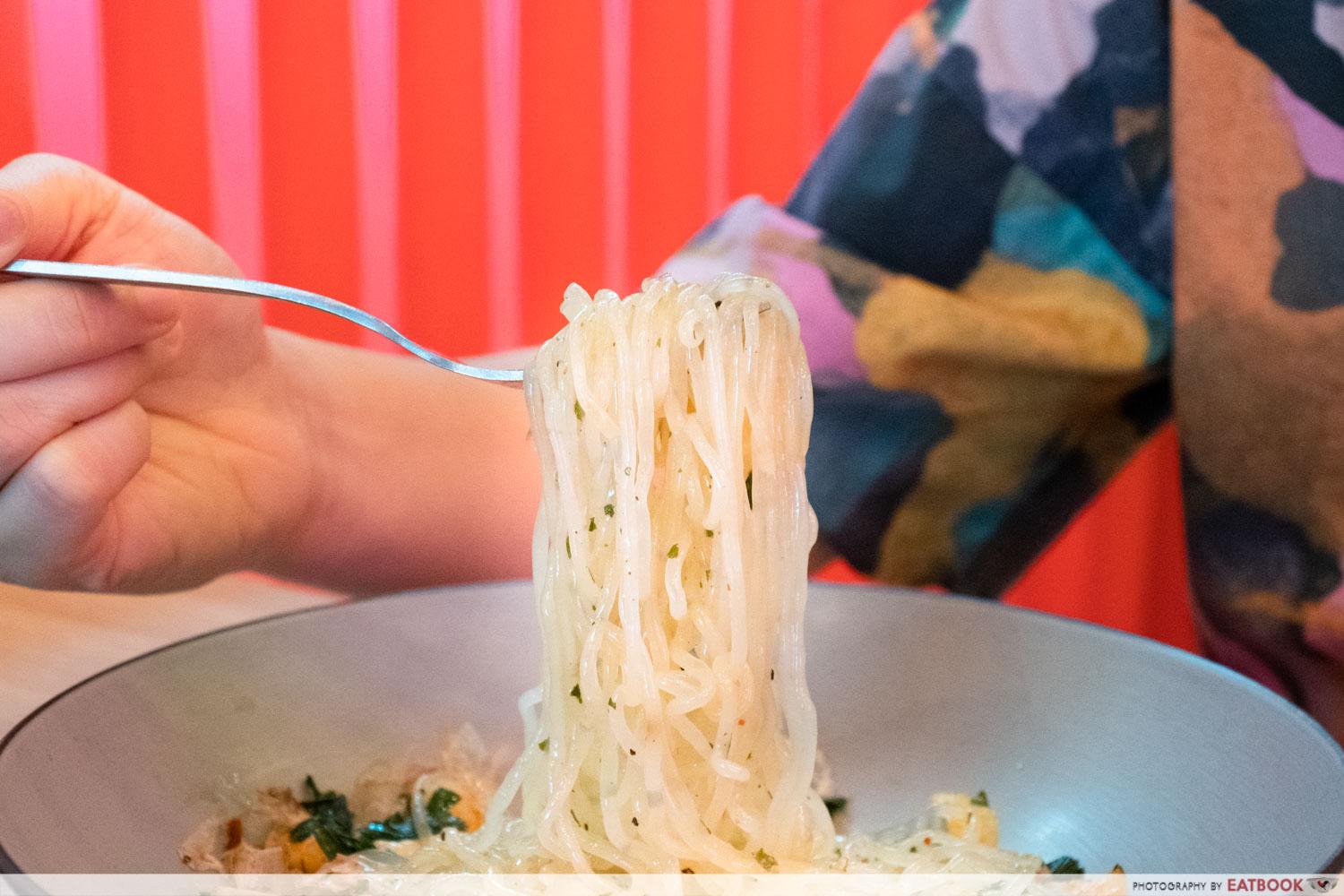 For the diet-conscious, the signature Ultimate Bae! ($9.90) is not to be missed. This dish consists of zero-calorie shirataki noodles cooked aglio olio-style, topped with prawns, bonito flakes and an onsen egg for a hearty yet guilt-free treat.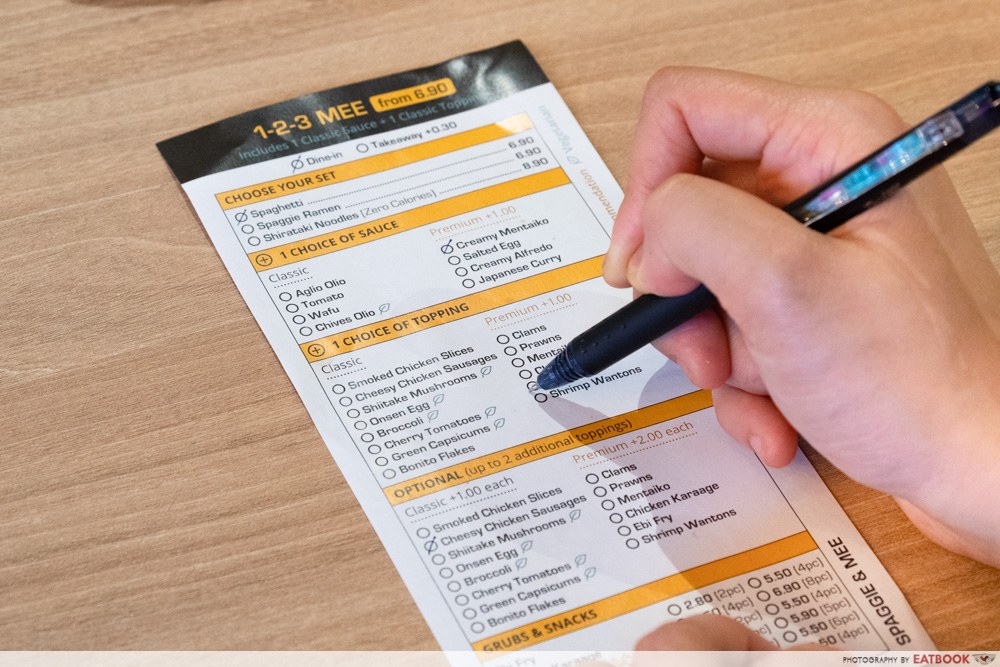 Alternatively, you can DIY your pasta dish from just $6.90, with a vast variety of both classic and premium sauces and toppings to choose from.
Light bites are available here as well, from the meaty Buffalo Drumlets (from $2.80) to the addictive Po-Tater Tots with Cheese Dip ($6.90).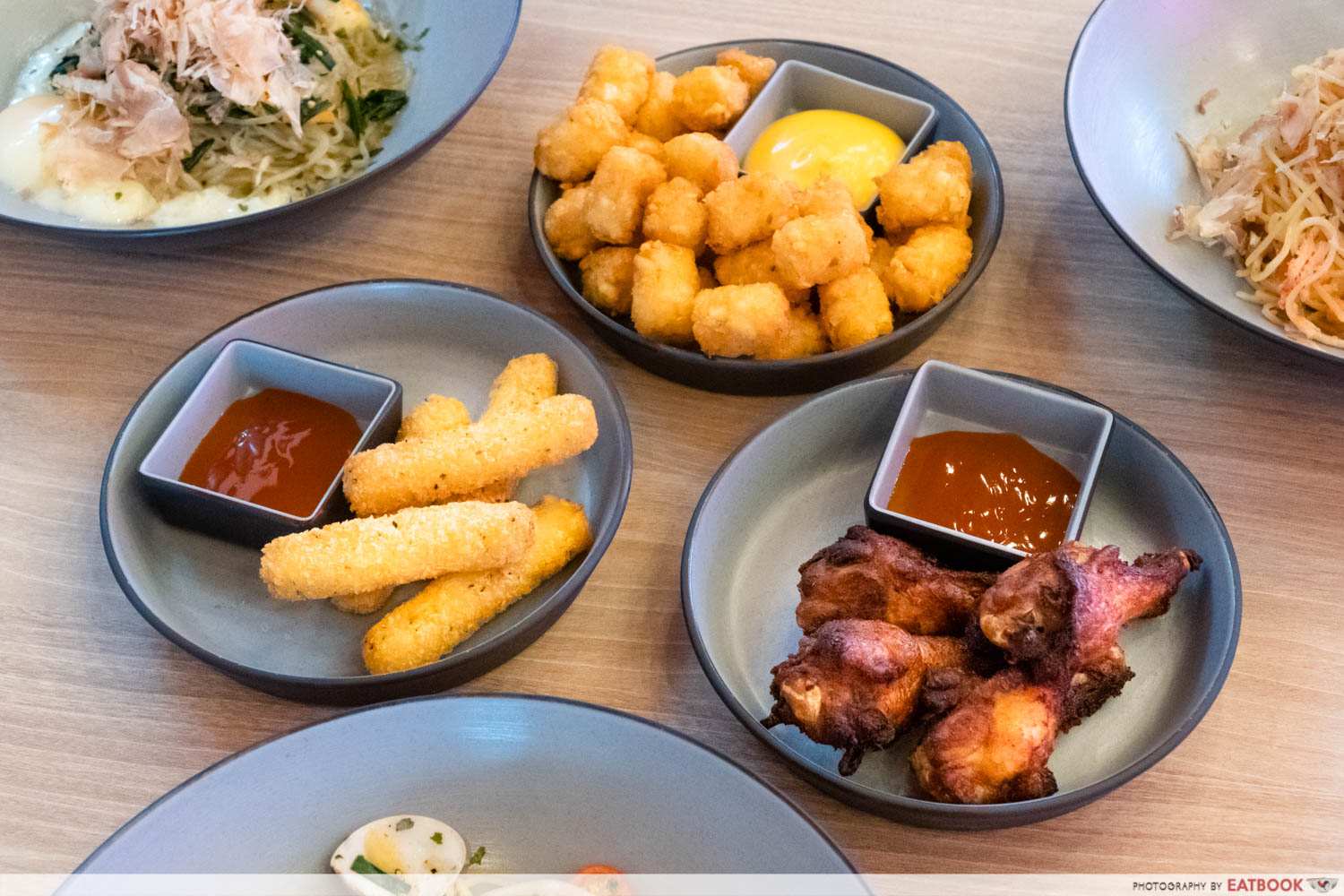 Get the perfect cheese pull shot with the Mozzarella Cheese Sticks (from $2.80), served fresh from the fryer to your table.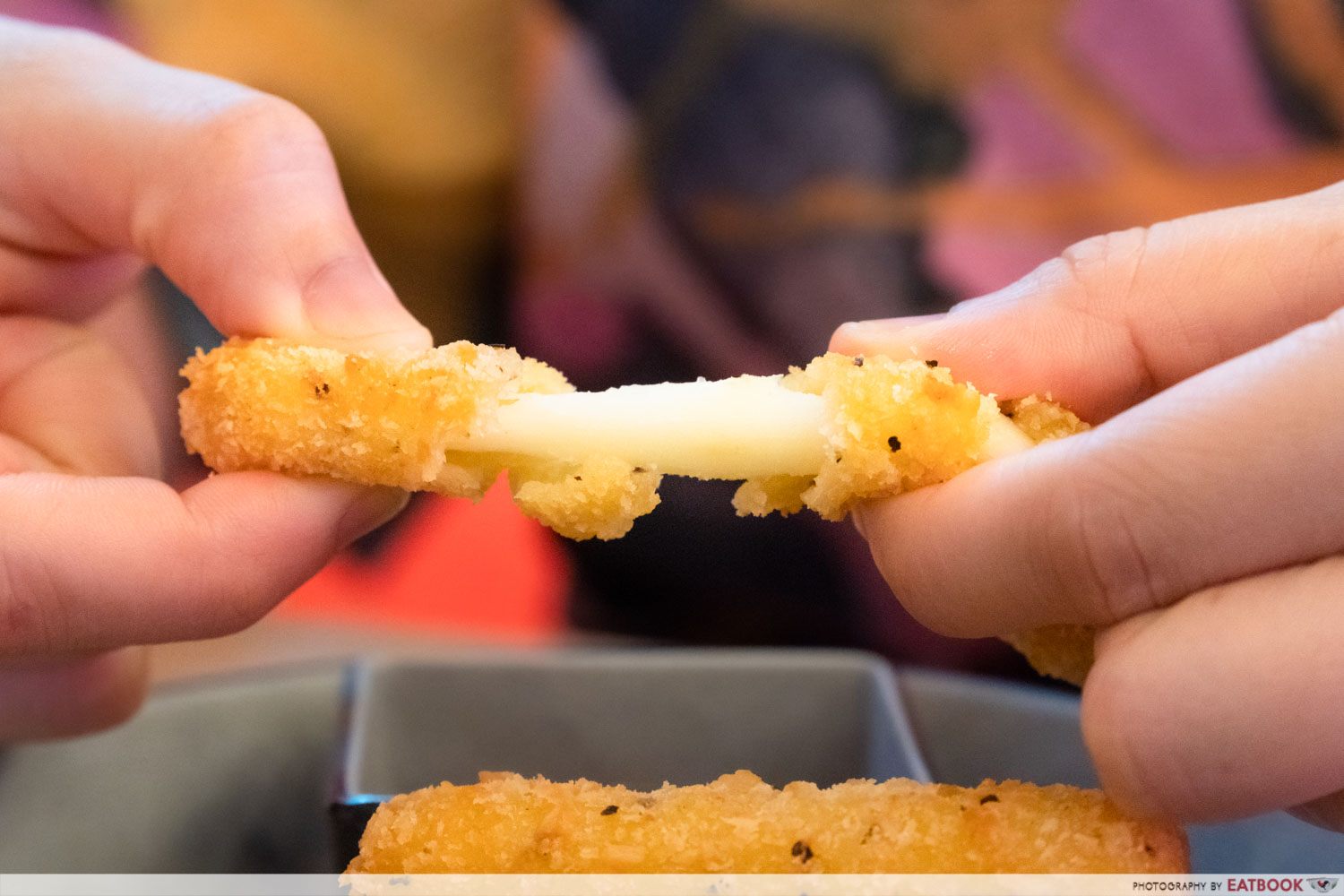 There's plenty more dining options in KAAAKIS, and the best part is all the stalls are either halal-certified, or in the process of getting their halal status. For more local fare, try Crave Crispy Ayam, Padang Grill, and IKAN Otah. Round up your feast with a bowl of Old Amoy Chendol, the perfect treat on a hot afternoon! 
KAAAKIS is hosting a social media giveaway, where five winners can stand to win a $50 Heavenly Wang voucher. All you need to do is follow Heavenly Wang, like their giveaway post on either Facebook or Instagram, and tag three friends. To double your chances of winning, include the Eatbook-exclusive code, 'EBxHW' in your comment!
Address: Pasir Ris West Plaza, #01-342, Singapore 510735
Opening hours: Daily 10am to 9:30pm

Photos taken by Melvin Mak.
This post is brought to you by Shiok! Retail Concepts Pte Ltd.