SteakGrill serves affordable Western food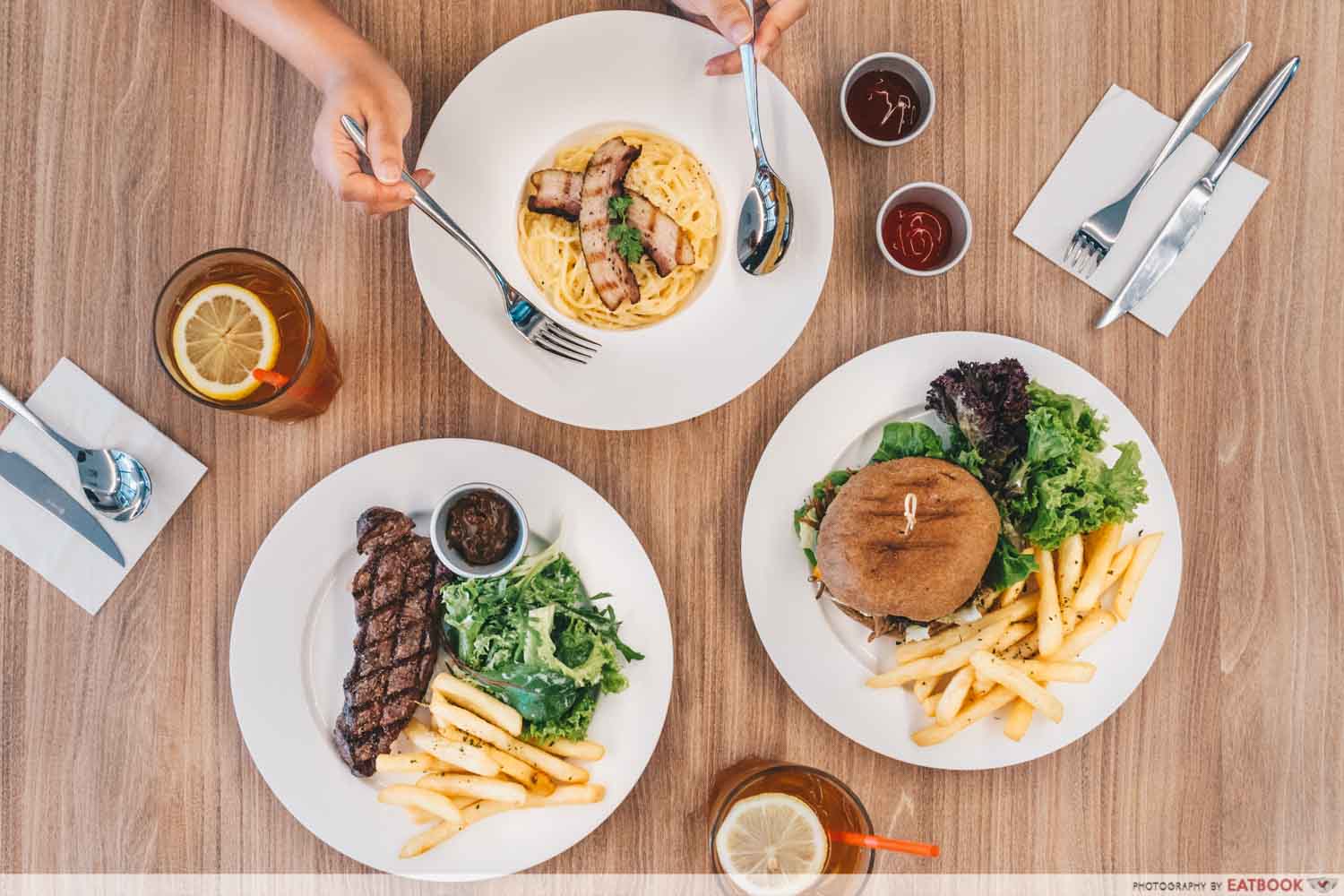 Having lived in Ang Mo Kio for most of my life, I can't help but get excited about new food places that pop up in the area. Found in an HDB estate, SteakGrill is a newly opened bistro that has already gained a good amount of popularity amongst AMK residents with its affordable Western dishes.
Ranging from $7 to $15, each lunch set comes with a main dish and free-flow Iced Lemon Tea. Their lunch menu features a decent range of Western food dishes, including classic items such as Fish and Chips ($9), NY Strip Steak ($14), and Shrimp Arrabiata ($15).
10 Ang Mo Kio Food Gems Including A Chocolate Cafe And $1.30 Dim Sum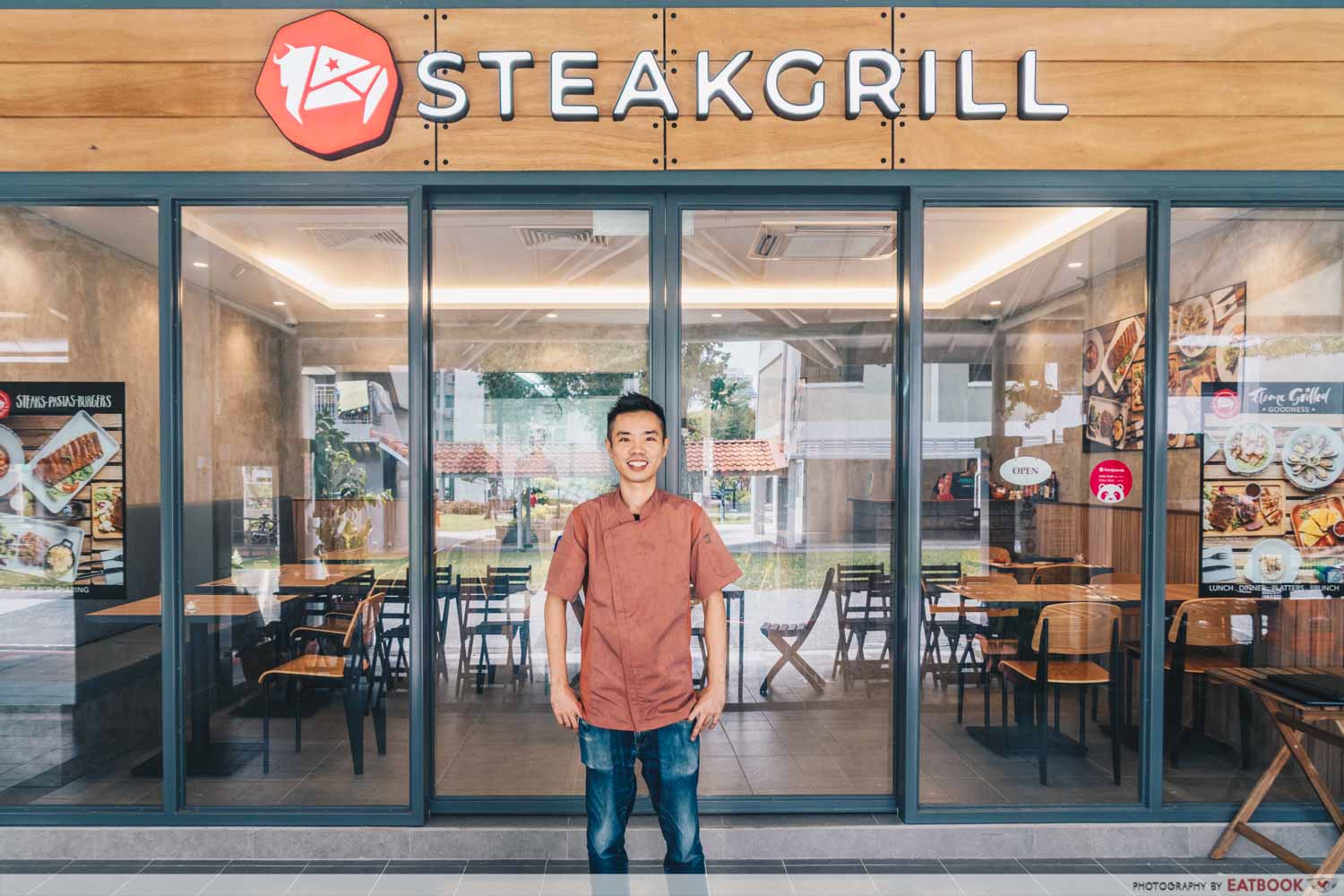 The restaurant was opened in December of last year by Edwin Chan, who is the owner of The Sandwich Guys in NTU. As the head chef of the diner, he was mostly in the kitchen grilling, cooking, and plating during our visit. Evidently, even with two well-frequented food joints to manage, he is still very involved with the hands-on work in the kitchen.
Food at SteakGrill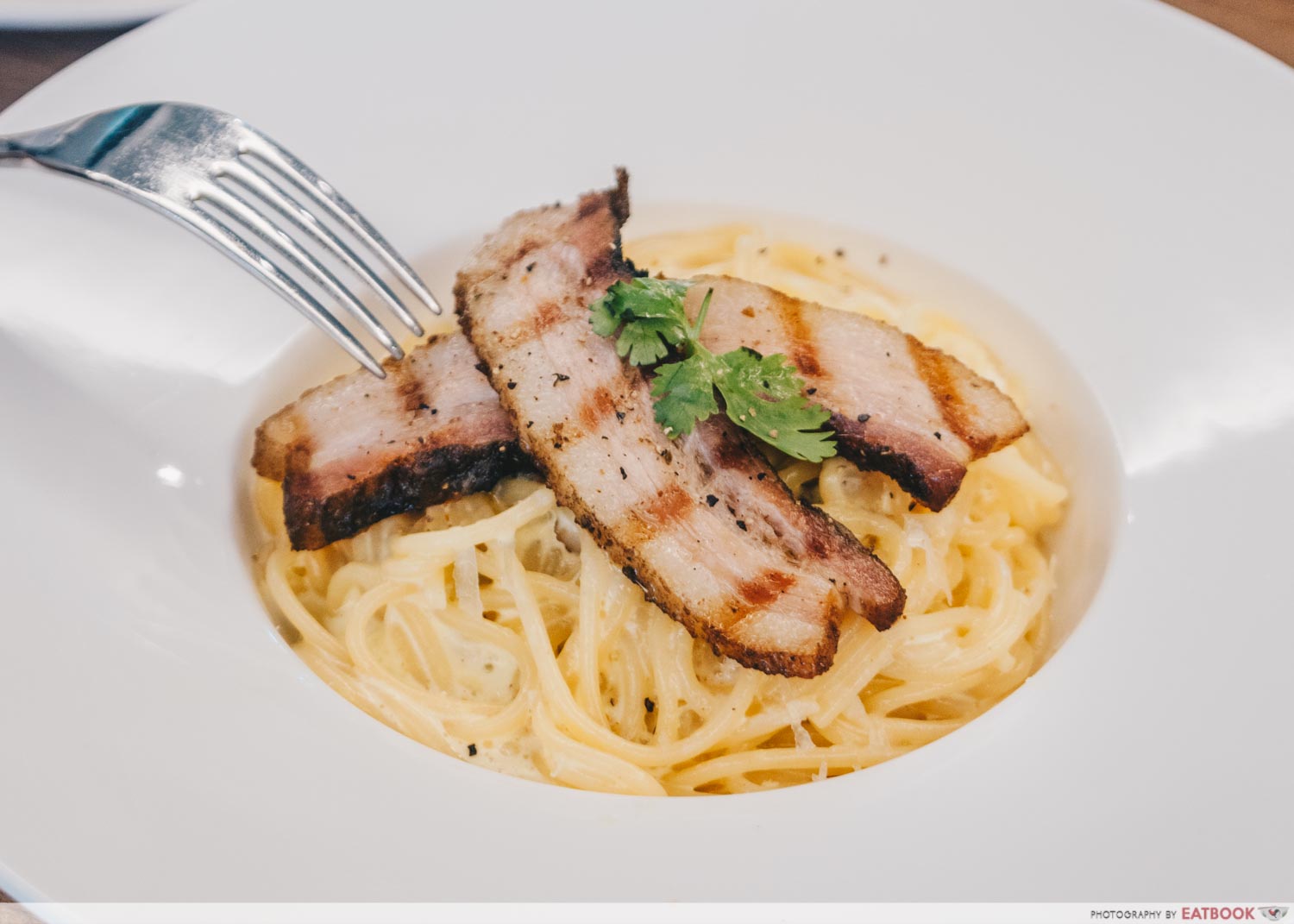 According to the owner, the Bacon Carbonara ($8) is one of their most popular pasta dishes. What struck me first about the dish was its beautiful, atas-looking plating despite its low price tag. A bundle of pasta was laid in the centre, followed by two slices of fatty pork and a pinch of pepper.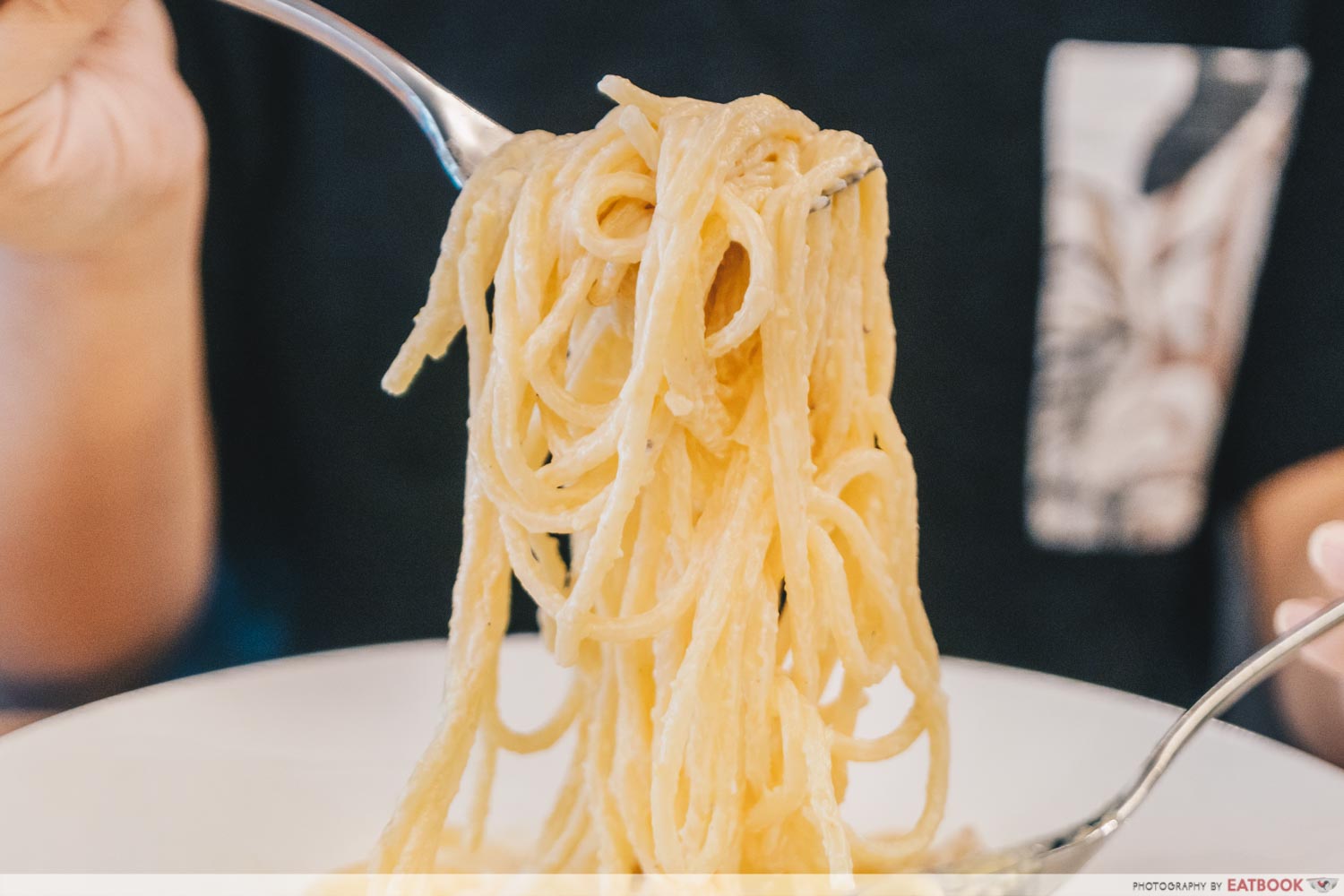 Slurping up the pasta was a joy. The sauce was creamy without being too oily, and the spaghetti was cooked al dente. A strong aroma of garlic cut through the richness of the cream, while the specks of grated parmesan cheese incorporated a slightly savoury and piquant taste to the mix.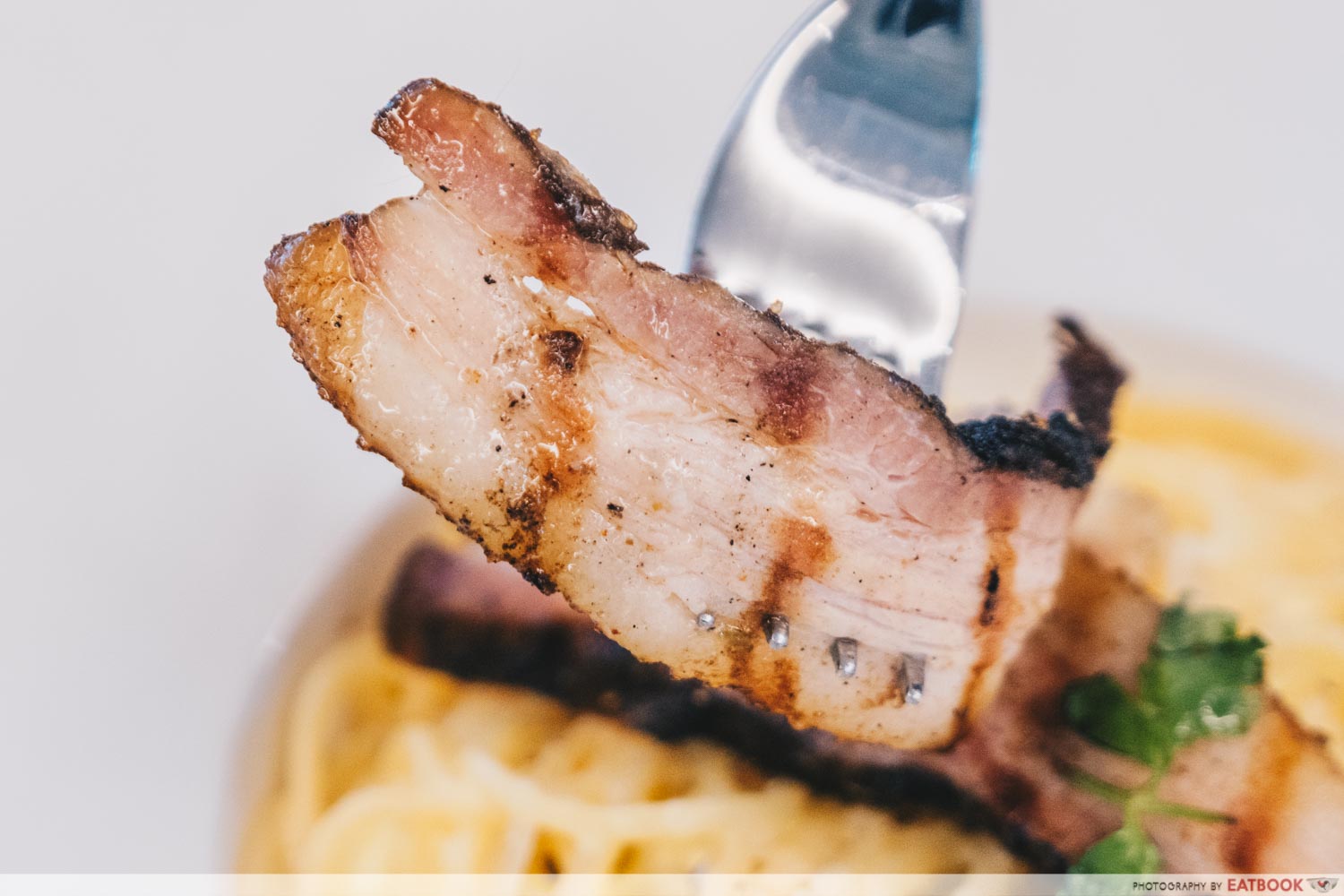 When I first saw this item on the menu, I envisioned the creamy dish to be served with small bacon bits mixed into the pasta. I was surprised to find two elegant slices of grilled, fatty pork resting atop the pasta. As opposed to the salty and crispy bacon that I'm used to having, I'm definitely leaning towards SteakGrill's tender slices.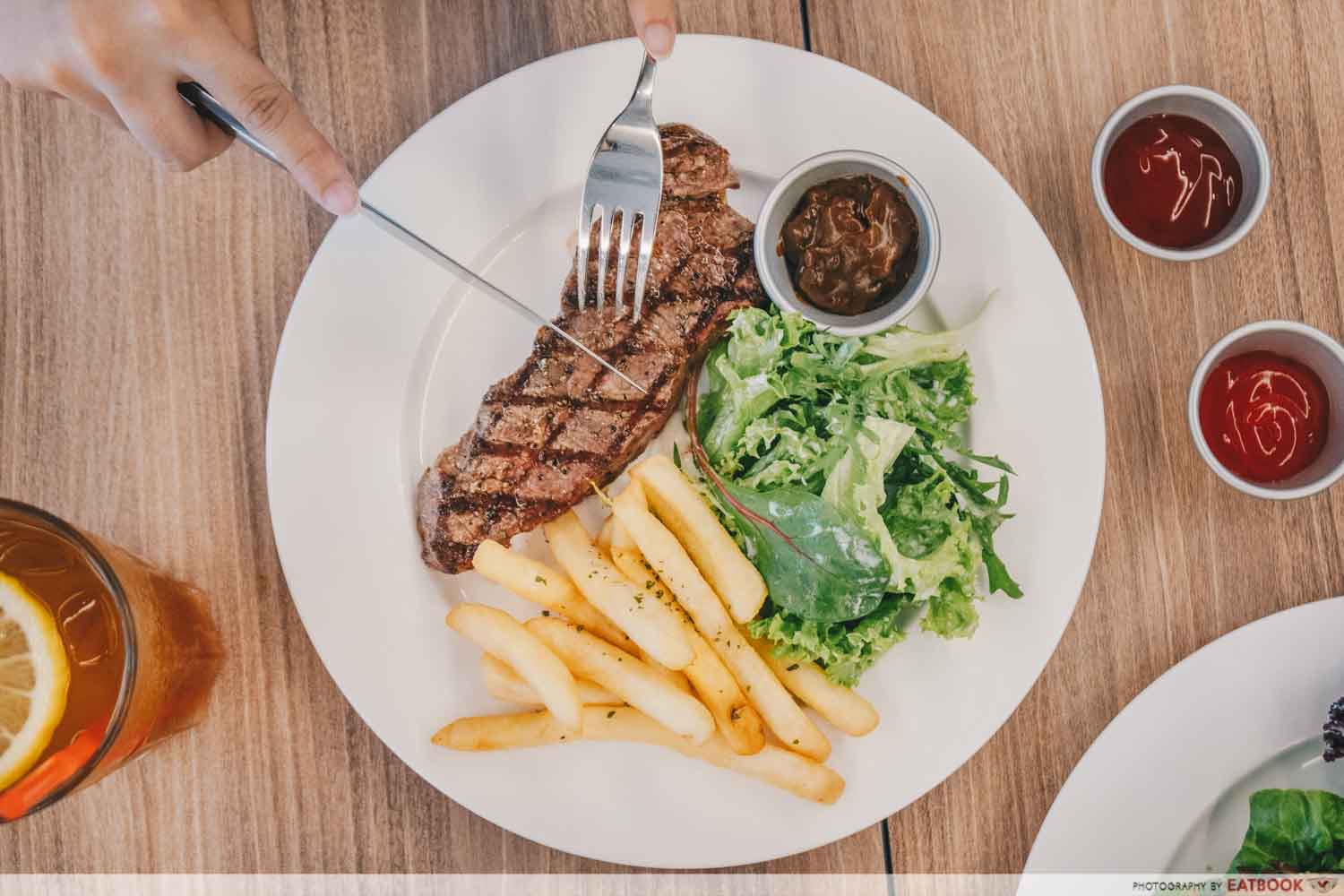 Cut from the short loin of the cow, the NY Strip Steak ($14), also called striploin, is typically known for being extra tender since it's one of the lesser-used muscles of the cow. Seeing the nearly three-centimeter thick slab laid on my plate, I was quite excited to dig in.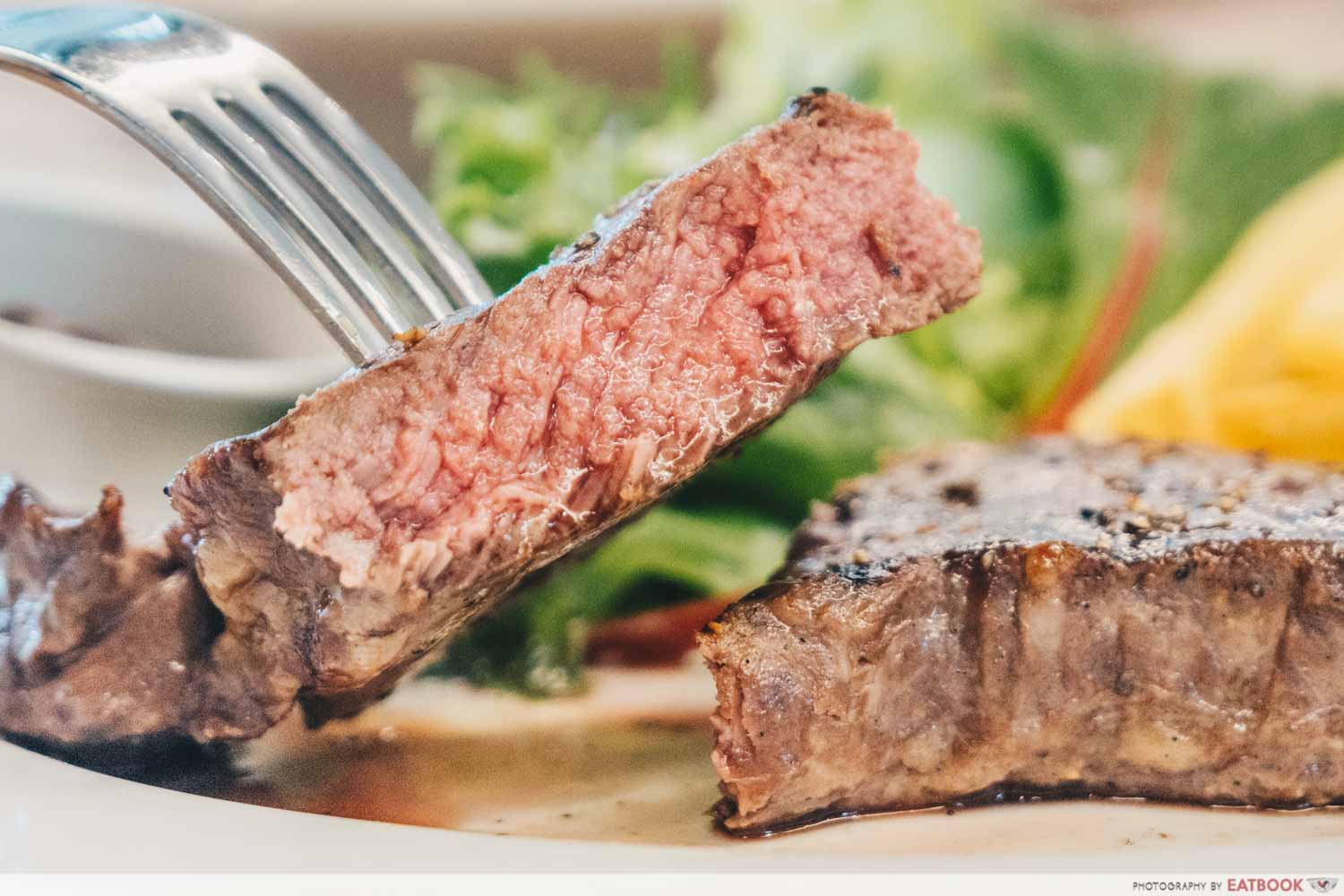 As I cut into the steak, juices leaked out continuously. However, after taking a bite, I found the beef to be a little too chewy for my liking, even though we ordered it medium rare. It was decently juicy, but had none of the extra tender characteristics I was looking out for.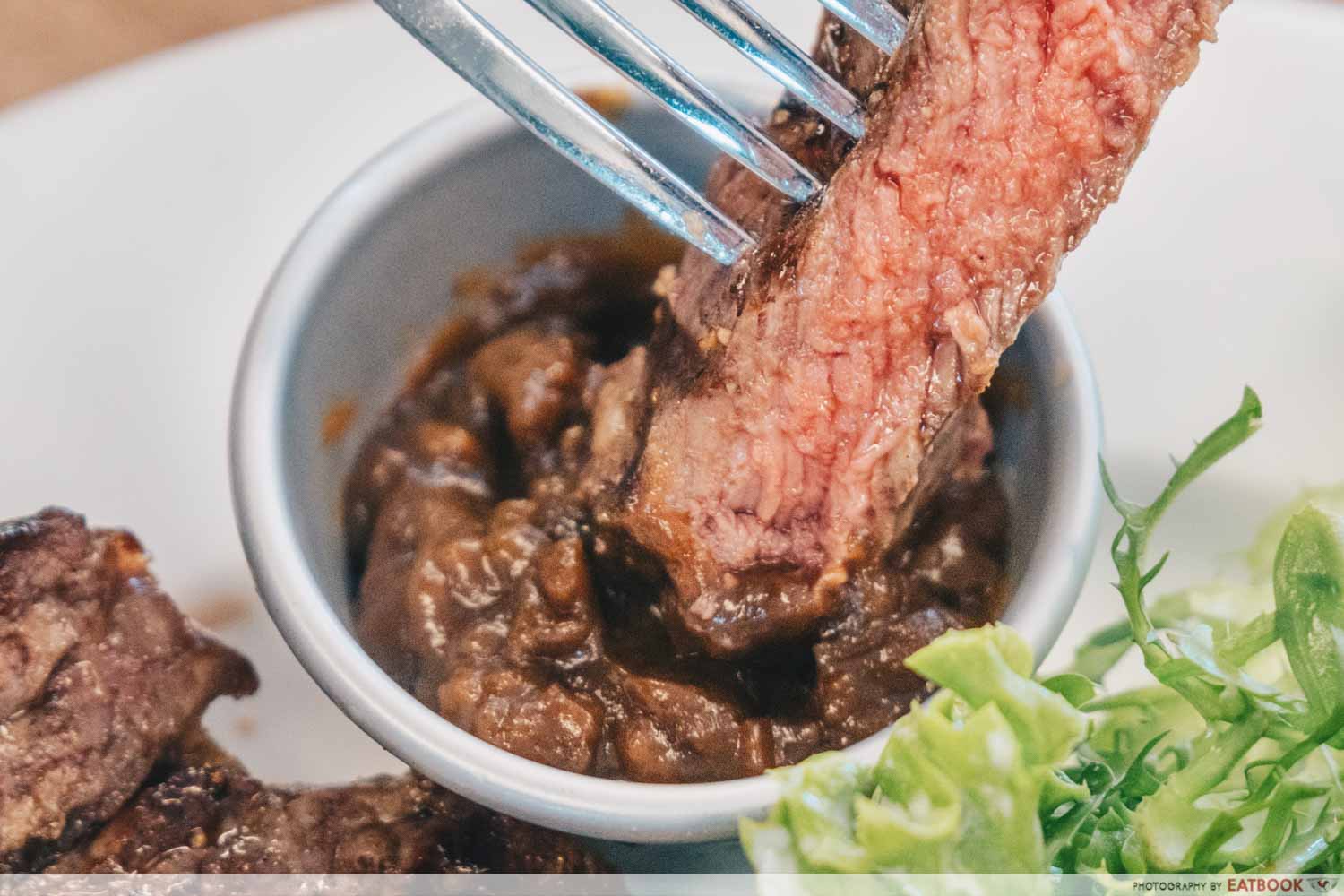 Nonetheless, I could still enjoy the light touch of seasoning on the steak that brought out its meaty flavours well. Dipping the meat into the peppery sauce on the side was also a treat, as the savoury gravy melded harmoniously with the beefy flavours of the steak.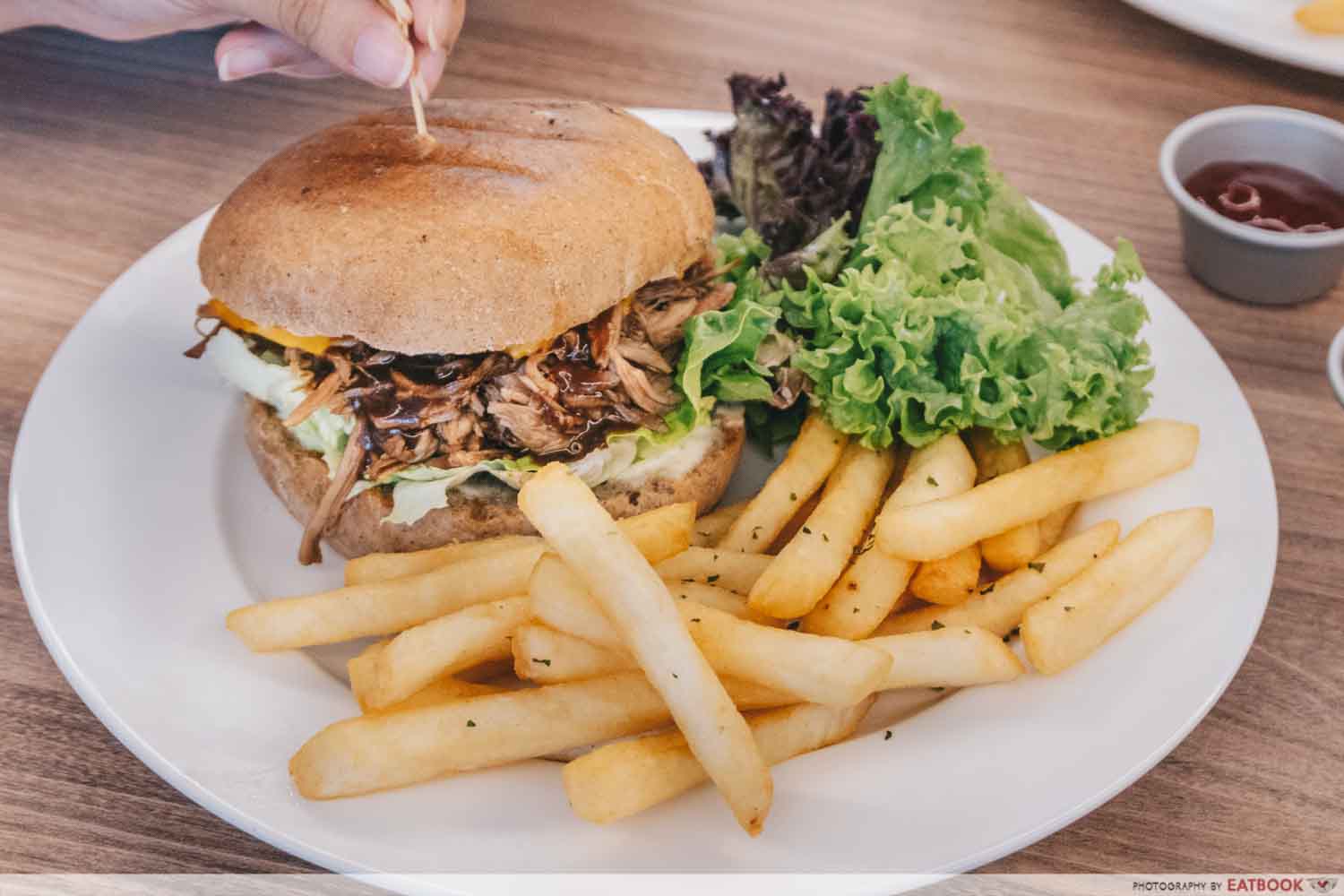 We also tried their Pulled Pork Burger, which was the most pricey item under the 'Burger' section, at $12. The plate came with a classic side of fries and lettuce salad next to the decently sized burger.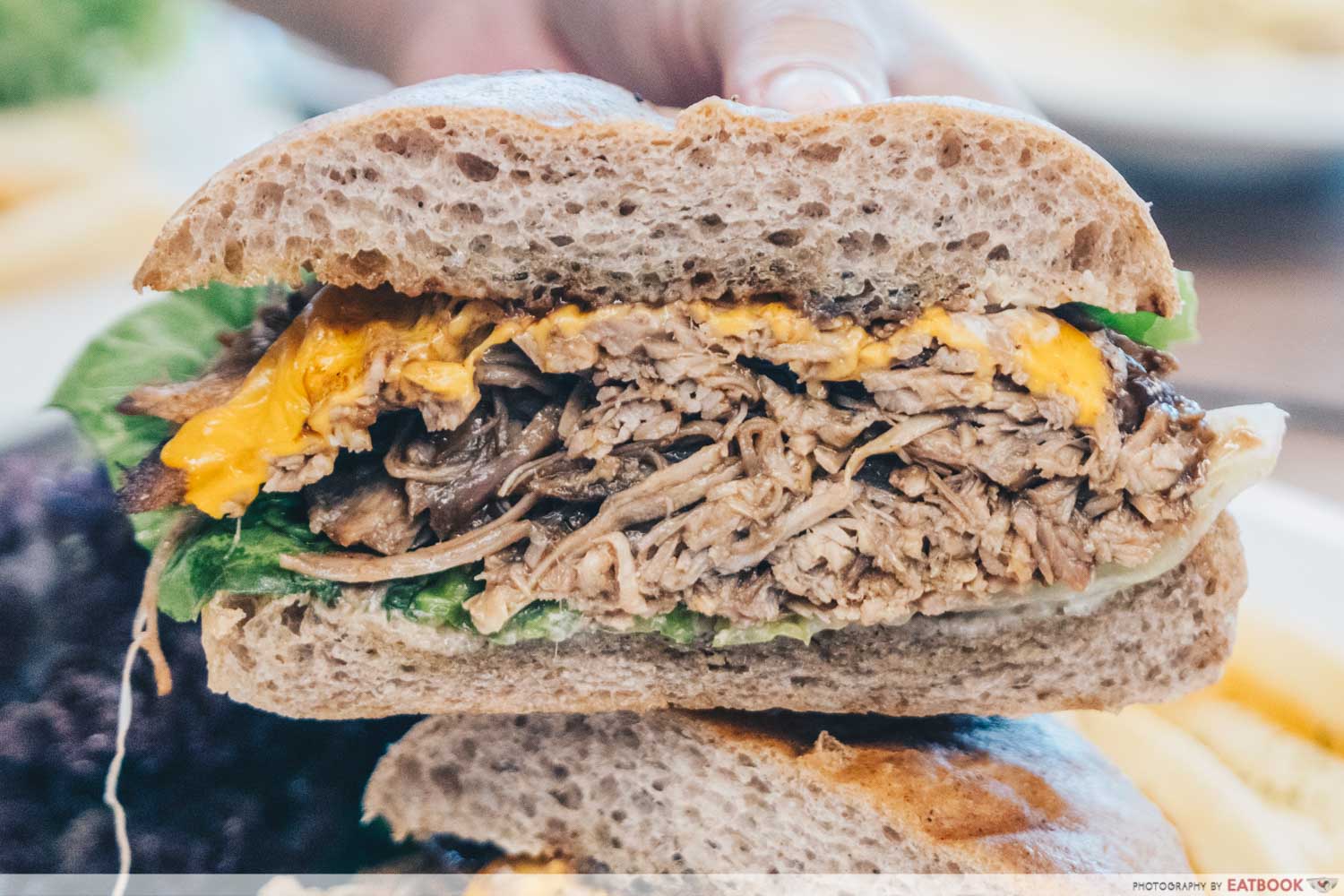 Taking a look at its cross-section, I was impressed by the generous portion of meat. The pulled pork had soaked up a lot of the sweet and salty sauce, keeping it tender and flavourful. Despite being packed with meat, the burger wasn't too heavy in flavour, and my dining companion who particularly liked this dish, devoured the burger in a couple of bites.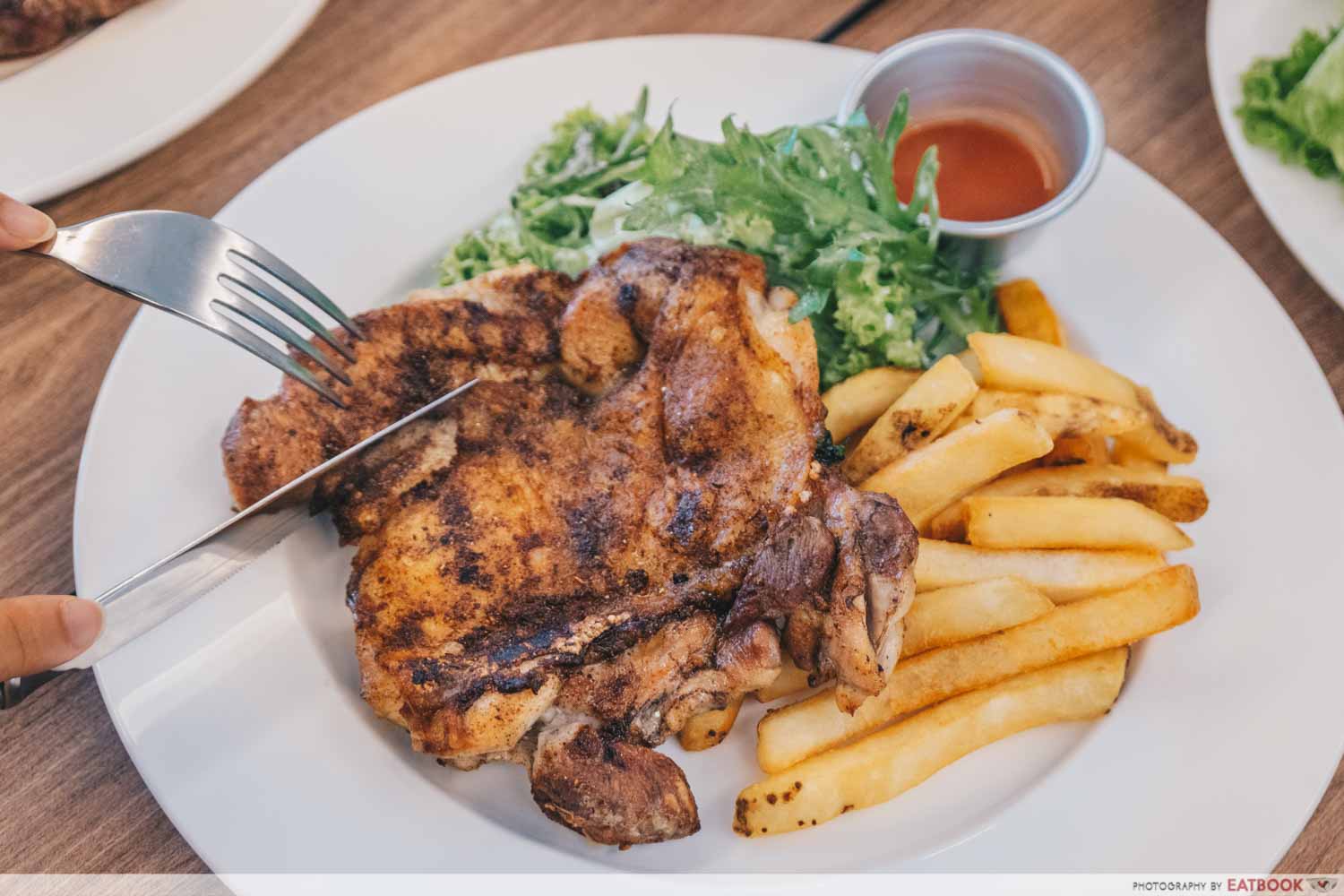 For the last of our mains, we had the Cajun Grilled Chicken ($8) which came with the same sides and a small saucer of Tabasco sauce. The surface of the chicken had taken a honey-coloured hue, which was likely the result of the Cajun spice rub used.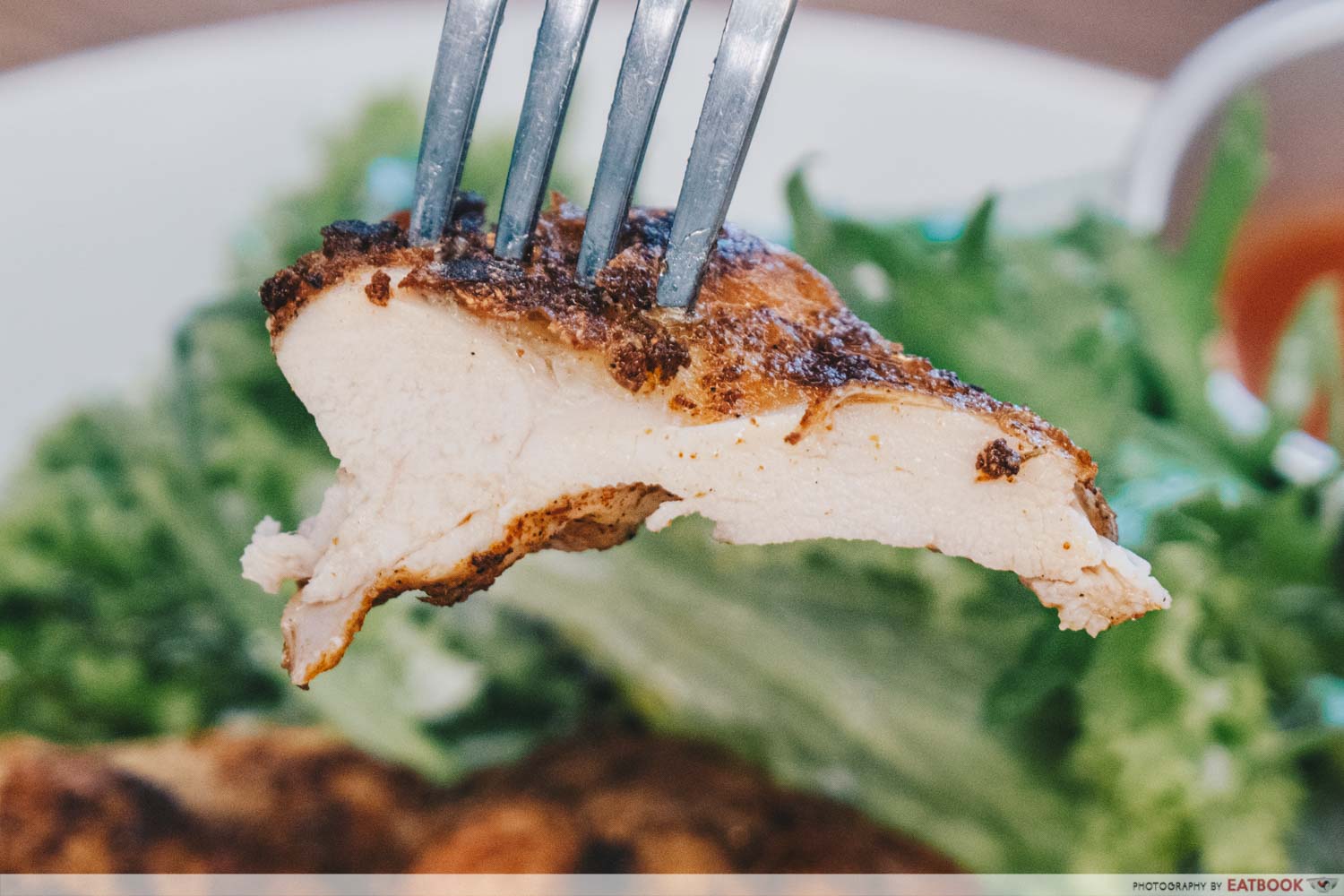 I thought the chicken looked a little dry and thin upon my first glance. However after taking a bite, I was surprised by how succulent the chicken was—the white flesh was cooked to the right tenderness. Unlike my experience with the steak, I enjoyed the chicken more on its own as the light crisp of the herby and peppery skin helped to elevate each bite without needing a dip of the sauce. 
With their lunch menu, you can also top up an additional $3 for a plate of their Waffle Ice Cream. A square of their crispy waffles is topped with a scoop of creamy vanilla ice cream, before being served with a drizzle of chocolate sauce and sprinkling of icing sugar.  
Ambience at SteakGrill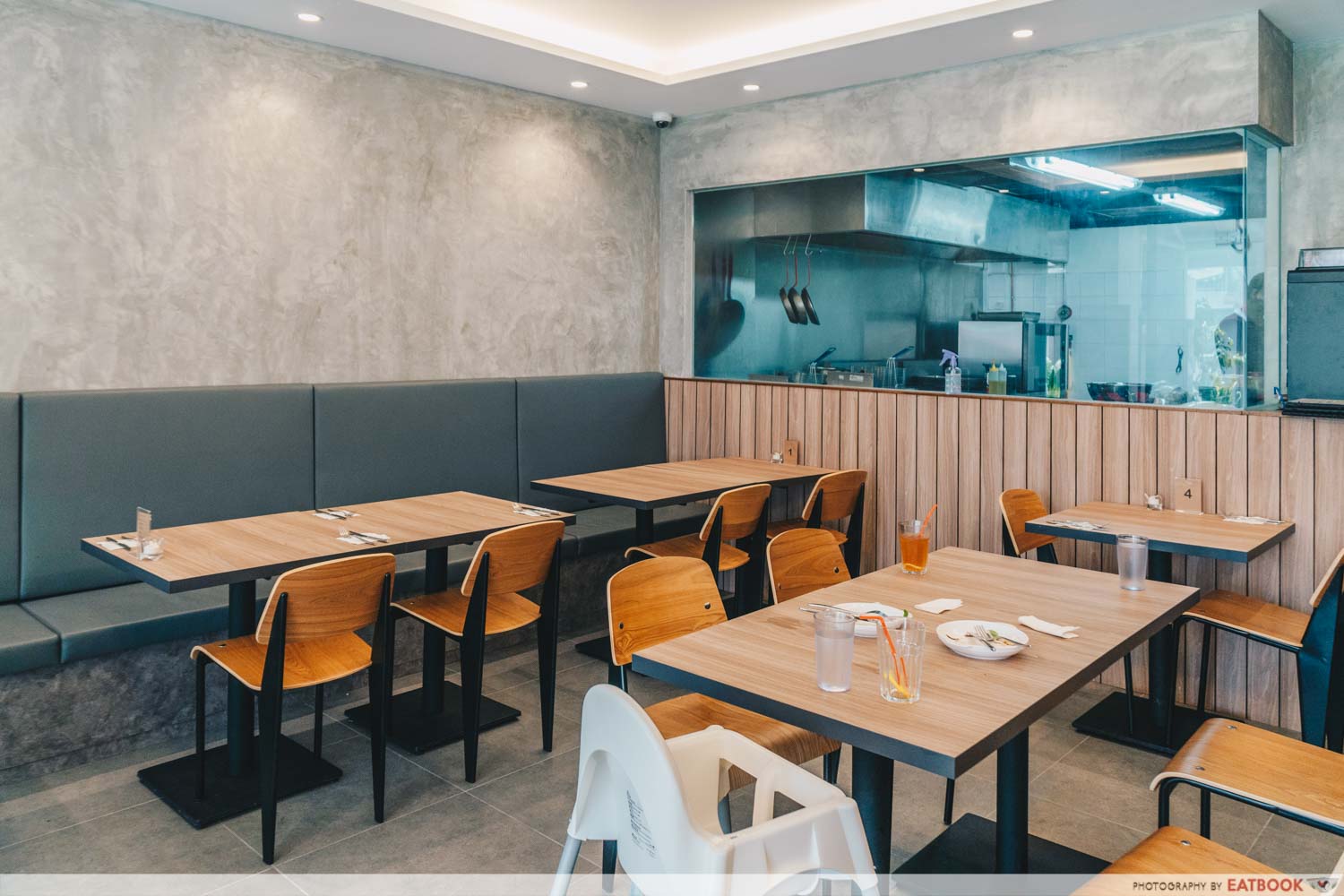 SteakGrill is a 10-minute journey from Ang Mo Kio MRT Station if you take a bus. Otherwise, it's about a 12-minute walk from the station. The restaurant is clean, air-conditioned, and sports a simple modern interior. However, the place might fill up during lunch and dinner hours, so it is best to head down earlier for a table inside. 
The verdict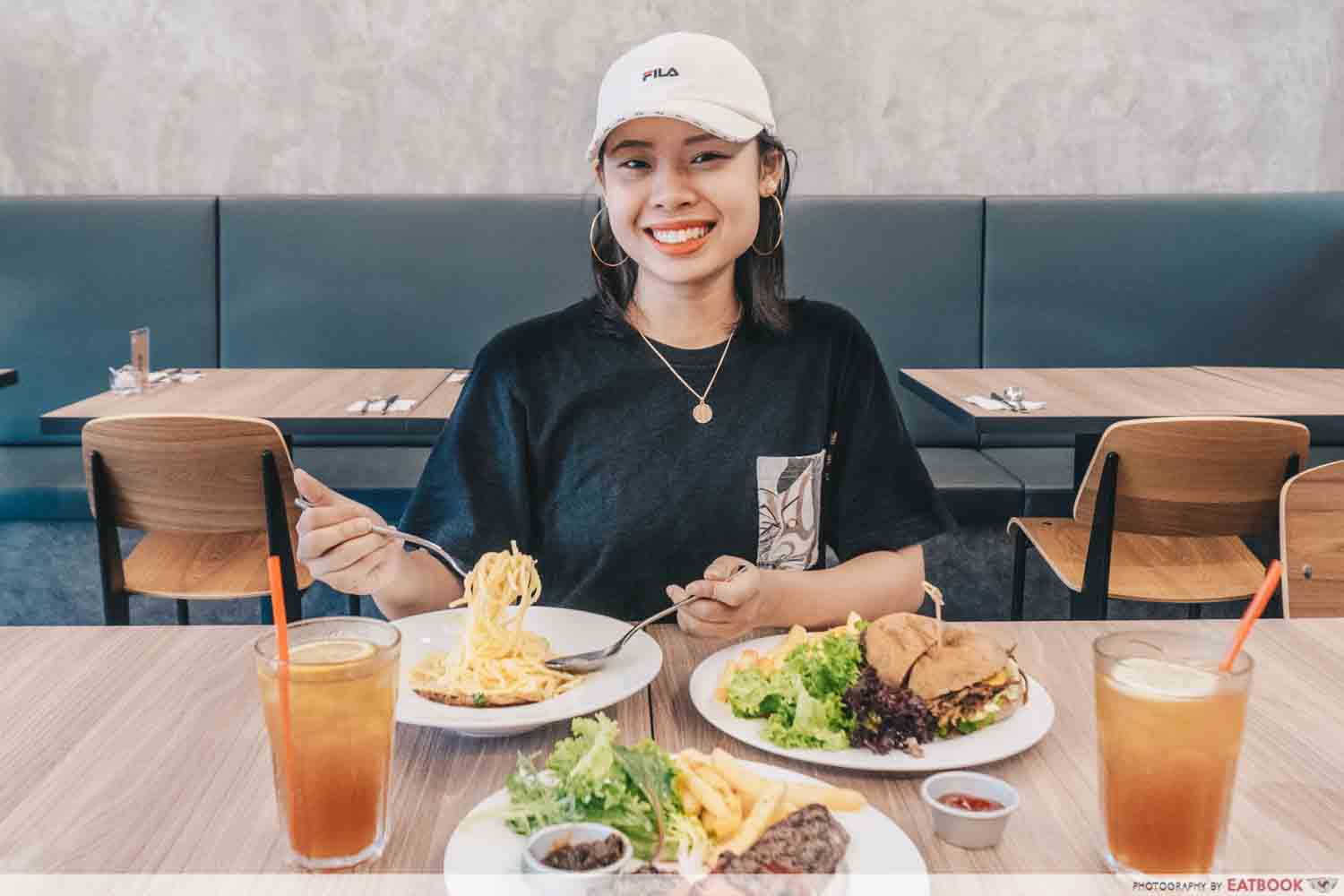 As an AMK kid myself, I'm well aware that there's no shortage of Western grub in the area. Even as one of the newest Western diners that's popped up in the neighbourhood, SteakGrill doesn't fade into the backdrop. They've been improving upon their menu since they first opened, and this determination to progress is proving to work well in their favour. 
Those looking for more affordable Western food, check out our list of Western stalls offering huge portions under $7 or this review of Tip Top Western Food!
Tip Top Western Food Review: Cheap And Good Western Food By Third Generation Hawker
Address: 408 Ang Mo Kio Avenue 10, #01-783, Singapore 560408
Opening hours: Tues-Sun 12pm to 2:30pm, 5:30pm to 9pm
Tel: 9099 1412
Website
SteakGrill is not a halal-certified eatery.

Photos taken by Goh Kerrianne.
This is an independent review by Eatbook.sg.
SteakGrill
Summary
Pros
– Affordable lunch menu
– Nett prices
– Dishes were well-seasoned
Cons
– NY Strip Steak was a bit dry
Recommended dishes: Bacon Carbonara ($8), Cajun Grilled Chicken ($8)
Opening hours: Tues-Sun 12pm to 2:30pm, 5:30pm to 9pm
Address: 408 Ang Mo Kio Avenue 10, #01-783, Singapore 560408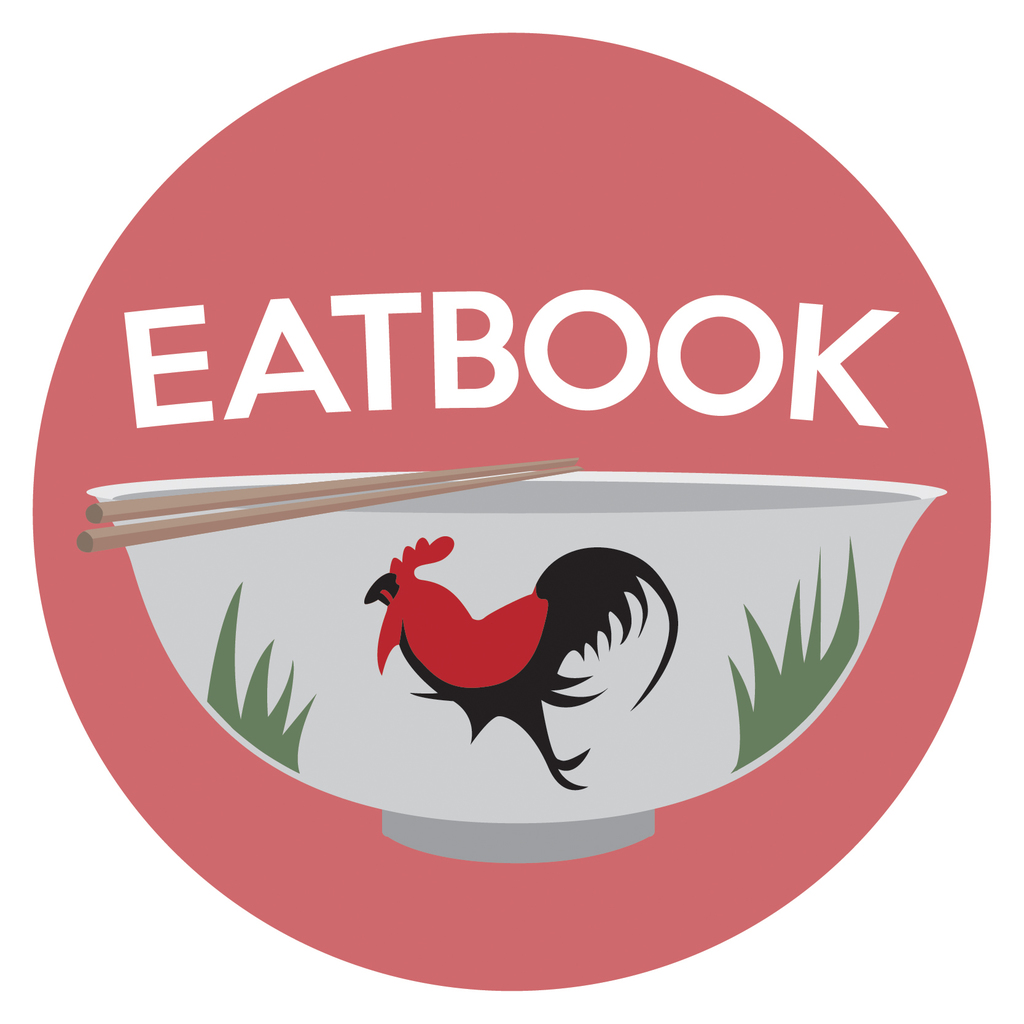 Drop us your email so you won't miss the latest news.