June Bakery sells old-school confectioneries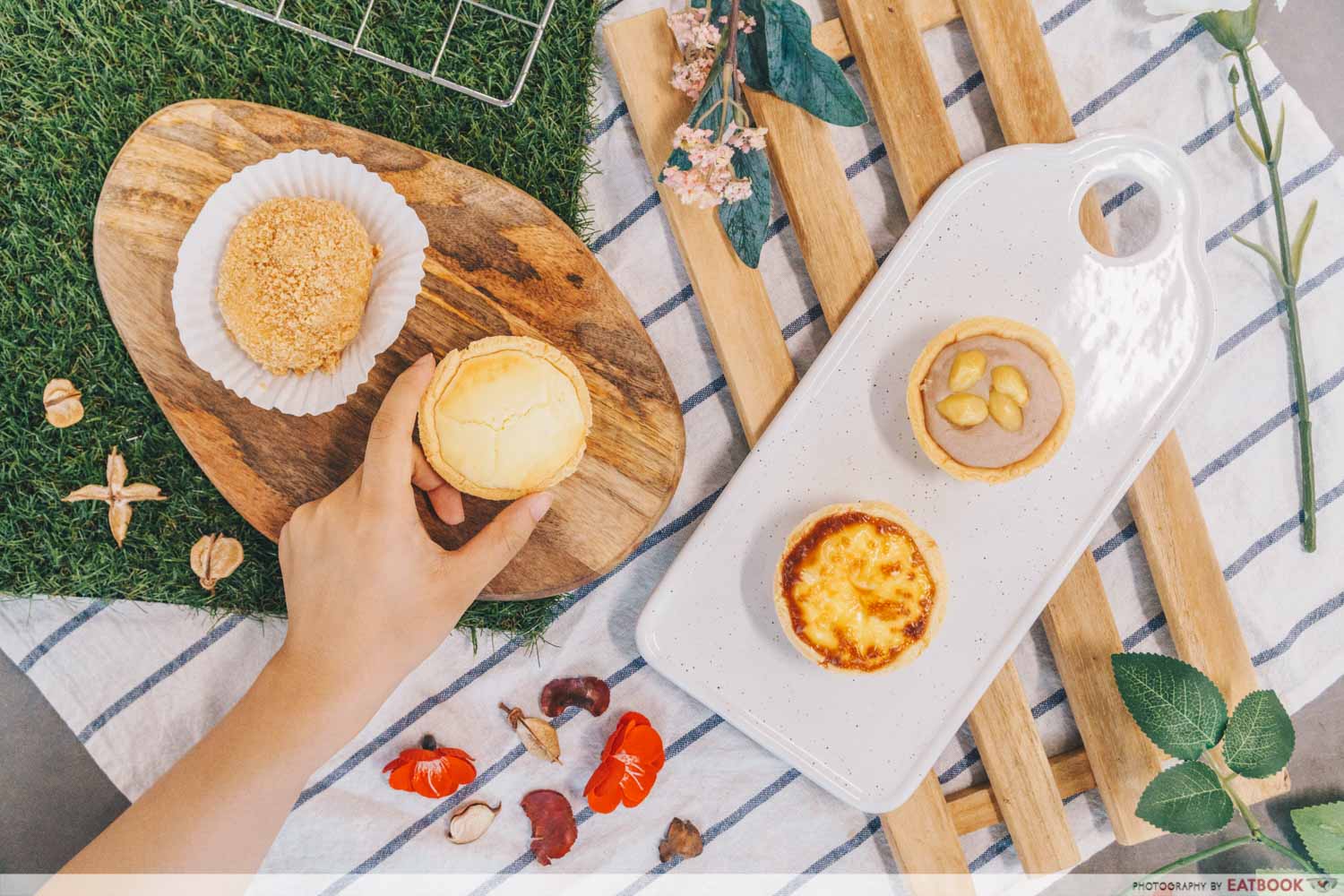 Old-school bakeries hold a special place in my heart. There's something about their homely interior, handwritten placards, and handmade pastries that are just so charming. Evidently, I'm not the only one who felt this way about June Bakery. This small, traditional bakery attracts long lines of customers every day with their endearing house-made pastries.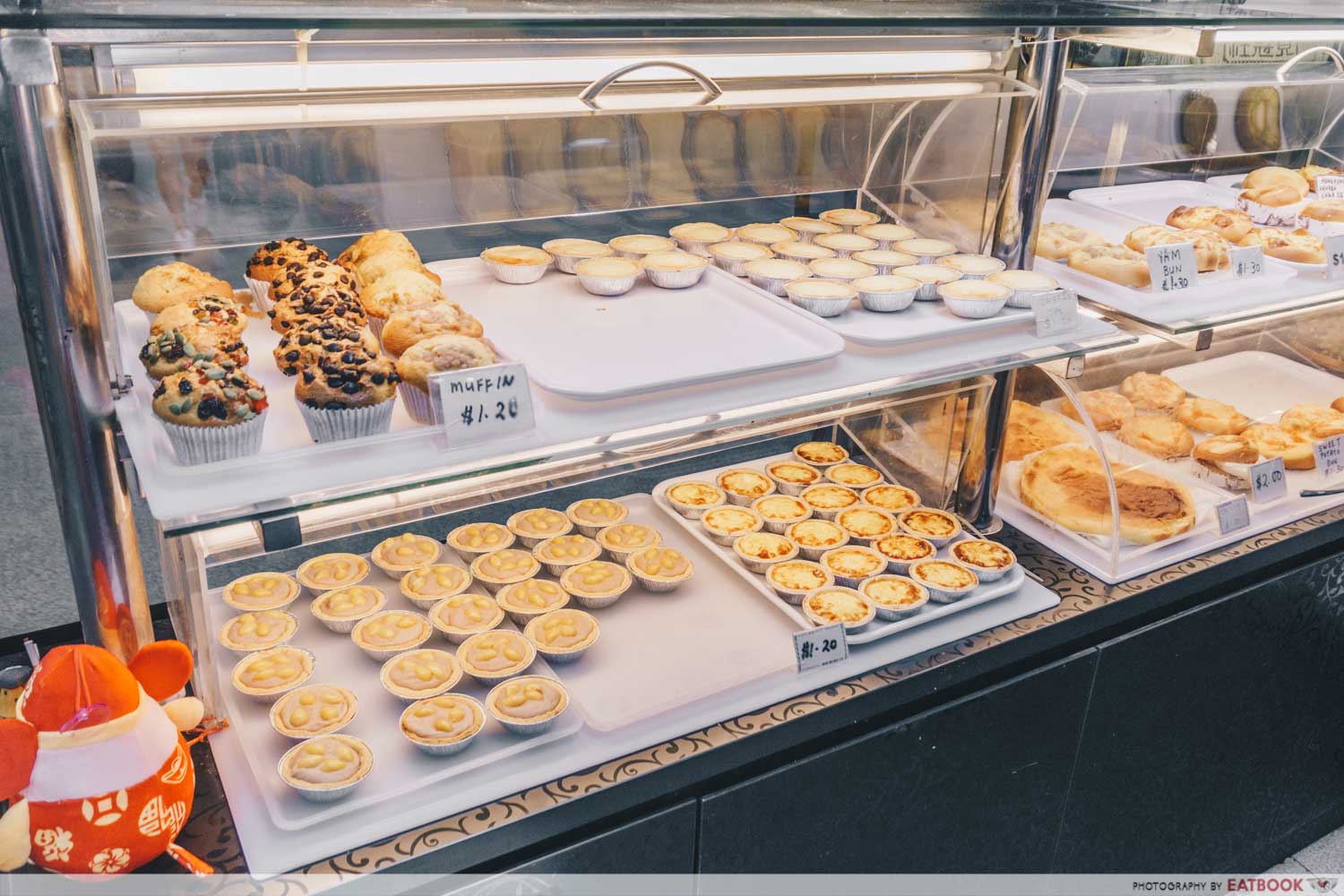 Walking into the hole-in-the-wall bakery, I noticed how their tarts dominated most of the display shelves. These tarts are prepared from early in the morning and sold fresh, starting at around 12pm. According to the owners, they only prepare one big batch a day, so the tarts are gone once they sell out. Thankfully for us, we made it into the perfect window of opportunity, and arrived just as they were filling their trays with tarts fresh out of the oven.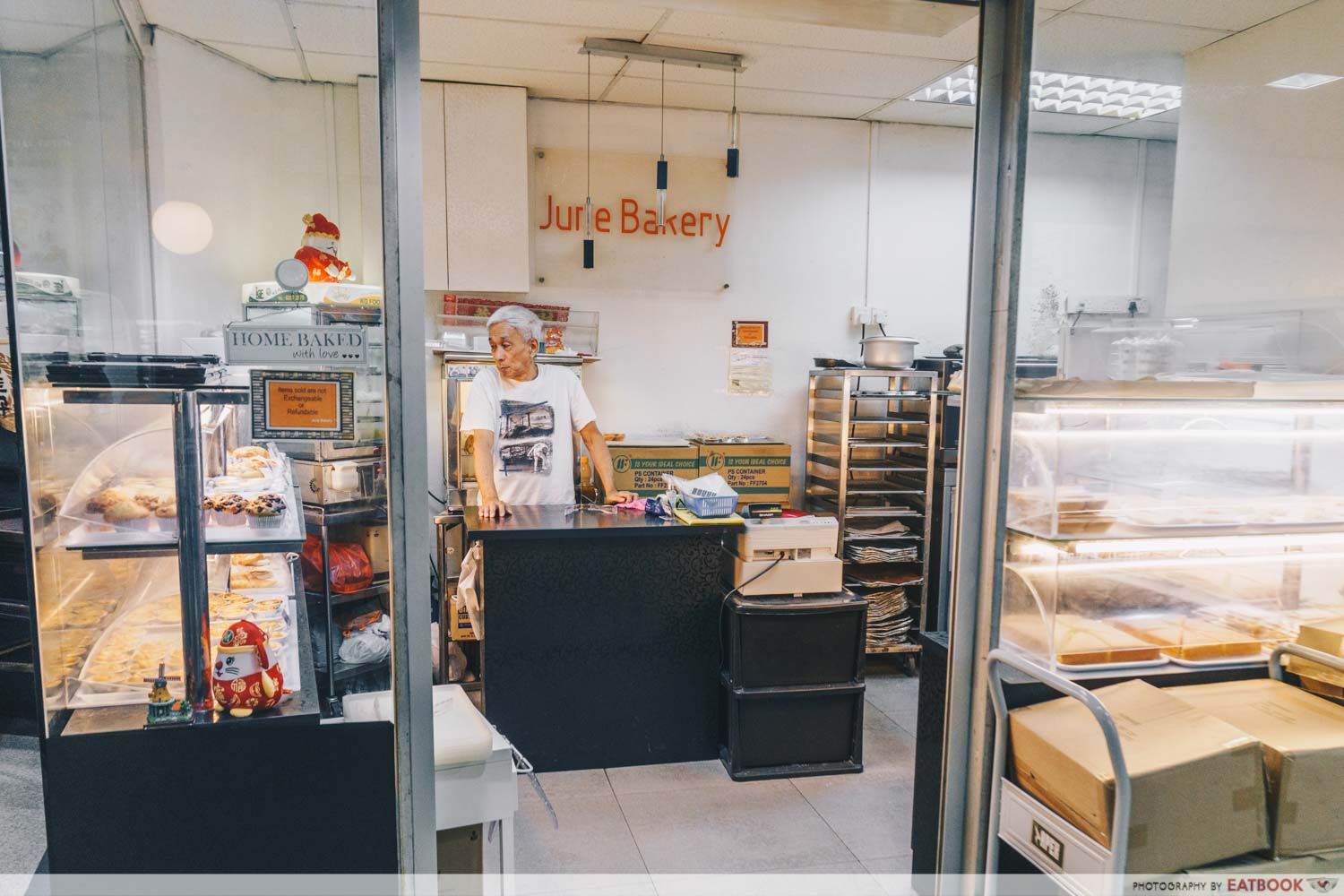 The bakery is run by a friendly duo who is still energetic despite their age and the rigorous work of manning a bakery. Their day begins at 3am in the morning when they start baking in the stuffy kitchen at the back. I was relieved to hear that their taxing day ends by 3pm, when their last piece of pastry is sold. 
Food at June Bakery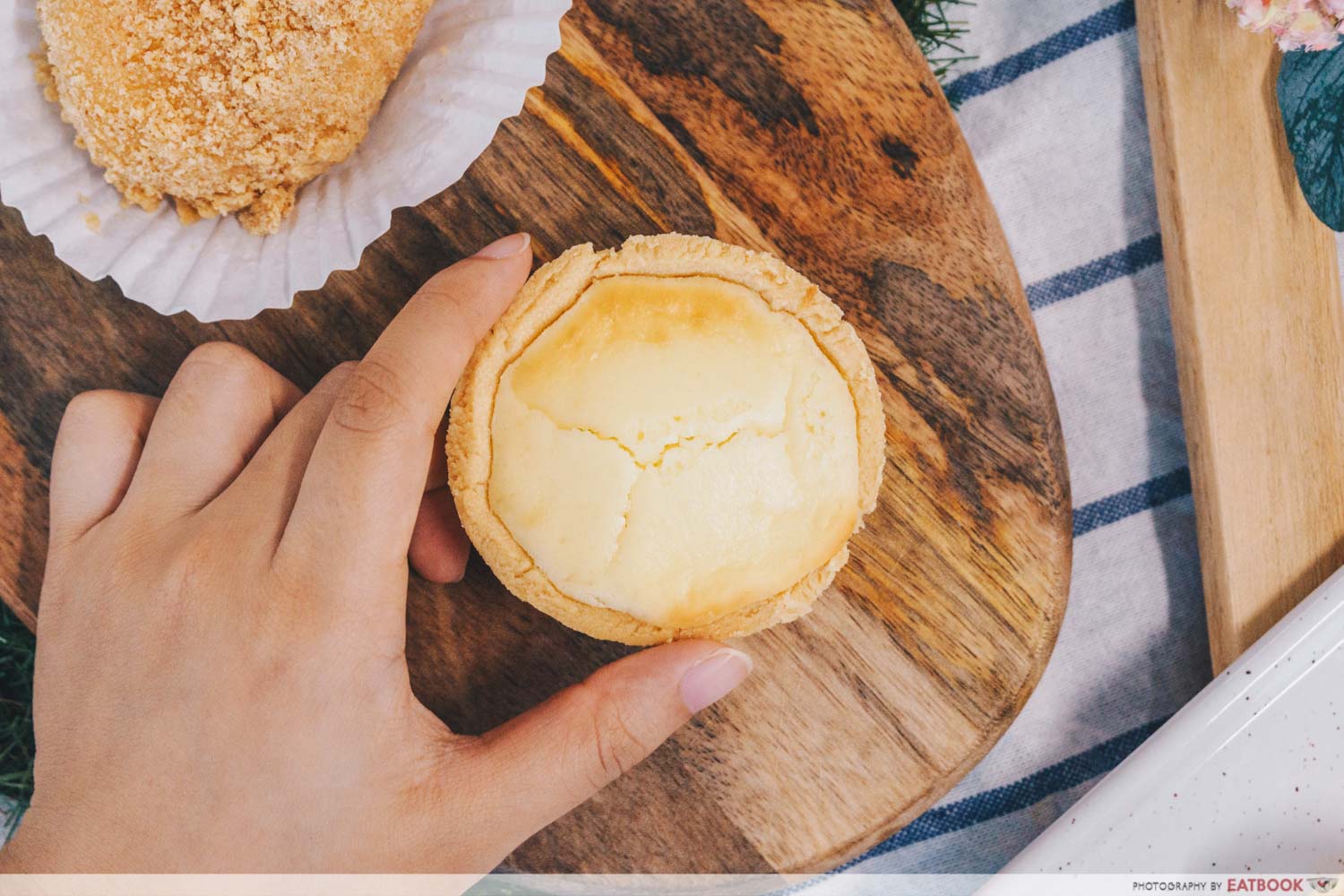 The Cheese Tart ($1.50) was clearly one of their best-selling pastries. By the time we left, nearly half of them had been cleared. Visually, the palm-sized tart sported some light browning on the edges. Its pale and plain appearance didn't manage to stir up my appetite upon my first look.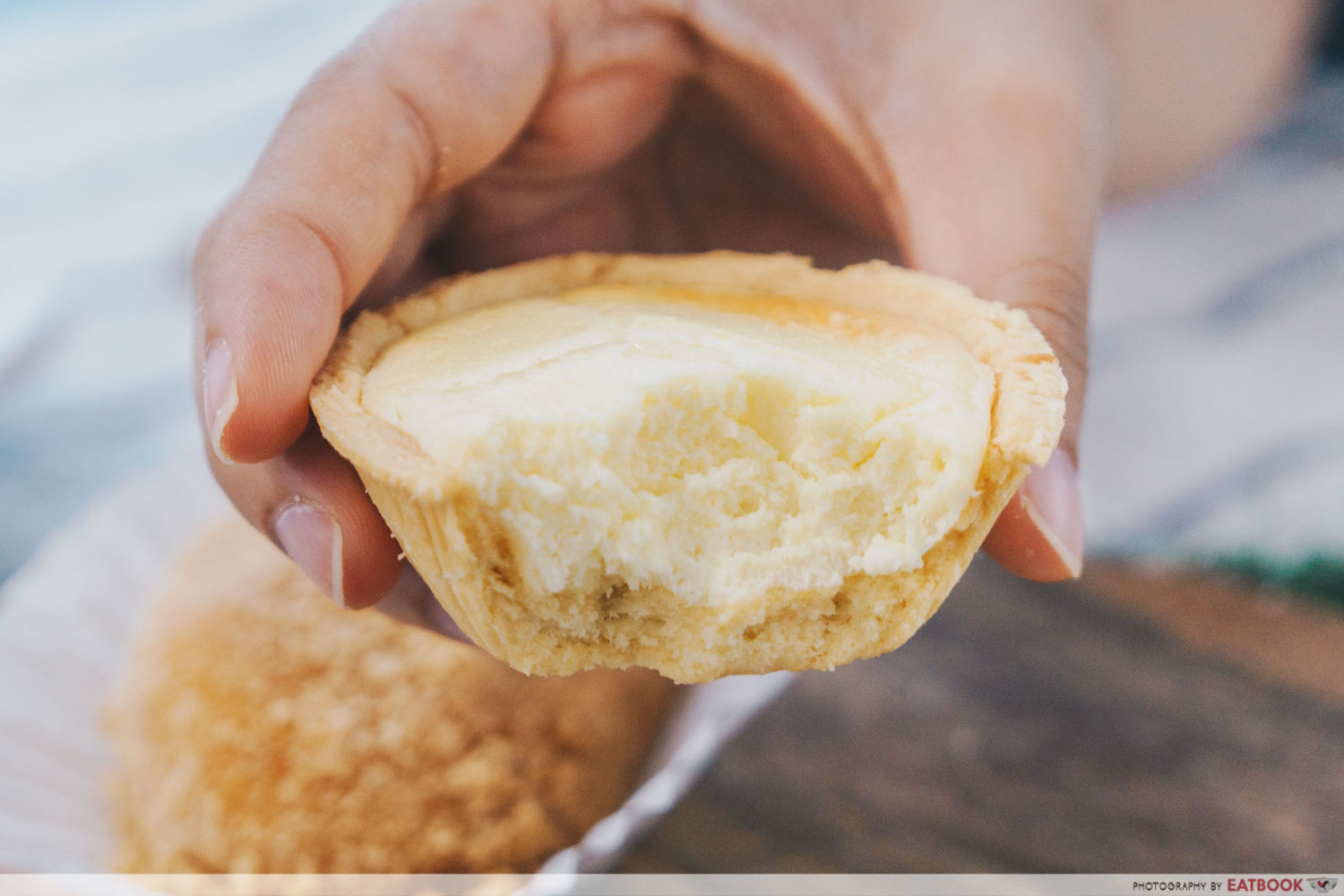 After taking a big mouthful of crust and cheese filling, I let out a small noise of surprise at the satisfying mix of flavours swirling in my mouth. The buttery shortcrust immediately crumbled and melted on my tongue, while the dense cheesecake filling had just the right amount of acidity and richness. 
Getting to enjoy a cheese tart that's on par with, or I daresay even better than BAKE's at a third of its price, is a genuine incentive for me to return for more.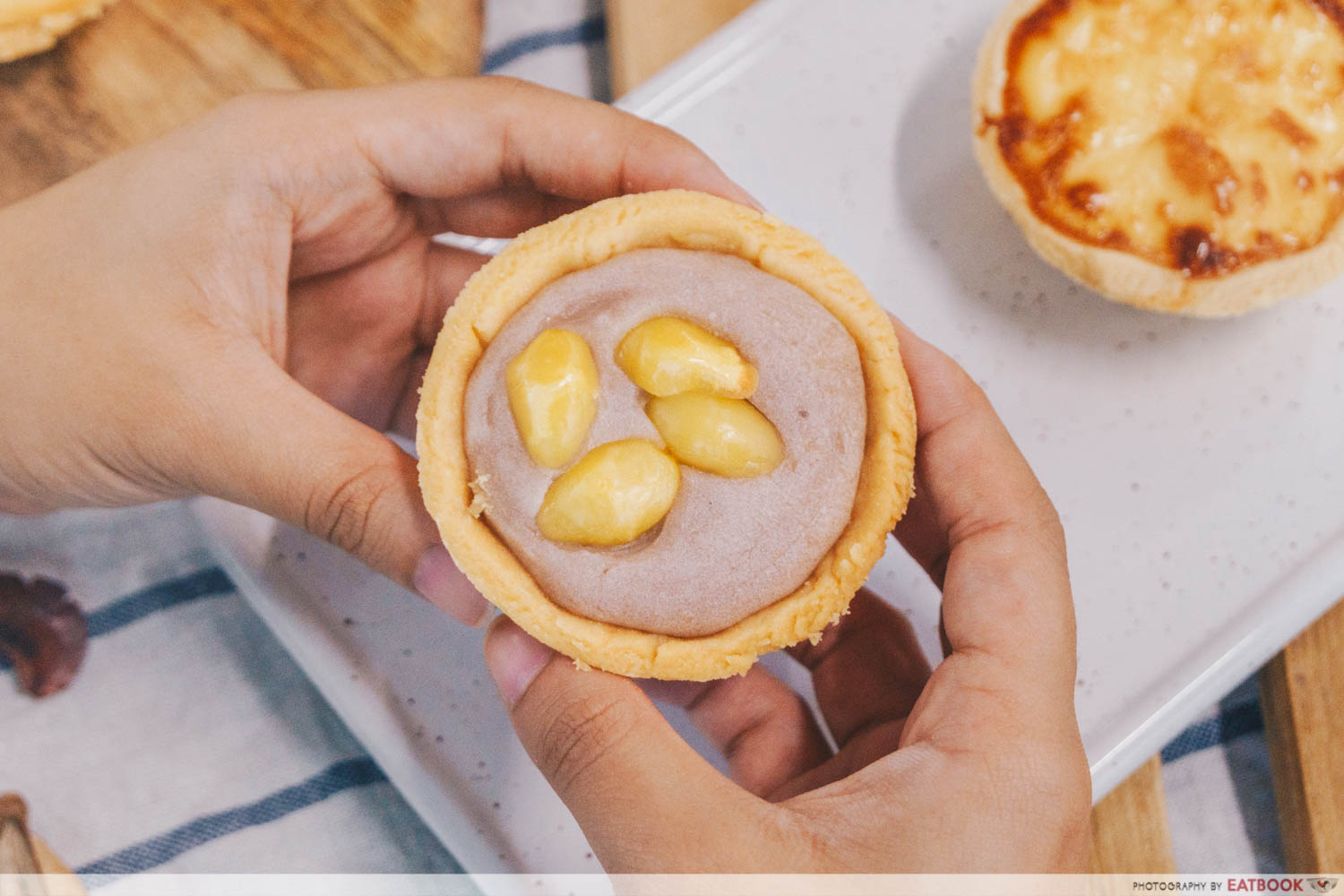 I was admittedly the most pumped to try the Orh Nee Tart ($1.50) which I've never found anywhere else besides the atas Patisserie CLÉ and Whiskit Bakery. Unlike the fancy ones from the artisan patisseries, June Bakery's orh nee tart has a simple construction of buttery crust, yam filling, and four ginkgo nuts atop.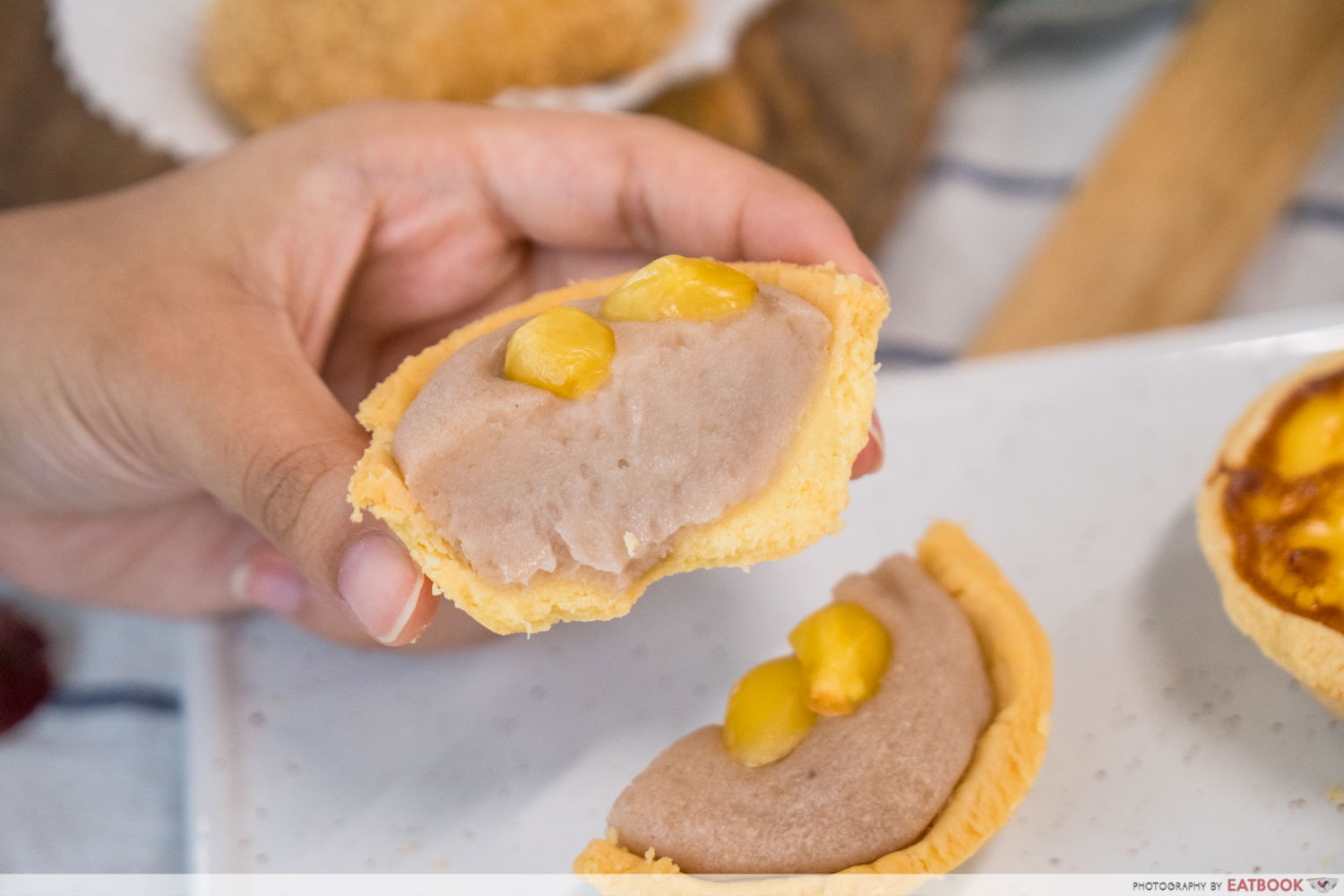 Cutting the tart in half to get a better look, I liked how the filling-to-crust ratio favoured the yam filling. The yam was blended into a luscious paste that wasn't too sweet or jelak. Its subtly sweet flavour mixed with the earthy tones of the ginkgo and buttery crust, creating a dreamy concoction that I polished off in four bites. 
We enjoyed these tarts at room temperature, but I imagine that having these tart warm, just like how the Teochew dessert is often served, would take the pastry up another notch.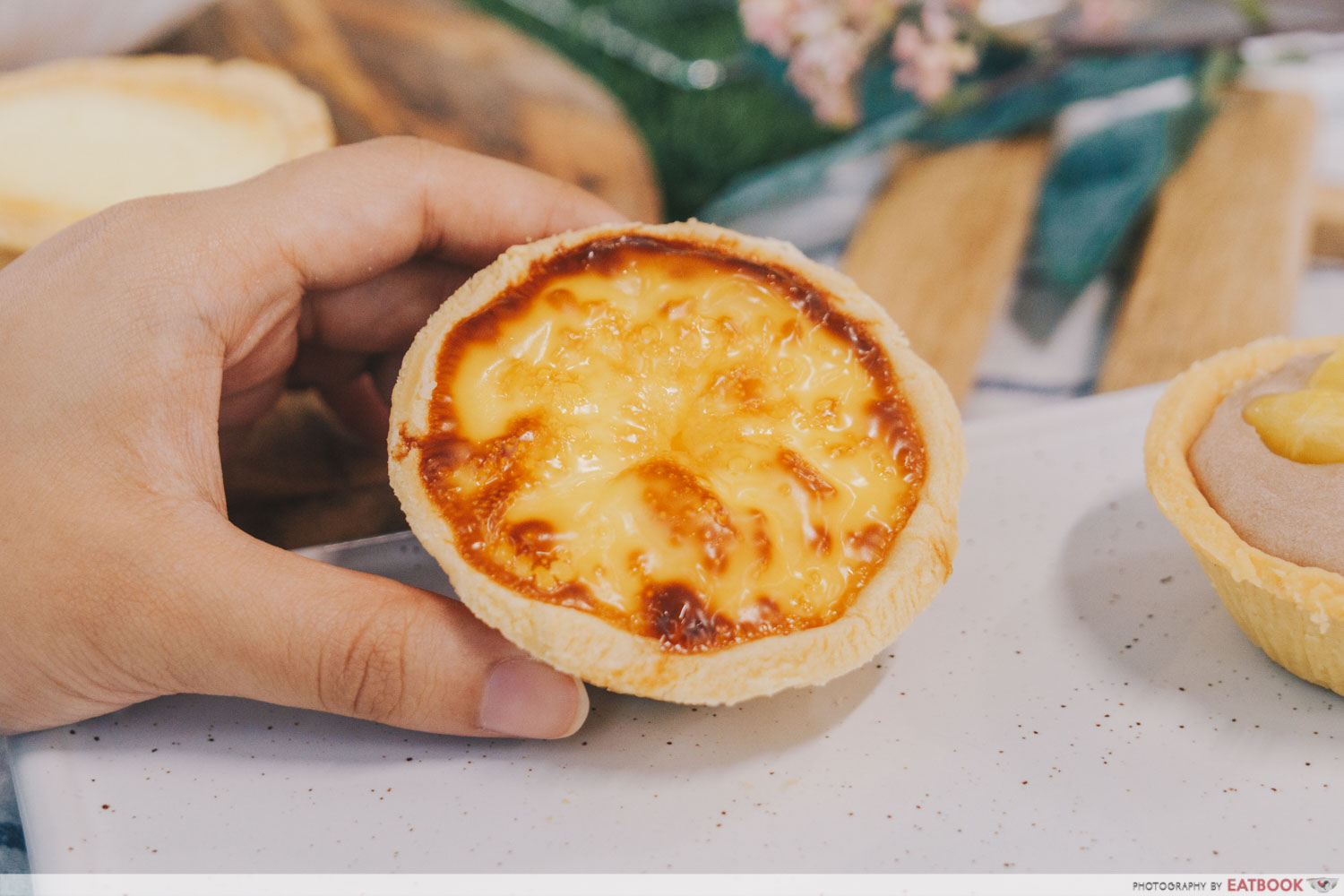 We moved on to the more commonly found Portuguese Egg Tart ($1.30). Usually, Portuguese egg tarts tend to go best with a puff pastry crust. But having enjoyed their crumbly shortcrust pastry with the previous two tarts, I was hyped to try the bakery's version on the classic treat.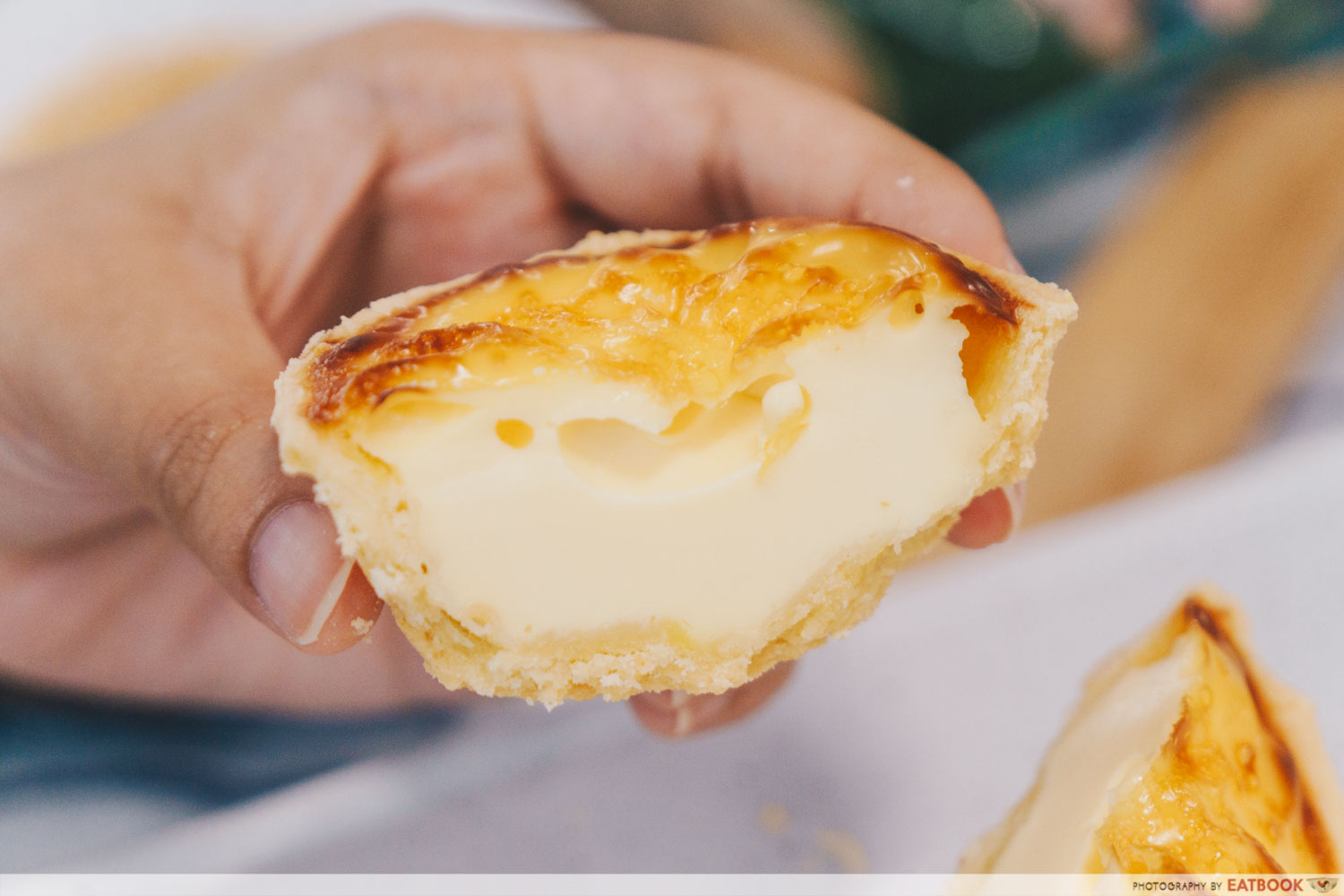 As expected, the tart was heavy on the filling, and this meant I could fully take in the flavour of the egg custard. It was light, not too sweet, and had a slight eggy flavour which provided some depth. Texture-wise, the custard was on the firmer side and I felt that it lost some potential variation of textures, like a crackly caramelised top and a wobbly, custardy centre.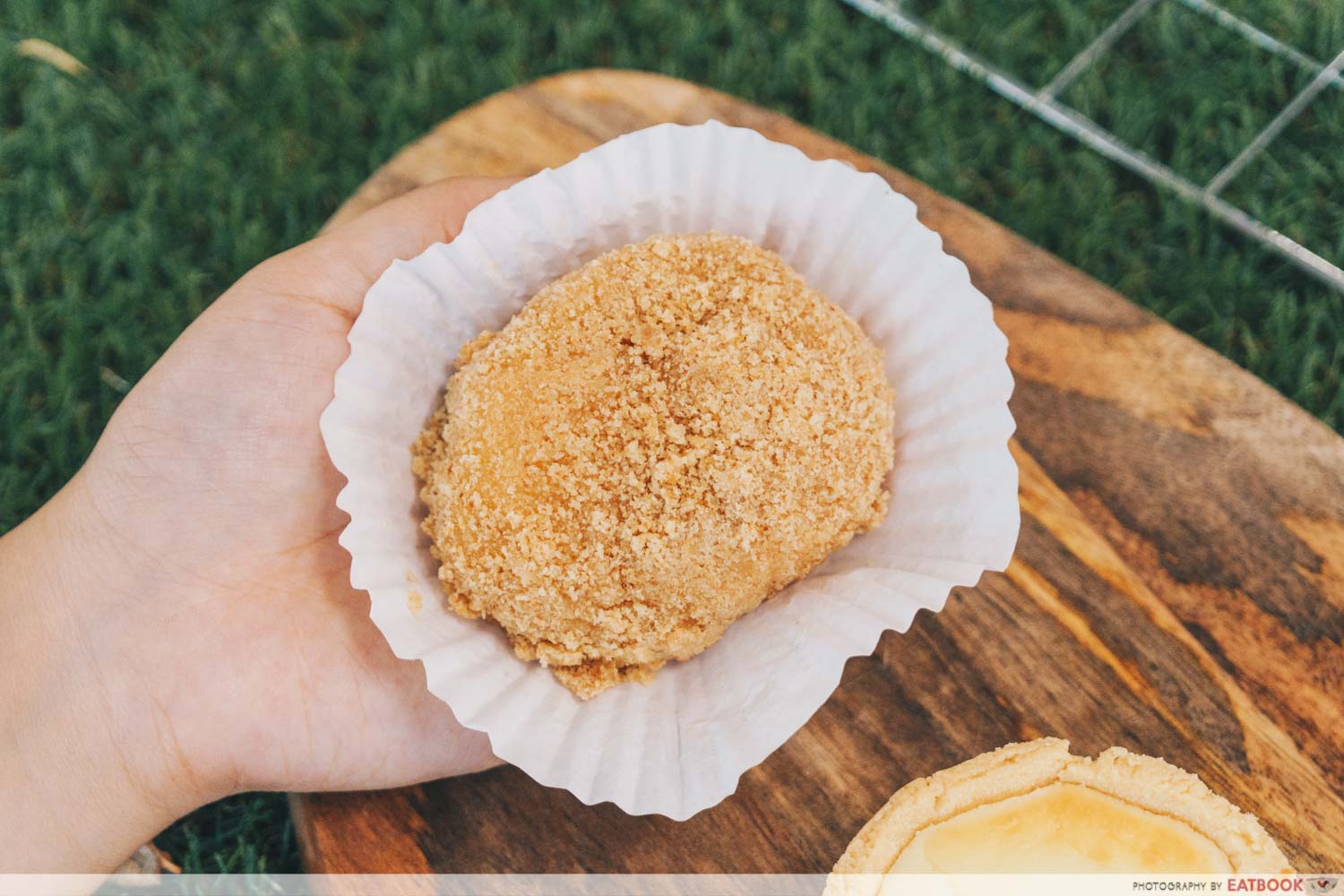 We originally visited June Bakery for their popular baked tarts. But while we were there, we saw their Peanut Mochi ($1.30) being quickly cleaned off their trays by customers and we jumped in to snatch one for ourselves. This mochi was bigger than any peanut muah chee I've ever seen.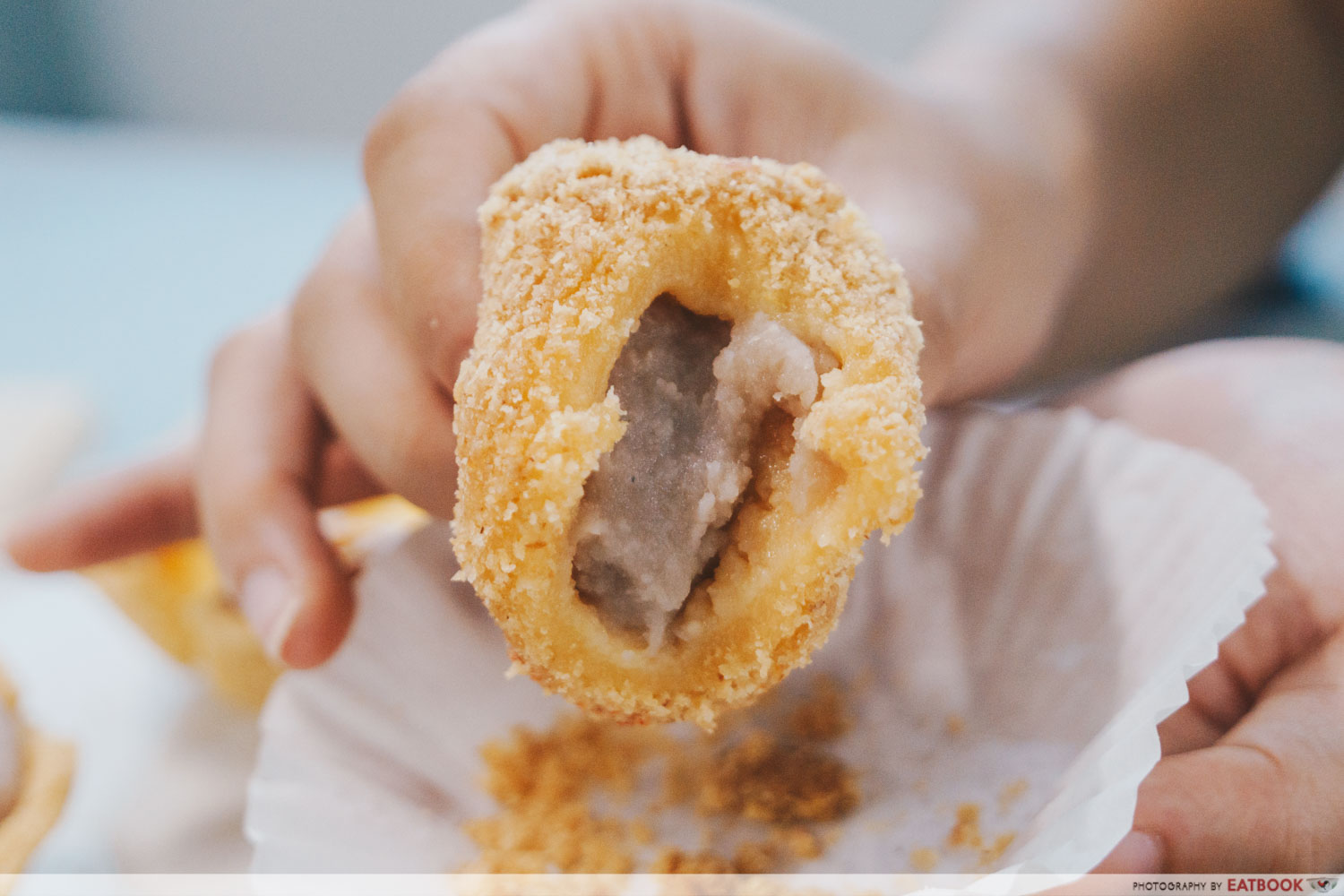 I learned from the owners that the mochi layer is made out of sweet potato, hence explaining its light orange hue and tinge of sweetness. This thick mochi layer is soft and chewy! Its generous yam filling on the inside was similar to the creamy paste used in the orh nee tart. The peanut powder coating the outside didn't appear to be tossed together with sugar, contributing a strong nutty fragrance to the mochi. 
Ambience at June Bakery
To get there, we walked for about six minutes from Bugis MRT Station, cutting through the Park Royal Hotel. You'll find the small, old-fashioned bakery in the basement of The Plaza, looking rather out of place in the modern office building. 
It's probably best to make your way down by 12pm. Once lunch hour rolled around, the bakery quickly filled up with a handful of office workers.
The verdict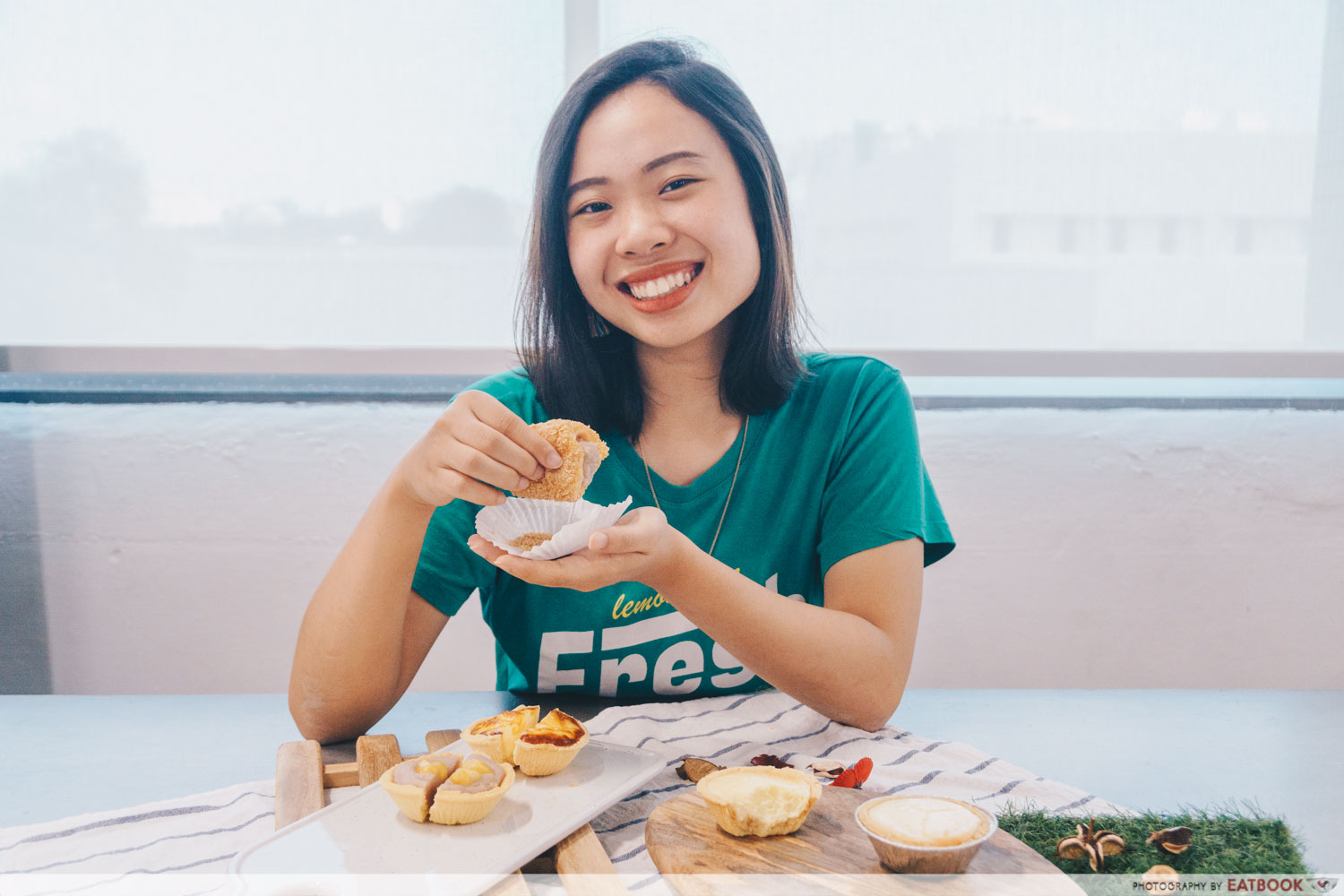 Whenever I step into a bakery, tarts are never really the first items I go for, especially if there are muffins or bread on display. The crumbly crust and delicate construction of tarts just make them too much of a hassle to eat. However, I'm willing to make an exception for June Bakery's homely little pastries. There's just an inexplicable charm about the no-frills confectionery shop. It adds an appeal to their buttery tarts that beckon me to return for more. 
If you're hungry for more delicious baked tarts, check out our list of old school egg tarts. Alternatively, check out our review of Just Dough for more affordable breakfast options!
14 Best Egg Tarts In Singapore, Including Famous Hong Kong And Heritage Brands
Address: 7500A Beach Road, #B1-321, The Plaza, Singapore 199591
Opening hours: Mon-Fri 7am to 2:30pm
Tel: 9731 3002
Website
Photos taken by Chng Jia Yan.
This is an independent review by Eatbook.sg.
This article was originally published on 20 March 2020.
June Bakery Review: Old-School Bakery With $1.50 Orh Nee And Cheese Tarts That Can Rival BAKE
June Bakery Review: Old-School Bakery With $1.50 Orh Nee And Cheese Tarts That Can Rival BAKE -

8/10
Summary
Pros
– Cheap
– Buttery tart crust
– Delicious tart fillings
Cons
– Bakery is hard to locate
– Tarts only available for a limited time daily
Recommended dishes: Orh Nee Tart ($1.50), Peanut Mochi ($1.30)
Opening hours: Mon-Fri 7am to 2:30pm
Address: 7500A Beach Road, #B1-321, The Plaza, Singapore 199591