Just Dough sells colourful steamed buns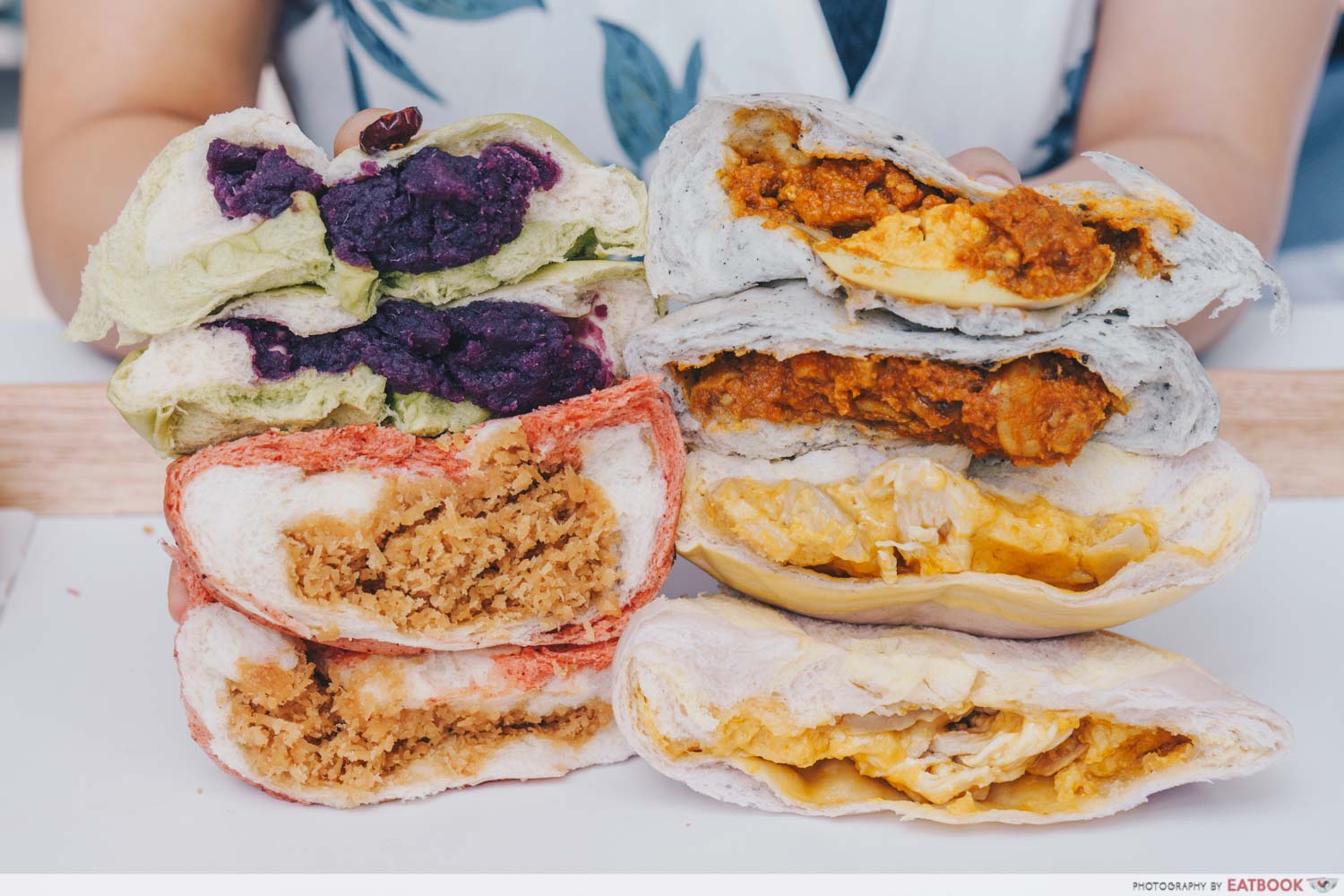 Whenever I hear the buzzwords "IG-worthy" and "healthy" attached to any type of food, my immediate assumption is for it to also carry a hefty price tag. When I first came across Just Dough, I instinctively assumed the same of its eye-catching steamed buns. Taking a closer peek at their display, I was pleasantly surprised by their affordable prices which start from just $1.20.
Arranged in colourful stacks of red, yellow, and green, their buns and mantou have a price range of $1.20 to $2.90—not too far off from the prices at your regular bakeries. Aside from the price point, I was also intrigued by the variety of buns offered. 
Just Dough sells both hot and cold versions of their buns, where the former is served warm, right out of their steamers, and the latter is displayed on trays for your picking. This concept was foreign to me since I'm more used to grabbing ready-to-eat buns on the shelves and consuming my steamed buns immediately after buying them.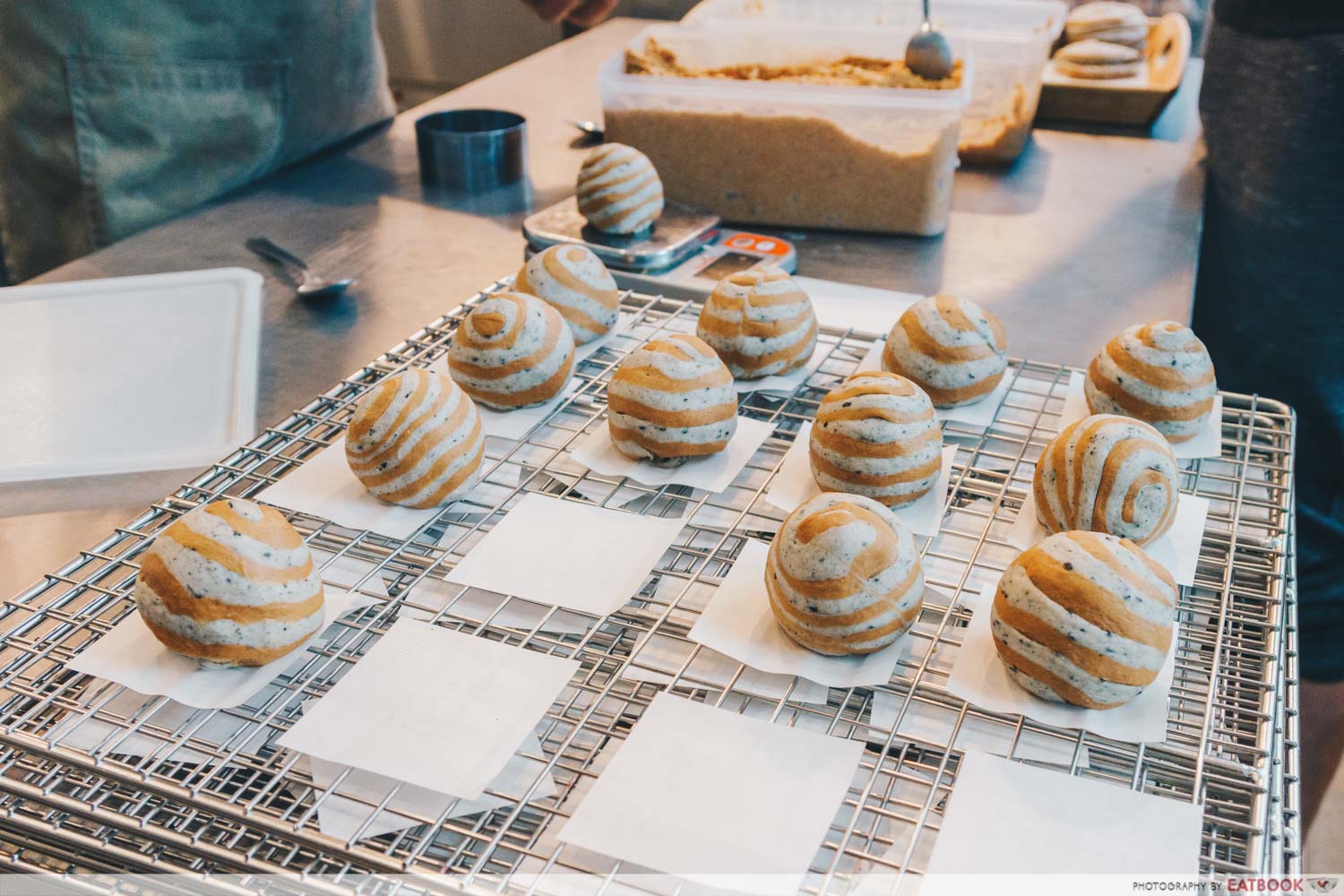 Since we wanted to catch the preparation of the buns in action, we made an extra early trip down to the cafe at 7:30am. To our shock and amazement, by the time we got there, the team was already finishing up their last batch of buns. According to the owner, Mr Koh, he and his small group of dedicated workers start rolling, pulling, and filling buns from 12am to 7am every day.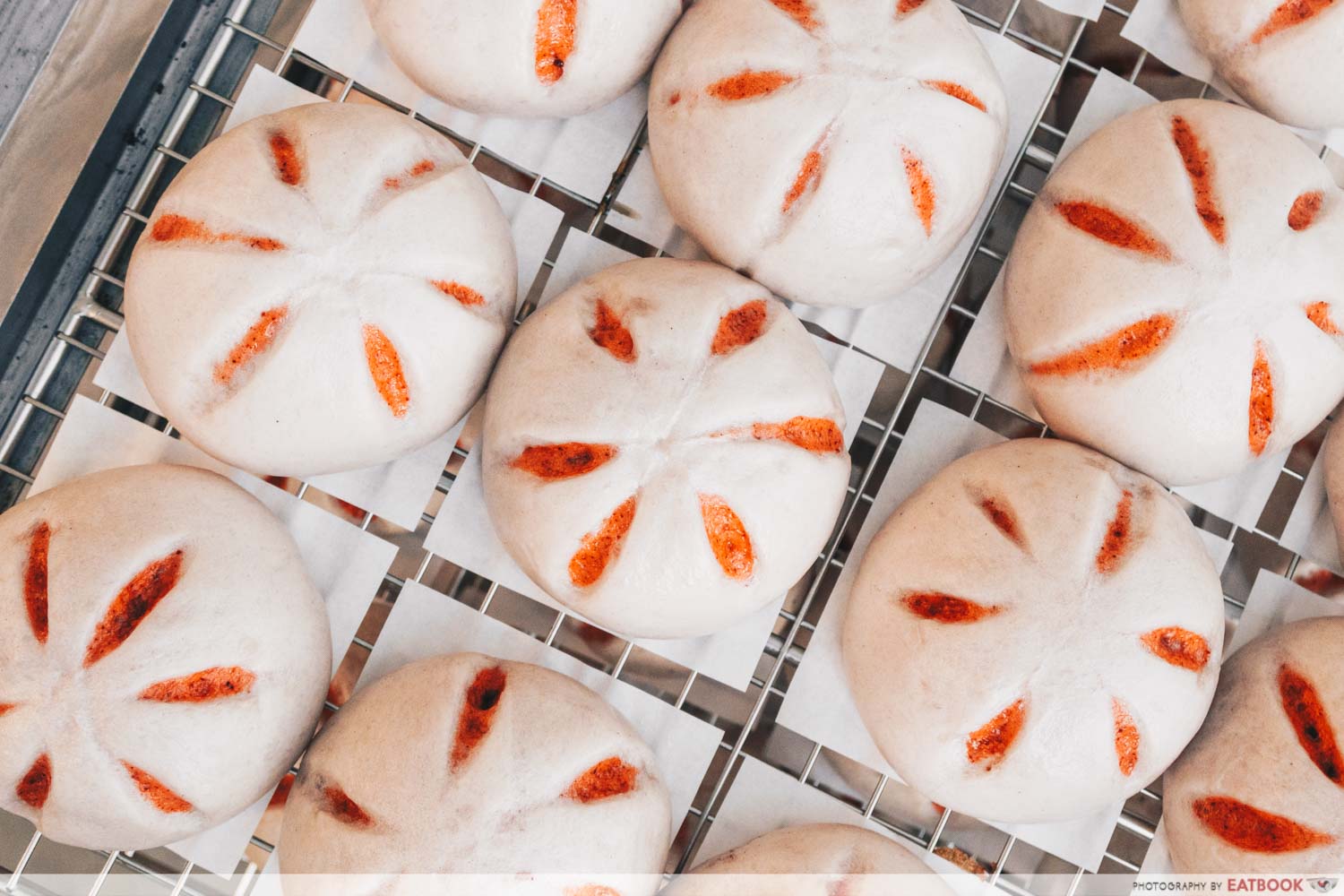 He shares that this arduous process ensures they have fresh buns lining the steaming racks by the time the other outlets in City Square Mall and Ang Mo Kio Hub open. 
Food at Just Dough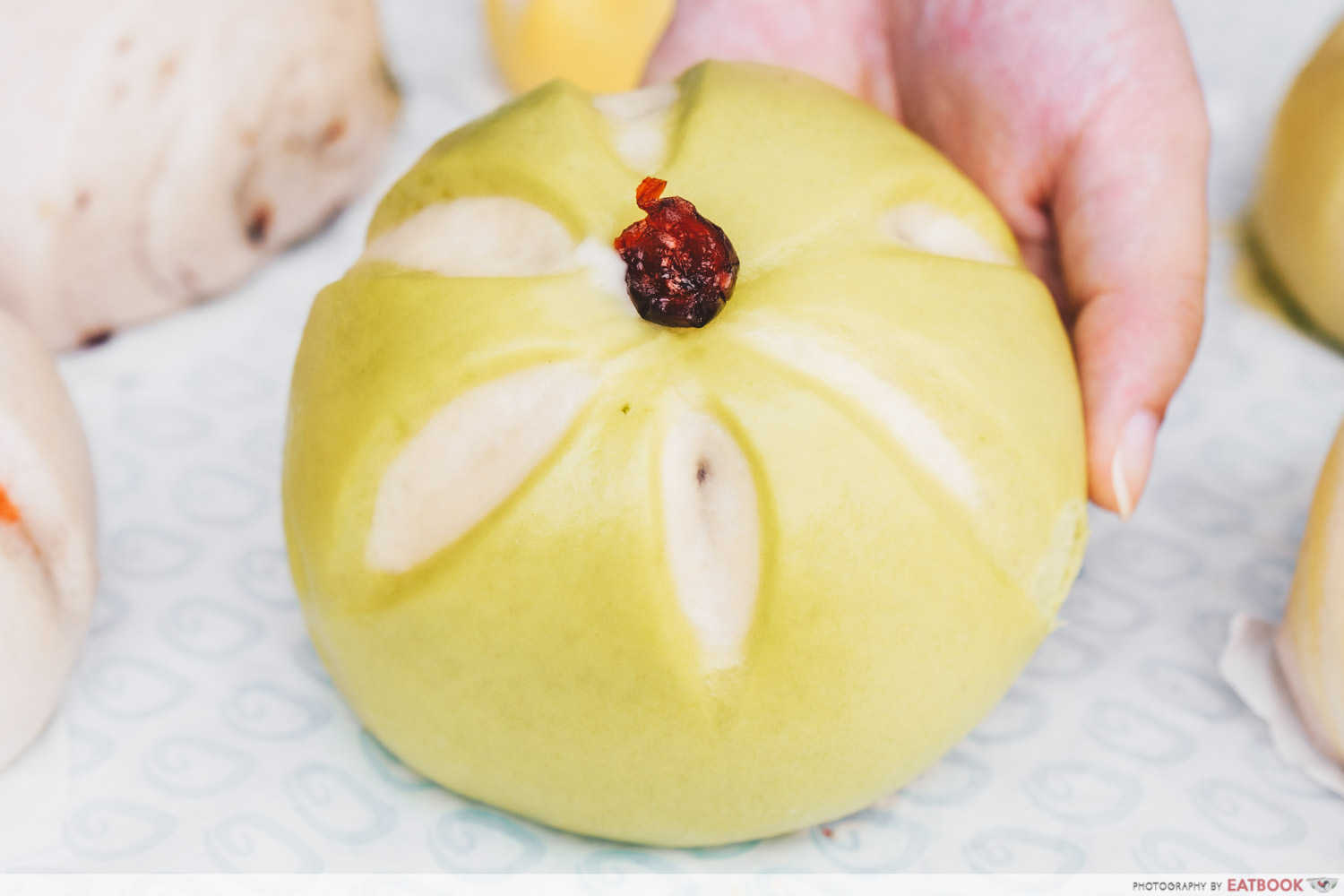 The Purple Sweet Potato ($2.10) bun sported a vivid lime green skin, folded to form a repeated pattern with a white inner layer peeking through. The owner shared with us that natural colourings are used to dye the buns. In particular, this vibrant green hue is a result of using spinach juice that is freshly extracted every day.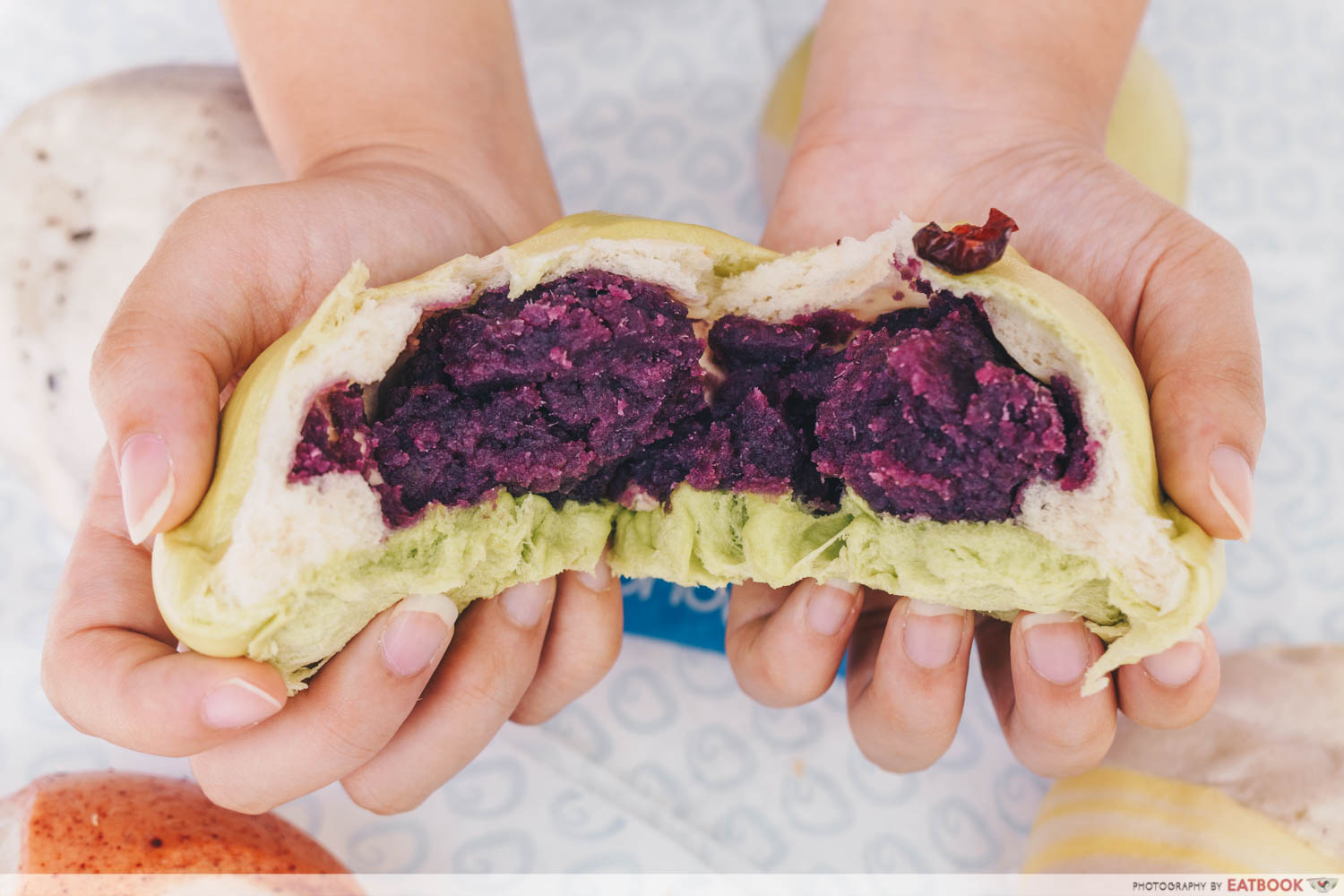 The true test for any filled bun is to check its dough-to-filling ratio. When I tore the bun open, it was obvious to me that the cafe has nailed its proportions. The generous chunk of filling made sure that with every bite I took, I would get a luscious mouthful of sweet potato paste. Its dough layer was soft and slightly starchy, contributing towards a satisfying chew to the overall texture. 
The purple Japanese sweet potato is known for its fibrous texture and lower sugar content compared to other types of sweet potato. Even with the thick layer of purple paste, the mildly sweet flavour worked surprisingly in its favour, making it less jelak to finish.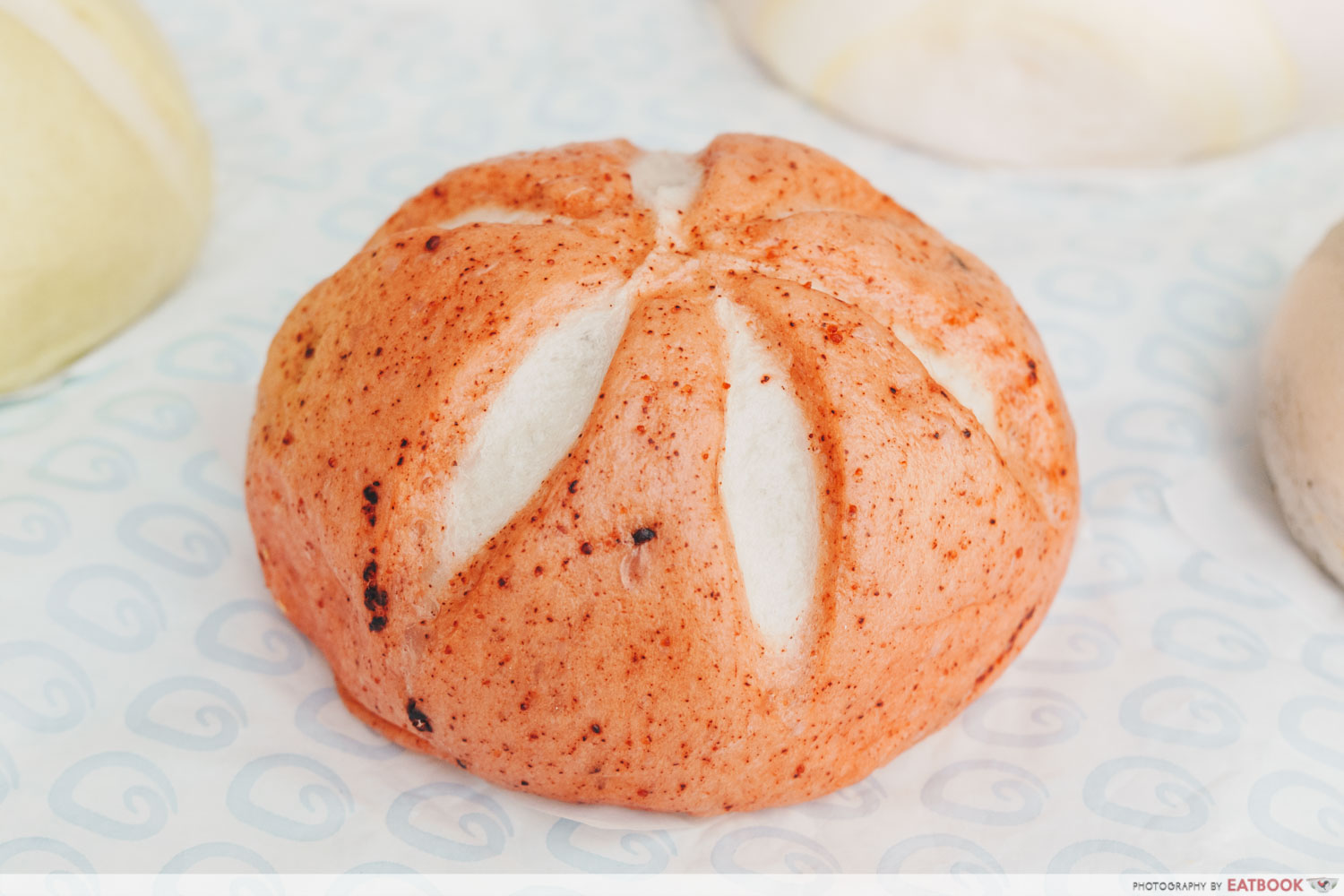 We moved onto another one of Just Dough's sweet buns, the Coconut & Brown Sugar ($1.90). This bun was the most flashy in their display with its red hue, achieved through extracting colour from red yeast rice.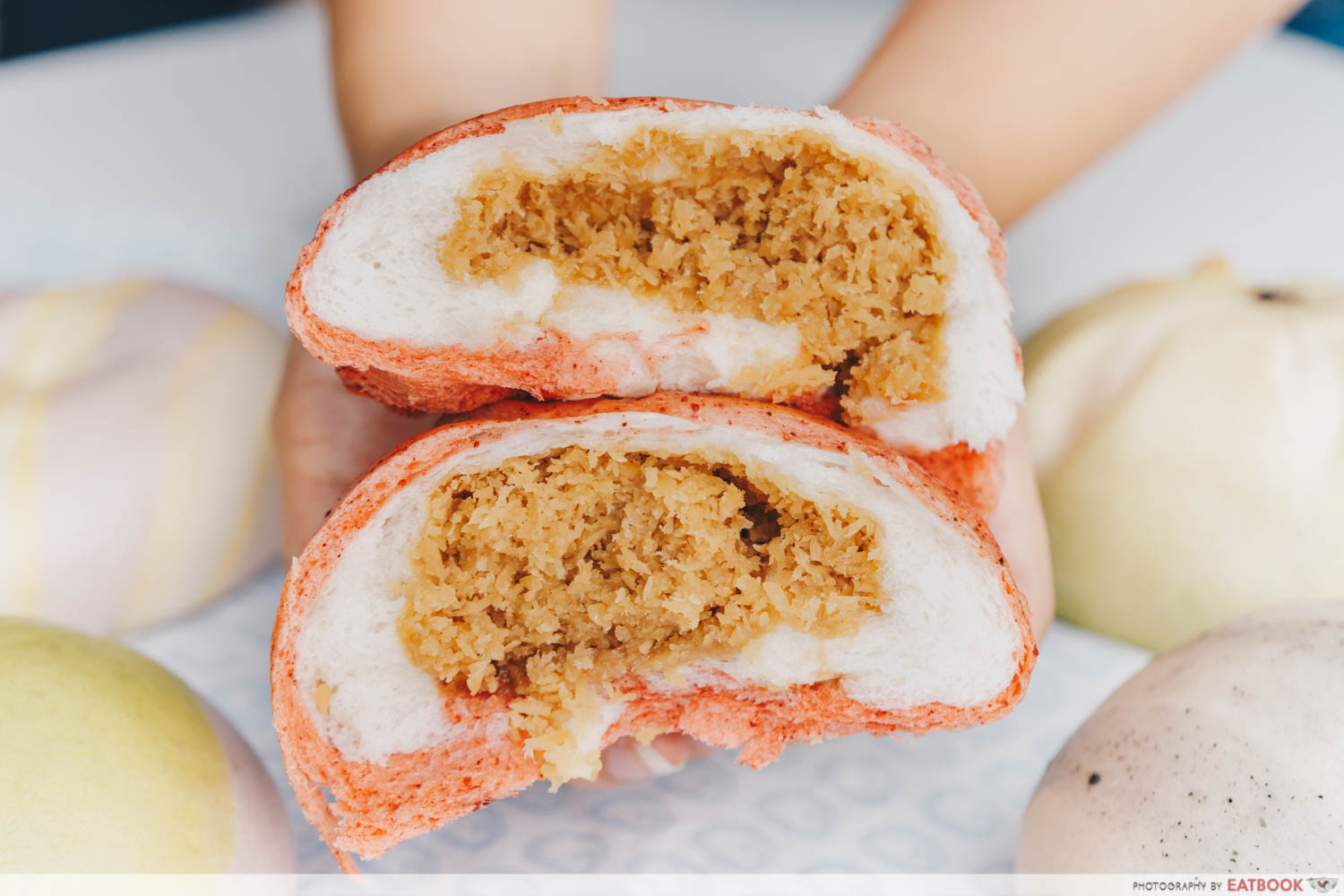 Tearing the bun open, I could tell that its dough was fluffy, but slightly drier than the other buns. I suspect its desiccated coconut filling might have absorbed some of the moisture from the dough, affecting its texture. 
I couldn't help but compare this popular flavour to the old-school bakery version. Just Dough's rendition of the coconut filling is less buttery and sticky than what I'm used to, and its higher proportion of flaky coconut to brown sugar syrup kept it from being overly sweet.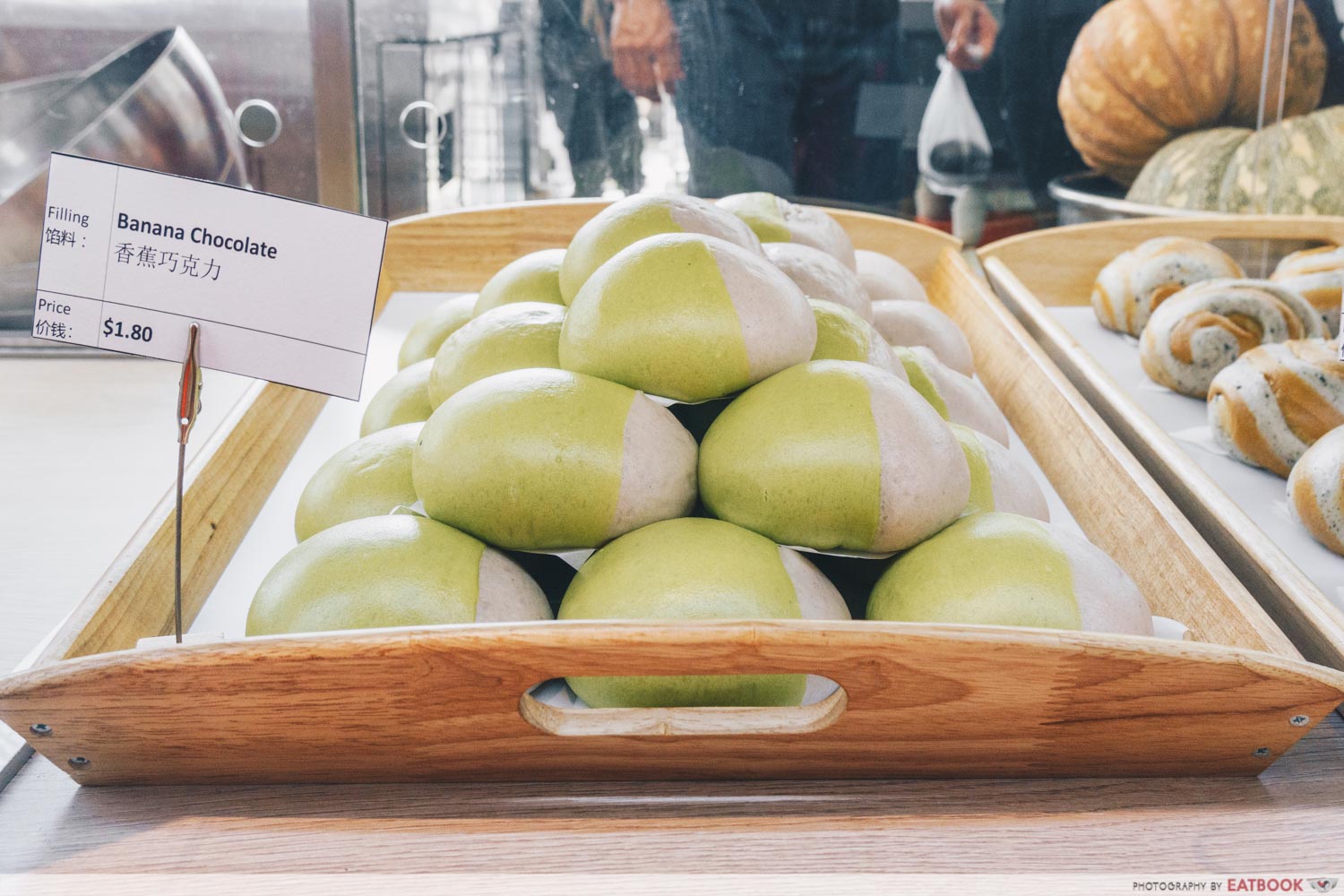 I was instantly drawn to the smallest bun of the bunch after catching a glimpse of its label. Compared to the other more intricately designed buns, the Banana Chocolate ($1.80) had a rather neat and modest appearance.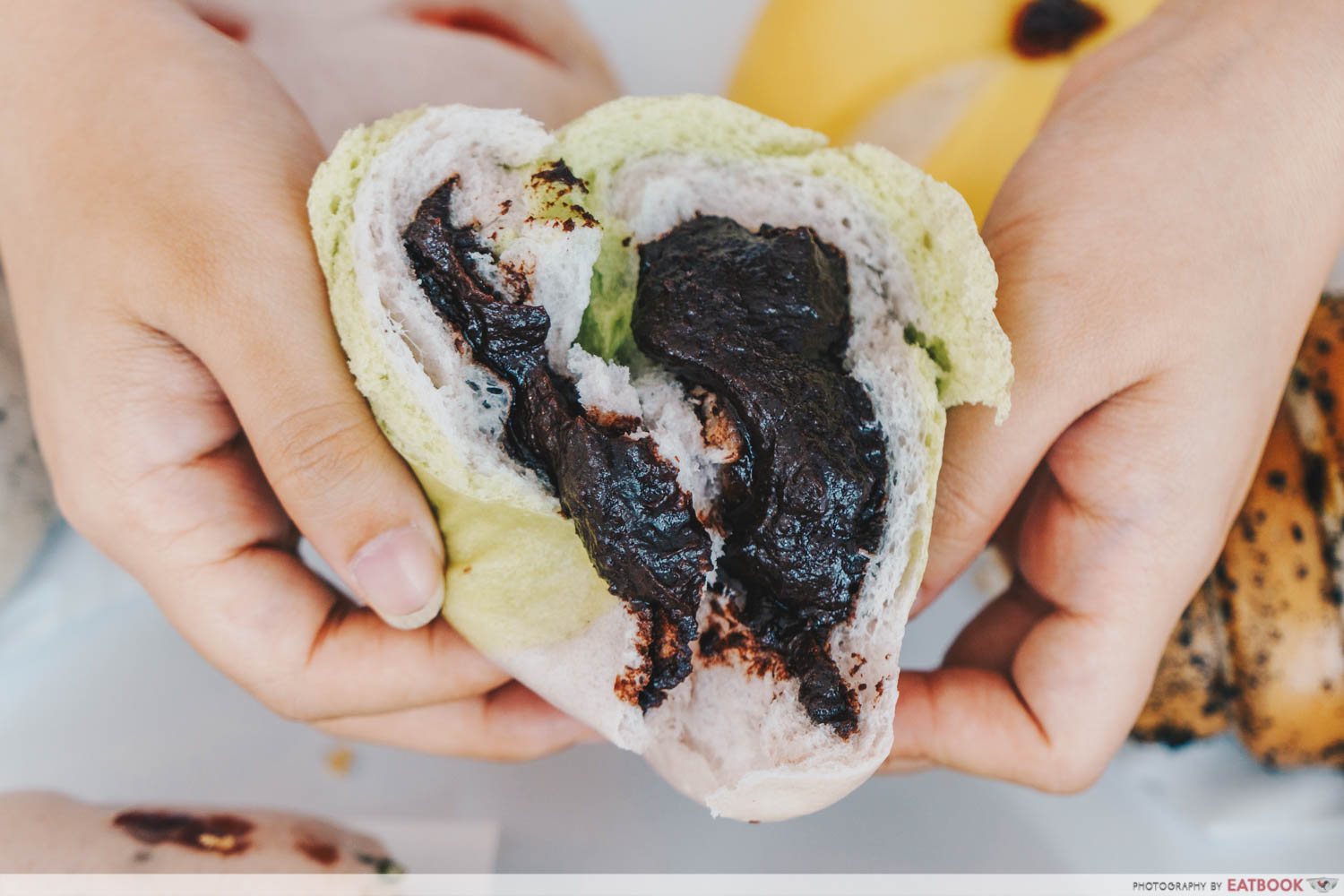 Don't be fooled by its plain facade. The inside of this unassuming bun is brimming with a molten, dark chocolate centre. With each bite I took, the thick, luscious filling squeezed out, overtaking my mouth with a mix of bitterness from the decadent chocolate and pops of sweetness from the soft banana bits. Of all the sweet buns I tried, this rich flavour combination was by far my favourite.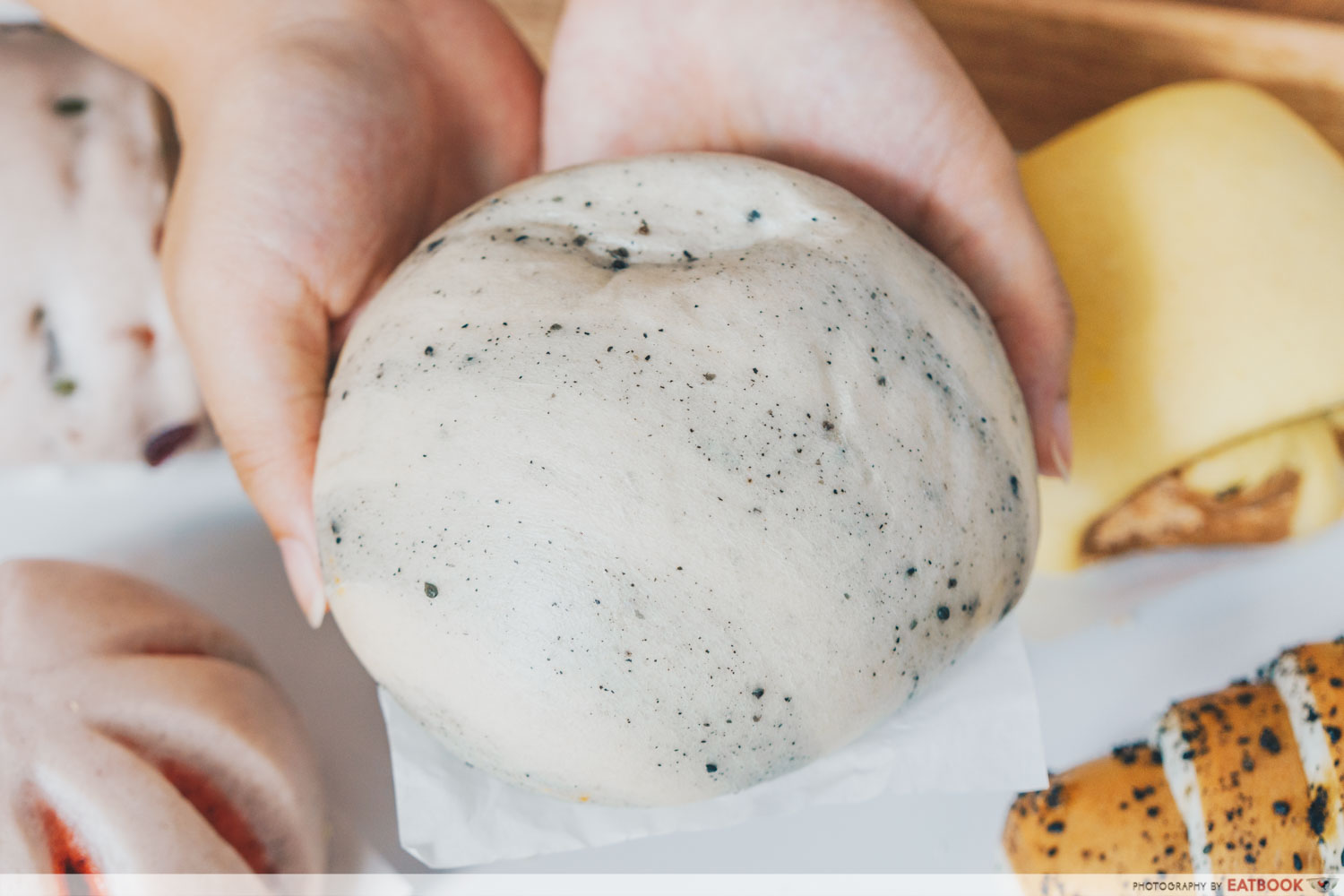 Moving on to the savoury options, Just Dough's Curry Chicken Potato & Mushroom ($2.90) bun was the heftiest one in the mix. Its striped dough is made using black sesame. 
When I tore the bun in half, the aromatic smell of curry immediately seized my nose. The bun contained chunky mashed potato, hard-boiled egg, mushroom, and shredded chicken, which had all soaked up the fragrant curry blend. Spice-lovers won't be disappointed with this bun as the curry brought a good amount of heat which helped cut through the carb-loaded filling.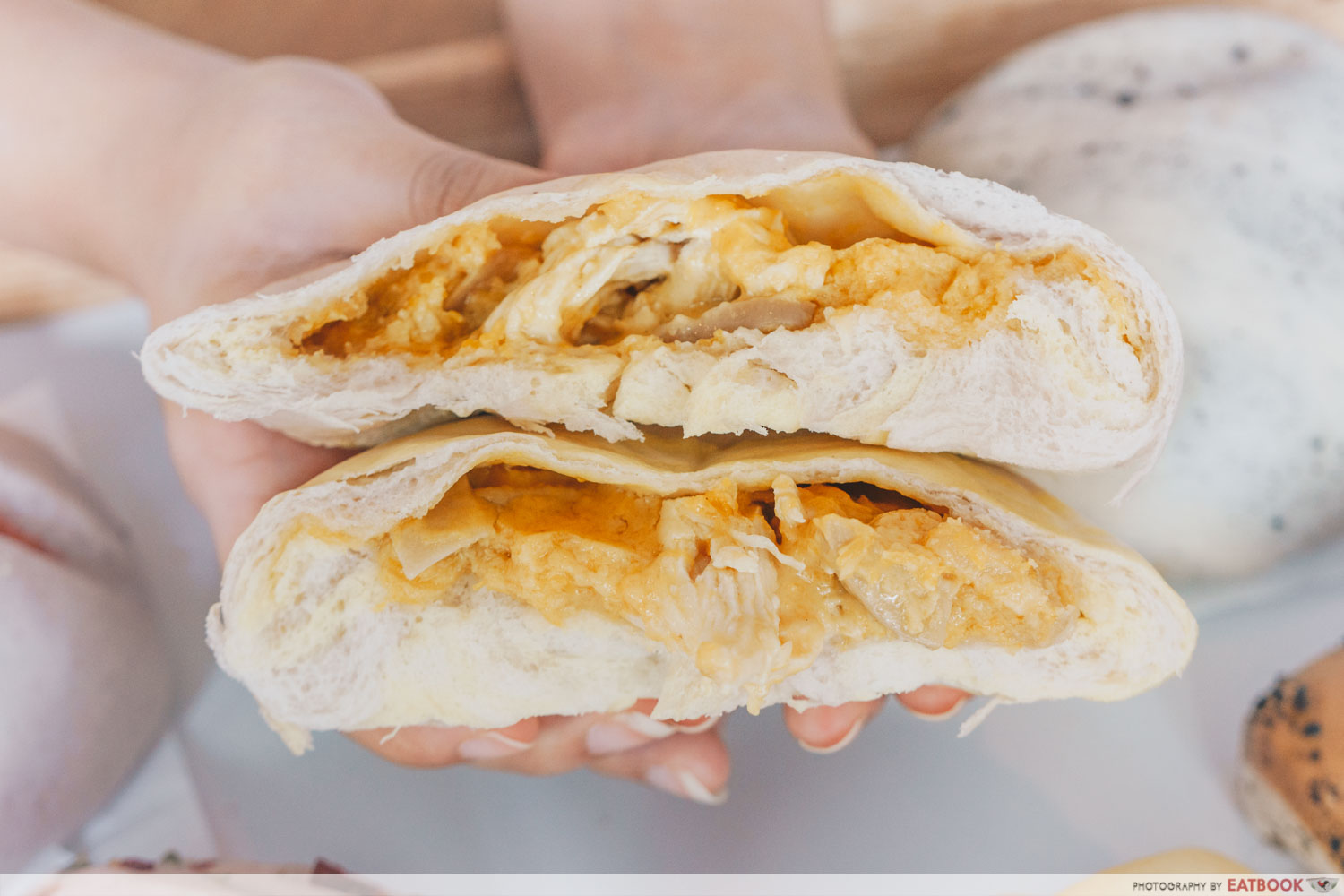 Their Cheesy Chicken & Mushroom ($2.90) was another sizable, savoury bun. Though not fully stuffed like most of their other buns, there is a considerable portion of shredded chicken bits in it. 
I eagerly anticipated a stringy mozzarella cheese pull as I tore the bun apart. Sadly we found an anti-climatic cream-like filling instead. I suspect cheddar cheese was used as there was a sharp, distinctive cheesy flavour added into the mix. 
Ambience at Just Dough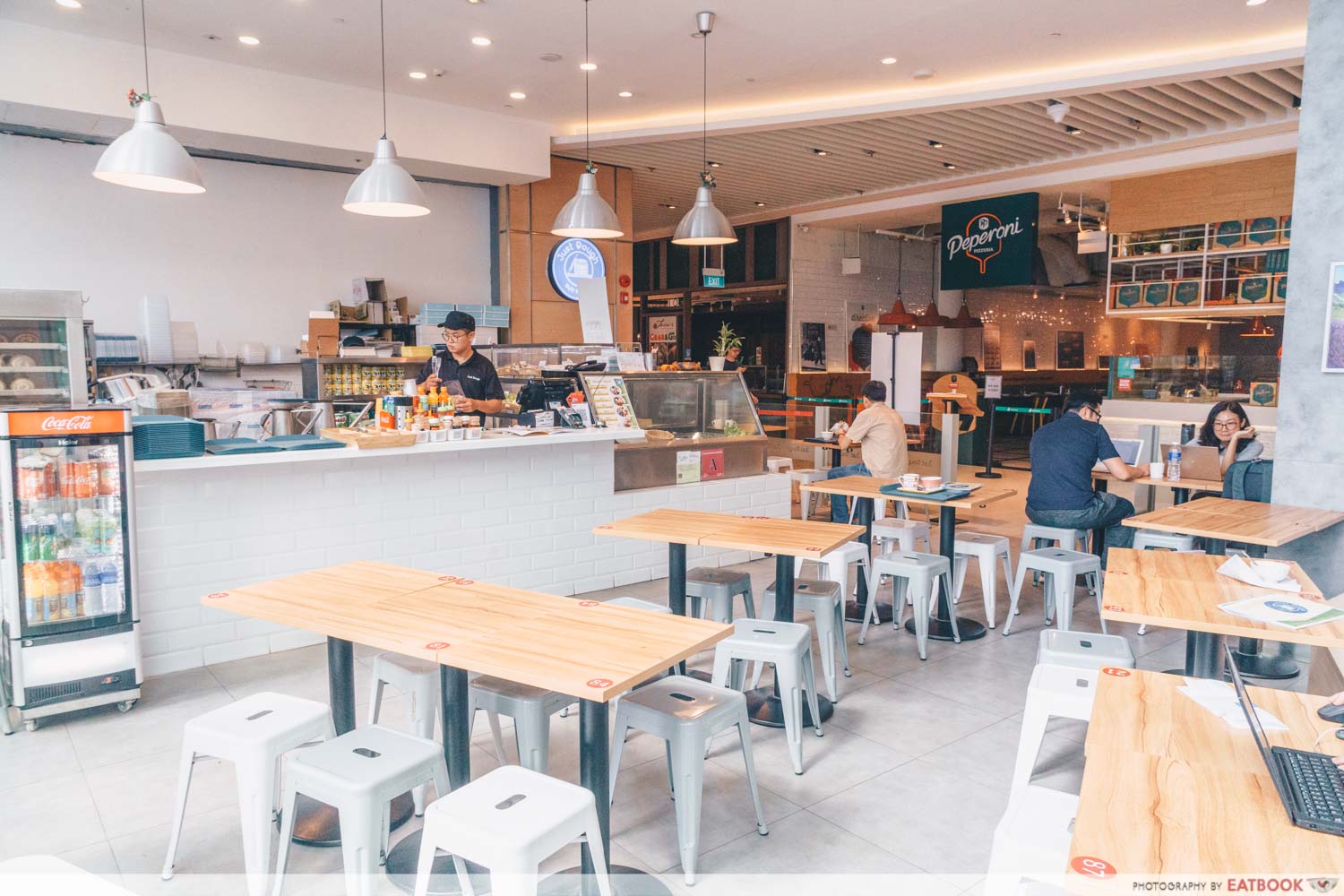 Just Dough is situated in the basement of Suntec City, a short three-minute walk through the mall from Promenade MRT Station.  If you sit facing the cafe's floor-to-ceiling windows, you'll be treated to a magnificent view of the Fountain Of Wealth. Besides being well illuminated with natural sunlight, the cafe feels comfortably roomy thanks to its high ceiling and light-coloured decor. 
That's all nice and pleasant, but the part of the cafe's construction that really charmed me was its open-kitchen concept. If you make an early enough visit, you might even catch a show of them rolling colourful sheets of dough in the morning!
The verdict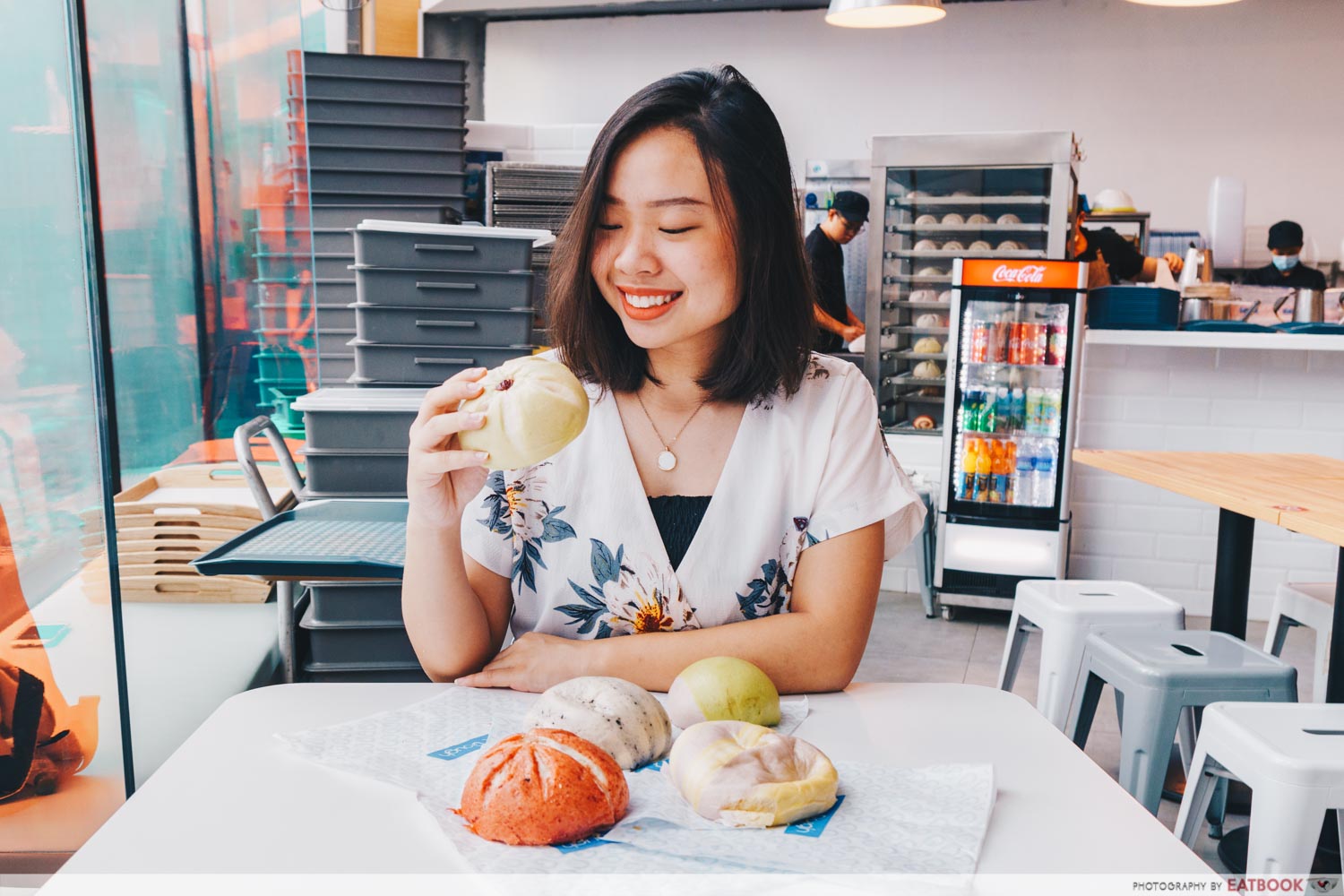 I'll admit it, I can sometimes be a sucker for pretty packaging and get drawn to things that only look pretty. That wasn't the case for Just Dough though. From the proportion of ample filling to dough, to the designs of the handcrafted colourful layers, the cafe clearly doesn't believe in compromising quality with looks. 
I left Just Dough with bags of buns, ready to be brought home, steamed, and flaunted at the breakfast table for the next few days. My wish is for them to open an outlet near me, so my breakfast can easily be settled daily! 
If you're looking for more delicious steamed buns, check out our list of unique bao across Singapore. 
8 Unique Bao In Singapore Filled With Fried Chicken And Salmon Mentaiko
Address: 3 Temasek Boulevard, #B1-169/170, Suntec City Mall, Singapore 038983
Opening hours: Mon-Fri 7:30am to 9pm, Sat-Sun 8:30am to 9pm
Tel: 6337 0188
Website
Just Dough is not a halal-certified eatery, but their food contains no pork or lard.
Photos taken by Chng Jia Yan.
This is an independent review by Eatbook.sg.
Just Dough
Summary
Pros
– Cheap
– Good quality
– Healthy breakfast option
– Generous bun fillings 
Cons
– Some buns were dry
Recommended buns: Banana Choc ($1.80), Curry Chicken Potato & Mushroom ($2.90)
Opening hours: Mon-Fri 7:30am to 9pm, Sat-Sun 8:30am to 9pm
Address: 3 Temasek Boulevard, #B1-169/170, Suntec City Mall, Singapore 038983