---
Unique bao with interesting fillings
---
Kong bak bao is essentially a Chinese version of sliders. These steam leaf buns sandwich a thick and juicy pork belly slice. Braising the pork belly in a sweet soy sauce allows for some melt-in-the-mouth experience and its sauce gets soaked up by the soft bun.
But pork isn't the only way to get these bao. Hidden around Singapore are unique bao with fillings such as salmon mentaiko and buttermilk chicken and cheese.
---
1. Gubak Bao (Gubak Kia)
---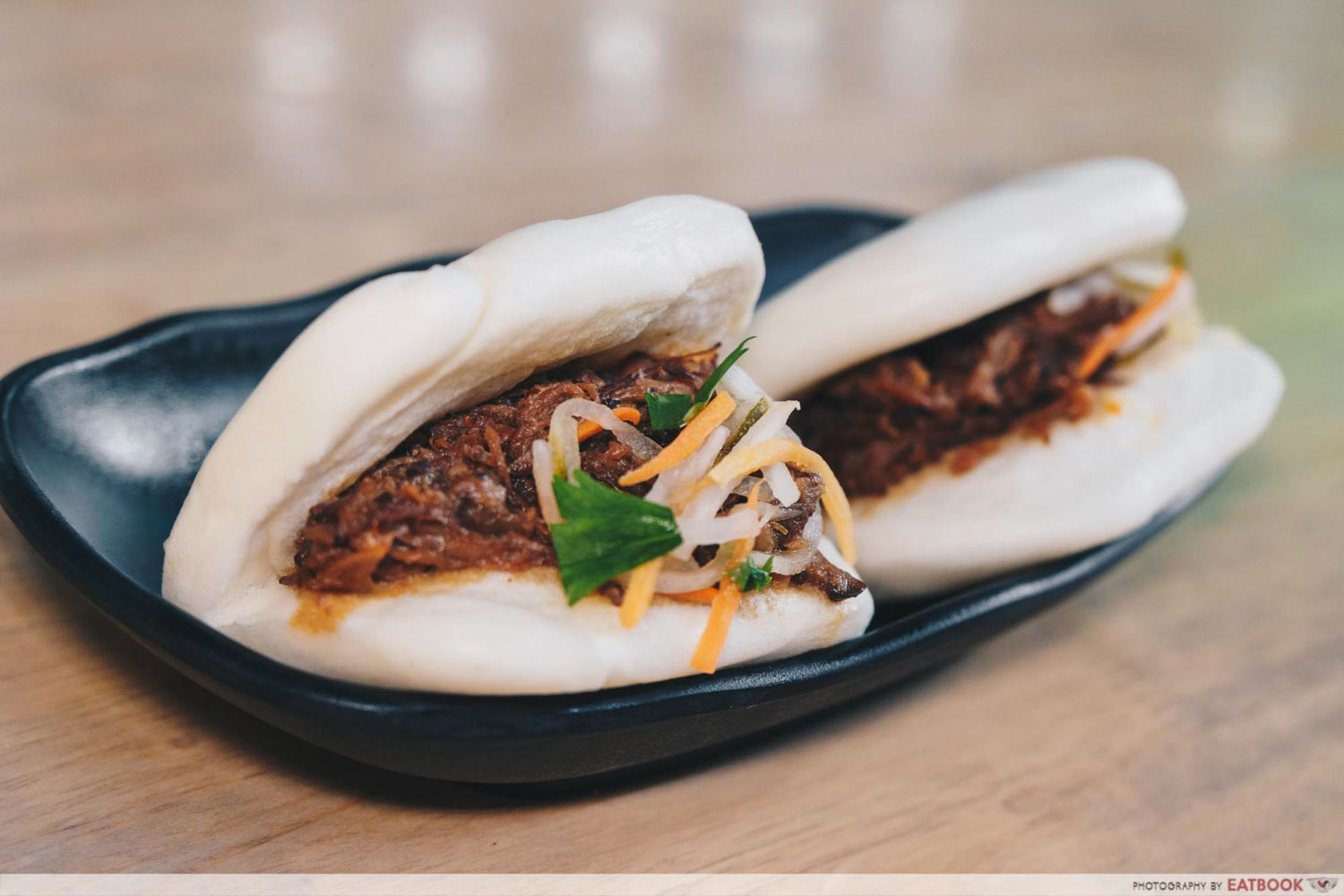 Hipster hawker Timbre+ houses Gubak Kia, an offshoot of Empress Place Beef Kway Teow. Besides their signature beef noodles, this hawker stall offers Gubak Bao ($5.90 for two, $6.90 for three). Between a warm and soft bun lies succulent and savoury beef shreds that ooze out juices with every bite. The house-made pickled vegetables and achar add a zingy twist.
Check out our full review of Gubak Kia!
Address: 73 Ayer Rajah Crescent, Stall 27B, Timbre+, Singapore 139957
Opening hours: Mon-Fri 11am to 10pm, Sat 5pm to 10pm
Tel: 8782 0936
Website
Gubak Kia is not a halal-certified eatery.
---
2. Beef Satay Sliders (The Outslider)
---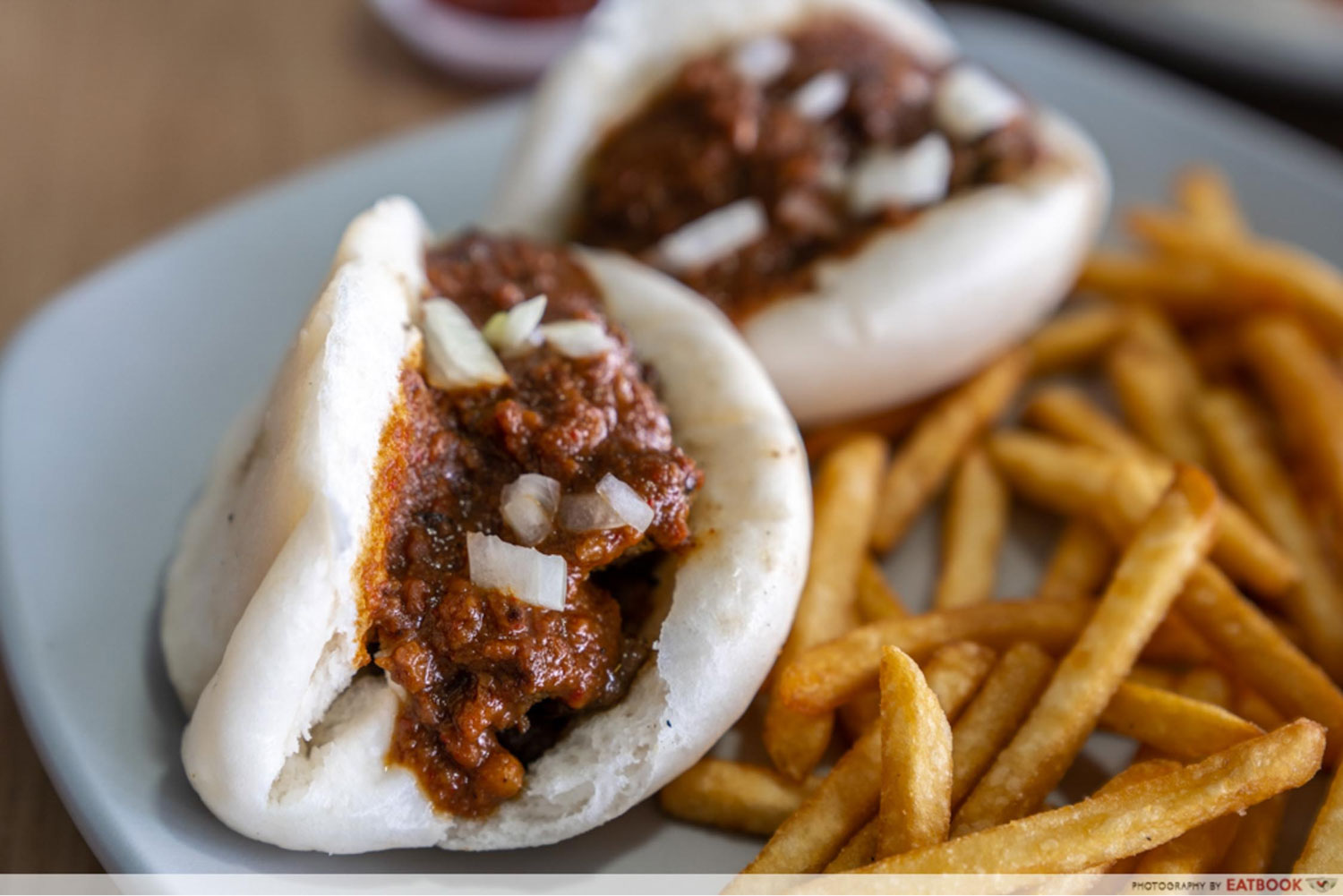 You won't have to worry about reeking of smoke after a meal at The Outslider. This barbecue stall at Yishun Park Hawker Centre serves a variety of smoked sliders that are prepped in a closed container; one of which is Beef Satay Sliders ($8.90) that are accompanied by a side of fries. The nutty satay gravy brings together this dish by elevating beefy flavours of the tender meat.
Check out our full review of Outslider!
Address: 51 Yishun Avenue 11, #01-31, Yishun Park Hawker Centre, Singapore 768867
Opening hours: Mon-Fri 3pm to 9:30pm, Sat-Sun 1pm to 9:30pm
Tel: 8742 5169
Website
The Outslider is a halal eatery.
---
3. Pulled Pork Bao (Bao Bao)
---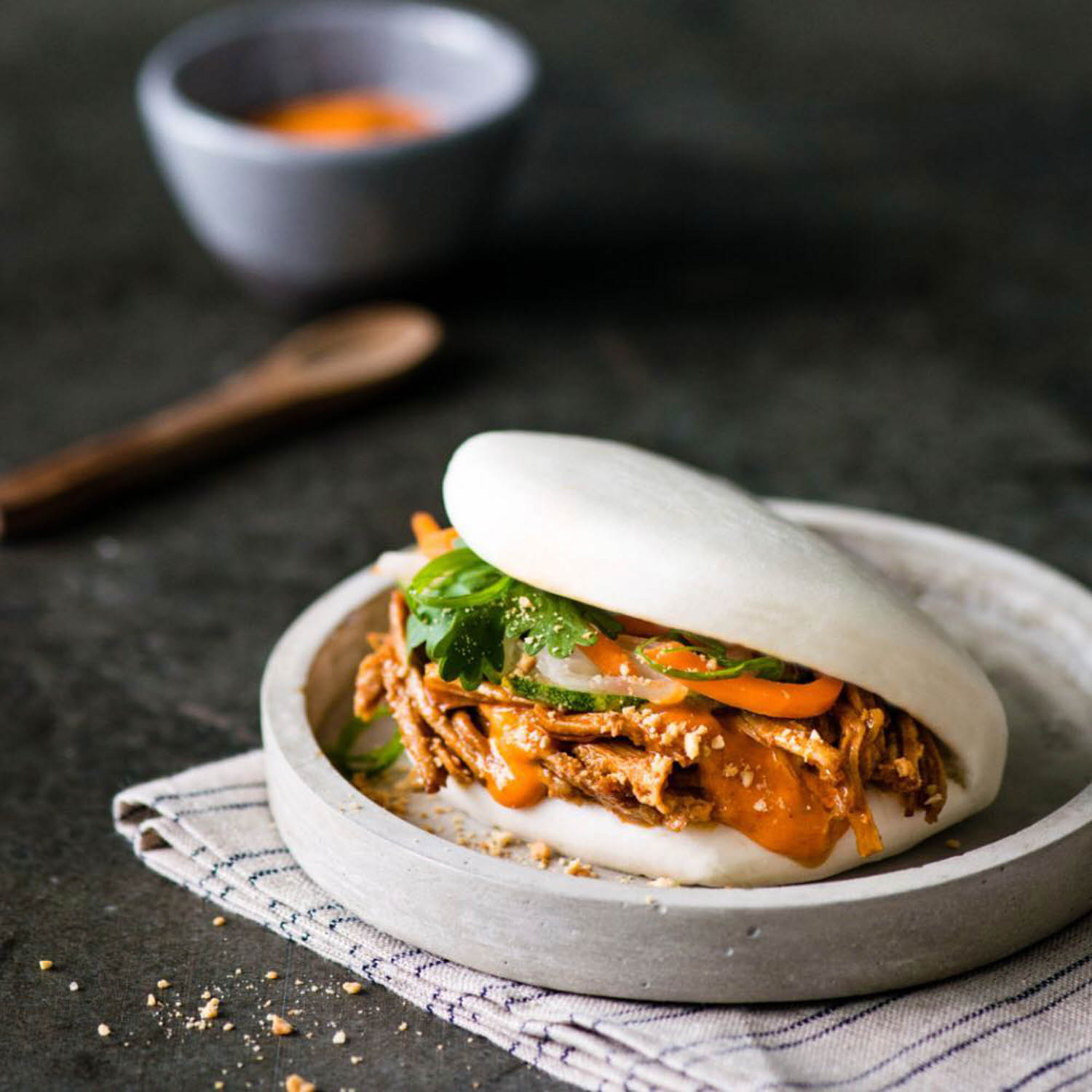 Image credit: @BAOBAO.Singapore
Bao Bao offers one of the cheapest buns on our list. This kiosk at Bugis Junction has a limited menu of rice bowls and bao, with the latter comprising interesting flavours such as Chicken Masala ($3.90) and Garlic Chicken ($3.90). Try out their Pulled Pork Bao ($3.90) for some Korean and Western flavours. The juicy charred pork shreds are drenched with Korean gochujang dressing while the pickled carrots and daikon add a refreshing tang.
Address: 200 Victoria Street, #B1-K10, Bugis Junction, Singapore 188021
Opening hours: Daily 10:30am to 9:30pm
Website
---
4. Salmon Mentaiko Bao (Bao Makers)
---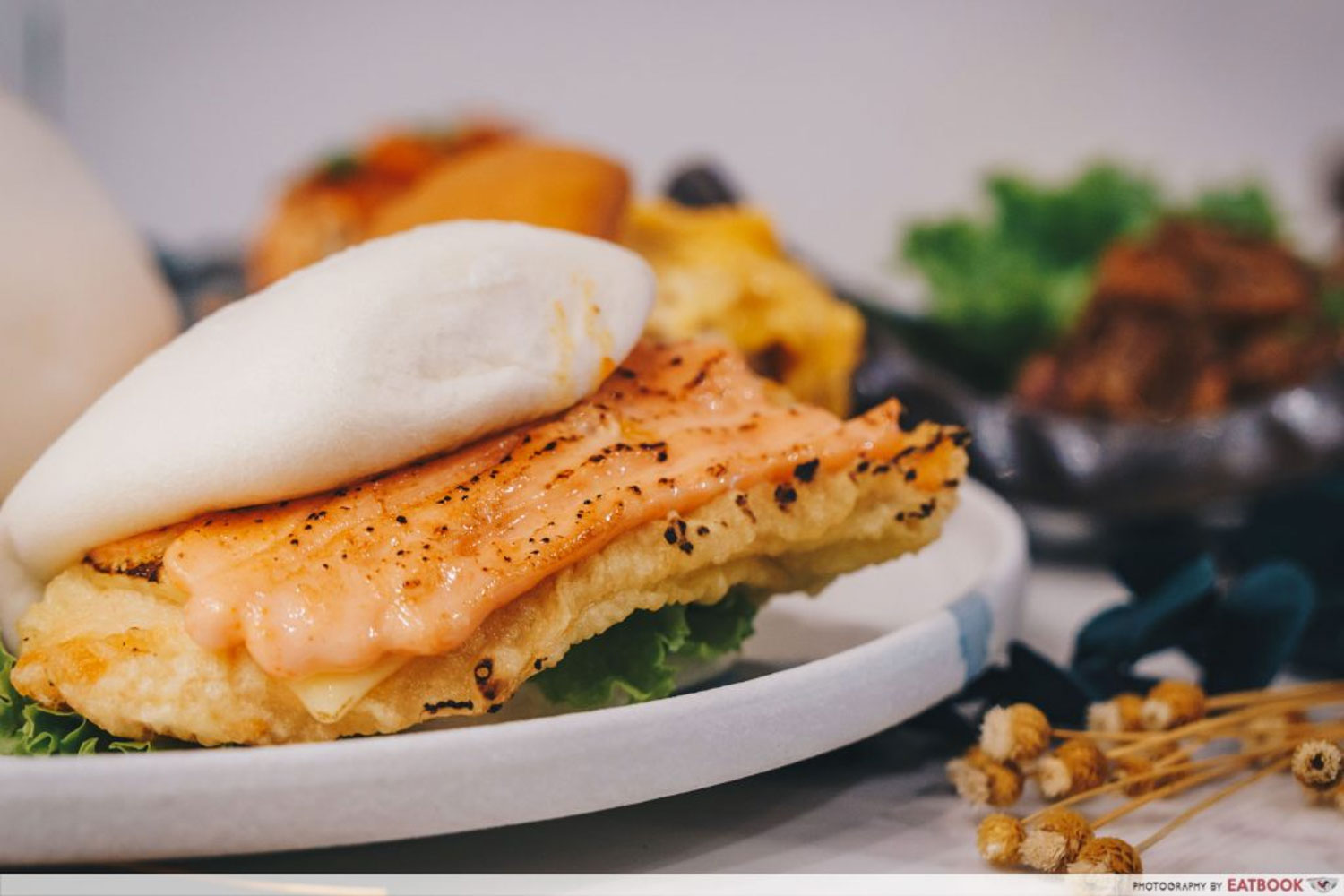 Bao Makers is a family-owned eatery in the hipsterish area of Keong Saik Road. With retro and minimalist vibes, this Chinese fusion restaurant has a playful menu offering signature buns such as Salmon Mentaiko Bao ($5.80++). Sandwiched between an airy mantou bun is a deep-fried salmon layered with cheese and a liberal layer of mentaiko sauce.  
Check out our full review of Bao Makers!
Address: 4 Jiak Chuan Road, Singapore 089261
Opening hours: Mon-Thur 12pm to 3pm, 6pm to 10pm, Fri-Sat 12pm to 3pm, 6pm to 11pm
Tel: 6291 2330
Website
---
5. Soft Shell Crab Bao (Neon Pigeon)
---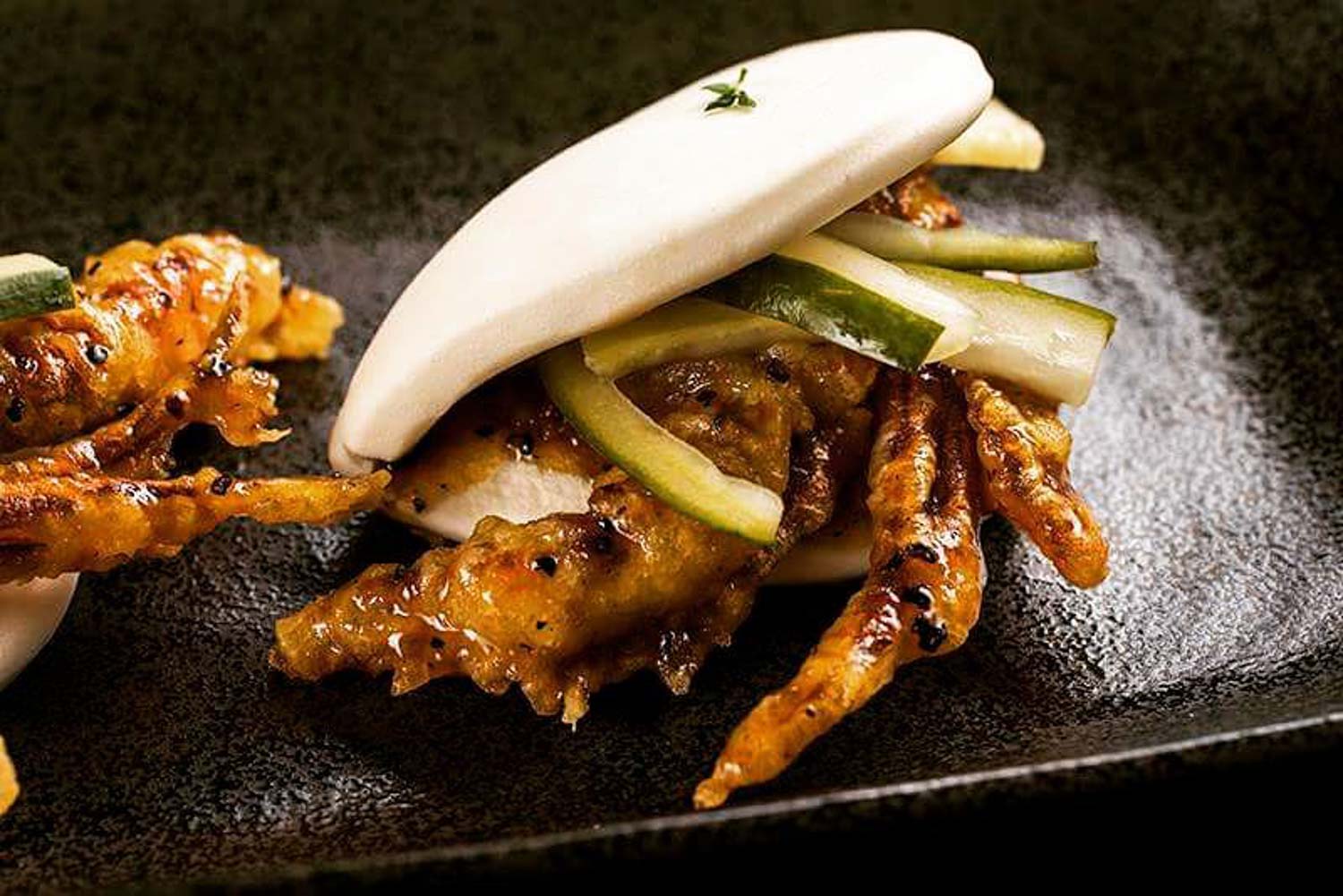 Image credit: @neonpigeonsg
Neon Pigeon caters to the working crowd with their contemporary Japanese izakaya concept. Their menu ranges from mains to bar bites including Soft Shell Crab Bao ($15++ for small, $28++ for large). Though the golden-brown fried crab is slathered with a sharp black pepper teriyaki sauce, it still remains crunchy. Be sure to head down in big groups to make the most of their sharing plates. 
Address: 1A Keong Saik Road, #01-03, Singapore 089109
Opening hours: Mon-Sat 6pm to 12am
Tel: 6222 3623
Website
---
6. Fried Chicken & Cheese Bao (Bao Boy)
---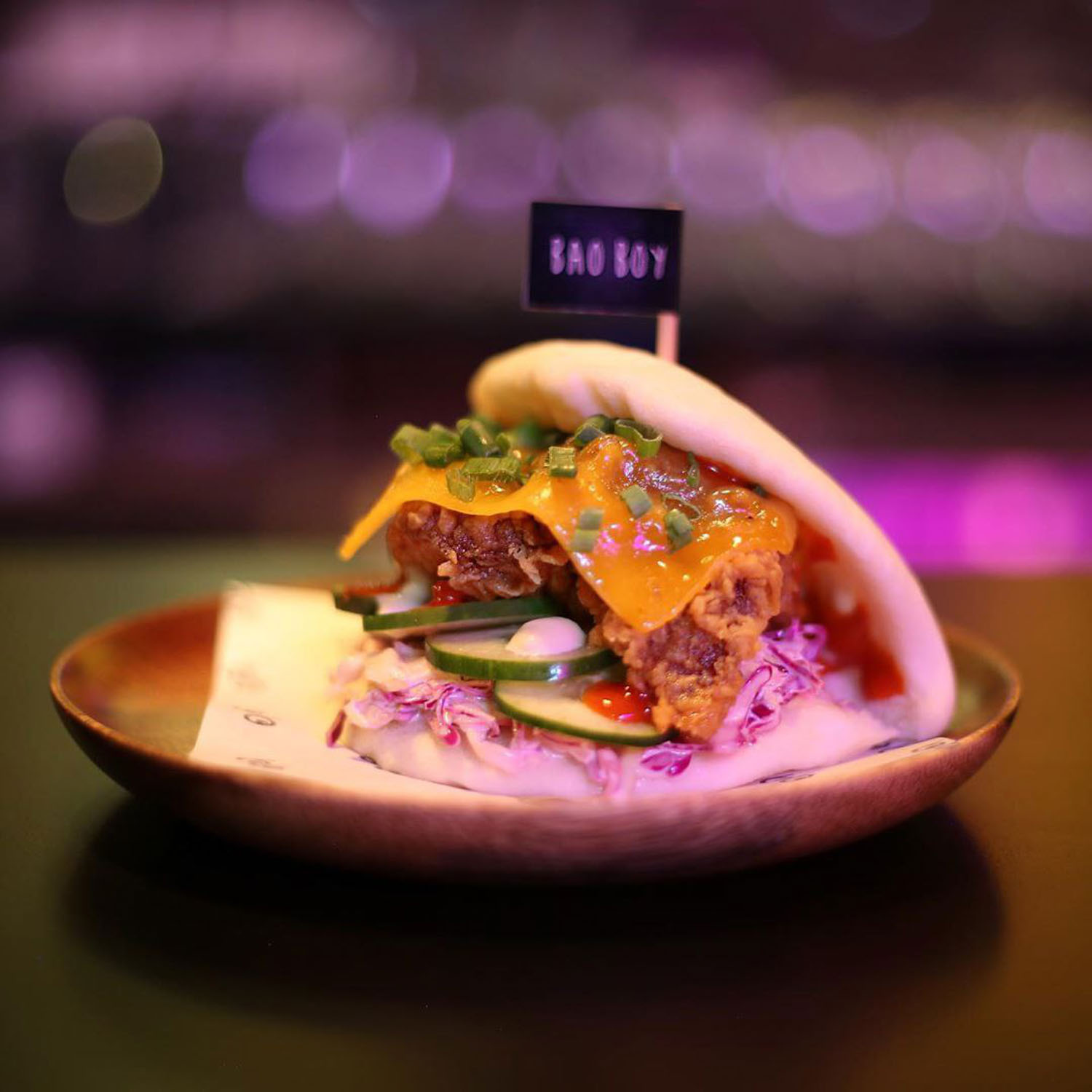 Image credit: @baoboysg
Taking a page out of Butcher Boy's popular bao sandwiches, their sister company—Bao Boy— branched out to offer a menu of unique bao. This new hole-in-the-wall joint at Hong Kong Street serves up bao and sharing plates that are great for big groups. Try their hot favourite Fried Chicken & Cheese Bao ($14++) for some buttermilk chicken goodness. This bao is on the thick side, so expect things to get a lil' messy.
Address: 31 Hong Kong Street, Singapore 059670
Opening hours: Mon-Sat 5pm to 12am
Tel: 6226 1395
Website
---
7. Pork Cracklins Bao (Lokkee)
---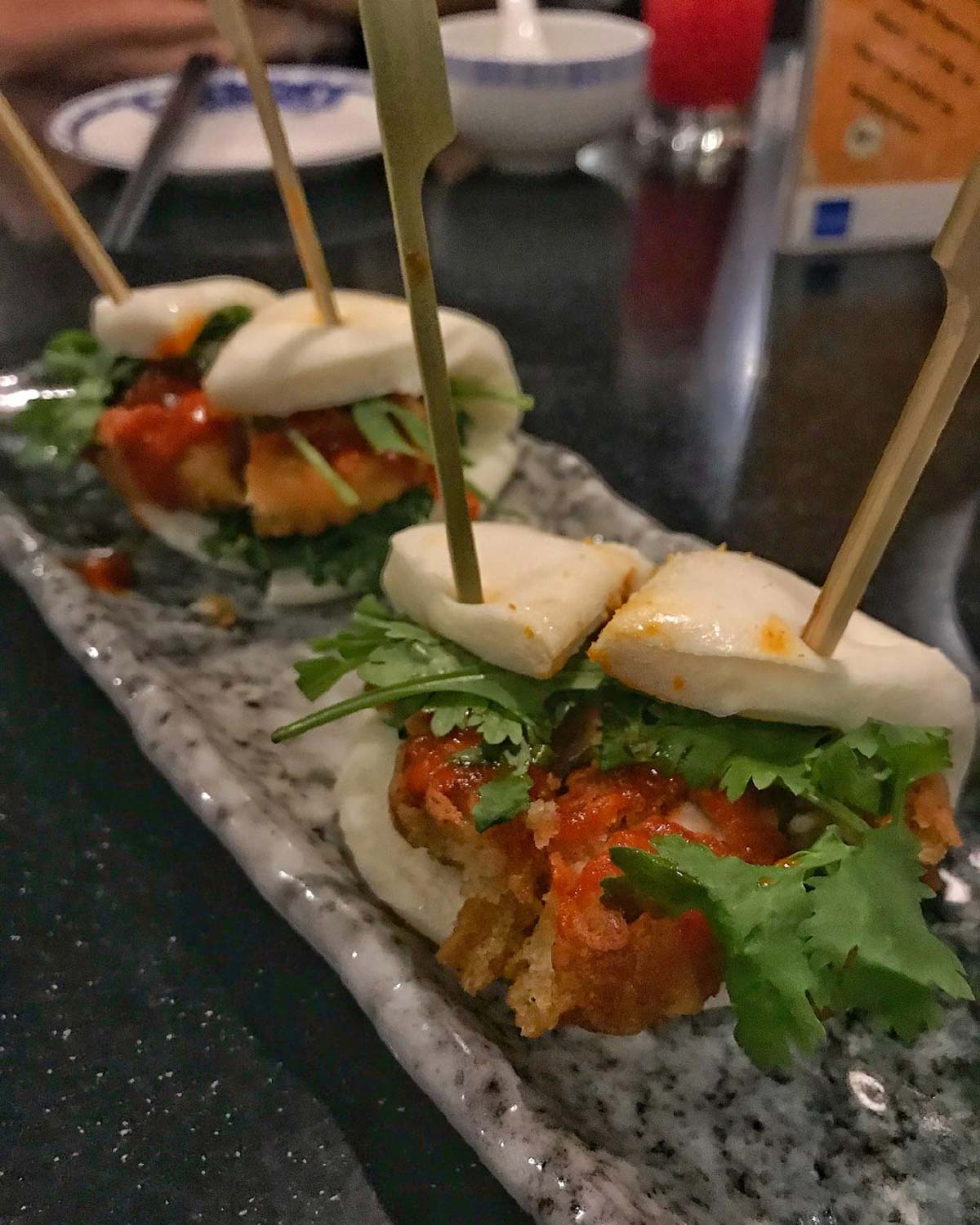 Image credit: @teckchuan48
Lokkee is definitely on our list with their Chinese fusion concept. Here, you'll find unique dishes such as Flaming Beef Pineapple ($34++) featuring a gorgeous caramelised char. Have a bite of their Pork Cracklins Bao ($13++) that features a thick slab of juicy and crispy sio bak. 
Address: 68 Orchard Road, #03-01, Plaza Singapura, Singapore 238839
Opening hours: Daily 11am to 3pm, 5:30pm to 10pm
Tel: 6884 4566
Website
---
8. Crispy Duck Pow! Pockets (Chopsuey Cafe)
---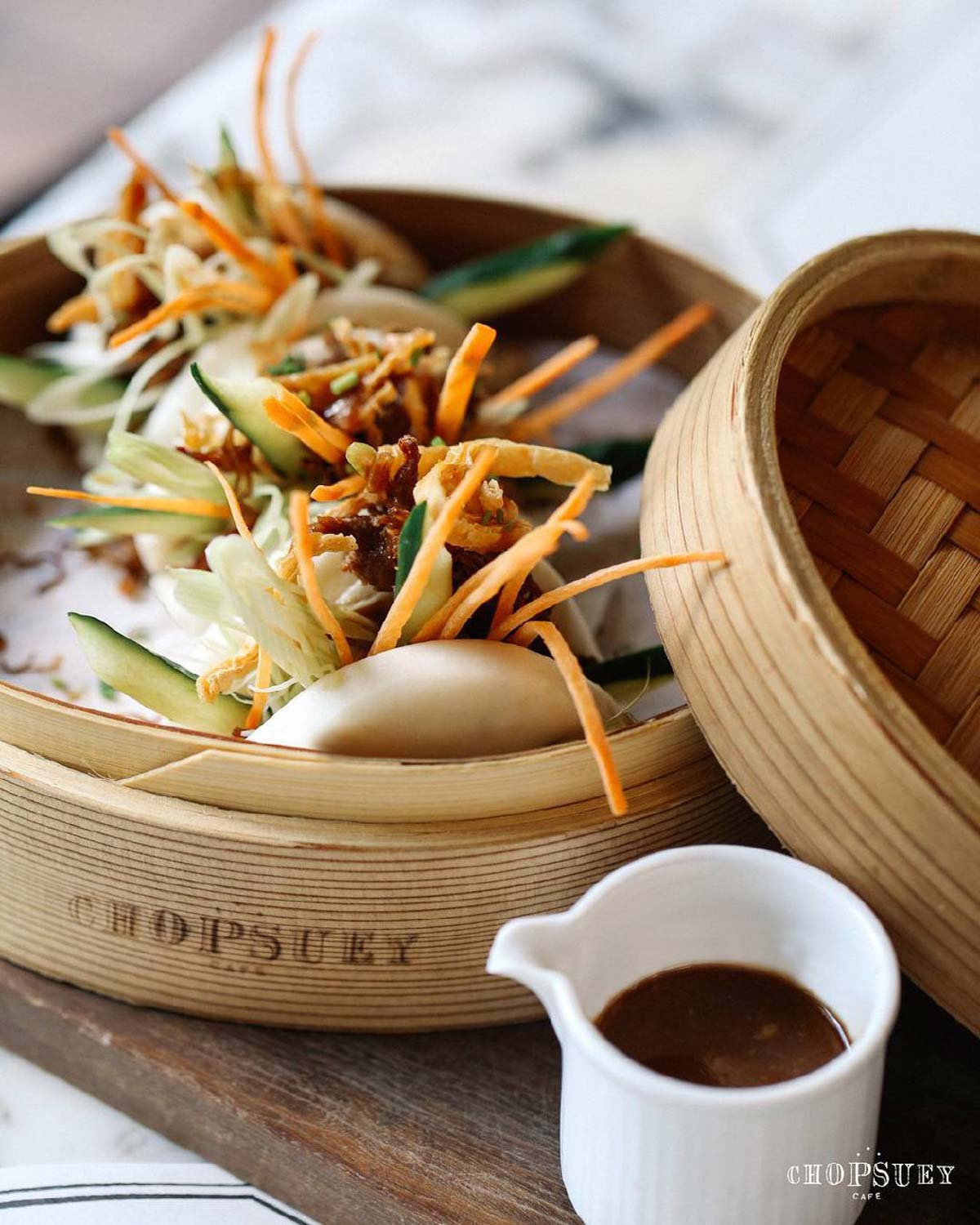 Image credit: @chopsueycafe
Chopsuey Cafe is an extension of PS cafe, but with a stronger focus on Chinese comfort food. Boasting floor-to-ceiling glass windows, this charming cafe at Dempsey makes for a great brunch spot as natural sunlight streams in. Their Crispy Duck Pow! ($17++) comes in a trio and is a great sharing dish. You'll get a mixture of textures with their shredded duck confit and pulled duck filling. Drizzle over the accompanying bean sauce for some sweet and savoury notes.
Address: Blk 10 Dempsey Road, #01-23, Singapore 247700
Opening hours: Mon-Fri 11:30am to 11pm, Sat-Sun 10:30am to 11pm
Tel: 9224 6611
Website
---
Have unique bao at these restaurants
---
Hit up these eateries the next time you're having a bao craving and feeling a little adventurous. You're bound to have a bao of a time.
If you have an eye for quirky things, check out our list of unique vending machines such as BreadTalk's Dabao Kopi and Teh.