---
Vending machines you never knew existed
---
Almost everyone has some fondness towards vending machines. After running around during recess or slogging through a day of lectures, a cool drink straight out of a vending machine is the perfect pick-me-up.
But it's 2019, and vending machines are no longer simply white metal boxes that dispense bottled drinks. Nowadays, you can get a variety of full meals, ice-cream, and even fish with just the press of a button. Here are 10 of the most interesting and unique vending machines that have quietly popped up across Singapore.
---
1. BreadTalk Kopi
---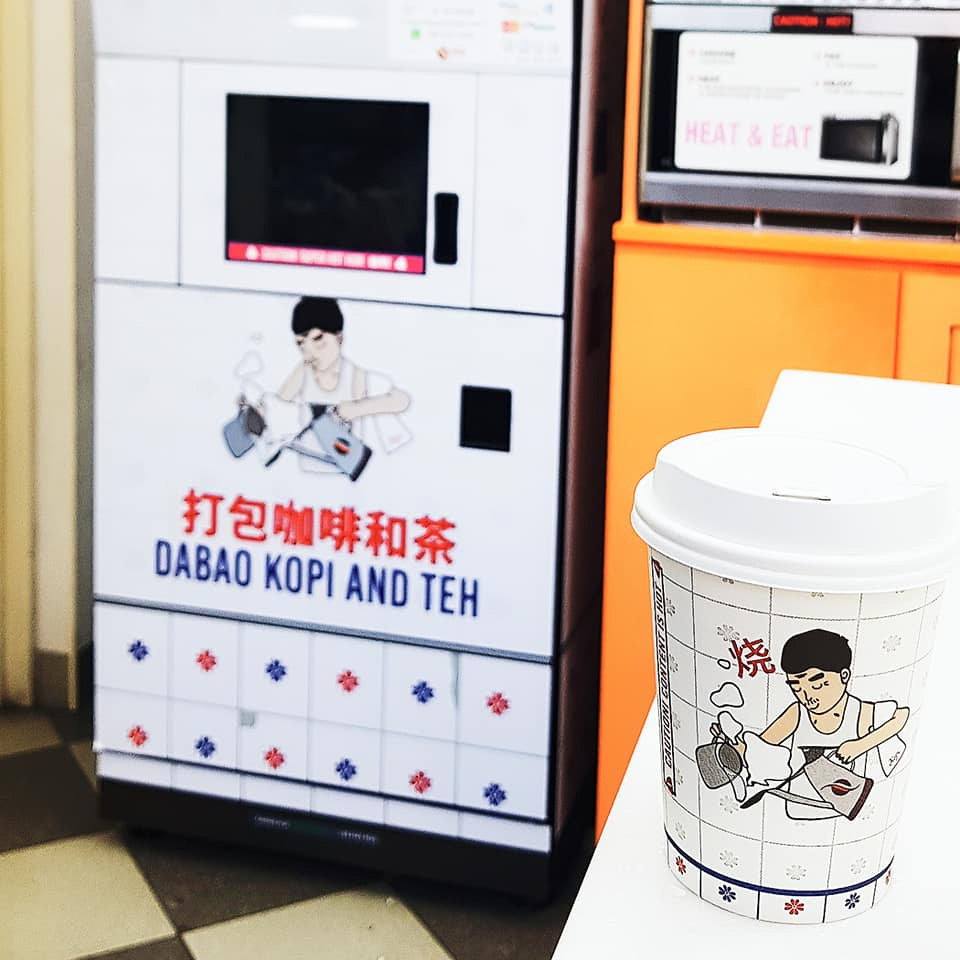 Image credit: Queen's Coffee Pte Ltd's Facebook Page
Refuel both your car and body at 12 Shell stations across the island with this Dabao Kopi and Teh vending machine. If these steaming cups of kopitiam-style coffee taste familiar, that's because they're similar to those served at Toast Box, as both brands are owned by BreadTalk. Six traditional coffee and tea variants are offered here, starting from $1.10 a cup, making it a convenient and affordable way to get your caffeine fix while filling up the tank on the way to work.
---
2. Polar Curry Puffs
---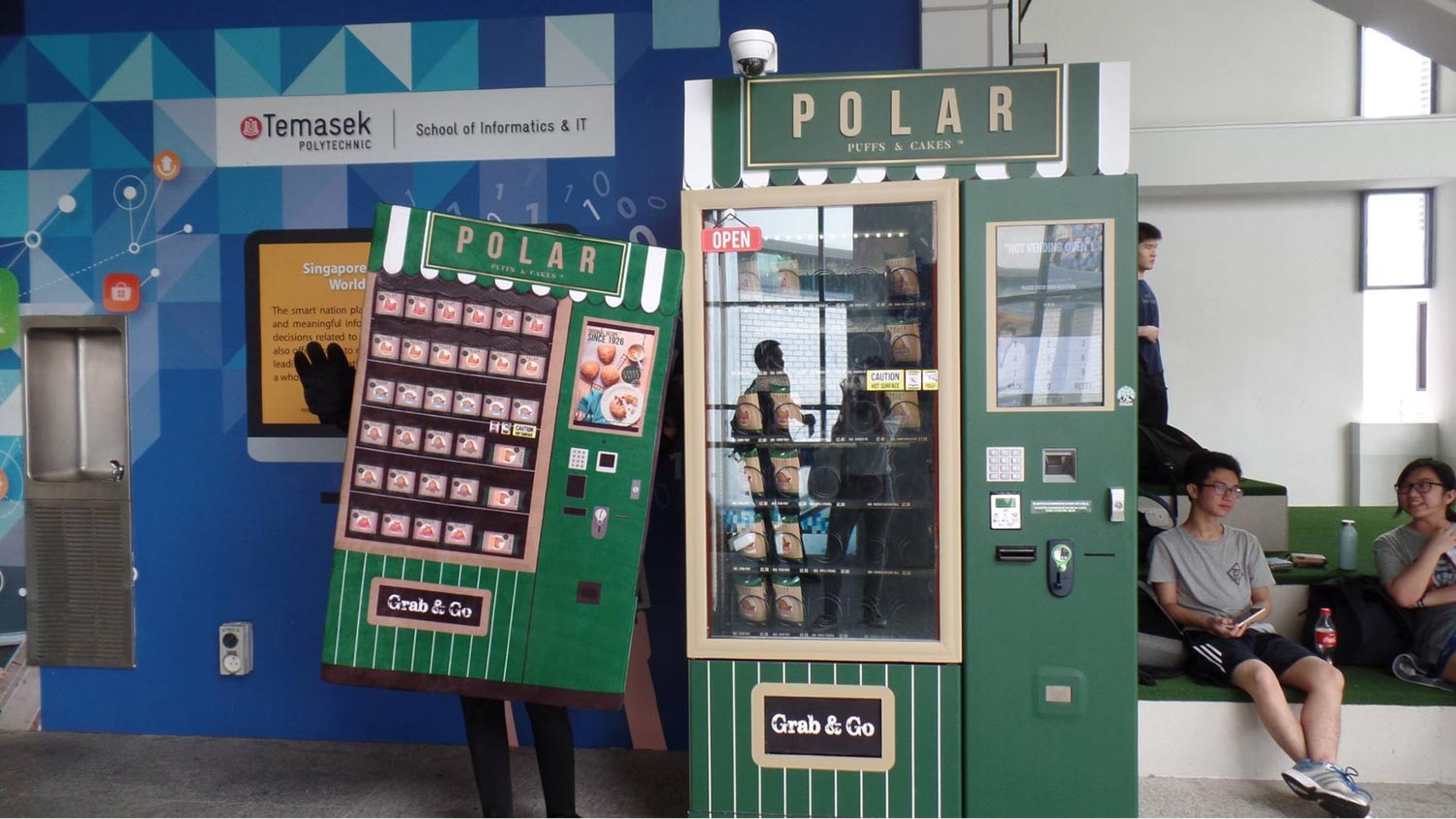 Image credit: Polar Puffs & Cakes Facebook page
Virtually every Singaporean knows the nostalgic flavour of Polar curry puffs. Students at institutions such as Temasek Polytechnic and SMU do not need to go out and buy this classic after-school snack though, as their campuses are blessed with Polar Puffs & Cakes vending machines. Their range of puffs are baked fresh daily and served piping hot. Prices start at $1.50, meaning even students on a shoestring budget won't have qualms about grabbing a Curry Potato Puff or Chicken Sausage Roll daily.
---
3. Salmon
---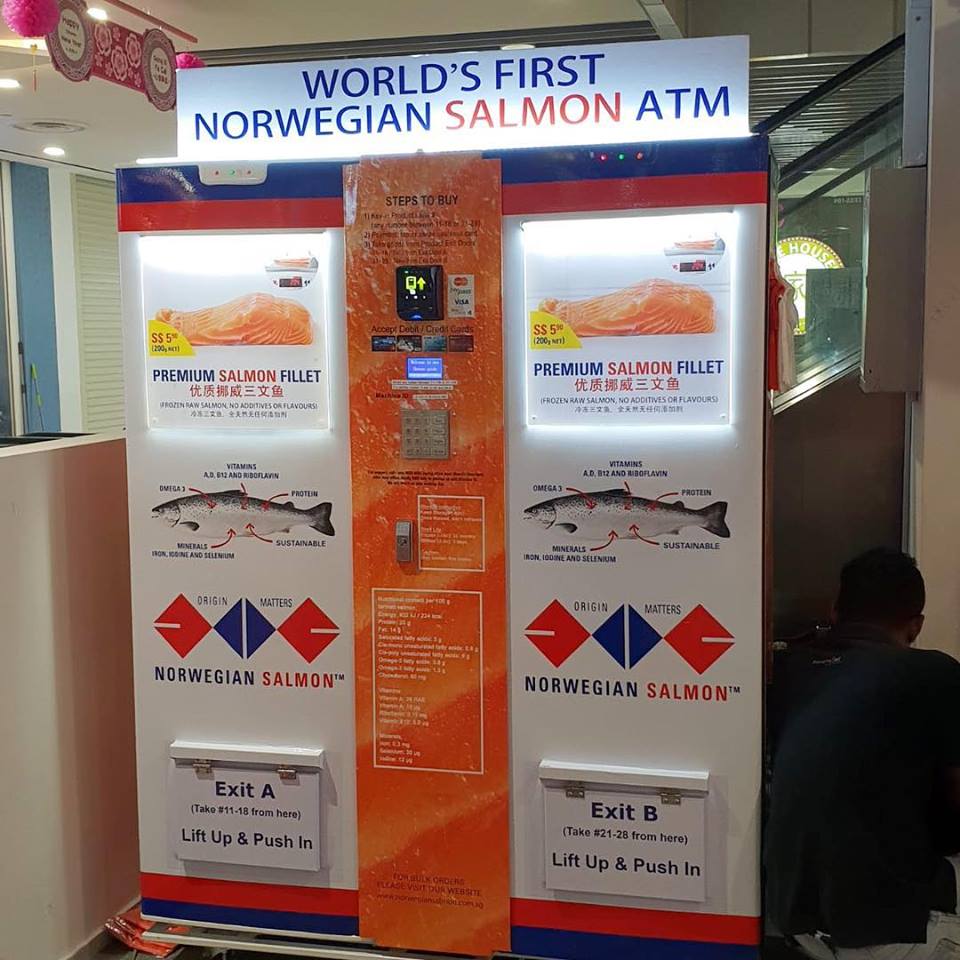 Image credit: Norwegian Salmon ATM – Vending Machine's Facebook page
I never thought I'd live to see raw fish being dispensed out of a machine, but I guess the future has already arrived, thanks to Lyng Seafood's Norwegian salmon ATM. There are more than 100 of these quirky vending machines across Singapore, each offering frozen fillets weighing 200g. The fillets are vacuum-packed and cost $5.90 per piece, making them a great fit for meal prepping or quick weeknight dinners.
---
4. Chilli Crab from House of Seafood
---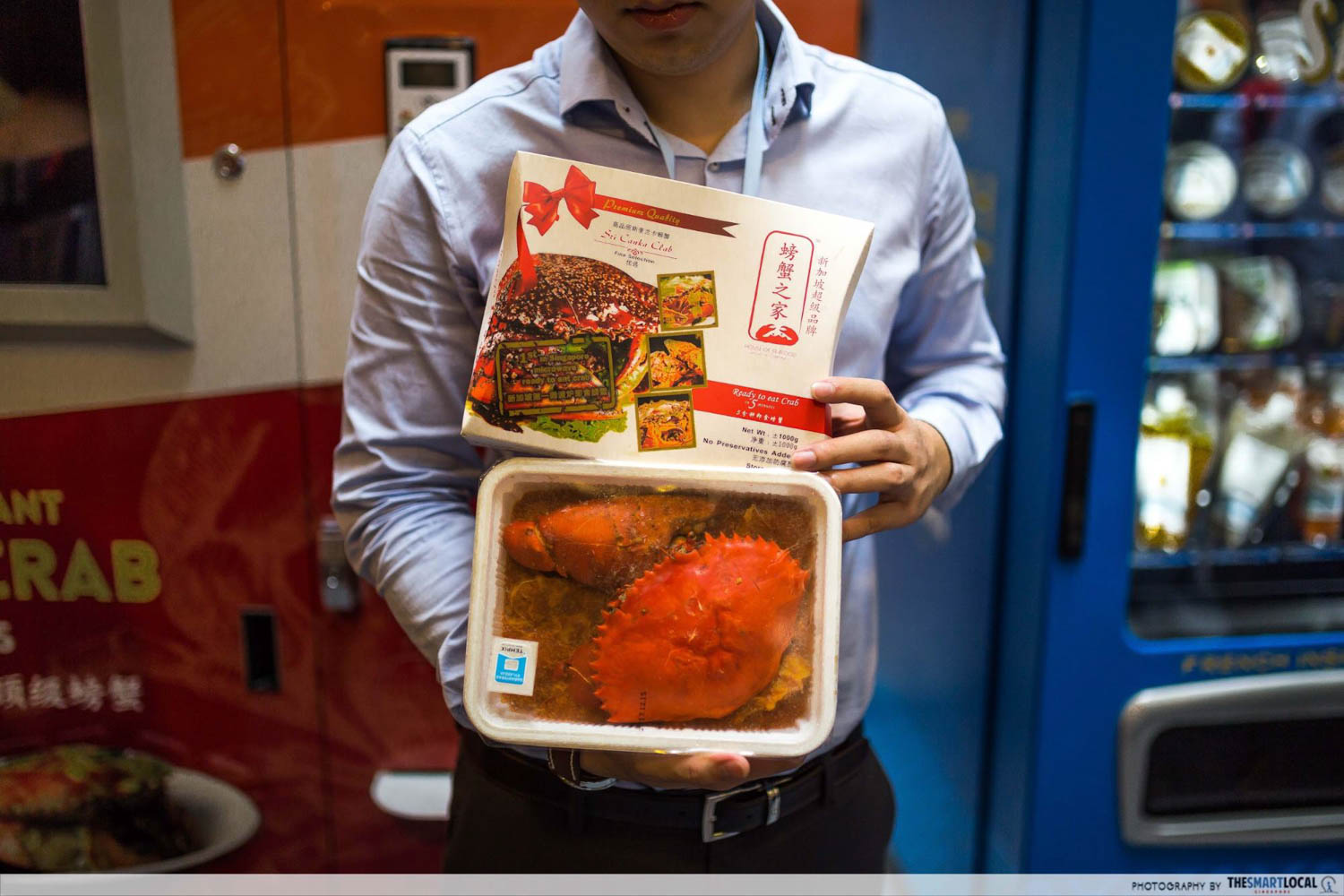 Created by House of Seafood, this ready-to-eat crab vending machine offers chilli crab, black pepper crab and salted egg yolk crab. Each crab weighs around 1kg and is priced at $60. The machine will cook your crab within five minutes, so you can get a piping hot meal almost instantly. Each box even comes with a bib and plastic gloves so you can dig in ASAP.
A Vending Machine Now Dispenses Chilli Crabs 24/7 – And It's From A Well-known Restaurant In Singapore
Address: 3 Punggol Point Road, #01-01/02, The Punggol Settlement, Singapore 828694
Website
---
5. Salad from Shake Salad
---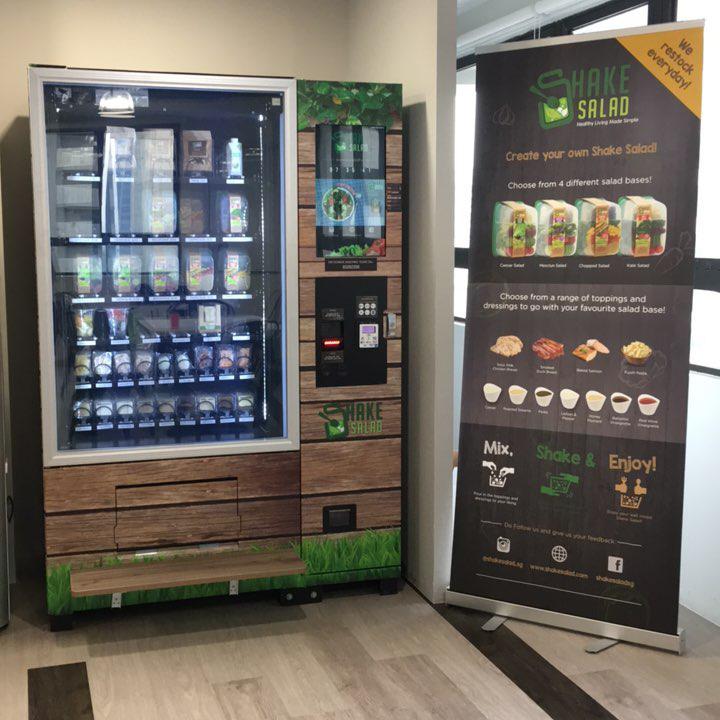 Image credit: @shakesalad_sg
Fight temptation with this salad vending machine by Shake Salad. Even though the variety offered is not as wide as a salad shop's, you can still pick and choose your salad base and toppings for as little as $6. To ensure freshness, the machines are restocked every day, so wilted leaves shouldn't haunt your salad bowl. If you're not up for a bowl of salad, you can also grab a sandwich or healthier snacks from the machine.
---
6. VendCafe
---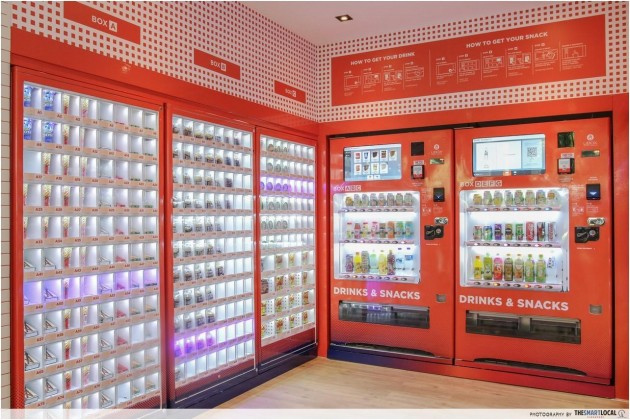 Started in a sleepy Sengkang void deck, VendCafe by Chef In Box is an army of six vending machines serving everything from ubiquitous snacks and drinks to entire hot meals. There are now 12 such "cafes" across the island, some even equipped with tables. 
While they aren't ideal first date locations,  getting Roasted Chicken with Mushroom Sauce ($4), Mutton Rendang with Briyani Rice ($5) and Organic Soya ($1) straight from a machine is pretty darn cool.
---
7. Pizza
---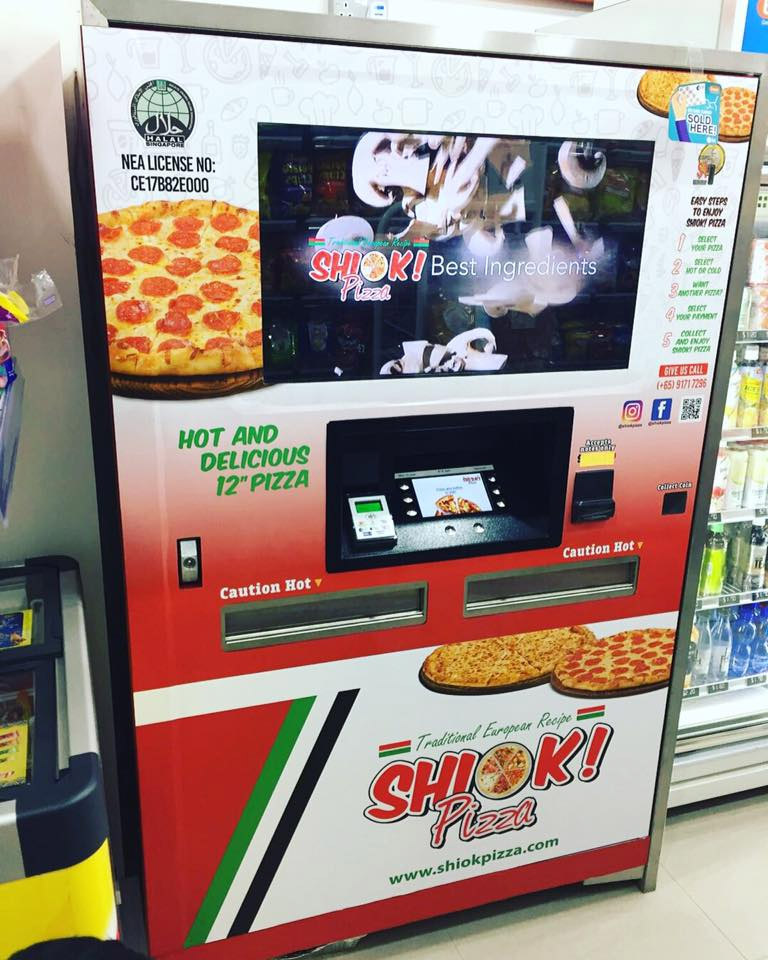 Image credit: SHIOK Pizza's Facebook page
Ordering in Pizza Hut from the comfort of your couch already ranks pretty high on the convenience scale. Yet, the SHIOK! Pizza vending machine goes another notch higher, dishing out steaming hot pizzas within four minutes. When the football match is starting and you have to wait an hour for delivery, a 12-inch Hawaiian ($16) pizza on demand is hard to beat.
---
8. Hӓagen-Dazs
---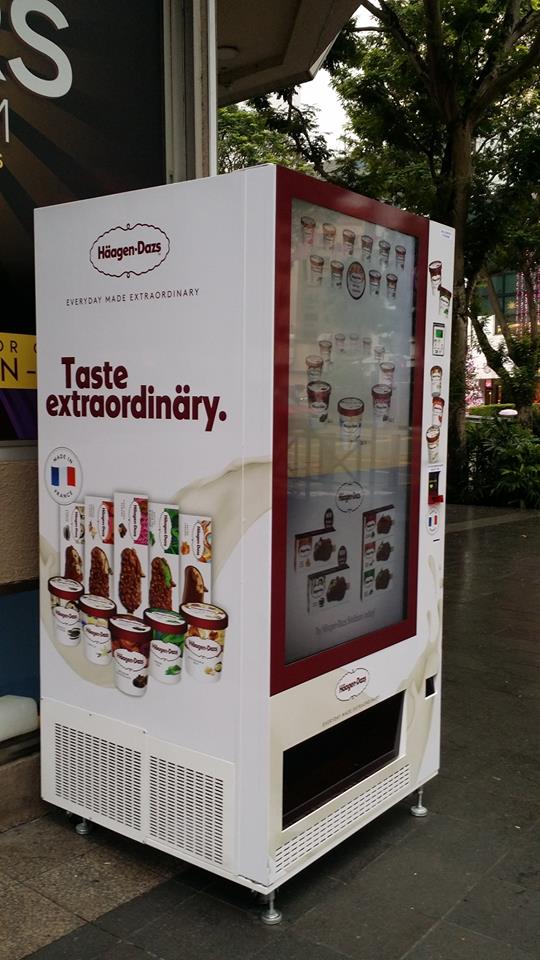 Image credit: Anne-Marie Sim's Facebook page
One of my fondest memories of Japan is stepping out of a steaming onsen and cooling off with a stick of Hӓagen-Dazs ice-cream, straight from a vending machine. Now, I can relive at least half of that fantasy back home, because the folks behind SHIOK! Pizza have also launched a Hӓagen-Dazs vending machine. If you're too lazy to duck into a supermarket and stand in line for your dose of creamy ice-cream, these vending machines ought to do the trick.
---
9. 21st Century Healthcare Vitamins
---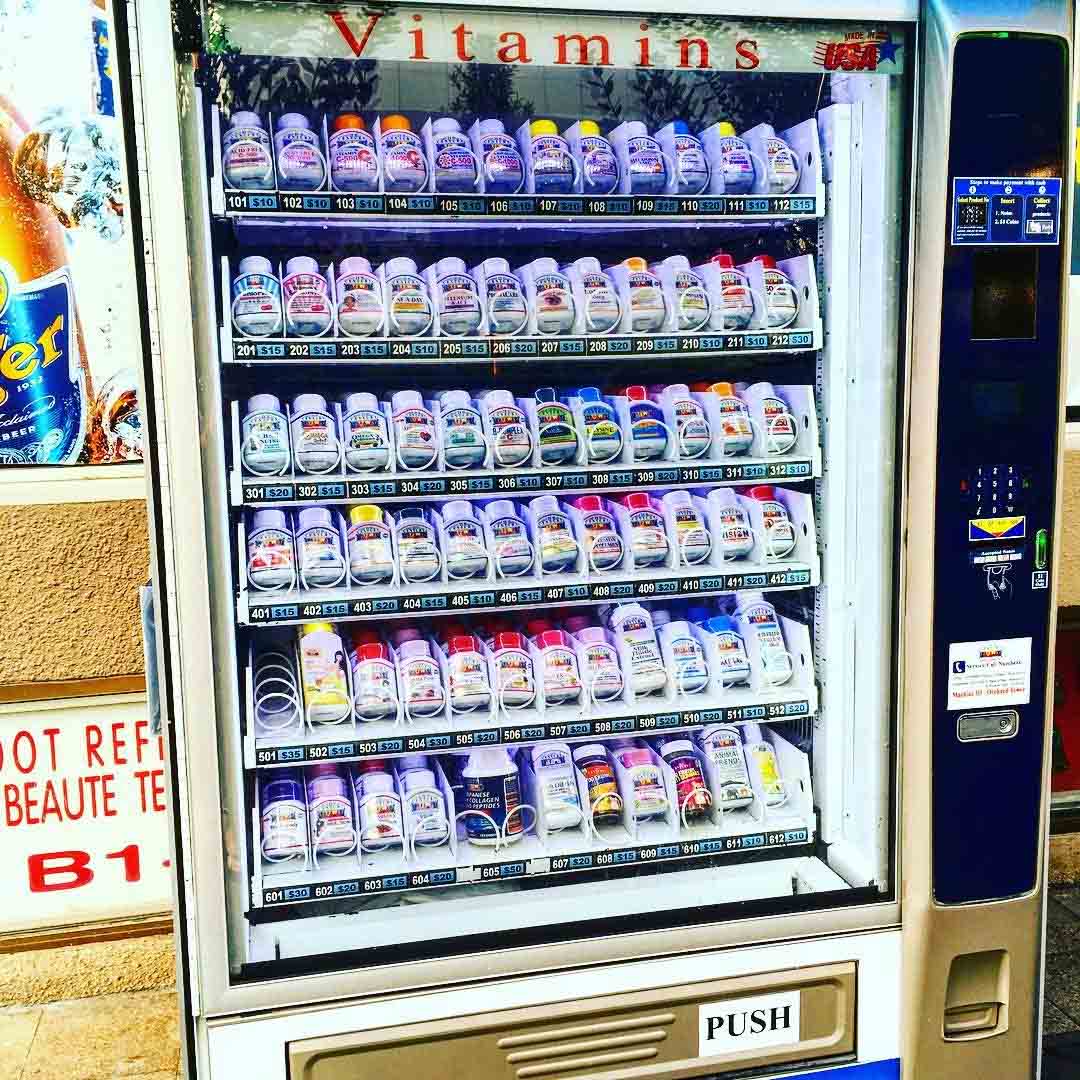 Image credit: @whereismare
Vending machines usually stock stuff like snack foods and sugary drinks—items not exactly known for their health benefits. This vitamin vending machine from 21st Century Healthcare turns that notion on its head, dispensing a whole range of supplements such as omega-3, ginkgo biloba and children's multivitamins. This gives you no excuse not to load up on your vitamins.
---
10. Groceries
---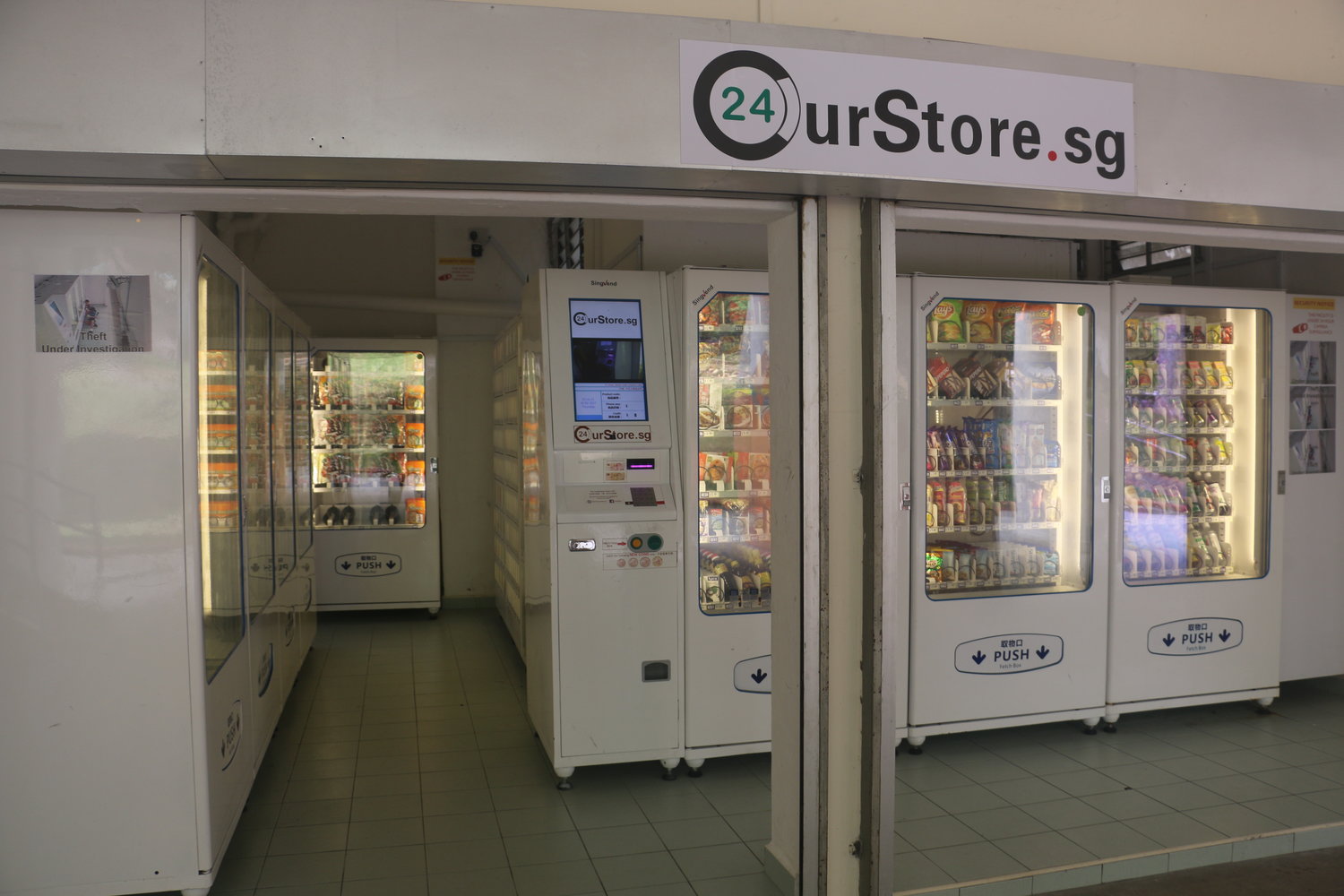 Image credit: Ourstore.sg
Most grocery stores aren't open 24/7, so if you need groceries in a pinch during the wee hours of the night, OurStore.sg is your unlikely saviour. We aren't sure why you'd need a 10kg bag of rice at two in the morning, but that's what this series of vending machines offers, along with a whole bevy of other groceries. Their lineup isn't limited to food either—printer ink and detergent are among the items stocking these shelves. 
---
Check out these vending machines on steroids
---
As technology evolves, there's no doubt we'll see more wacky stuff in vending machines in the near future. But even if it becomes normal to go to a vending machine for dinner, there'll never be a replacement for freshly-cooked food. After all, no robotic mechanisms can ever replace the loving touch of a mother, or the skilled hands of a trained chef.
Check out more pimped out vending machines at Sentosa's Boardwalk AdVENDture!
Boardwalk AdVENDture: Over 30 Vending Machines Offering Chilli Crab And More Gourmet Food At Sentosa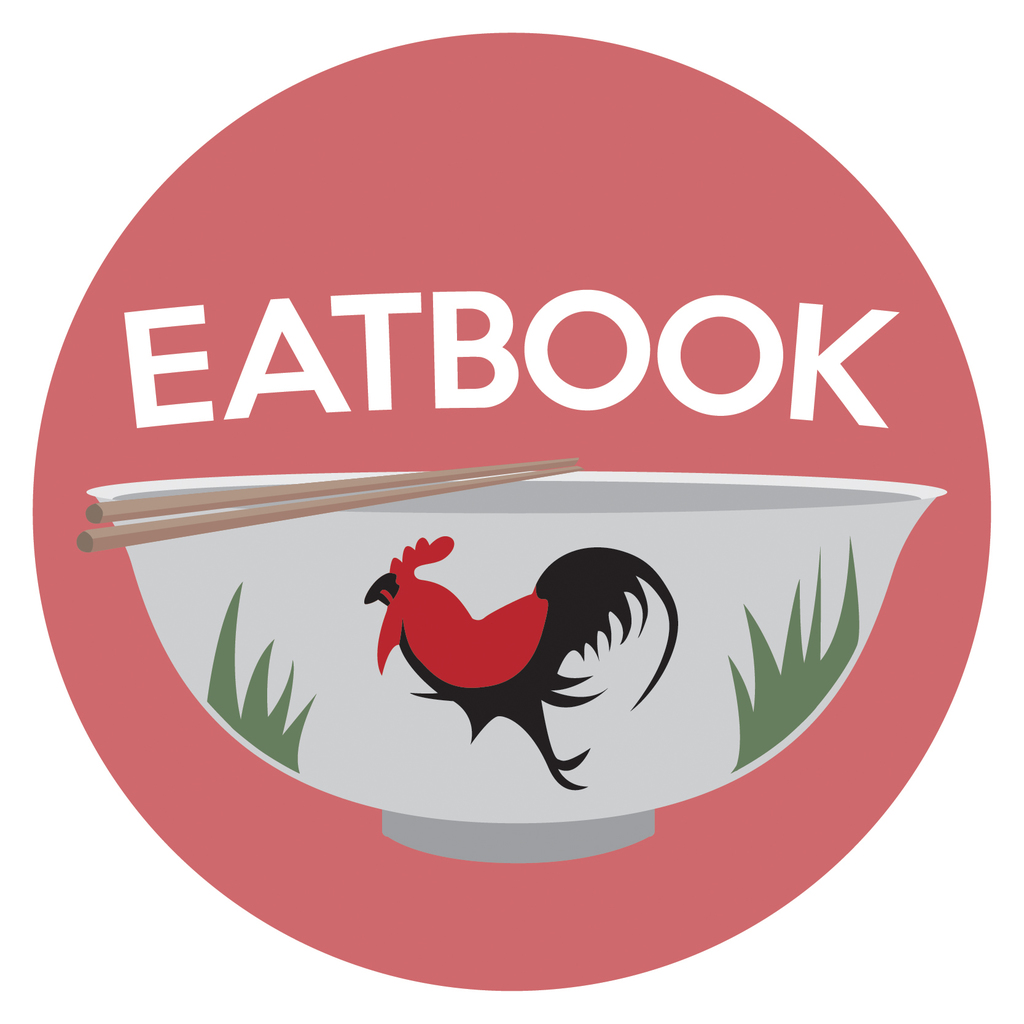 Drop us your email so you won't miss the latest news.