Timbre+ at one-north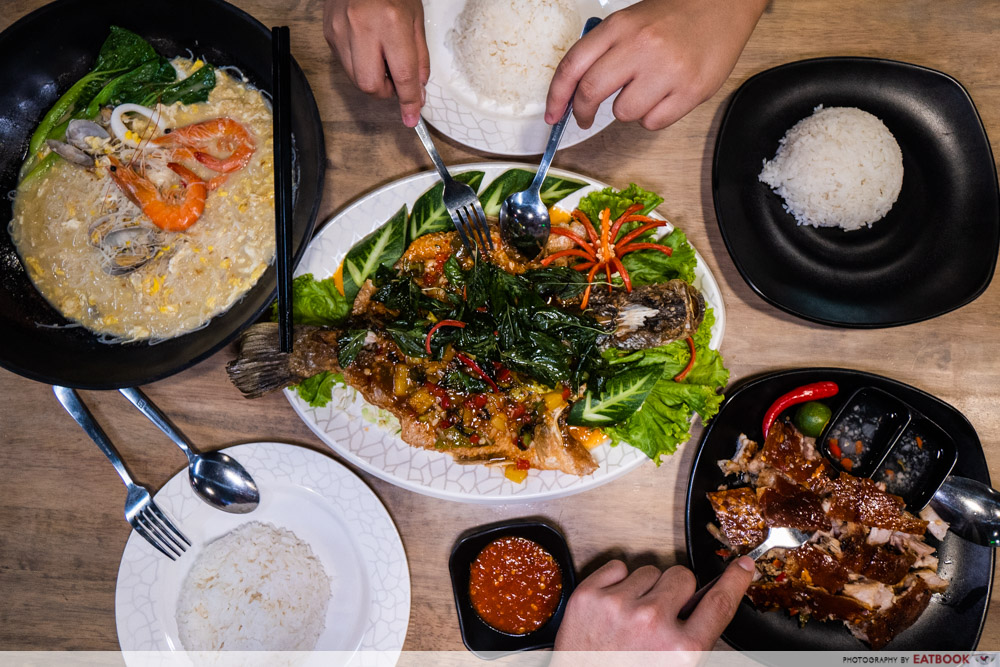 Finding a great chillout spot can be difficult. The food has to be affordably priced, tables have to be large enough to fit the whole group, and of course, great music and booze put the icing on the cake.
Opened by the same bunch of people behind Timbre, Timbre+ looks to apply the same #chillvibes found at their gastrobar to a larger setting. With 39 dining and drinking options, including 14 restaurant brands, here's a closer look at this massive food park.
Food at Timbre+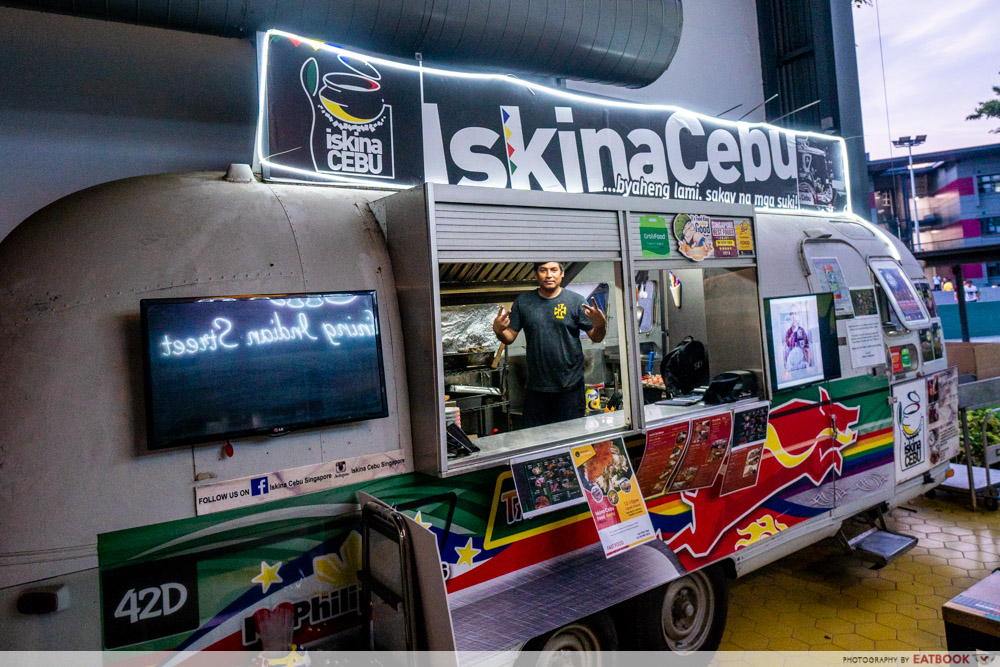 Serving up authentic Cebuano food, Iskina Cebu specialises in lechon or Cebu-style roasted pork. The pig is meticulously cooked for five hours while being spun over a charcoal fire.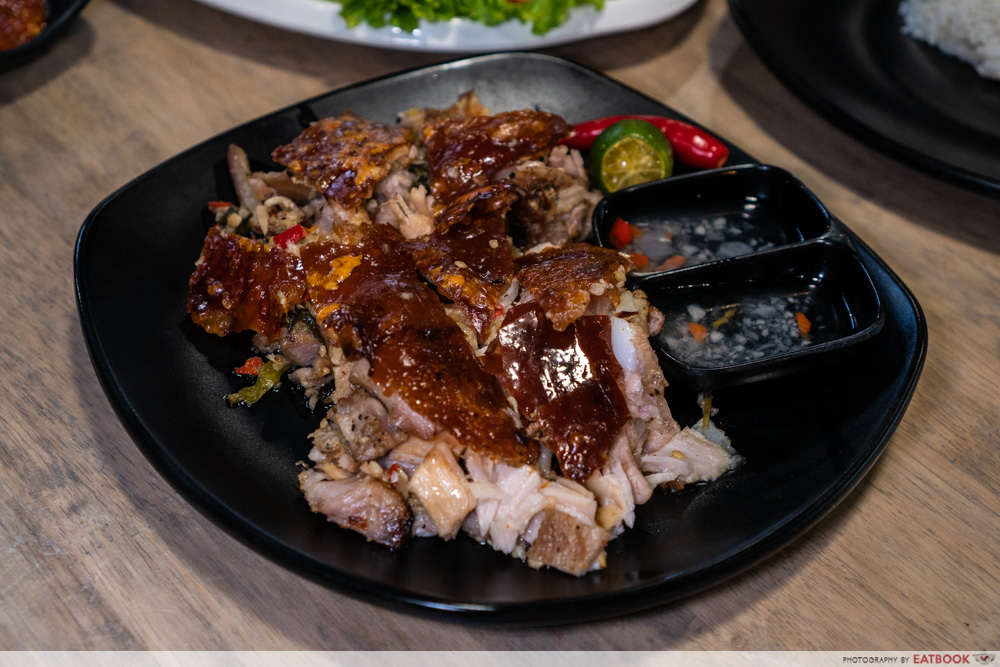 The plate of Lechon ($12) is packed to the brim with chunks of pork that make it great for sharing. The gentle cooking process ensures the meat is juicy and tender. The skin remained crisp even after a long period of time, thanks to the marinade which is carefully basted on for the entire cooking duration.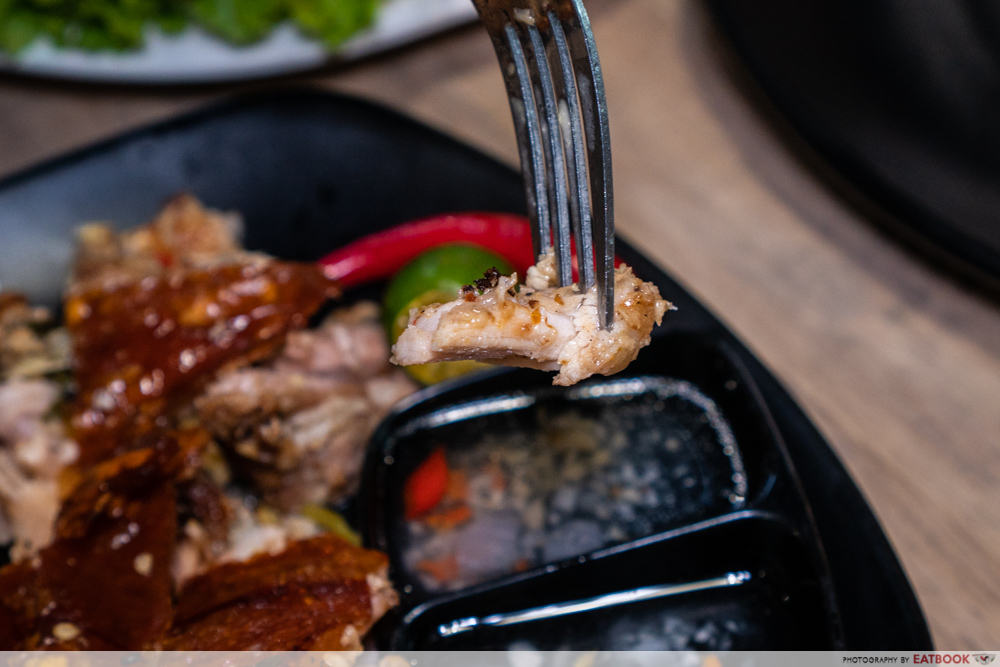 Make sure to also dip it into the sauce composed of garlic, vinegar and other aromatics. This tangy dip helps cut through the fatty pork, giving it a nice zest.
Unit number: #01-27
Opening hours: Mon-Sat 11:30am to 9:30pm
Website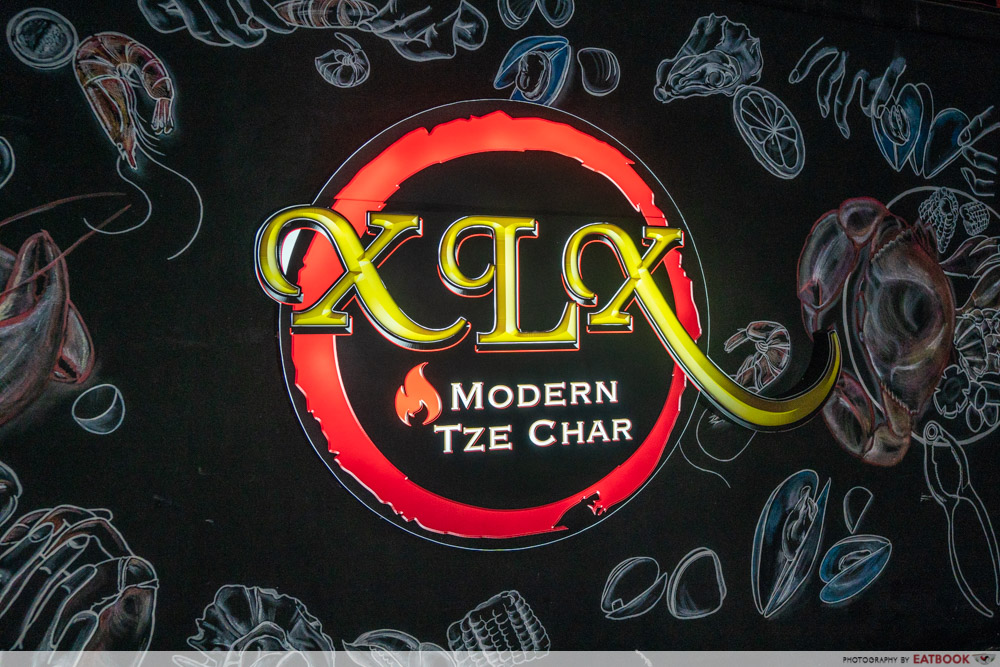 Hailing from Perak, XLX Modern Tze Char serves up zi char classics with a modern twist.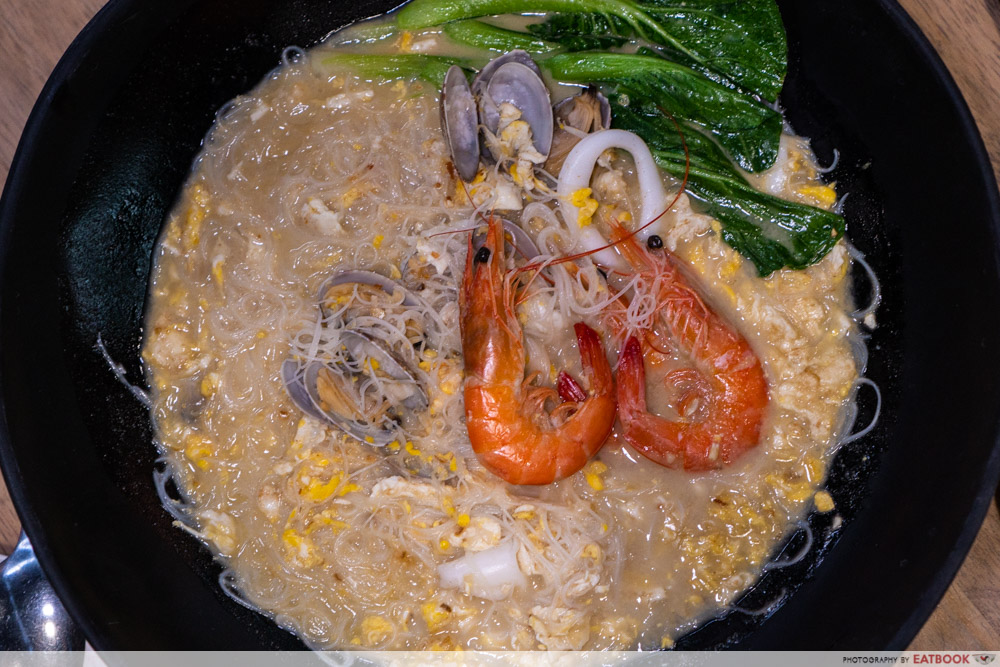 The Seafood White Bee Hoon ($6.80) provides great value, coming in a huge bowl that can feed two very hungry people. The broth is actually cooked for more than 10 hours, resulting in a flavourful and thick, almost sauce-like consistency, that has been infused with plenty of wok hei.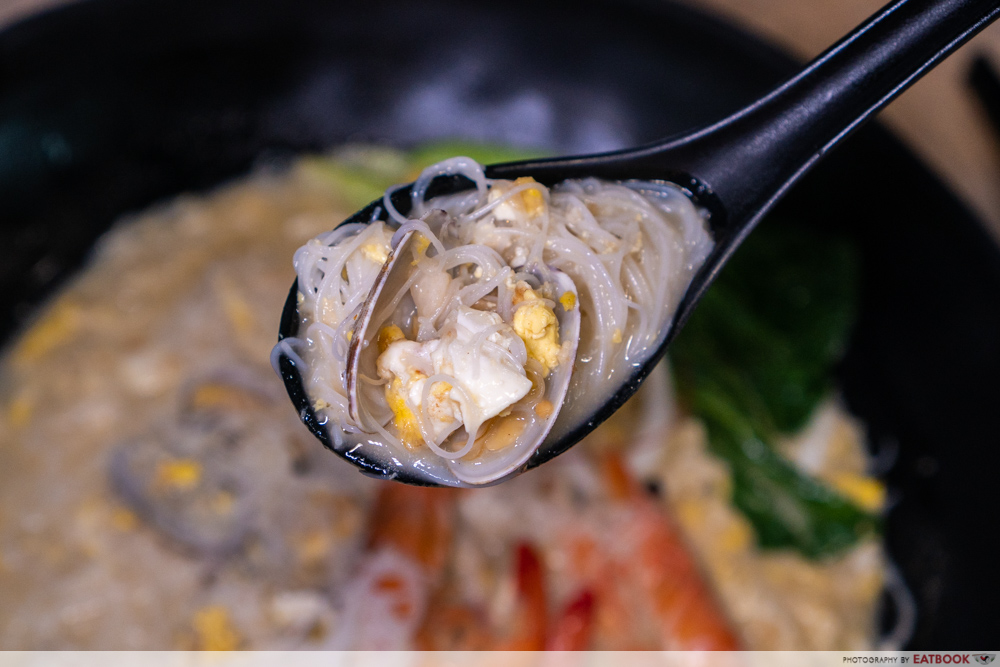 You'll also find an assortment of seafood such as clams, squid, and prawns tossed inside. The clams, in particular, added sweetness to the soup and brought out a robust burst of flavour.
Unit number: #01-29
Opening hours: Mon-Sat 11am to 10:30pm, Sun 11am to 9.30pm
Website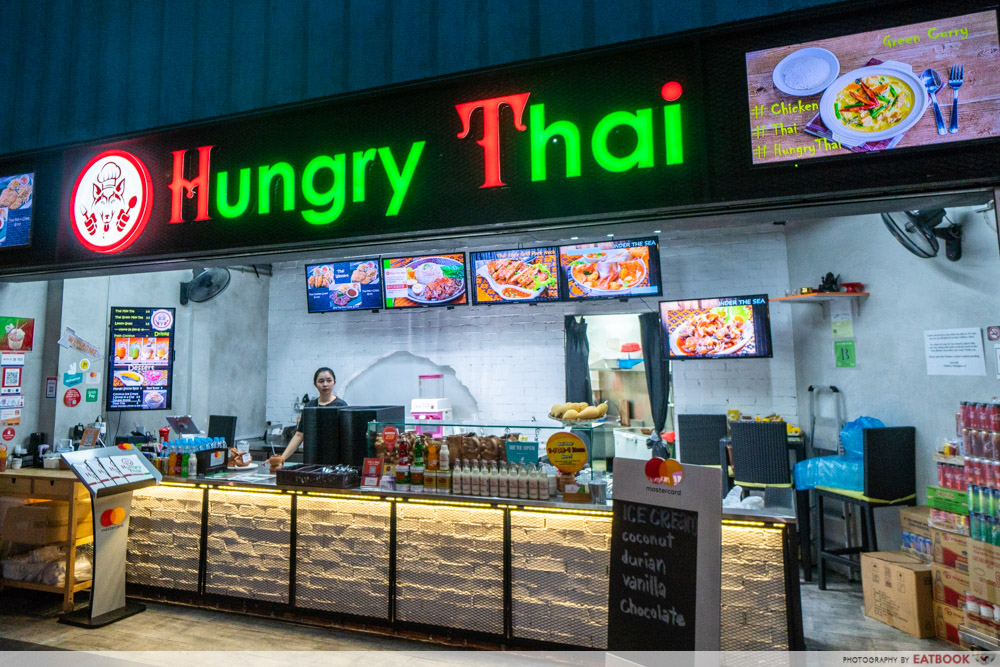 When the craving for Thai food hits, it's important to get it satisfied fast. Hungry Thai serves up unpretentious Thai food at affordable prices.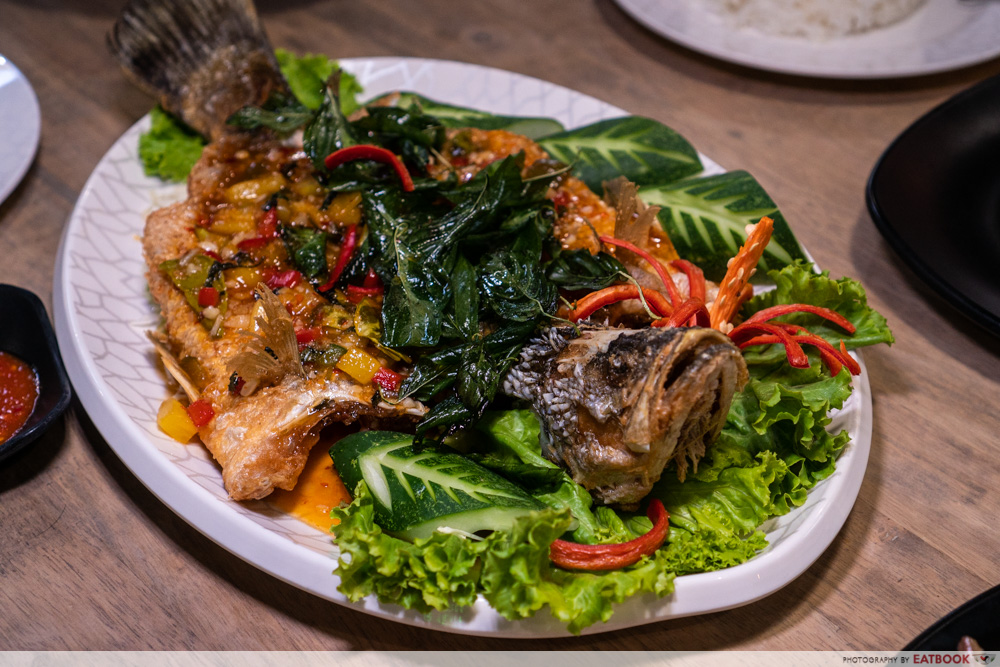 Try their Deep Fried Fish with Chilli Sauce ($28). The whole fish is deep-fried and doused in a slightly sweet house-made sauce comprising pineapple and chilli. If you and your mates like your food to come with a bit of sourness, this dish would be great to share around.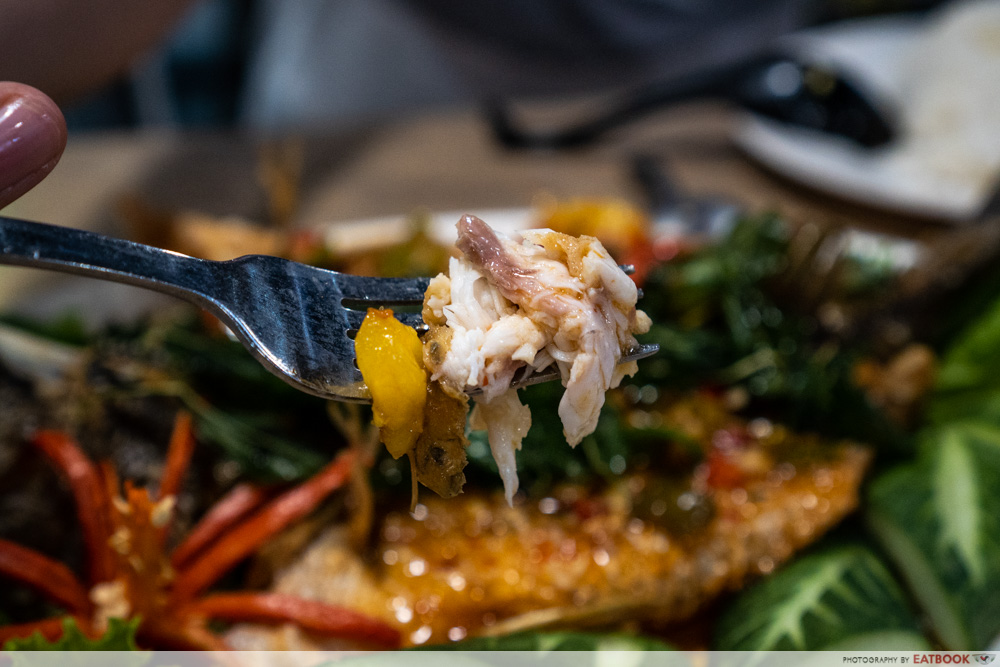 On the day we went, we had the sea bass, which goes well with the chilli sauce thanks to its firm flesh. However, do note that the type of fish served varies daily, according to the freshest find in the market.
Unit number: #01-29
Opening hours: Mon-Sat 11am to 10:30pm, Sun 12pm to 9.30pm
Website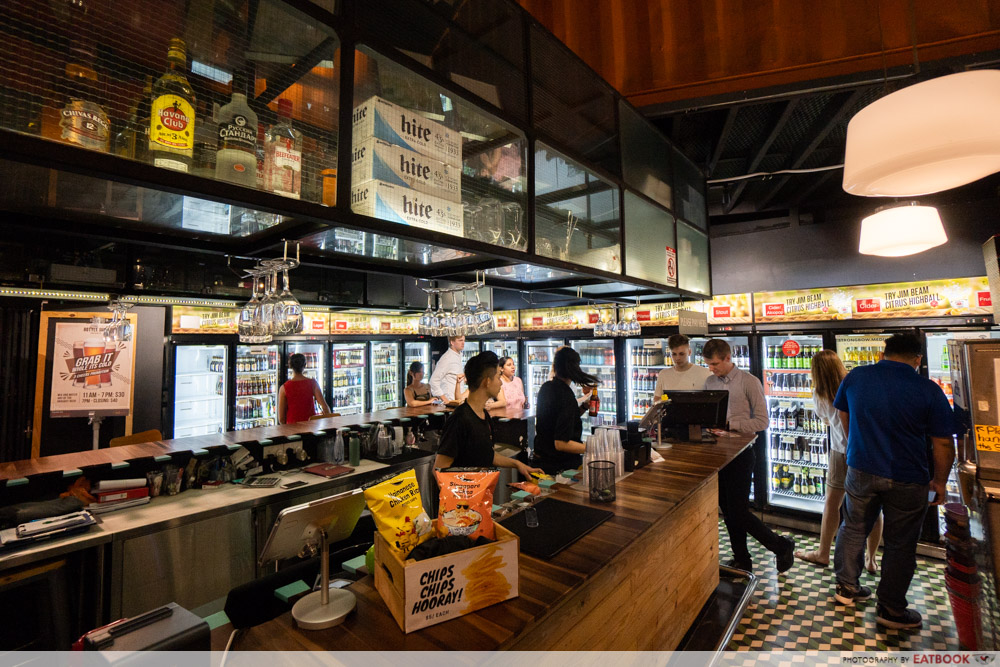 Aside from food stalls and the usual kopitiam drinks, Timbre+ comes fitted with a casual drinking den known as The Bottle Shop. Prepare to get spoilt for choice, as they have over 120 labels of affordable craft beers and ciders to choose from. A wide range of spirits and wine are also available, for those who like to get a buzz on cocktails. They also have monthly promotions so check out their facebook page for more information.
The concept is unique. You take a bucket, load it up with ice, then walk through the brightly lit fridges in search for your beer. Look out for their recommendation stickers if you can't decide which to get, or speak to the staff who will be happy to share their favourites.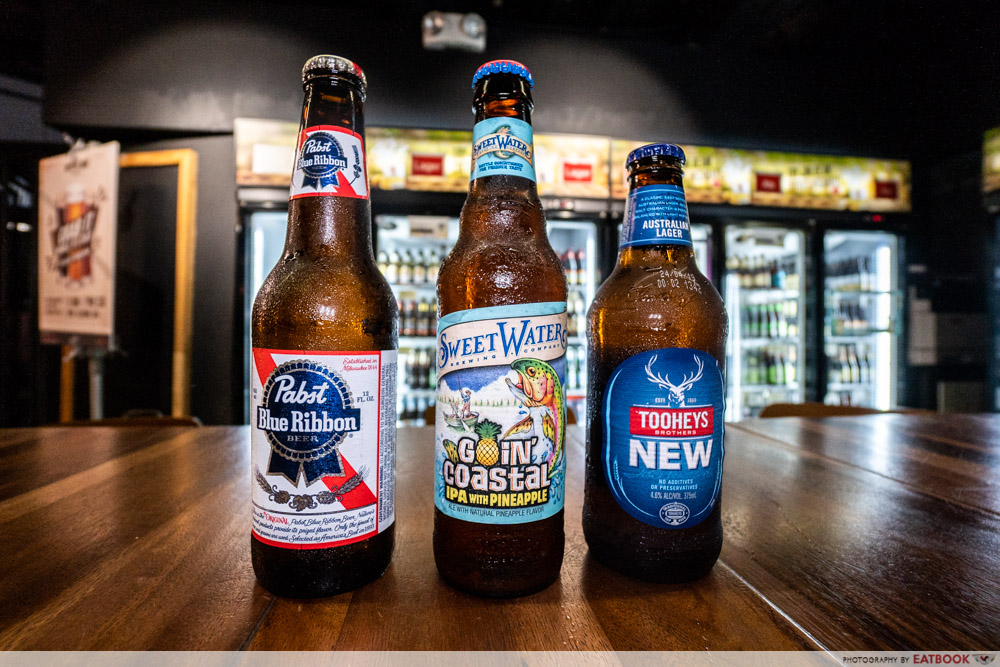 Look out for several unique labels such as Tooheys New Lager ($10), and SweetWater Brewery Going'Coastal IPA ($13). My favourite was probably the former, with a refreshingly smooth taste that went well with all the tasty fare.
Ambience at Timbre+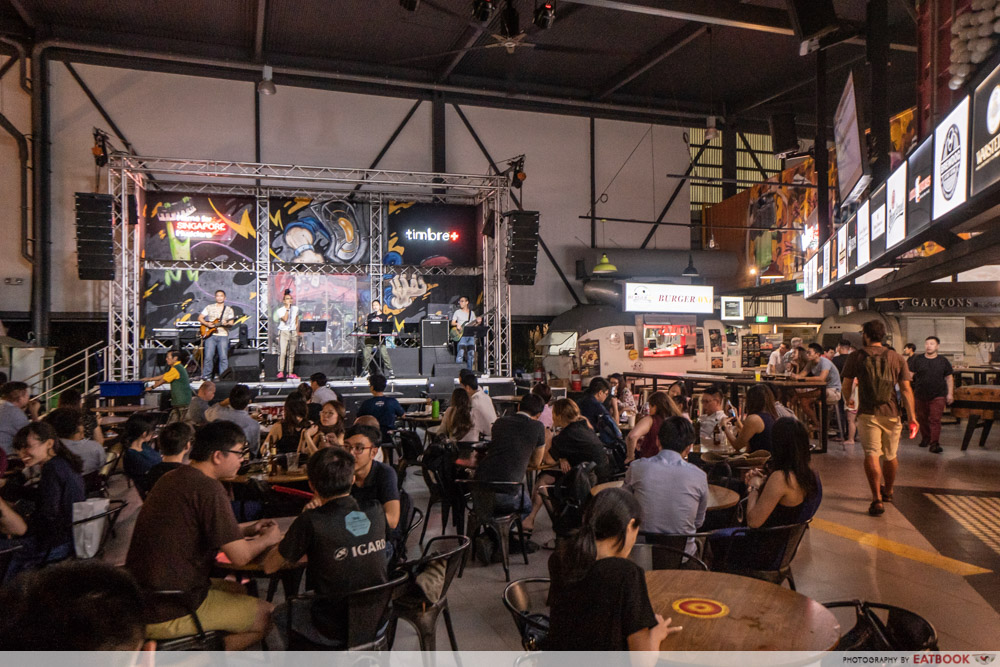 There's no air conditioning here, but the location remained well-ventilated thanks to several large fans evenly distributed across the facility. If al fresco dining is more your thing, there's also an outdoor area to chill out while you enjoy your meal.
Look out for English Premier League (EPL) screenings, and themed events such as Grill & Chill. The latter is a monthly event where you can fest on a specially curated menu BBQ menu accompanied by a movie screening.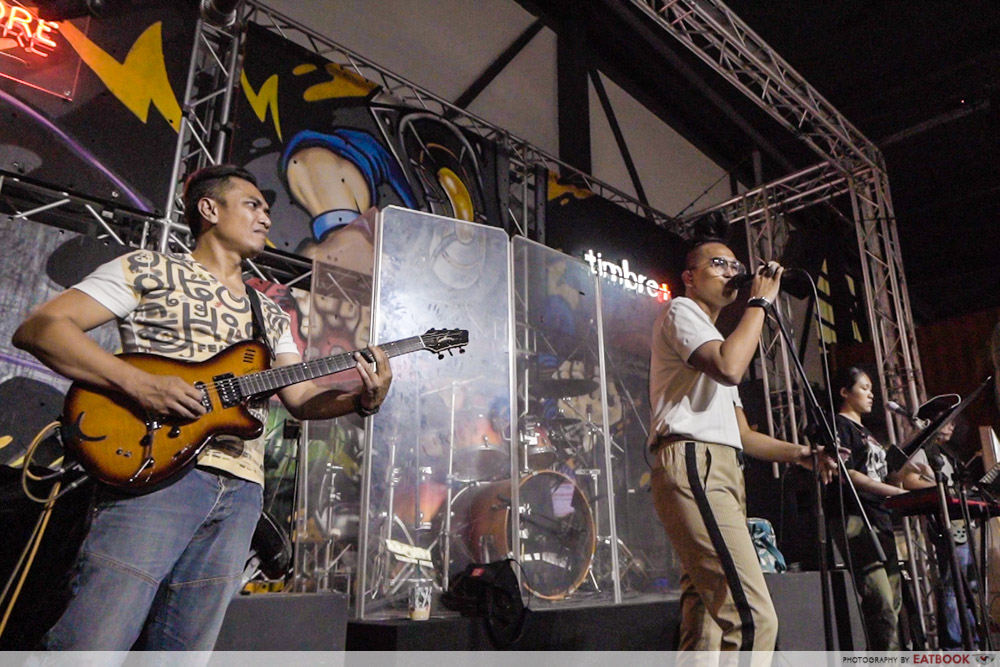 Adding on to the relaxing vibe and staying true to the Timbre tradition, you'll find live bands taking the stage daily during the evenings. Look out for The Common People on Thursday nights. The band plays up a wide range of tunes from Top 40's, rock, and party tunes from the 80s and 90s.
The verdict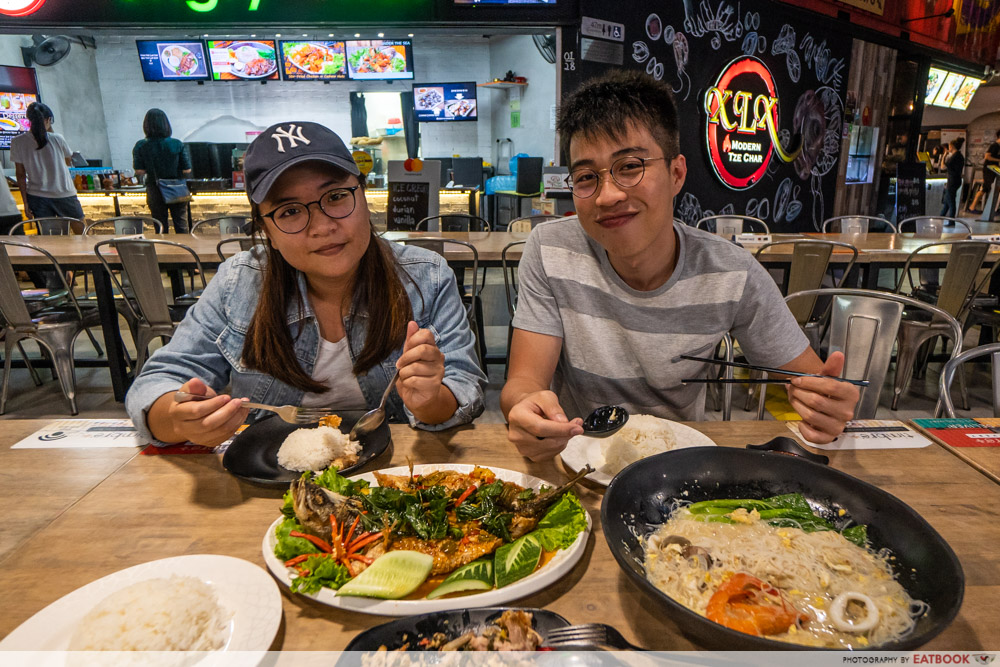 Whether your office is nearby or not, this is arguably the chillest place to be at after work. Located along the Circle Line at one-north, it's thankfully easily accessible by train. There are also plenty of parking lots available for those who are driving. With great tasting food, ample seating, and affordable booze on offer, this food park is definitely a place worth checking out.
Be sure to also download the Timbre+ app for 10% discount around the entire food park.
Address: 73A Ayer Rajah Crescent, JTC LaunchPad @ one-north, Singapore 139957
Opening hours: Mon-Thur 6am to 12am, Fri-Sat 6am to 1pm, Sun 11am to 10pm
Tel: 6252 2545
Website
Photos taken by Dexter Looi.
This post is brought to you by Timbre Group.