Gubak Kia at Timbre+

Timbre+ stands out from the surrounding concrete jungle in one-North with its graffiti murals and neon signs. This unique hawker is home to Gubak Kia, which adds a modern spin to the classic dishes from the famous Empress Place Beef Kway Teow.

Gubak Kia translates to "beef kid", and is the nickname of 24-year-old owner, John Paul Lim. Wishing to continue his father's legacy of Empress Place Beef Kway Teow, John learnt the ropes but chose to make it his own. Although he follows his father's beef soup and chilli sauce recipes closely, John lets his creative side loose with a few of his other dishes.
Food at Gubak Kia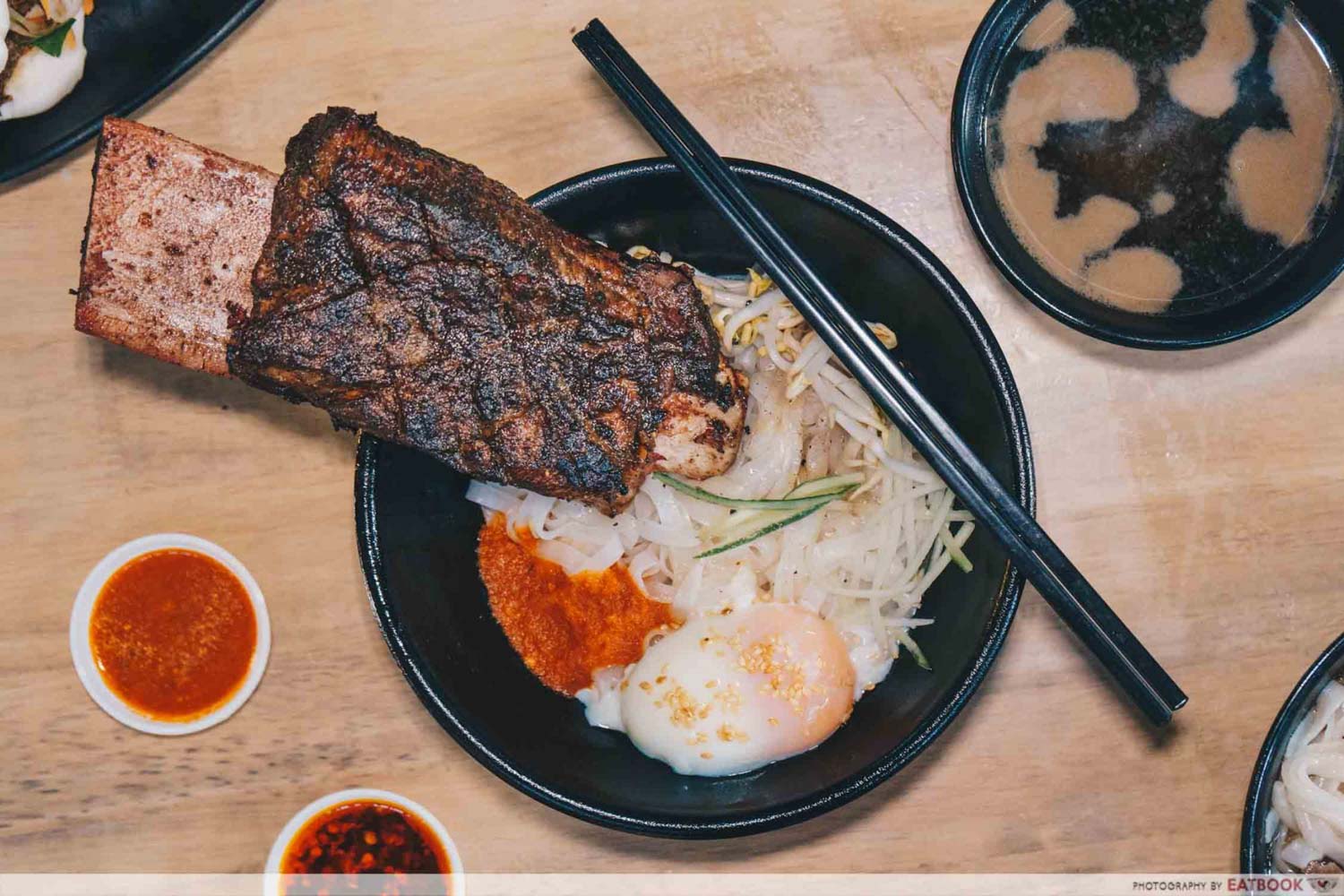 Branching out from the OG Empress Place Beef Kway Teow, Gubak Kia dishes still feature the familiar beef broth. 
What caught my eye was their Beef Short Ribs Kway Teow, which costs either $12.90 for 300g or $14.90 for 400g. As a lover of meat, I obviously went all out with the 400g rib, and I have no regrets.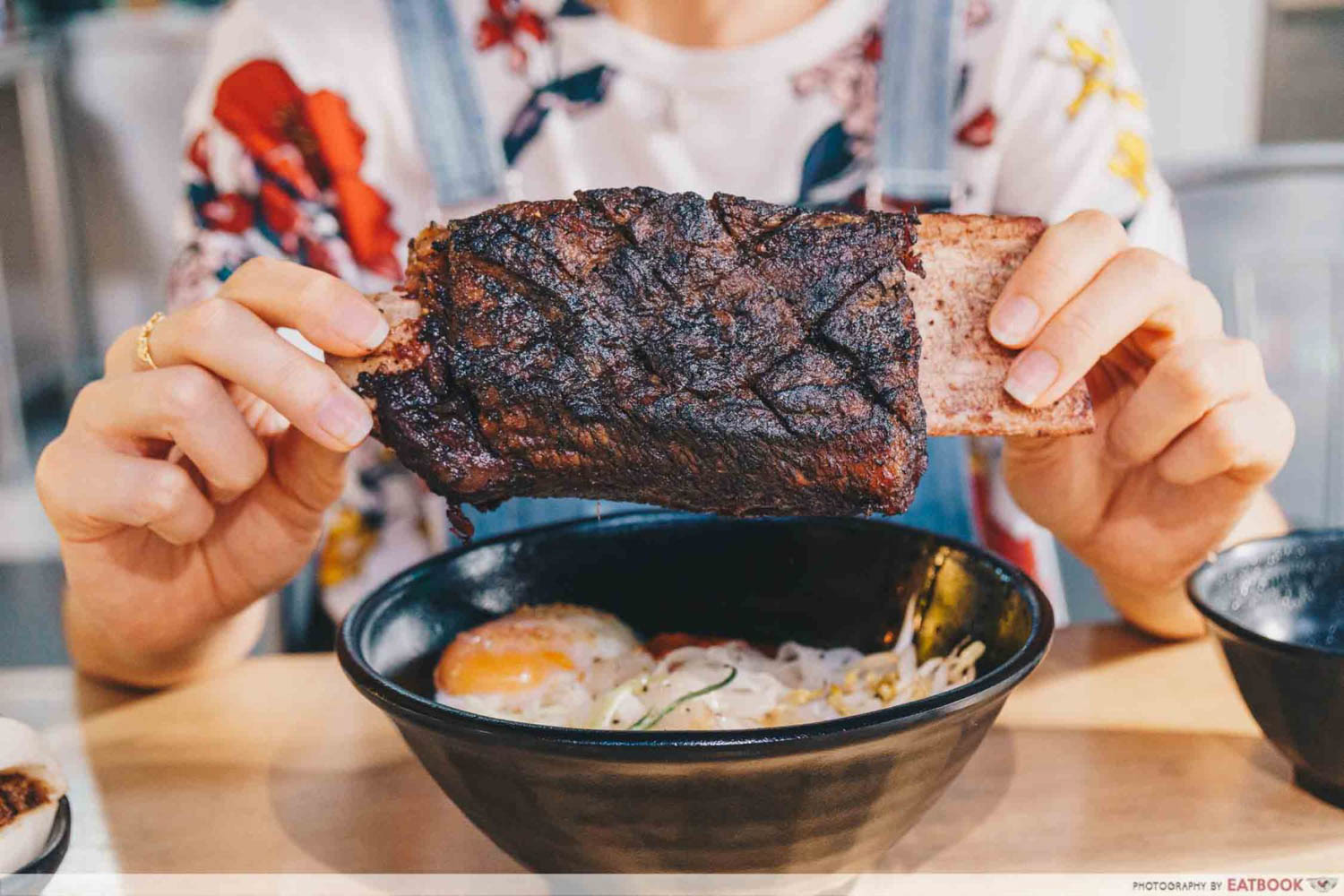 This dish is definitely a showstopper with its massive beef short rib that's almost as big as my face! Glistening in all its glory, the meat was charred and crispy on the outside. On the inside, the beef was tender and easily fell off the bone. This is all thanks to John's efforts of sous-viding the ribs for 48 hours. 

Freshly made upon each order, the beef is slathered with a concentrated marinade made from beef soup, then seared with a blow torch. This results in a smoky aroma that combines with the strong natural beef flavour to form a savoury marriage.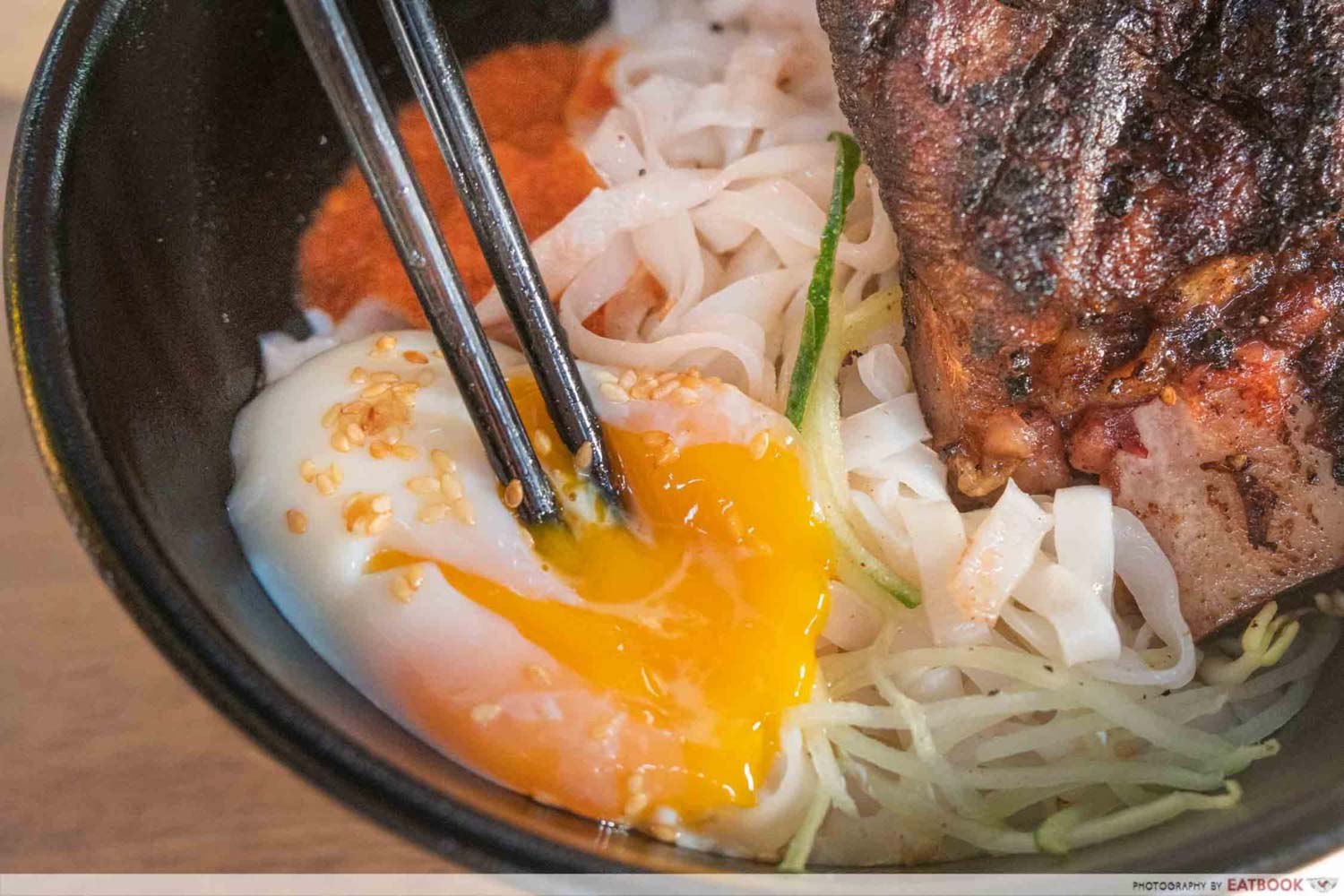 Mixing the accompanied onsen egg and chilli sauce helped to add more textures to the otherwise dry noodles. The runny egg provided creamy notes to the savoury dish, while the chilli sauce added a spicy kick. Fans of Empress Place Beef Kway Teow would be familiar with the flavours, as John kept to his father's classic chilli sauce.

Gubak Kia also serves the traditional Mixed Beef Kway Teow Soup ($7.90) featuring the original beef broth.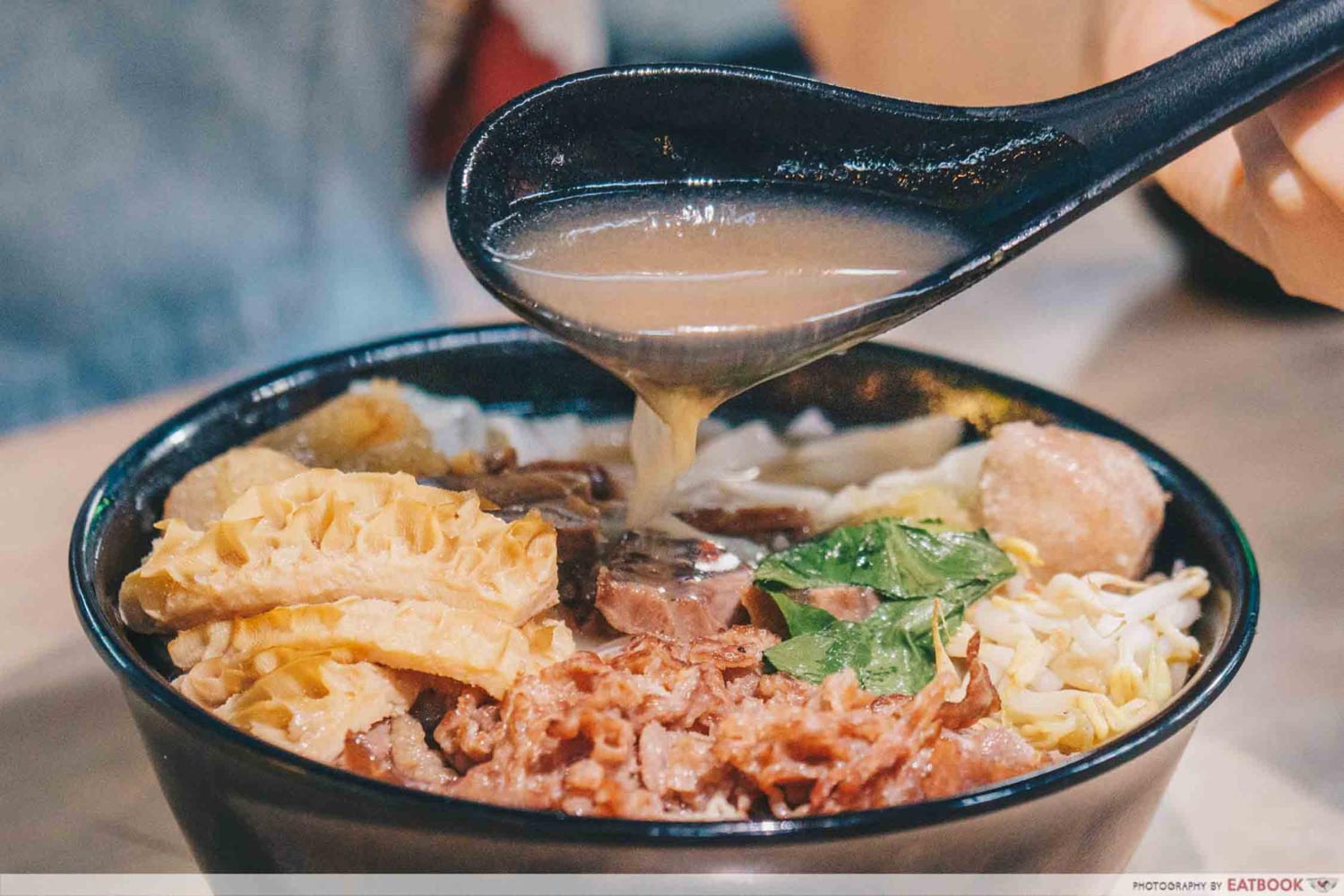 I was surprised by the lightness of the broth, as I expected it to be more heavy and gao like Thai beef noodles. However, it was still packed with robust beefy flavours. The flavours lingered on my palate, and its saltiness was addictive.

This hearty bowl of noodles comes with a generous assortment of beef. I'm not put off by innards, so I quickly reached for the tendon and tripe. The chewiness of the tripe contrasted with the tendon which melted in my mouth. The beef slices were well seasoned, and had a chewy and tender texture.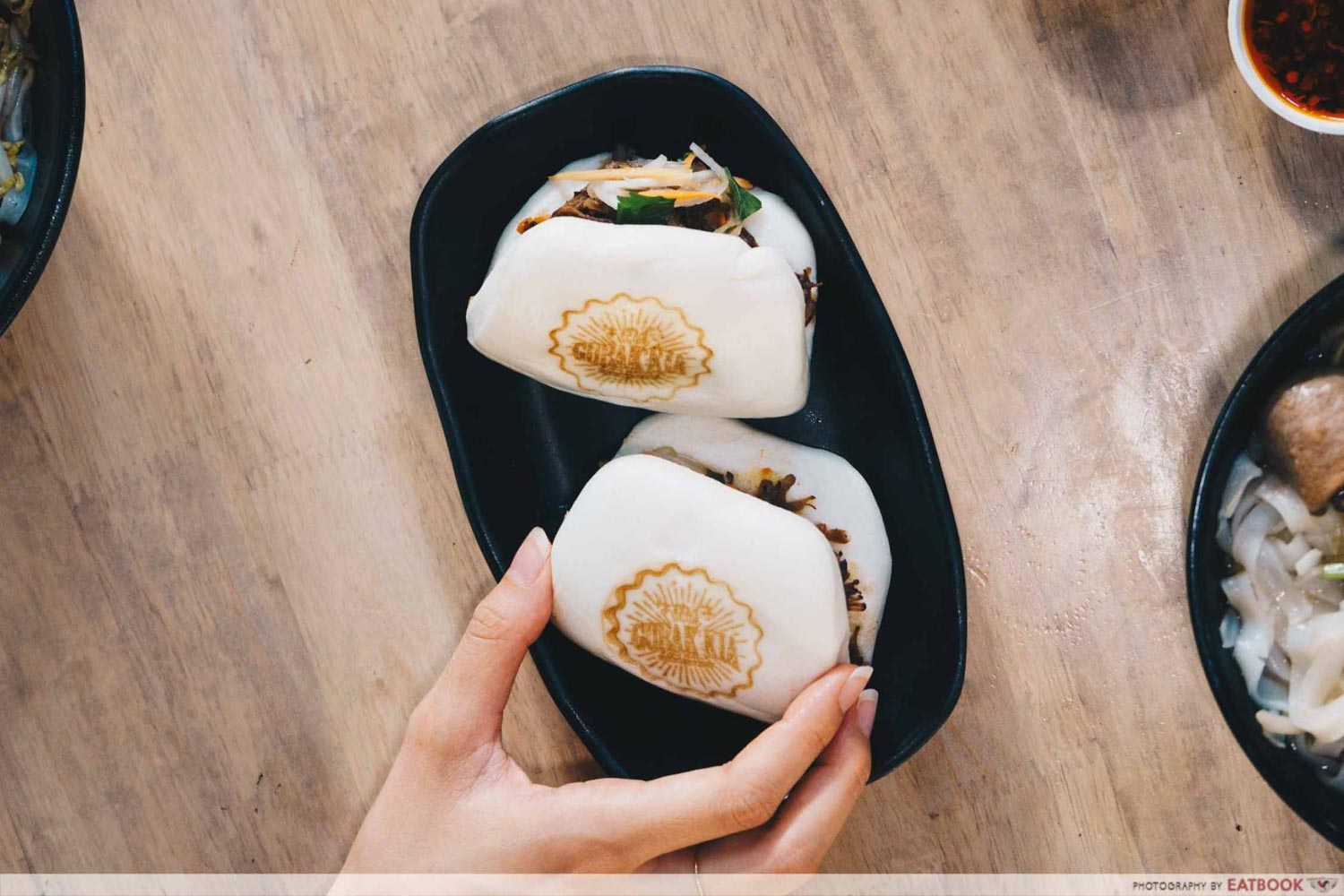 Another trick up John's sleeve is his Gubak Bao. These bao come either as a pair ($5.90) or as a trio ($6.90), and I opted to get the former. 
The bao are marked with Gubak Kia's logo, foreshadowing my stamp of approval of this dish.

As I bit into the warm and soft bun, juices oozed out from the tender and flavourful beef shreds. The pickled vegetables and achar added a refreshing tang to this savoury dish. I regret not getting the trio, as these mouthwatering bao left me wanting more.
Ambience at Gubak Kia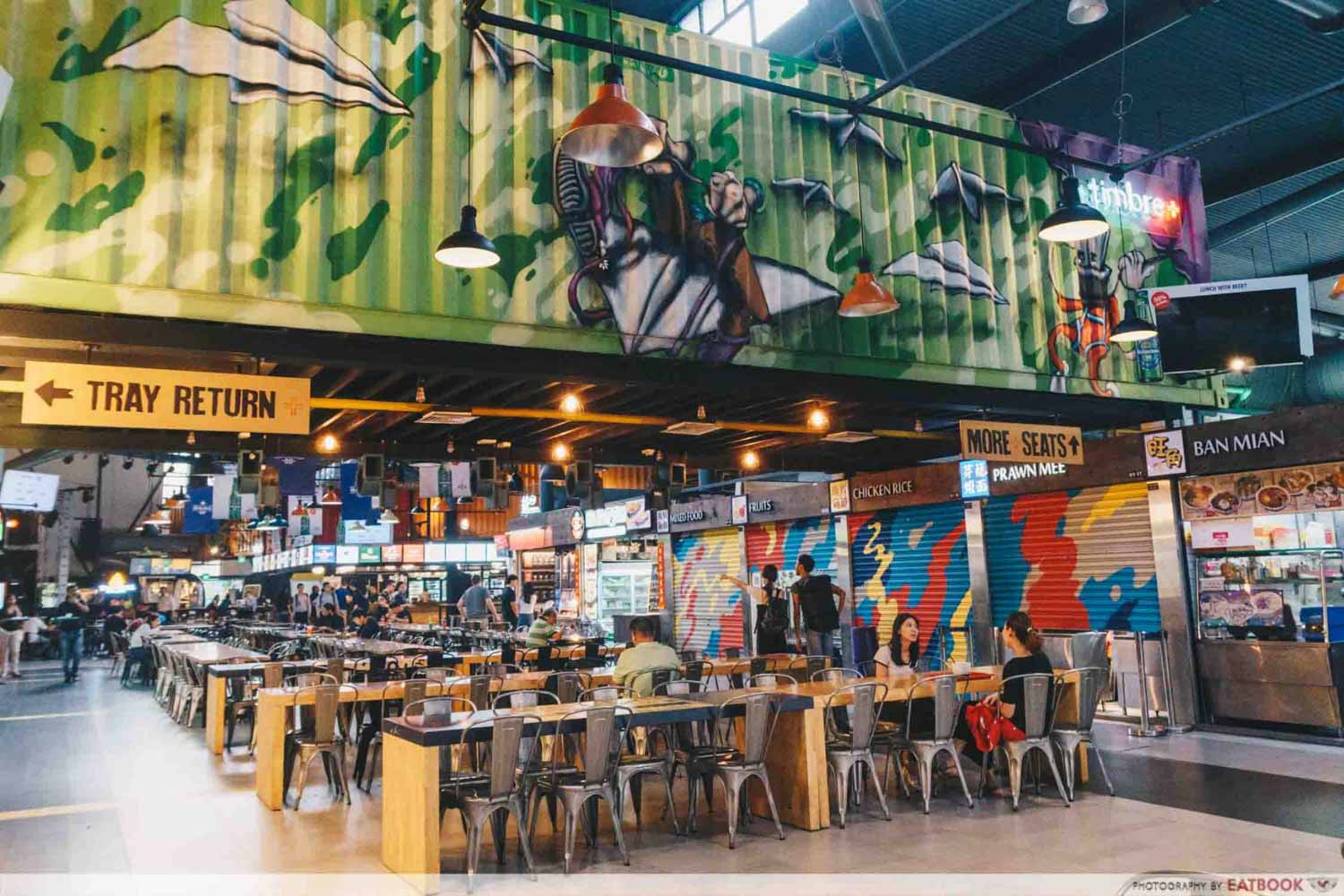 From live band music to graffiti murals adorning the complex, Timbre+ is not your average hawker centre. You won't find yourself sweating buckets in this cooling and windy food park. Even with the lunch crowd from neighbouring offices, you don't need to worry about fighting over seats, as there are plenty of long communal tables around.
The verdict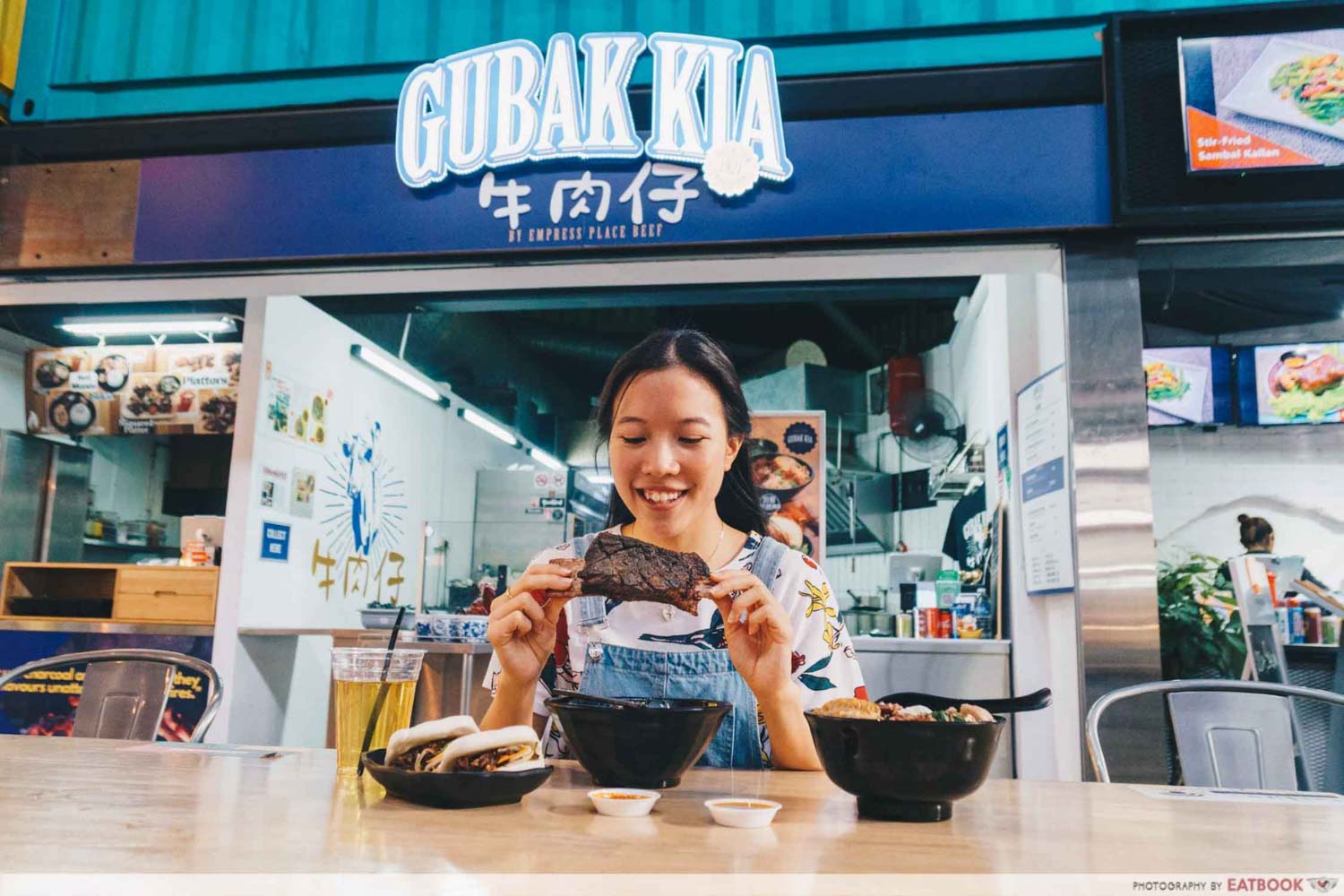 Timbre+ may be out of the way for those not working in the surrounding business park, but there is a certain charm to this food park that makes you want to travel down. Just a short walk from one-North MRT Station and you'll have access to chill vibes and wallet-friendly grub. I would head back down to unwind from work, with a bottle of beer in hand and beef rib in the other. 
If you're planning a trip to Timbre+, check out our full reviews of other stalls such as YEAH Taiwanese and Nsquared Barbecue!
Address: 73 Ayer Rajah Crescent, Stall 27B, Timbre+, Singapore 139957
Opening hours: Mon-Fri 11am to 10pm, Sat 5pm to 10pm
Tel: 8782 0936
Website
Gubak Kia is not a halal-certified eatery.
Photos taken by Danny Ko.
This is an independent review by Eatbook.sg.
Summary
Pros
– Generous portions of beef
– Flavour-packed Gubak Bao
– Value for money
Cons
– Slightly pricey for hawker fare
Recommended dishes: Beef Short Ribs Kway Teow ($14.90), Gubak Bao ($5.90)
Opening hours: Mon-Fri 11am to 10pm, Sat 5pm to 10pm
Address: 73 Ayer Rajah Crescent, Stall 27B, Timbre+, Singapore 139957