Nsquared Barbecue is all about charcoal grilling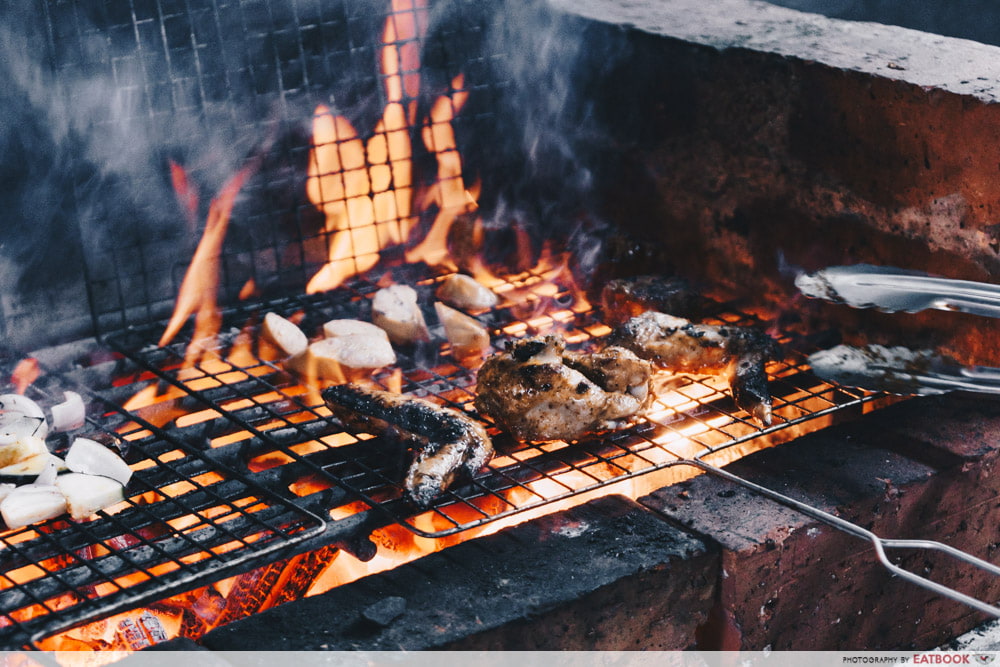 What comes to your mind when you think of barbecue? Overcooked chicken franks and undercooked chicken wings at a chalet? The atas lot may say the one-Michelin-starred Burnt Ends, but for Nsquared Barbecue's co-owner Nick, it's his fire pit in the heart of One-north's Timbre+.
It's no easy feat for the young cook. Charcoal fires are notoriously difficult to handle—temperamental even. Couple that with the quick service styles of hawkers, the pressure for him is real. More so since they've just recently opened.
Yet, the impassioned gentleman is unfazed by the challenges. He brushes off the specks of ash on his cheeks as he speaks of his passion: the excitement of fire, flavour of charcoal and positive comments he has received.
Food at Nsquared Barbecue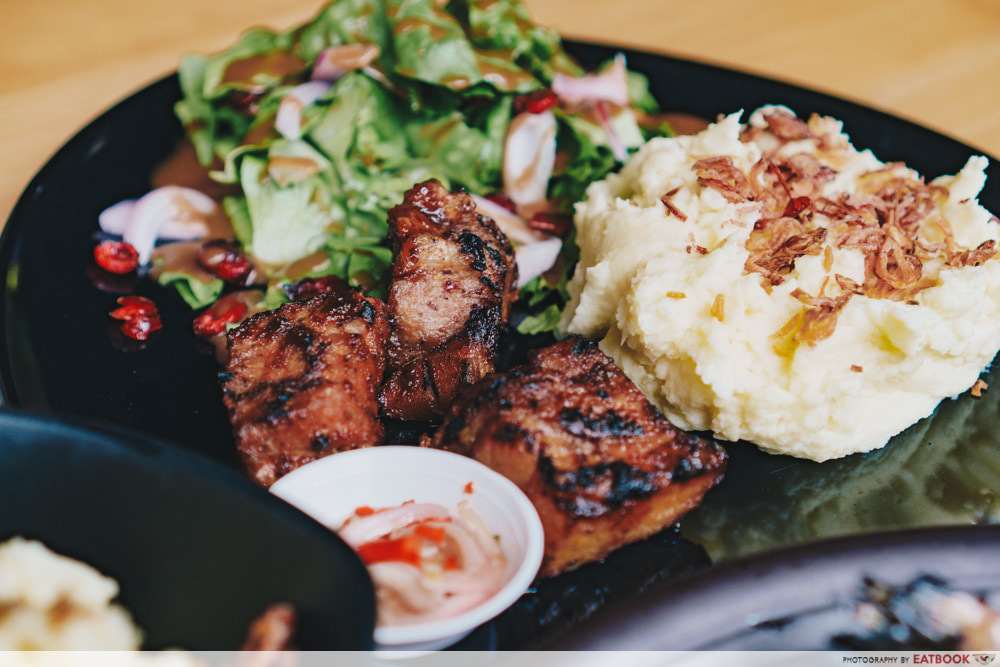 We ordered the Pork Belly Burnt Ends ($5.50) with Garlic Butter Mash and Honey Balsamic Romaine ($3). It looked stunning with its contrasting colours—gnarly bits of blackened pork belly were juxtaposed against flashes of green and red salad.
The barbecued pork's aroma was equally tantalising. It gave a profoundly smokey musk that dispersed into a sort of porky perfume.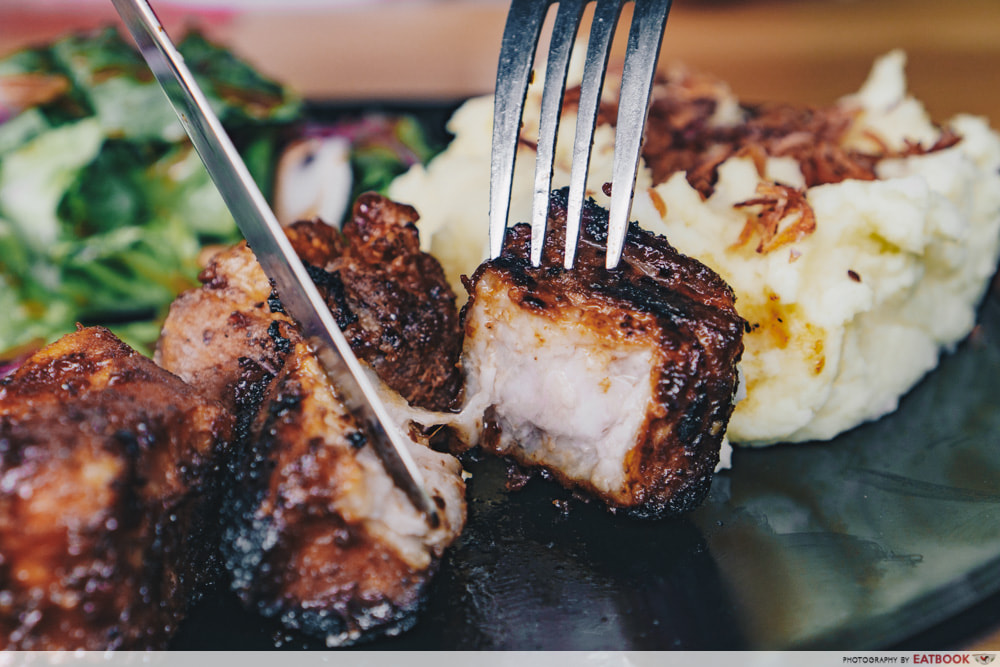 Its taste was so much more enticing. There was a sweet barbecue marinade which, under the flames, caramelised into a gooey crust. It packed a subtle sweet tanginess that riled my appetite.
Then came an onslaught of smokiness. Biting into the charred bits breathed out a plume of charred flavours. It complemented the porkiness and marinade unexpectedly well, in the same way that the charred bits in claypot rice elevate the dish.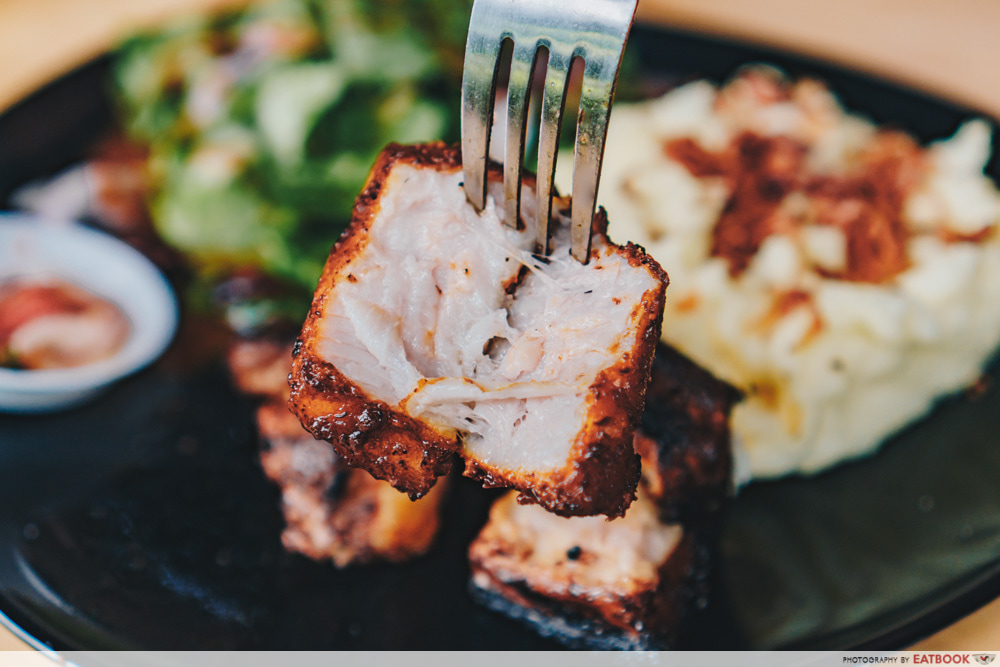 Because of how developed the flavours were, I was rather disappointed that its texture did not live up to expectations. While the fats were rendered to a velvety smoothness, the chunks of meat were chewy.
Perhaps pork belly isn't the best cut for such intense heat. A slow braise followed by a quick scorch on the grill may see better improvements in texture.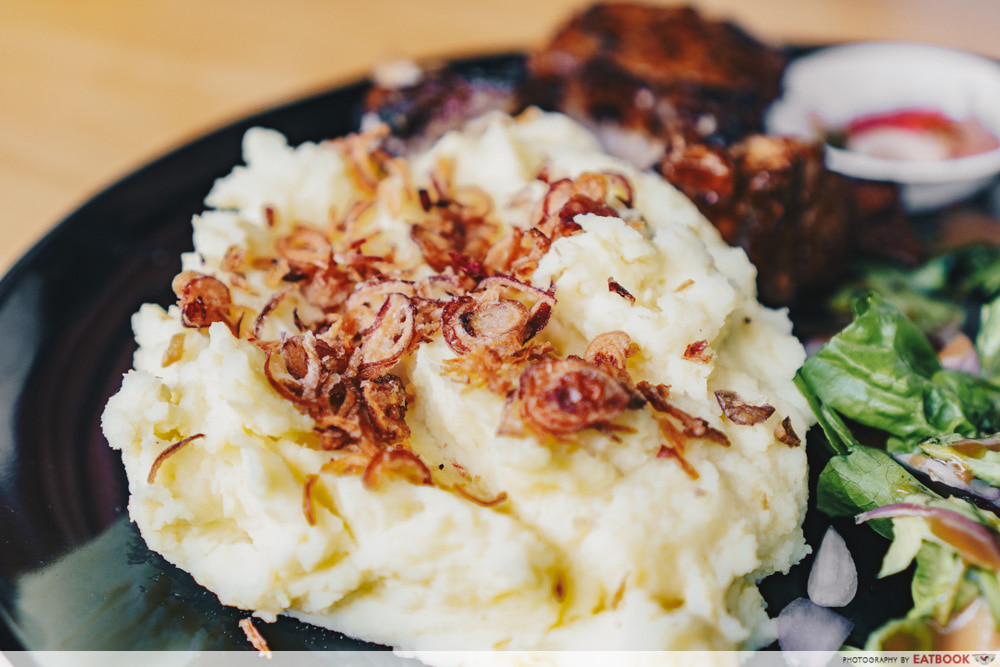 My dining companion and I were impressed by the Creamy Garlic Mash ($1.50). Though velvety, there were still small chunks of potato that reminded me that I was eating real potatoes. It was also well seasoned with garlic and herbs, accentuating the potato's natural flavour.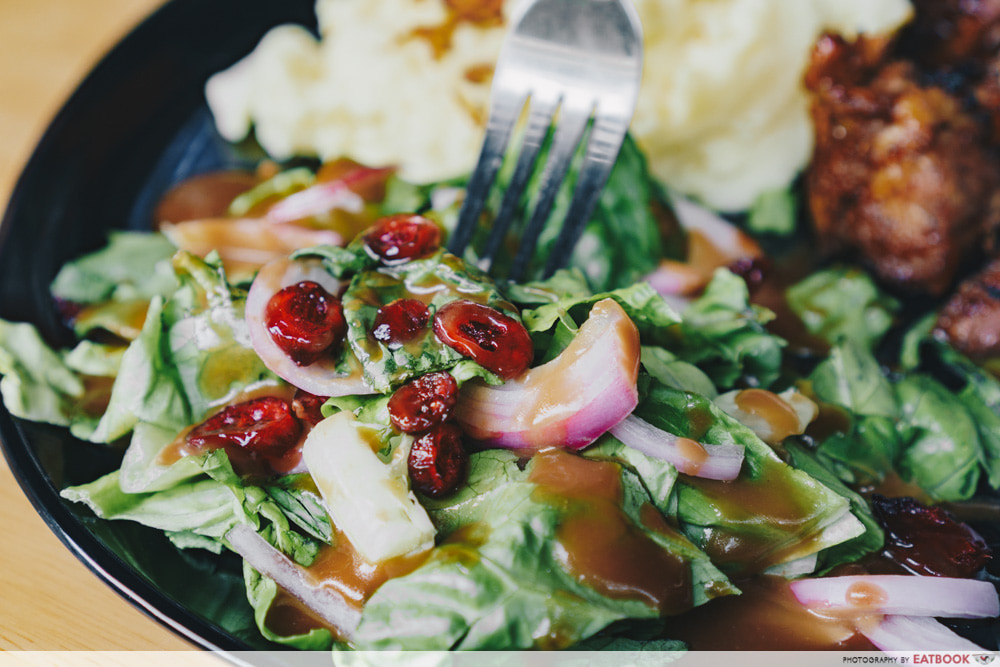 The Honey Balsamic Romaine was less successful. Its vinaigrette had a cloying sweetness that lacked tartness from the balsamic vinegar. I imagine a wedge of lemon would freshen up and improve the salad so much more.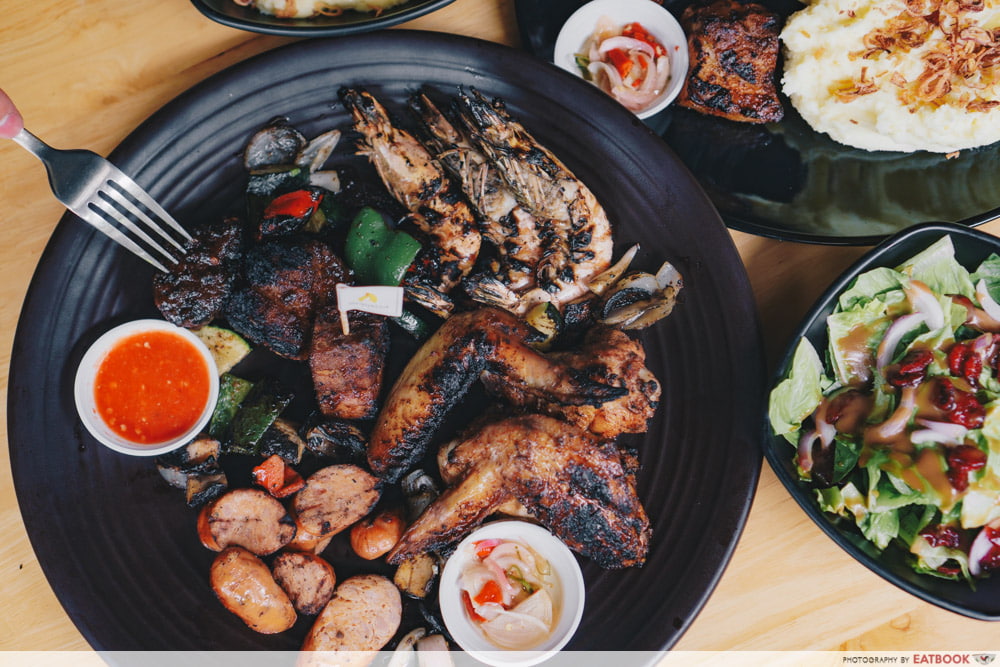 The Nsquared platter ($19.90) was hefty with a giant mound of meat. Had we known there was so much food, we would not have added on the Pork & Garlic ($3) smoked sausage.
It came with grilled prawns, chicken wings, pork belly and grilled vegetables—all charred to an obsidian black. My grandmother would have been enraged by the amount of char.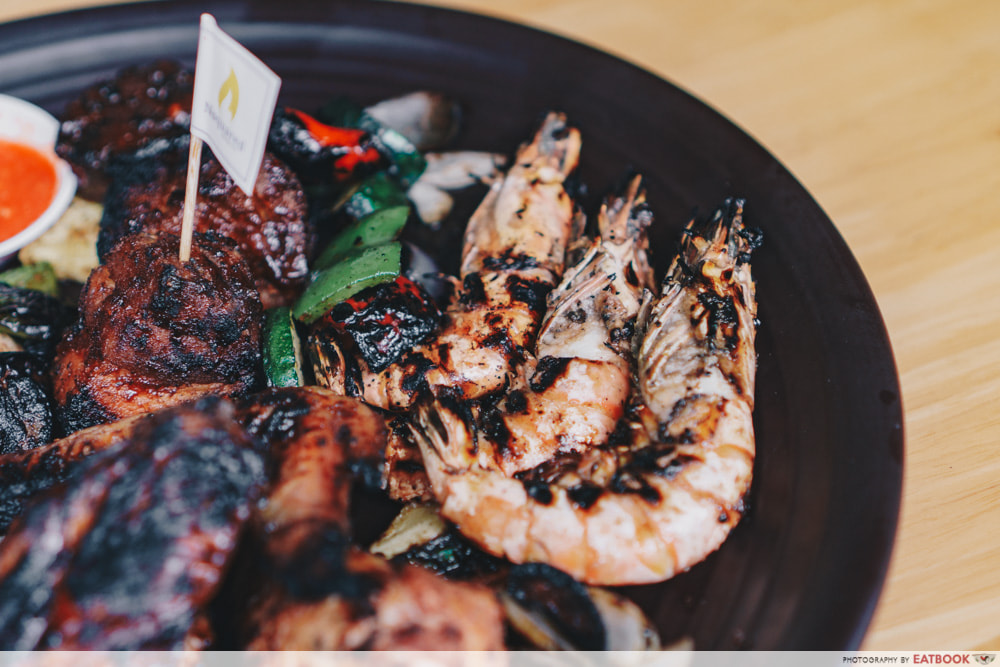 The prawns were grilled to a greyish discolour, with streaks of black grill marks. De-shelling it was somewhat easy as the flesh had separated from its shell. But that also meant the shellfish had been overcooked, which unfortunately showed in its texture.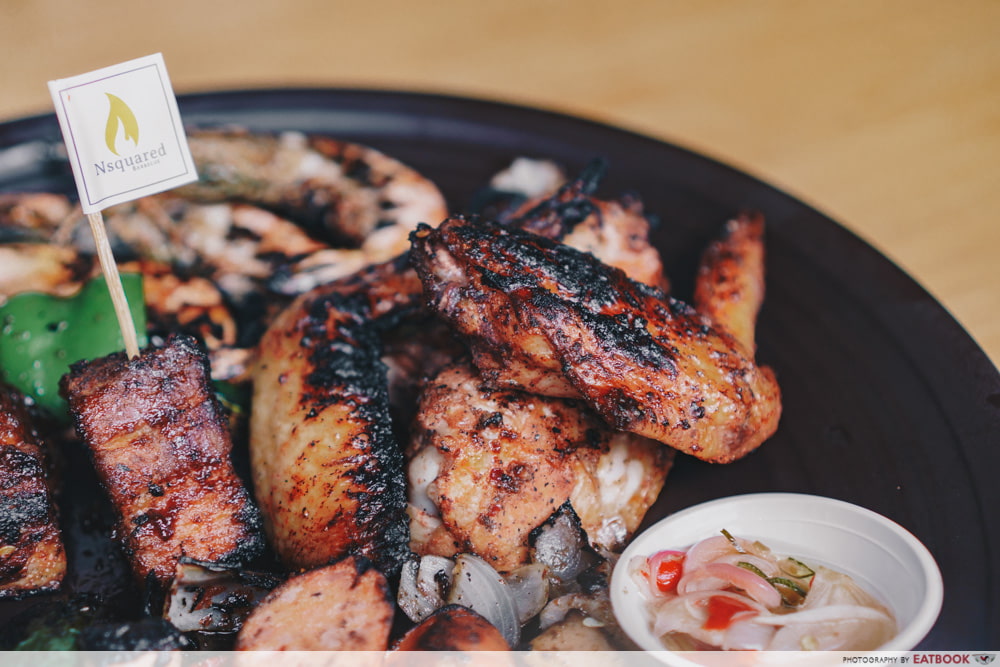 Ironically, the chicken wings were undercooked. Most restaurants throw them in the oven before grilling them on the fire pit to ensure everything's well-cooked; perhaps Nsquared could consider this.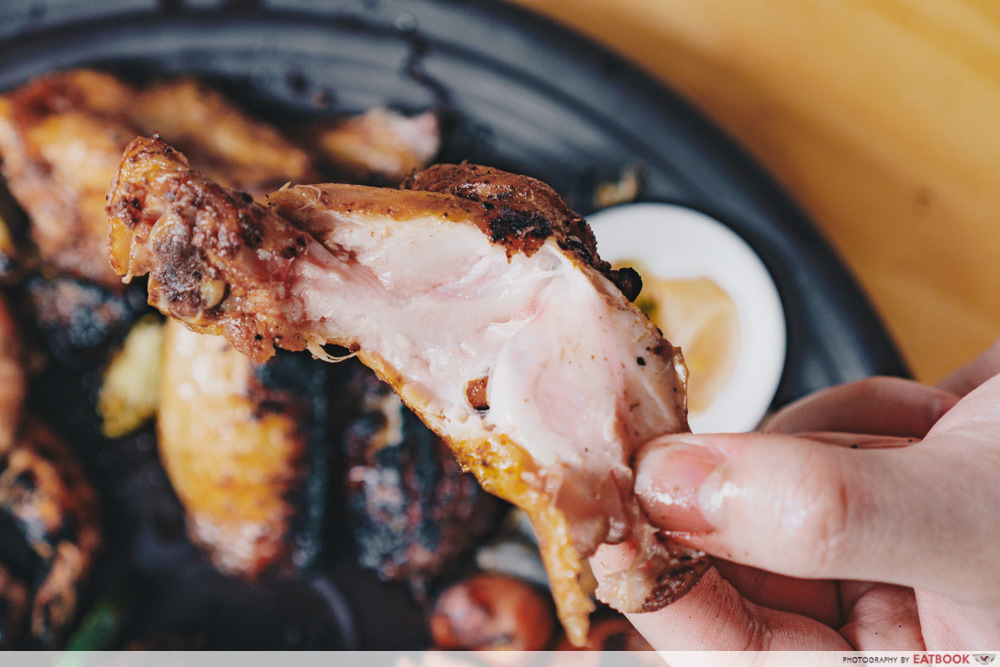 That being said, I sampled some parts on the outside, and the taste was commendable. It had a familiar taste of hawker-style barbecued chicken, with an elevated layer of savouriness from the marinade. I also enjoyed the creeping heat that gave a nice kick. If not for the undercooked parts, this would have been a killer dish.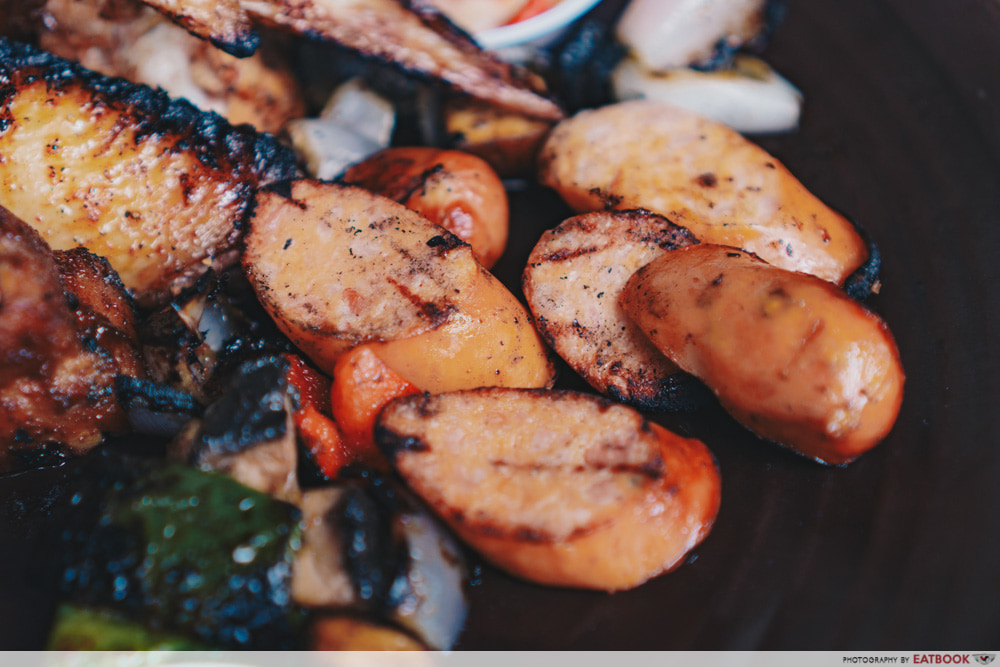 The Pork & Garlic smoked sausages were more remarkable. They were well seasoned with garlic and herbs, complementing the porky flavours. I also enjoyed the crunch of its casing. It snapped in the mouth, revealing a soft and smooth centre.
Ambience at Nsquared Barbecue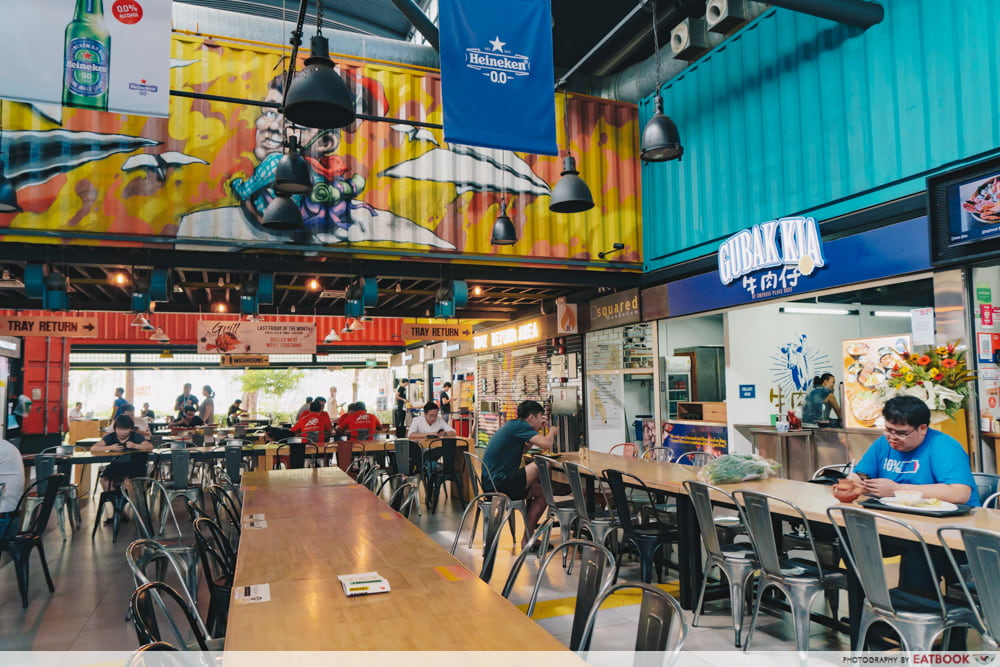 I would recommend coming here at night. The live band sings daily in the evening with a repertoire that ranges from oldies to the newest indie songs. You can even grab a craft beer from their Bottle Shop and chill at their al fresco area as you are being serenaded.
It's also worth mentioning that most of the seating here is long communal tables, so you'll probably be rubbing shoulders with tons of strangers here.
The verdict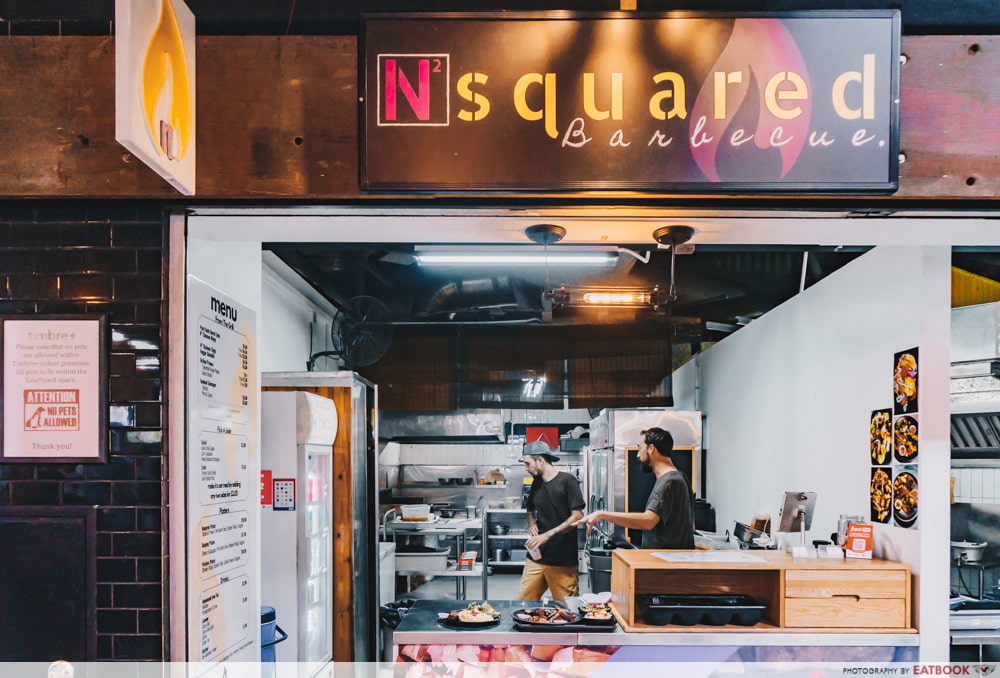 Barbecuing is a complex technique that is not easily mastered. I remember being sorely disappointed by Meatsmith Western BBQ when it first opened, but was greatly impressed on my second visit. I hope the next time I visit Nsquared, the mastery of the grill will be better.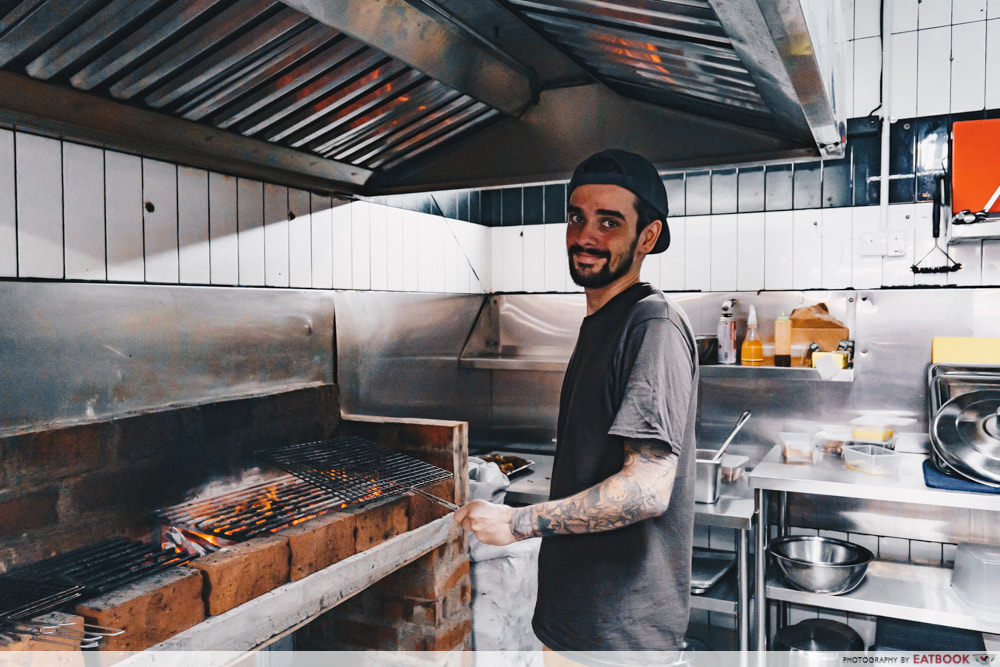 To me, barbecue is a primal experience. It's all about the quality of ingredients, prep work and control of fire. There are no fanciful French techniques to hide behind—only unadulterated experience, planning and skilful execution.
For those who are heading down, check out other must-try dishes at Timbre+:
Timbre+ Review: Massive Food Park With Tasty Eats, Cheap Craft Beer And Live Music For After-Work Hangs
Address: 73A Ayer Rajah Crescent, Timbre+, Singapore 139957
Opening hours: Daily 11am to 10pm
Website
Nsquared Barbecue is not a halal-certified eatery.
Photos taken by Adria Tham.
This is an independent review by Eatbook.sg.
Summary
Pros
– Meats are seasoned well
Cons
– Slightly pricey for hawker fare
– Chef's mastery of the grill is not yet there
Recommended dishes: Pork Belly Burnt Ends ($5.50), Garlic Mash ($1.50)
Opening hours: Daily 11am to 10pm
Address: 73A Ayer Rajah Crescent, Timbre+, Singapore 139957