Meatsmith Western BBQ at Gluttons By The Bay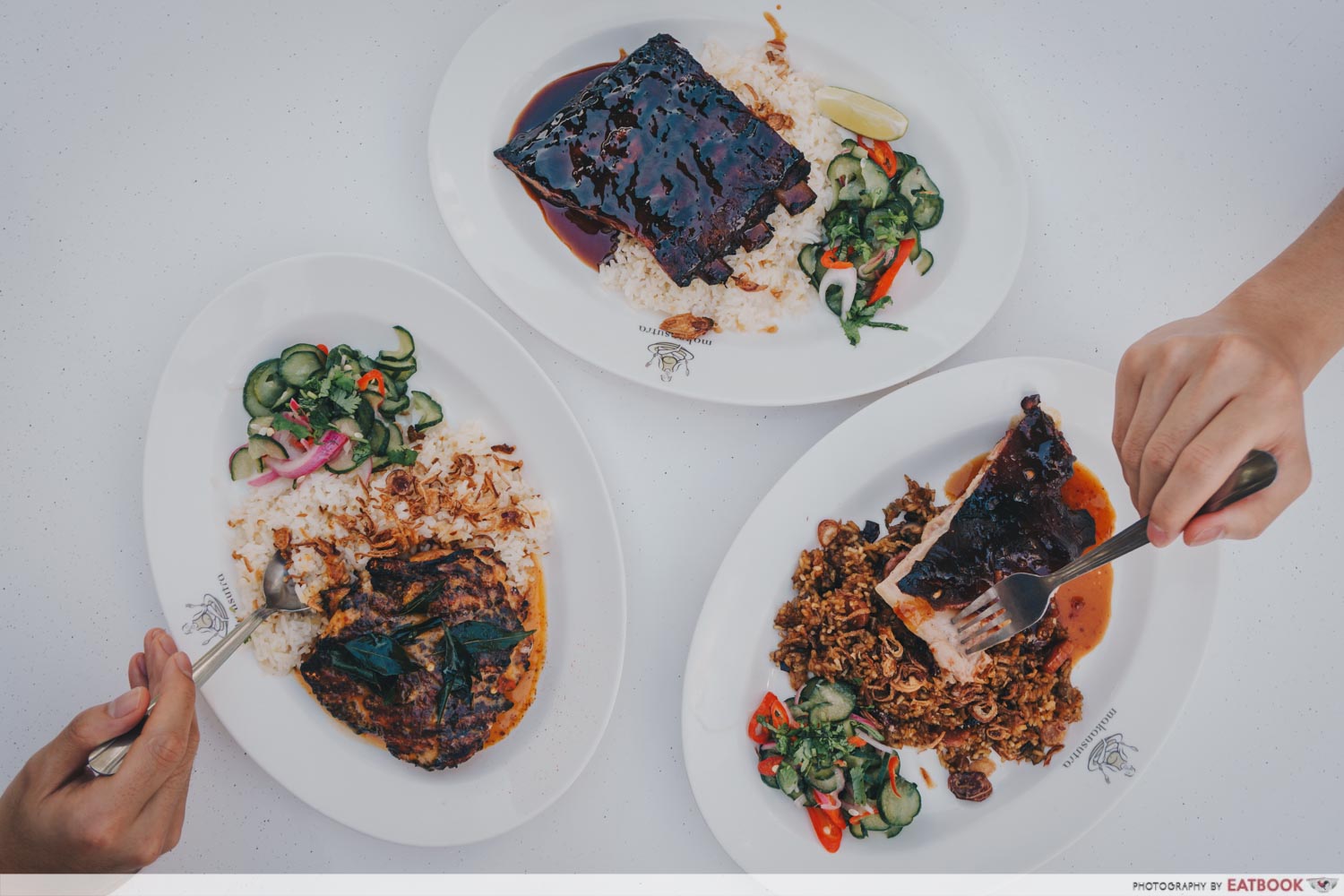 I first visited Meatsmith Western BBQ when it opened a few weeks ago. The ribs I ordered were dry and dull, reminiscent of lacklustre char siew that wonton noodle stalls typically serve. I would imagine that the chef's inexperience at their new grill played some part to that disappointing meal.
This recent trip, however, was utterly different. How much the chefs have improved and adapted left me in awe. The food was great.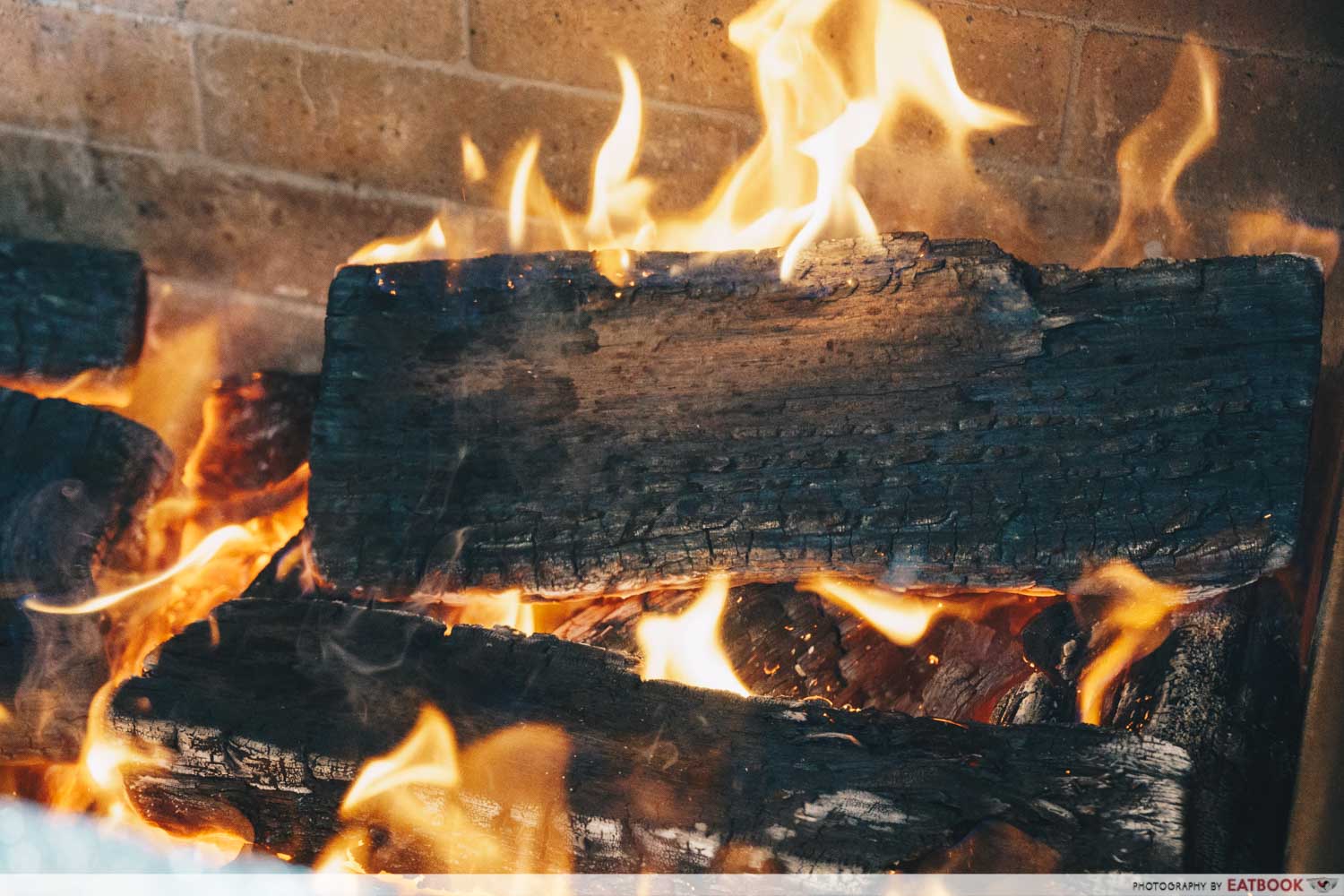 It's crazy and revolutionary that any hawker stall would have it, but the geniuses behind this stall custom-built a fire grill.
Having one of these fire grills is a poisoned chalice. The simplest of meats, for instance, can turn so terribly wrong with the improper handling of heat. Yet, with the correct technique, the most mundane of meats can spring to life. This recent meal showcased a masterful usage of their sexy new grill.
Food at Meatsmith Western BBQ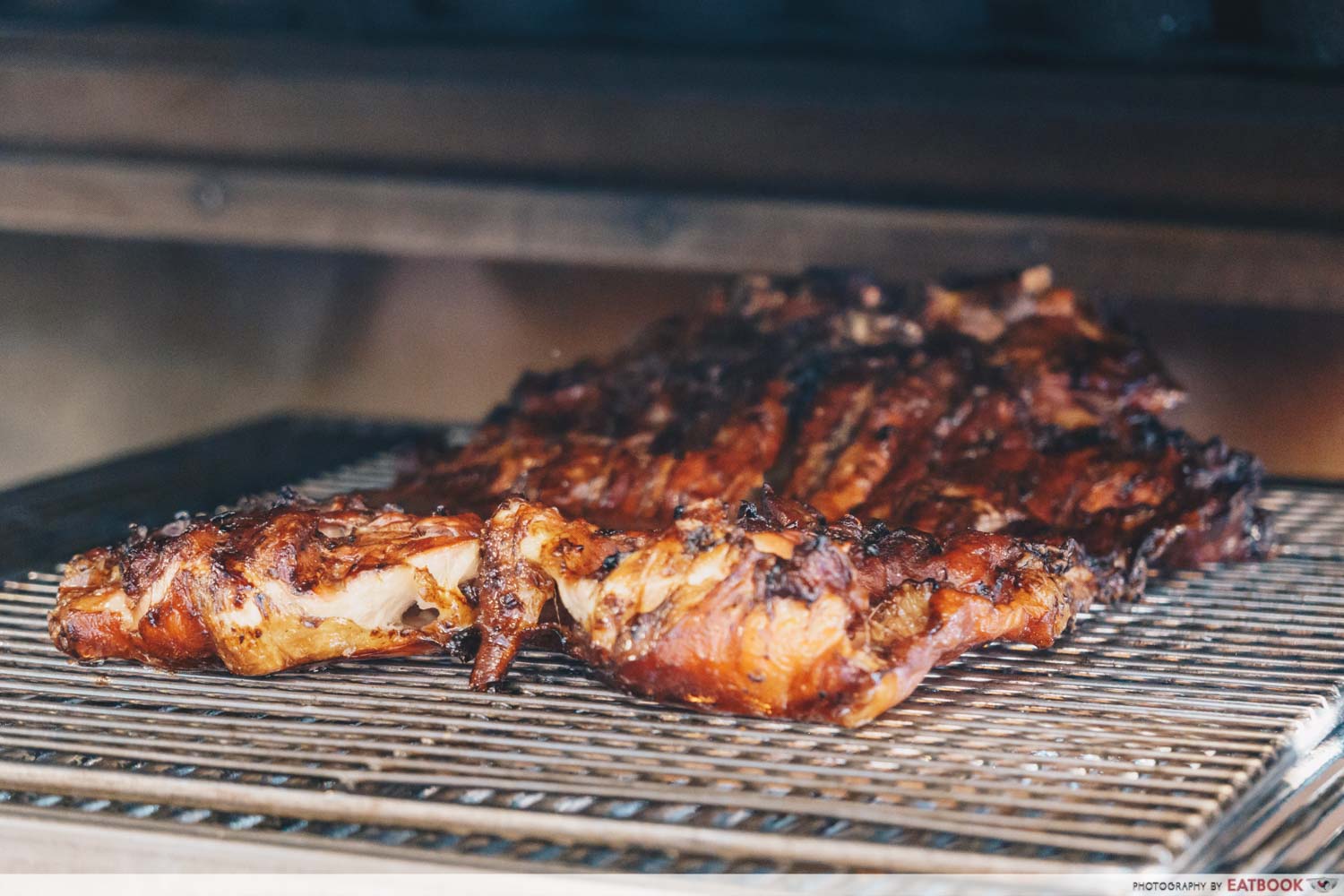 The approach of this hawker is mostly similar to the owner's Michelin-starred restaurant — Burnt Ends. All their red meats are smoked and flame-grilled. This produces a subtle smoky flavour that adds depth.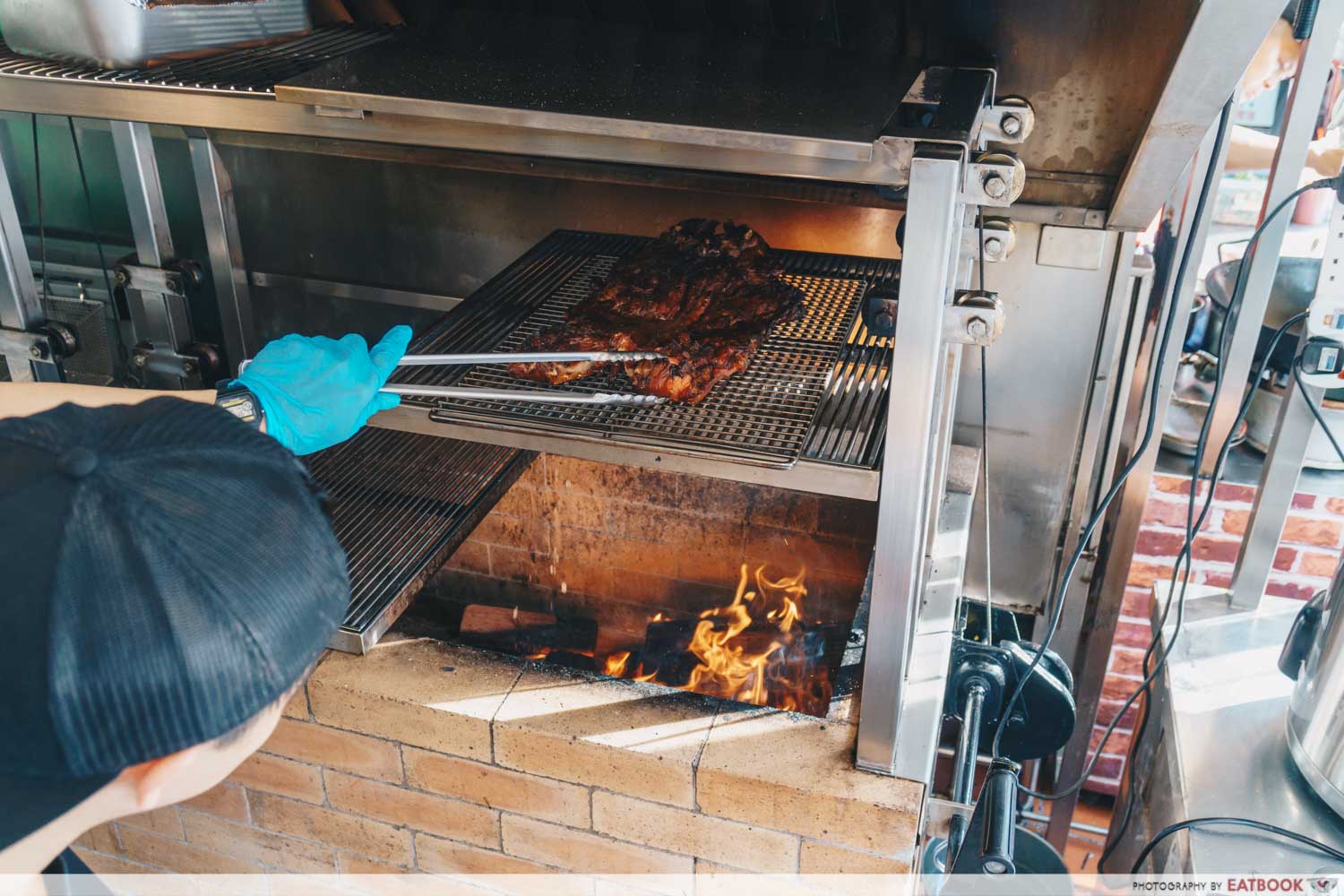 Having been to Burnt Ends, I would say that the food here is comparable. The quality of ingredients is really emphasised here. The pigs, for example, are sourced from a free-range farm in Australia.
The food was also aesthetically plated, defying your archetypal hawker food styling.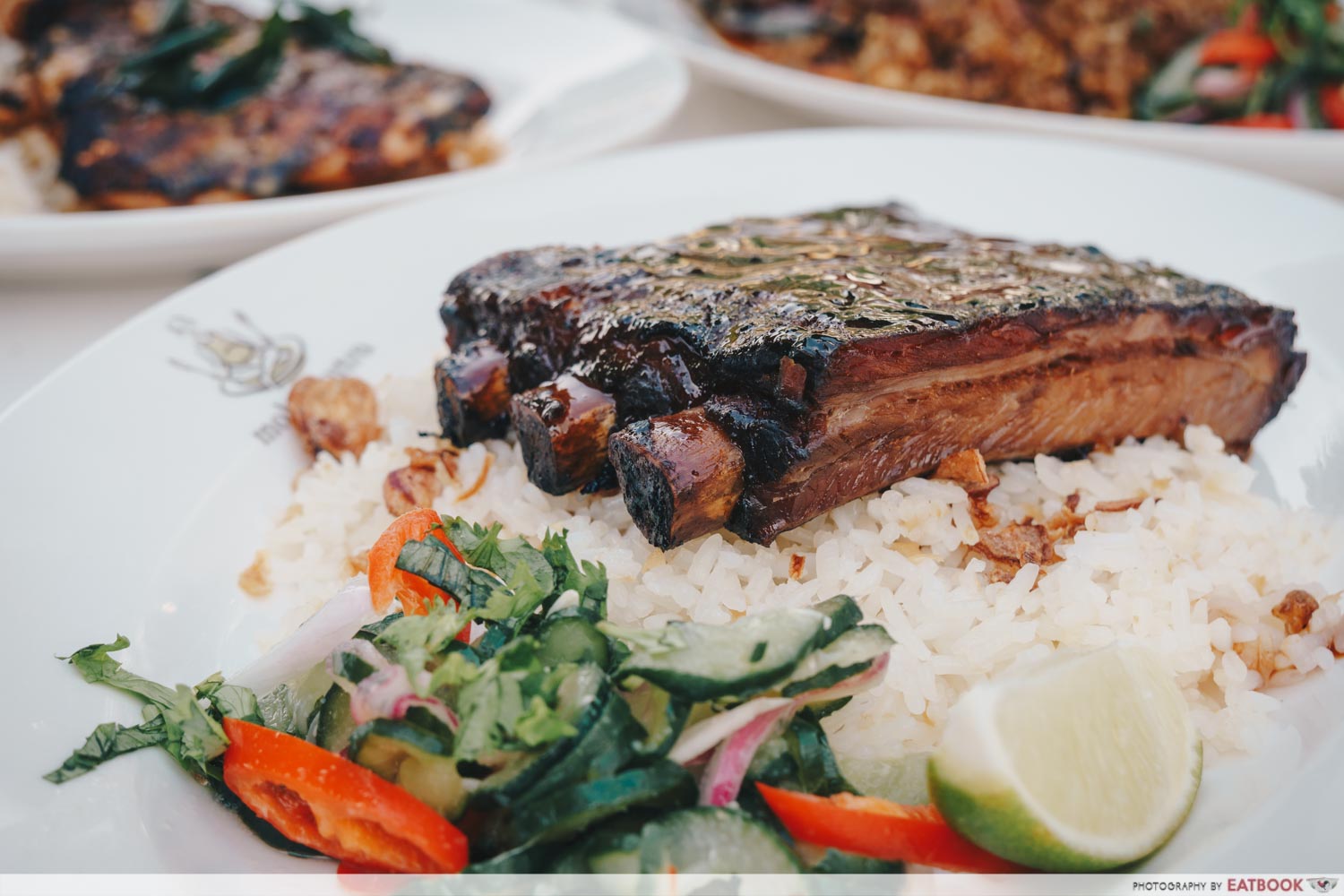 The Smoked Char Siew Pork Ribs ($10) was the first thing I tried. Reasonably priced, the ribs were unreasonably good.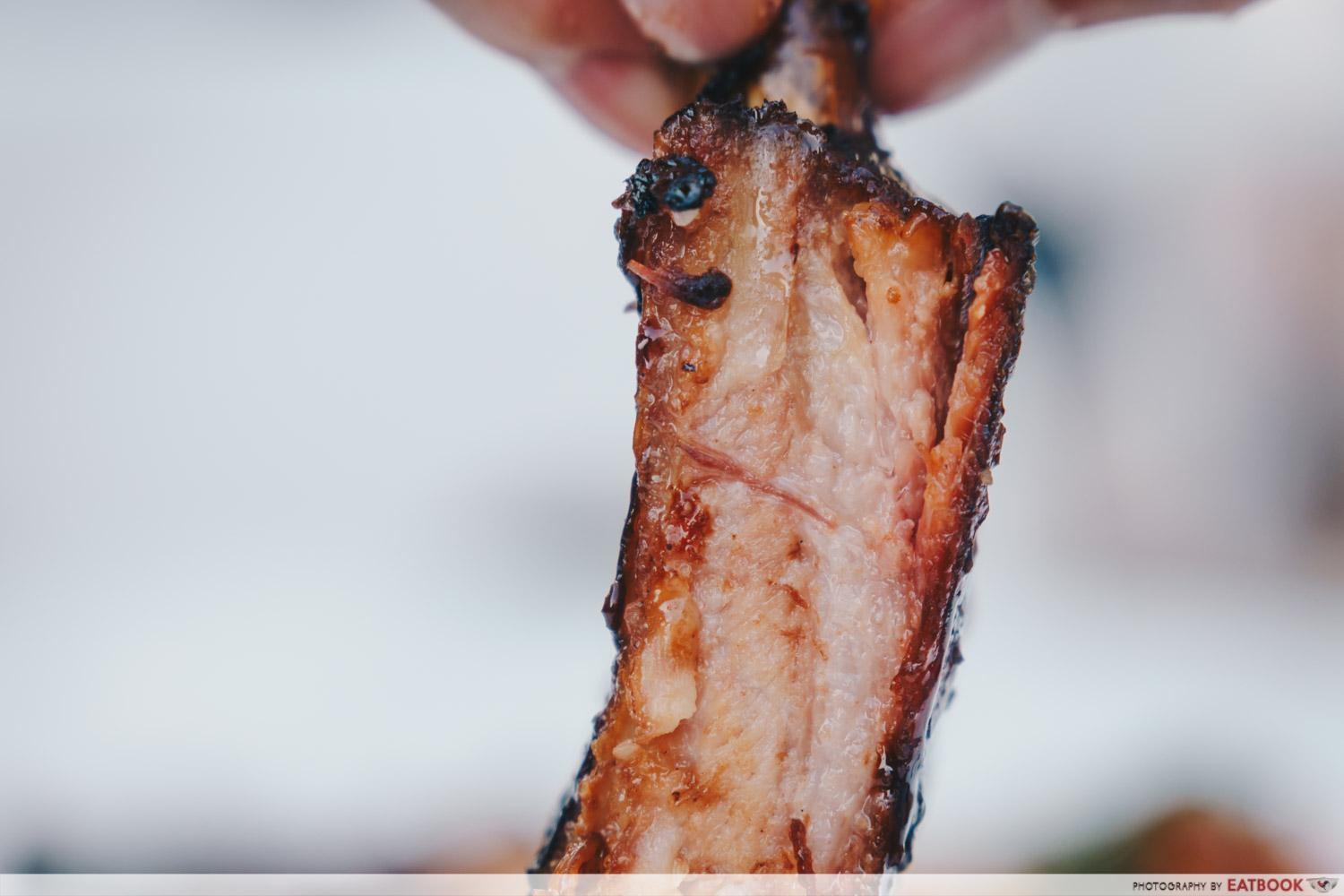 I am in love with the fall-off-the-bone tender ribs. Tastefully prepared with a dry rub, the ribs are finished with a douse of mouth-watering hoisin sauce that is made from specially fermented beancurd.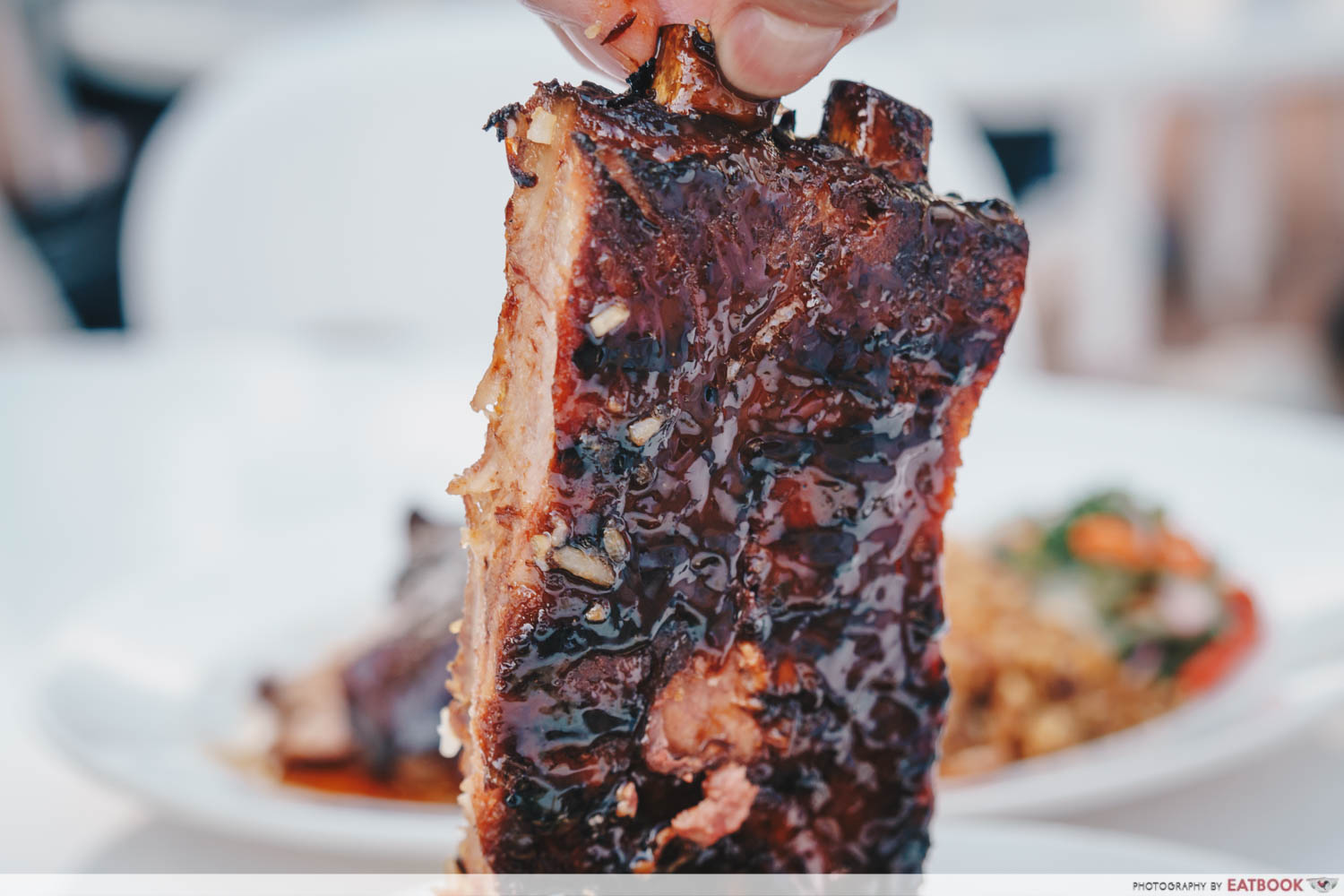 Let's take a moment to appreciate the sheen of meat juices oozing out of its caramelised crust. The crust gives the otherwise melt-in-your-mouth ribs an elevated texture. It's like icing to the cake — if I may.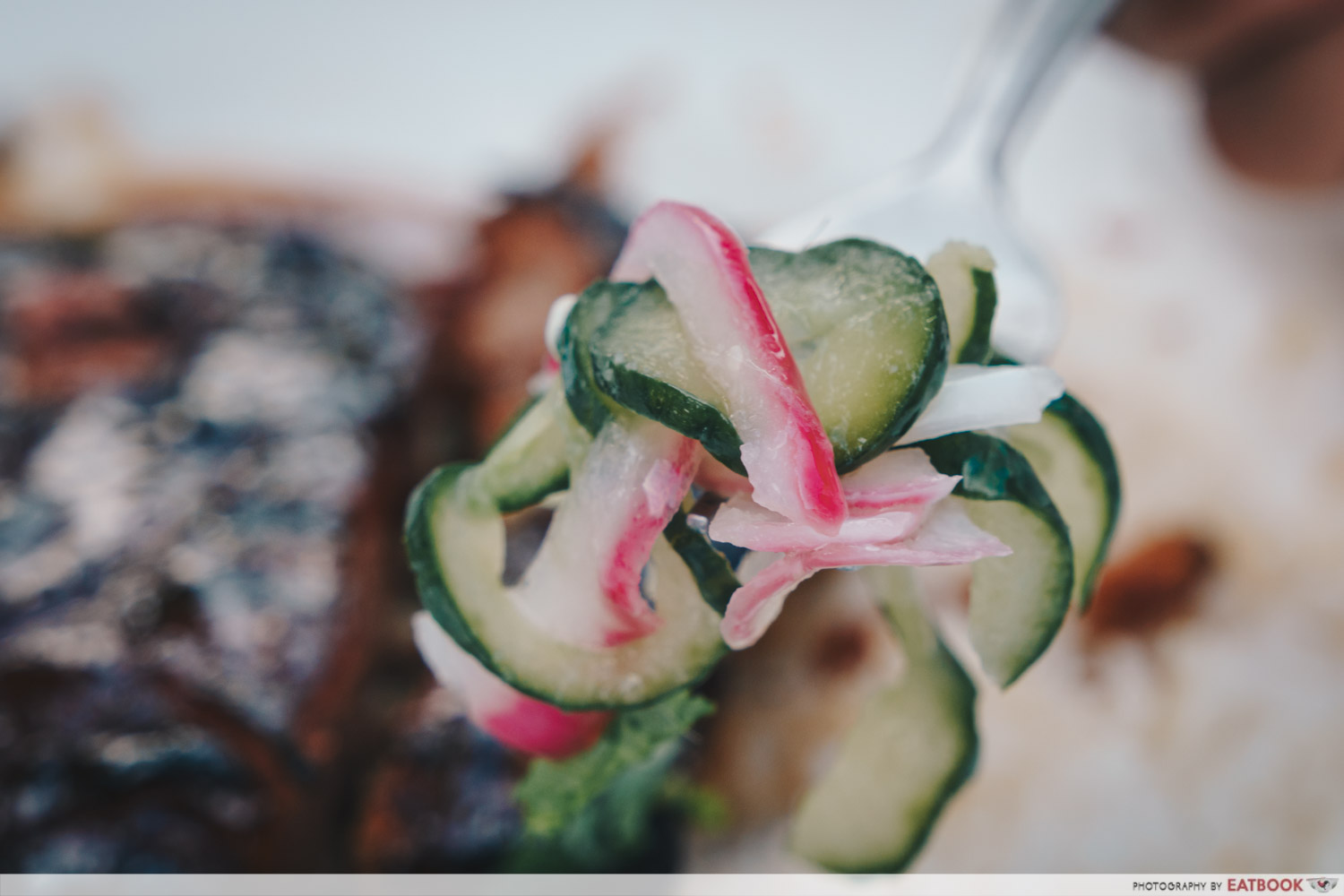 This pickle not only looks colourful and pretty, but the acidity from its marinade — rice vinegar and sesame oil — cuts through fat and grease. Light and refreshing, it provides a quick respite from the hearty and heavy ribs.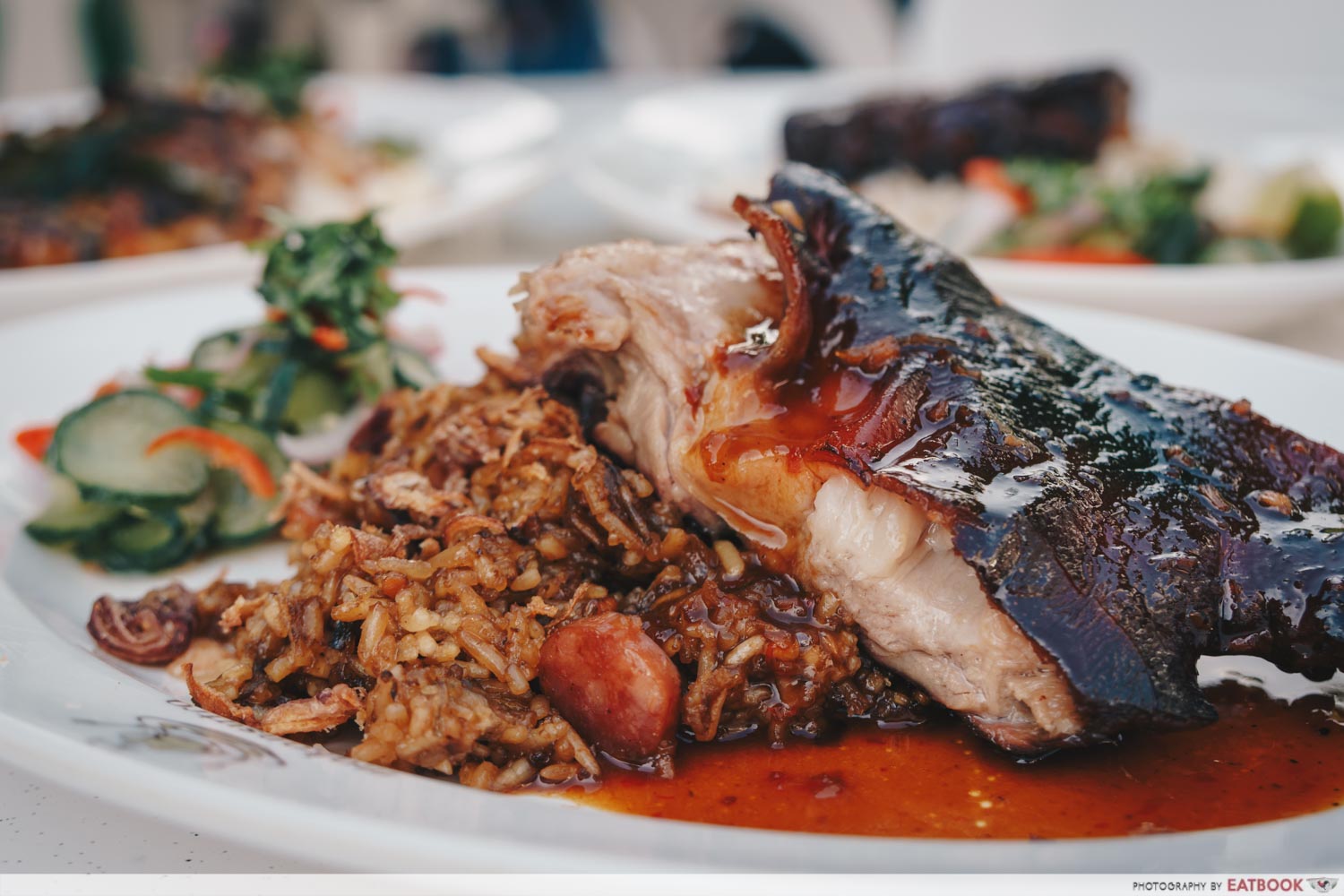 A whole suckling is thrown onto a roaring flame to crisp up the Smoked Suckling Pig with Glutinous Rice and XO sauce ($16).
The grill heats up to almost 500 degrees. It was so hot that our videographer could not stand being anywhere near the fire during filming. One can just imagine how crispy the skin was.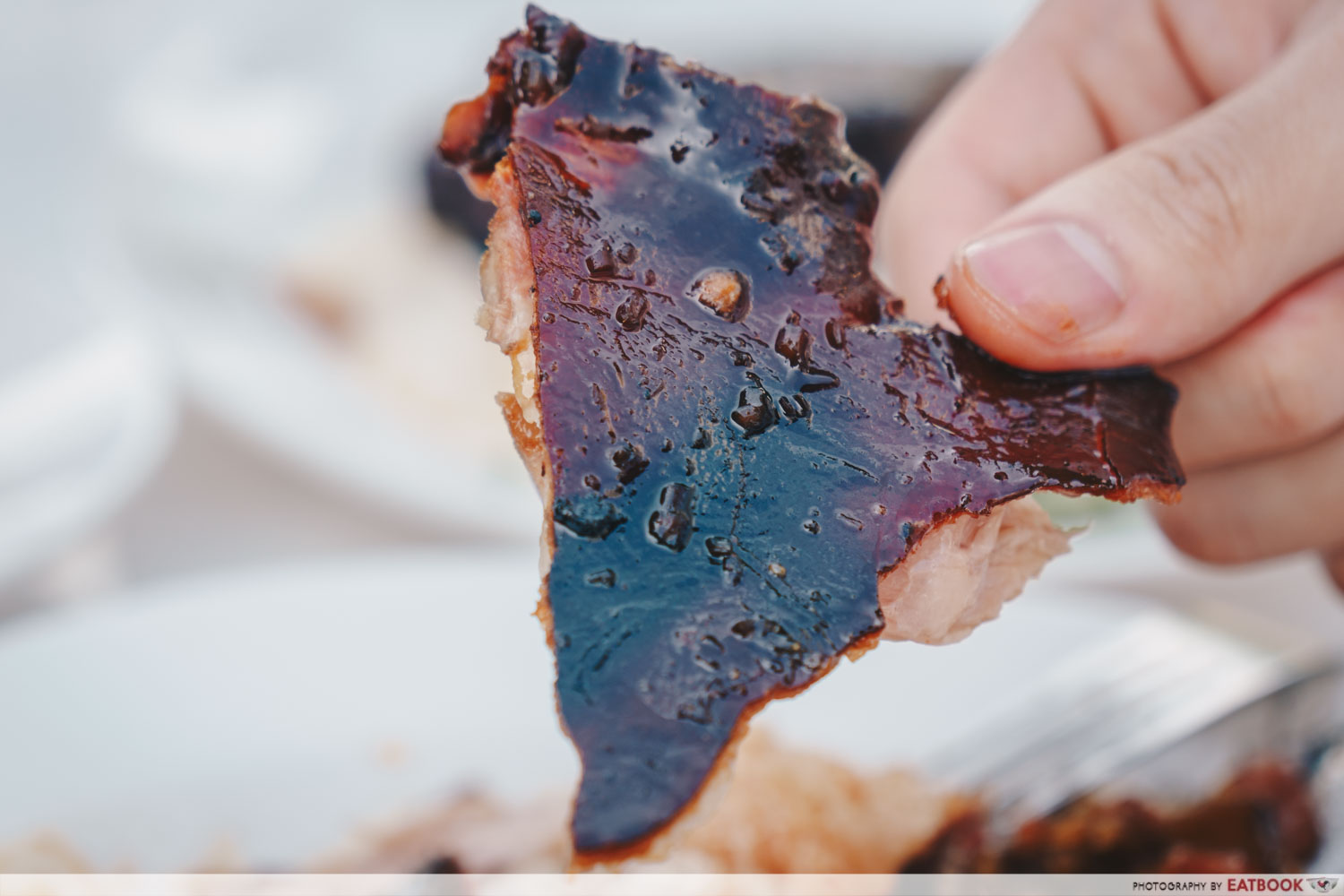 The skin is probably the most coveted part of any suckling pig. This one had a melodic crunch and bite that is topped with a nutty note from the char. Because the fat was rendered so nicely, you can also effortlessly peel the skin off the flesh.
Luckily for us, portions were generous, so there was plenty of skin to go around.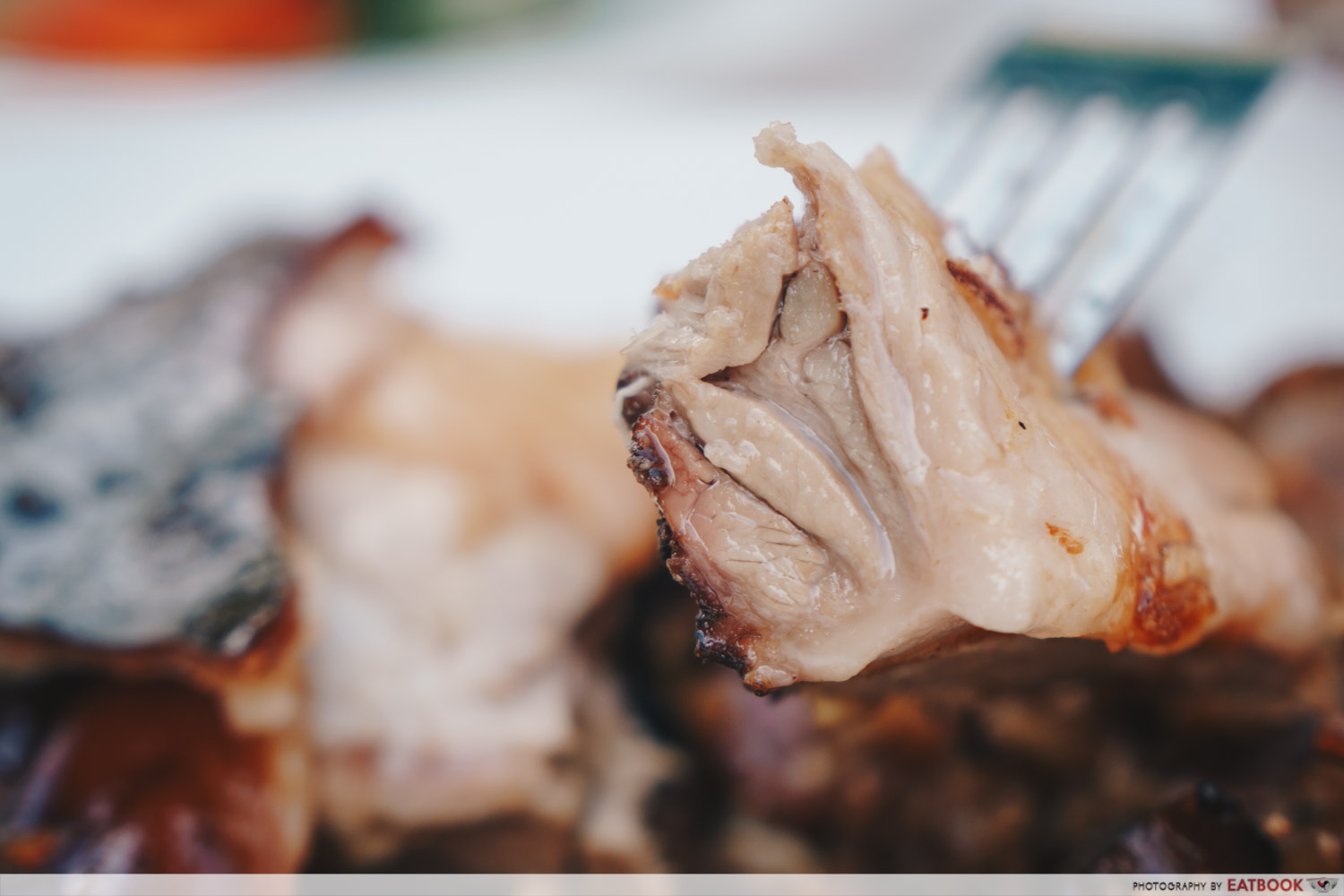 The pork had a deep gamey flavour, oddly evocative of the pulled pork burger I had at Burnt Ends. It also had rich gelatinous streaks, owing to the milk-dependent-diet of the suckling pig. This gave texture and density to the artful dish.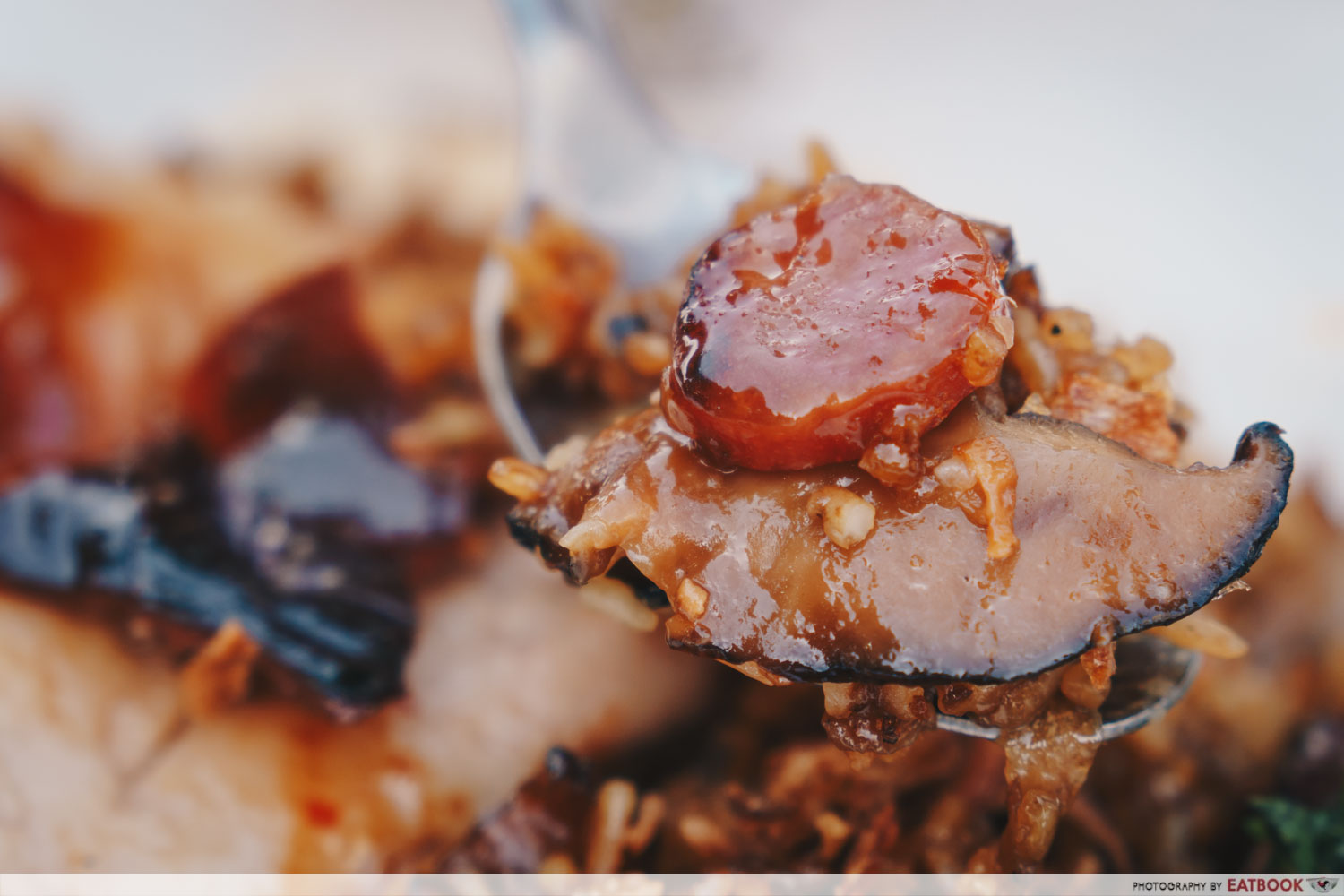 What really surprised me was the glutinous rice. It took me back to days where my grandparents would take me out for yum cha. We would order glutinous rice chicken steamed in banana leaves. That same rustic and unpretentious style is used here. Chunky bits of lup cheong and mushroom are strewn throughout, creating bursts of flavour in every bite.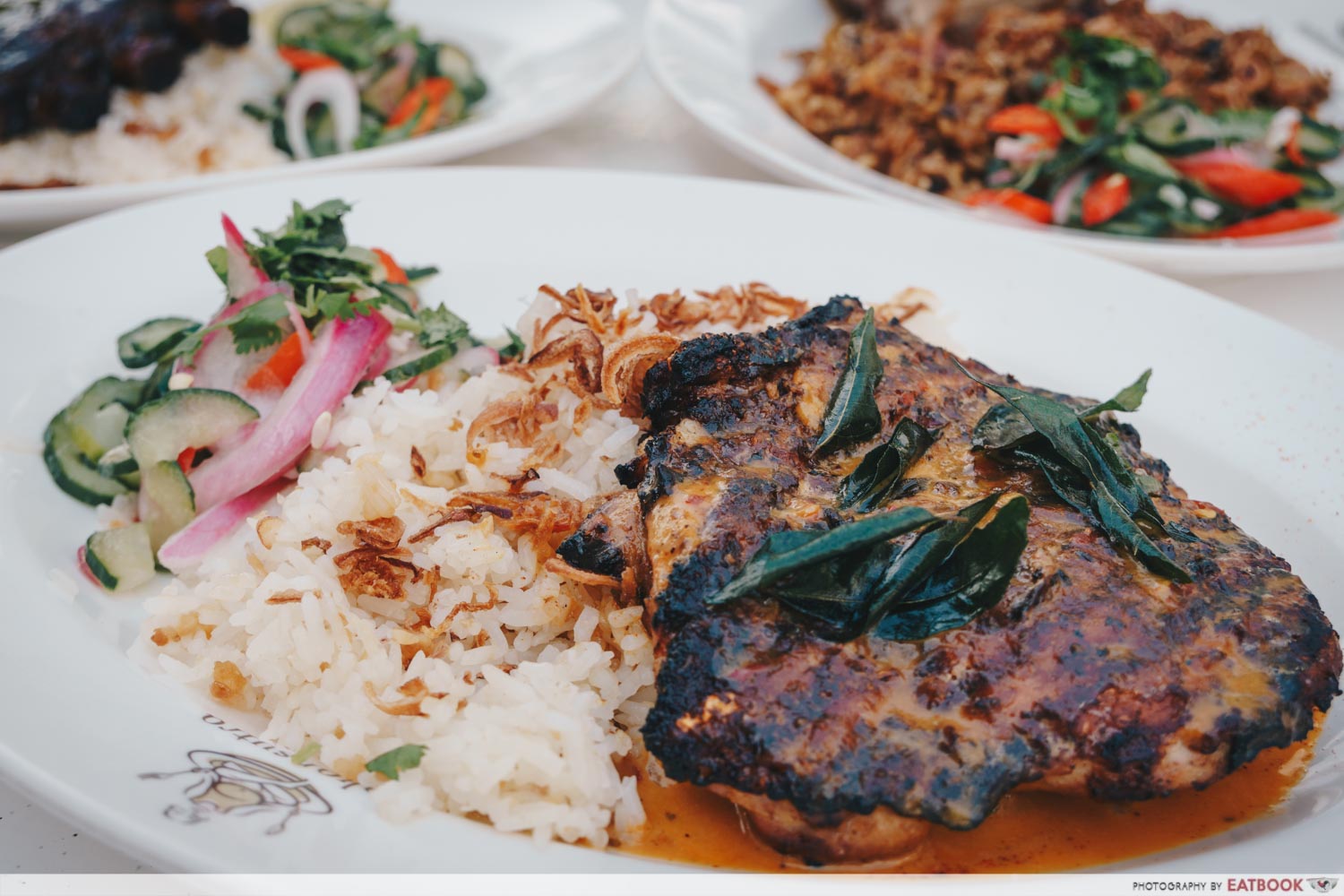 This is no ordinary chicken chop. Calling it a chicken chop sounds derogatory even. Sure, the Salted Egg Chicken Chop ($9) is juicy and tender, but, the first note that really "wows" you is the smokiness. Flavours imparted by the wood-fire grill really shine through and sparkle this dish.
The salted egg yolk sauce was suitably mellow. Carefully crafted flavours of the chicken were thus allowed to be more pronounced.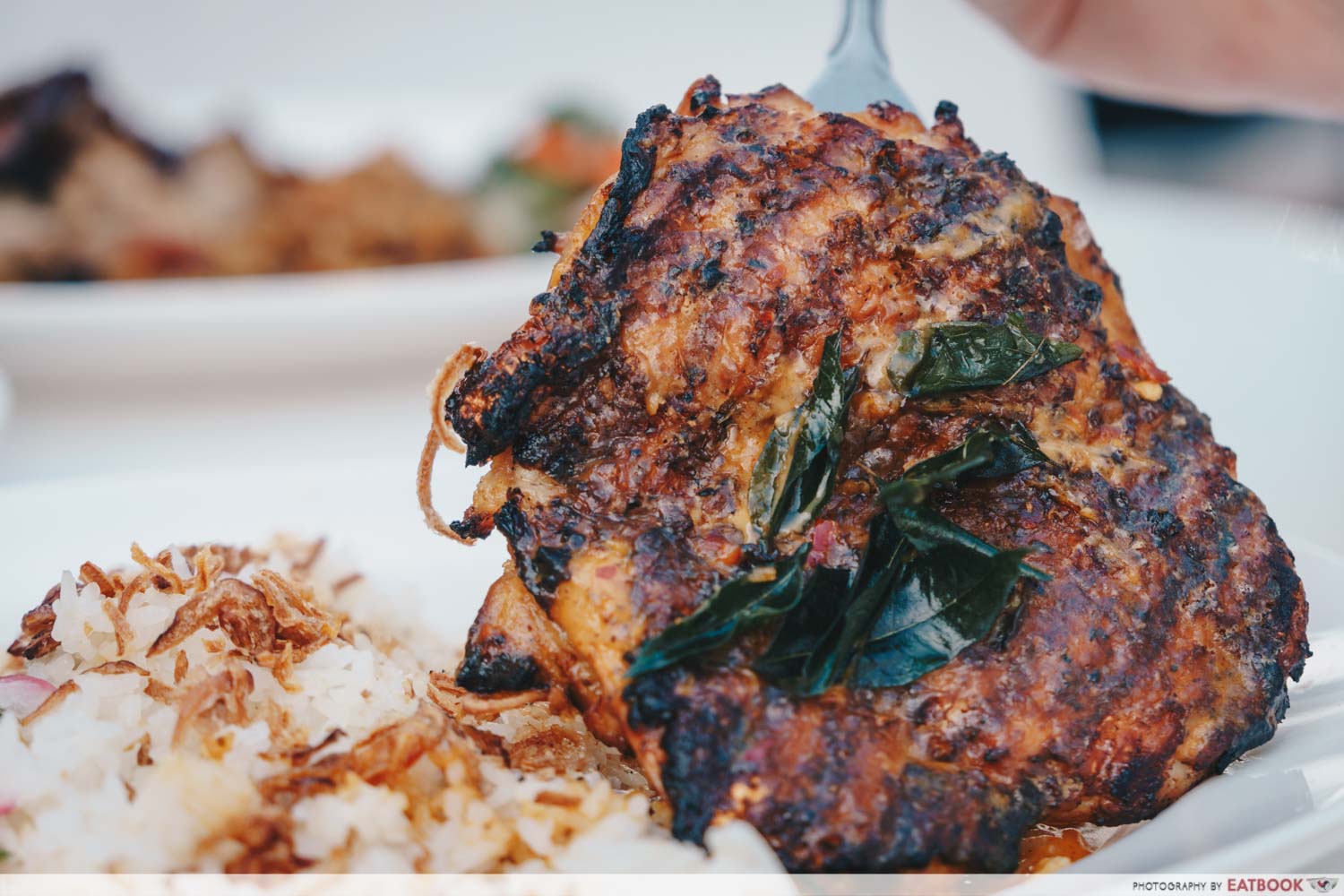 The smokiness really is the main flavour profile here. Accented with a hint of spice from the curry leaves and salted egg yolk sauce, there is a unique medley of complementing flavour profiles.
Ambience at Meatsmith Western BBQ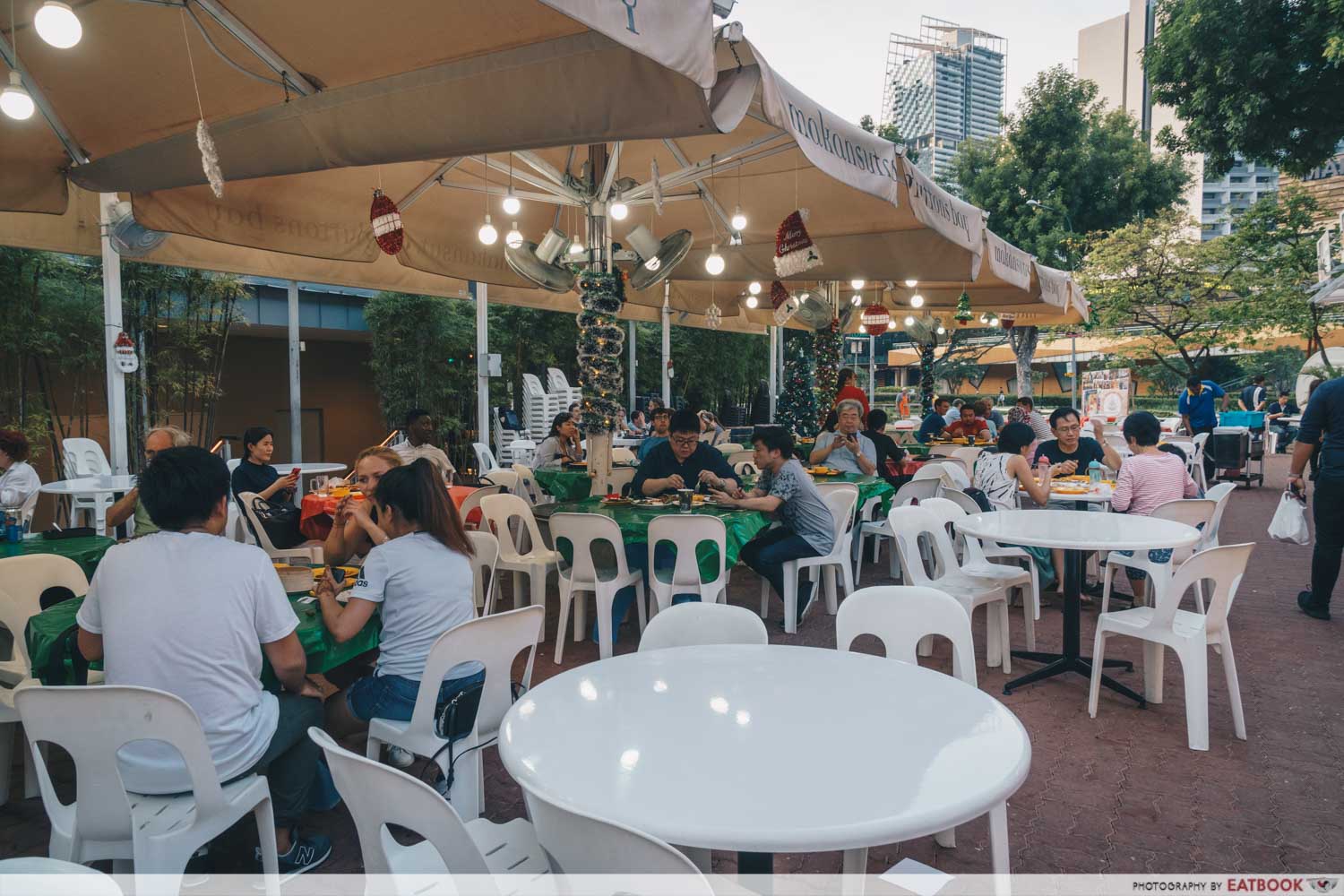 Makansutra Gluttons Bay recently renovated and reopened on 1 December. The stalls seem newer and cleaner. Being right beside the Esplanade, it's also a pretty nice place for dinner or supper.
The verdict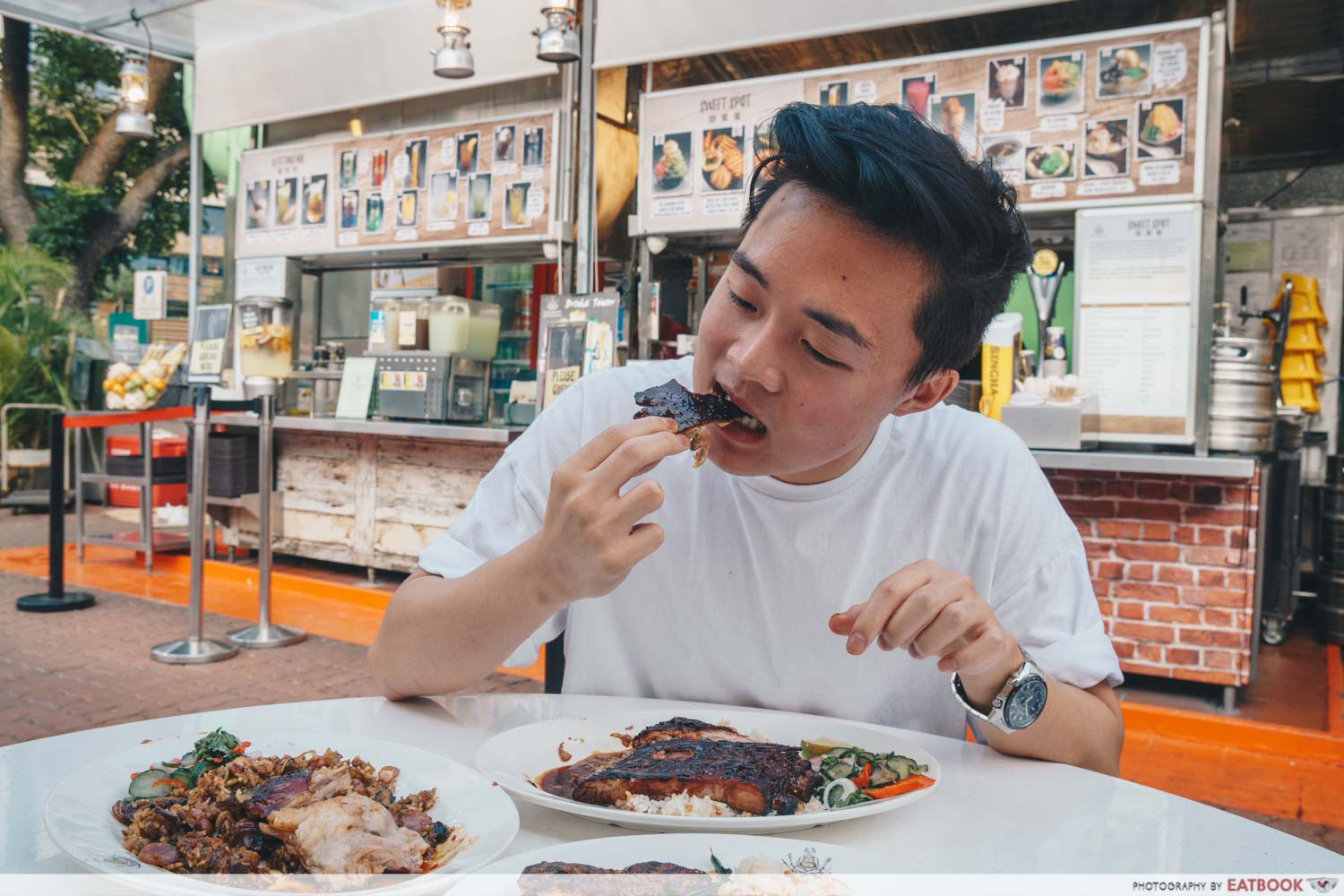 No, this is no Burnt Ends. It's something profoundly different. It's a humble, unassuming hawker stall that serves a piece of culture. There is a beautiful harmony between Eastern and Western culture painted on every dish.
Smokiness, for example, pays homage to their Burnt Ends heritage. Their usage of Chinese spices and ingredients give a nod to Singapore's spice trade history.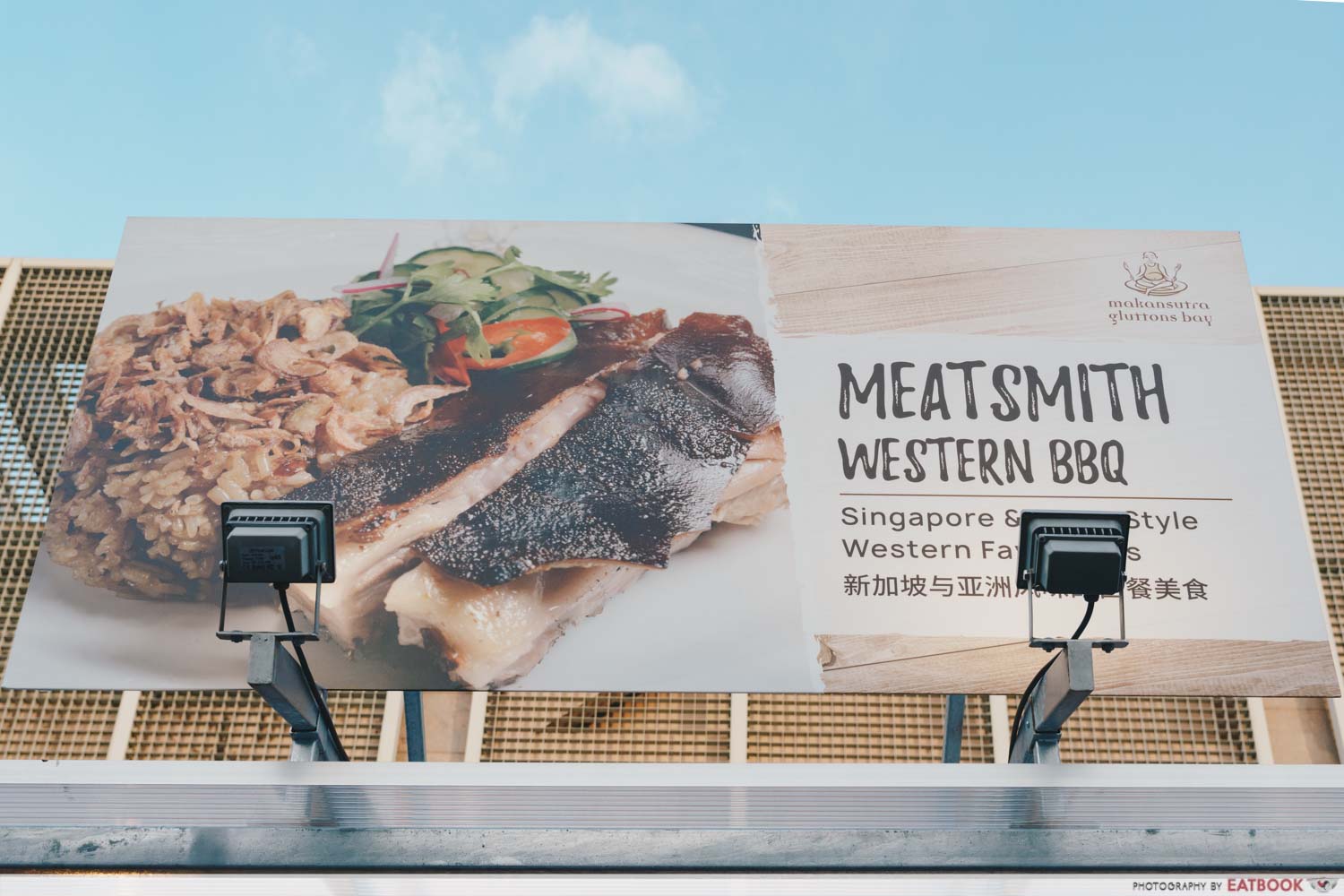 In the end, yes, it is a humble establishment. Heck, apart from the wood grill, you'd probably walk right by it, thinking it's just another Western stall.
But no, it's also no token stall. Every bite makes you feel emotions. Every bite urges you for more. It's an institution of its own — an institution worth a visit.
Address: 8 Raffles Avenue, #01-15G, Makansutra Gluttons Bay, Singapore 039802
Opening hours: Mon-Thur 5pm to 1am, Fri-Sat 4pm to 3am, Sun 4pm to 1am
Meatsmith Western BBQ is not a halal eatery.
Photos taken by Maverick Chua.
This is an independent review by Eatbook.
Summary
Pros
– Meats are well smoked
– Good balance of flavour
– Juicy and tender meats
– Affordable prices
Cons
– Sauces are salty
– Touristy locale
Recommended dishes: Smoked Suckling Pig with Glutinous Rice and XO sauce ($16), Smoked Smoked Char Siew Pork Ribs ($10)
Opening hours: Mon-Thur 5pm to 1am, Fri-Sat 4pm to 3am, Sun 4pm to 1am
Address: Makansutra Gluttons Bay, 8 Raffles Avenue, Singapore 039802