YEAH Taiwanese Modern Street Food has serious street cred

Food trucks, especially ones just starting out, usually specialise in a couple of items before branching out and expanding their menus. YEAH Taiwanese Modern Street Food doesn't subscribe to that school of thought. Opened in September 2018, this Timbre+ food truck's menu seemingly has every item from Shilin Night Market in one place.
From lu rou fan and mee sua to flaming beef cubes and an expansive drink menu, virtually every Taiwanese street food is represented here. For people with fond memories wandering and mindlessly snacking through Taipei's night markets, this scarlet truck aims to recreate that experience, sans the walking.
Food at YEAH Taiwanese Modern Street Food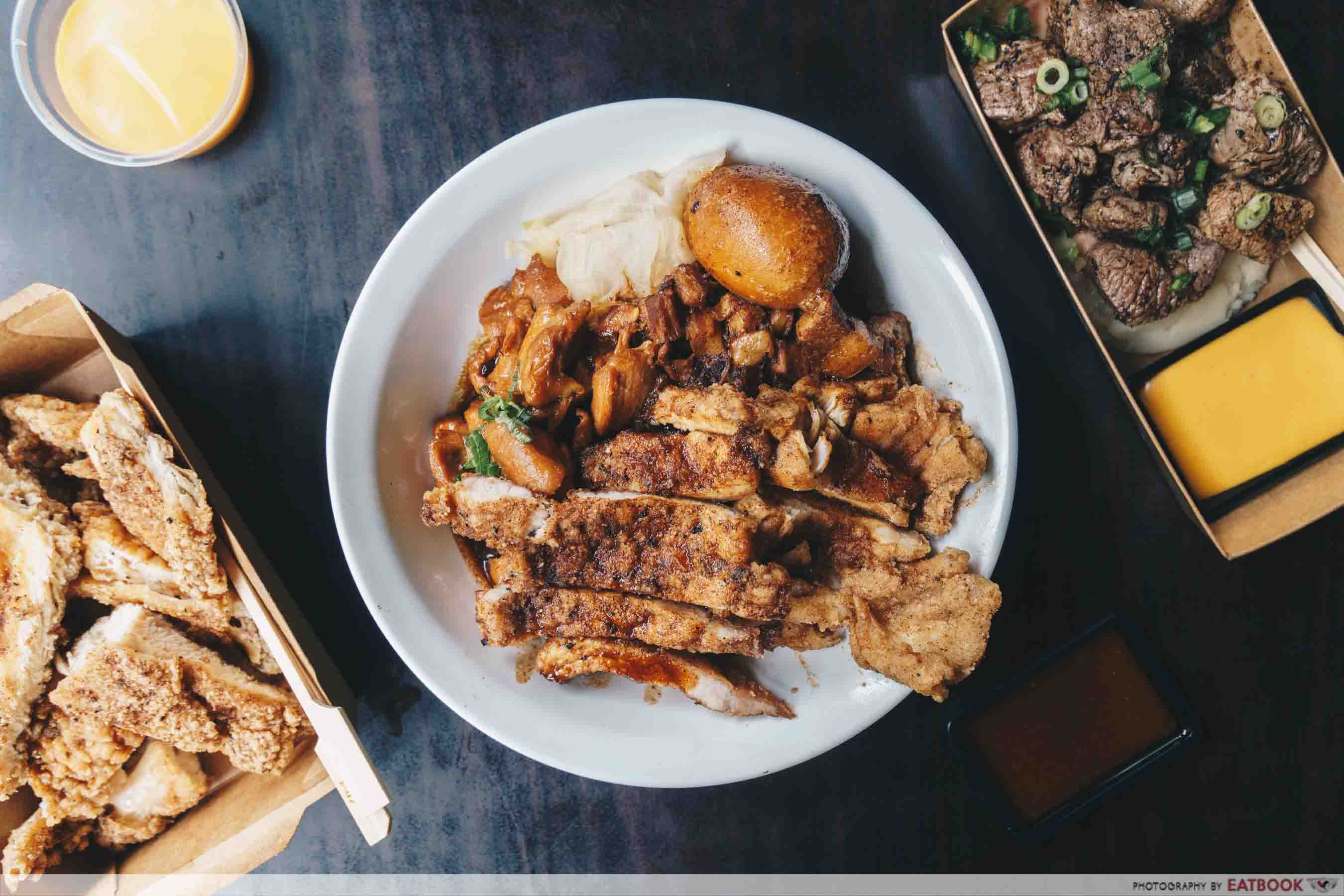 If you're feeling gluttonous, No Mercy ($10.80) will test your meat-eating capacity. Combining four types of meat, this monstrous meal features braised pork, three cups chicken, fried pork chop, fried chicken steak, as well as braised cabbage and egg on a steaming hill of white rice. Considering the massive amount of meat in this bowl, it unquestionably offers good value.
In Taiwanese cuisine, short-grain Japanese-style rice is usually utilised. Heck, even the cookhouse served short-grain rice, when I went to Taiwan during my National Service. Hence, we were disappointed when we were greeted with stock-standard white rice. The sticky and pillowy texture of short-grain rice was sorely missed.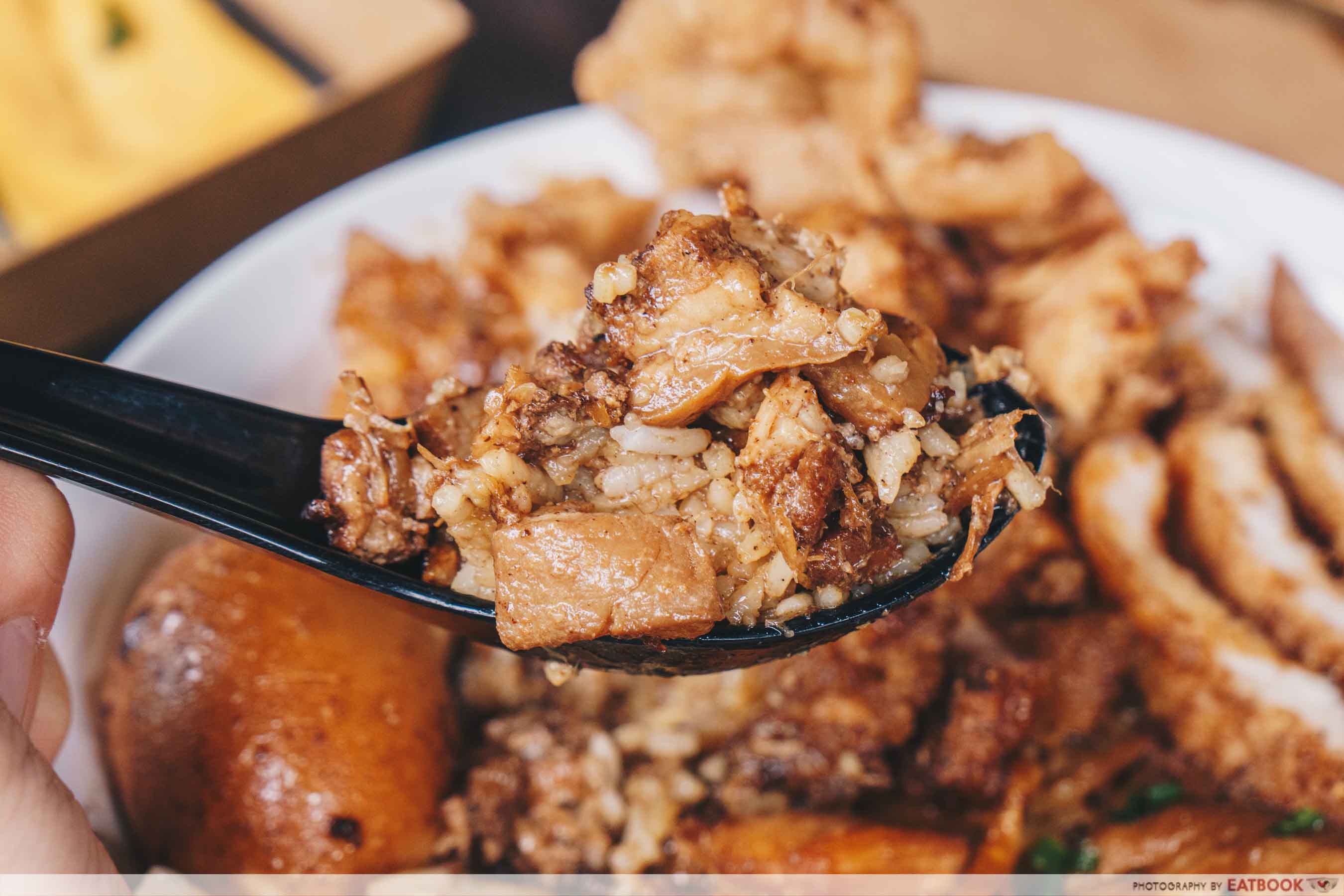 Roughly-chopped braised pork, or lu rou, was the first topping we tried. Most places can nail the sweet soy flavours of this pork belly classic, with texture as the biggest pitfall. Tough meat and unpleasant, chewy fat are all too easy to find in lu rou fan, so we were pleased to discover tender meat and gelatinous fat in this rendition.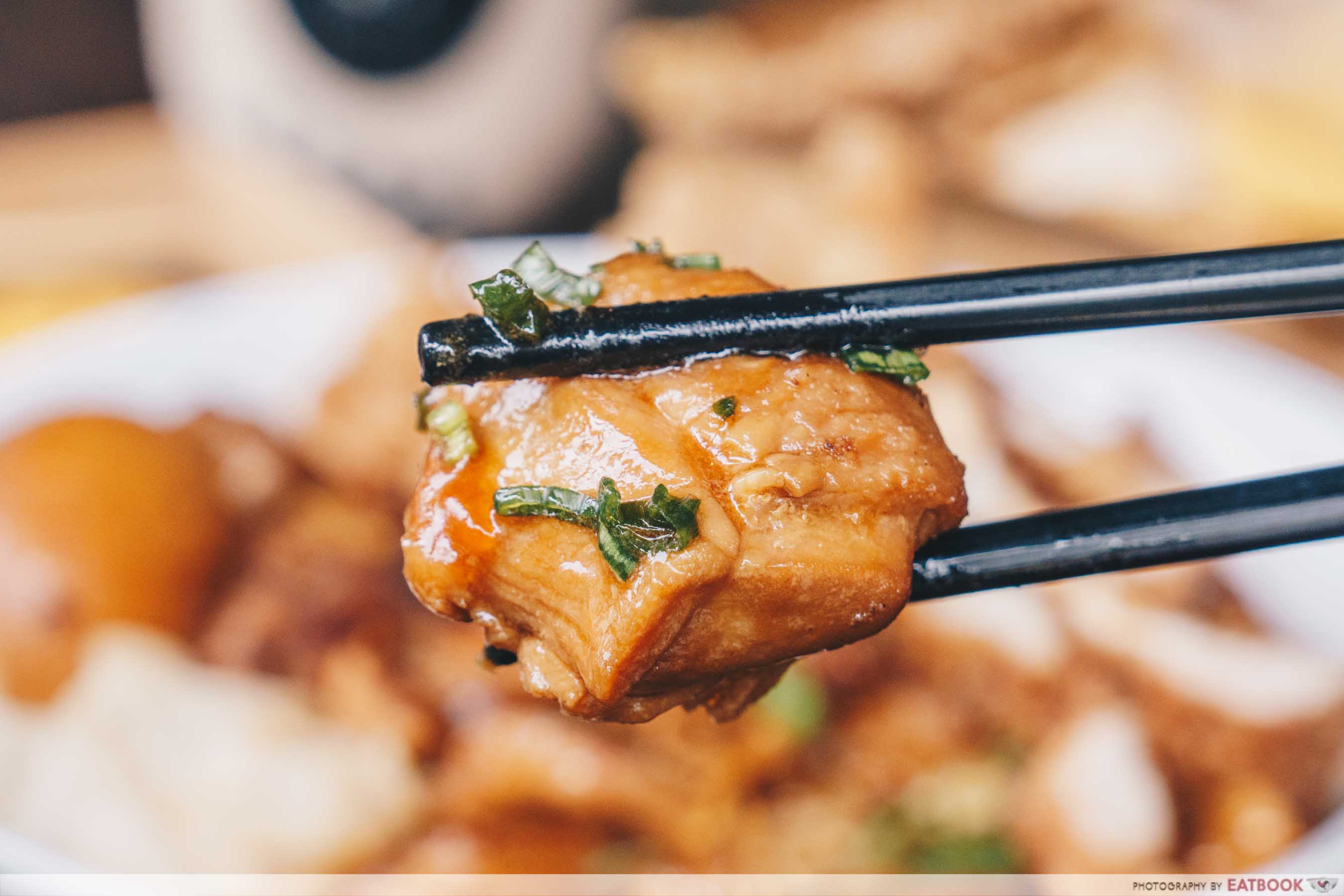 Three cups chicken, commonly known as san bei ji, was up next. This typical Taiwanese street food is named for its triumvirate of seasonings: sesame oil, soy sauce, and shaoxing wine. The tender chicken chunks carried mellow soy flavour, backed by distinctive wine fragrance and ginger. But we missed the earthy, roasted aroma of sesame oil.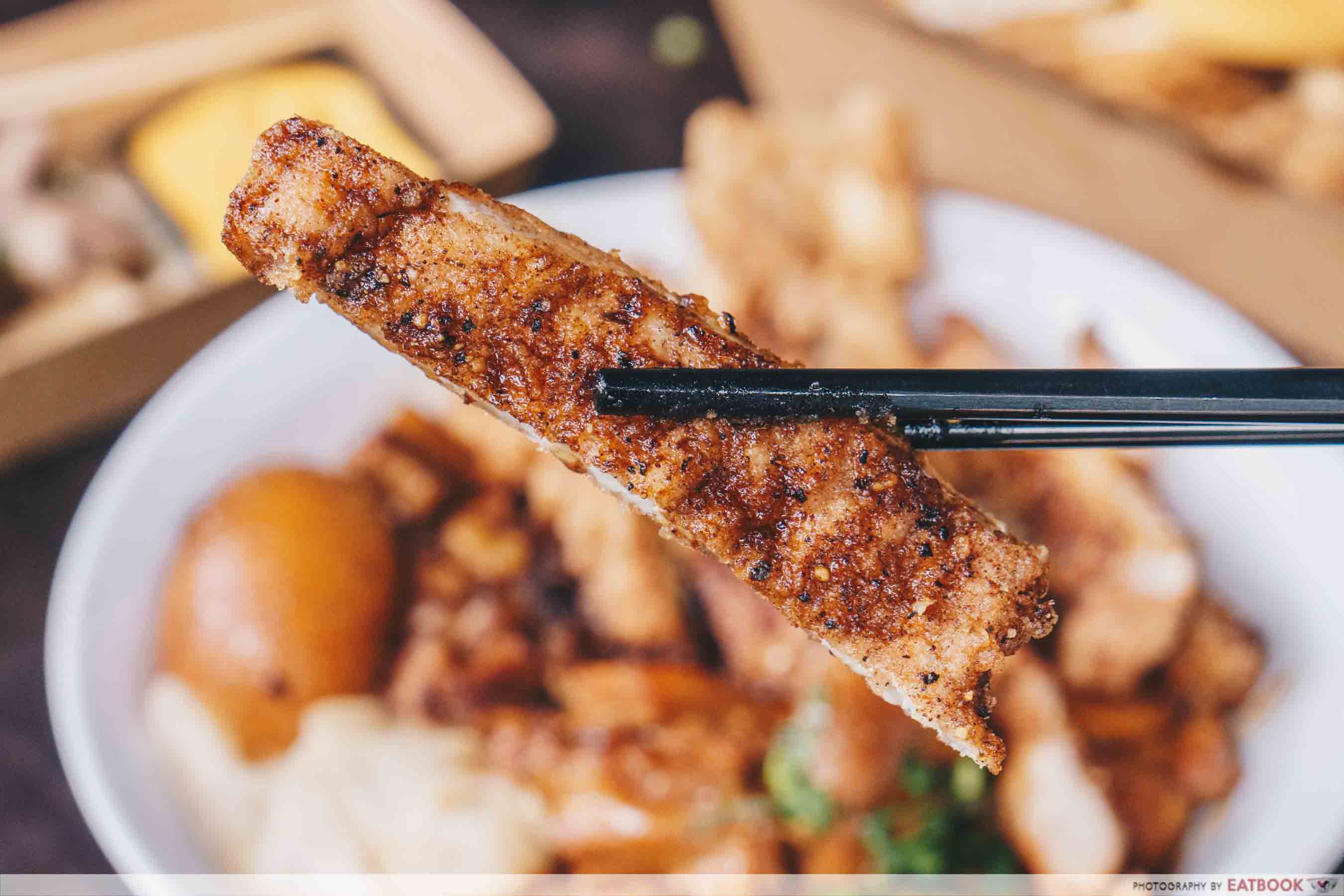 The fried pork chop was our favourite component. It was crispy at the edges and tender in the middle, with aromatic five-spice permeating all the way through. Despite being deep-fried, it wasn't oily at all, with the minimal batter ensuring oil wasn't retained.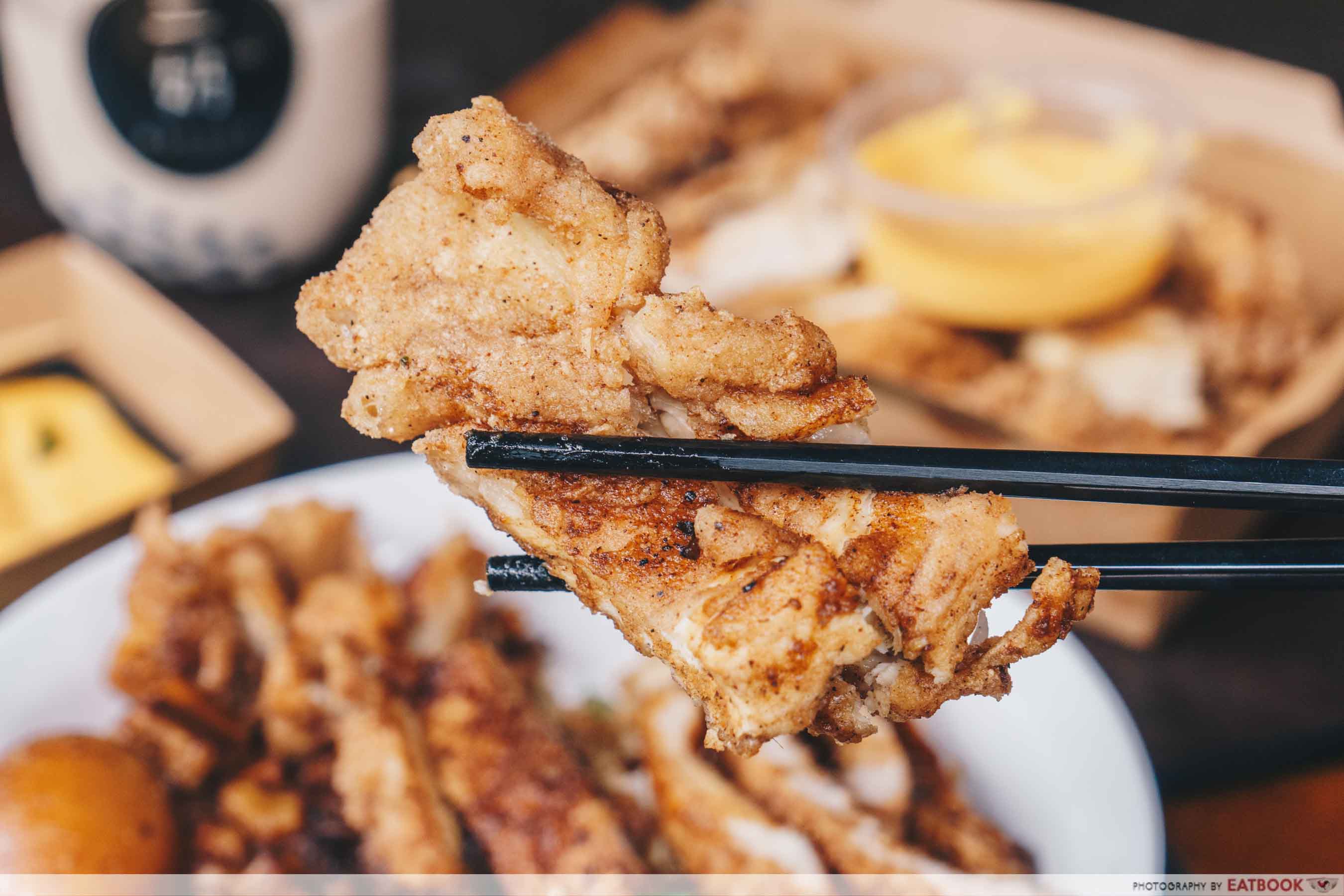 Ji pa, or fried chicken cutlet, is an iconic Taiwanese street food, but the strips of fried chicken here were disappointing. We'll elaborate more below with the XXXL Chicken Steak, which features the same fried chicken. If I were to come again, I'd order the two meat combo instead at $6.80, with fried pork chop and lu rou.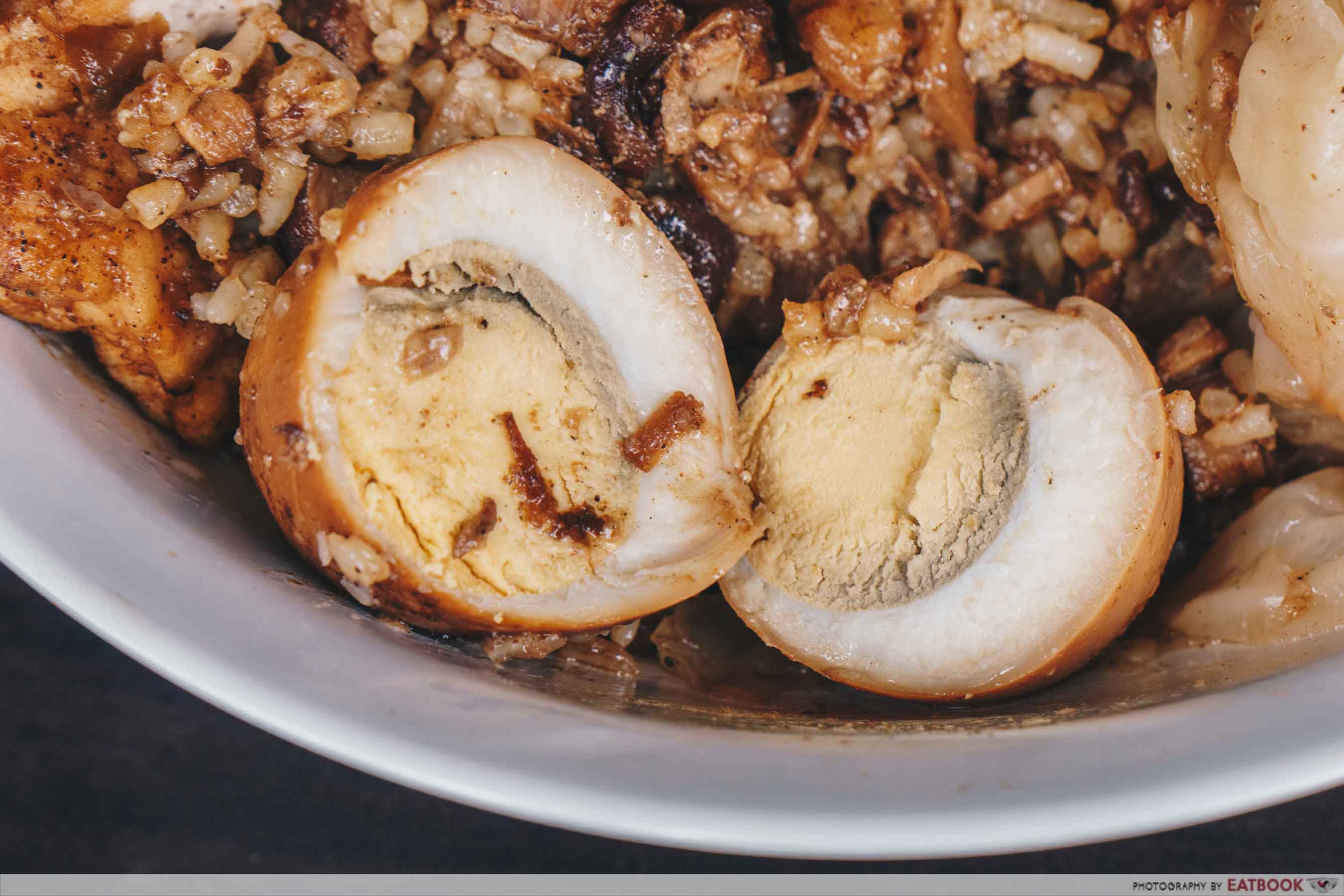 Braised cabbage is definitely not the most attractive part of this dish, but it provided much-needed respite from the onslaught of meat, acting as a palate refresher in the midst of our carnivorous ventures. Its braised egg brother was a disappointment, however, being small and overcooked with an overly firm white.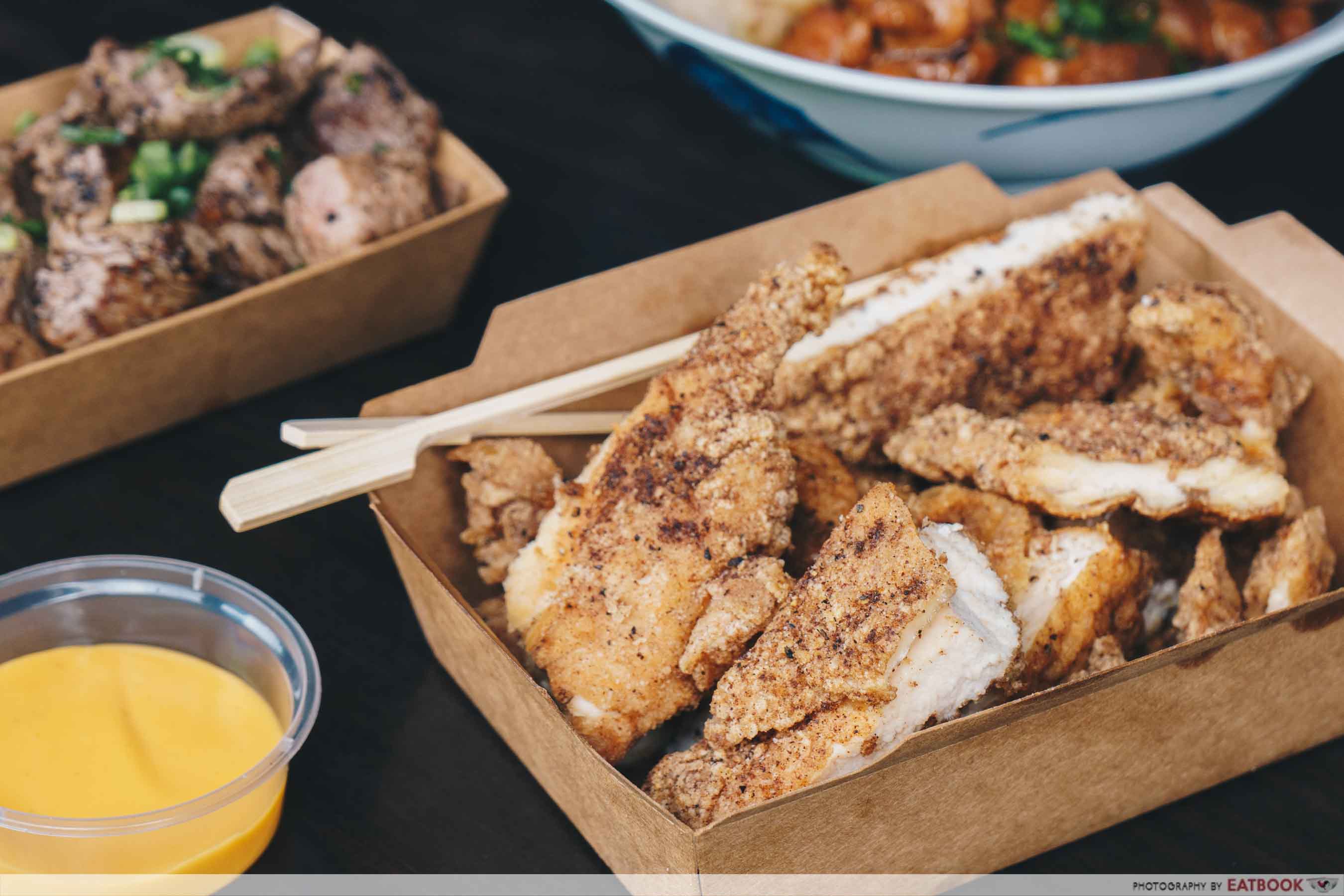 When the XXXL Chicken Steak ($6.80) came in scissor-cut slices, with a healthy sprinkling of seasoning and a side of nacho cheese, I held high hopes. Unfortunately, it paled in comparison to my vivid memories of juicy, mouth-watering ji pa from Taiwanese night markets.
Juicy meat is a hallmark of Taiwanese chicken cutlets, so this was a let-down. In general, the strips of chicken were acceptably moist at the edges, but were dry and tough on the inside. This could perhaps be chalked up to it losing moisture after being cut.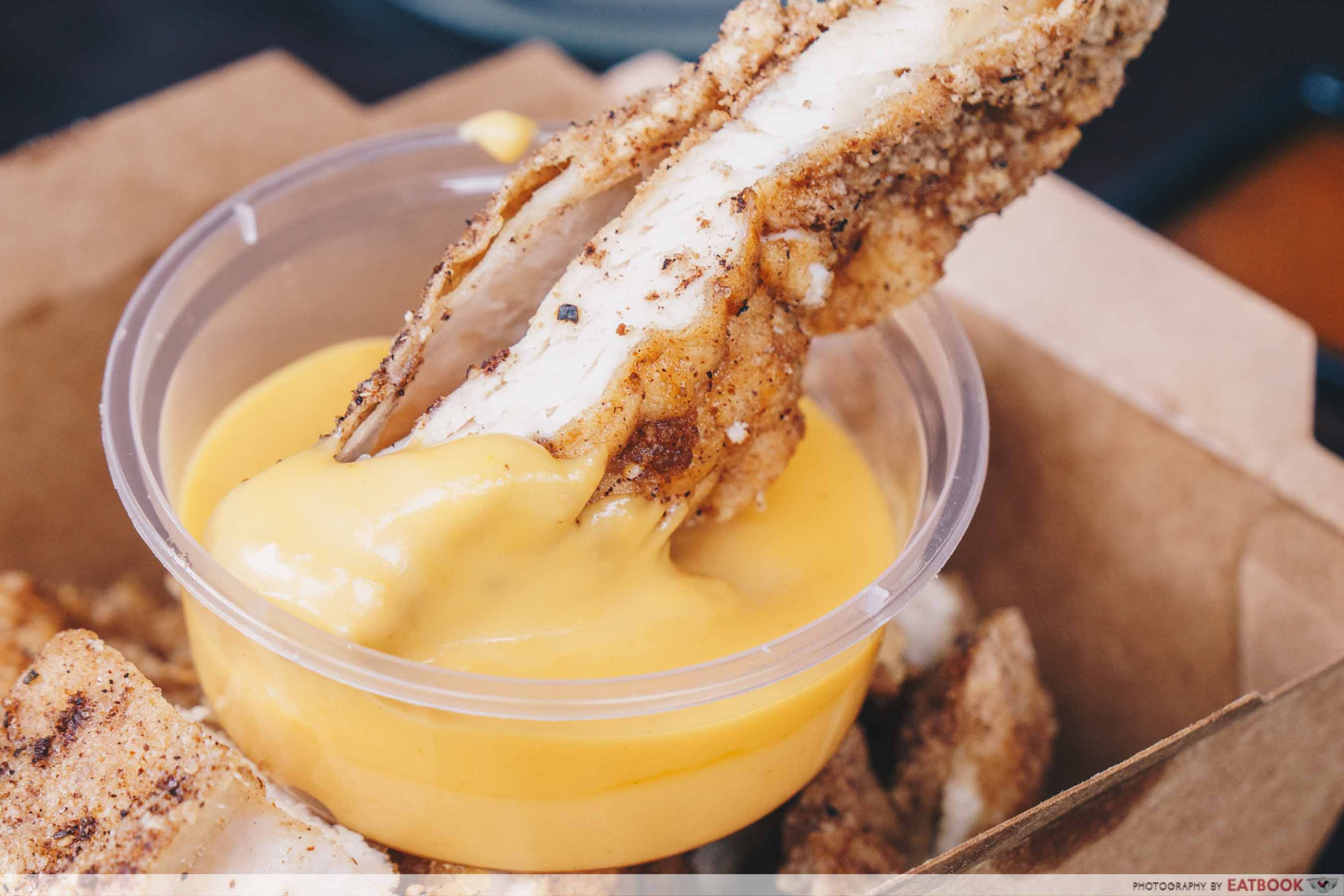 The skin was more successful, crispy in most places without being oily. It bore a classic salty-spicy seasoning, with chilli pepper being prominently visible. The seasoning didn't penetrate the meat though, leaving it bland and lacklustre. This suggests the meat wasn't marinated or seasoned directly.
Nacho cheese sauce isn't a natural pairing for fried chicken but it worked decently here. Its creaminess and potent flavour mitigated the chicken's weaknesses.
For a place that prides itself on Taiwanese street food, much improvement is needed for its crown jewel.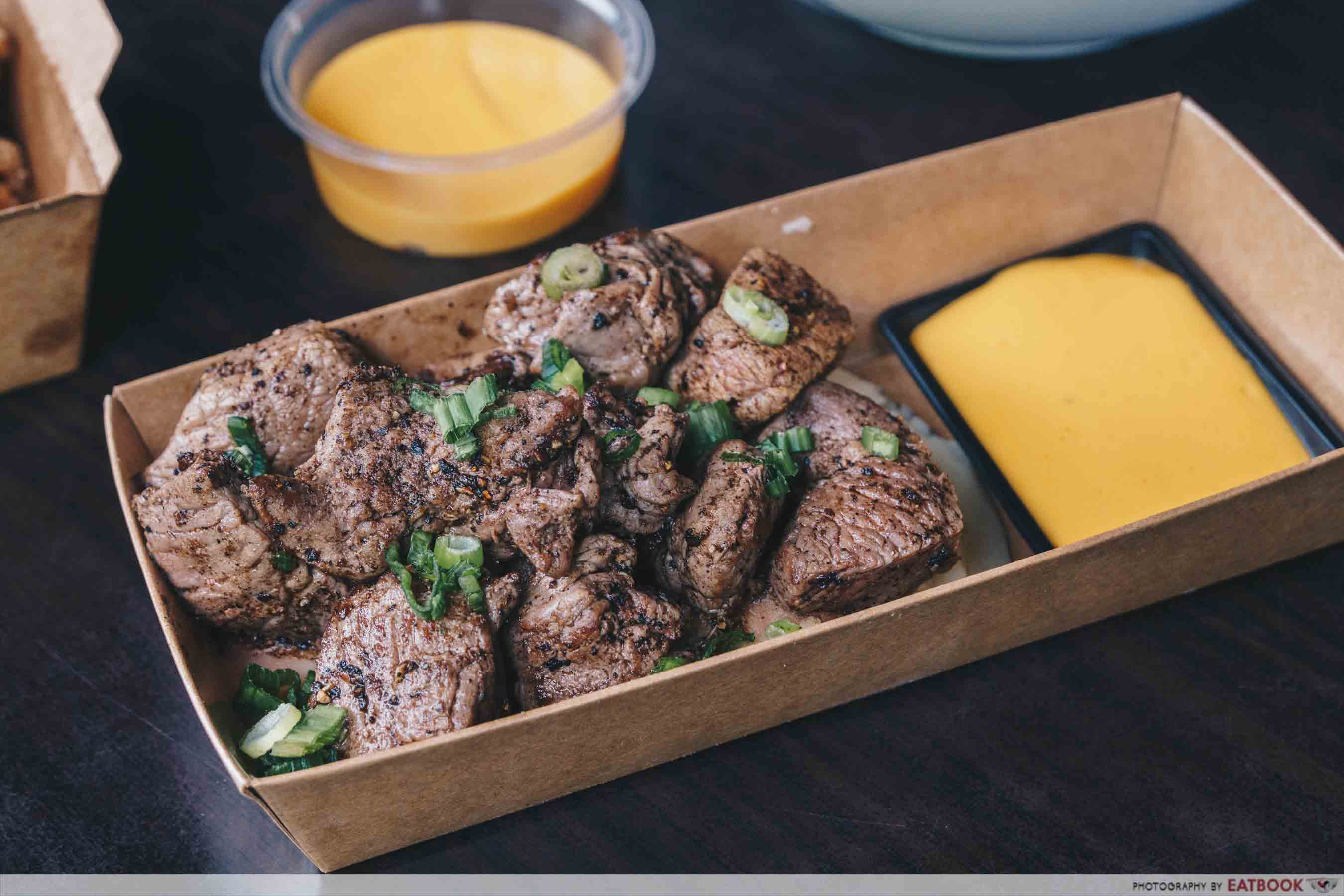 Flaming Beef Cubes ($10.80) are another ubiquitous Taiwanese street food favourite, but it has only recently gained traction in Singapore, particularly following the opening of Huoyanshaiziniu at Plaza Singapura. This version comes resting on a bed of mashed potatoes and is escorted by another saucer of nacho cheese sauce.
Huoyanshaiziniu: We Tried The New Taiwanese Flame-Grilled Beef Cubes At Plaza Singapura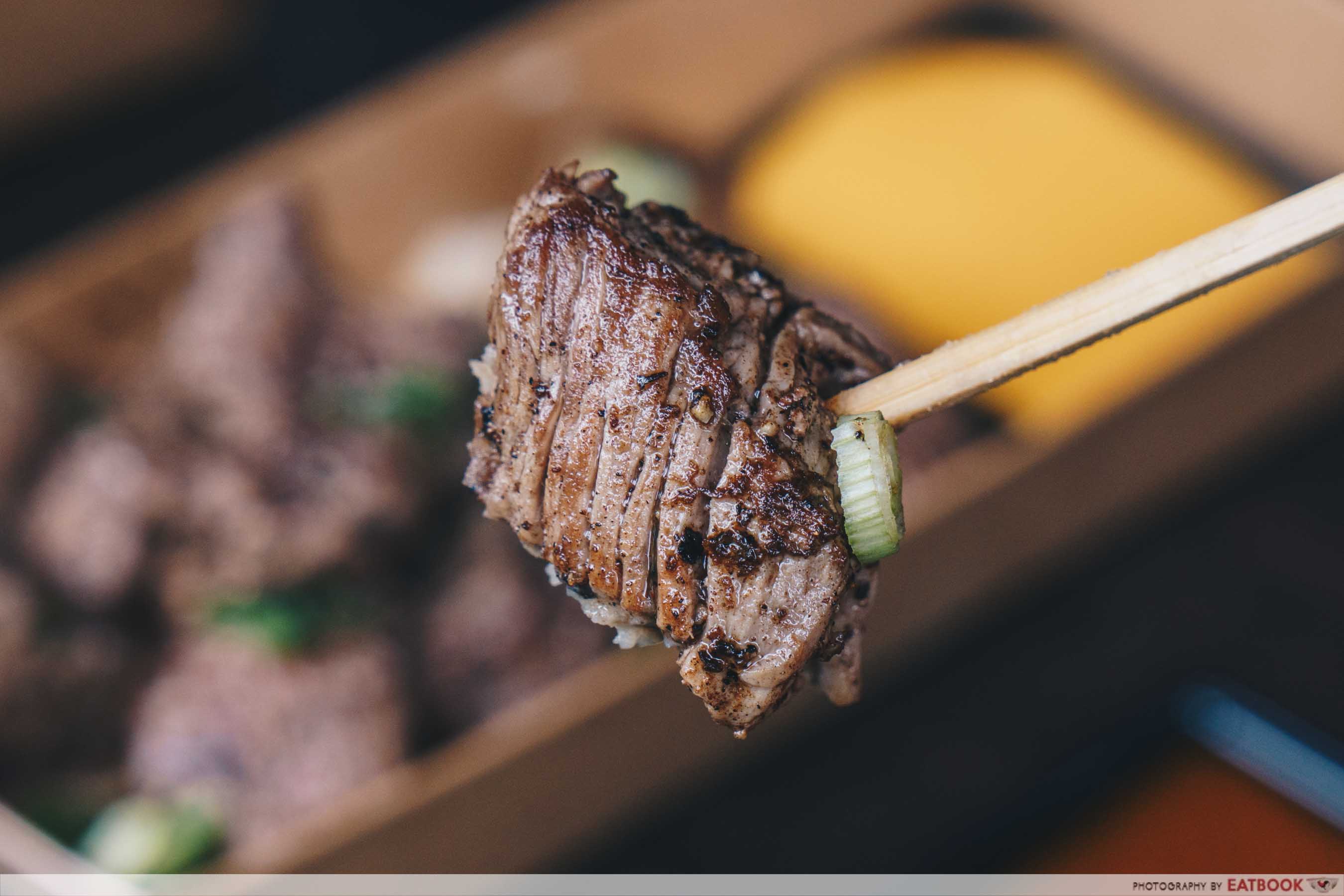 We enjoyed the simple, garlicky and peppery seasoning the beef had, which enhanced and enabled its beefy flavour to shine. Most cubes had a nice char, adding a hint of smokiness and texture.
I enjoyed my first cube of beef, so I was surprised when my dining companion commented that the beef was tough. I discovered why after downing a few more cubes. The beef was inconsistently grilled, with some pieces being tender and medium-well, while others were overcooked, tough, and hard to swallow.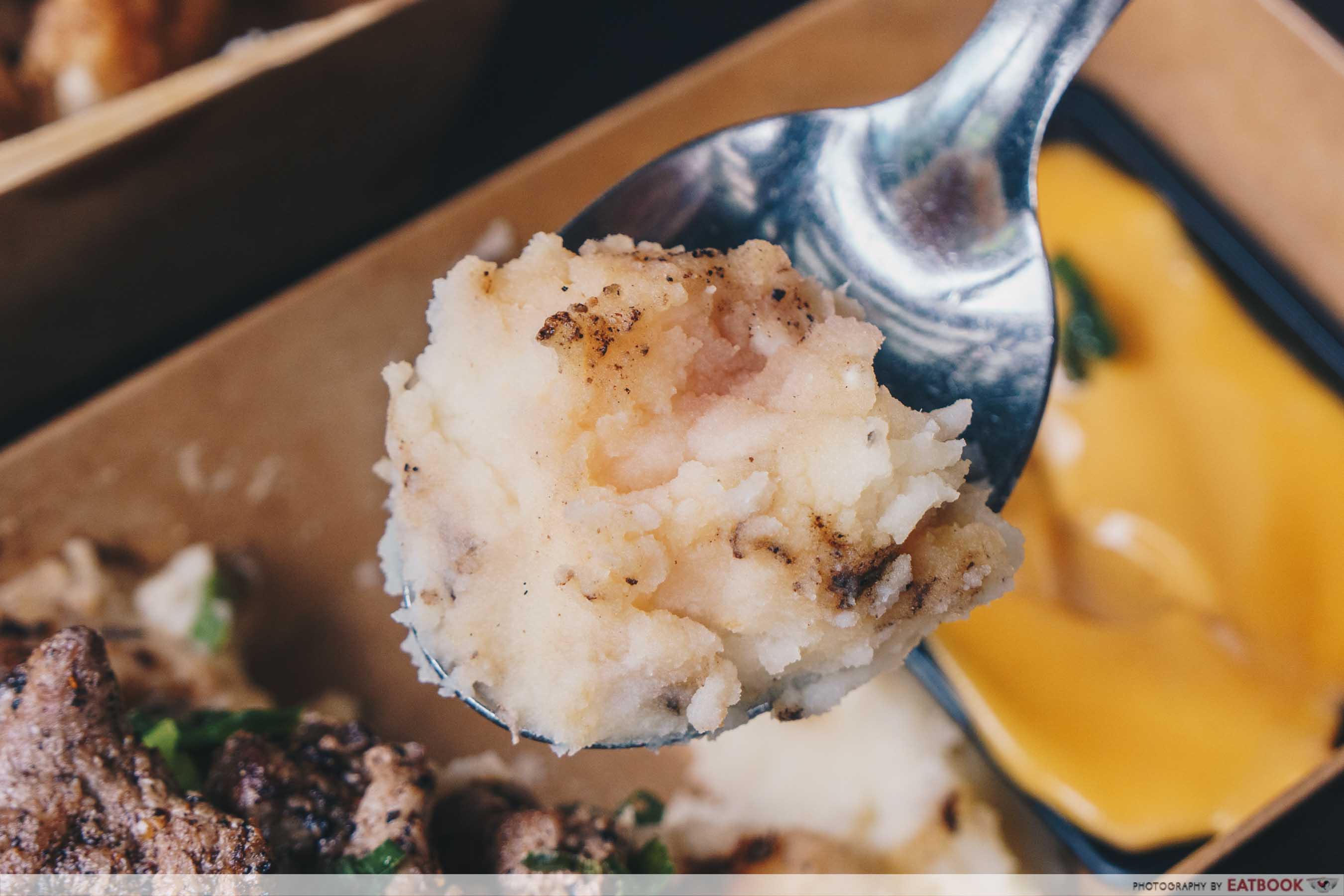 The mashed potatoes were a great accompaniment to the beef cubes, soaking up its juices and seasoning. 
Garlic lovers will be particularly pleased by this side, with coarse chunks of garlic imbuing it with pungent flavour. Combined with the beef juice, the mash tasted like it had been topped with Pepper Lunch's garlic soy sauce.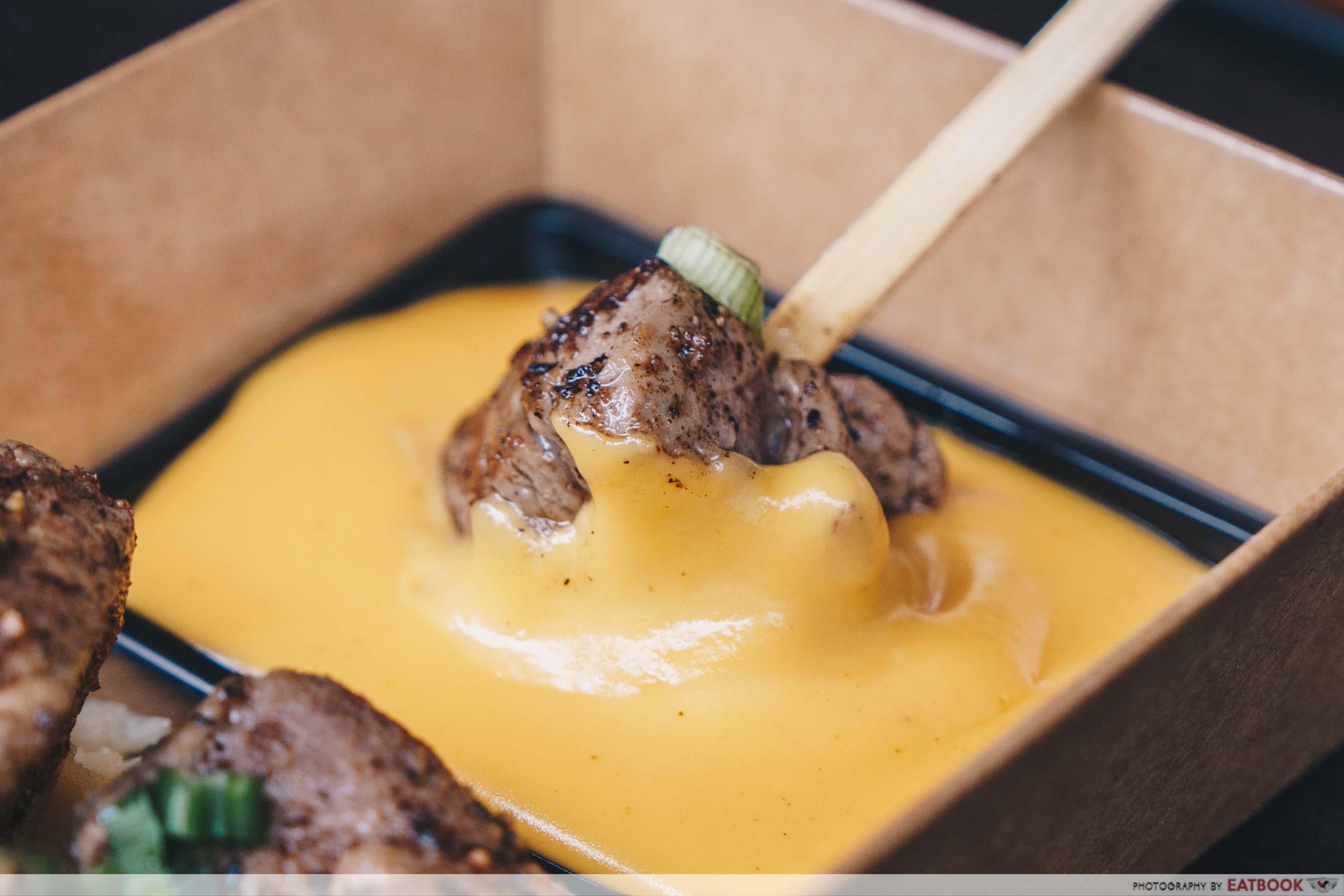 We couldn't make sense of the inclusion of nacho cheese sauce here. Its boldness and Tex-Mex flavour overpowered the meat's natural flavour and Asian seasoning. In fact, having any sauce at all is unnecessary.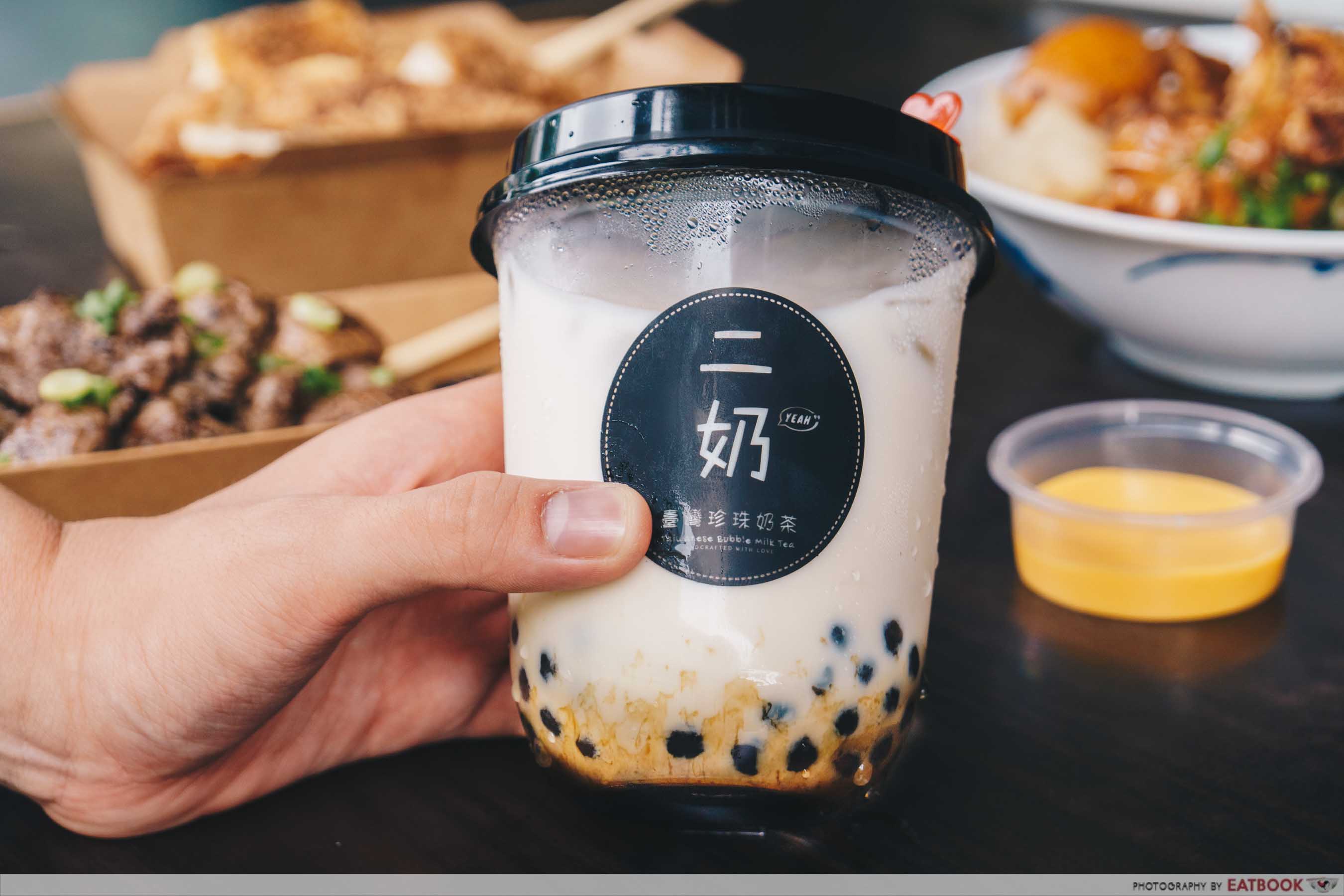 Brown sugar fresh milk is my go-to order at most bubble tea shops, so I was ecstatic to see Okinawa Brown Sugar Milk ($4.90) gracing the menu. Coming in the same size as a medium LiHO, this drink is a touch pricey.
The usual quibble people have with brown sugar fresh milk is that it can be overly sweet, but this variant had a mellower, well-rounded flavour. This is possibly a result of using the famous Okinawan brown sugar.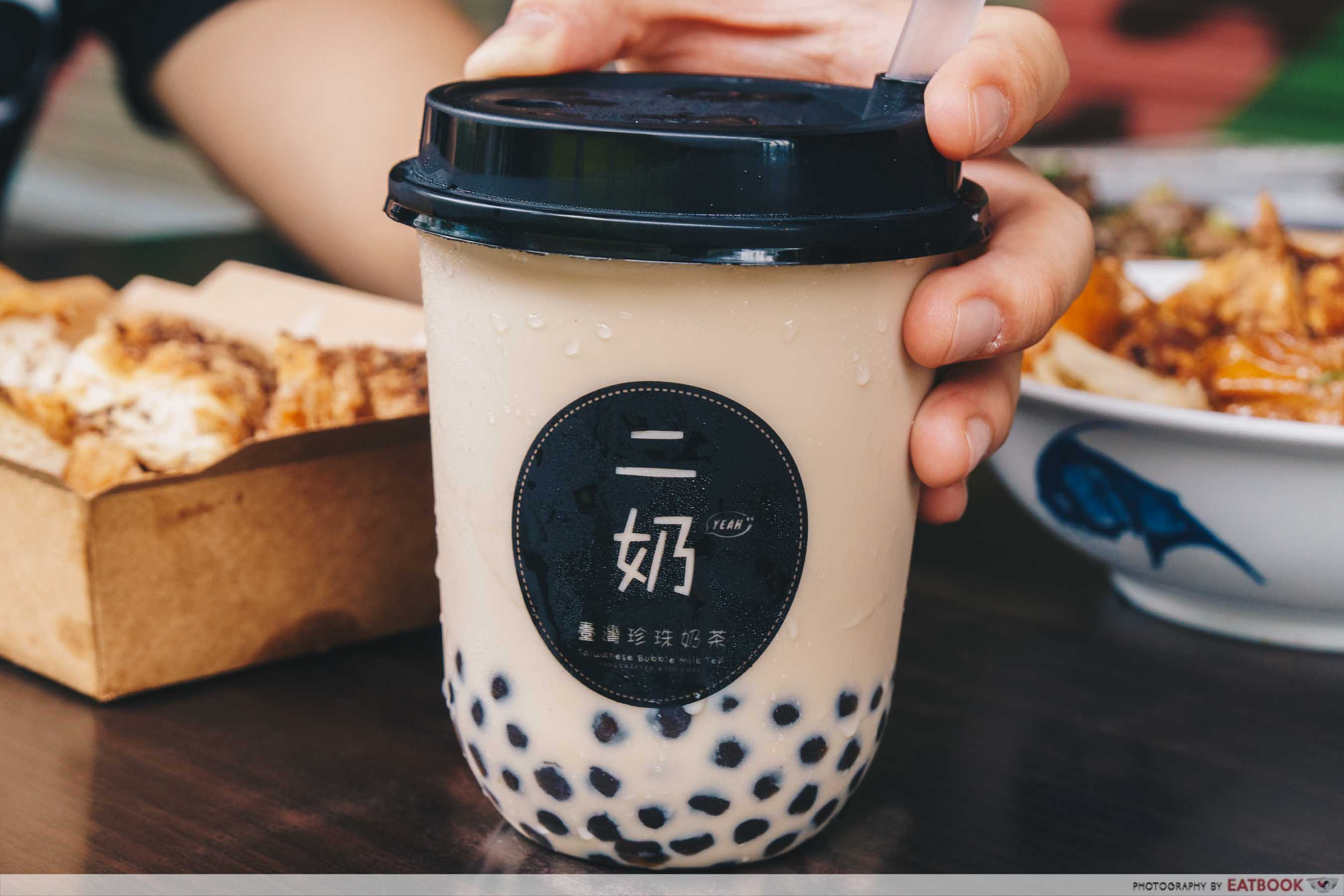 I really enjoyed the pearls as well, which were chewy all the way through with a mild brown sugar flavour. Some bubble teas have pearls with an unpleasant, hard centre, signifying that they haven't been properly cooked through, but that wasn't the case here.
Ambience at YEAH Taiwanese Modern Street Food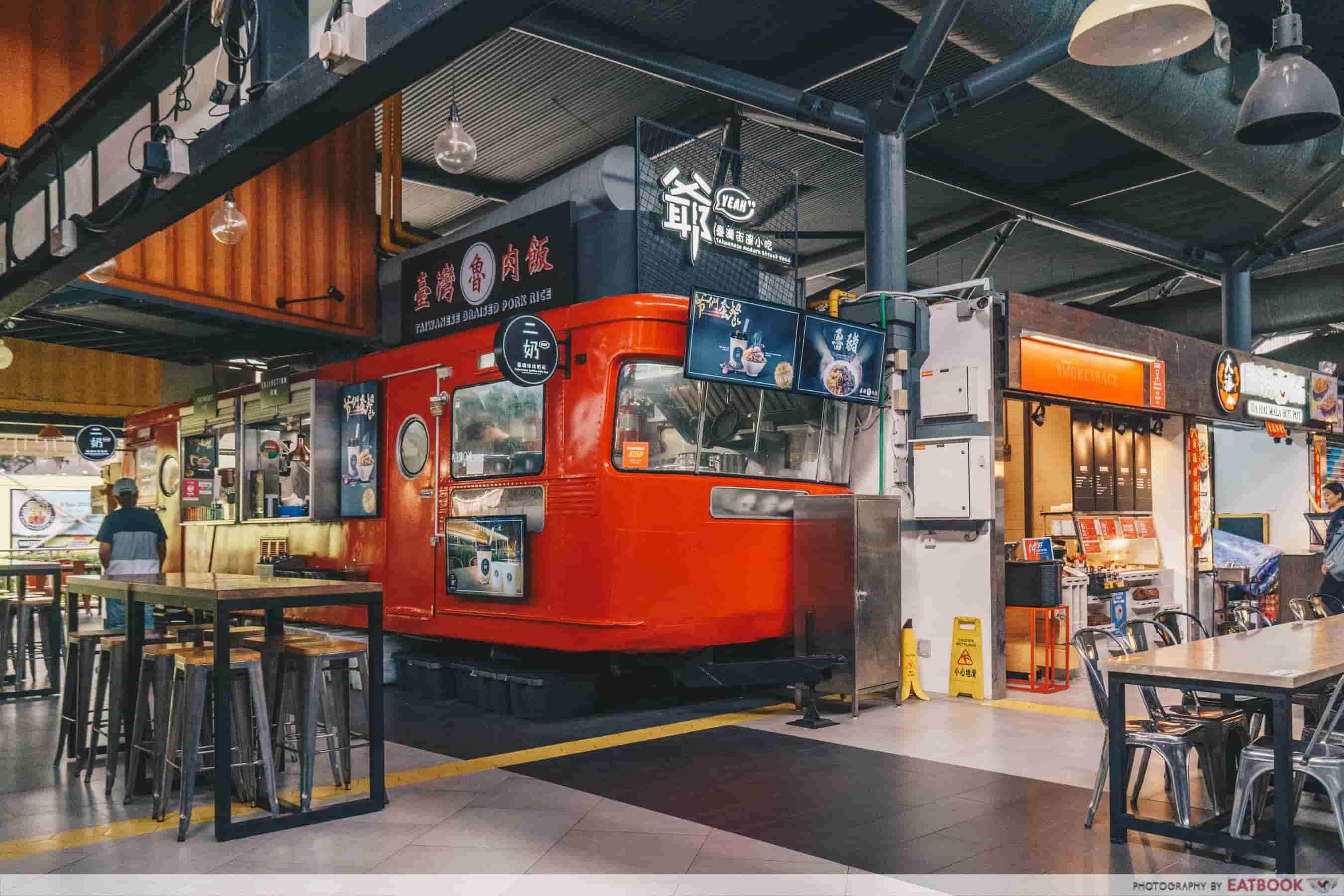 Surrounded by blocks of office buildings, this fire-engine red food truck mainly serves office workers looking for a satisfying lunch or to wind down after work. Timbre+ as a whole has a nice atmosphere, with live music available at night.
Expect to jostle for seats with the after-work crowd as a result, with plenty of office workers looking to kick back with a pint of beer after a tiring day in the office.
The verdict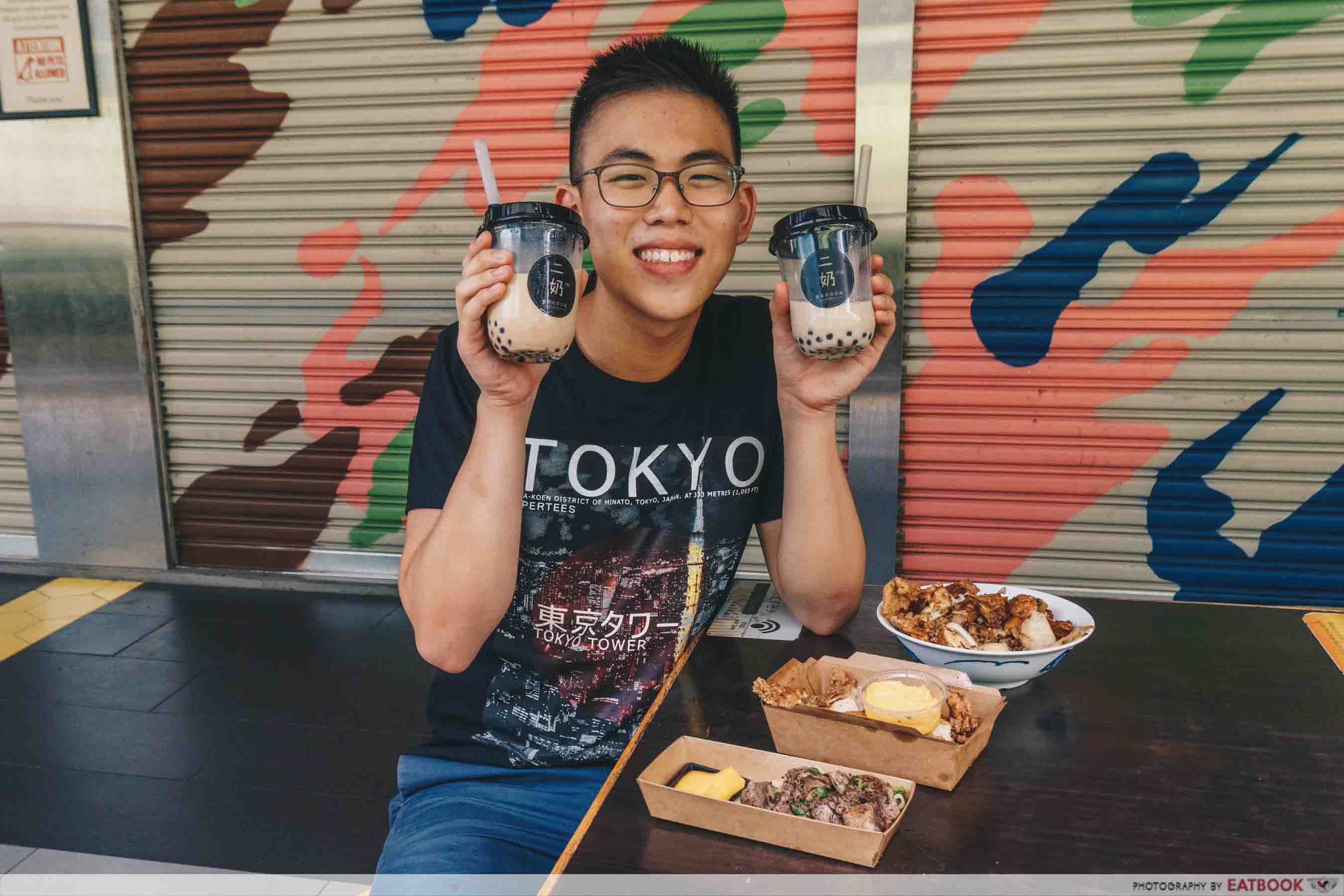 YEAH Taiwanese Modern Street Food is an attractive option for office workers in the one-north area. With a huge spread of Taiwanese favourites, relatively affordable prices, and a nice ambience, it's also a nice place to ring in the weekend with your pals. That said, their version of ji pa needs tweaking.
For a food truck, it has a really extensive menu, and I'd love to come down again to try their other dishes like Taiwanese Sausage & Mash ($4.80) and Crabmeat Mee Sua ($8.80).
If you're keen on sampling more Taiwanese fare, check out our reviews of The Salted Plum and Mei Ming Taiwan Delicacy.
The Salted Plum Review: Delicious Rice Bowls At $10+ By Five Ten
Let us know your favourite spots for Taiwanese food in the comments below!
Address: 73A Ayer Rajah Crescent, #01-04/05, Timbre+, Singapore 139957
Opening hours: Mon-Sat 11am to 9:30pm
Tel: 9151 8804
Website
Photos taken by Rae Fung.
This is an independent review by Eatbook.
Summary
Pros
– Good value-for-money
– Nice ambience
– Wide selection of dishes
Cons
– Fried chicken cutlet needs improvement
– Would have preferred short-grain rice
Recommended dishes: No Mercy ($10.80), Okinawa Brown Sugar Milk Tea ($4.90)
Opening hours: Mon-Sat 11am to 9:30pm
Address: 73A Ayer Rajah Crescent, #01-04/05, Timbre+, Singapore 139957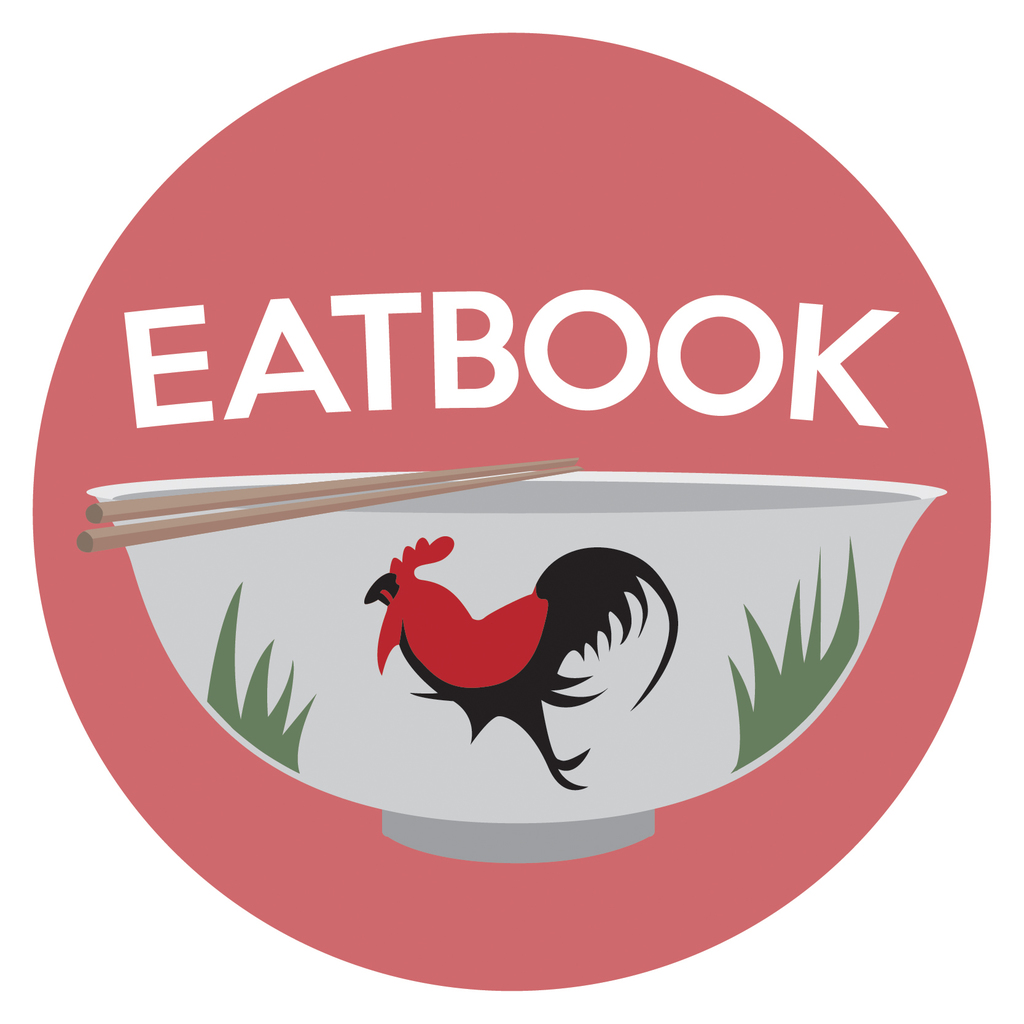 Drop us your email so you won't miss the latest news.