The Salted Plum by Five Ten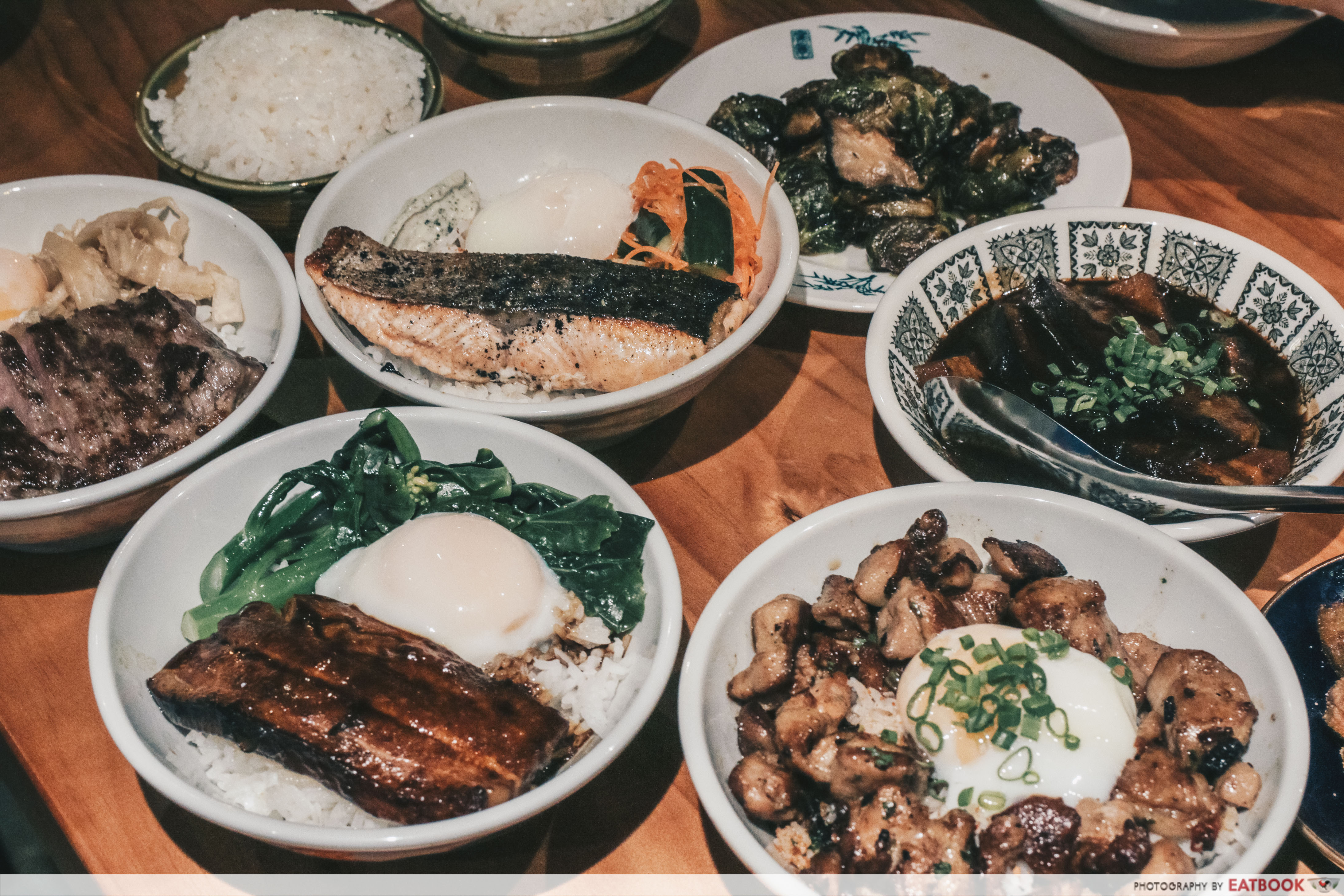 For those who enjoyed the cheap and good eats from the now-defunct pop-up Five Ten, you'd be glad to know they have resurfaced with a bigger menu and a permanent spot known as The Salted Plum. With everything priced at multiples of five – $5, $10, $15, $25, The Salted Plum is offering comfort Taiwanese-inspired food that promises a food coma after. If you happen to be at Clarke Quay with the makan kakis, head down to enjoy some good grub and old-school Mandopop.
Food at The Salted Plum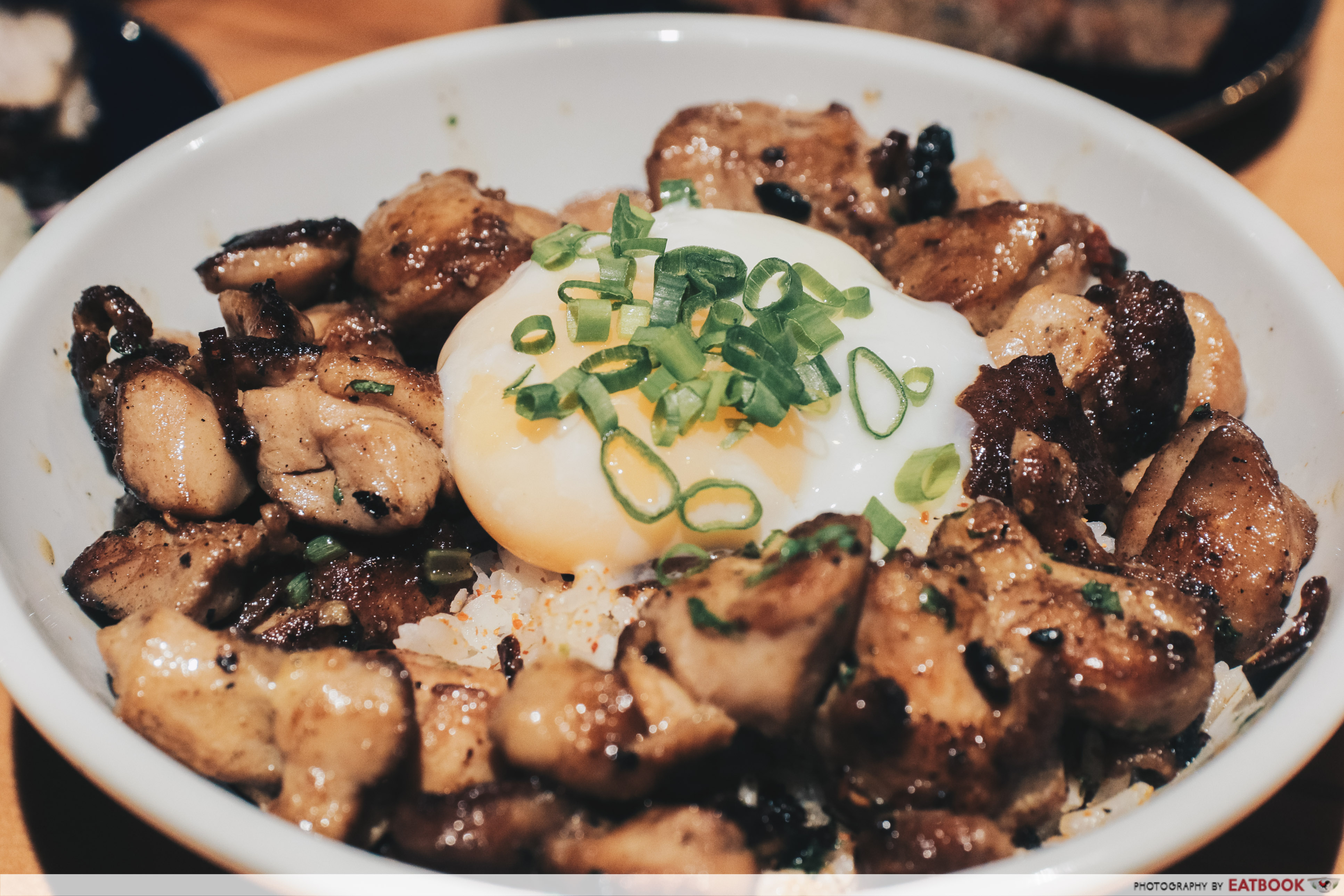 Other than our favourites from Five Ten like the Lu Rou Fan ($10+) and Steak Rice ($10+), The Salted Plum is also serving a mean Burnt Chilli Chicken Rice ($10+). It features a bed of white jasmine rice, topped with seared chicken chunks and a runny sous-vide egg in the centre.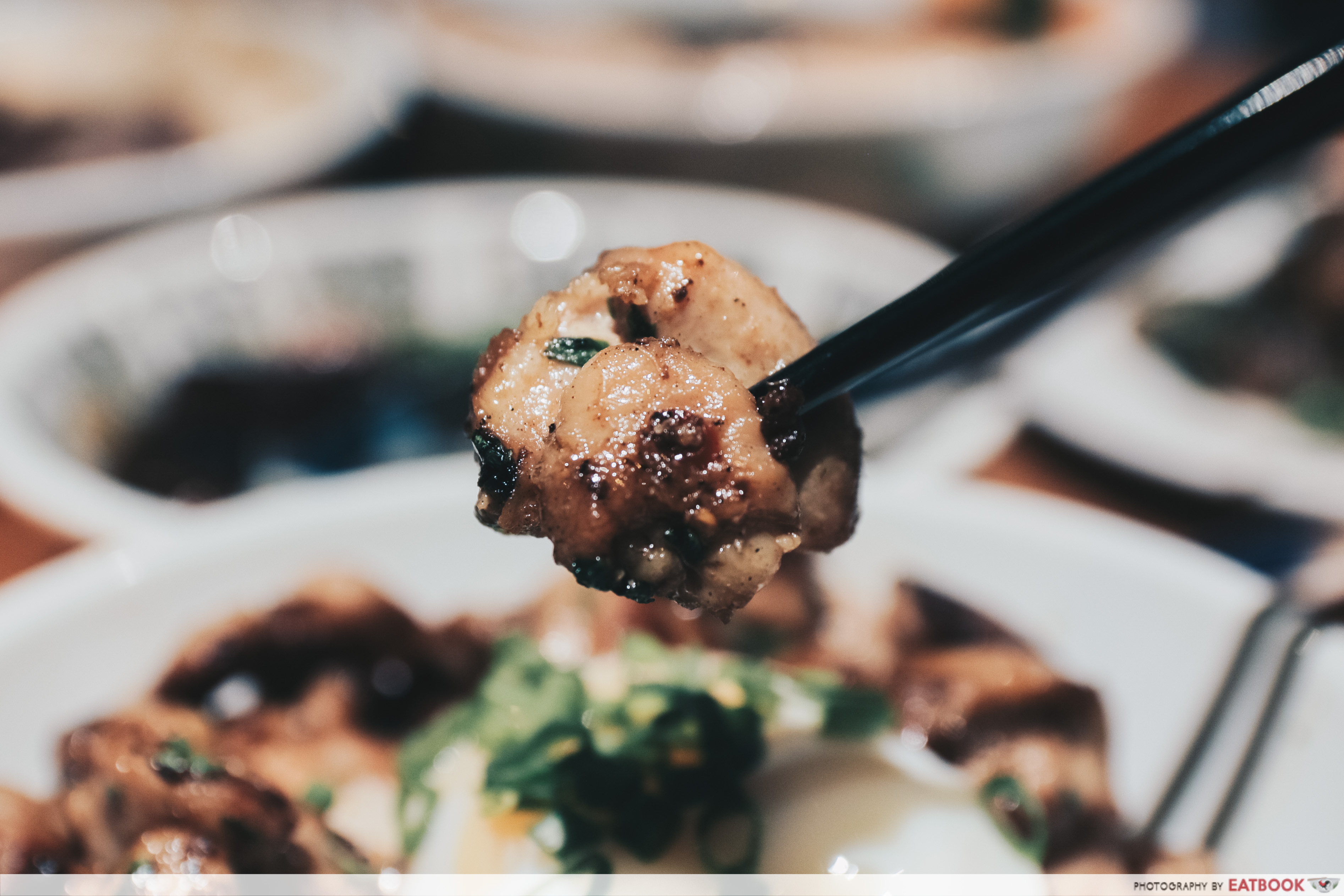 The chicken chunks were tender and juicy, a great pairing with the slightly sticky rice. What really sets this apart from the rest is their addition of "burnt chilli" which not only brings on a kick of heat, but also gives life and romanticises the otherwise simple dish. Mixed in with the chicken, I spied coriander, chopped dried chilli peppers and charred garlic pieces. The medley tasted delicious and the combination of flavours truly worked.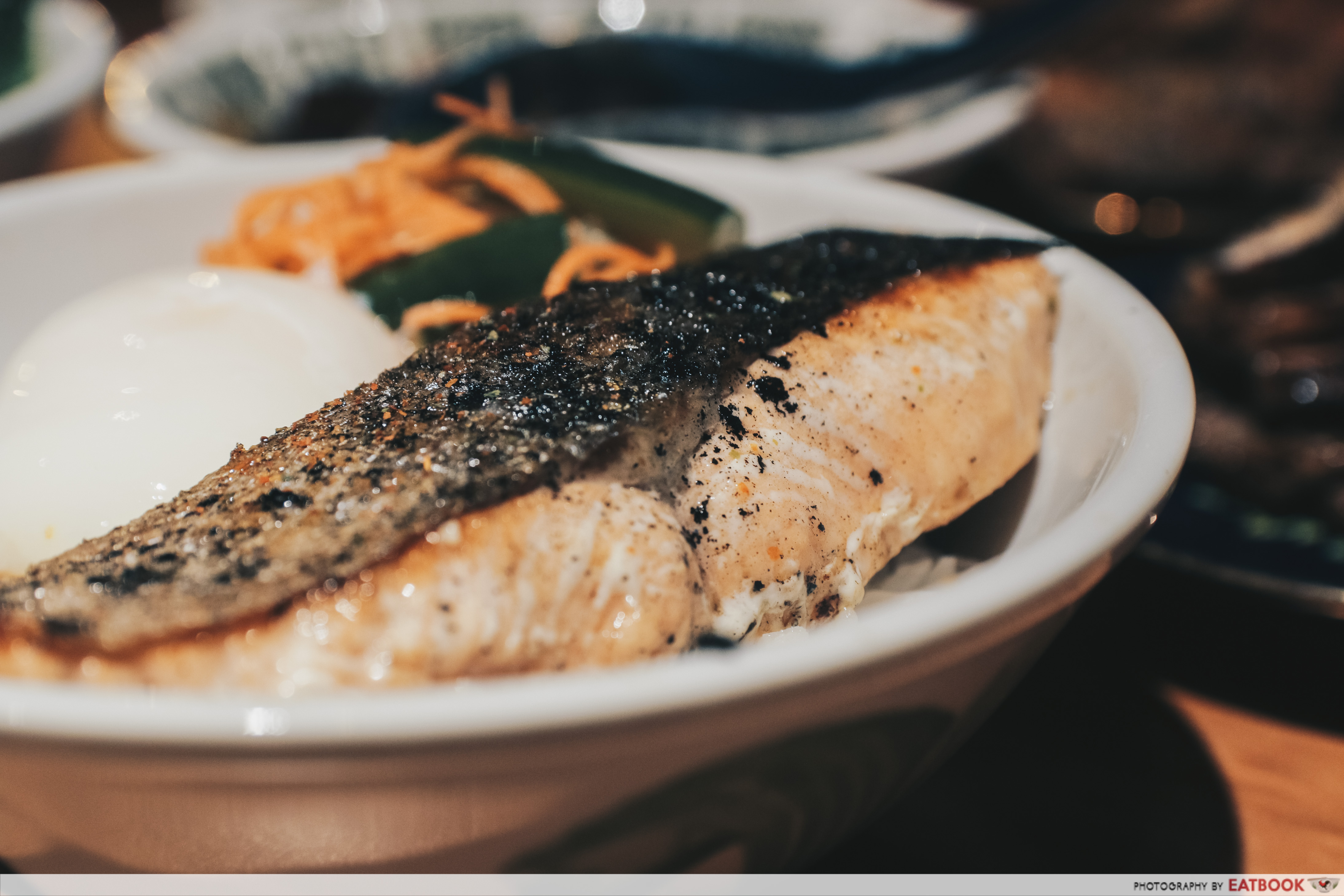 We also tried their Seared Salmon Bowl ($10+). I highly recommend this dish to those aiming to #eatclean this year. It comes with the same bowl of rice, this time topped with a generous slab of salmon, achar, sous-vide egg, and nori mayonnaise.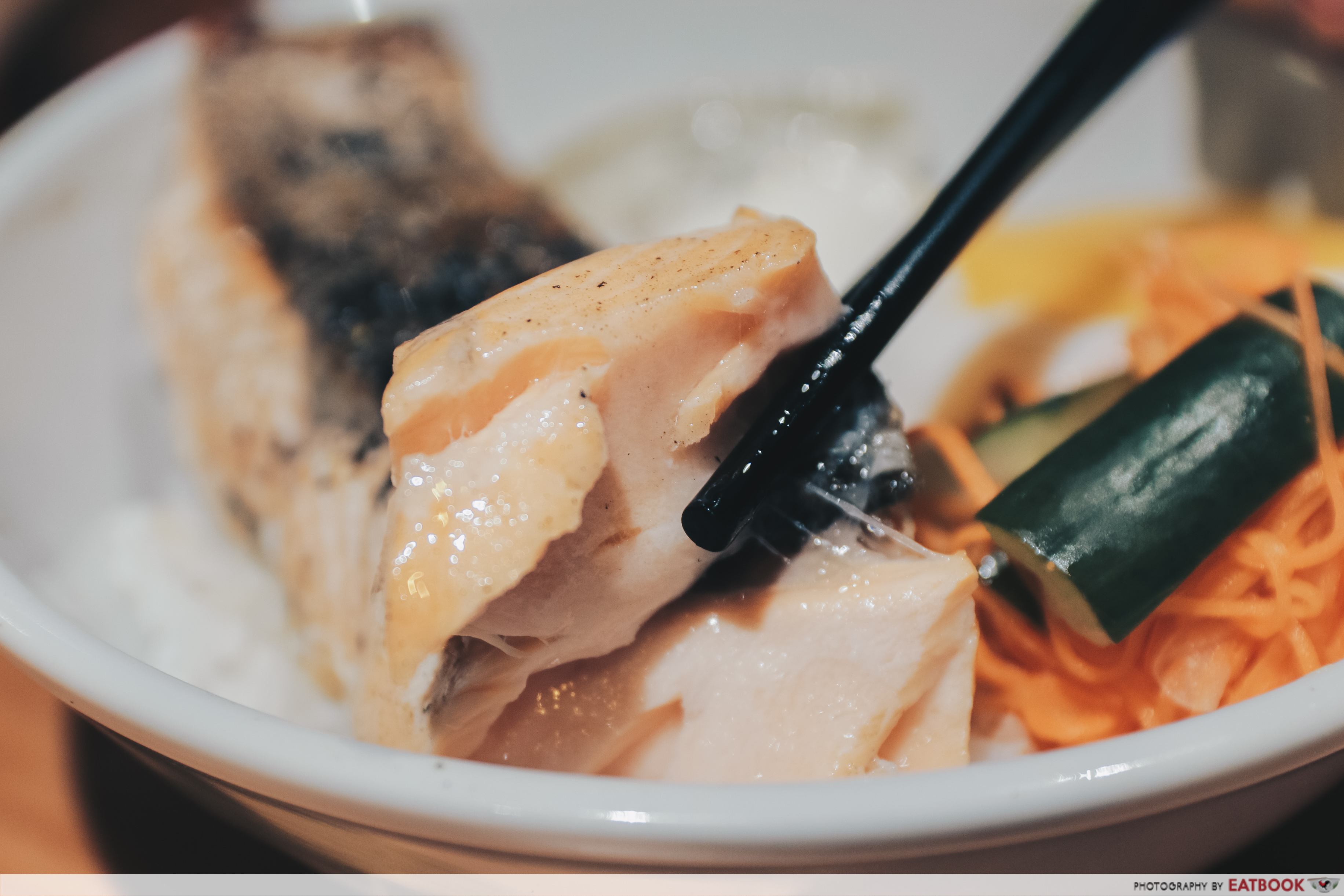 There was a nice mix of mouthfeel from the salmon. Having been pan-seared, the salmon skin holds a light crunch, contrasting pleasantly with the soft and moist salmon meat. The rich fatty taste also complemented the plain rice and mild achar given at the side.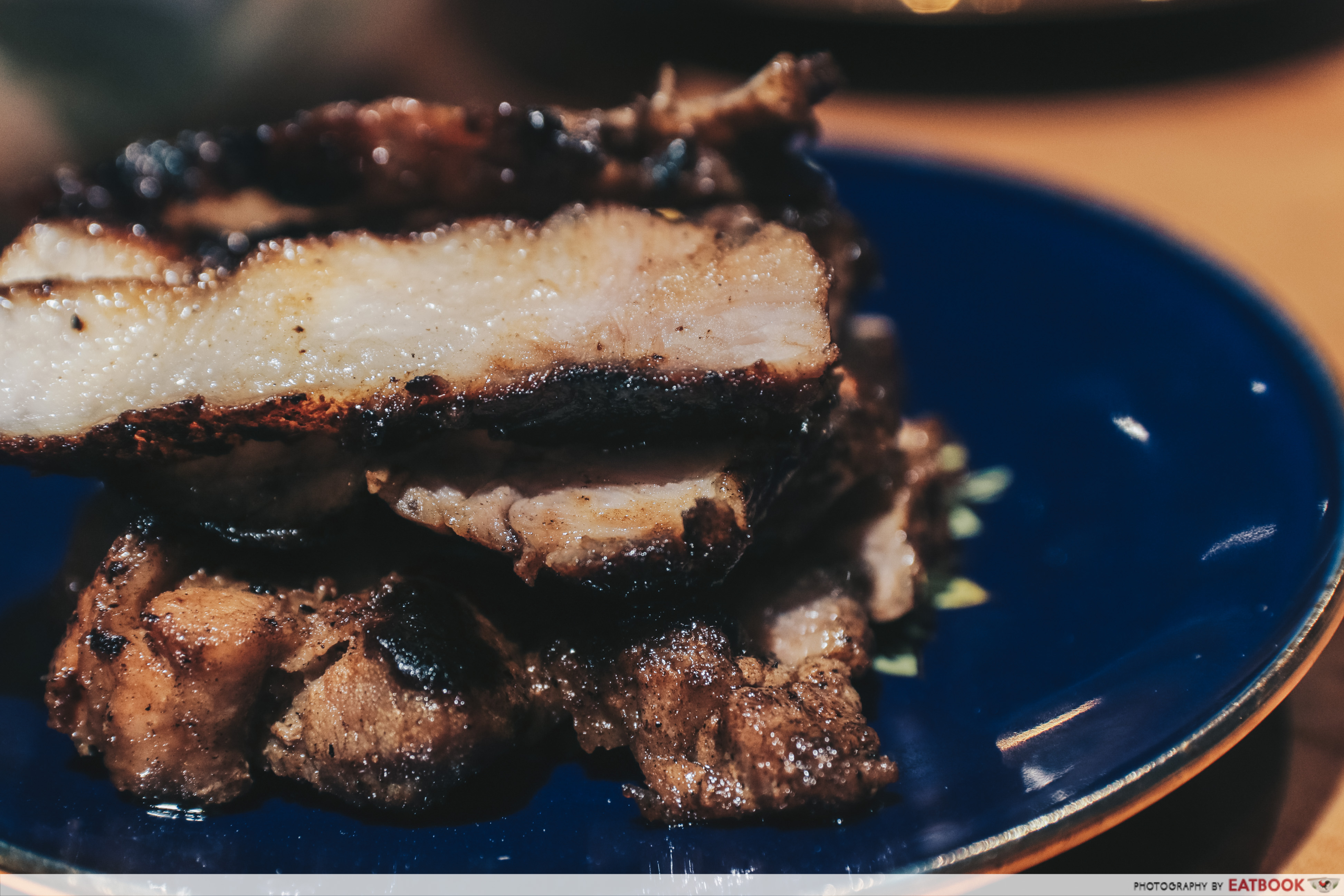 Sharing is caring. Use this excuse to order some of their sides as well. We enjoyed the Salted Pork ($5+) and Smashed Baby Potatoes | Plum Powder ($5+). The salted pork slices reminded me of a more salty and fatty version of bacon which I just couldn't get enough of.
The smashed potatoes were first smashed, deep-fried and then spammed with plum powder and other spices. The crevices from being smashed served as pockets to hide more of the seasoning, making each pop of potato a savoury parcel.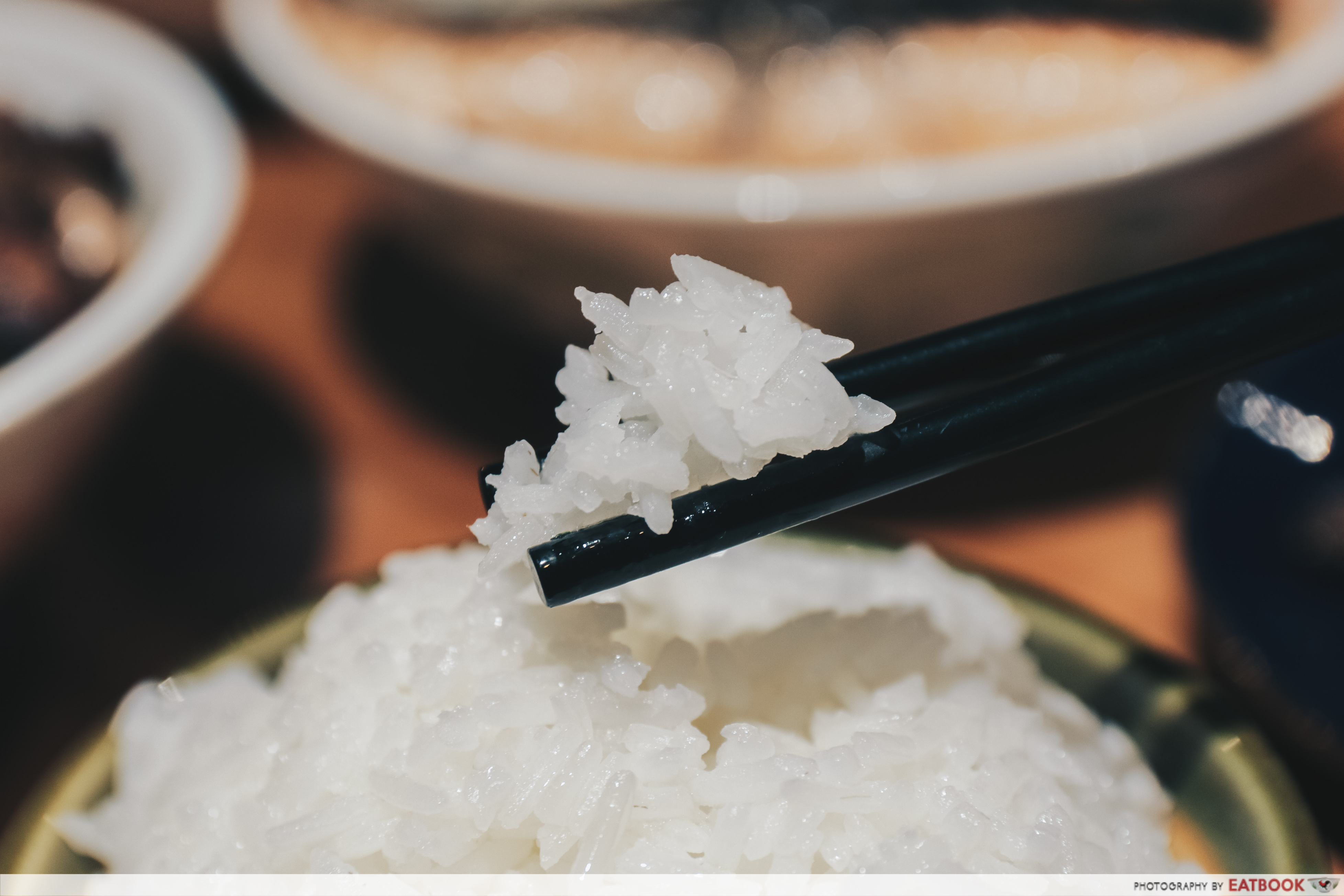 If, like me, eating out for you means #cheatday or a time to feast on high-caloric, comfort food, order a bowl of Shiny Rice ($0.50+) to try with the extra sides you can't help but order. It is like umamified plain white rice! Drizzled with lard and garlic oil, each spoonful brings out a light hint of unidentifiable flavour and fragrance.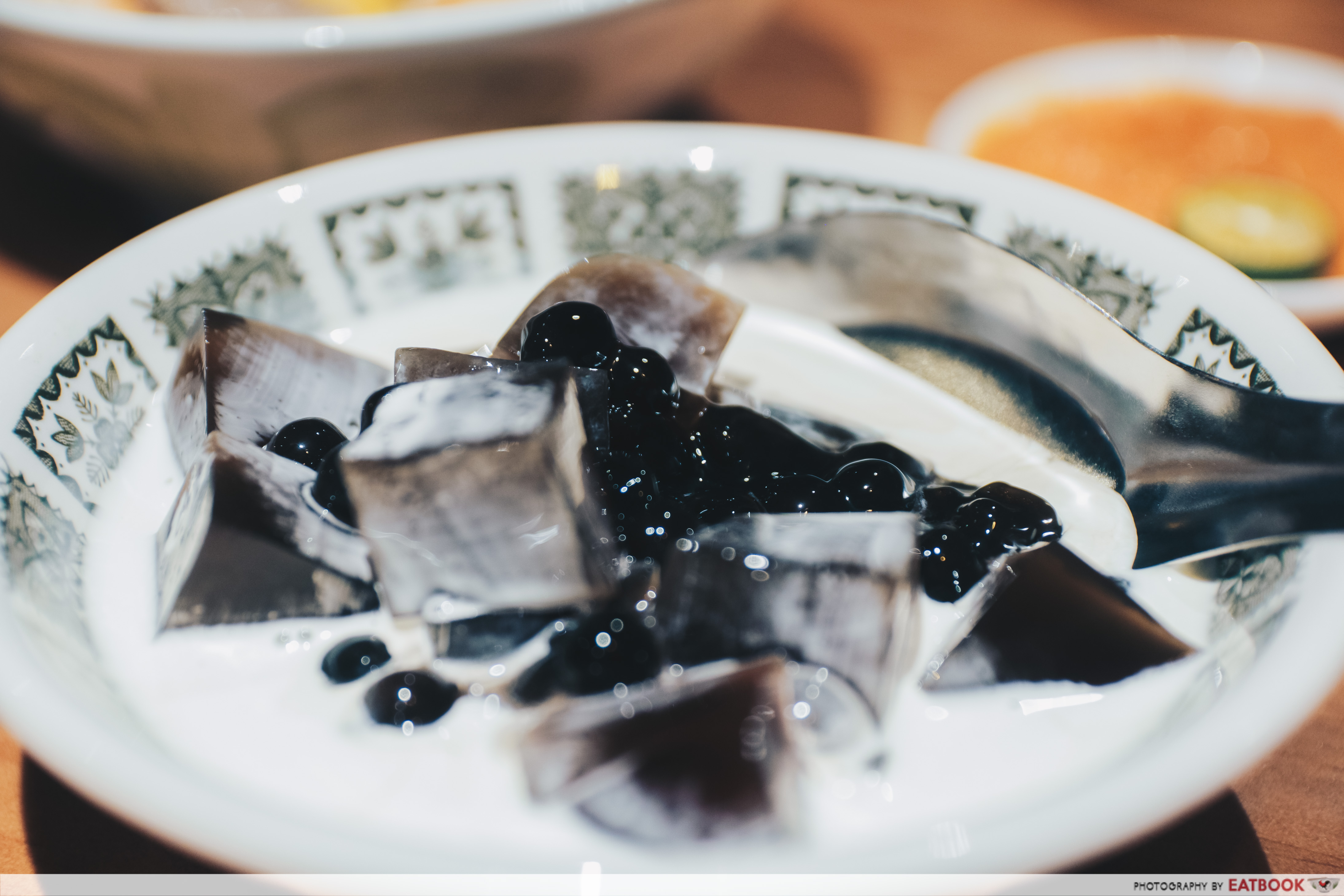 Seal the deal with a bowl of Red Tea Jelly | Pearls | Cream ($5+). Basically a deconstructed bubble milk tea, this dessert is too jelak to be eaten by yourself. Even though the pearls look less like the perfectly rounded globes we see at bubble tea shops, they are still very chewy. The red tea jellies were also delightfully aromatic. The cream was my favourite, tasting just like the creamy caramel candy I loved to eat when I was little.
Ambience at The Salted Plum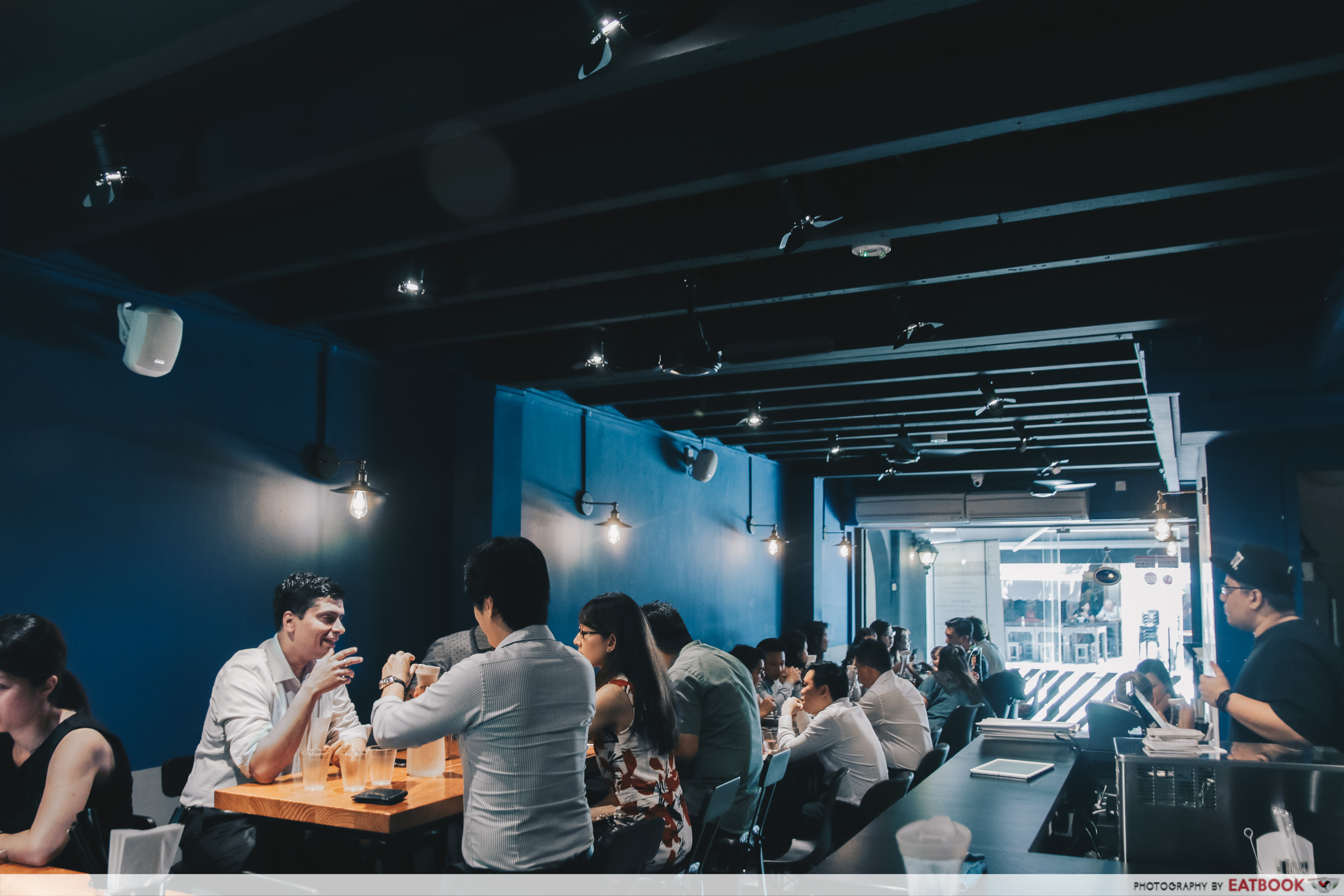 "Chill" is the word to use to describe the vibe at The Salted Pum. Even though the walls are painted in a hue of blue that would remind you of Santorini, the other aesthetics and old-school Mandopop playing in the background were #onpoint. Tunes such as Tong Hua by Guang Liang and Wo Nan Guo by 5566 will surely bring back nostalgic memories.
The verdict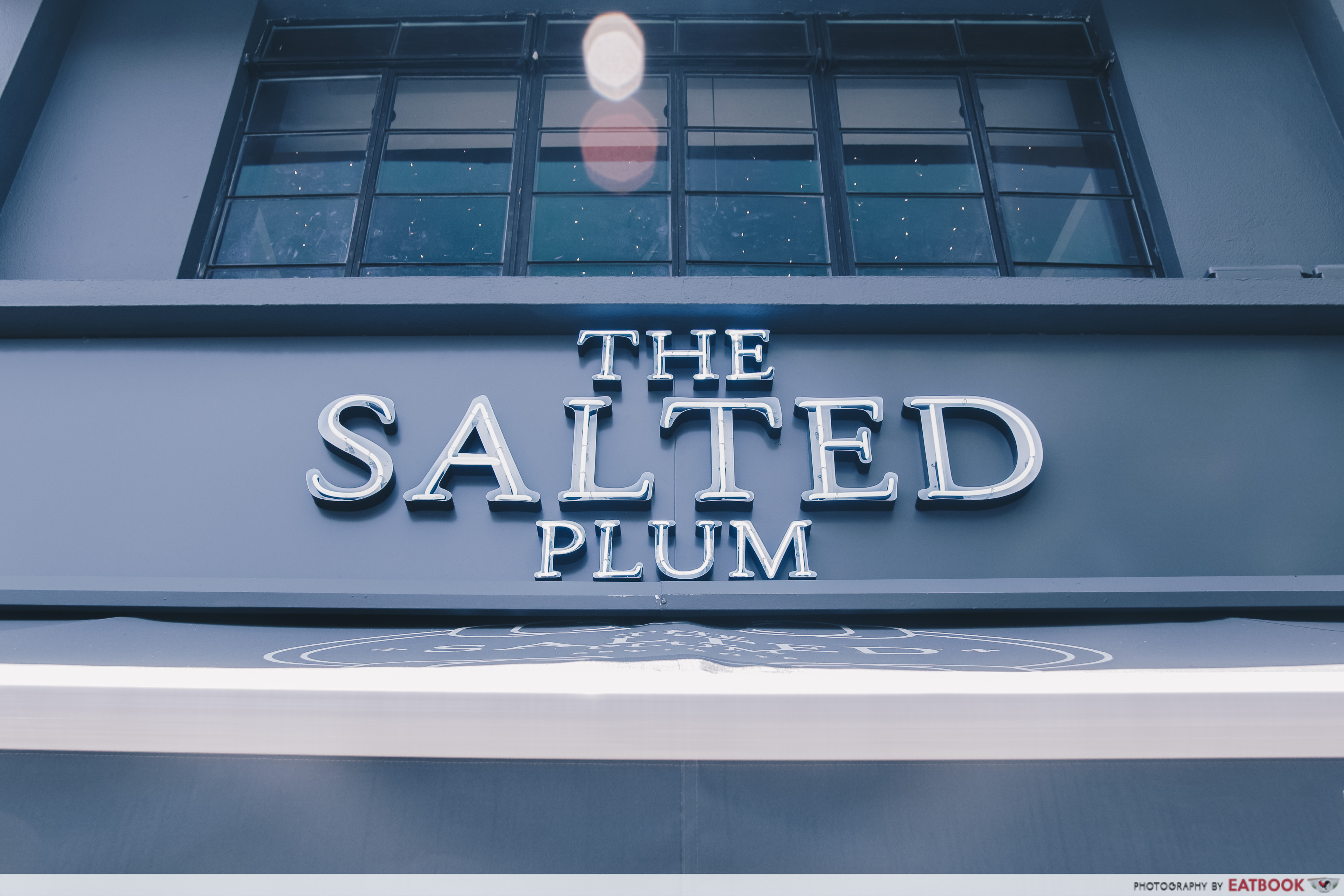 Neon signs are all the rage these days and The Salted Plum is doing it right. Though it was daytime when we arrived, I'm sure the signboard would bring attention to the two-storey shophouse on Circular Road. Head down with friends for some wallet-friendly comfort food and good vibes.
If you're looking for more interesting food to impress your makan kakis, check out these affordable Mod-Sin food. To keep up-to-date with food trends, you can also make a list of these new restaurants in April 2018.
Address: 10 Circular Road, Singapore 049366
Opening hours: Mon-Sat 11:30pm to 2:30pm, 6pm to 9:30pm
Tel: 6260 0155
Website
Menu
This was a media tasting at The Salted Plum.
Summary
Pros
– Well-flavoured dishes
– Affordable prices
– Great ambience
– Convenient location
Cons
– Limited options for drinks and dessert
Recommended Dishes: Burnt Chilli Chicken Rice ($10+), Salted Pork ($5+), Smashed Baby Potatoes | Plum Powder ($5+)
Opening Hours:
Mon-Sat 11:30pm to 2:30pm, 6pm to 9:30pm
Address: 10 Circular Road, Singapore 049366