---
Mod-Sin – the modern twist to local food
---
Coined by Chef Willin Low from Wild Rocket, Modern Singaporean cuisine, or mod-Sin cuisine, uses the concept of combining local dishes such as nasi lemak with a modern Western style and influence. This idea sounds like a dang good one to me. However, these mod-Sin dishes usually come with a heavy price tag, as they're often served at fancy restaurants. For those who are adventurous with their food but don't want to burn a hole in their pocket, here are 10 wallet-friendly mod-Sin style dishes to feast on without a worry.
---
1. Revolution Coffee's Nasi Lemak
---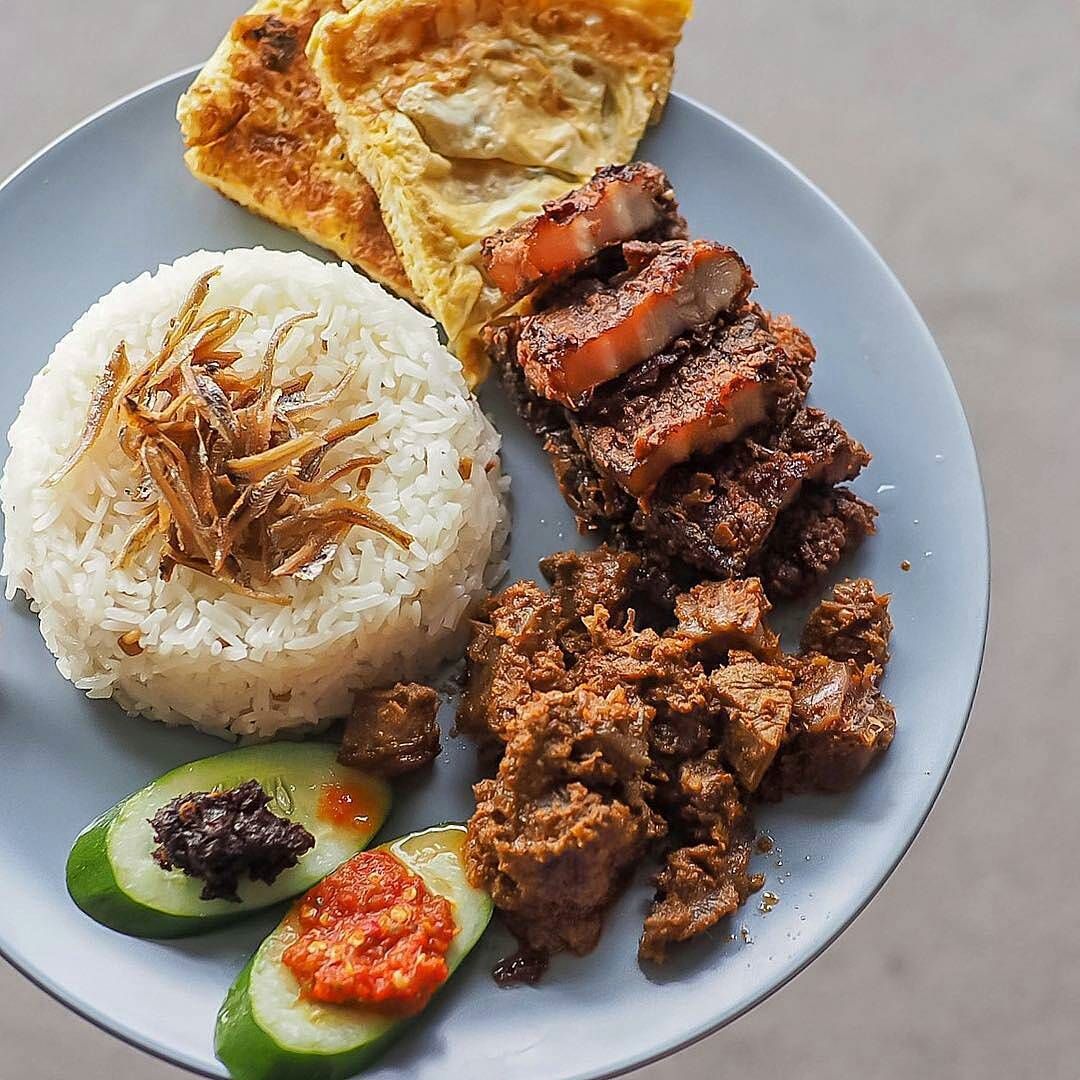 Image credit: @singaporeliciouz
Impress a date or your makan kakis by bringing them to a feast at Revolution Coffee. Helmed by Chef Shen Tan who is famous for her mod-Sin creations, the cafe allows you to pick from a variety of meats to pair with your nasi lemak rice set. We recommend her Nasi Lemak Crispy Pork ($7.90), Nasi Lemak with 5 Spice Pork Confit ($9.90), and Nasi Lemak Beef Rendang ($9.90). End it off with Shendol Delights ($10), which features a coconut cream panna cotta and red bean ice-cream, drizzled with delicious gula melaka syrup.
Address: 21 Media Circle, #01-03A, Infinite Studio, Singapore 138562
Opening hours: Wed-Sun 9am to 6pm
Tel: 6777 2110
Website
---
2. Chicken Rice Burger
---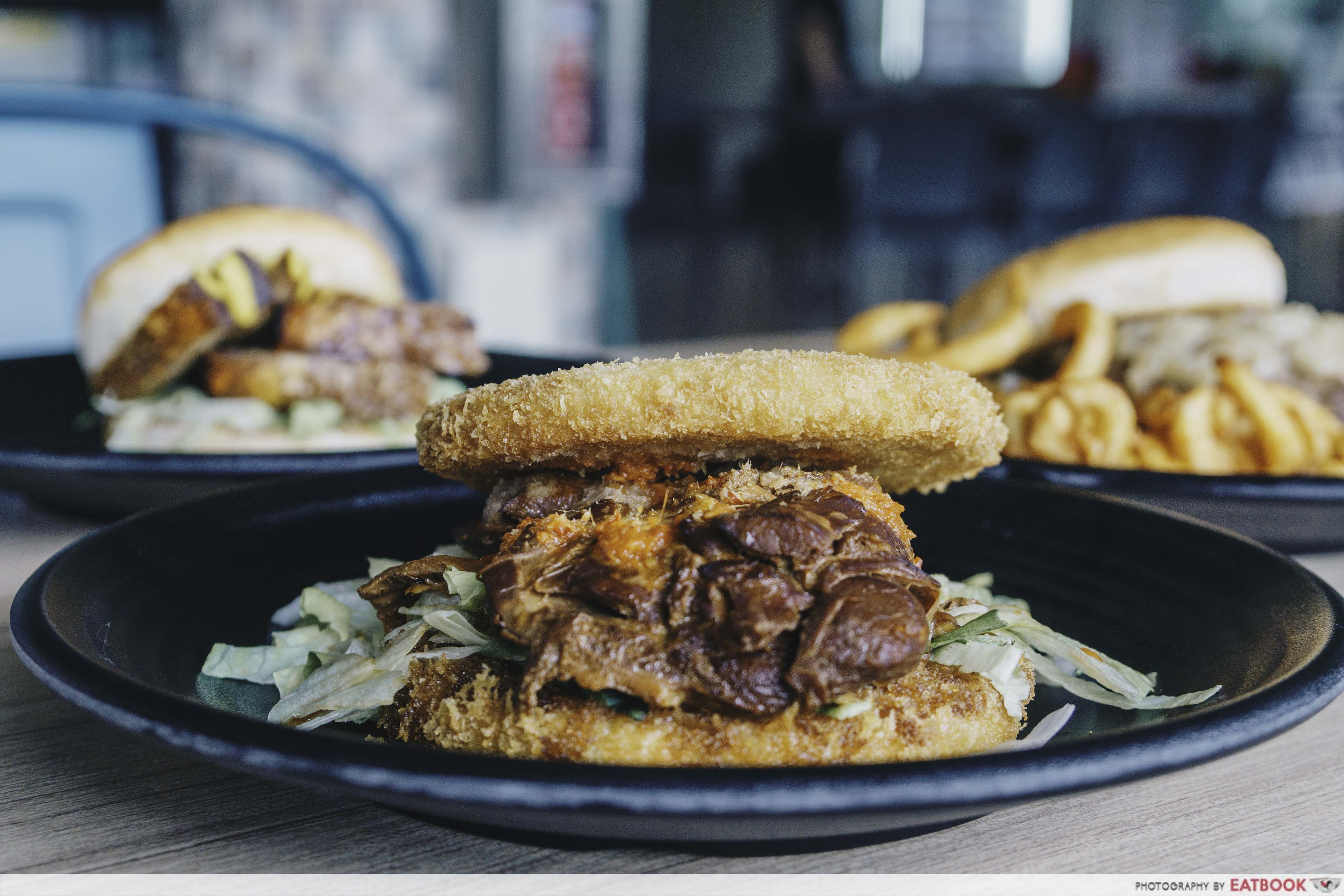 The Humble Burger's rendition of chicken rice truly takes the cake as the most creative dish, at least in my book. A Singaporean dish recreated in the form of a Western favourite, the Chicken Rice Burger ($5.50) was a sight to behold. Swapping burger buns for rice 'buns', a fork-tender serving of chicken and shredded lettuce are sandwiched in-between. Though messy to eat, the intensified flavours of chicken rice along with a piquant ginger and garlic chilli sauce made the burger one that I could finish in one sitting.
Check out our full review of The Humble Burger!
Address: 110 Pasir Ris Central, #02-22, Pasir Ris Central Hawker Centre, Singapore 519641
Opening hours: Wed-Mon 12pm to 9pm
Website
---
3. Laksa Udon
---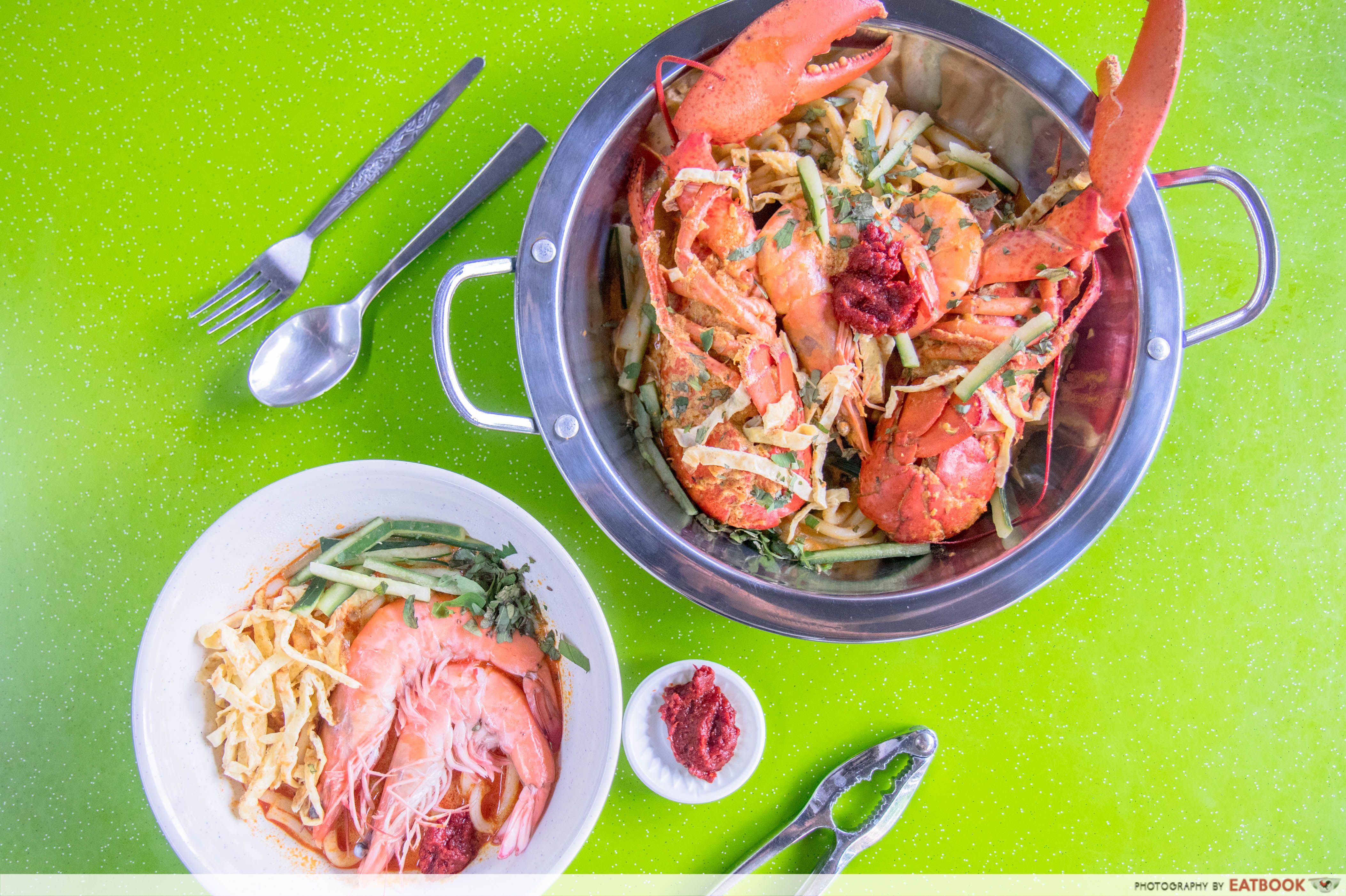 Please don't call the West ulu or boring, we house a mean mod-Sin dish – Laksa Udon. $4 gets you a bowl of laksa with udon instead of the usual yellow noodles or bee hoon. The laksa is creamy and thick from the addition of fish meat in the broth. If you're feeling generous, you can also order their Laksa Lobster Deluxe ($34.90), which features a whole Boston lobster.
Check out our full review of Jenggood Jom Makan!
Address: Blk 49 Teban Gardens Road, Singapore 600049
Opening hours: Mon-Tue & Thur 6:30am to 7pm, Fri-Sun 6:30am to 10pm
Tel: 8722 5341
Website
Jenggood Jom Makan is a Muslim-owned stall.
---
4. Har Cheong Gai Burger
---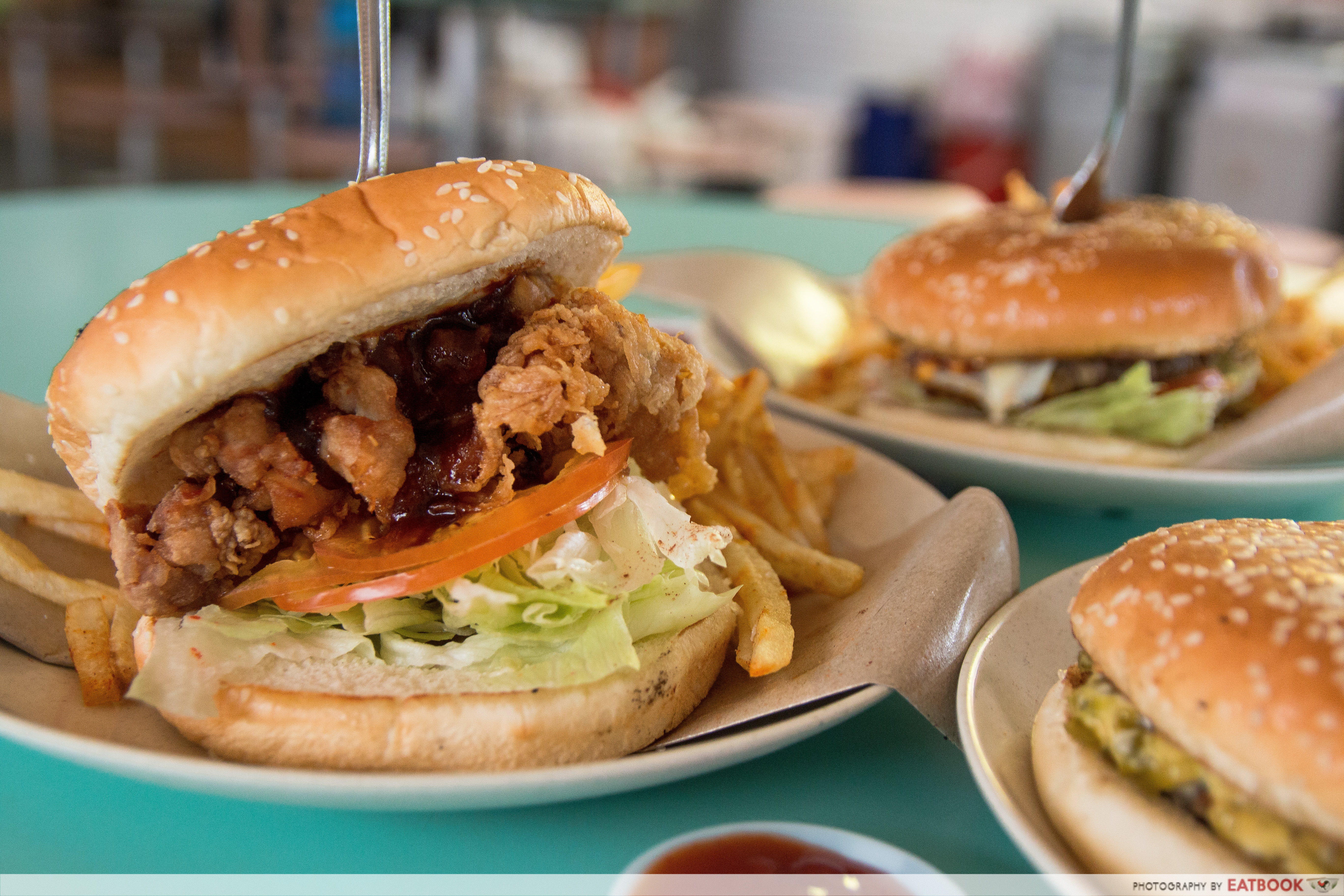 I Love Burger Lah! is a Muslim-owned stall at Ghim Moh Market and Food Centre. In their menu lies a burger called the Har Cheong Gai Burger ($4), which is inspired by the iconic zi char dish – you guessed it – har cheong gai! I fell in love with the crunch of the prawn paste, the juiciness of the chicken, and the aromatic flavours of the entire burger. They also serve Salted Butterscotch Fries ($4) that were finger lickin' good. Find nothing above $5 at this hawker stall.
Check out our full review of I Love Burger Lah!
Address: 20 Ghim Moh Road, #01-06, Ghim Moh Market & Food Centre, Singapore 270020
Opening hours: Daily 11am to 8pm
I Love Burger! is a Muslim-owned stall.
---
5. Sinpopo's Nasi Lemak For Two
---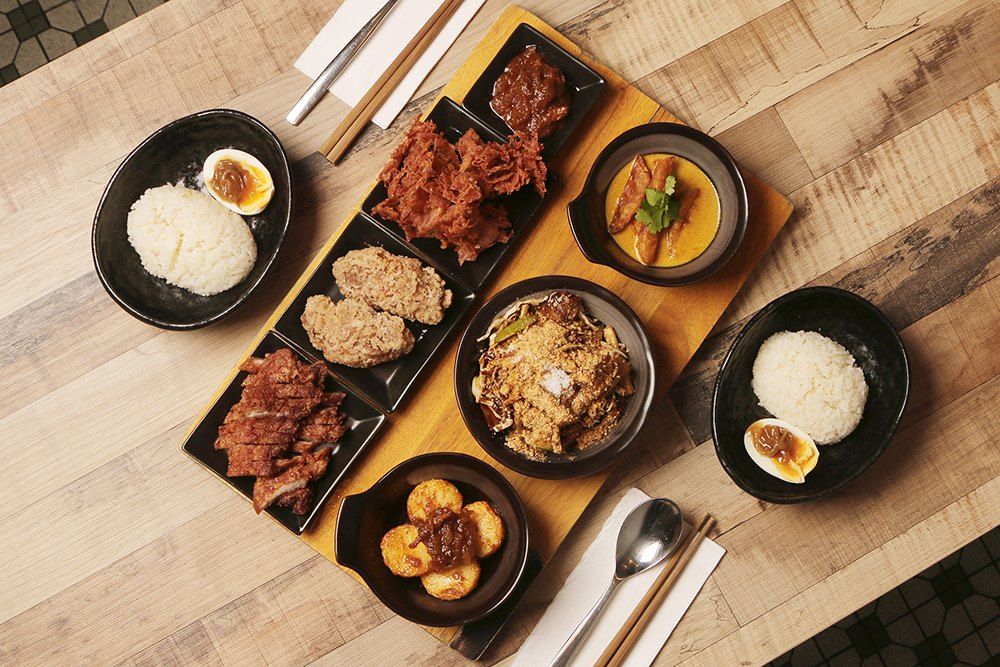 Image credit: Sinpopo Brand's Facebook page
Have an atas Sinpopo's Nasi Lemak For Two at $28+. It comes with zhnged-up sides such as assam onion relish, har cheong gai chicken wings, luncheon meat crisps, and rojak slaw. They also have a Crispy Muah Chee Salad ($12+) that is not only novel but delicious as well. For desserts, order the Durian Pengat ($9+), which is served with coconut ice-cream and house-made browned butter croutons.
Address: 458 Joo Chiat Road, Singapore 427671
Opening hours: Tue-Sun 12pm to 10pm
Tel: 6345 5034
Website
Menu
---
6. Satay Burger
---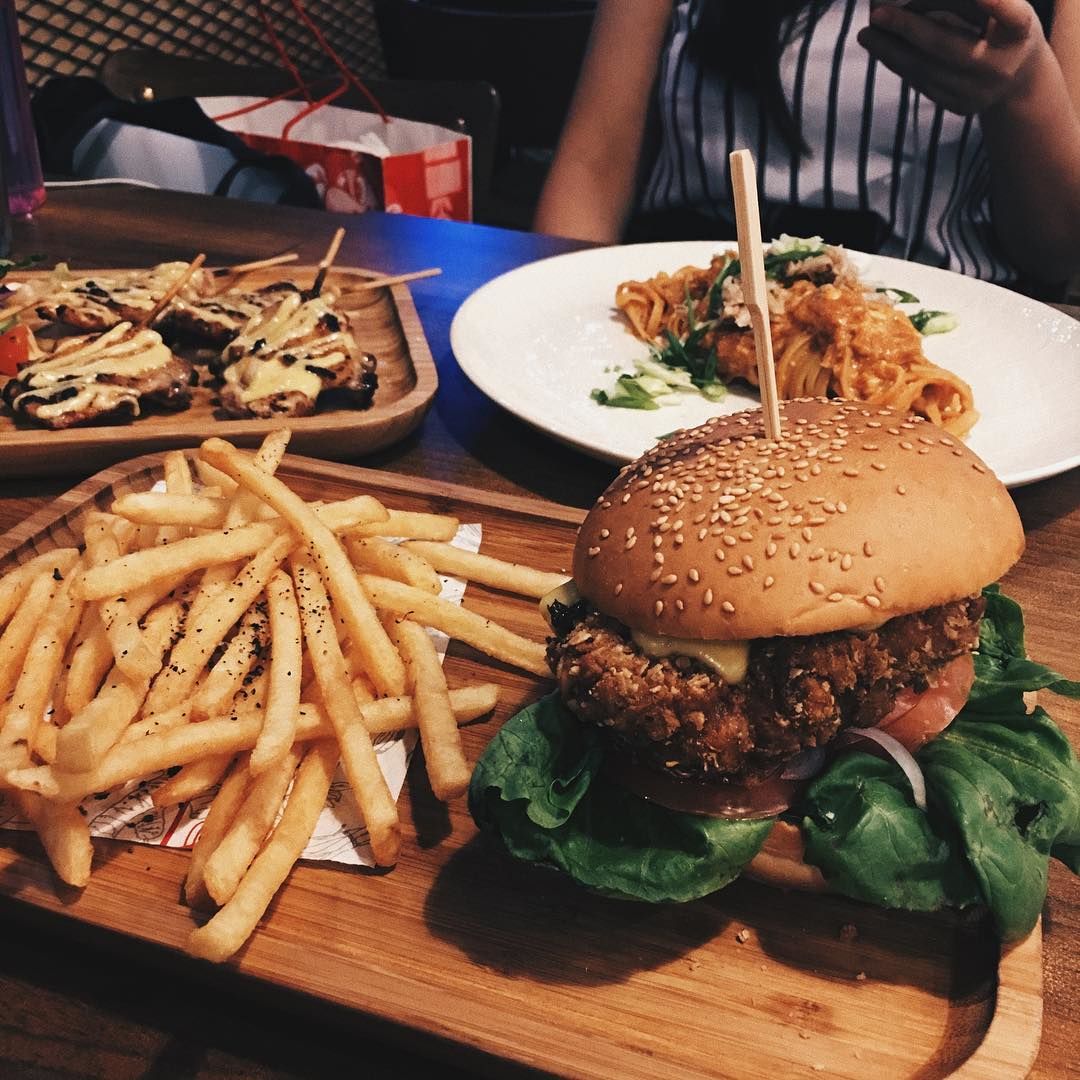 Image credit: @chu.feret
Other than chicken rice burger, another mod-Sin burger to try would be the Satay Burger ($16+) from The Quarters. From mains to appetisers, The Quarters aims to celebrate and preserve food heritage with a modern touch. Other must-tries include their Chilli Crab Pasta ($18+), Salted Egg Chicken Burger ($16+), and Fwah! ($18+), which is a medley of foie gras and scrambled egg on top of kaya and toast.
Address: 16 Enggor Street, #01-09, Icon Village, Singapore 079717
Opening hours: Mon-Fri 8am to 10pm, Sat 9am to 10pm, Sun 9am to 5pm
Tel: 6834 4174
Website
---
7. Lobster Nasi Lemak
---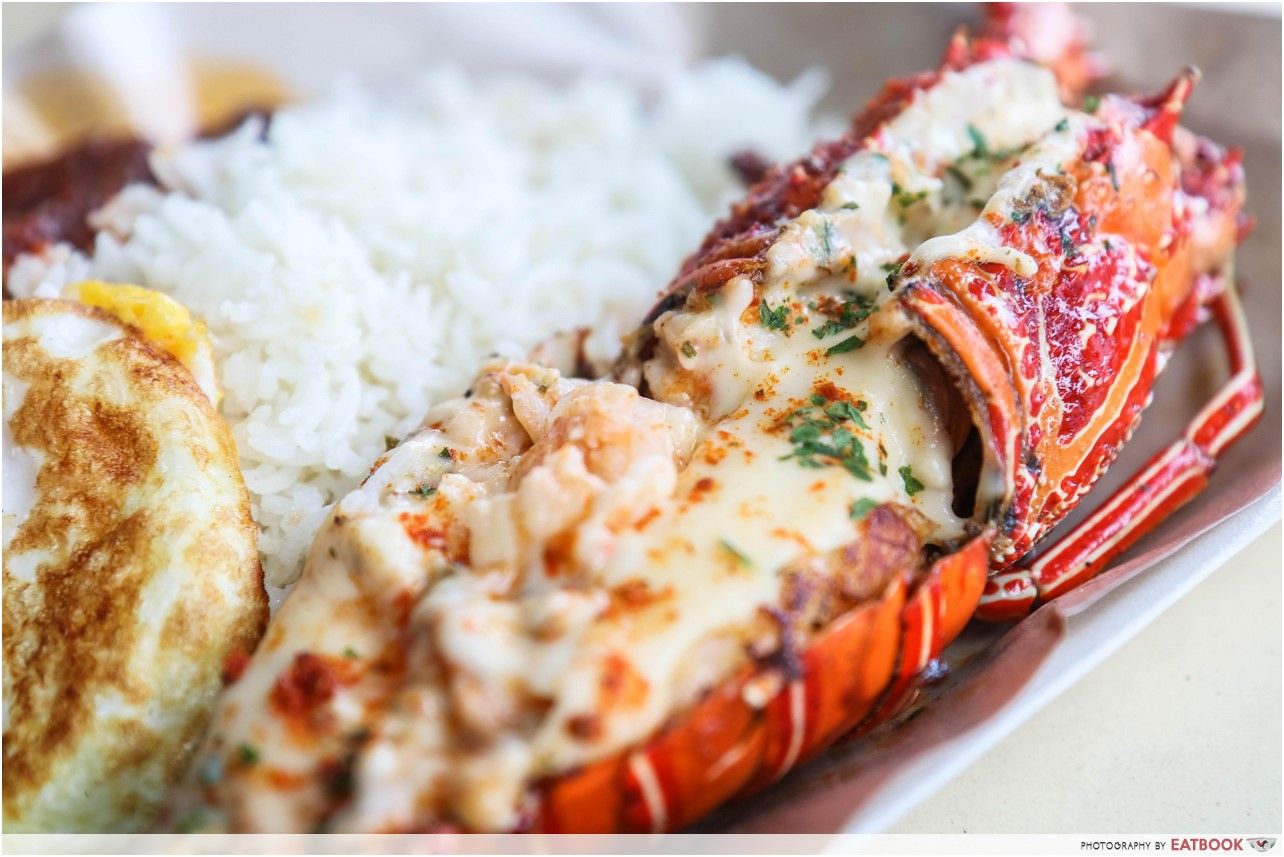 I feel that 2017 was the year of the best food trends – everything salted egg yolk, fruit teas, tongue-numbing ma la xiang guo, stretchy cheesepulls… the list goes on. It also saw the rise of hawker stalls dishing out premium food at more affordable prices. Lawa Bintang's Lobster Nasi Lemak ($22) is one such example. On top of the usual nasi lemak sides, it comes with a lobster covered by a creamy layer of three kinds of cheese and herbs. Other unique ingredients offered are salmon ($9), soft-shell crab ($9), and smoked duck ($9).
Check out our full review of Lawa Bintang!
Address: 9008 Tampines Street 93, Singapore 528843
Opening hours: Tue-Sun 9am to 2pm
Website
Lawa Bintang is a Muslim-owned stall.
---
8. Nasi Coco Supreme
---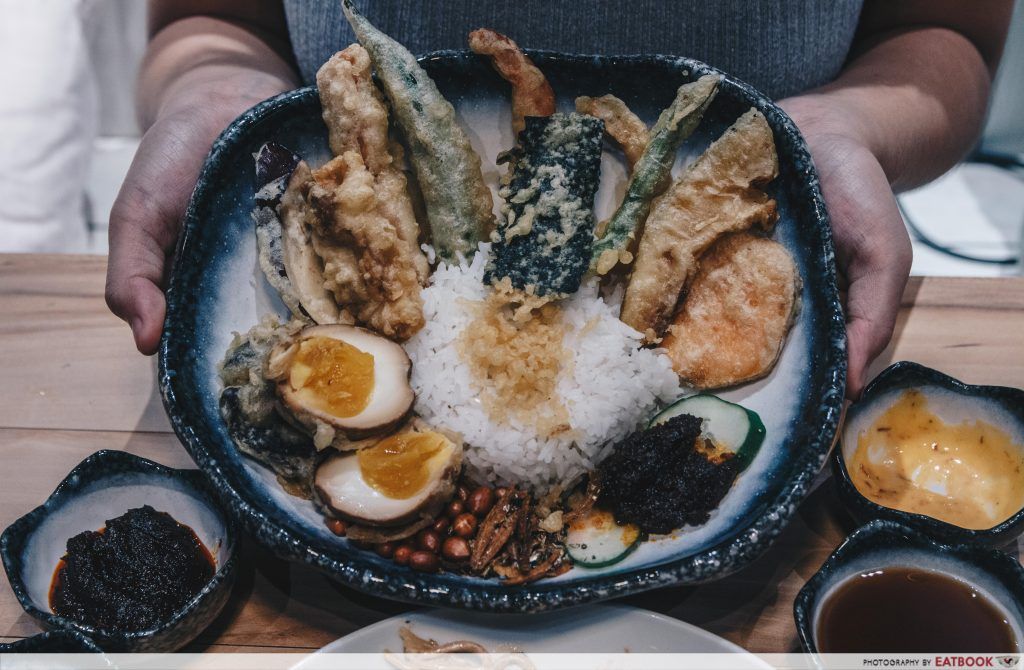 In view of the tendon craze, Nasi Coco serves a signature called the Nasi Coco Supreme ($9.90). It features the classic nasi lemak with a modern twist; surrounding a bed of fragrant coconut rice is a range of tempura – mushroom, eggplant, long bean, seaweed, chicken, prawn, and a flavoured lava egg. If you're feeling adventurous, try their Pasuta Lemak ($9.90), which is a coconut-based carbonara topped with ikan bilis, bonito flakes, seaweed, and luncheon meat.
Check out our full review of Nasi Coco!
Address: 1 West Coast Drive, #01-73, NeWest, Singapore 128020
Opening hours: Daily 10am to 930pm
Tel: 6255 9030
Website
---
9. Bombistik and Chikabom
---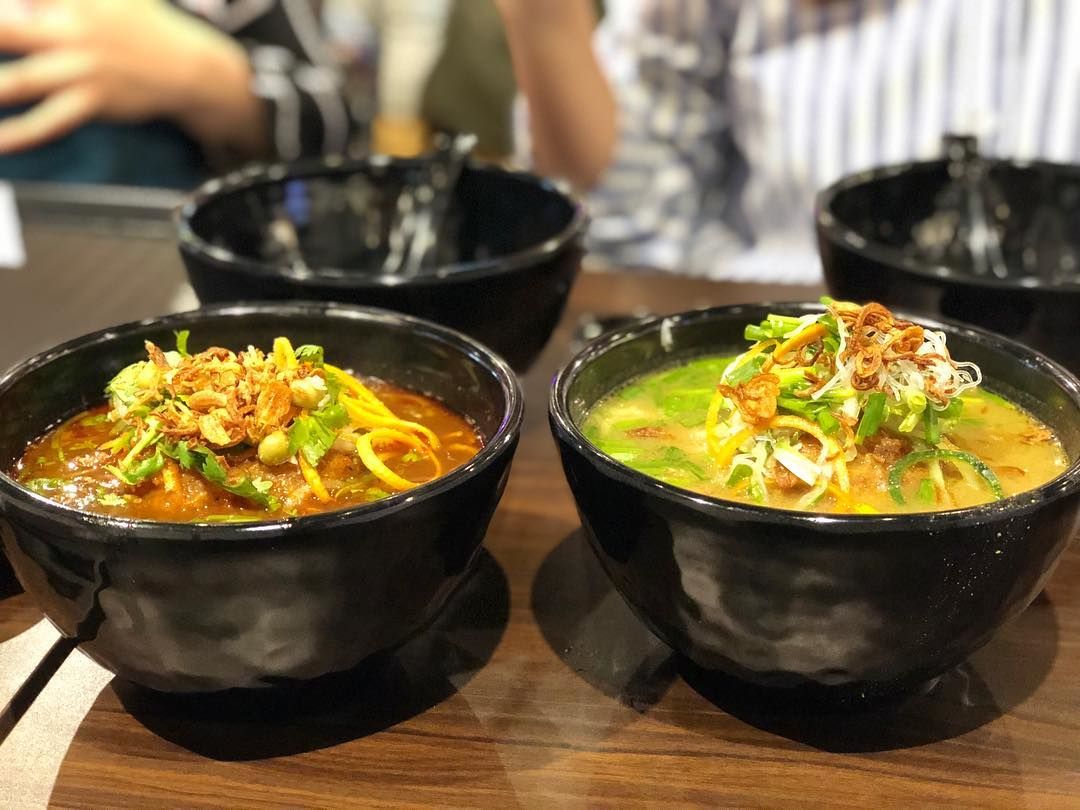 Image credit: @nadya_mitsuo
Found in the atas food court, FOMO Singapore, Kakak Kentang is for those who love their carbs in the form of potatoes. Picture a bowl of piping hot mee soto, get rid of the noodles, and pinch zoom to supersize the bergedil which was drowning in the soup. This mod-Sin rendition gives you a choice between chicken soup soto and tomato bistik gravy, and either minced beef or chicken hidden in the XXL potato ball. If you like beef, get the Bombistik ($6.90); if you like chicken, get the Chikabom ($6.90)!
Address: 38 Sultan Gate, Singapore 198486
Opening hours: Mon-Thur, Sat 11am to 9pm, Fri 2:30pm to 9pm, Sun 12pm to 9pm
Tel: 6755 4225
Website
Kakak Kentang is a Muslim-owned stall.
---
10. Pink Fairy and Kueh Chendol
---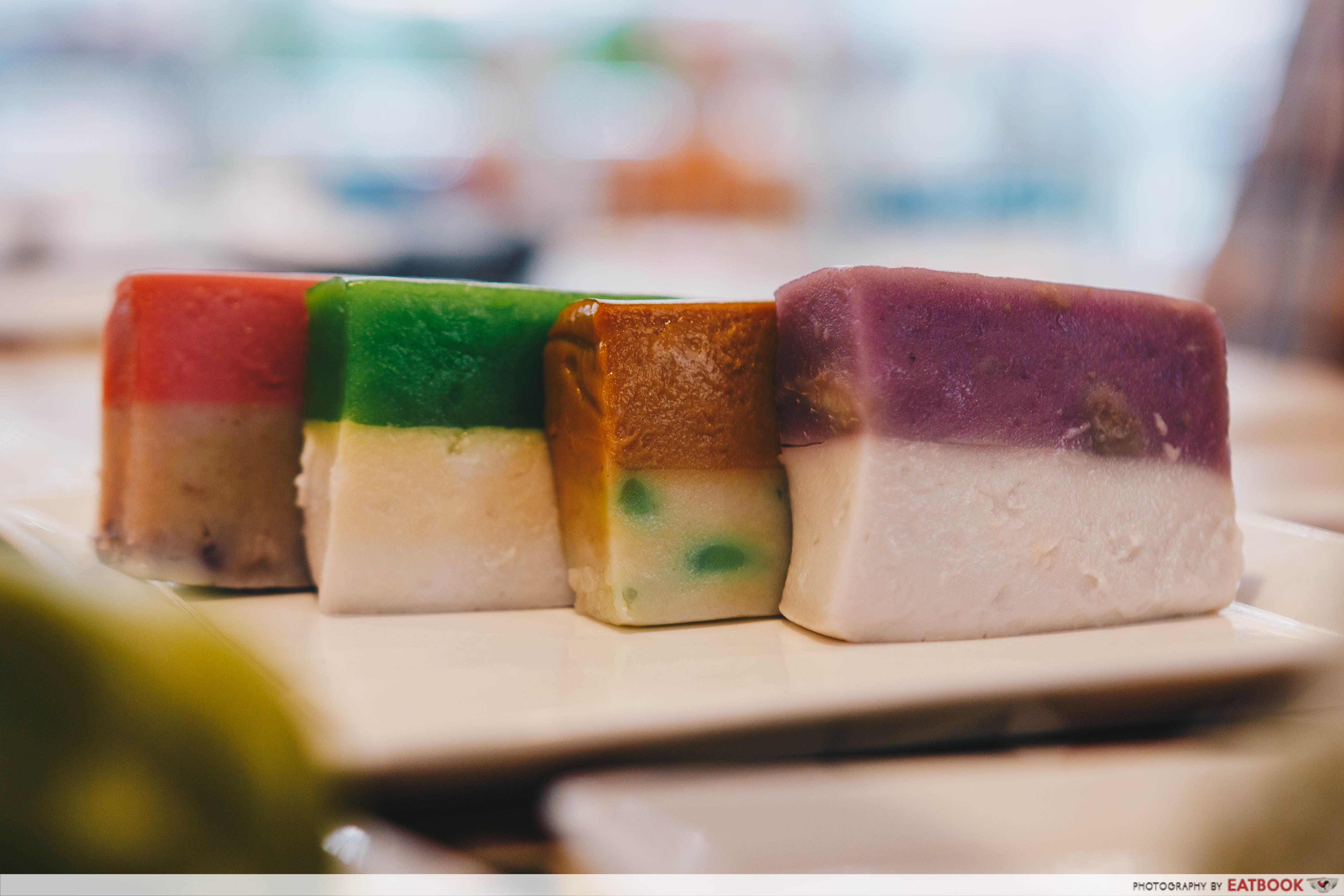 If like me, you have a second stomach for desserts, head to HarriAnns for some after-dinner sweet treats. Located in the heart of busy Bugis, HarriAnns boasts the softest kueh in flavour-packed blocks. Get your hands on their playful take of traditional kueh, such as Pink Fairy ($1.10) and Kueh Chendol ($1.10), which are red bean and chendol versions of kueh talam respectively. We heard they're also launching rainbow ondeh ondeh soon! These colourful balls of kueh will hold fillings such as yam and chocolate instead of the usual gula melaka.
Address: 230 Victoria Street, #01-01A, Bugis Junction Towers, Singapore 188024
Opening hours: Daily 7am to 9pm
Tel: 6238 1200
Website
---
Mod-Sin food for everyone
---
From appetisers to mains and even desserts, there is no lack of mod-Sin food choices for days leading up to payday. Impress those around you with these novel yet familiar flavours. If you're looking for more unique food, check out this list of modern peranakan kueh or unique fish and chips.