I Love Burger Lah! is a halal burger stall with fancy fries
Update (March 2019): I Love Burger Lah! is now permanently closed.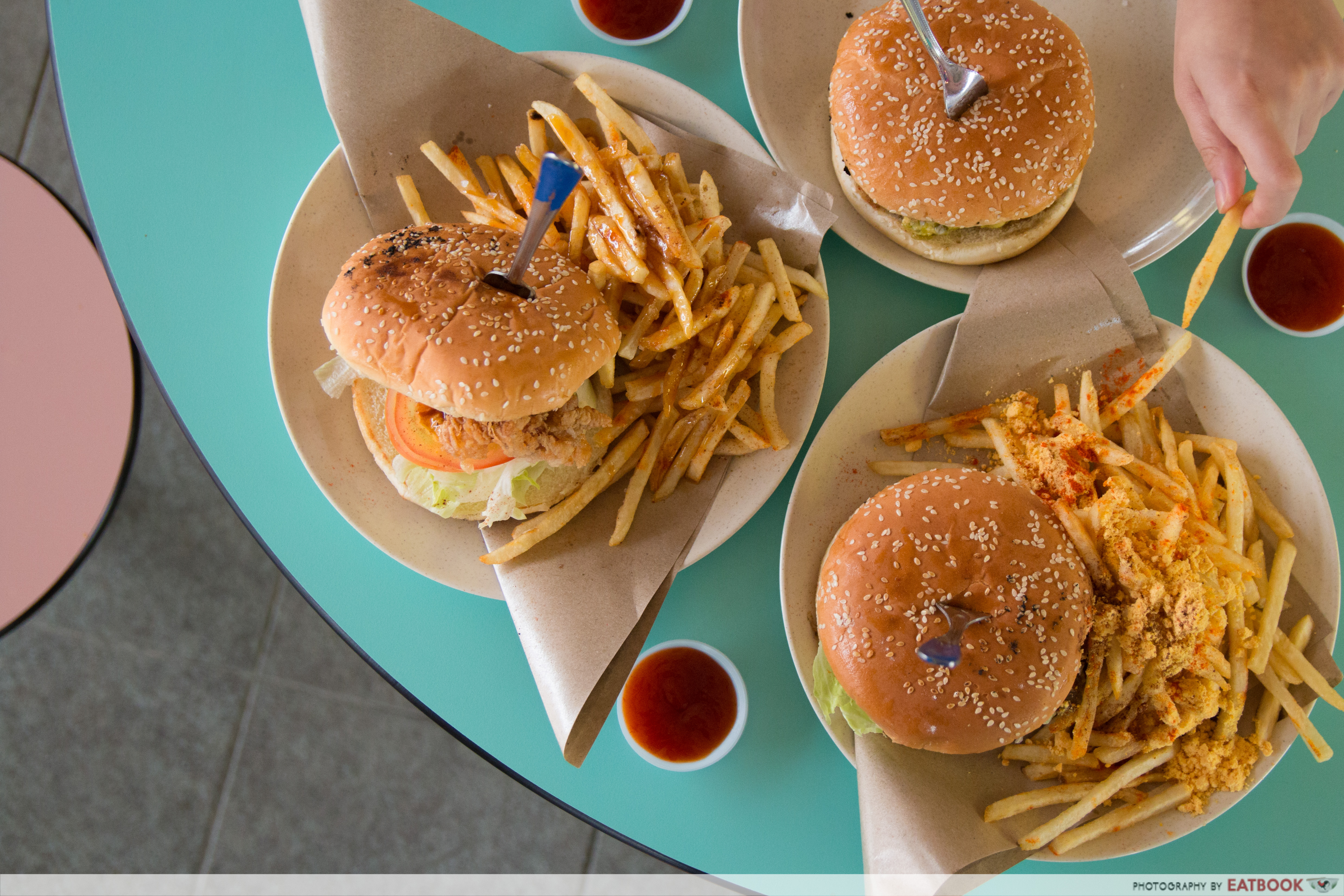 It's always a joy to find a newly opened gem in a hawker centre. From the name I Love Burger Lah!, it's pretty obvious that this stall serves a range of burgers, with flavours that cater to us Singaporeans. I Love Burger Lah! also offers an extensive and fancy fries menu that intrigued my colleagues and I when we did some googling prior to visiting the stall at Ghim Moh Food Centre.
Food at I Love Burger Lah!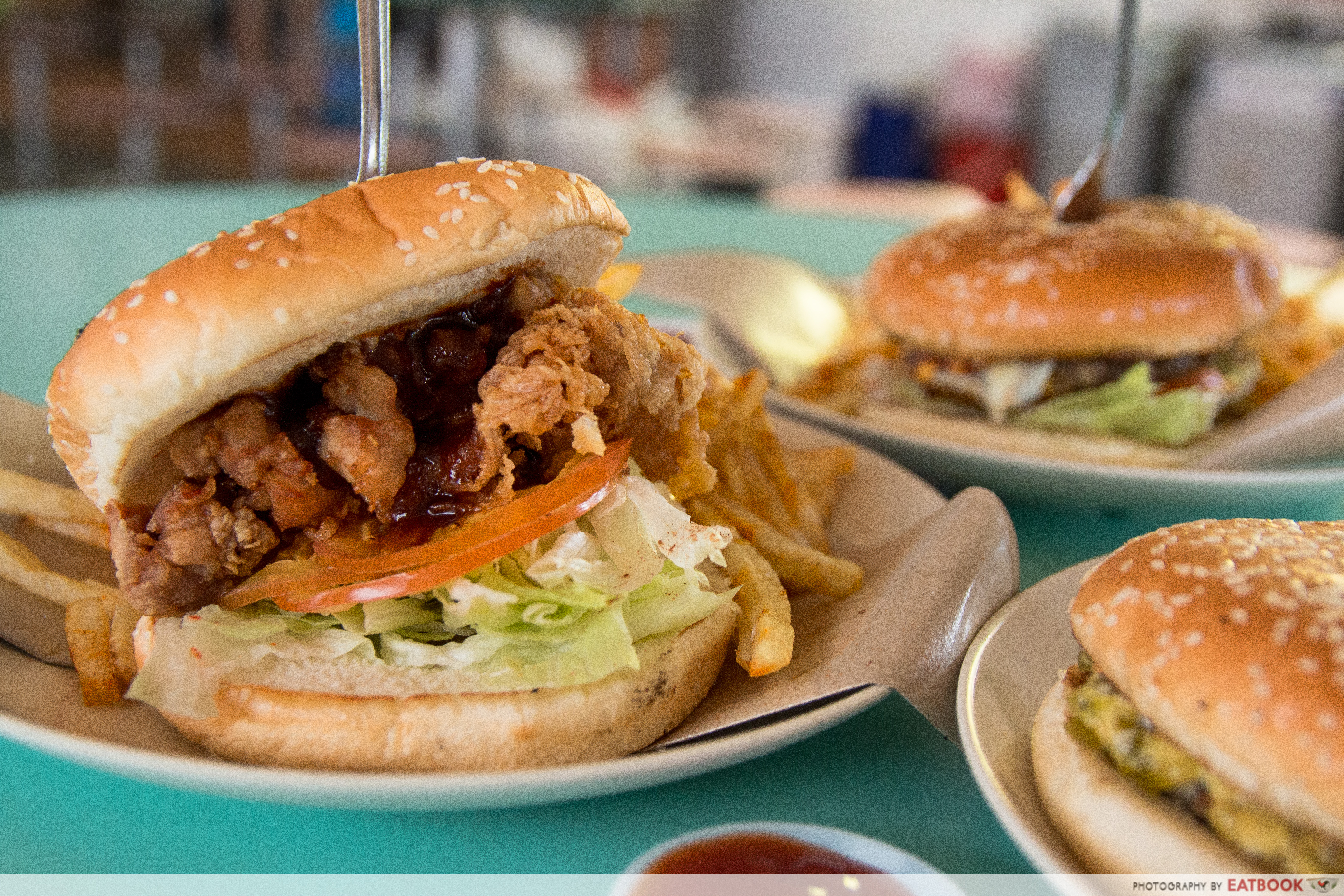 The first burger we got was Har Cheong Gai Burger ($4). The patty was thick, and deep-fried prawn paste batter was jutting from all corners beneath a plump sesame bun. A dark sauce and maple syrup were also drizzled atop the patty. It was served hot and fresh from the deep fryer. The buns were slightly toasted on a hot grill.
With a knife, we crushed our way through the patty to reveal tender chicken within. When you bite through the har cheong gai, the first sensation would be the crunch, then you're into succulent, juicy chicken followed by the taste of prawn paste mixed with an aromatic BBQ flavour that comes from the dark sauce. The taste is piquant and moreish, definitely one Singaporeans would love.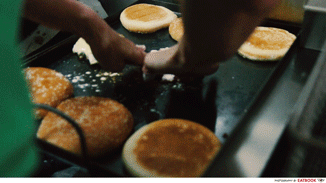 The next one we got was the King Beef Burger ($4.50). It comes with a freshly grilled beef patty, lettuce and tomatoes, fried egg, sliced cheese that was totally melted into the egg, nacho cheese sauce, and more of the dark BBQ sauce.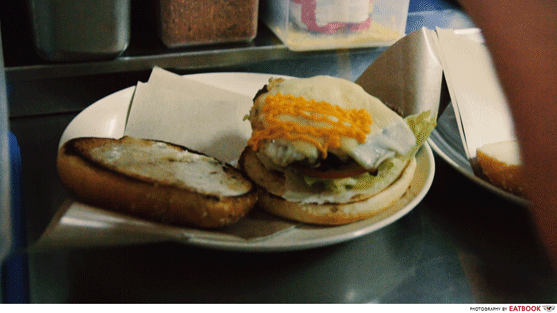 This burger is a flavour-packed, savoury parcel. Chef-owner Swee mentioned that nacho cheese is a "liquid gold that everyone loves". And indeed, the addition of it makes the burger more juicy and delectable.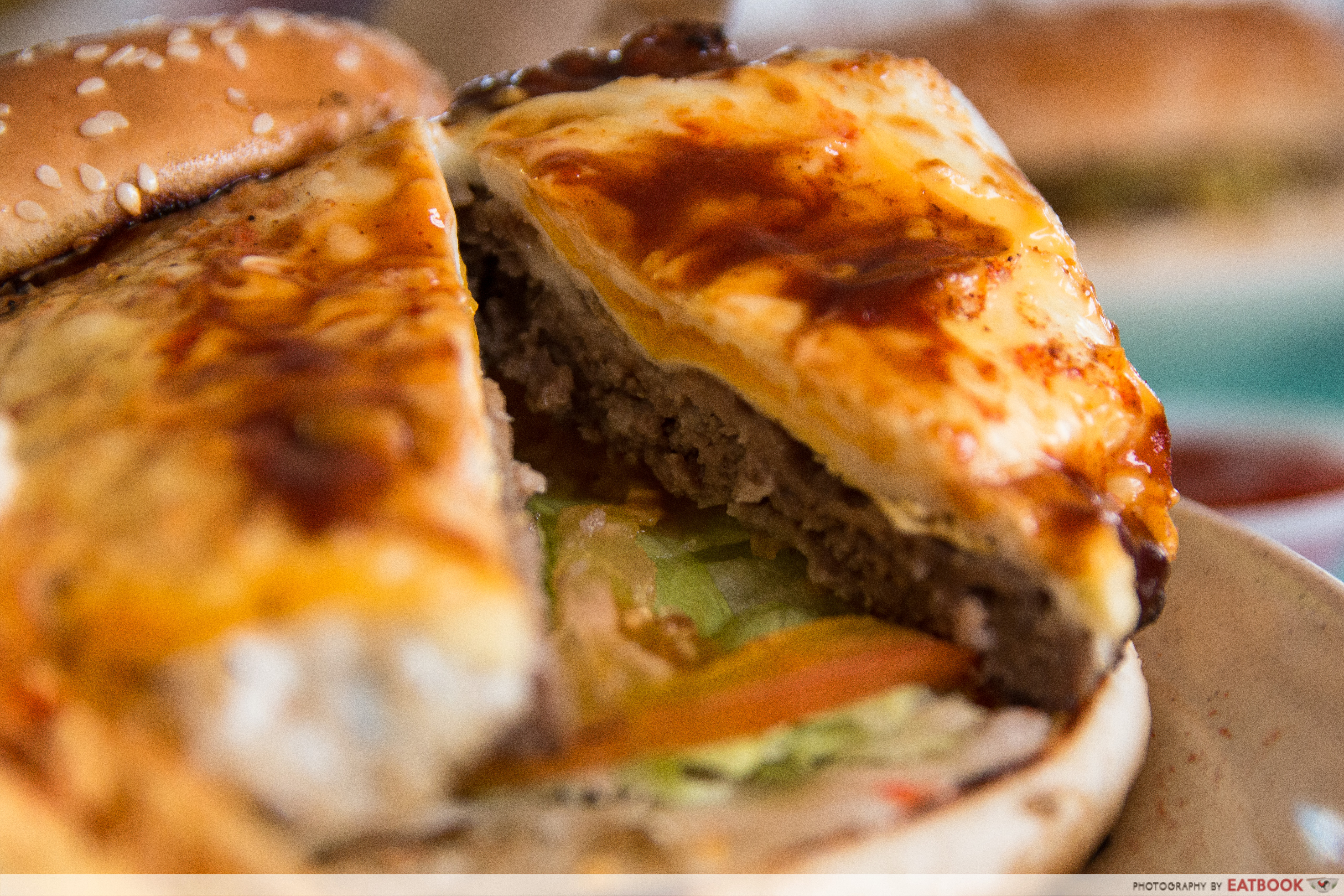 I was pleasantly surprised by the beef patty. It held a familiar taste that reminded me of thin, crisp papadum. Panch phoron, which is a blend of five spices, was added to the ground meat. This burger had mixed reviews from the table, as some of us found it special, while others were on the fence.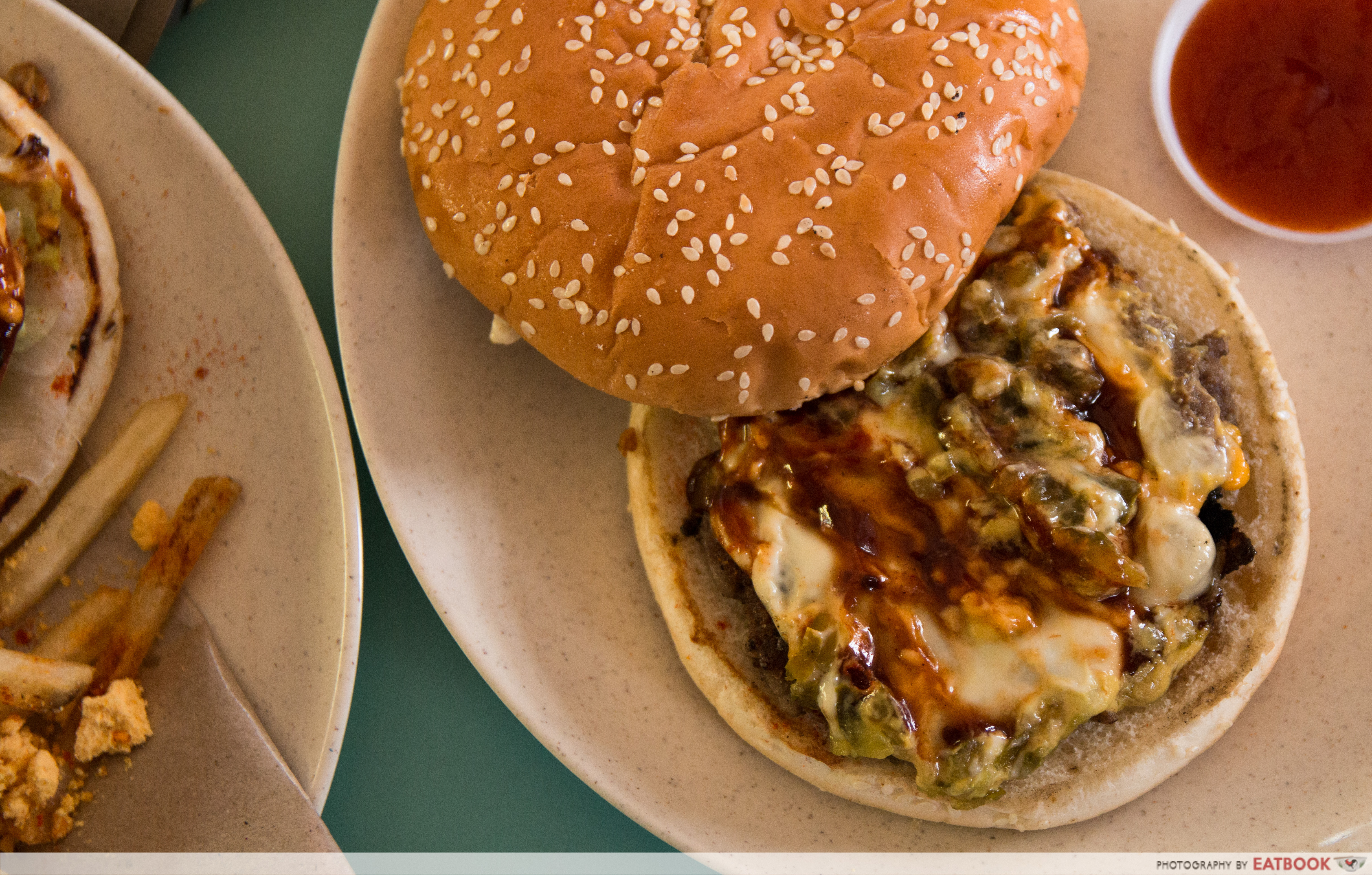 The last burger we tried was the Classic Cheeseburger. It came with the same spiced beef patty, cheese, and a sweet gherkin relish. At only $3.80, it easily got on the list of my go-to burgers for when I am looking for a quick and cheap meal. The relish highlighted the taste of the beef patty. It also made the burger more appetising from the acidity it adds to the entire dish.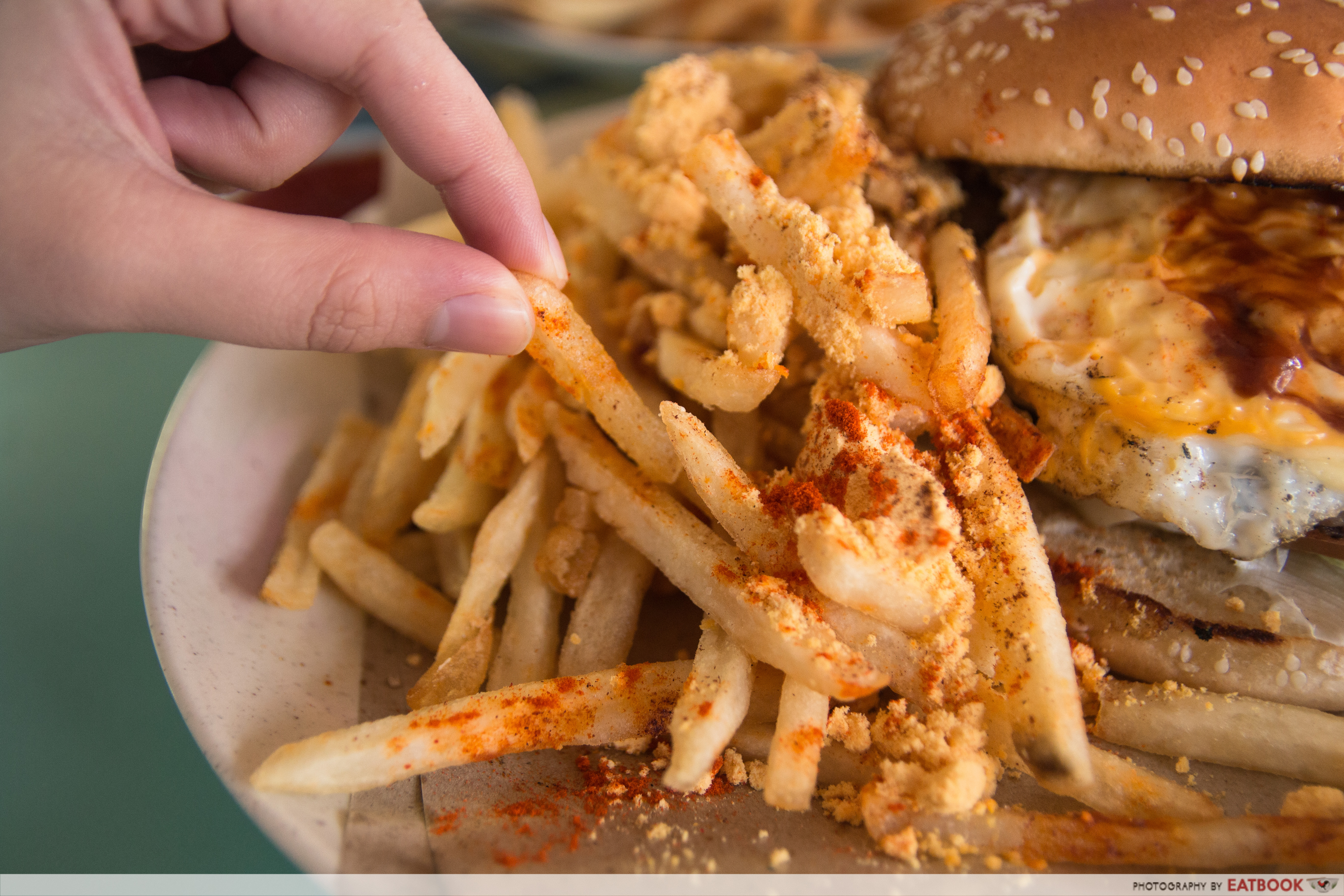 I Love Burger Lah! offers an interesting fries menu. The menu includes Salted Egg Fries ($4), Truffle Fries ($5), Salted Caramel Fries with Himalayan Pink Salt ($4), and Salted Butterscotch Fries ($4). I would suggest giving the salted egg fries a pass. We were expecting the usual saucy version, but instead it came with a powder that tasted artificial and underwhelming. Order the salted butterscotch fries instead. These were coated with a deliciously sweet and buttery sauce, which were intensified by the salt generously scattered around.
Ambience at I Love Burger Lah!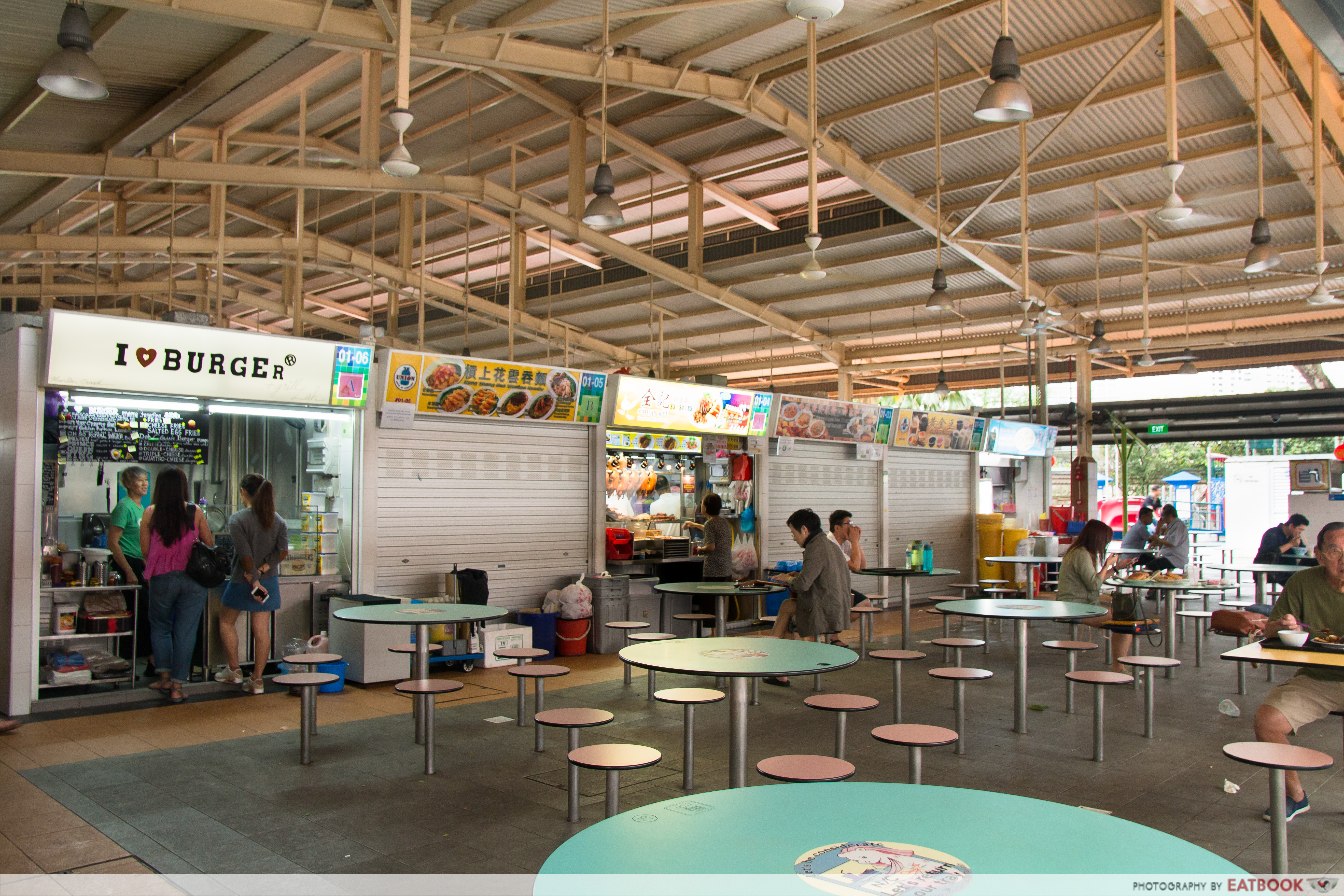 I Love Burger Lah! is a corner stall at Ghim Moh Food Centre. The food centre was clean, spacious, and cooling. When we were there at 4pm in the afternoon, many stalls were closed and there was only a handful of people. It would be a good place for a weekend lunch with the squad, as there were ample tables with six seats each.
The verdict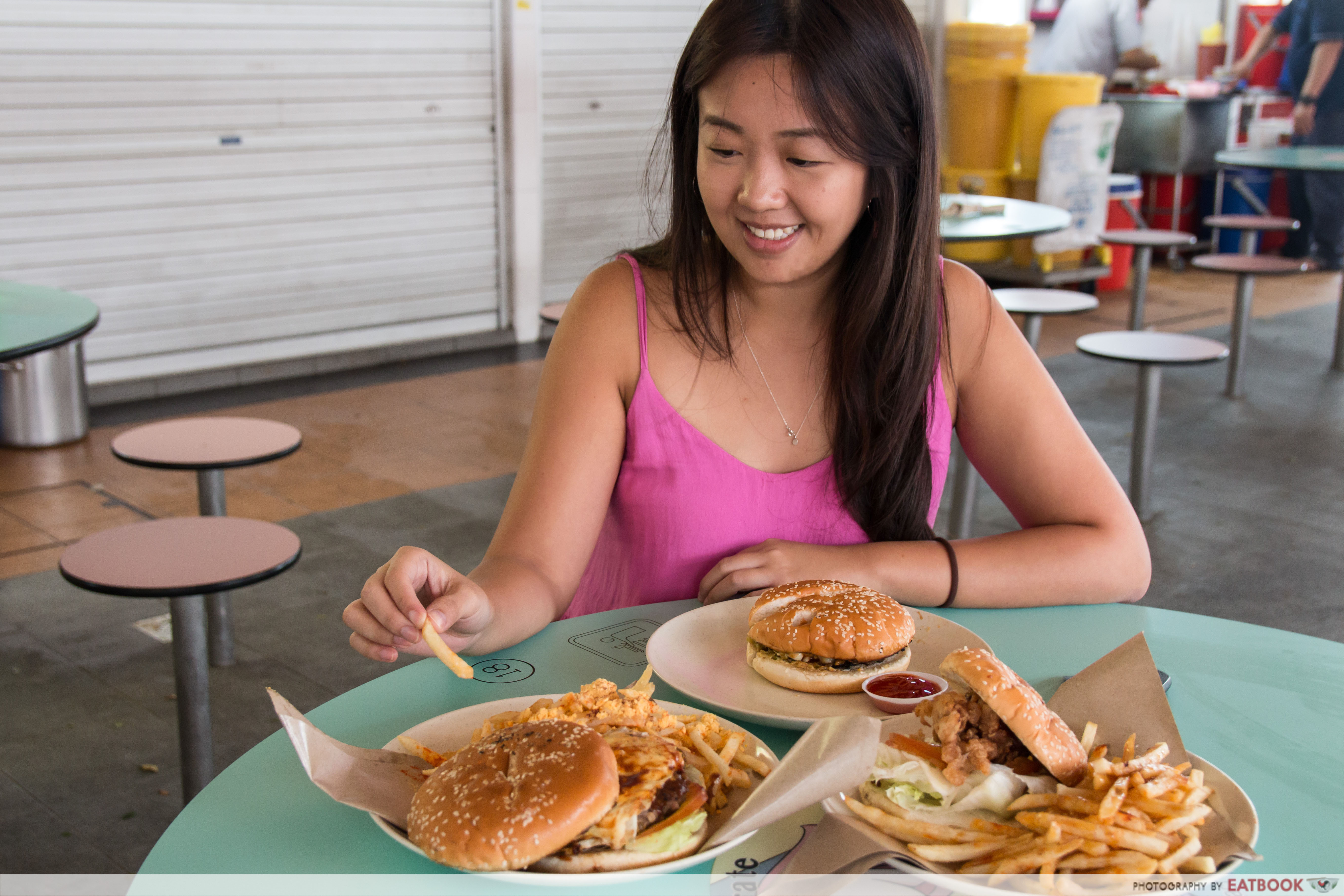 I like how I Love Burger Lah! serves dishes with flavours rarely found in burger places in Singapore. With all dishes being under $5, it is a good place for those looking for a quick, hearty, and affordable meal.
If you're looking for affordable hawker food, check out our review on Xian Jin Mixed Vegetable Rice, which serves dishes like bak kut teh and century egg minced meat porridge at only $2. You can also check out our list of cheap cai png stalls selling two vegetables and one meat at $2.50 or less.
Address: 20 Ghim Moh Road, #01-06, Ghim Moh Market & Food Centre, Singapore 270020
Opening hours: Daily 11am to 8pm
I Love Burger Lah! is a Muslim-owned stall.
This is an independent review by Eatbook.sg.
Summary
Pros
– Interesting fries menu
– Value-for-money dishes
– Great service
Cons
– Inconvenient location
Recommended Dishes: Har Cheong Gai Burger ($4), King Beef Burger ($4.50)
Opening Hours:
Daily 11am to 8pm
Address: 20 Ghim Moh Road, #01-06, Ghim Moh Market & Food Centre, Singapore 270020