Nasi Coco in the West
Update (16 Aug 2018): Nasi Coco is now permanently closed.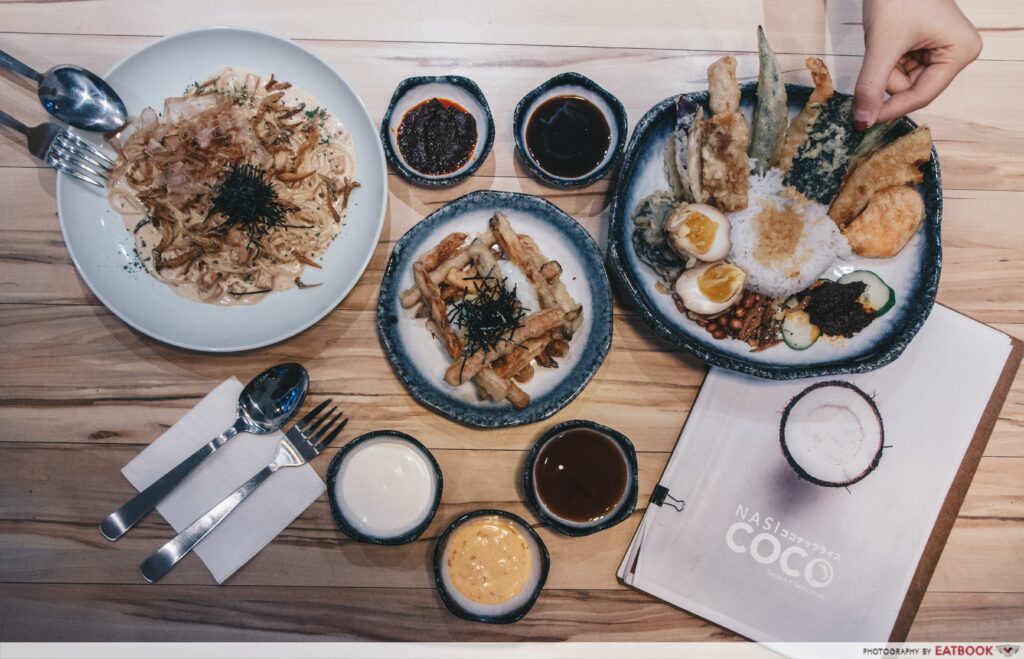 It sucks that my dream school, which I did end up attending, is a good hour away from my house, all the way in the West. For two years of my life, I spent 60 minutes in the morning, dragging my feet to school. During my time there, my friends and I always struggled to find places to eat; The Star Vista, Ghim Moh Food Centre, and Wah Chee were basically our only go-tos. Only now that my time at school has ended, cool eateries began popping up everywhere – first was Oh My Mango and now Nasi Coco!
Food at Nasi Coco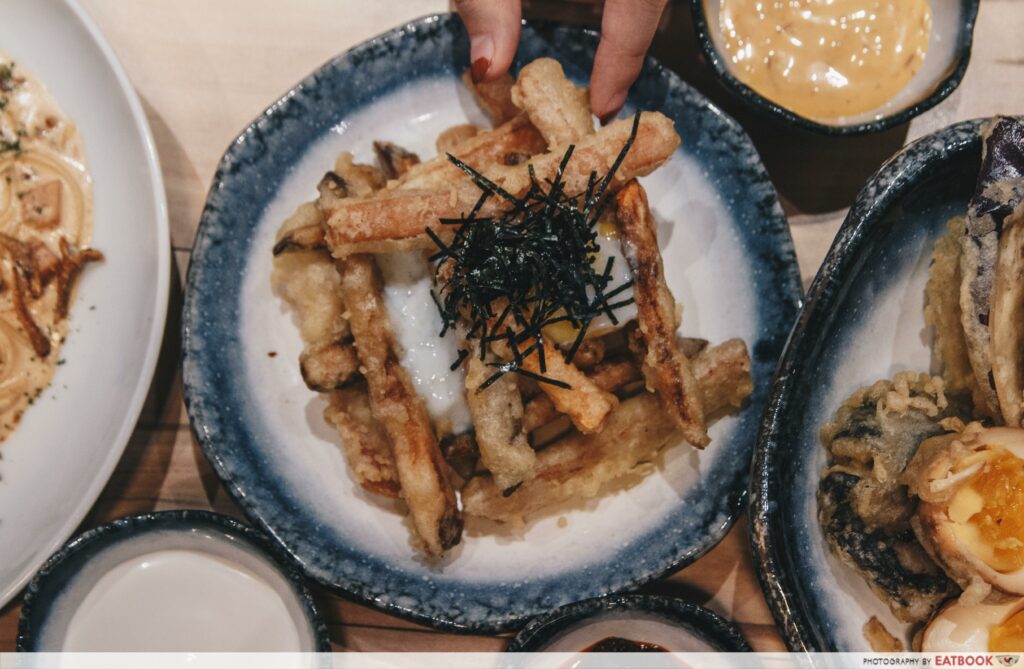 Nasi Coco serves up coconut-based dishes. For starters, we got their Luncheon Supreme ($5.50 without egg, $7 with egg). Meticulously positioned to hold the sous vide egg, the luncheon meat and sweet potato tempura sticks had just the right thickness. While the yolk didn't spill out to become #eggporn-worthy, this dish still blew my mind away.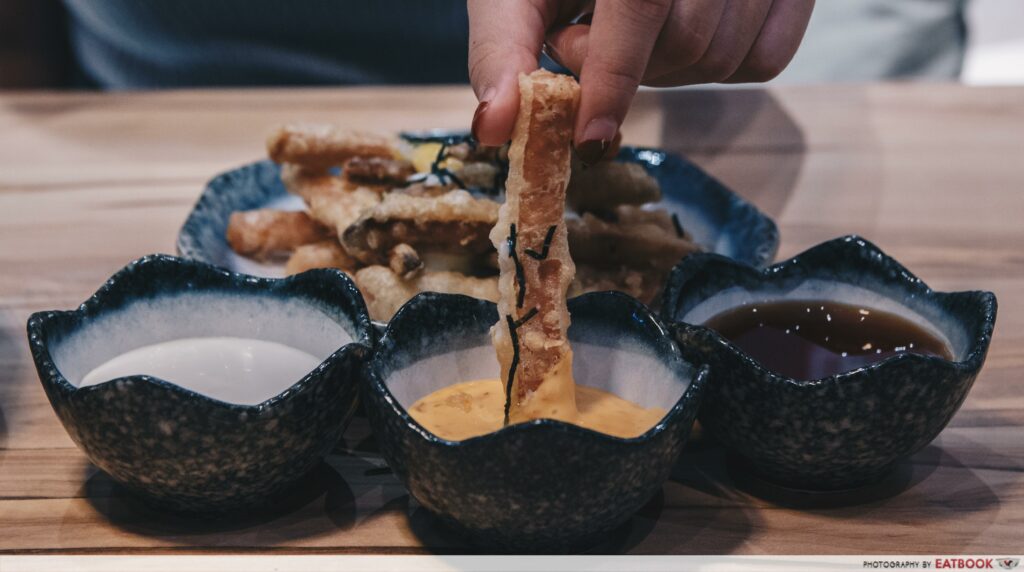 This dish came with two different sauces – sambal mayo and coconut mayo – and they were the highlight of the dish. The bright yellow sambal mayo had a pinch of heat, the way a good sambal should be, while the coconut mayo was just lemak enough. The combination of the house-made sauces was the perfect mix of savoury and sweet that got me hooked on this dish! I was not at all jelak from this dish, even though everything was deep fried. I legit could have eaten it all by myself. On a note, I would recommend skipping the sous vide egg, as it didn't bring much to the table.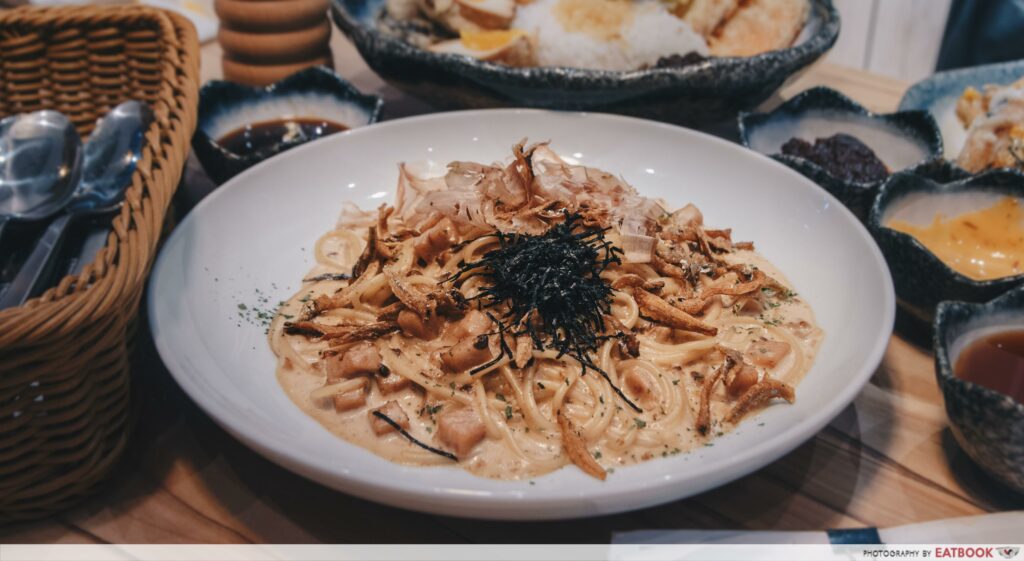 Though I enjoy carbonara, it is difficult for me to say that I like it because most places make it too creamy. However, Nasi Coco has it all worked out with their version of Pasuta Lemak ($9.90). The dish smelled just like nasi lemak and teased my appetite with its aroma when it arrived. Topped with ikan bilis, "dancing" bonito flakes, luncheon meat in place of bacon, and seaweed, the pasta delivered a medley of texture and flavour.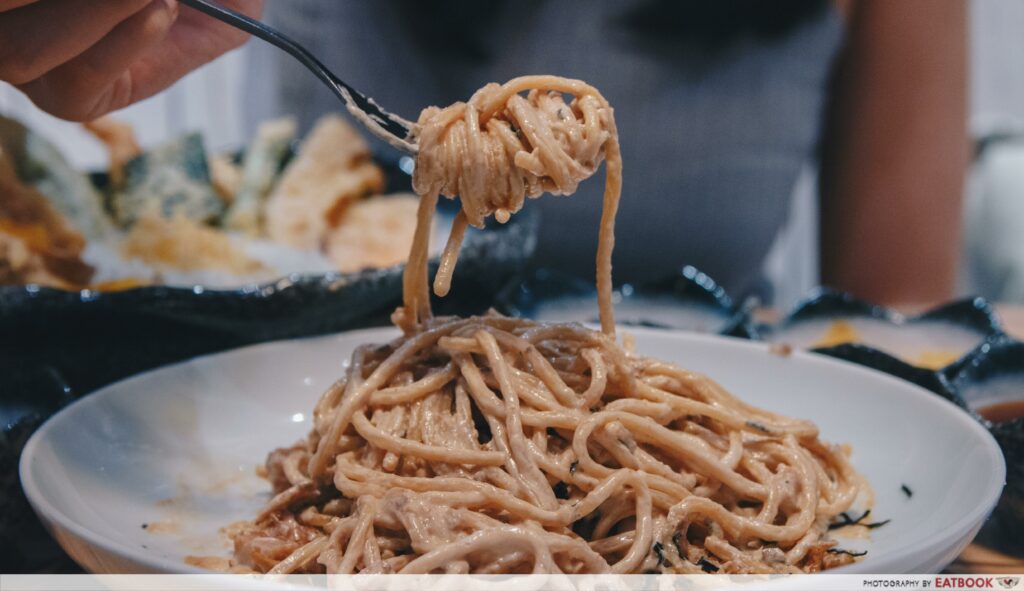 Twirling the pasta up was so satisfying as they didn't clump together. The al dente pasta was coated in their house-made coconut sauce. The saltiness from the crunchy ikan bilis gave a touch of familiarity, while the diced luncheon meat was a little milder in taste to complement the small fish. This was my favourite dish, despite the slight bitter aftertaste that lingered at the back of my throat.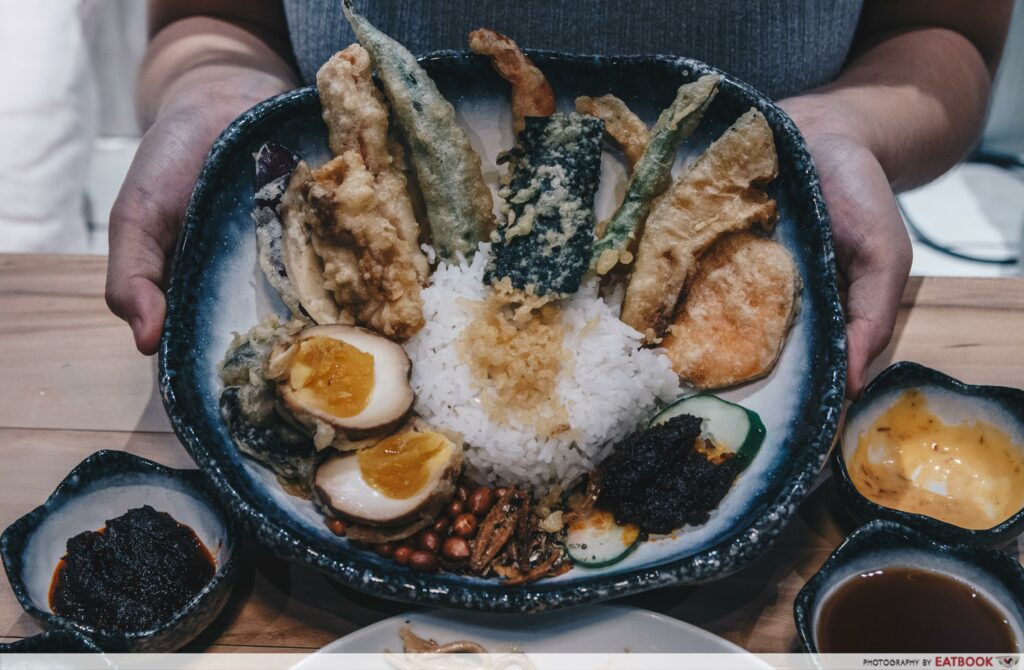 Nasi Coco's signature, Nasi Coco Supreme ($9.90), is the highlight of their entire menu. Lying around the fragrant coconut rice was a range of tempura, from vegetables to chicken, prawn, and a tempura lava egg. There was also a dollop of house-made sambal, and ikan bilis with peanuts. The slightly spicy yet sweet sambal, and their TEN sauce tied it all together. The crispy batter soaked up their special TEN Sauce, which was slightly sweet.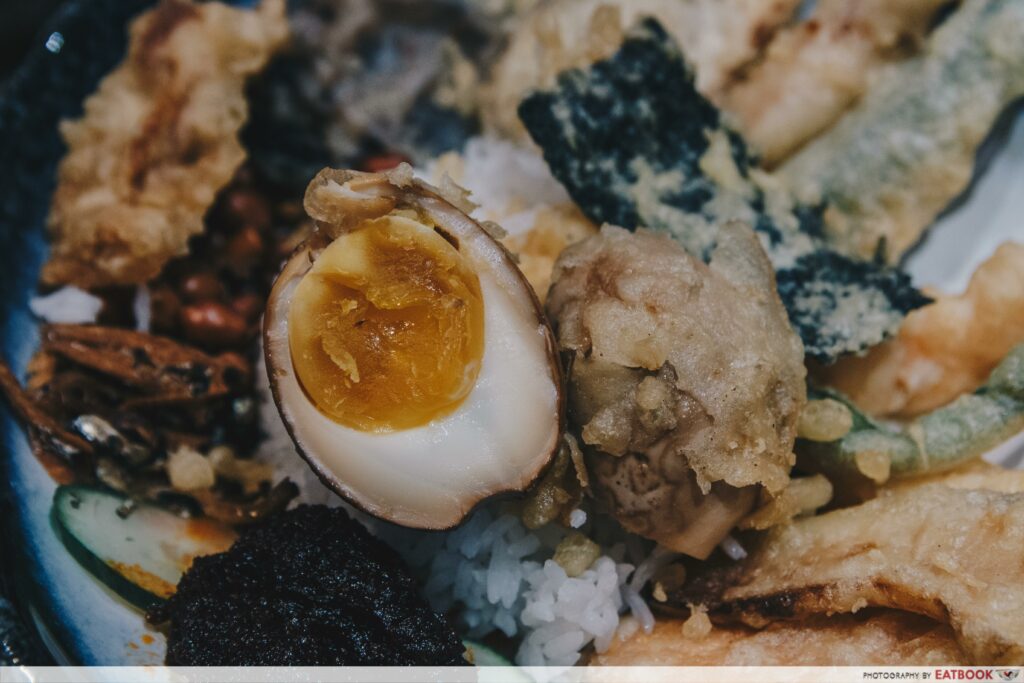 I was most impressed by the flavour of the tempura lava egg, even though it was not as flowy as I would have wanted it to be. Marinated well, the egg tasted almost identical to my favourite ajitama (Japanese marinated soft-boiled egg)!  What I liked about this plate of tempura nasi lemak was that each ingredient had a part to play in presenting this picture-perfect dish; any missing ingredient would have changed the taste of the dish.
Ambience at Nasi Coco

One of the only shops that stand in NeWest, Nasi Coco can be easily spotted due to its location near the main entrance. The restaurant was rather quiet during lunchtime, which means that plenty of seats were available at this hidden gem.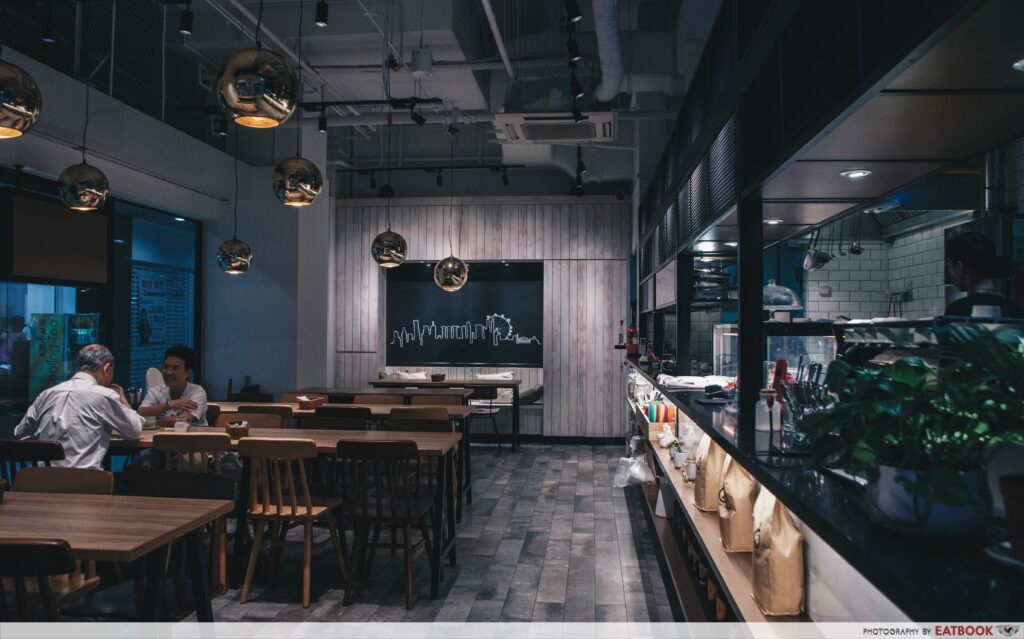 The chic interior made the quaint cafe appear cosy, while the warm lighting made it look even more inviting. It sure makes for a great place to catch-up with your friends! I was attracted to the vibe of this restaurant, especially their open kitchen concept. Customers are able to look over the counter and see how the chefs prepare their orders. This quiet place is indeed quite an escape from the hustle and bustle of Singapore.
The verdict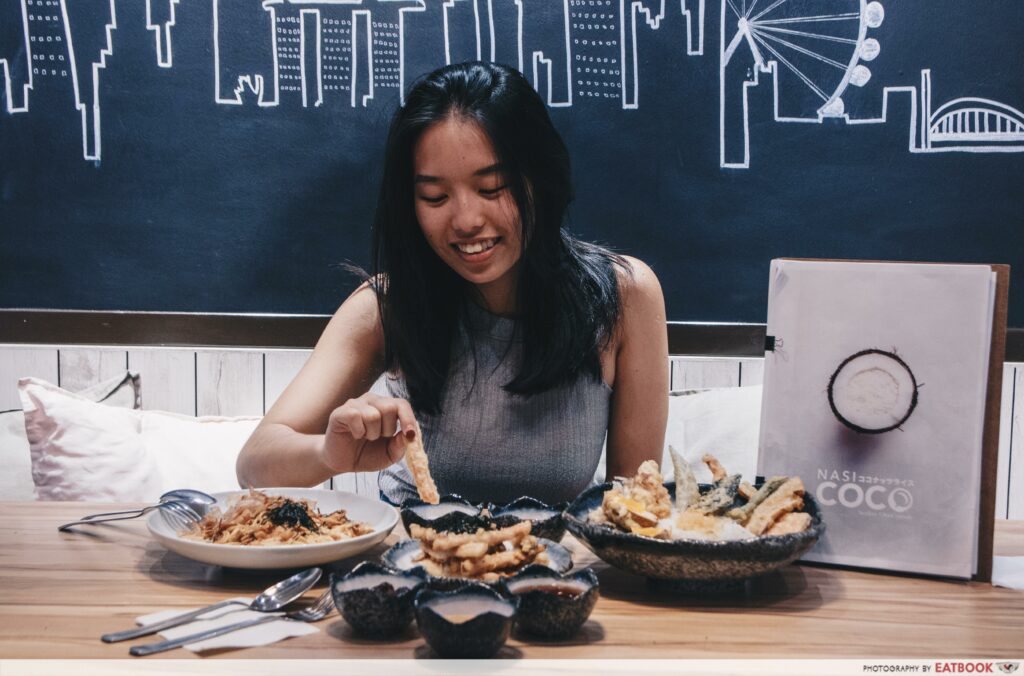 For someone who never craves nasi lemak, I don't see myself going all the way to the West for Nasi Coco's dishes. However, this is a place all you nasi lemak lovers must try, even if you live on the other end of our Little Red Dot. It's definitely a place worth visiting at least once. Do grab a few friends along to try the range of food, as some of the dishes may get a little jelak on its own.
If you love nasi lemak, be sure to check out KR Banana Leaf Masala Chicken Nasi Lemak and Nasi Lemak Kukus, which offers free-flow rice, as well!
Address: 1 West Coast Drive, #01-73, NeWest, Singapore 128020
Opening hours: Daily 10am to 930pm
Tel: 6255 9030
Website
This is an independent review by Eatbook.sg.
Summary
Pros:
– Cosy ambience
– Creative and delicious dishes
– Reasonable prices
Cons:
– Slightly inaccessible
Recommended Dishes: Luncheon Supreme ($5.50 without egg, $7 with egg) and Pasuta Lemak ($9.90)
Operating Hours: Daily 10am to 9:30pm
Tel: 6255 9030
Address: 1 West Coast Drive, NeWest, #01-73, Singapore 128020