The Spot at Marina One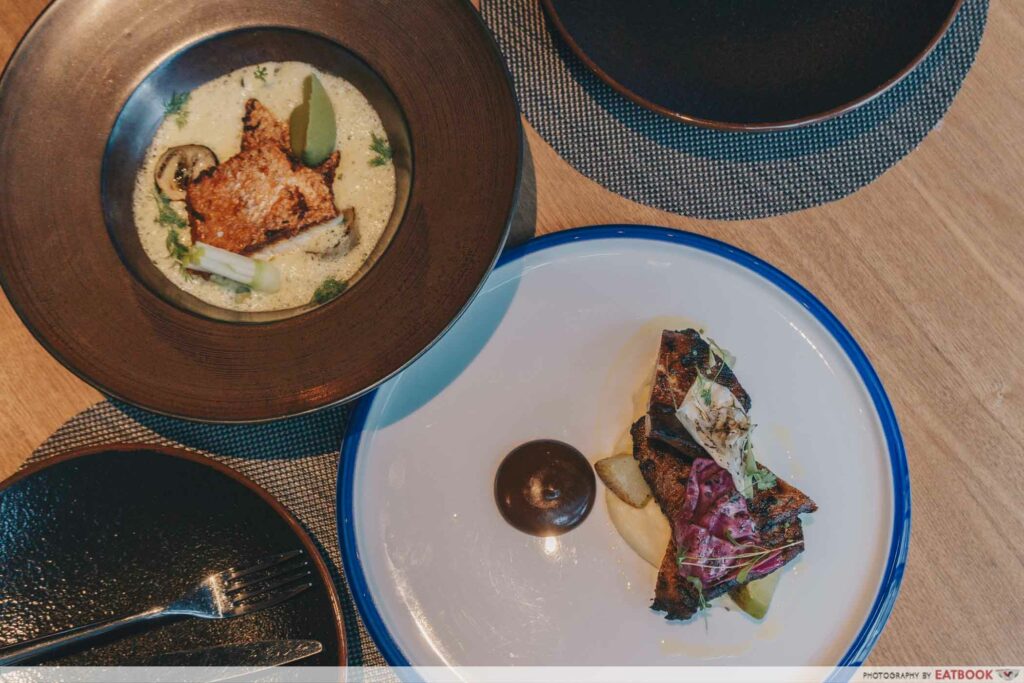 When I first went down to The Spot in June 2018, I boldy mentioned that they would be in the running for one of the best restaurants in the CBD. Fast forward to today, I can safely say that my statement still stands. The quality of dishes remain as consistent as before, and the service was just as stellar. The best part? I went down incognito as a paying customer this time, so I had none of that special media treatment.
Food at The Spot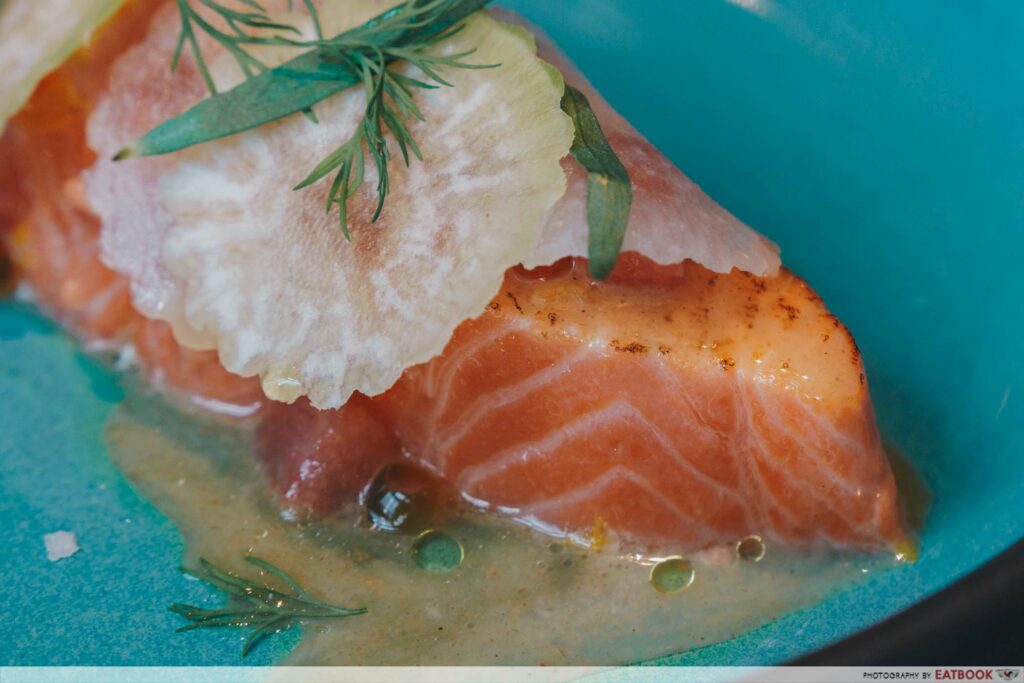 We went during lunchtime for their Two Courses ($30++) set, which comes with a choice of appetiser or dessert and a main. As there were two of us, we opted to share an appetiser and dessert.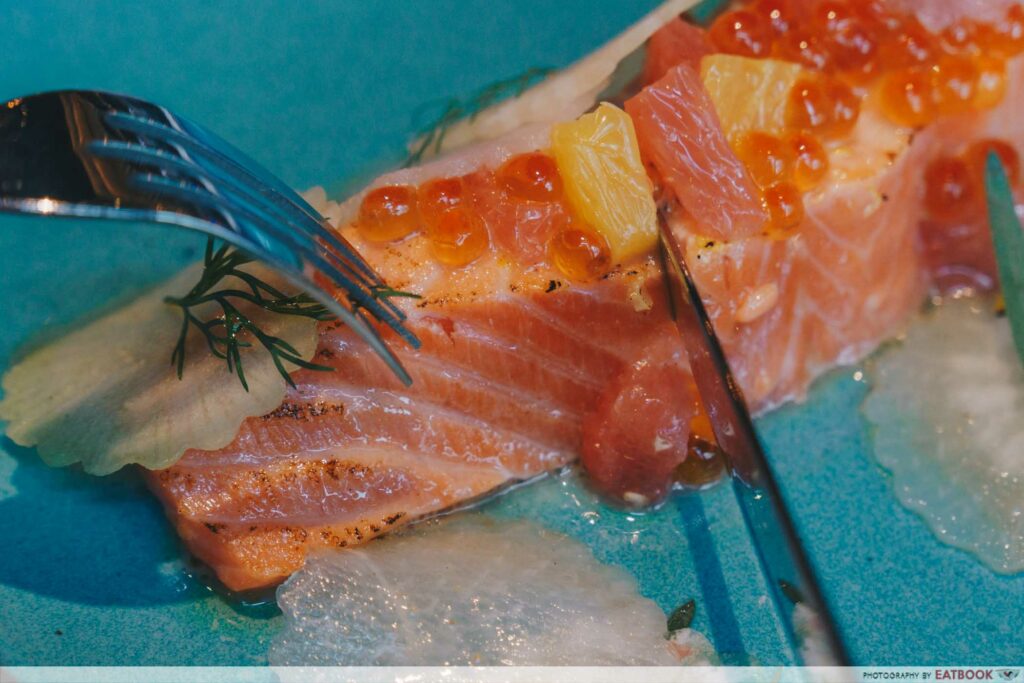 Since it was a hot sunny day, we decided to go for something refreshing and ordered the Atlantic Salmon. Served slightly raw, the salmon fillet came dressed in a citrusy, plum sesame sauce. It was also topped with pickled and raw radish, salmon fish roe, and chopped grapefruit.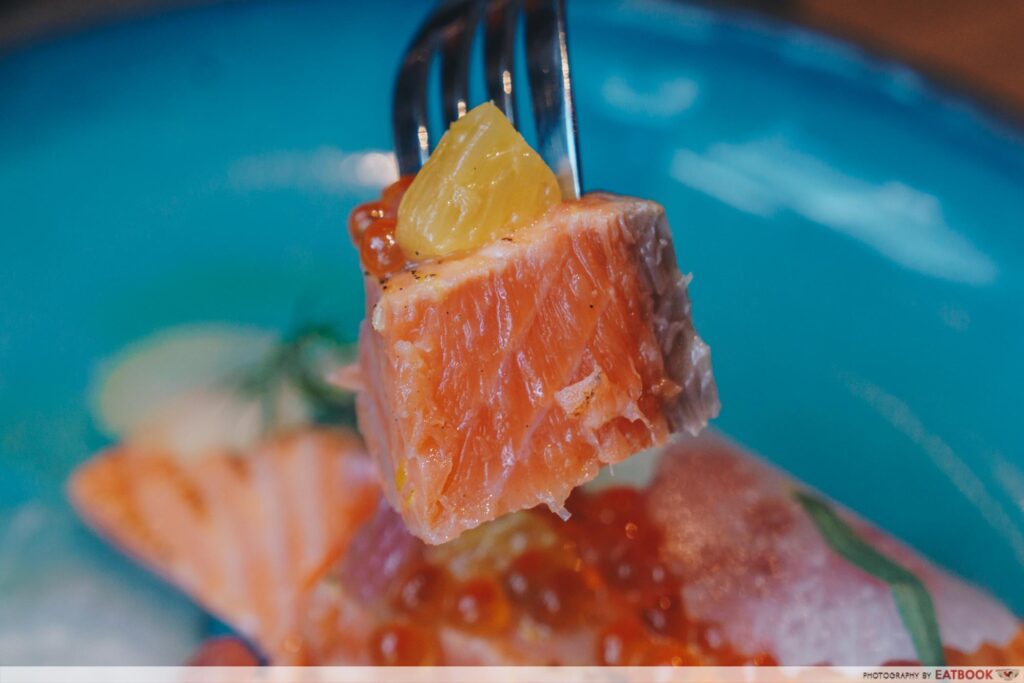 In this dish, each ingredient plays an important part. The briny fish roe gave an umami touch, while the grapefruit and tangy dressing gave a sharp zest to the oceanic flavours. As for the radish, it added a nice crunch to the dish.
Remembering how delicious the Pan-fried Red Snapper ($28++) was, I knew I had to order it again. Sitting in a green curry emulsion were Thai eggplants, a dollop of eggplant and spinach puree, and two plump cuts of snapper.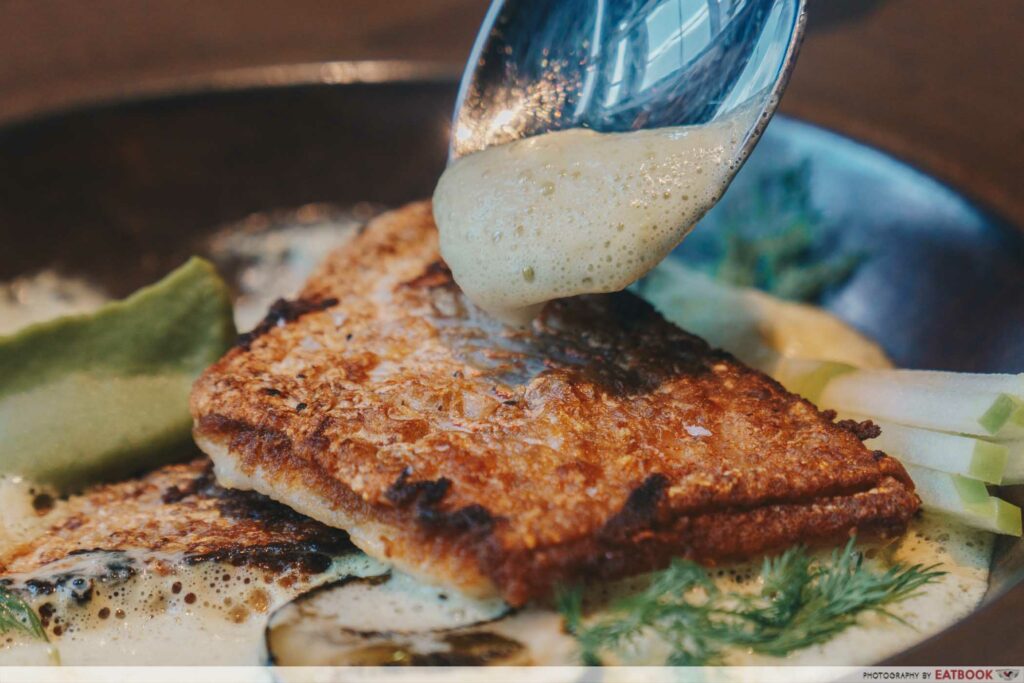 Made with a blend of lemongrass, blue and yellow ginger, green chilli, coconut cream, kaffir lime leaves, and Thai belachan, the complex emulsion was intensely fragrant. The dish tasted exactly like traditional Thai green curry, except punchier.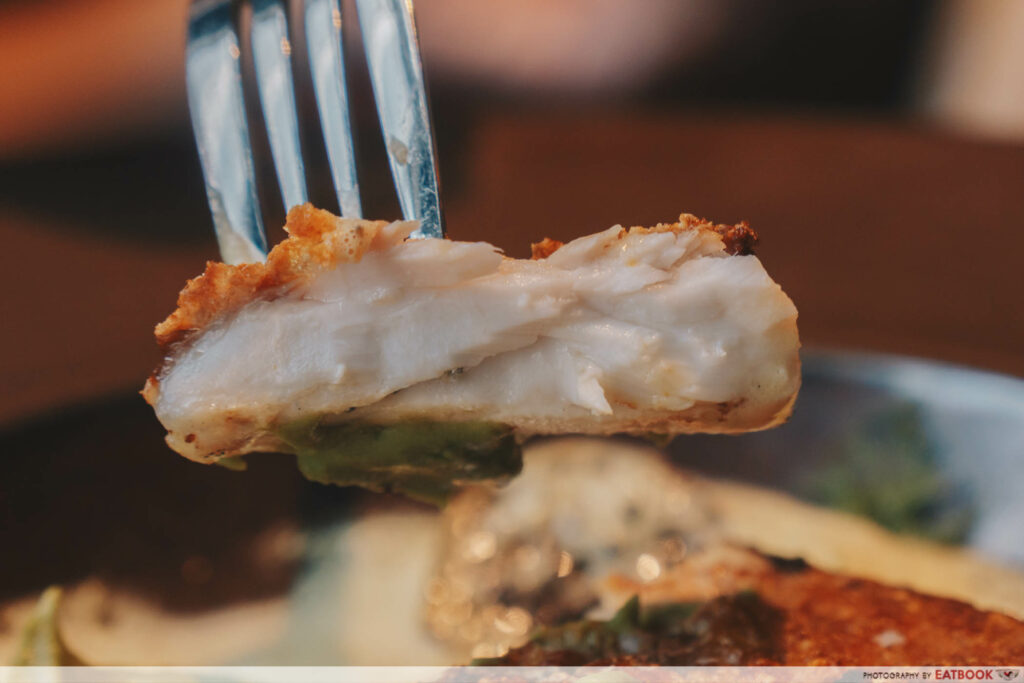 The fish was pan-fried to perfection, showcasing a brown crispy skin and soft, flaky meat.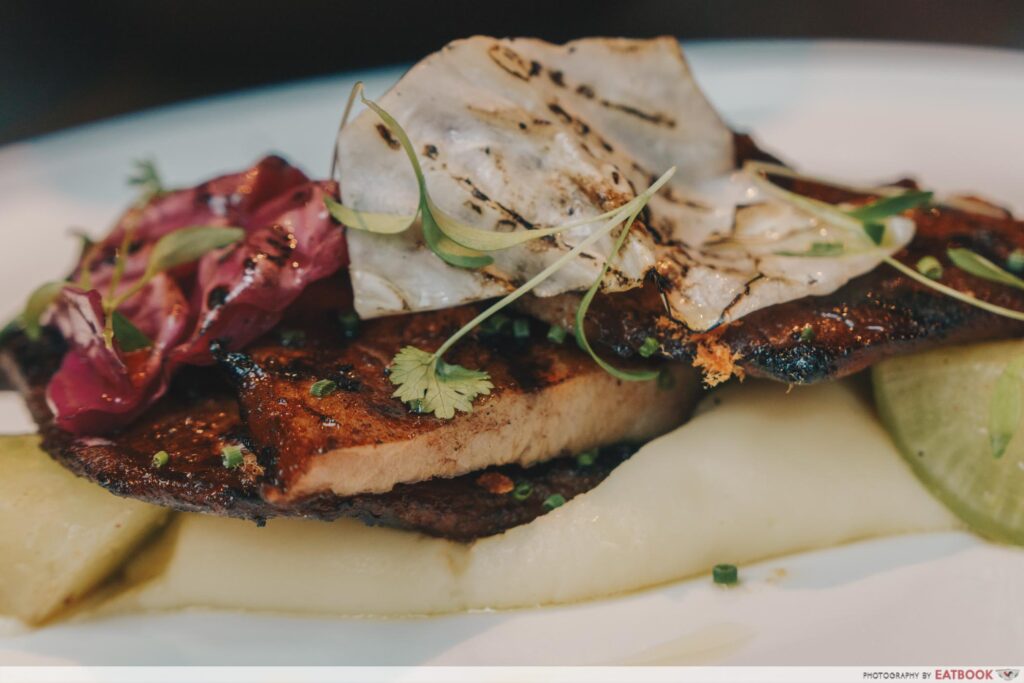 Upon first glance the Pork Cheek "BBQ" may seem dry, but in reality it was moist and tender. Marinated for a day in a blend of soy and fish sauce, five spice powder, oyster sauce and more, the pork jowl was then sous-vide for two hours before being grilled like bak kwa. The long marination and water bath process ensured that my knife slid through the meat easily.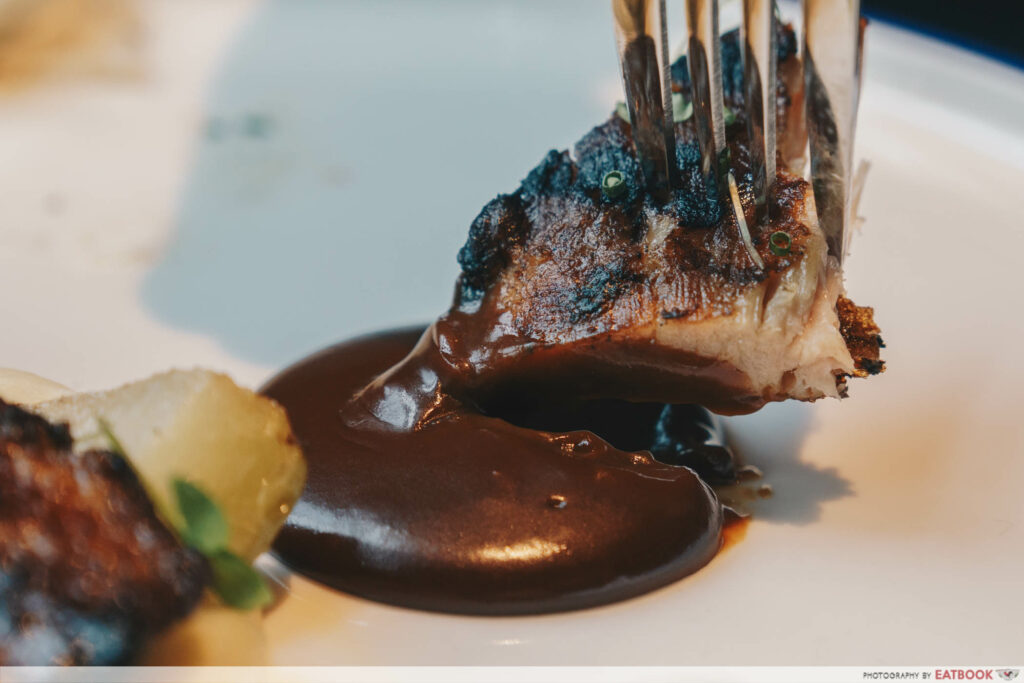 Accompanying the three slabs of pork were buttery potato mousseline, house-pickled cabbage and sauteed daikon chunks. There was also a side of caramel vinegar; made from Chin Kiang vinegar, the sticky sauce helped liven up the delicate honey tang from the pork.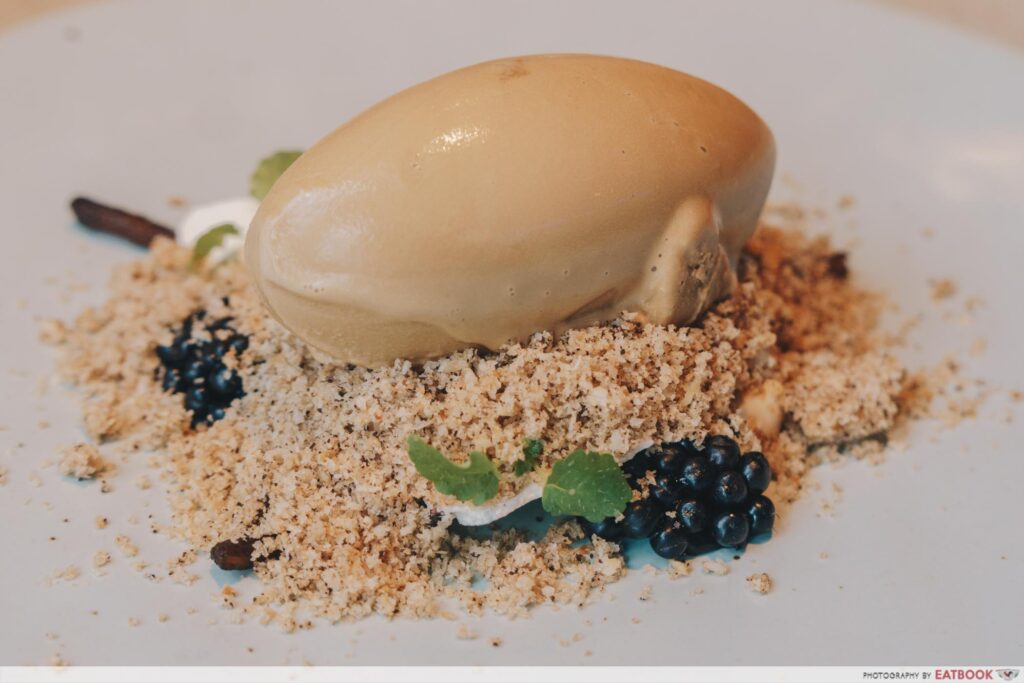 For dessert, we decided to go for the Licorice Root Ice Cream. House-made with licorice root powder and malt extract, the ice-cream was placed neatly on a bed of raw hazelnuts and coffee crumble. Dig in and you will also find parsnips sticks and a licorice meringue.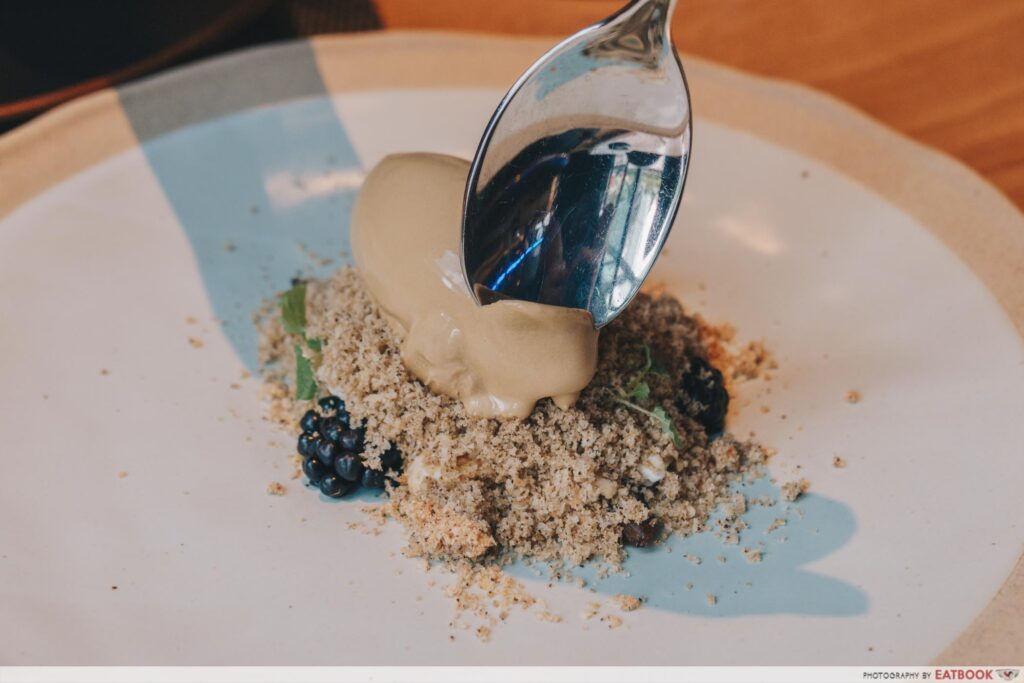 Be warned that this dessert is an acquired taste. To me, it had a mellow woody aroma. My colleague on the other hand said it tasted like medicine.
Ambience at The Spot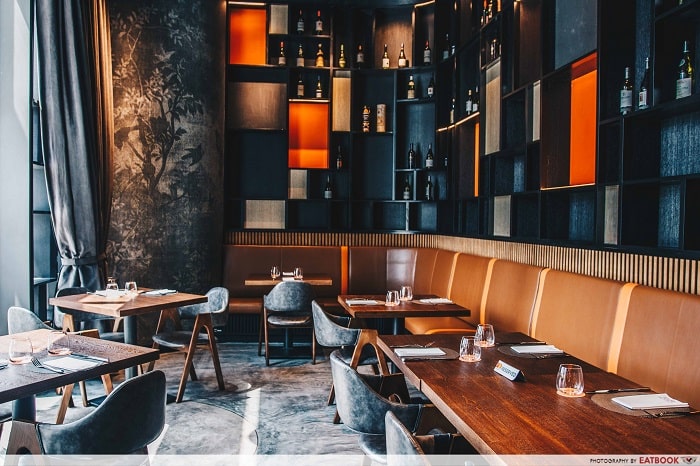 Don't be intimidated by the posh interior. The atmosphere is actually pretty laid-back, and there is no need to mind your Ps and Qs. There are plenty of power points fitted around the restaurant as well, and you are invited to come by for a cup of coffee and get your work done here.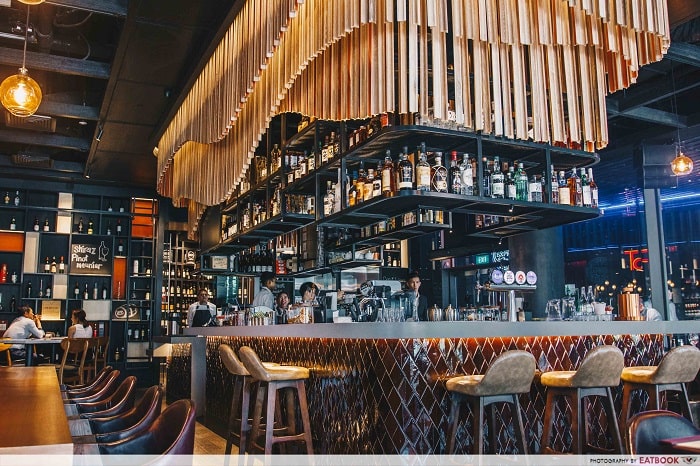 As The Spot is opened by the guys behind 1855 The Bottle Shop, you will find a wine shop here too. On top of that, there is also a spiffy Macallan tasting bar – a first in Southeast Asia – and a hidden cigar lounge that's great for stag nights.
The verdict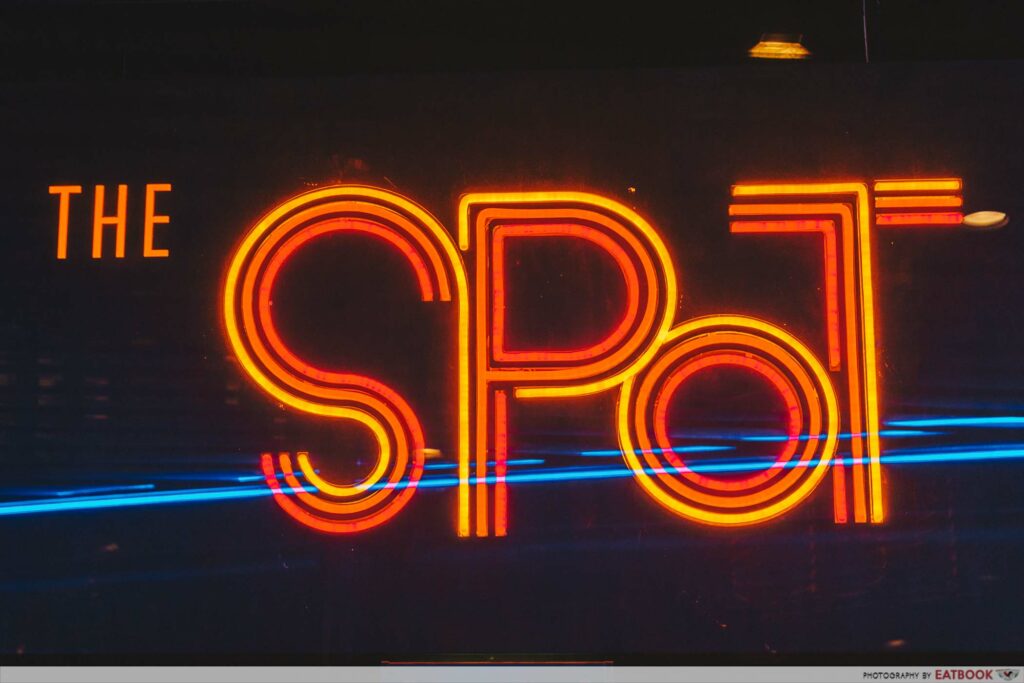 If you're on a budget but want to treat yourself to an indulgent meal, this is the spot for you.
Helming the kitchen is Chef Lee Boon Seng, formerly from Osia and Curate, and you will find most of dishes here use Asian ingredients while showcasing European cooking techniques. Complex yet familiar in taste, the dishes are as exciting as they are comforting. Definitely one of the best restaurants that opened in 2018.
Address: 5 Straits View, #01-26/27, Marina One, Singapore 018935
Opening hours: Mon-Fri 11:30am to 11pm
el: 6284 2637
Website
Photos taken by Becky Chong.
This is an independent review by Eatbook.
Summary
Pros
– Quality ingredients
– Dishes are well-executed
Cons
– Pricey during dinner
Recommended dishes: Pan-fried Red Snapper, Atlantic Salmon, and Pork Cheek "BBQ"
Opening hours: Mon-Fri 11:30am to 11pm
Address:  5 Straits View, #01-26/27, Marina One, Singapore 018935