Jenggood Jom Makan offers lobster laksa udon or "lakster"
Update: Jenggood Jom Makan has relocated to Blk 508 Jurong West Street 52, #01-170, Singapore 640508.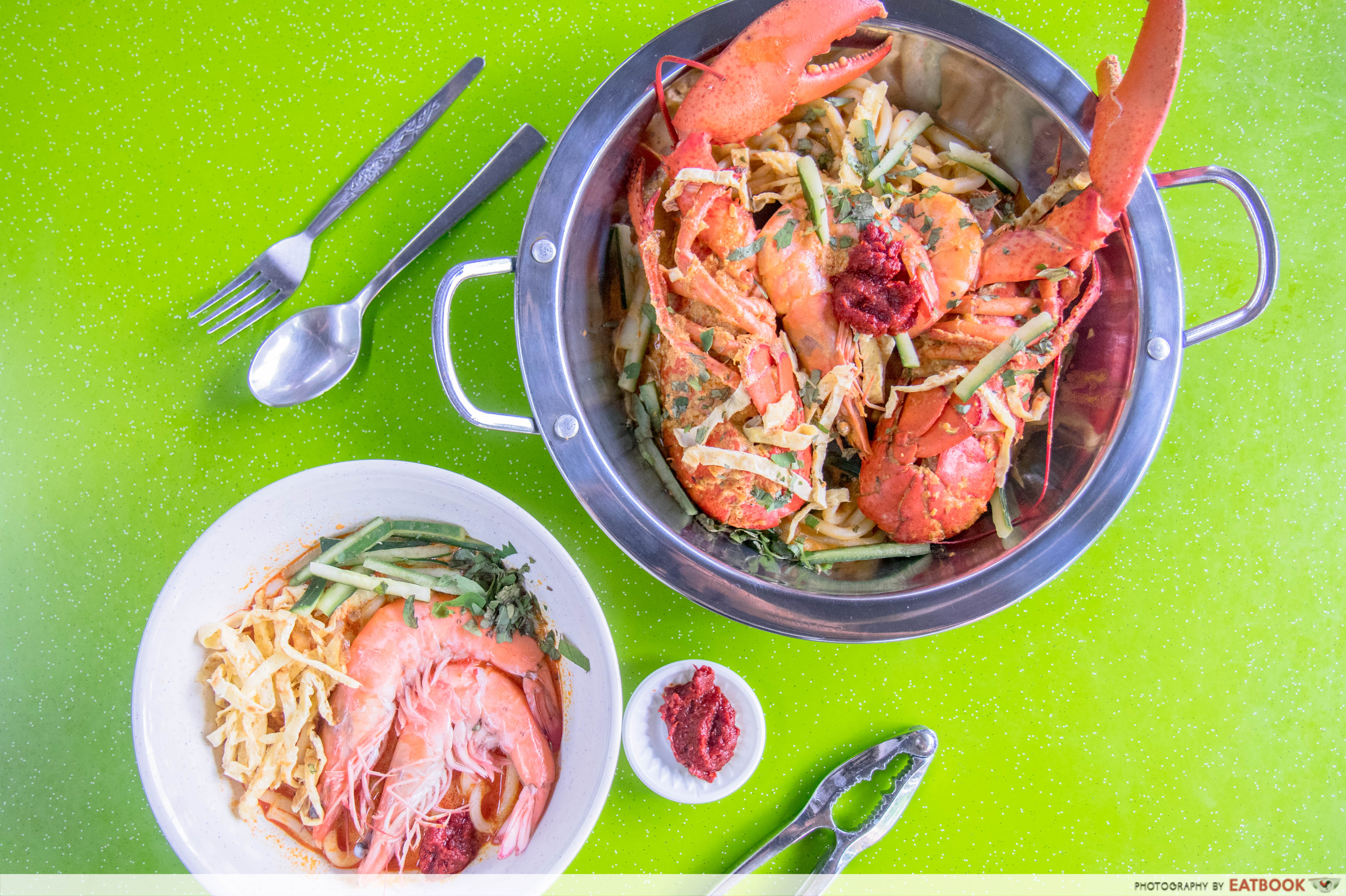 Lobster dishes have been crawling into our hearts the past months, and we've seen this crustacean being cooked in all sorts of unique lobster dishes including nasi lemak, ramen, and even porridge. Jenggood Jon Makan, a stall found in a halal-certified coffeeshop has hopped onto the bandwagon with their latest lobster laksa udon. We headed down to Jurong East with an empty stomach to check it out.
Food at Jenggood Jom Makan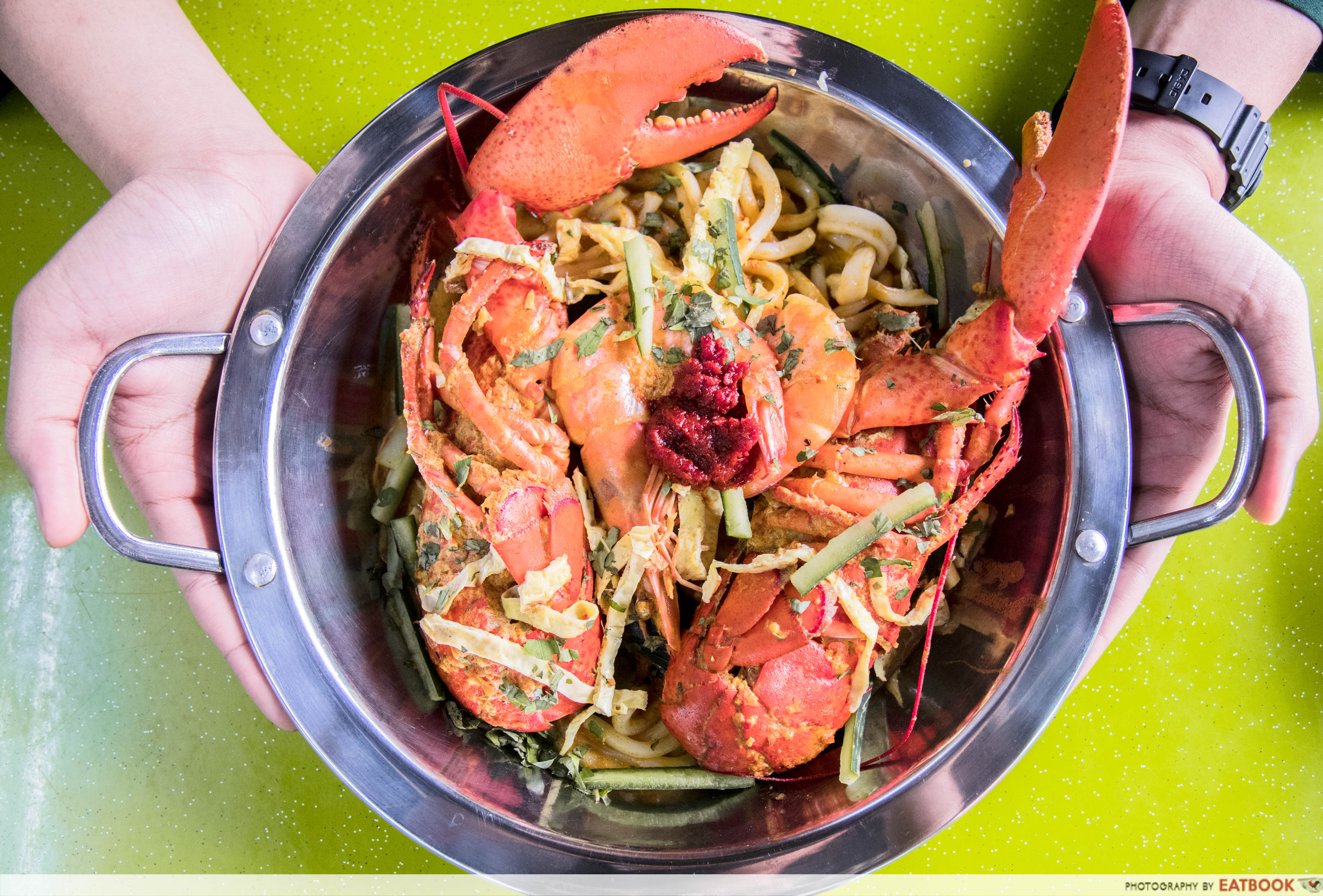 We made a reservation and ordered beforehand so we didn't have to wait long before we got our hands on their Laksa Lobster Deluxe ($34.90), also known as Lakster. Served piping hot in a steel bowl, it is enough to be shared between two. The first thing that grabbed our attention was the Boston lobster, which got curious looks from other tables.
The lobster's body was split into half and placed over a bed of laksa with its claws hanging out of the bowl. Together with the lobster were prawns, a handful of mussels, and some pieces of squid. A dollop of sambal was placed smack dab in the middle of the bowl, atop the prawns. There were also strips of omelette by the side.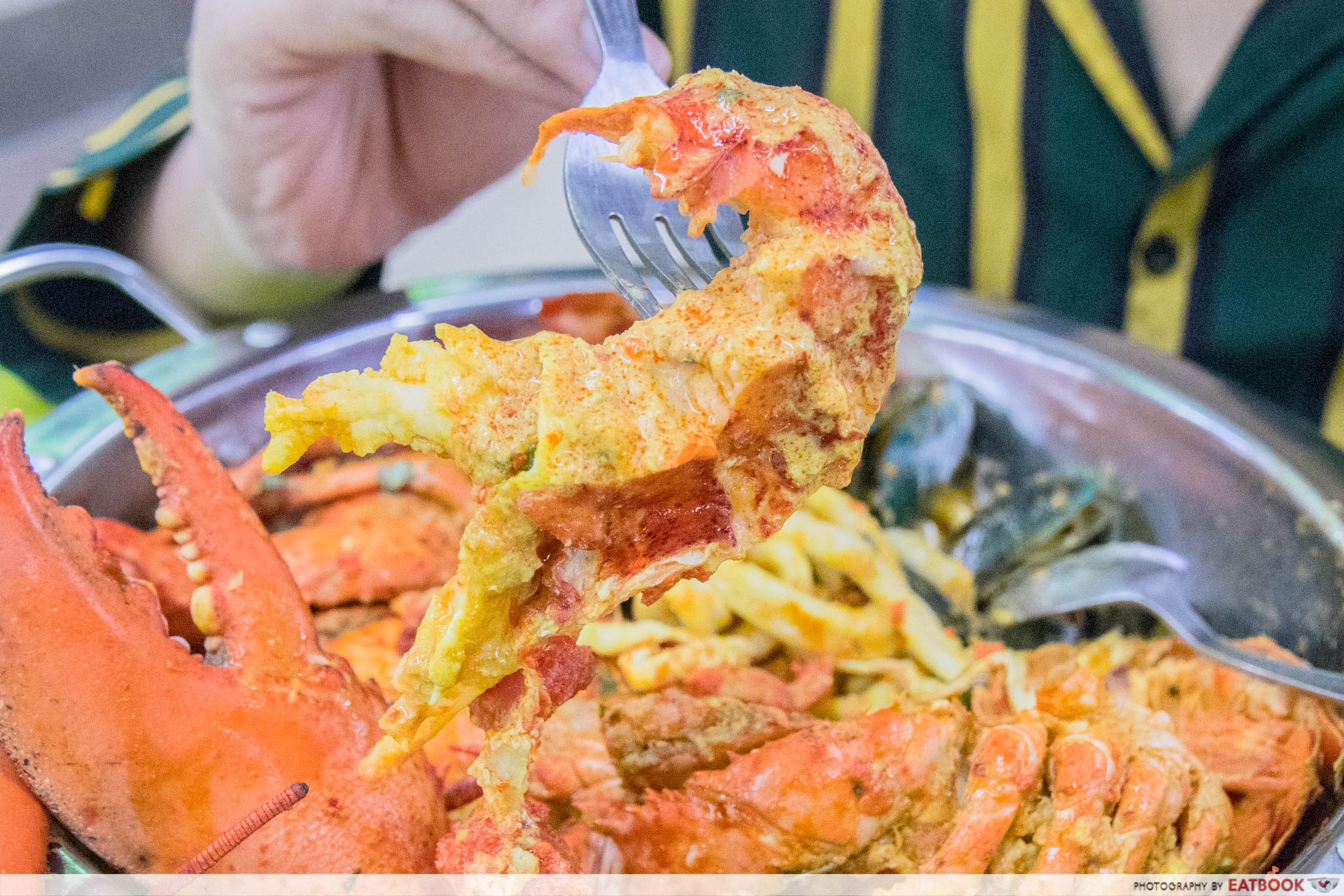 We were digging around for the noodles swimming in orange gravy, only to be surprised by udon instead of thick bee hoon. The gravy wasn't as watery and oily as typical laksa gravy. I really liked that they had some flakes of fish meat mixed into it, as it added texture to the sauce. We each took a spoonful with high expectations.
Disappointment soon filled our faces. We were expecting a full-bodied flavour, but we could only taste the subtle spices. It was creamy but lacked flavour and 'oomph'. Unsatisfied, we tried to salvage the dish by mixing the sambal in. True enough, the sambal was its saving grace as it added a piquant kick. However, the dish still lacked depth.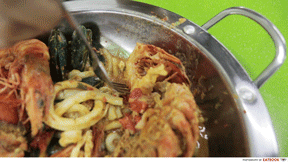 The lobster was well-cooked, and we could easily peel the meat off its body. There were plenty of roe beautifully nestled in the shell, glistening in a coral hue. The subtly sweet meat was firm yet easy to chew, though overall a tad dry. 
I scooped up some of the delicate roe and spread it on the lobster meat as if it were peanut butter. The roe added mini bursts of sweetness. We cracked the claws using the metal crab cracker provided and managed to pull out the meat cleanly.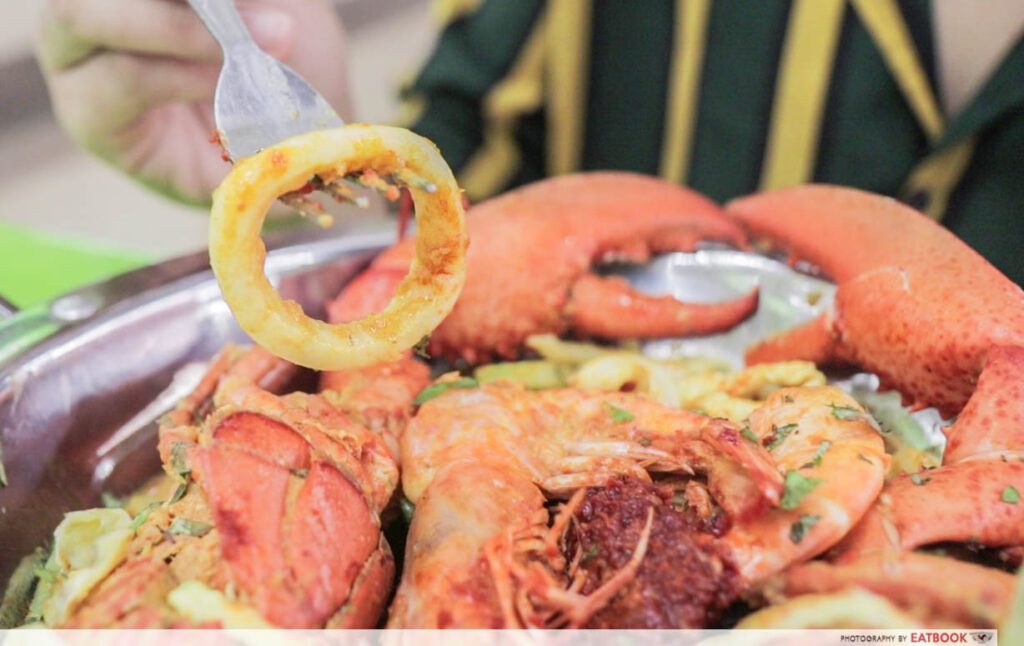 A shout-out to their prawns which were really plump and oozing with its sweet juices in every bite. The mussels and squid, however, were nothing to shout about. The udon surprisingly remained bouncy; it wasn't soggy despite us leaving it untouched as we were preoccupied with the seafood.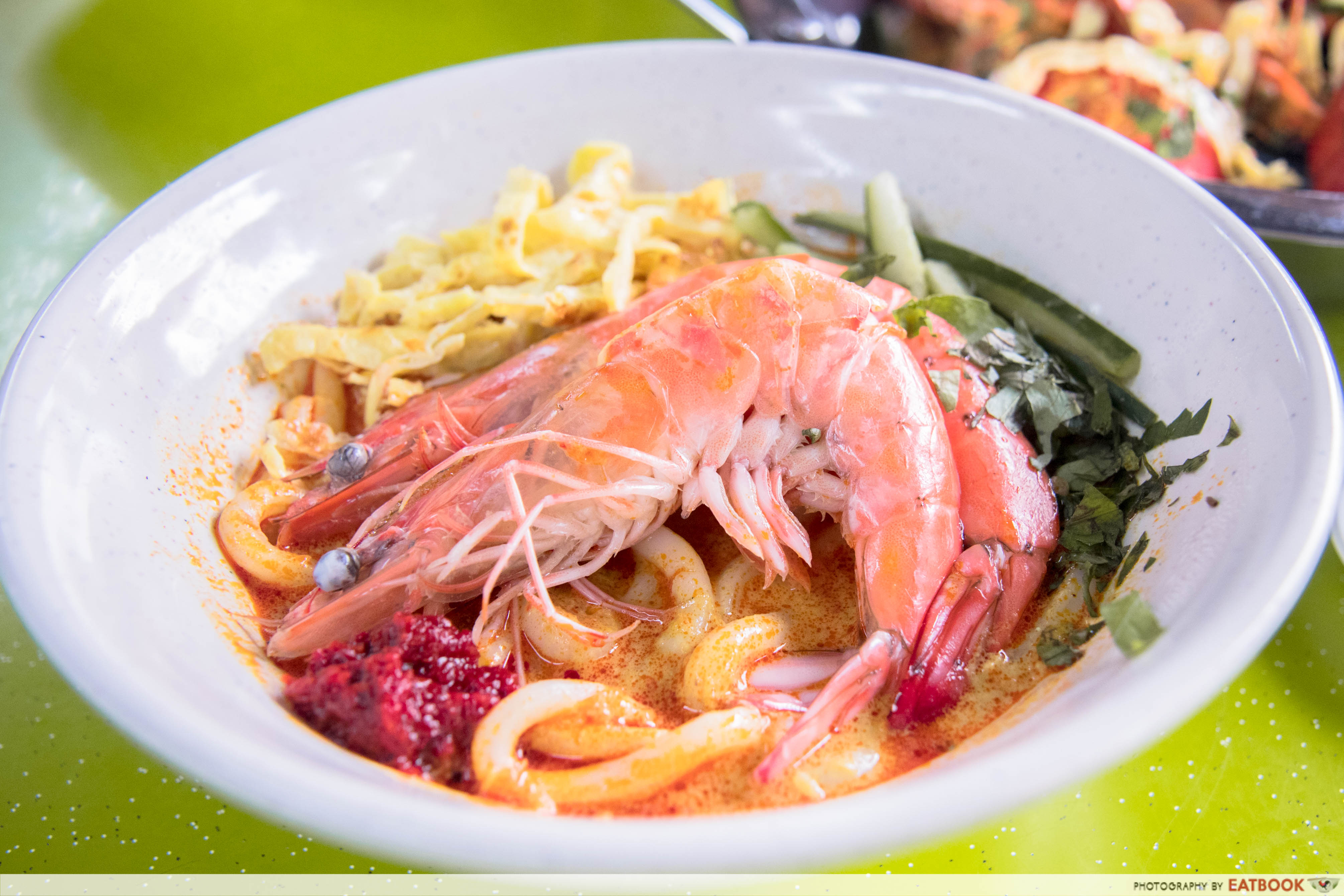 Before they had Lakster, Laksa Udon ($4), or what they call Laksudon was their speciality. We decided to add prawns ($2) to ours. The bowl was garnished with bean sprouts, shredded omelette, sliced cucumber, a dollop of sambal, and two large-sized prawns. The Laskter and Laksudon were almost similar in taste. If you're not up for a huge bowl of laksa, this would be a better choice. 
Ambience at Jenggood Jom Makan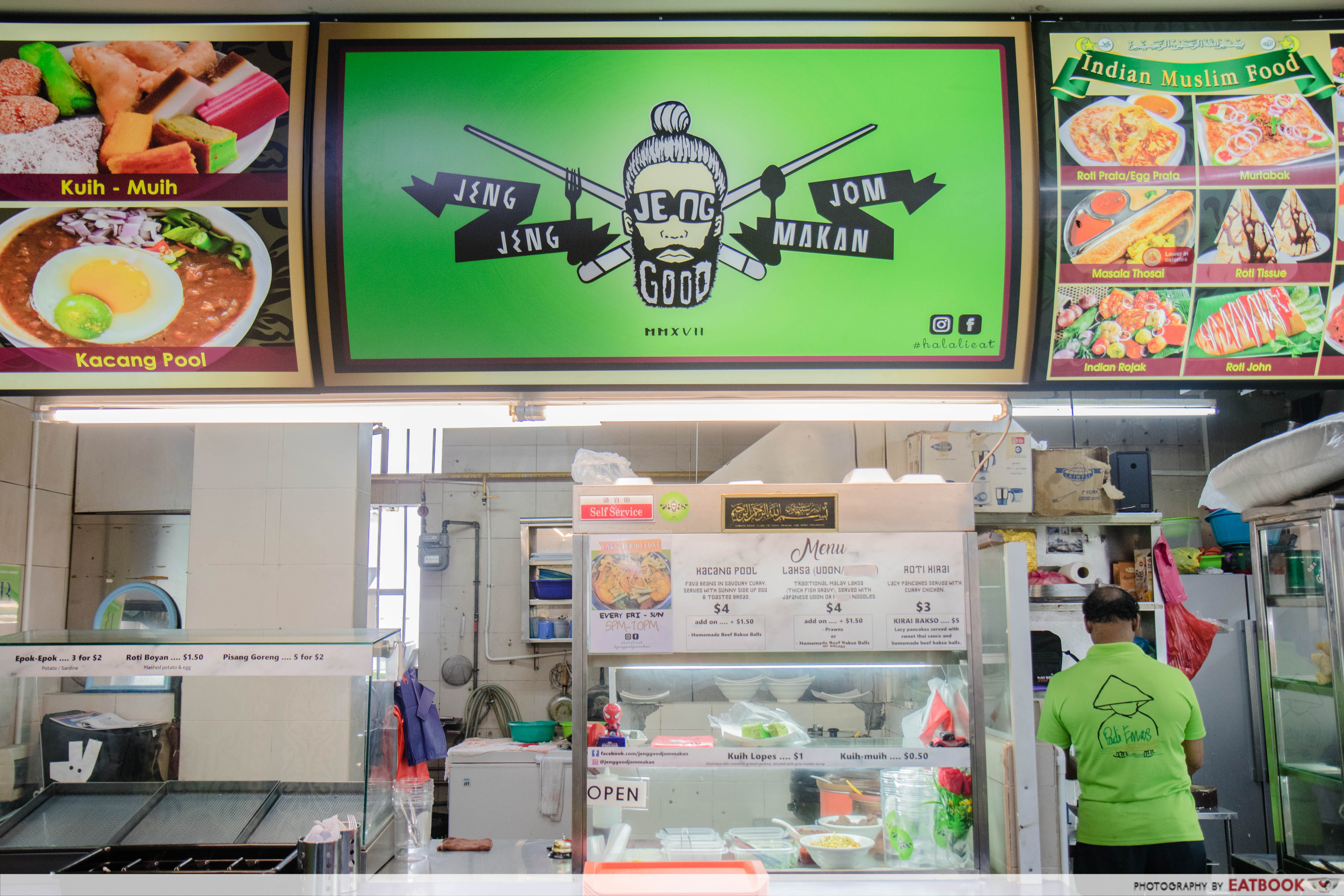 Jenggood Jom Makan is a stall in Padi Emas, which is a halal-certified coffee shop situated in Jurong East. Look for a green signboard with a hipster logo of a man in a high man bun and a thick beard. There are plenty of seats available, both indoor and outdoor.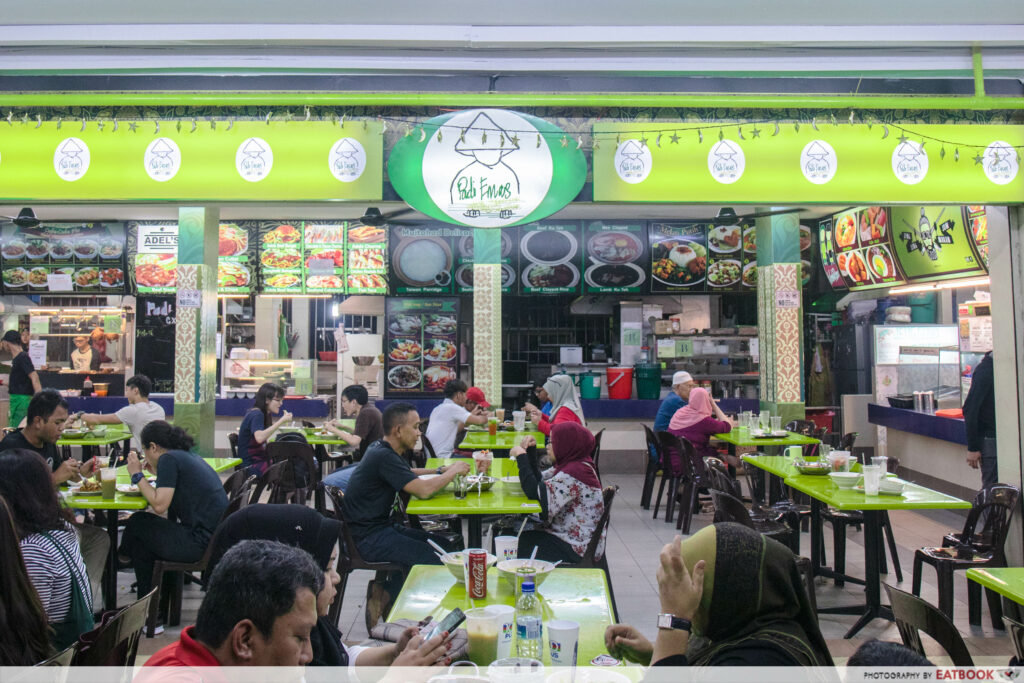 The coffee shop was well-ventilated with fans, plus the area was quite breezy when we went there. The staff member was very friendly and served the food to every customer's table. If you'd like to try their Lakster, it is only available every Friday to Sunday, from 5pm to 10pm. Drop them a message on Facebook or give them a call to reserve beforehand to avoid disappointment.
The verdict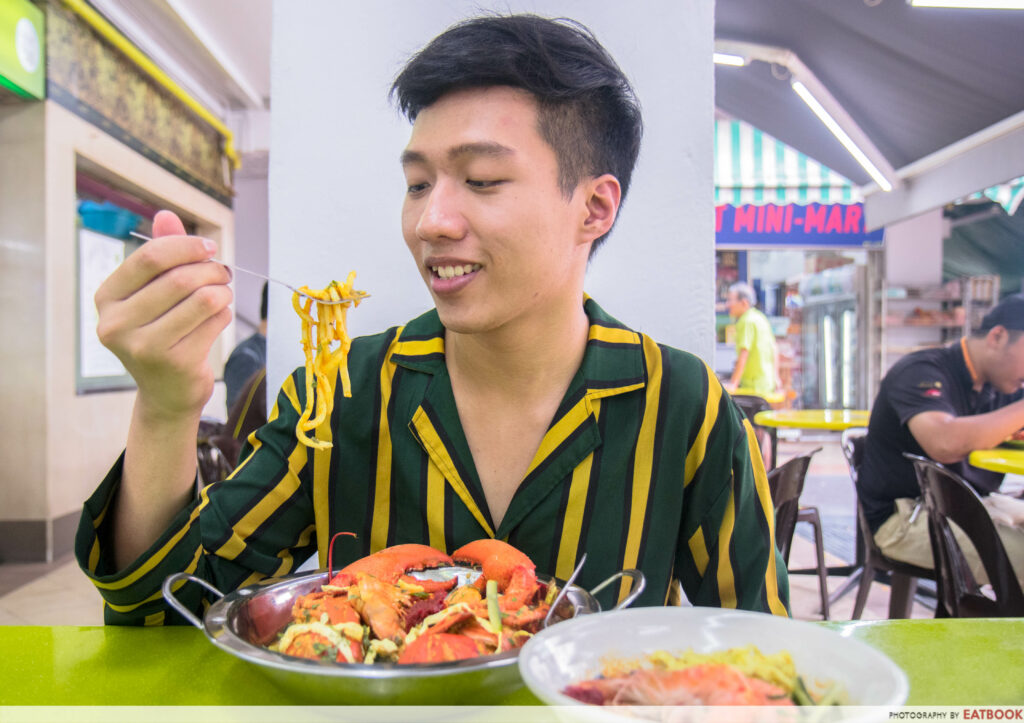 Now, you can add this to your list of must-try lobster dishes in Singapore but I personally wouldn't travel all the way to Jurong East just for their lobster laksa. The seafood was satisfactory but the dish leans towards the pricey side. It is, however, a great meal for a #treatyoself kinda day. 
Address: Blk 508 Jurong West Street 52, #01-170, Singapore 640508
Opening hours: Wed-Mon 8:30am to 9:30pm
Tel: 8722 5341
Website
This is an independent review by Eatbook.sg.
Jenggood Jom Makan Review: Lobster Laksa Udon Called "Lakster" At A Kopitiam At Jurong East
Summary
Pros
– Juicy prawns
– Great sambal
– Huge lobsters
– Friendly service
Cons
– Lacklustre gravy
– Pricey
– Cash only
Recommended Dishes: Lobster Laksa Deluxe ($34.90)
Operating Hours: Wed-Mon 8:30am to 9:30pm
Address: Blk 508 Jurong West Street 52, #01-170, Singapore 640508