The Humble Burger and their not-so-humble chicken rice burger
Update: The Humble Burger is now permanently closed.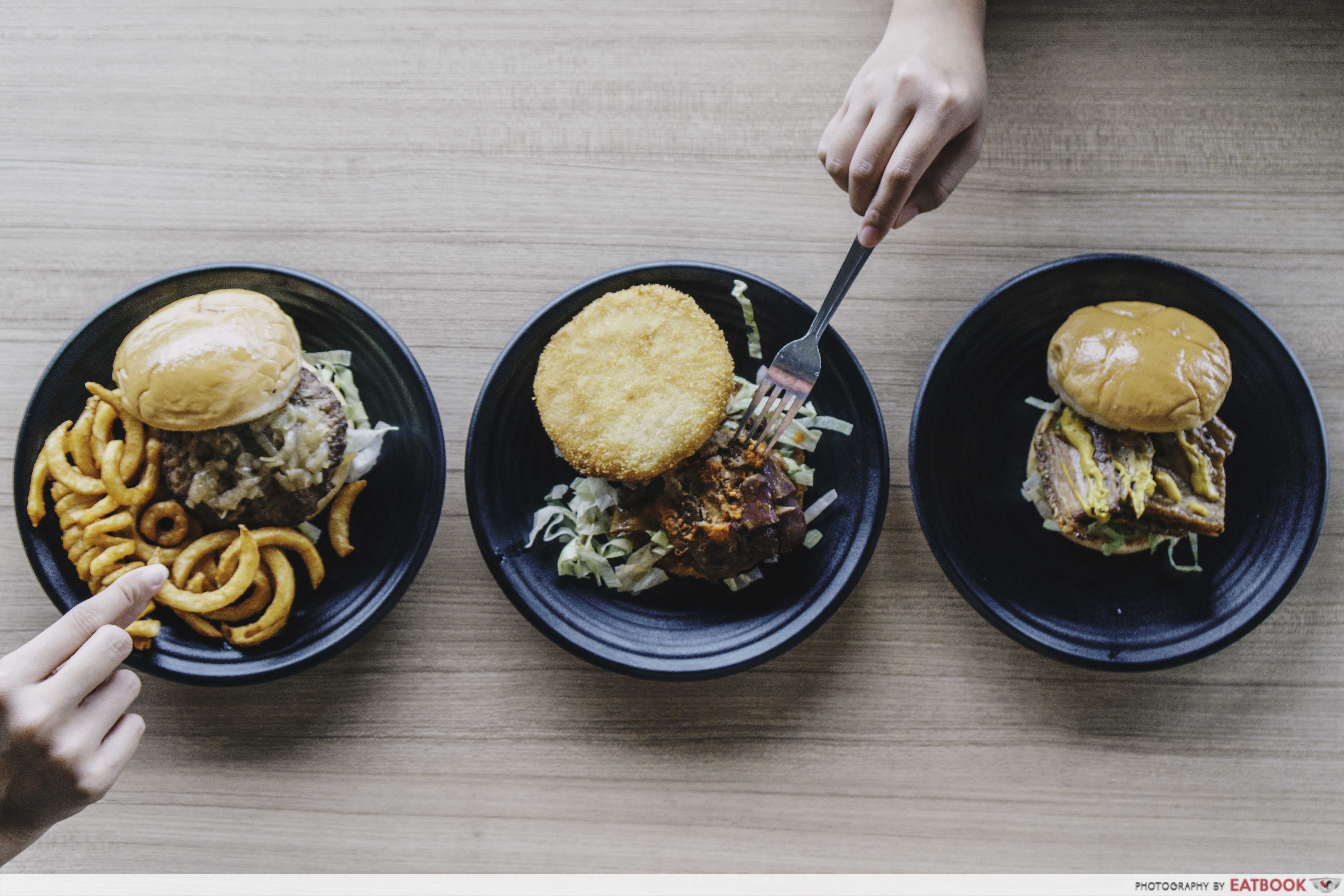 When our colleagues went down to Pasir Ris Central Hawker Centre for an episode of Eatbook Vlogs on YouTube, they came back filling us in about The Humble Burger and the plate of chicken rice burger they tried. It got us all excited and intrigued by this different take on the classic dish. With ants in our pants, some other colleagues and I went down to check out the stall to try it for ourselves.
Food at The Humble Burger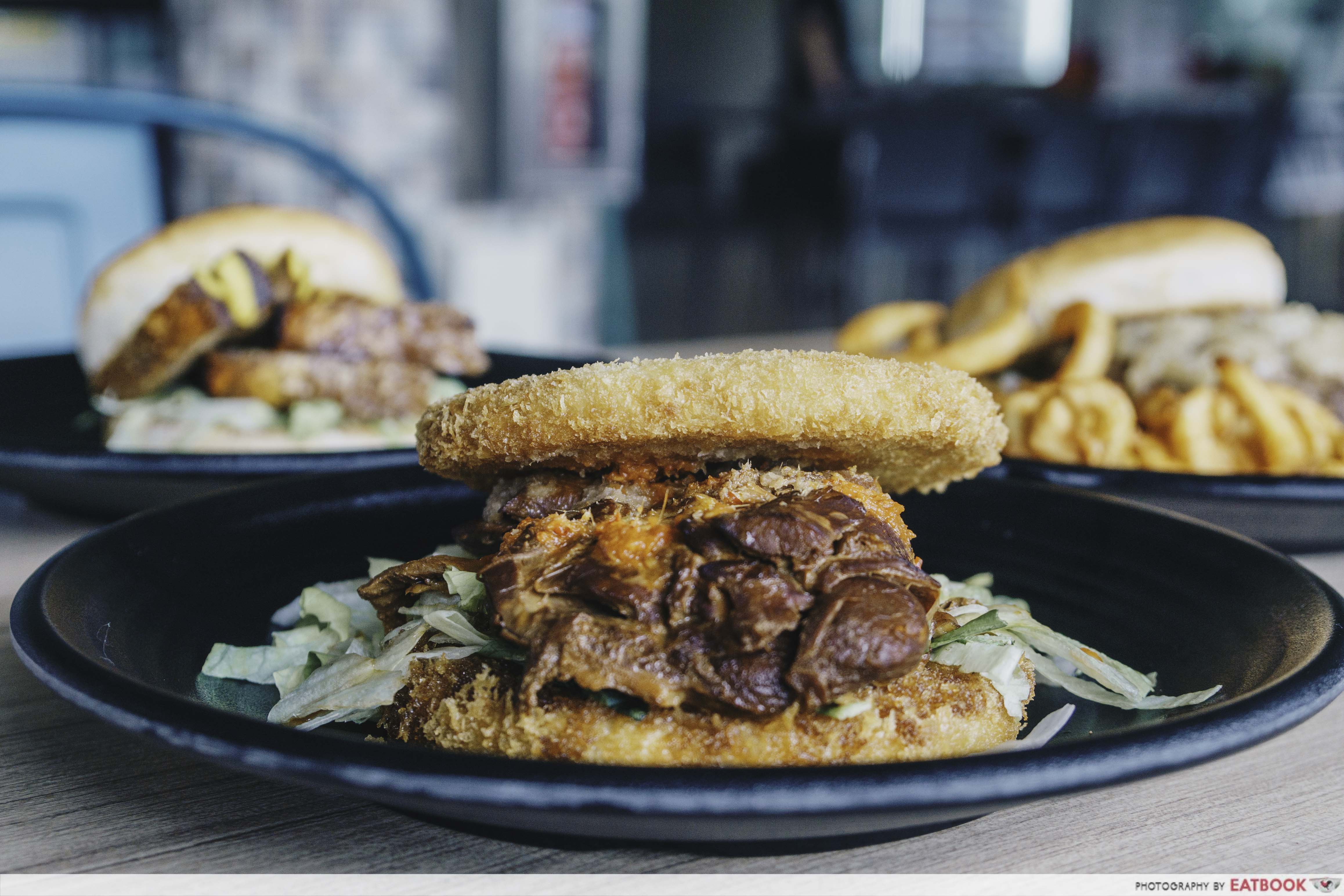 When I collected the Chicken Rice Burger ($5.50), I was hoping to be engulfed by that familiar fragrance of sesame oil, soya sauce, and pandan – but this became a classic case of expectations being set up for disappointment. Even though there was a lack of aromatherapy, the chicken burger was still a sight to behold.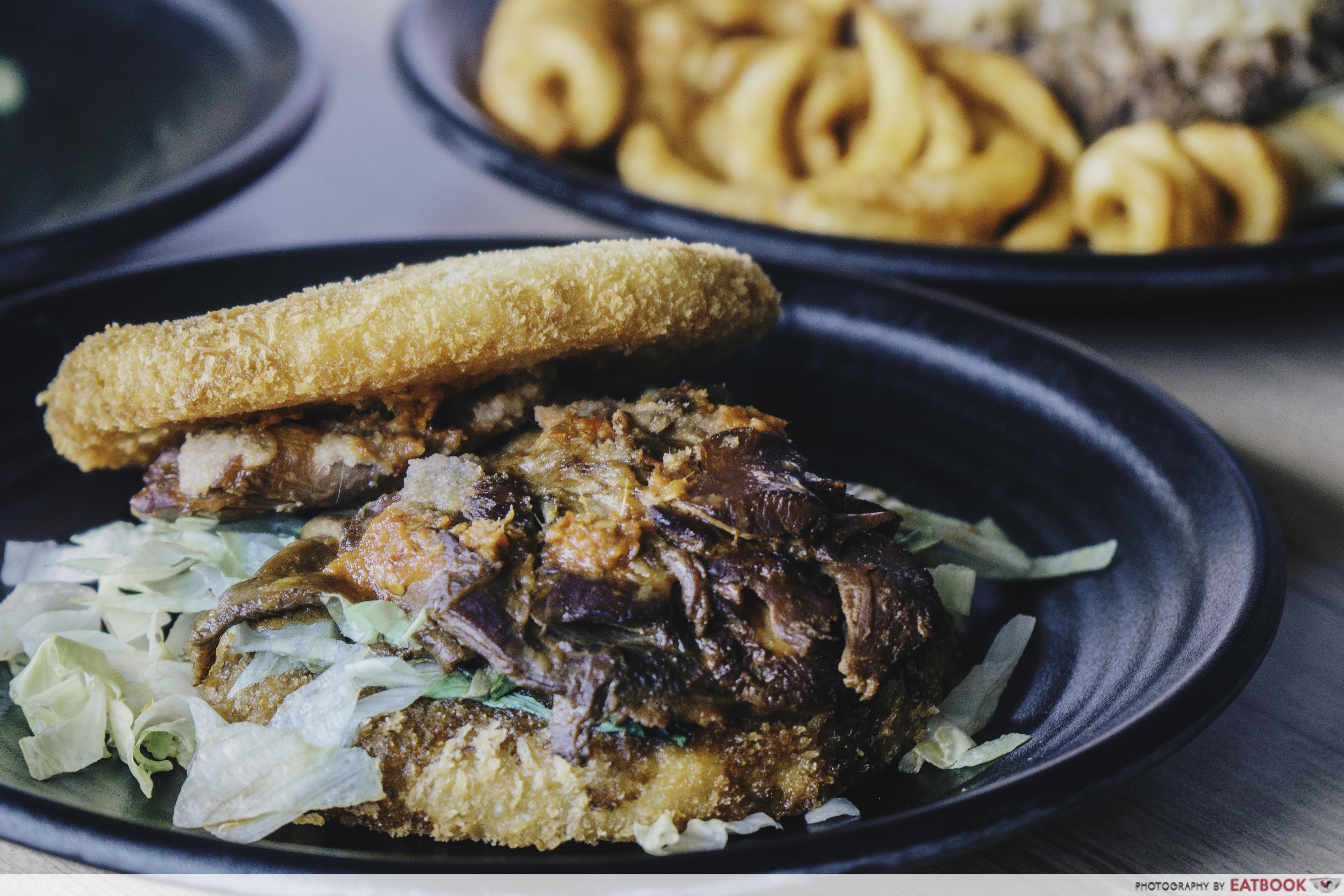 The burger was already visually appetising. Swapping bread buns for rice 'buns', the burger hides a deliciously dark brown serving of chicken. The dish was also made colourful with specks of red and brown from the sauces drizzled atop the chicken. Taking a huge bite of as much of the burger as I could, I was surprised by how it reminded me of classic chicken rice, but with its flavours intensified.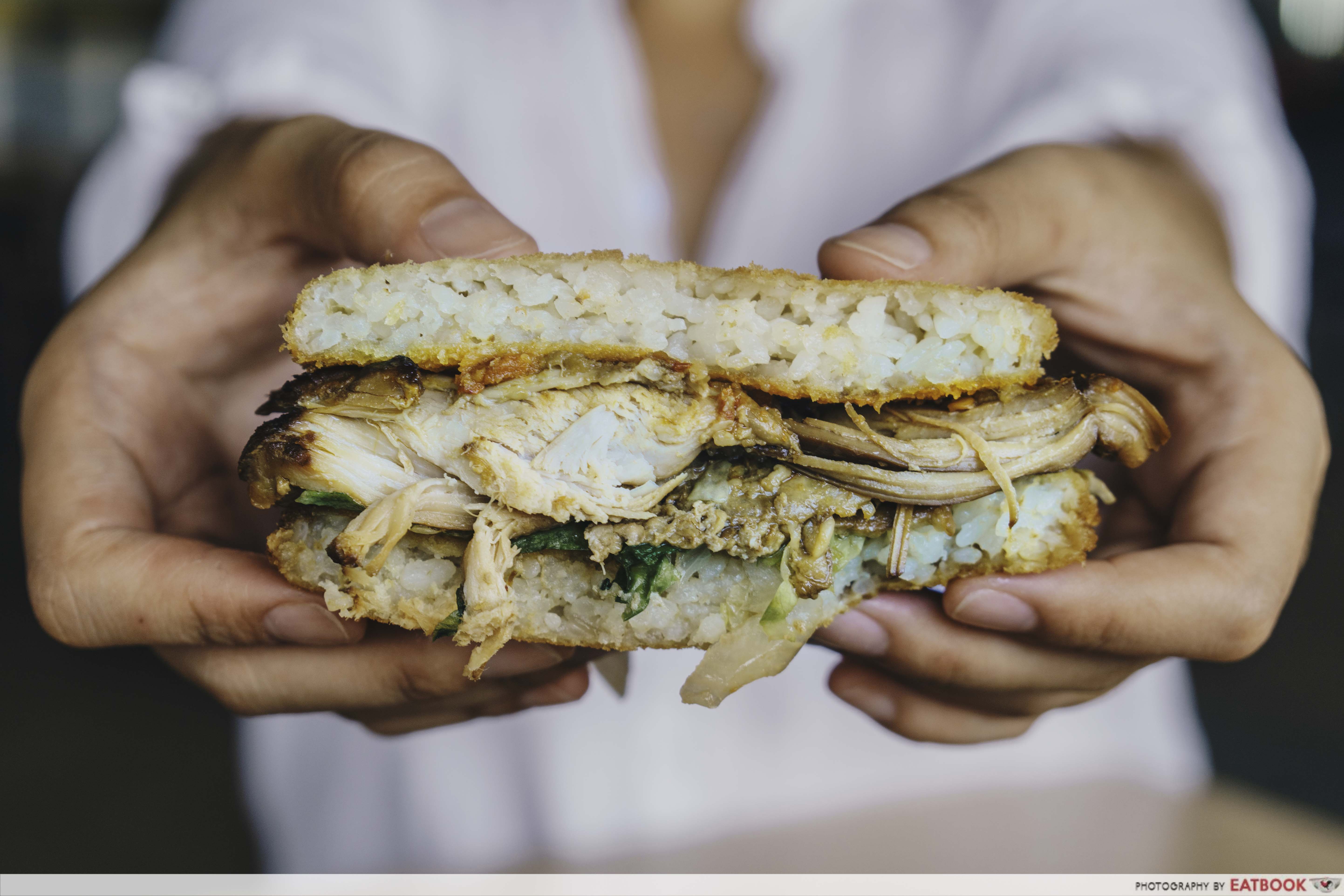 A piquant flavour from ginger and sweetness from the garlic chilli sauce were strong, but they paired nicely with the savoury chicken. What was lacking in this dish for me was the lightness and firm texture of rice, as the buns were replaced by rice compressed into patties. I also found the absence of sesame oil and the smell of pandan in the dish disappointing.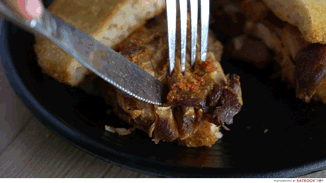 On the other hand, the chicken was fork-tender and pleasantly reminded me more of braised pork than the clean taste and supple texture of poached chicken. All in all, the clever combination of compressed rice, savoury chicken and the medley of sauces made every mouthful one that I found delectable.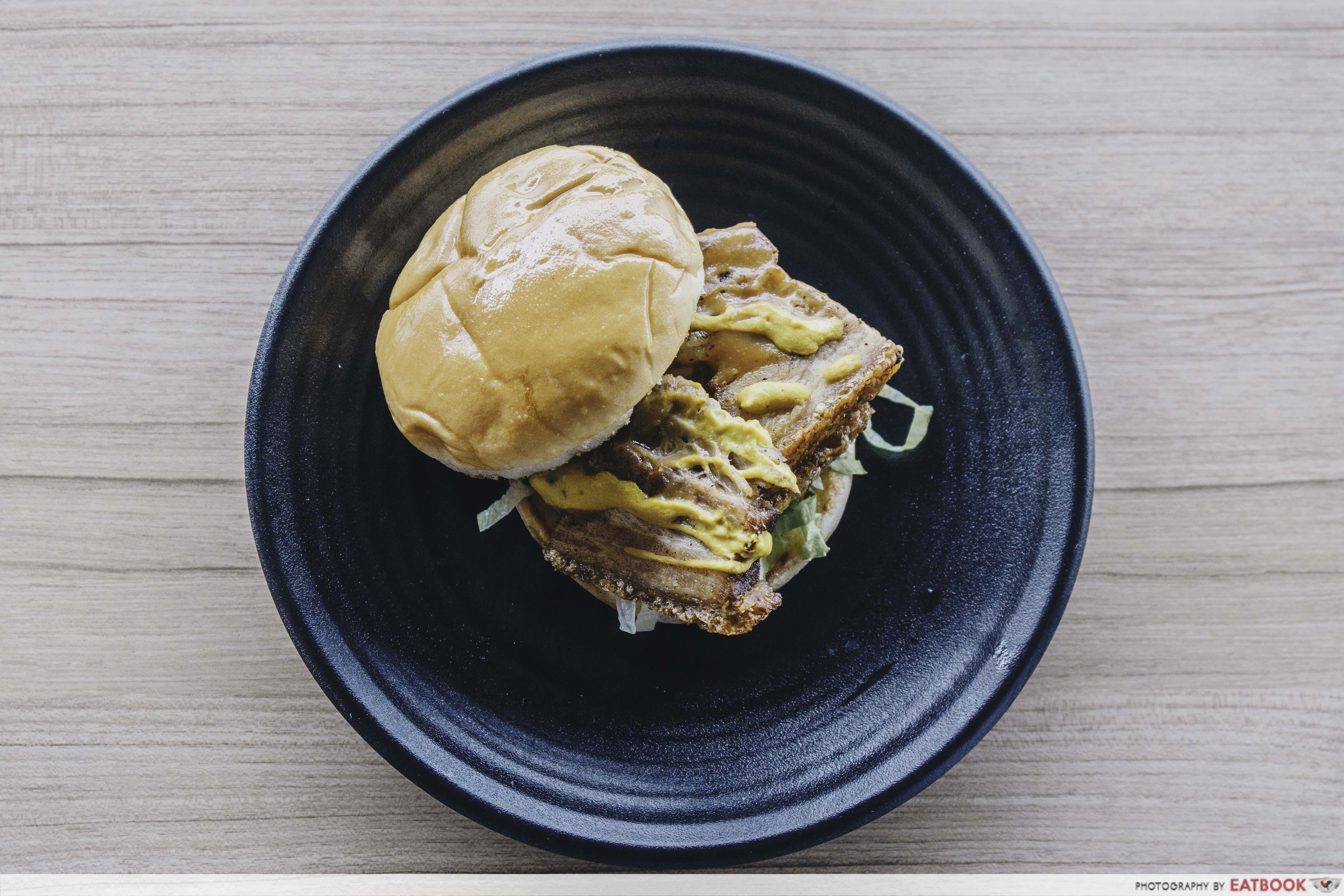 In view of the big hoo-ha in Singapore recently over BBC's article that featured pork fat as the eighth most nutritious food in the world, we ordered a Sio Bak Burger ($5.50) as well. There were three pieces of sio bak tucked between a grilled bun and they came decorated with a bright yellow dash of mustard sauce and light brown plum sauce.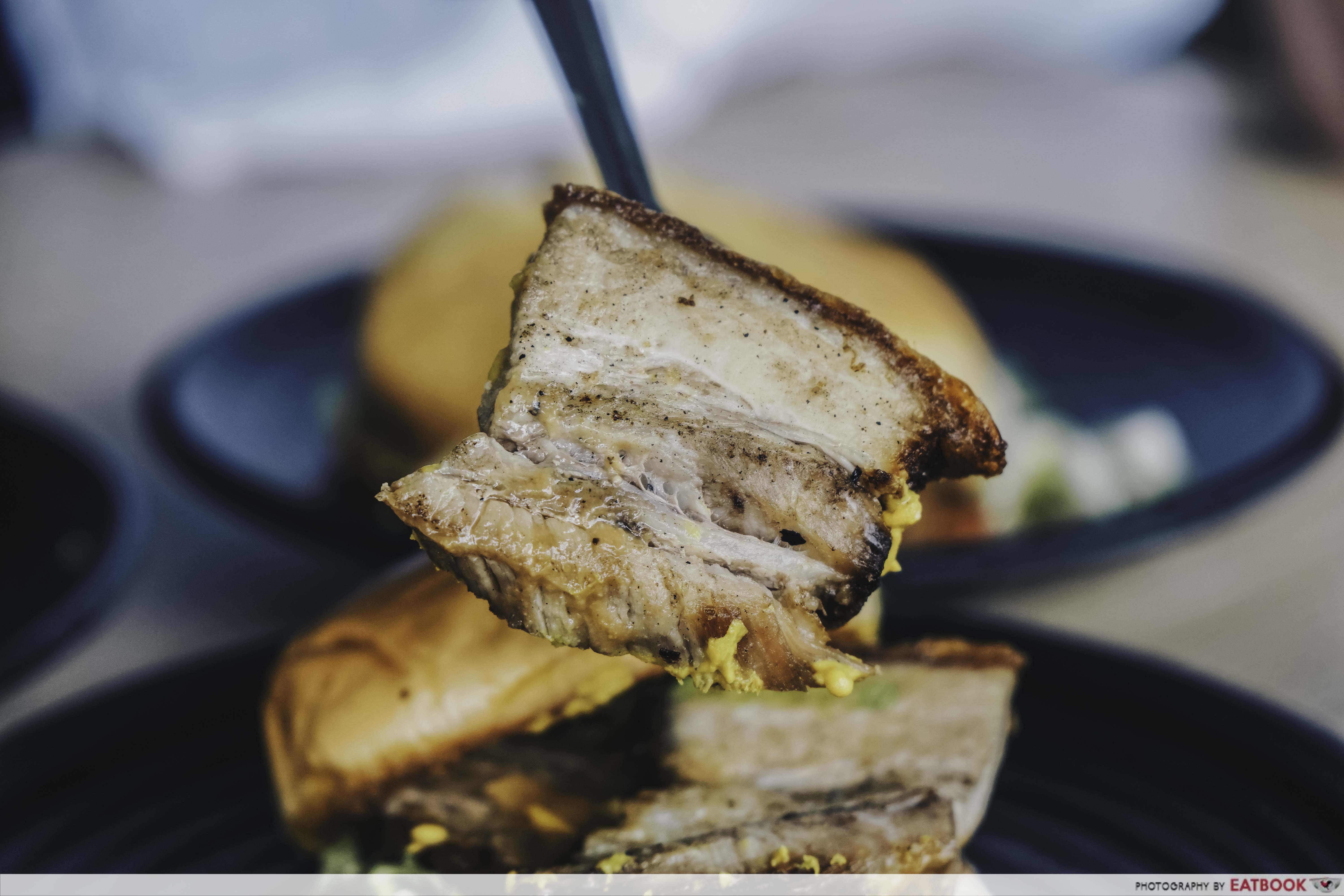 As I held the sio bak burger up to try, things got messy as the pieces of roasted pork were eager to escape from my clutches. I gave up and gave in to using a fork and knife instead.
Savouring the different components of the burger, I gave the burger only one thumbs-up. The roasted pork was too salty for my liking. The yellow mustard sauce added on to the overbearingly strong flavours, and the plum sauce did little to make the dish more appetising. The saving grace of this burger was the loud crunch of the pork crackling, followed by chewy fats and meat.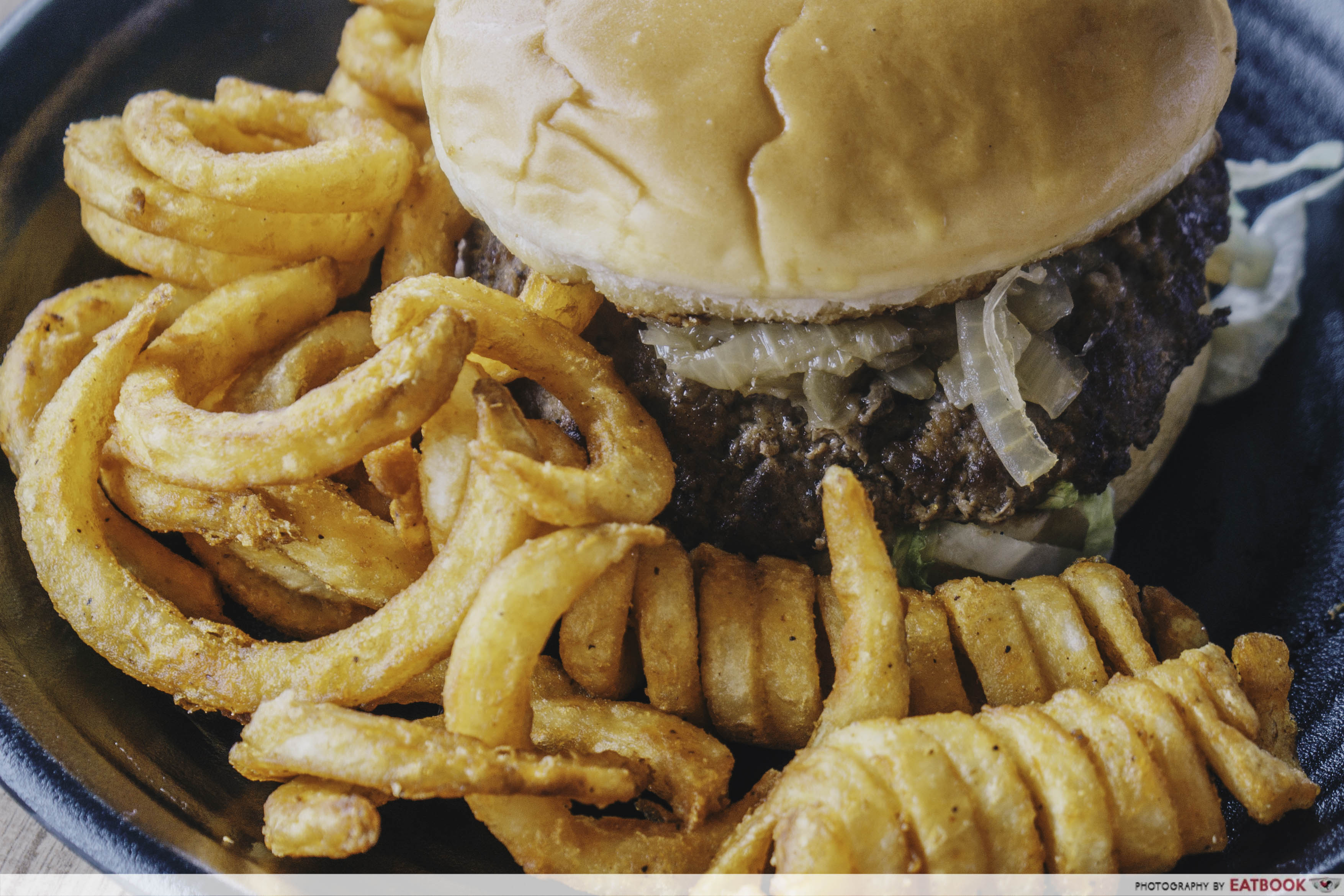 For those who are less adventurous with their food, The Humble Burger also serves a mean Beef Burger ($5). Our eyes lit up when we saw Twister Fries ($1.50/$3) on the menu, so we couldn't help but order a small serving of that too.
The beef burger features a thick house-made patty, caramelised onions, cheddar cheese, lettuce, and tomatoes. A subtle peppery flavour was apparent in each juicy bite, with added umami that comes from a miso glaze. The caramelised onions were sugary sweet and soft, I could only wish for more than just a dollop of it.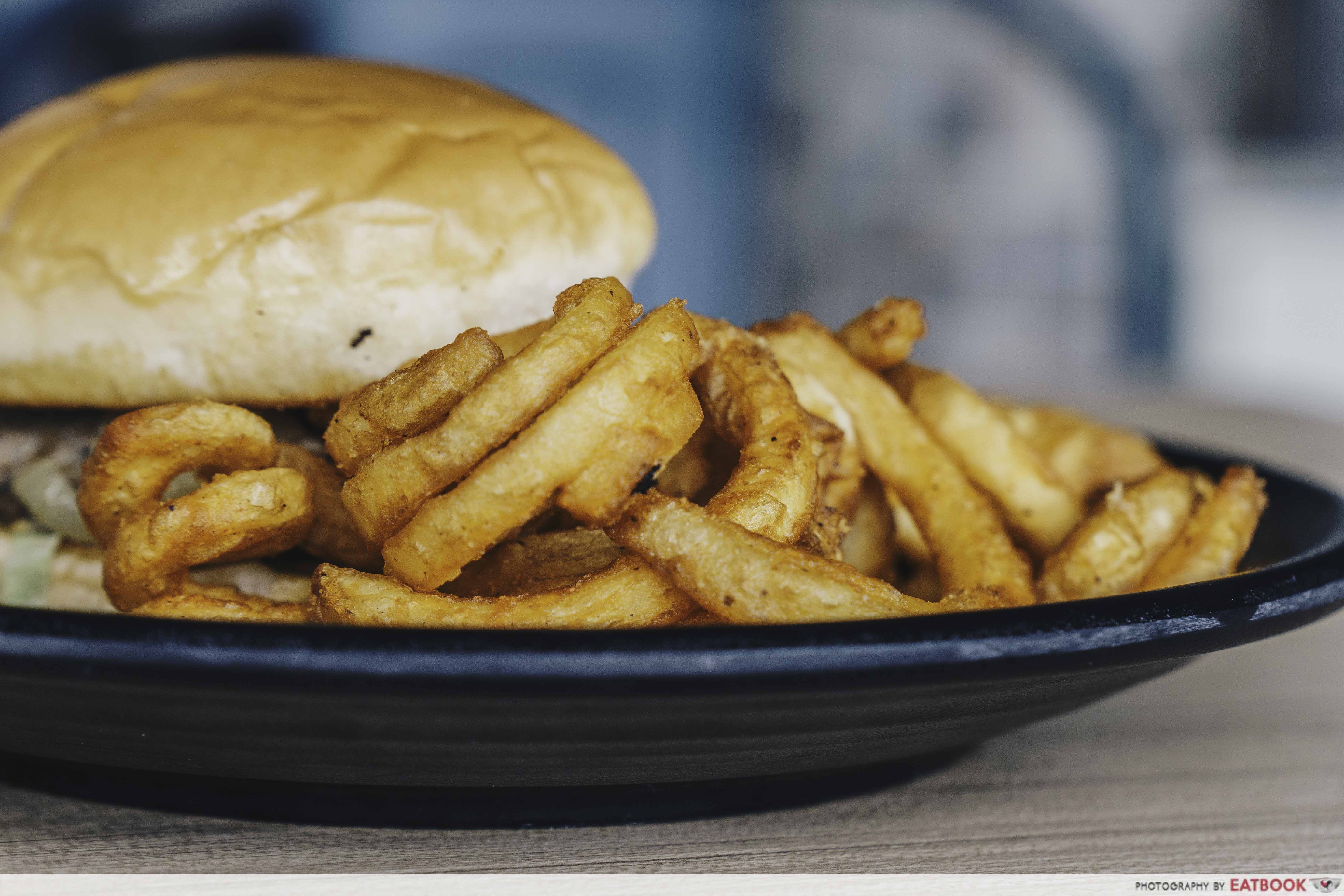 I recommend paying $1.50 for a side of twister fries. They were comparable to the ones at McDonald's, just a tad less seasoned. Each curly fry held a light crunch and a soft centre.
Ambience at The Humble Burger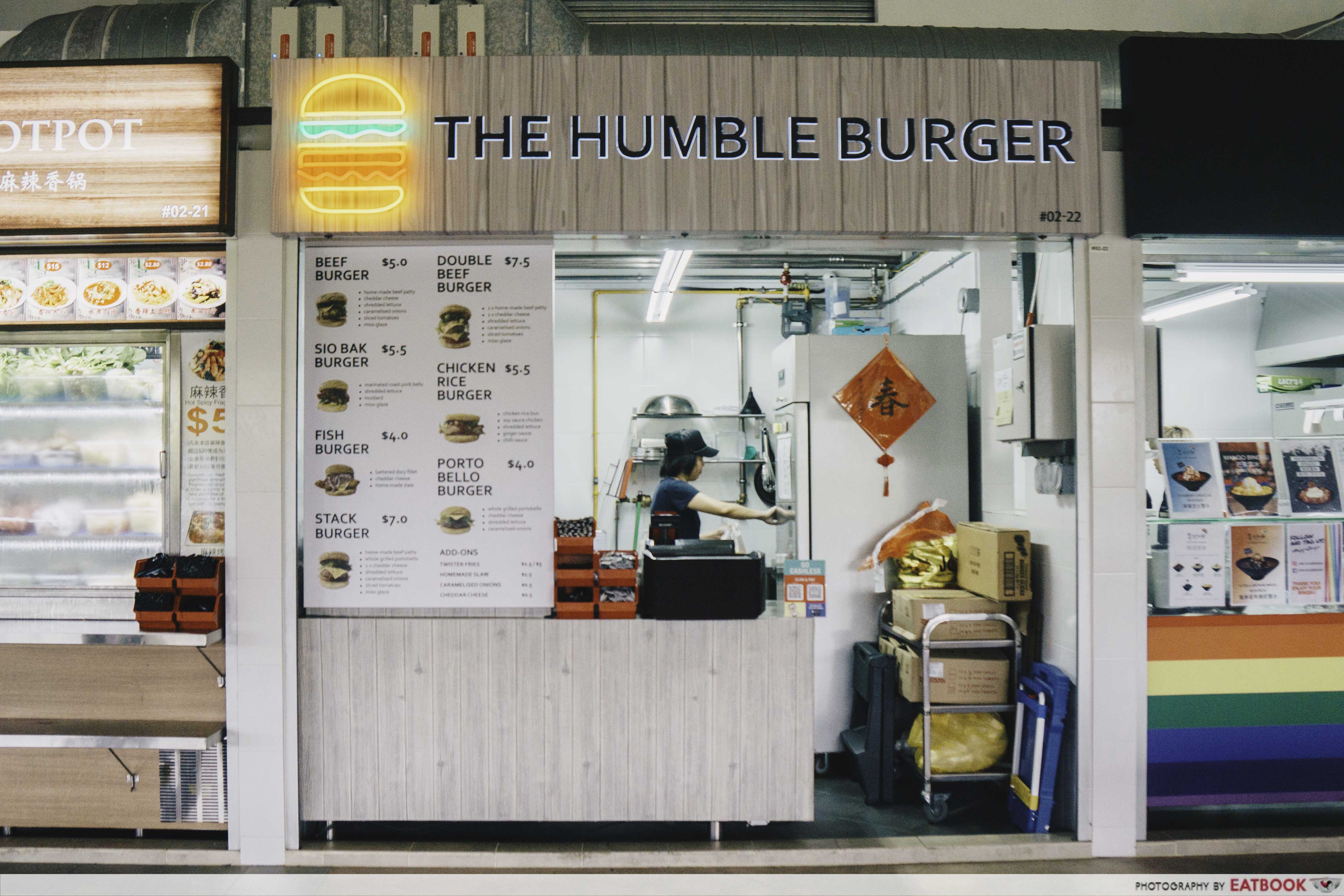 The Humble Burger is located at the newly opened Pasir Ris Central Hawker Centre. It is clean and bright, with good ventilation to boot. Those who are suckers for neon lighting or anything hipster, this hawker centre is the place for you. Even the stools they use are my kind of #apartmentgoals.
The verdict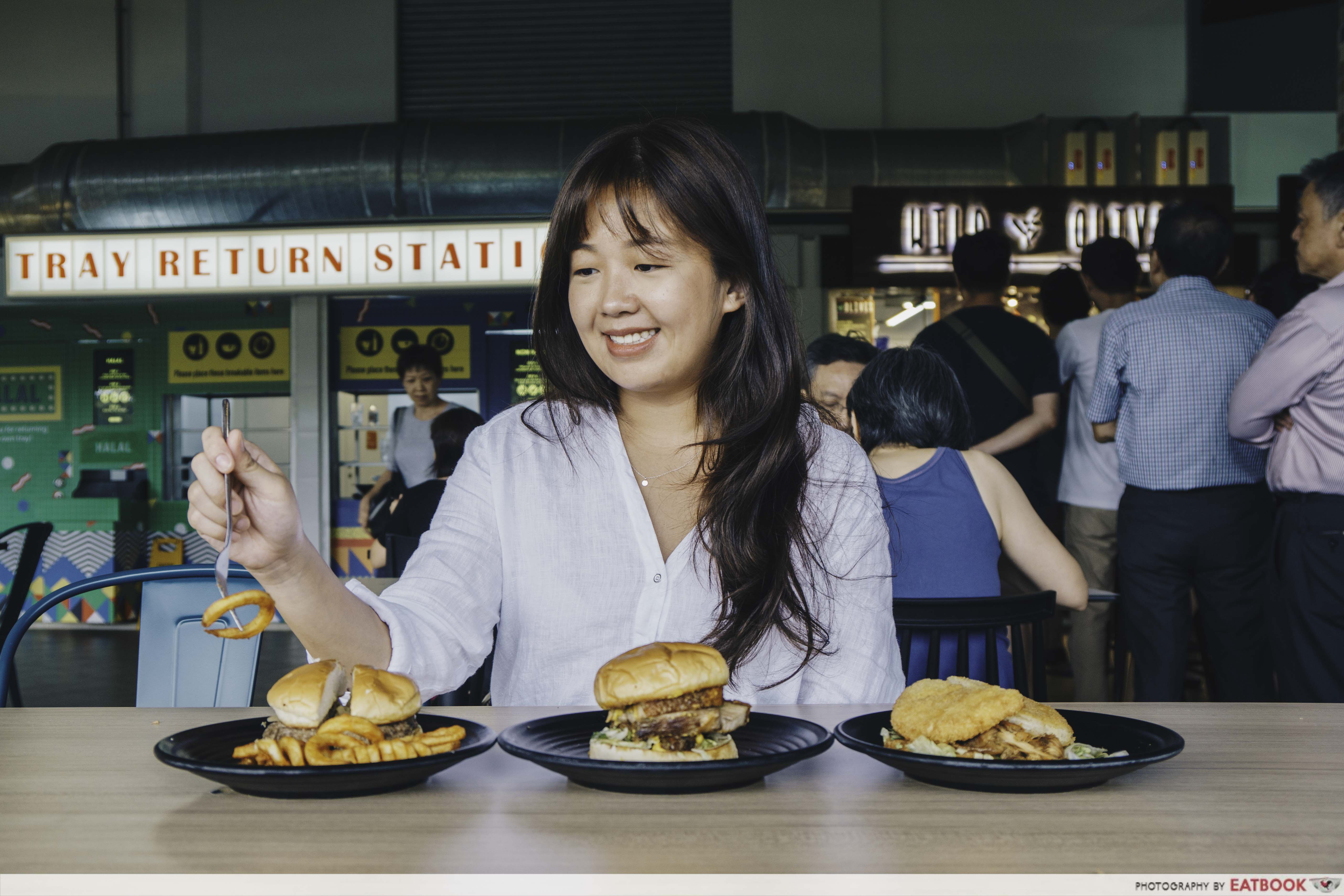 I stay at Lakeside, and when I say that I wouldn't mind travelling down for this, you know The Humble Burger serves a legit burger. Even though there were mixed reviews among my colleagues for the chicken rice burger, I actually really liked it. Some found it a fusion confusion, while I found it well-flavoured and moreish. The beef burger also got some "Yasss" from the table, while the sio bak burger missed the mark for all of us.
If, like me, you enjoy creative dishes, check out our review on Aw's Signature which serves braised pork mee and fish maw bee hoon, or Master Wang which serves interesting xiao long bao fillings such as cheese and crab roe.
Address: 110 Pasir Ris Central, #02-22, Pasir Ris Central Hawker Centre, Singapore 519641
Opening hours: Wed-Mon 12pm to 9pm
Website
The Humble Burger is not a halal eatery.

This is an independent review by Eatbook.sg.
Summary
Pros
– Interesting menu
– Quality ingredients
– Well-flavoured dishes
– Value-for-money
Cons
– Sio bak burger was disappointing
Recommended Dishes: Chicken Rice Burger ($5.50), Beef Burger ($5), Twister Fries ($1.50)
Opening Hours:
Wed-Mon 12pm to 9pm
Address: 110 Pasir Ris Central, #02-22, Pasir Ris Central Hawker Centre, Singapore 519641