Get your xiao long bao and la mian fix at Master Wang
Update: Master Wang's restaurant at Yishun is now permanently closed. Visit their hawker outlets at Suntec City (#03-367) or 27 Woodlands Link.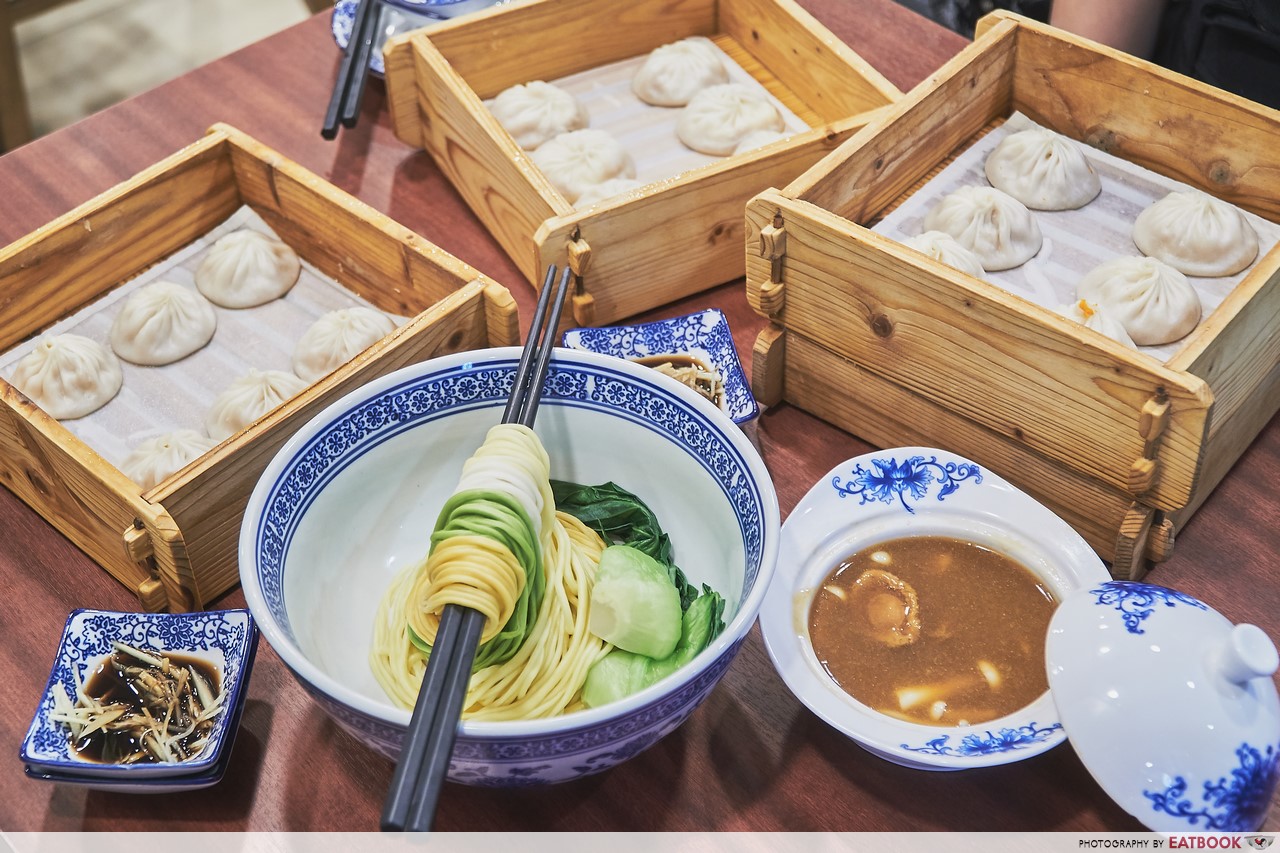 When my colleague told me about this Chinese restaurant, Master Wang, selling six different kinds of xiao long bao, I put on my detective glasses and Googled for more information. To my delight, their menu indeed offers six different varieties, namely cheese, scallop, crab roe, fish, lala, and the OG pork dumplings. The prices looked reasonable and relatively lower than Din Tai Fung's as well. Armed with an empty stomach, my colleague and I headed down to the restaurant at the new wing of Northpoint City, Yishun.
Food at Master Wang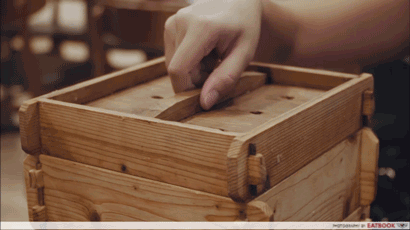 In excitement, we ordered three xiao long bao varieties – Steamed Cheese Dumpling ($7.80++ for six pieces), Steamed Scallop Dumpling ($7.80++ for six pieces), and Steamed Crab Roe Dumpling ($9.80++ for six pieces). All three came at the same time and in a squarish tower, instead of the usual circular one that we are more used to seeing. The server who was decked in an all-black martial art uniform placed the tower on our table in one swift motion, making us feel like royal tasters for an emperor.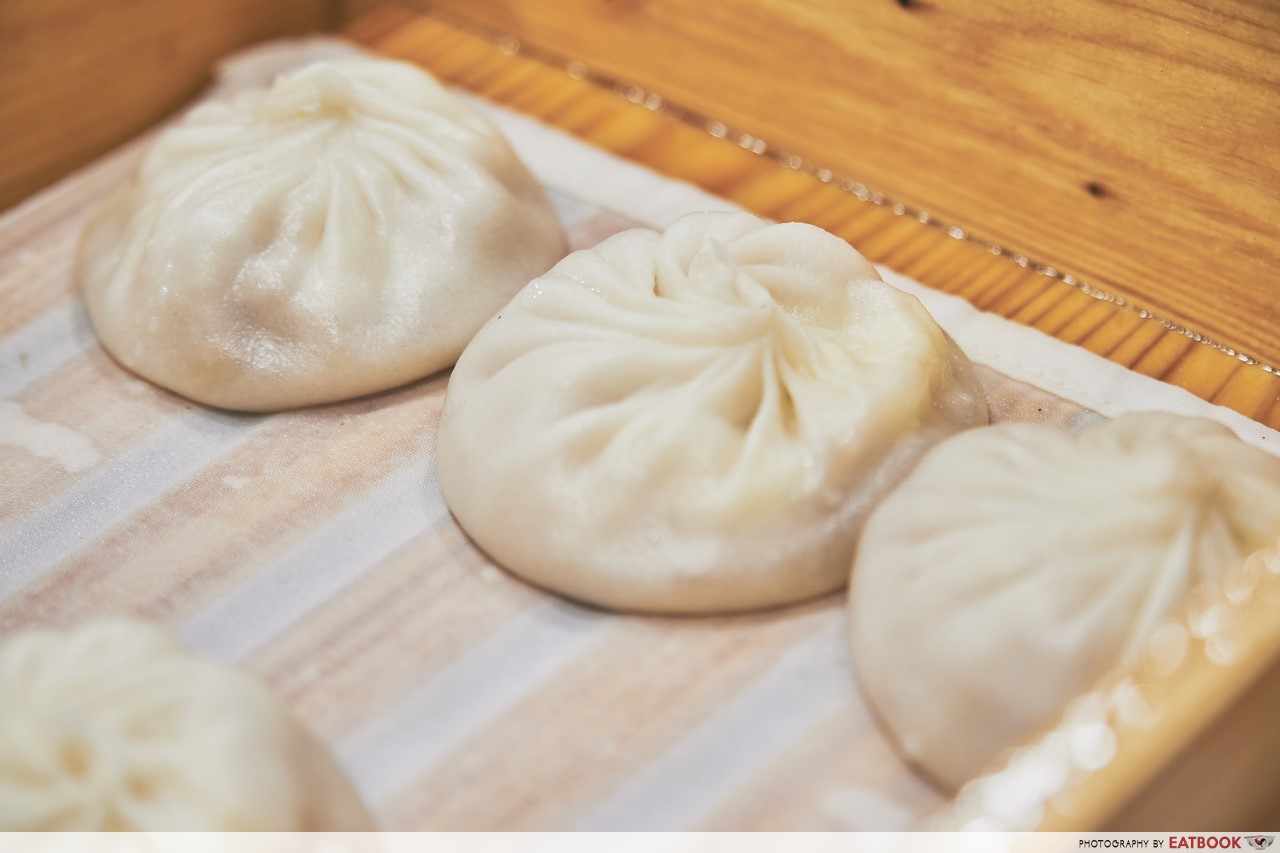 The first one we all reached for was the cheese xiao long bao. At first glance, they looked funny being spread flat on the white cloth instead of standing up with a twirled peak, probably because they are heavily laden with cheese. Popping one into my mouth, I could taste an alluring and salty hint of cheese. What would make the dish even better would be if more of the mozzarella cheese was stuffed into the soup dumplings – some of us could barely even taste the cheese behind the fragrant meat broth.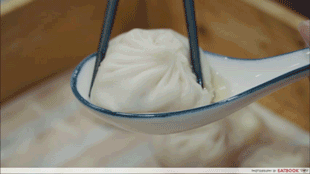 We tried the steamed scallop dumplings next. Gingerly, I transferred it over from the tray to my spoon. The skin of the dumpling looked pretty translucent at some areas, which is a plus point; I love it when the soupy goodness is encased in just a thin yet sturdy layer of skin, making the aromatic broth stand out. This flavour would be my favourite! There is a strong taste of dried scallop, which adds both a sweet and umami kick to the usual xiao long bao.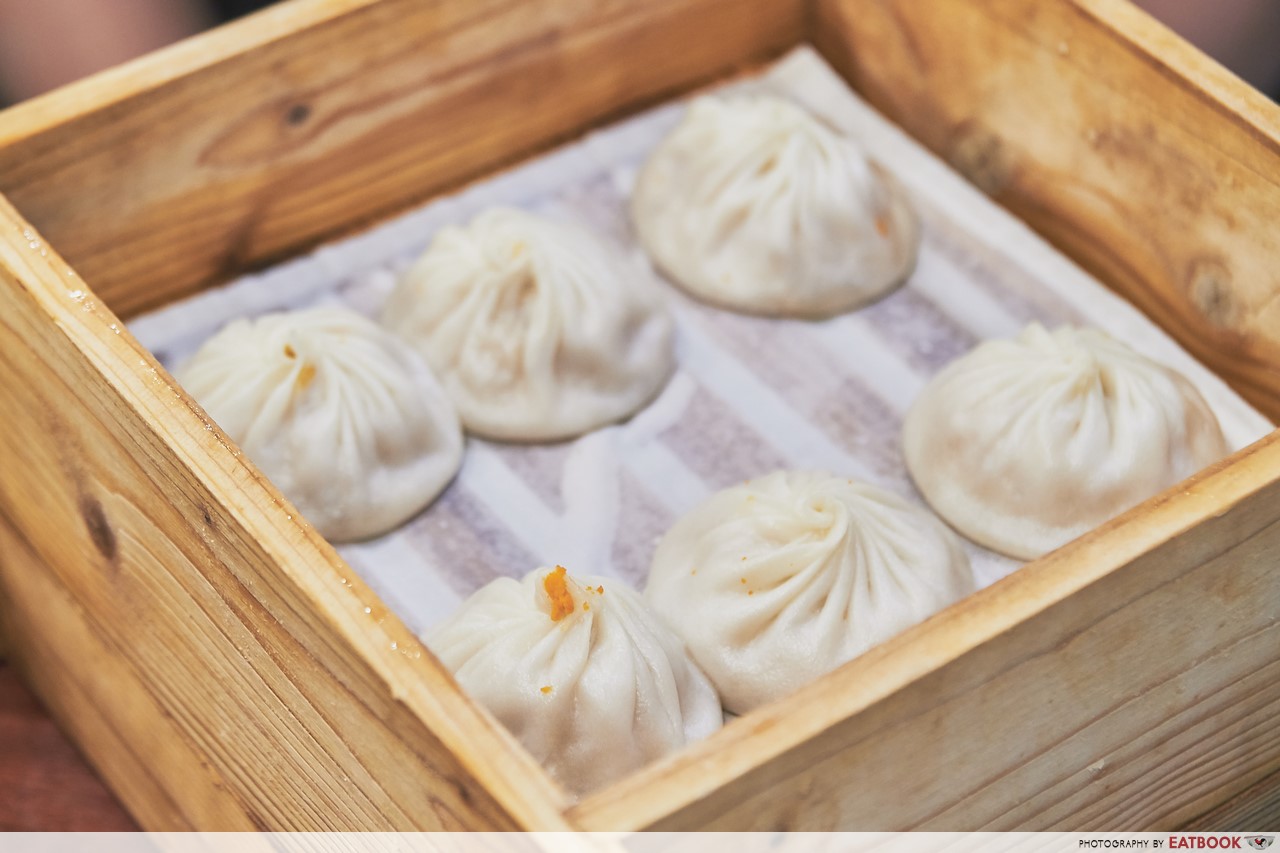 My colleagues and I were expecting to taste the bold flavours of crab for the steamed crab roe dumplings. However, we were disappointed as the meaty flavour hid all traces of seafood we hoped to taste. These xiao long bao tasted exactly like the usual pork ones. I would suggest giving this a miss.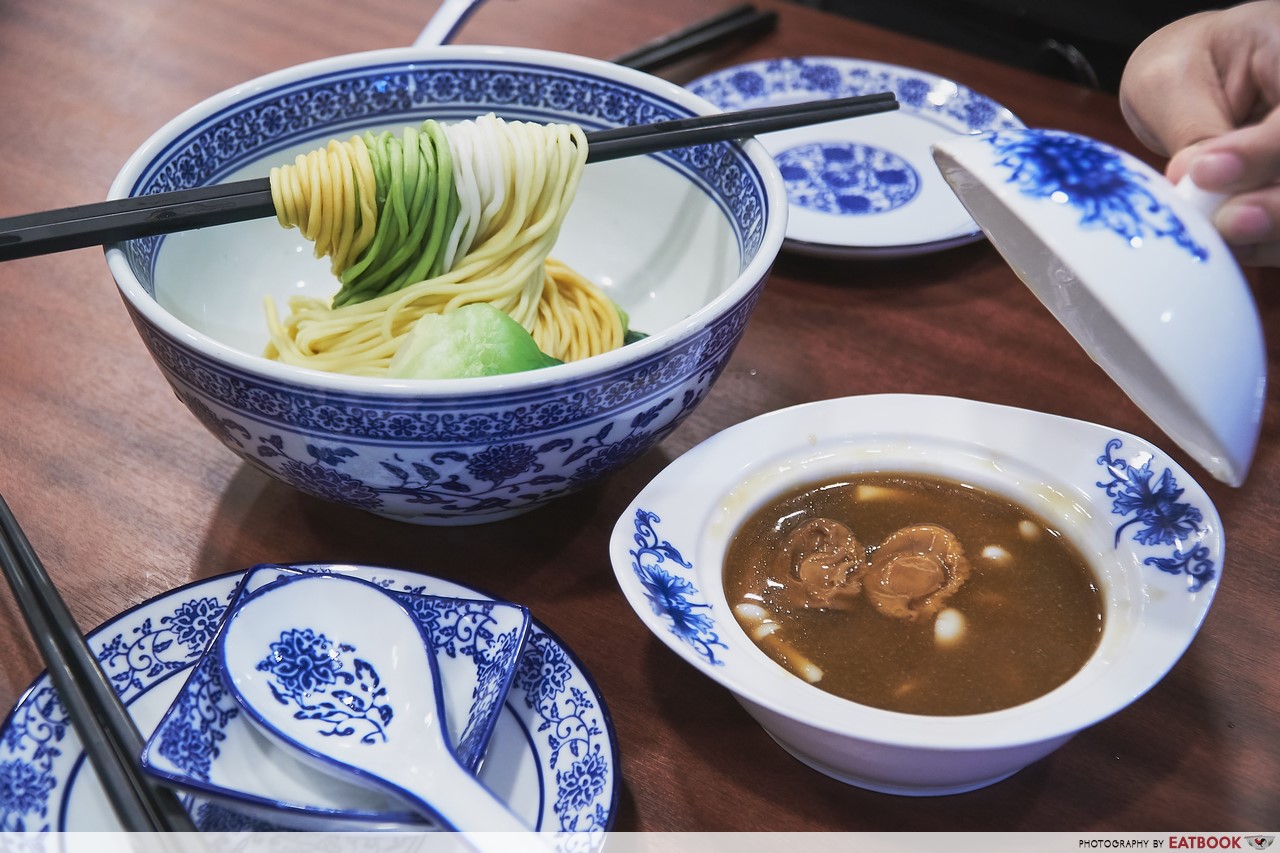 The name "Rainbow La Mian" ($13.80++) might be a stretch as these handmade noodles only come in three colours. Green is made from juicing spinach, yellow from pumpkins, and orange from carrots. The noodles are served beautifully in a twist, displayed like a fountain spouting in the middle of the bowl. The dish also comes with a separated bowl of thick sauce, with two mini abalones floating atop like little Chinese sampans.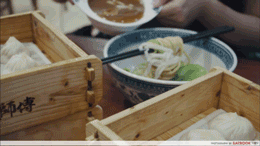 To my delight, the noodles were chewy and al dente. They were not overcooked and soft, which is a common occurrence in many Chinese la mian dishes. The sauce is robustly flavoured and pairs well with the noodles. However, similar to the crab roe xiao long bao, there was a lack of the various vegetable tastes in the noodles which we were all expecting out of this deliciously named dish.
Ambience at Master Wang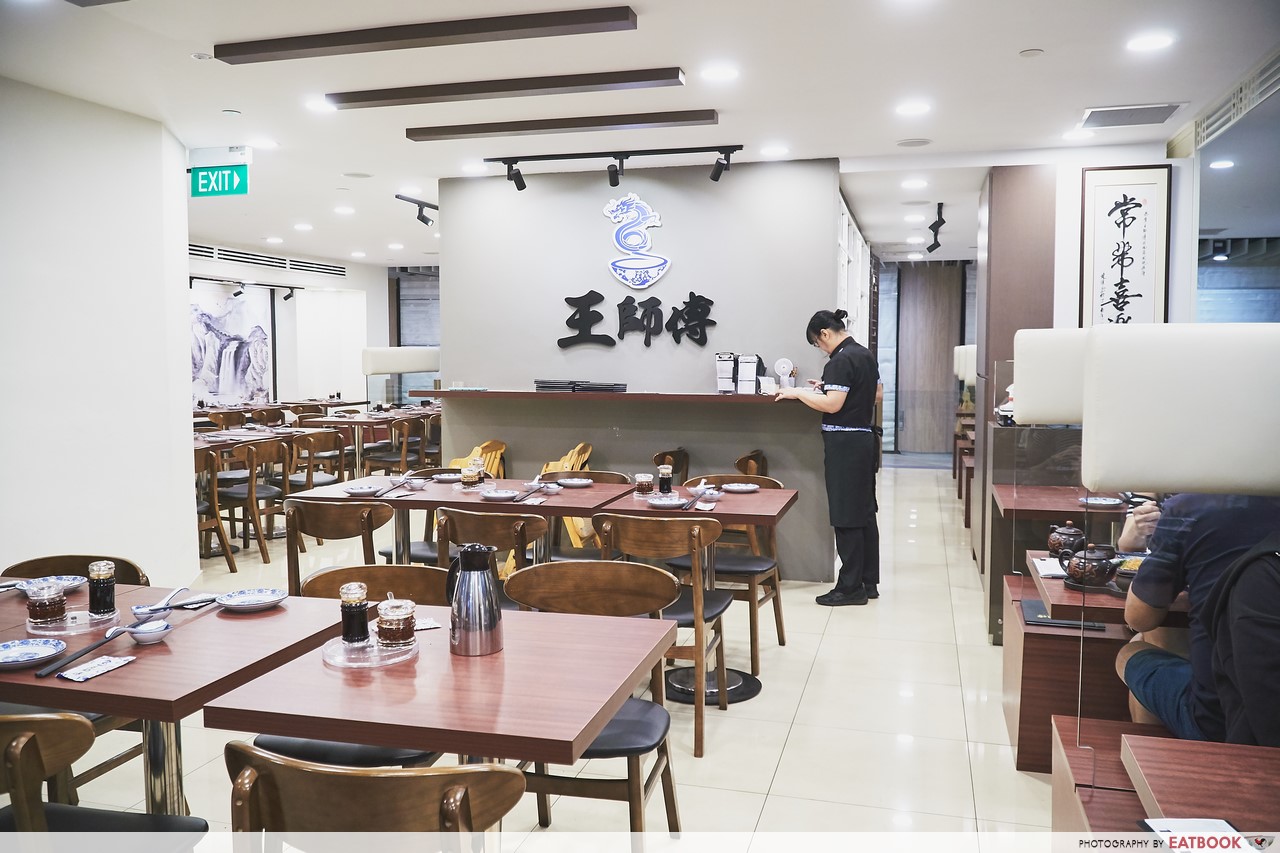 Like the new wing at Northpoint City, Master Wang is bright and clean. The decor also reminds me of a casual dining spot in China. There seemed to be a ubiquitous Chinese air in the restaurant, probably due to the details on the uniforms of the servers, up to the bowls and spoons used. There are plentiful seats as well, making it a suitable place to bring your parents or family to for dinner on the weekends.
The verdict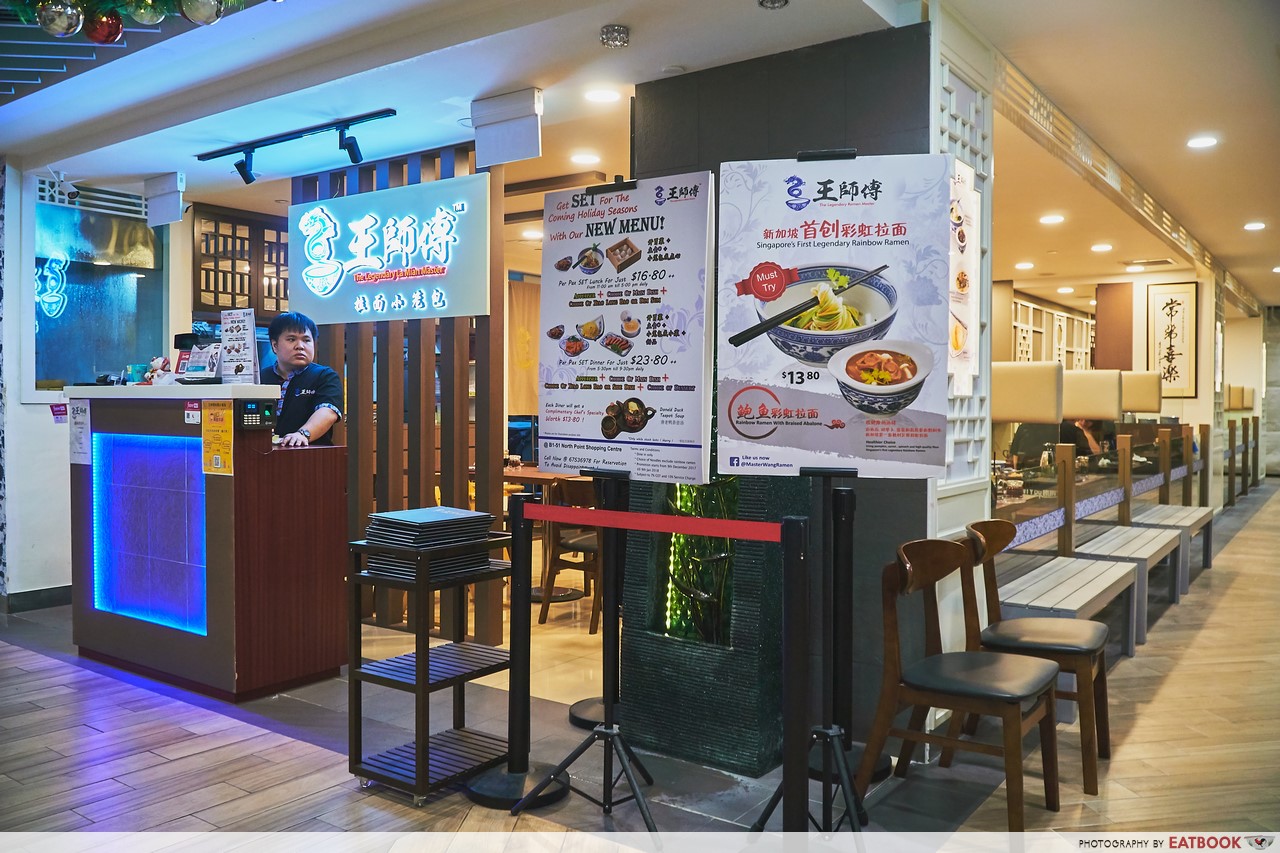 I was excited when I heard that Master Wang has a menu boasting six different xiao long bao varieties. The steamed scallop dumpling was my favourite out of all, followed by the cheese ones. They were more interesting than other Chinese la mian eateries, and were very slurp-worthy. On the other hand, the other dishes such as the crab roe dumplings and rainbow la mian were mediocre and did not wow us as much as we hoped they would. The service was great and the food was served to us fast. I recommend dining here only if you are already shopping around the new wing of Northpoint City and are looking for a quick Chinese meal.
For more interesting dumpling creations, check out our list of unique dumplings, which includes deep-fried taro dumplings with scallop and abalone, and pan-fried mentaiko miso dumplings. Alternatively, if you are on a budget, pop by Zhong Guo La Mian Xiao Long Bao, which serves XLB at $0.60 each.
Address: 930 Yishun Avenue 2, #B1-51, Northpoint Shopping Centre, Singapore 769098
Opening hours: Daily 11am to 9:30pm
Tel: 6753 6978
Website
This is an independent review by Eatbook.sg.
Summary
Pros
– Wide variety of xiao long bao
– Prices are reasonable
– Extensive menu
Cons
– Some xiao long bao flavours taste almost the same
– Some dishes were mediocre
Recommended Dishes: Steamed Cheese Dumpling ($7.80++), Steamed Scallop Dumpling ($7.80++)
Operating Hours:
Daily 11am to 9:30pm
Address: 930 Yishun Avenue 2, #B1-51, Northpoint Shopping Centre, Singapore 769098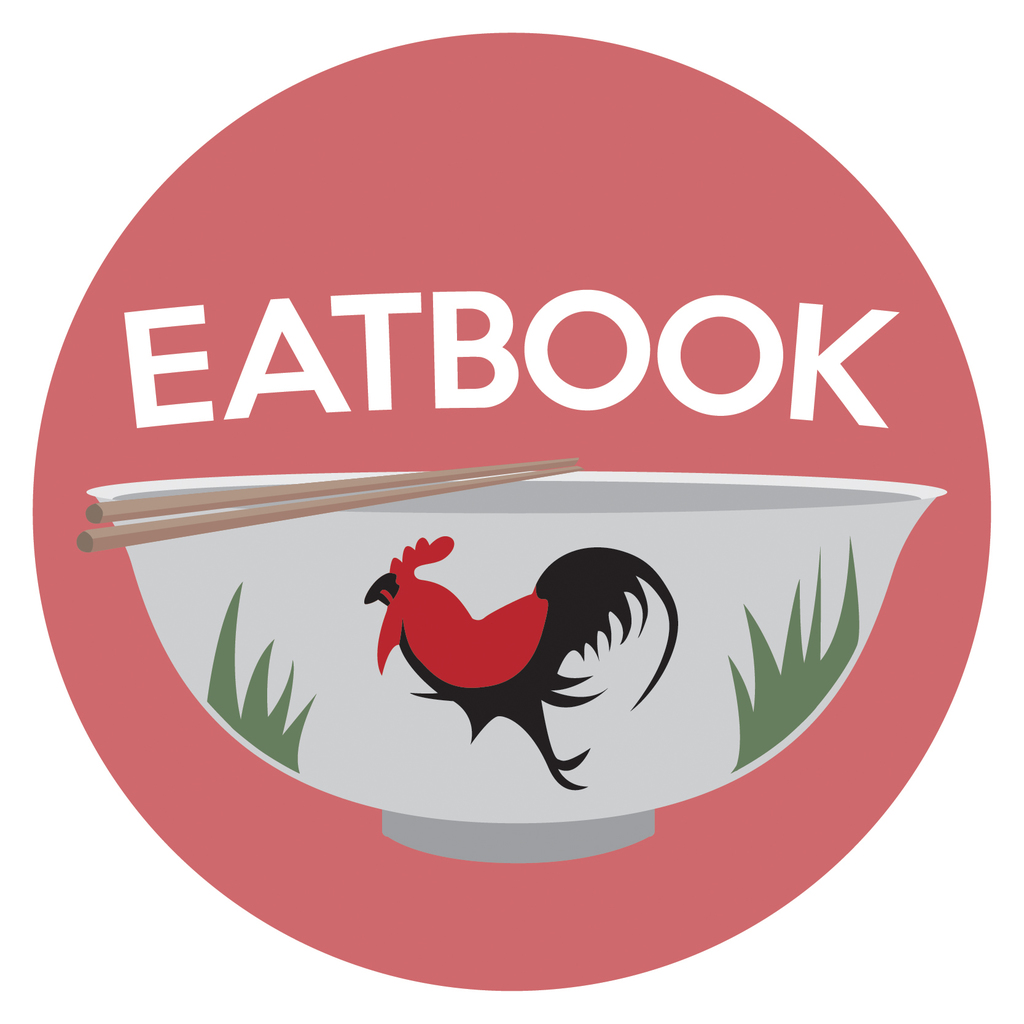 Drop us your email so you won't miss the latest news.