Aw's Signature Minced Pork Noodles at Tanglin Halt Food Centre
Update: Aw's Signature Minced Pork Noodles is now permanently closed.
I first chanced upon Aw's Signature Minced Pork Noodles online, and was amused by its Facebook page. It is peppered with adorable posts about the ins and outs of the stall owners' day at work. There was a post of them apologising for missing out on a packet of handmade fishballs, and another post showing their gratitude to a regular customer who will be leaving Singapore for her studies. The noodle dishes offered here are super zhnged-up and different, making us excited to head down for our undercover review.
Food at Aw's Signature Minced Pork Noodles
Braised Pork Noodle ($4) was the one dish that I was most excited to try. At first glance, I could tell that Aw's Signature is generous with their portions. It came with a few thickly cut chunks of braised pork, three quail eggs, minced meat, sliced shiitake mushrooms, and a mountain of noodles.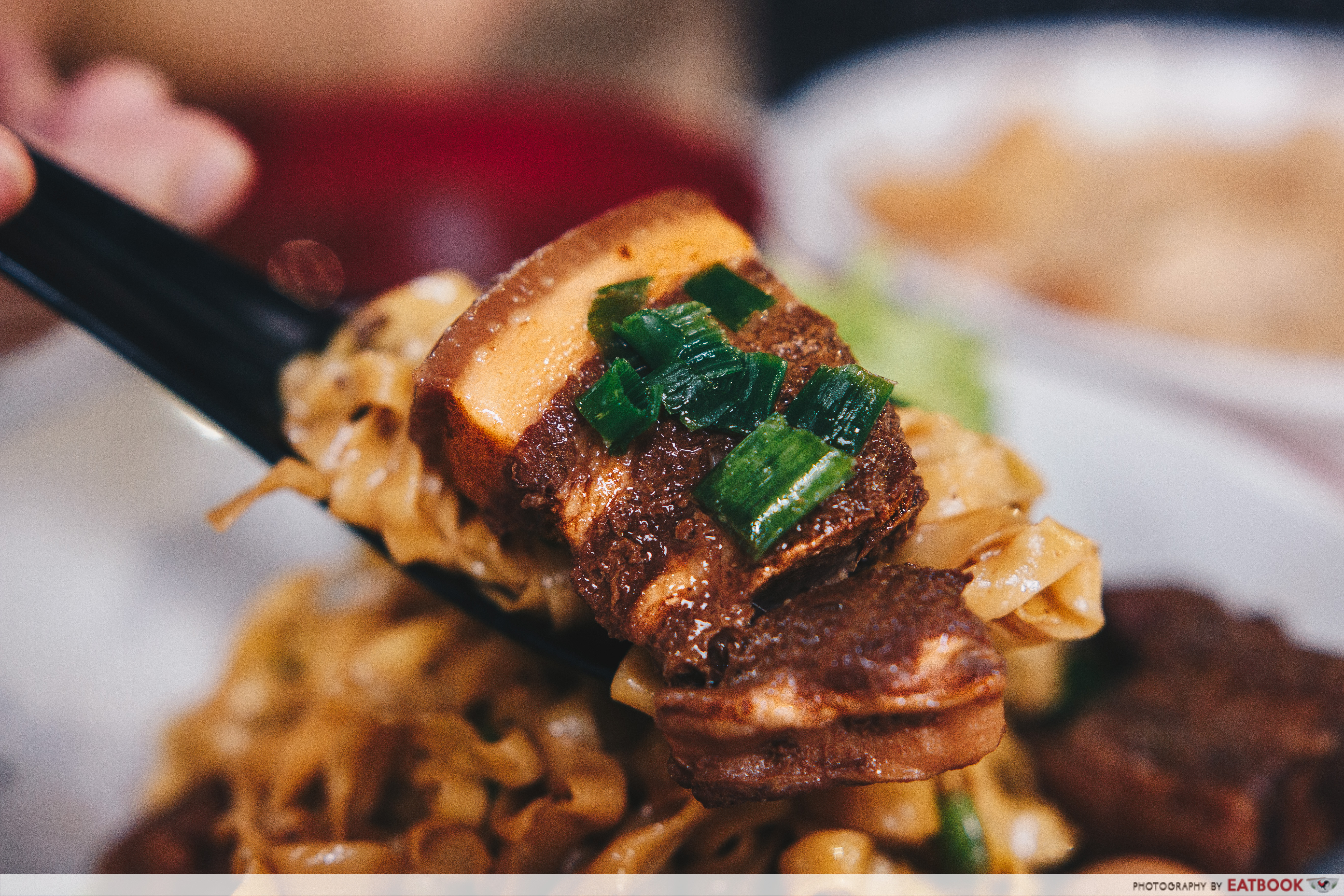 The braised pork had a good fat-to-meat ratio. Doing a "jiggle test", we could tell that the braised pork was soft and tender. Taking a bite confirmed our initial thoughts; the fatty parts were melt-in-your-mouth, and the meat was moist.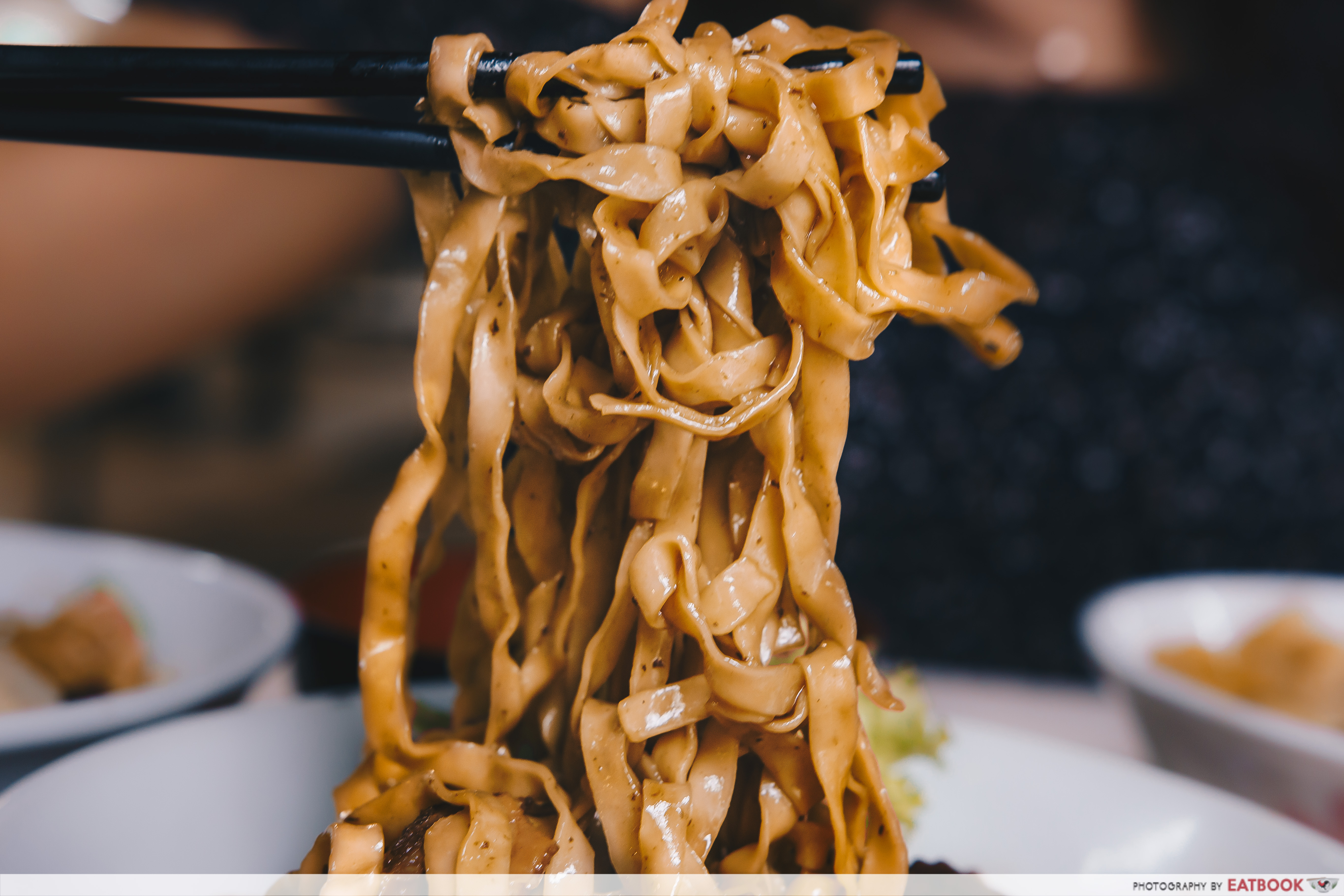 Having quail egg with mee pok was a first for me, and I didn't expect a hawker stall to serve their mee pok with these tiny eggs. Similarly, the shiitake mushrooms and minced meat were a good addition, as they added an extra kick of flavour. The mee pok was also commendable. They were nicely coated with a moreish sauce from the braised pork instead of the vinegary black sauce that is usually used in mee pok dishes.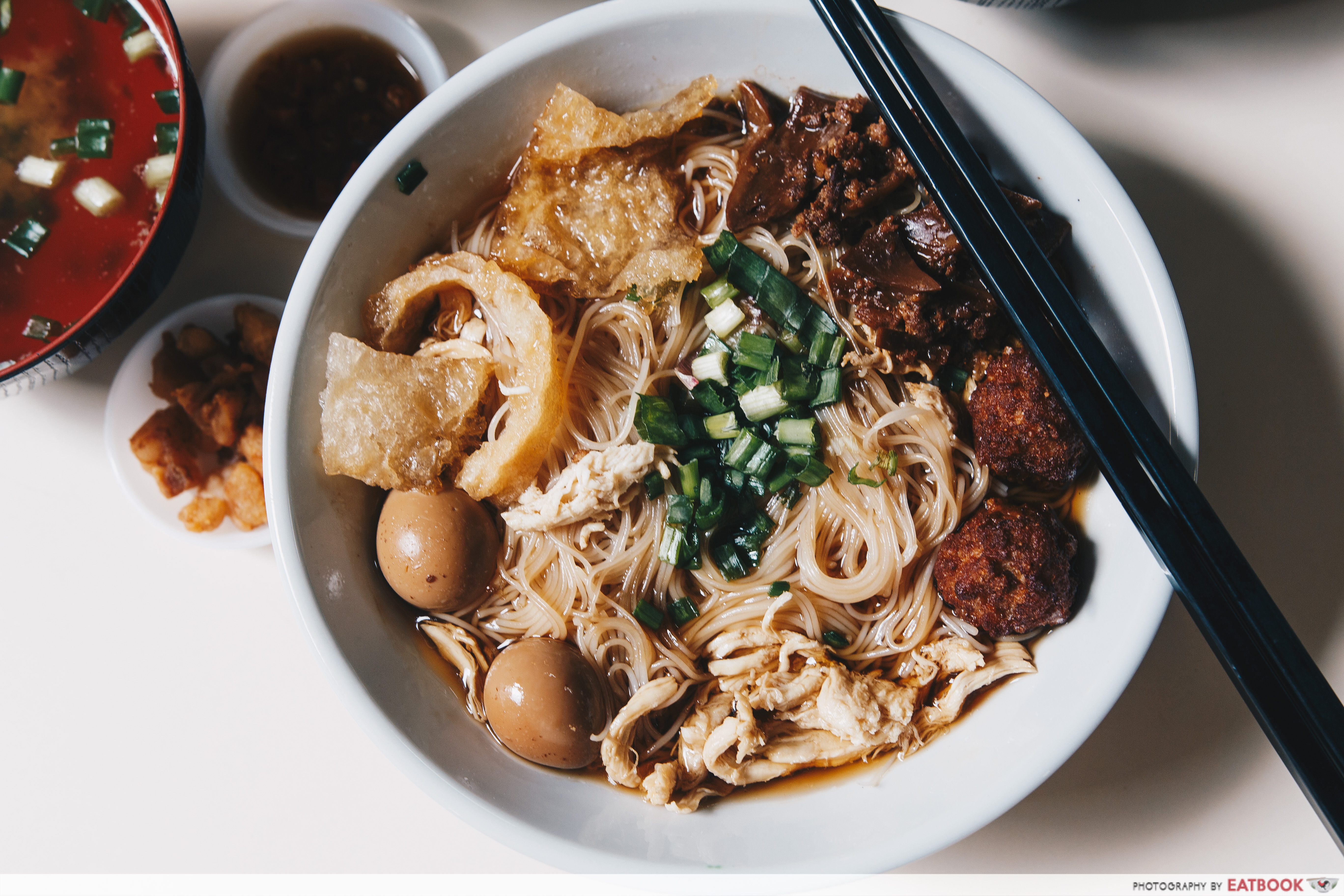 Aw's Signature Minced Pork Noodles also offers Fish Maw Bee Hoon ($4). It features a bed of bee hoon drenched in a starchy brown sauce, with a variety of ingredients atop. We got fish maw, house-made fried meatballs, chicken, quail eggs, mushroom, and minced meat.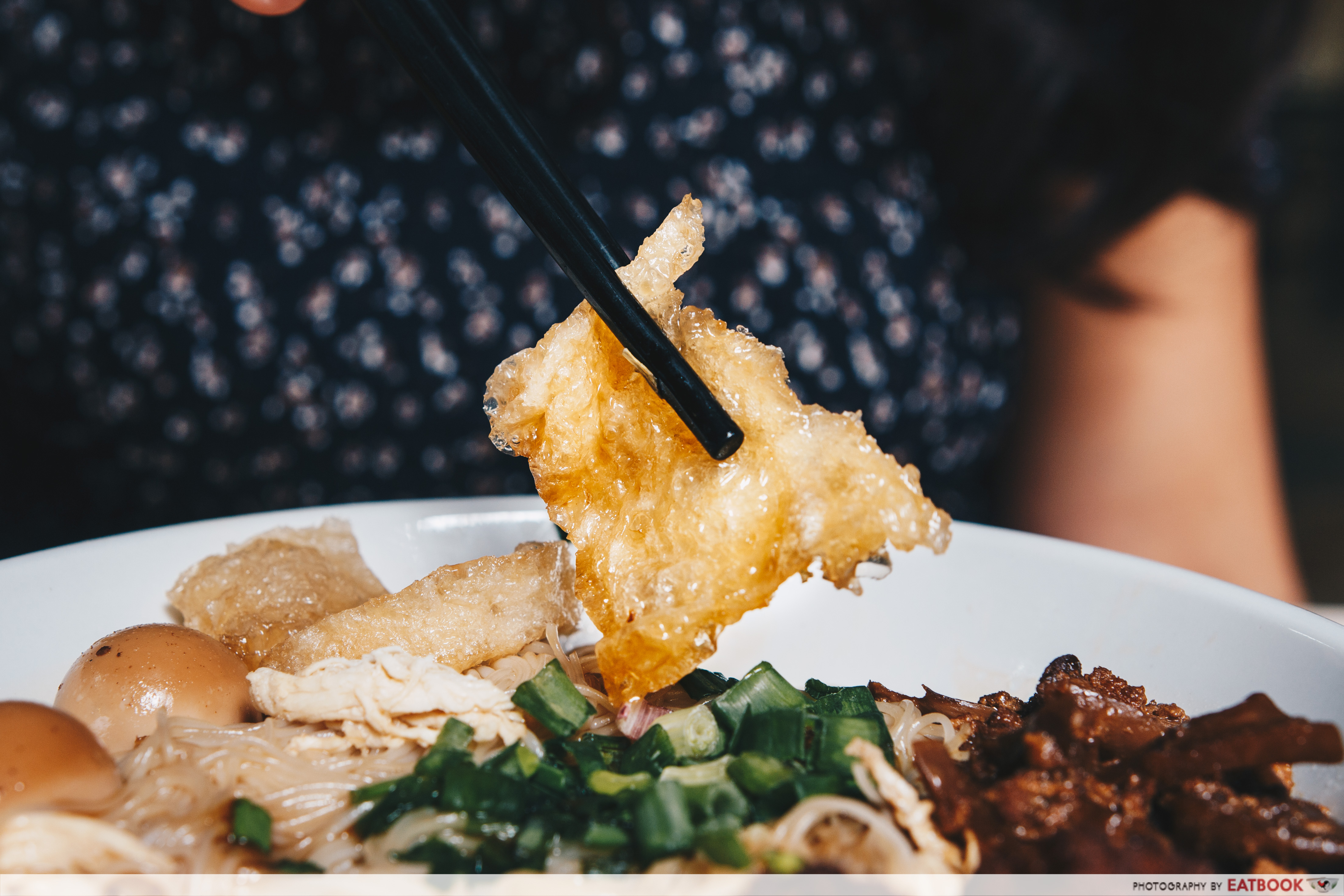 The spongy fried fish maw was succulent from soaking up the thick brown sauce. The taste of the fried fish maw along with the sauce combined developed a depth of flavour that was savoury, sweet, and slightly tart. Sadly, there were only around three pieces of fish maw found in each bowl.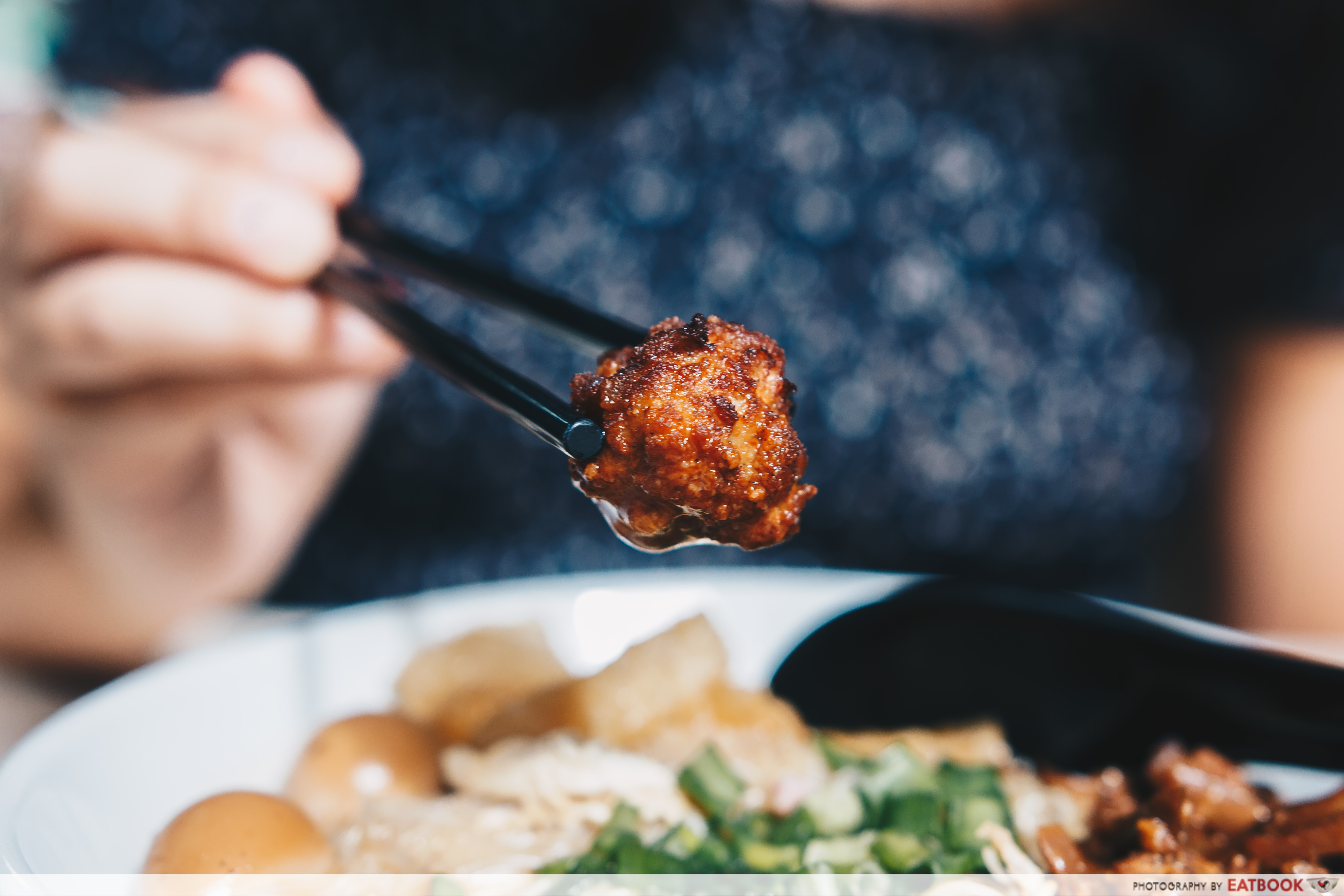 The meatballs here are different than the meatballs found in regular mee pok. For starters, they are fried and not boiled, and you can tell they are of a better quality. When you bite through the fried meatball, the first sensation is a light crunch, then you're into juicy meat.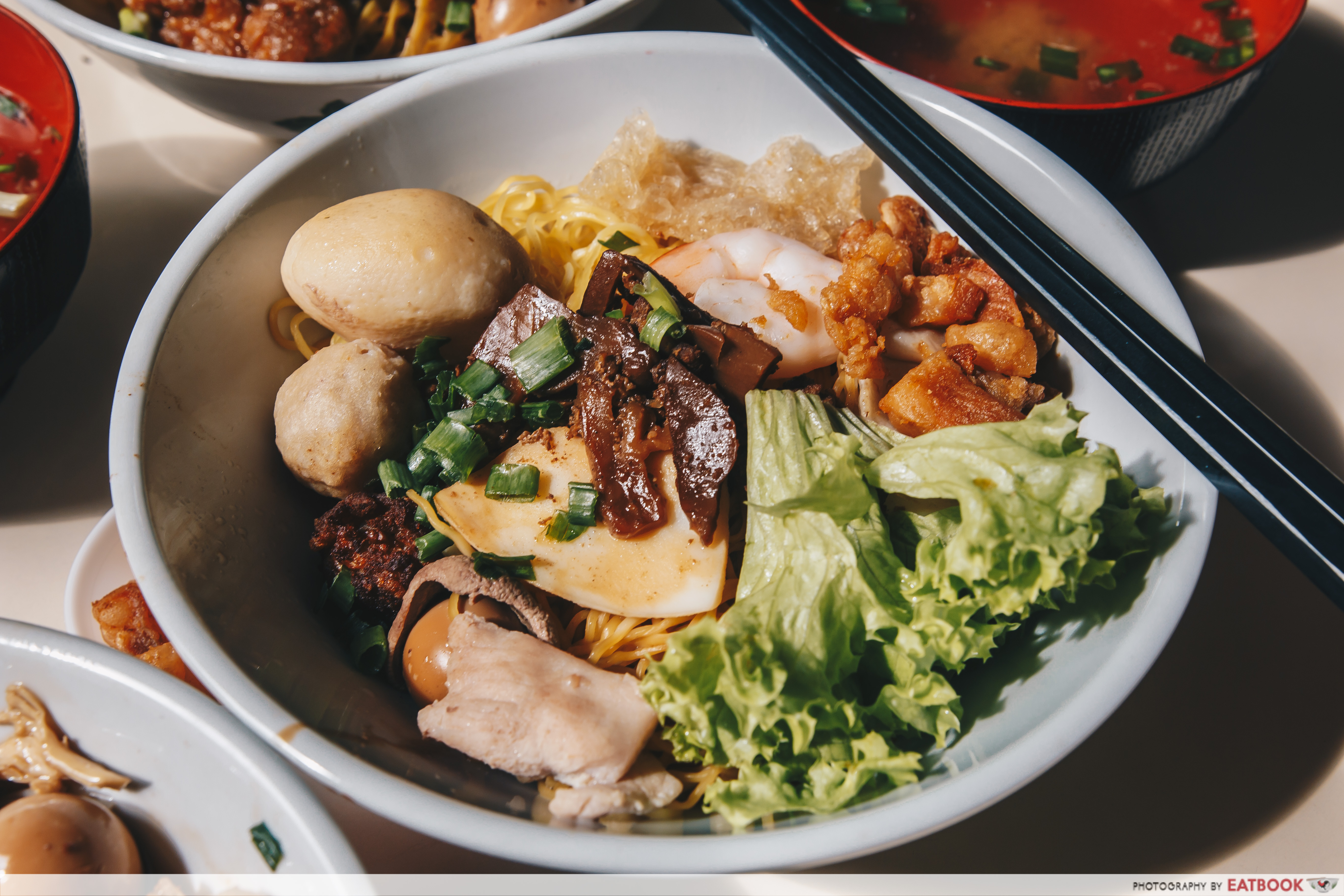 I was surprised by their Signature Noodle ($5). This is definitely a jazzed up noodle dish that's well worth your money. The noodles were covered by a blanket of toppings, such as handmade fishball, meatball, quail egg, pork liver, and mock abalone.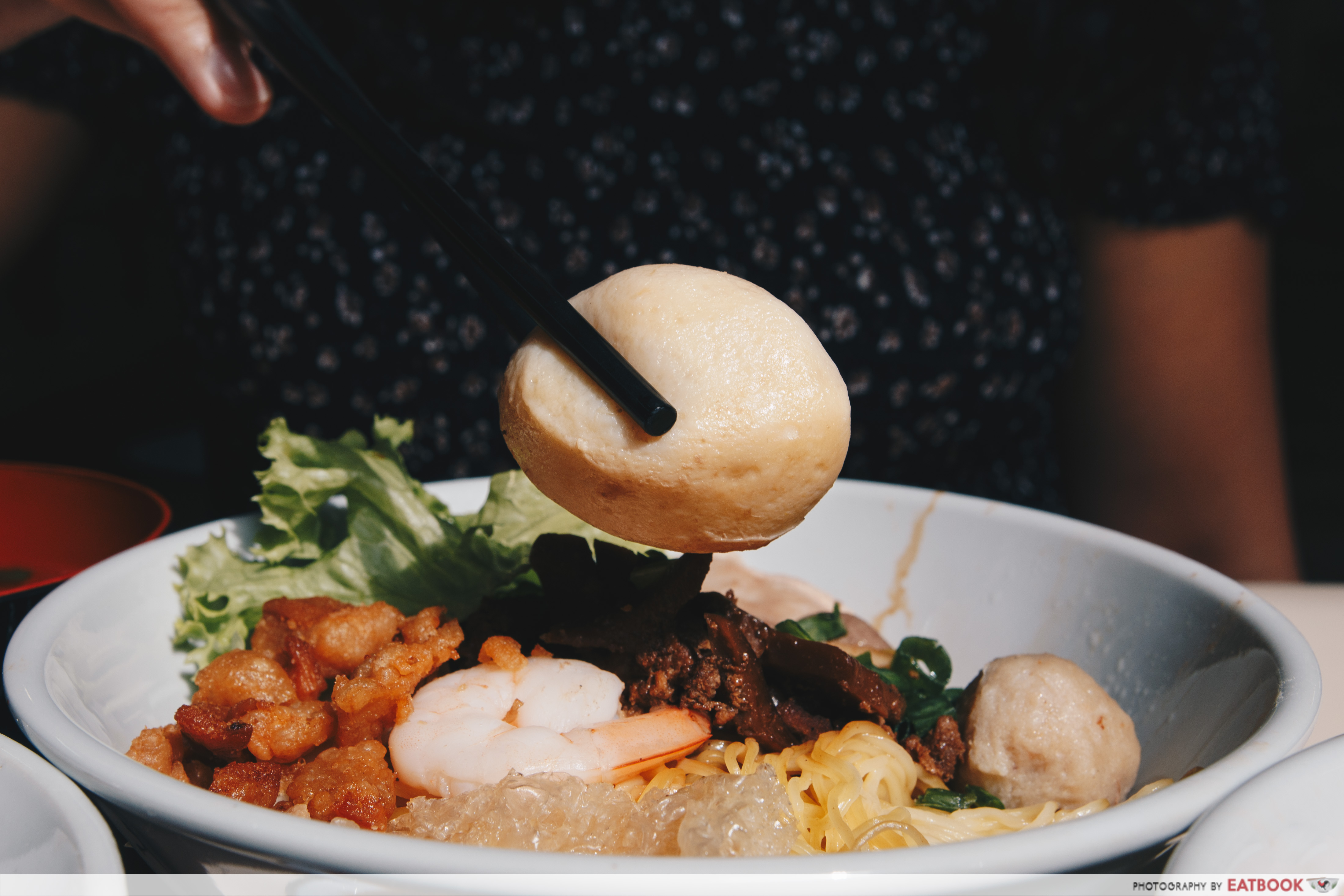 My favourite out of the assortment of toppings would be their handmade fishball. Taking a big bite revealed a distinct, firm outer layer, followed by a softer mouthfeel in the centre. It tasted fresh, with the right amount of saltiness too. I can totally imagine myself popping them into my mouth when I'm still feeling peckish after lunch.
Ambience at Aw's Signature Minced Pork Noodles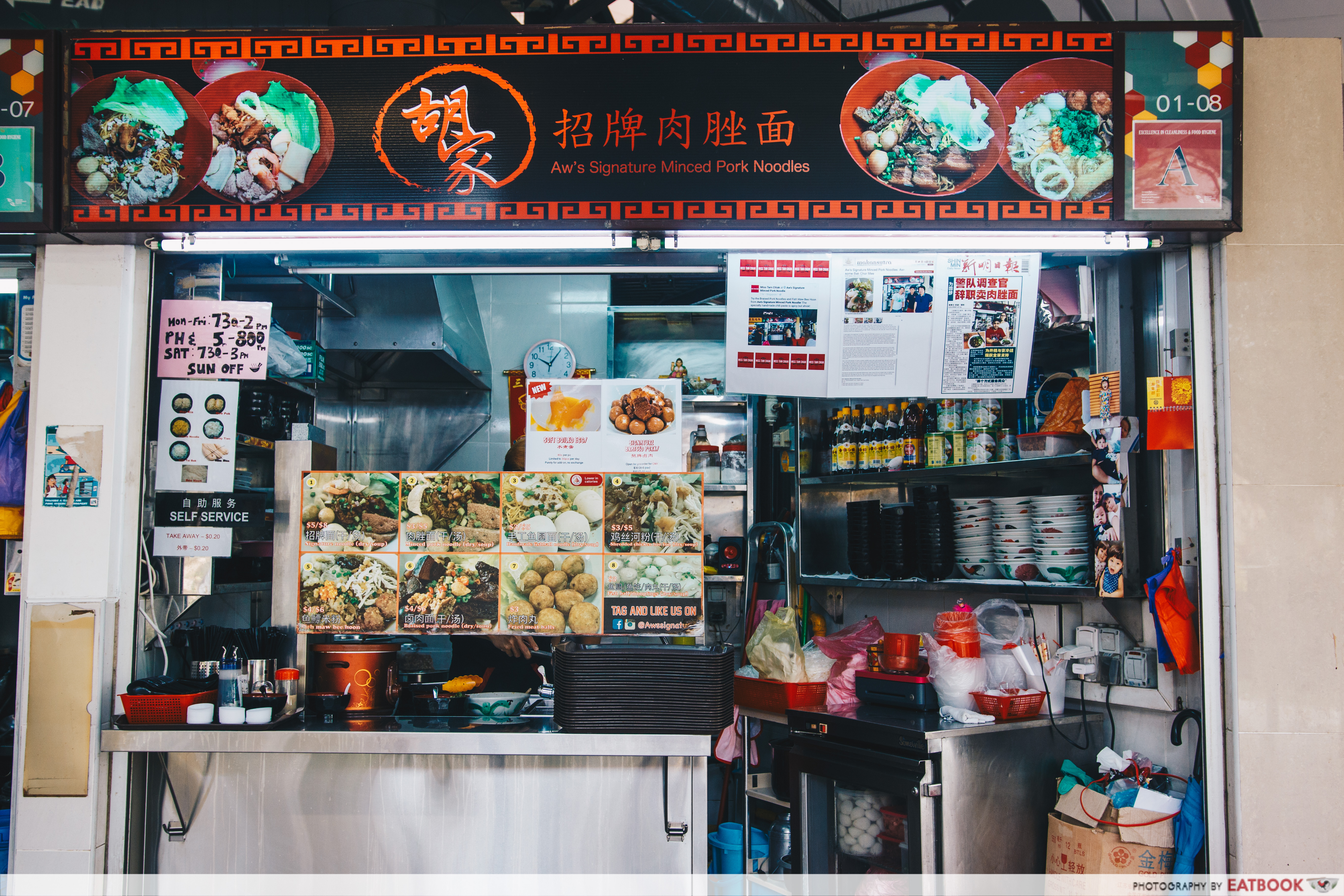 Aw's Signature Minced Pork Noodles is located at Tanglin Halt Food Centre. My colleagues and I arrived before noon and there was already a steady flow of customers. As lunchtime ticked closer, a queue started to form. However, at the quick pace the husband-and-wife duo dished out their orders, there's no need to worry about waiting more than 10 minutes for a hearty bowl of their noodles.
The verdict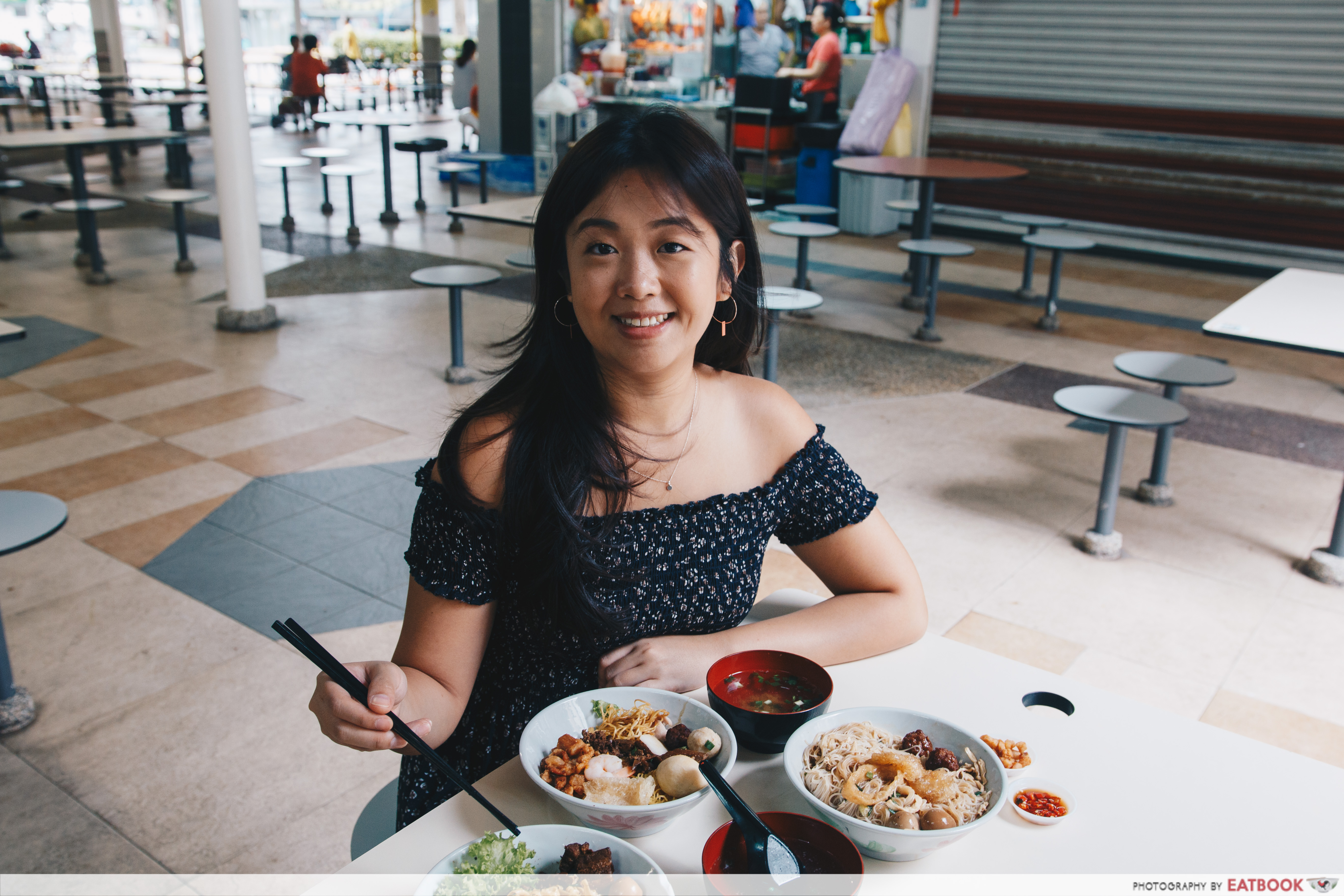 Even though Aw's Signature Minced Pork Noodles is surrounded by a number of other food centres, I would still make a beeline for them when I'm in the area again. The bowls of noodles offered here are novel and interesting. They also fared well based on quality and quantity. Those who love pork lard and are fearful of hawker aunties scolding when asking for an extra spoonful, flock down to Aw's Signature. They provide a bowl of the sinful golden goodness at their self-serving station – but no food wastage please!
If you're all about the noodles, check out this list of soup bak chor mee or seafood white bee hoon to warm you up on cold days.
Address: 1A Commonwealth Drive, #01-08, Tanglin Halt Food Centre, Singapore 141001
Opening hours: Mon-Thur 7:30am to 2pm, 5pm to 8pm, Fri 7:30am to 3pm, 5pm to 8pm, Sat 7:30am to 3pm
Tel: 9827 6502
Website
Aw's Signature Minced Pork Noodles is not a halal eatery.
This is an independent review by Eatbook.sg.
Summary
Pros
– Quality ingredients
– Well-flavoured dishes
– Value for money
Cons
– Long queue at peak hours
Recommended Dishes: Braised Pork Noodles ($4), Fish Maw Bee Hoon ($4), Signature Noodle ($5)
Opening Hours:
Mon-Thur 7:30am to 2pm, 5pm to 8pm, Fri 7:30am to 3pm, 5pm to 8pm, Sat 7:30am to 3pm
Address: 1A Commonwealth Drive, #01-08, Tanglin Halt Food Centre, Singapore 141001