Five Ten dishes out affordable rice bowls at Chinatown
Update (22 Feb 2018): Five Ten has been replaced by The Salted Plum at Circular Road.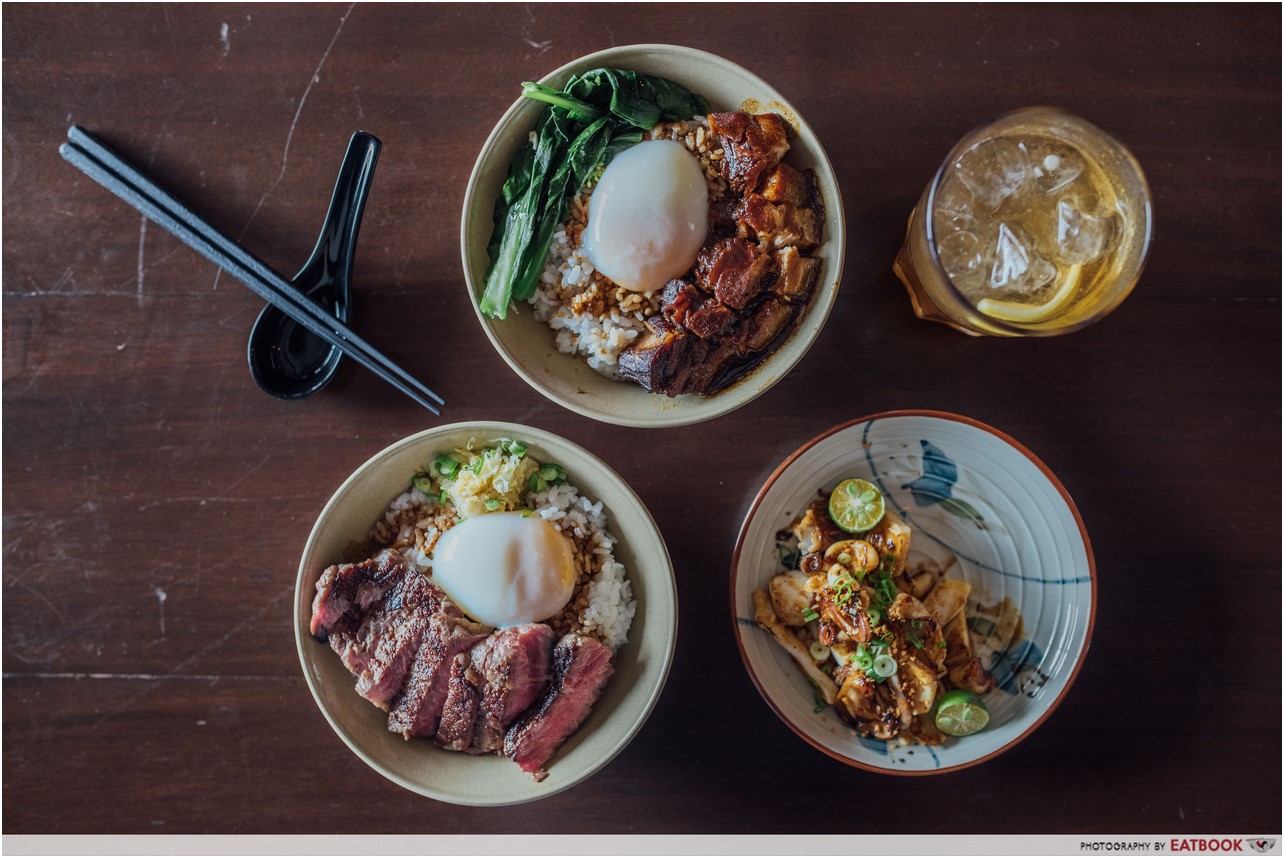 The Japanese may have their donburi game on fleek, but Five Ten proves that Taiwanese rice bowls deserve some love too. As its name suggests, this restaurant-bar has a menu that only features dishes and drinks that cost $5++ or $10++. So if you happen to be in Chinatown with the gang and you're looking for a new spot to grab a bite, be sure to pay them a visit.
Food at Five Ten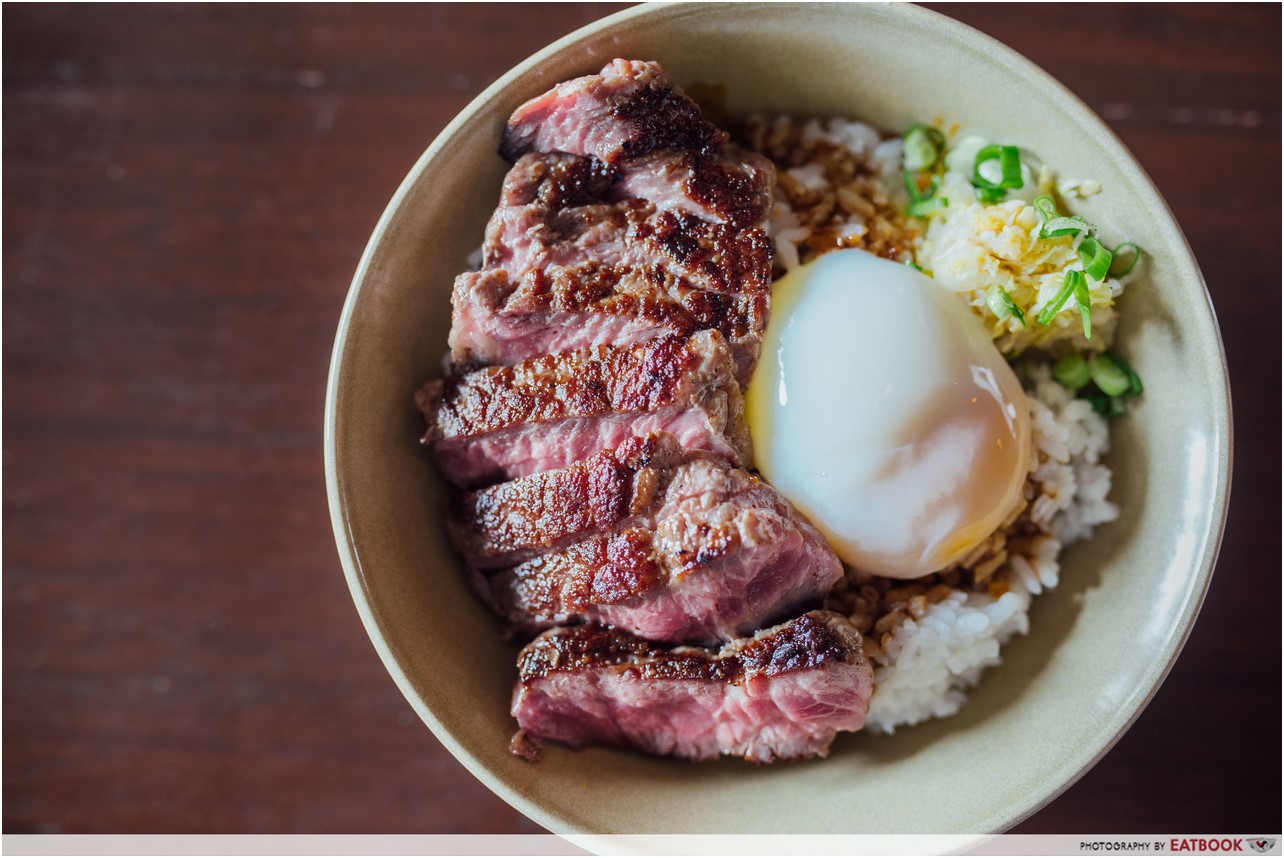 Five Ten has a simple lunch menu that features rice bowls and sandwiches. The lunch menu is only available until 5:30pm. We started with Steak | Rice | Egg ($10++), which is basically one of the most affordable beef donburi in Singapore.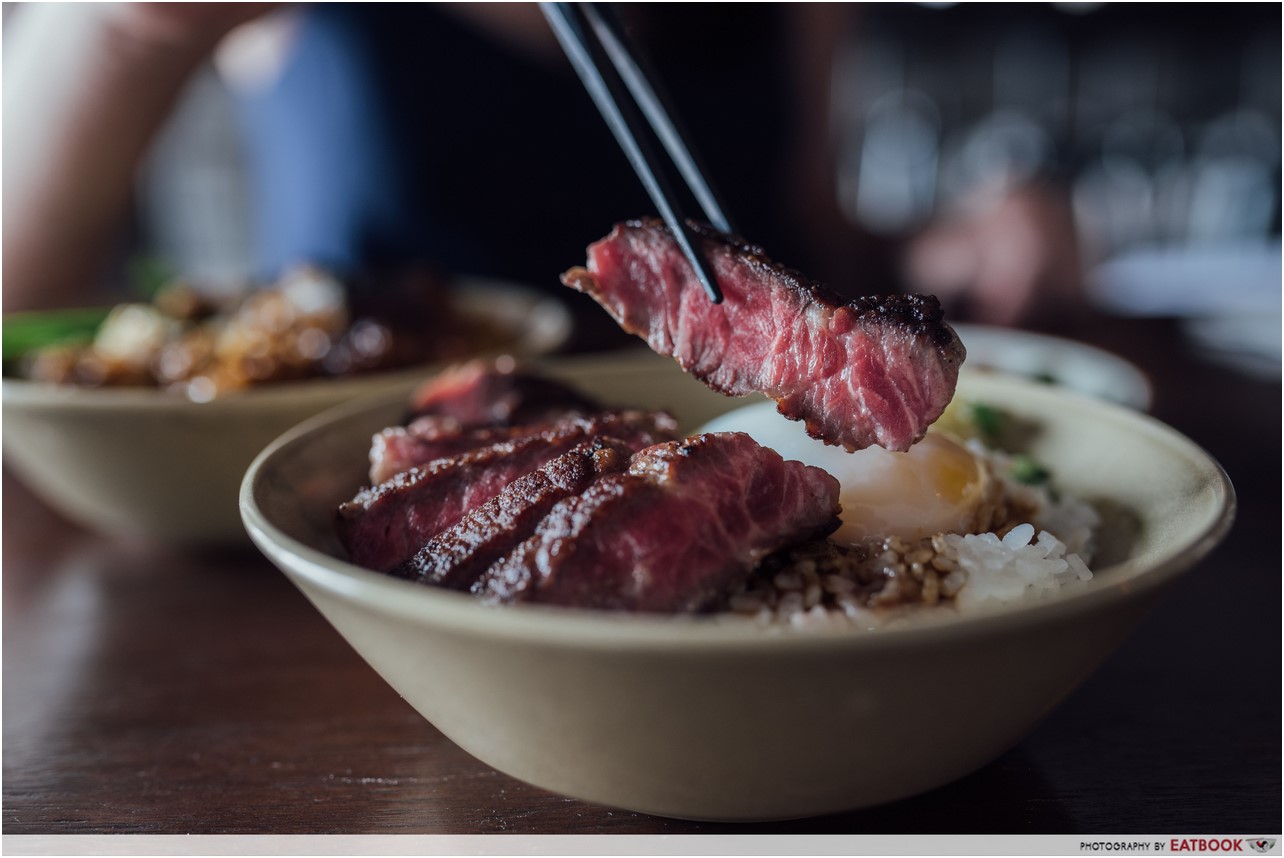 This small but hearty bowl came with sliced sirloin steak, a runny sous vide egg, pickled cabbage, and Japanese rice. The blushing slices of steak were on the rare side. Sufficiently seasoned with salt, the beef was delicious to eat on its own.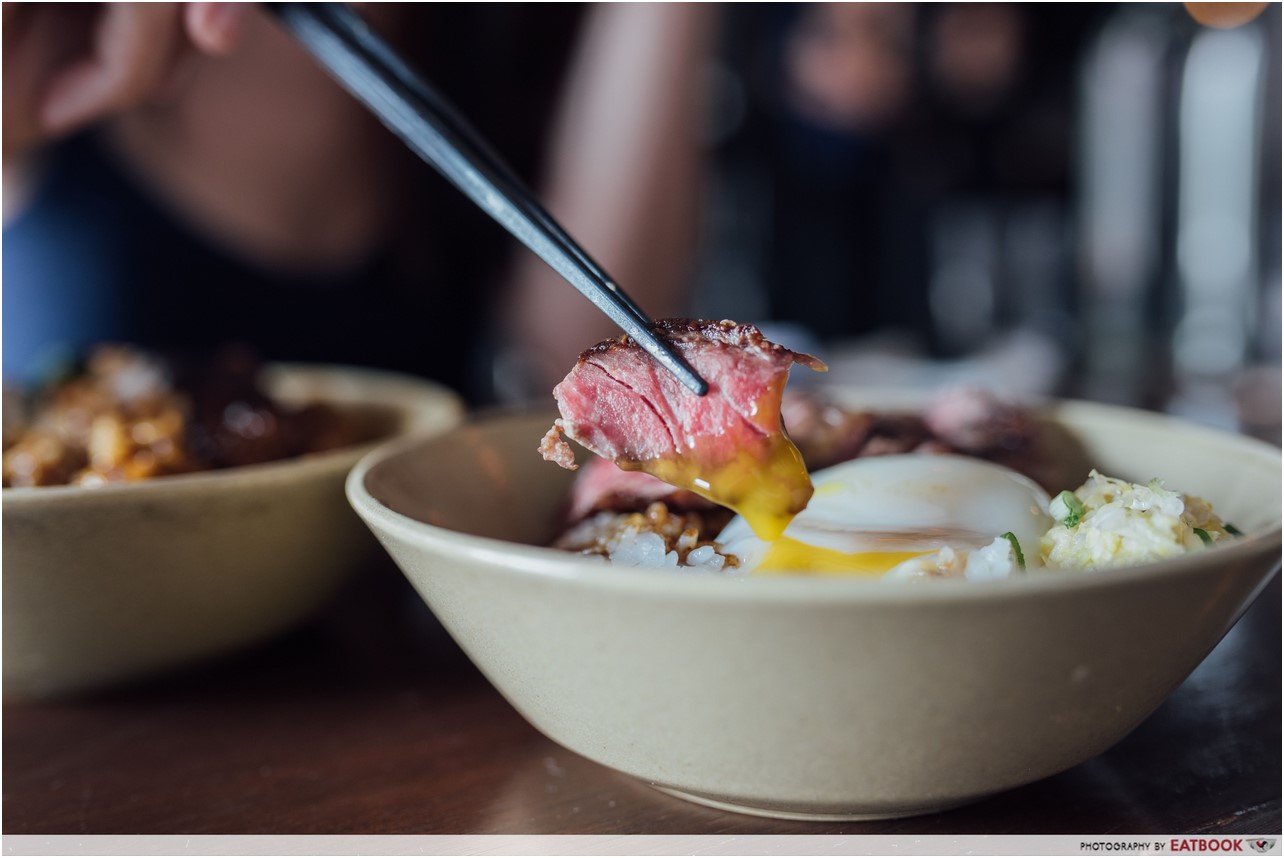 Dipping the sirloin slices into some runny egg yolk gave each piece a satisfying richness. If you decide to enjoy all the components together, each mouthful will be bursting with flavours from the juicy beef, tangy pickled cabbage, creamy egg, and savoury sauce.
Moving on to a dish that showcases more of a Taiwanese flair, their Lu Rou Fan ($10++) was also equally impressive. This bowl came with saucy braised pork belly, kai lan, a sous vide egg, and Japanese rice.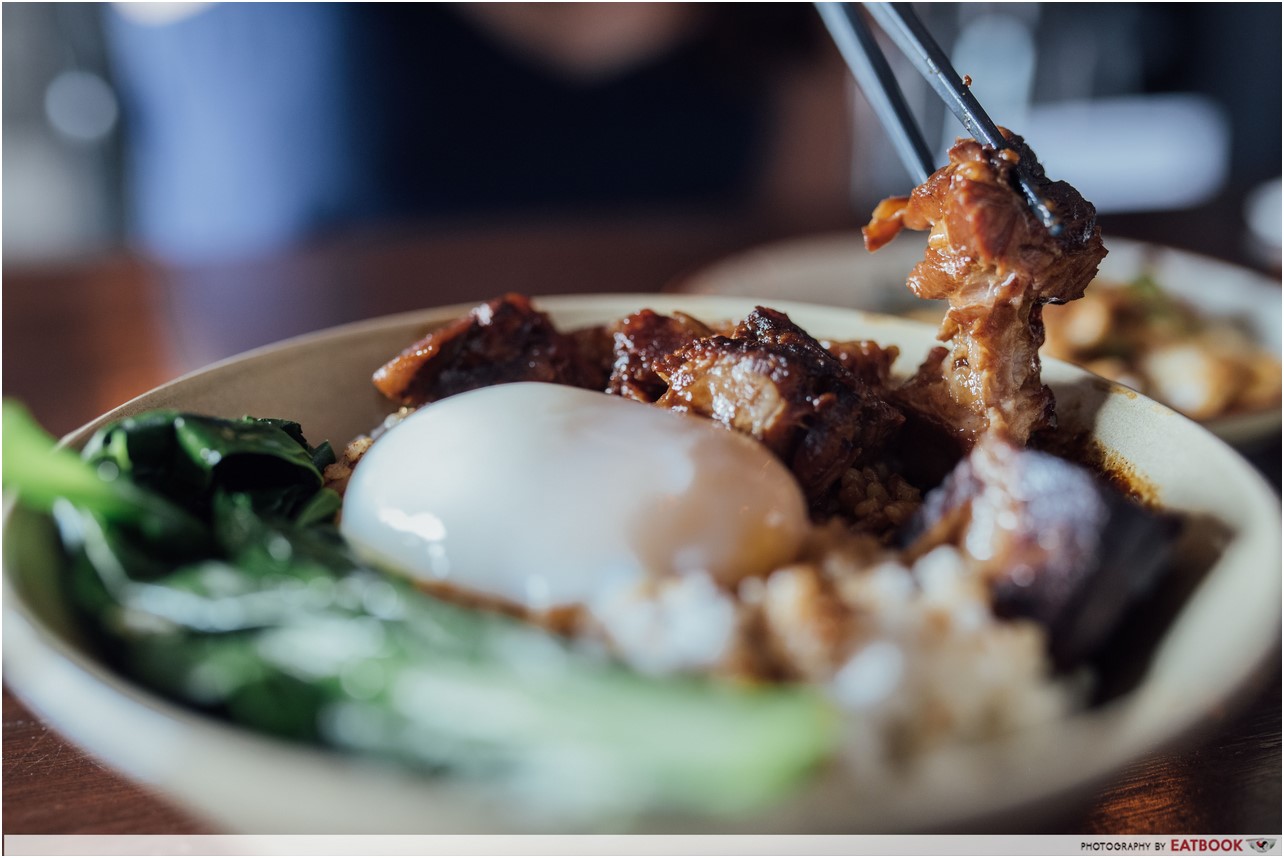 The braised pork was incredibly tender and was marinated all the way through with the savoury dark sauce. Each piece had a nice layer of fat that surprisingly didn't make the meal greasy. Though the pork was the highlight, the blanched kai lan added crunch and freshness to the richer components.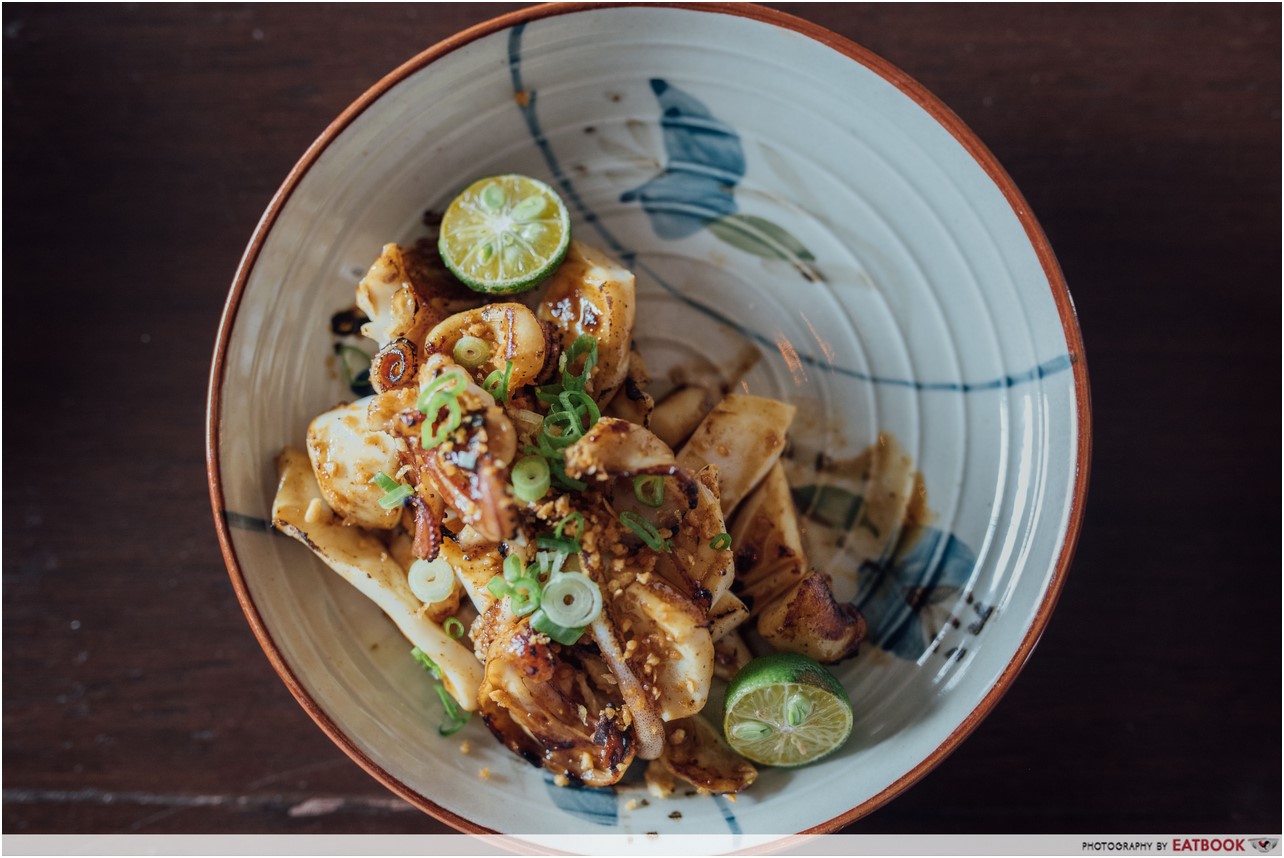 If you would like a tasty appetiser or something to munch on while drinking, they also offer small bites that are available all day. Grilled Squid | House Glaze ($10++) is a light seafood option that packed a punch in terms of flavour. Each piece had a smoky, charcoal fragrance. The calamansi juice we squeezed over the squid made a great complement to the salty house glaze.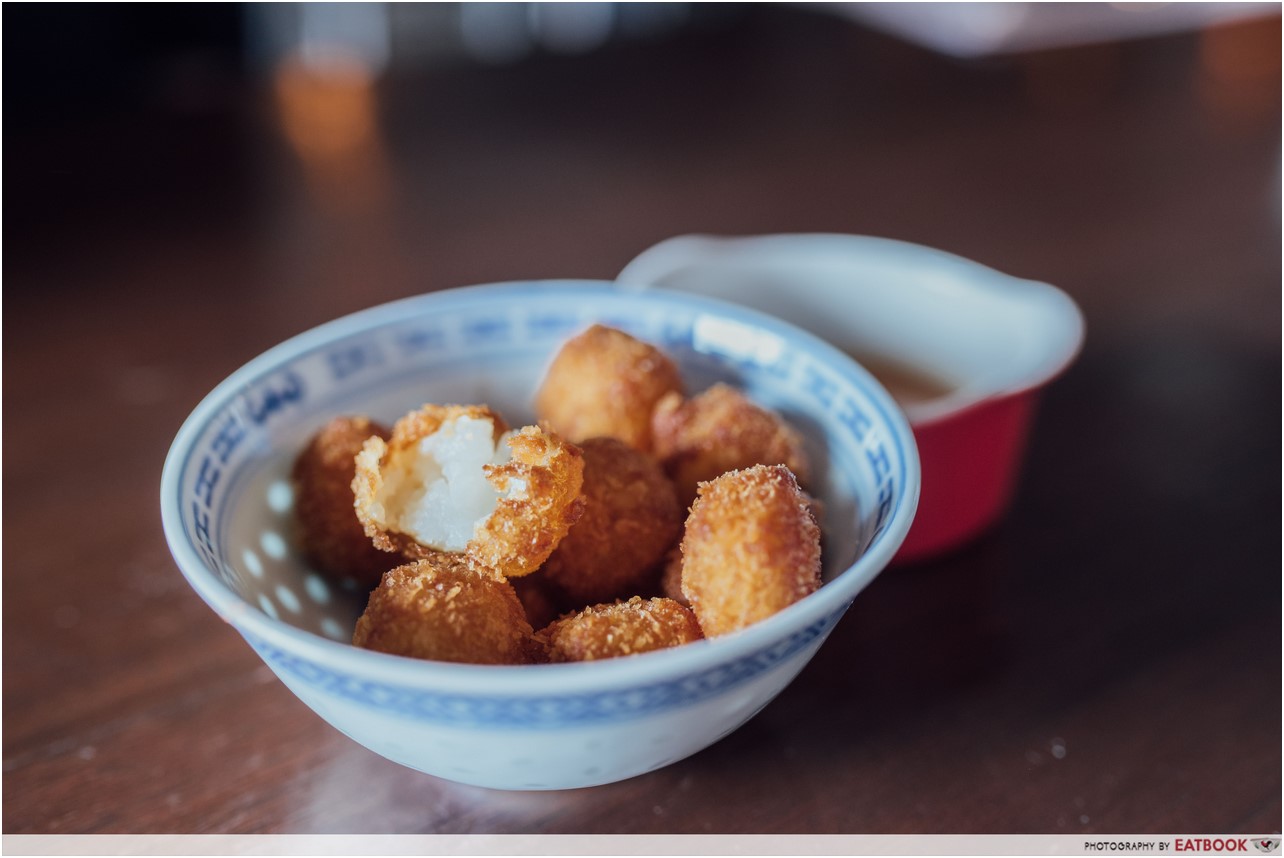 To end off our meal, we went for Fried Milk ($5++). Upon hearing the name, I assumed it would be another version of fried ice-cream. I was proved wrong when a bowl of small deep-fried balls arrived at our table with a side of dulce de leche (condensed milk caramel sauce).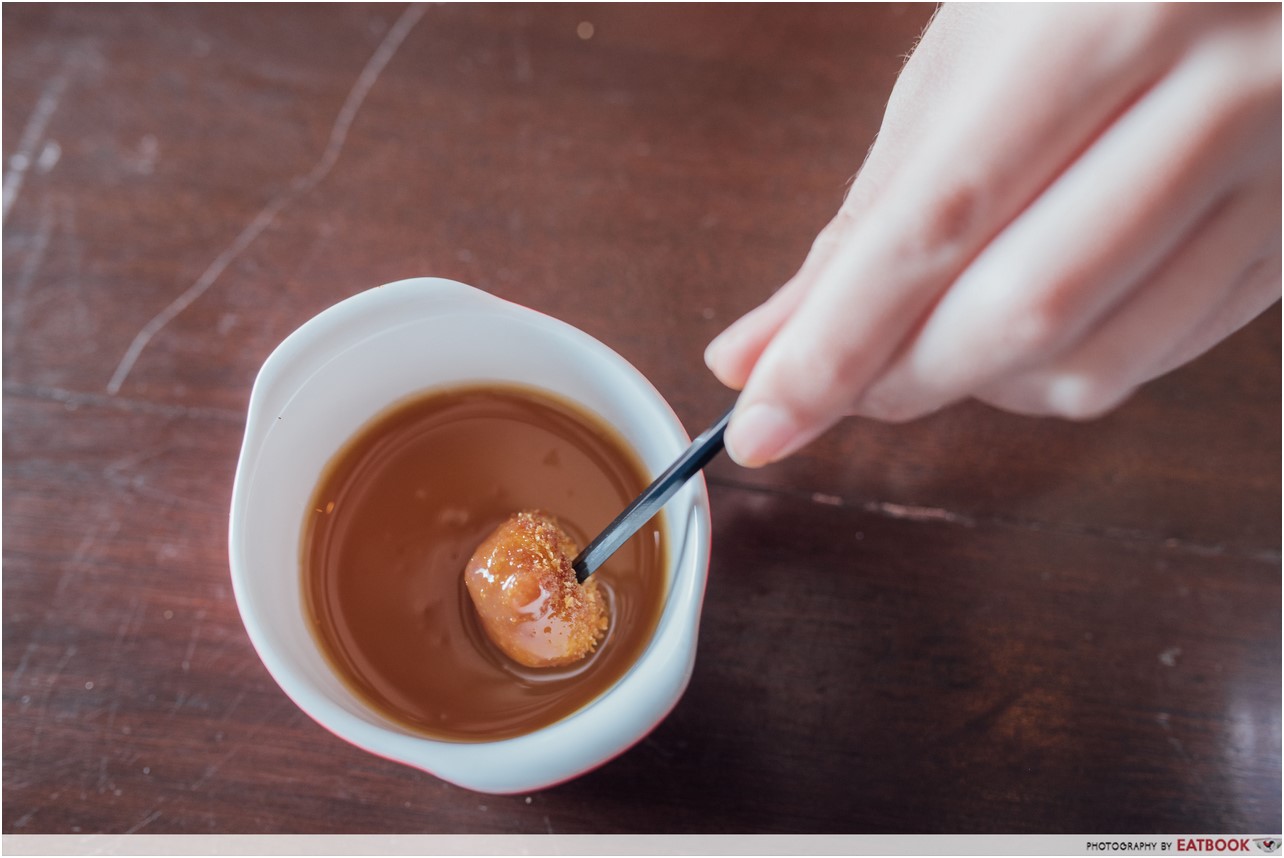 The coat of panko on each piece was crispy while the thick filling was slightly chewy and had a pleasant custard flavour. Swirling it into the small pot of milky caramel sauce added more sweetness to the lightly flavoured fried milk.
Drinks at Five Ten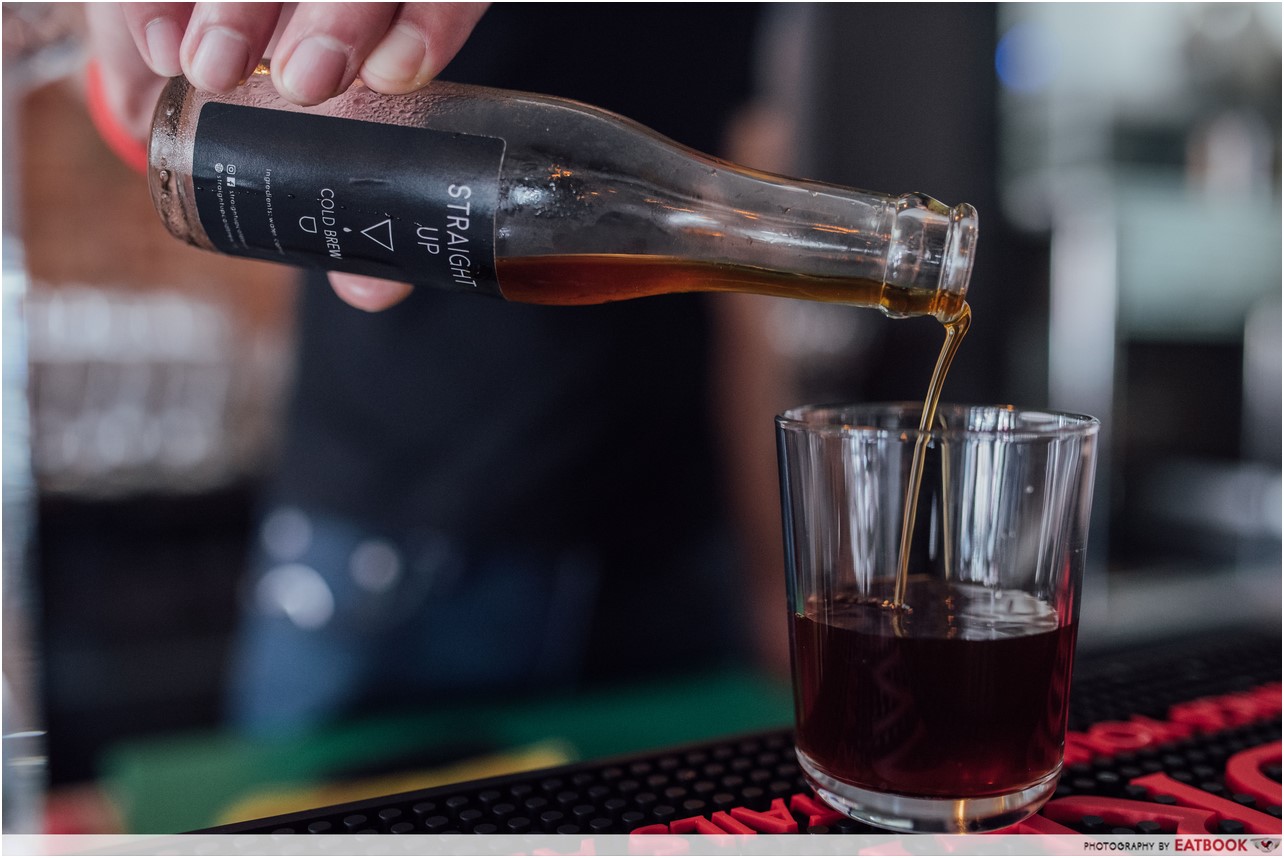 Aside from great food and alcohol, Five Ten also offers cold brews for those looking for a caffeine fix. While most cold brews are made by steeping coffee grounds in water for a couple of hours or even a day, Five Ten does it for three whole days. I'm no expert, but if you're drinking coffee that takes 72 hours and lots of TLC to make, it's probably going to be good.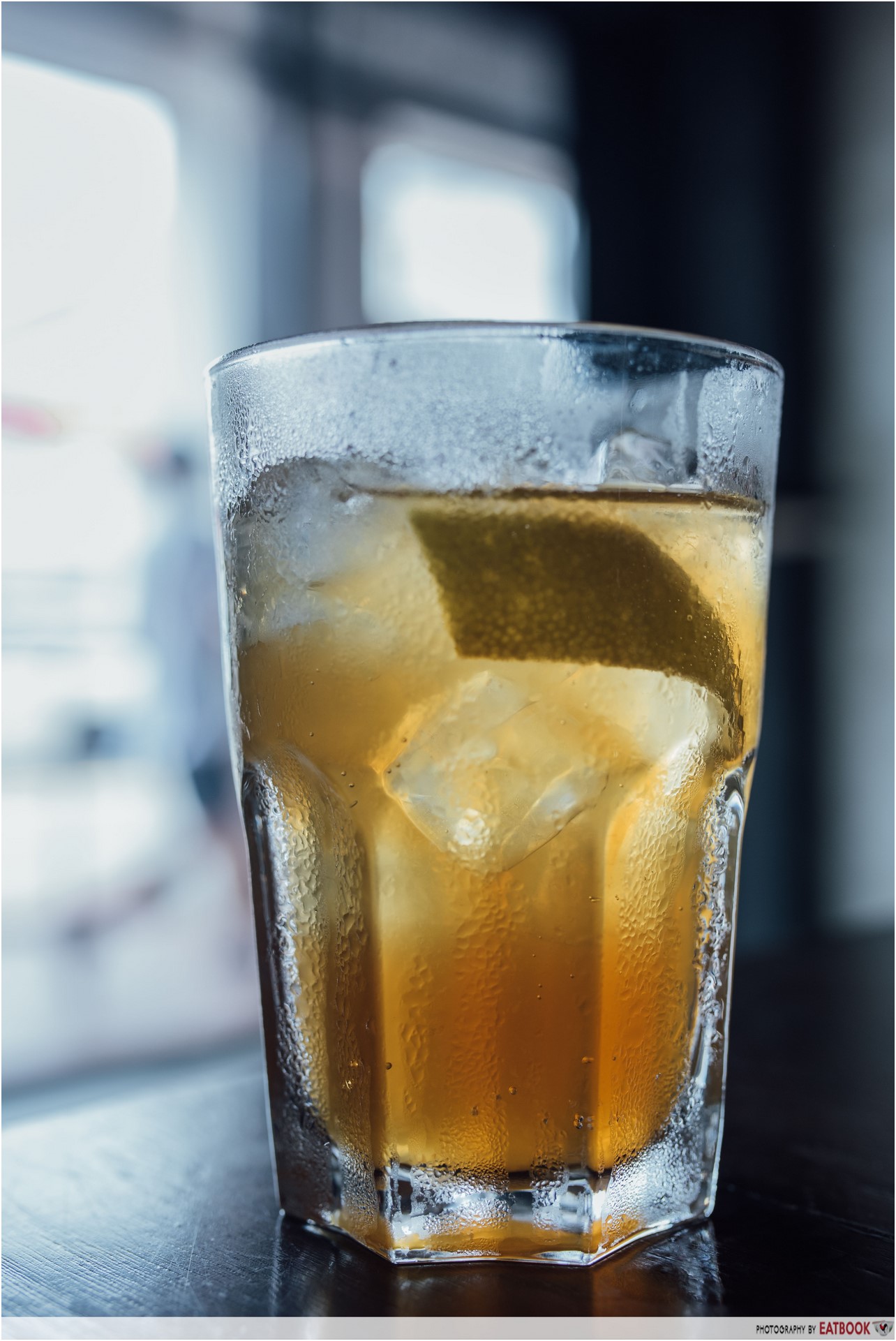 We went for their Cold Brew Lemonade ($5++). This fizzy concoction was a delightful blend of flavours from the slightly bitter coffee and tart lemonade, with some sweetness to balance it all out.
Ambience at Five Ten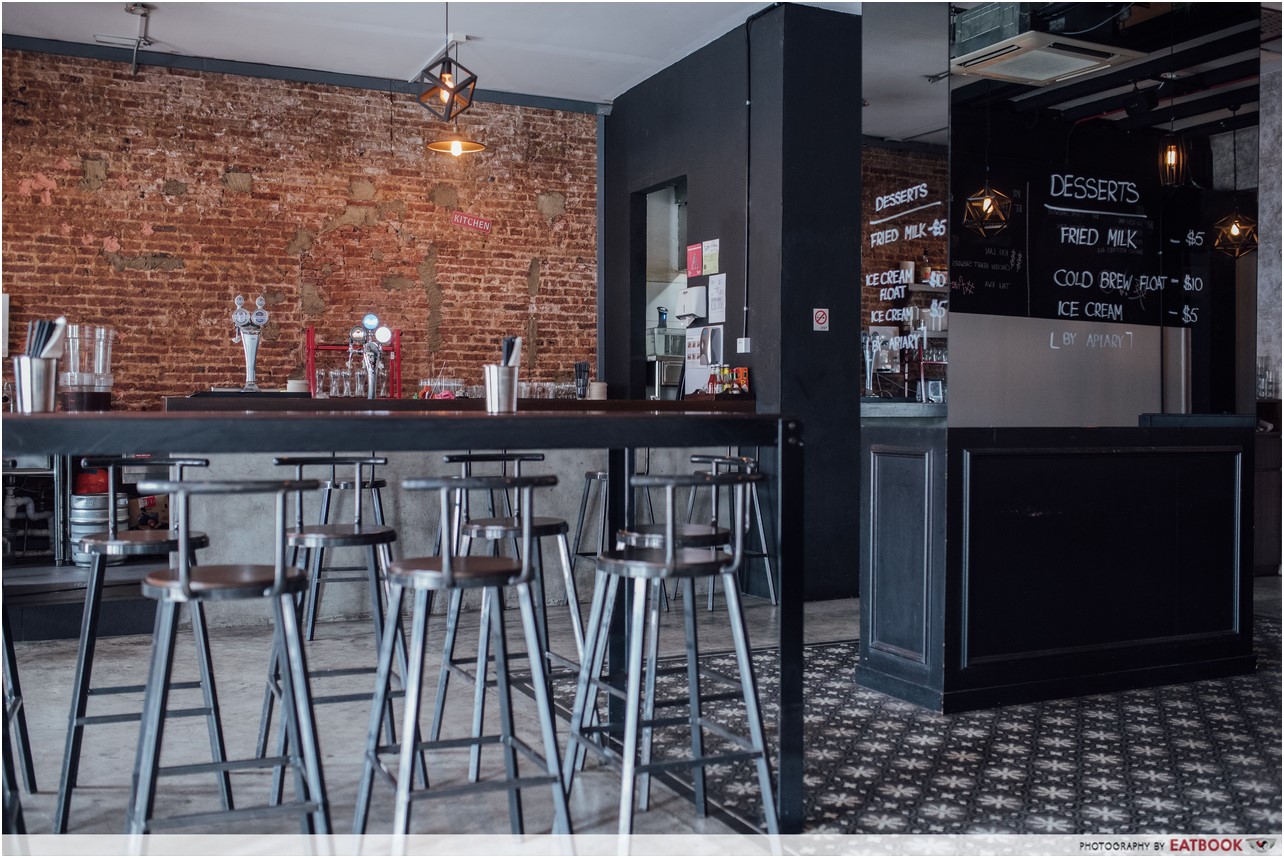 Five Ten is less than a five-minute walk away from Chinatown MRT Station. This spacious restaurant manages to be modern and cosy all at once. The rustic brick walls and warm lights are a nice contrast to the simple, dark furniture and patterned tiles. Though it was quiet when we visited on a weekday afternoon, do note that it gets pretty crowded in the evenings as well as over the weekends.
The verdict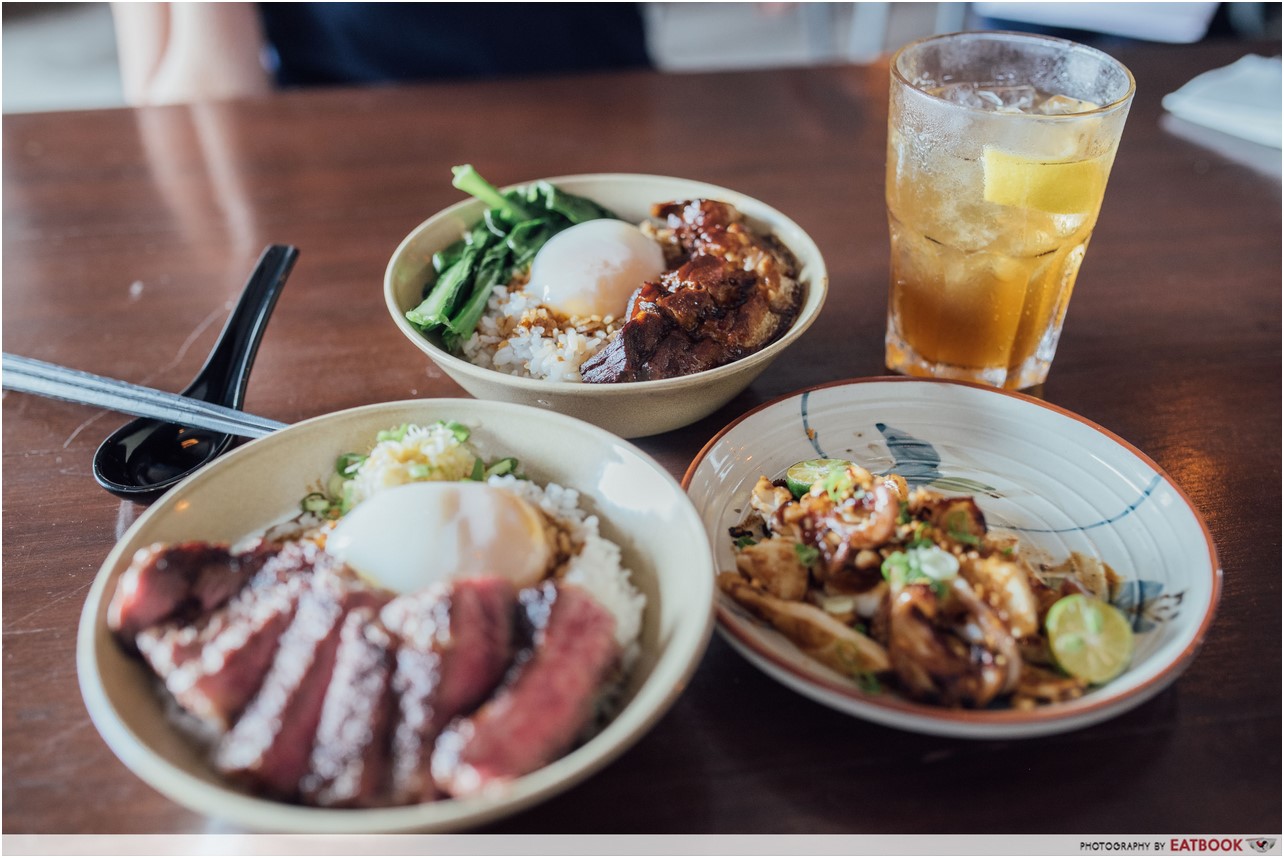 Overall, Five Ten won us over with their great food, interesting drinks, and comfortable ambience. You won't even need to worry about burning a hole in your wallet since everything here costs either $5++ or $10++. For another restaurant at Chinatown that's worth checking out, pop by Jing Hua Xiao Chi at Neil Road!
Address: 237 South Bridge Road, Singapore 058786
Opening hours: Daily 10am to 10pm, Sun 10am to 2:30pm
Tel: 6924 7352
Website
Five Ten is not a halal eatery.
This is an independent review by Eatbook.sg.
Summary
Pros
– Great ambience
– Affordable food
– Convenient location
– Delicious food
Cons
– Rice bowls not available in the evening
Recommended Dishes: Steak | Rice | Egg ($10++), Lu Rou Fan ($10++), Cold Brew Lemonade ($5++)
Operating Hours:
Monday to Saturday 10am to 10pm
Sunday 10am to 2:30pm
Tel:
6924 7352
Address: 237 South Bridge Road, Singapore 058786