Muffins, cakes, apple crumble and more at Muffles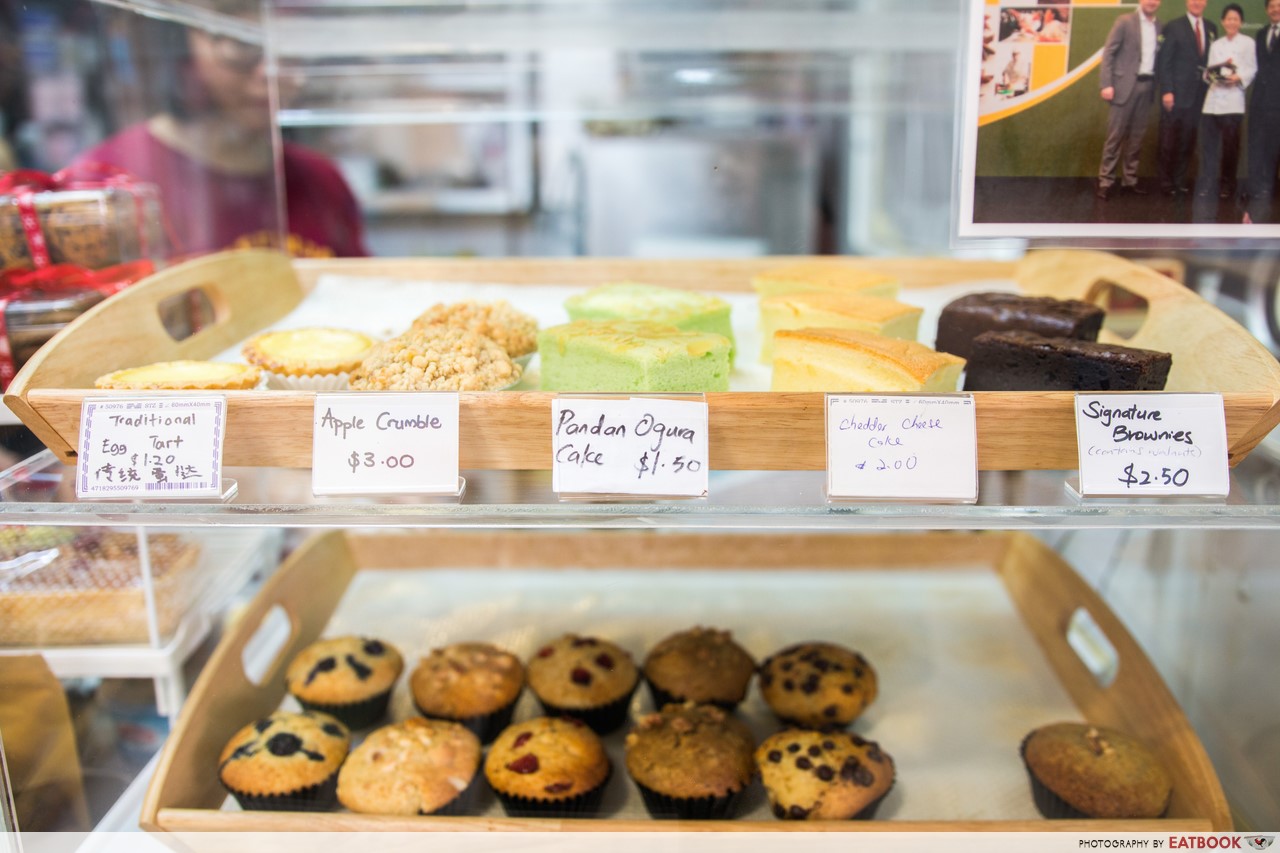 The smell of freshly baked pastries never fails to entice me, and anyone with a sweet tooth would probably feel the same. So when I caught wind of Muffles, a pastry shop at a hawker centre selling pocket-friendly sweet things, it was only natural that I had to get my hands on them.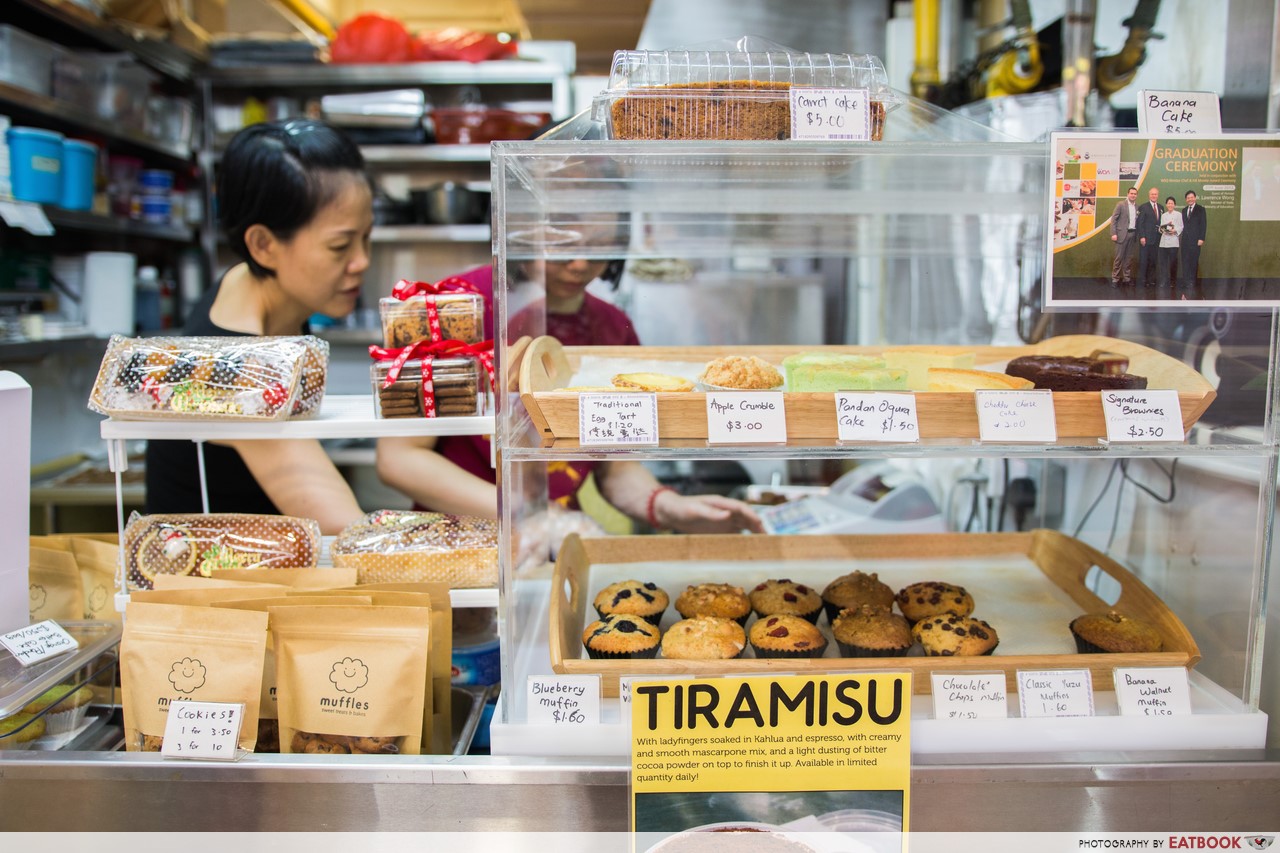 For 15 years, Chef May worked as a pastry chef at various hotels, from Mandarin Orchard to being part of the pioneer team at MBS. She always had a dream to open her own store, so when working at hotels took a toll, she decided to make that dream happen.
Pastries at Muffles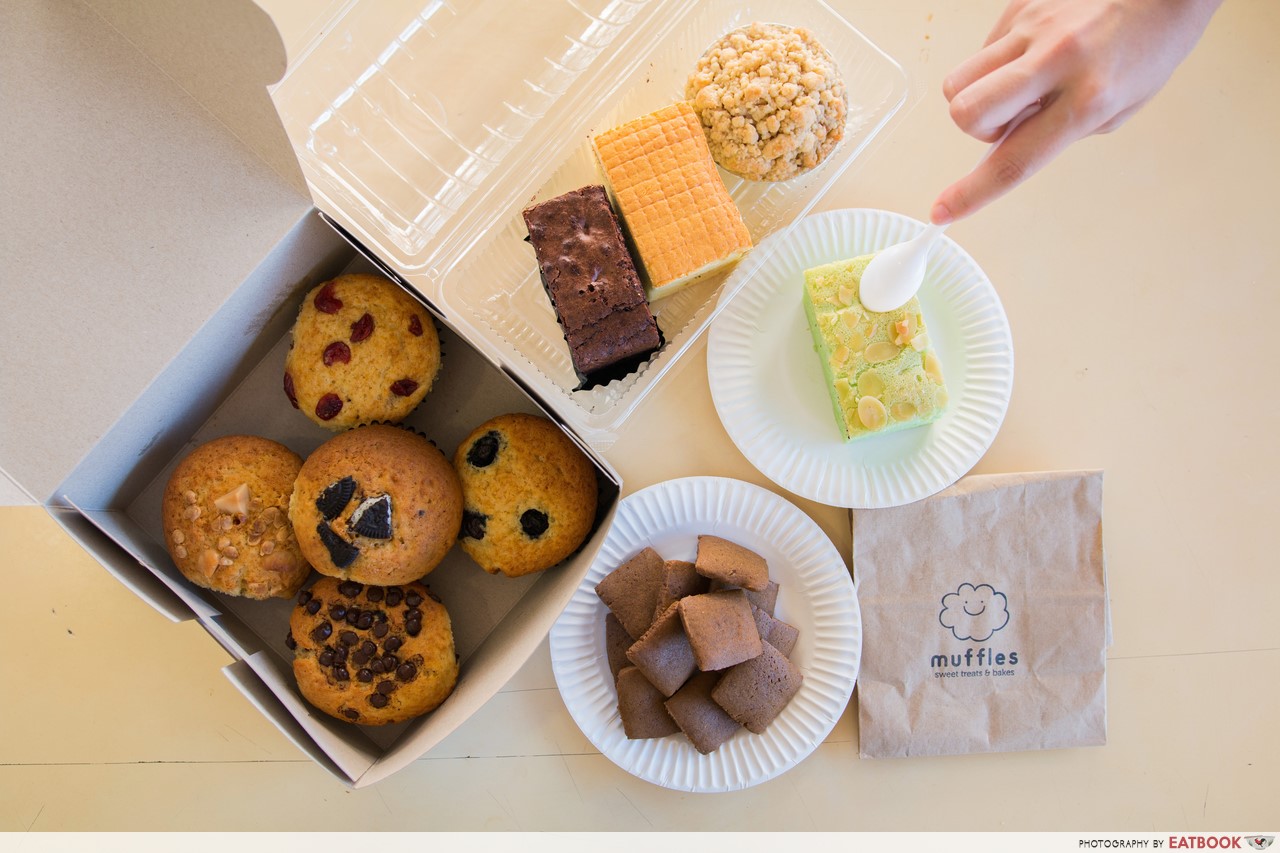 Despite her vast background and knowledge of the baking world, Chef May bakes pastries that look and taste familiar. There are classics like brownies and muffins, as well as cool stuff like cheddar cheese cake and apple crumble. The pastries are warm mouthfuls of joy that comfort, then satisfy.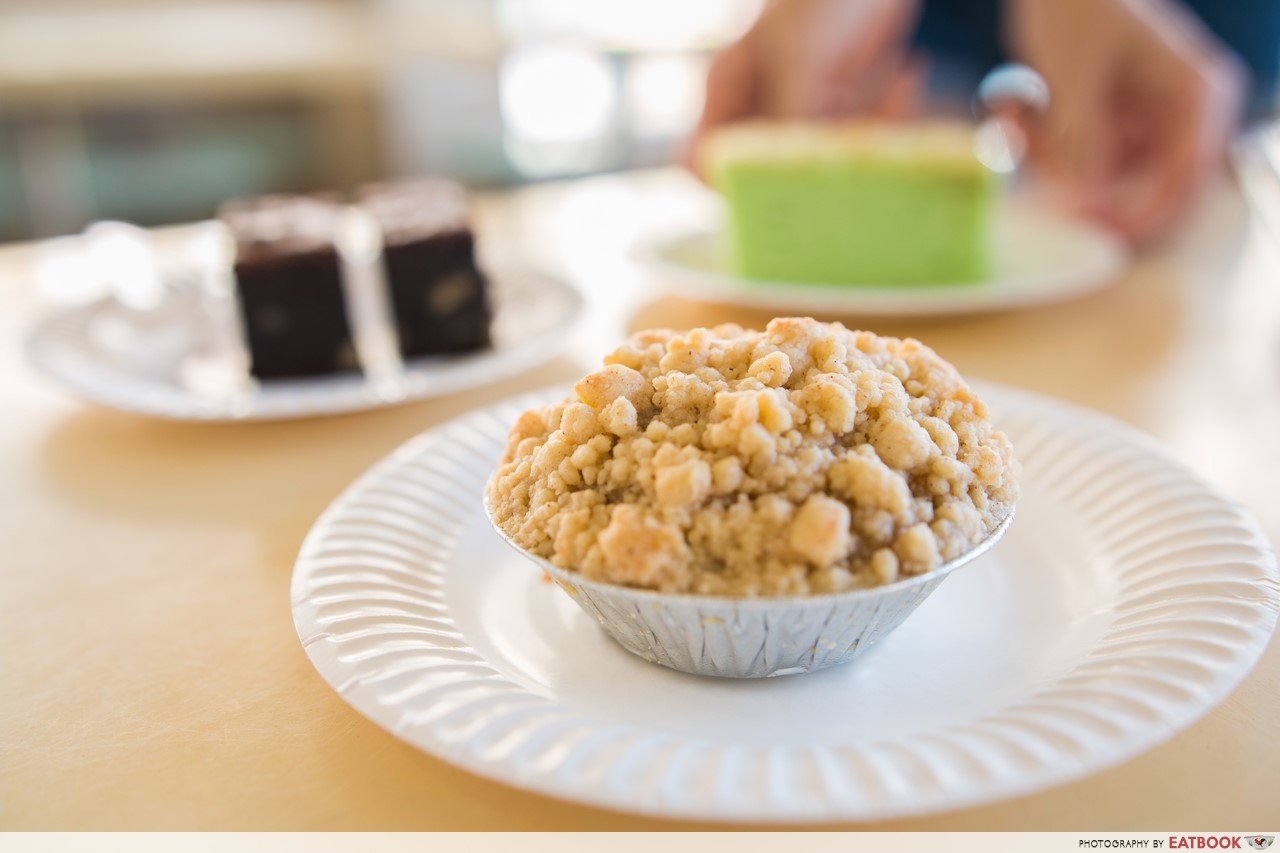 Apple Crumble ($3) is held snugly in an tart case, and literally crumbled as we cut into it. But that was a good thing, as it showed off the soft stewed apples inside and the buttery crust on the outside.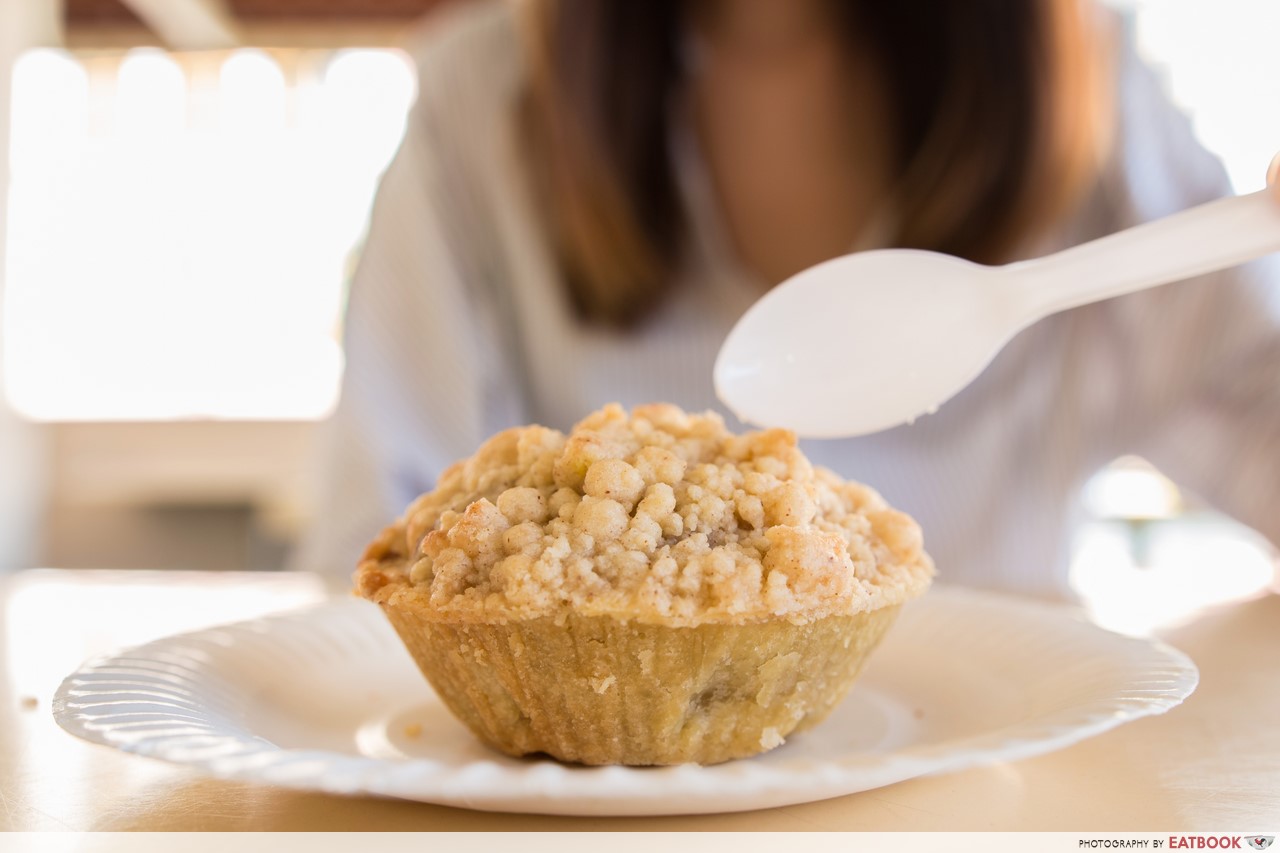 I was hoping for a crumble with more character, but this one went easy on the cinnamon. A little more of that spice and this apple crumble would've really done it for me.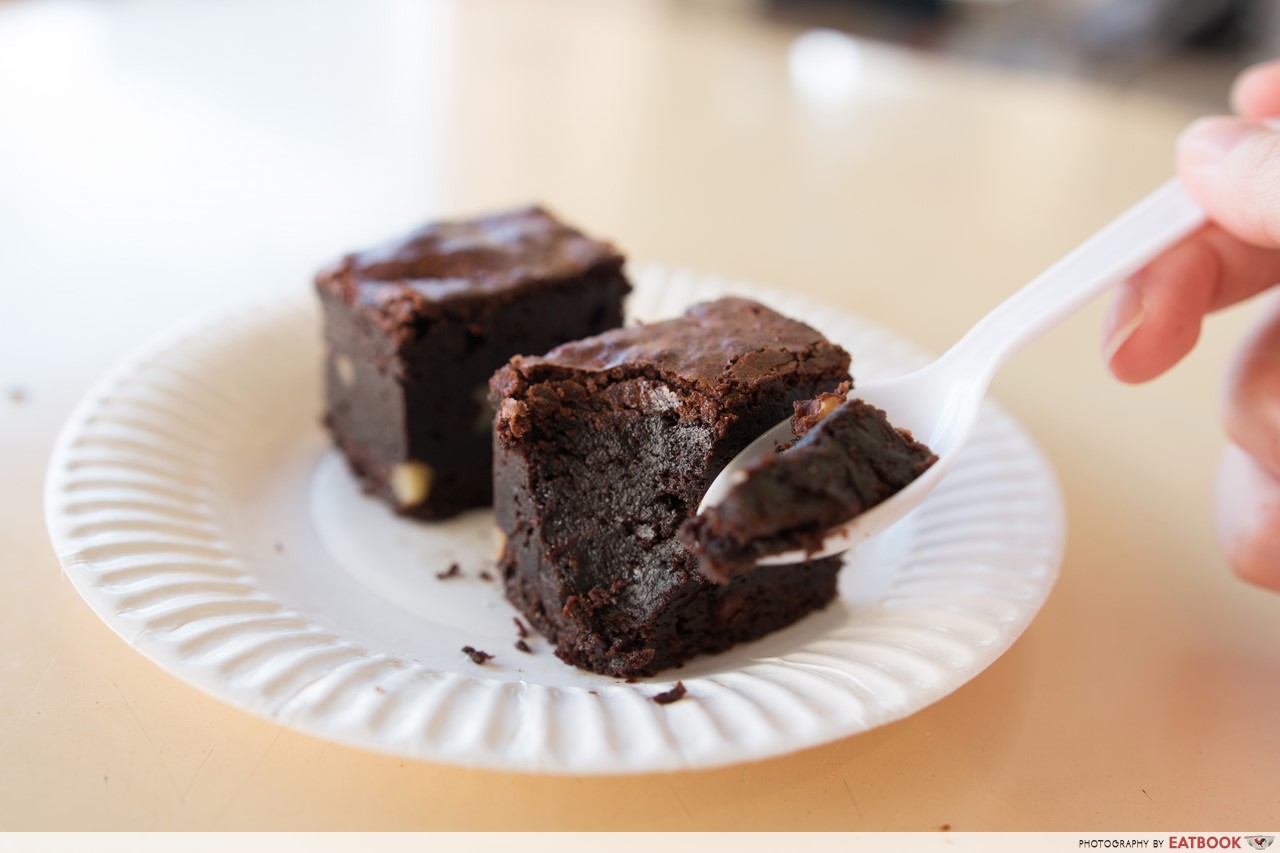 There's a reason why these are called Signature Brownies ($2.50). They're fudgey and moist, with a nice chewy texture. The best part of brownies used to be swiping from a bowl of raw batter for me, but now  I like them baked this way more.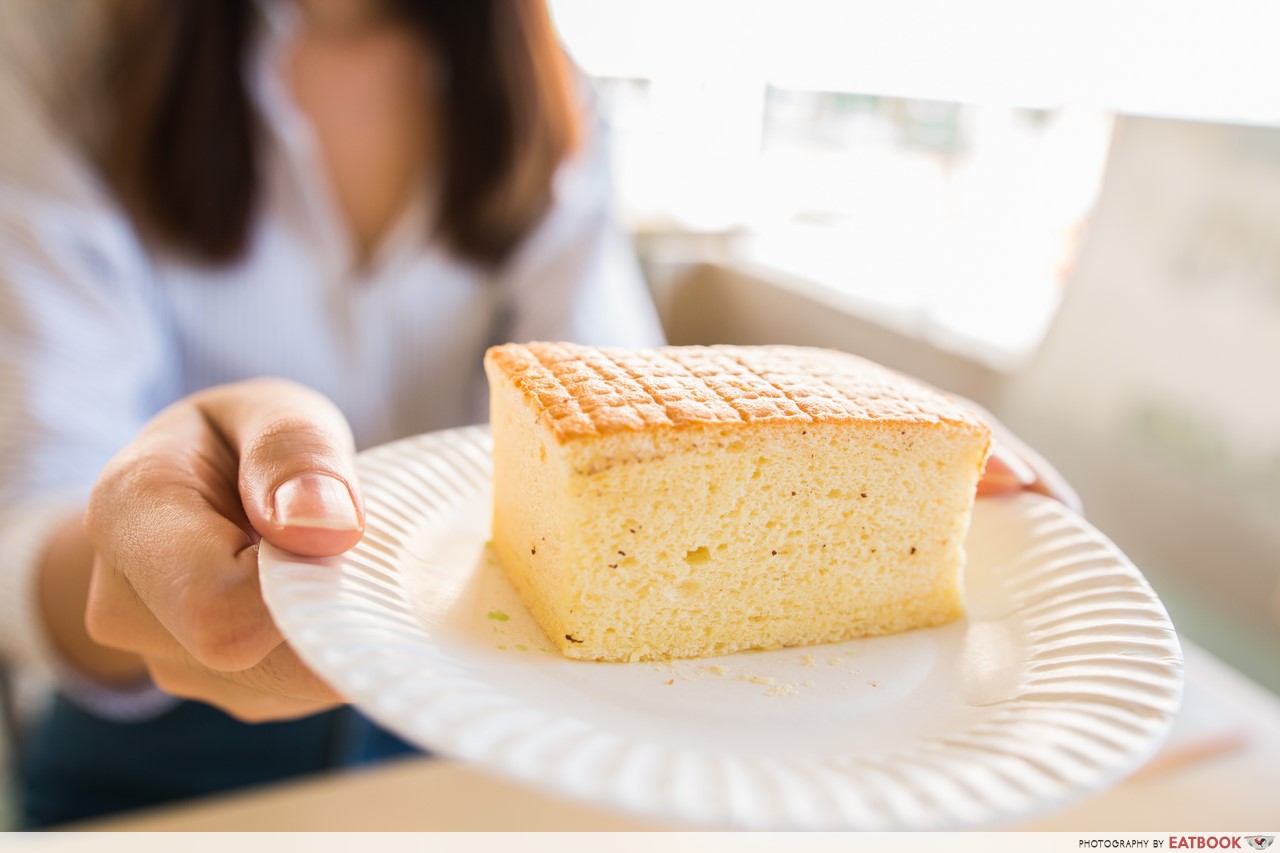 This Cheddar Cheese Cake ($2) is a light fluffy sponge with cheddar cheese incorporated into the batter, giving it a mild, savoury taste. For the boyfies who don't got a sweet tooth accompanying their sugar-crazed partners, this will be what you're looking for.
Muffins at Muffles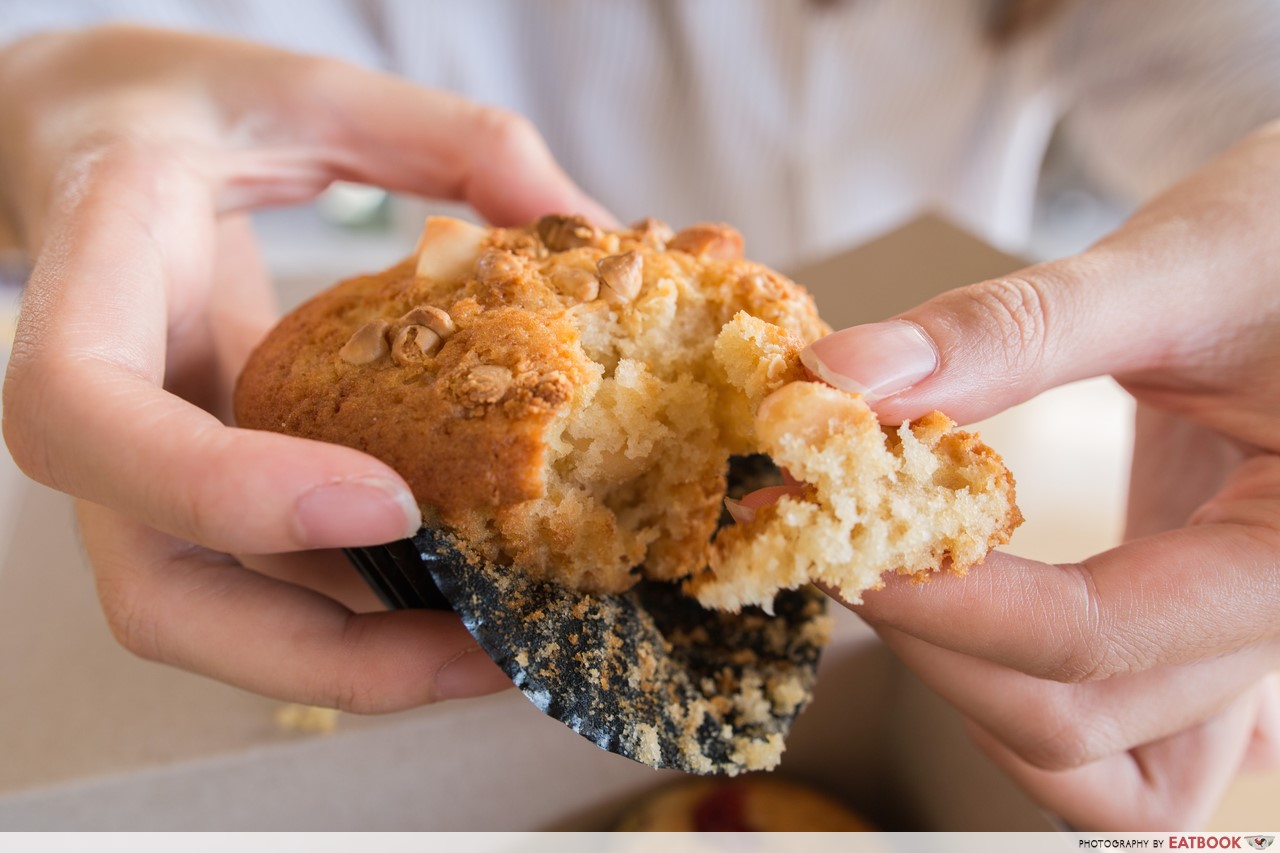 They say muffins are ugly cupcakes, but it honestly doesn't matter how they look if they're going to taste this good. Macadamia White Choc Muffin ($1.60) had a good play on textures and taste, all thanks to roasted macadamia nuts and surprise bursts of white chocolate chips.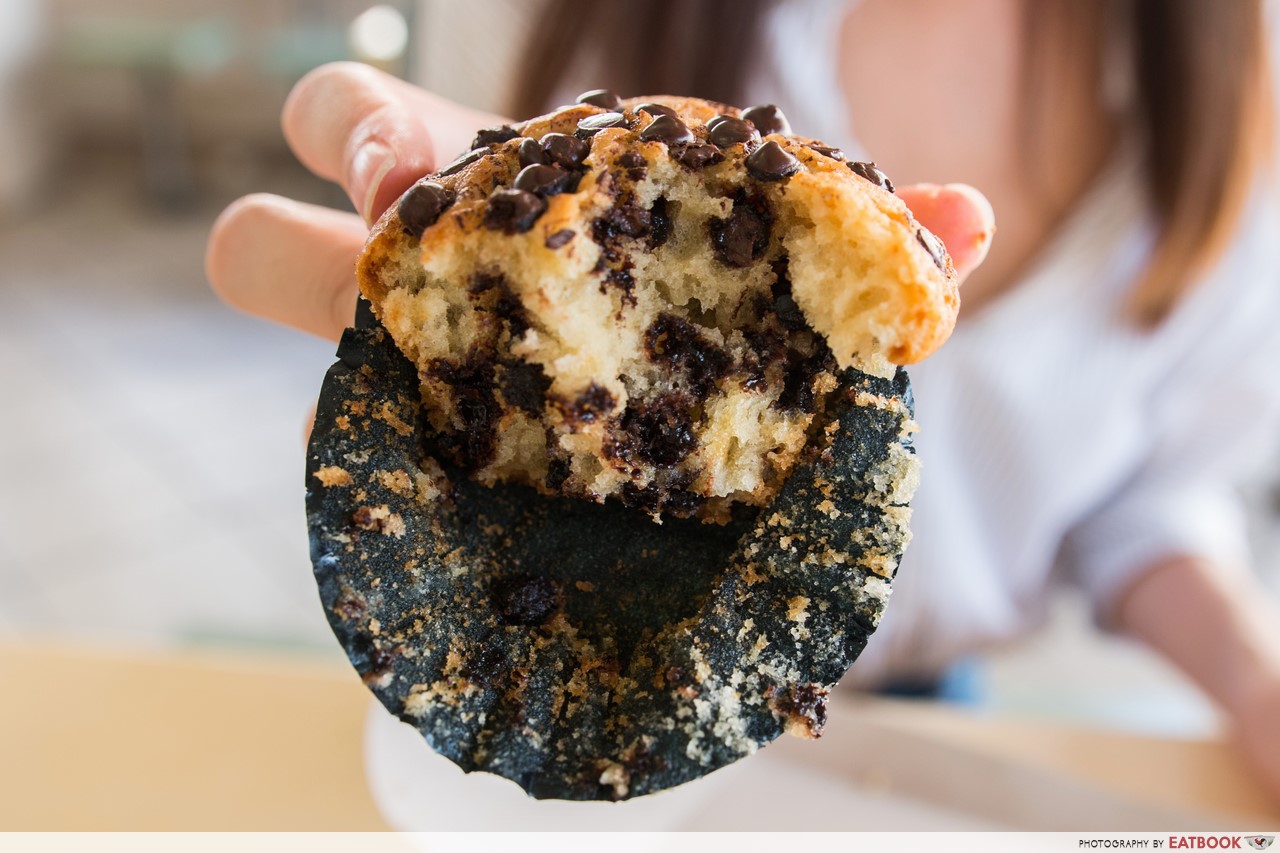 Now this was what completely won me over. Chocolate Chip Muffin ($1.50) looks like any regular ones you'd see at bakeries, except this is stuffed FULL with chocolate chips. I mean, just look at those melty bits of endorphin. It's everything you'd want in a muffin and more. Oh, and it comes with a nice crusty top too!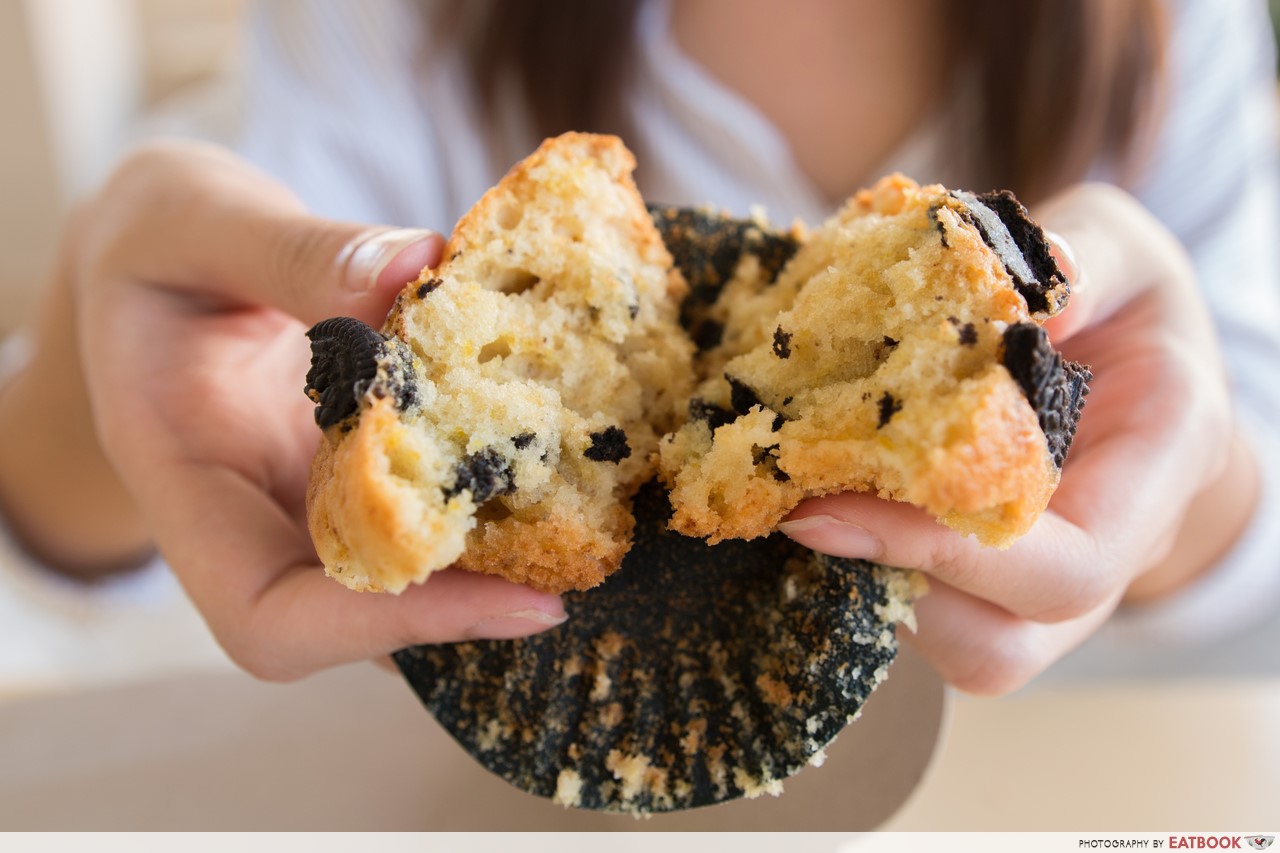 Intrigued by its name, we also went for Lemon Oreo ($1.50), which featured a lemon based cupcake with bits of Oreo in it. While delicious, it was apparent that there were two different elements in the dessert, and they didn't seem to combine together very well.
The verdict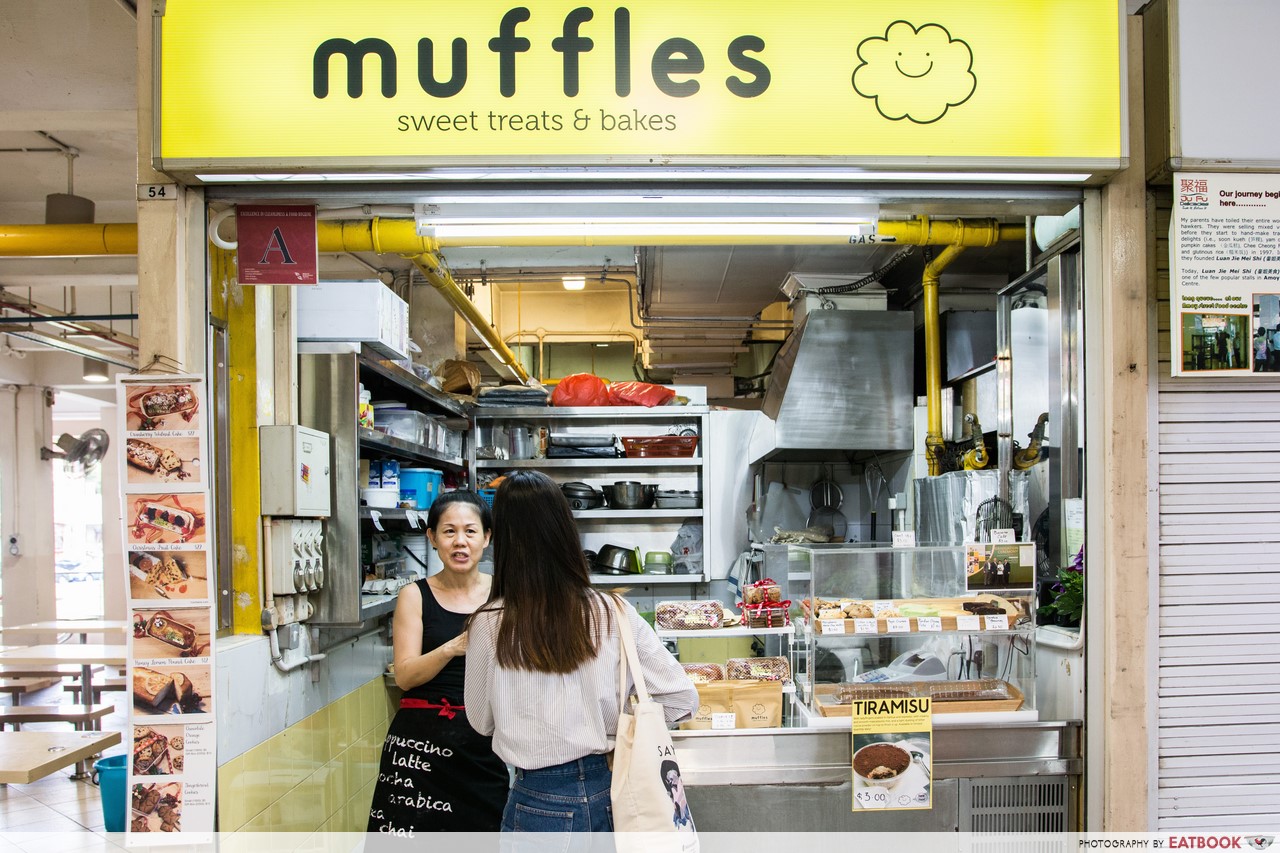 There's a reason why Chef May chooses to stick to selling the basics here. She can't make other desserts like cheesecakes or layered cakes because her stall doesn't have sufficient power supply for a refrigerator. It's pretty sad because I really wanted to get my hands on some of her grander creations. Still, the pastry offerings at Muffles make it really easy for a second, third and hundredth visit. Word of advice: head down early or call to reserve some pastries because I didn't get to try their best selling Tiramisu. 
This is an independent review by Eatbook.sg.
Summary
Pros
– Affordable
– Friendly service
Cons
– Inconvenient location
– Sells out early
Recommended Dishes: Signature Brownies ($2.50), Chocolate Chip Muffin ($1.50), Macadamia White Choc Muffin ($1.60), Apple Crumble ($3)
Operating Hours:
Monday, Wednesday to Sunday 8:30am to 6pm
Tel:
8298 0298 / 9733 8936
Address: 166 Jalan Besar, #02-54, Berseh Food Centre, Singapore 208877