Omar's Halal Thai Beef Noodles doesn't compromise on quality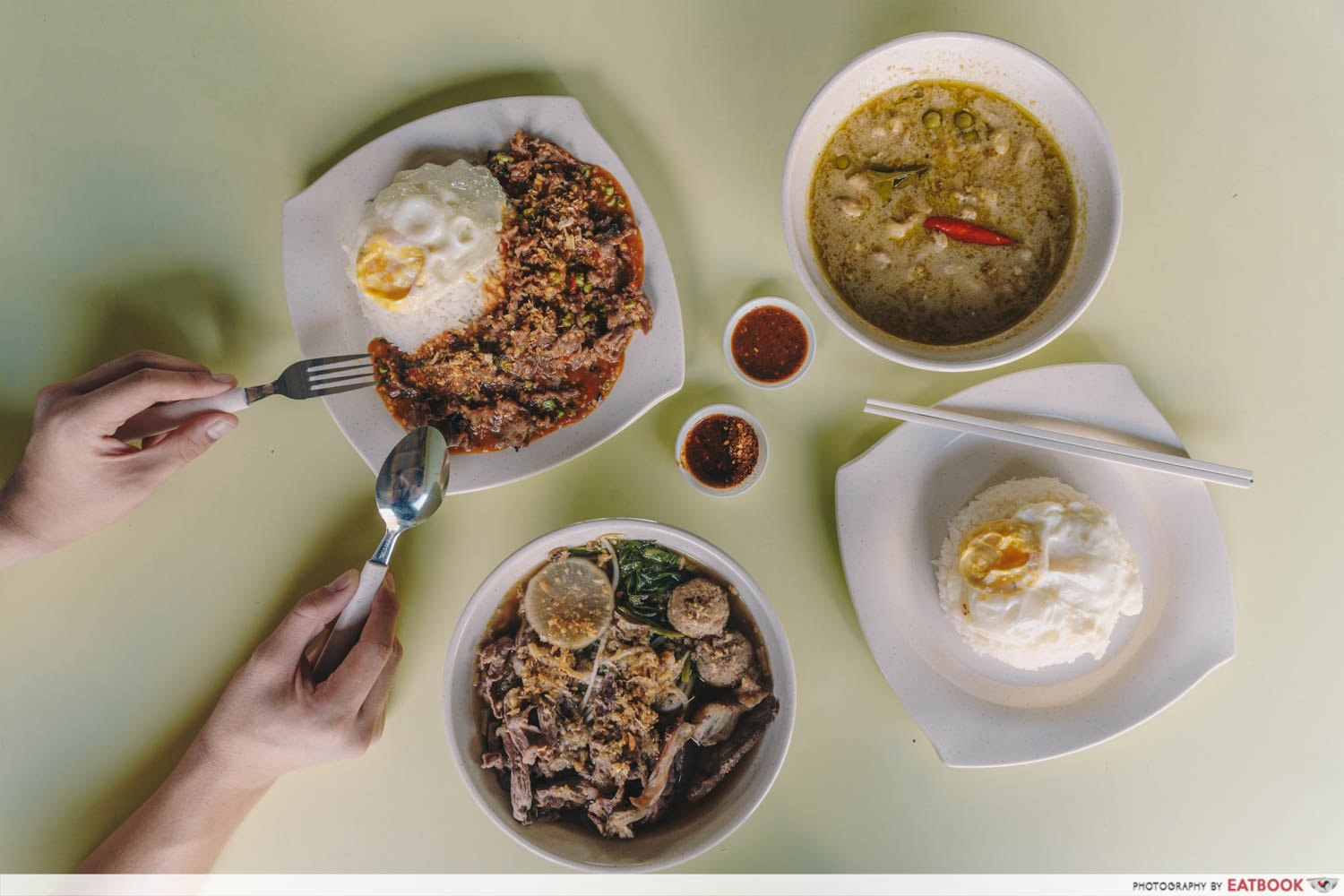 There are too many stalls in Singapore serving up Thai food that don't stay true to the authentic Thai flavour. Places that attempt to cater to local palates but completely sacrificing that robust Thai flavour have become commonplace.
Adnan and his wife encountered that lack of authenticity and set out to solve it themselves, opening up Omar's Halal Thai Beef Noodles in early 2019; the name pays homage to his father-in-law.
With a background in the shipping industry, the Malay couple with no prior F&B experience may seem ill-equipped to run a Thai food stall. Plus, there's the issue of credibility. People are often sceptical of hawkers not serving their ethnic cuisine. But the couple's commitment to delivering authentic Thai food is unwavering. In fact, it is only after 10 years of learning the cuisine from a Thai friend did they finally felt proficient enough to set out on their own.
All the ingredients found here are sourced from Golden Mile and a taste of their dish will show you that they go heavy on spice – the same way it is in Thailand. And if you're still in doubt, you should let the food speak for itself.
Food at Omar's Halal Thai Beef Noodles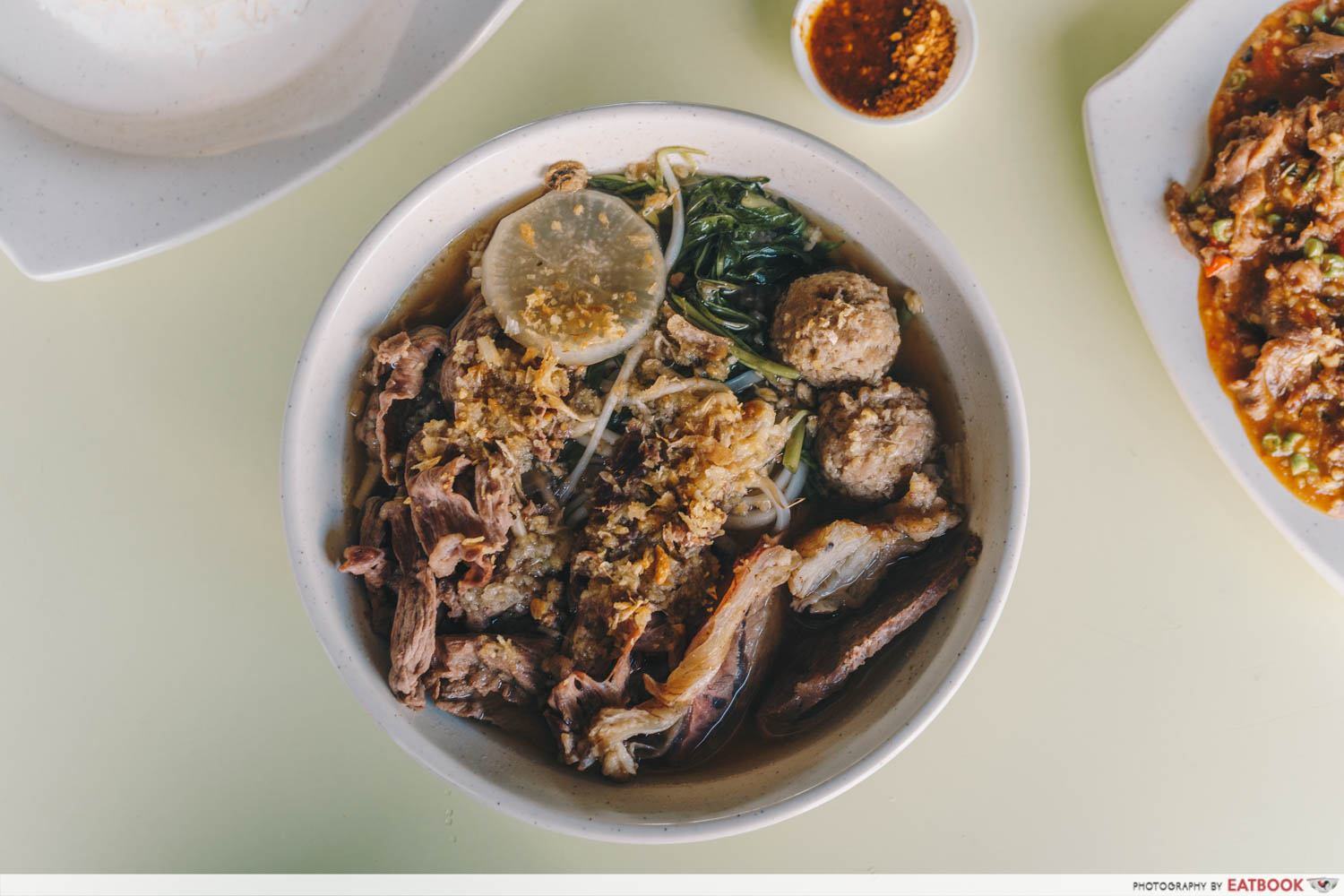 Each bowl of Thai Beef Noodles ($6) is a labour of love. Their broth, which is refillable FOC, is simmered for a minimum of three hours before serving. Boasting a big portion of noodles and three types of beef that cover the entire surface of our bowl, this dish represents great value for money.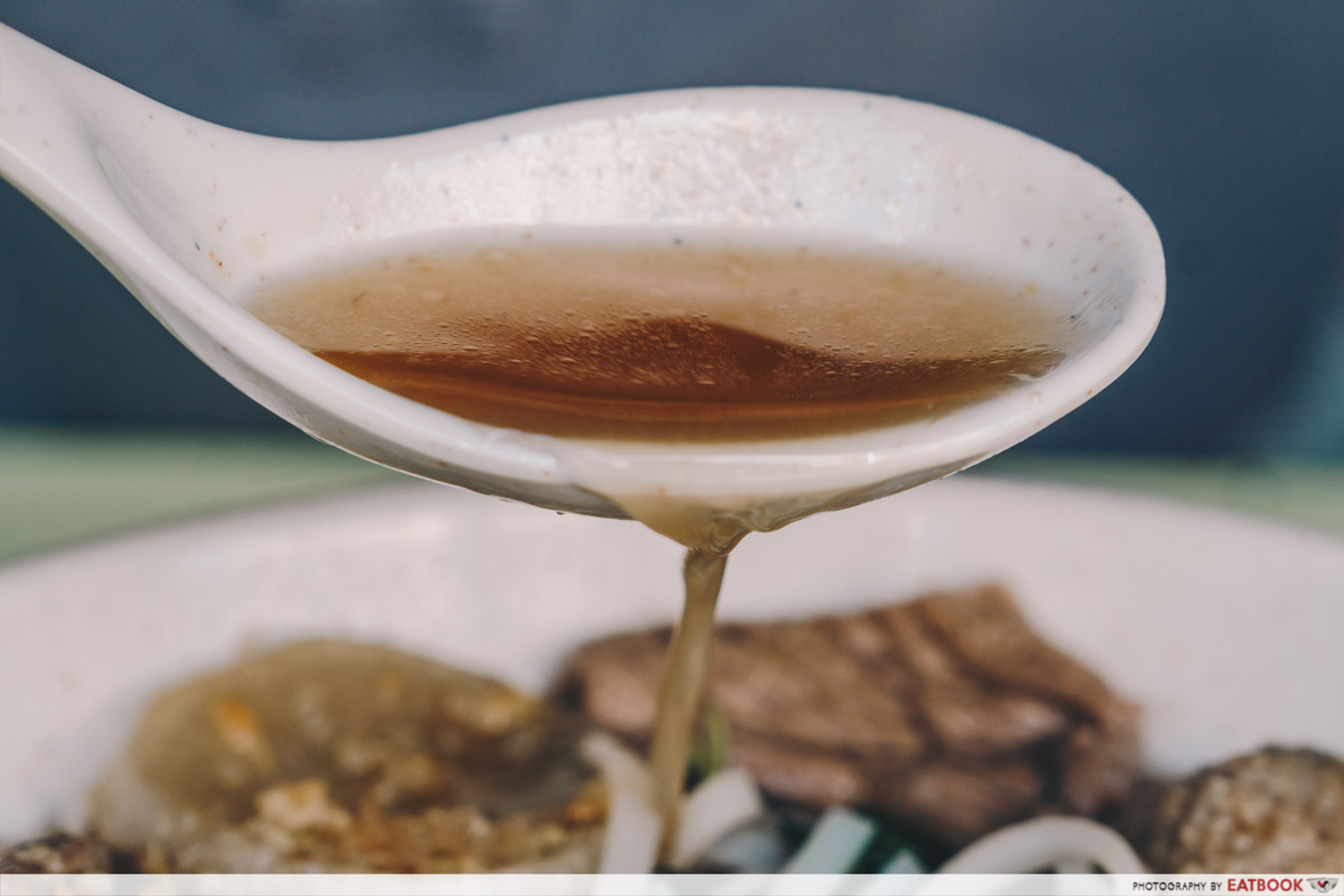 No matter the country of origin, beef noodles is all about the soup. Adnan's rendition is light and clear, but still full-bodied and beefy. The robust beefiness never overpowered our senses, and was tempered by the fragrant aroma of cloves and subtle zing from the fried garlic topping.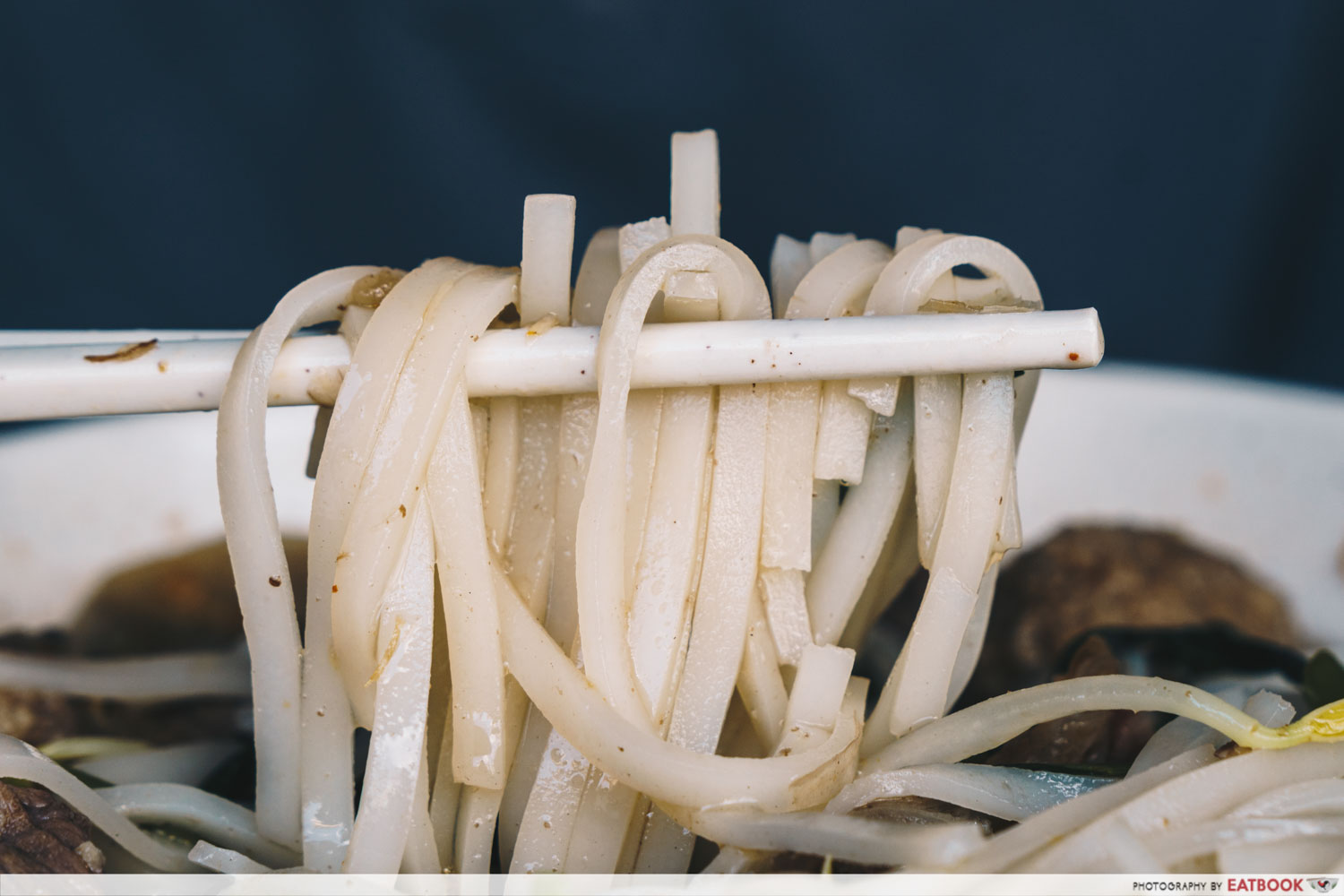 Noodles come down to personal preference, but we weren't fans of the rice noodles used here. Shape-wise, they were reminiscent of linguine, but lacked snap and stretch. Perhaps they could introduce different types of noodles for customers to pick from.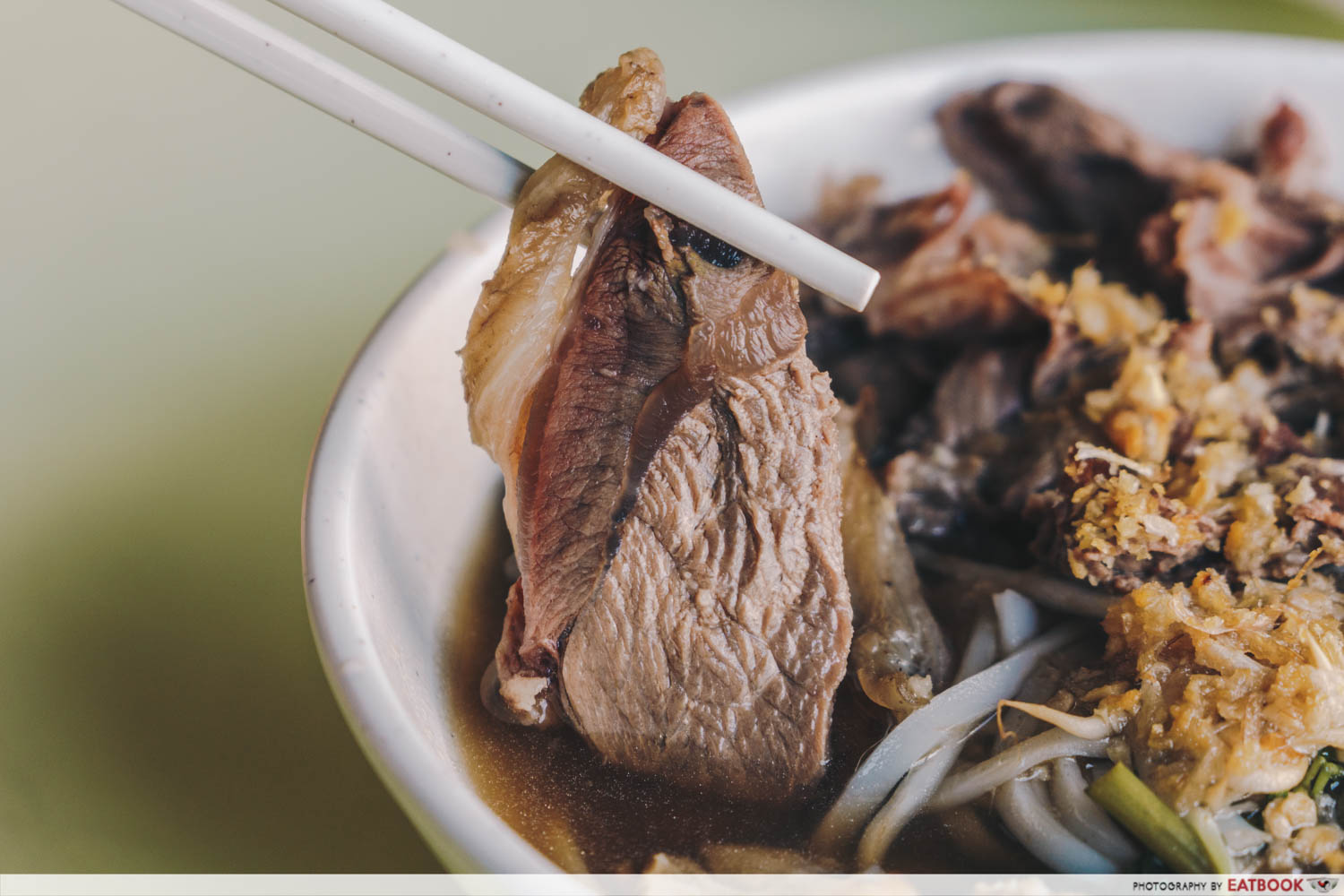 The beef shank, slices and balls that crown each bowl are boiled together with the soup. While this results in stronger beef flavour for the soup, it also means that the meat's texture varies depending on what time you arrive.
The stall opens slightly later during Ramadan, so when we went down at 3pm, we were the first customers. Unfortunately, as a result, the shank and tendon didn't have enough time to boil, culminating in tough and leathery meat.
Don't make the same mistake as us. Come down during dinner time and you'll be rewarded with shank that's tender enough to enjoy.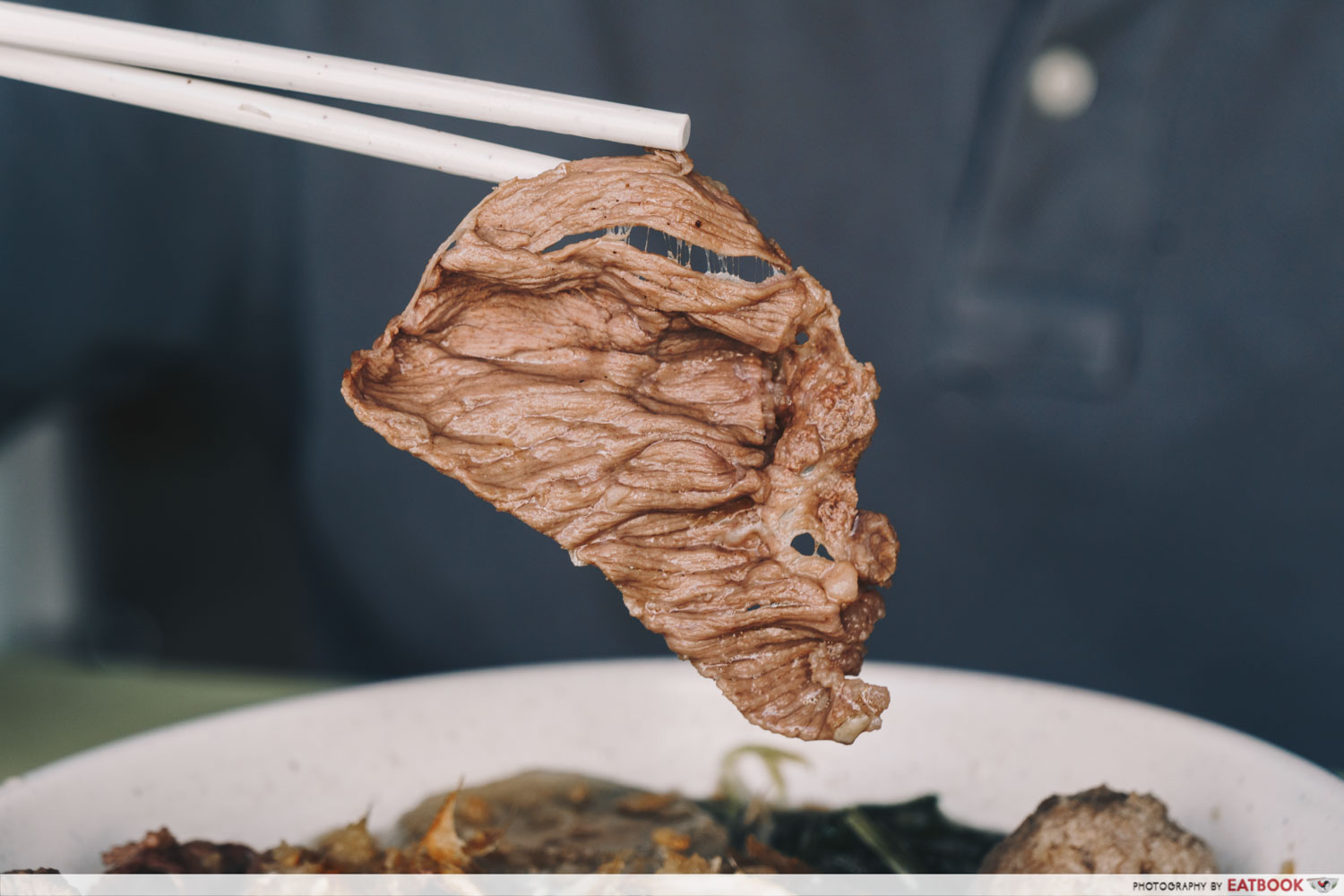 Our beef slices fared better. While they could have done with a little more time stewing in the pot, they were still decently juicy and pleasantly thick.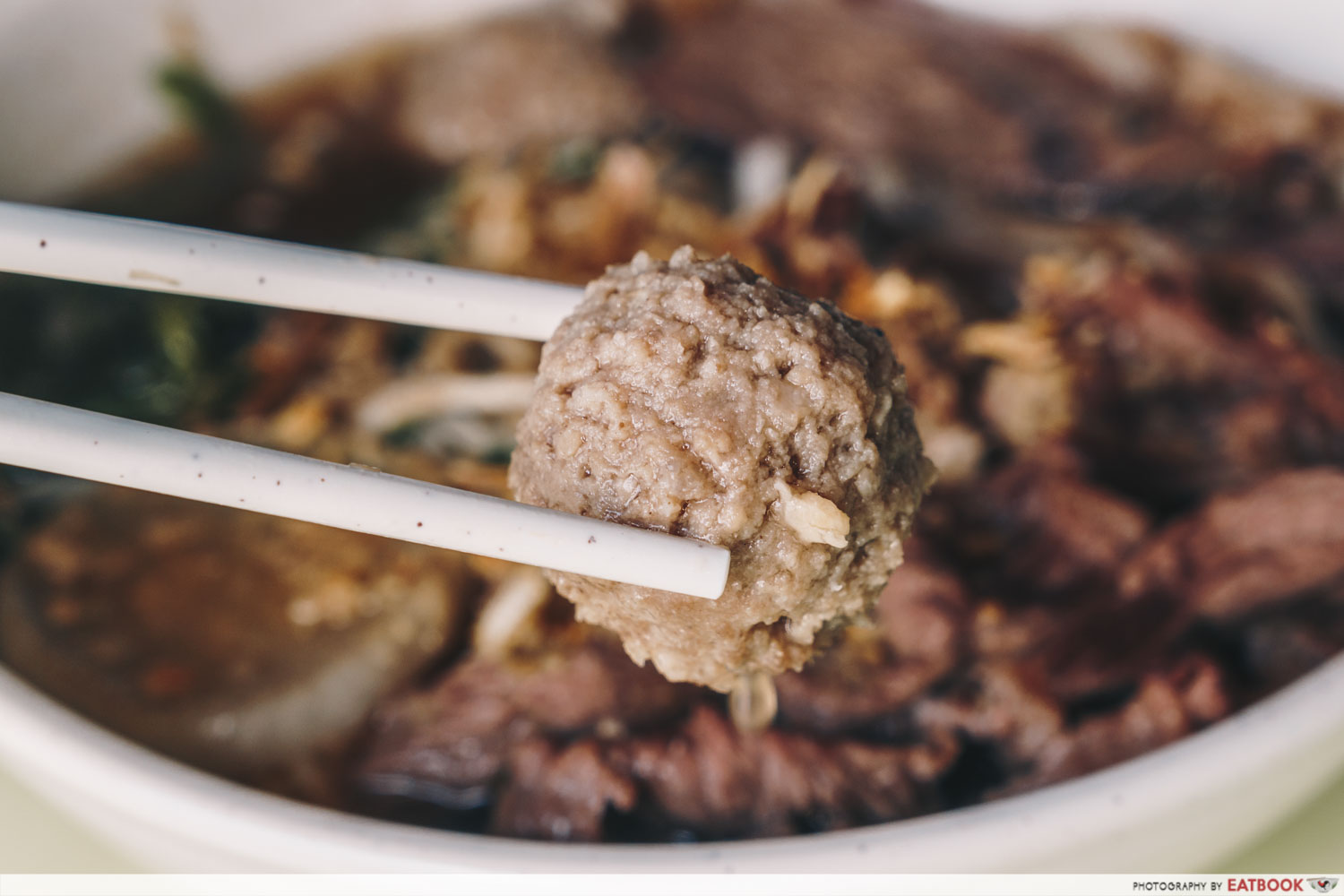 Their handmade beef balls proved to be the most successful. Artificial, floury beef balls are a pet peeve of mine, so these coarsely ground versions were a welcome surprise. Hand making their meatballs is a step many hawker stalls would be hesitant to take, but the extra effort Adnan puts in sets him apart from the rest.
Each ball is dense and soft, and full of beefy flavour. Although lacking a little bounce, it's a big step up from the frozen stuff that's for sure.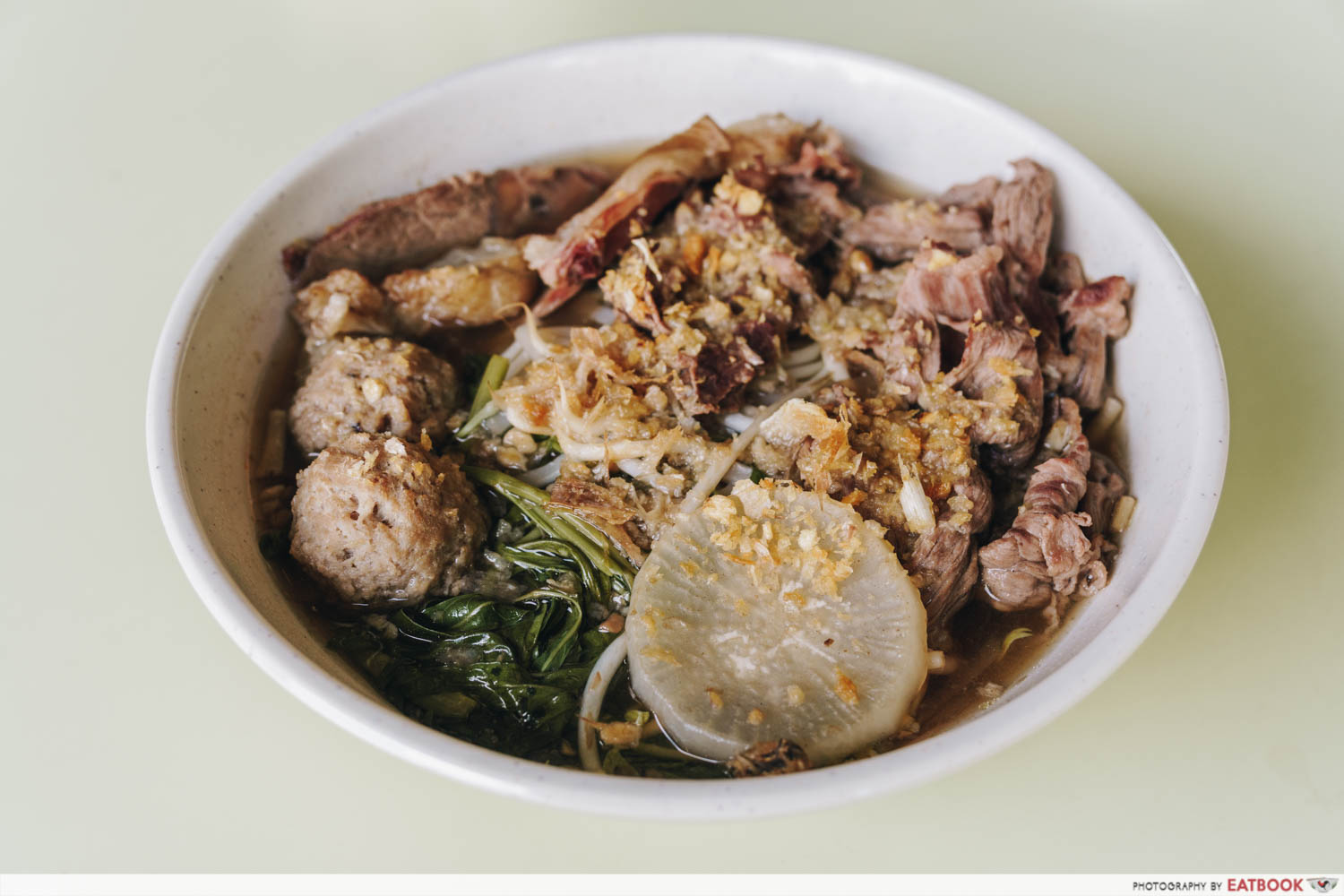 Floating delicately atop the bowl, it's easy to overlook the unassuming round of white radish. Yet, it was one of our favourite components here. Its mellow sweetness granting a nice change of pace from the constant current of beefy flavour.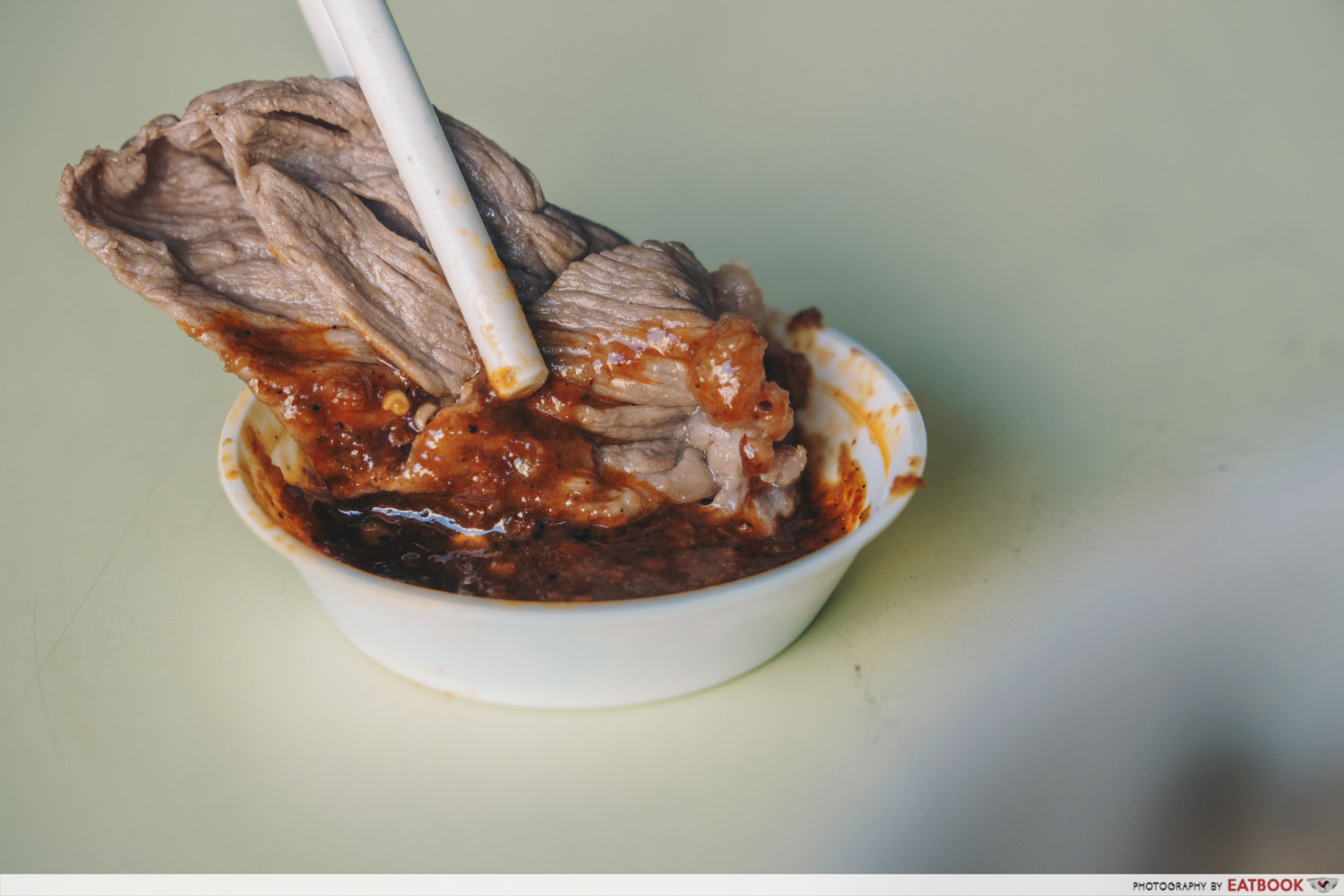 Nam prik pao is Thailand's answer to sambal belacan. What distinguishes this chilli paste is that its heat comes via toasted red chillies, resulting in a deep, roasted flavour. Adnan takes the effort to make his own version. While it added a ton of flavour to our beef slices, the sauce is explosively spicy. Even my da la ma la xiang guo-eating dining companion's lips were burning from a quick encounter with the nam prik pao.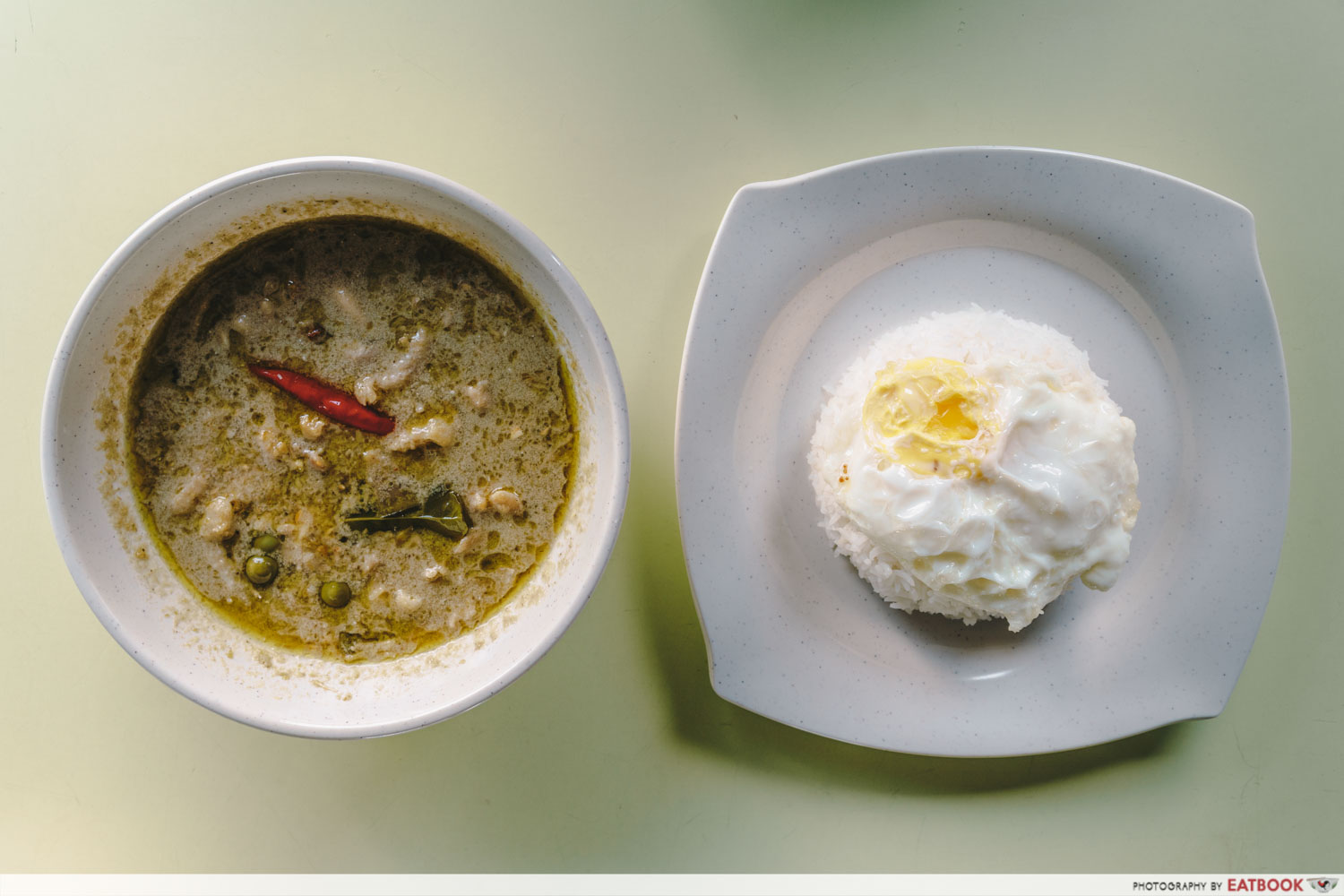 If you've ever been to Thailand, Adnan's Green Curry Chicken ($5) is a lot more akin to the native dish than most renditions served up in Singapore. Most green curries on our shores are smooth with strong coconut flavour and aroma. The gravy here was noticeably coarser and exuded a potent spicy – rather than coconutty – fragrance.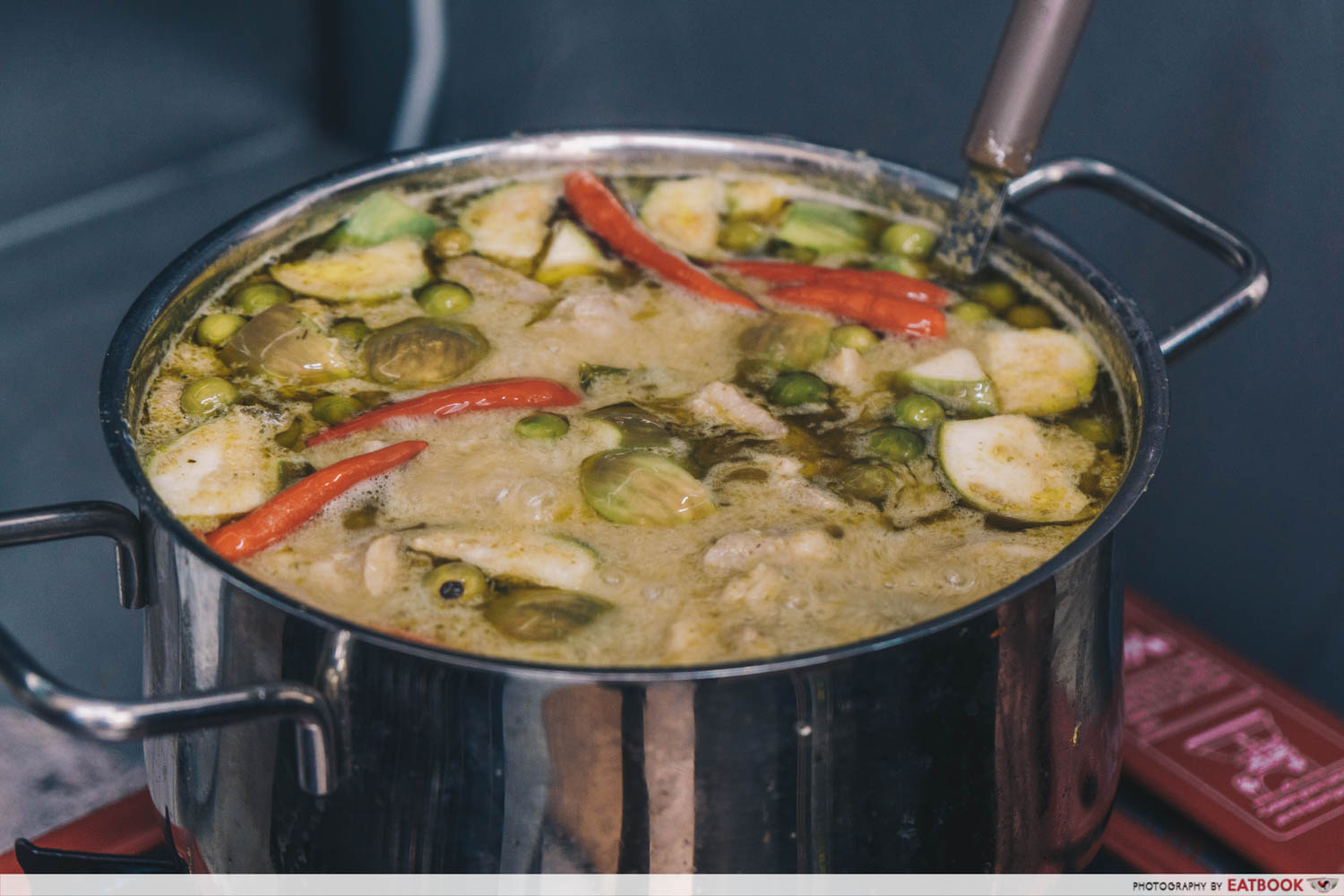 That spiced scent translated to our taste buds. While there were undertones of those familiar sweet and coconutty notes, those flavours were background singers compared to the powerful medley of lemongrass and candlenut that took centre stage.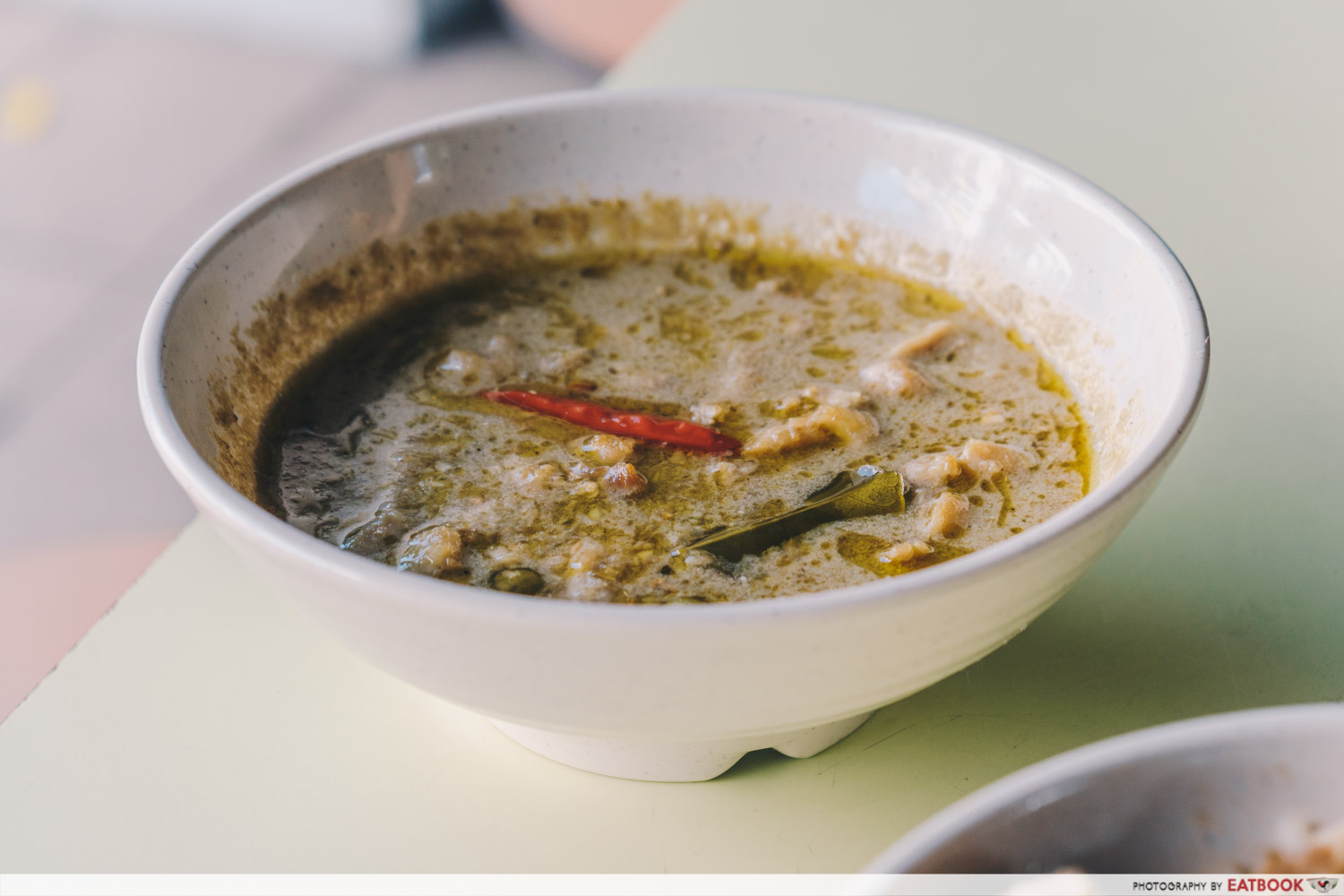 Swimming around in the green gravy was a remarkably large serving of chicken. The rough chunks were tender and absorbed the complex curry, making it a wonderful partner with a plate of jasmine rice.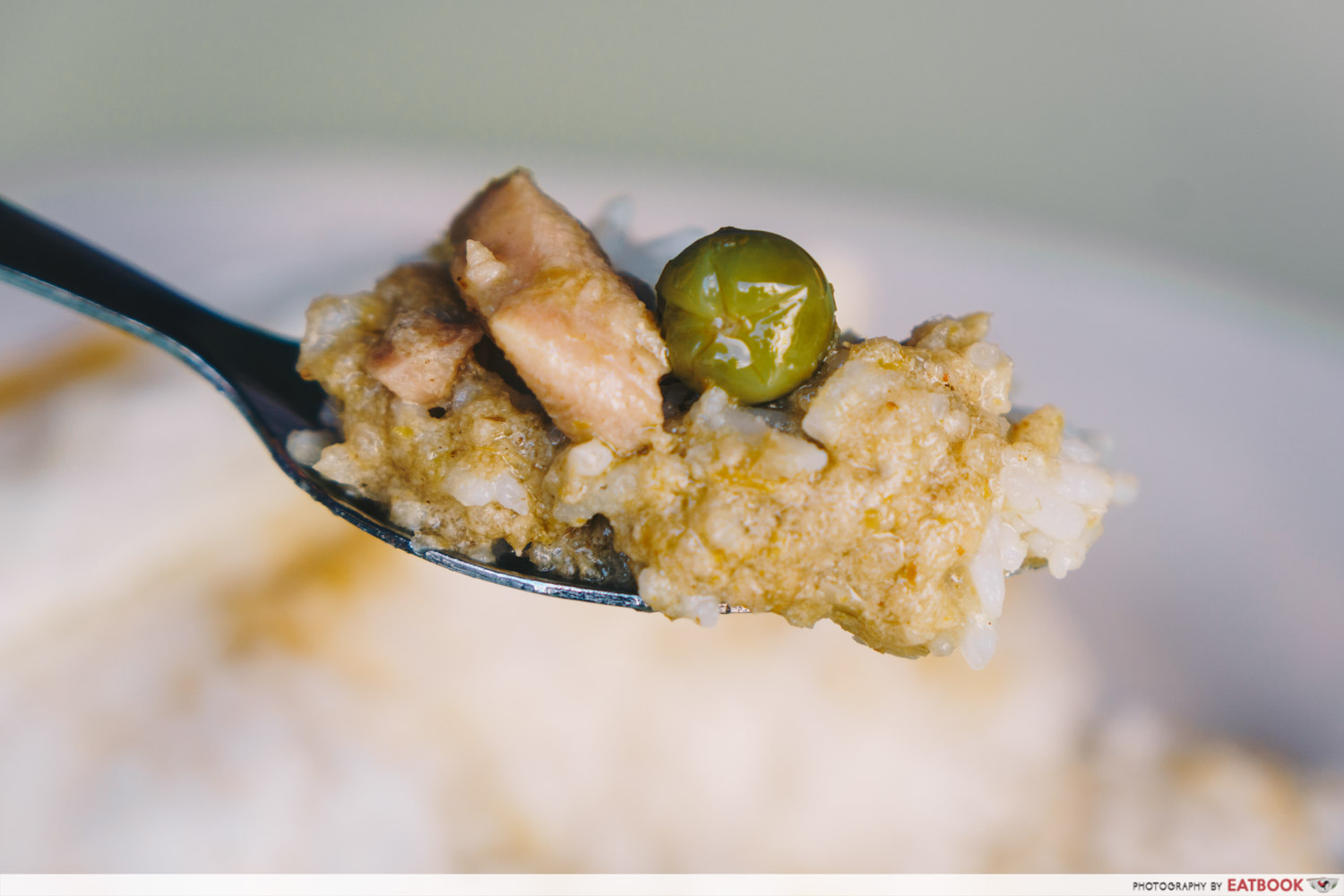 Adnan keeps it as traditional as possible by throwing in green Thai eggplants of various sizes, which he explained can only be found at Golden Mile Complex. These green spheres added pops of mild vegetal flavour and crunchy texture to our curry.
By Adnan's own admission, his Thai Basil Mutton ($6) isn't a traditional Thai dish. Chicken and pork are the usual proteins for this dish, which typically features dry, brown beads of minced meat. His version flips the script, coating thin strips of mutton with a red-hued sauce that's studded with garlic, green beans, chillies and basil leaves.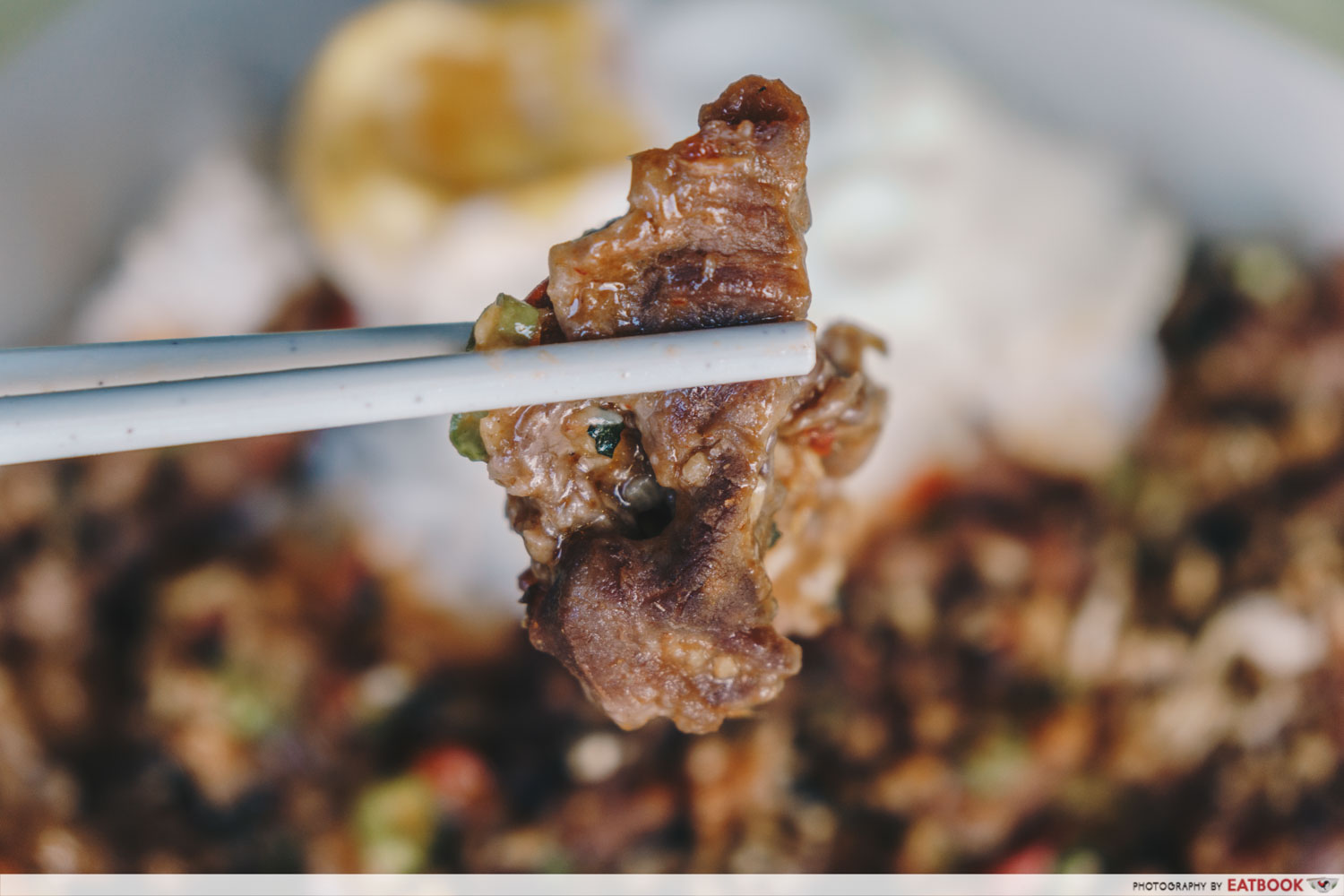 Mutton is often tough, but by using thin and fatty sukiyaki-esque strips, they've managed to gain tender meat that wouldn't be out of place in a donburi. It also didn't possess the gamey flavour mutton is so notorious for.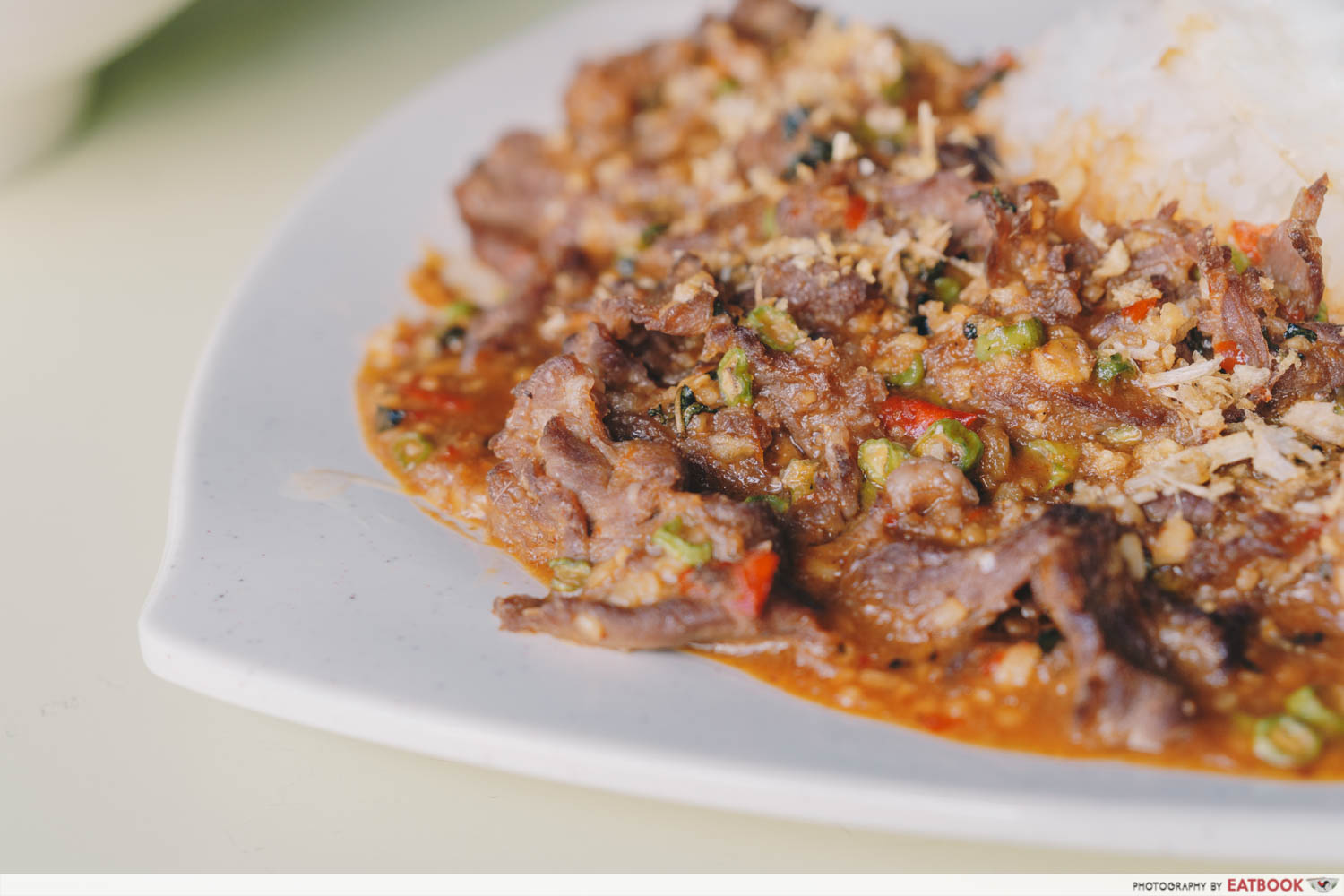 On the flavour front, this dish is completely different from traditional Thai basil chicken. A ketchup-based gravy created an overall sweet flavour profile, and is spruced up by a substantial dose of chopped garlic. That said, there are still licks of heat from sinister red chillies lurking in the gravy.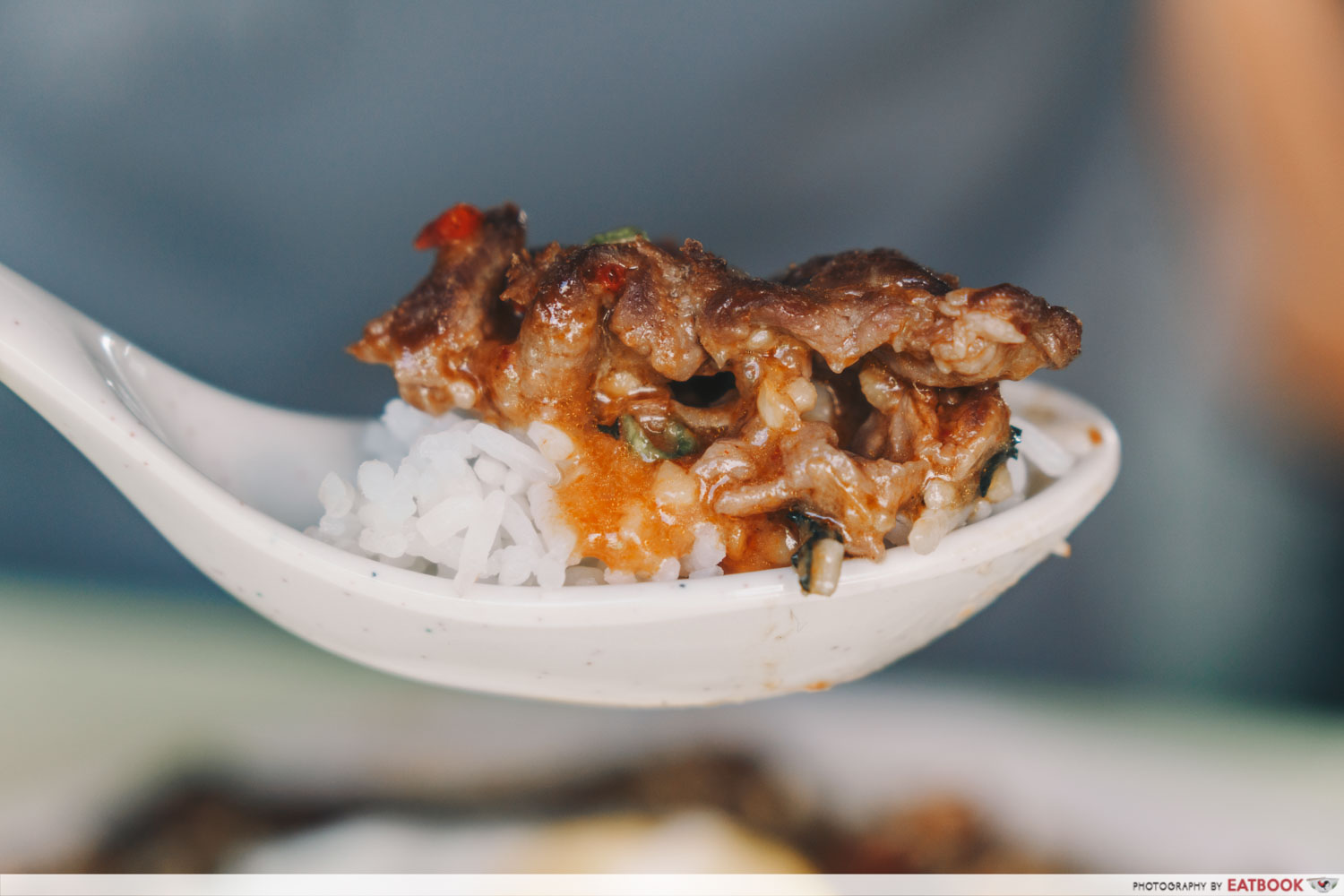 However, for a dish with basil in its name, we would have liked a bit more impact from its headlining ingredient. The herb's distinctive aroma poked its head in occasionally, but seemed like a sideshow compared to the rest of the ingredients.
Ambience at Omar's Halal Thai Beef Noodles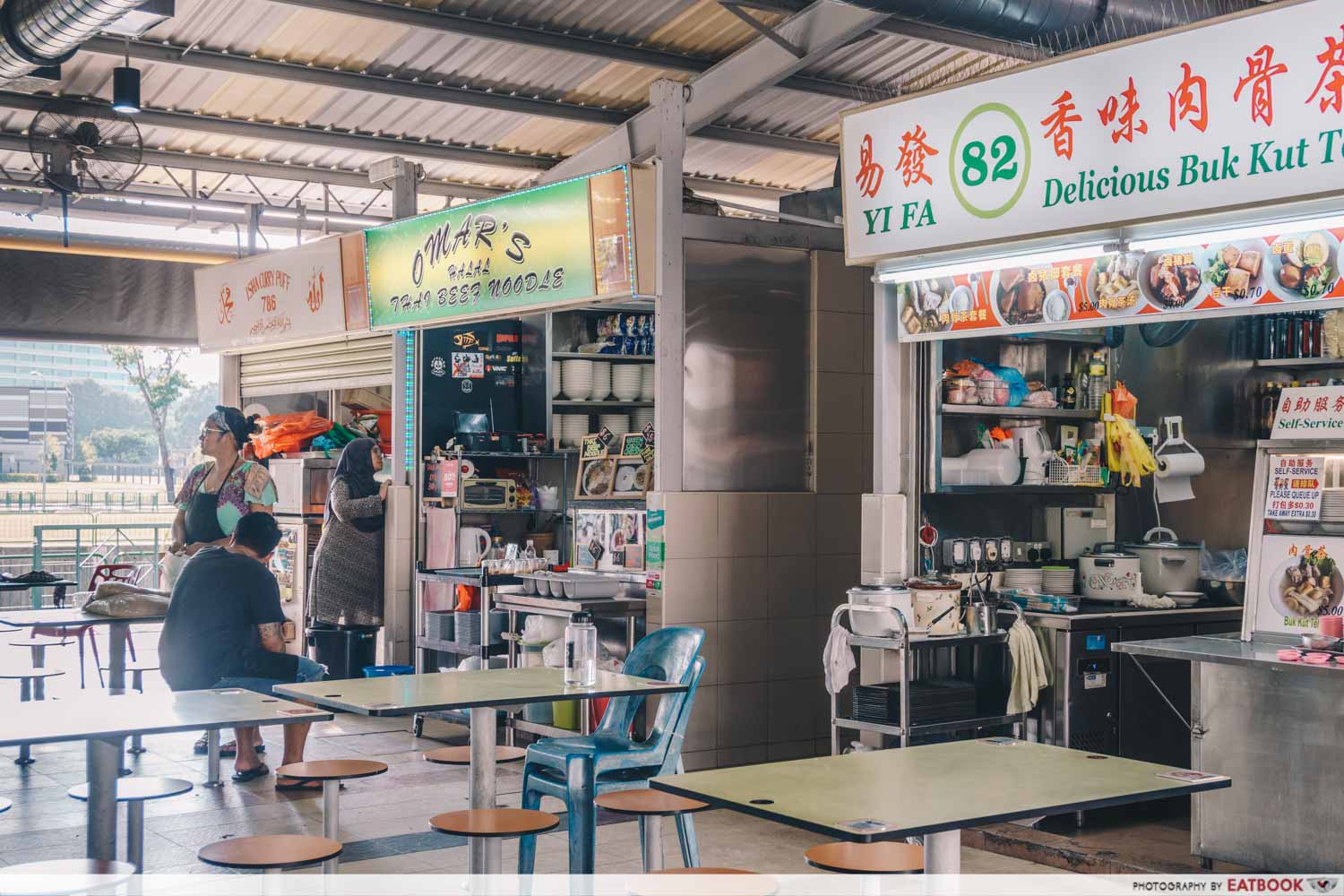 Across the bridge from Mattar MRT station, this halal-certified stall is located in the quiet Circuit Road Food Centre. The hawker centre is split into two parts, and you'll spot this warm and friendly couple cooking up a storm in the left block as you approach from the MRT.
For Ramadan, they're opening up slightly later than usual, starting at around 3pm. They're proving to be a popular spot to break fast, with pre-orders for iftar starting at around 5:30pm. So give them a ring beforehand to secure your beef noodles and satisfy your belly when the sun sets.
The verdict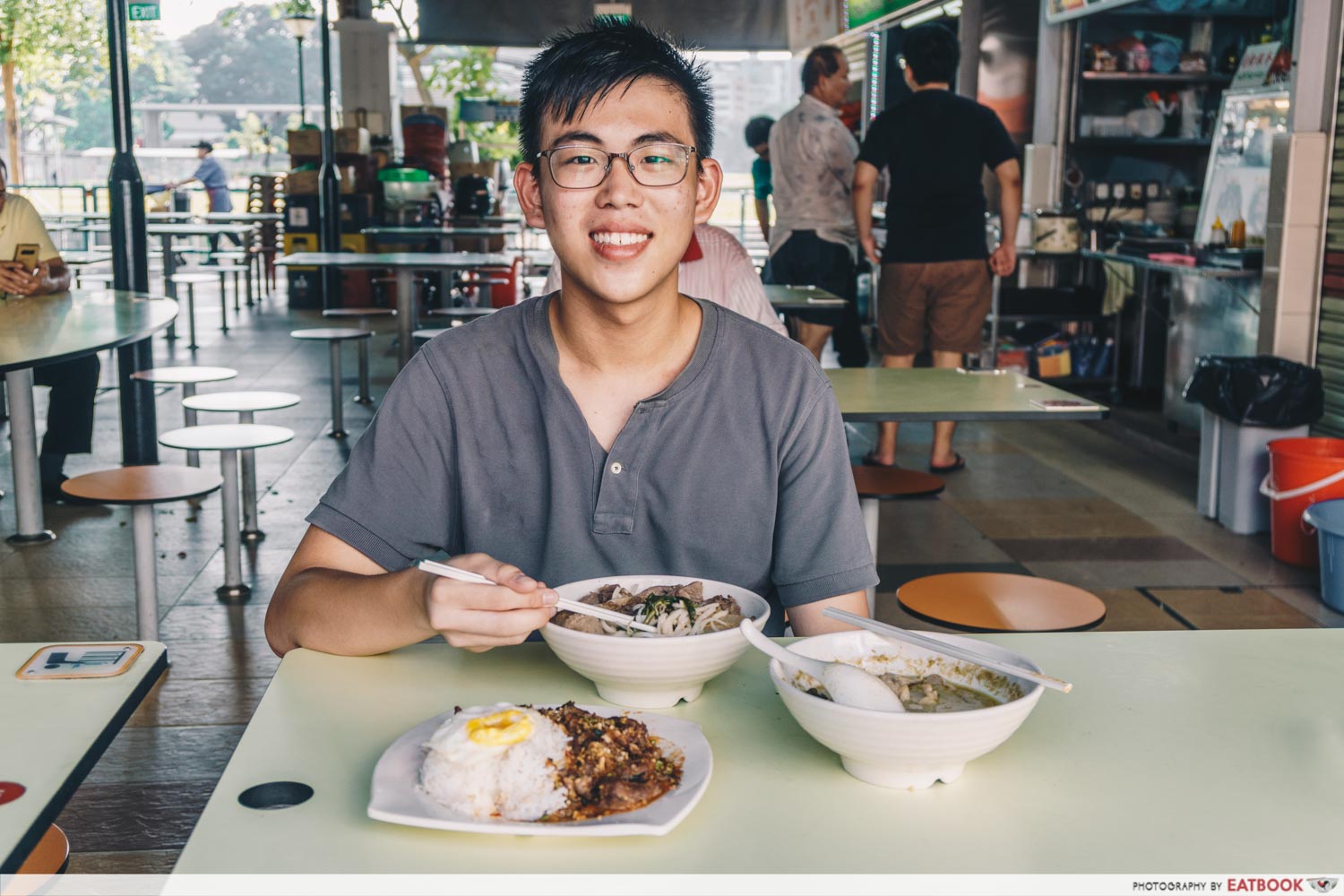 Thai hawker stalls have never impressed me, so I didn't have high hopes for authentic Thai food at Omar's Halal Thai Beef Noodles. However, my assumptions were proven wrong, because we were thoroughly impressed by the authenticity of the food served here, as well as the sheer effort they puts into crafting each dish.
They are still new to the scene, so not everything was perfect, but at least they tick all the important boxes: big flavours and big portions. If a Muslim friend asks me where to get Thai food, this Circuit Road stall will be near the top of my list.
There's no shortage of halal Thai options in Singapore, so you can check out our list of 10 halal Thai food places and reviews of Flying Wok and Chickata for more.
Flying Wok Review: Halal XXL Tom Yum Seafood Hot Pot For 10 Hungry Folks At $49.90
Let us know your favourite spots for beef noodles in the comments below!
Address: 79 Circuit Road, #01-54, Circuit Road Food Centre, Singapore 370079
Opening hours: Tue-Sat 1pm to 9:30pm
Tel: 8754 1056
Website
Omar's Halal Thai Beef Noodles is a halal-certified eatery.
Photos taken by Sharlene Lau.
This is an independent review by Eatbook.
Omar's Halal Thai Beef Noodles
Summary
Pros
– Free refills for beef noodle soup
– Authentic green curry
– Big portions
Cons
– Beef shank was tough
– Basil mutton could have more basil flavour
Recommended dishes: Thai Beef Noodles ($6), Green Curry Chicken ($5)
Opening hours: Tue-Sat 1pm to 9:30pm
Address: 79 Circuit Road, #01-54, Circuit Road Food Centre, Singapore 370079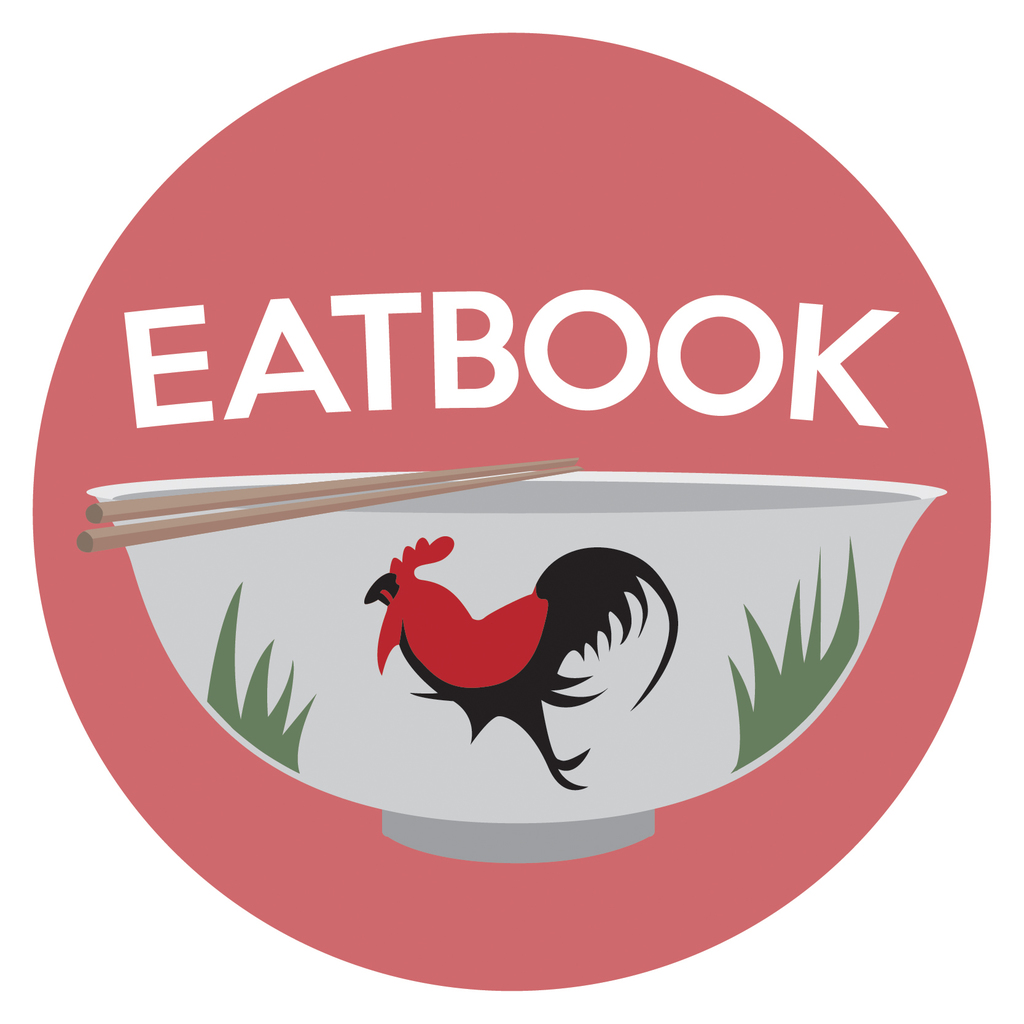 Drop us your email so you won't miss the latest news.