MAT Western at Bedok
Update: MAT Western is now permanently closed.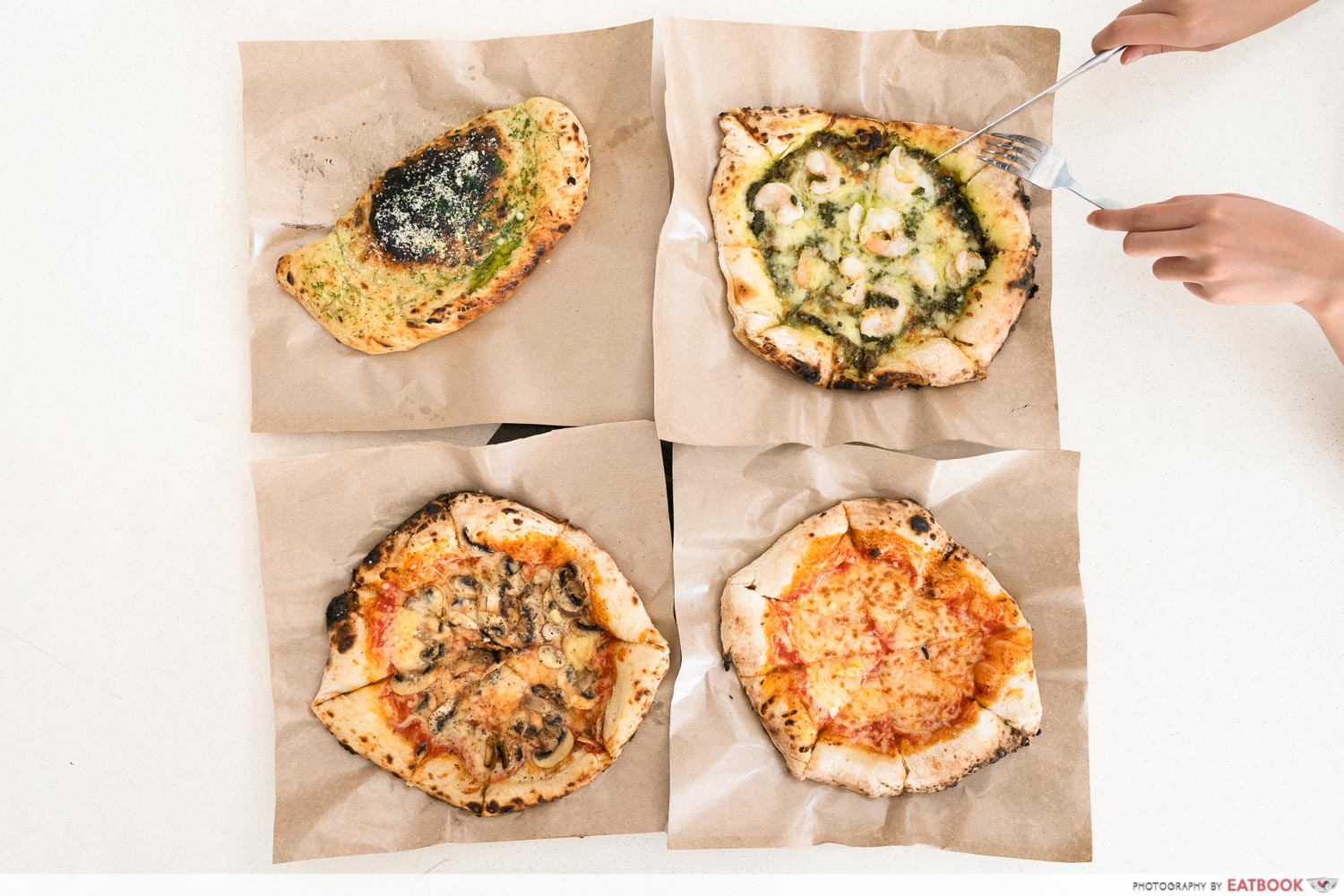 I don't know about you, but when someone mentions pizza, my first thoughts are of those international chains with overpriced pizzas featuring thick, chewy crusts. Upon hearing about MAT Western's handmade pizzas at a relatively affordable price, I knew I had to go try it for myself.  
Food at MAT Western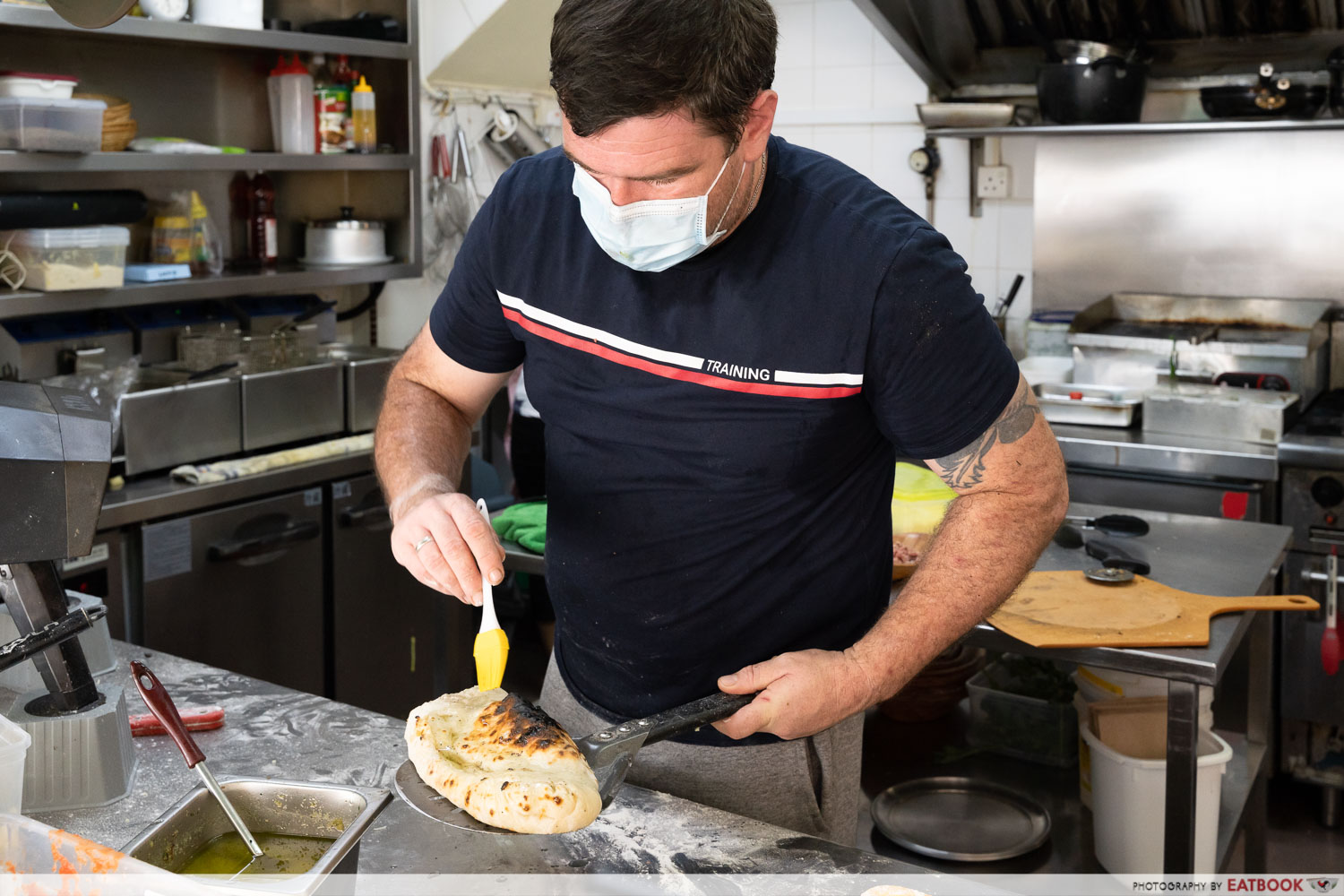 MAT Western operates with an open kitchen concept, so you get to watch the chef as he makes your orders. All the pizzas are made from scratch, including the dough, and it was apparent that the chef was comfortable in his element as he skillfully shaped and moulded the pizza doughs.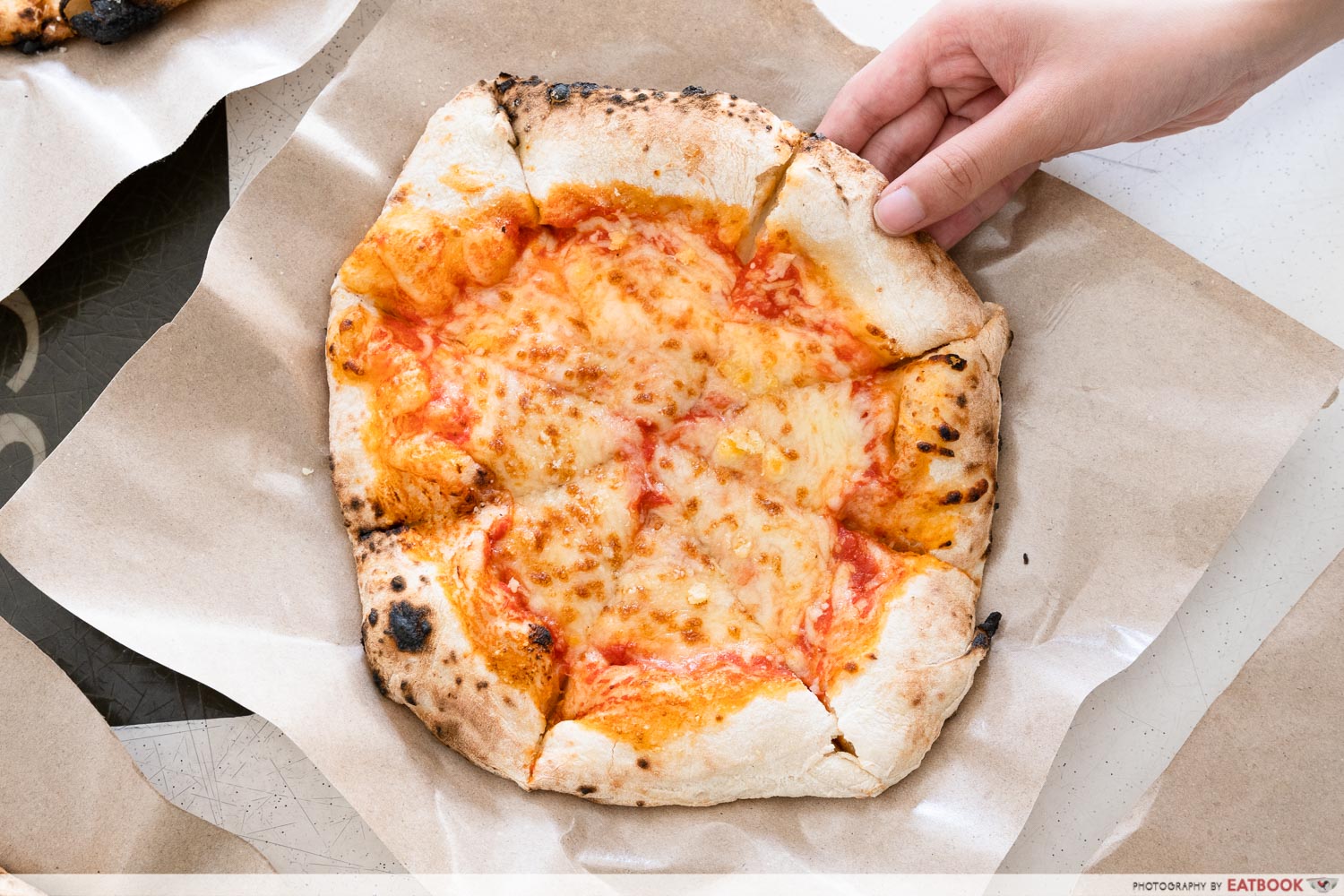 My colleague and I started off our lunch with a Margherita Pizza. At $10, this eight-inch pizza is, in my opinion, a steal. There's nothing much I can quibble about with this standard fare of tomato sauce and cheese on dough.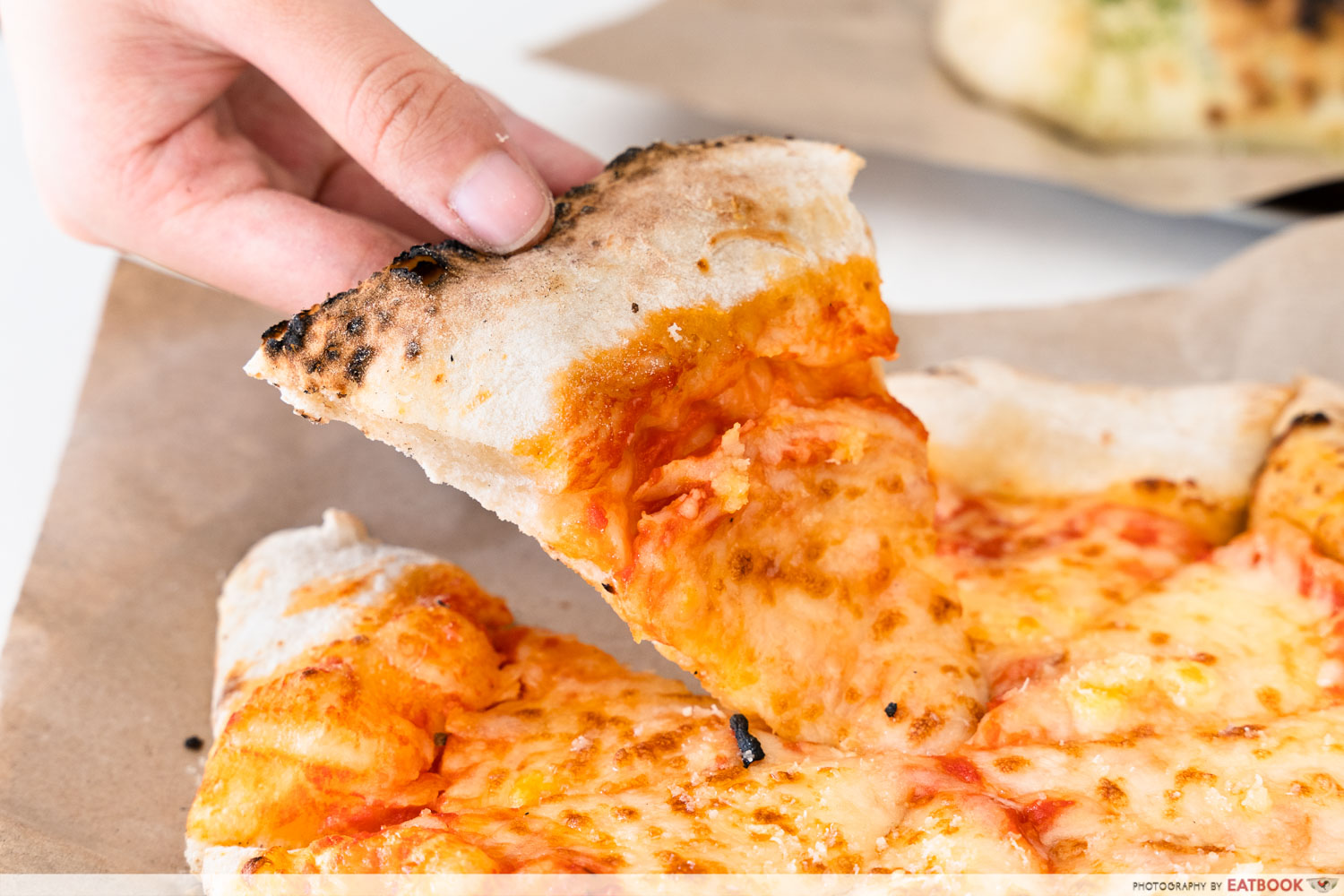 We did realise that the cheese had hardened to form a different layer, thus separating from the base, even though it just came straight out of the oven. This could possibly be because there were disproportionately too many toppings atop the thin pizza base, but thankfully the tomato sauce and cheese were not overly salty.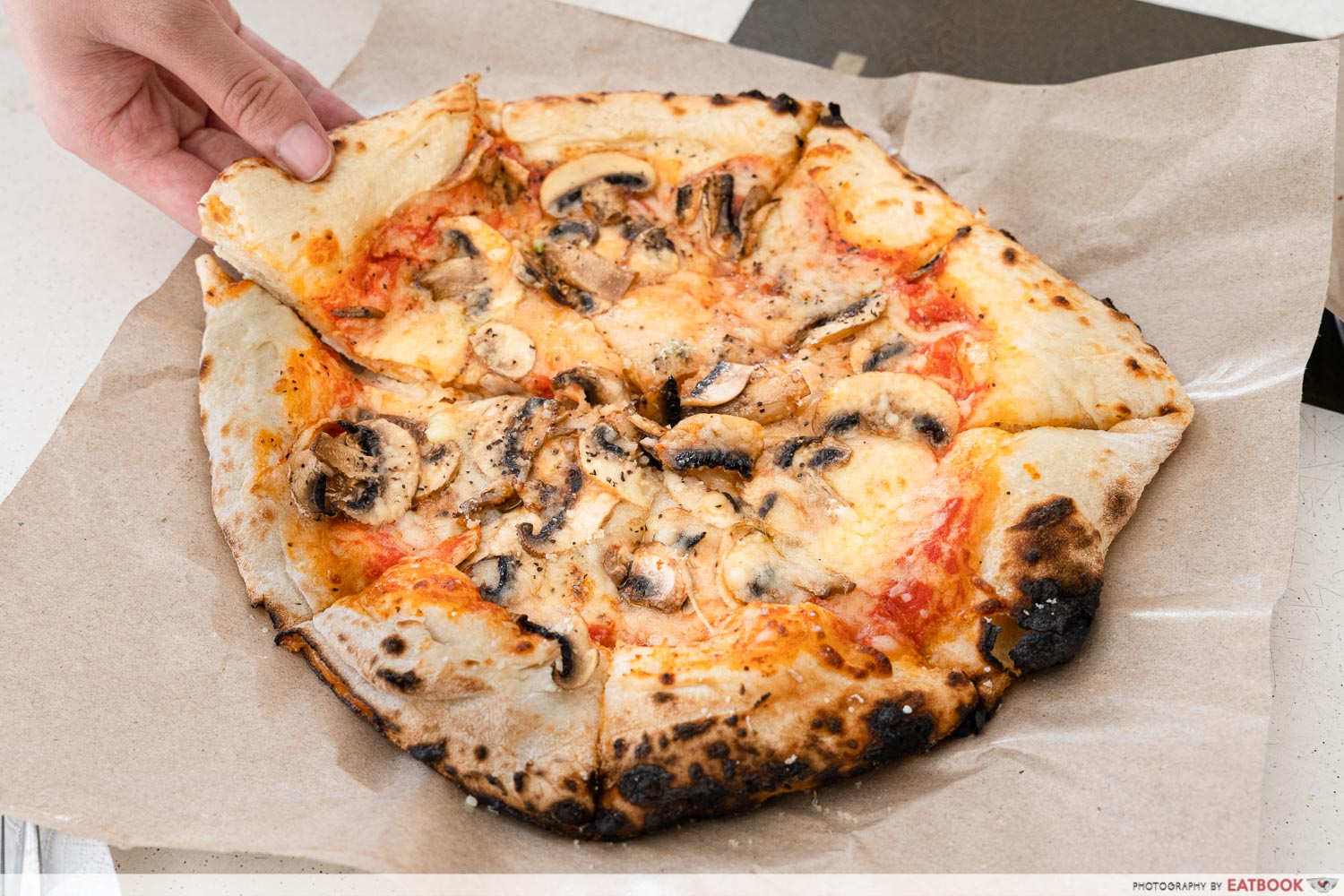 Moving on, we also tried their Truffle Mushroom Pizza ($16). From the get-go, the taste of truffle was incredibly strong and aromatic, and understandably paired well with the thinly-sliced earthy mushrooms. I found the number of mushrooms to be just right too. 
Though truffle and mushroom usually come with a cream-based sauce when on pizzas, I actually prefer it with tomato sauce as used here. It managed to keep the pizza from venturing too far into the 'jelak' zone by cutting through with its natural sourness.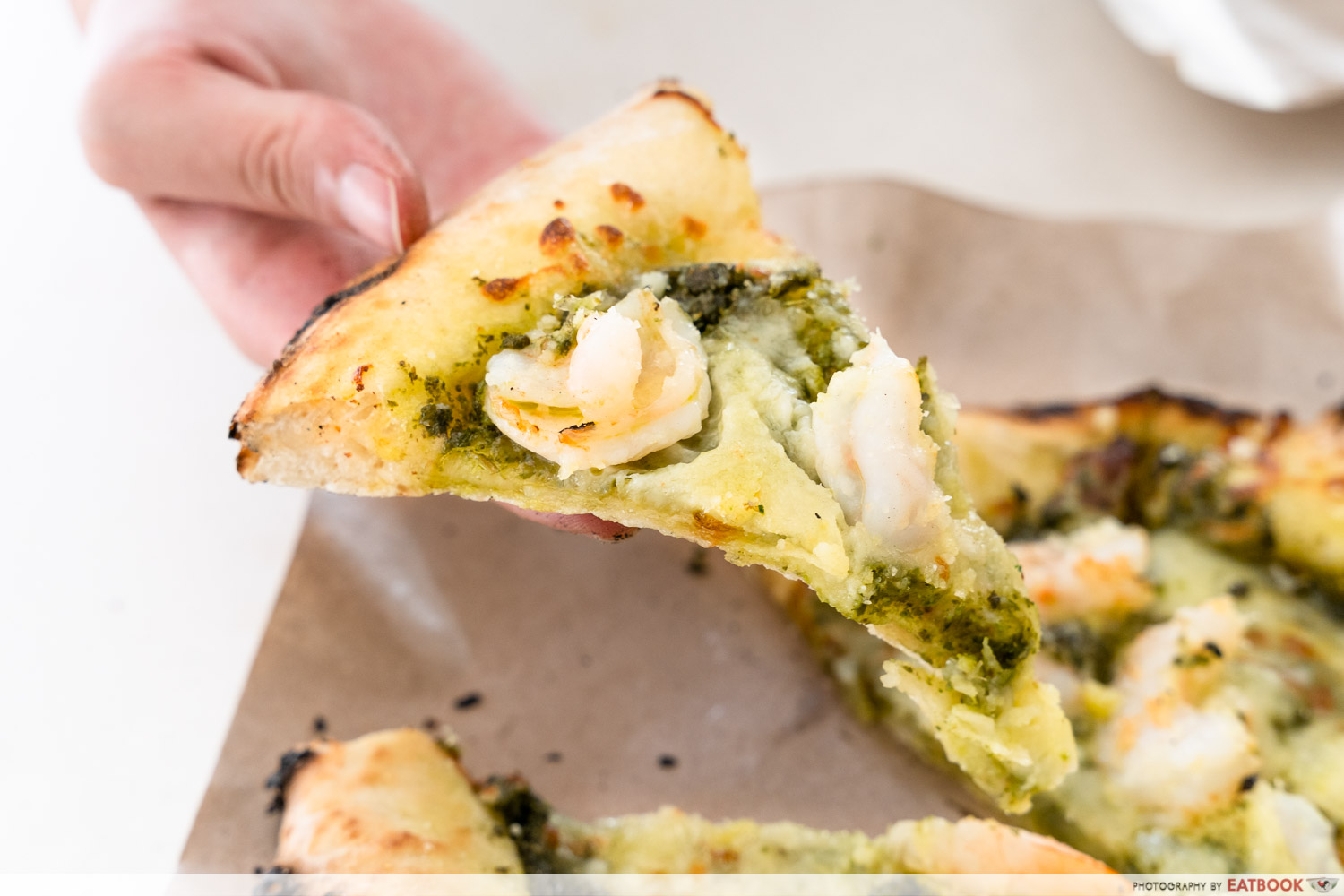 The Prawn Pesto Pizza ($15) may turn some people off due to the unappealing greenish pesto sauce, but don't let it fool you. The nuttiness and herbiness from the pine nuts, basil, and garlic really came through and paired well with the fresh prawns.  
Yet again, we were met with the same problem as the Margherita, the cheese seemed to have separated from the ingredients. Though this didn't pose a problem texture-wise, it's good to take note if you're planning to dabao this to eat at home.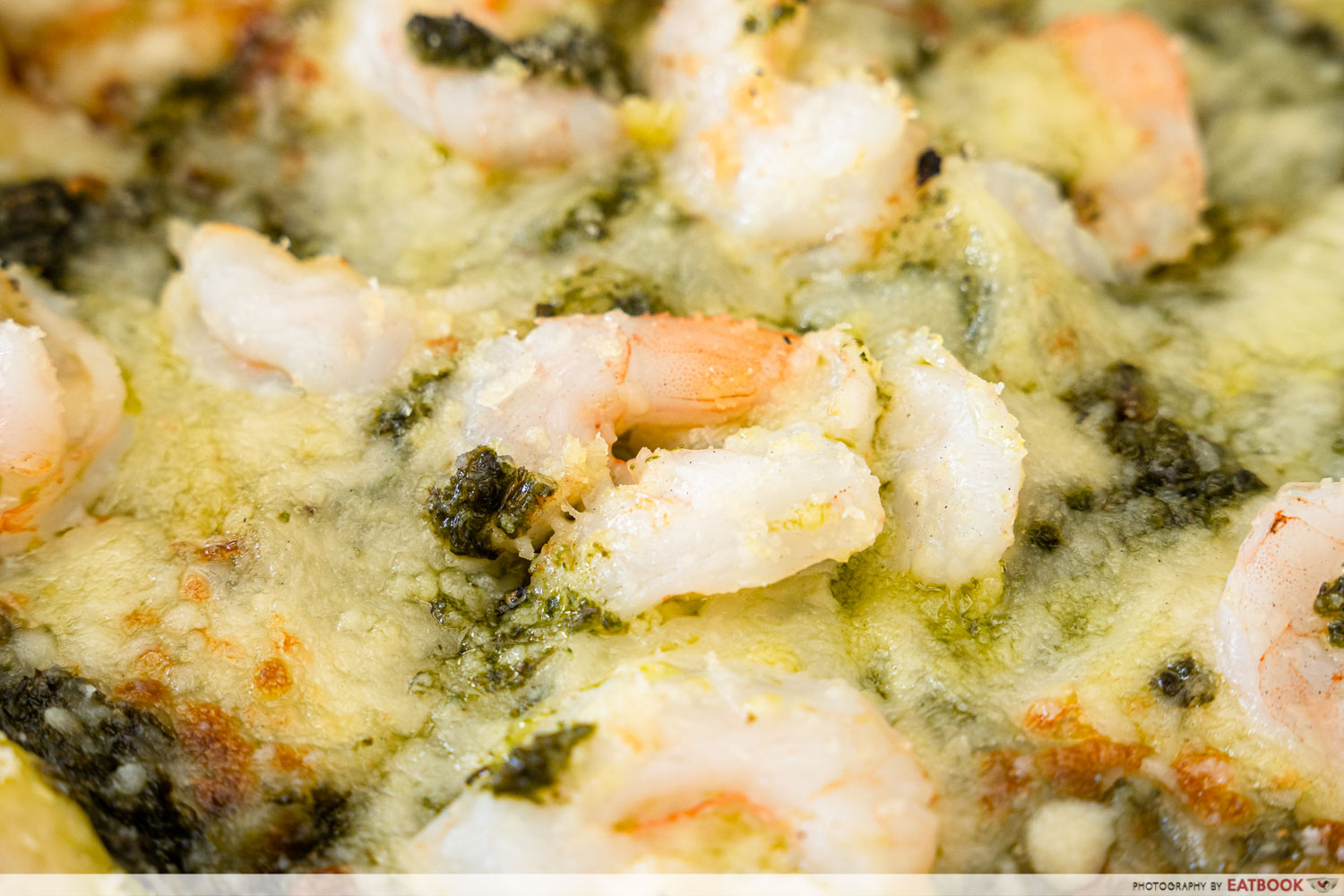 That being said, pesto on pizza can be a bit polarising, because while I really enjoyed this, some of my colleagues did not. If you gravitate towards strong flavours such as garlic, this pesto pizza will easily score in your books.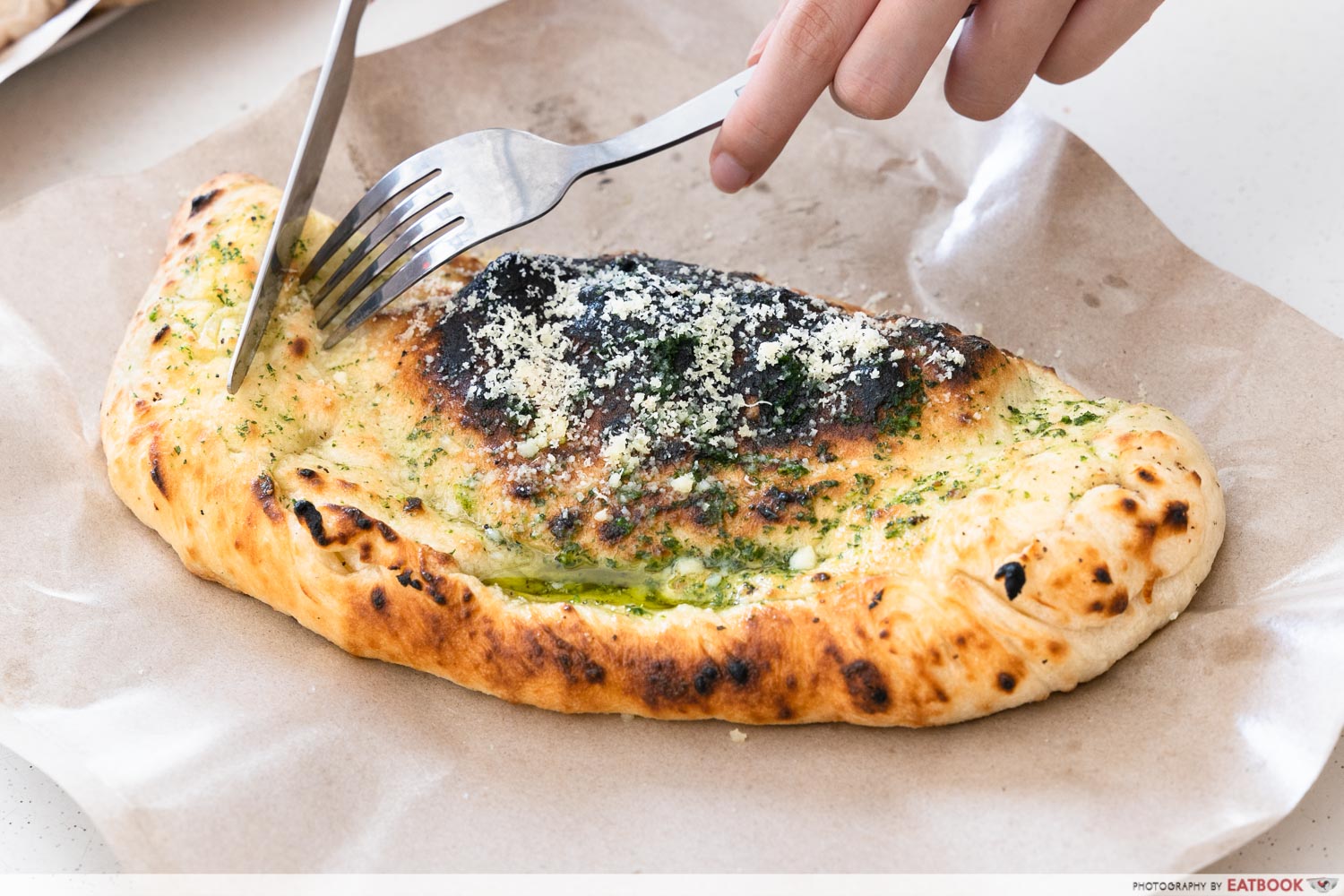 Last up was the Beef Rendang Calzone ($15). Prior to this, my only experience with calzones were ones I saw online, so suffice to say, I wasn't exactly sure what to expect. 
Because the calzone is essentially a pizza folded in half, the corners of the dough were a bit too thick for my liking. No matter, because it's what is on the inside that counts.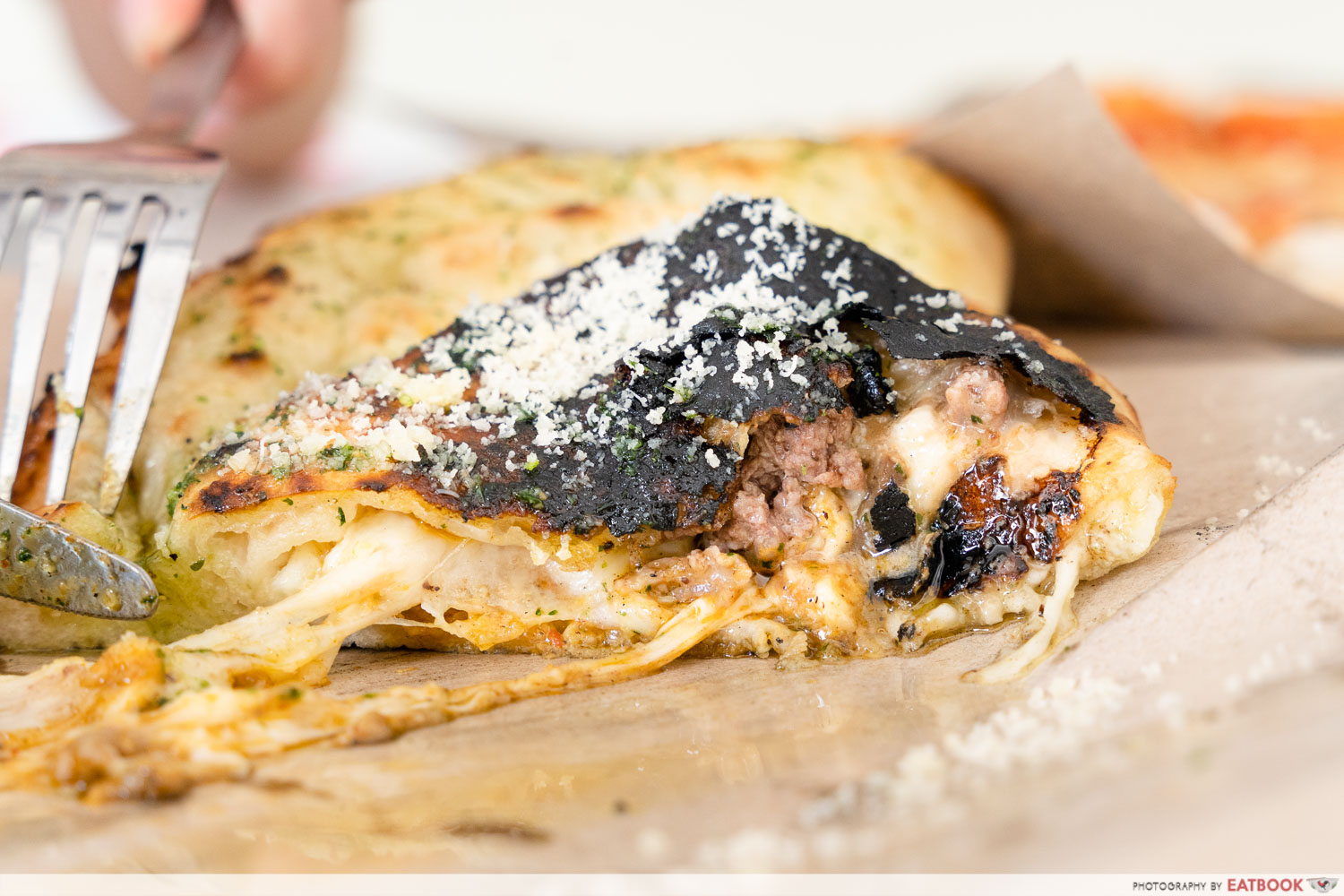 A symphony of rendang curry and mozzarella cheese, this unusual combination surprisingly worked well together. The creaminess of the cheese was able to cut through the rendang when it got too intense and salty, but the savoury rendang made it moreish. 
Additionally, since the calzone contained all ingredients within itself, it retained heat better, thus the cheese managed to remain stringy and melted even after a significant amount of time. Lifting each bite off the plate did leave a trail of grease, possibly due to the oily nature of rendang—something for health-conscious folks to be wary about.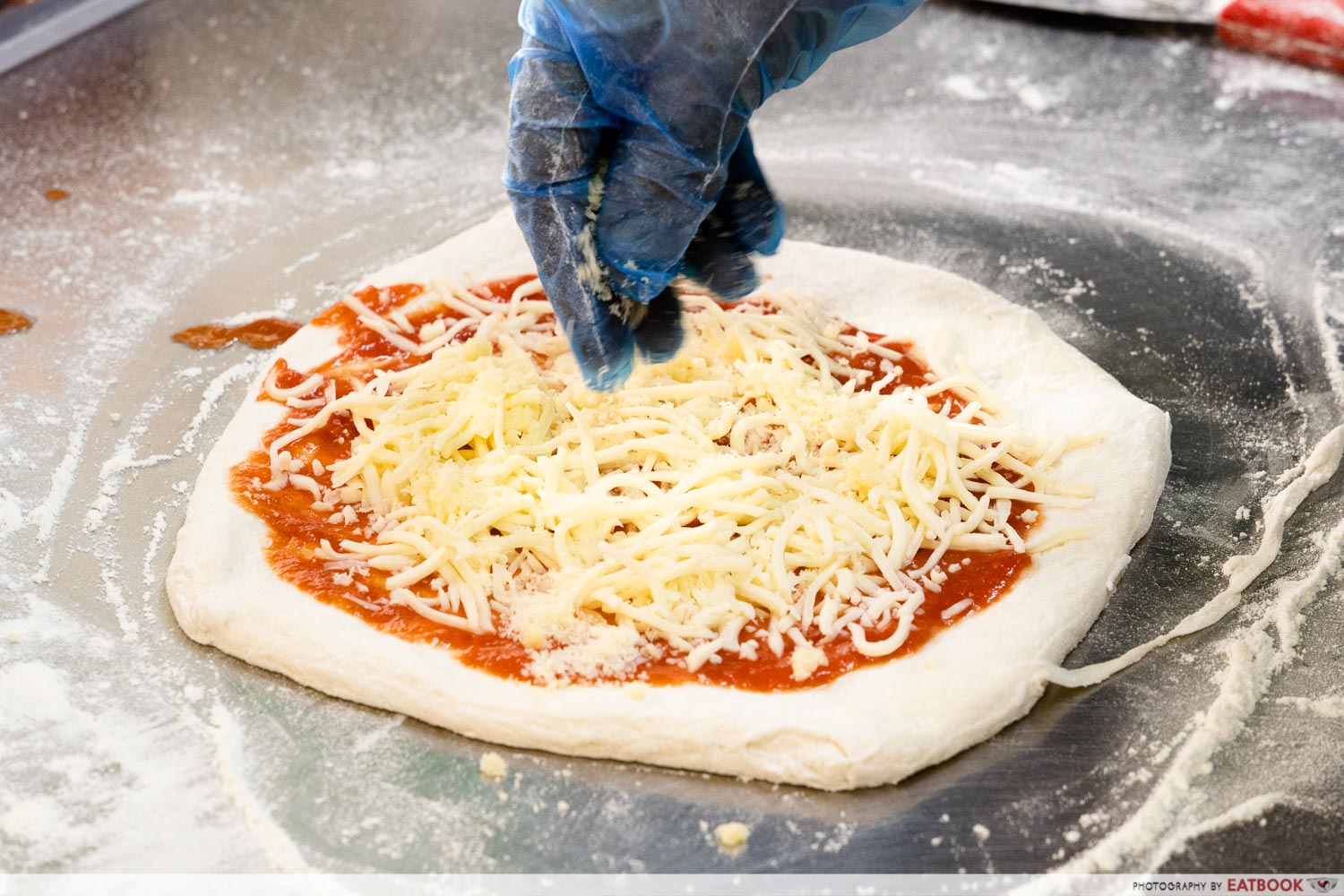 It is undeniable that the pizza doughs at MAT Western are thinner than the ones that can be found at pizza chains, and possess the charred blisters characteristic of wood-fired pizzas. Despite this, I still found the crust ends too thick for my liking, and just couldn't bring myself to finish them. 
Ambience at MAT Western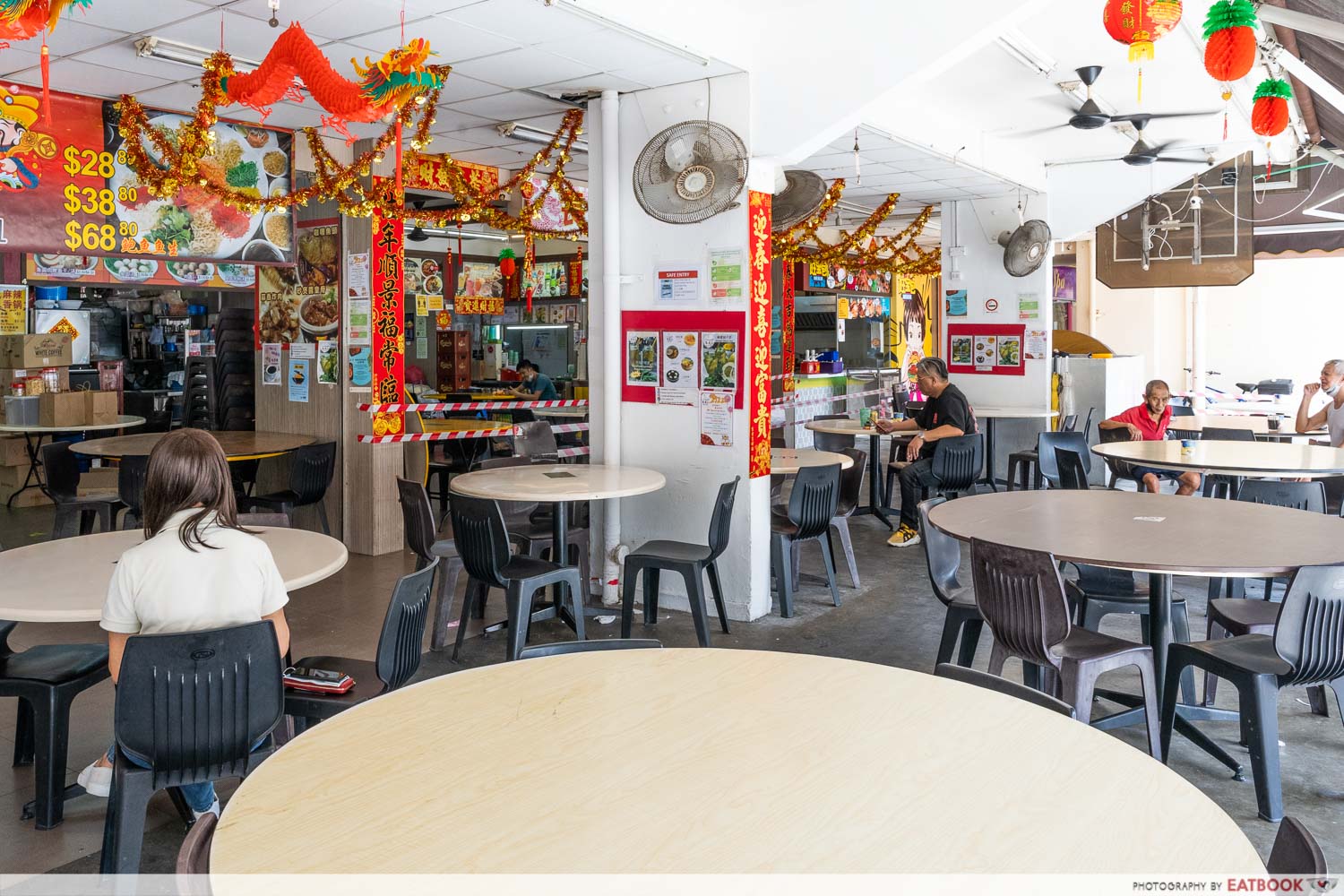 Hidden in a quiet Bedok neighbourhood, MAT Western requires quite a journey through the heartlands to get to. It's a five to ten-minute walk away from the nearest bus stop, but nothing a quick Google Maps can't fix.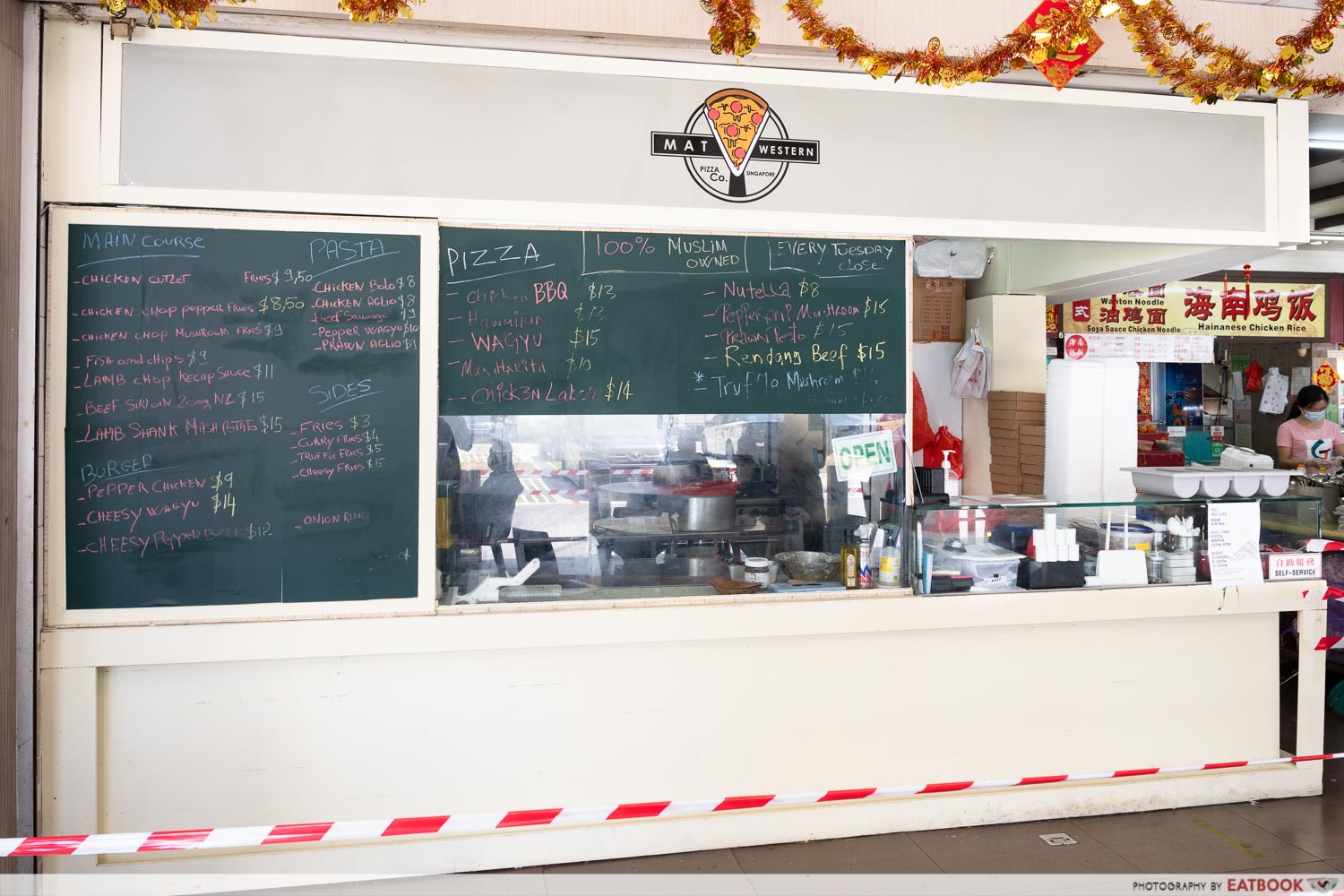 MAT Western may specialise in pizzas, but they also offer pastas, burgers, and mains, all below an affordable $15. Do note that their menu items operate on a rotational basis. 
The verdict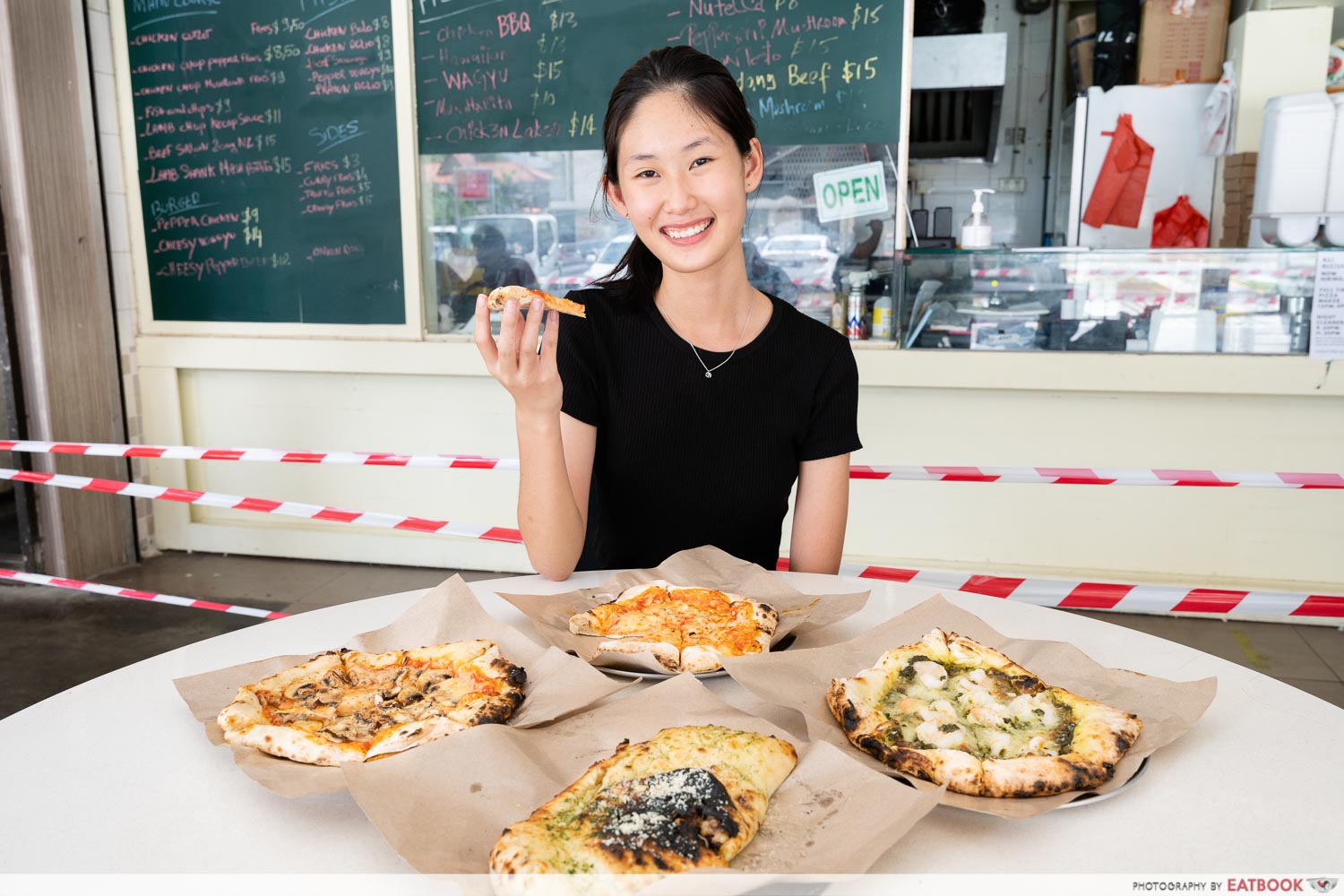 The level of execution and quality of food that MAT Western is putting out is similar to that of cafes and bistros, and for that, I respect their hustle. With their reasonable prices, and legit pizzas, I can definitely see myself coming here again if I lived in the East. 
If you're looking for more cheap hawker pizzas, check out our Mr Kneady's review for handmade sourdough pizzas, also in Bedok. Alternatively, you can check out our 800° Woodfired Kitchen review for Neapolitan pizzas at nett prices from this Muslim-owned pizza cafe. 
Address: 122 Bedok North Street 2, Singapore 460122
Opening hours: Sat-Mon 1pm to 9pm, Wed-Thu 1pm to 9pm, Fri 4pm to 9.30pm
Tel: 8030 9079
Website
MAT Western is not a halal-certified eatery, but their food contains no pork or lard.
Mr Kneady's Review: Handmade Sourdough Pizzas From $12 In Bedok, Including A Banana Streusel Dessert Pizza
Photos taken by Melvin Mak.
This is an independent review by Eatbook.sg.
MAT Western Review: Legit Handmade Pizzas From Only $10 At Muslim-Owned Hawker Stall
MAT Western Review: Legit Handmade Pizzas From Only $10 At Muslim-Owned Hawker Stall -

7/10
Summary
Summary 7/10
Pros
– Reasonably priced
Cons
– Inconvenient for non-Easties 
Recommended dishes: Truffle Mushroom Pizza ($16), Beef Rendang Calzone ($15) 
Opening hours: Sat-Mon 1pm to 9pm, Wed-Thu 1pm to 9pm, Fri 4pm to 9.30pm
Address: 122 Bedok North Street 2, Singapore 460122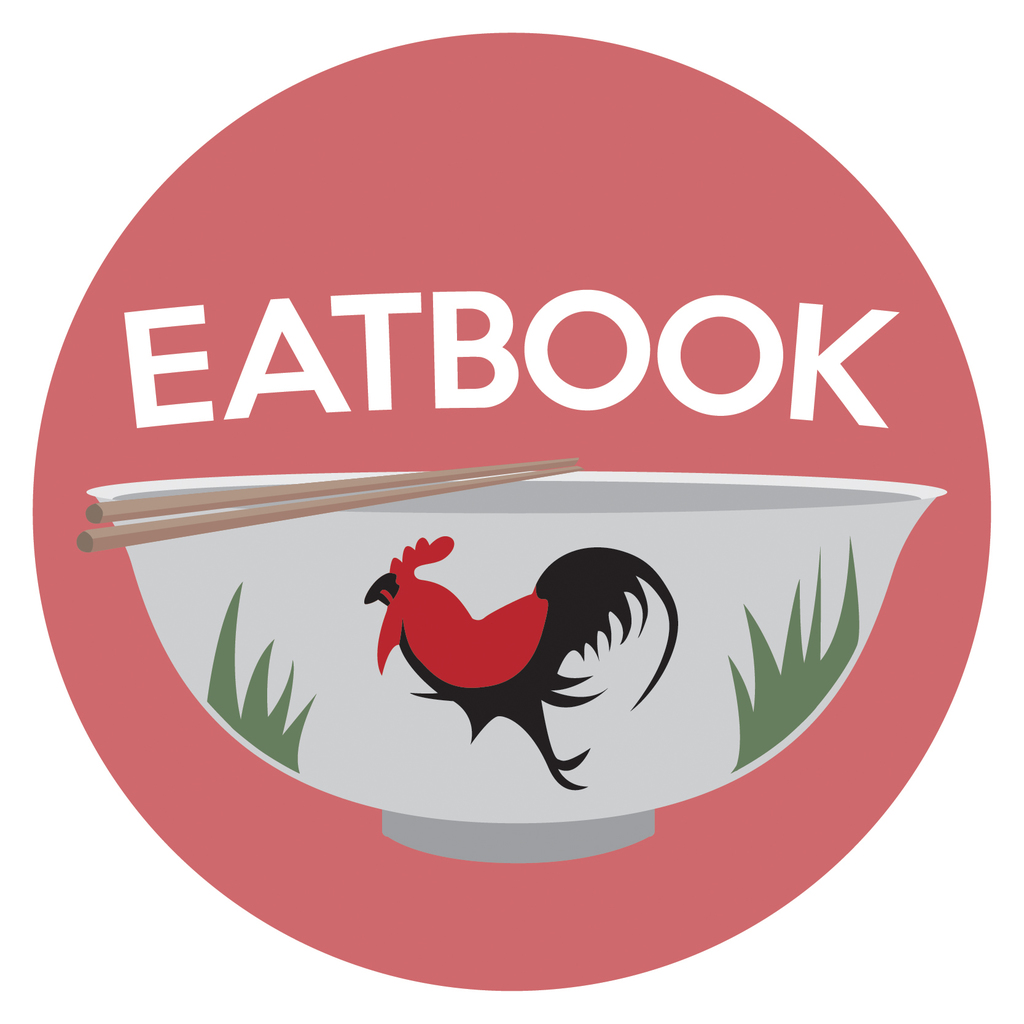 Drop us your email so you won't miss the latest news.