Mr Kneady's in Bedok Marketplace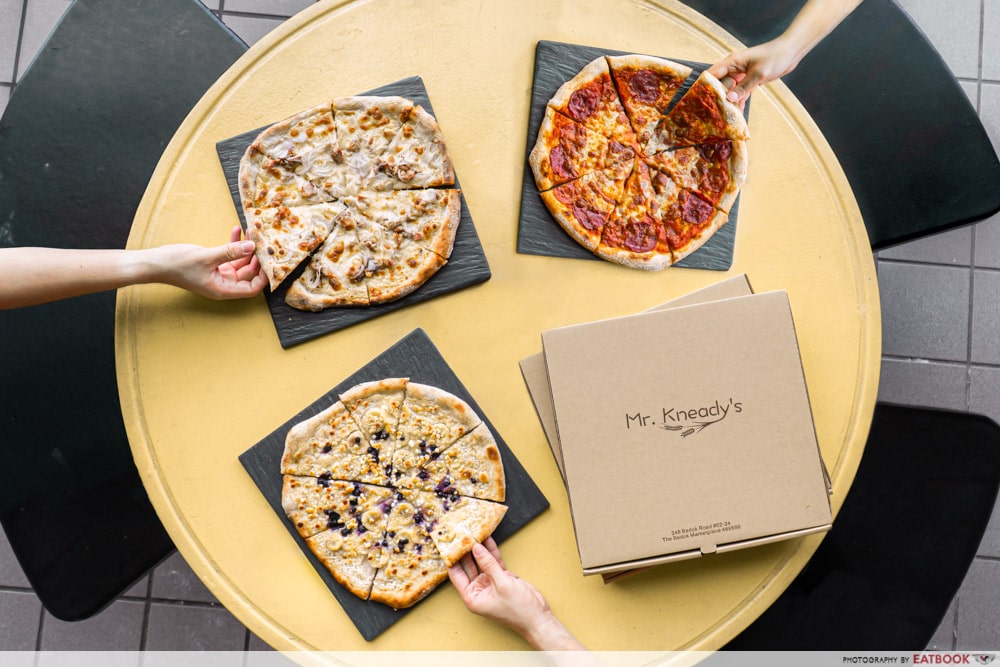 If you didn't know, the reason why we all love pizza is simple—it's all in the science. A good pie at a reasonable price is hard to come by, though, so when I heard of Mr Kneady's at The Bedok Marketplace, I knew I had to try them out.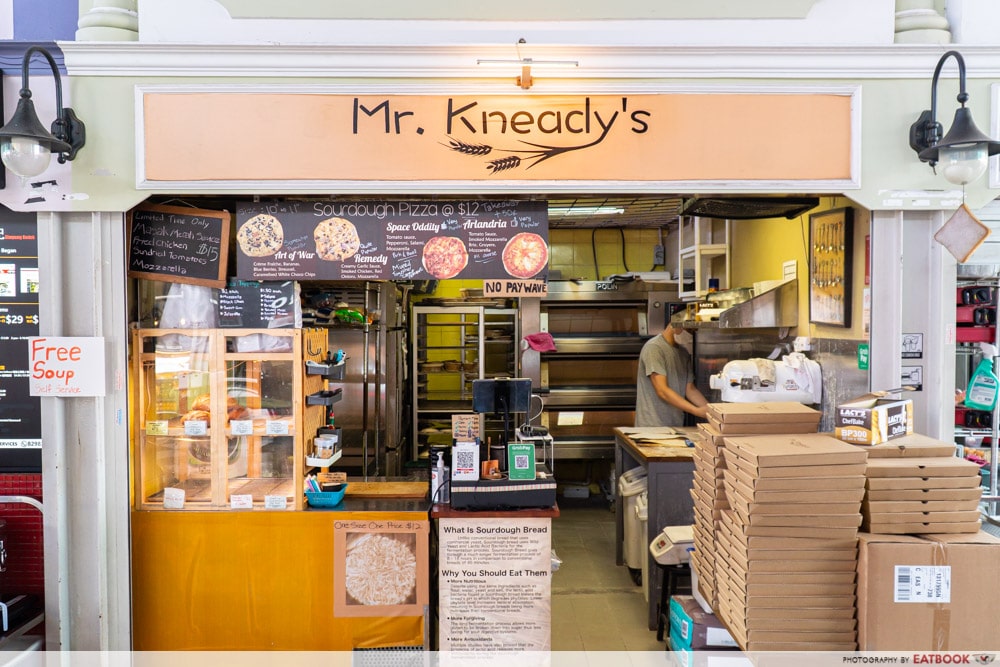 The no-frills setup of this hawker stall belies the work that goes on behind the counter, where all the sourdough-making and preparation happens. With close to 10 different sourdough breads on offer each day, aside from the pizzas, it's no wonder that they have a loyal following of customers who come to get their usual bread fixes.
Food at Mr Kneady's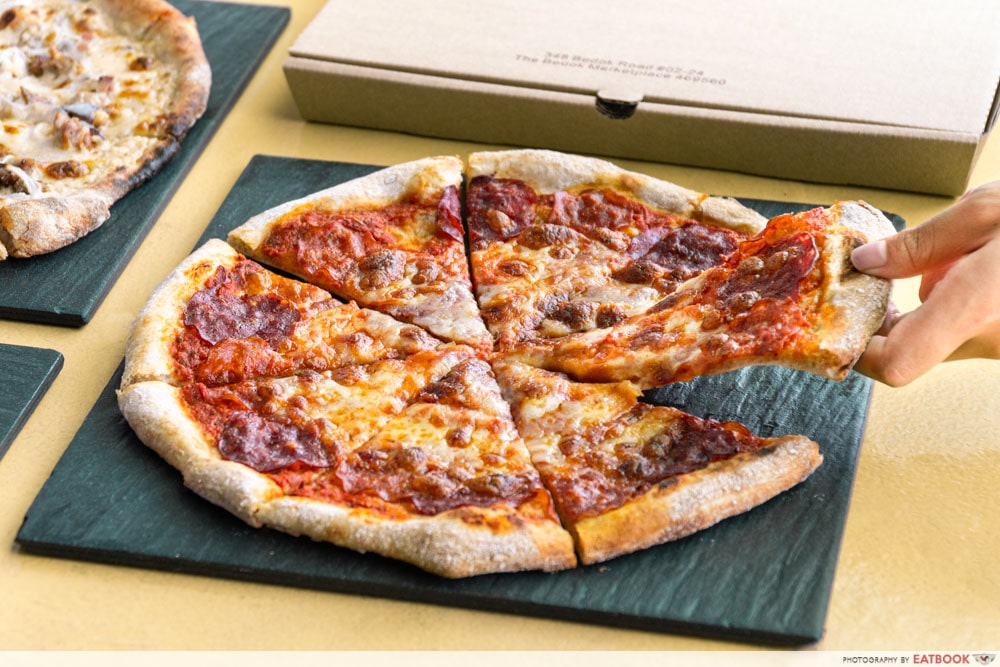 We started with Space Oddity ($12), a sure-win crowd favourite of pepperoni and salami on a herbed tomato base, topped with the requisite mozzarella.
Here's a fun fact about salami and pepperoni: they're both cured sausages, but salami is the OG, with roots that go as far back as the ancient Romans. On the other hand, pepperoni is a kind of salami, believed to have been invented by Italian Americans after WW1. It's made with chillis and peppers, which give pepperoni a richer, spicy, and even slightly smoky taste.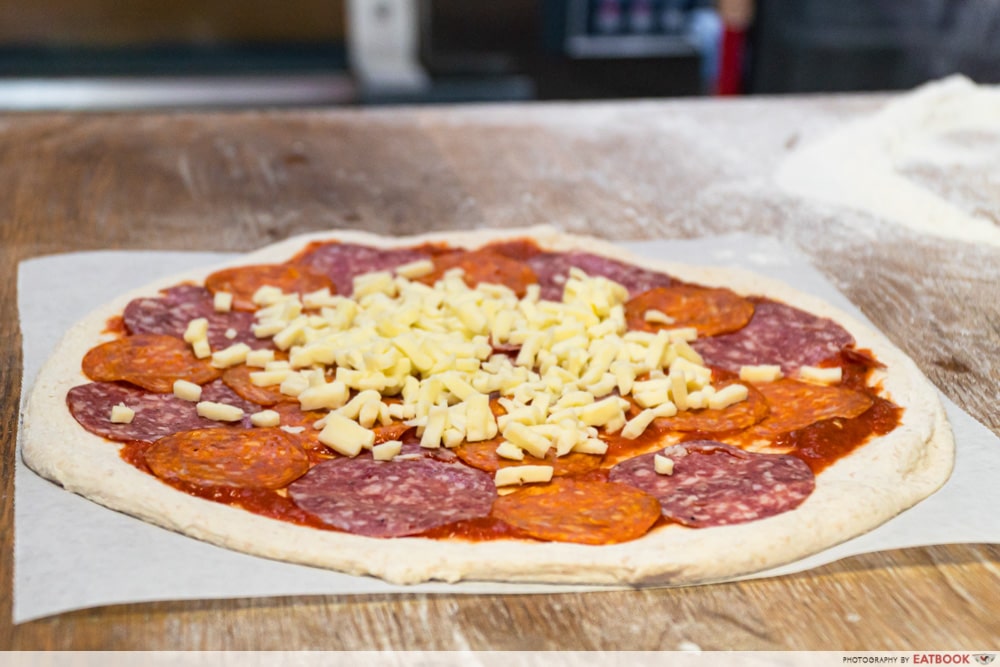 I didn't expect much when the pizza arrived because it looked a little skimpy on toppings. It proved me wrong, because contrary to expectation, I got sausage in every bite, thanks to the concentric circles of alternating pepperoni and salami. Any more, and it would have bordered on being too salty.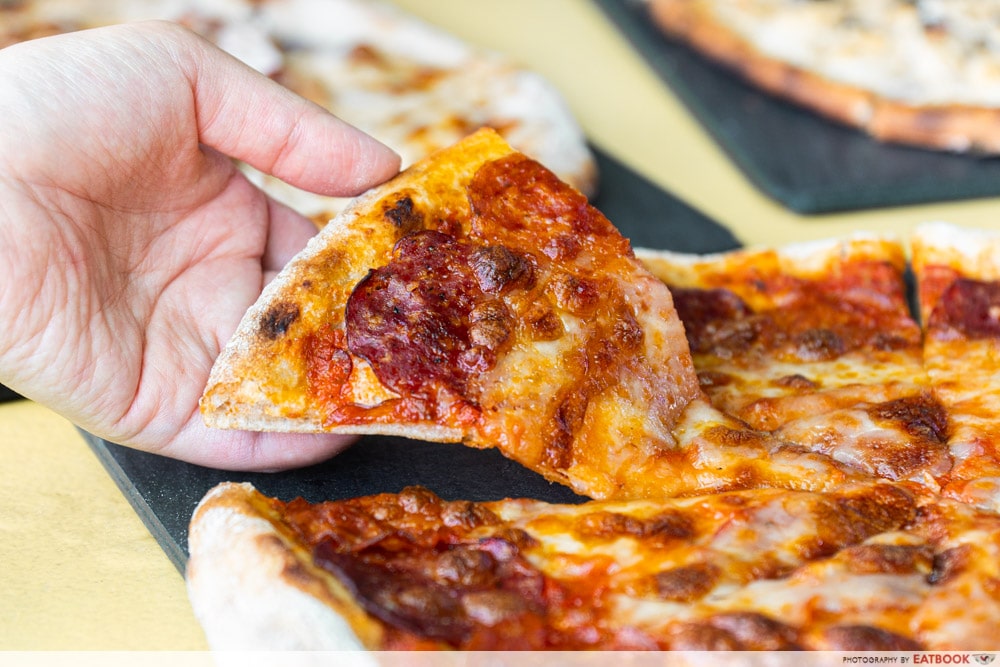 It had taken us a while to photograph the pizzas, but we found them addictively delectable, even cold. The thin crust remained crisp, with a pleasant amount of chew, without getting unpalatably soggy. Worth noting also was how the sides were airy and light. There wasn't any sourness too, even though the pizza base was made with sourdough.
I can't decide which of the three pizzas we had is my favourite, because they all have vastly different flavour profiles, none of which was less tasty than the rest. Remedy ($12) featured a base of creamy garlic sauce, topped with smoked chicken, red onions, and mozzarella.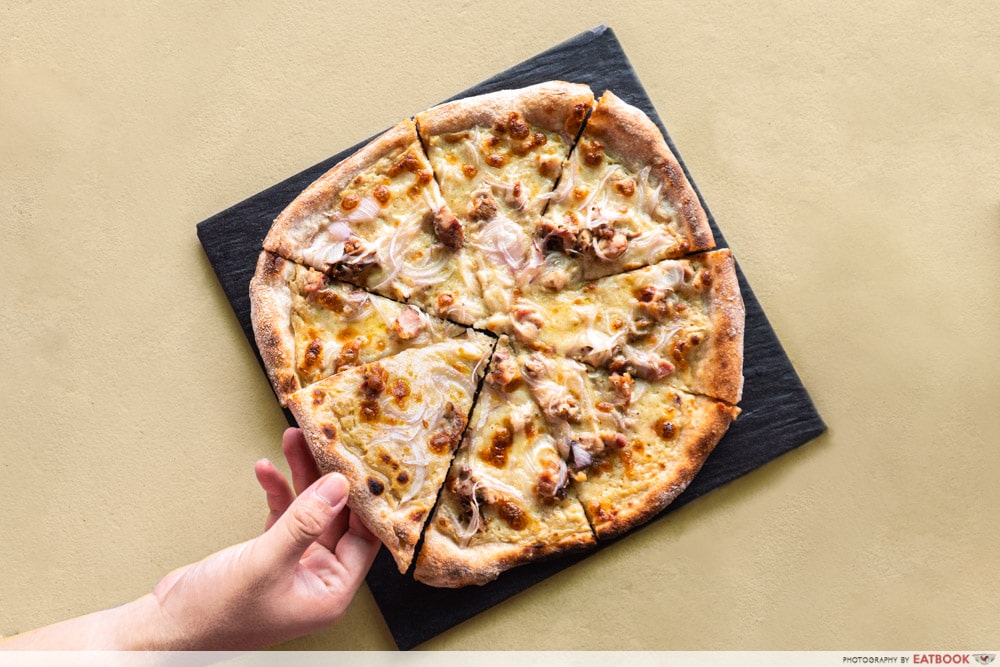 Where the tomato sauce on Space Oddity lent a brightness that offset the savoury cured meats, the garlic cream base here was a perfect complement to the smoky chicken pieces—if you've ever had a creamy garlic chicken pasta, you'll know it works. I wished there was more chicken, though, because some slices here had none.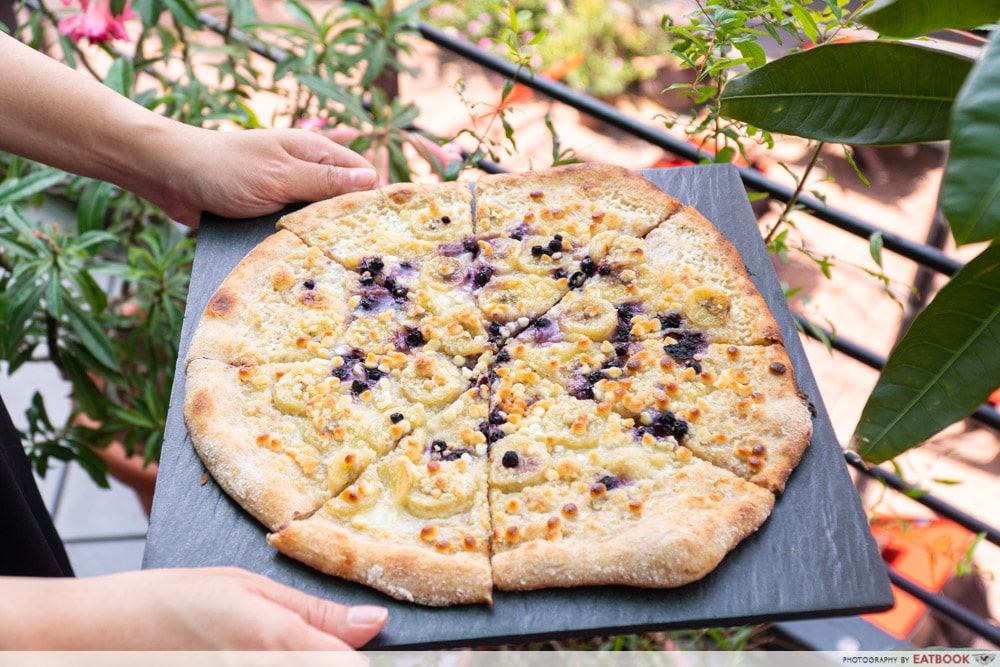 Rounding off our trio of pizzas was Art of War ($12), the only sweet pizza on the menu at Mr Kneady's. It too had a creamy base, this time of lightly sour creme fraiche. Don't let that put you off, because the slight tang is necessary to balance out the toppings of sliced banana, blueberries, streusel, and caramelised white chocolate chips.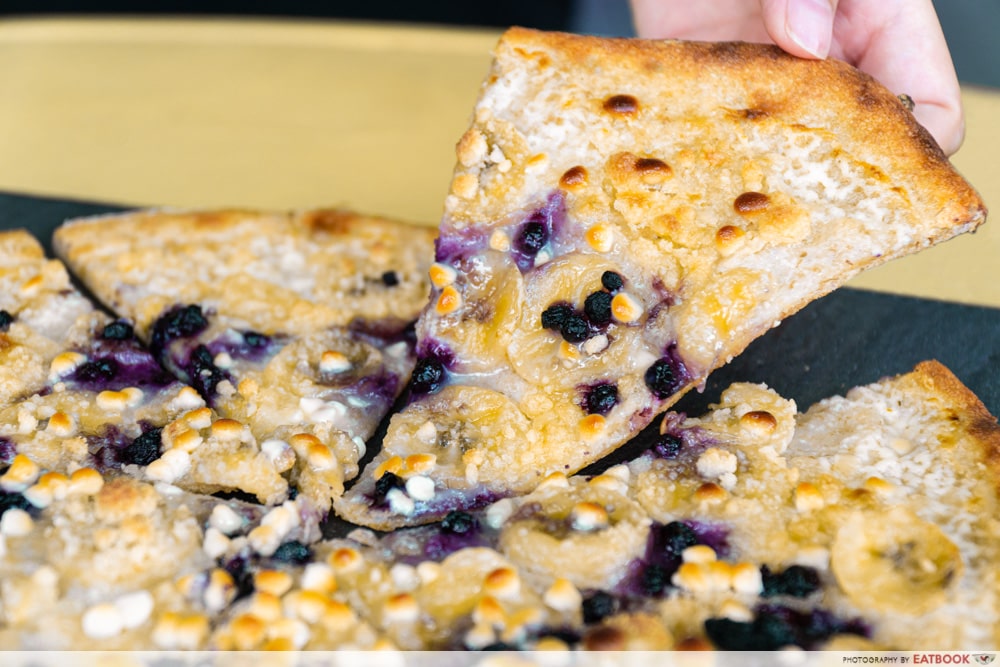 As with Remedy, the blueberries on this pizza weren't very evenly distributed, but the star here for me were the banana slices, which, like the salami and pepperoni on Space Oddity, were in every mouthful.
The baking caramelised the banana's natural sugars, giving rise to a rounded sweetness that's accentuated by the similarly caramelised white chocolate chips. These melted into the pizza, while the streusel brought bits of crunch, and the blueberries livened up the flavours, so it didn't really get jelak.
Ambience at Mr Kneady's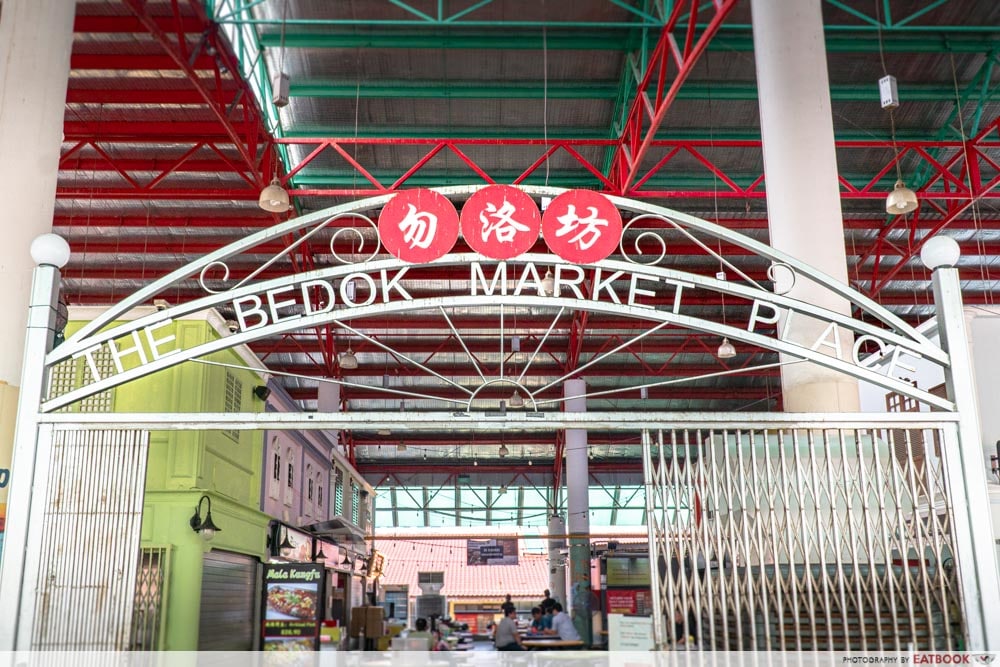 The Bedok Marketplace is a 10-minute walk from Tanah Merah MRT Station, or 17 minutes by bus from Tampines West MRT Station. It's a rustic, kampong-style get-up that makes you feel like you've left Singapore.
Shi Wei Da Review: Michelin-Approved Satay Bee Hoon At Bedok 85 Fengshan Food Centre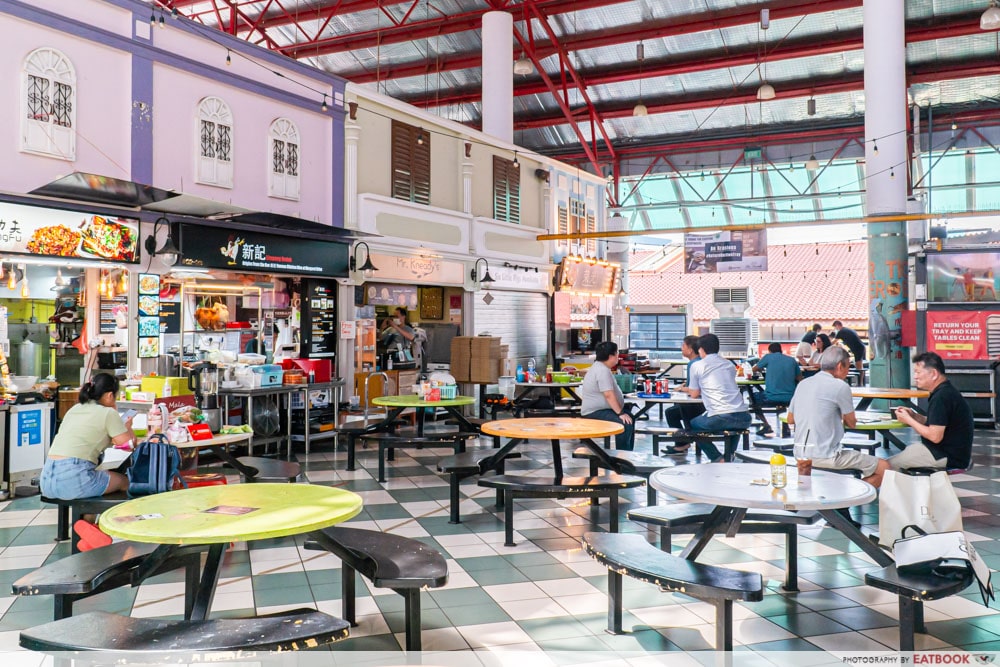 The tables here are mostly large, circular ones that inspire communal dining. They are well spaced out so it doesn't get too cramped, even if the tables are all packed. It was a stuffy, hot afternoon when we were there, but the second level location and lack of walls allowed for a constant breeze. There are also scattered portable air conditioning units, although you won't benefit from these unless you're sitting right in front of them.
The verdict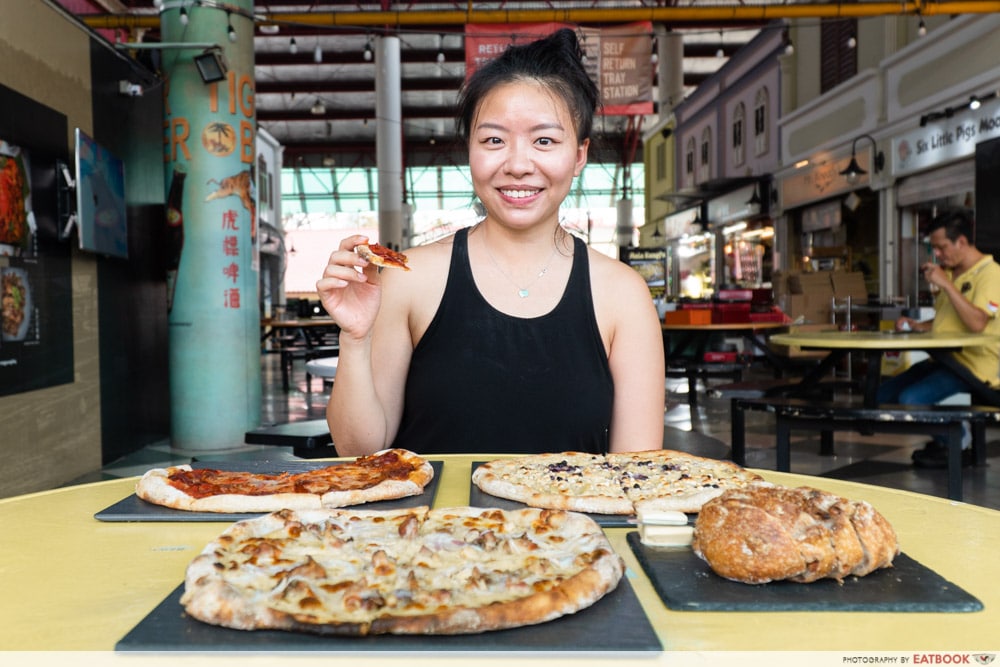 If I lived in the East, you can be sure I'd be a frequent customer of Mr Kneady's. Although there are only a limited number of pizzas on the daily menu, there are limited-edition, seasonal ones that you'll have to keep an eye out for. The prices for these are fairy reasonable, since each pizza is a good 11 to 12 inches big. Do note that there's an extra $0.50 charge levied for pizza boxes, should you be ordering for takeaway. You can also drop them a message on WhatsApp at 9815 5025 to place your orders ahead of time.
If you're looking for more classic hawker fare, we recently reviewed the Michelin-approved satay bee hoon at Shi Wei Da, located in the famed Bedok 85 Fengshan Food Centre. If not, here's a guide to dining in Bedok!
Address: 348 Bedok Road, #02-24, The Bedok Marketplace, Singapore 469560
Opening hours: Tue-Sun 11am to 8pm (or sold out)
Tel: 9815 5025
Website
Bedok Food Guide: 26 Places Serving Satay Bee Hoon, Wagyu Don And More
Photos taken by Tasha Sun.
This was an independent review by Eatbook.sg
Mr Kneady's Review: Handmade Sourdough Pizzas Including Dessert Pizzas From $12 In Bedok
Mr Kneady's Review: Handmade Sourdough Pizzas Including Dessert Pizzas From $12 In Bedok -

7.5/10
Summary
Pros
– Tasty, well-made sourdough pizzas
– Reasonable prices
Cons
– Not centrally located
– Limited items on the pizza menu
Recommended dishes: Remedy ($12), Space Oddity ($12), Art of War ($12)
Opening hours: Tue-Sun 11am to 8pm
Address: 348 Bedok Road, #02-24, The Bedok Marketplace, Singapore 469560