Shi Wei Da at Bedok 85 Fengshan Food Centre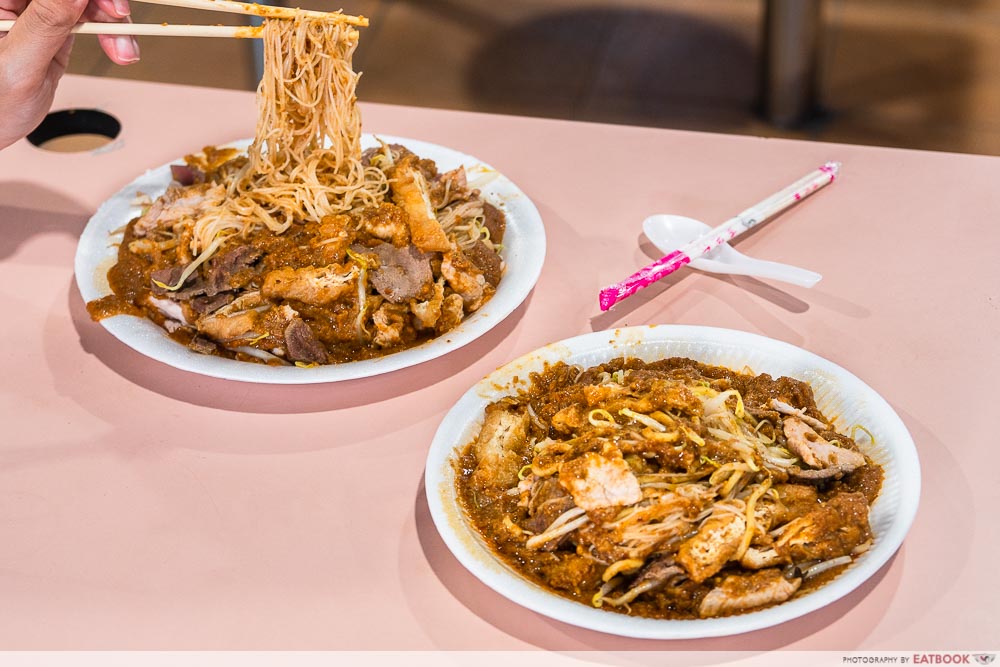 Ever since I first discovered Xing Ji Rou Cuo Mian, they've been the only reason I would travel halfway across the island to 85 Fengshan Market & Food Centre. That was the case, until I recently came to try the satay bee hoon at Shi Wei Da.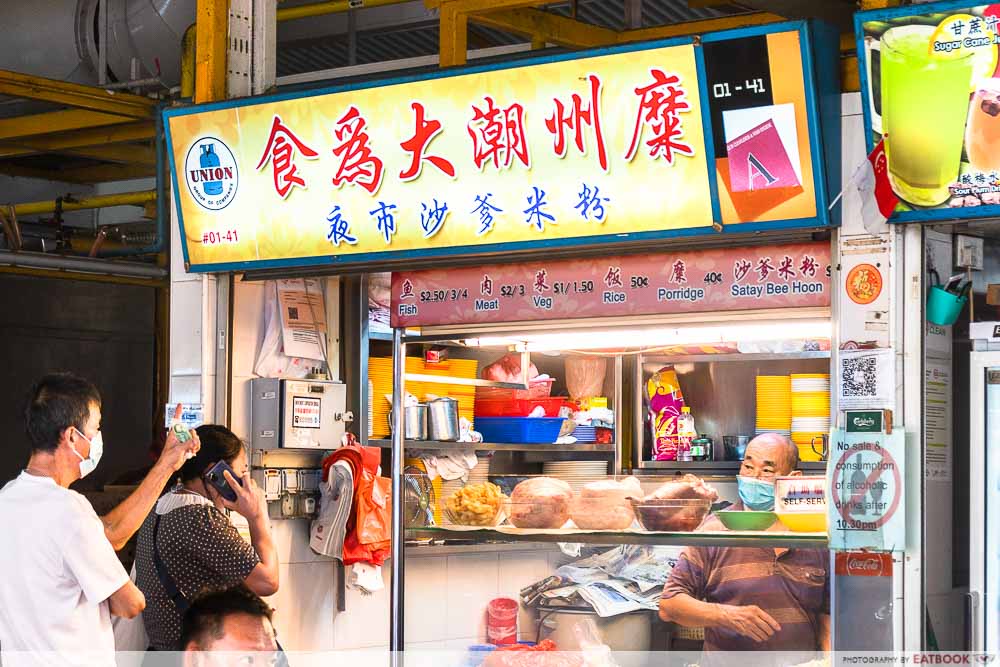 If you'd asked me before the visit, I'd tell you that no, I dislike satay bee hoon. Consider me a changed person, as the one at Shi Wei Da is the only one I'll happily eat for now. Run by a kind-looking uncle who's been making this same dish for more than 20 years, he's said to make the satay gravy from scratch.
The process is labour-intensive, from the roasting of the peanuts, peeling, and grinding them down, before he cooks them with a medley of spices and more to get the gravy I enjoyed so thoroughly.
Jefri The Original Botak Chicken Rice Review: Muslim-Owned Orange Chicken Rice With 26-Year History In Bedok
Food at Shi Wei Da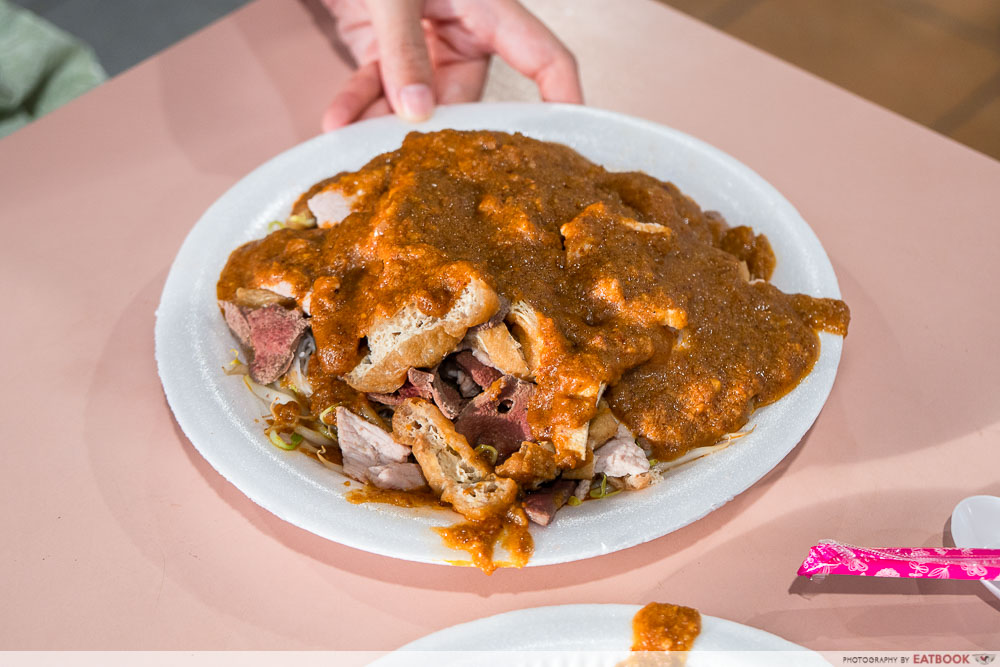 There really isn't much choice when you order the Satay Bee Hoon here. First, you choose how big a plate you want: $3, $4, or $5. To get a sense of the portions, I went for the smallest and biggest plates. When the uncle saw that it was just two of us, he paused and asked, several times, if I was sure we could finish the food. It wasn't for a lack of faith in our appetites, because the servings were truly huge.
Of course, you can customise the ingredients that you'll get with your order, but there's only tau pok, or beancurd puffs, pork, pork liver, and beansprouts, AKA tau gay, to choose from. Typically, kang kong is also included in the mix here, but uncle had received a bad batch that day, and rejected the stock. You can also let uncle know what noodles you'd like, whether you prefer yellow egg noodles, thin bee hoon, or a mix of both.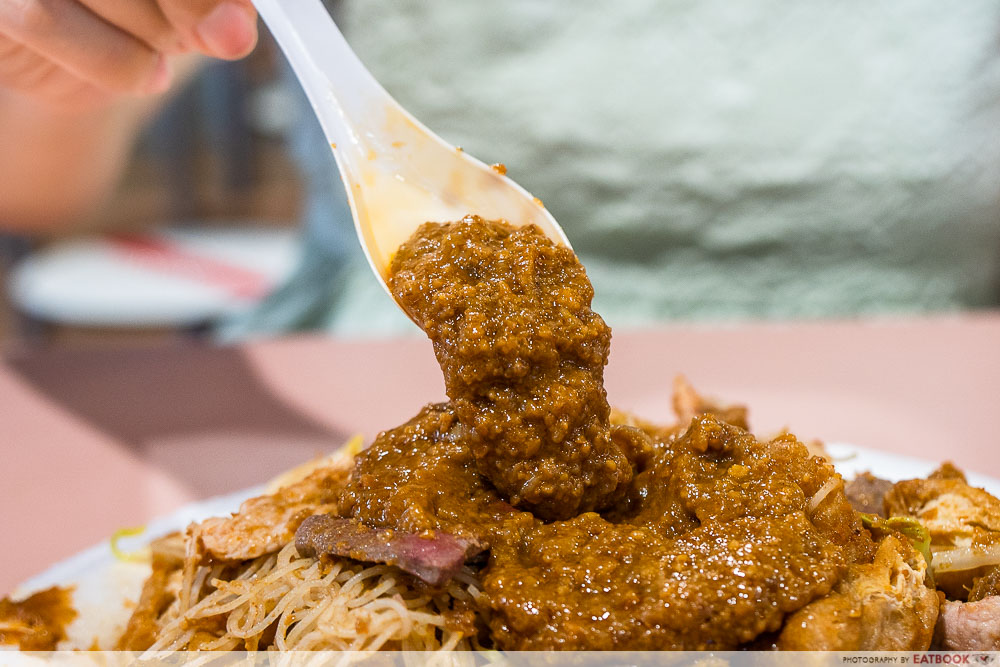 I'm not a fan of satay gravy, mostly because it's usually too sweet where I would prefer for it to be savoury, or the nuts ground too fine. Sometimes, it's too watered down. Shi Wei Da's rendition, however, ticked all the boxes for me.
It was nutty and fragrant, almost like a crunchy peanut butter but better, thanks to the myriad spices and secret ingredients the ground peanuts are cooked with. You can really taste the sheer quantity of nuts used here, as they lent the gravy richness and body. Looking into the stall, I was pleasantly surprised to see that there was no unappetising layer of oil on the simmering pots of gravy—you'll taste how there's no greasiness in it.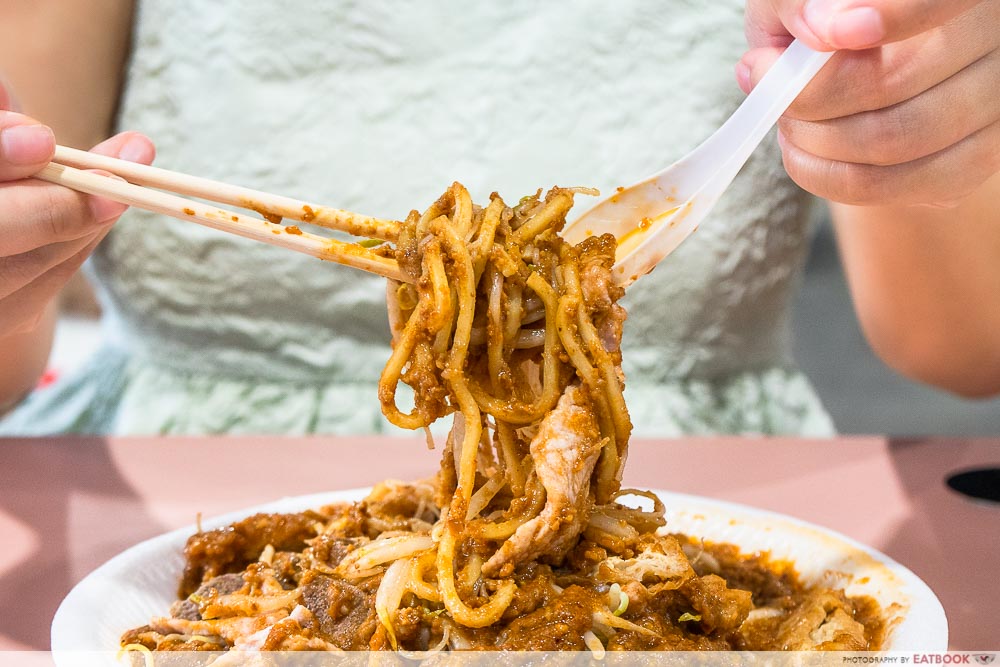 I ordered a plate with a yellow mee-bee hoon mix, which I found to be a refreshing change from the usual bee hoon. Not only was there a textural difference with the duo of noodles, I also felt that the thicker noodle provided more substance to accompany the gravy.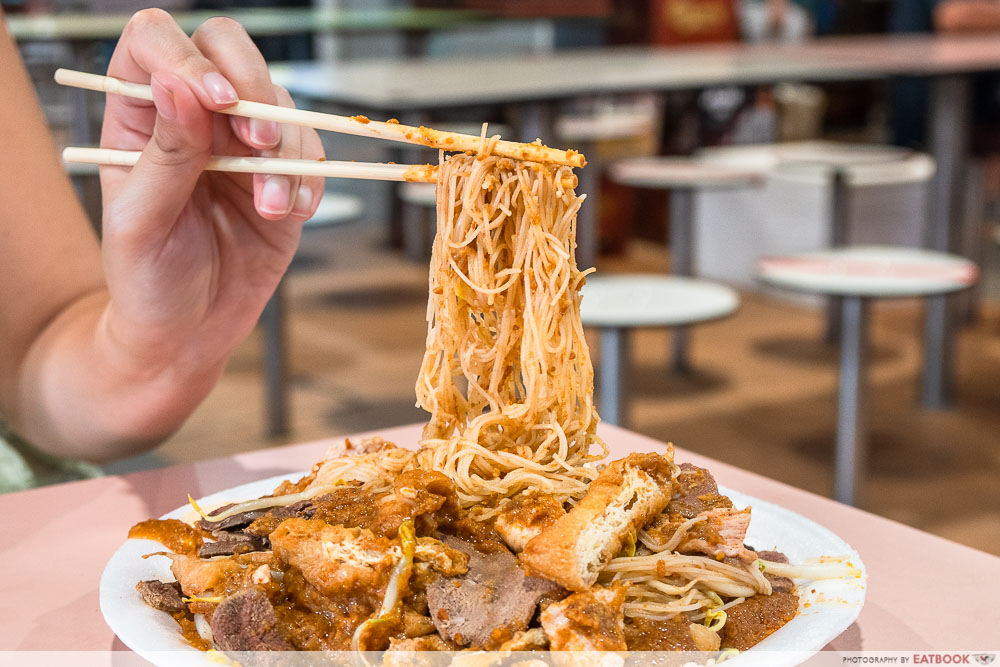 It's not to say that thin bee hoon didn't go well here. It's simply a personal preference that I enjoyed the combination of both noodles, and the slight difference in flavour that the egg noodles brought.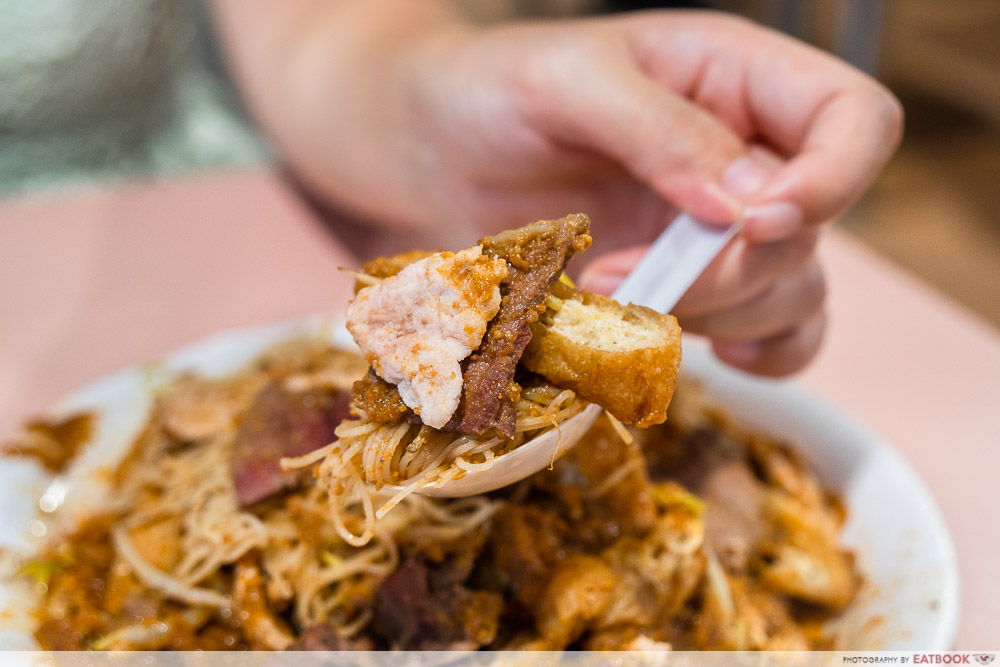 The assorted ingredients here came perfectly blanched—they're not seasoned, since the satay gravy has enough flavour for them all. The slices of liver were cooked to just the right pinkness, and the pork was tender, without being cooked to dry cardboard ends. I appreciated also how the tau gay retained its crunchiness, and the tau pok was a great vehicle to mop up all the gravy with. Unlike at other satay bee hoon stalls, Shi Wei Da doesn't add cuttlefish to their satay bee hoon, so don't expect to have it here.
Chef Wei HK Cheong Fun Review: Ex-Peach Garden Chef Opens Cheung Fan Hawker Stall In Bedok
Ambience at Shi Wei Da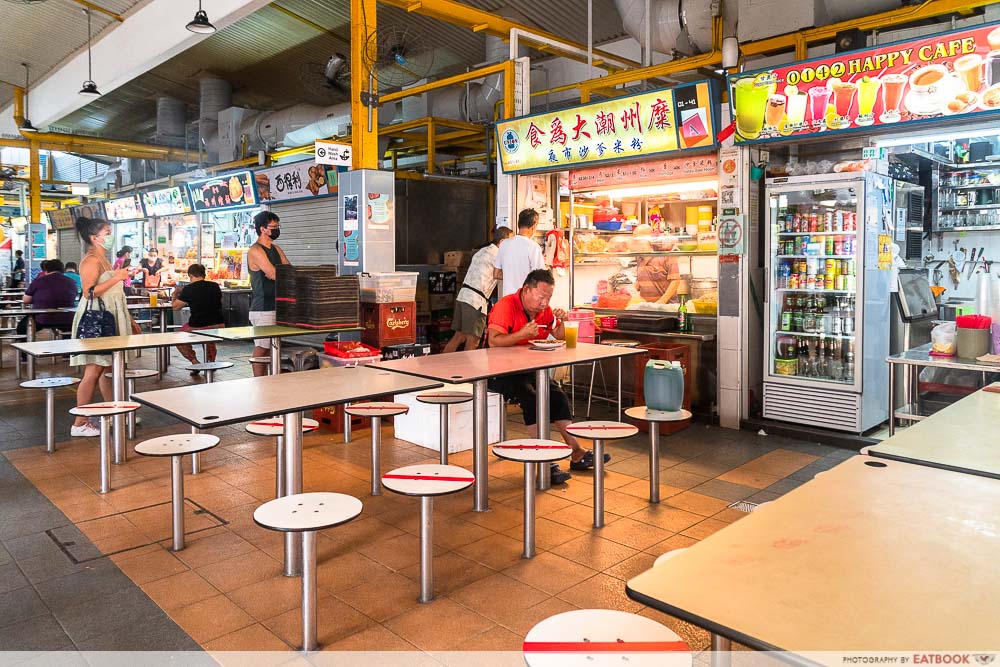 85 Fengshan Market & Food Centre is a 16-minute bus journey from Tampines West MRT Station, or 11 minutes from Bedok MRT Station. If you choose to walk, it's about 20 to 30 minutes from the same stations.
The food centre underwent a refurbishment last year, so the space has been spruced up, with new-looking tables and seats. There are many of these, but it can get crowded at night, especially since the food centre is a popular dinner and supper haunt.
We were there at 5pm, and there were already seven people in the line for Shi Wei Da ahead of us, which was an approximately 20-plus-minute wait. There's only the uncle manning the stall, so do be patient, although on the occasion we were there, the auntie from the drinks stall next door was helping him take orders and collect payments.
13 Bedok 85 Fengshan Food Centre Stalls To Visit For Famous Pork Porridge, Satay Bee Hoon And More
The verdict

I don't usually enjoy satay bee hoon, but I couldn't stop eating the one here at Shi Wei Da. The variety of ingredients on each plate is plentiful, and their freshness stands out, in spite of the thick, nuanced gravy coating them all. They're also cooked to just the right doneness, such that you get various textures in each bite. All that considered, it's a really generous serving, whether you opt for the $3 plate or $5.
Besides Shi Wei Da, there are many other options you can consider when you're at Bedok 85. Otherwise, head to Bedok Interchange for more hawker delights, including Chef Wei HK Chee Cheong Fun!
Address: 85 Bedok North Street 4, #01-41, 85 Fengshan Market & Food Centre, Singapore 460085
Opening hours: Wed-Mon 4pm to 12am
Shi Wei Da is not a halal-certified eatery
Chef Wei HK Cheong Fun Review: Ex-Peach Garden Chef Opens Cheung Fan Hawker Stall In Bedok
Photos taken by Chew Yi En
This was an independent review by Eatbook.sg
Shi Wei Da Review: Michelin-Approved Satay Bee Hoon At Bedok 85 Fengshan Food Centre
Shi Wei Da Review: Michelin-Approved Satay Bee Hoon At Bedok 85 Fengshan Food Centre -

8/10
Summary
Pros
– Nutty, fragrant satay gravy
– Fresh ingredients
Cons
– They're only open from late afternoon
Recommended dishes: Satay Bee Hoon $3/$4/$5
Opening hours: Wed-Mon 4pm to 12am
Address: 85 Bedok North Street 4, #01-41, 85 Fengshan Market & Food Centre, Singapore 460085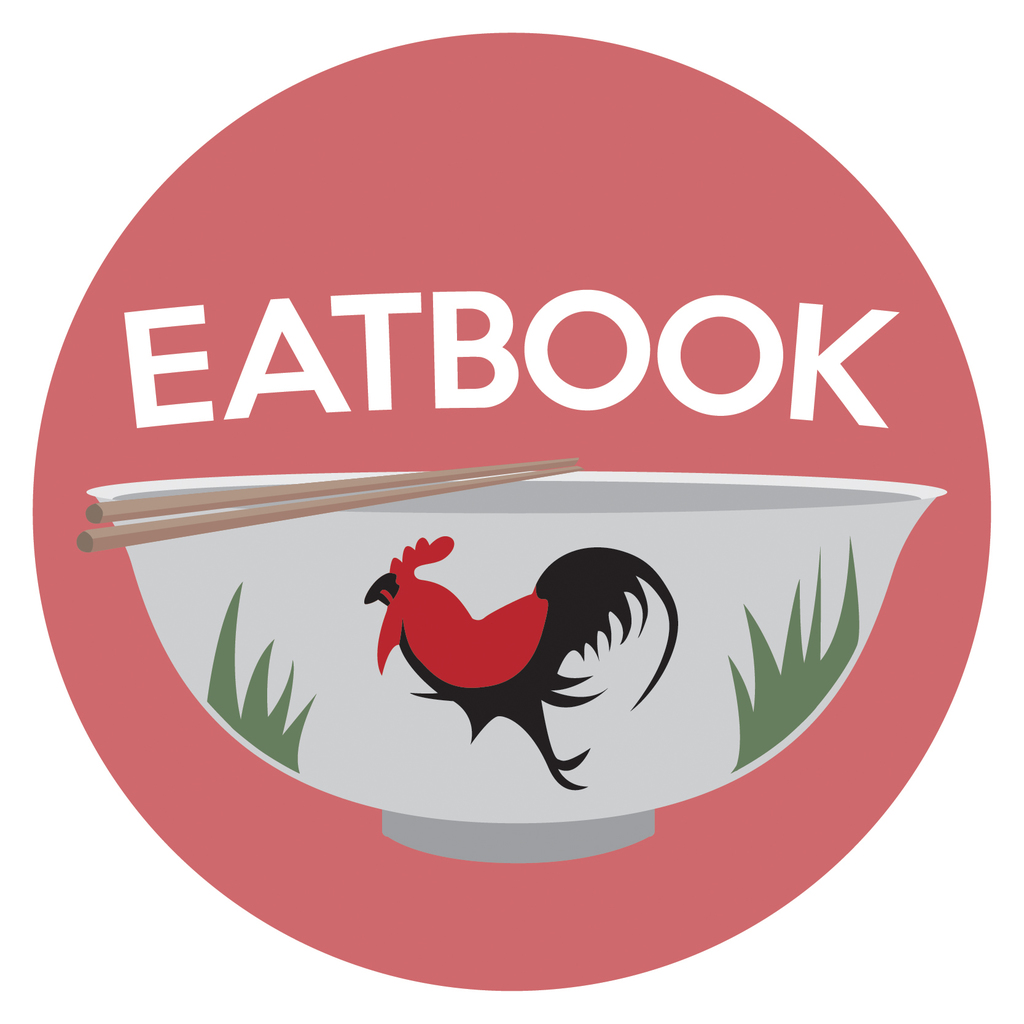 Drop us your email so you won't miss the latest news.