Lau Chong Kee Mini in Chinatown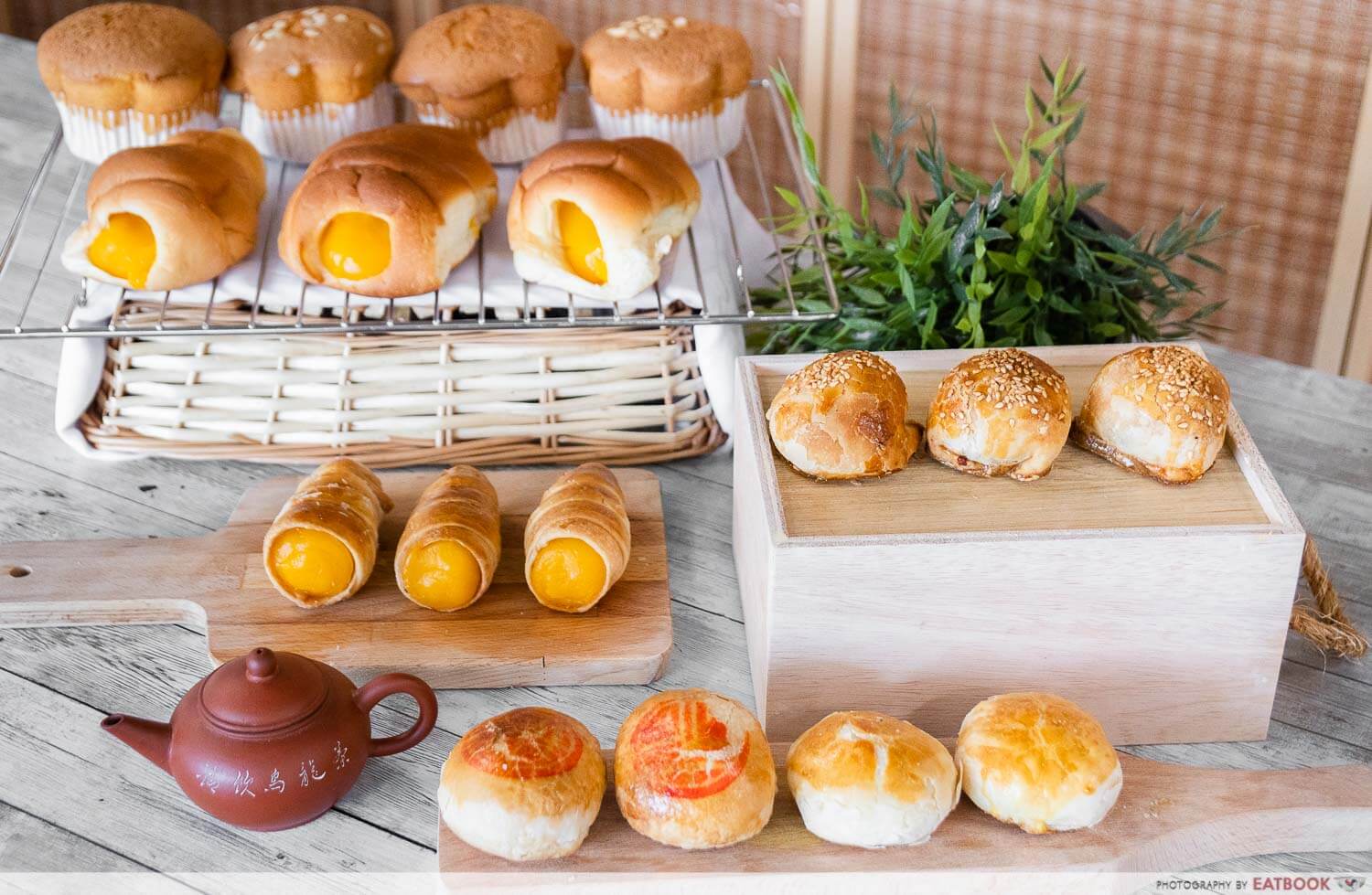 Traditional bakeries are not a common sight these days. They're often taken over by newfangled, modern patisseries, so it's always exciting to hunt one down. Having recently made the rounds on social media, Lau Chong Kee Mini has found fame for their nostalgic custard buns.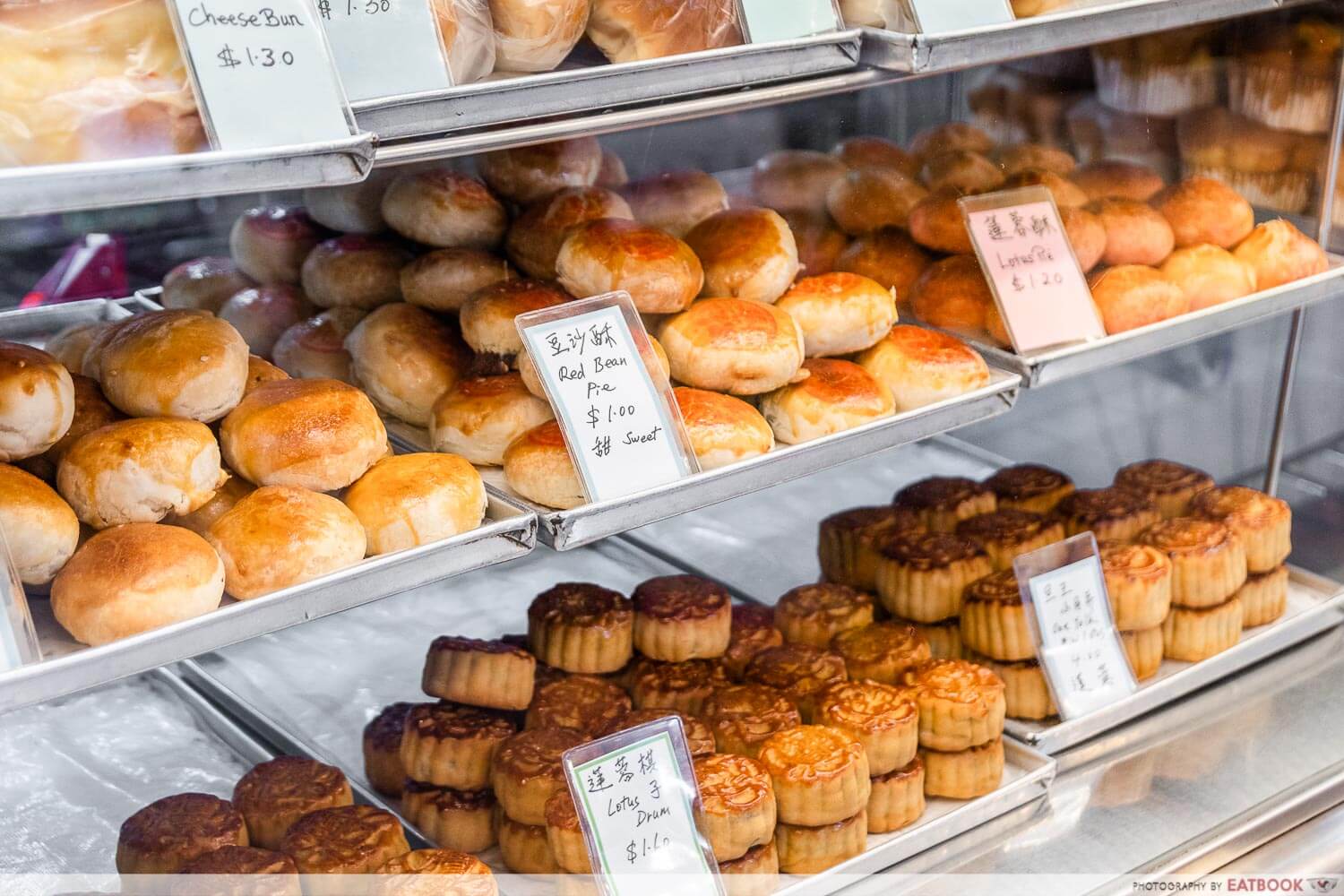 Situated in People's Park Complex Food Centre, Lau Chong Kee has been around for almost 56 years, with their custard buns being the most popular item to date. Seeing how highly raved these custard buns were, I knew I had to get my hands on some.
Roti Review: Orh Nee And Black Sesame Bread From $0.80 At Chinatown
Food at Lau Chong Kee Mini Pte Ltd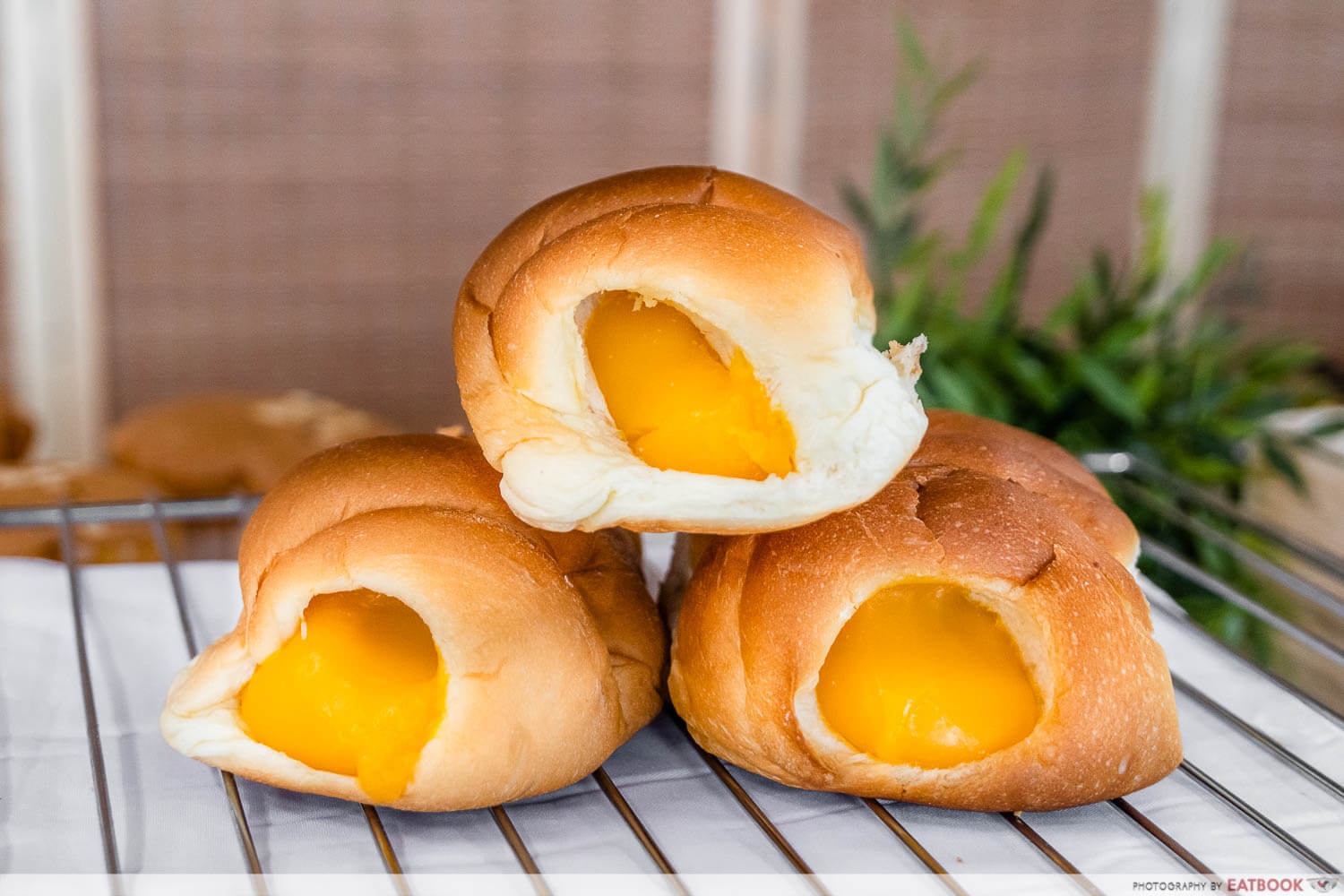 I started my experience with their most sought-after items—Custard Bun ($1.40) and Custard Pie ($1.30). The former is a tubular bun that first caught my attention. It's reminiscent of the sausage bun most of us have grown up eating. It was baked to a beautiful brown, and filled with golden yellow custard.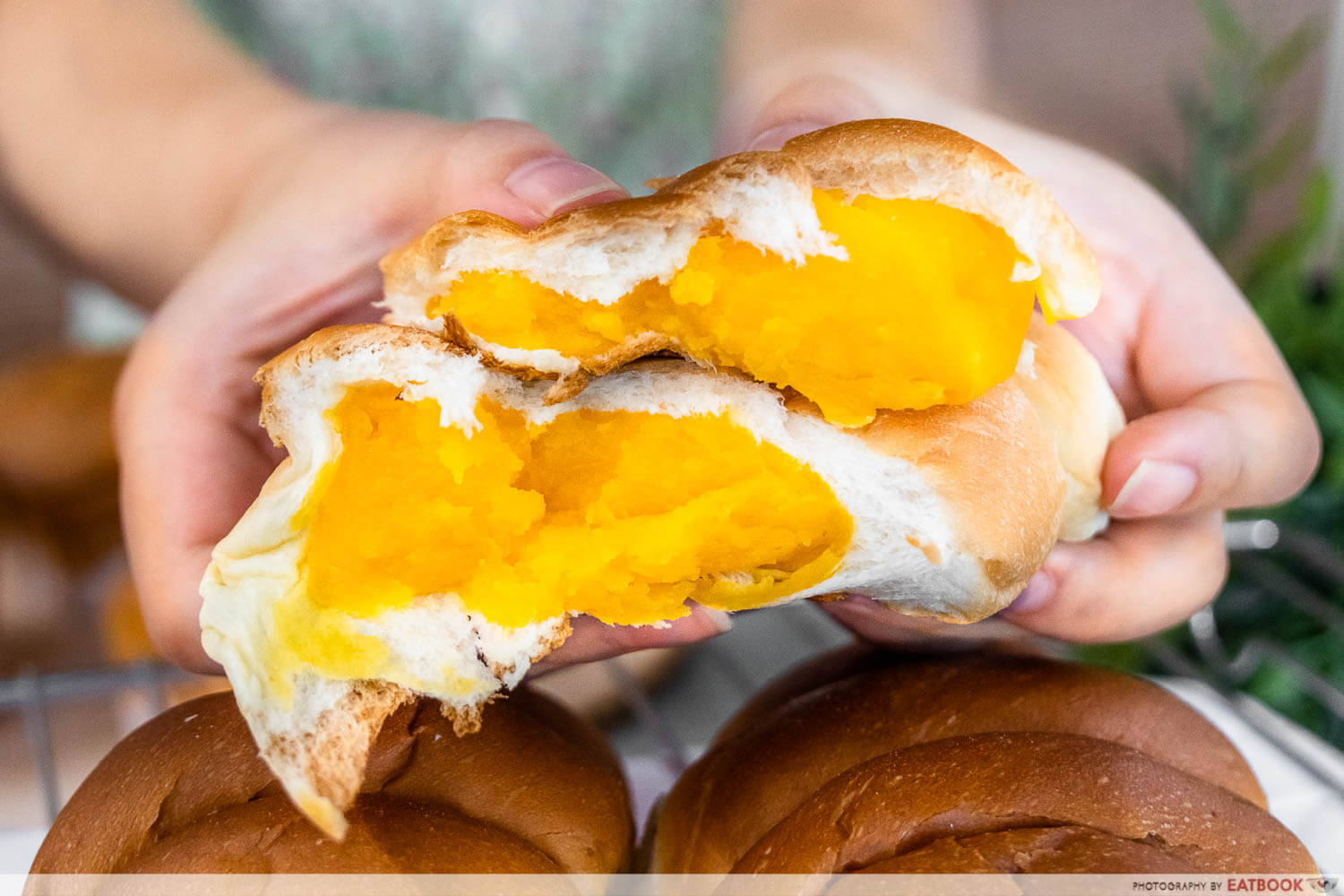 My experience with custard is mostly limited to Western desserts. Not knowing what to expect, I took my first bite and was surprised by the texture and flavour of the custard. This was very different from the custards I've seen and tasted before, which often leaned towards the light and creamy side. Here it sported an almost paste-like consistency, with a smooth mouthfeel that complemented the pillowy bun.
I still can't quite put my finger on it, but the custard definitely had a nostalgic and old school feel to it, although it was way too sweet for me. I found the sweetness almost similar to that of a banana that has gone way too ripe. If you have a sweet tooth and a fondness for old school baked goodies, however, you'll probably like this.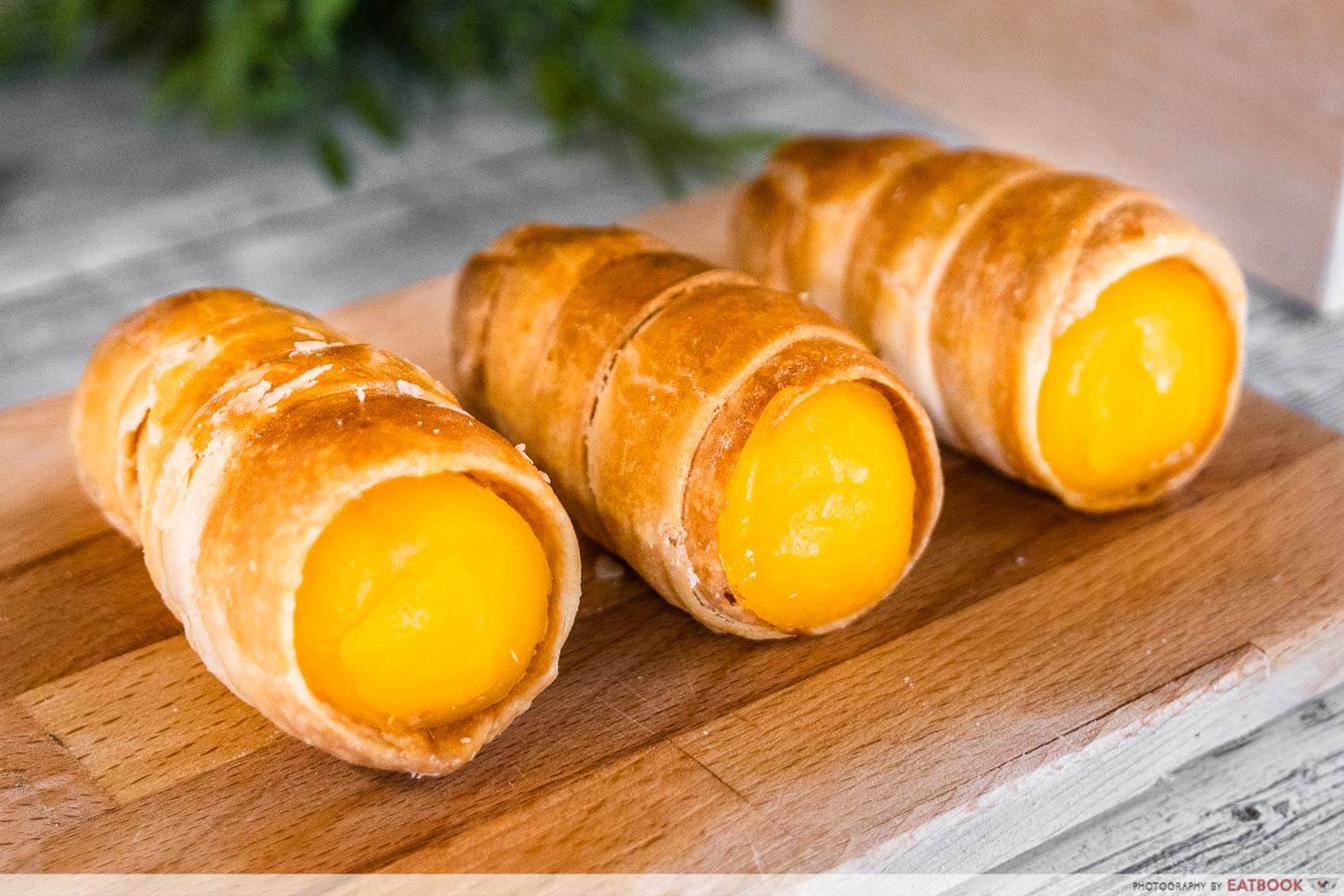 On the other hand, the pastry of the Custard Pie wowed me. This cone-shaped pastry ticked all the boxes I'd usually look out for in a pastry: light, flaky, crispy, and baked till golden brown. However, as the same custard bun filling was used here, I found this pie too sweet for my liking as well. But if I had to choose between the custard items, this pie would get my vote.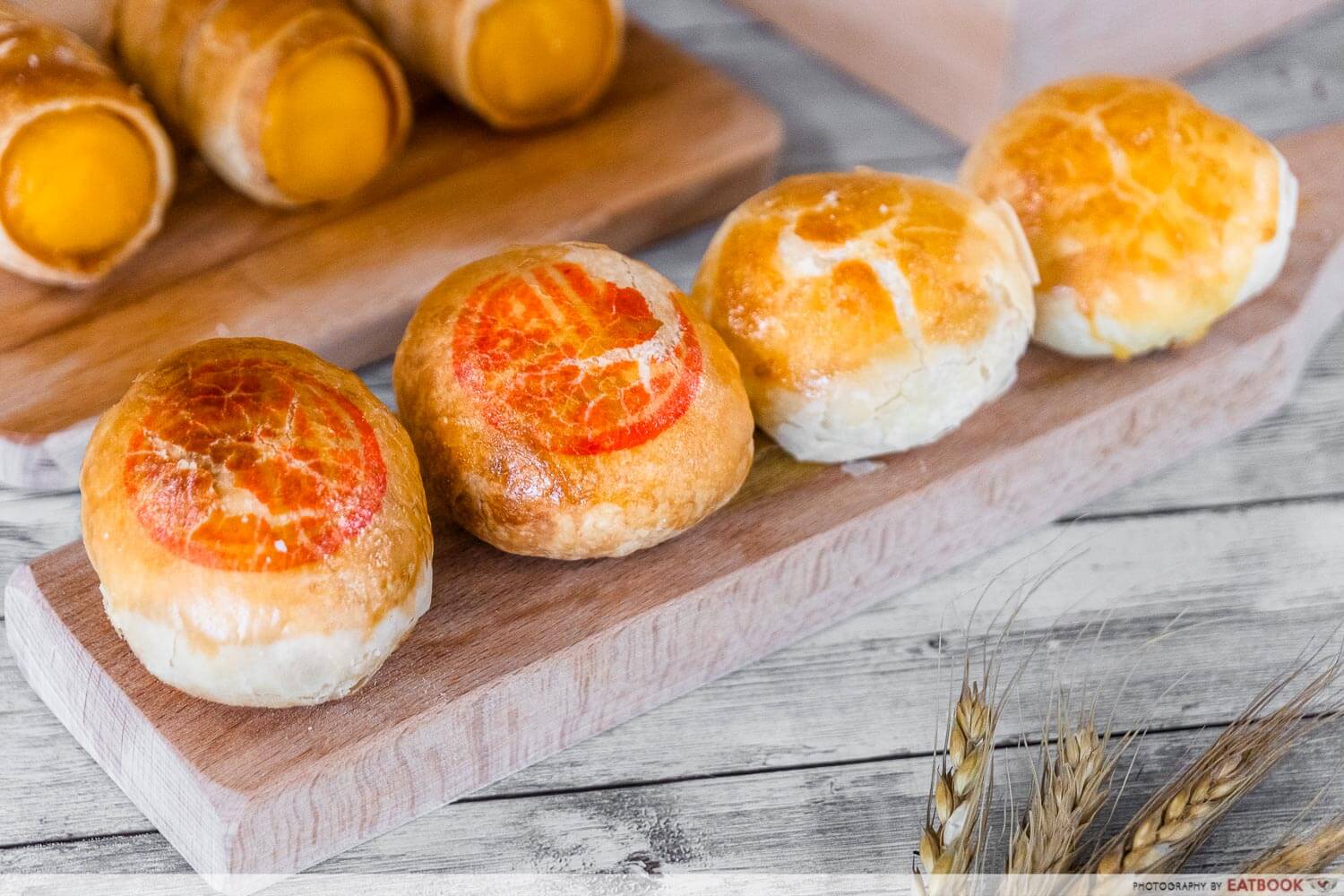 I also picked Lau Chong Kee's Green Bean Pie and Red Bean Pie to try. Priced at $1 each, these palm-sized pies had an attractive, glossy finish. 
I expected a distinctively savoury note in the Green Bean Pie, but the filling turned out to be rather bland. The highlight of this pie, for me, was the texture of the pastry as it was flaky with a pleasant bite. Thanks to the filling, which was a nice contrast to the flaky pastry, the Green Bean Pie wasn't dry. There was a good ratio of pastry to filling as well, so neither component was overwhelmed by the other.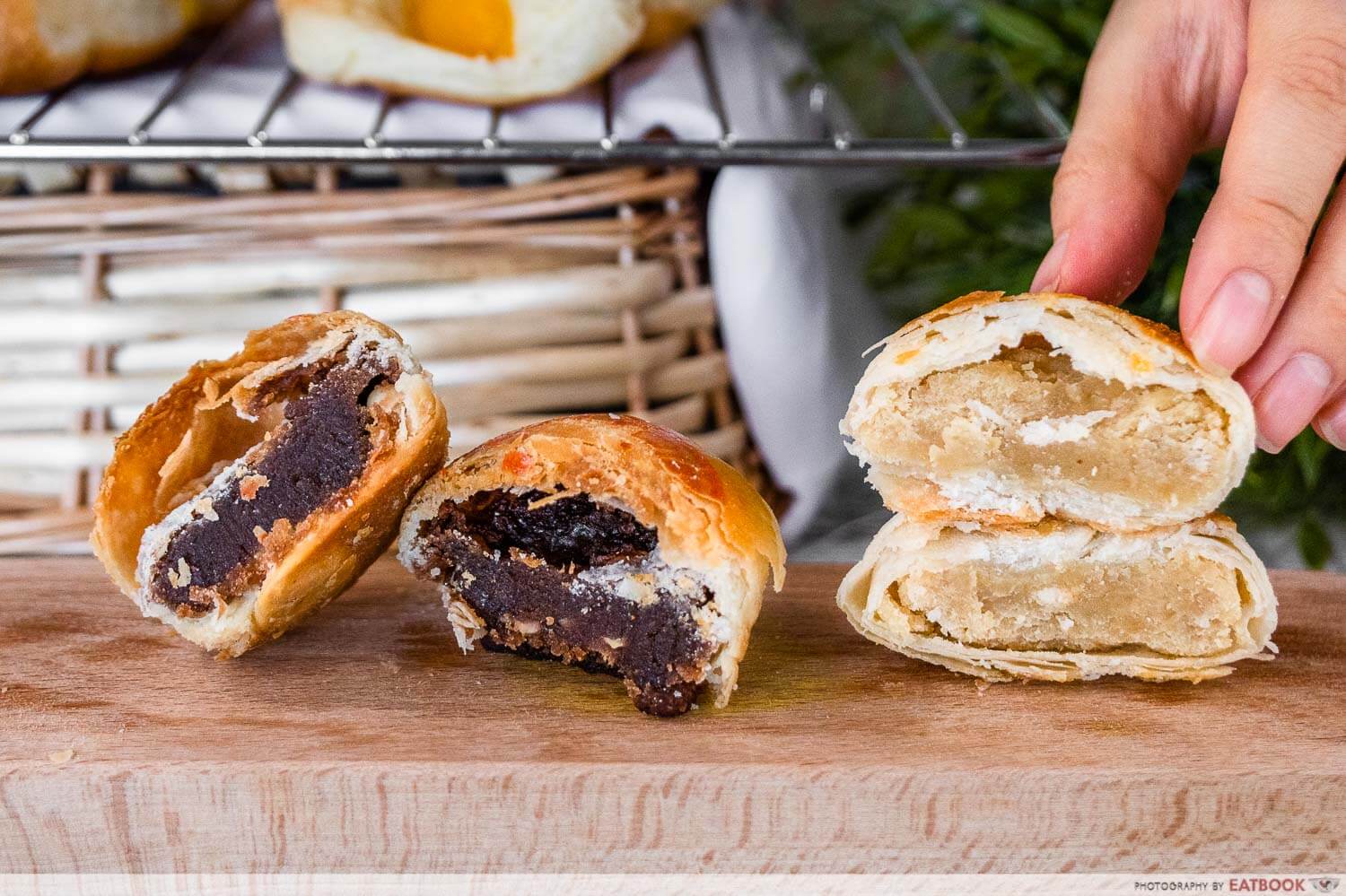 While both pies were texturally similar, the Red Bean Pie fared better with its flavours. On my first bite, I was struck by how the paste tasted similar to my favourite childhood cereal, Honey Stars. I was immediately hooked. Hidden within the red bean filling were almond flakes, which added a subtle nuttiness to the paste and gave the pie an extra depth of flavour. Unfortunately, it got jelak after a few bites. I would have liked it better if they had dialled down on the sugar, although my colleague felt it was just the right level of sweetness.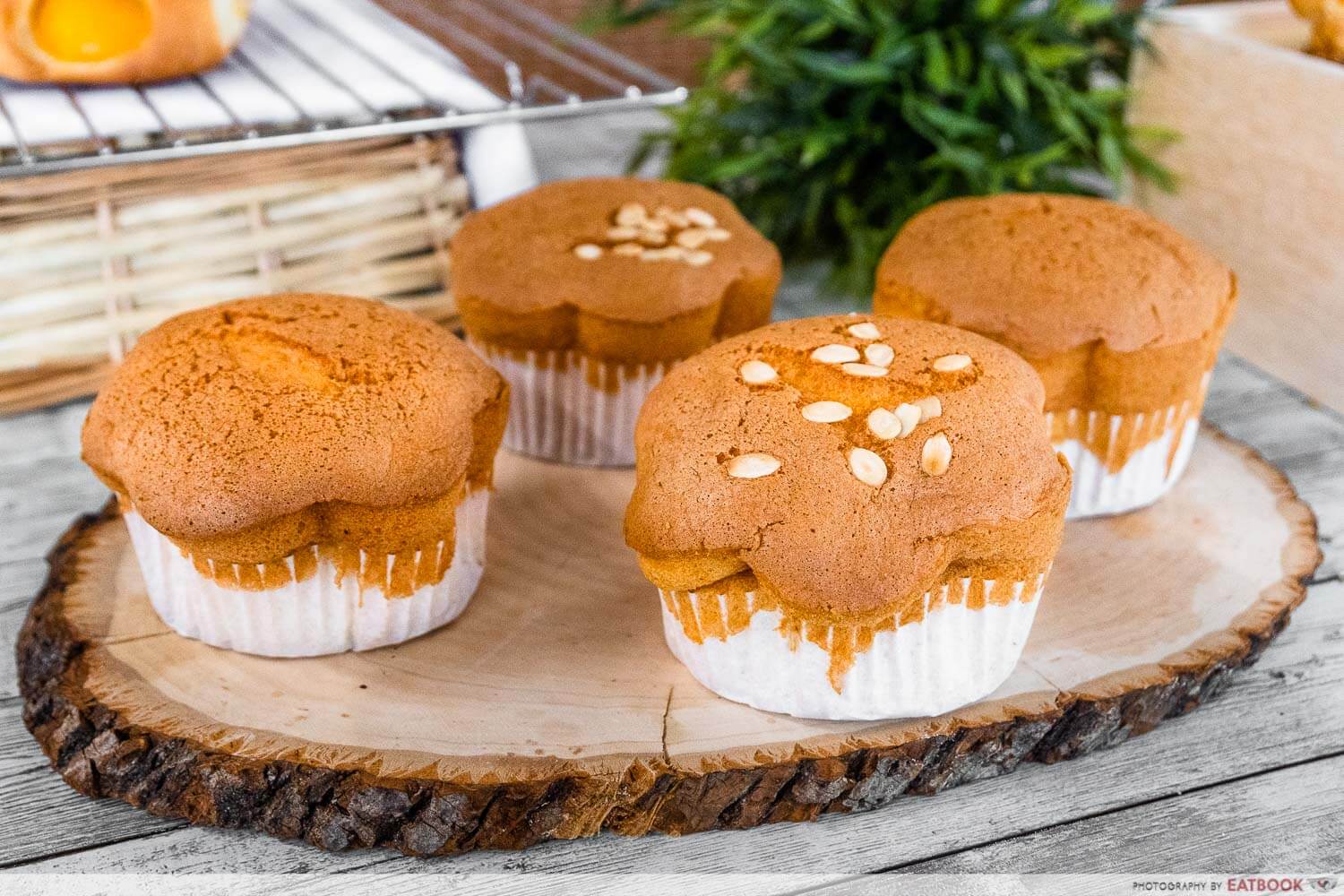 After trying their buns and pastries, I moved on to the cakes. Both the Pure Sponge ($1.30) and Red Bean Sponge Cake ($1.50) came in the shape of a cute, domed flower, with a slightly browned exterior and pale yellow insides. Initially, it had a light and fluffy texture akin to chiffon cake. 
However, after being left out for the shoot, these sponge cakes became a little dry. At that point, I felt that both sponge cakes bore a resemblance to kuih bahulu━lightly sweet and eggy, crusty on the outside, but slightly dry, and airy on the inside. Even though the texture of the cake wasn't as moist as the initial bite, I wasn't too bothered by the change as kuih bahulu happens to be one of my favourite childhood snacks. I'd recommend eating this fresh otherwise.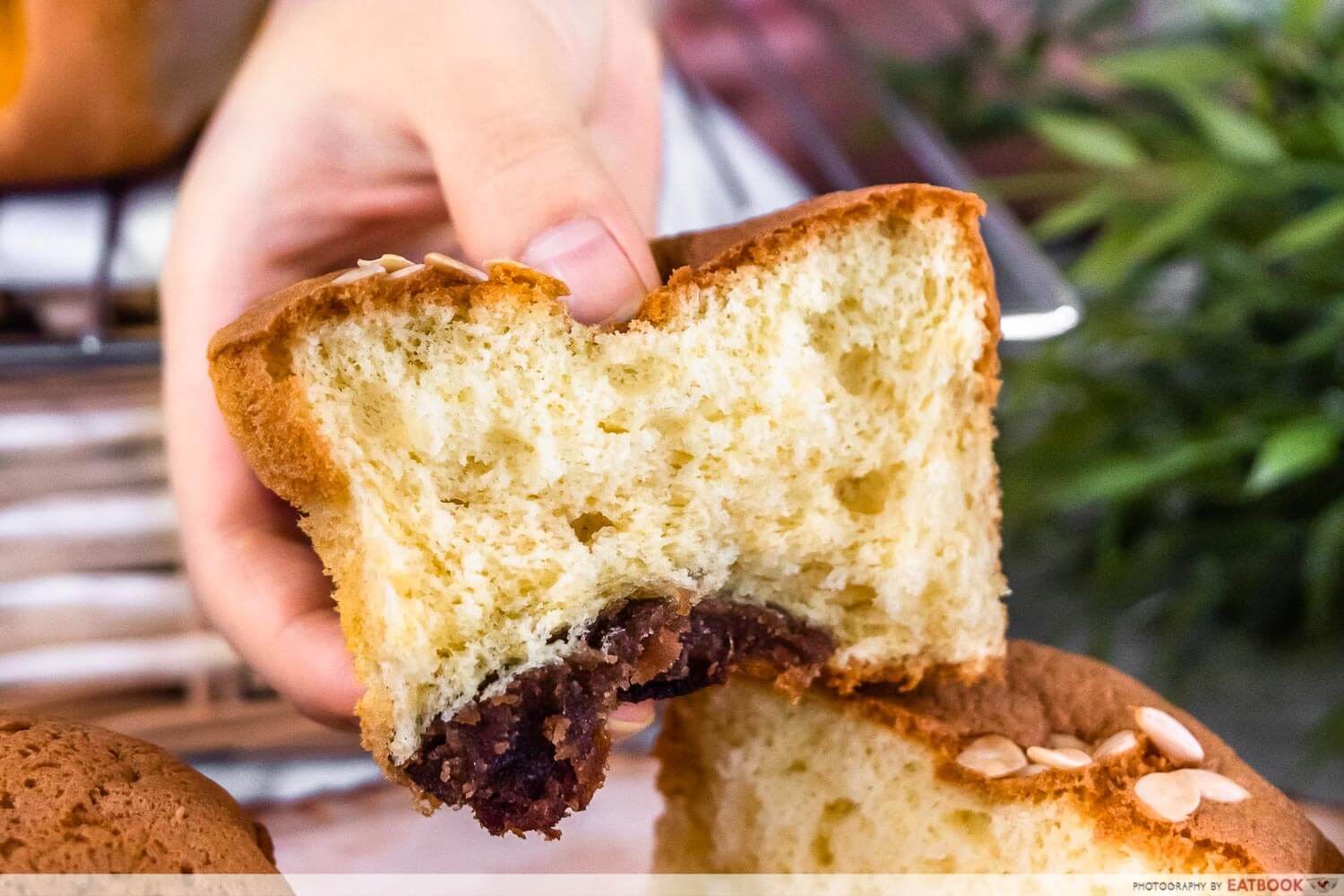 Sadly, the Red Bean Sponge Cake fell short for me. The only red bean I could find was a dollop of caramelised, hardened paste near the bottom of the cake, whereas I'd expected it to be evenly distributed throughout the cake. You can opt for this to be steamed instead, if you prefer. This is available at $3.60 for a packet of six.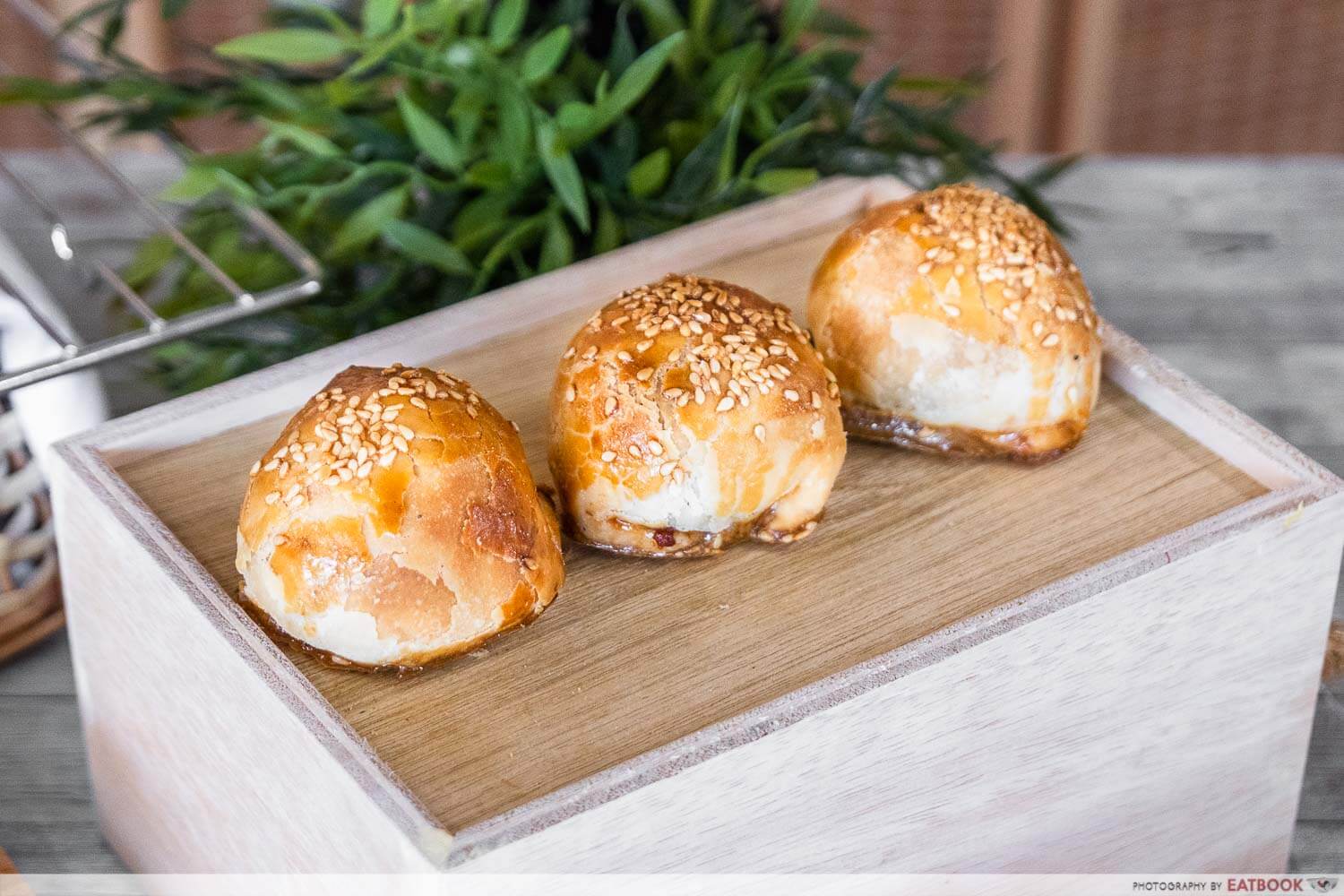 Retailing at $1.50 a pop, the Cha Shao Su was hands down my favourite item out of everything I tried at Lau Chong Kee. 
Cutting into these ping pong ball-sized pies immediately released a pleasantly sweet aroma, revealing chunks of slightly smoky, caramelised char siew. As with the other pies I'd tried, Lau Chong Kee seems to have mastered the perfect ratio of pie crust to filling. 
Everything about this pie, from the generous amount of filling, to the robust char siew flavour, and toasted sesame seeds dotting its exterior, made it one of the best char siew pies I've ever tried. I tend to avoid char siew pastries as most that I'd previously tried had been too greasy for my liking. However, to my surprise, I found myself relishing this pie as the pastry was nicely crisp and not too greasy. I have to say that my biggest regret was only getting three pieces!
23 Dim Sum Places Offering Delivery And Self-Collection During This Stay-Home Period
Ambience at Lau Chong Kee Mini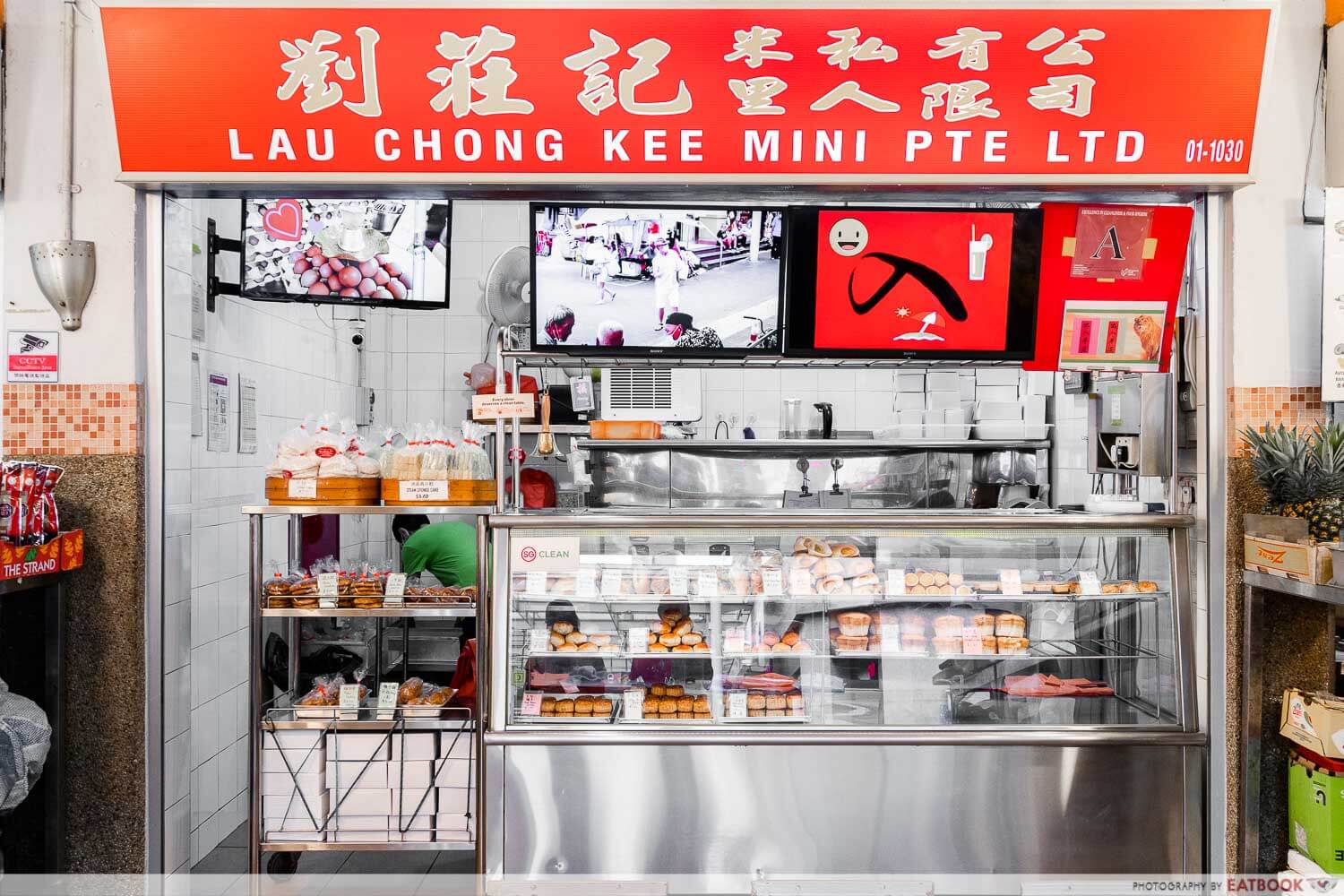 Situated right outside Exit C of Chinatown MRT Station, Lau Chong Kee is hard to miss with its bright red signboard standing out from the white signages of its neighbouring stalls.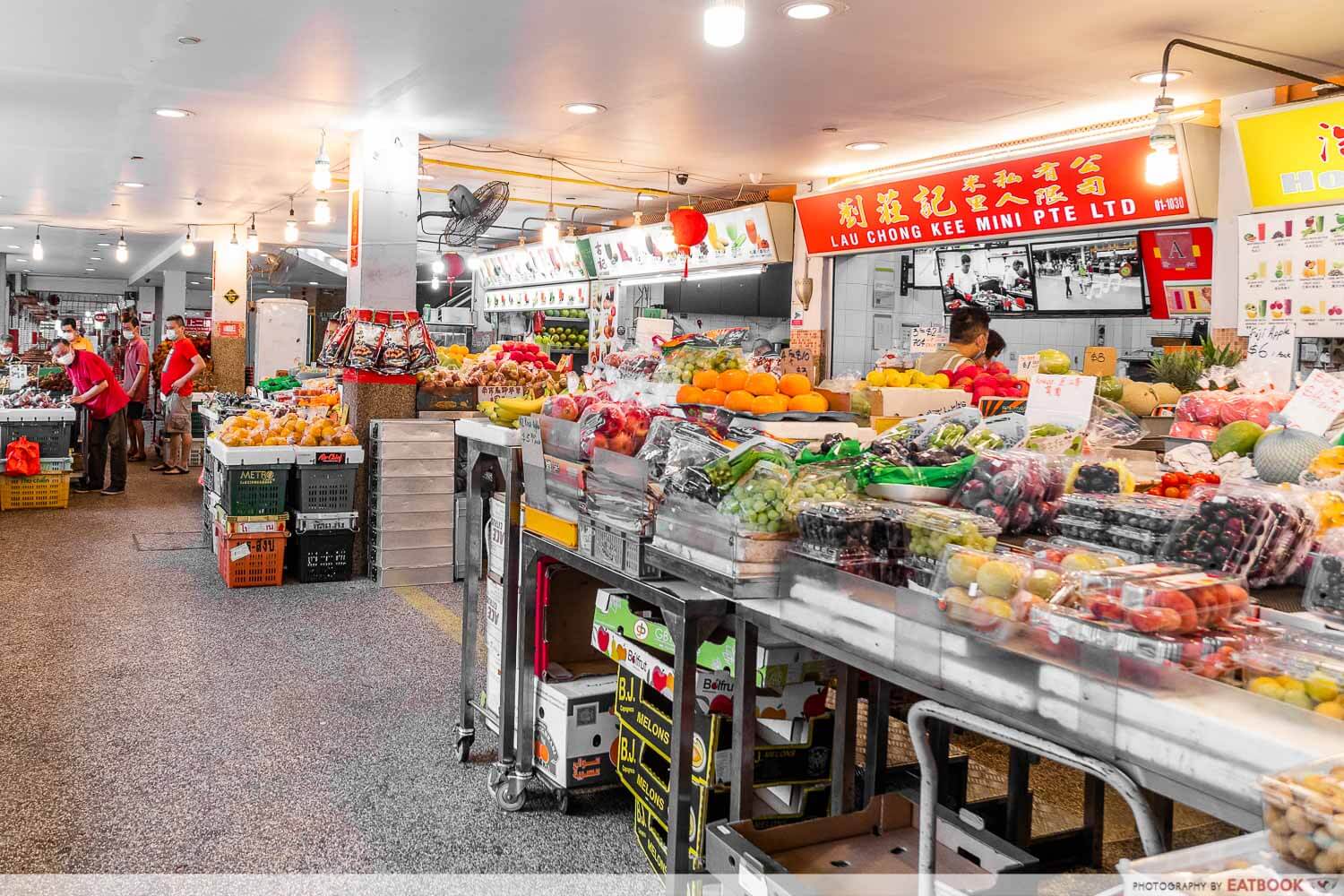 We'd visited Lau Chong Kee while the ban on dining in was still in place, so we were unable to enjoy the baked goods on the spot. If you're visiting after the regulations have eased, there are a few benches nearby that are free-for-all, though it might be hard to get a spot since it was pretty busy when we were there.
The verdict 
Lau Chong Kee churns out 200 to 300 custard buns a day, which sell out pretty early—a true testament to their popularity. During my time there, I was amazed by the constant wave of elderly customers trying to get their hands on Lau Chong Kee's baked goods. There's no doubt that I will return to get my char siew su fix. That being said, I am determined to continue my hunt and uncover more traditional bakeries around Singapore.
For more old school bakery options around the area, check out our review on Roti, a bakery that sells nostalgic bread at an affordable price. If not, you can also read our guide to traditional bakeries in Singapore, to find out where you can find old-school banana pies, orh nee tarts, and more. 
16 Traditional Bakeries In Singapore For Old-School Banana Pie, Orh Nee Tarts And More
Address: 32 New Market Road, #01-1030, People's Park Complex Food Centre, Singapore 0500324 
Opening hours: Daily 12:30pm to 8:30pm
Lau Chong Kee Mini Pte Ltd is not a halal-certified eatery
Photos taken by Emily Teu.
This was an independent review by Eatbook.sg
Lau Chong Kee Mini Review: Old-School Bakery With Custard Buns, Char Siew Su and More From $1
Lau Chong Kee Mini Review: Old-School Bakery With Custard Buns, Char Siew Su and More From $1 -

6.5/10
Summary
Pros
– Convenient location
– Nostalgic pastries 
Cons
– Most pastries were too sweet
Recommended dishes:  Cha Shao Su ($1.50), Custard Pie ($1.30)
Opening hours: Daily 12:30pm to 8:30pm
Address: 32 New Market Road, #01-1030, People's Park Complex Food Centre, Singapore 0500324