Roti at Chinatown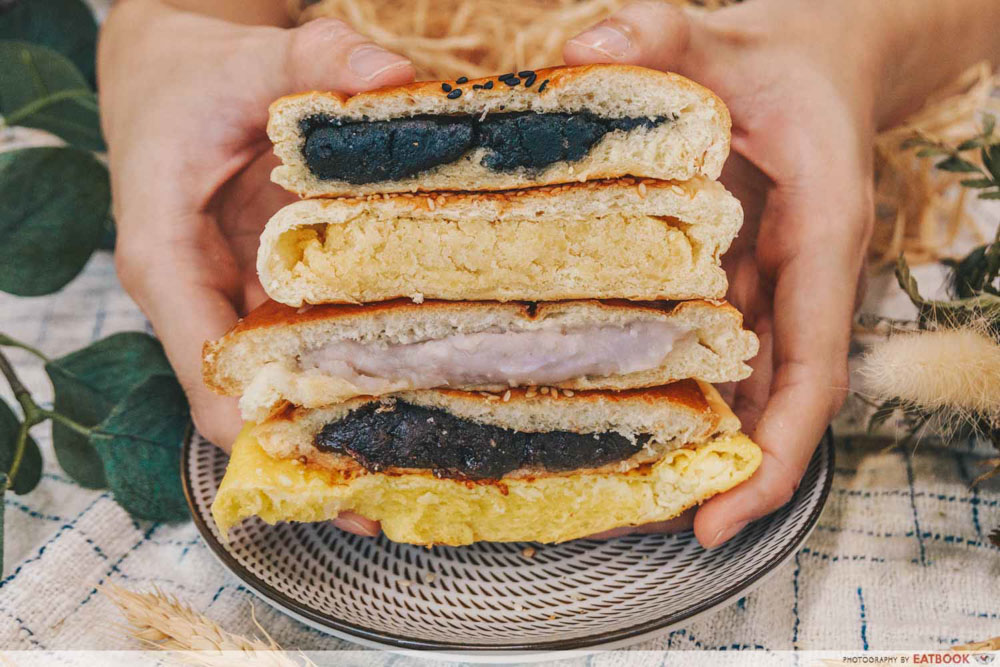 Roti gained online popularity with their IG-worthy bun with fillings that are more than what its price suggests. Roti, a Malay umbrella term for all sorts of bread, bears an equally unassuming storefront just a stone's throw from Chinatown MRT Station. But don't be fooled by the humble exterior and name, as it's been quite a celebrity on the 'gram.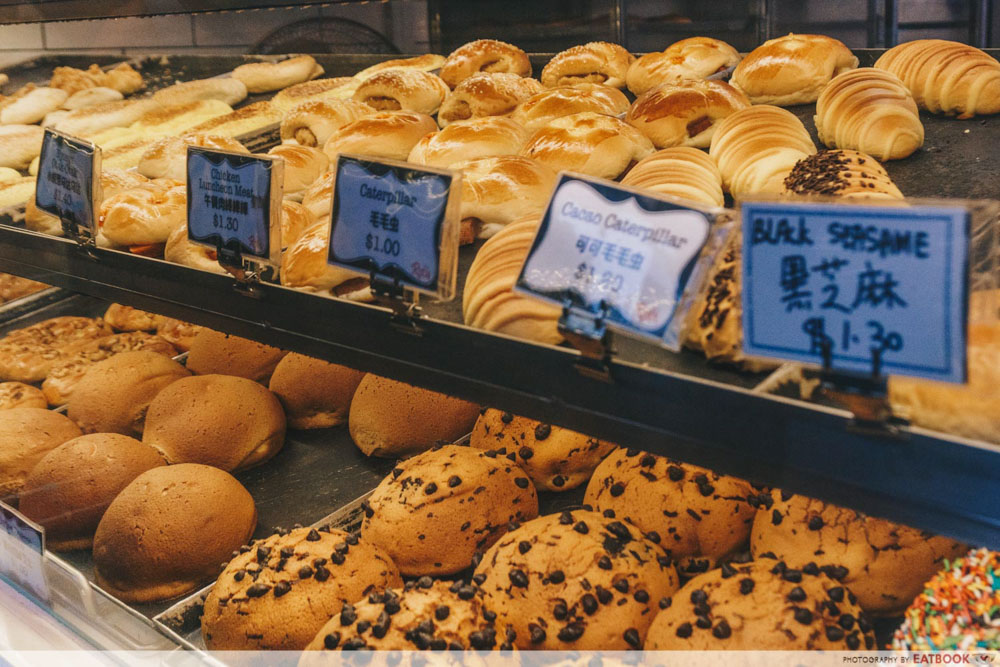 The take-out concept of the shop bears the spirit of what "roti" means to us Singaporeans—a simple utilitarian grab-to-go meal option. I visited their Chinatown branch and felt like a kid in a candy shop. The wide selection of bread left me spoiled for choice and I ended up picking five, leaving the rest for my next visit.
Food at
Roti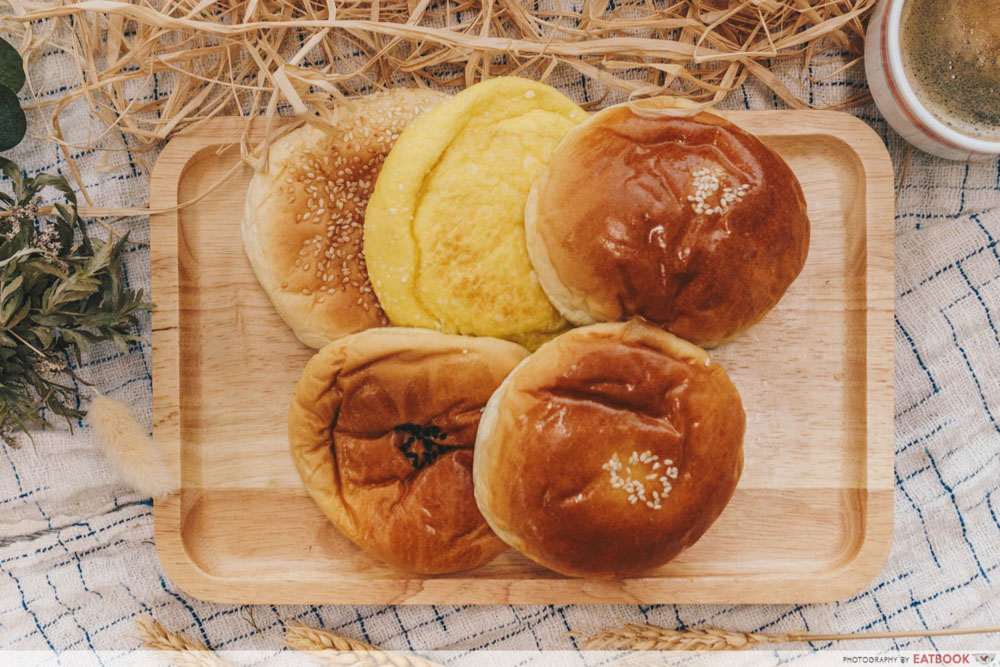 I began my bread party with the highly raved Black Sesame ($1). Most of the buns had a slightly glossy brownish exterior, similar to what you see at other neighbourhood bakeries.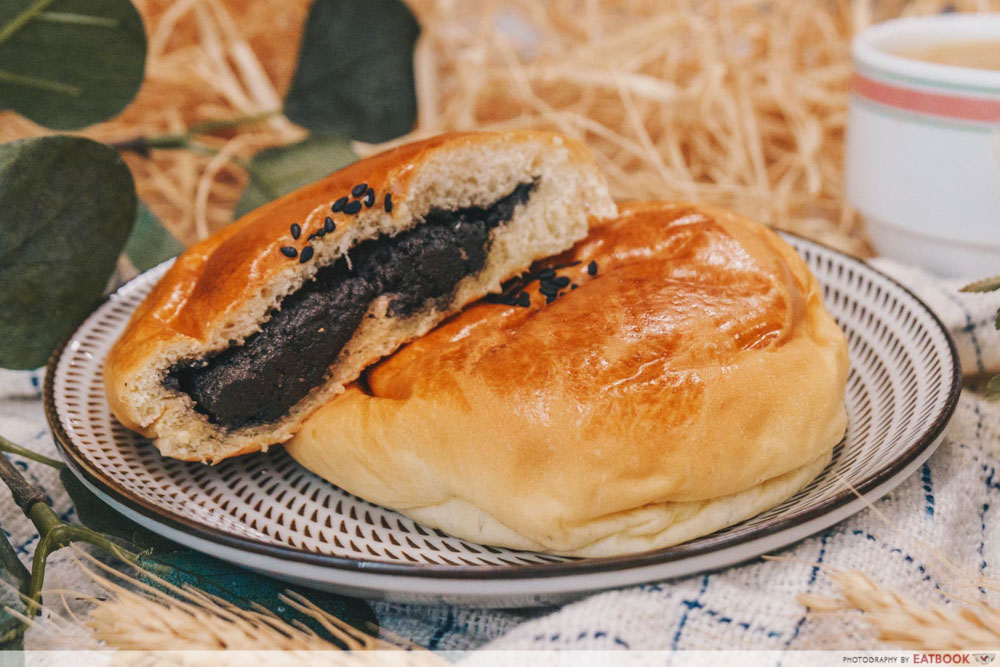 I split the bun in anticipation of overflowing fillings but was instead greeted by a sparse and dry paste. I couldn't help but feel that my fillings were cheated.
Thankfully, the second black sesame bun I got lived closer to expectations, so I guess there's a 50% chance of getting a good bun here. 
Consistency issues aside, the rather sweet filling overpowered any semblance of black sesame within the paste. As I tend to prefer retaining the gritty texture and bitter aroma of black sesame, the paste was not to my liking. It was by no means a bad paste to go inside a bun, it was just not a great sesame paste.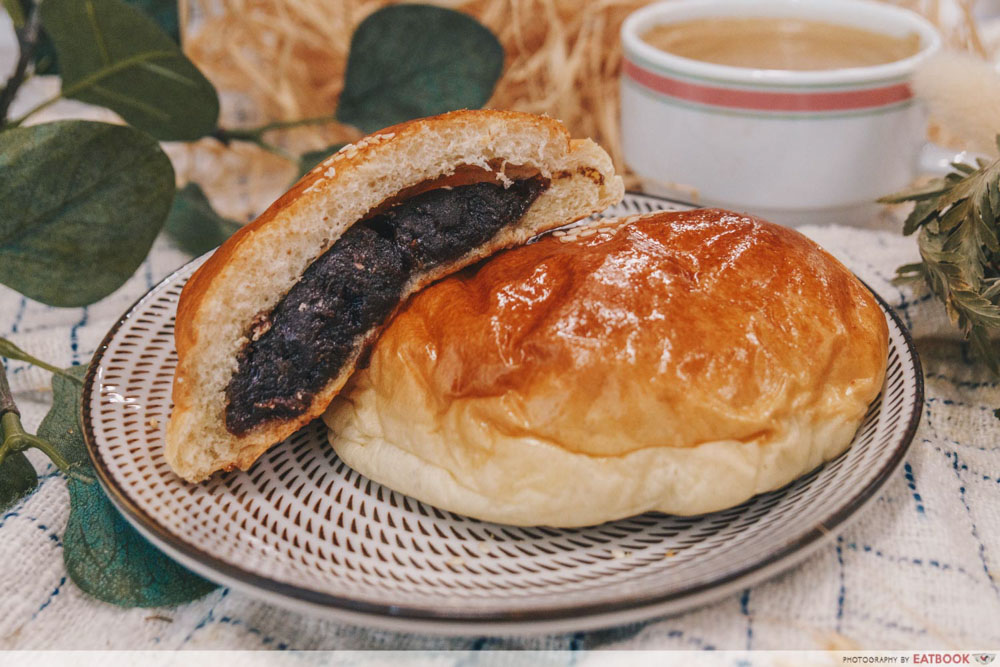 The online reviews of the Red Bean ($0.80) were divided into two camps: one side highly recommended the value-for-money sweet treat, and the other recommended to give it a pass as it's too sweet to be palatable. 
Halving the bun revealed a thick, gooey red bean paste that lived up to Roti's IG-worthy reputation. I found myself in the camp that found the filling a little too sweet. I definitely preferred the chunkier red bean paste of Just Dough's red bean buns.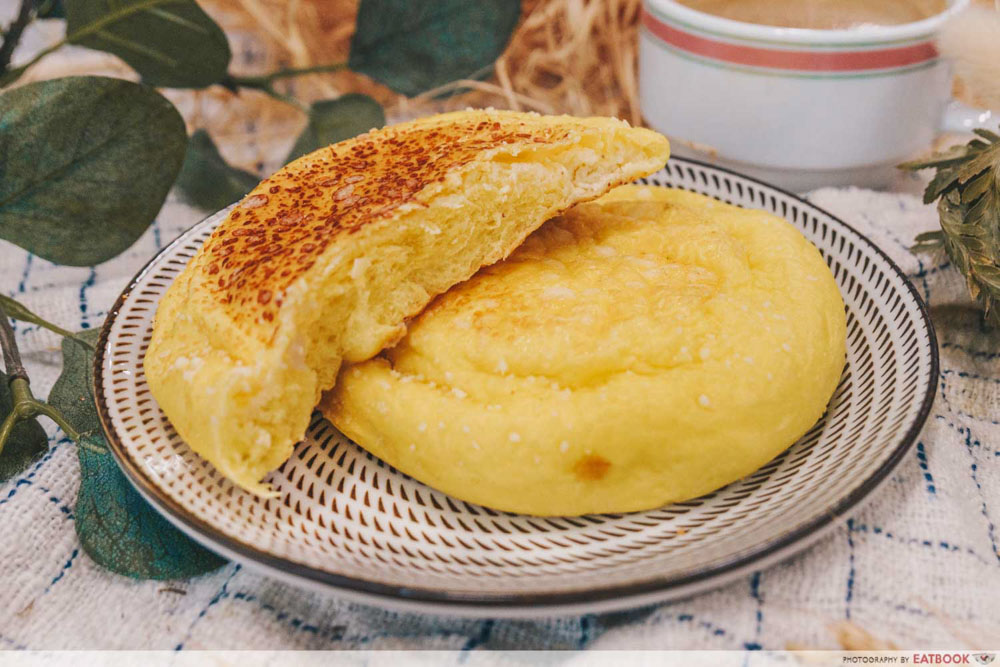 Parmesan Cheese ($1) sports a bright yellow colour with a lightly burned and slightly tougher exterior, making it stand out among the other buns.
The filling was a mix of parmesan and cream cheese that makes for an ultimate savoury experience. Being so rich in flavour comes with a trade-off, as the bun can quickly become too jelak to finish in a sitting. However, a good cup of hot tea or coffee would do well to flush down the flavours.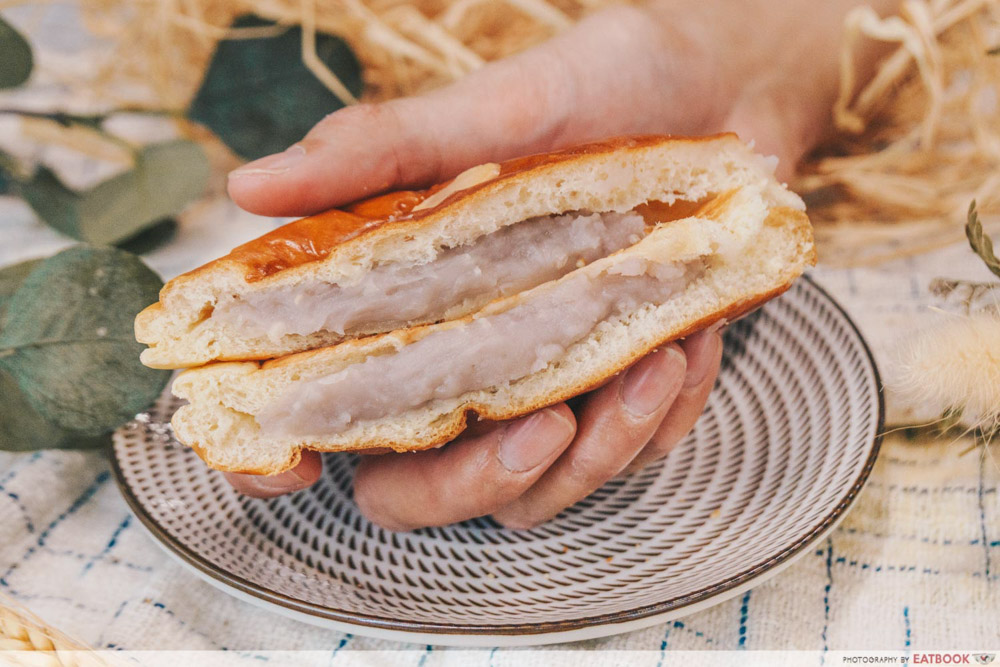 Roti first drew in crowds with their Orh Nee Orh Nee ($1.20). A traditional Teochew dessert regularly eaten in Chinese restaurants, orh nee boasts a nutty fragrance. I can see how orh nee bread and pastries are popular, as it brings a dessert commonly eaten on special occasions into a convenient iteration. 
Unfortunately, their paste was another miss for me as it was once again too sweet. Admittedly though, this is what most orh nee paste tastes like at most bakeries in Singapore. At such a low price of $1.20, it is not too bad for a quick and cheap orh nee fix in a jiffy. If you are looking for a more legit yet affordable orh nee pastry, check out June Bakery's slightly bitter orh nee tarts.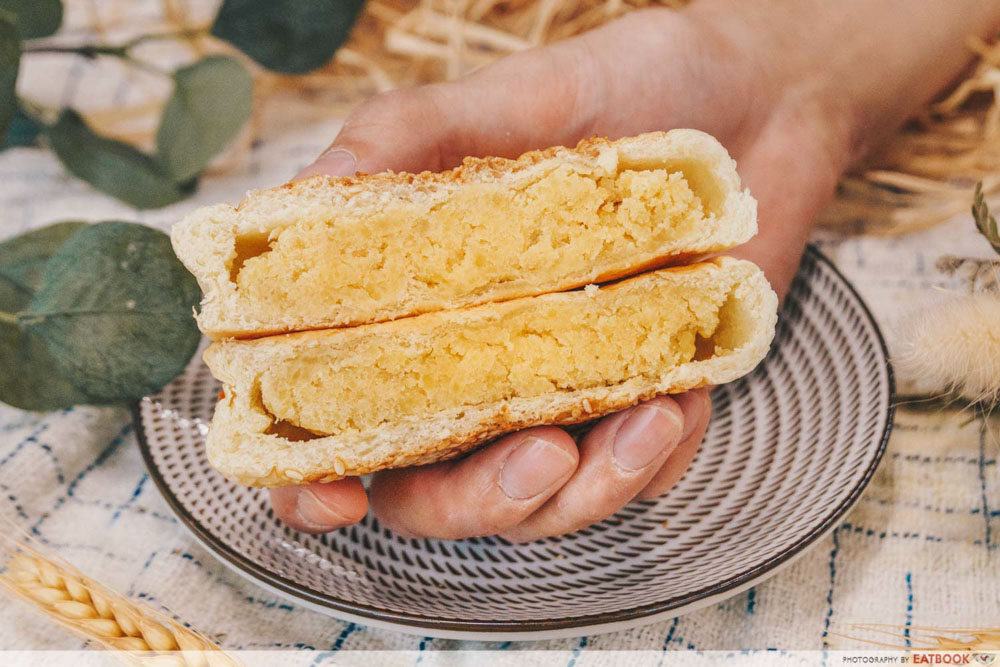 As a lover of flaky pastries, I was confused as to why a bread version of Tau Sar Piah existed. I approached the Salted Mr Bean ($1.00) with an open mind and conceded it worked well! It skips the flaky mess of pastries—perfect for your morning commute. 
Roti nailed the bread-to-filling ratio for Salted Mr Bean, which happens to be my favourite amongst all the buns. It took almost no time for me to devour this bun, as the savory mung bean filling was so addictive. The texture was a coarse, but not too dry, mix of mashed mung beans, and the salty flavouring went well with the bun.
Ambience at Roti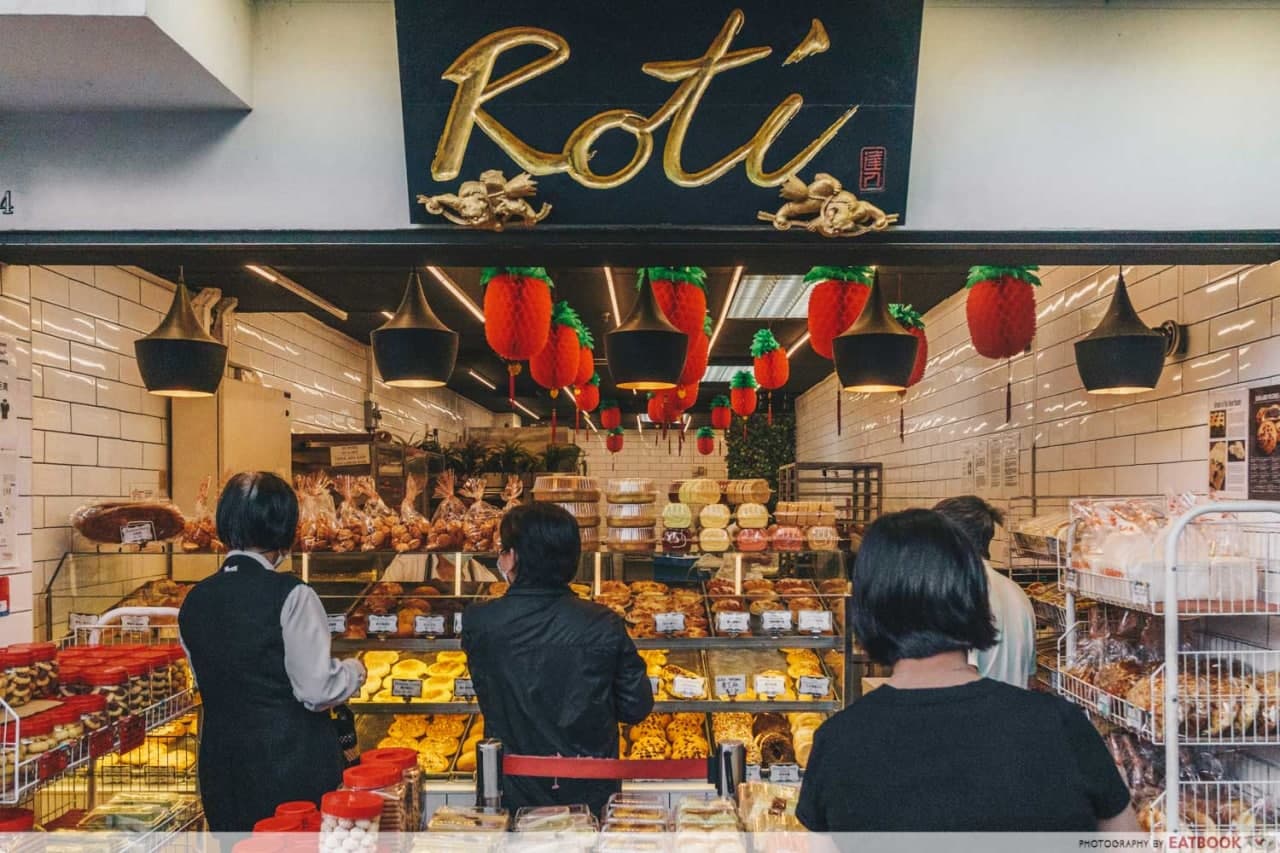 Located at a one-minute walk from Chinatown MRT Station, it makes it an extremely convenient spot to get a quick breakfast fix. Looking just like any other neighbourhood bakery, it is easy to miss this hole-in-a-wall shop, making the discovery of this hidden gem all the more exciting.
The verdict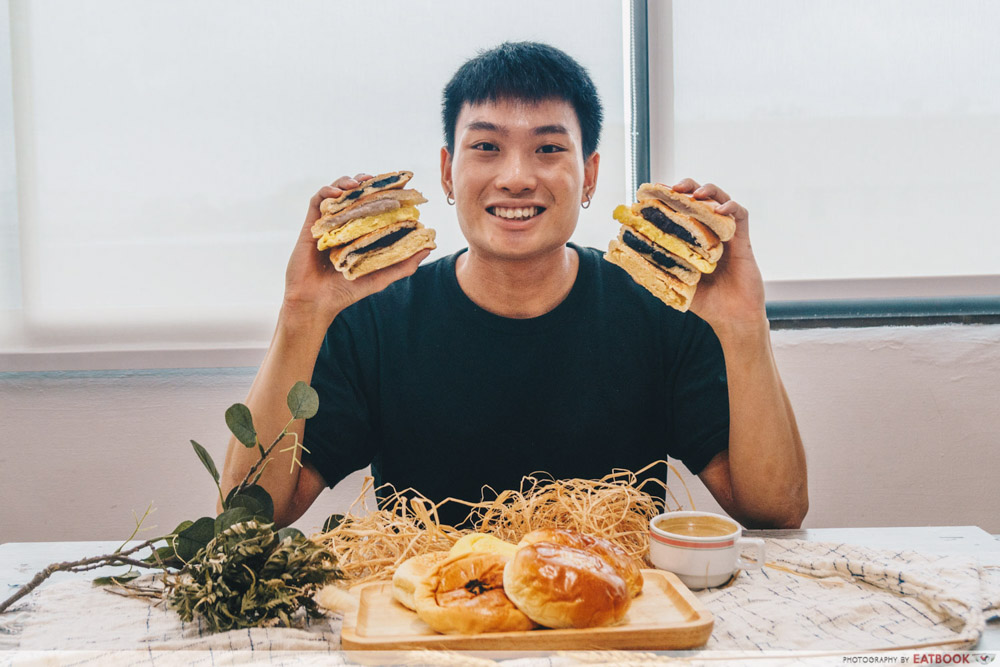 While the simple storefront of Roti means that it is overshadowed by their more colourful counterparts such as Just Dough and Korfe, it stands out with its ability to satisfy our love for nostalgia for cheap. Roti's simple buns evoke fond memories of neighbourhood bakeries from our childhood. Having an outlet at Chinatown seems almost too appropriate as it conveys the intention of the place it inhibits—the ability to keep things from the past, such as a tradition, alive.
Just Dough Review: Cheap And IG-Worthy Steamed Buns With Generous Fillings At Suntec City
Address: 1 Park Road, #01-24, People's Park Complex, Singapore 059108
Opening hours: Mon-Sat 7am to 10pm, Sun 9am to 10pm
Tel: 9386 2769
Roti is not a halal-certified eatery.
Photos taken by Gladys Lim
This is an independent review by Eatbook.sg.
Roti Review: Orh Nee And Black Sesame Bread From $0.80 At Chinatown
Roti Review: Orh Nee And Black Sesame Bread From $0.80 At Chinatown -

7/10
Summary
Pros
– Wide variety of buns
– Convenient location
Cons
– Amount of fillings may be inconsistent
Recommended buns: Salted Mr Bean ($1.00), Parmesan Cheese ($1.00)
Opening hours: Mon-Sat 7am to 10pm, Sun 9am to 10pm
Address: 1 Park Road, #01-24, People's Park Complex, Singapore 059108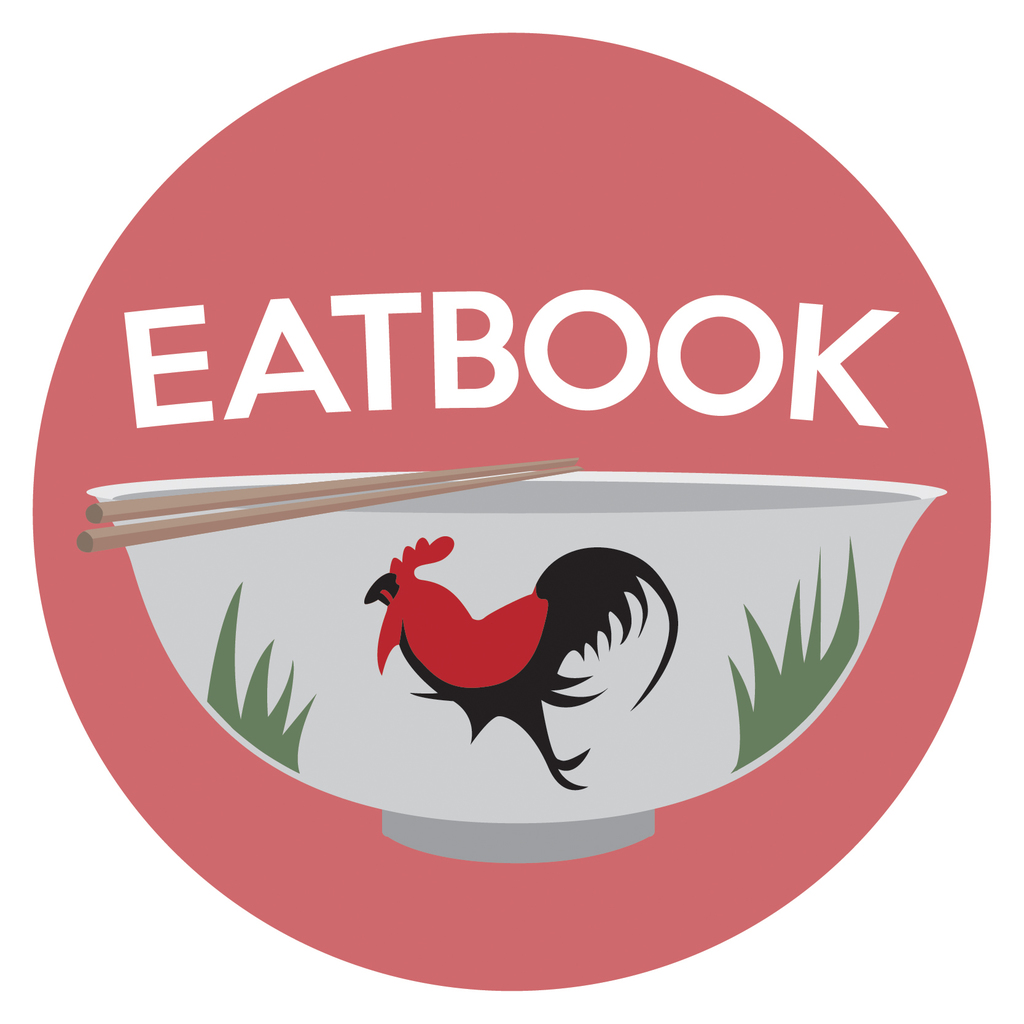 Drop us your email so you won't miss the latest news.