Serangoon Gardens Bakery & Confectionery in Serangoon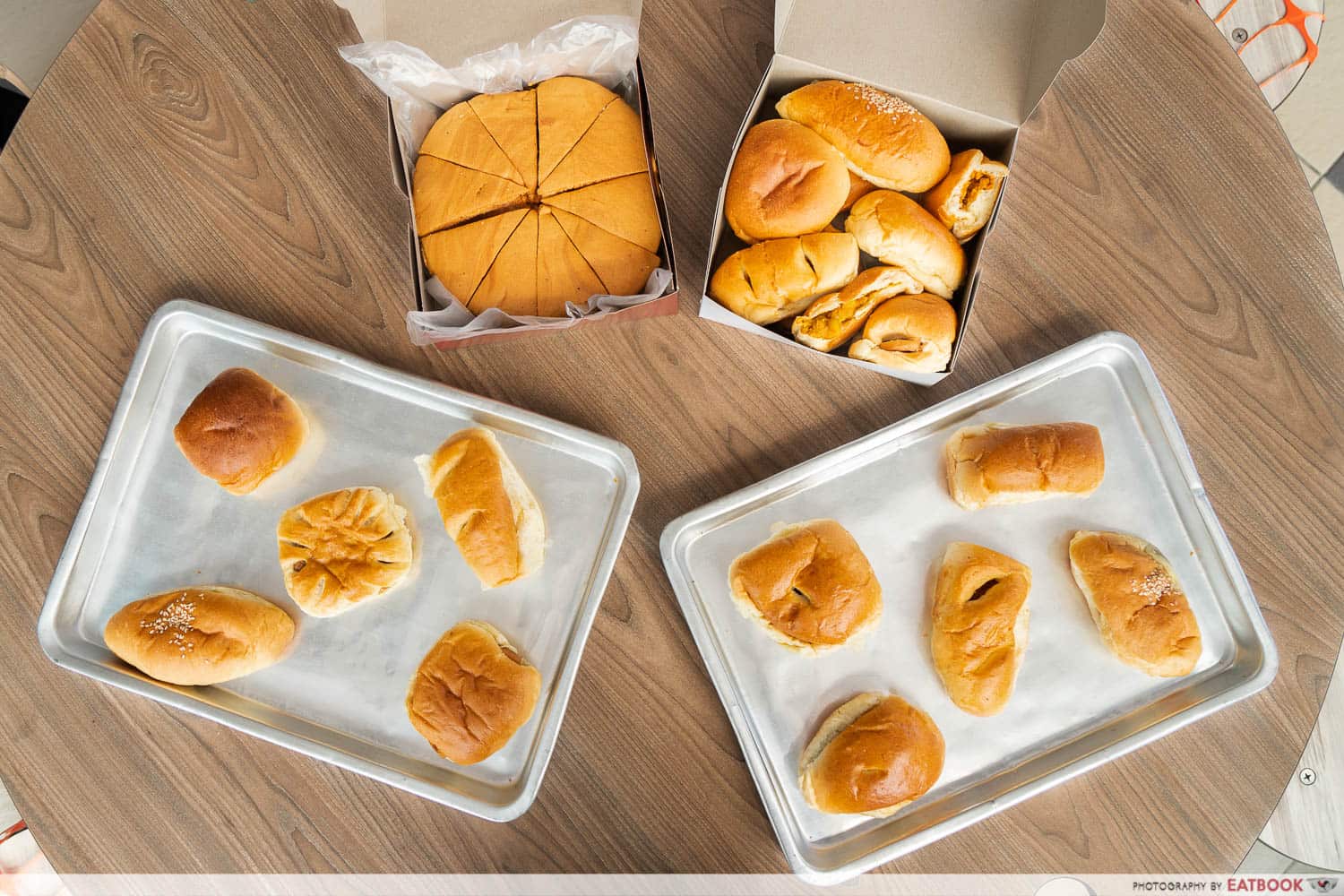 Having opened in the 1970s, Serangoon Gardens Bakery & Confectionery is a familiar name to many living in Serangoon across generations. Many rave about how fragrant the breads are considering their affordability. After hearing such positive reviews about the place, and being an avid bread lover myself, I was excited to head down to give their bakes a try.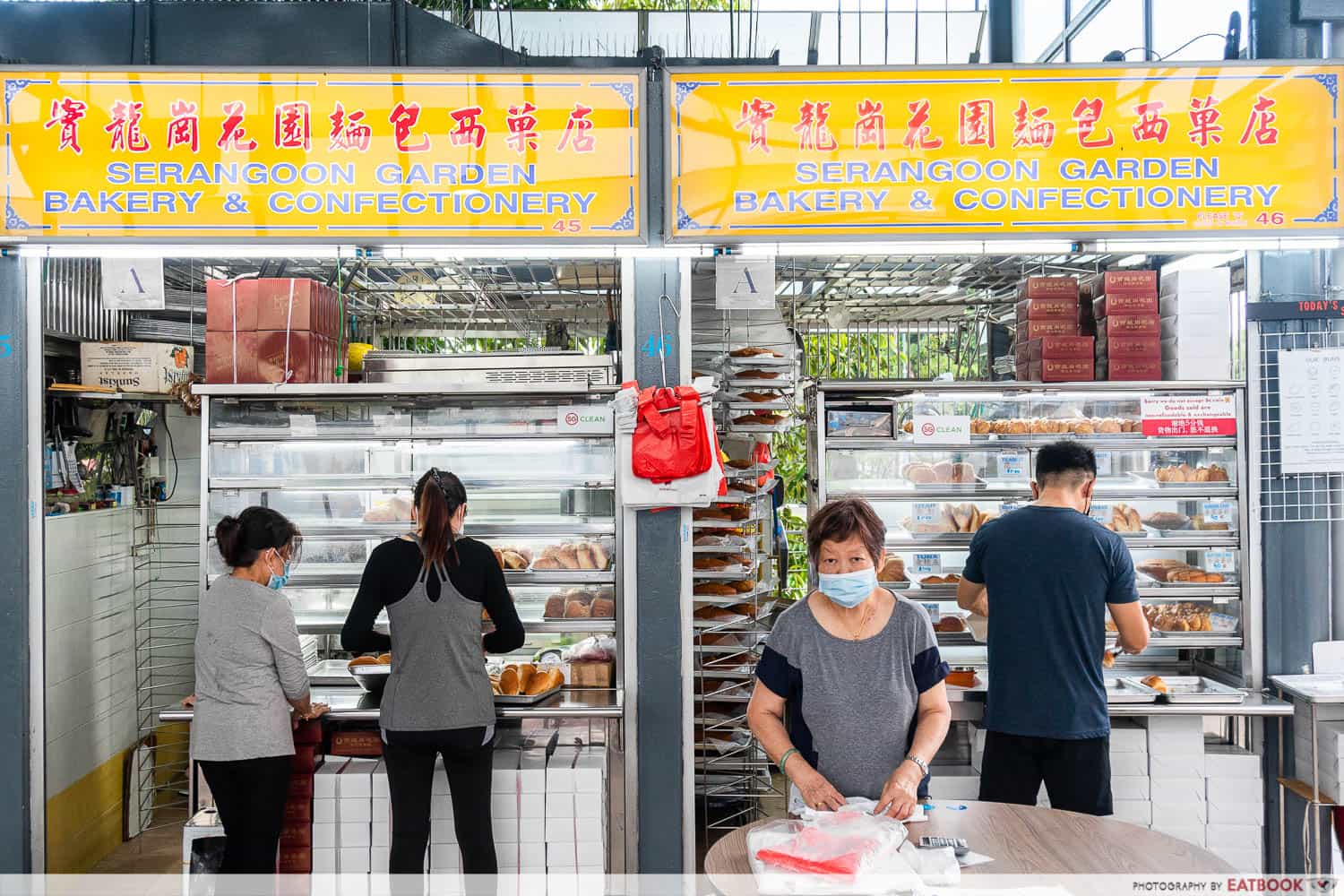 The bakers at Serangoon Garden Bakery & Confectionery start their day as early as 2am and bake all the way until 7am in the morning. All breads are made from scratch, and hence require extra manpower to churn out big batches of bakes for the day. 
Naked Ice Cream Review: New Cafe In Serangoon Has Waffles And Ice Cream, Open Till 2am
Food at Serangoon Gardens Bakery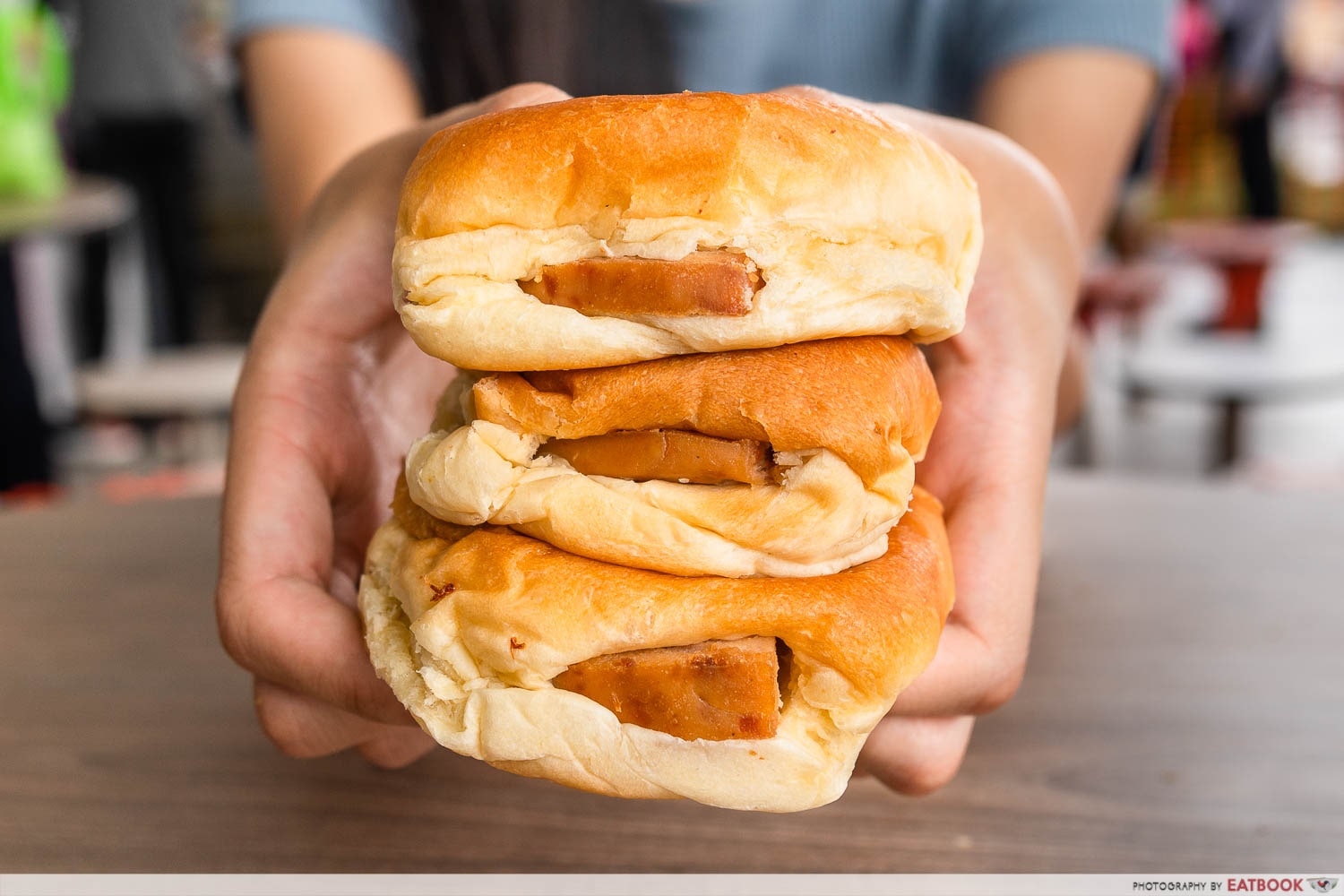 I began with their highly-raved Hamburger ($1) bun that many claim to be nostalgic as it comes with a slab of savoury luncheon meat within. The golden-brown exterior and fluffy texture was truly a testimony to the dedication put into baking these buns.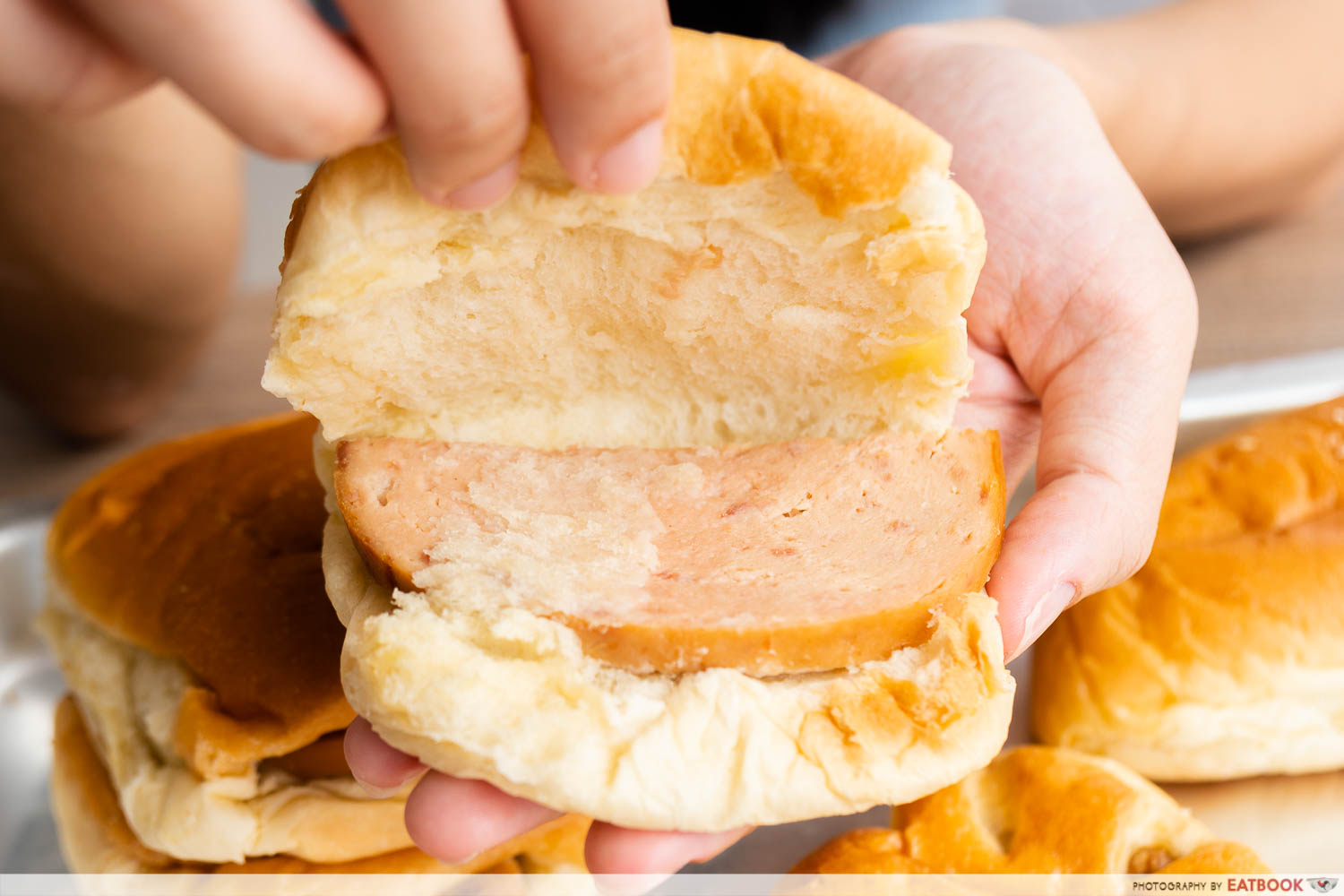 The luncheon meat packed with umami, and the bread was slightly sweet, which made this a well-contrasted pairing. As someone who is not a huge fan of processed foods, I did not really enjoy this bun, but I see its appeal as a nostalgic snack.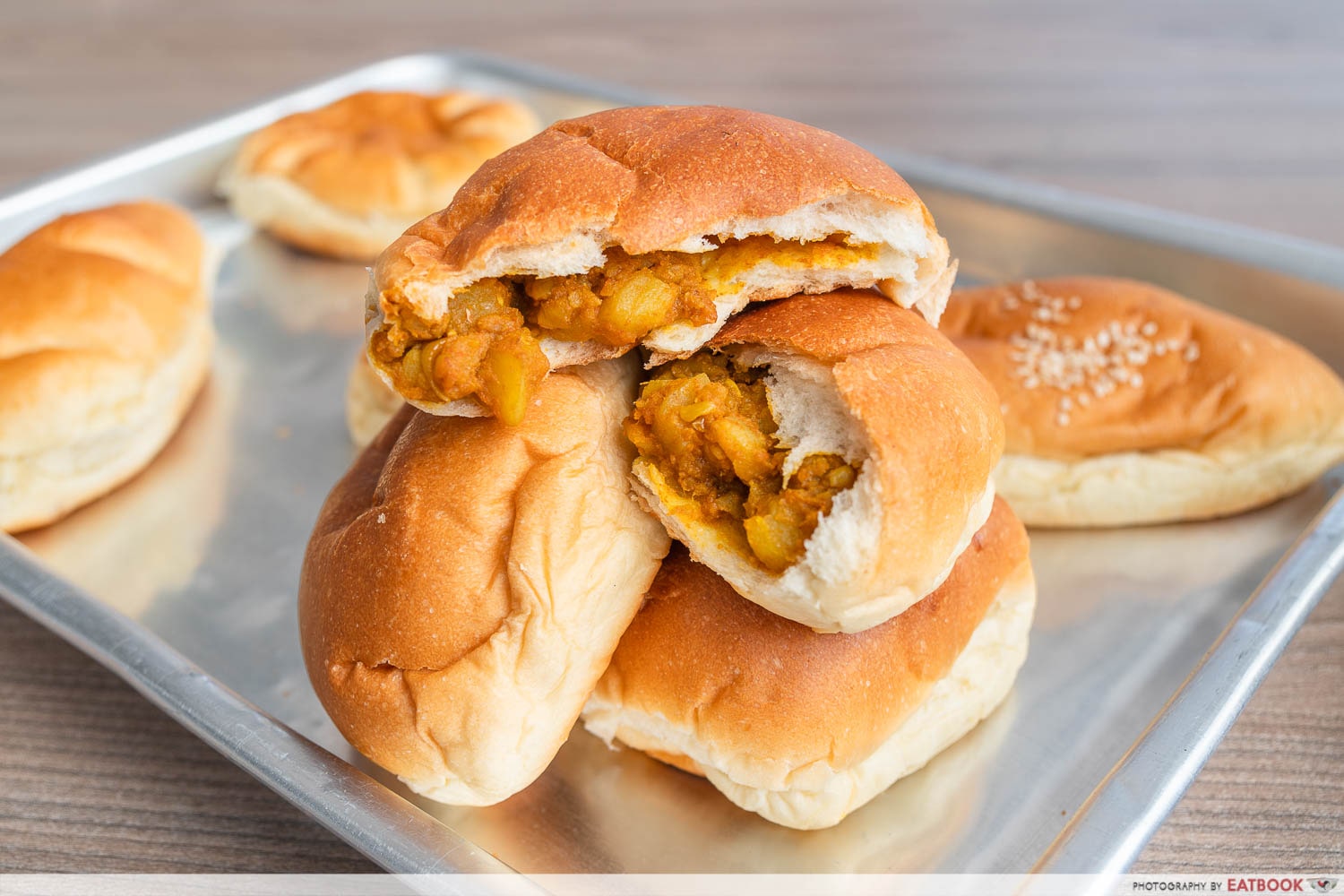 Continuing on the savoury trend of breads, I went for their Curry Bun ($1.10) which was stuffed with aromatic curry paste and numerous cubes of potato, finished with white sesame seeds on the top. Breaking into the bun, the aromatic curry paste oozed out almost immediately.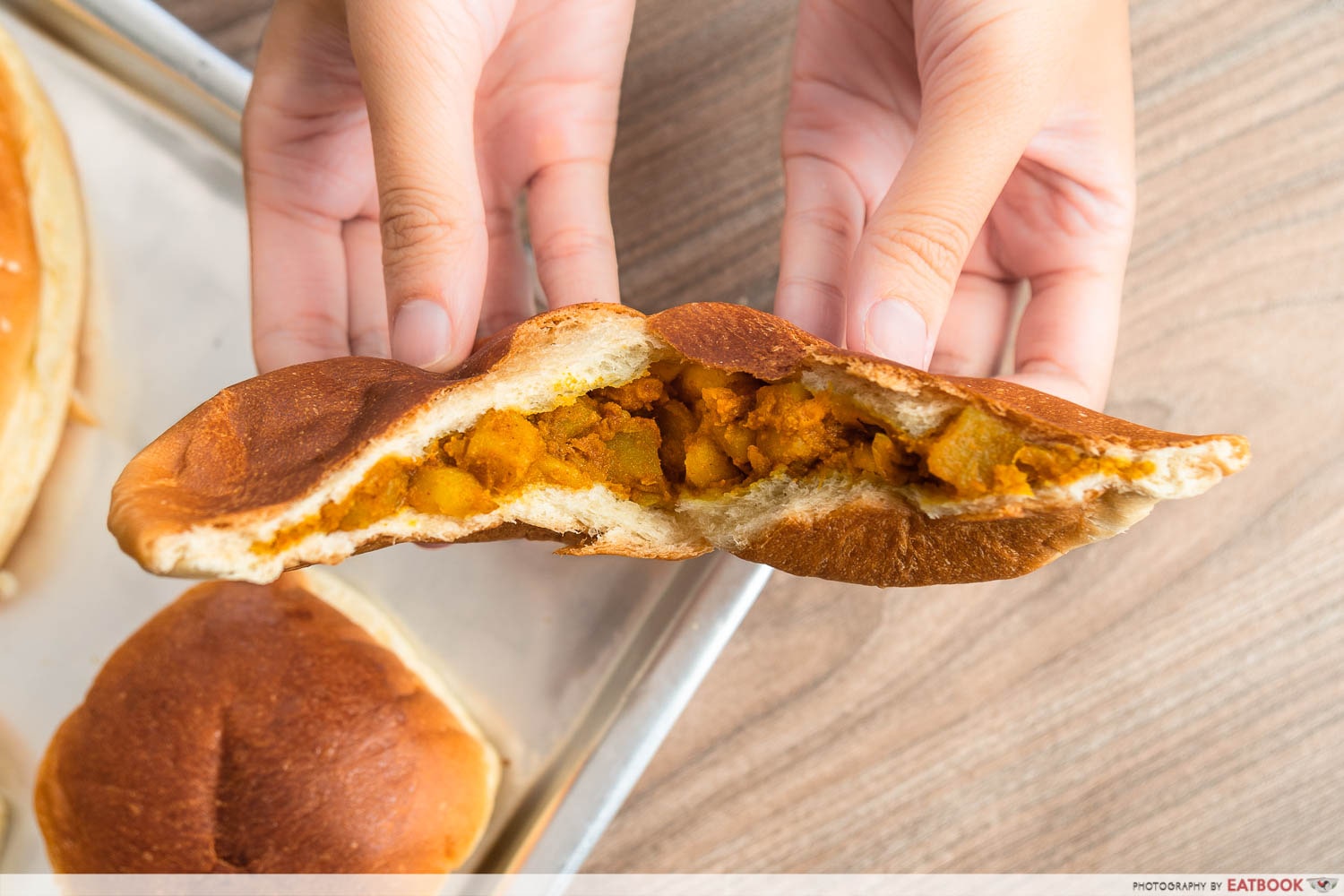 The first flavour that hit me was a strong hint of curry powder, along with a slight kick of spice. The potato cubes were soft but not too mushy, and still had a bit of a bite to them. This was a satisfying bun that I savoured, as it was reminiscent of dipping soft bread into a hearty bowl of chicken curry.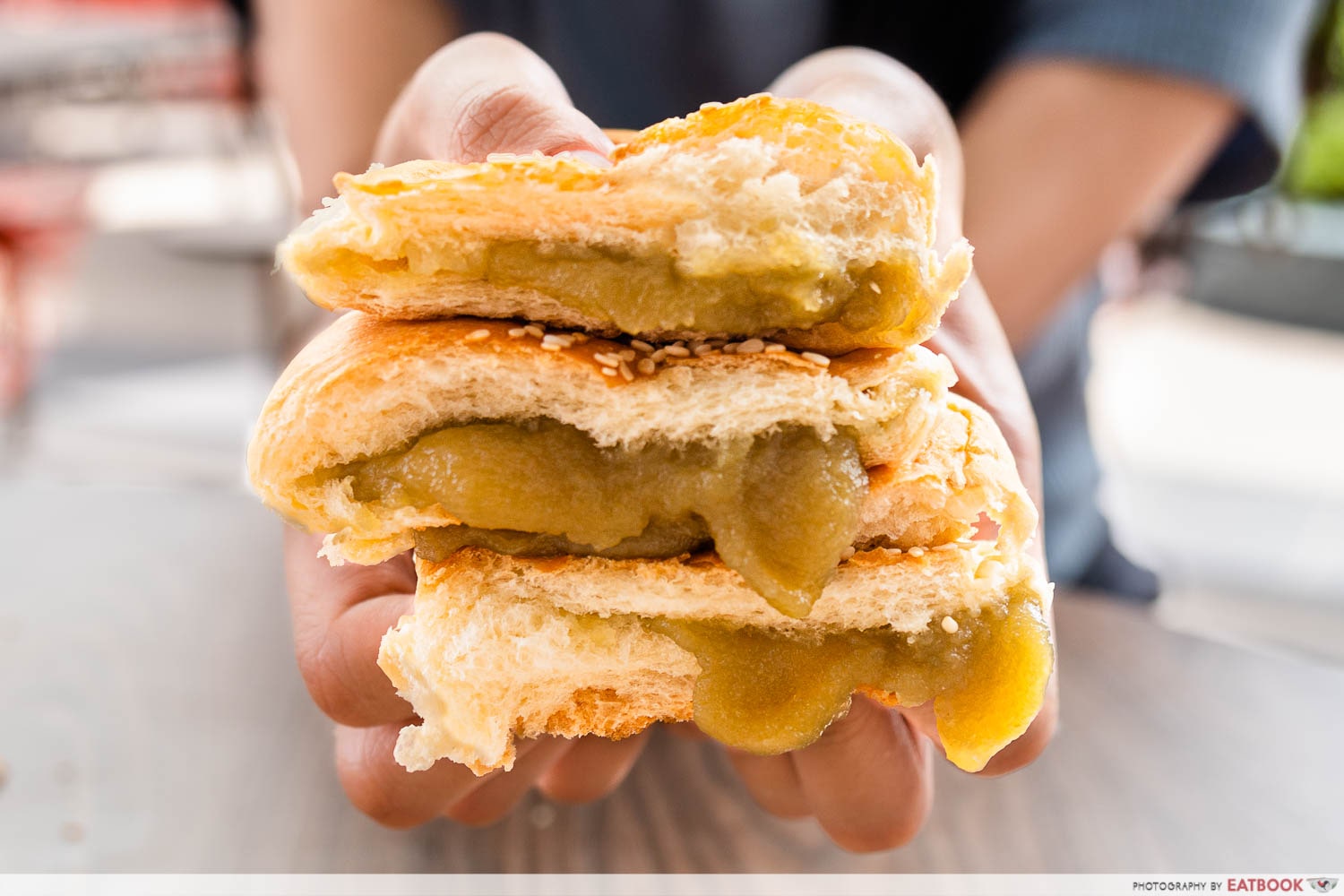 Moving on to their sweet flavours, there is the Kaya Bun ($1), another popular delight here at Serangoon Bakery & Confectionery. The green kaya oozed out as soon as I pulled this bread apart, and was still warm to the touch. With a generous amount of filling, the pandan aroma was strong and fragrant.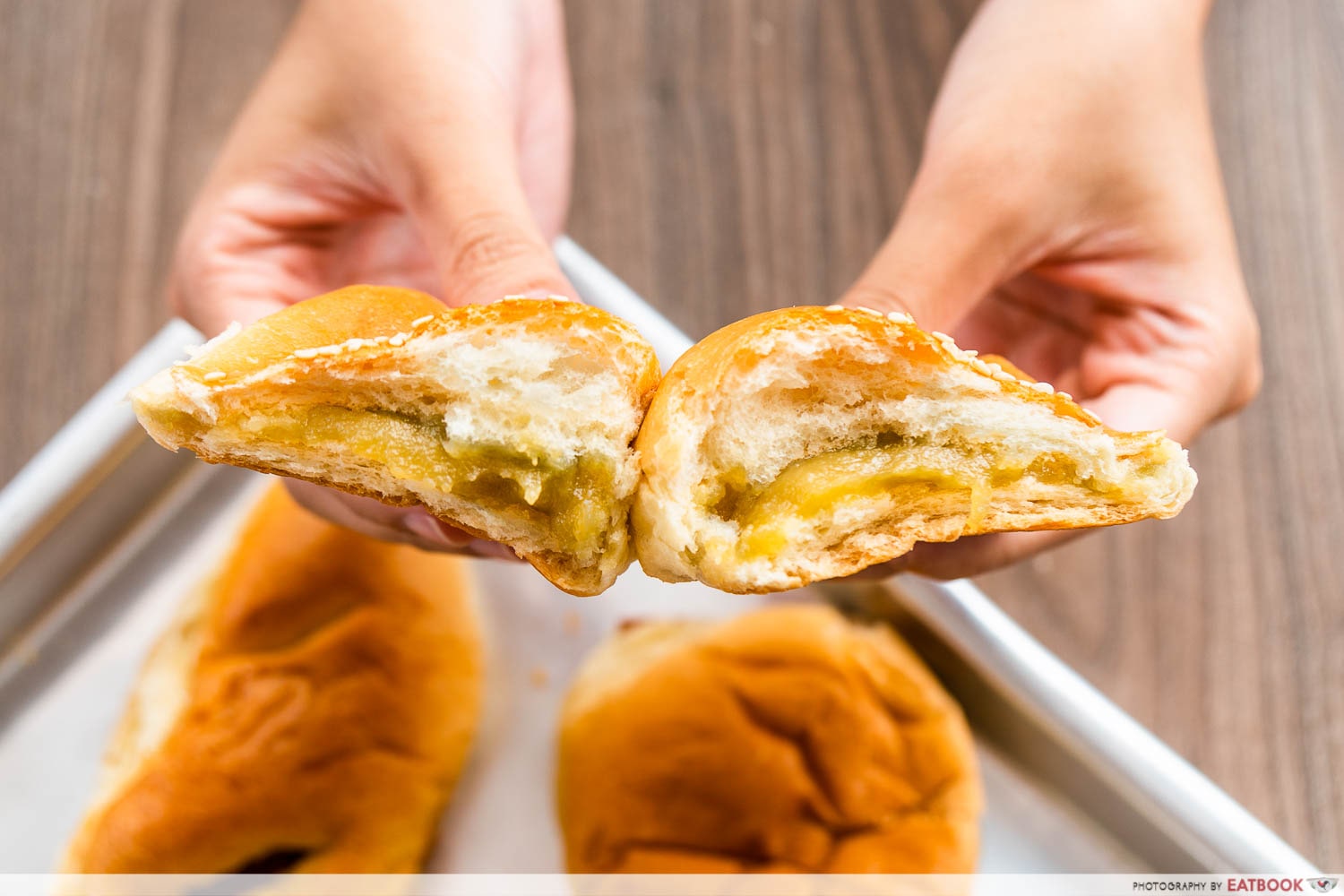 Just as I imagined, the bun was perfumed with a strong pandan flavour. Overall, though, it was slightly too sweet for my liking, as I could still taste bits of undissolved sugar within the kaya.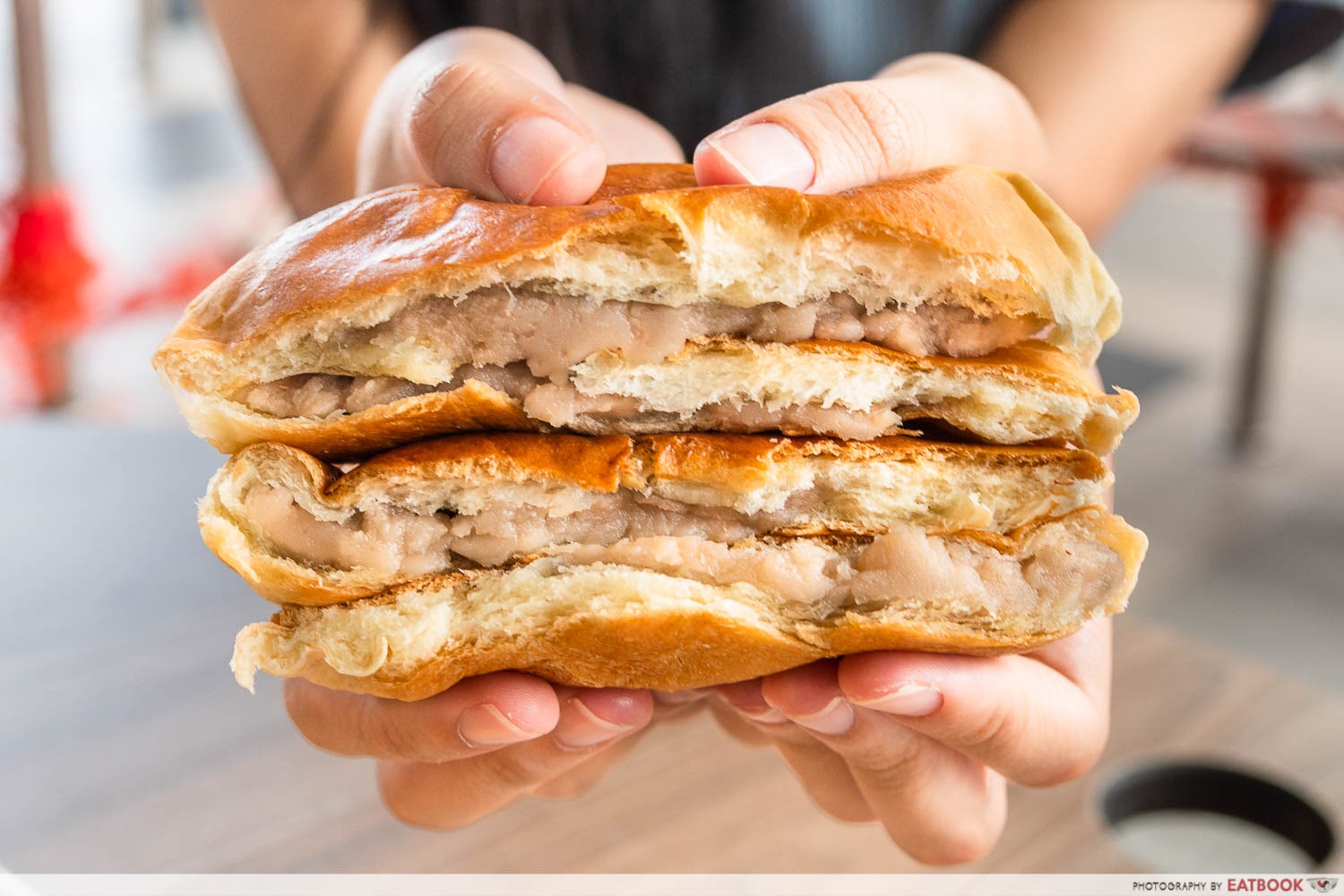 Another item that just came out of the oven was the Yam Paste Bun ($1.10) that overflowed with orh nee as soon as I bit into it. As a huge fan of taro, I can safely say that this bun met my high expectations. With a touch of earthiness and intense creaminess, the textures and flavours of the filling stayed true to authentic-tasting orh nee. 
What I really liked was that I could still taste little pieces of yam within the filling, a nod to the fact that they make their yam paste from scratch daily.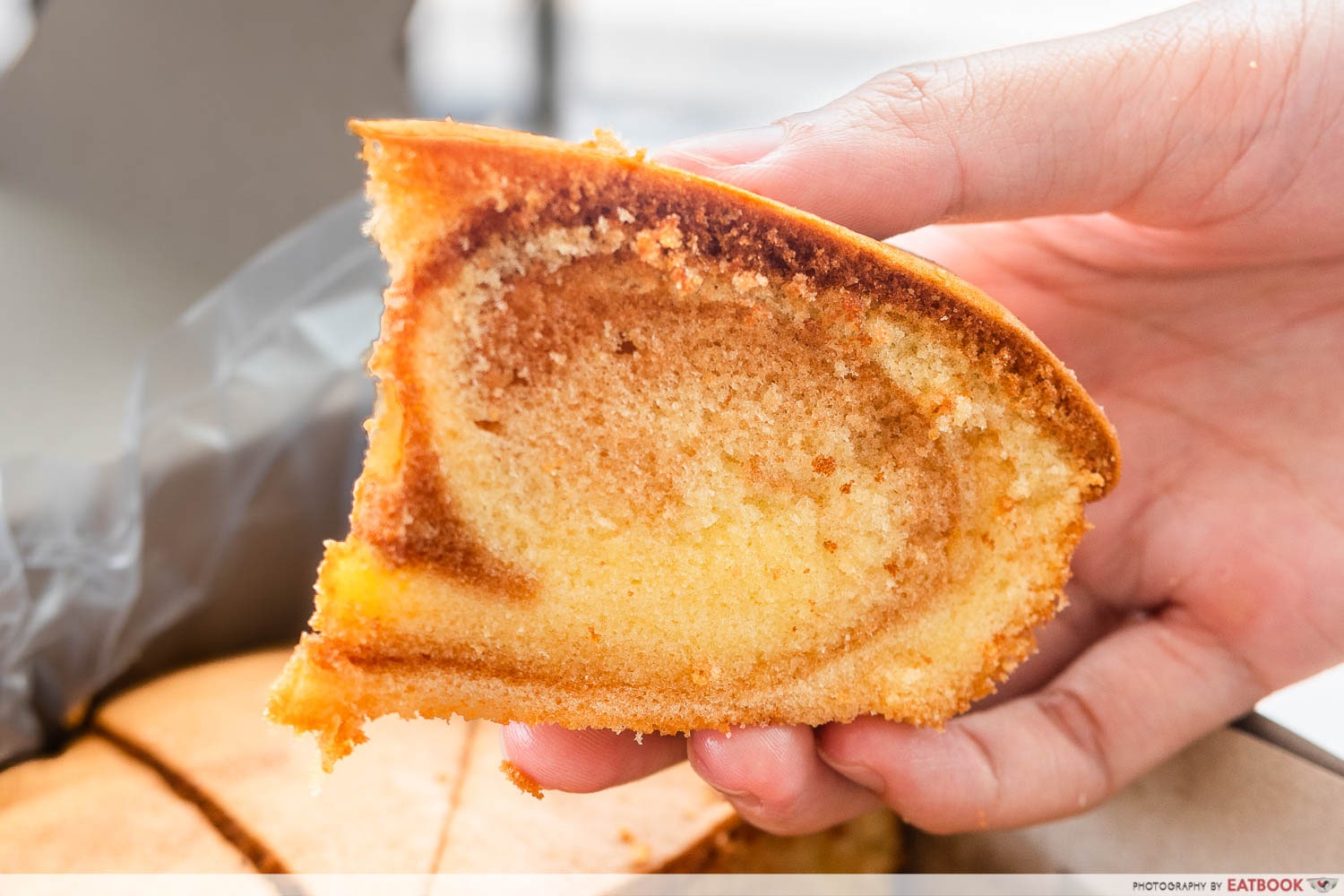 Finally, I went for their Buttercake which goes for $1 a slice, and $5 for an entire cake that comes with roughly eight slices. I was very impressed by its intensely soft texture and pretty marbling. This cake was extremely buttery and not too sweet, making this one of my favourite items at the bakery. 
Ambience at Serangoon Garden Bakery & Confectionery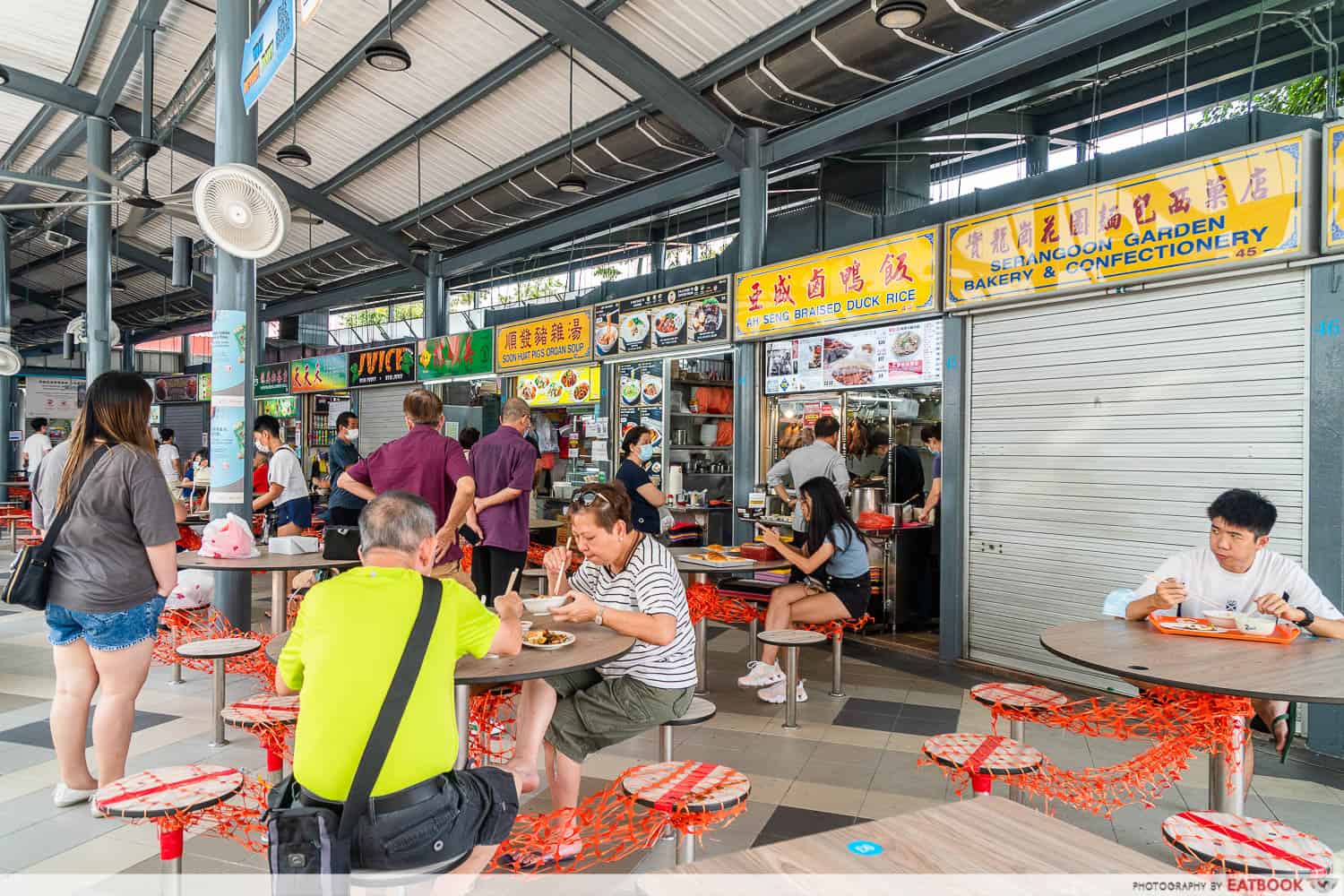 Situated within Serangoon Garden Market & Food Centre, there are a plethora of savoury meal options that you can have alongside the fragrant and fluffy breads here. This hawker centre is relatively large, with airy ventilation. However, you may want to head down early as there are many popular stores that see long queues daily. 
It is just a 10-minute bus ride away from Serangoon MRT Station, making this a convenient food stop for those living around the area. 
The verdict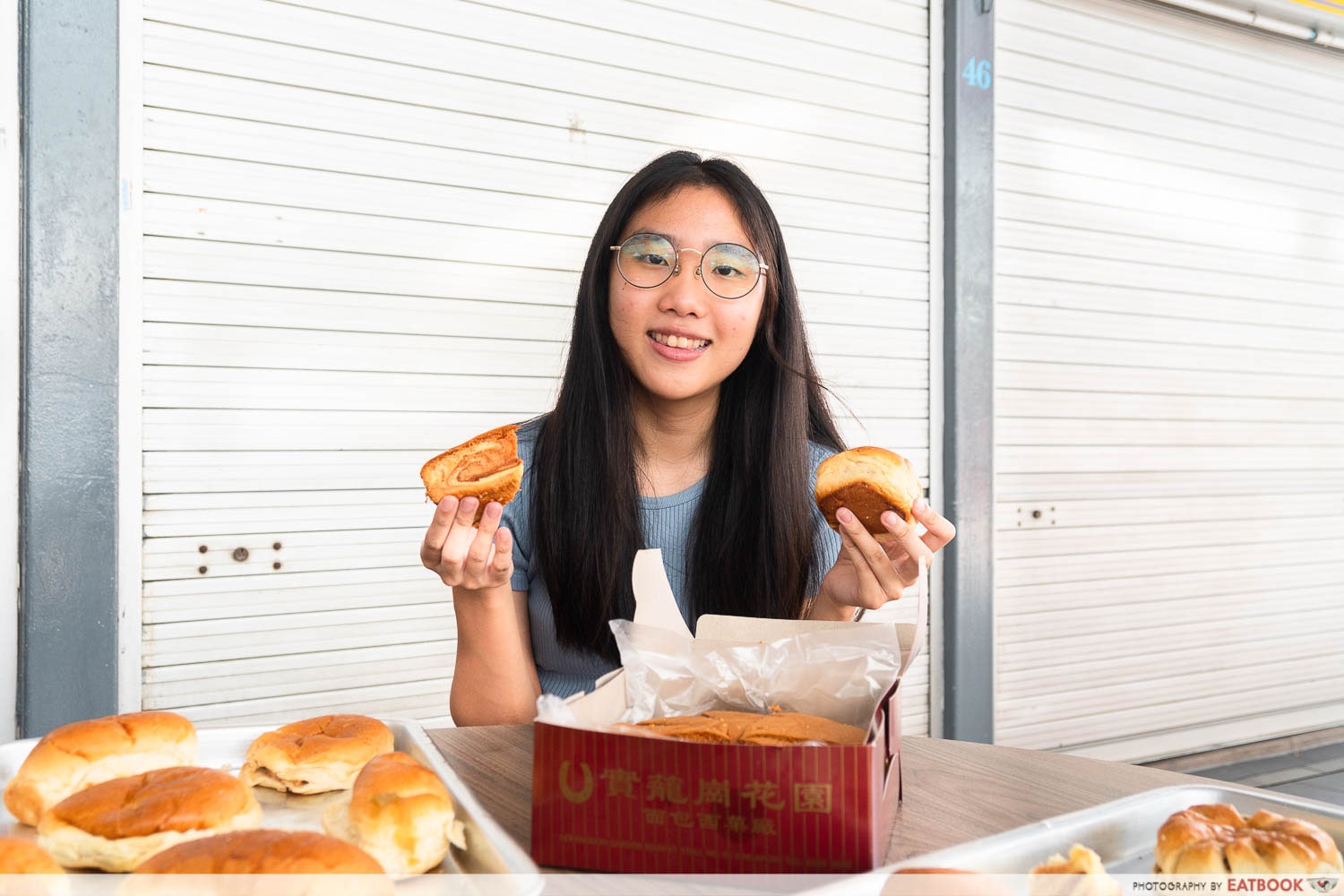 As someone guilty of munching on bread during various times of the day, I can definitely see myself coming back to Serangoon Gardens Bakery & Confectionery for their wide variety of delicious bread. What is really appealing to me about this place is the amount of effort they put into hand-making the bread daily, ensuring that their customers are blessed with a consistent quality of bakes. 
For more food in the area, check out our Bossi Ban Mian review for Malaysian Hakka-style ban mian with chye poh. If not, there is also our Naked Ice Cream review for a fix of waffles and ice cream till 2am!
Address: 49A Serangoon Garden Way, #01-45 Garden Market, Singapore 555945
Opening hours: Tue-Sun 6am to 2pm
Serangoon Garden Bakery & Confectionery is not a halal-certified eatery.
Bossi Ban Mian Review: Malaysian Hakka-Style Ban Mian With Chye Poh At Serangoon Gardens
Photos taken by Tan Zi Hui.
This was an independent review by Eatbook.sg.
Serangoon Gardens Bakery & Confectionery Review: 40-Year Old Bakery Sells Luncheon Meat Buns, Taro Bread And More
Serangoon Gardens Bakery & Confectionery Review: 40-Year Old Bakery Sells Luncheon Meat Buns, Taro Bread And More -

7.5/10
Summary
Pros
– There was a generous amount of filling within the bread 
– Affordable prices 
Cons
– The hamburger bun was a little underwhelming 
Recommended dishes: Yam Paste Bun ($1.10), Buttercake ($0.90)
Opening hours: Tue-Sun 6am to 2pm
Address: 49A Serangoon Garden Way, #01-45 Garden Market, Singapore 555945