---
Locally-inspired ice cream shops in Singapore
---
Nothing comes close to the satisfaction of being served a big scoop of ice cream on a hot day. But rather than succumbing to your usual picks of vanilla and chocolate, give your taste buds a surprise with some locally-inspired flavours.
Singapore is a hotbed for ice cream shops with innovative sweet treats. Think crowd favourite flavours like Milo Dinosaur and Durian,  or if you prefer having breakfast for dessert, maybe a scoop of Kaya Toast ice cream will do just the trick.
Here are some ice cream shops in Singapore serving up some of the most unique locally-inspired flavours.
15 Milo Recipes Including No-Bake Milo Cakes And Milo Brownie Mousse Cake
---
1. Sunday Folks
---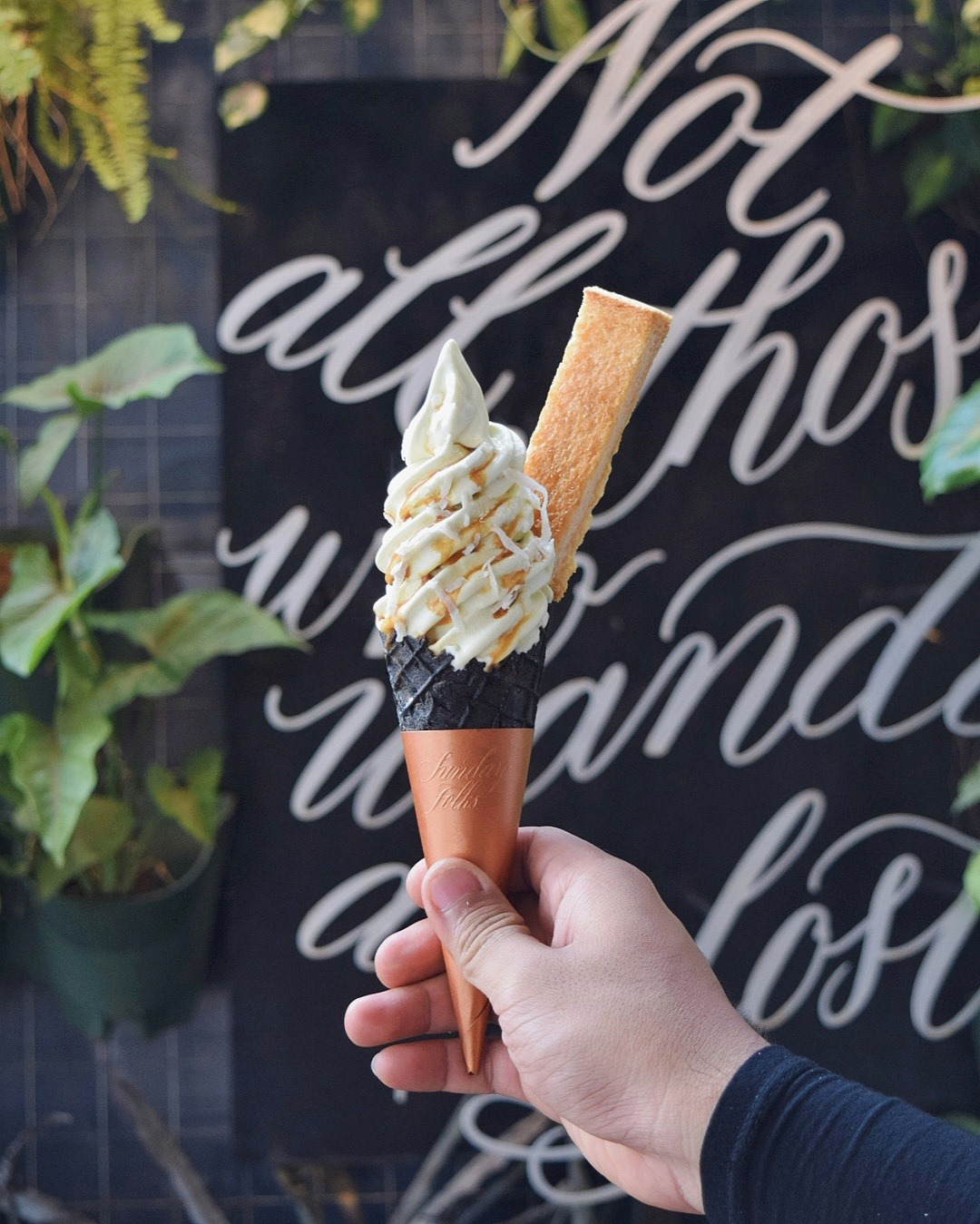 Image credit: Sunday Folks
You're missing out if you've never been to Sunday Folks for some post-brunch dessert. This cafe is located in the cosy enclave of Chip Bee Gardens and is most famous for their signature waffles topped with a generous swirl of ice cream. Do note that now, due to the current health climate, they serve churros instead.
The Kaya Toast ice cream ($8.50) was created to celebrate National Day. It comprises a kaya-based cream topped with coconut flakes, and coffee-caramel sauce to mimic the kopi-o that usually comes with a local breakfast set. A stick of buttered toast finishes off the dessert for some crunch. The Kaya Toast ice cream is a seasonal item and will be available at Sunday Folks till end-October. For other options, you can always order a pint of their Sea Salt Gula Melaka ($18) from their online store.
Address: 44 Jalan Merah Saga, #01-52, Singapore 278116
Opening hours: Tue-Sun 1pm to 10pm
Tel: 6479 9166
Website
Holland Village Food Guide: 16 Places For Duck Ramen, Bagels And More
---
2. Tom's Palette
---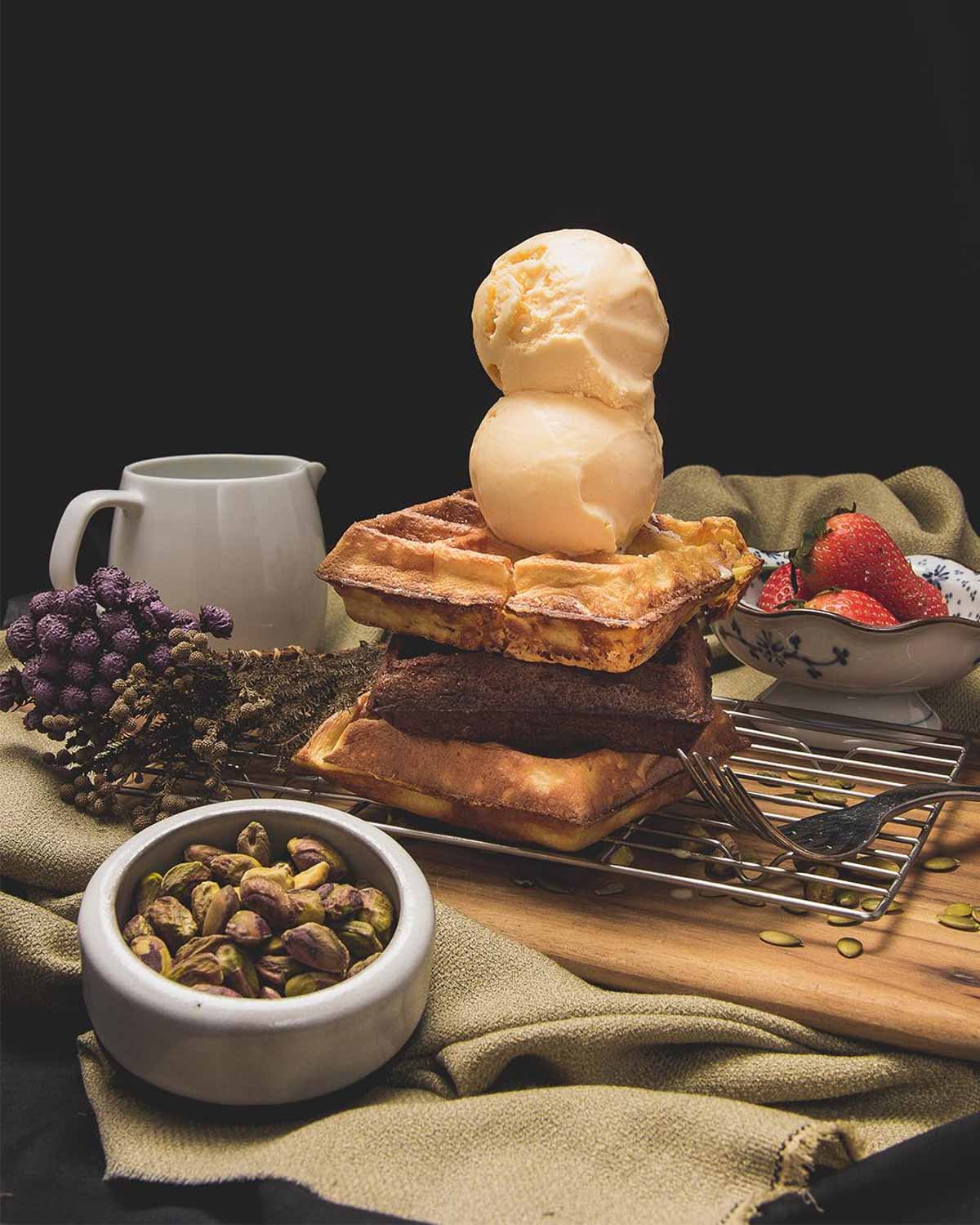 Image credit: Tom's Palette
Veteran ice cream makers Tom's Palette, have served up over 190 flavours of their house-made gelato over the years. This collection includes flavours that would only make sense to locals like Salted Egg Yolk and Nasi Lemak.
Those are the more popular options, while other unorthodox flavours like Tau Sar Piah and Soya Bean Dough Fritters make staggered rotations on the menu. A single scoop in a cup goes for $4, while a single scoop in a cone goes for $5. If you want to savour more at home, you can take home a tub of ice cream for $18 too.
Address: 51 Middle Road, #01-01, Singapore 188959
Opening hours: Mon-Thu 12pm to 9:30pm, Fri-Sat 12pm to 10pm, Sun 1pm to 7pm
Tel: 6977 9749
Website
Tom's Palette Reopens At Middle Road With Brownie Waffles, Unique Ice Cream Flavours And More
---
3. Dopa Dopa Creamery
---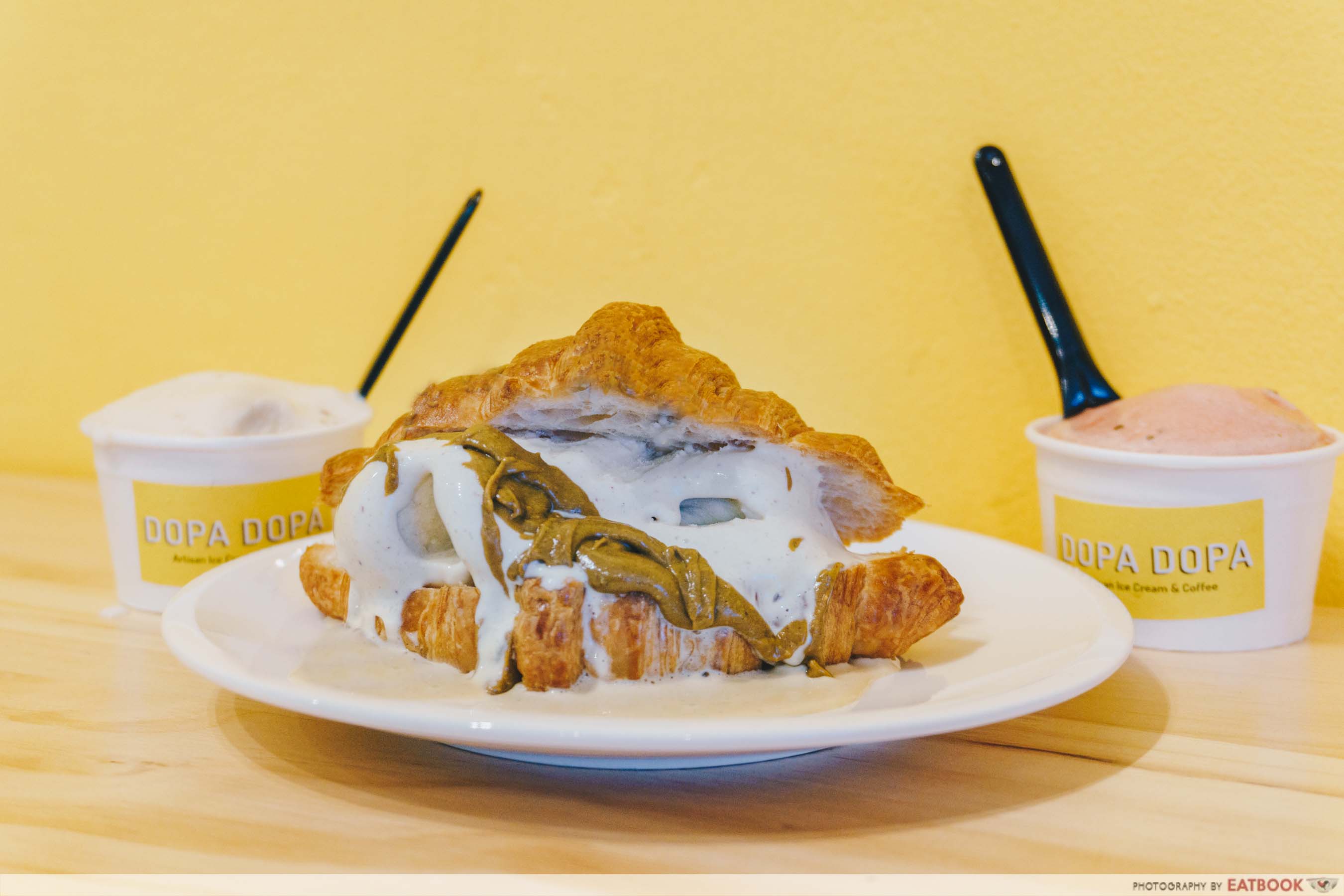 Ice cream and pastries are a match made in heaven, and Dopa Dopa Creamery is where you can get your fix. Whether you're craving a Croissant ($5.30) or a kouign-amann known as the Happy Patty ($6) at Dopa Dopa, you can easily pair the freshly-baked pastries with delicious scoops of their house-made gelato.
You won't go wrong choosing their signature Pistachio flavour ($4.70), made with nuts roasted in-house, but keep an eye out for their Singapore-style seasonal flavours like Coconut Pandan with Gula Melaka. A single scoop here goes for $4, and premium flavours are an additional $0.70.
Check out our full review of Dopa Dopa.
Address: 29 South Bridge Road, #01-01, Singapore 058665
Opening hours: Mon-Thu 12pm to 10pm, Fri-Sat 12pm to 10:30pm
Tel: 9123 2143
Website
Dopa Dopa Creamery Review: Gelato Croissant Shop At Clarke Quay
---
4. Fatcat Ice Cream Bar
---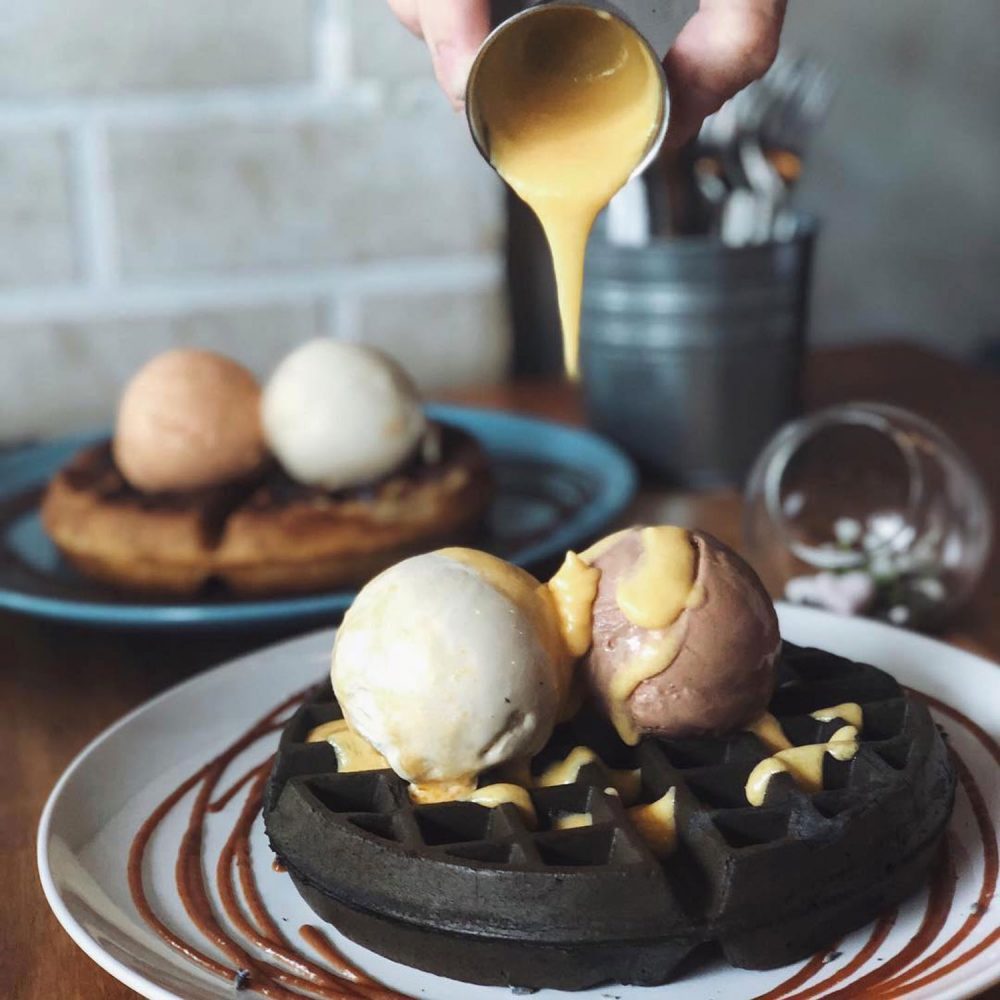 Image credit: @fatcatsg
A surefire way to level up your Instagram #foodporn is a visit to Fatcat Ice Cream Bar. The dessert parlour located in Bedok serves up some really interesting ice cream flavours that spotlight seasonal ingredients. They were also one of the first cafes to popularise black waffles with their Charcoal Waffle and Salted Egg Yolk Sauce ($6).
Now, you can top it off with a scoop or four of ice cream in flavours like Soya Milk Youtiao, Pulut Hitam, and Kaya Toast. A single scoop goes for $4.50, and double scoops are $8.50.
Check out our full review of Fatcat Ice Cream Bar.
Address: 416 Bedok North Ave 2, #01-25, Singapore 460416
Opening hours: Wed-Mon 1pm to 10pm
Tel: 6241 0830
Website
FATCAT Ice Cream Bar Review: IG-Worthy Desserts In Bedok That Taste As Good As They Look
---
5. Lickers
---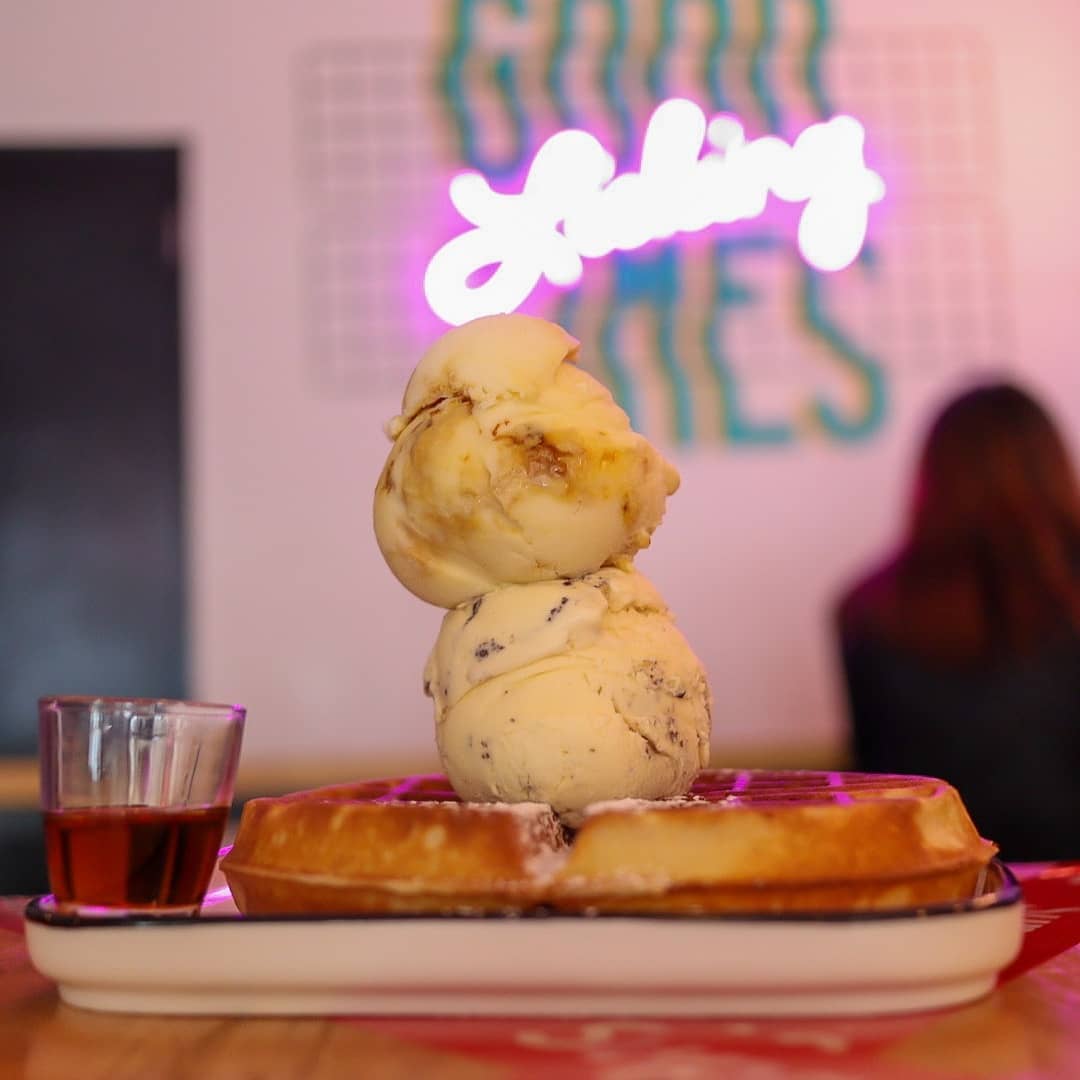 Image credit: @shiokubutsu
A late-night ice cream run hits different, and with two stores in Hougang and Telok Blangah, Lickers is perfectly situated for heartlanders to satisfy their midnight cravings.
Their innovative yet familiar flavours like Milo Mallow, Yakult Oreo, and Coco Melaka complement their conventional offerings like Classic Cheesecake and Strawberry Creme. A single scoop there goes for $3.50, and you can add a waffle for just $4.50.
Website | Full list of locations
Shake Shack Suntec City Opens On 30 September With Limited Edition Fried Shallots Burger And Matcha Ice Cream
---
6. Kind Kones
---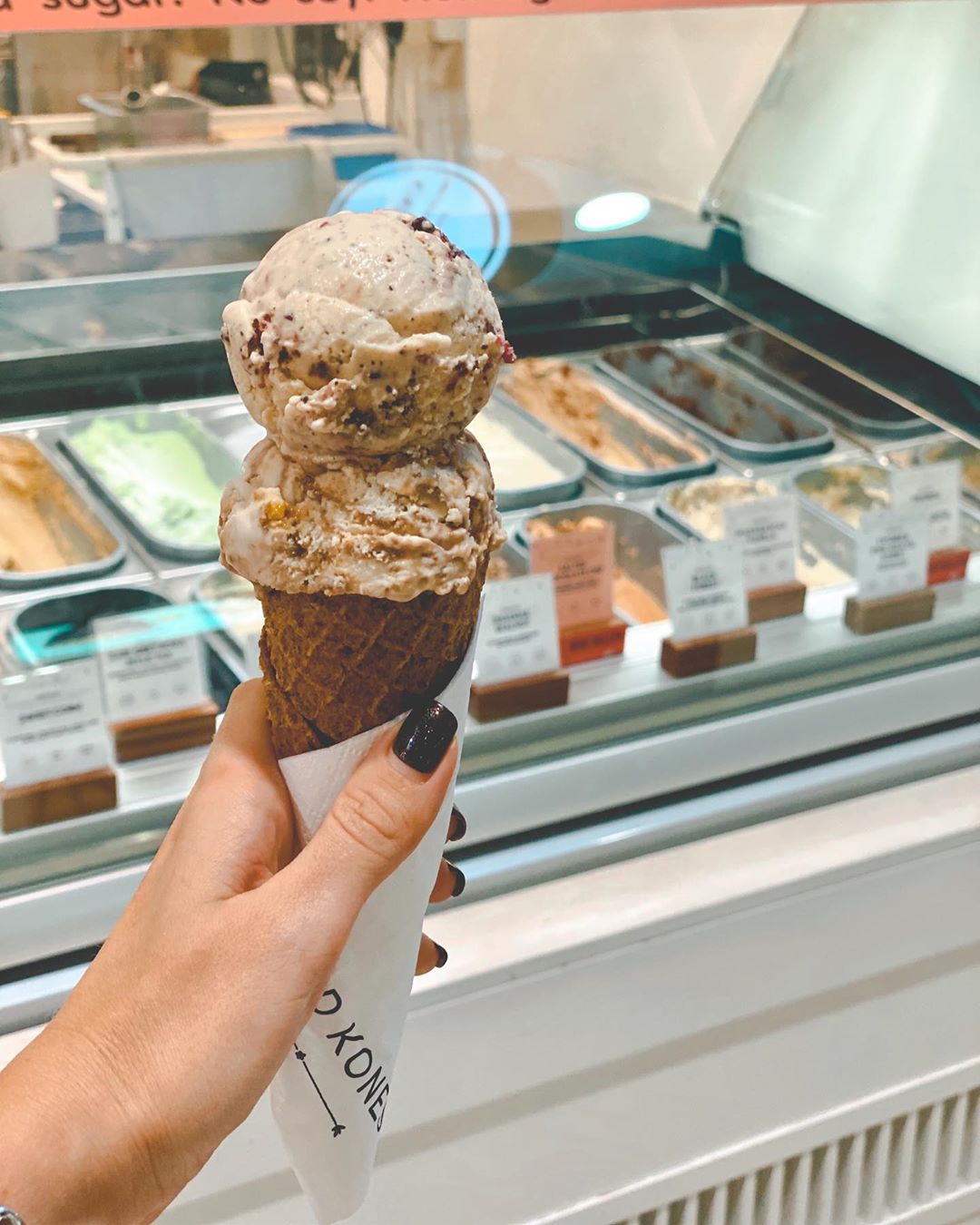 Image credit: @glutenfreeasia
Those of us who are unfortunately lactose intolerant can find solace in the ice cream from Kind Kones. The vegan ice cream parlour prides themselves on only using natural and fresh ingredients. This means that their ice cream is free from dairy, soy, refined sugar, egg, preservatives, and artificial additives.
You might think that the lack of these ingredients will dull the ice cream, but we can assure you that they're still as tasty. With a menu that has a wide assortment of flavours like Pandan Gula Melaka and Keto Avocado Coconut, you won't be disappointed if you're after a healthier ice cream option. A single scoop starts at $4.90.
Check out our full review of Kind Kones.
Address: 583 Orchard Road, #B1-27, Forum The Shopping Mall, Singapore 238884
Opening hours: Daily 10am to 10pm
Tel: 9010 8557
Website
Kind Kones Review: Vegan Ice Cream In Singapore With Pandan Gula Melaka And Black Forest Flavours
---
7. Creamier
---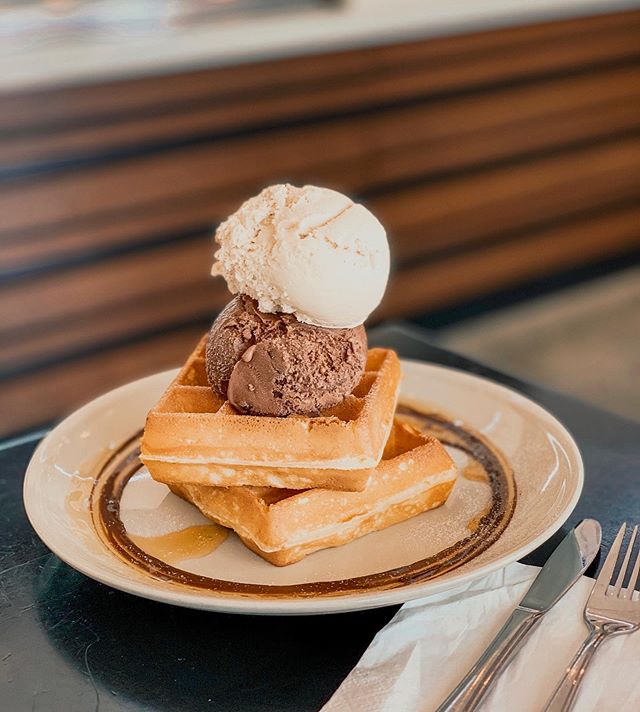 Image credit: @bobanomz
You might be familiar with Creamier as it is one of the OG heartland dessert cafes. Its humble beginnings in Toa Payoh saw the founders churning delicious ice creams every morning to ensure a degree of freshness.
This tenacity led to widespread success, leading them to collaborate with Chef Franco Brodini of the Shangri-La Hotel to create their signature flavour, Sea Salt Gula Melaka. These days, you can also expect to find the Tau Huay flavour on their menu. A single scoop goes for $3.60, while a Waffle Set (with a single scoop) will set you back $9.10.
Website | Full list of locations
Chow Zan Dessert Review: White Chendol And Peach Gum Desserts From $4 At Bugis
---
8. The Daily Scoop
---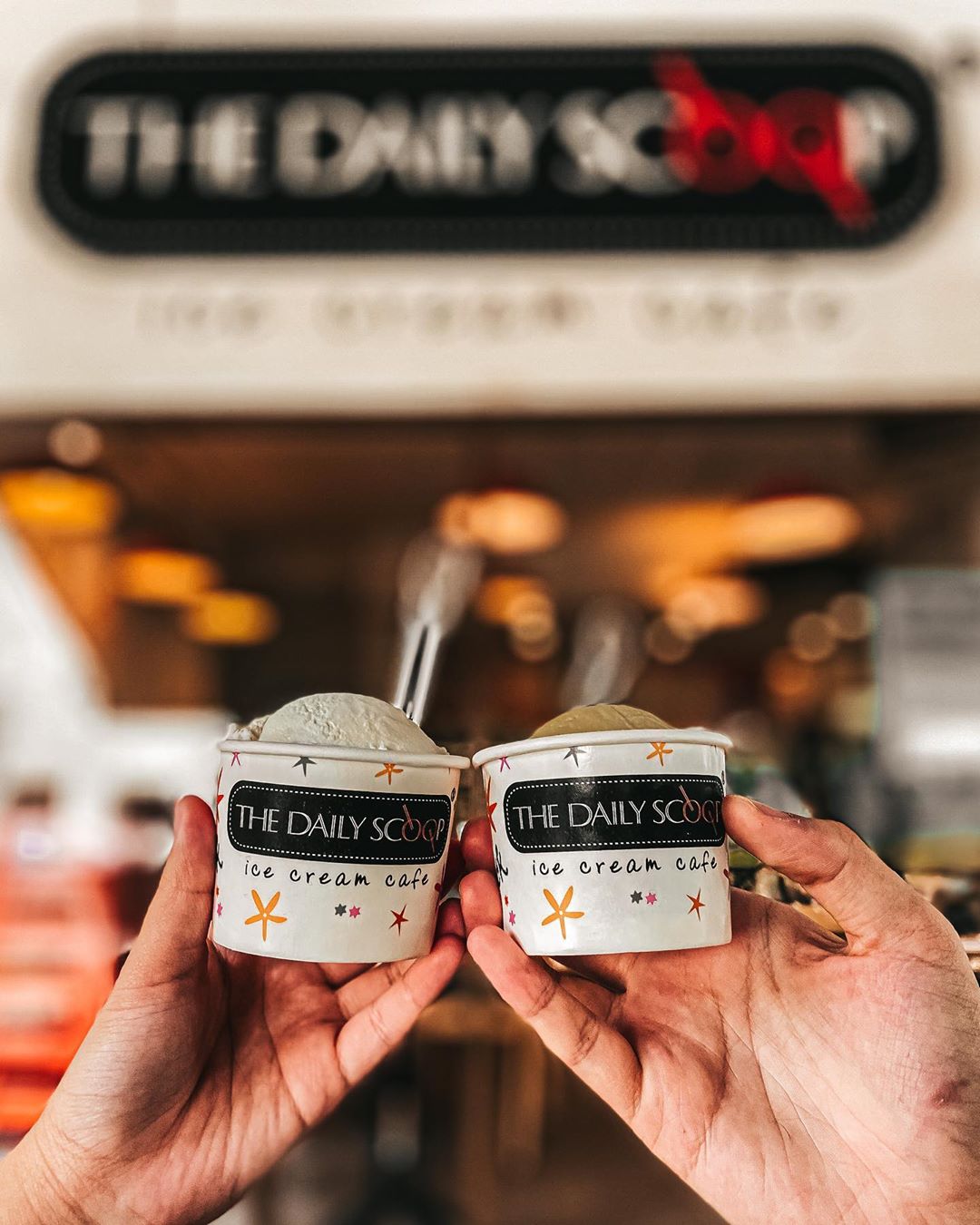 Image credit: @fatslifes
We can safely assume that most students past and present would have spent at least one study session at The Daily Scoop, given that they were one of the earliest local ice cream chains in Singapore.
Over time, the shop has graduated from their traditional flavours into more experimental ones, like the most recent Bubble Teh ($3.80), which combines the sweetness of milk tea with chewy golden tapioca pearls in a creamy scoop. Other locally-inspired flavours on the menu include Chendol and Mao Shan Wang. A single scoop starts at $3.50.
Website | Full list of locations
Kamome Bakery Review: Japanese Cafe With Red Bean Butter Buns, Mentaiko Baguettes And More
---
9. Geometry
---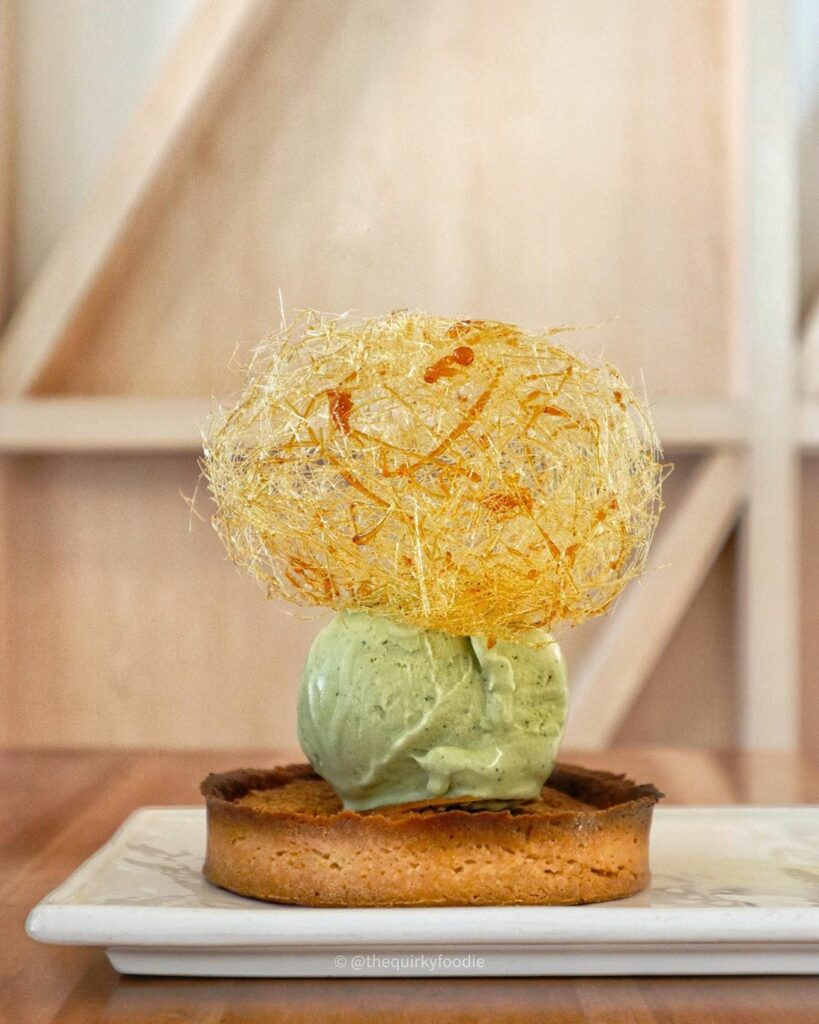 Image credit: @thequirkyfoodie
Don't let the quaint and cosy interior of Geometry fool you – their menu boasts some truly unorthodox flavours and pairings that prove their culinary depth. For example, you could get a scoop of Earl Grey Tie Guan Yin ice cream on top of a handcrafted French Tart ($9.90) that's unlike anything we've seen before.
If you're not that fond of tea-based flavours, you can also opt for the sesame-based Goma or something more familiar like Milo.
Address: 2 Jalan Bukit Merah, #01-5142, Singapore 150002
Opening hours: Sun-Thu 12pm to 9:30pm, Fri-Sat 12pm to 11pm
Tel: 6255 6366
Website
Bukit Merah Cafe Guide: 11 Places For Red Velvet Waffles, Mala Prawn Pasta And More
---
10. Double Scoops
---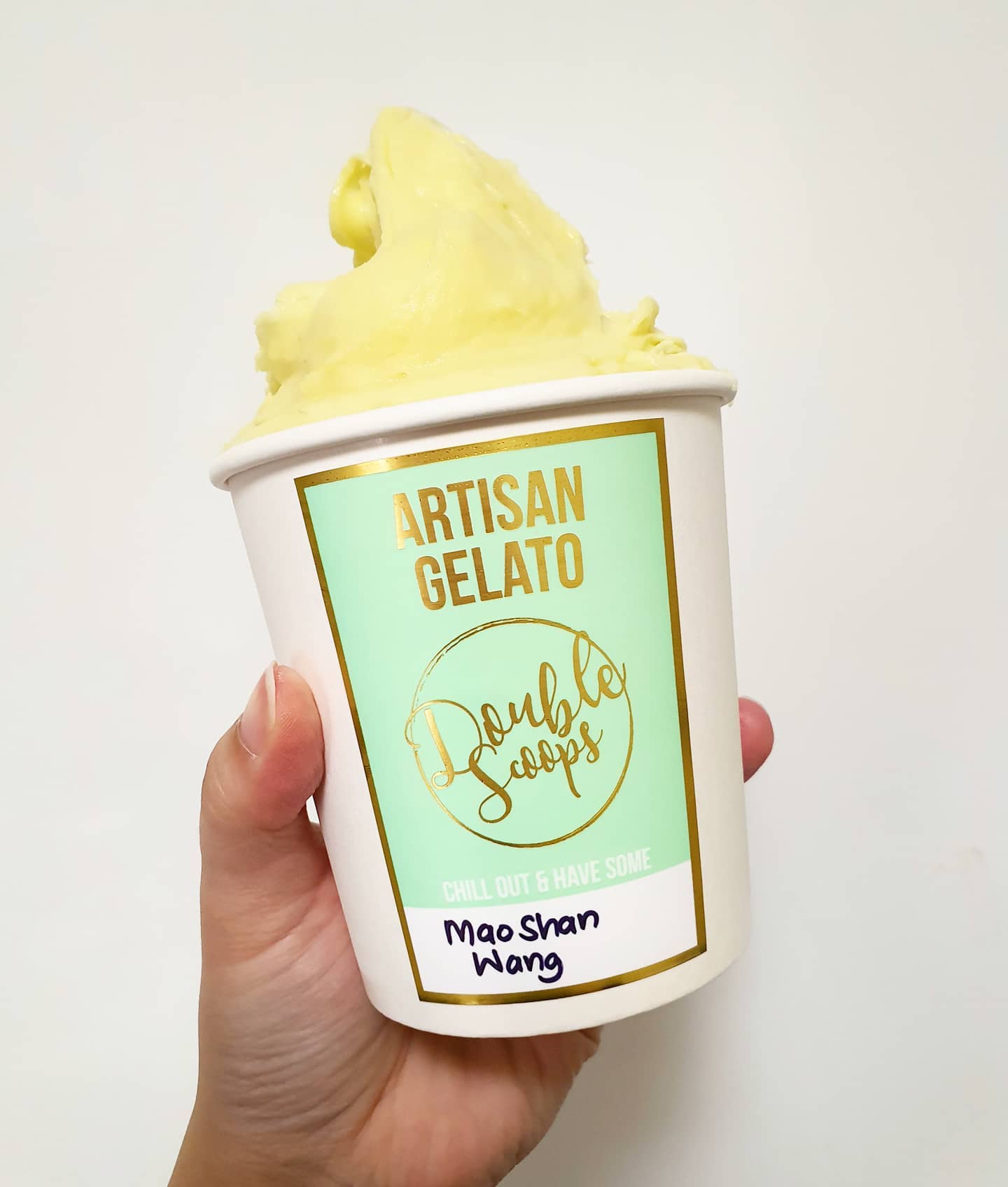 Image credit: Double Scoops
Sometimes you just want to feast on a pint of Mao Shan Wang Durian Sorbet ($12) in bed while watching some Netflix, and that's where Double Scoops comes in. The shop closed their dine-in outlet in January 2020 to focus on factory production and events catering, but they're still delivering their delicious ice cream pints islandwide.
Some of their signature locally-inspired flavours also include Sea Salt Gula Melaka ($10), Lychee Oolong Tea ($12), and Orh Nee ($12), so your favourite Teochew dessert now comes in an ice cream form.
LUNA Review: New Cafe At Amoy Street Selling Orh Nee And Dark Chocolate Speculoos Cakes Under $10
---
Local ice cream #FTW
---
Depart from your usual choices and go for something nostalgic and locally-inspired instead with our picks at these ice cream shops in Singapore.