Kind Kones at Orchard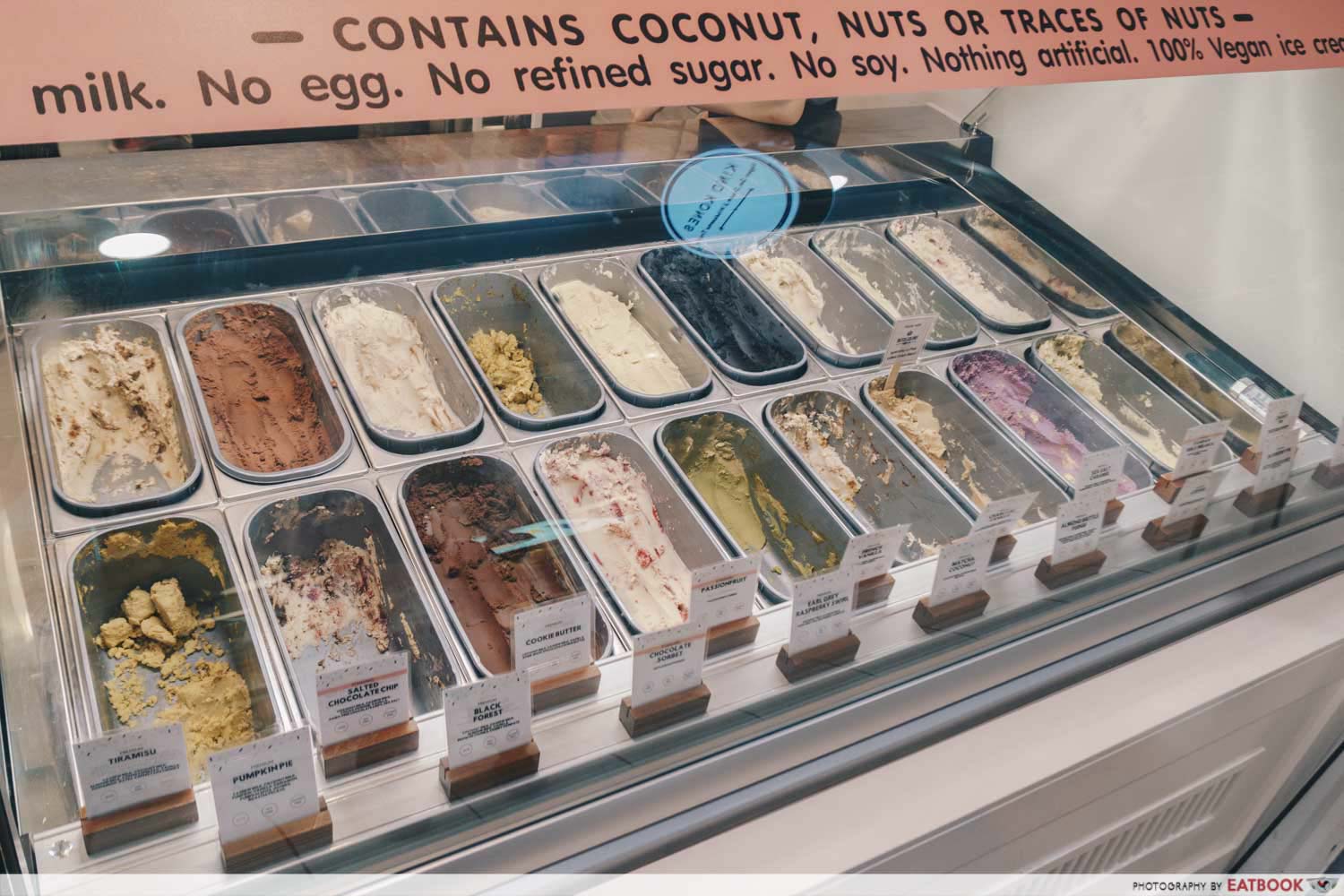 As someone who is a huge dairy lover, I was devastated when I found out about my lactose intolerance. I accommodated to soy and almond milk, but my sweet tooth kept craving for ice cream. Naturally, I was excited when Kind Kones opened earlier this year. This Malaysian-based dessert shop crossed the border to bring us a selection of dairy-free ice creams. Now those who are lactose intolerant, such as myself, can finally indulge in ice cream without having the runs!
Food at Kind Kones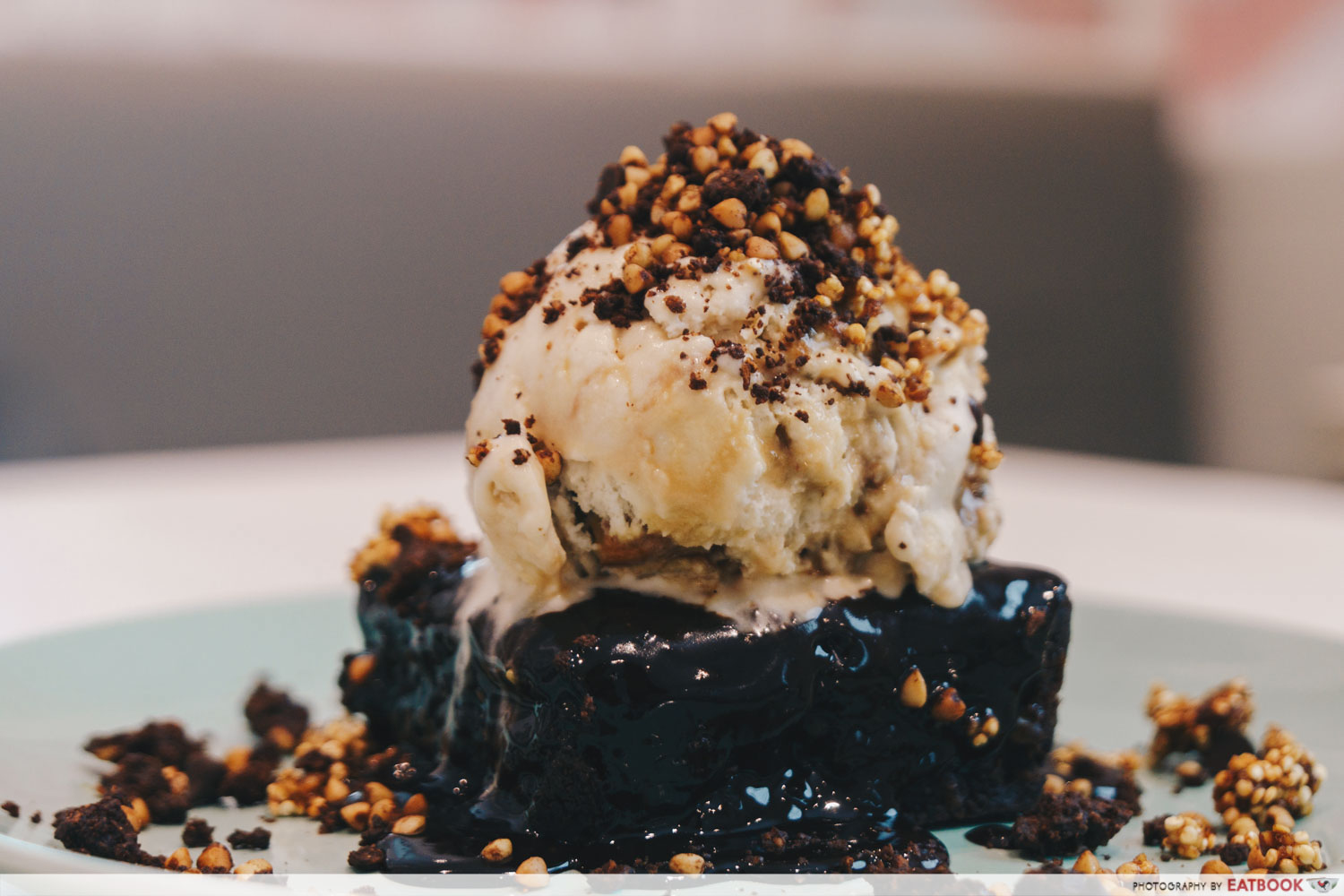 It's easy to drown in a plethora of flavours at major ice cream joints. But you won't have to power through tasting over thirty flavours as Kind Kones has a limited menu. Their flavours range from classics such as French Vanilla to local renditions including Pandan Gula Melaka and Durian.
I started with the Brownie Sundae ($11.50) as it stood out from their dessert menu. This is the best chance to try out their premium items as you'll get a scoop of any ice cream and two toppings.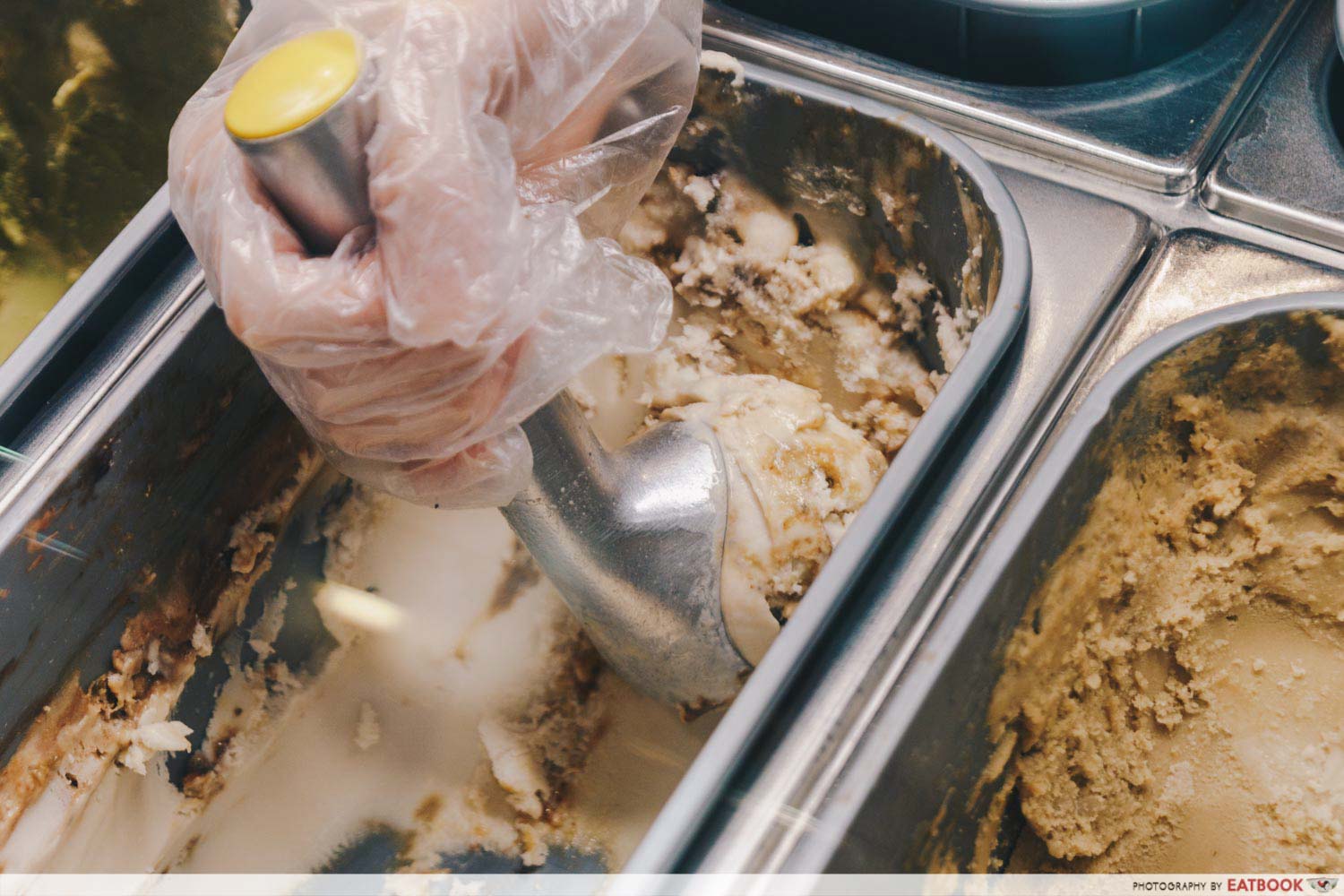 I paired this slab of decadent chocolate cake with Almond Brittle Fudge and sprinkles of Quinoa Crunch and Chocolate Buckwheat Granola.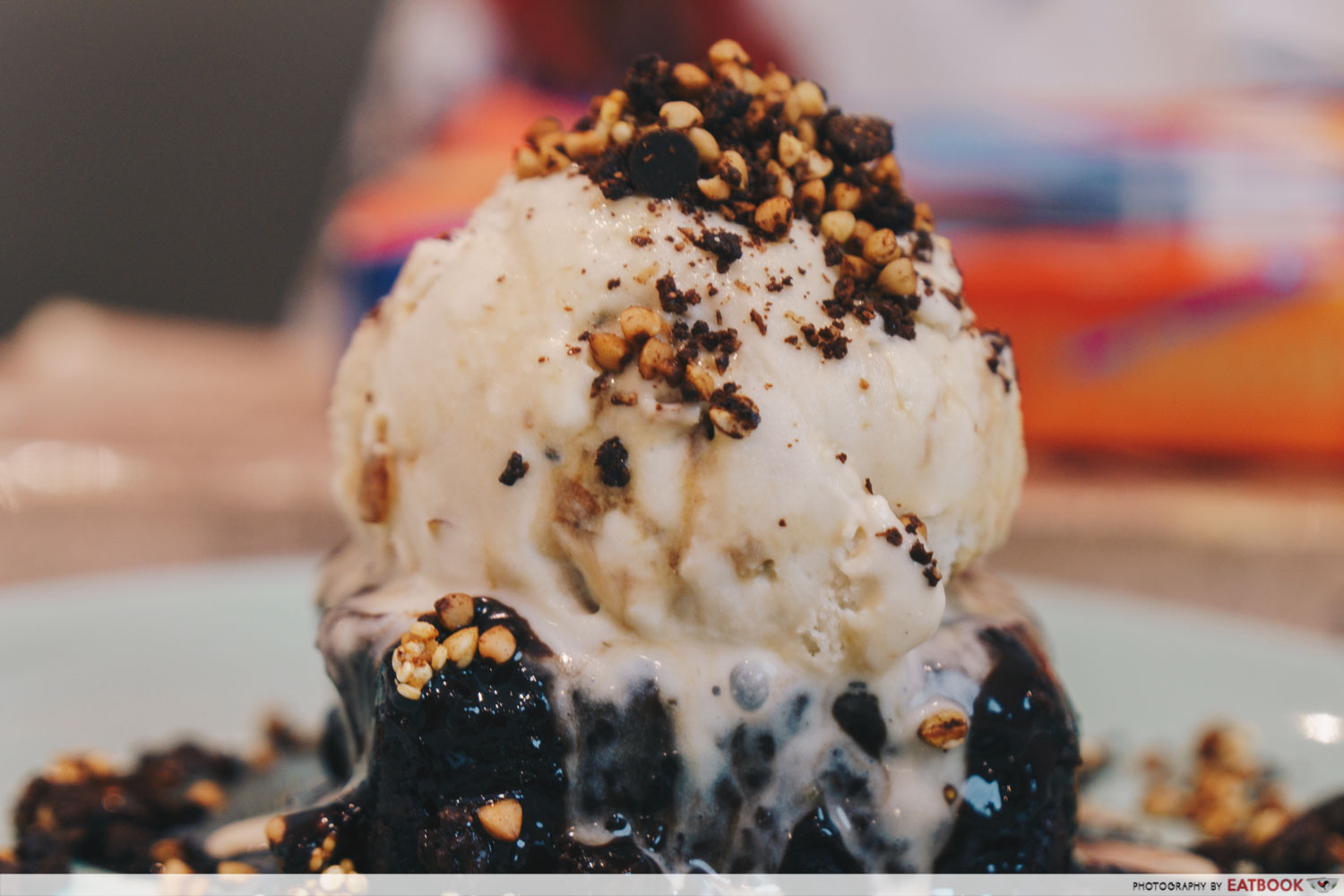 With the brownie heated upon order, its top chocolate layer melts into a warm and oozy sauce flowing down the sides of the cake. Be quick to dig into this dessert as the toasty brownie softens the ice-cream.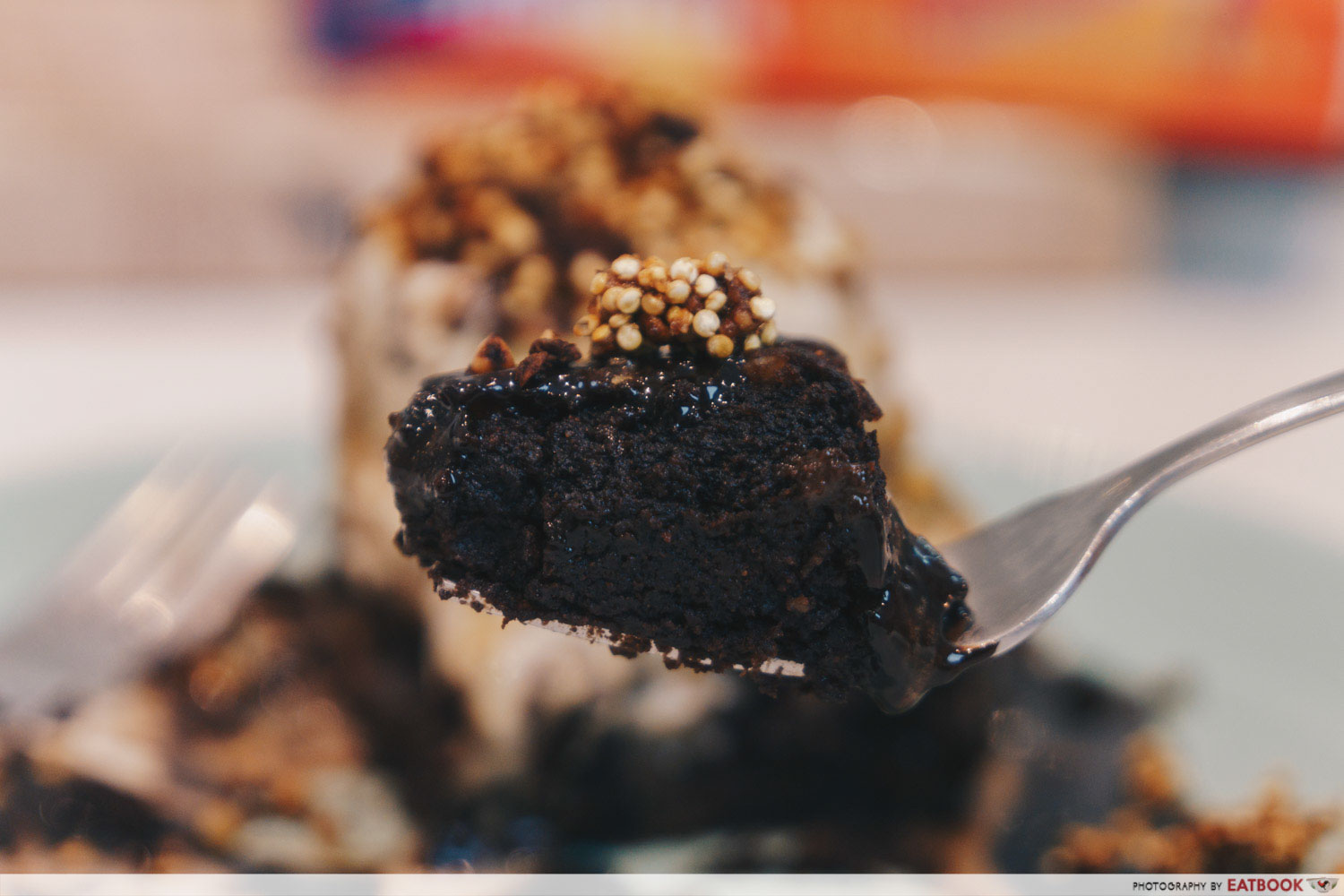 The brownie itself was on the fudgy side, with chunks of walnuts hidden in the moist chocolate cake. I assumed this brownie wouldn't be too cloying since it was made with sweet potatoes and raw cane sugar. However, I was proven wrong after taking a bite of this rich dessert.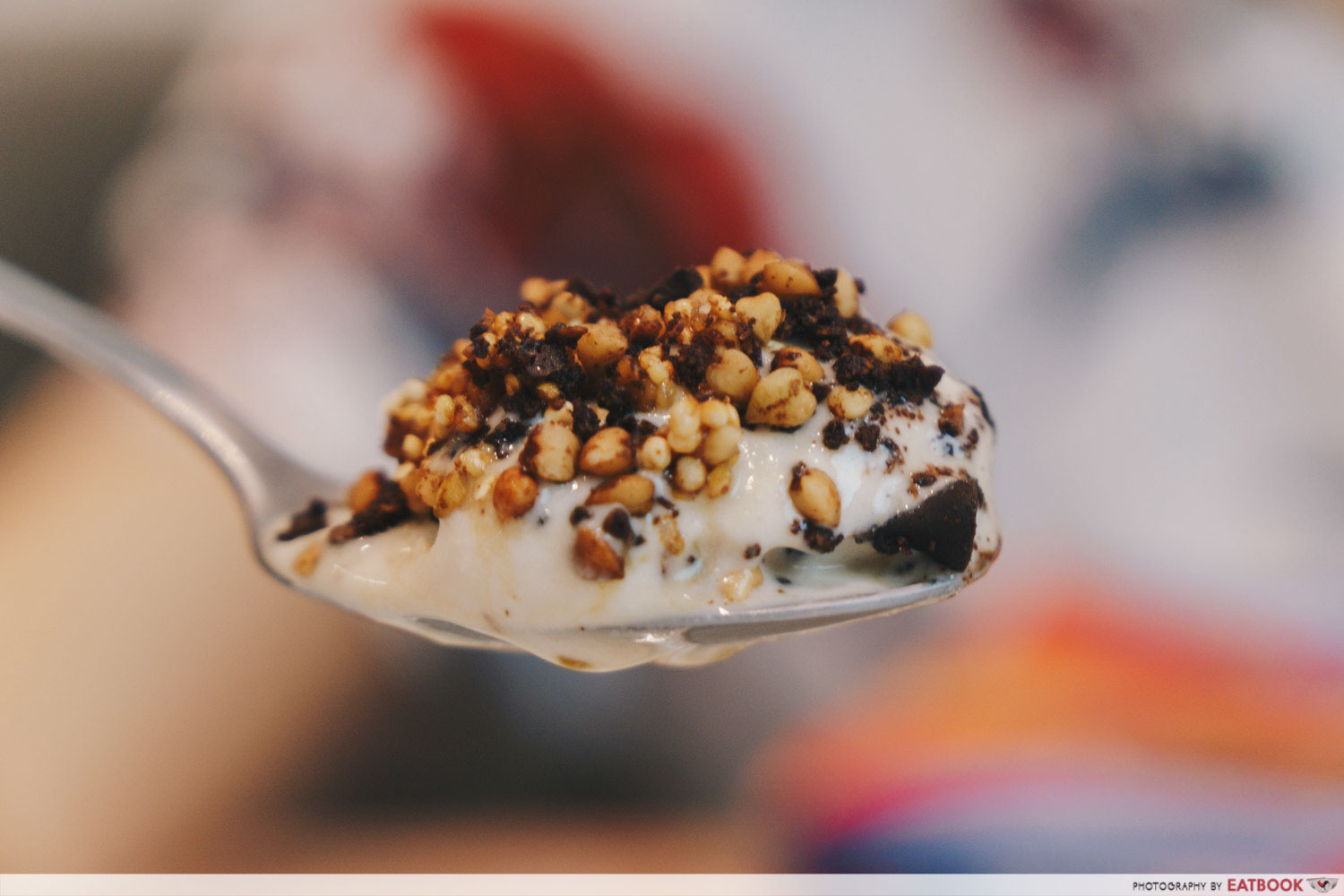 Using only coconut and cashew milk, the Almond Brittle Fudge was surprisingly creamy. My colleague pointed out that it had the same velvety texture as regular ice-cream. 
The crunchy chunks of almond brittle complemented the sticky fudge, resulting in a sweet and savoury combination.  The sugariness was a bit of an overkill when paired with the already cloying brownie, even for my sweet tooth.
Thankfully, the clumps of Quinoa Crunch and Chocolate Buckwheat Granola were a nice break from all the sugary action. The latter was naturally bitter, helping to balance out the sweet dessert. On the other hand, the Quinoa Crunch added more textural contrast with its crispiness.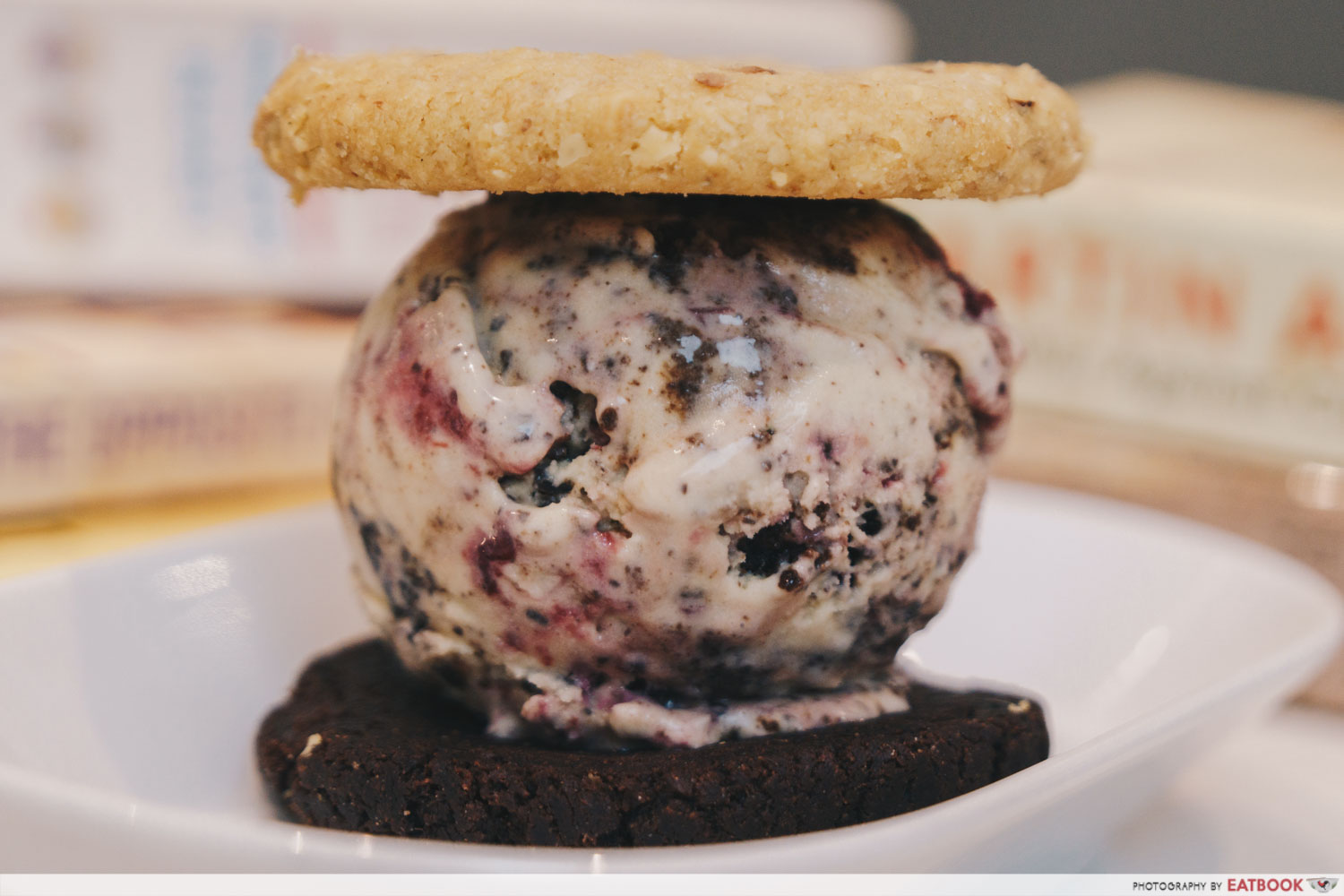 Another sweet treat on their dessert menu is the Ice Cream Sandwich ($8), which comes with your choice of cookies and ice-cream. Only two cookies—Oatmeal Almond Crisp and Dark Chocolate Chip—were up on display that day, so I took the chance to try them both.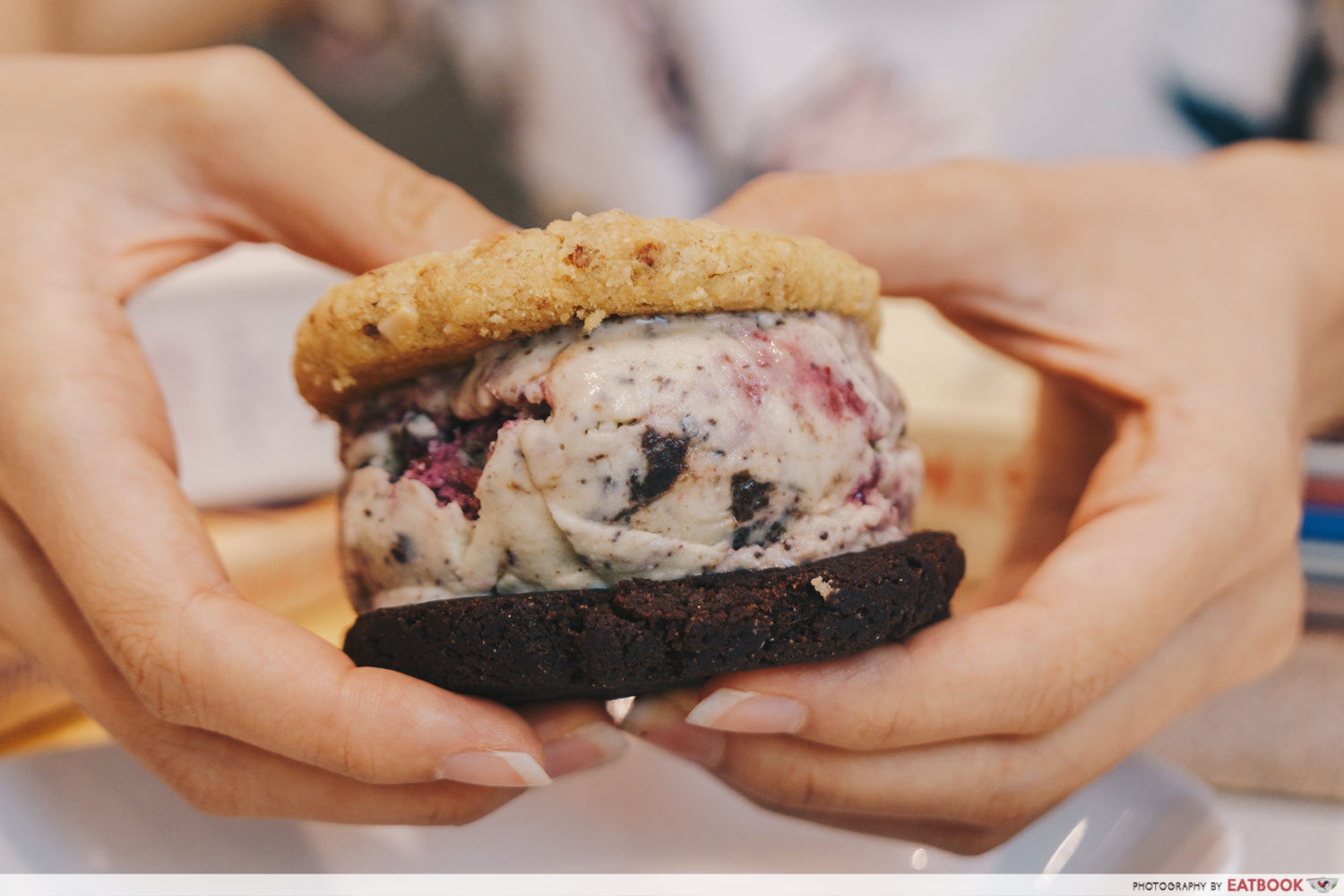 A scoop of Black Forest ice-cream rests between two crumbly cookies. Unlike the previous dessert, this frozen treat didn't melt as much. So go ahead to press the cookies together to spread out the ice-cream.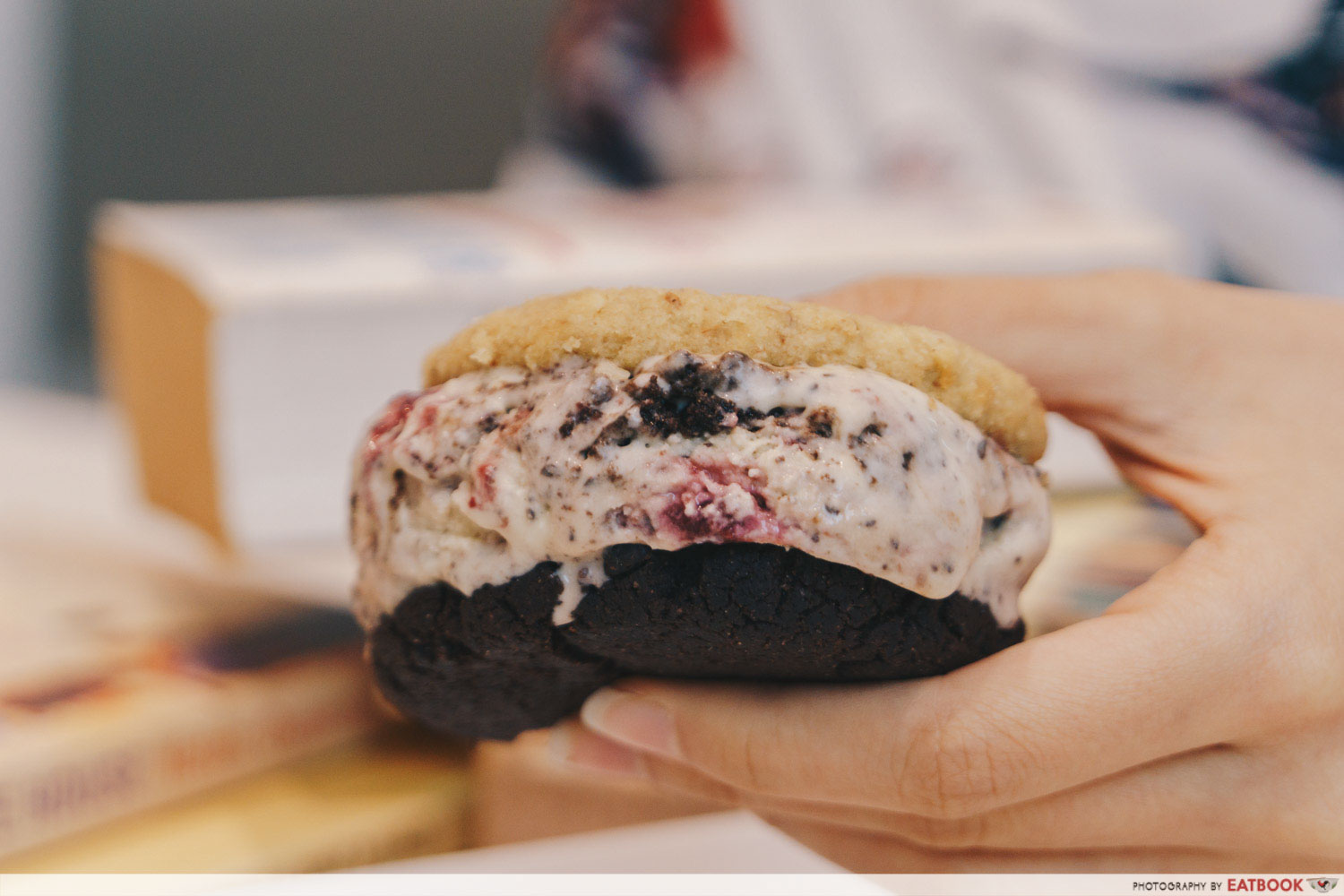 Each bite of this ice-cream sandwich was a symphony of textures and flavours, with the brittle cookies complementing the velvety Black Forest. 
The tart cherry compote in this ice cream helped to offset the sweet and fudgy brownie chunks. The crumbly Oatmeal Almond Crisp cookie was more on the savoury side, while the Dark Chocolate Chip was bitter.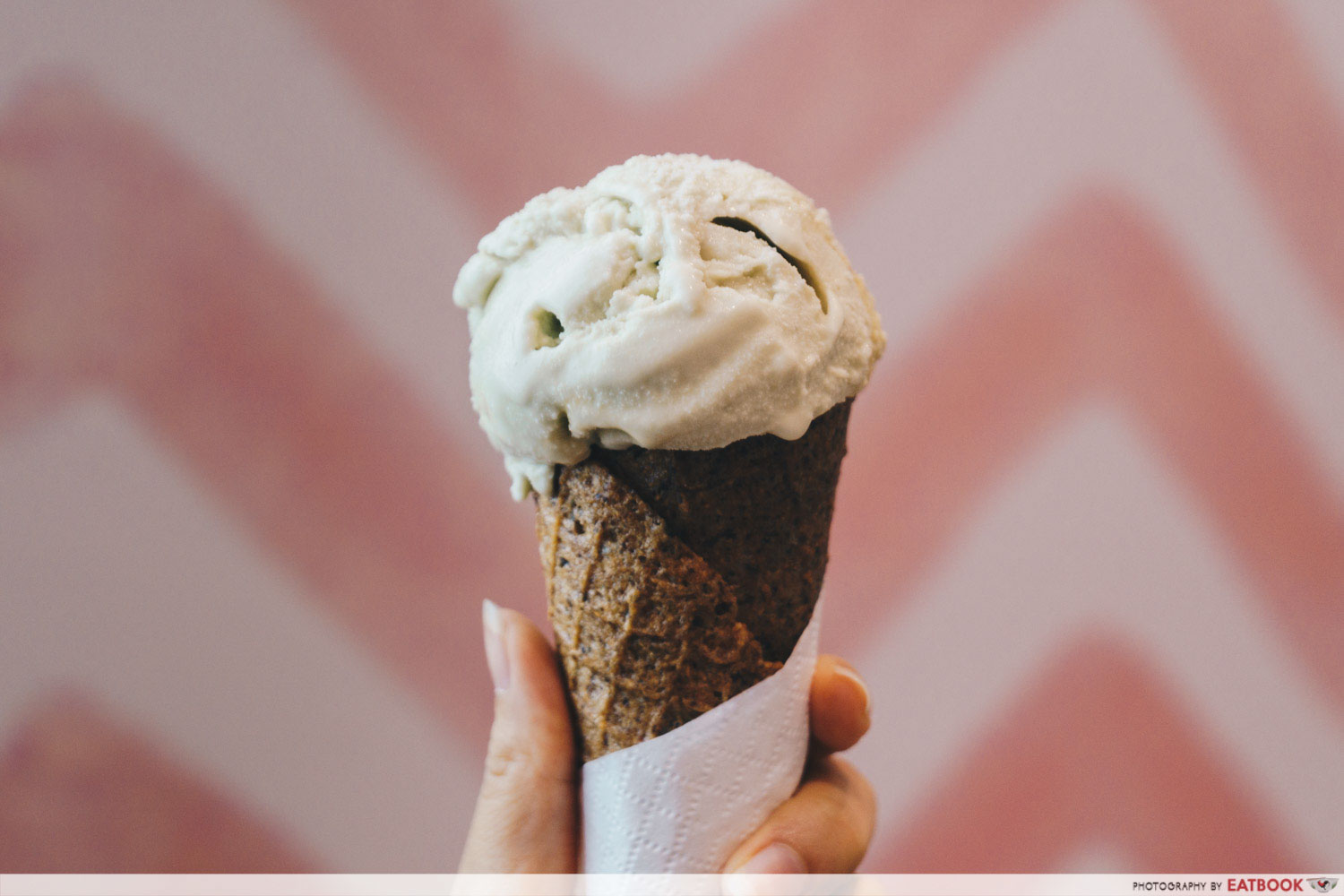 If you just want something simple and basic, head for a single scoop of standard ($4.90) or premium ($6.90) ice cream. I went for their take on a local favourite, Pandan Gula Melaka on a flourless and gluten-free cone (additional $1).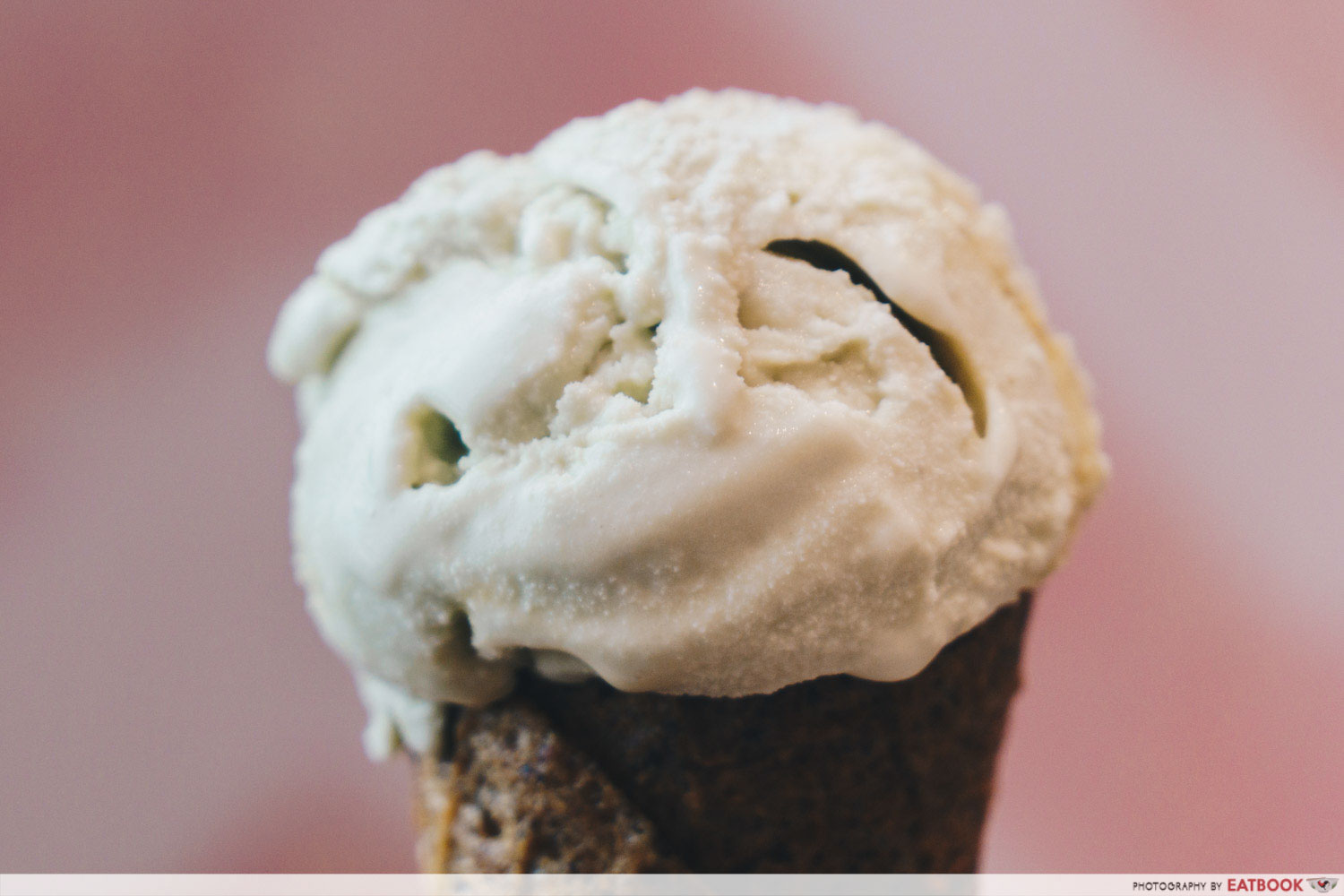 Swirls of gula melaka decorated this pale-green ice-cream as a subtle aromatic scent wafted from it. A wave of savoury pandan flavour hit my mouth as I took a lick of this ice-cream, followed by notes of gula melaka.
Given Kind Kones' heavy emphasis on serving vegan ice-cream, I presumed that their desserts would be less treacly. However, I kept reaching out for a glass of water to wash away the sweetness. Despite this, their flavours did pack a punch even with the use of all-natural ingredients.
Ambience at Kind Kones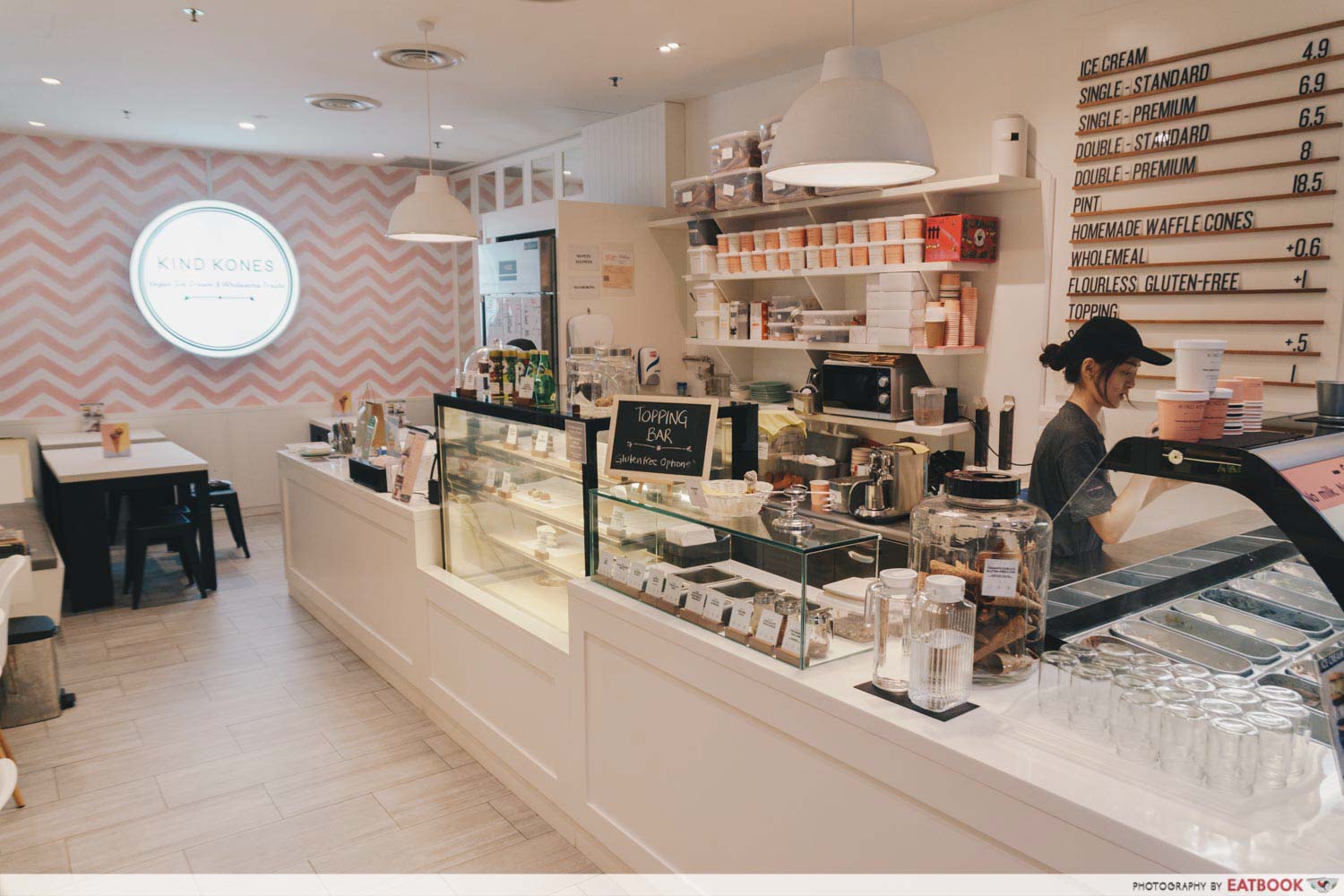 Situated at the basement of Forum Shopping Mall in Orchard, Kind Kones is a quaint and cosy ice-cream joint. Seating is rather limited here, but the intimate setting makes it a great place for an ice cream date. There's even a small collection of novels for bookworms to browse.
The verdict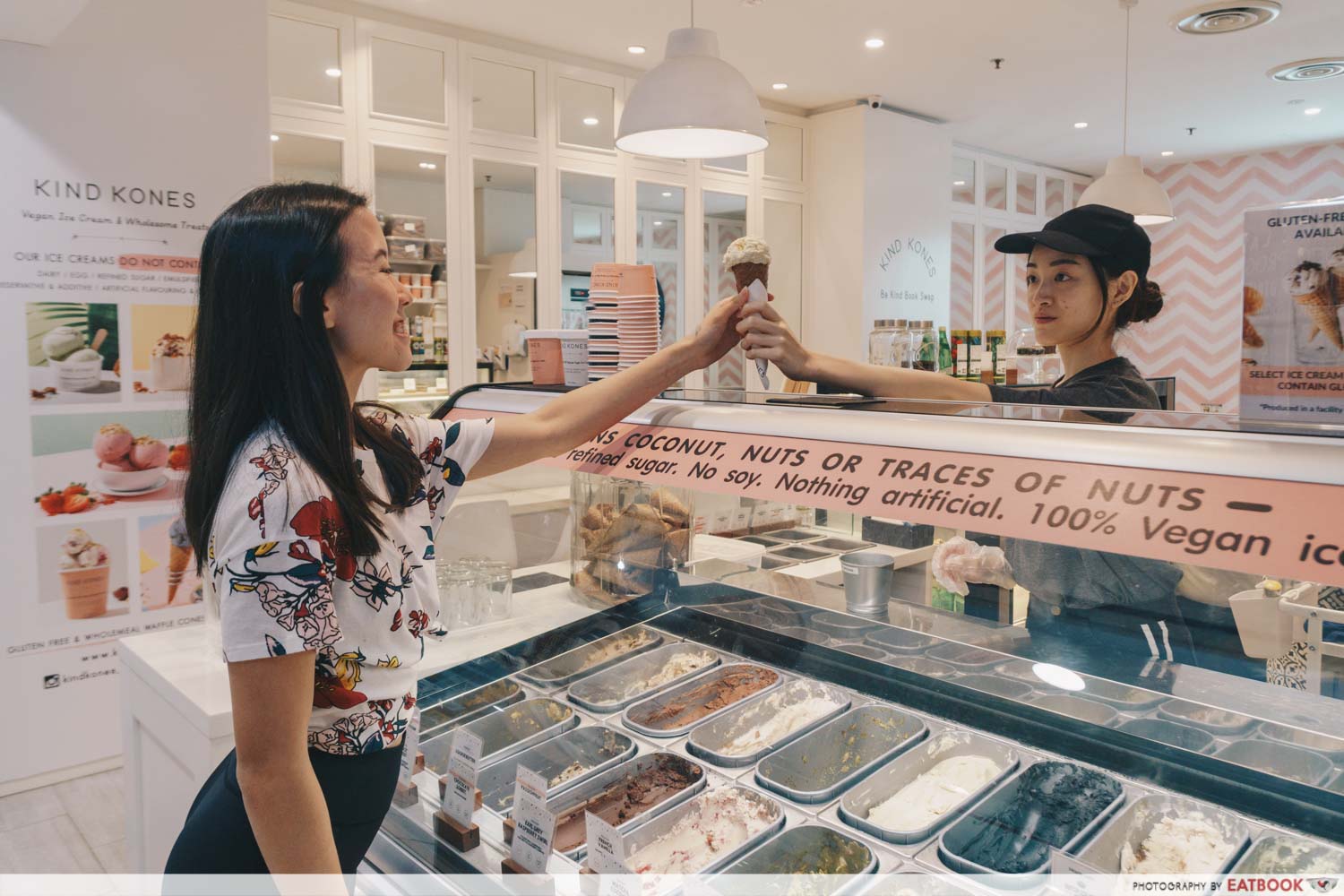 As someone who opts for the healthier choice, I was eager to try out Kind Kones' vegan treats. However, I was stunned by how cloying their desserts were. Setting my disappointment aside, I must say they nailed the texture of their dairy-free ice-cream, as it felt like the real thing. I do wish they toned down on the sugariness, so that the rich flavours could stand out even more.
If you have a sweet tooth, check out our full review of 19Tea SG for some souffle pancakes and meringue milk tea!
Address: 583 Orchard Road, #B1-27, Forum The Shopping Mall, Singapore 238884
Opening hours: Daily 10am to 10pm
Tel: 9010 8557
Website
Photos taken by Koh Hui Qing.
This is an independent review by Eatbook.sg.
Summary
Pros
– Flavoursome ice-cream
– Dairy-free
Cons
– Overly sweet
Recommended dishes: Ice Cream Sandwich ($8), Pandan Gula Melaka ($4.90)
Opening hours: Daily 10am to 10pm
Address: 583 Orchard Road, #B1-27, Forum The Shopping Mall, Singapore 23888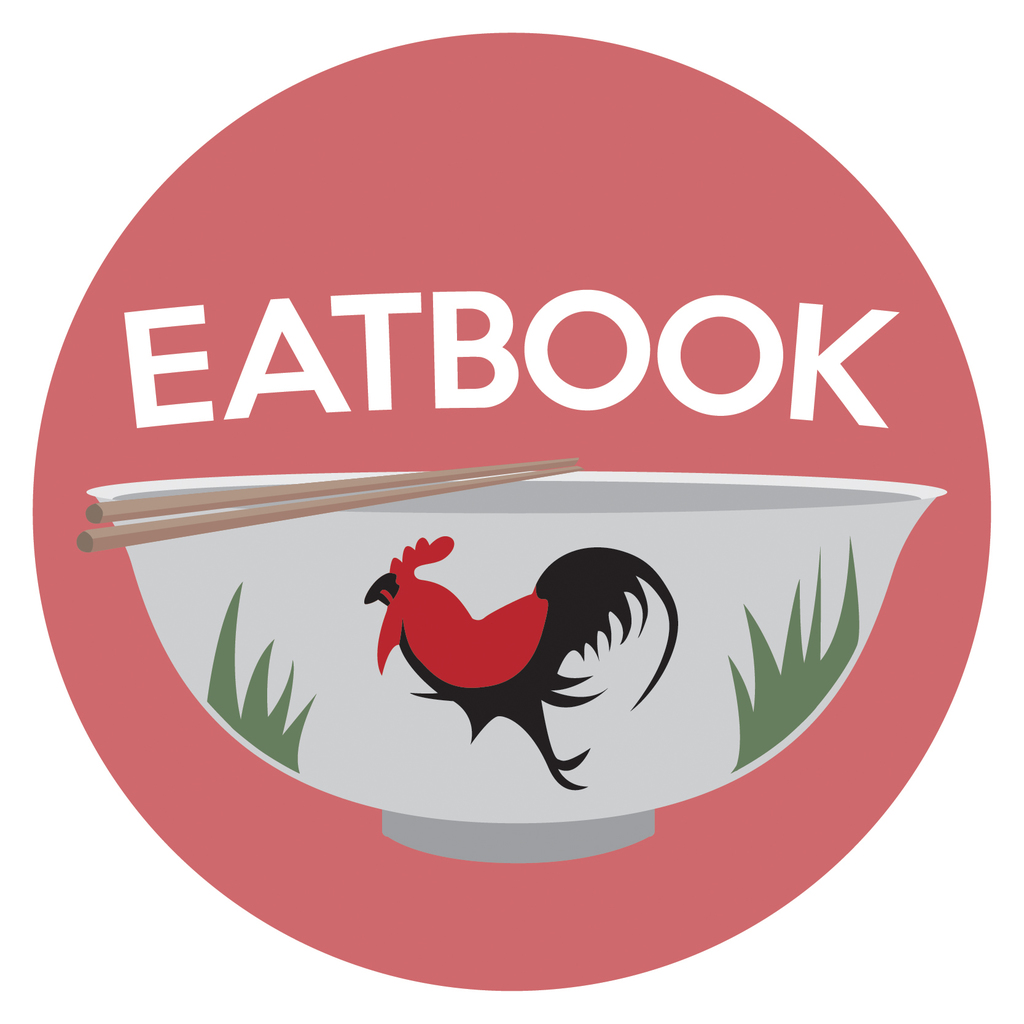 Drop us your email so you won't miss the latest news.