19Tea SG at Our Tampines Hub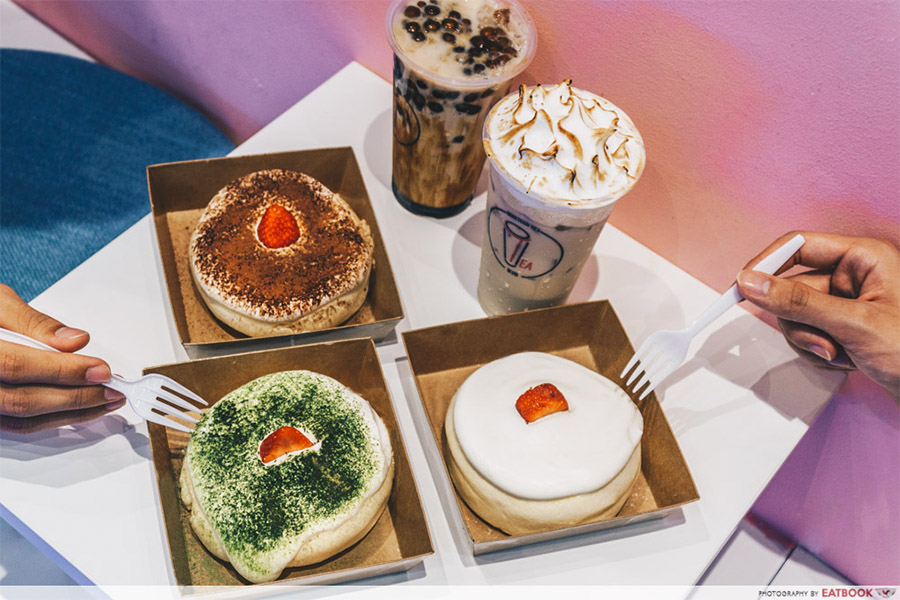 Bubble tea can be found all over the island, especially in Tampines with 14 stores. But I never stumble across a souffle pancake cafe right around the corner. Places like Fluff Stack come to mind, but I don't always have the cash to fork out for premium desserts. So when I heard of 19Tea SG selling both bubble tea and souffle pancakes at low prices, I had no doubts about making a trip there. I eagerly visited the cafe at Our Tampines Hub and sought out their signature milk tea and souffle pancakes to satisfy my sugar cravings.
The store has over 40 outlets in Korea, and opened its first Singapore outlet earlier this year, adding an 'SG' behind their brand name. They serve up bubble tea, sweet desserts, and an avocado soft serve on weekends that we, unfortunately, missed out on.
Food at 19Tea SG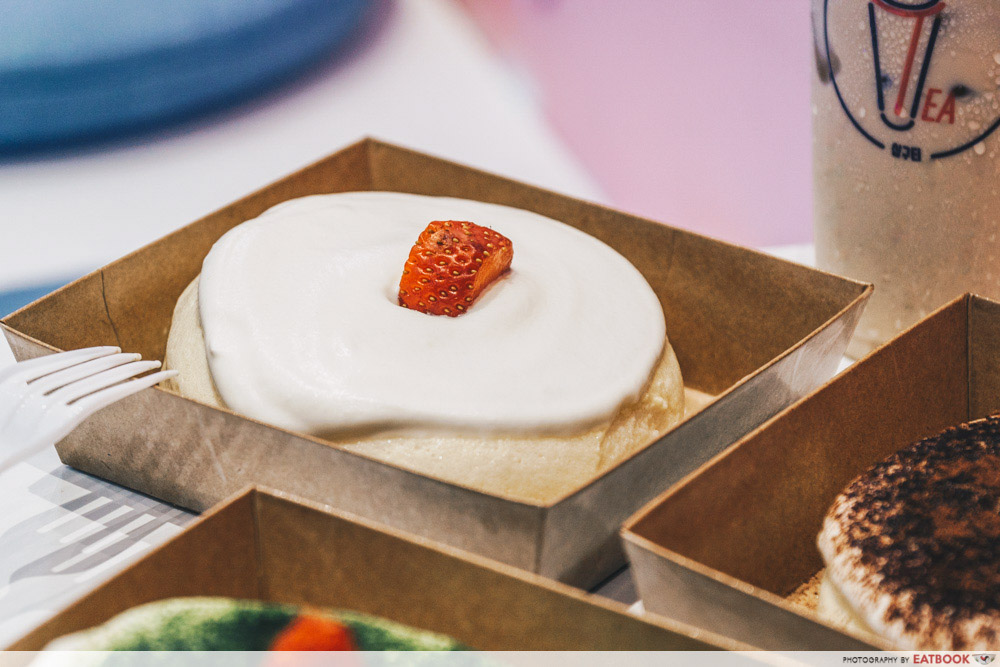 The Original Snow Pancake ($3.90) was presented with a smooth sheet of milky, creamy sauce, along with a slice of strawberry lighting up the white expanse.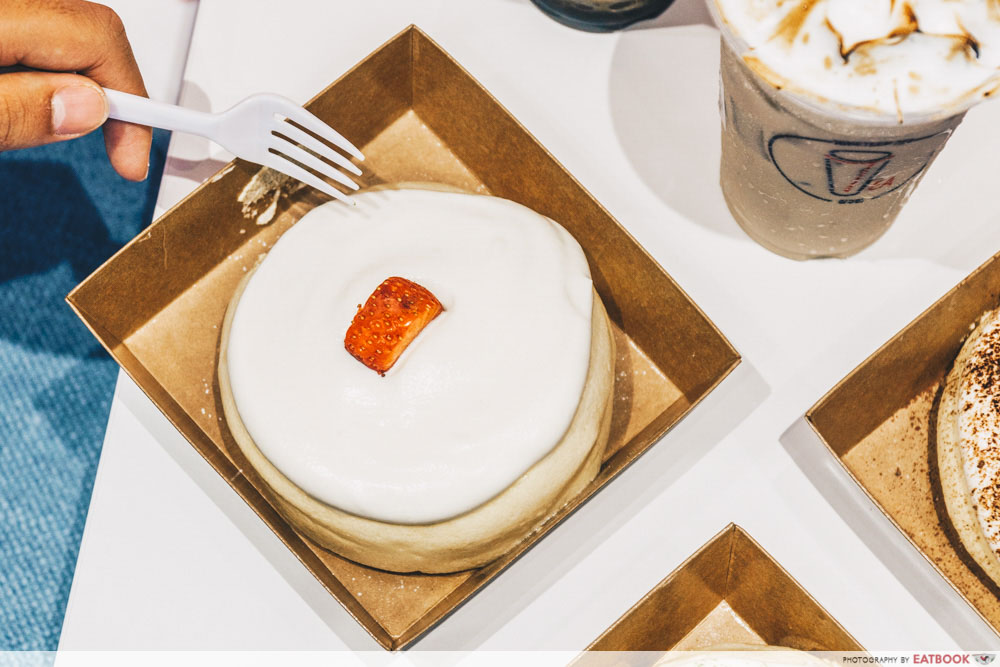 As I took my first bite, sweetness burst across my mouth. The milky sauce was the first thing that stood out. It reminded of White Rabbit Candy, and the distinct sweetness of cane sugar was clearly present.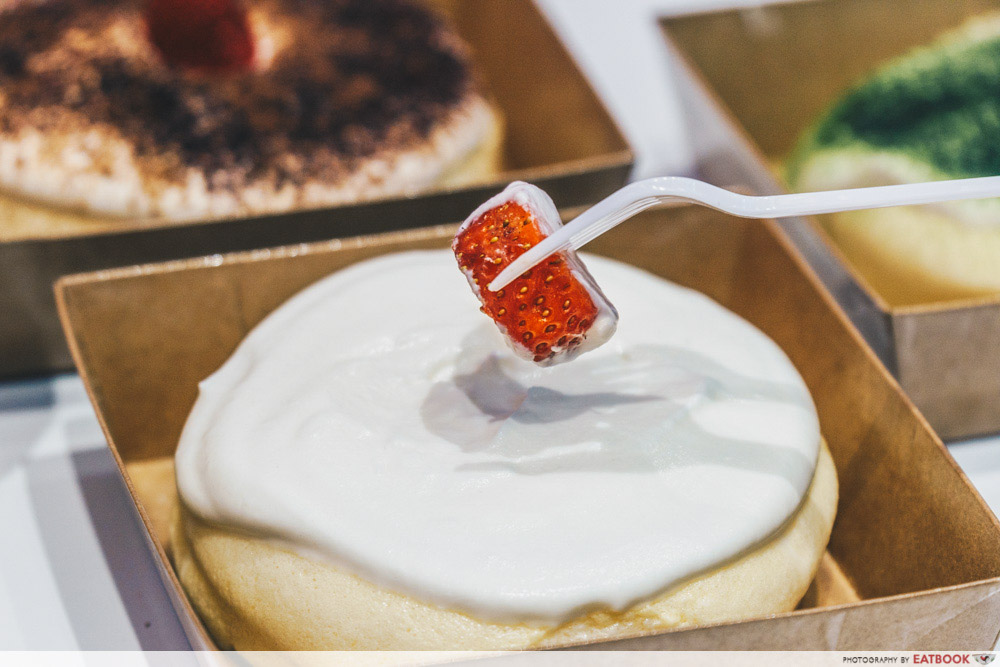 The pancake itself was incredibly gooey and soft, with an eggy flavour to it. While the first bite was delightful, I soon found it becoming overly thick and overpowering. After I finished off the single strawberry, there was no more acidity to cut through the rich taste. It became difficult to finish the whole thing because of how consistently strong the sweet sauce was.
Compared to pancakes I had eaten elsewhere, 19Tea SG's pancakes were sorely undercooked. Rather than a soft, fluffy, melt-in-your-mouth texture, the texture felt like I was eating the batter itself. It felt like I could pluck the straw right out of my BBT and slurp up the pancakes.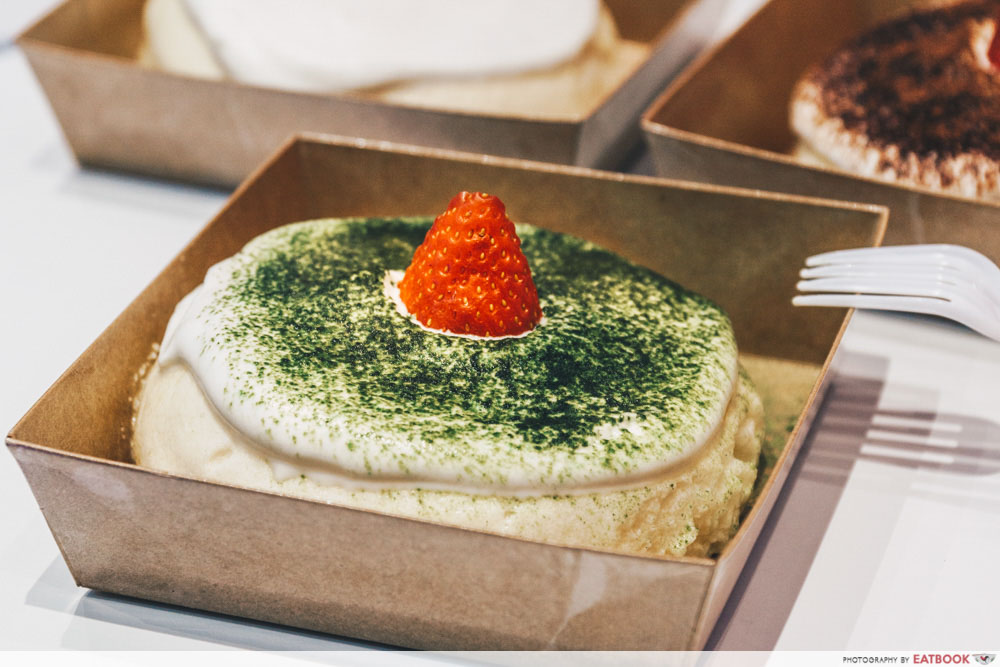 The Matcha Pancake ($4.20) fared slightly better in terms of taste. Having seen the menu online, I was under the impression that the pancakes would be flavoured with matcha. As a committed fan of the flavour, I was a bit disappointed when the only difference from the original pancake was a generous sprinkling of matcha powder over the snow sauce.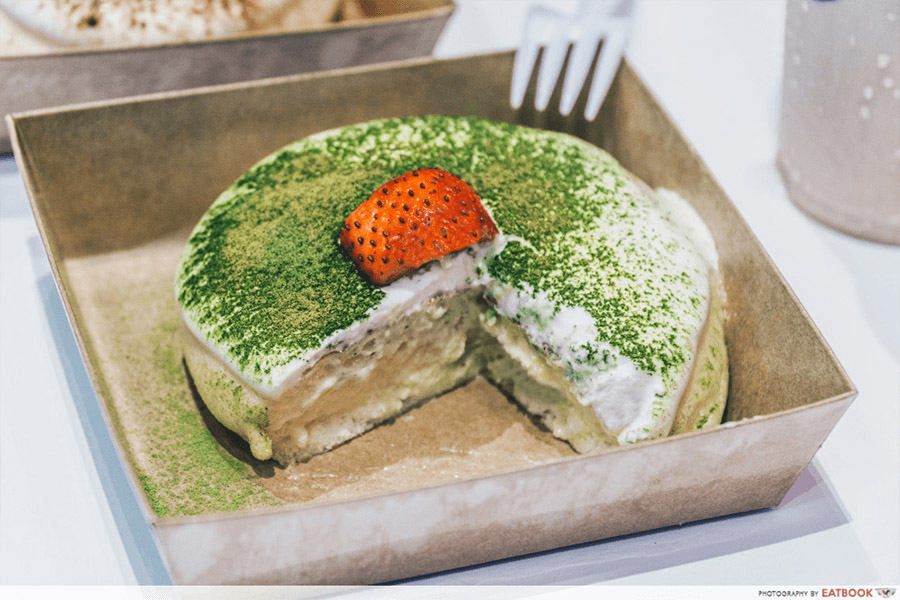 Having another flavour helped hold back the overly-rich sauce. I managed to eat a little more of the sweet pancake before growing sick of the milky flavour, which still made up most of the sweetness.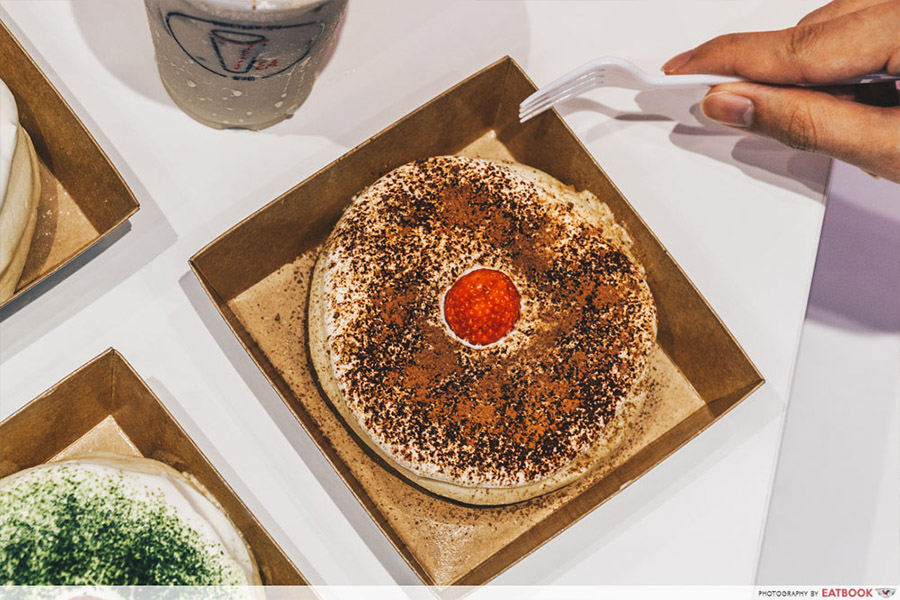 Lastly, I tried the Tiramisu Pancake ($4.20) in hopes of finding some large distinction that would set it apart from the other two pancakes.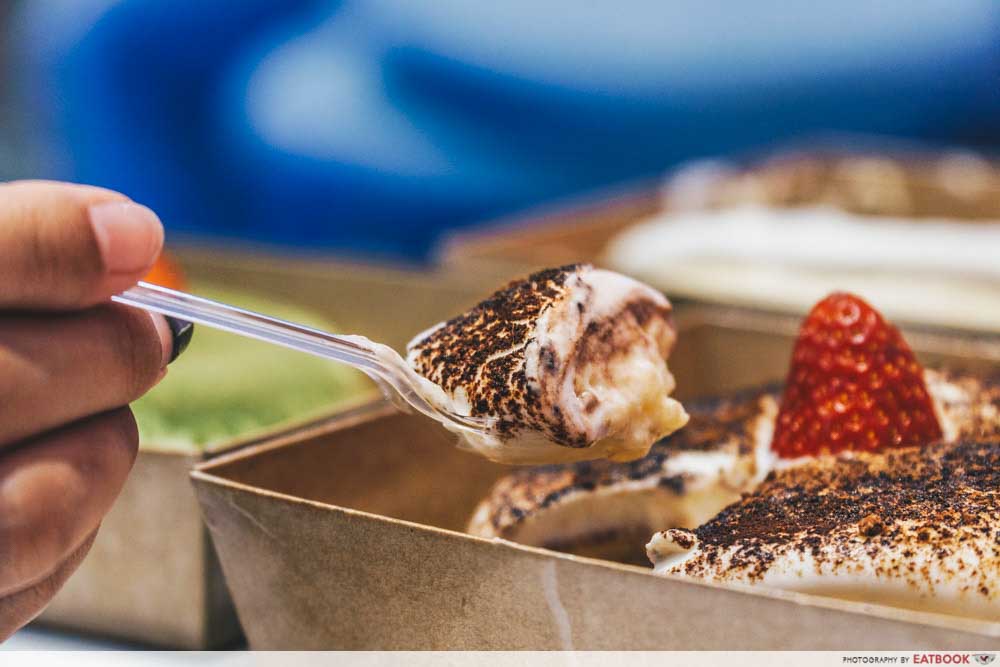 But it was not to be. Though the bittersweet taste of coffee provided a brief respite, the overly-sweet sauce broke down its defences in the end. 
In the end, the souffle pancakes were far too gooey and the snow sauce too prominent. While the selling point of the fluffy desserts is that they're soft and airy, these were too wet and gummed up my mouth. If they were cooked a little longer, they might have fared better. Attempting to cut it resulted in the pancake being outright mashed, and it was difficult to lay it nicely on a spoon.
That being said, if you insist on getting their pancakes, I'd definitely recommend either the matcha or tiramisu. It's only $0.30 more to add another much-needed layer of flavour.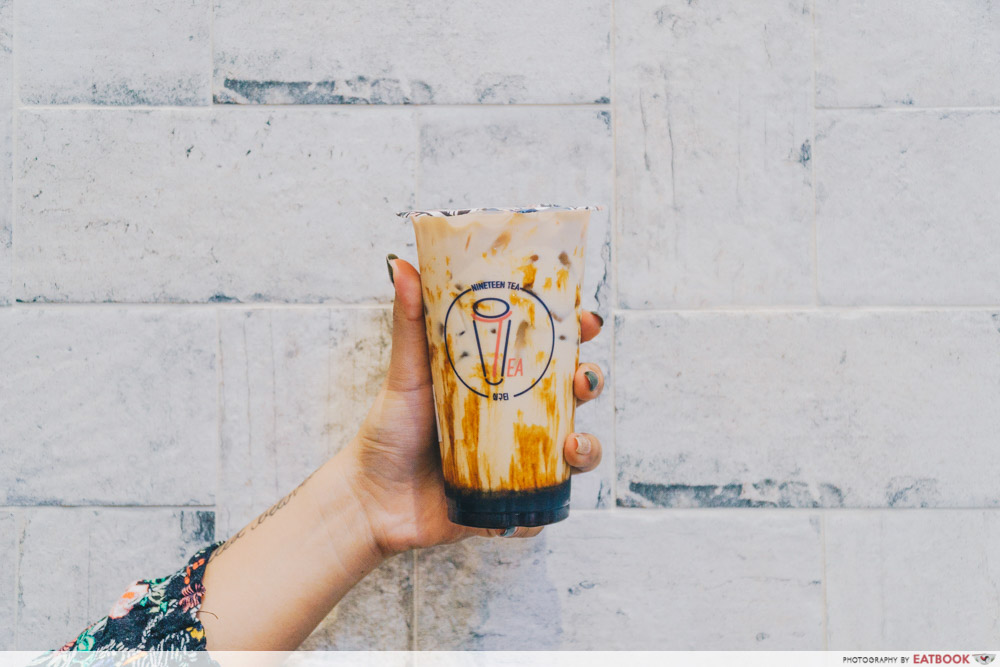 As for drinks, it's hard to go wrong with bubble tea. The Signature Milk Tea ($5.10) comes with thick veins of brown sugar, painting the interior of the cup with an attractive swirling pattern. 
Golden pearls float at the top, meticulously arranged by the staff. If you're looking to snap a picture of this sweet drink for your IG, you'll want to do it fast, before the pearls sink and the sugar dissolves.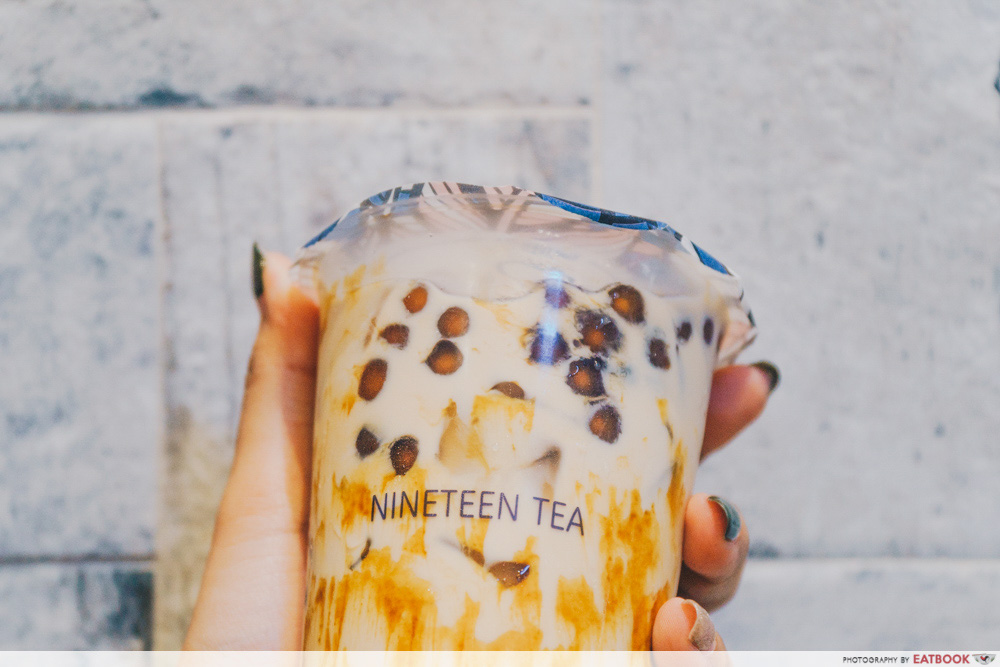 Their sugary signature comes at a fixed sugar level, like most other brown sugar drinks out there. I made the mistake of slurping it up without stirring, so my first mouthful was of its hot and rich brown sugar syrup. 
I could clearly taste the freshness of the milk when sipping on this decadent drink. It was sweet and rich, but not so much that you'd become sick of it.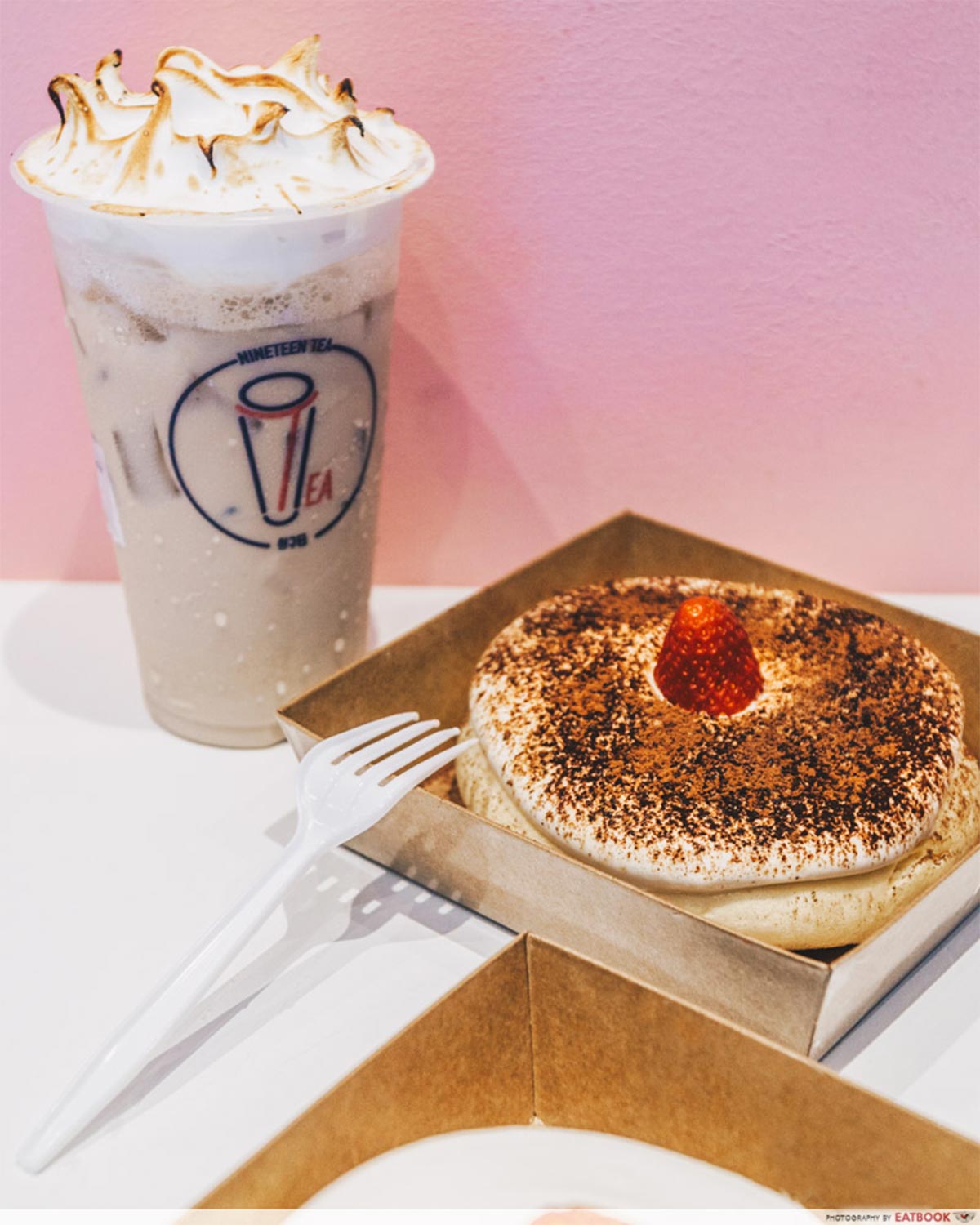 Unlike the signature, the Meringue Milk Tea ($5.90) remained pretty enough to fawn over even as time passed. The glossy meringue was thick and sweet, with some parts caramelised with a blowtorch.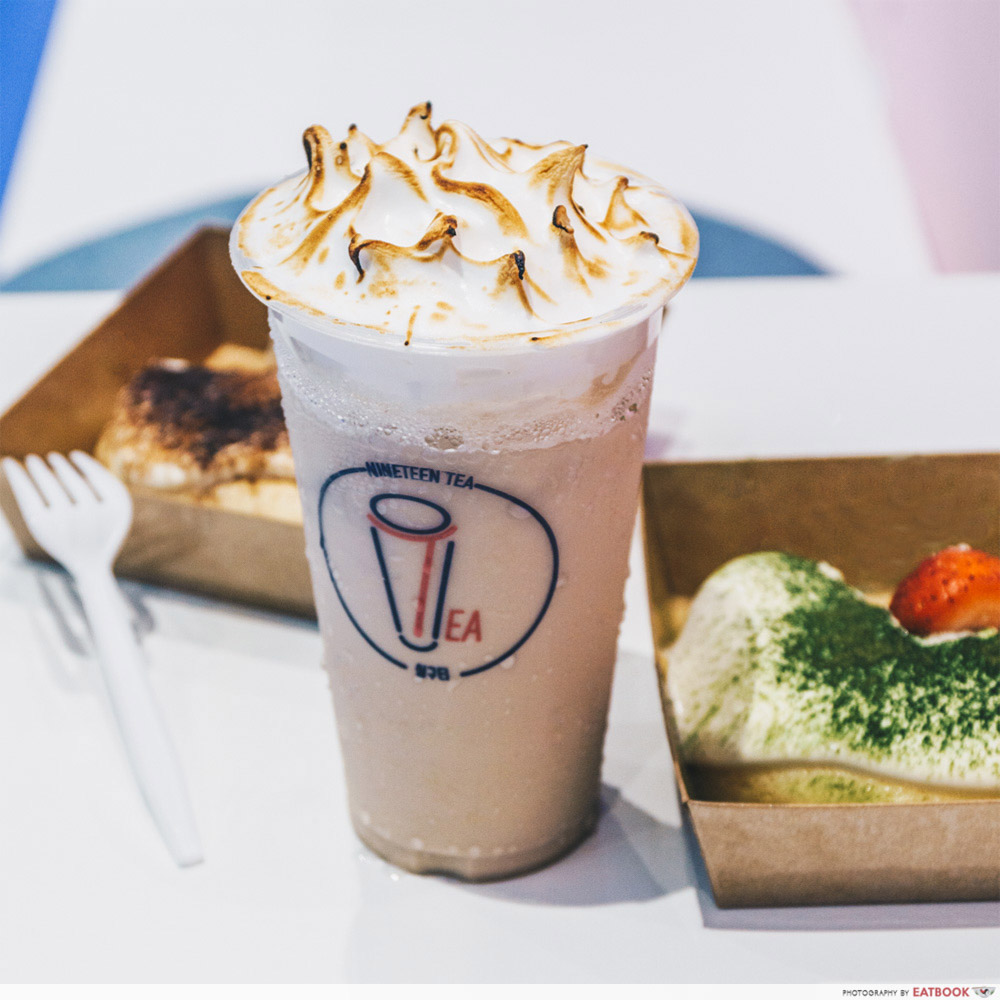 No matter how much I tried, I couldn't mix the meringue into the drink. It was so thick and rich that it refused to be dissolved into the milk tea.
Enjoying both together was the way to go. While the pancakes were overwhelmingly sweet, the drinks helped wash them down and soothed my mouth with a softer, milder sweetness. 
Ambience at 19Tea SG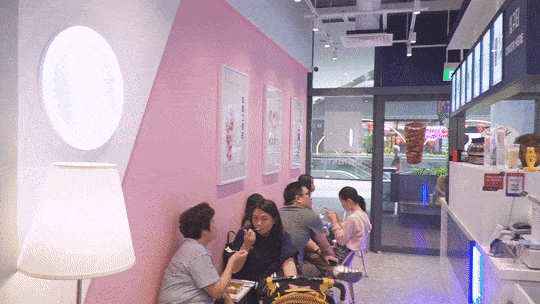 As soon as you catch sight of the store, you'll be sure to recognise it. The walls are pristine white, and the single row of seats are decked out in pretty shades of pastel pink. There's not much room to sit down with friends, so you'll probably want to grab your desserts and head outside to one of the many seats available at Our Tampines Hub.
The verdict

Even for a sugar lover like myself, the souffle pancakes were too sweet. It would have been easier to deal with the overwhelming sweetness if it was just a bit more solid, and had been kept on the griddle for just a bit longer. 
I had no issues with the bubble tea. It was good and came at standard bubble tea prices. There are plenty more options on their menu that might end up being hidden gems. 
While the store doesn't have many seats, it was better than nothing. Bubble tea is a grab-and-go affair anyway.
Address: 1 Tampines Walk, #01-82, Our Tampines Hub, Singapore 528523
Opening hours: Daily 11am to 10pm
Website
Photos taken by Gabriel Seow
This is an independent review by Eatbook.sg.
Summary
Pros
– Friendly staff
– Good bubble tea
– Affordable pancakes
Cons
– Pancakes were undercooked and too sweet
Recommended dishes: Signature Milk tea ($5.10)
Opening hours: Daily 11am to 10pm
Address: 1 Tampines Walk, #01-82, Our Tampines Hub, Singapore 528523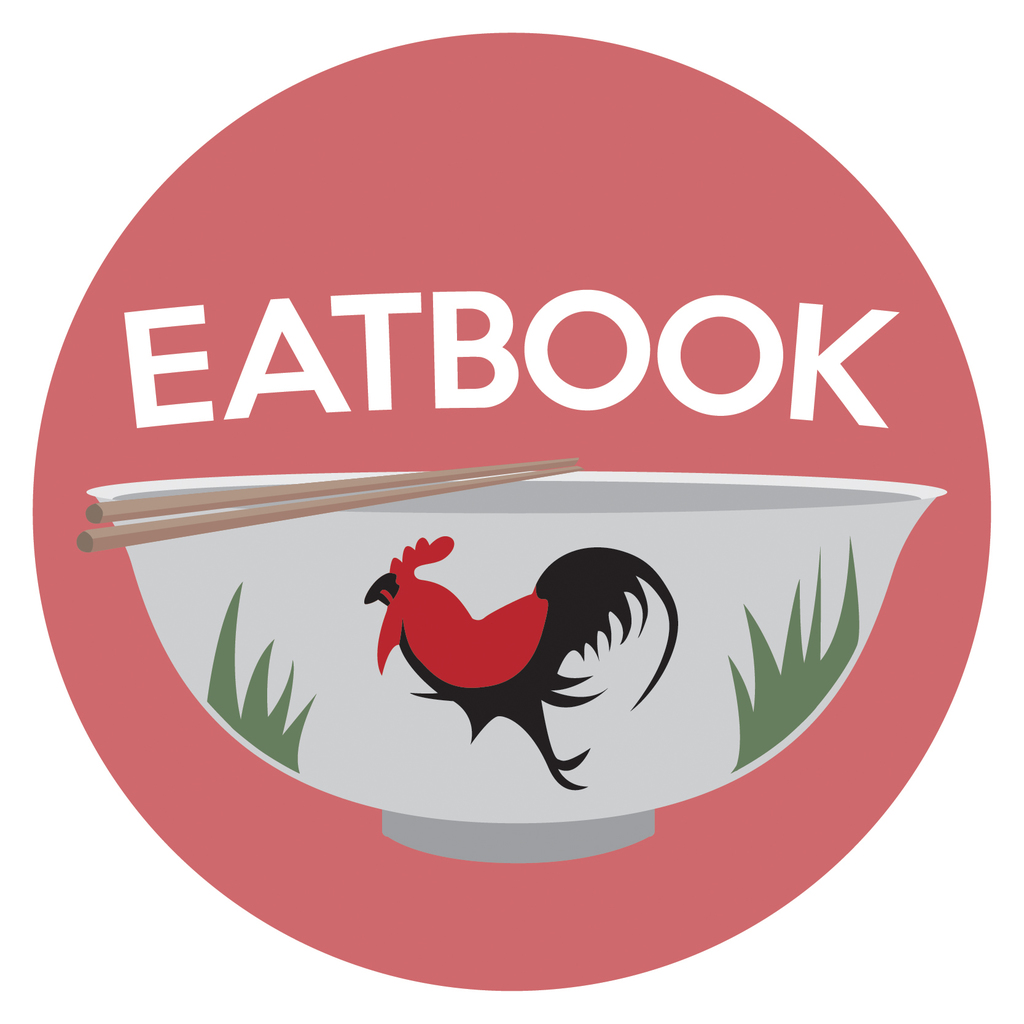 Drop us your email so you won't miss the latest news.