Softhaus at Great World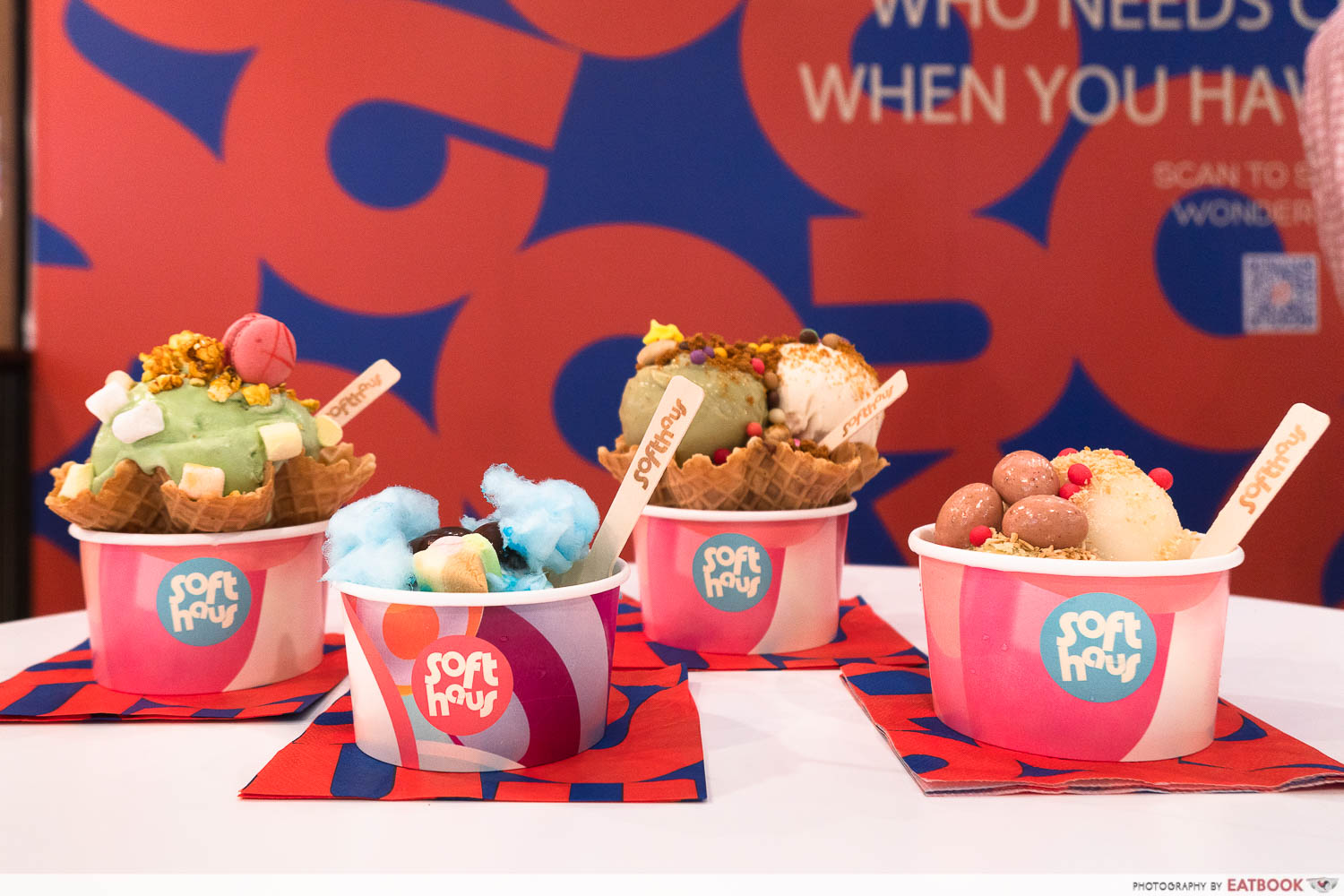 Janice Wong enjoys a reputation as a celebrated dessert chef, having won the Pastry Chef of the Year at the World Gourmet Summit, and Best Dessert Restaurant in Singapore, multiple times. 2am:dessert bar is an equally recognisable spot, while her eponymous Janice Wong sweet concept brand is known for its edible art. So when I heard of Softhaus, her brand new ice cream kiosk, I knew I had to head down for a taste.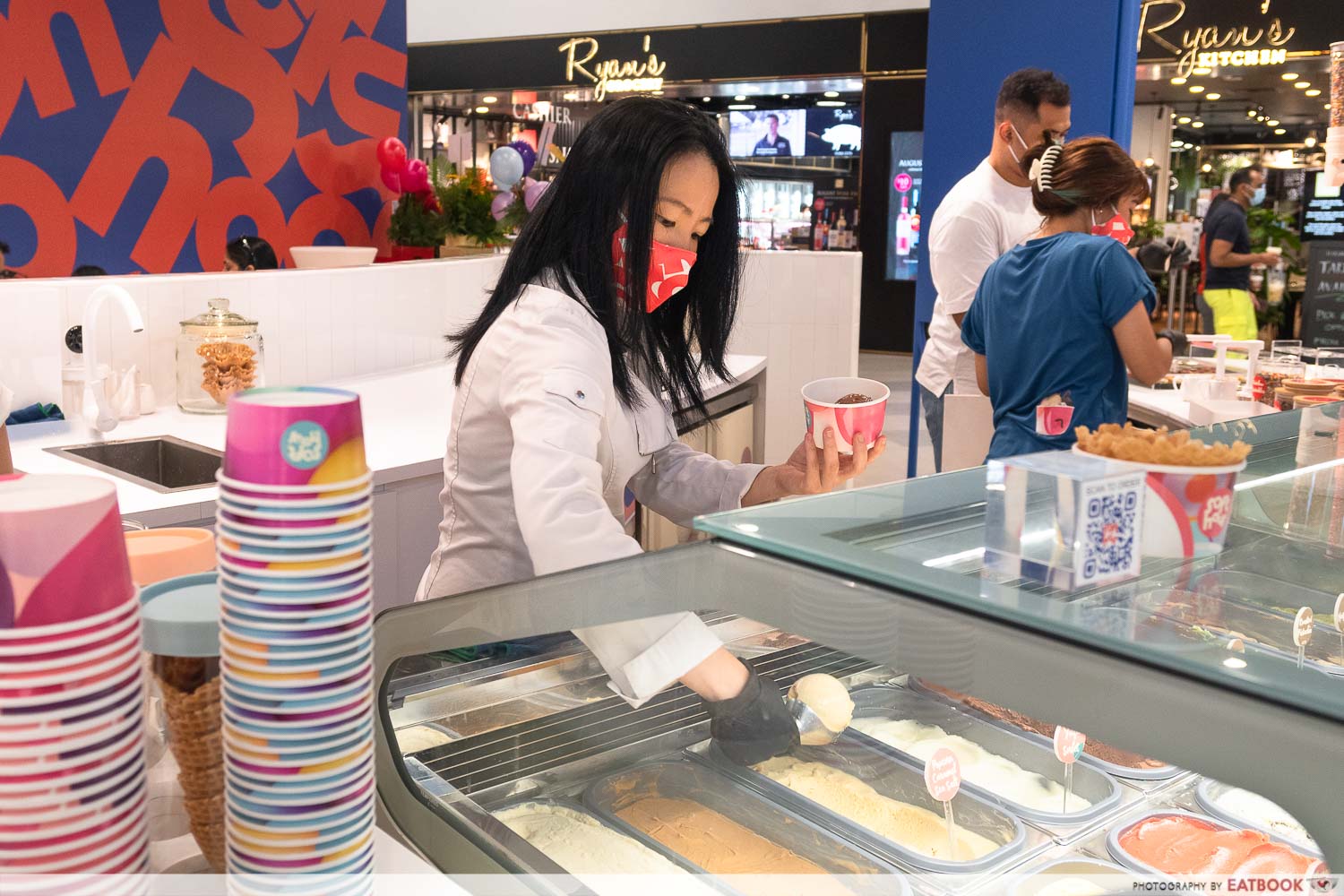 R&D for the ice cream flavours took Janice six months. Of the 16 flavours, there are four sorbets, AKA dairy-free options. There are six keto-friendly, and five vegan-friendly options—these aren't exclusive of one another. To go alongside, there are over 20 toppings available, many of which are inspired by Janice's memories of childhood.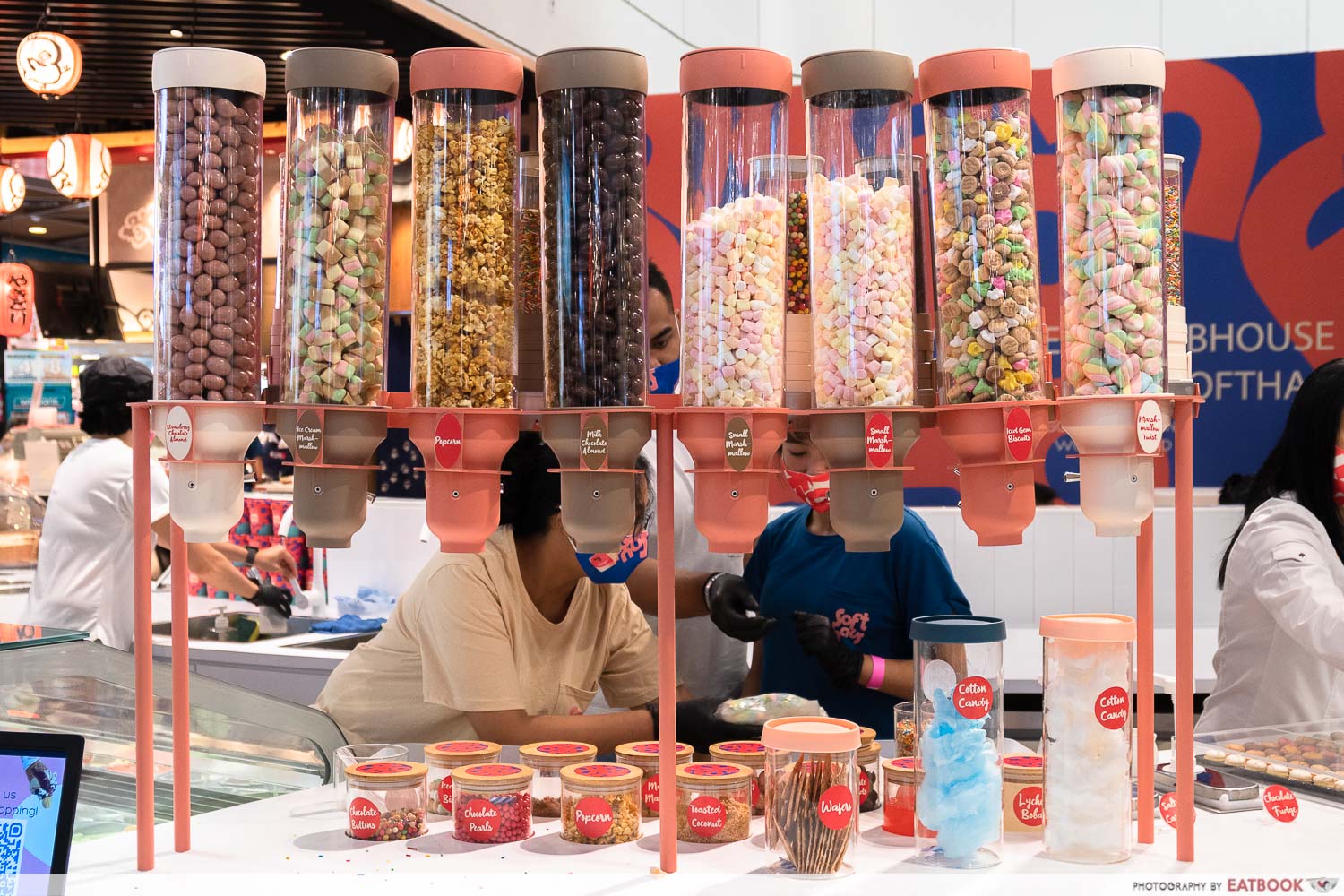 Plans are afoot to eventually make their own toppings, but for now, you're already spoiled for choice. If you're looking for a sampler of Janice Wong's handcrafted desserts, mini macarons are one of the options!
Naked Ice Cream Review: New Cafe In Serangoon Has Waffles And Ice Cream, Open Till 2am
Food at Softhaus
With so many flavours and toppings on offer, it was time to go big or go home. I sampled eight different scoops that afternoon, and as many toppings as I could load on my ice creams, to have a comprehensive idea of Softhaus' menu—I'd ordered more initially, but in the flurry of activity, some scoops were missing.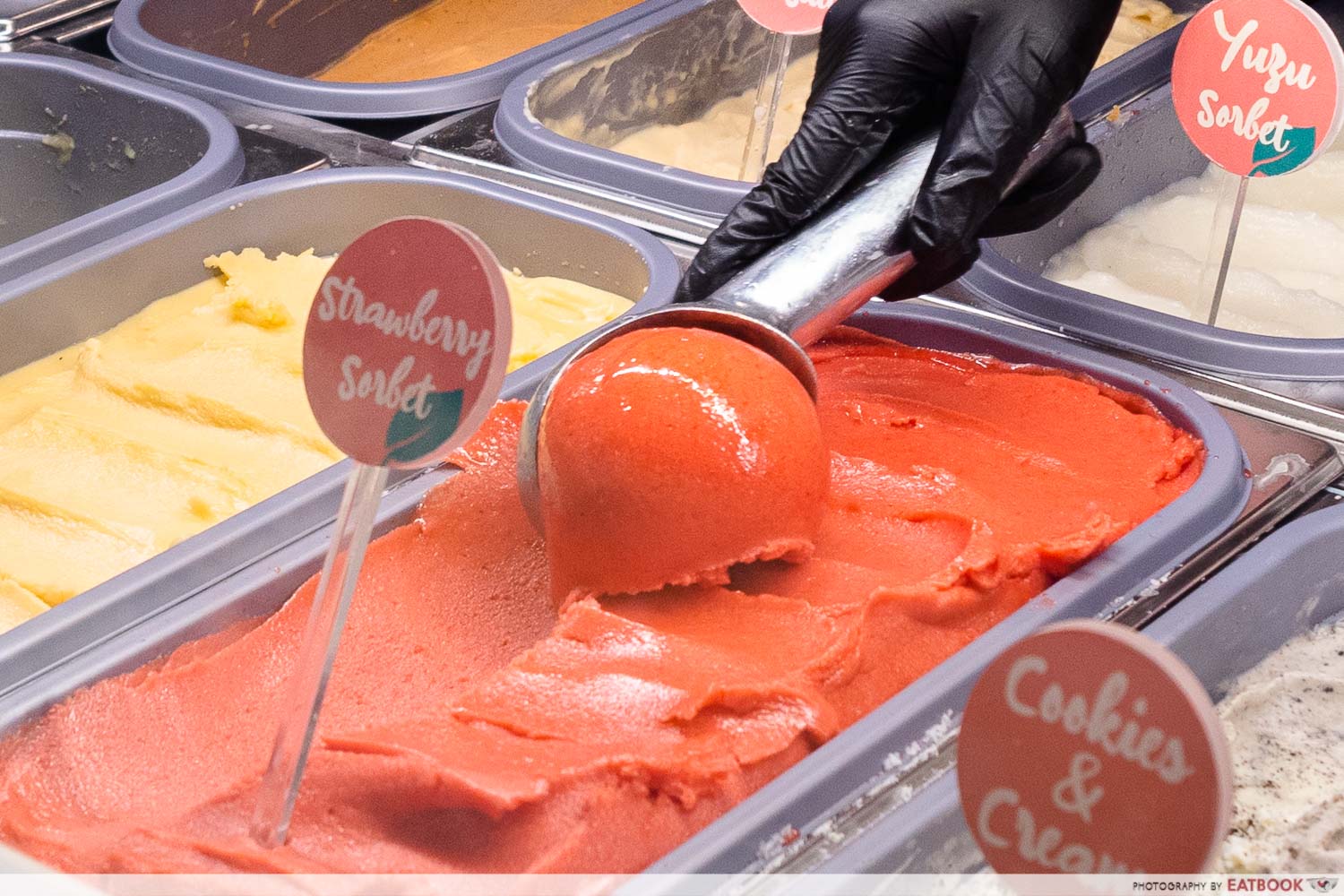 Each scoop of ice cream costs either $6 or $7, with Avocado Banana, Madagascar Vanilla Bean, Roasted Pistachio, Hazelnut, and Coconut Day being the premium scoops. There's a maximum of three scoops in a single order, which you can then choose to have in a cup, Cone ($1), or Waffle Bowl ($1.50)—these aren't house-made either, and were nothing much to shout about.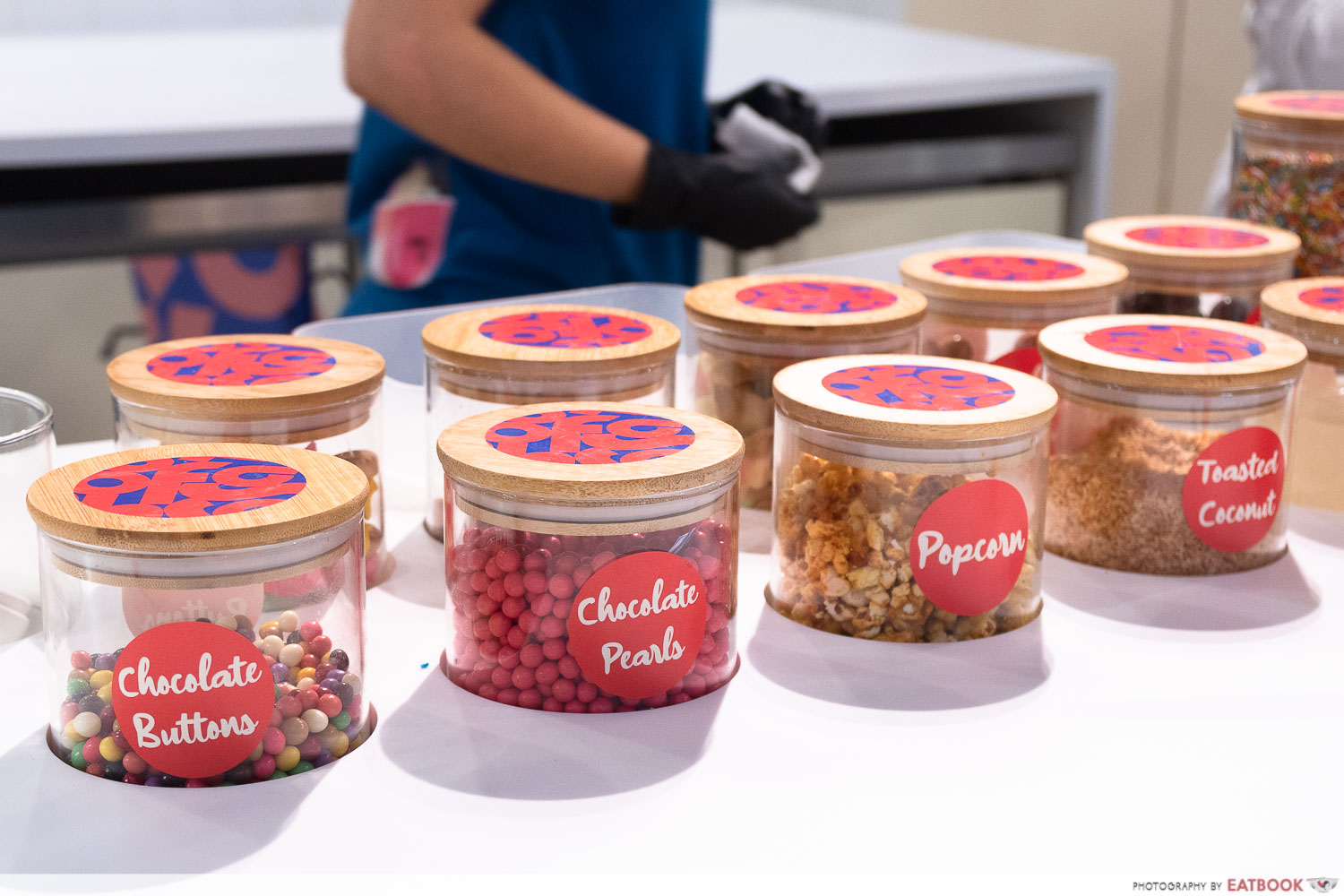 Like a child in a candy shop, I was bedazzled by the kaleidoscope of colour in the countless glass jars at the toppings counter, including Popcorn ($0.50), Cotton Candy ($1), Macaron ($1), Iced Gem Biscuits ($0.50), Pink Chocolate Pearls ($0.50), and Coloured Chocolate Buttons ($0.50). I lost myself to the paradox of choice, because you're only allowed three toppings in an order.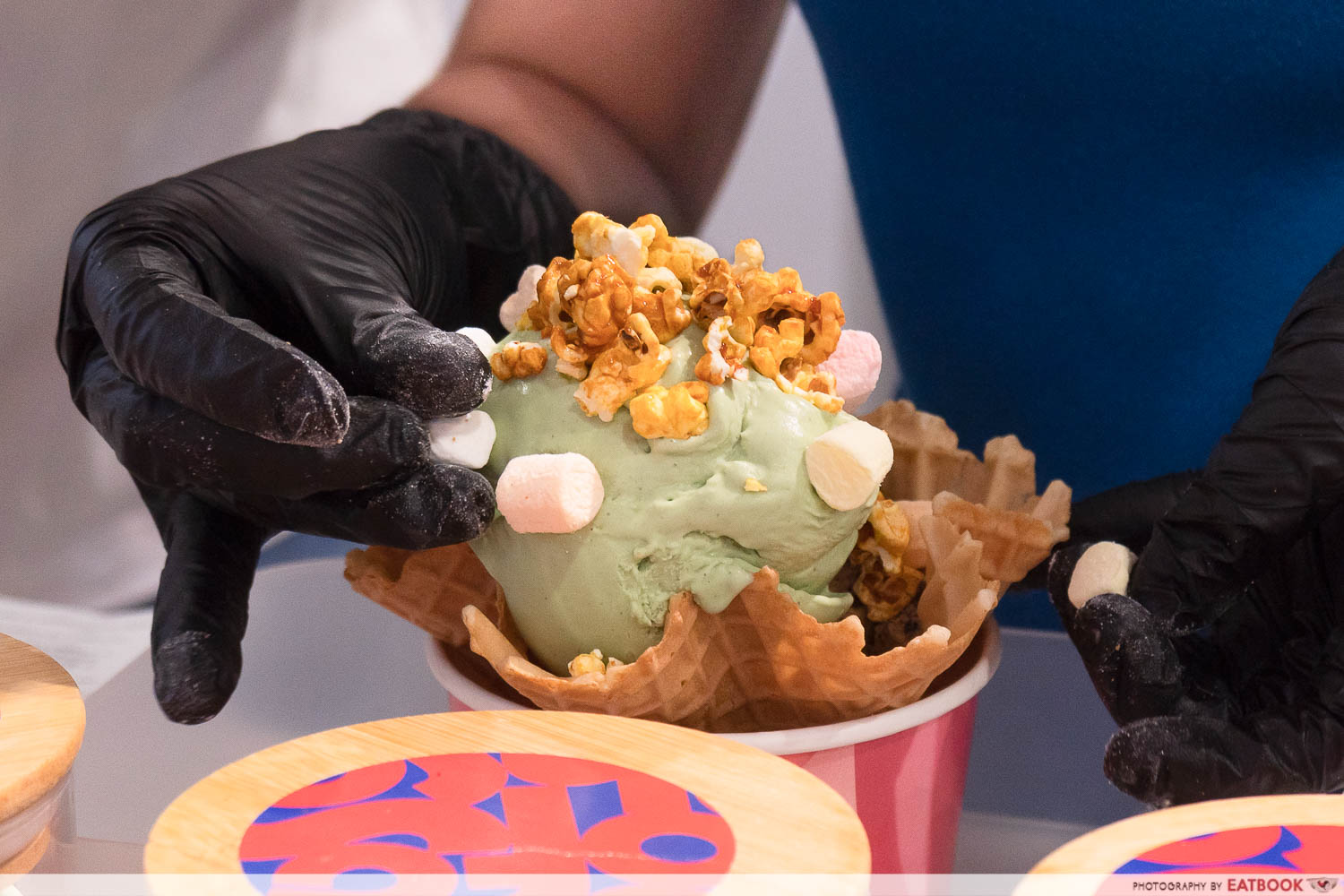 The maximalist in me, of course, maxed out the number of toppings I could have. Each serving of toppings is carefully arranged by hand, so there is a bit of a wait.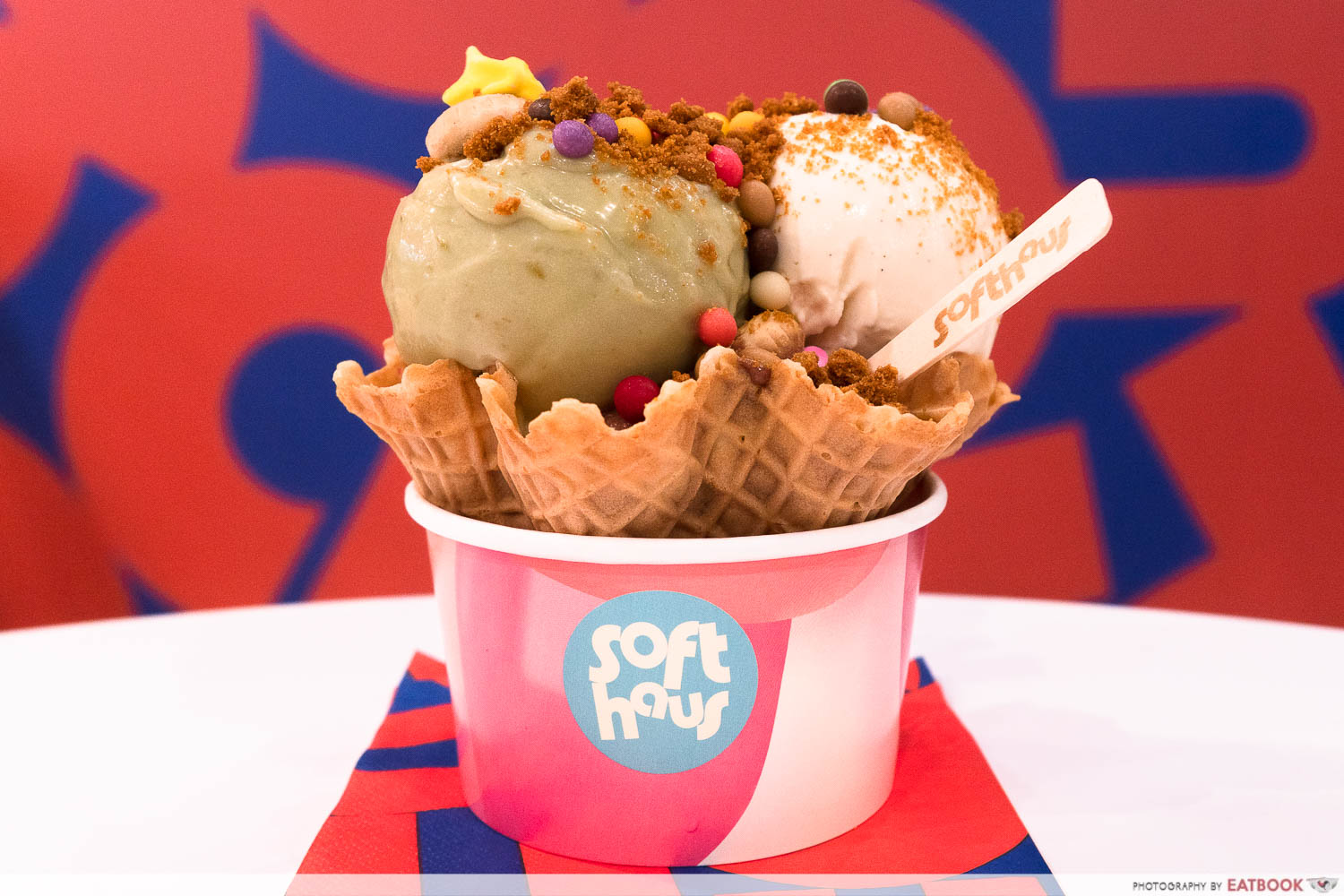 The Avocado Banana tasted primarily of avo, naturally sweet with a lingering undertone of the yellow fruit. If you like avo shakes, this is a pretty good bet. We had this dusted with Speculoos ($0.50), for added caramel notes.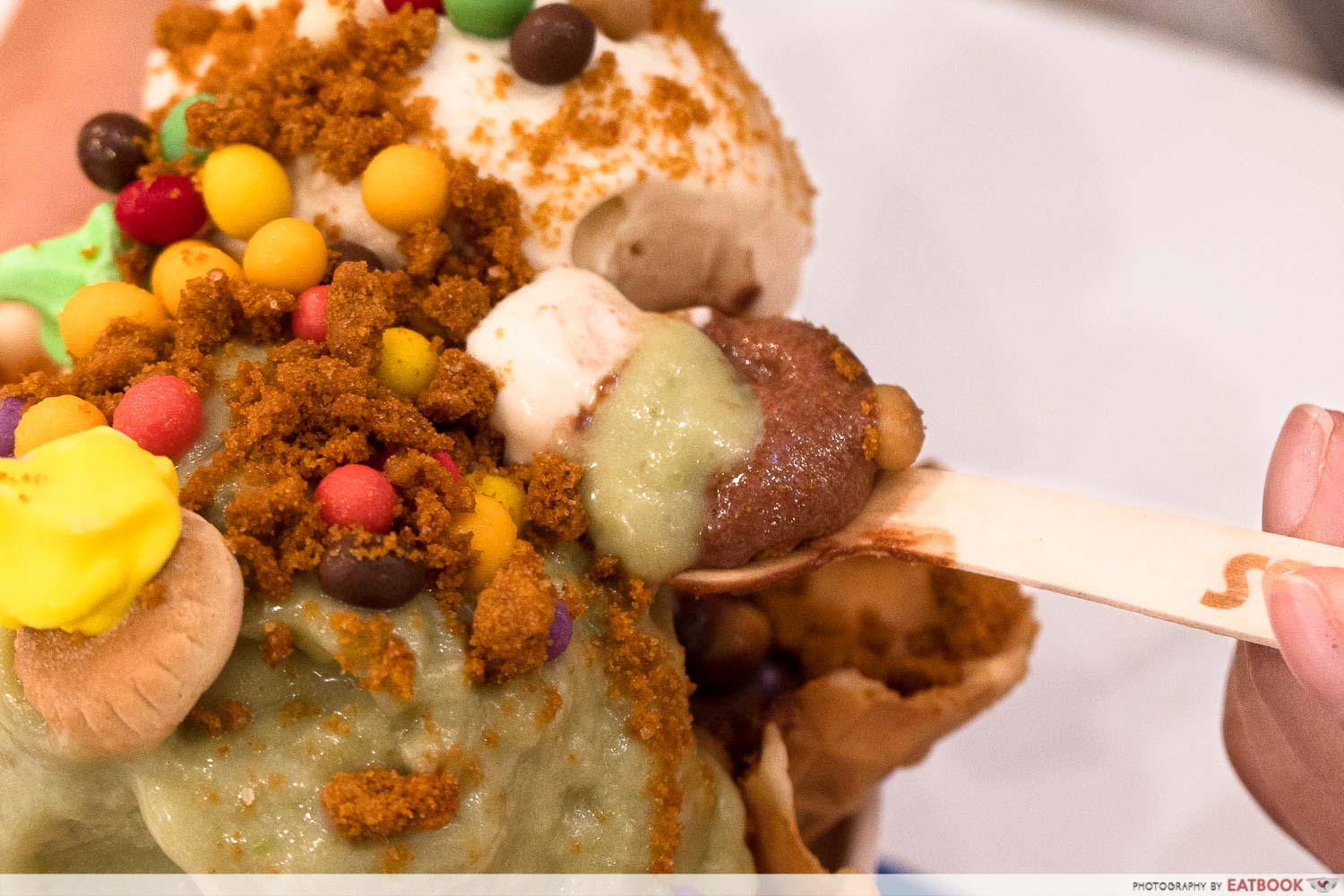 We also had the Single Origin Colombia Chocolate ($6) and Madagascar Vanilla Bean in this waffle bowl, both of which were pretty legit. The former tasted of quality, couverture dark chocolate—I'd expected nothing less. The latter was a keto option speckled with black dots of vanilla bean—I didn't mind that it was dairy-free.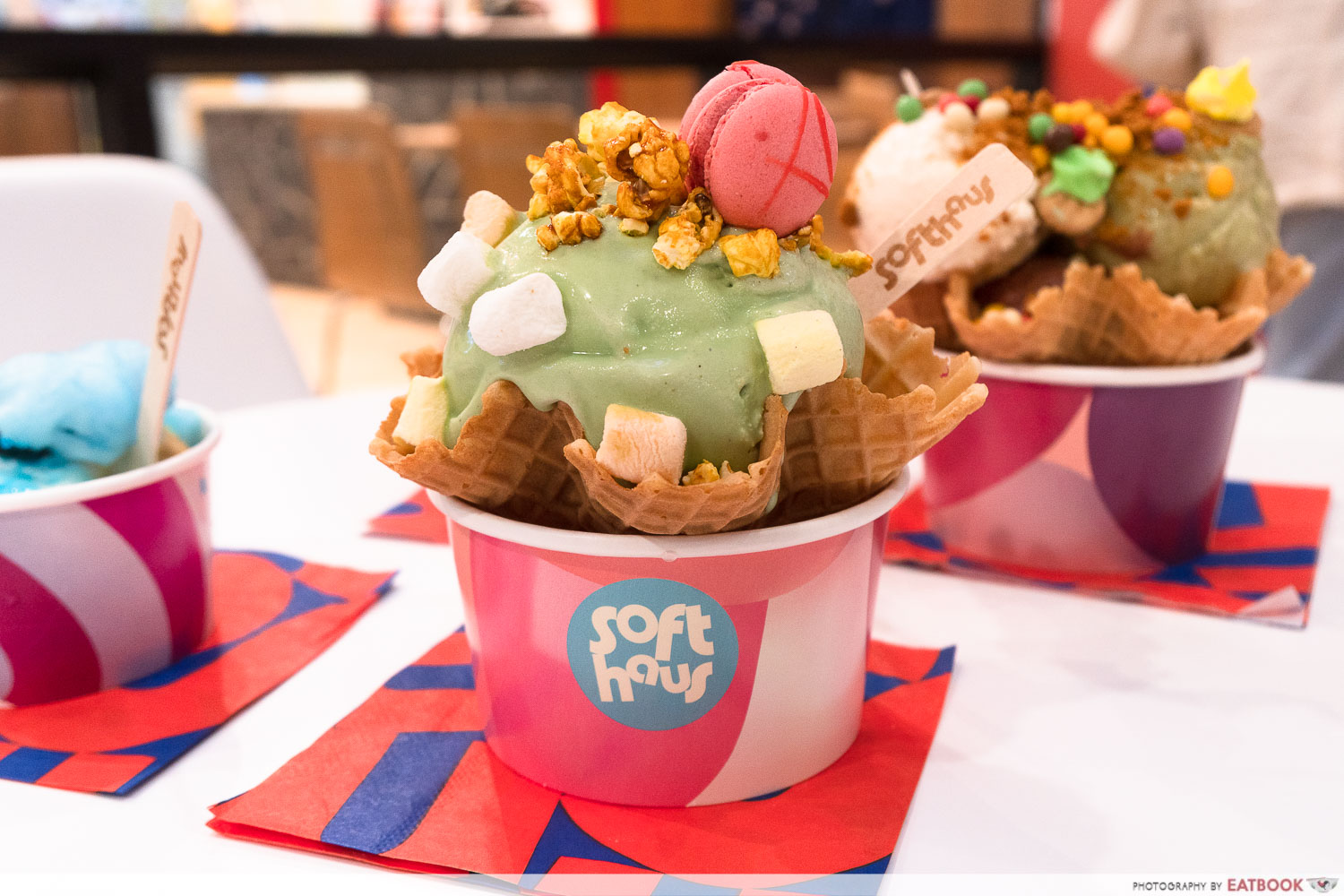 My greatest disappointment of the lot was Roasted Pistachio, which is supposed to have been made with Sicilian pistachios, AKA some of the greatest happy nuts in the world. I had a taste of this with the Single Origin Colombia Coffee ($6) in a single spoon, and had a rude shock when I found myself with a mouthful of bitter coffee laced with marzipan, something I've strongly disliked since forever.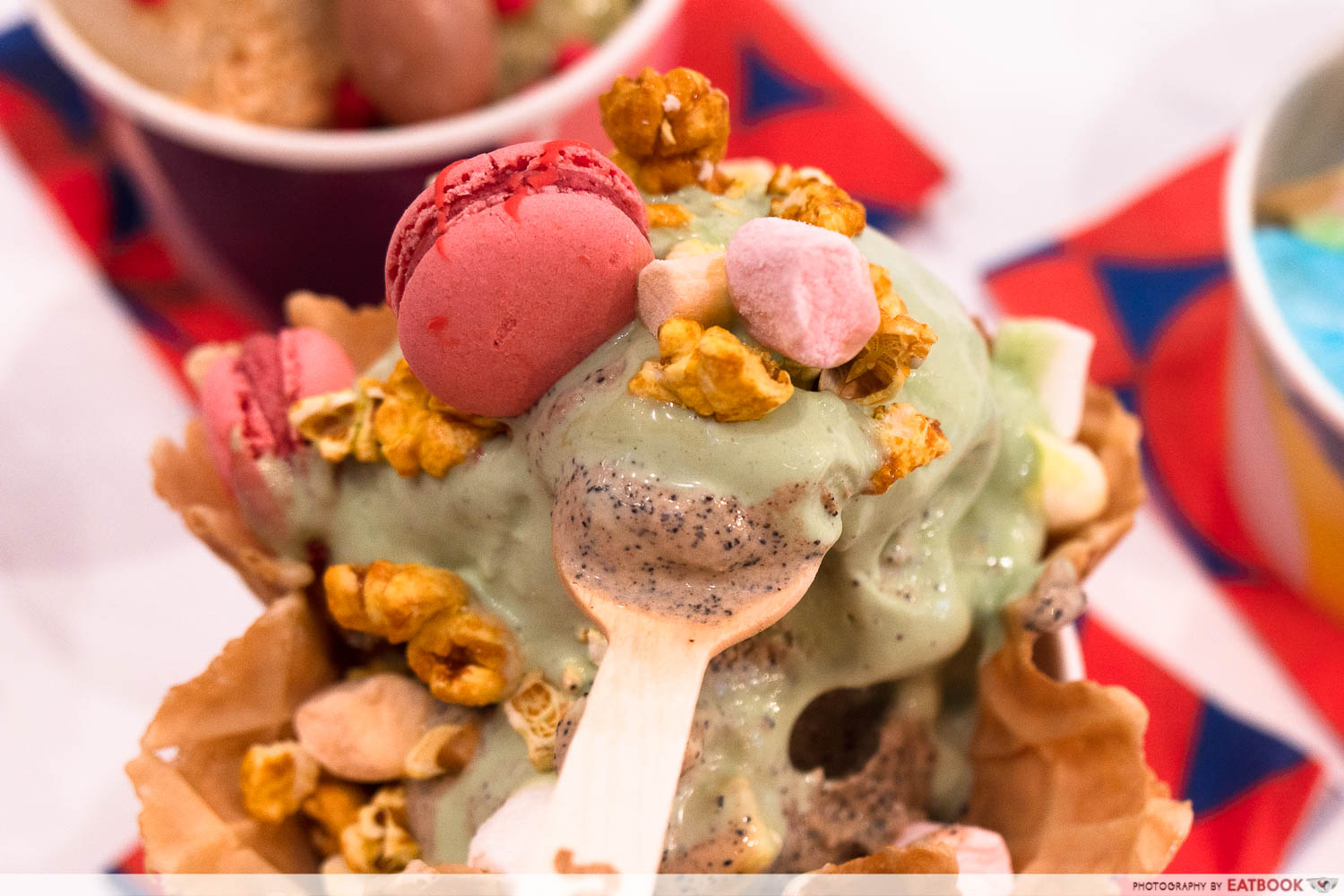 As much as I abhorred the Roasted Pistachio, which is sweetened with maltitol rather than sugar, I really enjoyed the Single Origin Colombia Coffee, which was gritty with coffee grounds, and extra gao— just the way I like my flavours. Having this with the caramel popcorn would have been perfect, were it not for the Roasted Pistachio melting all over. Here's another small note: $1 only gets you one mini macaron.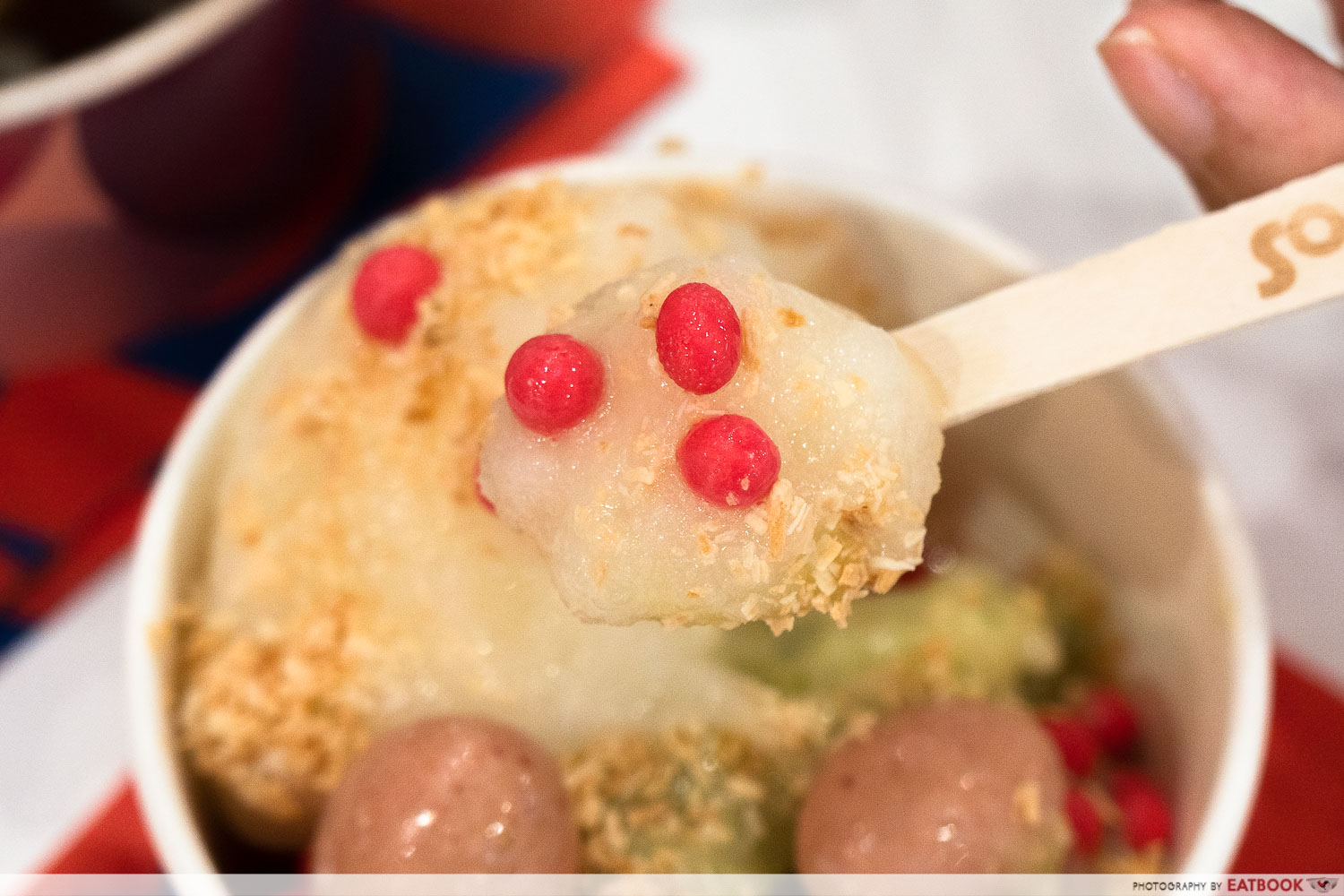 Another flavour that I enjoyed was the Yuzu Sorbet ($6), a bright, refreshing, dairy-free scoop that I thought went well with the Toasted Dessicated Coconut ($0.50).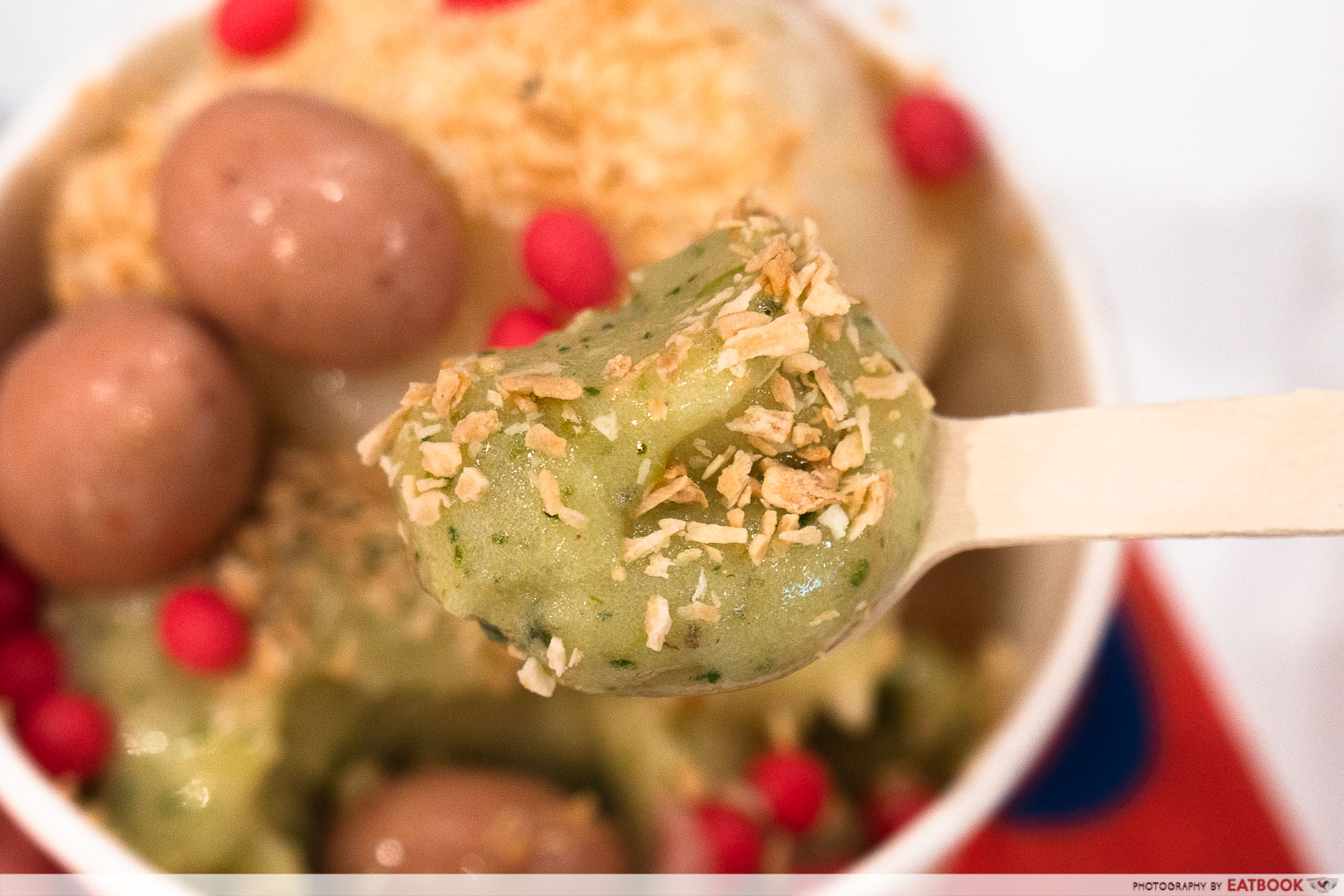 One of the flavours that had really got me excited about visiting Softhaus was the Pear Thyme Sorbet ($6), described as having honey and eucalyptus in with the mix. While delicate, I felt that this could do with more pear, and the honeyed notes could have been more pronounced. Perhaps because I'd imagined a different sort of flavour profile ahead of trying this, this blend threw me off.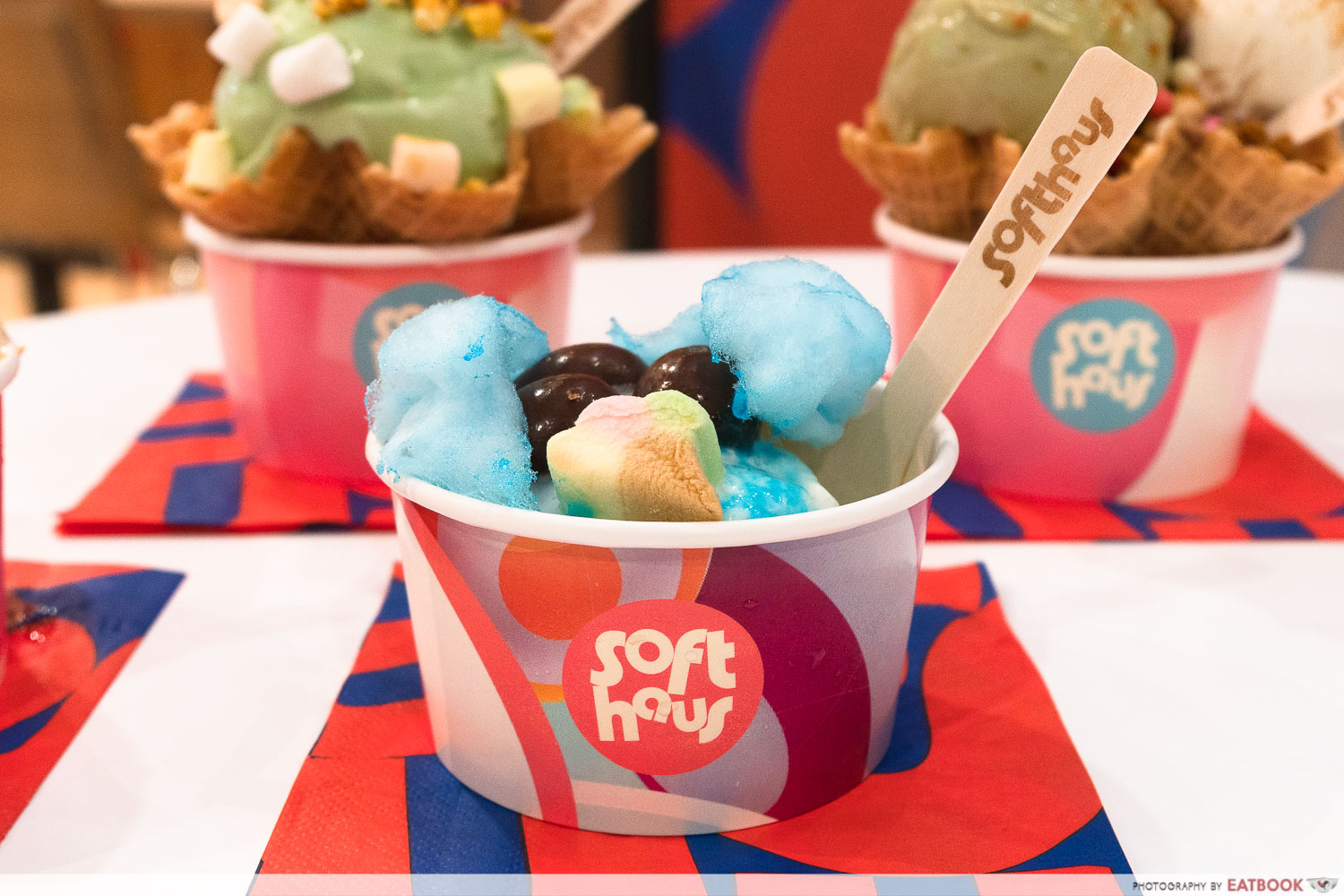 We ended with Coconut Day, a coconut-lime ice cream with a very Asian slant. This was, again, light, with a brightness from the lime cutting through any heaviness of the coconut.
Premium, sustainably sourced ingredients are used for all the ice creams at Softhaus, and I felt at several junctures during my ice cream feast that I could have done without the toppings to fully appreciate the ice cream.
Ambience at Softhaus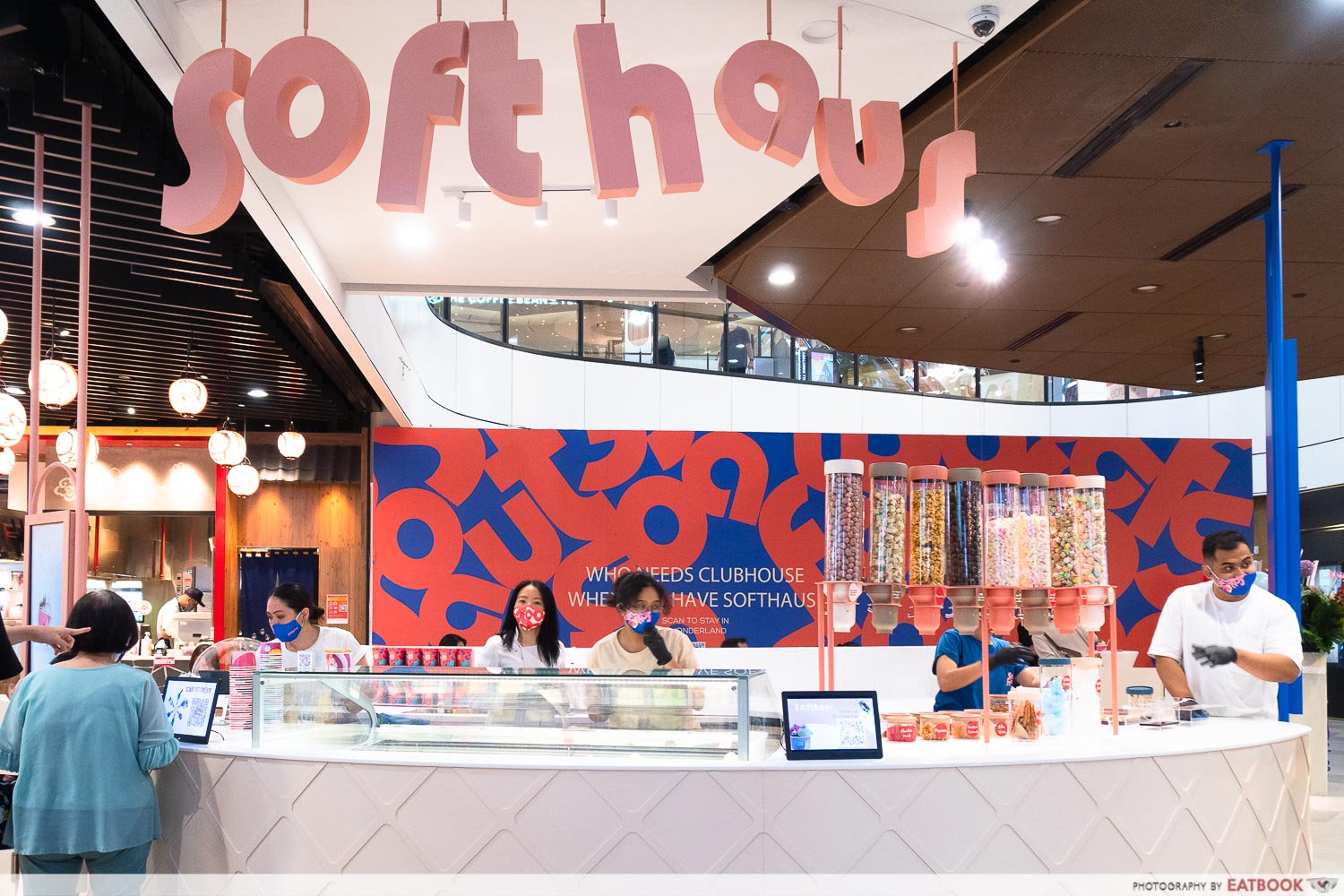 Softhaus' location, smack in the centre of Basement One at the newly renovated Great World, is hard to miss. What makes it even more unmissable is the whole candy bar situation next to the ice cream display, which I am sure will attract the little ones. It's currently a takeaway-only kiosk, but plans are underway for a separate sit-in concept in the space directly behind, so you'll soon be able to enjoy your ice creams there too.
When the Great World MRT Station on the Thomson-East Coast Line (TEL) is operational, Great World will, for once, be easily accessible. Till then, it's a 14-minute bus journey from Clarke Quay MRT Station, and Fort Canning MRT Station. If you're coming from Orchard MRT Station, it's a 24-minute bus ride.
The verdict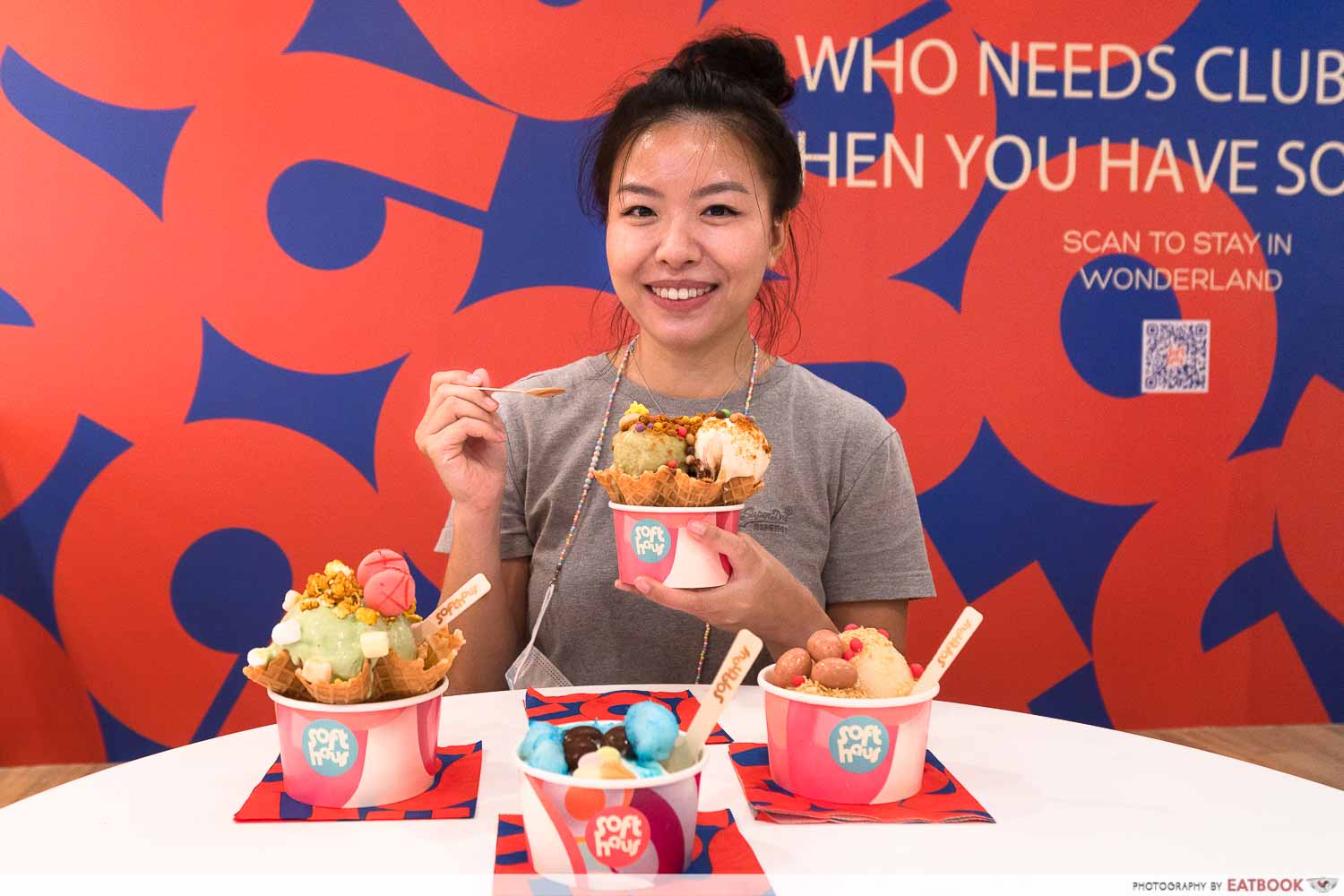 I came to Softhaus expecting to be a lot more wowed than I was. Kudos are in order for the inclusive selection of ice cream, which I believe would appeal to the Great World crowd. While some flavours were not my cup of tea, and the prices were on the high side for sugar-free, dairy-free desserts that I wouldn't naturally gravitate towards, I do think that there is a market for such.
I'm still in a little bit of an anti-pistachio anything phase at the moment, but if I were craving a sweet and decadent mid-afternoon perk-me-up and happened to be at Great World, I'd pick up a scoop of that Single Origin Colombia Coffee ice cream.
On the other side of the affordability scale is Naked Ice Cream, an ice cream and waffles shop in Kovan where everything on the menu is priced under $10, and they're open till late! Otherwise, check out Amuse Dessert Co. at Duxton, a new dessert spot.
Amuse Dessert Co: New Store By The Dark Gallery With Truffle Basque Cheesecake Ice Cream, Pastry Boxes And More
Address: 1 Kim Seng Promenade, #B1-K135, Great World, Singapore 237994
Opening hours: Daily 10am to 10pm
Website
Softhaus is not a halal-certified eatery
Photos taken by Lim Yu Hui.
This was a media tasting at Softhaus.
Softhaus Review: Janice Wong's Ice Cream Bar Has Flavours Including Popcorn Caramel Sea Salt And Avocado Banana
Softhaus Review: Janice Wong's Ice Cream Bar Has Flavours Including Popcorn Caramel Sea Salt And Avocado Banana -

7/10
Summary
Pros
– Nostalgic toppings
– Inclusive ice cream
Cons
– Roasted Pistachio had an artificial taste
– Pricey
Recommended dishes: Single Origin Columbia Coffee, Madagascar Vanilla Bean, Yuzu Sorbet
Opening hours: Daily 10am to 10pm
Address: 1 Kim Seng Promenade, #B1-K135, Great World, Singapore 237994