Three's A Crowd Cafe sells ice cream and cakes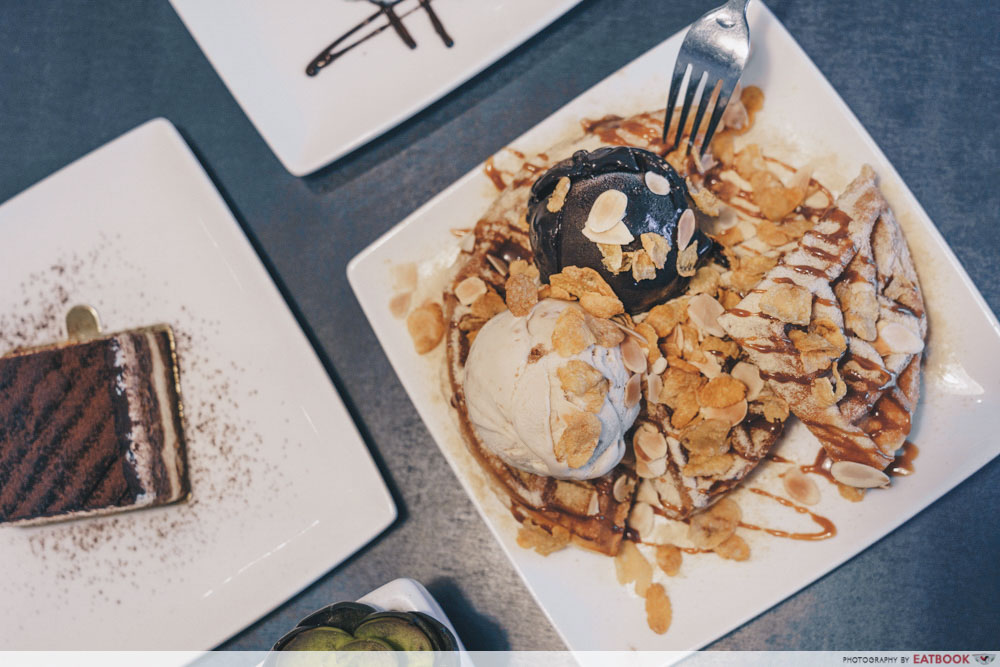 With Singapore's weather getting increasingly hotter, there's no better place to flock to than to an ice cream cafe. Neighborhood ice cream cafes are on the rise, popping up to provide a convenient, cold treat under HDB blocks. Three's A Crowd Cafe isn't one to join the recent frenzy though; the humble and halal-certified ice cream cafe has been serving desserts in Tampines since 2017.
Food at Three's A Crowd Cafe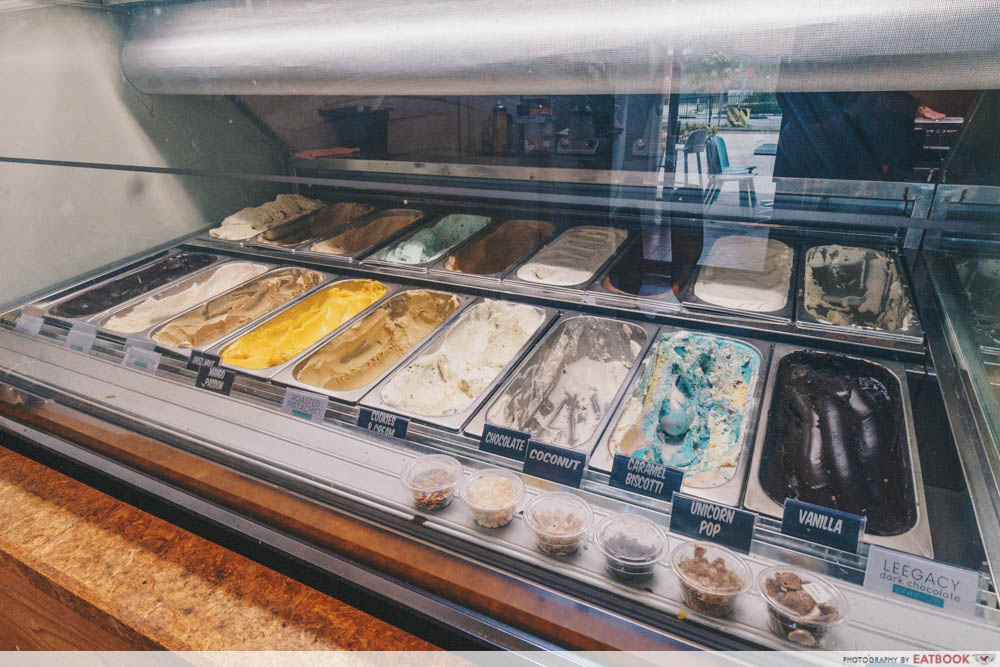 Bringing me to an ice cream cafe can be equated to putting a kid in a candy store. I will stare bright-eyed at the creamy selection, excitedly fussing over all the flavour combinations I can try. Unfortunately, my job was made harder with the cafe's whopping 18 flavours of ice cream, as well as dessert options such as waffles, brownies, and even affogato.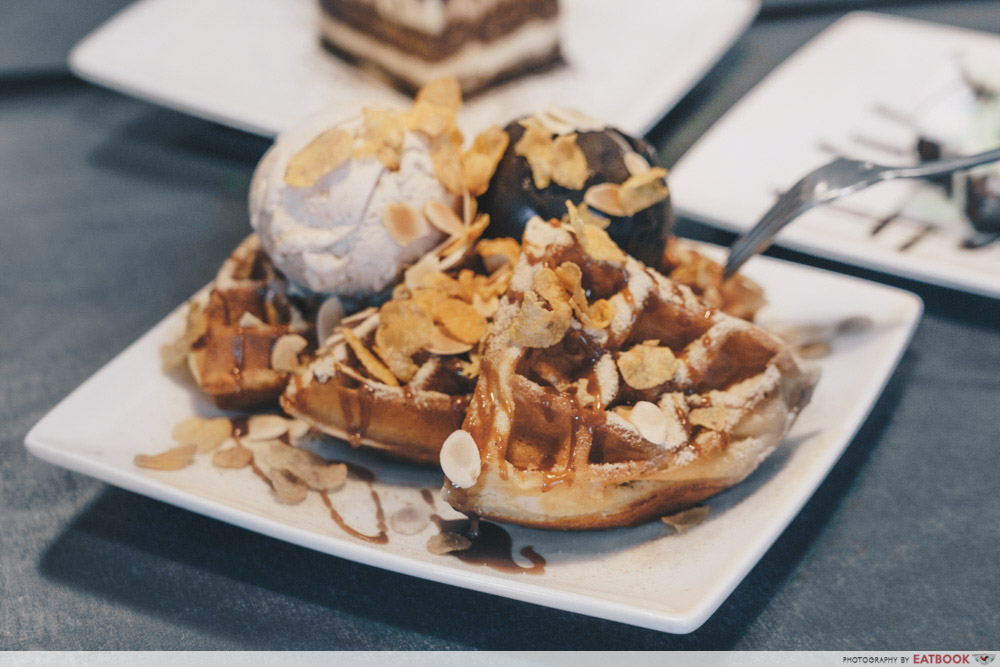 Personally, I've never been a huge fan of Horlicks, but my interest peaked when I spotted the Horlicks Waffle on the cafe's menu as it was a rather unconventional flavour to incorporate into waffles.
Each plate of this uniquely flavoured churros waffle will set you back $9.80, and it is served with a scoop of classic vanilla bean ice cream, almonds, cornflakes, and a drizzle of caramel sauce. However, we decided to indulge all the way by switching out the vanilla ice cream with a scoop of Speculoos ice cream at an extra cost of $1. We also added another scoop of their Leegacy ($4) dark chocolate ice cream.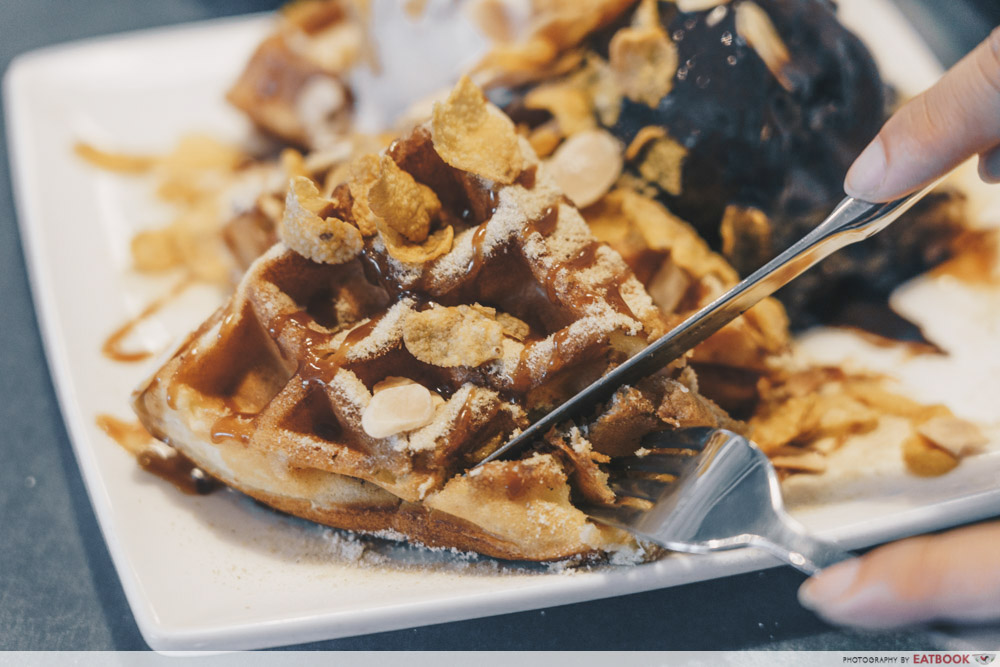 We delved straight into the Horlicks waffles. There was a wonderful crackle as I cut into the golden-brown waffle quadrant. Popping a piece into my mouth, I realised why the cafe dubbed them as 'churros waffles'. My first bite hit its crunchy exterior before the fluffy centre came through, and this texture was reminiscent of the famous Spanish street snack.  
Taste-wise, the actual Horlicks flavour was very subtle in the waffles, with most of the maltiness coming from the generous dusting of Horlicks powder instead. Eaten together, the slightly savoury and milky flavour of Horlicks along with buttery waffles made for a surprisingly addictive combination.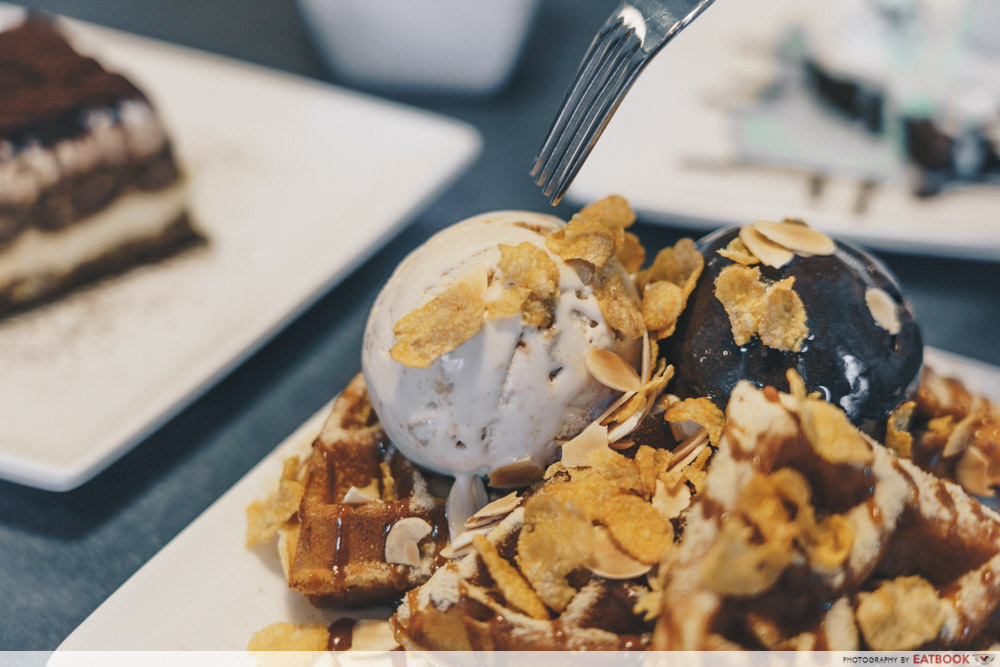 Any kid would be happy to find Speculoos-flavoured ice cream. The famous caramelised cookie has an iconic flavour profile, like an indulgent mix of a gingerbread cookie and a buttery graham cracker with a touch of caramel. They nailed the caramel notes with this ice cream, but it was missing the hit of cinnamon which is characteristic of the Lotus biscuit. This flavour was also a little on the cloying side.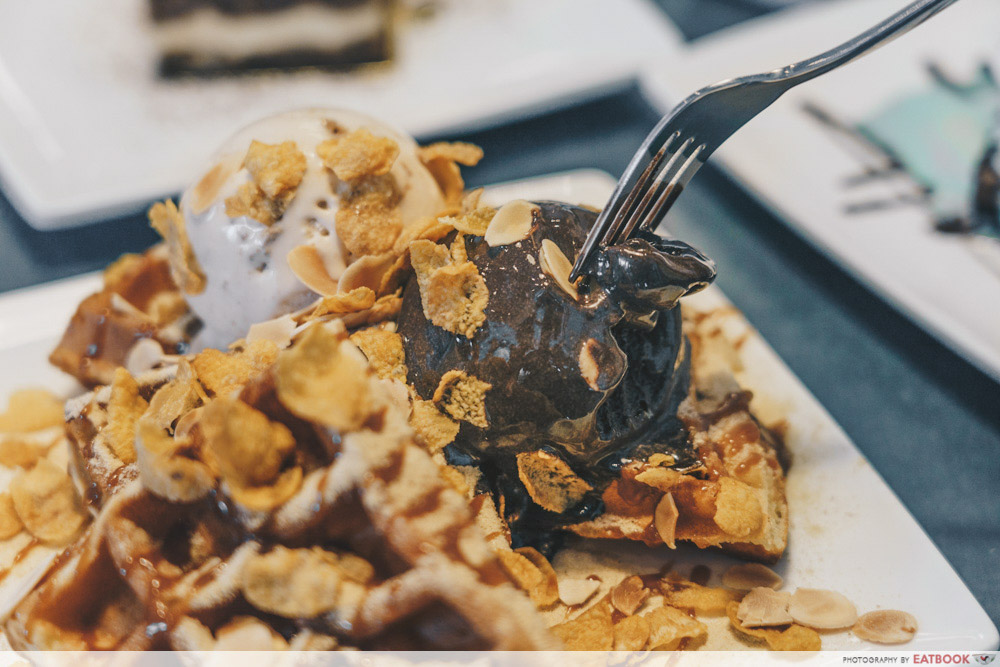 According to the cafe owners, their chocolatey Leegacy ice cream is dedicated to the late Mr Lee Kuan Yew. With my preference for a stronger cocoa flavour, I enjoyed the bitter bite of dark chocolate here.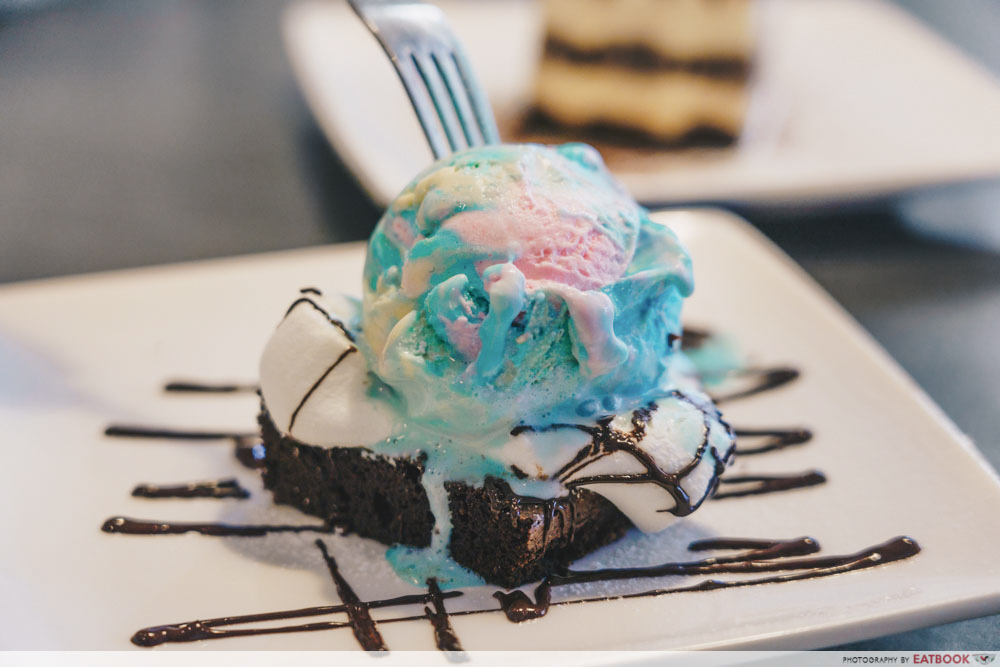 Next on the list of sweet treats was the S'mores Brownie ($8) which we topped with a scoop of rainbow-coloured Unicorn Pop. When it arrived at our table, the large scoop of ice cream was balanced precariously on top of melted marshmallows and a slab of brownie.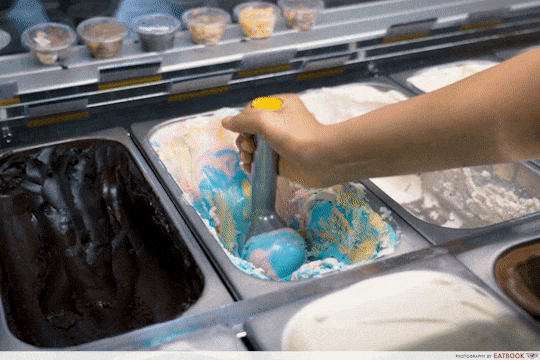 I got a taste of the ice cream by itself and immediately noted how much it reminded me of Paddle Pop. When I asked about the flavour, a staff member called it 'a milkier vanilla ice cream'. I would leave this sugary flavour to the kids, as after a few spoonfuls, the ice cream got a bit cloying.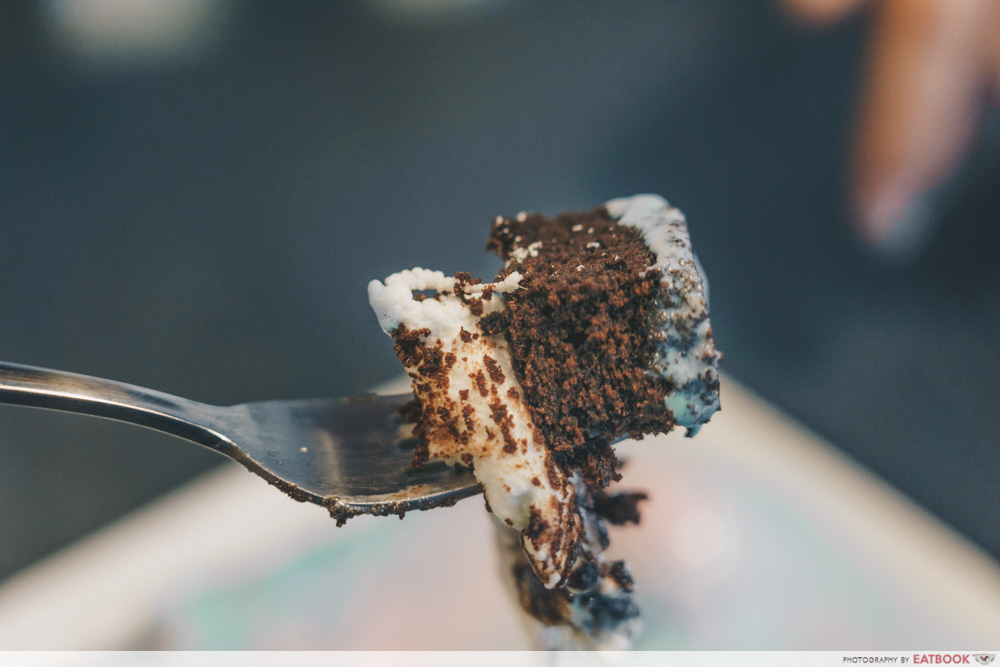 When I attempted to get a forkful of the s'mores brownie, I was treated to a marshmallow version of a satisfying cheese pull. The melted marshmallows were gooey and soft, while the brownie was fudgy and chocolatey. As the two components melded together, it became a luxuriously sticky treat.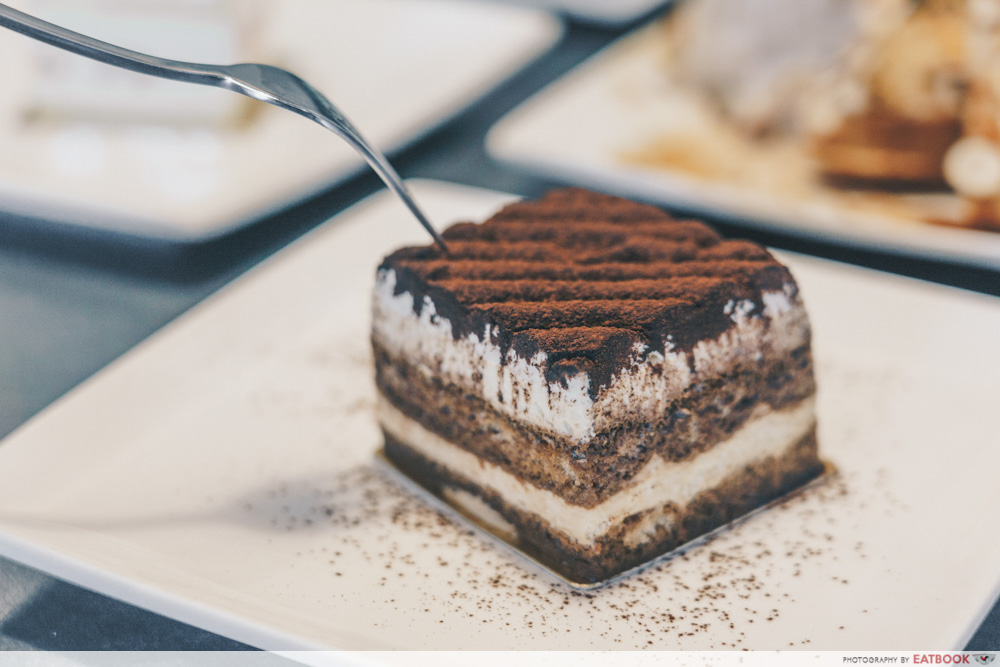 Besides ice cream treats, the cafe also offers a selection of small pastries made daily by an in-house pastry chef. The dainty Tiramisu ($6.90) comprised layers of cream and coffee-soaked sponge, and a layer of bitter cocoa powder dusted on top.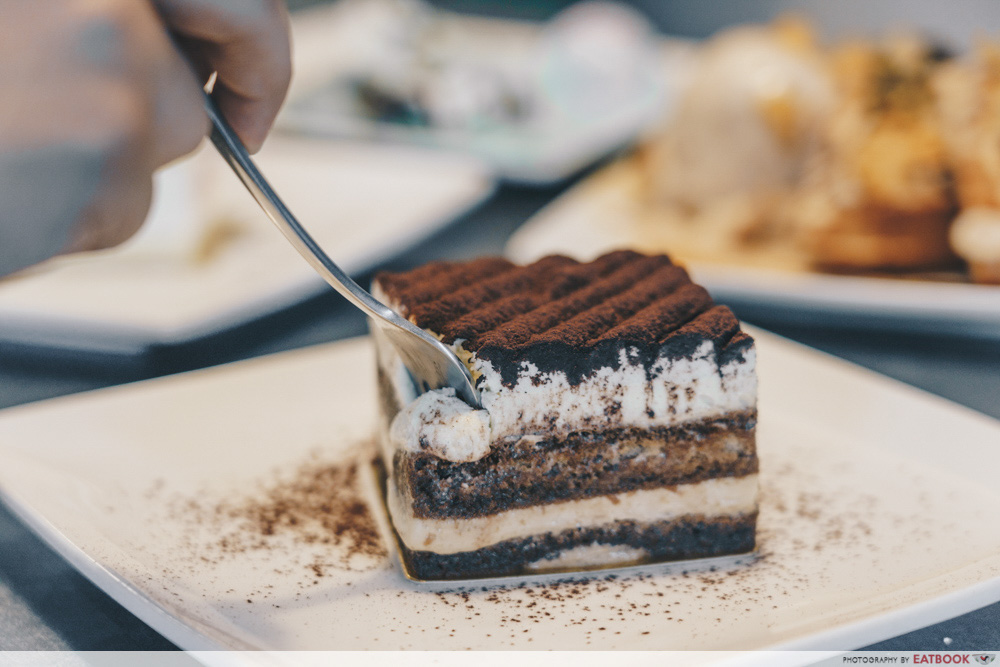 The layers of cream were exceptionally light and airy, dissolving almost immediately in my mouth. The sponge part of the cake was doused with aromatic coffee, giving it a strong hit of caffeine while keeping it moist. 
Despite feeling slightly jelak from the previous two desserts, I still found the tiramisu fluffy and pleasantly light on my palate, making it easy to finish off.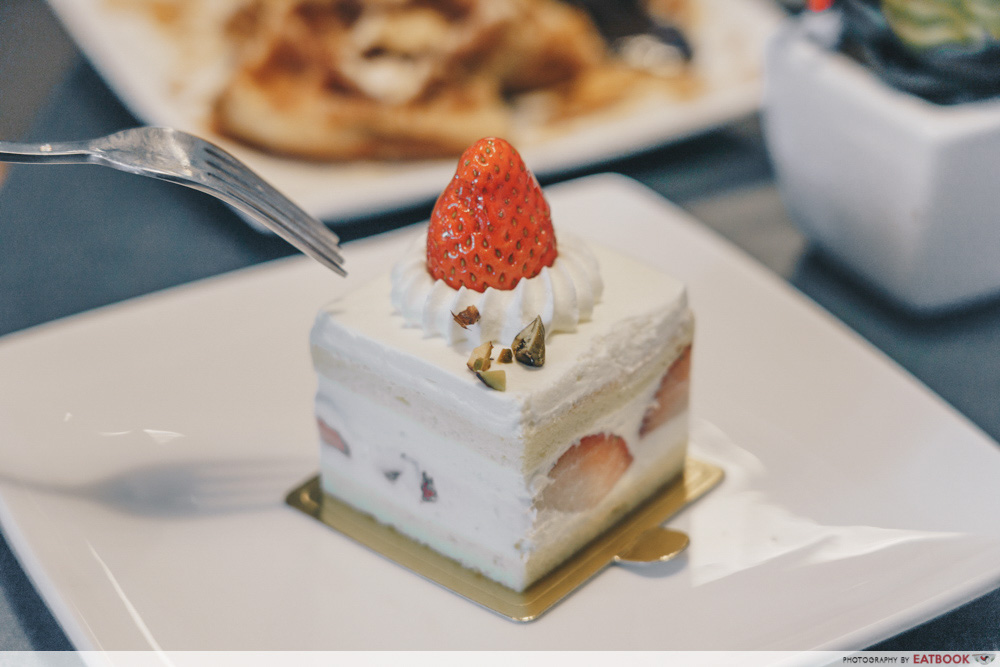 Get their elegant-looking Strawberry Shortcake ($6.90) for an IG-worthy dish. The cake is constructed with even layers of dense cream, cake, and large chunks of juicy strawberries, which added tartness to the sweet sponge cake. 
Overall, the cakes definitely seemed like the work of a professional. My only gripe with them was that they were a tad small for their price tag.
Ambience at Three's A Crowd Cafe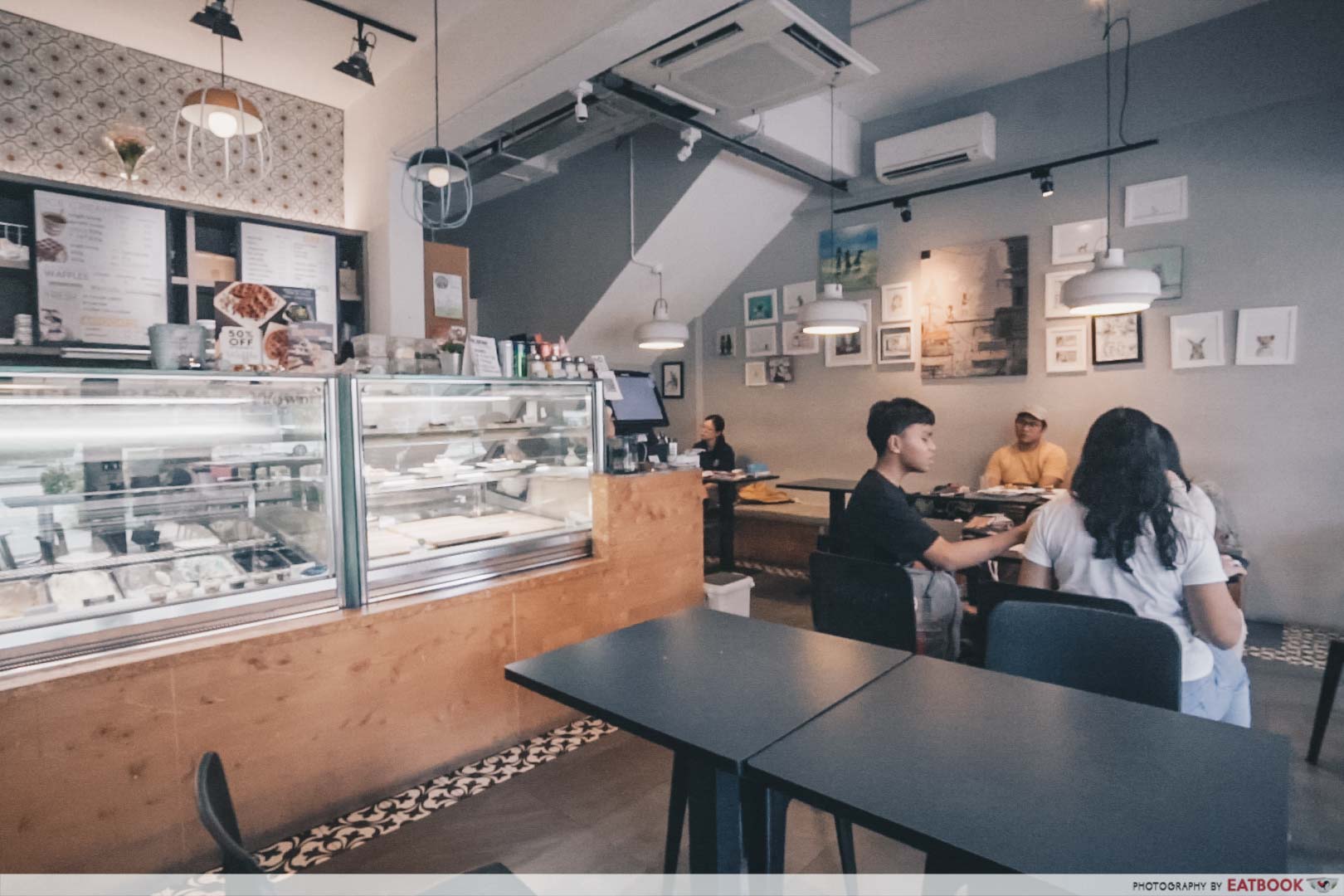 Despite being situated under a HDB block, the cafe was much more spacious than I had imagined. The wooden furniture and retro-looking photographs that adorned the walls gave the cafe a cosy vibe. If you happen to drop by on a cooler day, the ice cream shop also has tables set up outside for an al fresco feast. 
The verdict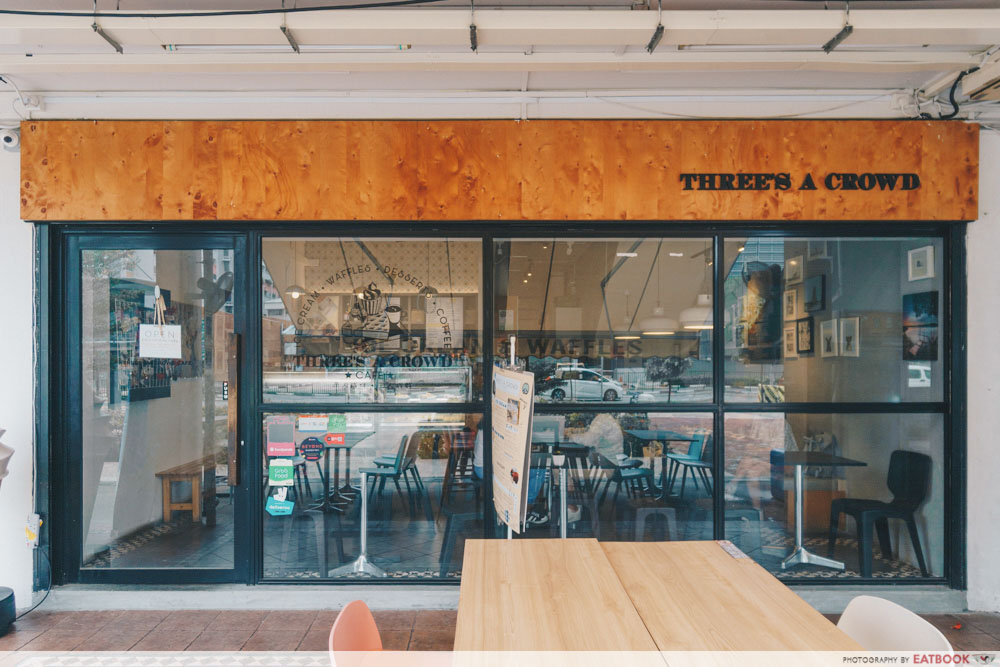 There will probably never come a day when I turn down ice cream and waffles. What really impressed me about this particular cafe, though, was its ability to continually expand and add to their menu. They go above and beyond just selling your typical ice cream cafe grub by offering interesting waffle flavours such as the Horlicks one. From the mere fraction of their treats I got to taste during this visit, I'm certainly dropping by again to tick more off the list if I'm ever in the area. 
If you're hankering for more ice cream, check out our list of new ice cream cafes, or read our review of Denzy Gelato in Bishan for some uniquely flavoured gelato!
10 New Ice-Cream Cafes In Singapore With Unique Flavours, Doughnut Cones, And OTT Toppings
Address: Blk 802 Tampines Avenue 4, #01-11, Singapore 520802
Opening hours: Sun-Thurs 12pm to 10:30pm, Fri-Sat 12pm to 11pm
Tel: 6702 0700
Website
Three's A Crowd is a halal-certified eatery.
Photos taken by Rae Phang
This is an independent review by Eatbook.sg.
Three's A Crowd
Summary
Pros
– Crispy waffles
– Delicious cakes
– Cosy ambience
Cons
– Unicorn Pop ice cream was too sweet
– Cakes were pricey
Recommended dishes: Tiramisu ($6.90), Horlicks Waffle ($9.80)
Opening hours: Sun-Thurs 12pm to 10:30pm, Fri-Sat 12pm to 11pm
Address:  Blk 802 Tampines Avenue 4, #01-11, Singapore 520802