---
Best hawker places in 2019
---
From comforting classic dishes to innovative fare that would put any glitzy restaurant to shame, the hawker scene in Singapore was filled with loads of exciting concepts this year.

After several rounds of anonymous visits, and a year's worth of trying out a ton of tasty food, we proudly present the 10 best hawker places in 2019 as part of the Eatbook Top 50 Awards. These hawker places in Singapore were newly opened in 2019, and have wowed us with their dedication to the craft. 
50 Best Food Places In Singapore For All Budgets – Eatbook Top 50 Awards 2019
---
1. Gubak Kia
---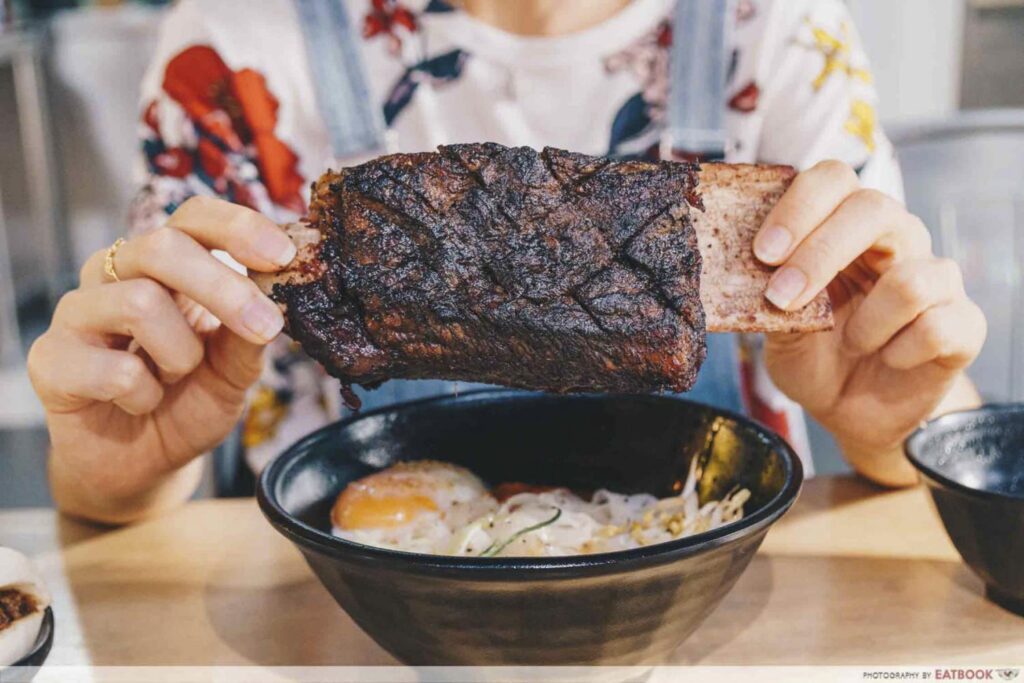 Opened by the family behind Empress Place Beef Kway Teow, Gubak Kia is more than a regular beef noodle joint. Besides serving up the regular beef noodles that Empress Place Beef Kway Teow is renowned for, this hipsterish hawker store also dishes up an interesting Beef Short Ribs Kway Teow ($12.90 for 300g, $14.90 for 400g). 
You'll find a colossal hunk of beef short ribs sitting in this comforting bowl of beef noodles. The meat is sous-vide for 48 hours until fork-tender, then rubbed with a special beef soup marinade and seared with a blow torch to give a concentrated burst of flavours. 
Check out our full review of Gubak Kia!
Gubak Kia Review: Beef Short Rib Kway Teow By Son Of Empress Place Beef Kway Teow
Address: 73 Ayer Rajah Crescent, Stall 27B, Timbre+, Singapore 139957
Opening hours: Mon-Fri 11am to 3pm, 5:30pm to 9pm, Sat 6pm to 9pm
Tel: 8782 0936
Website
Gubak Kia is not a halal-certified eatery.
---
2. Prawn & Mee
---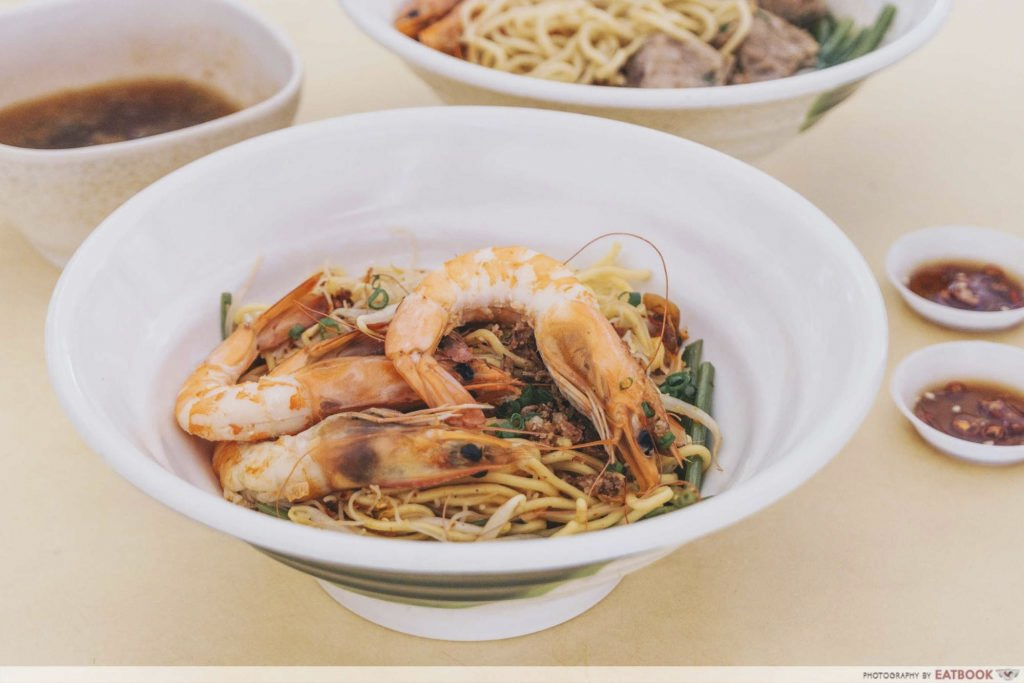 The prawn noodles at Prawn & Mee taste familiar, yet pack a strange unexplainable element of refinement. While these hearty bowls of noodles are classically presented, they're given a touch of finesse from Culinary Institute of America graduates—Gladwin Yap and Raphael Sim. 
Their Prawn Noodle Dry ($4/$6/$8) might look plain at first, but this innocuous-looking bowl of noodles is responsible for my multiple prawn noodles cravings throughout the year. The noodles are tossed with a generous amount of pork lard, and are given a flavourful punch thanks to a specially roasted dried shrimp chilli paste. 
Check out our full review of Prawn & Mee!
Prawn & Mee Review: Plum & Rice Rebrands To Serve Legit Prawn Noodles
Address: Block 216 Bedok North Street 1, #01-45, Singapore 460216
Opening hours: Tue-Sun 8:30am to 2pm
Website
Prawn & Mee is not a halal-certified eatery.
---
3. The Social Outcast
---

As their name suggests, The Social Outcast is vastly different than any other Western hawker store. Instead of serving the usual order of chicken chops and fries, this Muslim-owned eatery pride themselves for pushing out unique restaurant-quality burgers at affordable prices. 
We were a little apprehensive of their Teriyaki Unagi Burger ($15.90), which was something very unique to the scene. But the burger proved to be a hit with everyone, with two thick unagi slices that were given a beautiful char on the restaurant's charcoal oven. Each burger also comes with a side of chips, and a housemade Greek dip that's made from salted cod roe and mayonnaise.
Check out our full review of The Social Outcast!
The Social Outcast Review: Muslim-Owned Hawker Serving Wagyu And Unagi Burgers At Tampines

Address: Blk 280, Tampines Street 22, Singapore 520280
Opening hours: Wed-Mon 11am to 9:30pm
Website
The Social Outcast is a Muslim-owned eatery.
---
4. Weng Kiang Kee Porridge
---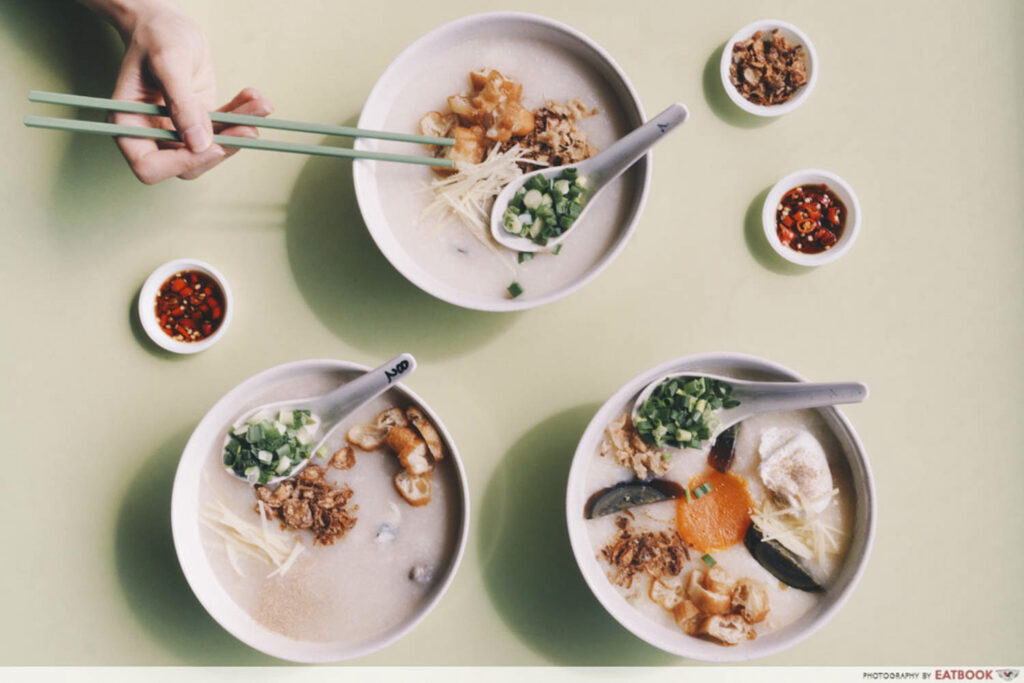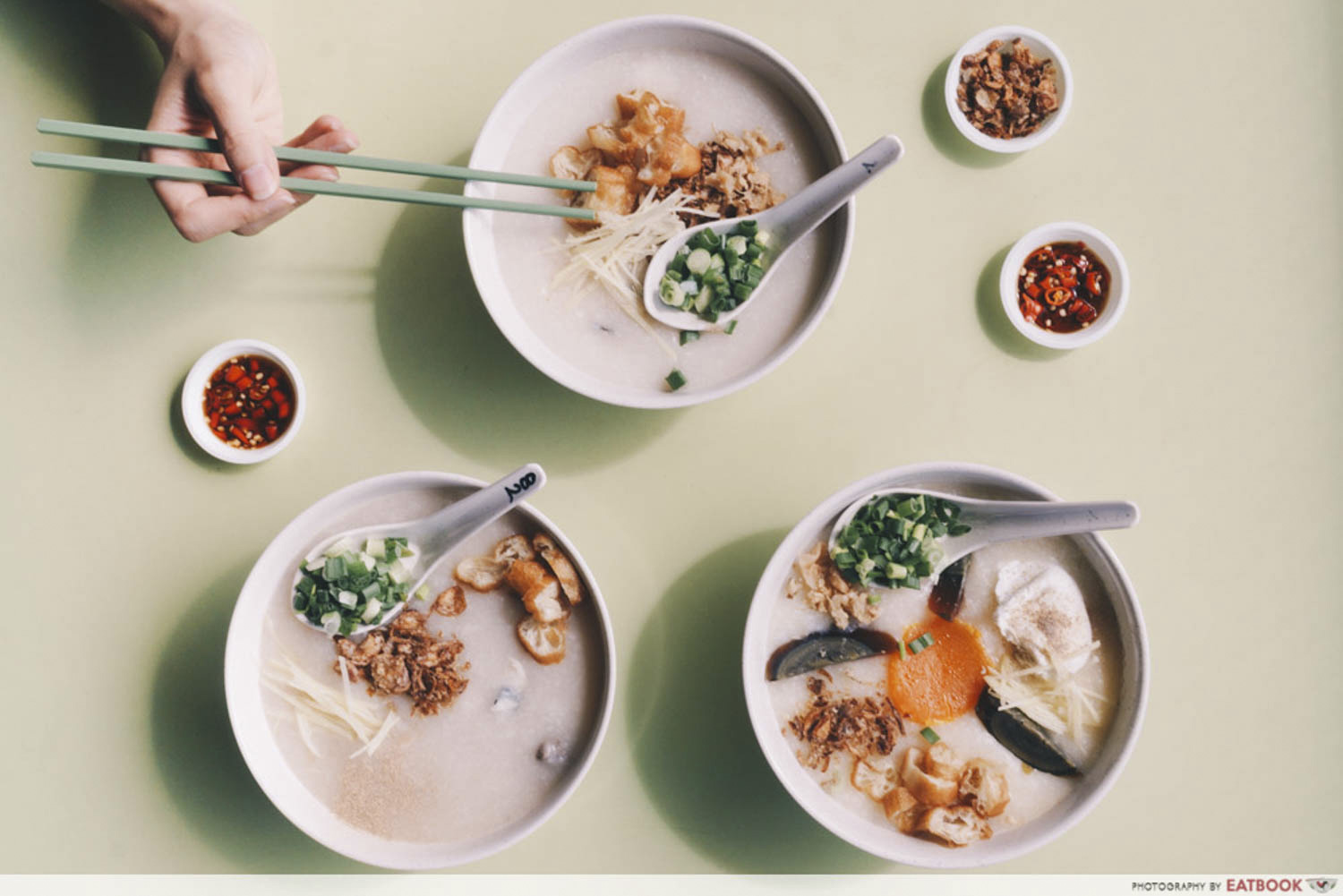 Weng Kiang Kee Porridge won our hearts with their unpretentious yet skilled execution of traditional Hainanese porridge. Opened by an ex-hotel chef and his wife, this store at Chinatown Food Complex is one of our top food gems of 2019. 
Prices are kept affordable, and the Premium Porridge ($5) is filled with loads of goodies such as pig's intestines, minced pork balls, and abalone slices. Each bowl is cooked individually, and is constantly stirred during the cooking process to allow the rice to bind together in a creamy emulsion. This might cause the food to take longer than expected, so be prepared to wait 20 minutes on weekdays, and 45 minutes on weekends. 
Check out our full review of Weng Kiang Kee Porridge!
Weng Kiang Kee Porridge Review: Traditional Hainanese Porridge By Ex-Hotel Chef At Chinatown
Address: 335 Smith Street, #02-082, Chinatown Food Complex, Singapore 050335
Opening hours: Tue-Sun 7am to 2pm
Website 
Weng Kiang Kee Porridge is not a halal-certified eatery.
---
5. JW Korean Food Stories
---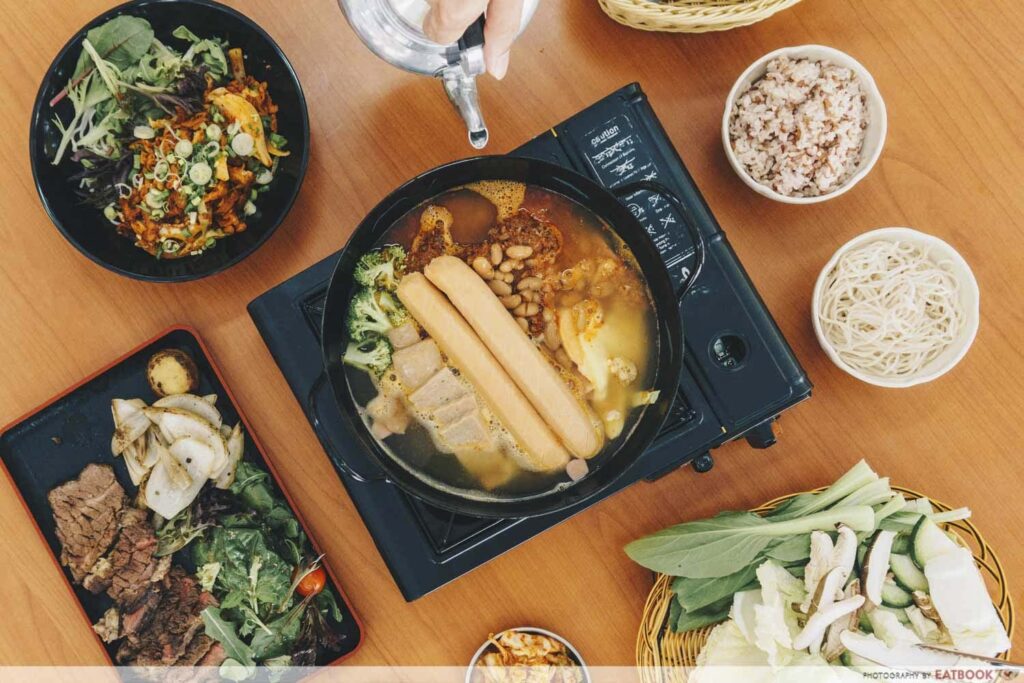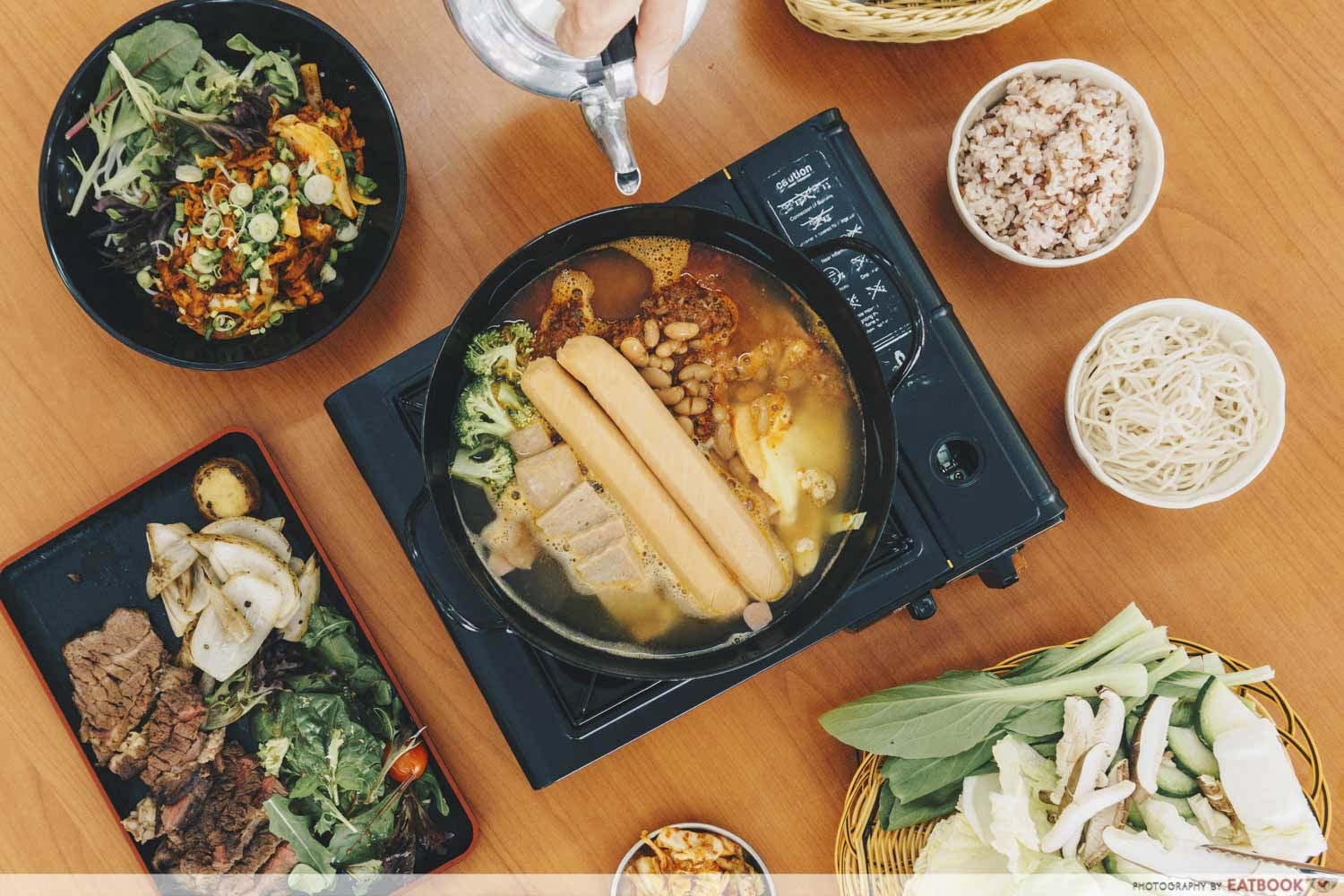 Halal Korean restaurants are a dime a dozen, but halal Korean hawker stores are as rare as how I like my steaks. JW Korean Food Stories is located in a Ghim Moh coffee shop, and helmed by a former Pan Pacific hotel chef who keeps prices low. We visited the stall several times, and were impressed with their consistency. 
Their Army Stew Steamboat ($19.80) serves up to three people and features free-flow soup, jumbo cheese sausages and luncheon meat, a basket of fresh vegetables, red rice, and a bowl of ramen noodles. The soup is fortified with a thick army paste stew that gives it a pleasant mild spiciness.

Check out our full review of JW Korean Food Stories!
JW Korean Food Stories Review: Muslim-Owned Korean Hawker Stall With Army Stew And Spicy Ramyeon
Address: 19 Ghim Moh Road, #01-229, Kopitiam Stall 8, Singapore 270019
Opening hours: Daily 10:30am to 10:30pm
Tel: 9115 2194
Website
JW Korean Food Stories is a Muslim-owned eatery.
---
6. Eat3Cuts
---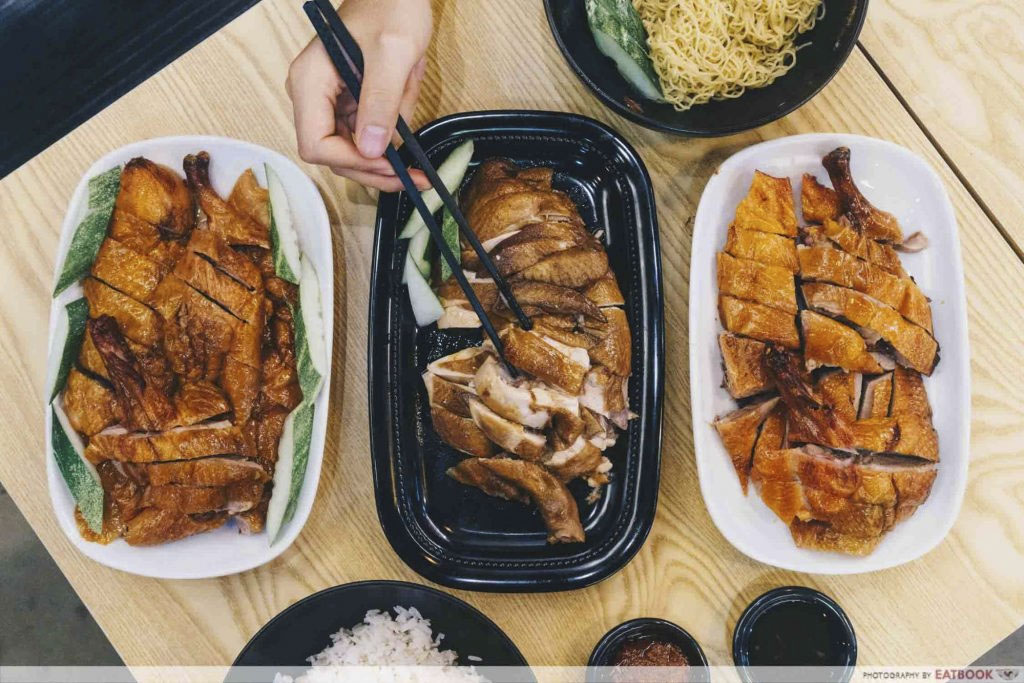 Old-school Cantonese roasted meats may be a dying art in Singapore, but Eat3Cuts hopes to change all that with their roasted duck, pipa duck, and soya sauce chicken. The meats are roasted using a traditional charcoal-powered oven, giving them a smoky and flavourful aroma.
I particularly liked their Whole Roast Duck ($35). A bunch of aromatics are stuffed inside the bird before roasting, and they combine beautifully to give loads of rich meaty flavours. They tend to sell out by evening time, so be sure to give them a call if you're heading down late. 
Check out our full review of Eat3Cuts!
Eat3Cuts Review: Cheap And Good Pipa Duck By Young Hawker In Bencoolen
Address: 175 Bencoolen Street, #01-49, Burlington Square, Singapore 189649
Opening hours: Daily 11am to 9pm
Tel: 9384 5503
Website
Eat3Cuts is not a halal-certified eatery.
---
7. Mama's Boy Bakes
---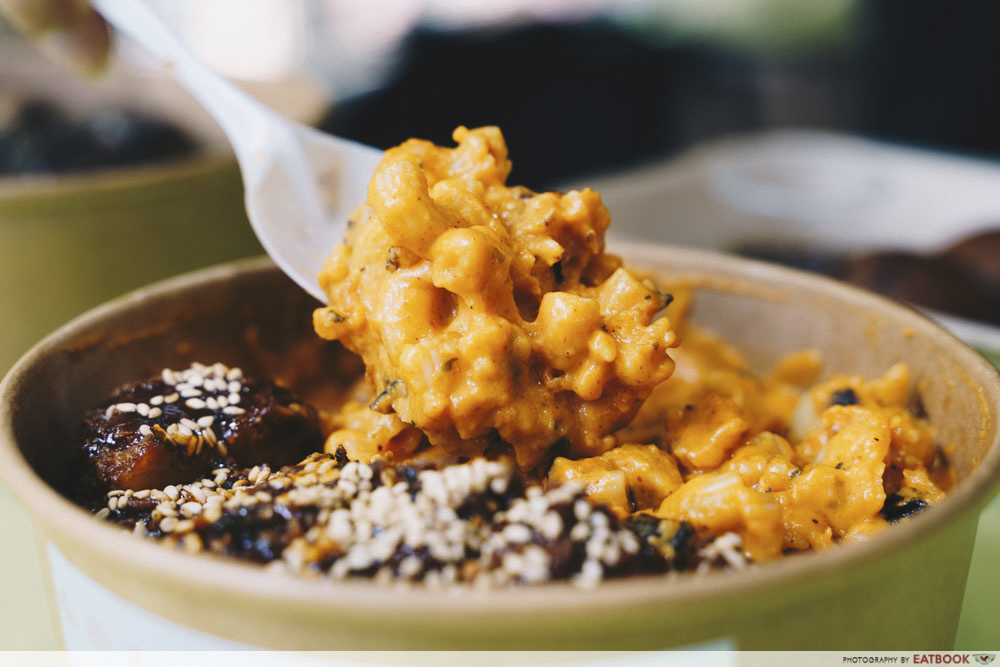 Originally a home-based kitchen, Mama's Boy Bakes opened at Amoy Street Food Centre earlier this year. This Muslim-owned eatery serves up interesting variants of gooey mac and cheese, and is a popular choice with the CBD folks.  
Korean Mac & Cheese ($9.50) comprises macaroni that's mixed with a blend of cheese sauce and gochujang to give a sweetish tangy sauce. Chunks of crispy chicken tenders also accompany this dish to make it a well-balanced meal. A few squirts of Samyang chilli sauce are added to the sauce for those who like it spicy, making it quite a potent dish.
Check out our full review of Mama's Boy Bakes!
Mama's Boy Bakes Review: Muslim-Owned Mac & Cheese Hawker With Samyang Flavour At Amoy Street
Address: 7 Maxwell Road, #02-87, Amoy Street Food Centre, Singapore 069111
Opening hours: Mon-Fri 11am to 3pm
Tel: 9846 3578
Website
Mama's Boy Bakes is a Muslim-owned eatery
---
8. Hokkien Man Hokkien Mee
---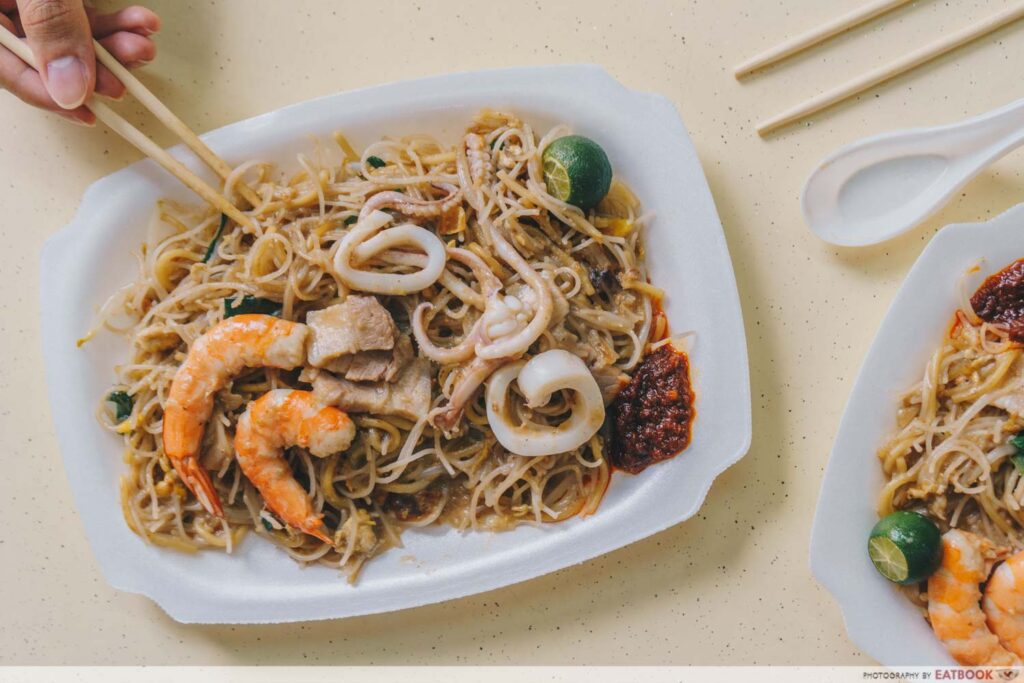 Hokkien Man Hokkien Mee was on the lips of every foodie earlier this year, thanks to the man behind the wok—Xavier Neo. The former sous chef of three Michelin-starred French restaurant, Les Amis, decided to hang up his chef's jacket and, instead, take up the mantle of being a full-time hawker. 
Their Hokkien Mee ($5,$6,$8) is of the wet and sticky variant, a result of the noodles being cooked longer in the flavourful thick prawn and pork bone stock. There's a good amount of garlic here, and each noodle had a gentle wok hei to it. The queues can be a little long, especially during peak periods, so it's a good idea to book the noodles via text.
Check out our full review of Hokkien Man Hokkien Mee!
Hokkien Man Hokkien Mee Review: Hokkien Mee By Former Les Amis Chef At Toa Payoh
Address: 18 Tor Payoh Lorong 7, 1913 Coffeeshop, Singapore 310018
Opening hours: Tue-Sun 10am to 2:30pm
Tel: 8798 1525
Website
Hokkien Man Hokkien Mee is not a halal-certified eatery.
---
9. Banh Mi Thit
---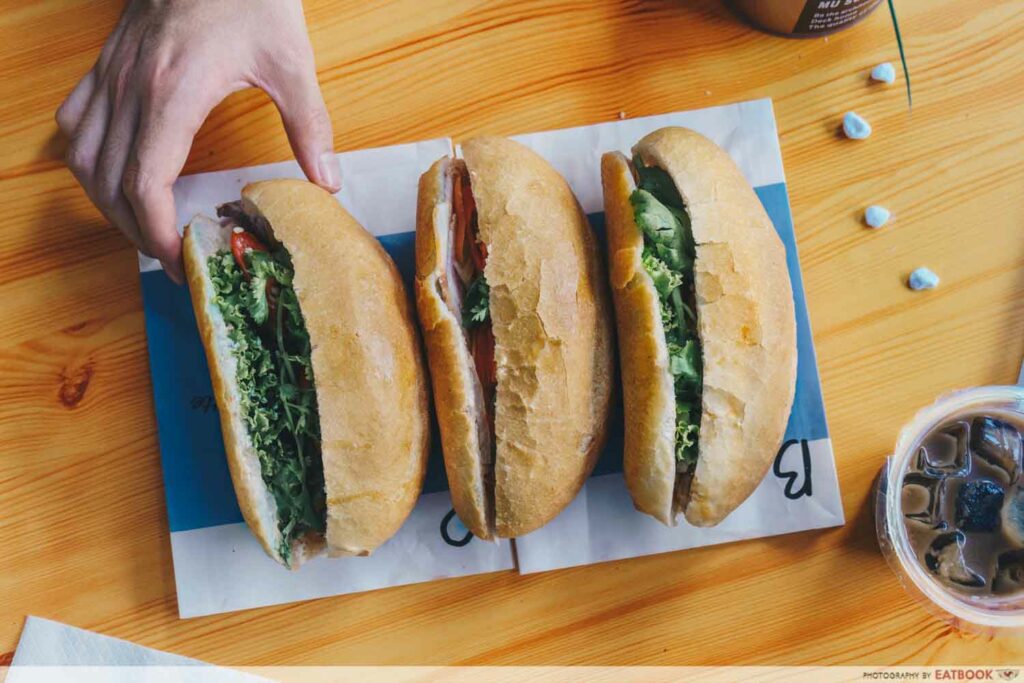 Besides being the cheapest banh mi in Singapore, Banh Mi Thit's loaves are also down right tasty. Four flavours of sandwiches are available, with each costing $3.80. We like how their baguettes are specially baked inhouse, and appreciate the generous serving of meat and vegetables stuffed inside. 
The Beef Banh Mi ($3.80) is our favourite, and it seems almost too good to be true for this beef sandwich to be sold at this price point. It comes with loads of seared beef flank slices and sautéed onions, as well as coriander and pickled carrots for a bit of crunch. The baguette also packs in a nice bit of crispiness, giving the sandwich an extra dimension.

Check out our full review of Banh Mi Thit!
Banh Mi Thit Review: Cheapest Banh Mi In Singapore At $3.80 Near Aljunied MRT
Address: 543 Geylang Road, Singapore 389498
Opening hours: Tue-Sun 10am to 10pm
Website
Banh Mi Thit is not a halal-certified eatery
---
10. Niu Zou La Mian
---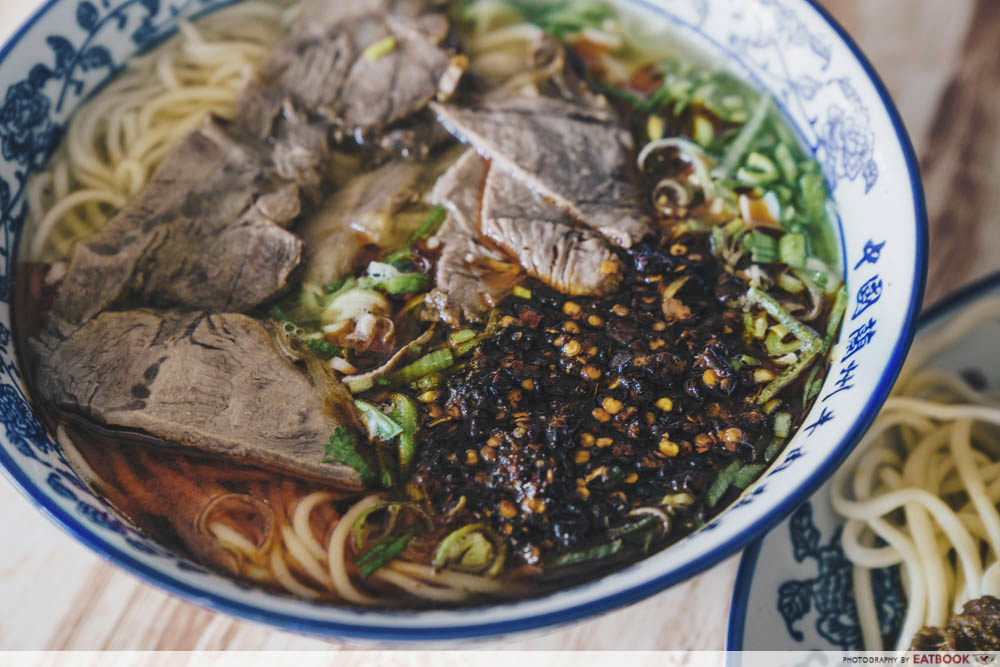 Located at the corner of a coffee shop in Ubi, Niu Zou La Mian is helmed by a Muslim Chinese-national who left his hometown of Gan Su. We were won over by his hand-pulled noodles which came in large portions, served in beautiful ceramic chinaware. 
Lan Zhou Beef Ramen ($5) is a comforting bowl of noodles that features tender slices of beef brisket, freshly hand-pulled noodles, piquant chilli oil, and a lip-smacking tasty beef broth. While the coffee shop is a little stuffy, this delicious bowl of noodles is exactly what we want on a cold rainy day. 
Check out our full review of Niu Zou La Mian!
Niu Zou La Mian Review: $5 Halal Handmade La Mian With Braised Beef At Ubi
Address: Blk 325 Ubi Avenue 1, Food Point Food Court, Singapore 400325
Opening hours: Daily 12pm to 3pm, 4:30pm to 10pm
Tel: 9396 5426
Niu Zou La Mian is a halal-certified eatery.
---
Start making plans for these hawker places
---
The best part about visiting the stores is that you don't have to break the bank for a taste of their delicious food. With so many exciting concepts this year, 2020 looks set to be filled with even more tasty treats. Stay tuned to this page during the next few days for more recipients of Eatbook's Top 50 Awards in 2019.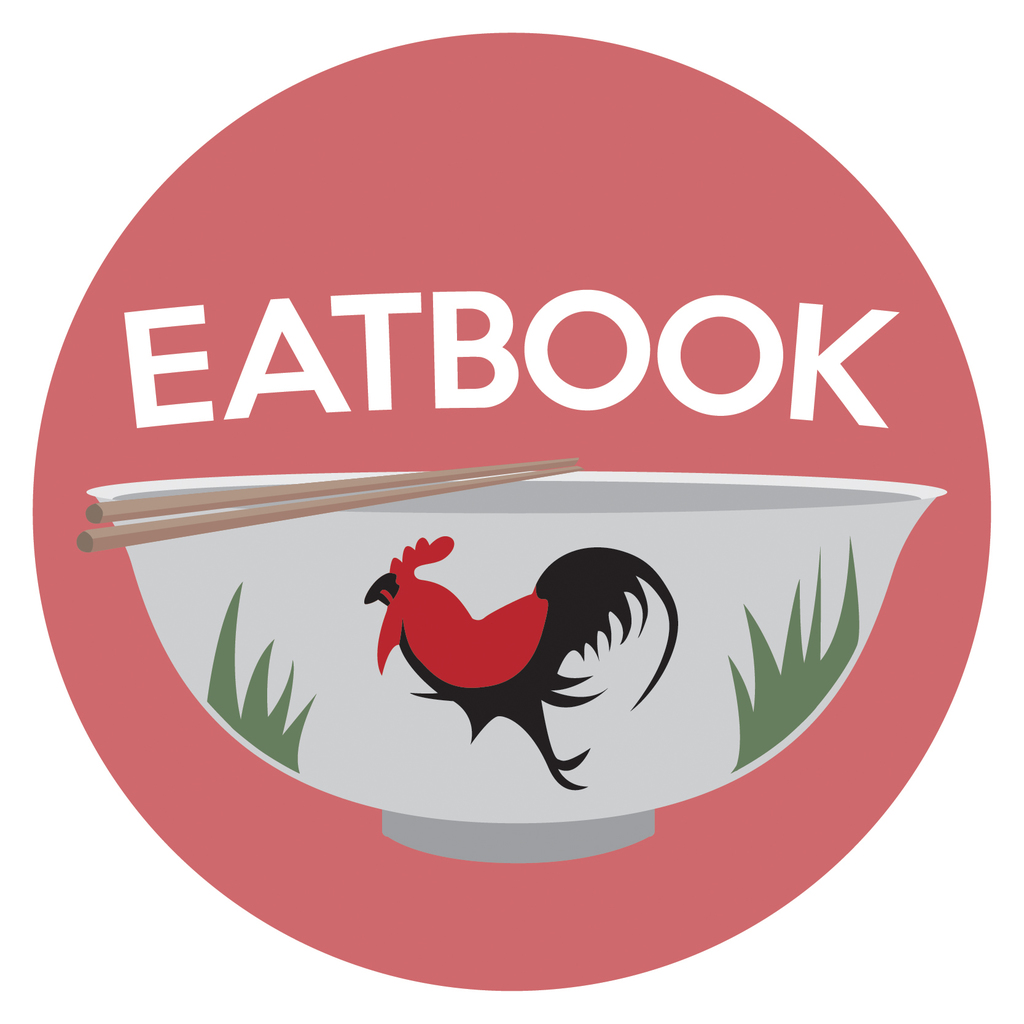 Drop us your email so you won't miss the latest news.