Eat3Cuts packs a mean roast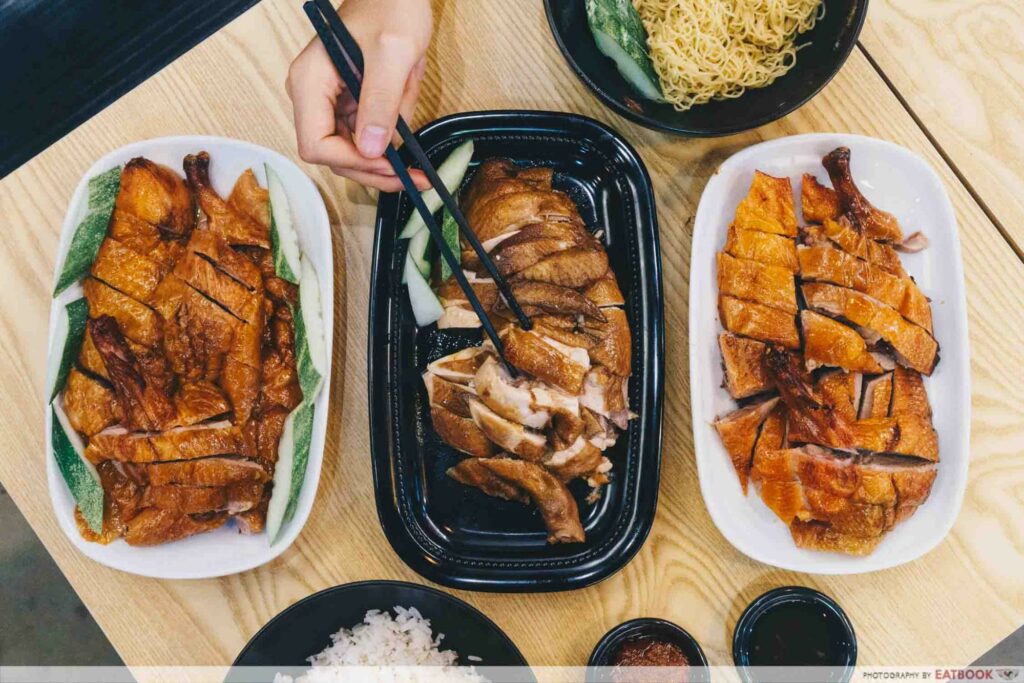 Roasting Cantonese-style meat is no easy task. Unlike Japanese or Taiwanese dishes where ingredients are the main focus, Cantonese food is all about well-practised techniques.
In an industry where institutions such as Hua Fong Kee Roasted Duck and Kim Heng Roasted Meats are preferred by the masses, it's difficult for newcomers to gain the trust of hungry diners.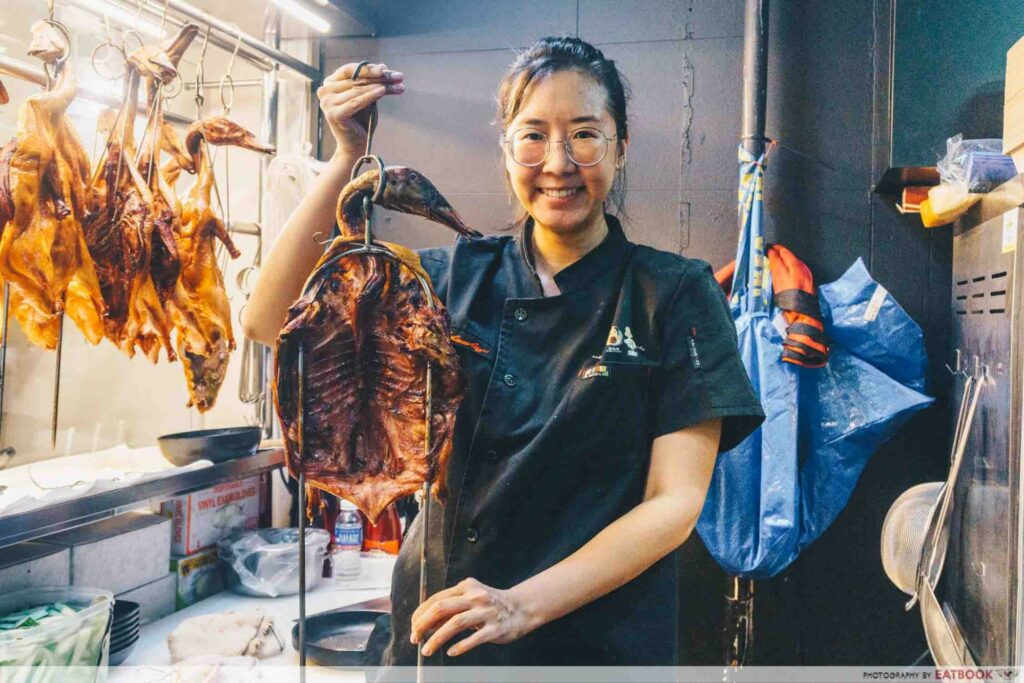 The story of chef-owner Sharon Poon is quite special in the roast meat business. An Economics graduate of the National University of Singapore, she worked at various financial institutions before deciding to open Eat3Cuts.
Unlike her peers, she wasn't interested in opening a fancy poke or acai store. The strong-willed 30-year old was dead set on opening a traditional roasted meat store. One that does things the old-school way.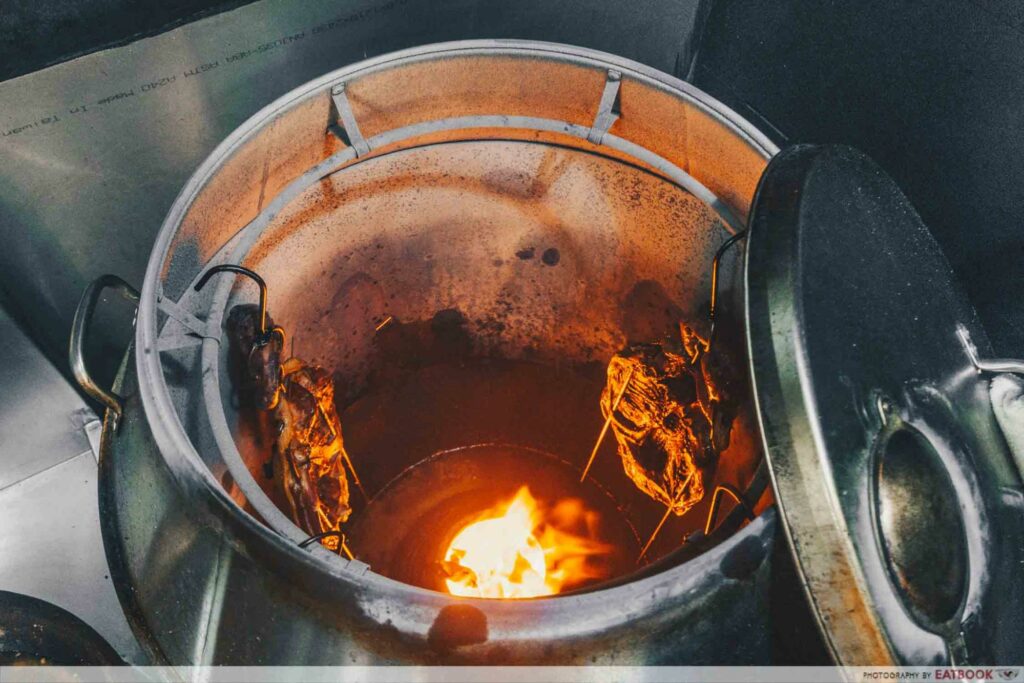 This includes using a traditional charcoal-powered oven—something that's hardly used in modern stores today due to the sheer amount of work that's required to maintain this fiery behemoth.

A charcoal oven is superior to its electrical counterpart, as it burns at a higher temperature and gives the meat a smoky and robust aroma, locking in the juices of everything inside.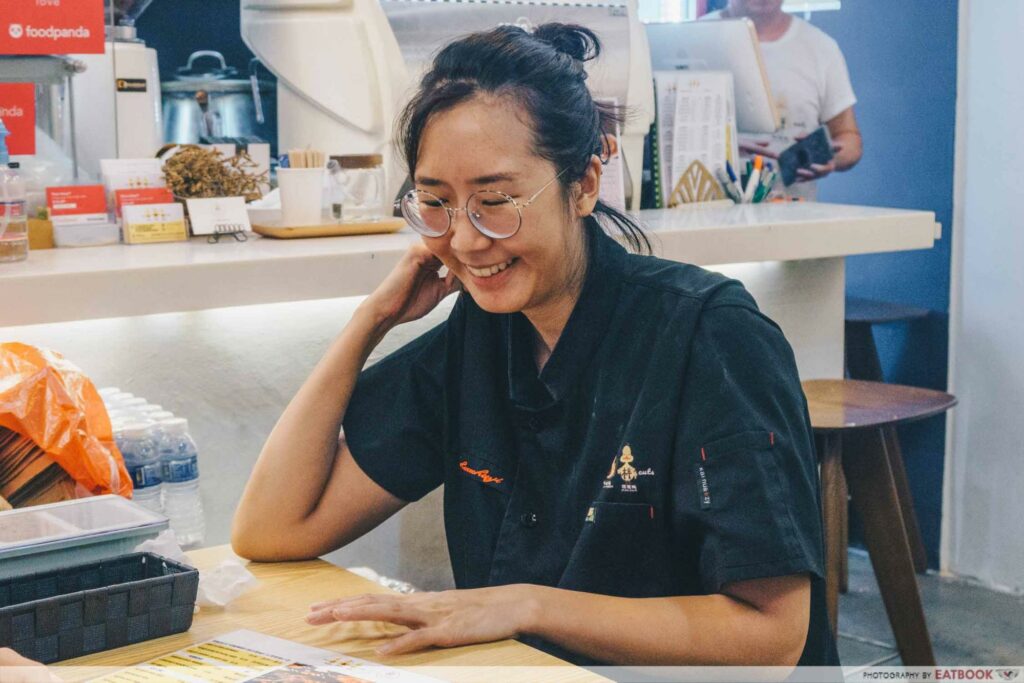 With guidance from James, a roasted meat master with over 35 years of experience in Singapore and Hong Kong, Sharon is learning how to run a roasted meat store by herself. This includes removing the ducks from the fiery charcoal oven, and cutting them for service. 
Although the grey-haired James is still around the store, Sharon hopes to take over full operation of the cooking process in the near future.

Just like how James promised his mentor that he would never alter any part of his time-honoured recipe, Sharon hopes to carry on James' legacy. 
Food at Eat3Cuts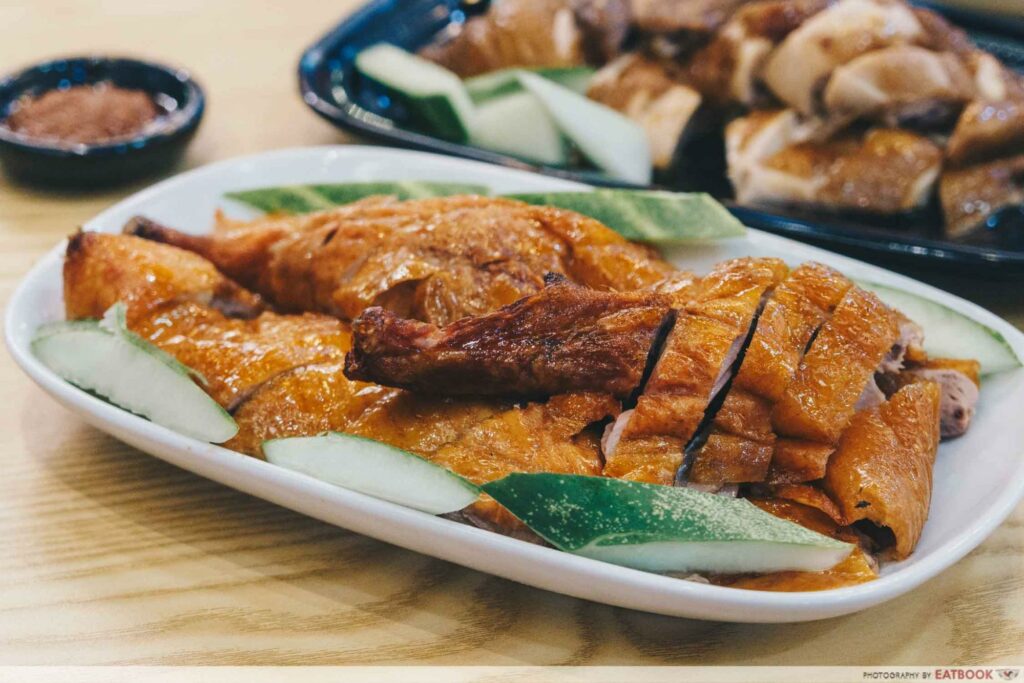 Packing a shatteringly crispy skin and irresistibly juicy meat, the Peking ducks at Imperial Treasure Super Peking Duck are the gold standard for roasted ducks in Singapore.
While it's impossible to compare apples to oranges, I have to admit that Eat3Cuts' Whole Roast Duck ($35) gave me an equally pleasant experience as its superiorly priced competitor.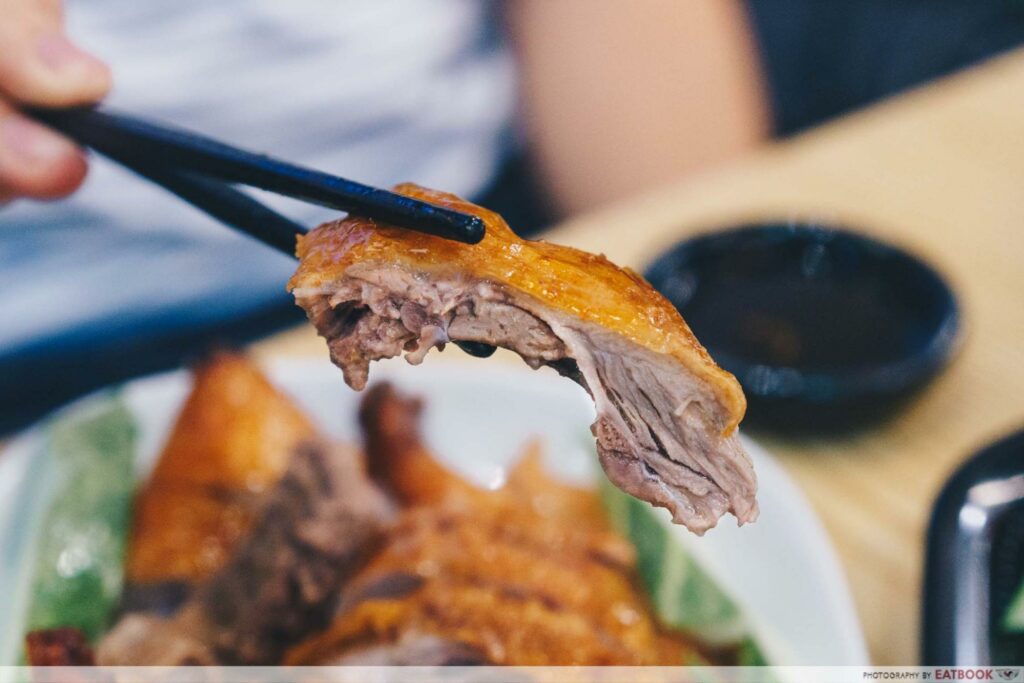 While not as amazingly crispy as Peking duck, the duck here has a succulent and flavourful meat.

Most ducks are placed in a piping hot oven so that they cook immediately. However, just like how it's traditionally done in Hong Kong, the roasted ducks here enter a cold oven and cook as they heat up. This gentle cooking method keeps the bird nice and juicy as it cooks, instead of being tough and hard. The final product is one that's unbelievably juicy, exploding with plenty of flavours that tingle through my tongue.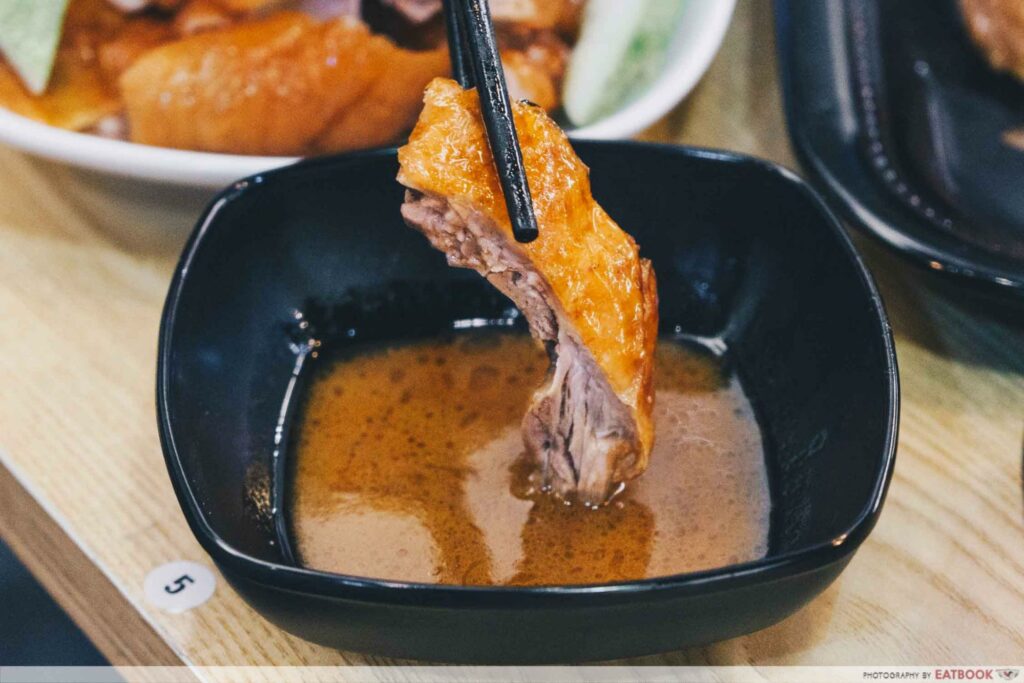 The duck is stuffed with a bunch of aromatics such as star anise, cinnamon, and bay leaf. These spices ultimately combine with the duck's juices as they roast, bringing in loads of rich meaty flavours.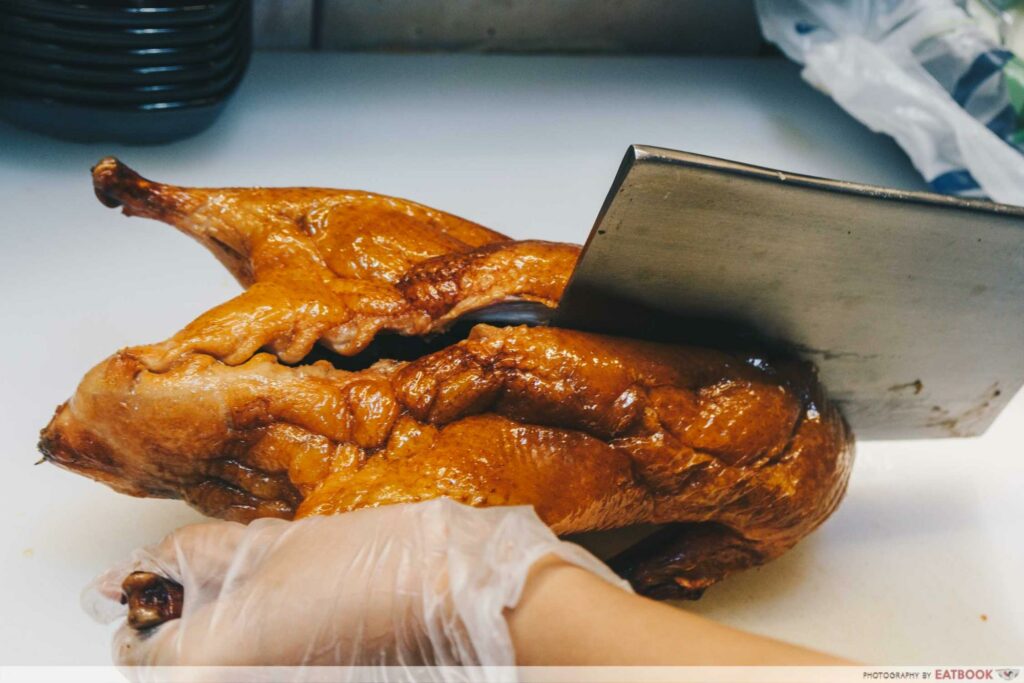 There's no fancy thick and gooey sauce—which tends to overpower the duck—to accompany this duck. The bird is sliced across and is drained of its incredibly flavourful juice. The juice is then poured over the chopped duck.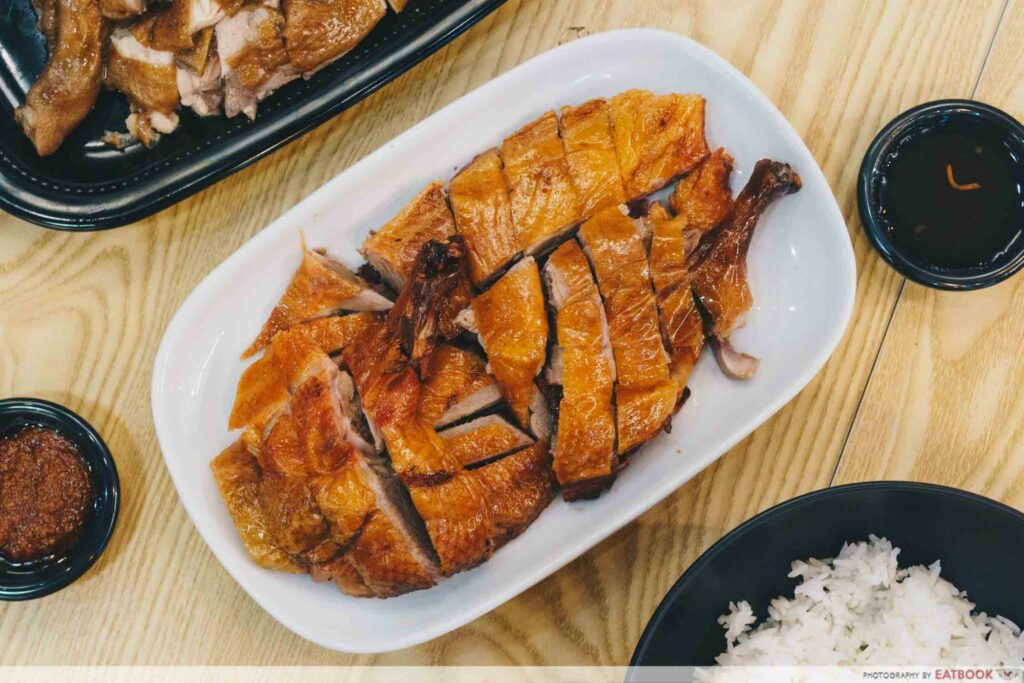 Commonly found in fancy restaurants such as Yan Palace and the Michelin-starred Kam's Roast Goose, Eat3Cuts' Whole Pipa Duck ($39) is affordably priced.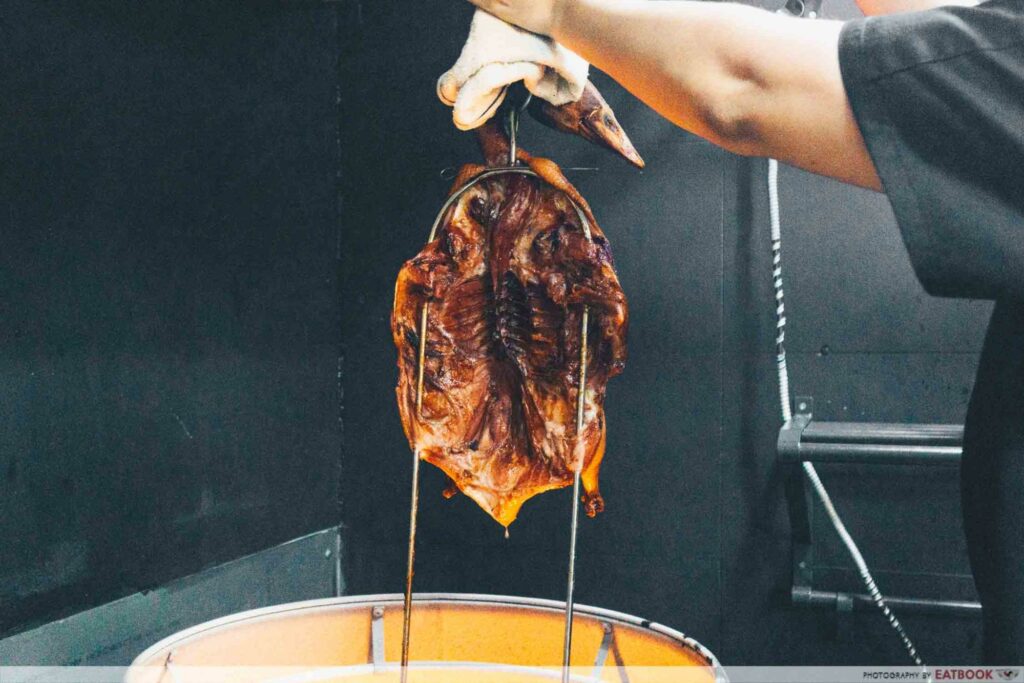 A variation on roasted duck, pipa duck is sliced across and flattened before roasting. It's given this name because of how much it looks like a Chinese pipa.

Spatchcocking the duck is not purely for cosmetic purposes. Spreading it across gives a larger surface area for flavours to be absorbed. It also allows the duck to be cooked evenly.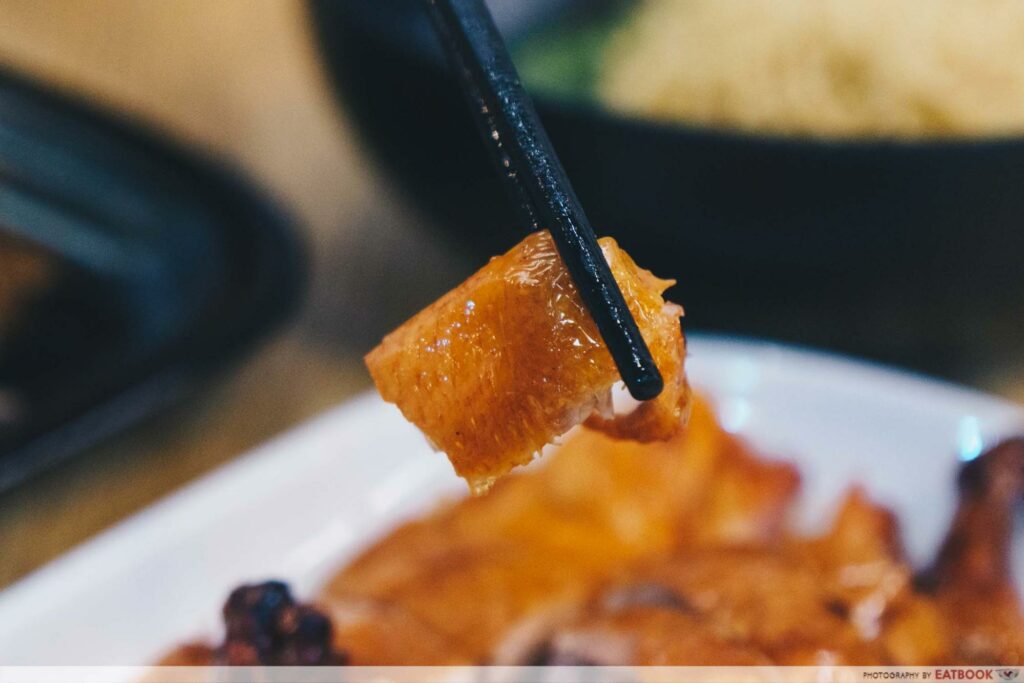 Unlike its roasted duck counterpart, the pipa duck enters a smoking hot oven of 300 degrees—making the skin crisp up almost immediately.

I preferred the pipa duck's skin as compared to the roasted duck. While not as shatteringly crispy as Peking duck, it is brimming with rich juices from the special marination process that takes around four to six hours.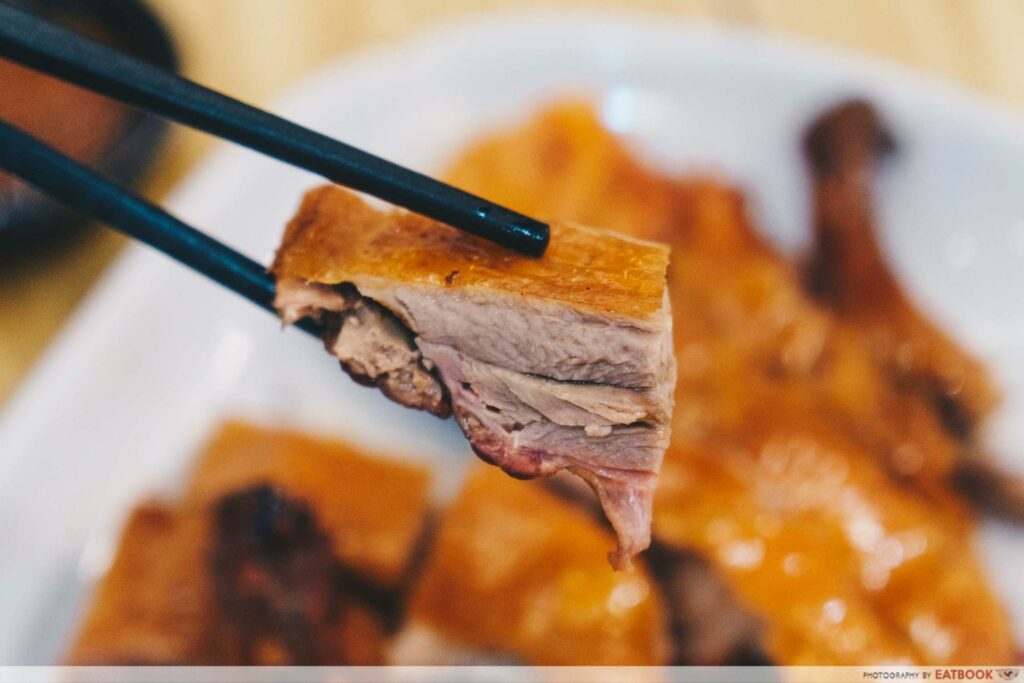 Roasted on all sides, the meat is understandably drier. The duck is brushed with thick hoisin sauce before being served, giving it a slight boost of sweetness and much-needed moisture.

Although you can opt for your meat to be deboned here, we felt that they were chopped a little too roughly. This resulted in slightly uneven pieces and boney bits sticking out. Still, that's my only gripe and it's something I'm sure Sharon and James can iron out in time.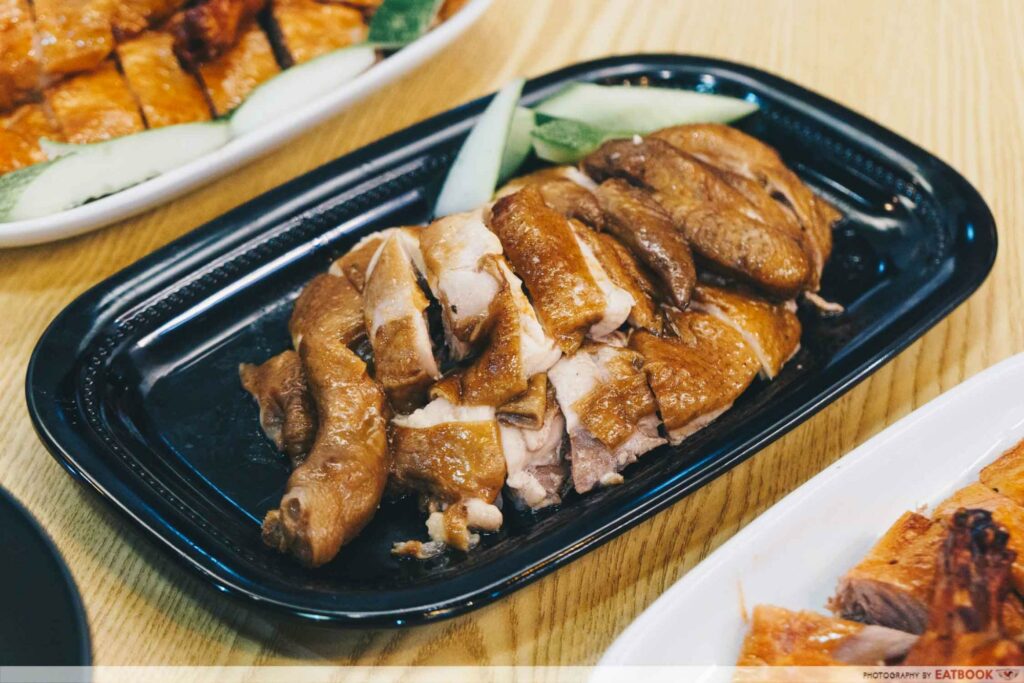 Whole Soya Chicken ($24) makes up the last of the Eat3Cuts trio. Here, the entire bird is braised in an aromatic pot of spices and dark soy sauce. It's then finished with a splash of maltose syrup that gives it a pleasant sweetness.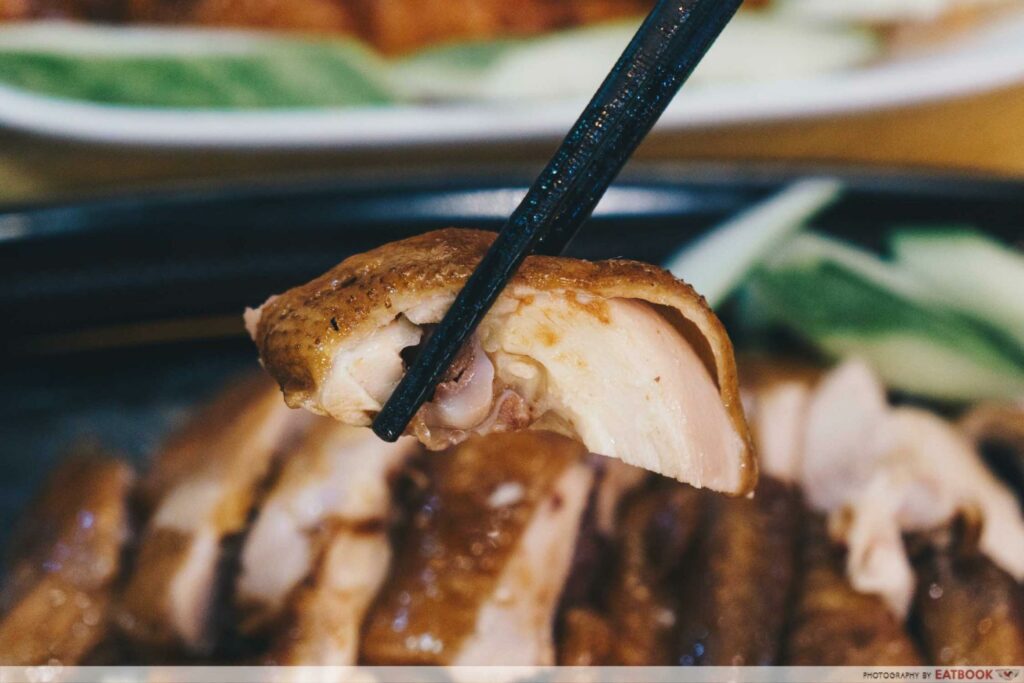 Chicken is commonly seen as a boring protein, but Sharon and her team have done well to inject loads of exciting flavours to this dish. The chicken was bursting with umami flavours from the soy sauce, with the maltose syrup giving everything a sweet rounded finish.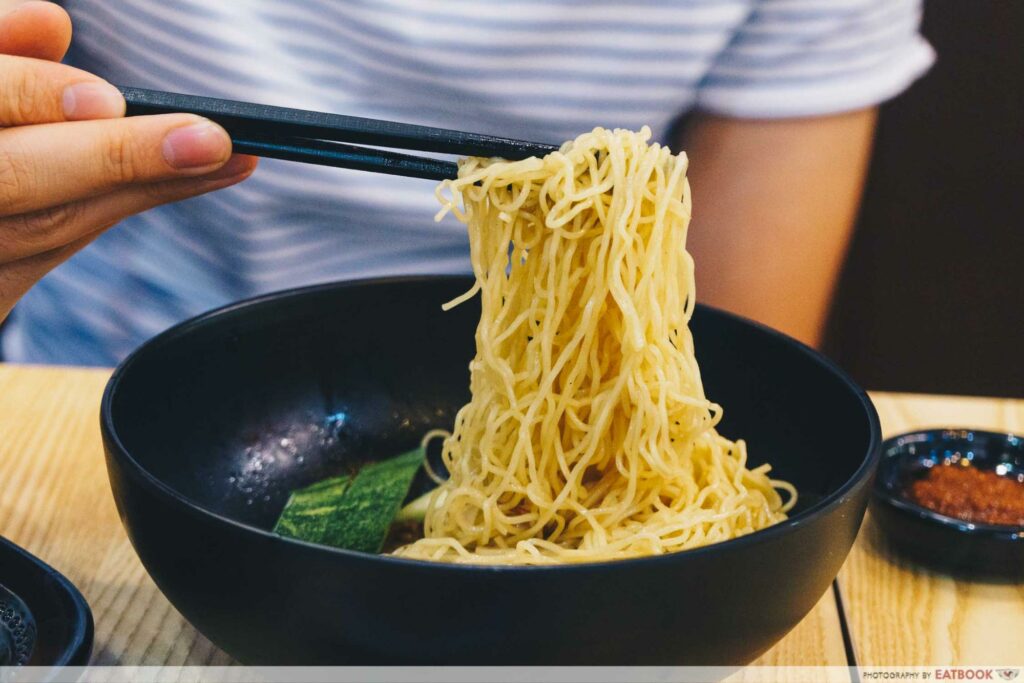 The restaurant also serves up individual dishes. We had a go at their Mee Kia Noodles Roast Duck Noodles ($4.80) and really liked the noodles. Cooked to the right doneness, these egg noodles go nicely with the meaty cuts here. They're also splashed with a drizzle of shallot oil to give a nice bit of savouriness.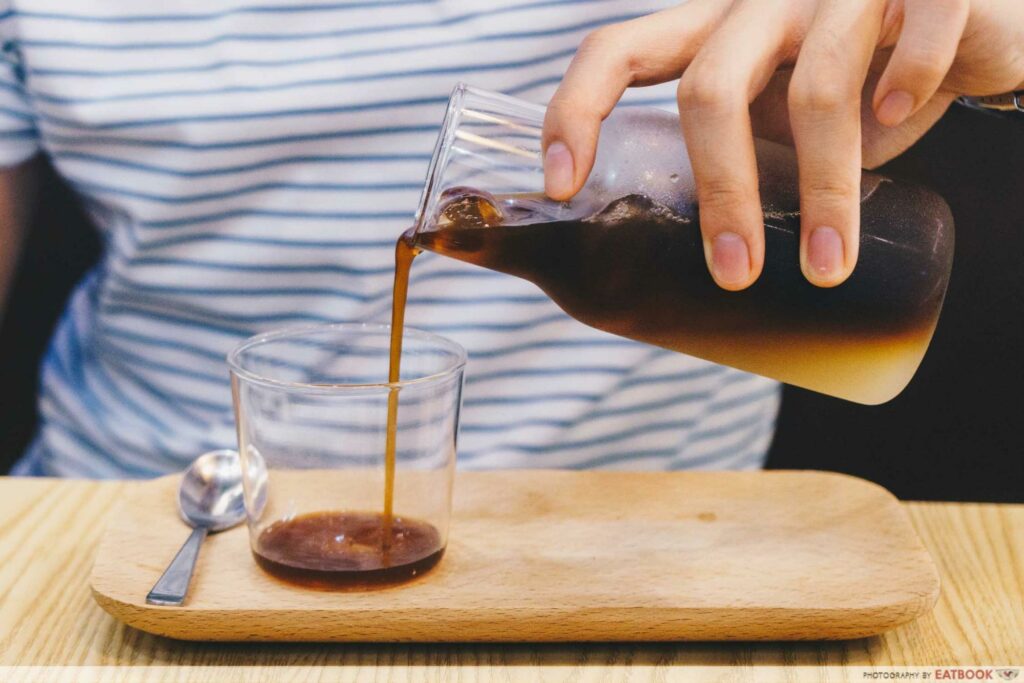 The store also serves up exciting coffee creations such as Ice Lemon Coffee ($4). Frequent visitors to Taiwan might be familiar with this popular Taiwanese favourite which combines freshly squeezed lemon juice with strong black coffee. 
Although my dining companion wasn't a fan of it, citing a lack of sweetness, I liked its refreshing taste that helped us digest the meaty onslaught that we had here.

Ambience at Eat3Cuts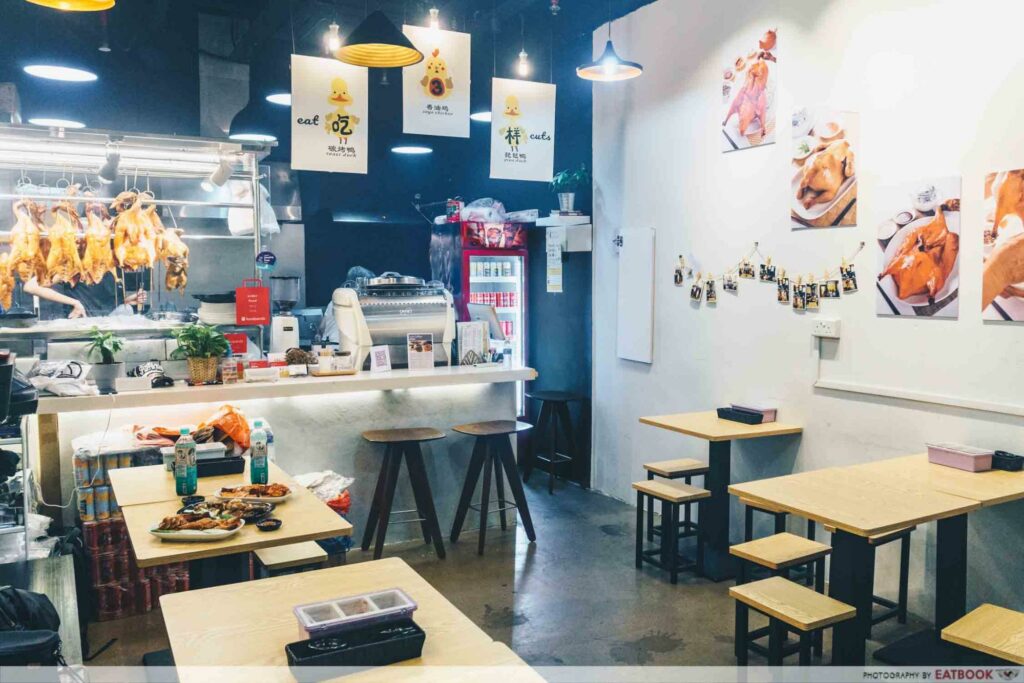 This hole-in-the-wall eatery is located inside Burlington Square, and might be hard to locate for those who are used to visiting the eateries that are located outside.

The store is small but cosy, and the service is efficient but friendly. Sharon and her team roast the meat in the morning. Hence, the store is still hot and smoky if you're one of the first few customers of the day. Don't let that deter you as you'll be rewarded with the juiciest cuts of meat that are fresh out the oven. 
The verdict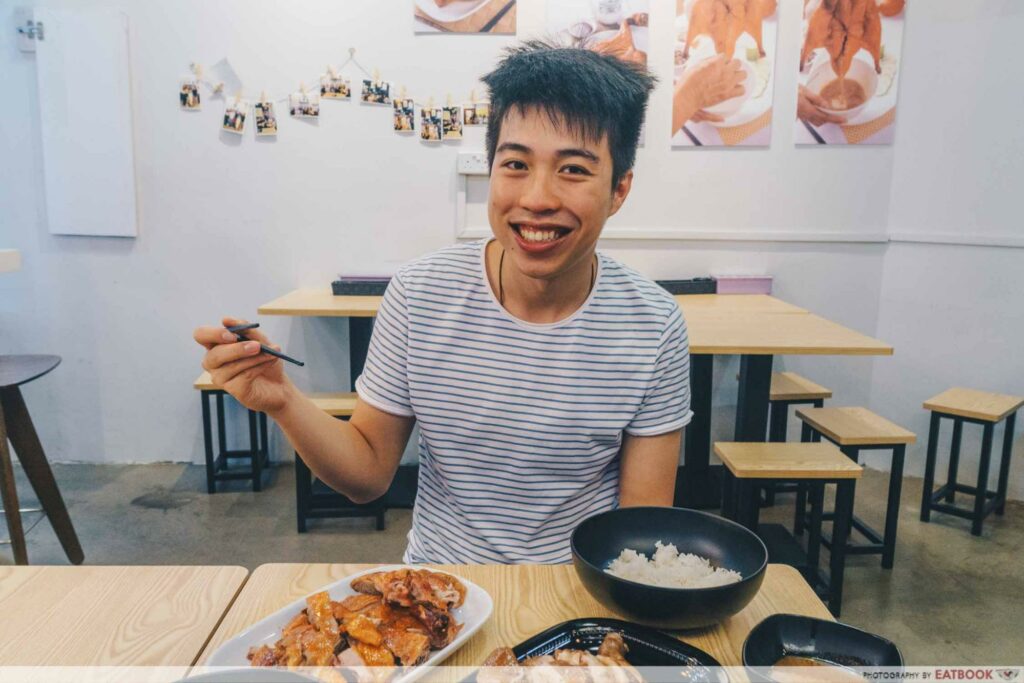 Roasting meat the traditional way is no easy task. This is especially so for someone without any formal training in the field. While there is still room for improvement as to how the meats are chopped, Eat3Cuts ought to be a popular place for roast meat and duck lovers in the upcoming months thanks to its affordable price and delicious meats.

If you're still in the mood for affordable roasted meats, be sure to check out the $6.90 Peking duck at Yan Chuan Roasters or Mei Mei Roast, a hawker store that's opened by the younger sister of Kay Lee Roast Meat! 
Mei Mei Roast Review: Hawker Stall Opened By Younger Sister of Kay Lee Roast Meat
Address: 175 Bencoolen Street, #01-49, Burlington Square, Singapore 189649
Opening hours: Daily 11am to 9pm
Website
Eat3Cuts is not a halal-certified eatery.
Photos taken by Lim An.
This was a media tasting at Eat3cuts.
Summary
Pros
– Affordable dishes
– Meats were cooked well 
Cons
– Chopping of meats can be improved
Recommended dishes: Whole Roast Duck ($35)
Opening hours: Daily 11am to 9pm
Address: 175 Bencoolen Street, #01-49, Burlington Square, Singapore 189649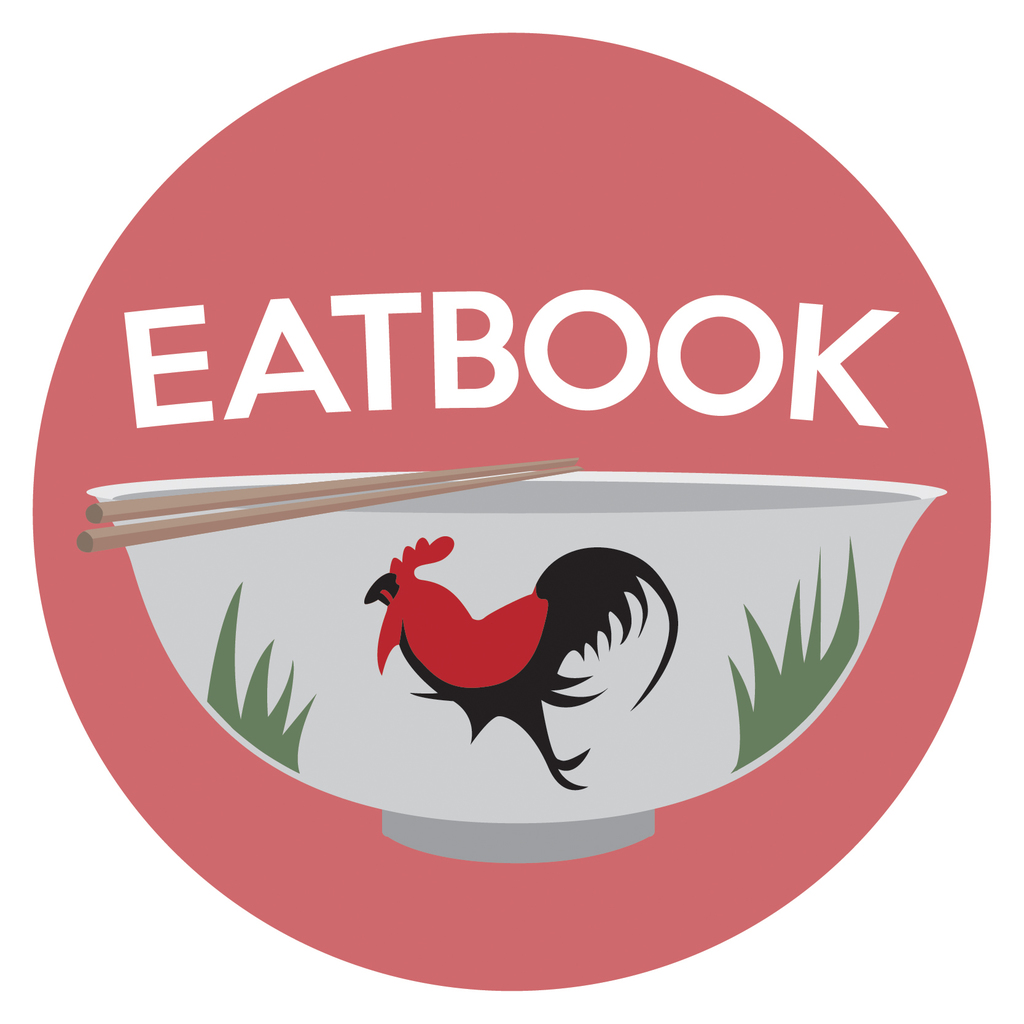 Drop us your email so you won't miss the latest news.