Banh Mi at Banh Mi Thit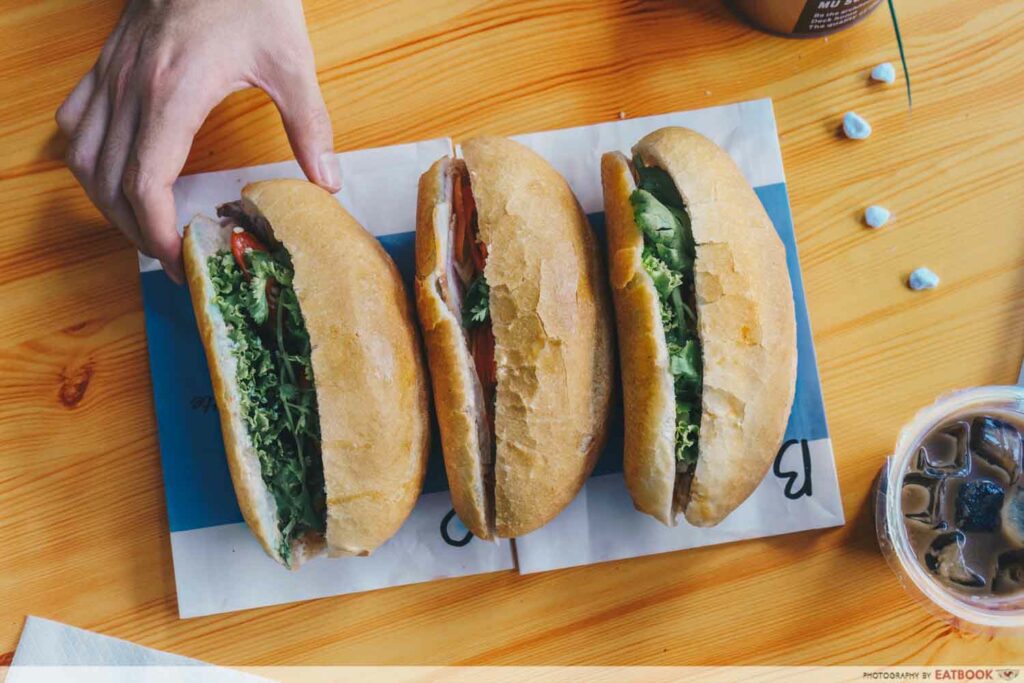 Banh mi and pho are arguably two of Vietnam's most iconic dishes. While a quick Google search yields plenty of pho joints in Singapore, coming across the latter is much harder. I suspect this is due to banh mi being priced so ridiculously high in Singapore. A hunk of the popular Vietnamese sandwich easily costs $8 here. Opened earlier this year, Banh Mi Thit dispels this notion and is the cheapest place in Singapore for quality banh mi.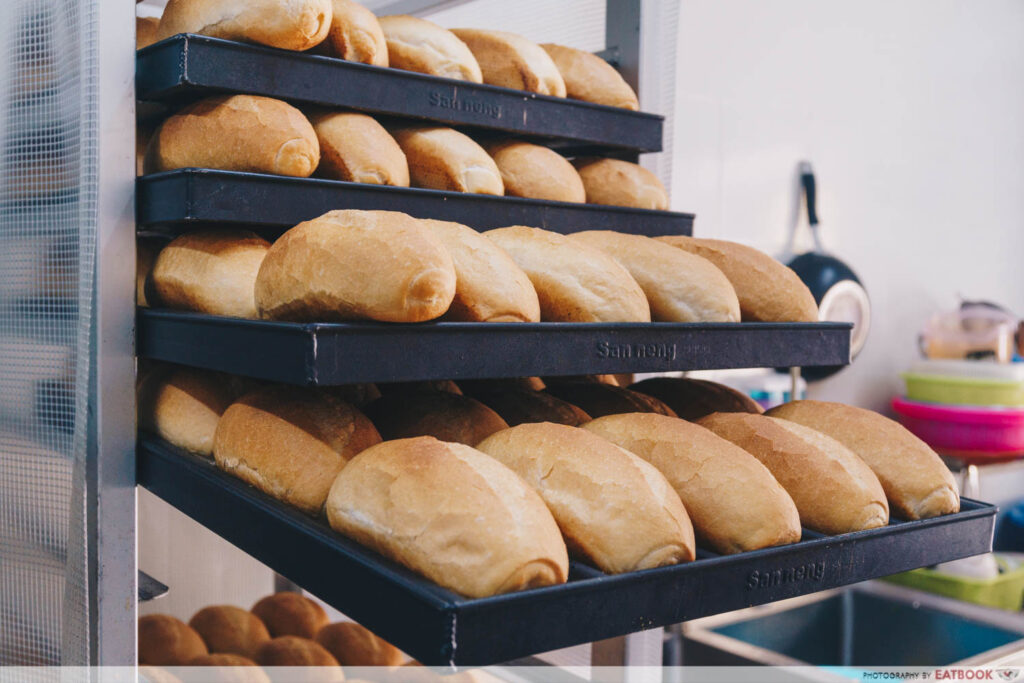 While some restaurants try to cramp a variety of Vietnamese dishes into their menu, Banh Mi Thit specialises only in banh mi. Opened by a Singaporean and his Vietnamese wife, they're able to keep costs low as everything is done in-house.
These include making their own baguettes from scratch. They're constantly baking crusty loaves around the clock, with a generous supply always waiting to be served piping hot. 
Food at Banh Mi Thit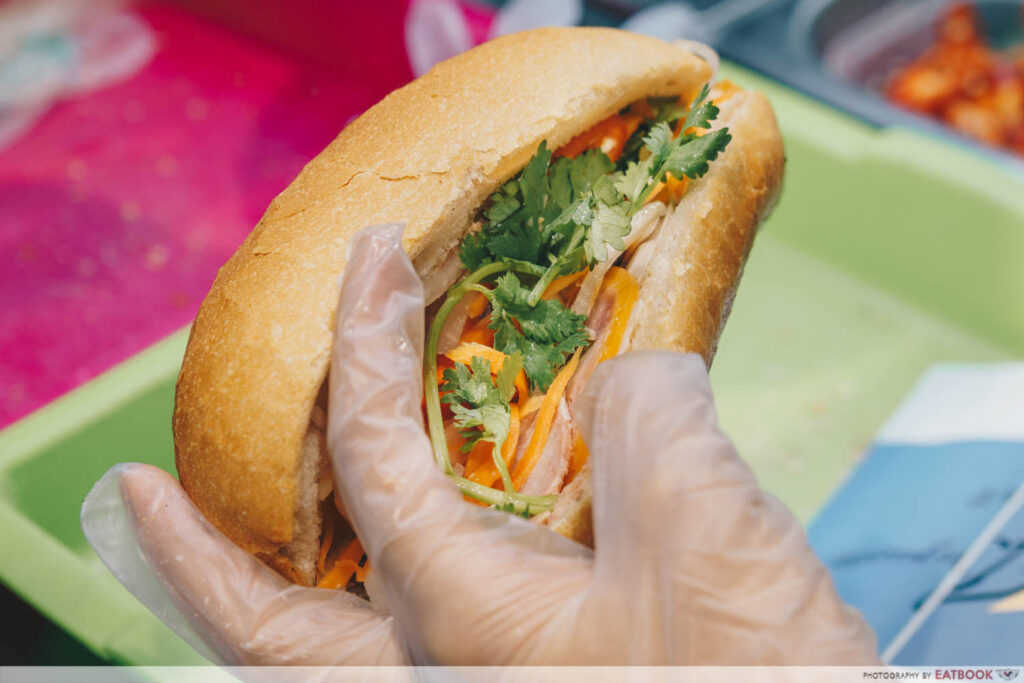 All their sandwiches are priced at $3.80, and cost $4.80 with an added drink. While some stores charge a premium for different types of meat, you'll be able to get chicken, beef, and egg banh mi at the same price. The portion size is pretty respectable, and I felt pretty full after munching down a single loaf. 
The Chicken Banh Mi ($3.80) comes filled with chicken chunks, pickled carrots, and sprigs of coriander. A drizzle of special sauce and mayonnaise are also found on the sandwich, giving both moisture and flavour. 
I asked about what goes inside the special sauce, but was given a polite shrug by the Vietnamese staff on duty. I could swear that there was some Maggi seasoning in it though.
What I like best about this banh mi is its baguette. It has just the right amount of crispiness and fluffiness that pair up nicely with the meat inside. Biting into it was not a clean and glamorous task though. Bread crumbs were scattered all over my lap, and I had to constantly dust the flaky crumbs off.

The cubes of chicken breast came in generous portions, and were juicy and flavourful throughout. A wedge of tomato is also slotted in for an extra bit of crunch. Chicken usually tends to be a little dry, especially in sandwiches, but the ones here retained a succulent mouthfeel to them.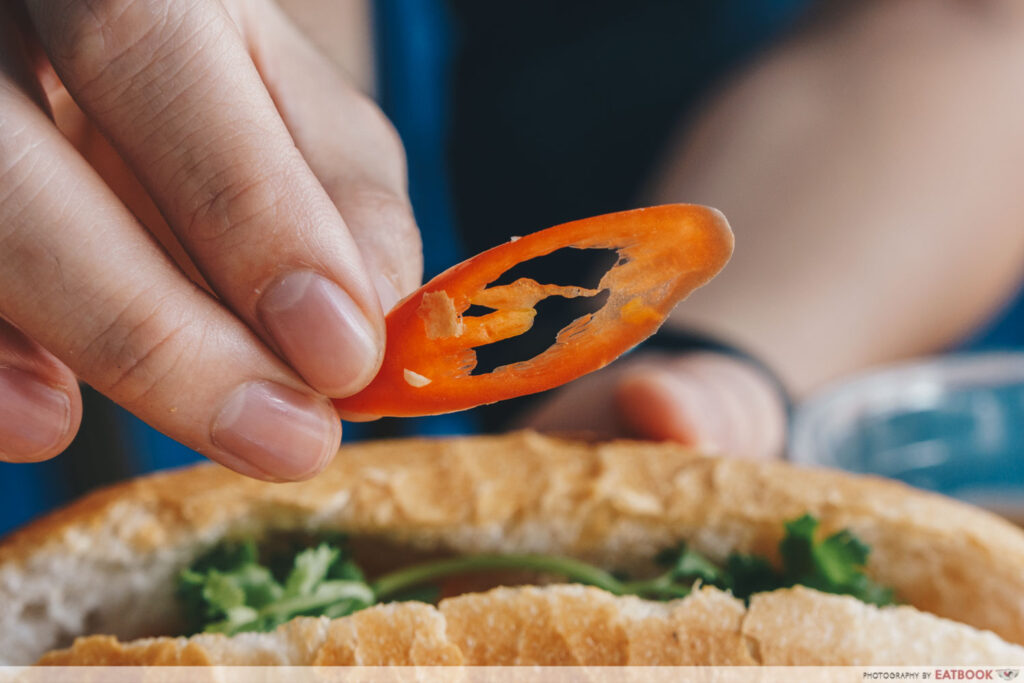 If you're going for the spicy version, note that thinly sliced jalapeno chillies are added inside. Do not underestimate these fiery shavings of pure terror. I bit into one of them and felt my mouth burn up instantly. For a balanced bit of spiciness and the sake of your stomach, I would suggest keeping two chilli slices inside the sandwich.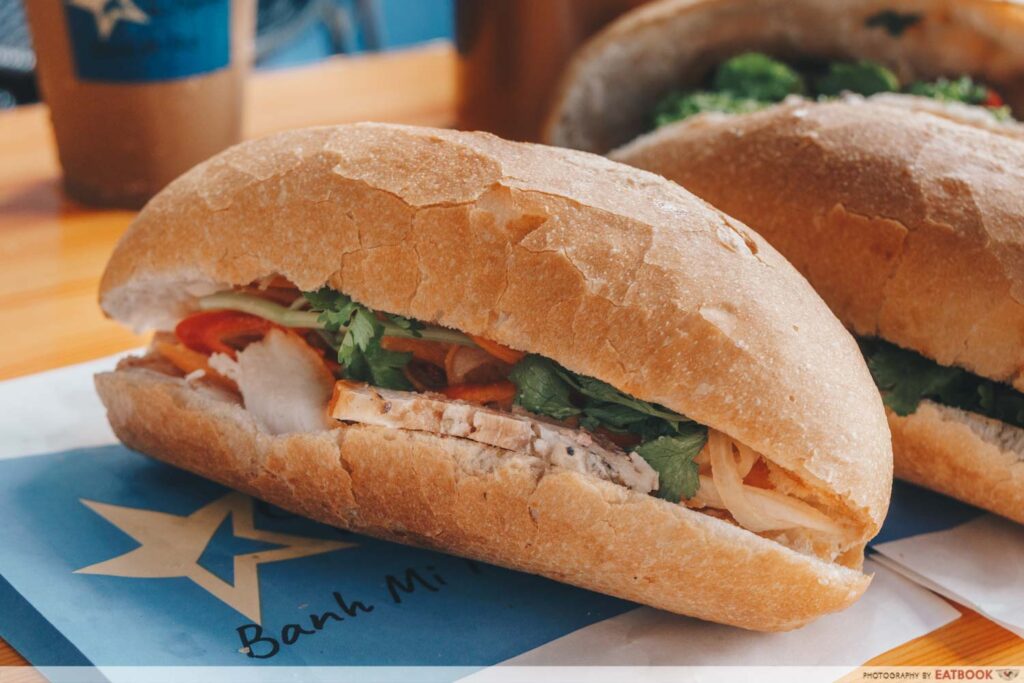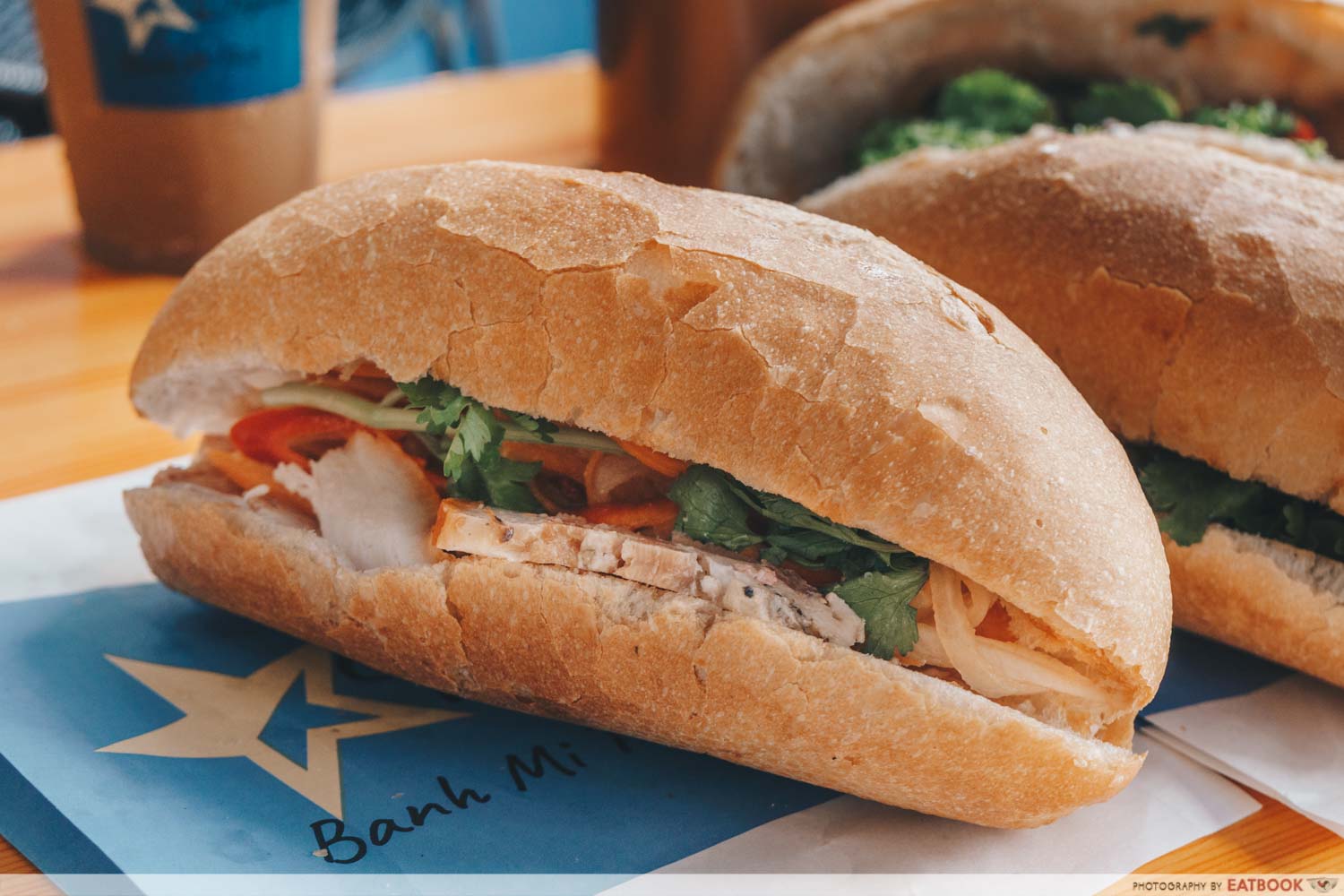 The Pork Banh Mi ($3.80) comes with thin slices of ham and pork belly. The usual cast of pickled carrots, secret sauce, mayonnaise, and coriander also made their way here. 
Special mention has to be given to the pickled carrots here. They gave a nice bit of acidity to the hearty meats while providing a pleasant crunchiness. 
Unlike the chicken banh mi, which was noticeably chunkier, the sandwich didn't give much of a solid mouthfeel. Somehow, the thin slices of pork and ham got overpowered by the pillowy baguette. 
The pork belly slices were shaved too thin for my liking. It provided some level of fattiness, but wasn't enough to make this sandwich a remarkable one.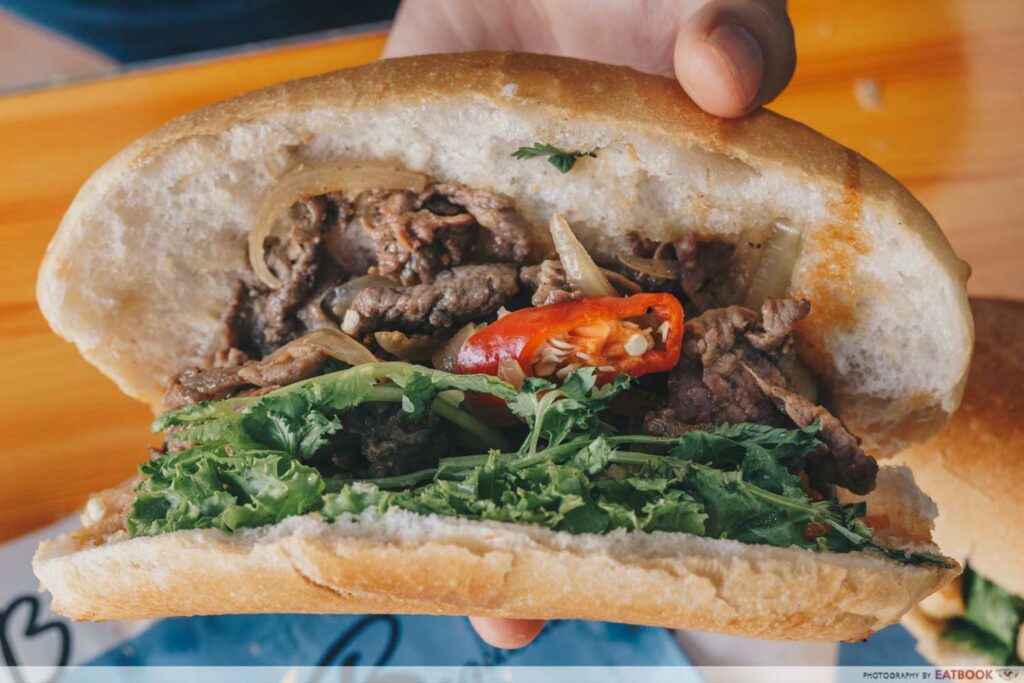 The Beef Banh Mi ($3.80) slightly edges out the chicken variant as my favourite sandwich. A liberal amount of well-seared beef flank slices and sautéed onions were cramped inside, resulting in loads of meat with every bite. 
The ample sprigs of coriander also gave a nice bit of freshness and crunch, but those who find the taste offensive can always ask for it to be removed.  
The beef and onion combination reminded me a little of cheesesteak sandwiches. They work well together, with the onions giving extra depth of flavour and complexity.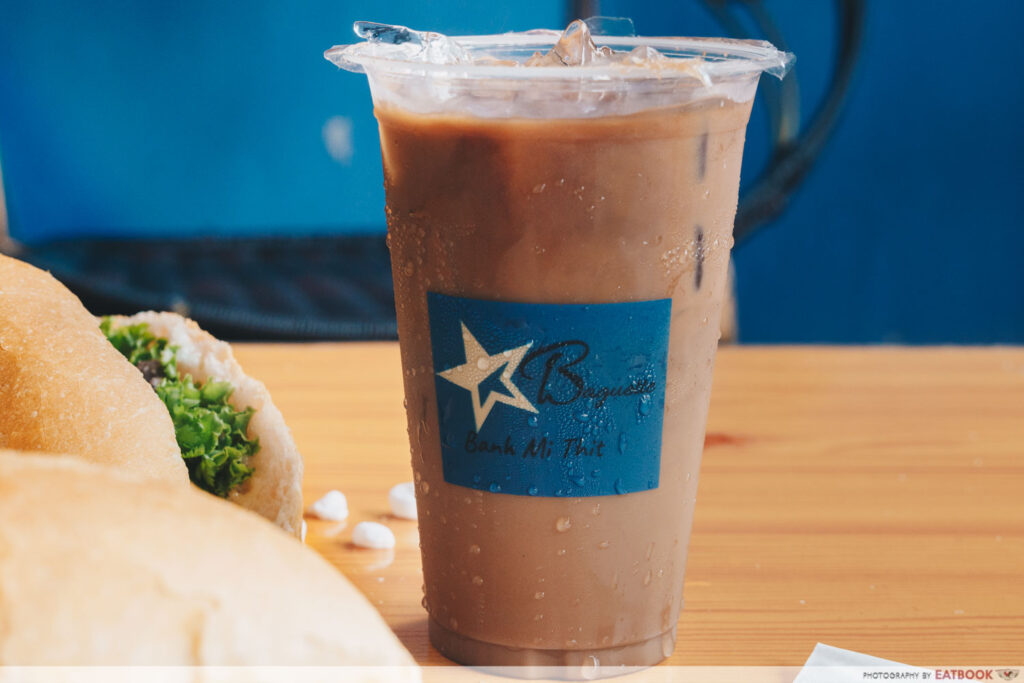 We also tried their Iced Vietnamese Coffee ($1.80), which costs $1 when purchased with any Banh Mi. The coffee is a whole lot stronger and sweeter than local variants, with powerful caramel notes that make for a robust brew. I prefer my cuppa to be mellower in flavour and a little acidic. But at $1 for a cup of iced coffee, I'm not complaining much. 
Ambience at Banh Mi Thit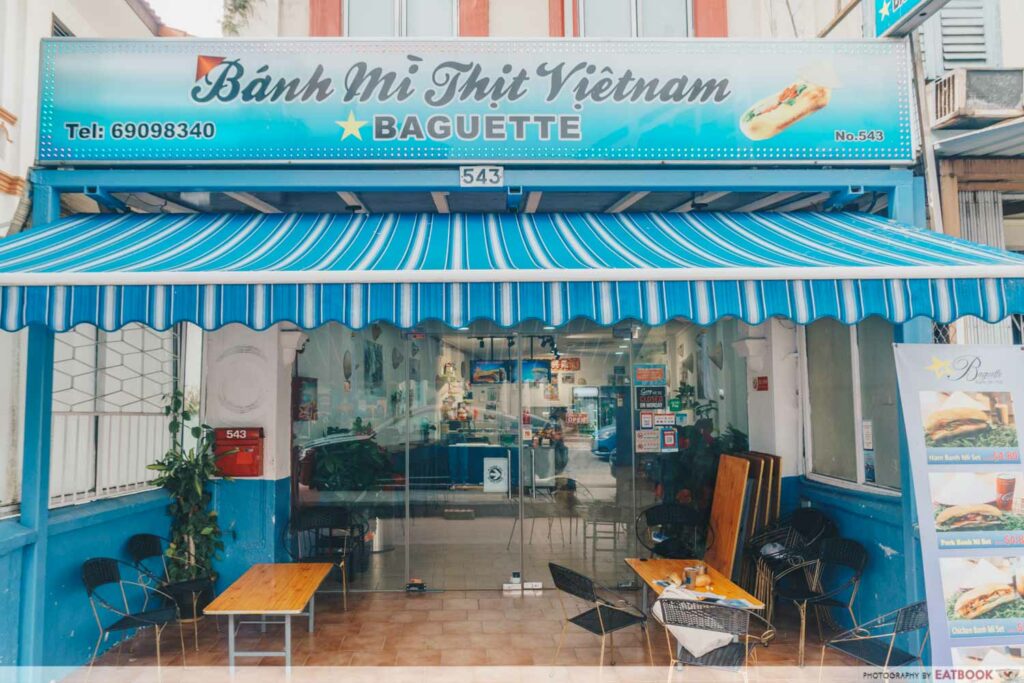 Located along the vibrant streets of Geylang, this cosy store is quite a popular spot for those looking to grab a quick bite. Service is fast and efficient, and you wouldn't have to wait too long for the banh mi to be speedily assembled right in front of your eyes.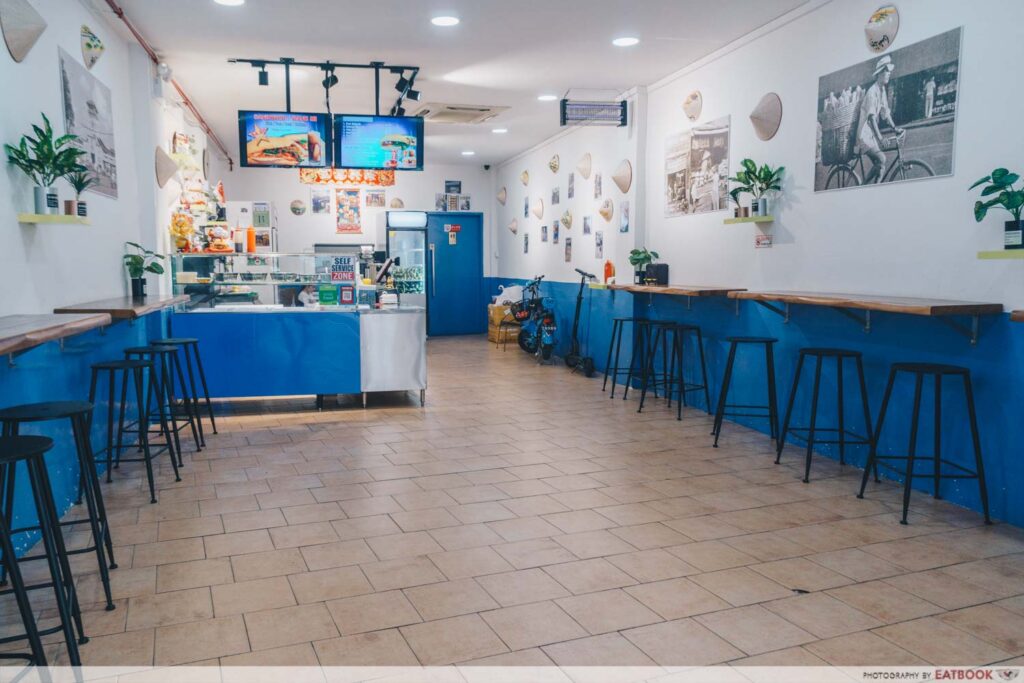 Those with a keen eye will notice that the store's simplistic two-tone wall design, a menu that looked like it was designed on MS Paint, and Vietnamese-speaking staff, all of which made me felt like I was at a banh mi store in Hanoi. 
The verdict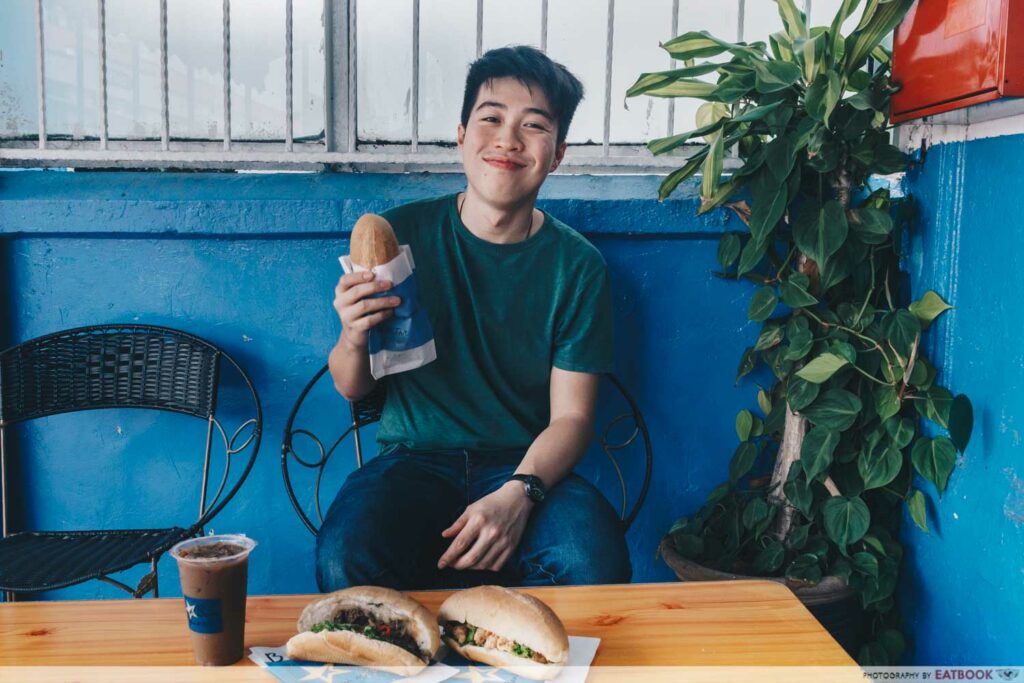 It's not difficult to prepare banh mi, but mastering this Vietnamese sandwich requires a whole lot of attention to detail. From their crusty baguettes to generous and tasty meat toppings, Banh Mi Thit has exceeded expectations while maintaining low prices for all to enjoy. 
I've been to this restaurant twice before writing my review, and the consistency has always been spot on. Just watch out for the chilli slices. 
Address: 543 Geylang Road, Singapore 389498
Opening hours: Tue-Sun 10am to 10pm
Website
Banh Mi Thit is not a halal-certified eatery
Photos taken by Huang Xiao.
This is an independent review by Eatbook.sg
Summary
Pros
– Crusty and delicious loaves
– Affordable banh mi
– Relaxing ambience 
Cons
– Inconvenient location
– Not many seats available
Recommended dishes: Beef Banh Mi ($3.80), Chicken Banh Mi ($3.80)
Opening hours: Tue-Sun 10am to 10pm
Address: 543 Geylang Road, Singapore 389498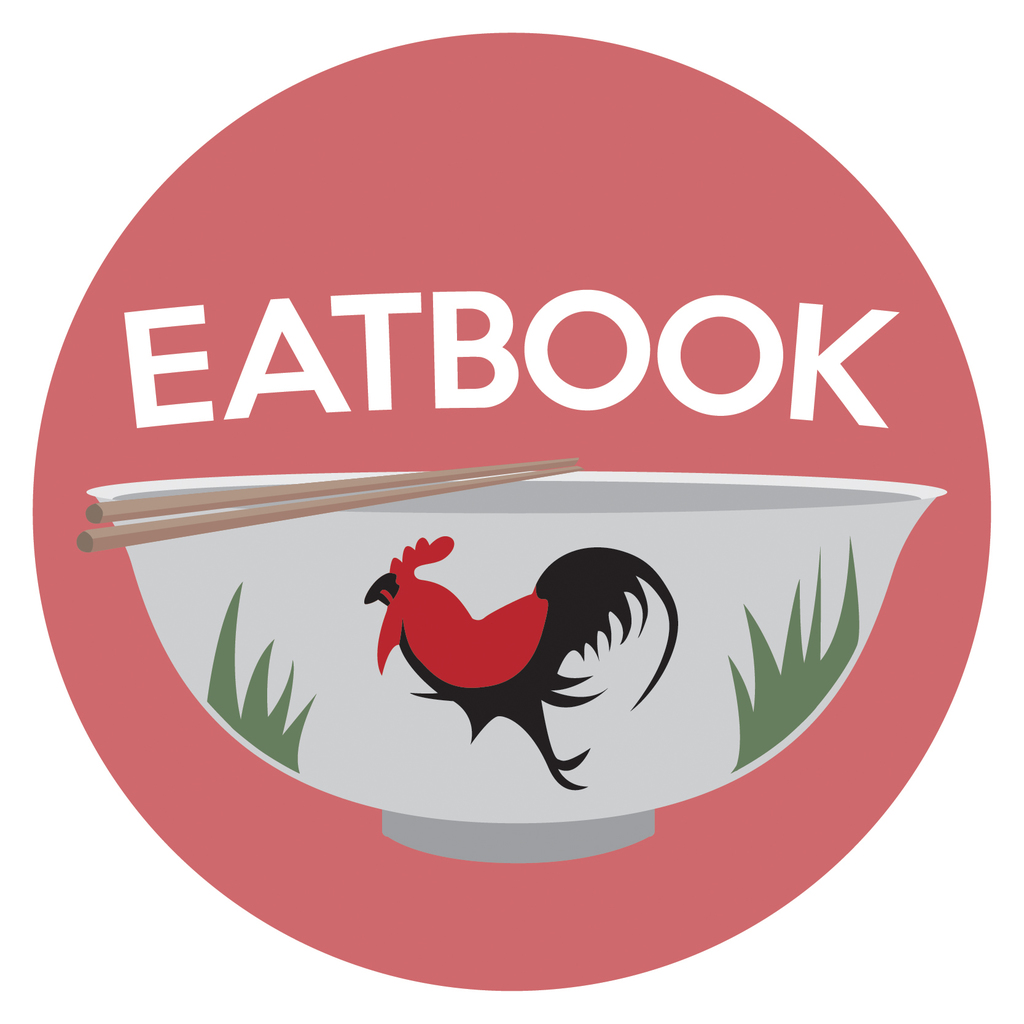 Drop us your email so you won't miss the latest news.