Mama's Boy Bakes at Amoy Street Food Centre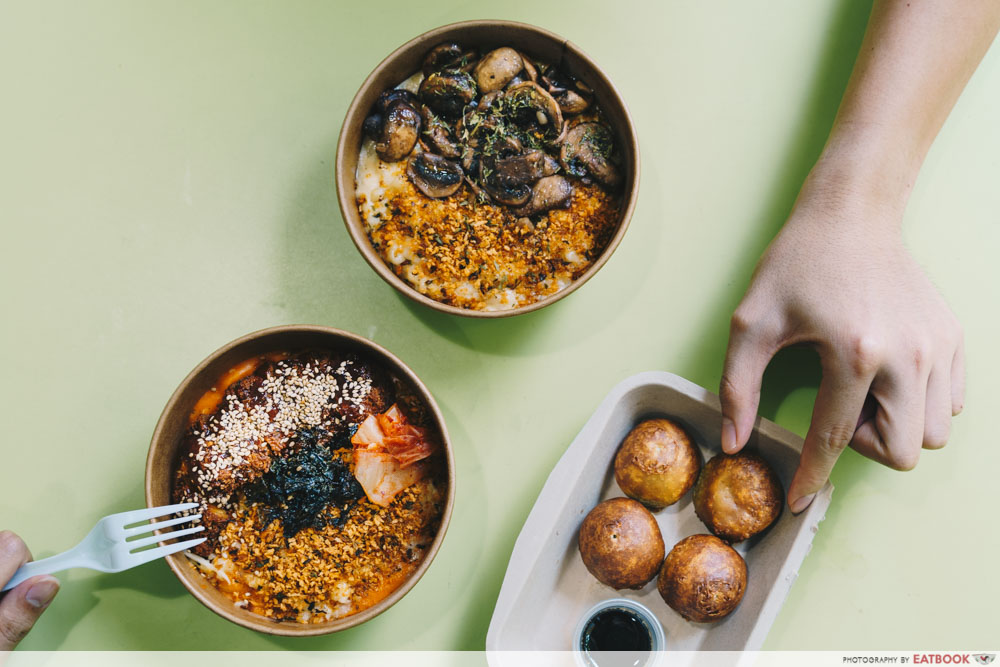 Big ideas always start with a small one. For Fahmy and Samuel of Mama's Boy Bakes, it began with an Instagram account: @mamasboybakes. The home-based kitchen started early last year, delivering mac and cheese along with muffins and tiramisu to the doorsteps of hungry customers.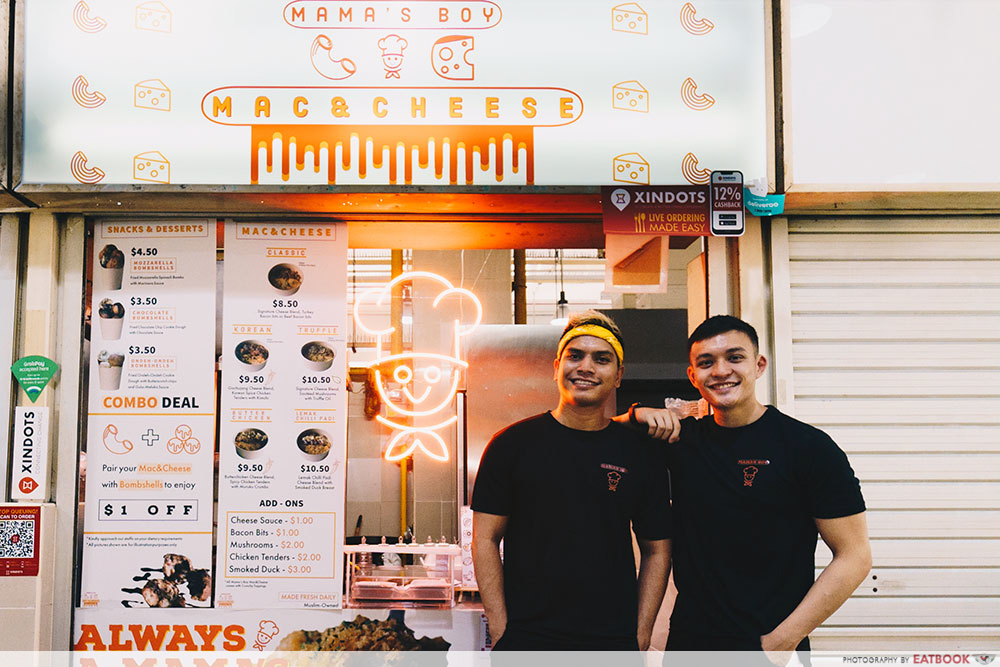 With loads of #foodporn shots of their tasty creations, the business gained quite a popular following and amassed a whopping 11.6k followers. Motivated by its popularity, they opened a hawker store at Amoy Street Food Centre in early July this year to bring their gooey mac and cheese to the masses. 
While Mama's Boy Bakes might draw a few curious stares for their seemingly interesting name, it actually has a much sombre meaning.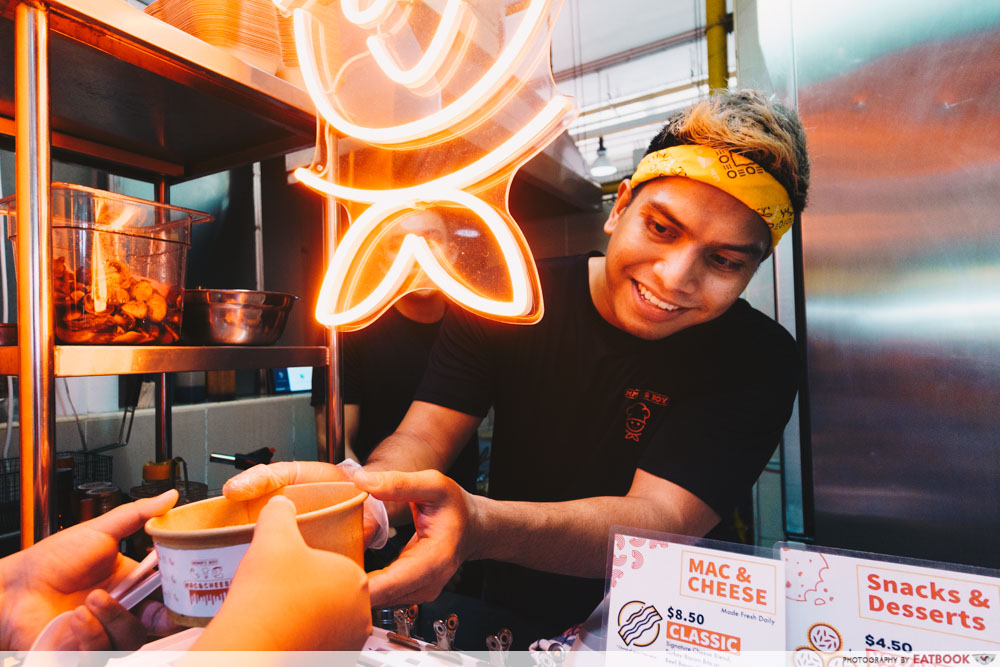 Fahmy's mother suffers from Alzheimer's disease, making it difficult for her to remember certain memories. Despite that, she remains his main source of inspiration and this led the self-taught chef to dedicate this store to her.
Food at Mama's Boy Bakes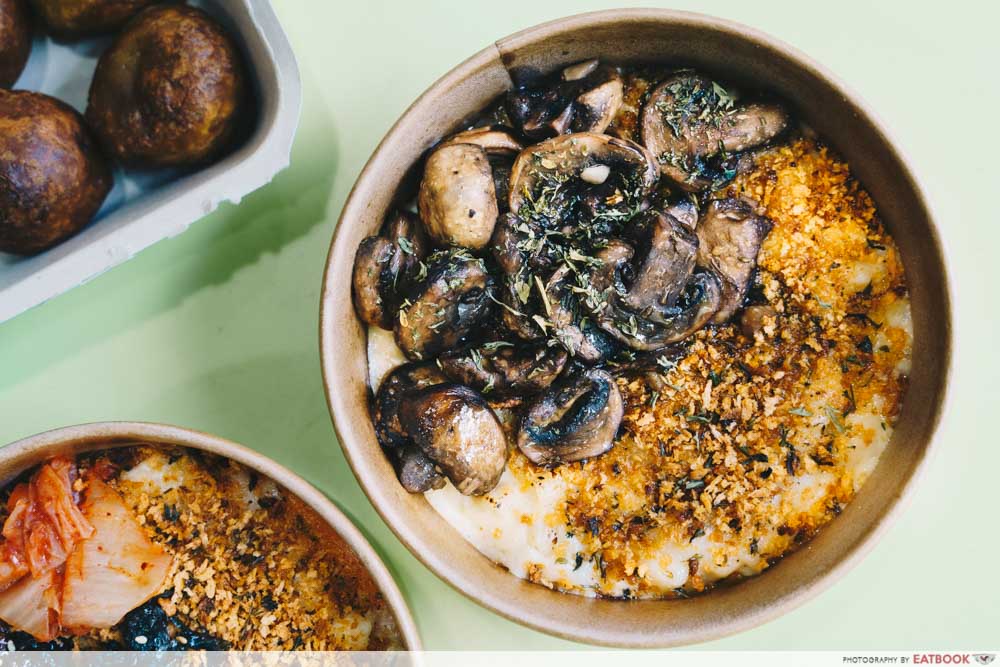 We could smell the Truffle Mac & Cheese ($10.50) even before Fahmy handed it over. Macaroni is mixed with the store's signature blend of cheeses and a kiss of aromatic truffle oil. The dish is then topped with fragrant sauteed mushrooms to make it an ideal vegetarian option.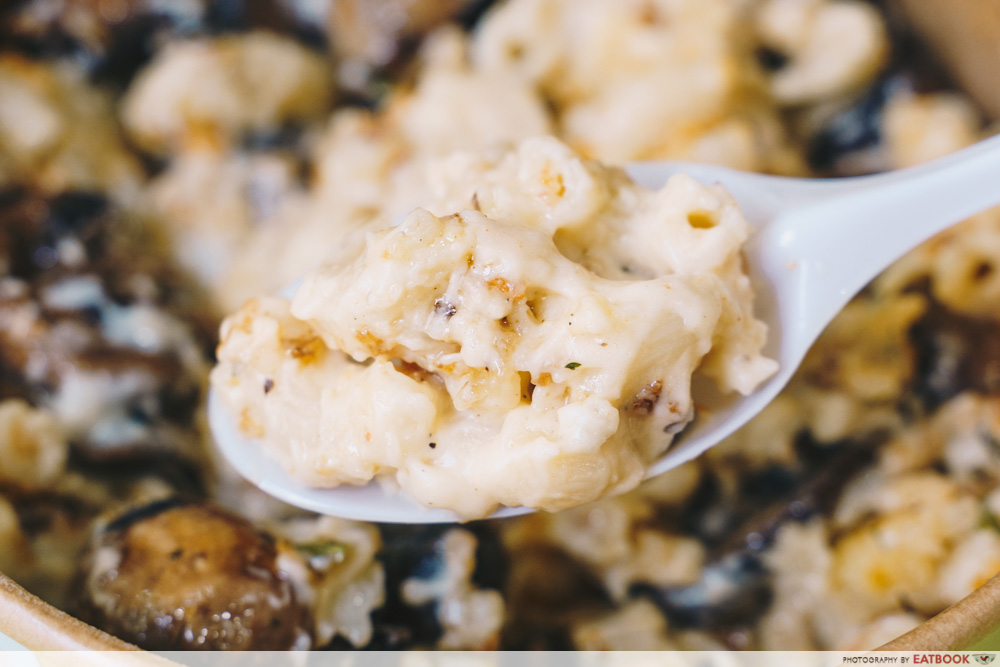 Instead of lazily baking macaroni and cheese together in the oven, Mama's Boy Bakes uses a classic bechamel-based sauce as its main flavouring base. This tasty concoction is made by combining cheese with milk, butter, and flour, giving it a thick and creamy consistency. 
I liked how all the rich flavours gelled well together, giving a sharp but creamy flavour. The elements didn't overpower each other, and the truffle oil gave a touch of elegance.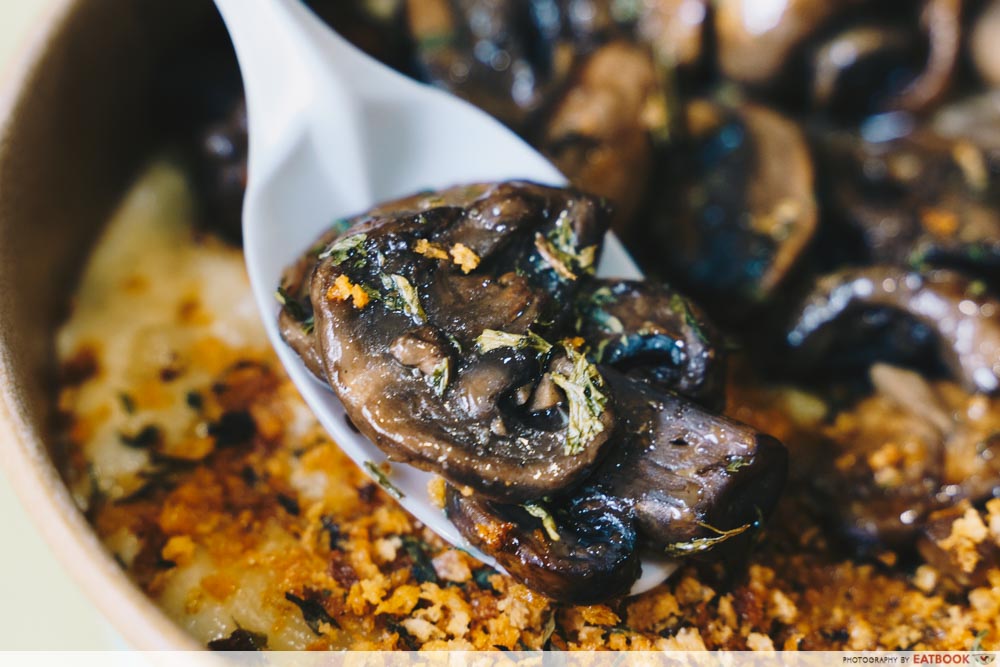 The mushrooms were also well cooked, packing in loads of lush earthy flavours and a nice sear. I also appreciated how generous the portions were.
That being said, it might get a little too filling after a while. I would recommend ordering two different flavours to share with a friend.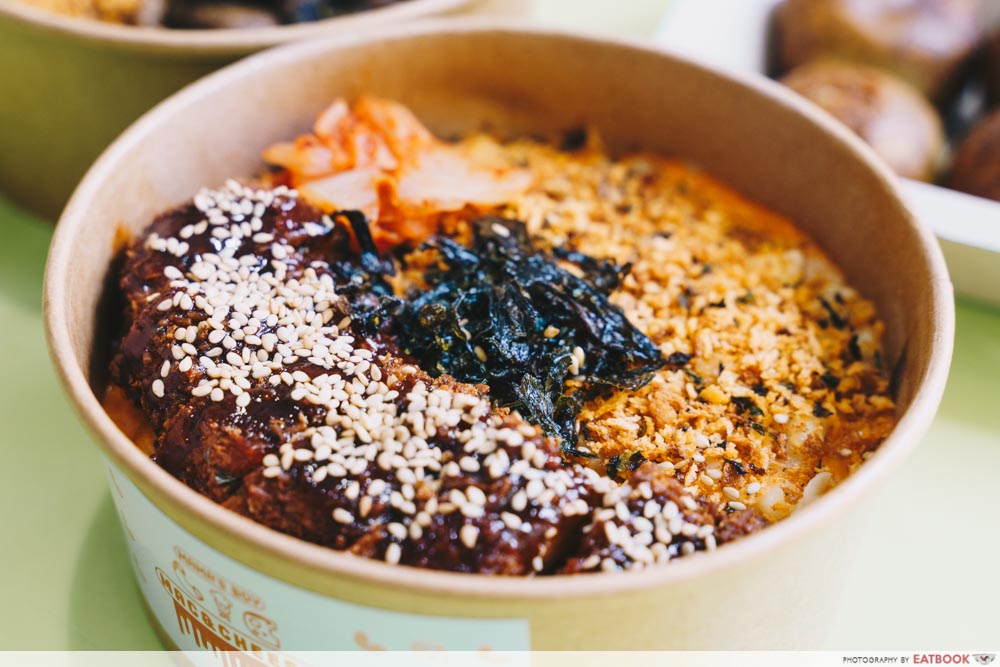 Korean Mac & Cheese ($9.50) was another dish that came heavily recommended by Samuel. This time, the cheese sauce is mixed with gochujang to give a sweet and tangy sauce. A respectable portion of sliced Korean-spiced chicken tenders also accompanies this dish. 
There are non-spicy and spicy variants here, and we got the latter. I spied bottles of Samyang chilli sauce sitting by the kitchen counter. It's my best guess that they probably add a small serving inside here as well. The spiciness wasn't overly offensive, and had just enough heat to make it tastefully addictive.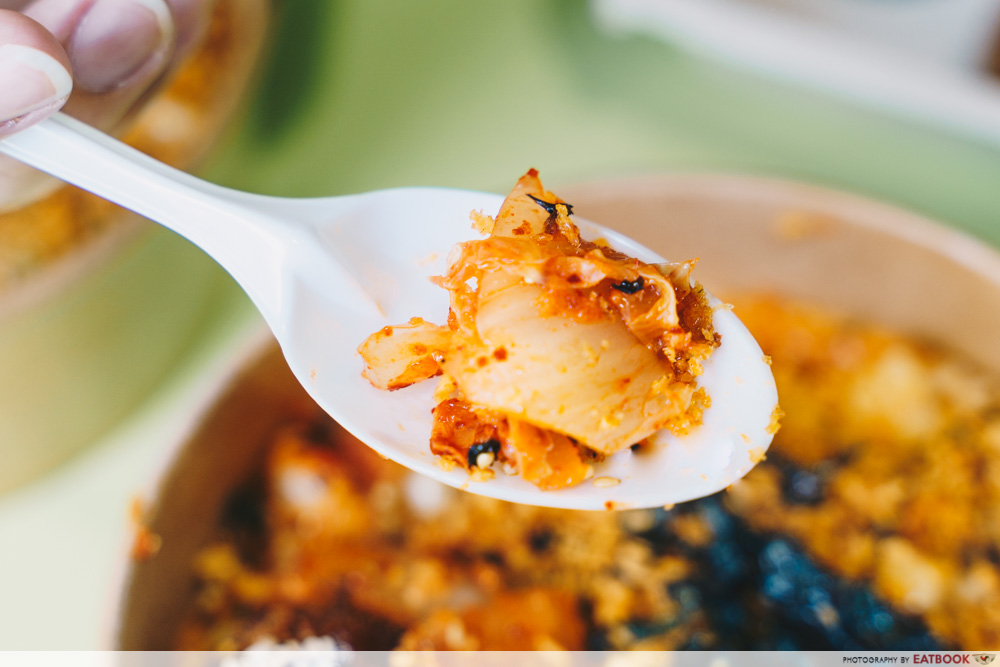 A small serving of kimchi is placed on the side, giving a nice refreshing touch and a much-welcomed crunch.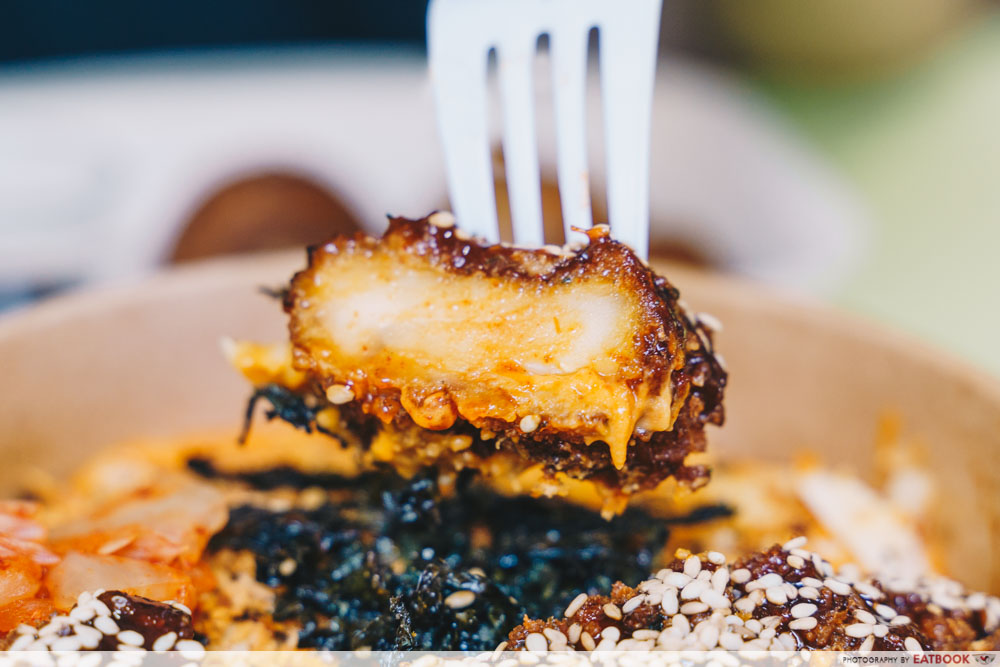 The chicken tenders had a satisfying crispy mouthfeel to them while packing in a decent amount of flavour. They also come nicely sliced in bite-sized pieces, making it easy to pick up and munch with a fork.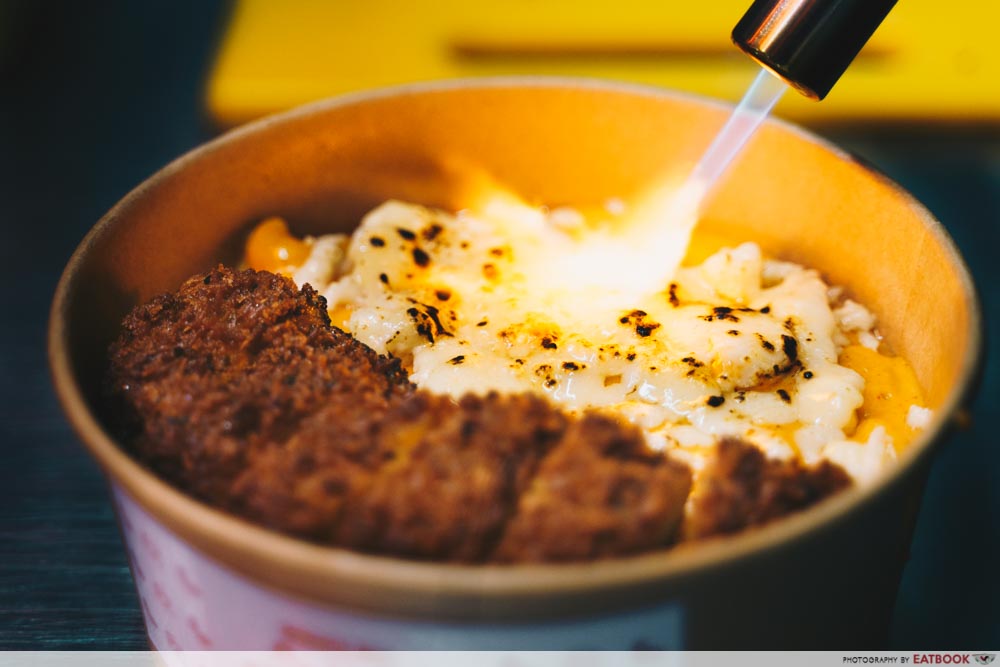 There's also an option to get your mac and cheese "toasted" for an additional $0.50. This involves directly blow torching the cheese, giving an aburi-esque flavour to it. I like how it also gave a pleasant touch of smokiness, and would recommend shelling out the extra $0.50 for this nifty upgrade.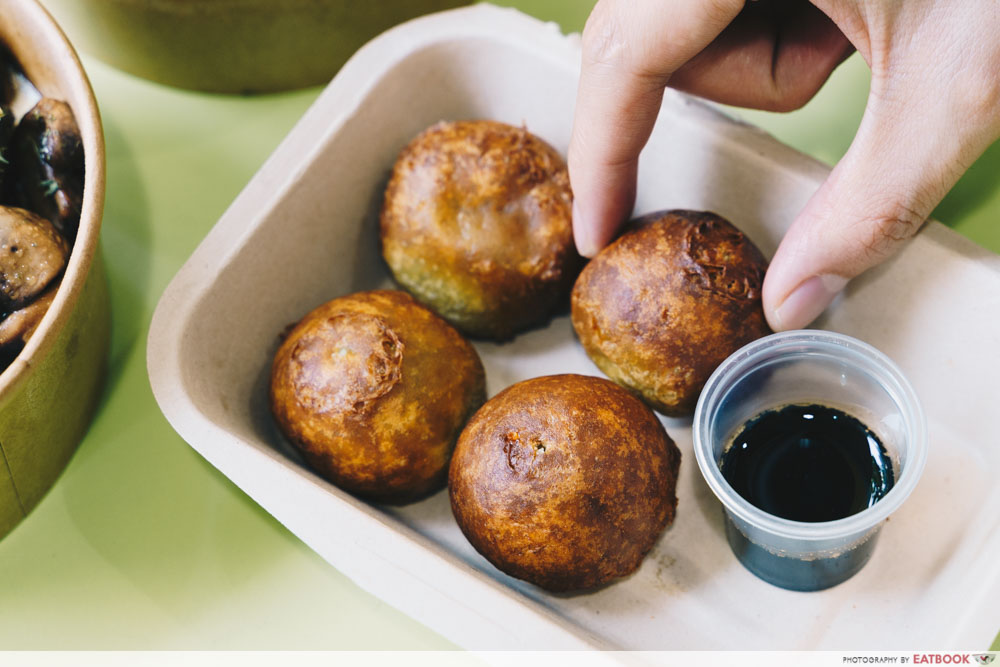 The Ondeh-Ondeh Bombshells ($3.50 for five pieces) are a recent creation here, comprising deep fried ondeh-ondeh-flavoured cookie dough with butterscotch chips. A portion of gula melaka sauce is also given on the side for you to drizzle all over this sweet creation. 
Just like the real thing, these little dessert spheres are bursting with flavour with every bite, and pack a subtle hint of pandan that gives a nice fragrance to everything. Instead of the usual gula melaka and grated coconut, the predominant flavour kaya.
We laid our hands on these last, and as a result, they were too cold. This led the dough to be a little too chewy and dry for our liking. 
Samuel reassures us that it's meant to be light and fluffy when eaten hot and I can certainly see why as well. I'll most probably be back to check out these balls when they are piping hot again.  
The bombshells are going at $1 off if you're pairing them with an order of any mac and cheese, so ordering a portion of this to share around isn't such a bad idea. 
Ambience at Mama's Boy Bakes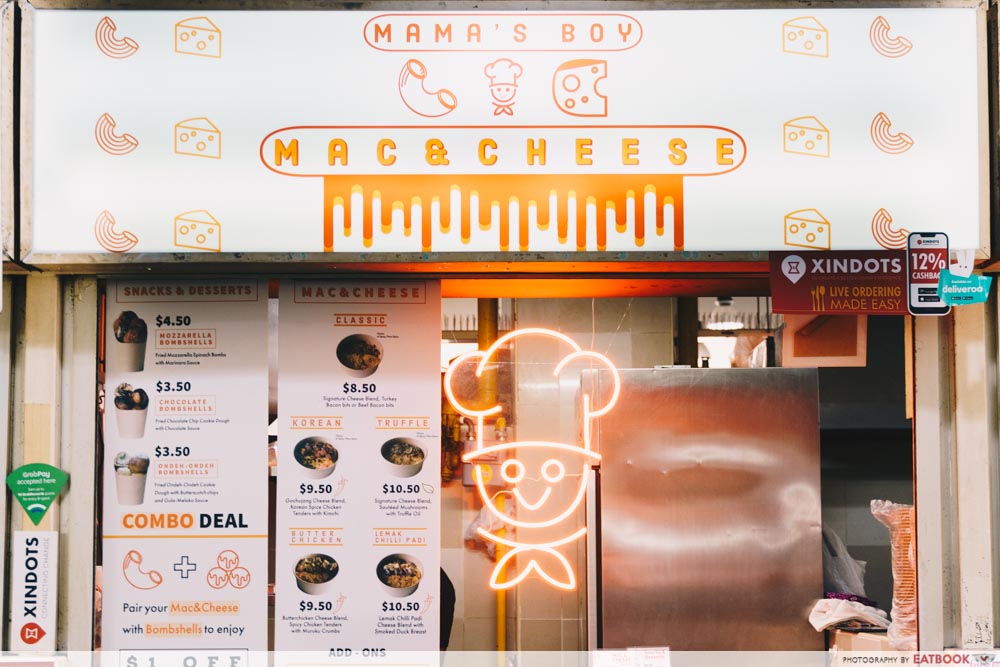 Home to plenty of exciting modern hawker options such as Kinobe and Daily Noodles, Amoy Food Centre plays host to many exciting new concepts.  As always, looking for a seat during lunchtime is quite a tenacious task. Try to come by earlier if you want to secure a seat. 
Each order of mac and cheese is made fresh on the spot, so be prepared to wait for around five minutes for each order. Fahmy and Samuel push each order out quite quickly, so you won't have to wait as long as compared to the other stores in Amoy such as the legendary Han Kee fish soup and Pepper Bowl. 
The verdict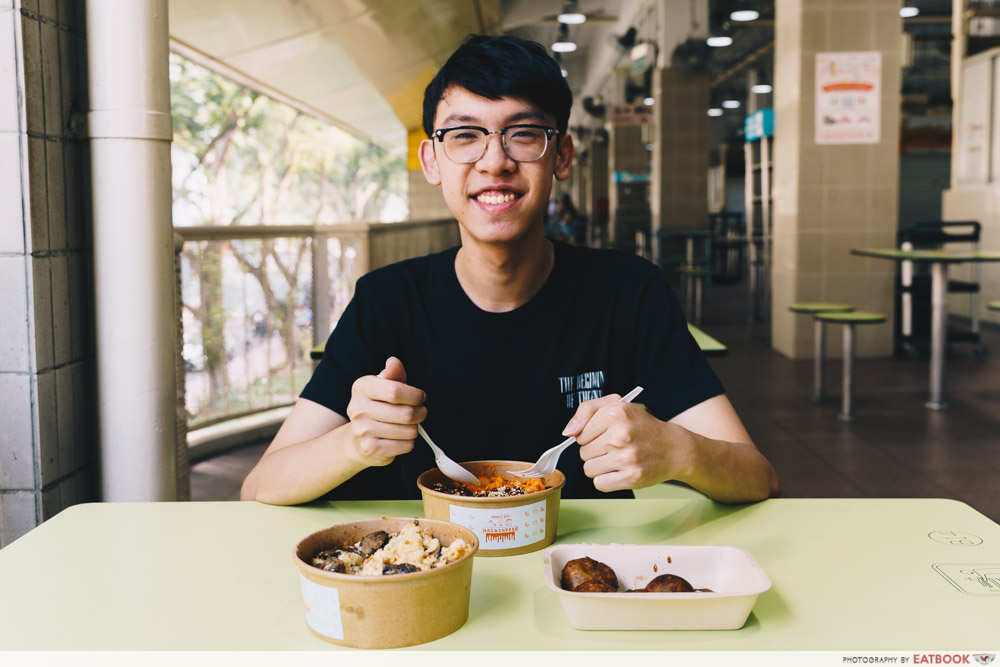 It's always refreshing to come across new hawkers, especially ones that do their food right. On an execution level, the food served at Mama's Boy Bakes was excellent and did not disappoint at all.
The only thing I didn't quite agree with Mama's Boy Bakes was its prices. Costing a minimum of $8.50, the food could have been more affordably priced. I fear that they might be a little too costly for hawker centre standards, and that might detract a few from enjoying this tasty treat on a regular basis.

If you're around the area, be sure to check out Quan Ji for their yellow cloth noodles. This special wok-fried egg noodle is a secret item on the menu, and comes with blanched egg noodles that are neatly tucked under a creamy omelette! 
Address: 7 Maxwell Road, #02-87, Amoy Street Food Centre, Singapore 069111
Opening hours: Mon-Fri 11am to 3pm
Tel: 9846 3578
Website
Mama's Boy Bakes is a Muslim-owned eatery
Photos taken by Faith Toh.
This was a media tasting at Mama's Boy Bakes.
Summary
Pros
– Tasty macaroni and cheese
– Central location 
Cons
– Expensive
Recommended dishes: Truffle Mac & Cheese ($10.50)
Opening hours: Mon-Fri 11am to 3pm
Address: 7 Maxwell Road, #02-87, Amoy Street Food Centre, Singapore 069111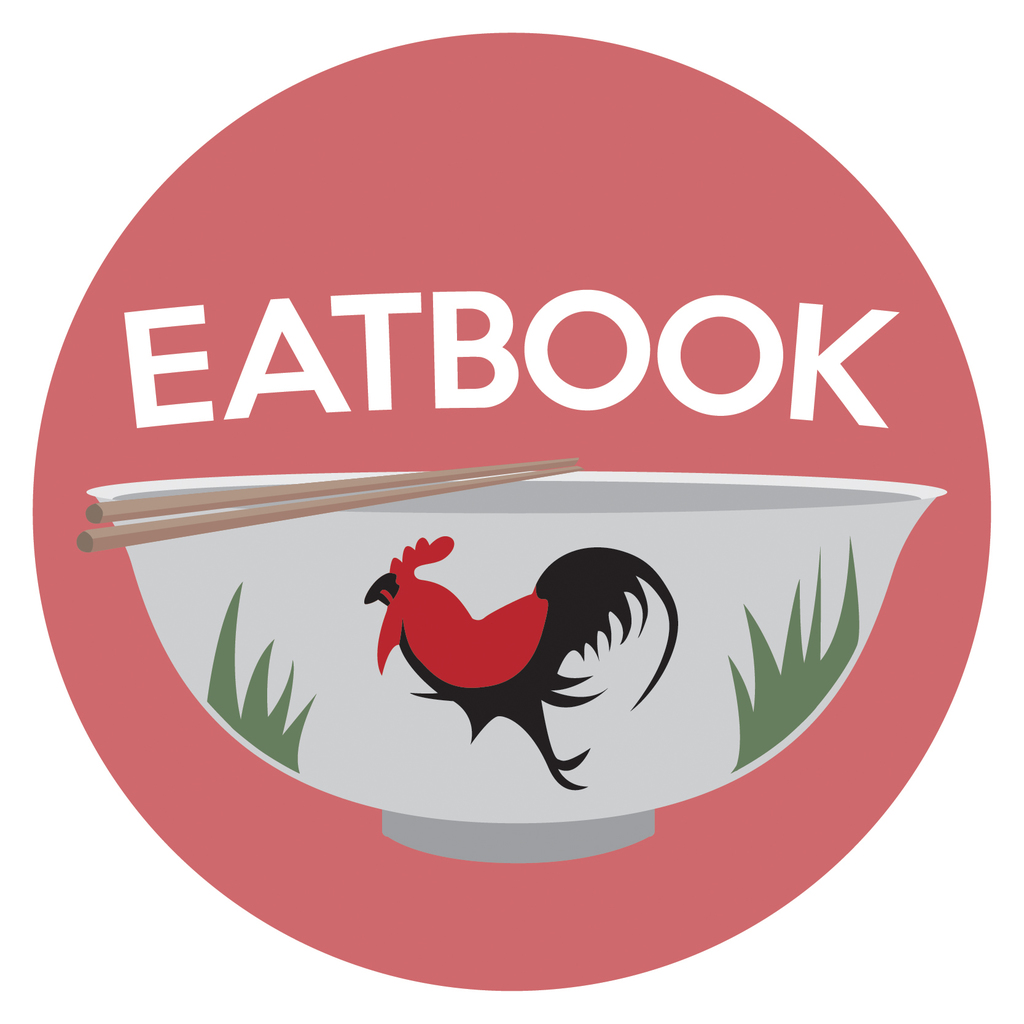 Drop us your email so you won't miss the latest news.