Niu Zou La Mian at Ubi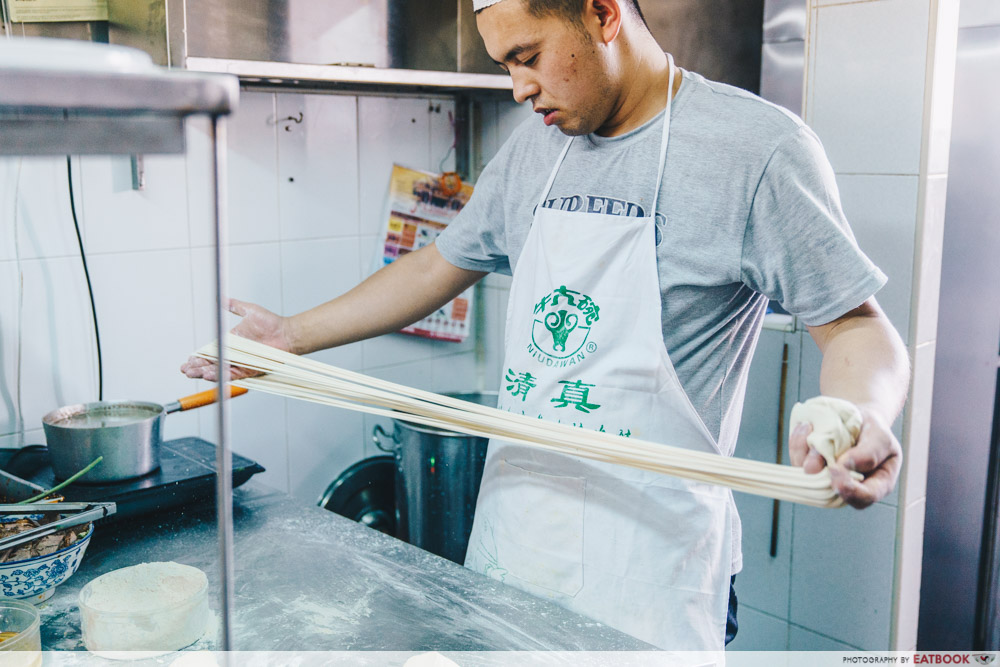 It was a rather stoic affair. A man from a distant land tugging tirelessly on his la mian dough at Niu Zou La Mian. Chef-owner, Ma Jun, left his hometown in Gan Su, China, in search of a better livelihood when his father passed away last year.
He eventually settled in Singapore for our diverse culture and racial tolerance towards Muslims. It felt liberating for him to break away from the social stigma and state monitoring of his province.
Motivated by a deep-rooted passion to introduce an authentic taste of China to Singaporeans, he decided to open a la mian stall. Pulling la mian was something familiar to him, as he had been doing this since he was a boy. It was just the most natural thing for him to do.
Food at Niu Zou La Mian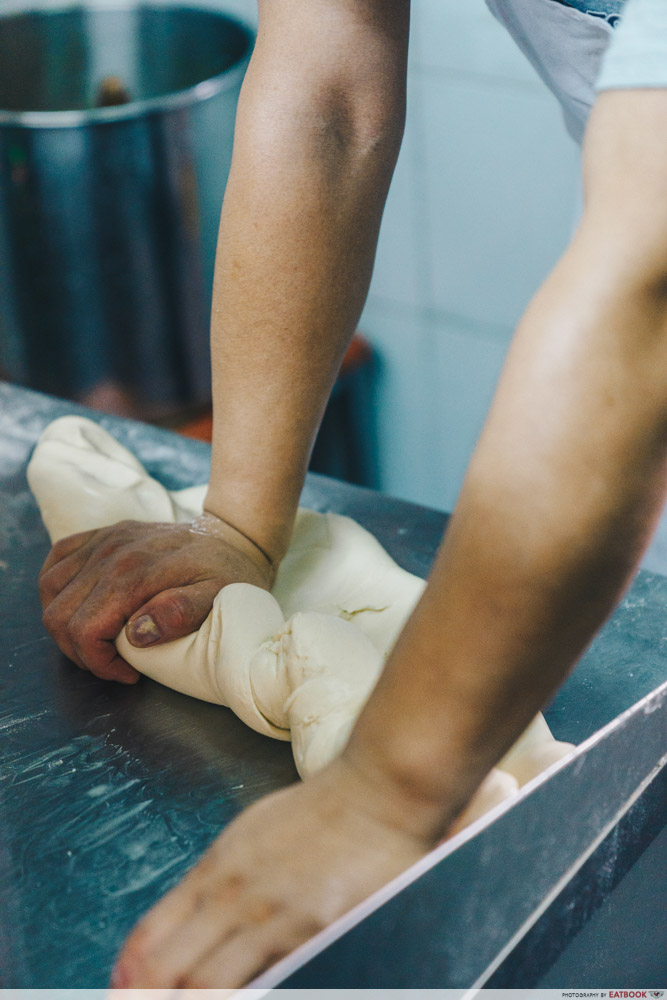 In traditional fashion, Ma Jun pulls the la mian by hand. Its twists and turns align the gluten in the dough so that the noodles get a chewy texture.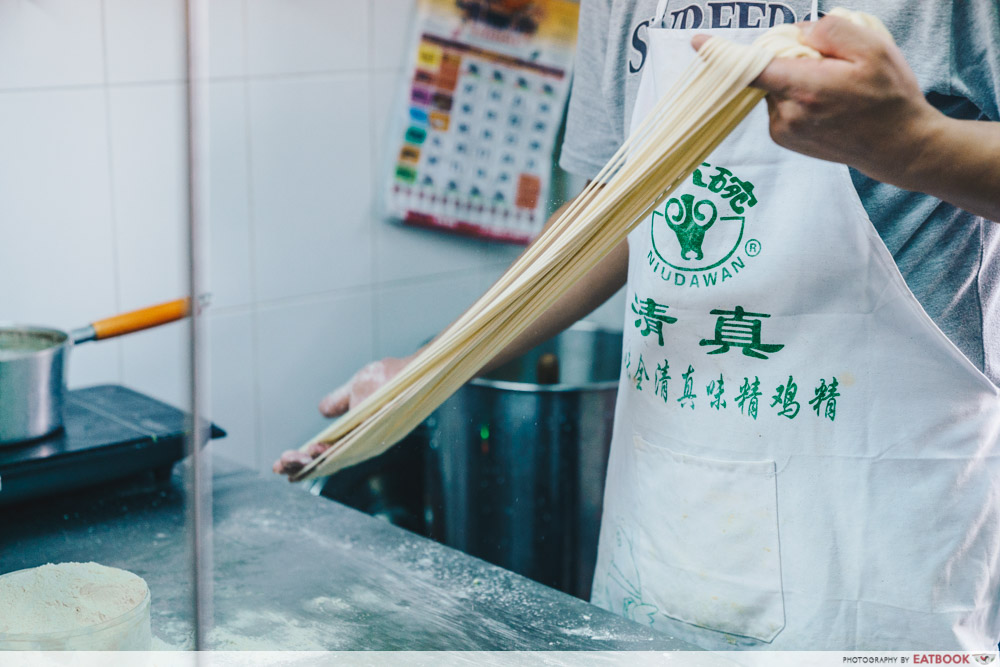 "It was like magic," my dining companion commented, awestruck by how Ma Jun was able to gracefully pull the noodles from a single block of dough. A few quick movements and instantly, 32 strands of noodles were formed.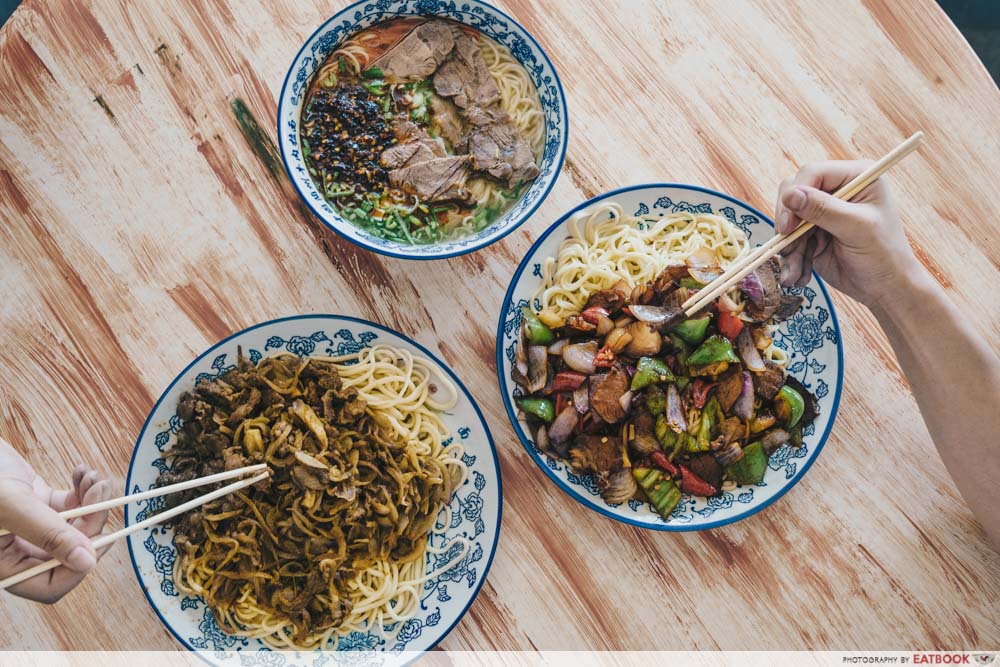 The dishes were then skillfully plated on ceramic chinaware, all of which were earnestly lugged from Ma Jun's hometown. It was something I had not come to expect from hawker stalls; most relegate to cheap melamine dishware.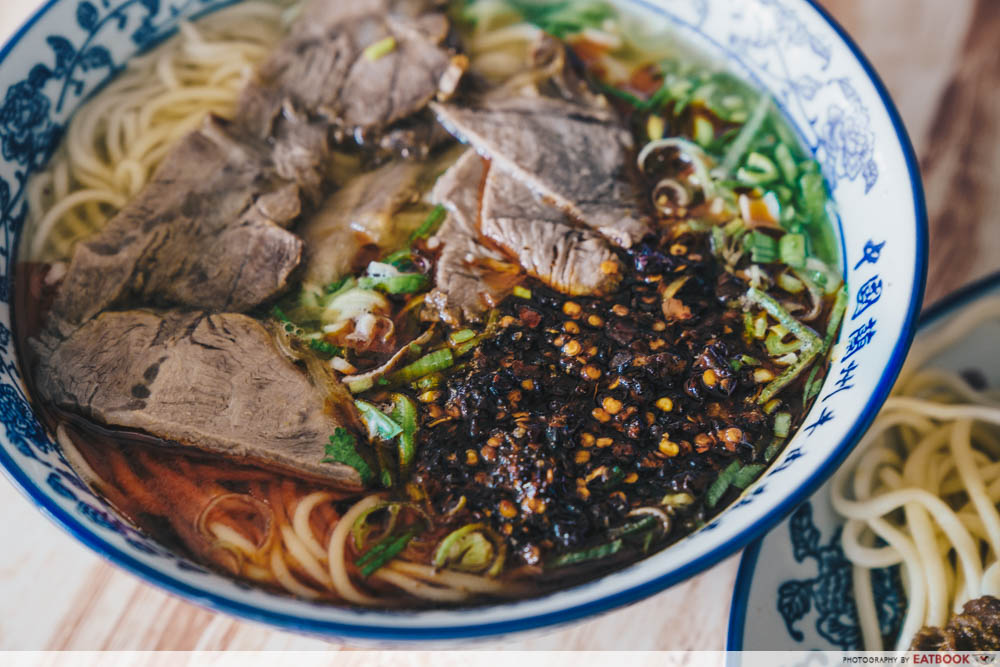 Lan Zhou Beef Ramen ($5) surprised me with a massive amount of noodles. It reminded me of my time back in Beijing, where food vendors were generous with carbs.
The la mian was decorated with a few slices of braised beef and chopped scallions, and finished with a generous dose of chilli oil.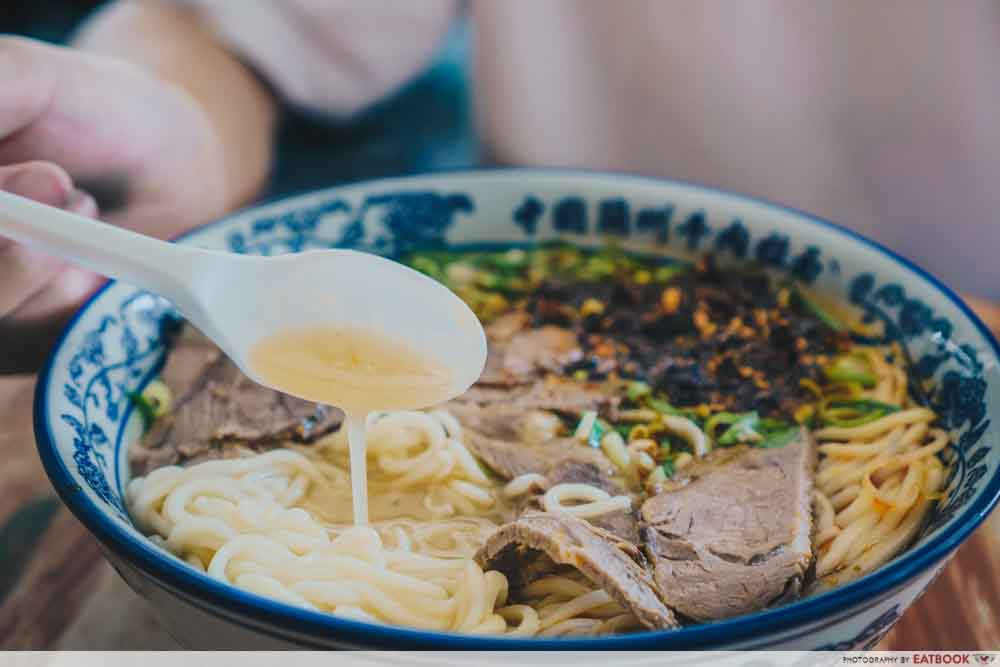 I first tried the soup. A gentle wave of beefiness swabbed across my tongue, ending with mellow notes of Chinese spices that gave a rounded taste.
It had a layered and profound flavour that could have only been achieved by boiling beef bones over a long period of time.
Looking into the kitchen, I was right. A large cauldron was set atop a low flame, slowly simmering away. Ma Jun proudly shares how the broth was painstakingly boiled for at least half a day.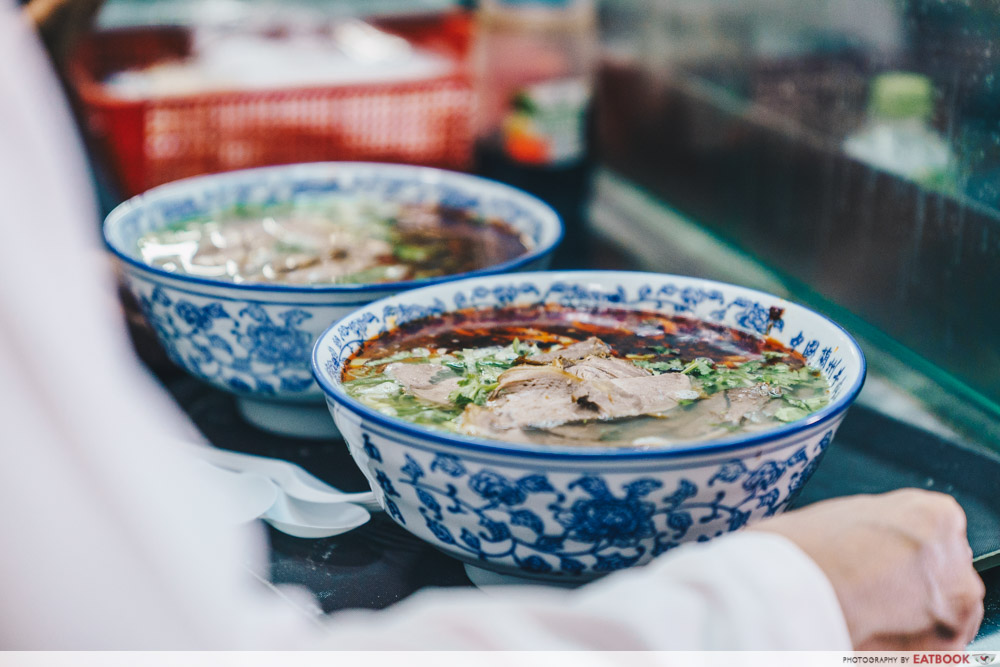 Receiving the same dedication were the beef slices. A spice blend was heated in the wok to release their natural oils. Chunks of beef brisket were then strewn in together with ladles of the aforementioned stock to create a rich marinade, simmering in low heat to render beef fat and cartilage.
The result was a tender slice of brisket that melts in the mouth.
Picking up the noodles, I quickly realised its non-uniformity in size. Although slightly apprehensive at first, I realised that the deviations provided variance in texture.
The large, chewy noodles contrasted against the thinner, softer ones. It's like the mixing of large and small pearls in Tiger Sugar's bubble tea.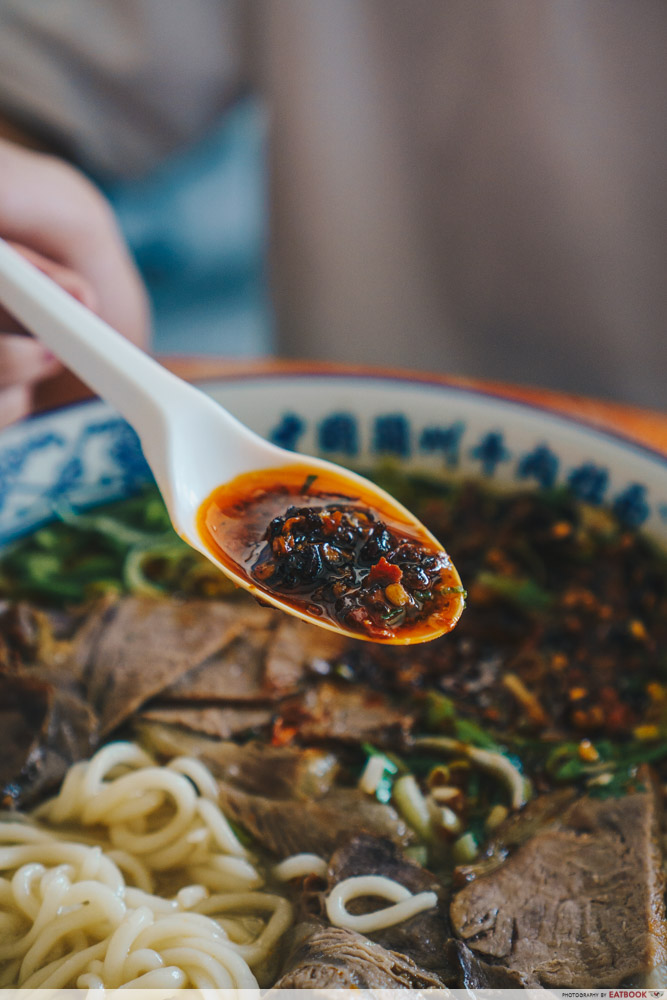 Despite looking potently spicy, the chilli had a mild heat that also offered an entourage of sweet floral notes. Stirred with the soup, it brought freshness and excitement.
That said, one qualm I have is the soup's oiliness. Because it's oil based, a layer of fat lingers above the surface of the soup. It feels like what I would get in China, but I'm not sure if it's suited to our local palate.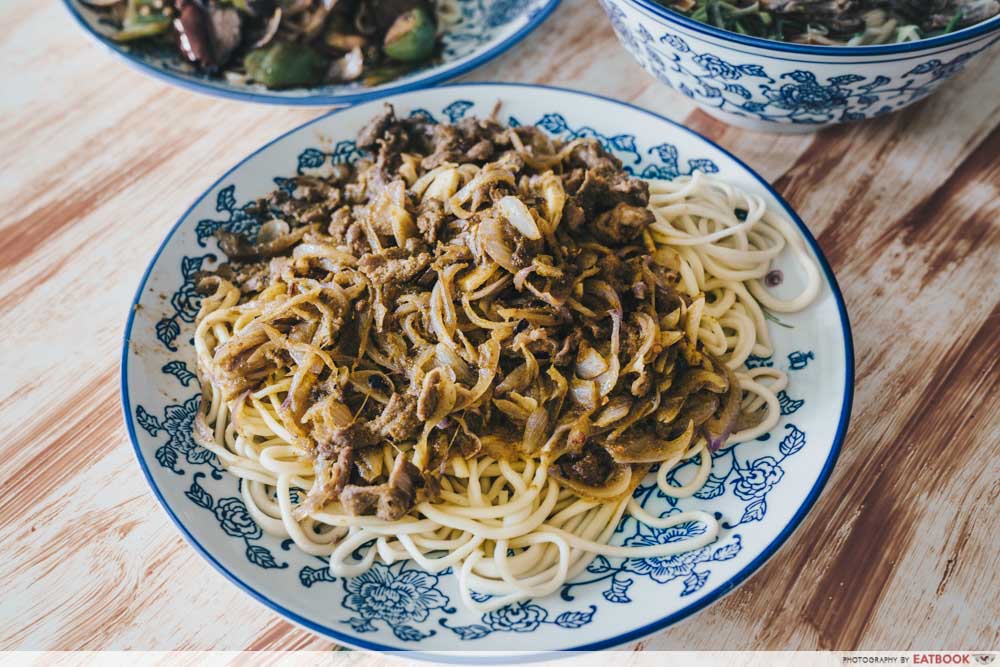 Admittedly, the Dry Noodles WIth Cumin Lamb ($8) resembled sukiyaki. The stir-fried slices and sauteed onions looked like something I would get at the Japanese hawker stall Kinobe.
The smell, however, told a different story. It was one of rich spices and invigorating gaminess.
I could taste the lamb's gaminess, but also its grassland freshness. The cumin provided a very Middle Eastern kick that reflected the spice trade history of Ma Jun's province.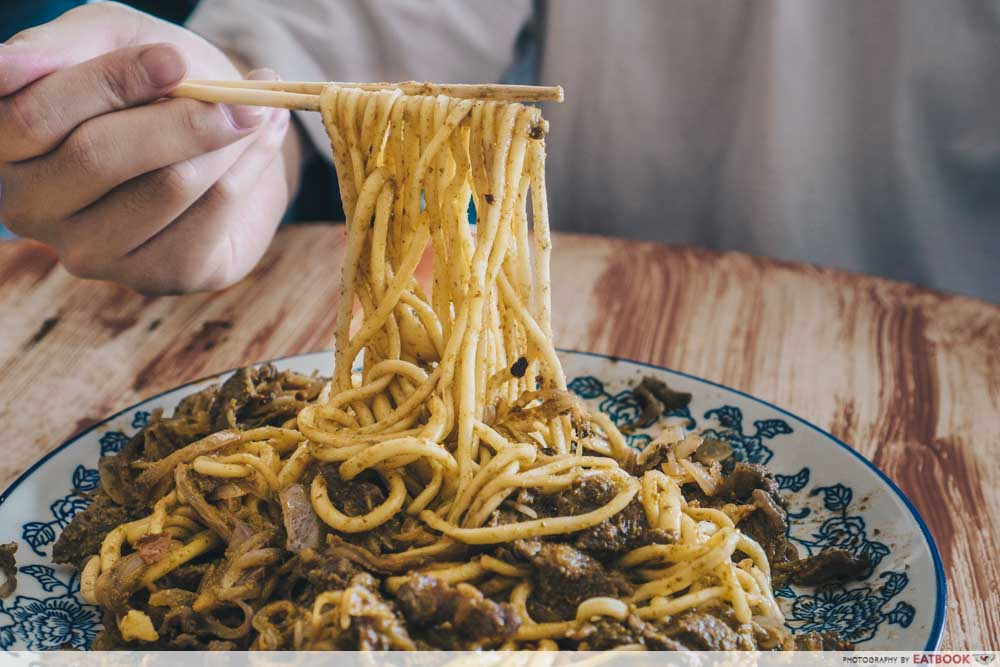 Stirring in the noodles, a new flavour profile was unleashed. The wheaty noodles dissipated the gaminess, ushering a mellow sweetness that whetted my appetite.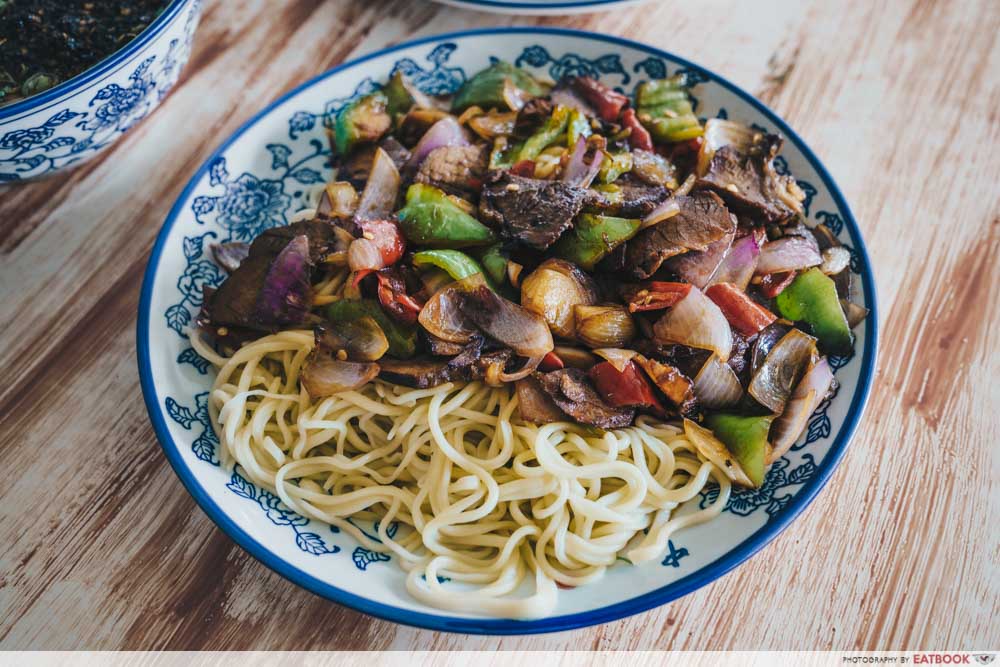 When I ordered the Dry Noodles with Braised Beef ($8), Ma Jun gave me an approving nod. I could tell that this dish was his favourite.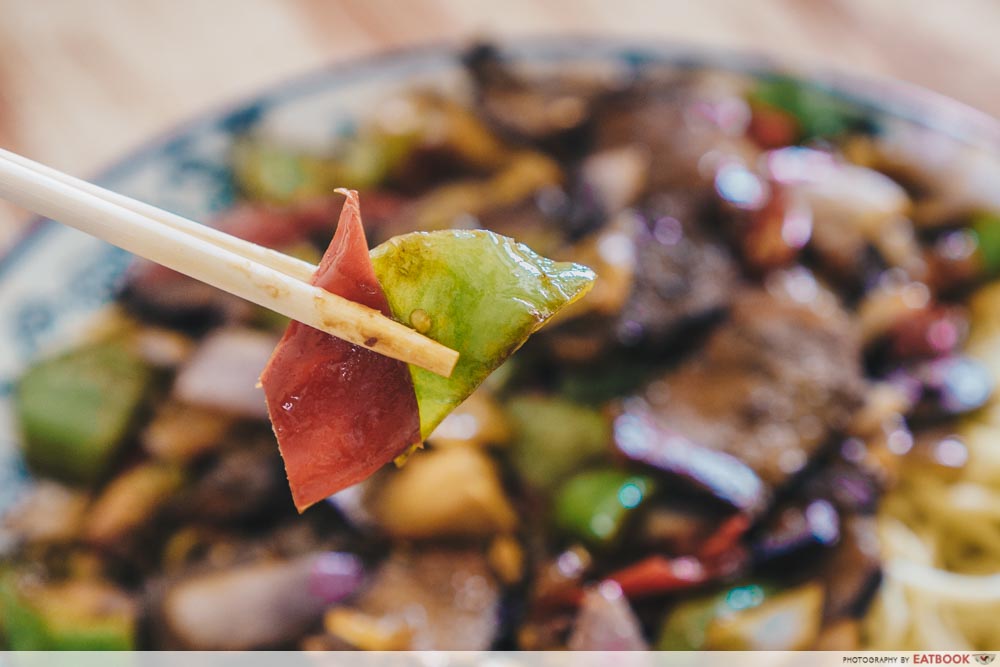 What followed were the frantic dicing of bell peppers and onions. The stir-fried vegetables gave an intense sweetness that lingered in my mouth, making the dish feel fresh despite its jarring oiliness.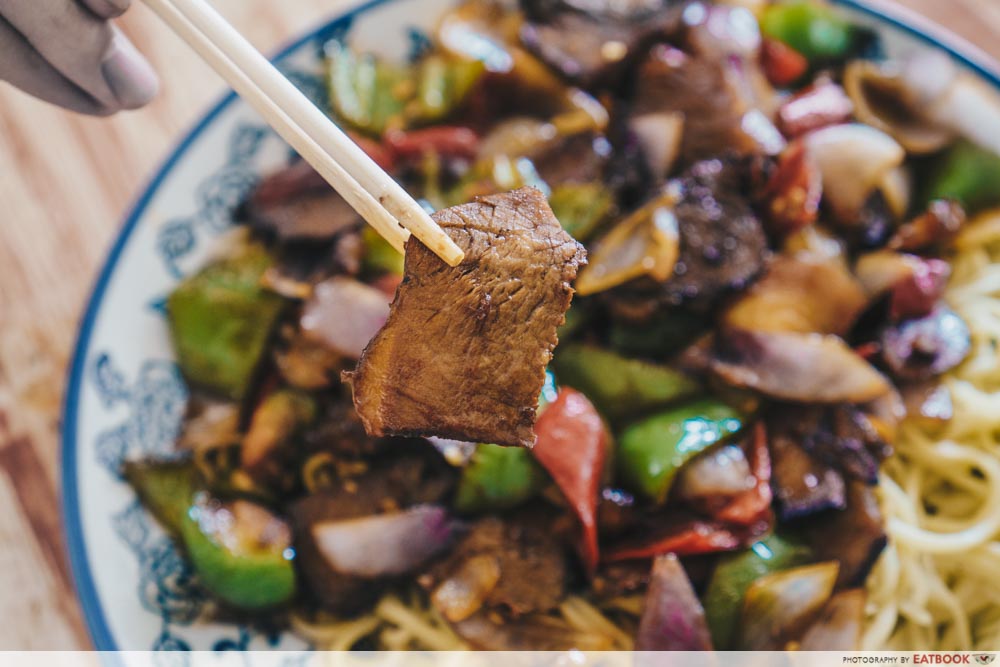 I suppose he used the same beef brisket found in the Lan Zhou Beef ramen. The same aromatic spice notes were evident, providing an elevated level of flavour.
It also had a stronger beefiness as compared to the soupy la mian, a result of the quick sear brought about by stir-frying beef.
Ambience at Niu Zou La Mian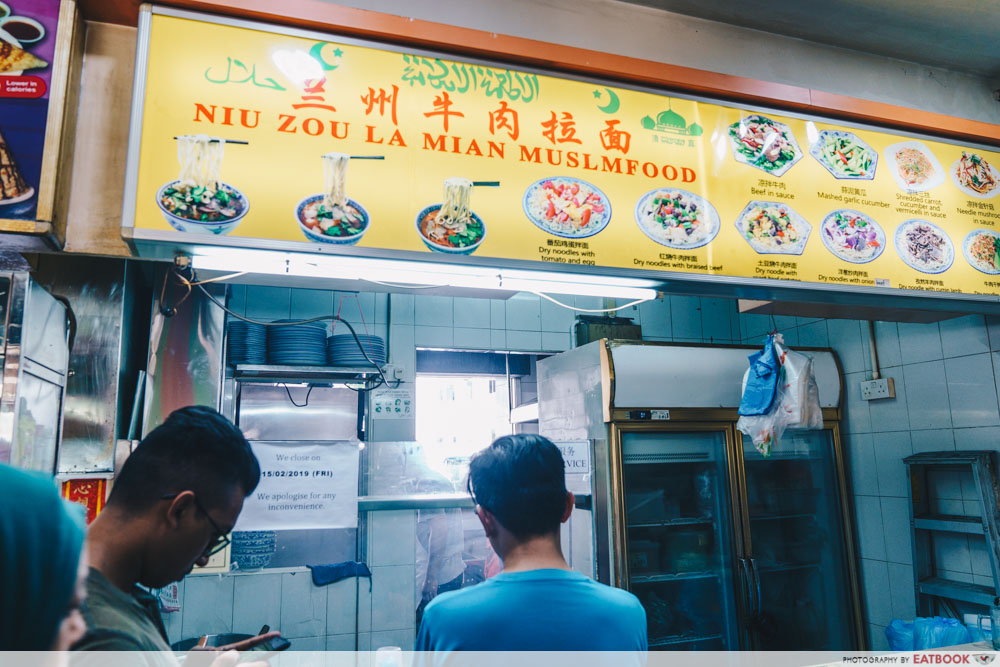 Food Point was hands down one of the stuffiest and run-down food courts I've been to. The ventilation was lacklustre, as was the sanitation.
Yet, in a certain way, it added to its timeless charm. Having a gorgeously plated bowl of la mian juxtaposing against the dingy establishment just felt so humbling. It was a visual testament to Singapore's endless pursuit of co-existence — the very reason Ma Jun came here in the first place.
The verdict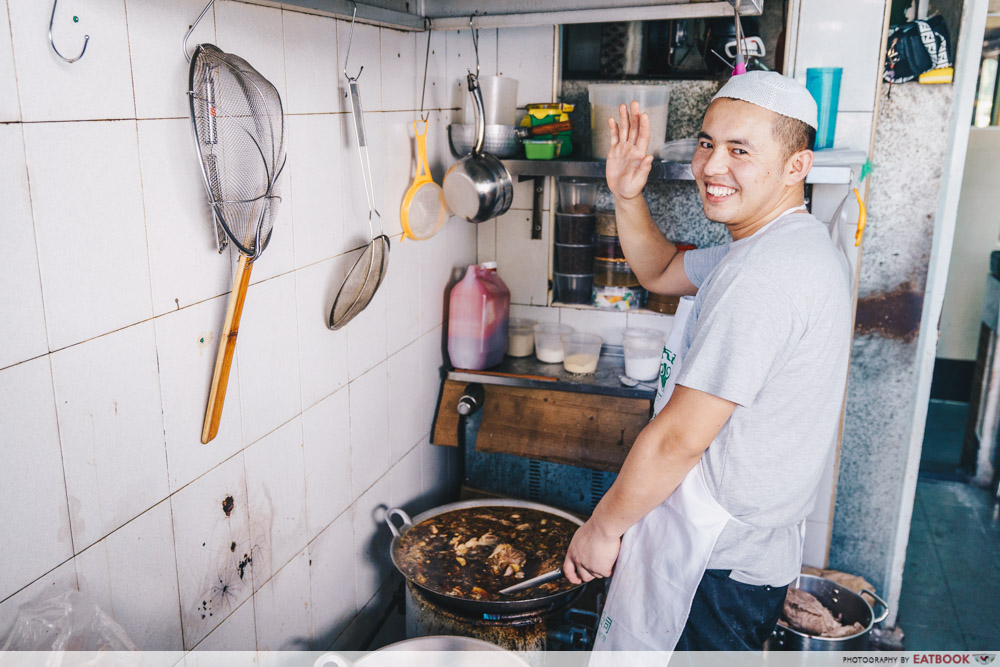 It was a joy learning more about la mian from Ma Jun. His stoic nature was reflected in his craft; everything done so meticulously with a clear vision in mind.
On the ride back to my office, I realised that I had unknowingly developed a reverence and admiration for Ma Jun: reverence for his perseverance through hardship, and admiration because, heck, how does he make such a good bowl of la mian?
Address: Blk 325 Ubi Avenue 1, Food Point Food Court, Singapore 400325
Opening hours: Daily 12pm to 3pm, 4:30pm to 10pm
Tel: 9396 5426
Photos taken by Pichan Cruz and edited by Pepita Hope Wauran.
This is an independent review by Eatbook.sg.
Summary
Pros
– Authentic hand pulled la mian
– Affordable prices
– Good variety of la mian
– Large portions
Cons
– Inconvenient and stuffy location
Recommended Dishes: Lan Zhou Beef Ramen ($5), Dry Noodles WIth Cumin Lamb ($8)
Opening hours: Daily 12pm to 3pm, 4:30pm to 10pm
Address: Blk 325 Ubi Avenue 1, Food Point Food Court, Singapore 400325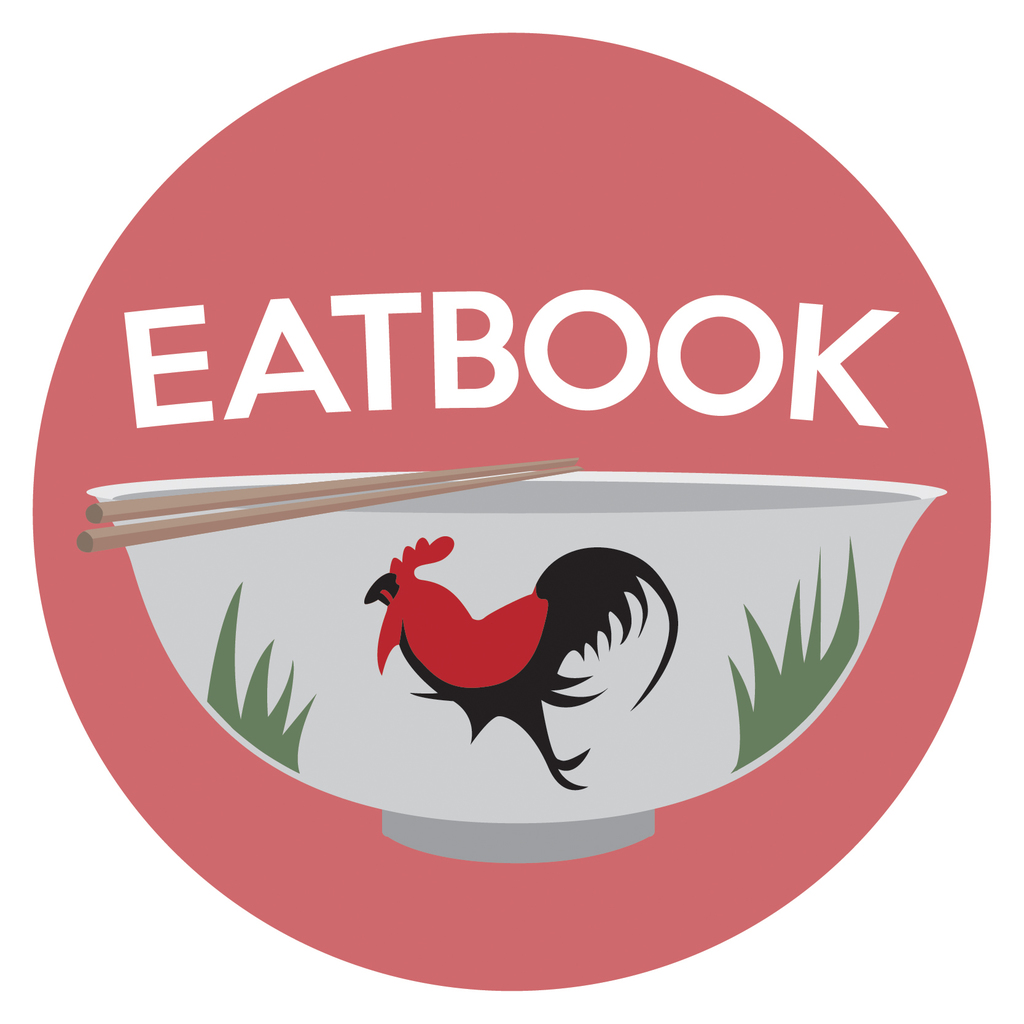 Drop us your email so you won't miss the latest news.