Traditional Hainanese porridge at Weng Kiang Kee Porridge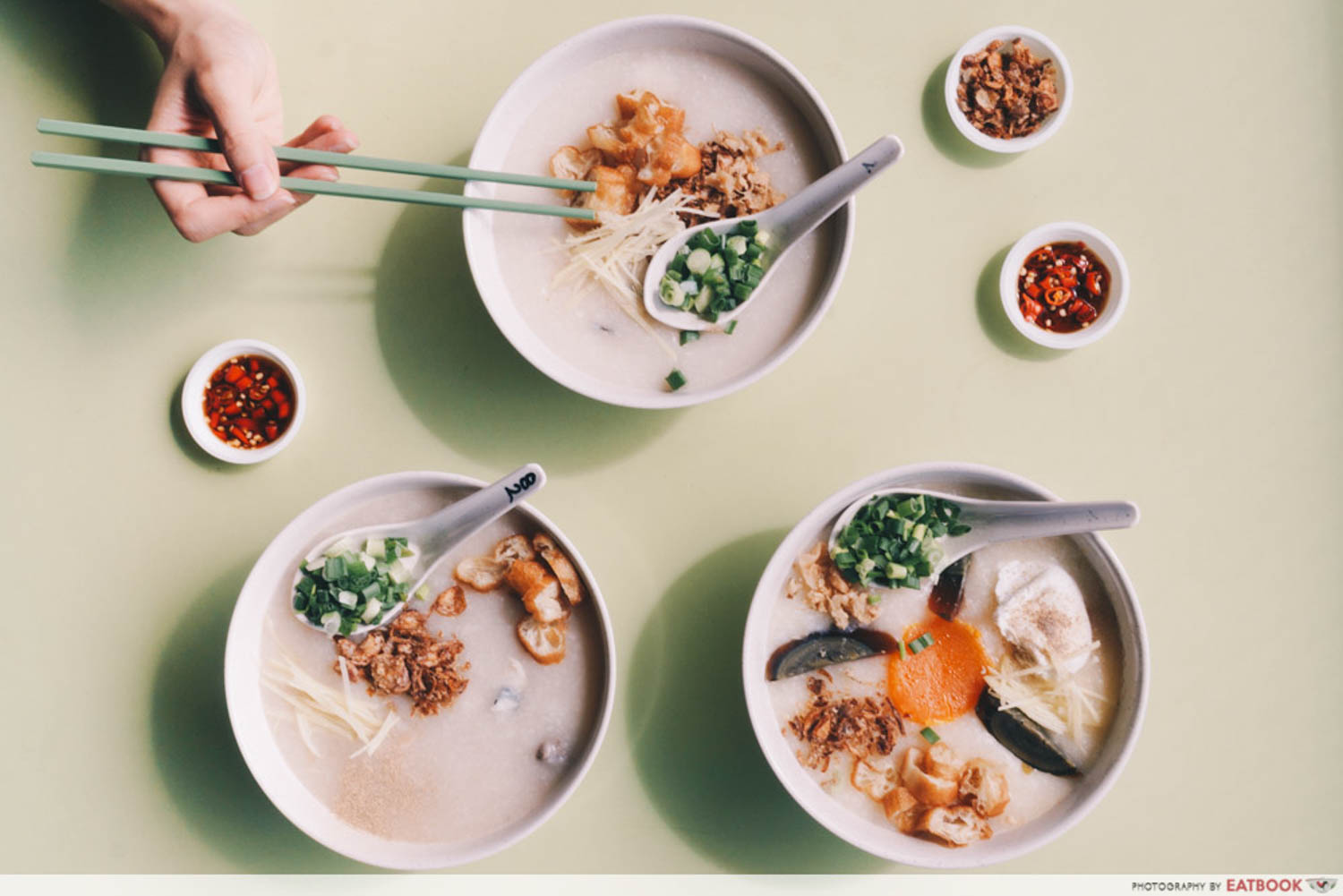 As more creative hawkerprenuers, such as Mama's Boy Bakes, Craft'B, and Ashes Burnnit step up their game to join this back-breaking industry, hawkers pushing out classic dishes can be left forgotten. But Weng Kiang Kee Porridge is here to set the gold standard for traditional Hainanese porridge. Fueled by their love for porridge, husband-and-wife duo—Charlie and Philo Chang—started this humble stall in Chinatown Food Complex late last year.
Prior to this, Charlie was working as an F&B consultant, helping restaurants formulate their menus and recipes. This came to him naturally, since he had years of experience under his belt as a hotel chef, with his last stint at Grand Millenium, Beijing.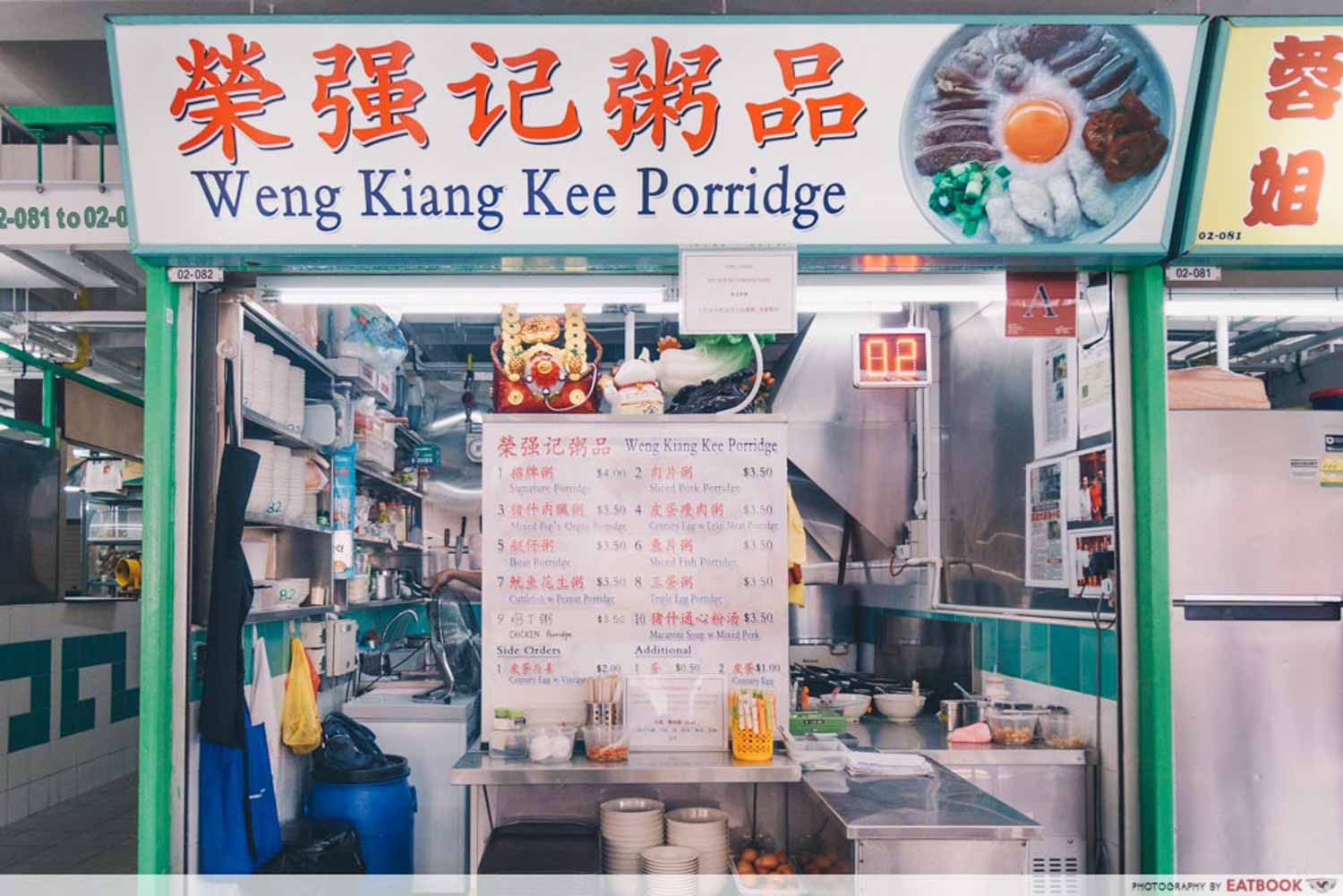 8 Chinatown Complex Food Stalls To Visit Including $2 Laksa And Beef Rice Bowls
Food at Weng Kiang Kee Porridge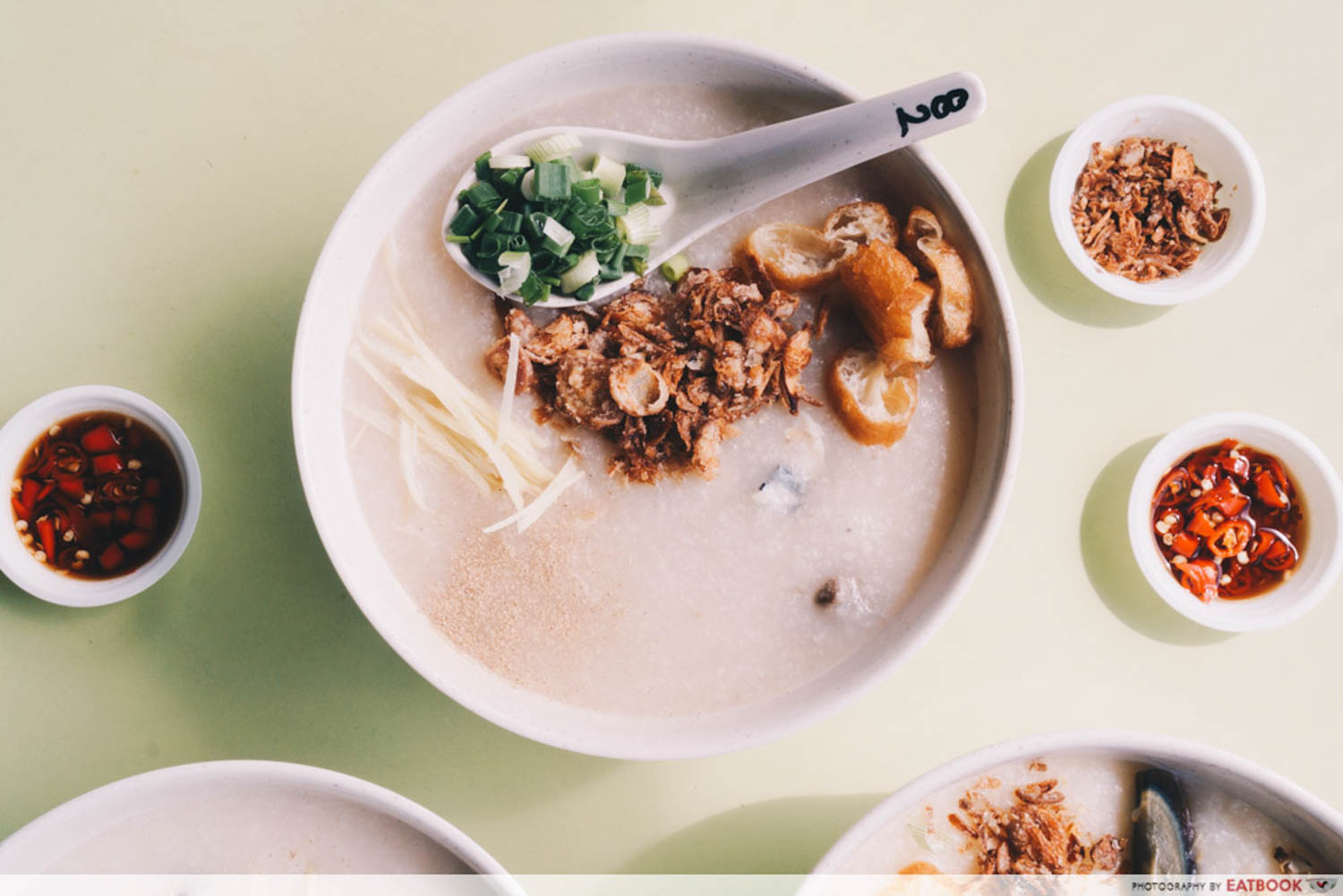 Ordering is made simple at Weng Kiang Kee Porridge as their limited menu offers congee with various ingredients. The hardest part is waiting, as Charlie meticulously prepares orders one at a time. Cooking individual portions lets him stir the porridge continuously, allowing the rice to bind together.
Not wasting any time, I went straight for the most expensive option: Premium Porridge ($5). Don't let this unassuming bowl of congee fool you. Dig deep into this hearty dish and you'll realise it's packed with a variety of meat and seafood.
Their mixed pork included lean pork slices which were chewy and flavourful, along with savoury minced pork balls. On the other hand, the liver was crunchy and fresh-tasting.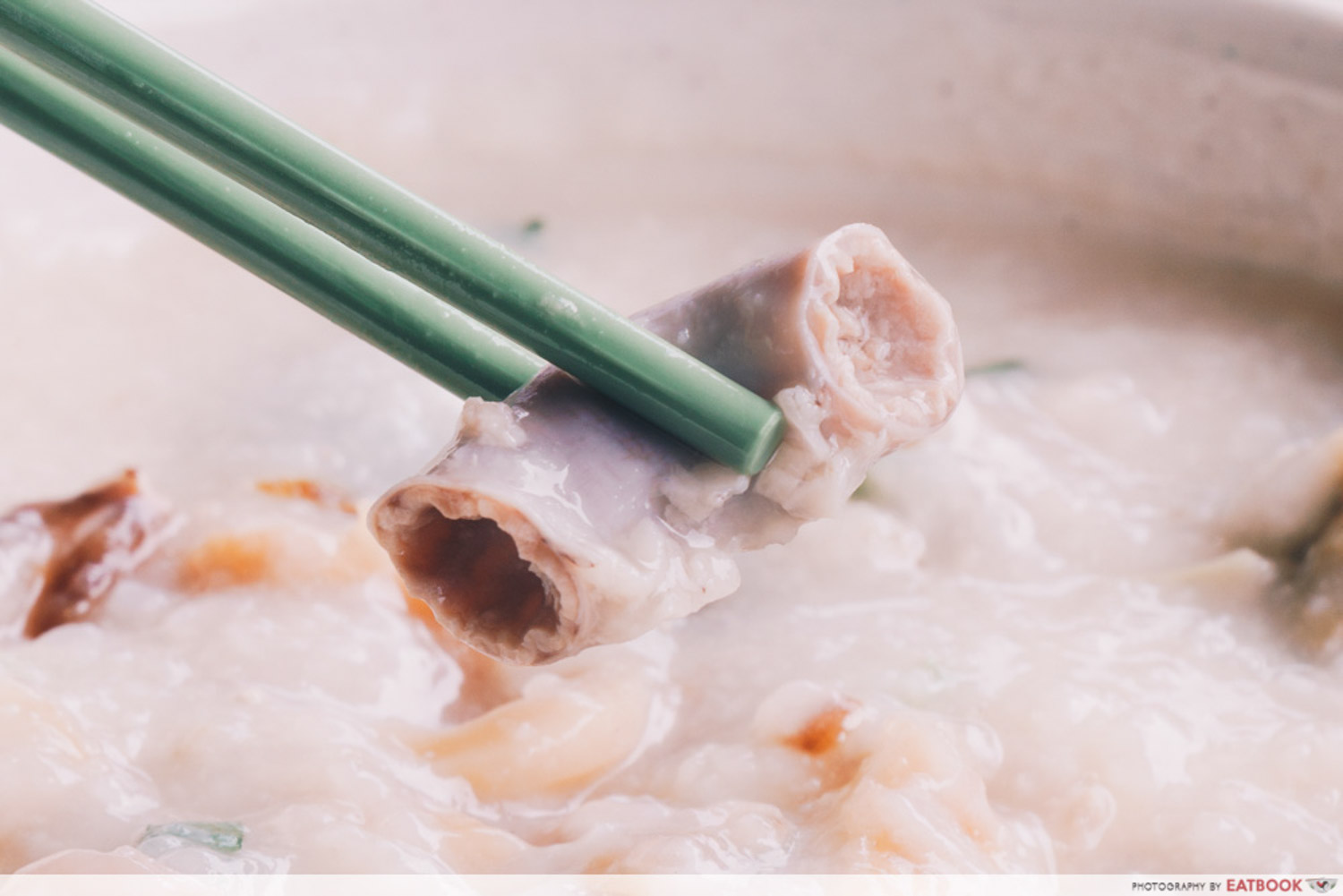 Not many people appreciate this organ, but I'm a huge fan of pig's intestines. Charlie has done a great job removing the grimy taste by soaking these innards in food chemicals.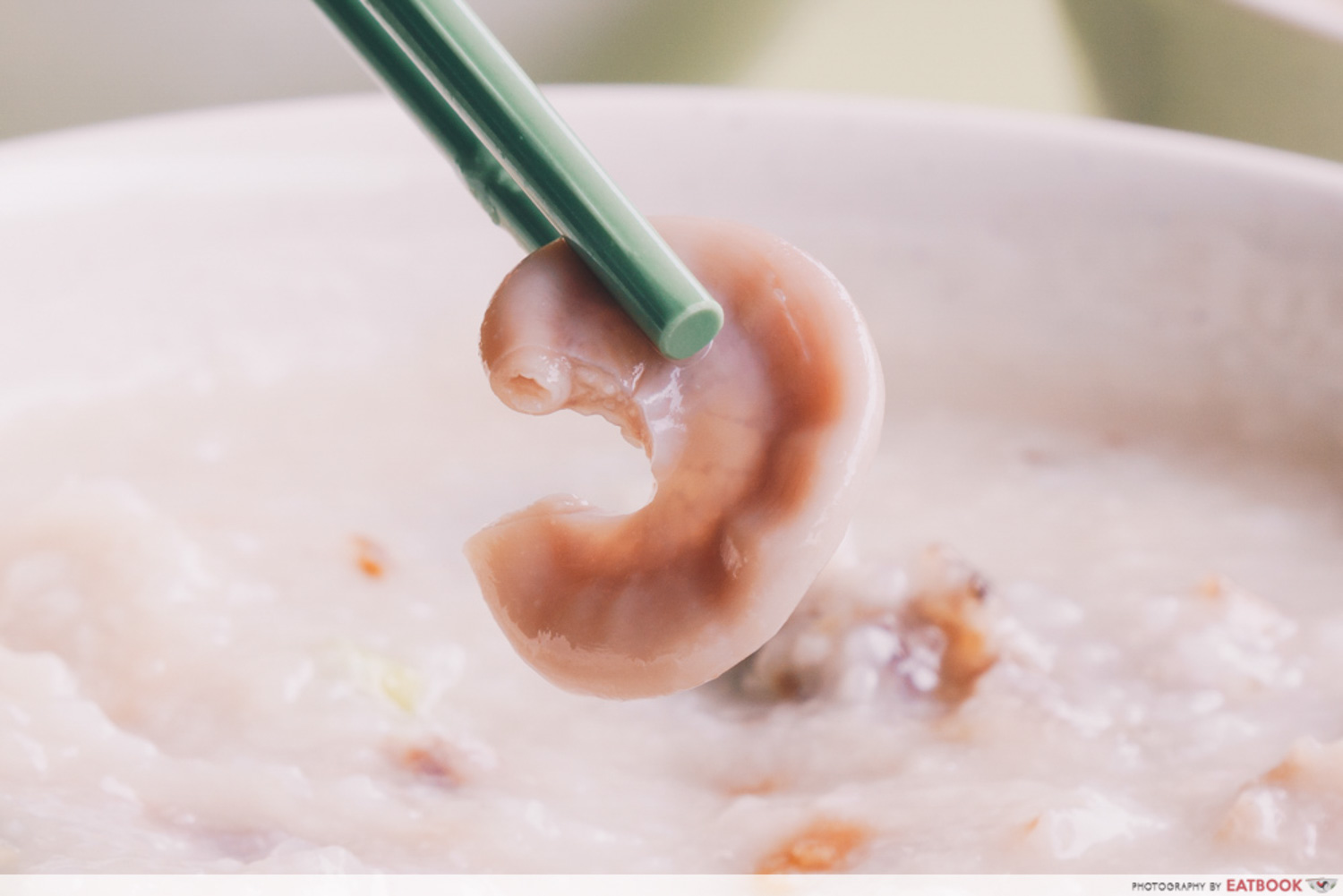 An interesting addition to this bowl was birth intestines, which Philo gracefully informed me were fallopian tubes. Taking a deep breath, I set aside my narrow-minded assumptions and took a bite of these innards. Surprisingly, they didn't have a peculiar taste and just soaked up whatever seasoning it was cooked in. On the other hand, its texture stood out. Unlike the soft and chewy intestines, these innards were smoother and gummier.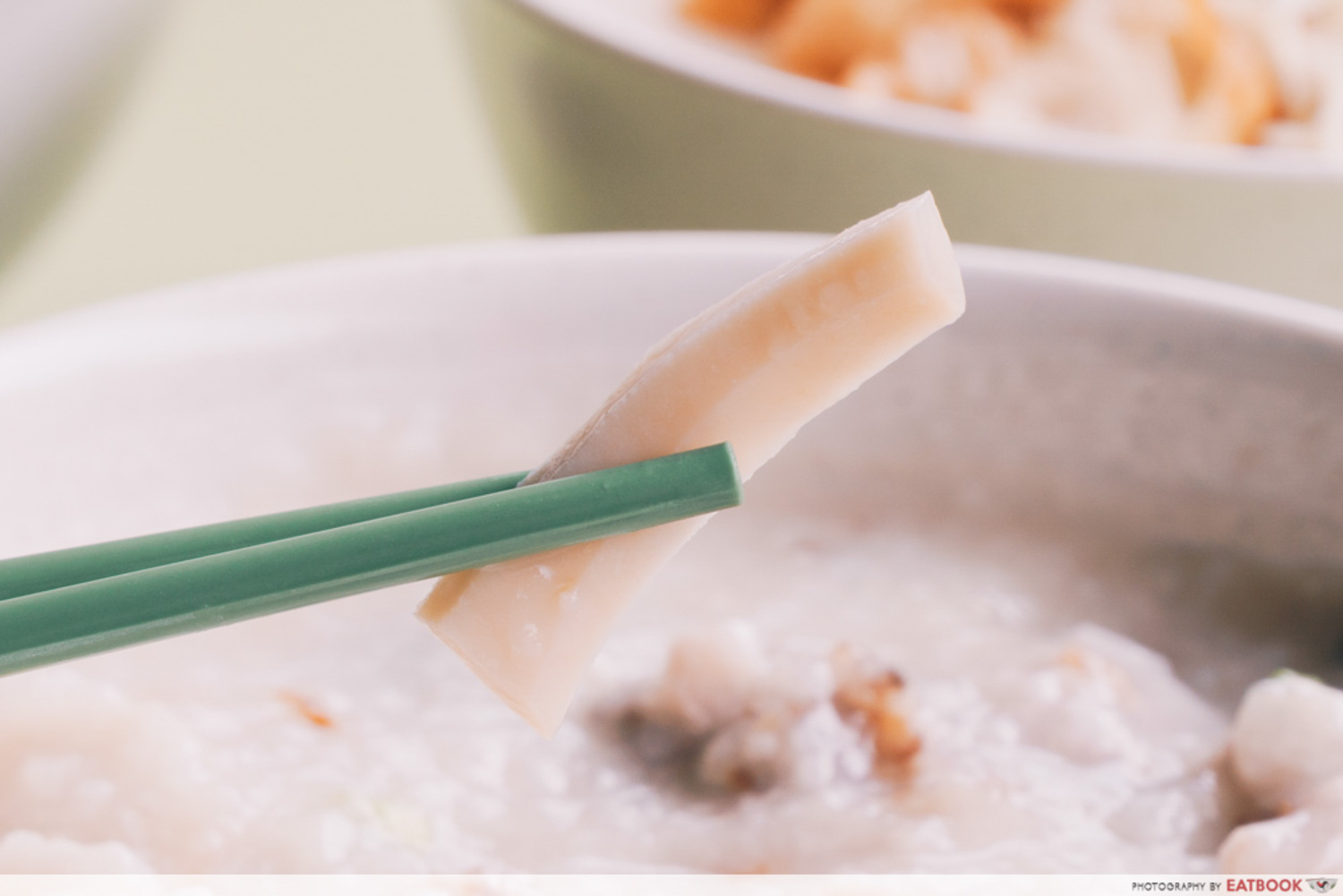 The abalone stands out from the other seafood with its restaurant-like quality. I was surprised at how thickly cut they were, where each slice was bursting with its natural sweetness.
Sweetness seemed to be a running theme across the various seafood, as the chewy cuttlefish and tender toman fish slices were all naturally sweet.
Thanks to a partnership with his food supplier, Charlie is able to order fresh and premium ingredients at a lower cost. It's no wonder he's able to price his porridge at such economical prices.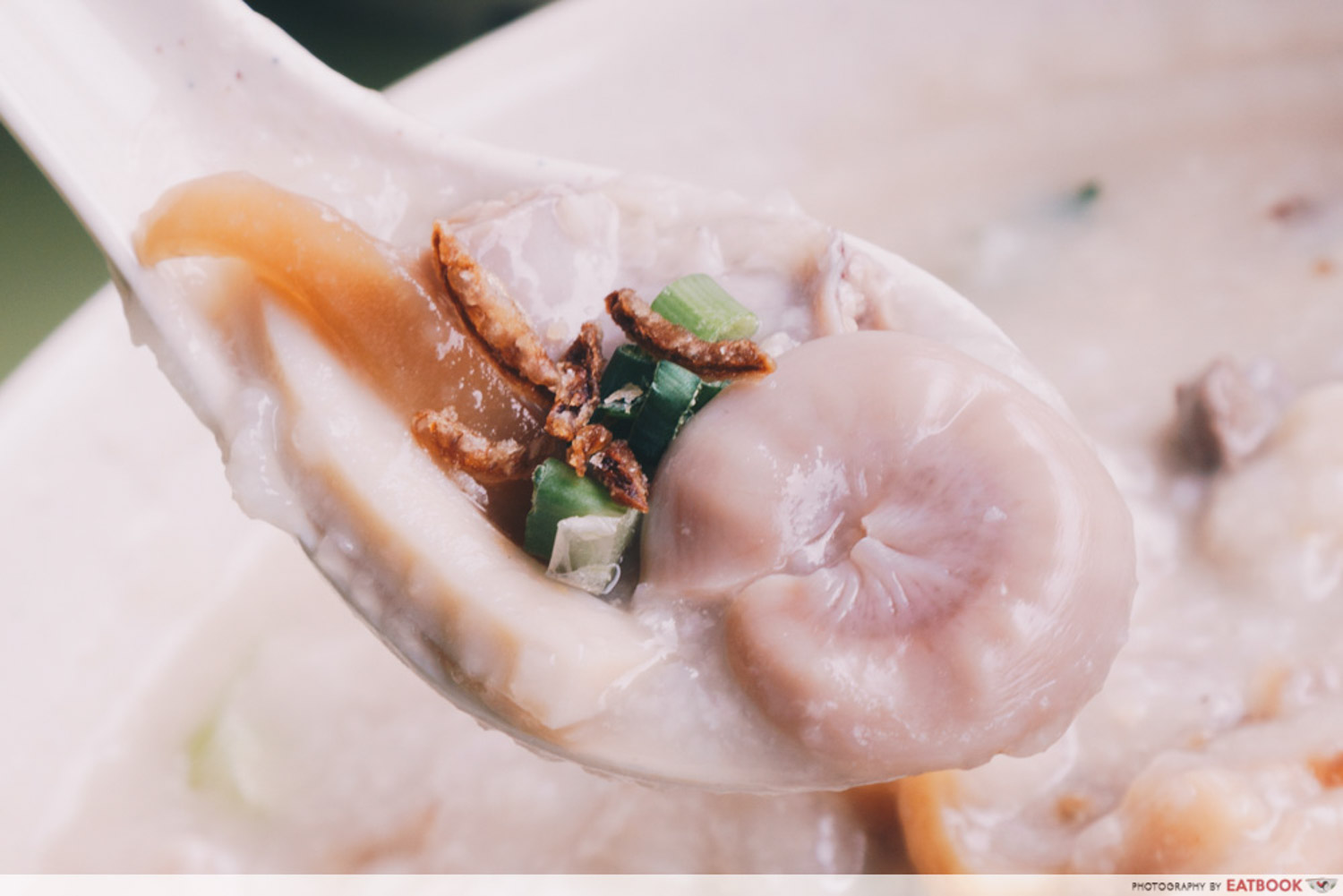 This was the most flavoursome porridge out of the three as the savoury and thick congee was elevated by the mix of fresh-tasting meat and sweet seafood.
Protein lovers would be satisfied with Triple Egg Porridge ($3.50). A flattened salted egg yolk lies in the middle like an orange jewel crowning the congee.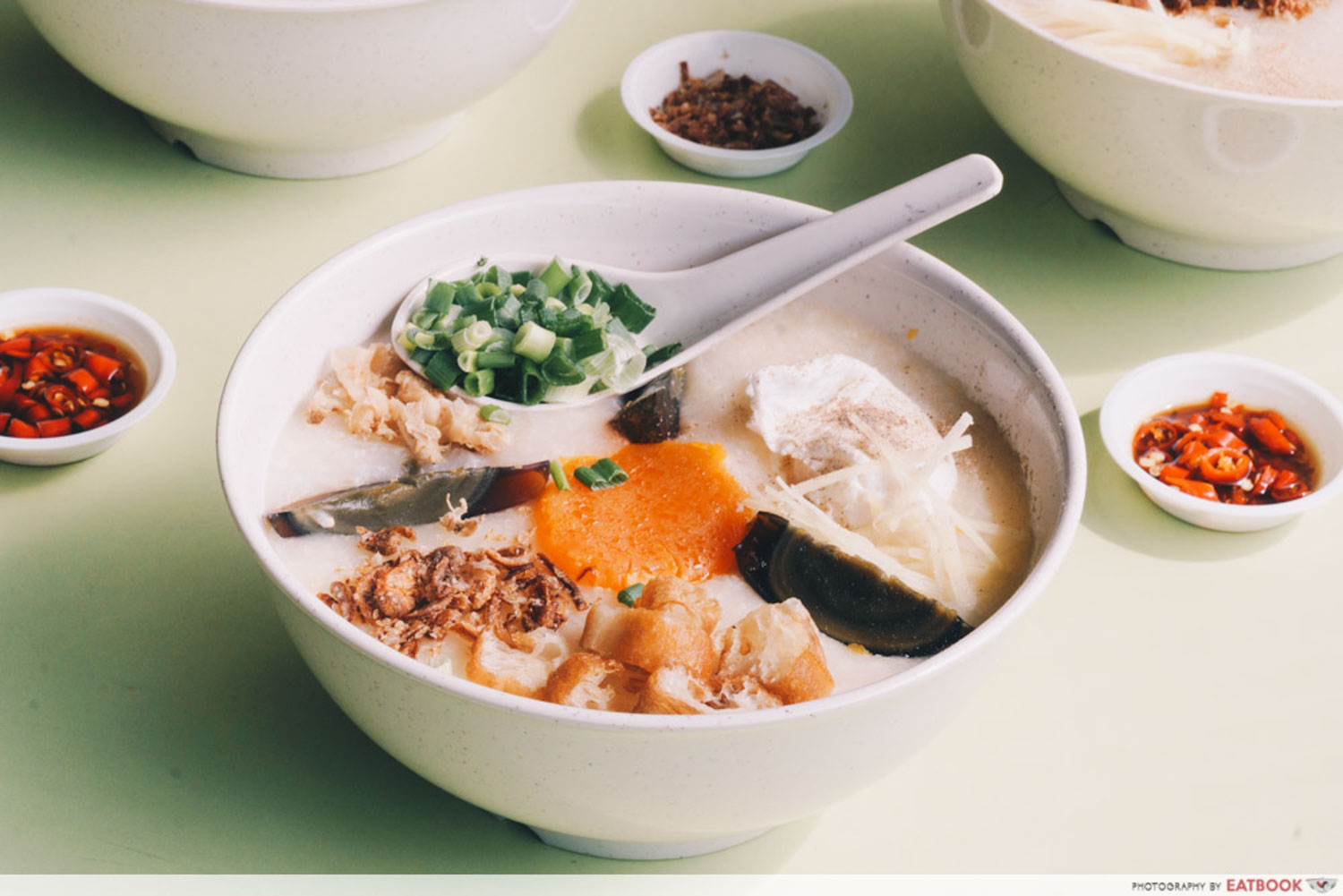 Smashing in this powdery yolk provides a textural contrast to the smooth and gummy congee. Plus, its natural brininess elevates the porridge's savoury profile.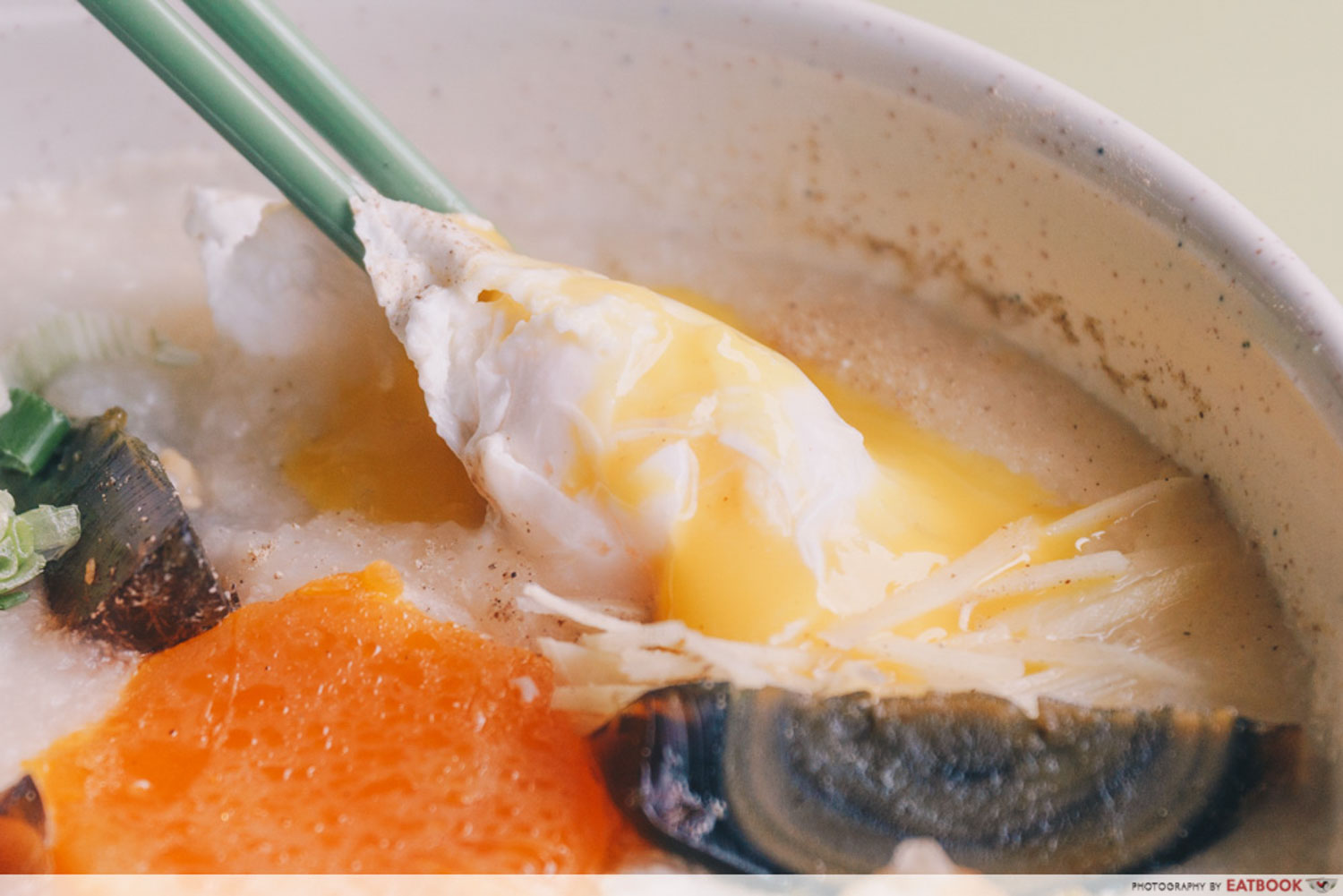 On the other hand, mixing in the poached eggs adds creamy notes, making the thick congee even more velvety.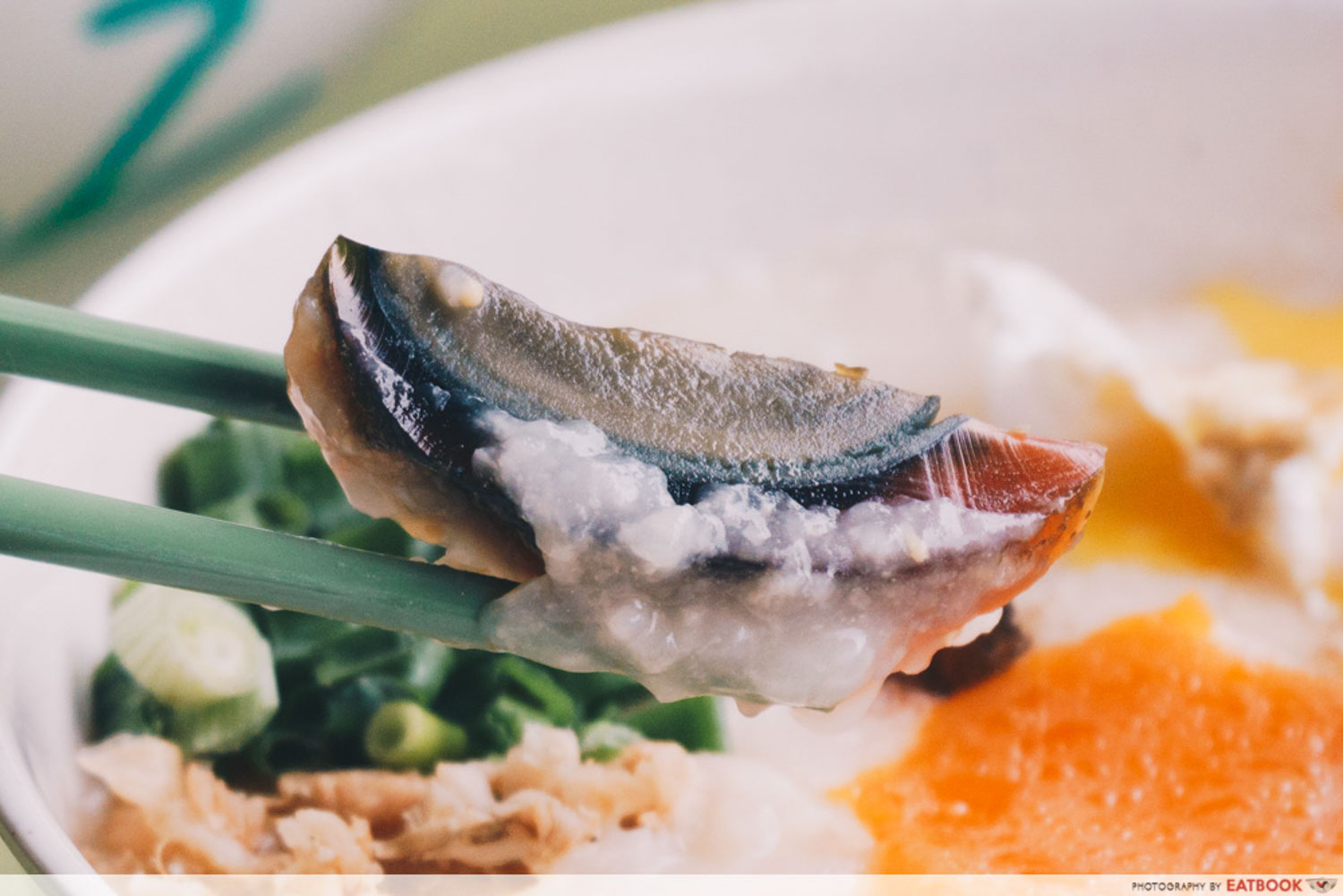 My favourite part of this porridge was the chunks of century egg which added bold and earthy flavours to the porridge.
These three eggs mingled in harmony and complemented the porridge's robust flavours, resulting in an earthy flavour profile. Even though they were individually rich in taste, the dish as a whole was not jelak.
I ended my meal with the classic Sliced Fish Porridge ($3.50). In addition to the generous serving of porridge, Charlie is also liberal with the assortment of toppings such as crispy you tiao and zesty ginger slices.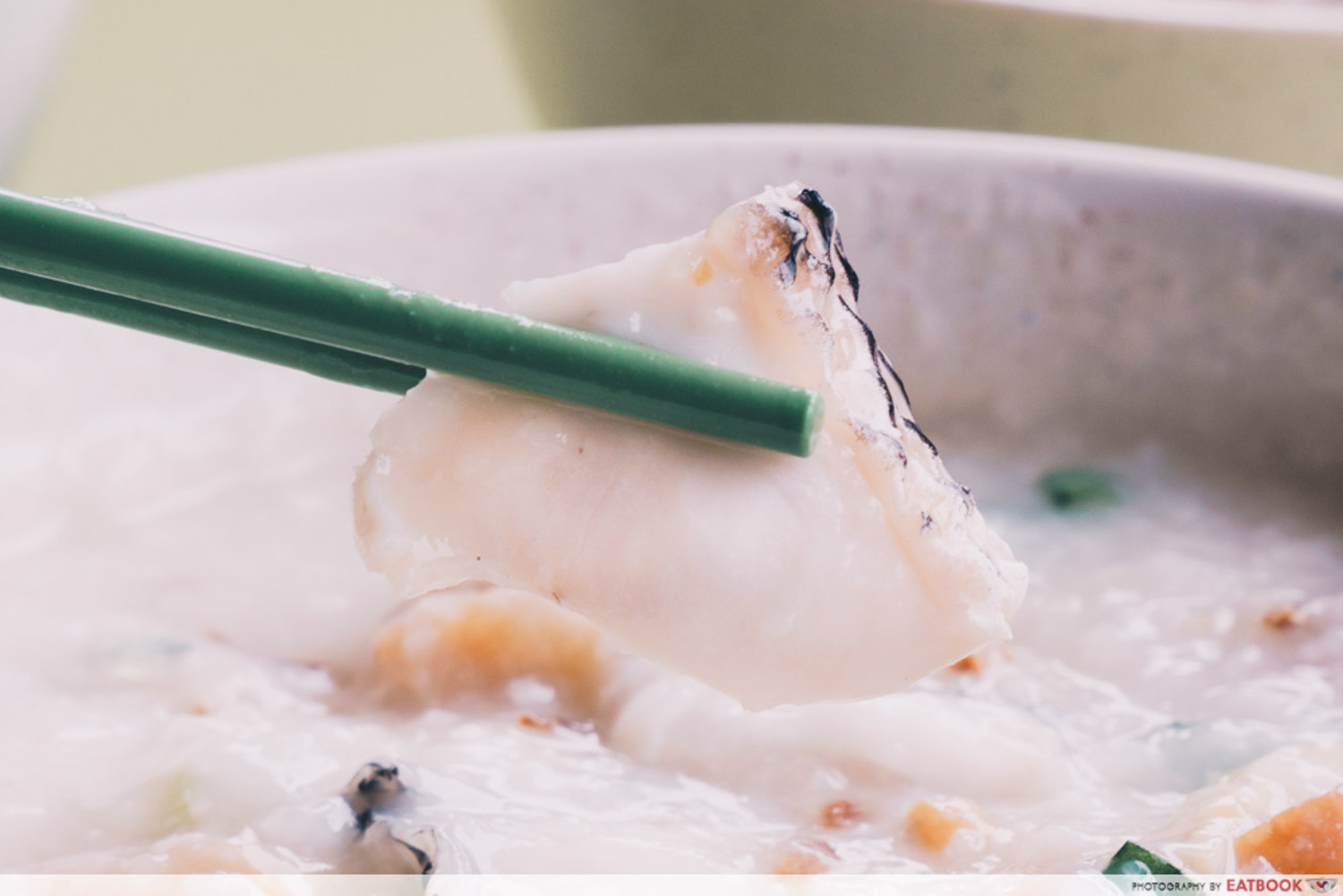 The thick slices of toman fish were tender and sweet, thanks to Charlie's efforts of buying fresh fish every day.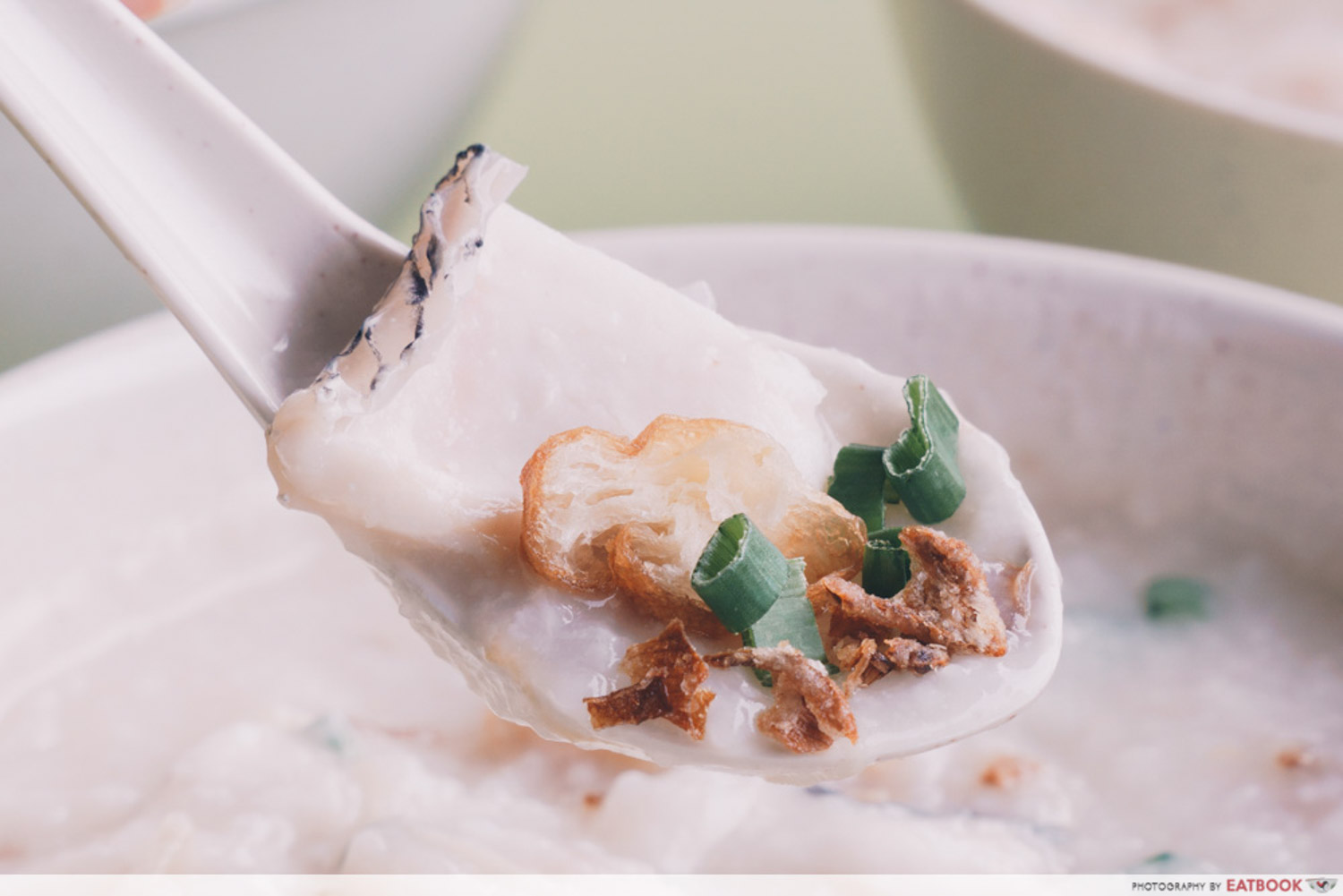 Thoroughly mix in the aromatic fried shallots, fresh spring onions, and preserved radish in the congee to bring out the simple, savoury flavours of Charlie's secret stock. This unique stock recipe to cook the premium Umbrella rice in is actually a European recipe. This type of grain is high in gluten, allowing him to achieve a starchy and smooth congee.
Ambience at Weng Kiang Kee Porridge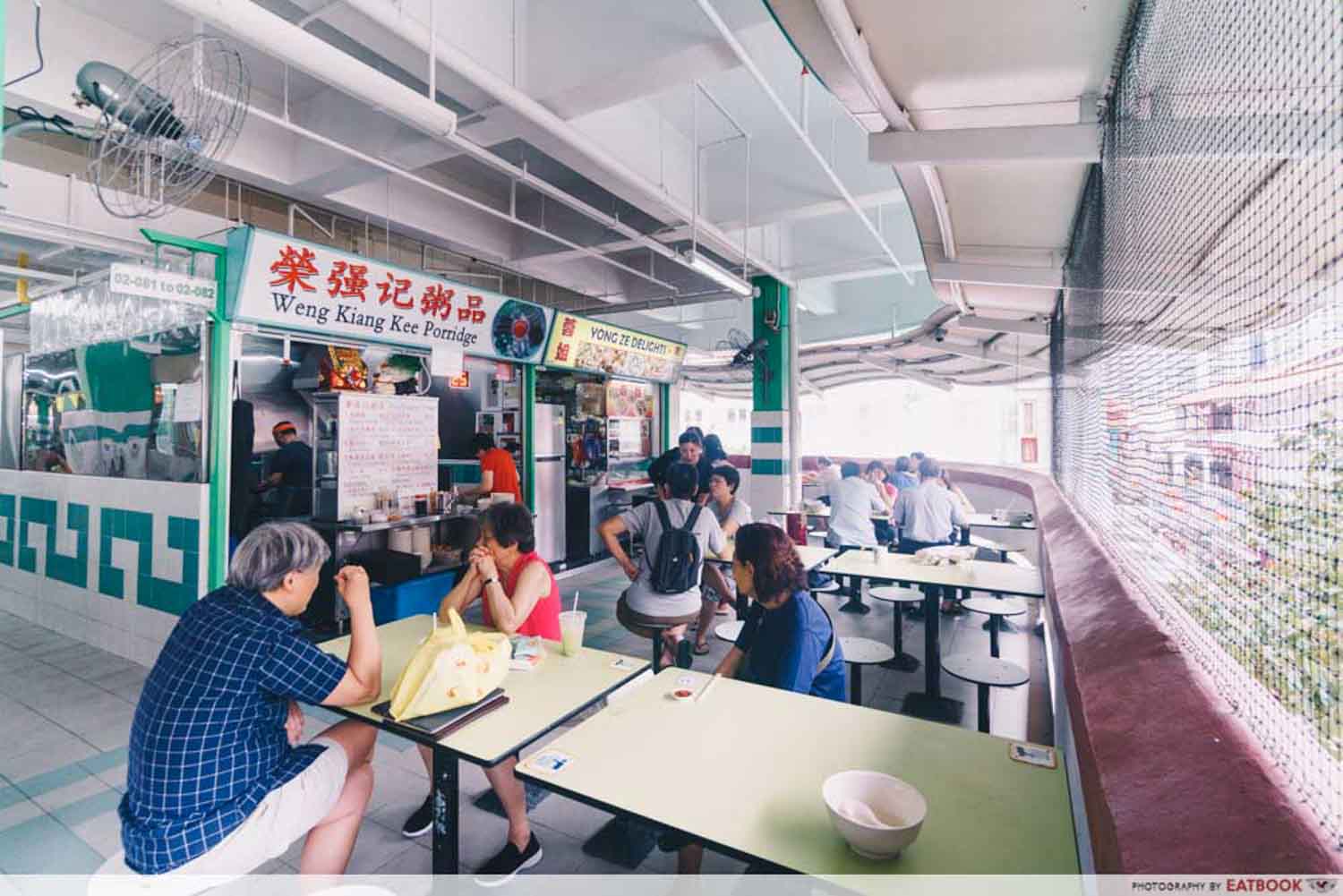 Weng Kiang Kee Porridge is found in a quiet corner on the second level of Chinatown Food Complex. Grab a table under the fan so it won't be a sweat feast as you tuck into their piping hot bowls of congee.
Given that we arrived in the morning, most of the customers were older residents getting their fill of breakfast from this porridge stall. Philo mentioned we were lucky to have missed the hectic morning crowd.
The verdict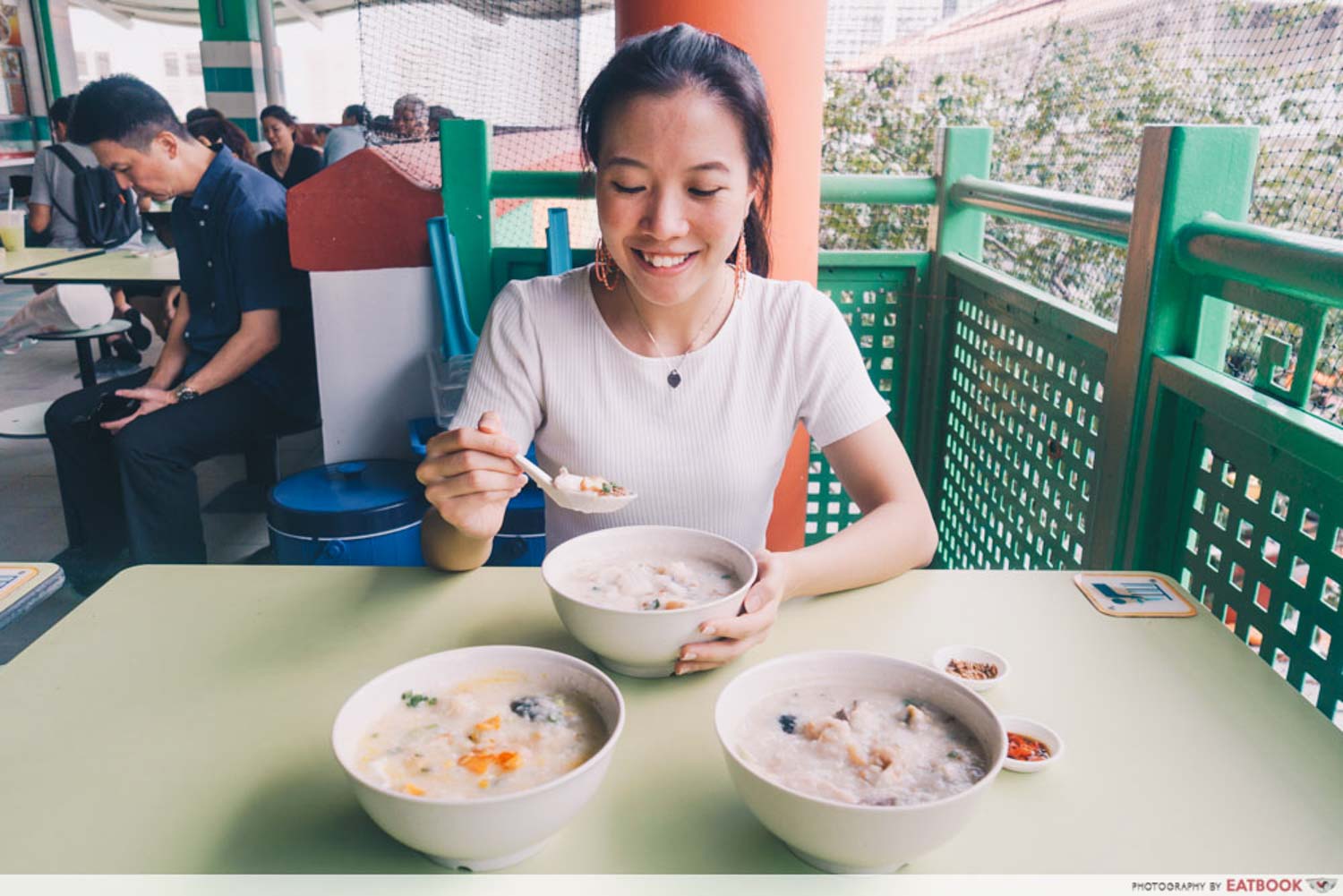 Weng Kiang Kee Porridge is another food gem that adds vibrancy to the old-school enclave of Chinatown. Their delectable congee is a testament of Charlie's years of experience in the food industry. 
You definitely get a bang for your buck with the high quality of porridge and ingredients at such an economical price point. 
The only downside here is the waiting game. There's a minimum wait of 20 minutes on weekdays, and this jumps to 45 minutes on weekends. Even though their stated closing time is at 2pm, they tend to sell out even before 1pm. I would say the best window to visit is between 9am and 11am.
If you're looking for more restaurant-quality hawker fare, check out our full review of renowned Hong Kong Soya Sauce Chicken Rice!
Address: 335 Smith Street, #02-082, Chinatown Food Complex, Singapore 050335
Opening hours: Wed-Sun 7am to 2pm
Website 
Photos taken by Faith Toh.
This is an independent review by Eatbook.sg.
Weng Kiang Kee Porridge Review: Traditional Hainanese Porridge By Ex-Hotel Chef At Chinatown
Summary
Pros
– Value for money
– Generous portions
– Premium ingredients
– Flavoursome porridge
Cons
– Long waiting time
Recommended dishes: Premium Porridge ($5), Triple Egg Porridge ($3.50)
Opening hours: Wed-Sun 7am to 2pm
Address: 335 Smith Street, #02-082, Chinatown Food Complex, Singapore 050335