Craft'B for legit steak rice bowls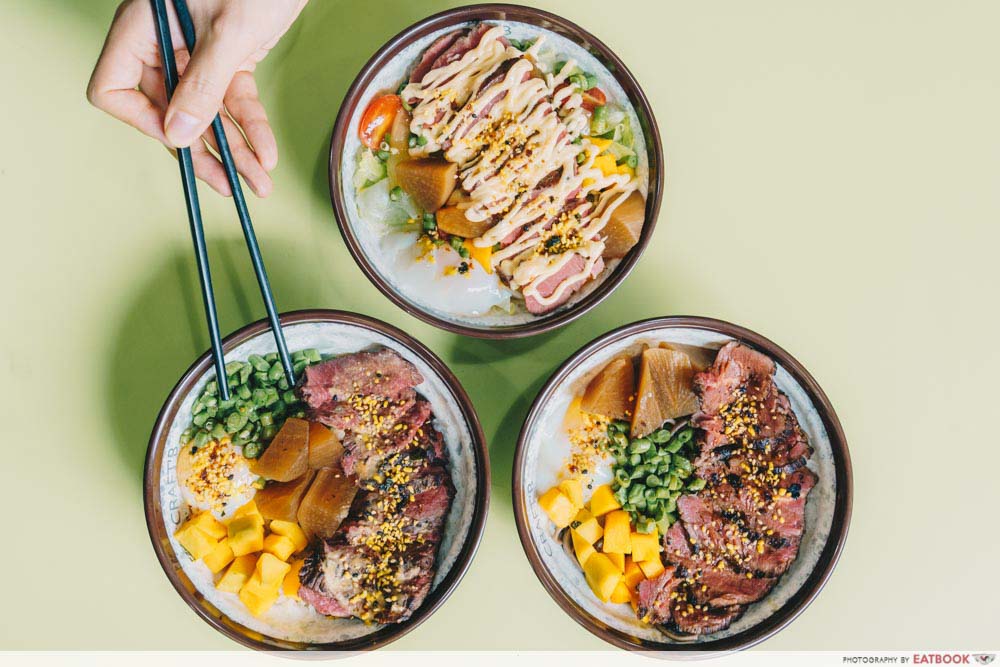 When you think of steak, you'll probably imagine ribeye, sirloin, and tenderloin as the stars of the show. Paul and Yu Jie beg to differ. At Craft'B, rump and flank steak are served up as the main attractions in their beef bowls.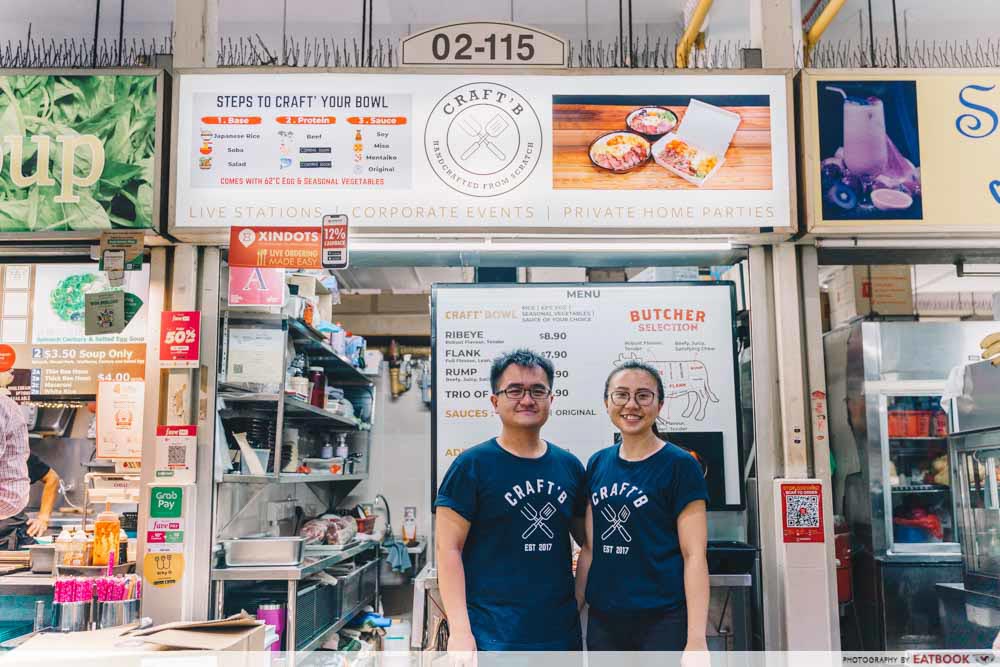 After graduating from the Culinary Institute of America in 2015, the couple started up their first concept: making burgers from scratch. They've since moved on to serving steak rice bowls, but held on to the belief that they should be involved in making every part of the dish.
The locally-owned stall seeks to introduce the less popular cuts to customers, and show that there's more to the cow worth eating than what's usually served in restaurants. 
Food at Craft'B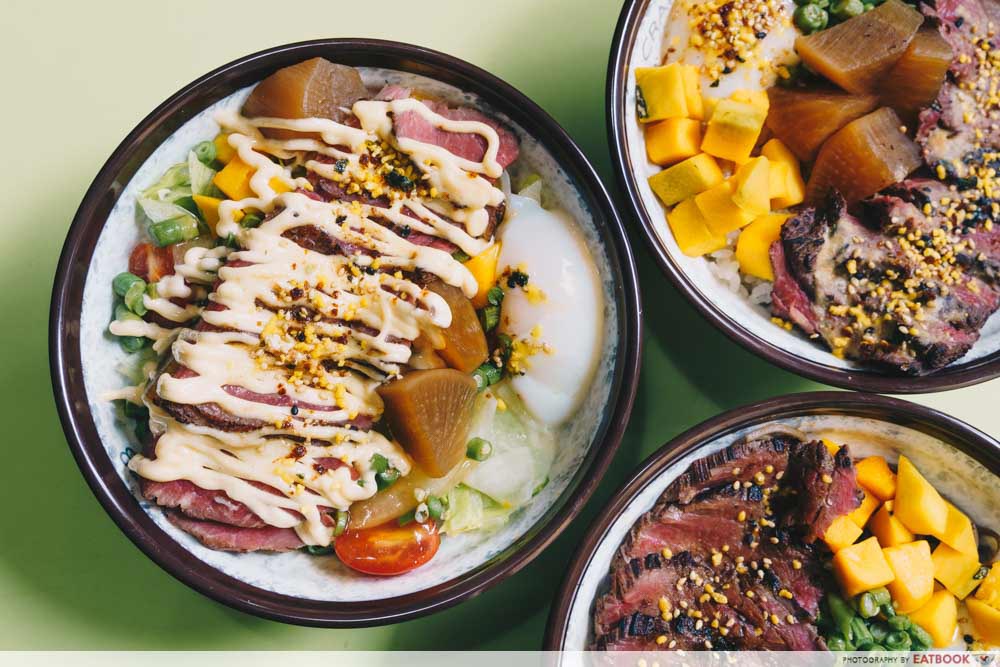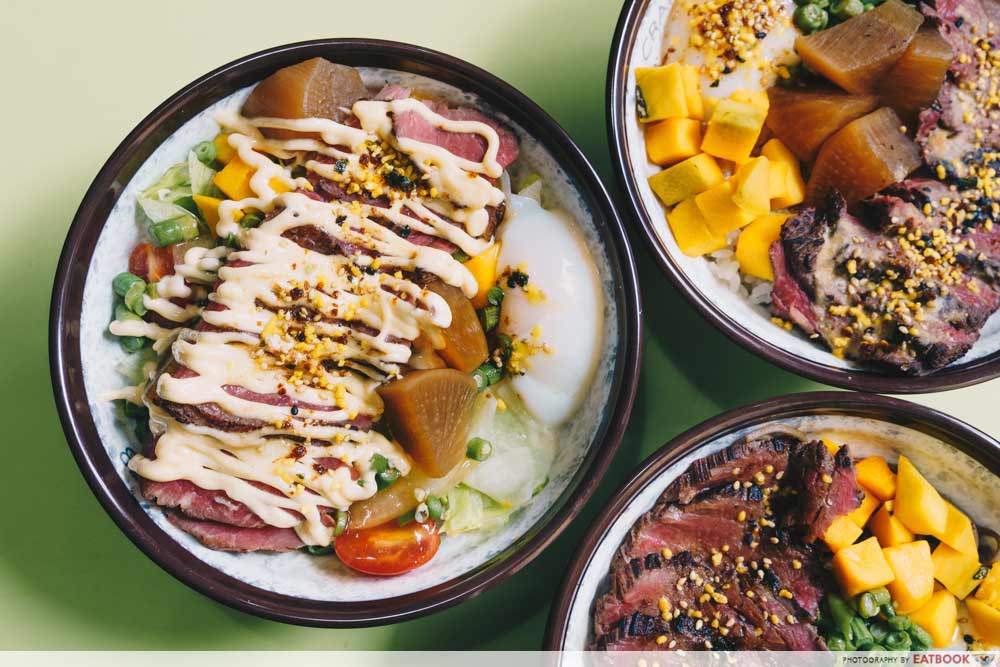 The five-month-old store currently sells one thing: beef bowls, with rice, soba or salad as the base. 
There are three cuts that you can opt for. The flank and rump are recommended, but you can go for the classic ribeye option at $2 more. 
Each dish is served with a generous portion of seasonal vegetables, a sauce of your choice, and a creamy 62-degree egg. There are no side dishes here, but you could always opt for an additional egg ($0.80) or extra bits of steak ($2 to 3).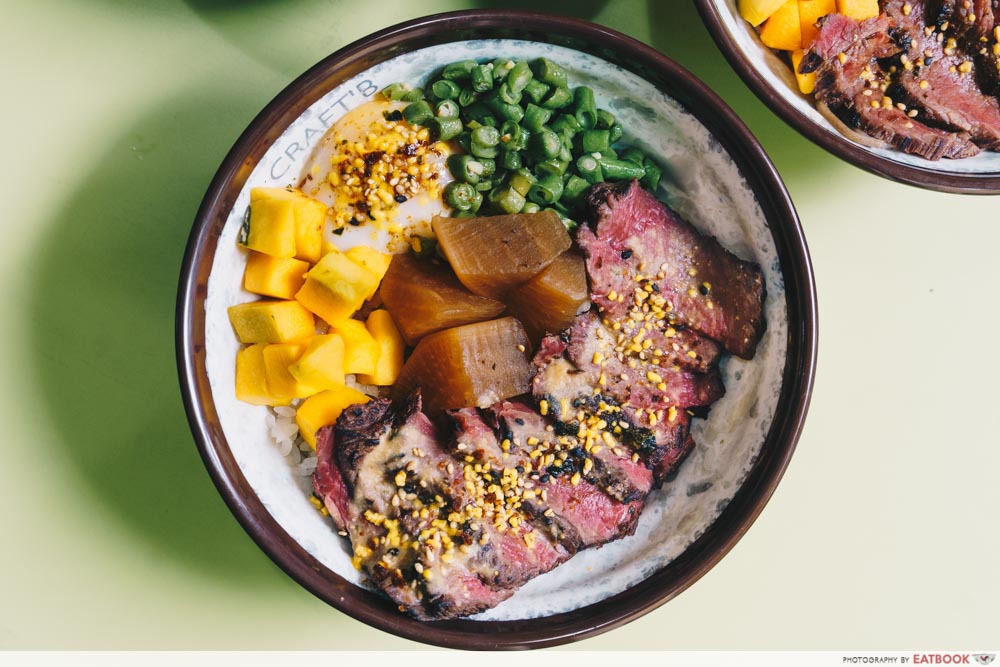 The first thing we tried was the Rump Craft' Bowl ($6.90), which was drizzled with miso sauce and sprinkled with bits of crunchy furikake.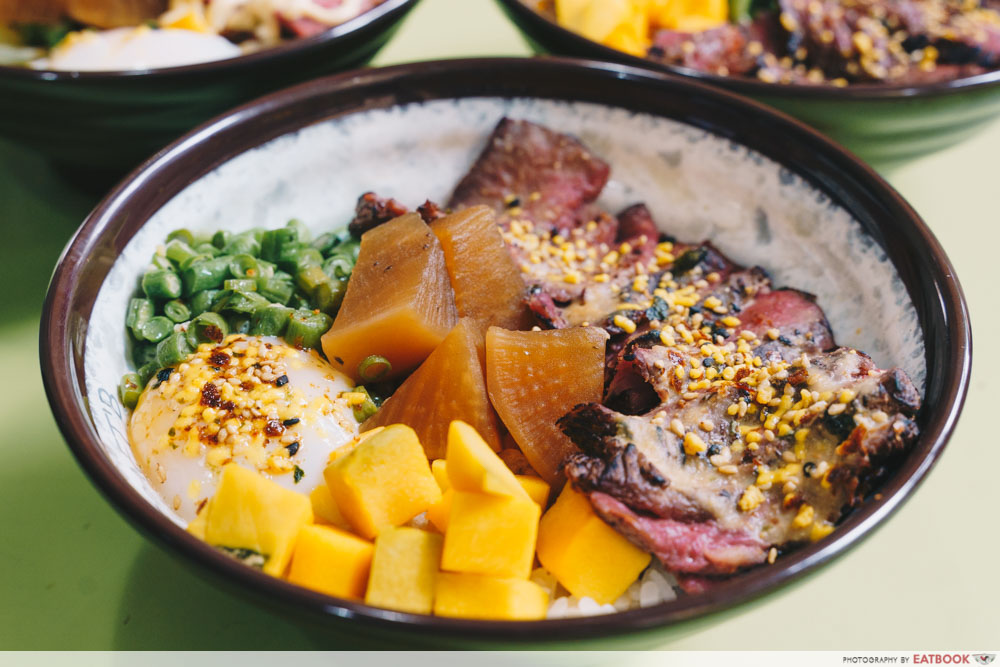 The bowl was presented beautifully. A generous portion of succulent, medium-rare beef slices was evenly spread around, along with vegetables that were neatly arranged around the bowl. 
The final touch was a jiggly onsen egg, along with the furikake that gave the lean meat a nice breath of colour. While we were snapping photos, no less than four wide-eyed patrons approached us to ask where they could get a bowl of their own.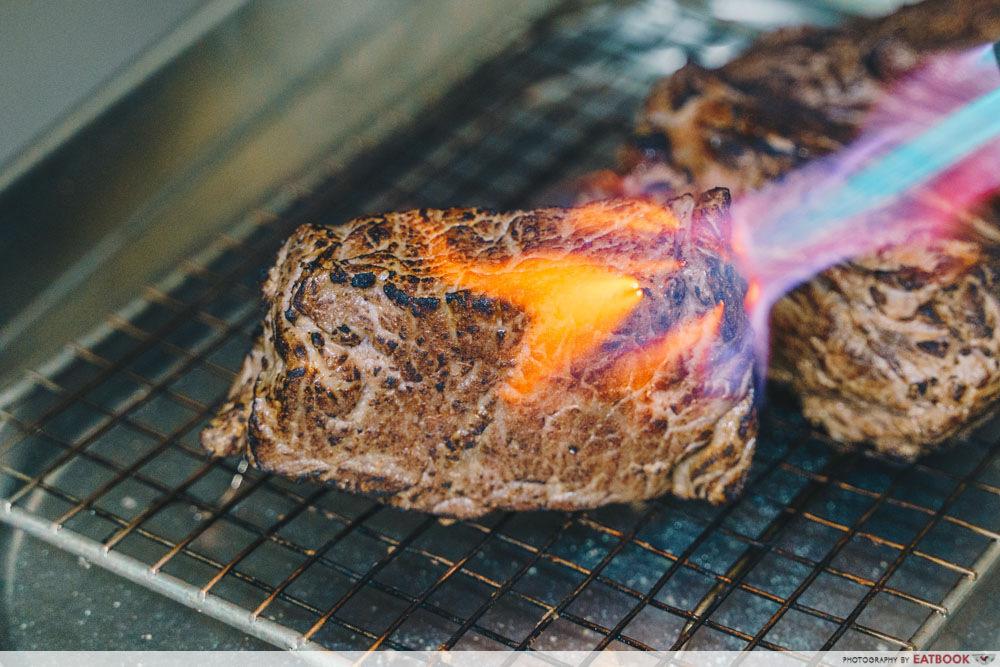 Cooked sous vide and finished with a blowtorch, the deep-brown crust I had come to love in other steaks was less evident here. With no additional cooking fat to caramelise, the sous vide steak didn't glisten in the way its grilled counterparts typically did.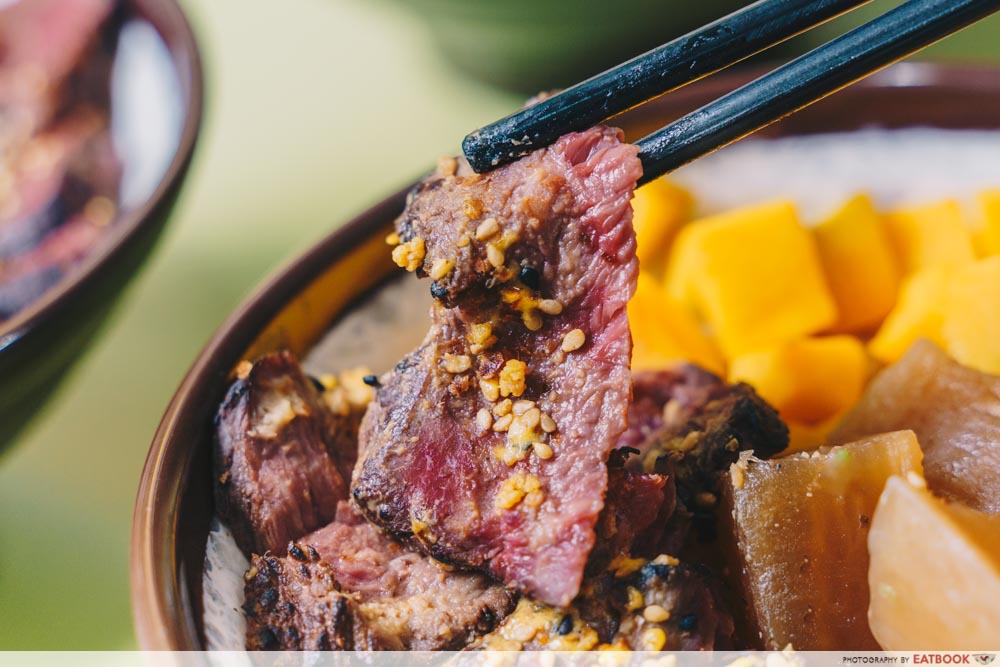 The sauce was ineffective and the meat was slightly underseasoned, leaving it rather plain when eaten alone. There wasn't much miso to be found when I popped the slice of rump into my mouth. 
I enjoyed the chewy texture at first. There was little marbling on the inside of the cut, and it was a solid shade of reddish-pink. However, after a few more moments, I found the texture becoming oddly gritty, leaving an almost powdery sensation on my tongue. I decided quickly that while the chewing was enjoyable, I wasn't a fan of the rump cut.
The egg popped open easily upon receiving a gentle poke. I quickly mixed it with the rice and vegetables Today's bowls were served with diced pumpkins, chopped long beans, and braised daikon radish. On other days, they serve veggies like edamame, broccoli, and black fungus.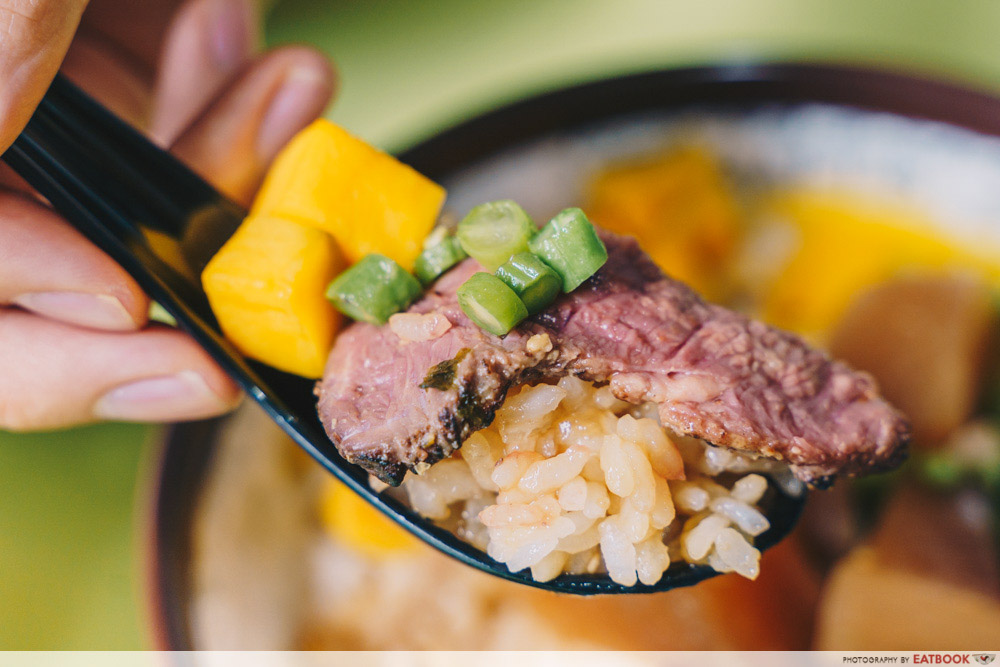 My first spoonful of the Japanese rice was an explosion of alternating textures and sweetness. The runny yolk made the rice around it silky smooth, with bits of well-seasoned beans giving the spoonful a satisfying crunch. 
The bites of pumpkin were like sweet little bombs, coming apart easily while not being mushy. Mixing them into the rice evenly, I almost forgot about the beef for a moment. It took a monumental effort to not scarf down the addictive, golden morsels all at once.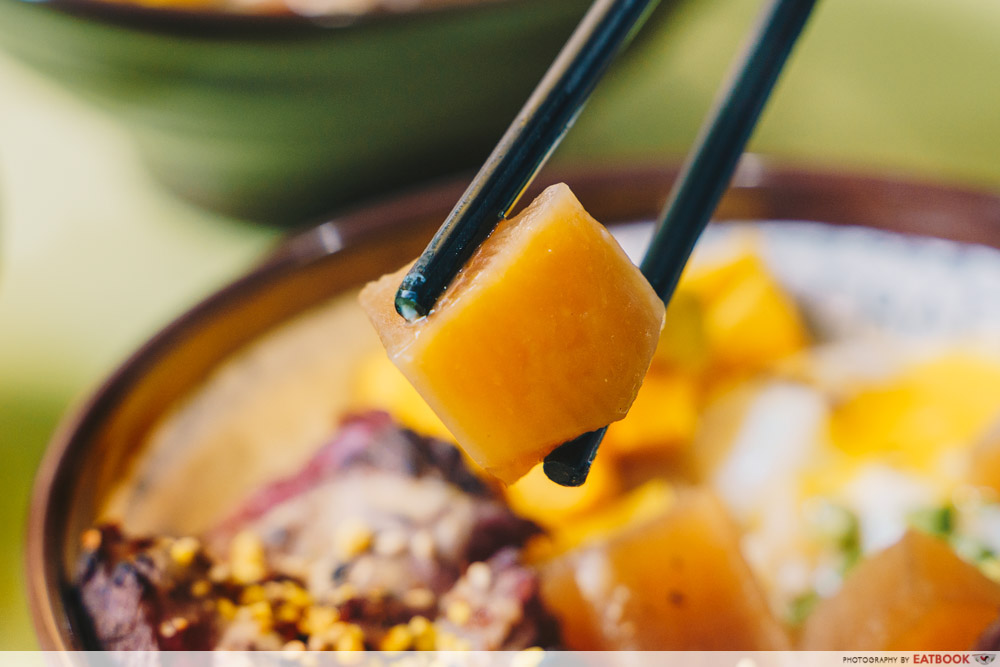 The braised radish was my next target. I bit into it with a spoonful of rice, experiencing a flood of juices from within. Its taste was slightly bitter and overpowering. While it tasted fine with rice alone, the radish's sauce drowned everything else in the dish.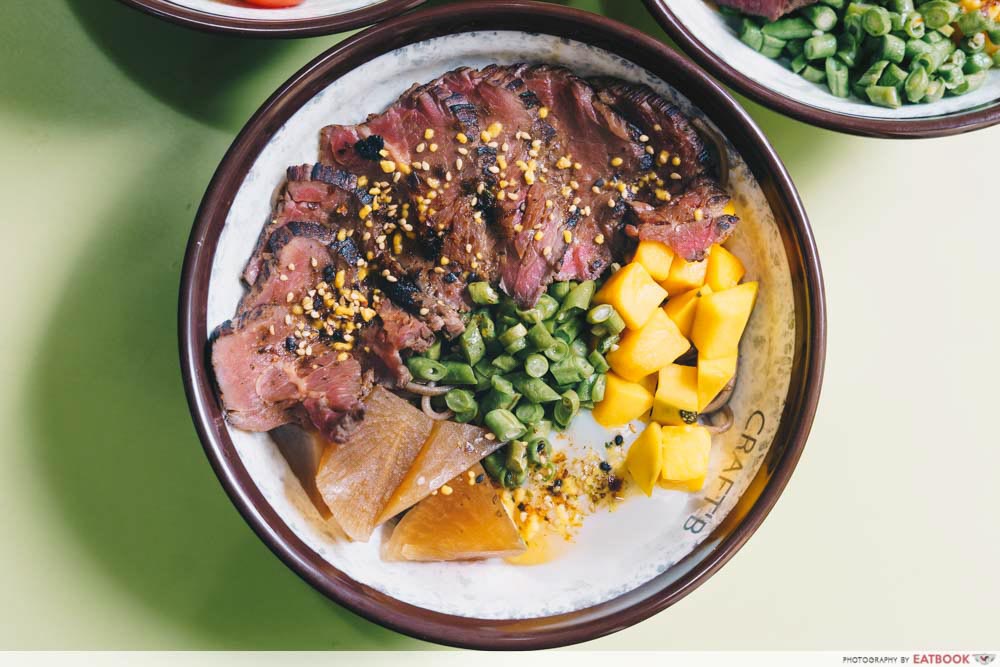 Next up was the Flank Craft' Bowl ($7.90), which was served with soba and soy sauce and plated just as beautiful as its predecessor.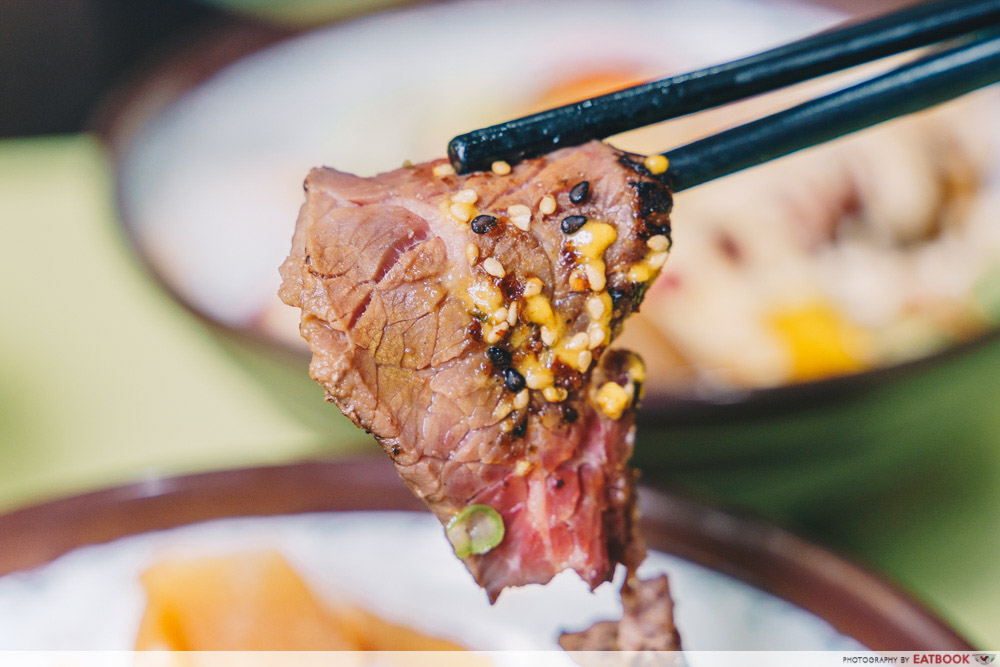 The flank steak was superior to the rump, far more tender and sliced into neat slabs. With the soy sauce drizzled generously onto it, I found the meat itself to be a bit too sweet. The meaty flavour was almost lost to the overly-sweet sauce, and I could tell it had the same problem of the steak being a tad underseasoned.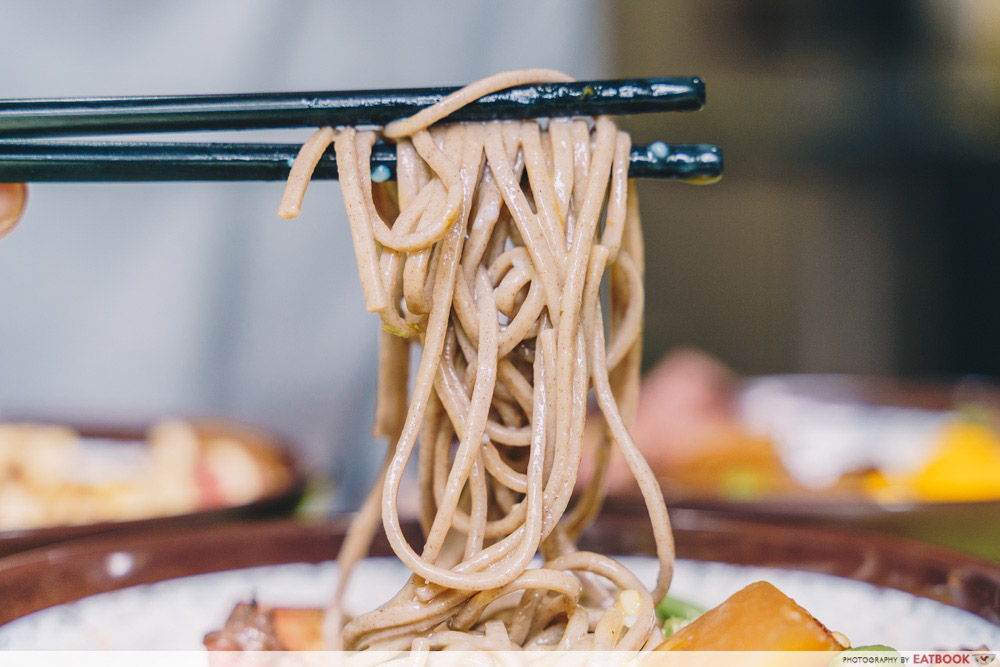 The soba, however, didn't pair well with the rest of the sides. The noodles didn't absorb the dipping sauce well enough, and even the creamy yellow yolk was unable to stick on for long. It was too soft and mushy to be enjoyed with the crunchy beans and sweet pumpkin.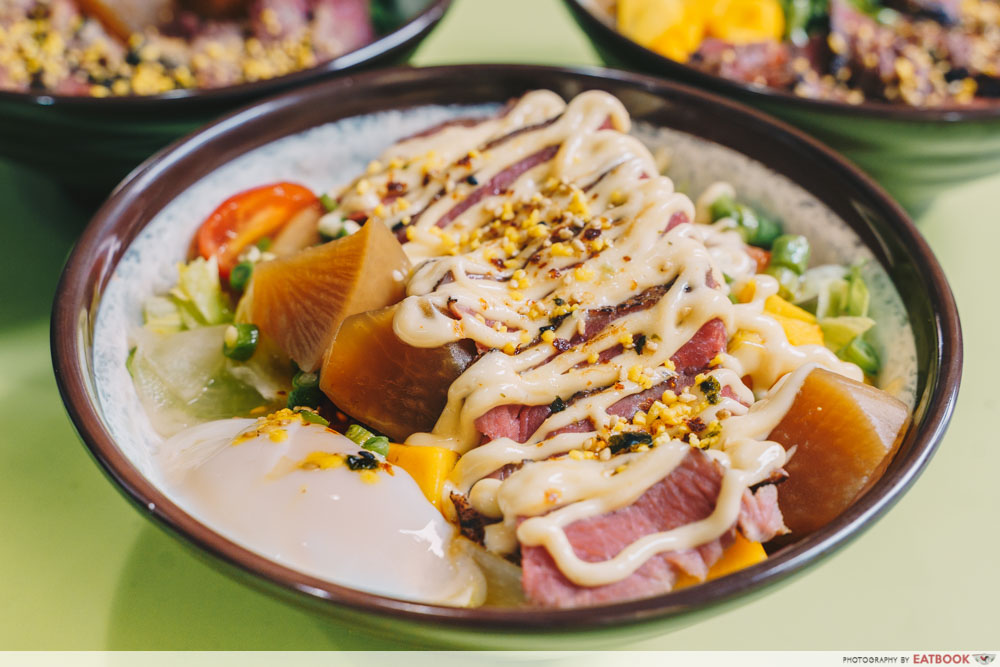 Finally, I eagerly turned my eyes to the Ribeye Craft' Bowl ($8.90), served on a bed of chopped iceberg lettuce. As luck would have it, we came on the very day they were introducing their new mentaiko sauce. Of course, we jumped at the chance to be the very first customers to sample the new addition.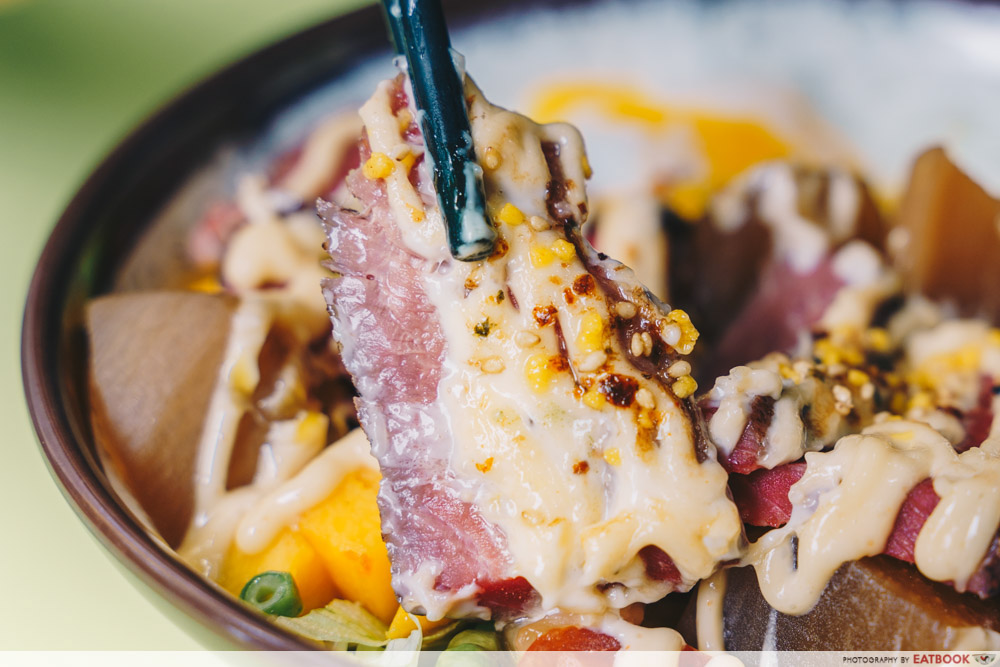 The ribeye came with the familiar and bold flavour that earns it its place as a classic cut. The whole slate of meat was generously coated in the creamy mentaiko. The sauce imparted a sweet, smoky taste onto the meat, though that accounted for most of the meat's seasoning. It also served as a great dressing for the salad beneath.
After tasting the flank earlier, I found its texture to be more enticing than that of the ribeye. While it didn't bear as much natural flavour, it was a little more tender and had a smoother mouthfeel. 
Ambience at Craft'B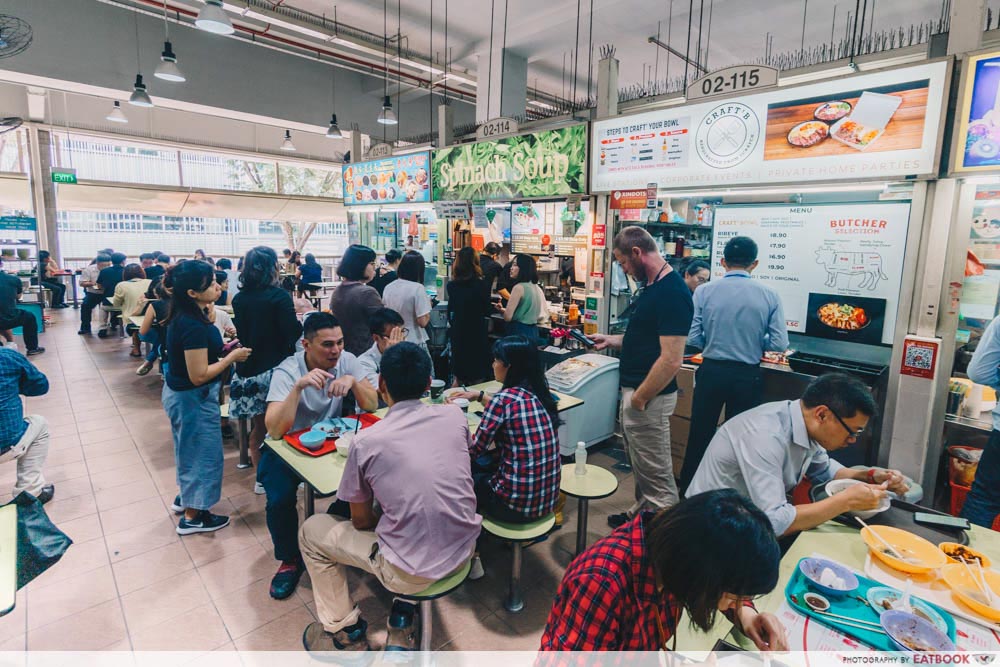 Craft'B can be found on the second floor of Amoy Street Food Centre, a four-minute walk from Telok Ayer MRT Station. There's a massive variety of stalls to pick from, many of which are well-known.
Right in the heart of Amoy Street Food Centre, Craft'B can be found right next to the popular Spinach Soup store that sees looping queues during lunchtime.
The Verdict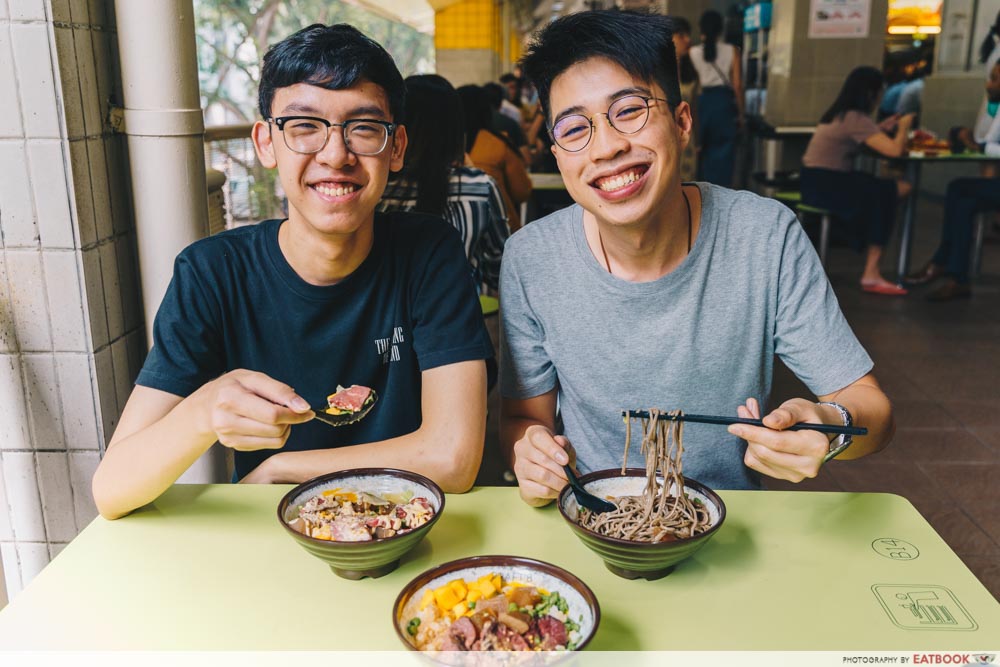 Skip the other bases and go right for the classic: beef on rice. The mentaiko sauce was my top pick, and I imagine that a bowl of flank steak drizzled with it would be the best thing on the menu. While the rump failed to impress, Craft'B certainly succeeded in introducing one of those less popular cuts to a new customer.
At just $6.90 for a full steak and its base, you'd be hard-pressed to find better value for steak rice bowls. Though, I could see myself being tempted into forking out a little more for add-ons. Currently, work is in progress on introducing a fish and chicken dish to the menu. I'm curious as to how those would taste, and if I'm ever in the area in the future, I'll definitely come down to sample them.
If reading about beef has got you hungry, check out these affordable steak places under $30++ and the other tasty gems at Amoy Street Food Centre. 
Address: 7 Maxwell Road, #02-115, Amoy Street Food Centre, Singapore 069111
Opening hours: Sun-Fri 11am to 2pm
Tel: 9680 9392
Website
Craft'B is not a halal-certified eatery.
Photos taken by Faith Toh.
This is an independent review by Eatbook.sg.
Summary
Pros
– Good quality rice
– Egg and vegetables cooked well
– Generous portions
– Good value for steak
– Location has wide variety of options
Cons
– Steak slightly underseasoned
– Radish was overpowering
– Area extremely crowded at lunchtime, and closes early
Recommended dishes: Flank Craft' Bowl ($7.90)
Opening hours: Sun-Fri 11am to 2pm
Address: 7 Maxwell Road, #02-87, Amoy Street Food Centre, Singapore 069111