---
Cheap steaks in Singapore
---
Update: The Feather Blade is temporarily closed.
Steak in Singapore can be expensive, but that doesn't mean everybody can't enjoy it. The ultimate meat lover's indulgence, a thick slab of juicy steak is hard to say no to. 
To save yourself from chowing down inferior steaks, we've sussed out a list of the 9 cheap steaks under $30++. The stores on this list offer great value-for-money steaks and are worth a visit for any occasion.
If you're wondering about your desired level of doneness, here's a quick summary of the different types available.
Rare: Slightly cool bright red centre
Medium rare: Warm red centre
Medium: Warm pink centre
Medium well: Slight brown to pink centre
Well done: Brown centre, charred outside

Most steak lovers usually opt for medium-rare, as the meat remains tender and succulent while retaining most of its juicy flavours. If the steak gets cooked even further, it'll lose most of its flavour and gives an unpleasant leathery texture.
---
1. Meat N' Chill
---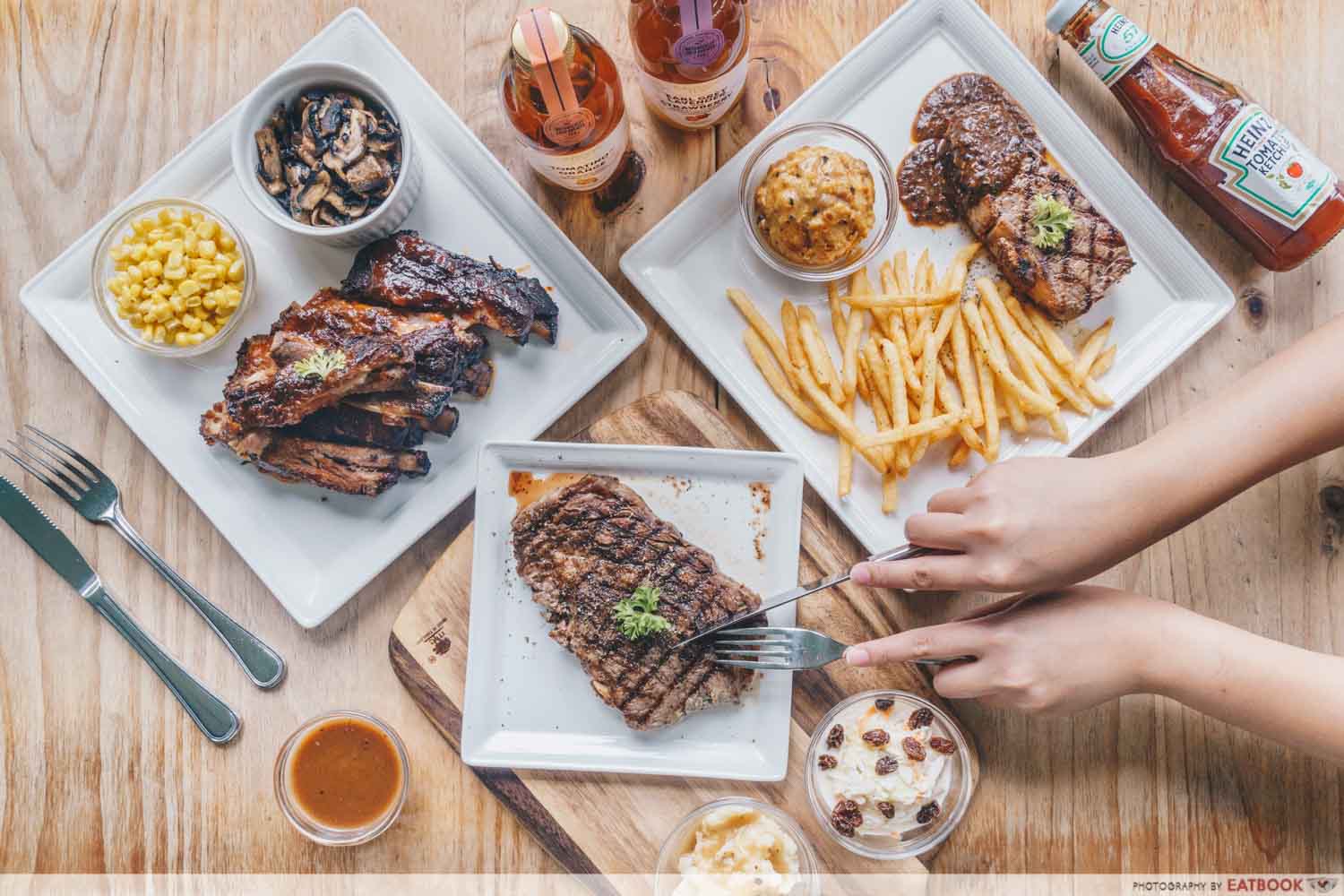 Hang out with friends at Meat N' Chill, an affordable steakhouse located on the stretch of Bukit Timah Road. Order their value-for-money New York Strip, which sets you back only $19++ for a thick cut of short loin and two sides. Complimentary sides include Buttered Corn, Coleslaw, Green Salad and many more. Alternatively, you can pay an additional $3++ for premium sides which includes a variety such as Truffle or Chilli Cheese Fries.

Other options include their Angus Ribeye ($36++), which comes with free truffle shavings upon request. Savour the earthy kick from the truffles along with the juicy beef cut, or pair them with the house-made Échalote shallots sauce for more flavour. Those who don't fancy steaks can also opt for their Signature Pork Ribs ($22++). With a generous coat of sticky sauce and tender meat, the pork ribs had the right amount of fats and had me using my fingers instead.
This two-storey, 70-seated restaurant boasts a full house on the weekends, so be sure to make a reservation beforehand.
Address: 805 Bukit Timah Road, #01-04, Sixth Avenue Centre, Singapore 279883
Opening hours: Tue-Fri 11:30am to 2:30pm, 5:30pm to 10pm, Sat-Sun 11:30am to 3pm, 6pm to 10pm
Tel: 8812 4455
Website
Meat N' Chill is not a halal-certified eatery.
---
2. Braseiro Restaurant
---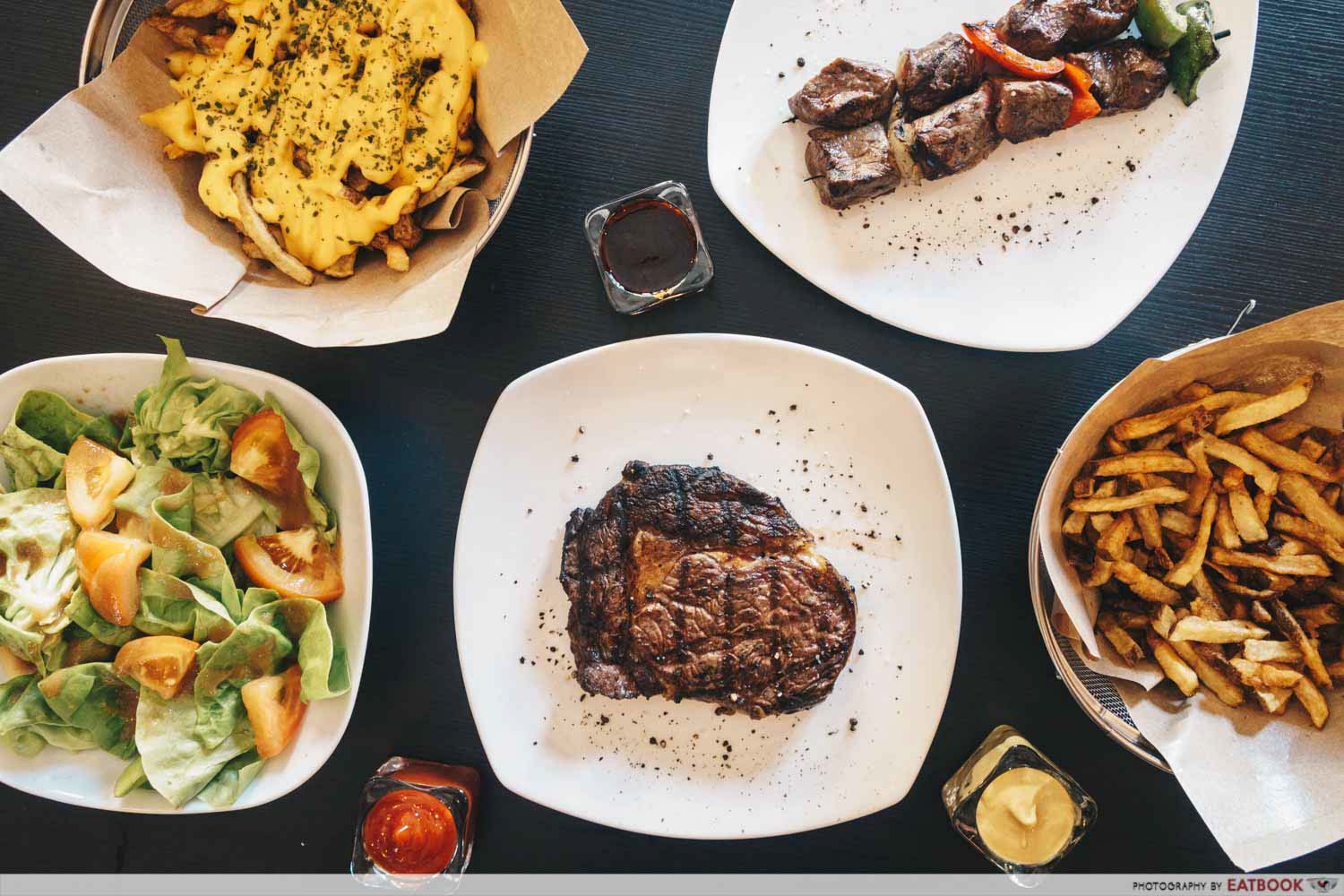 A mainstay in the local steak scene, Braseiro Restaurant continues to draw in the crowd after all these years. This cosy shophouse comprises two storeys of dining area and even comes with an alfresco rooftop garden for an intimate setting.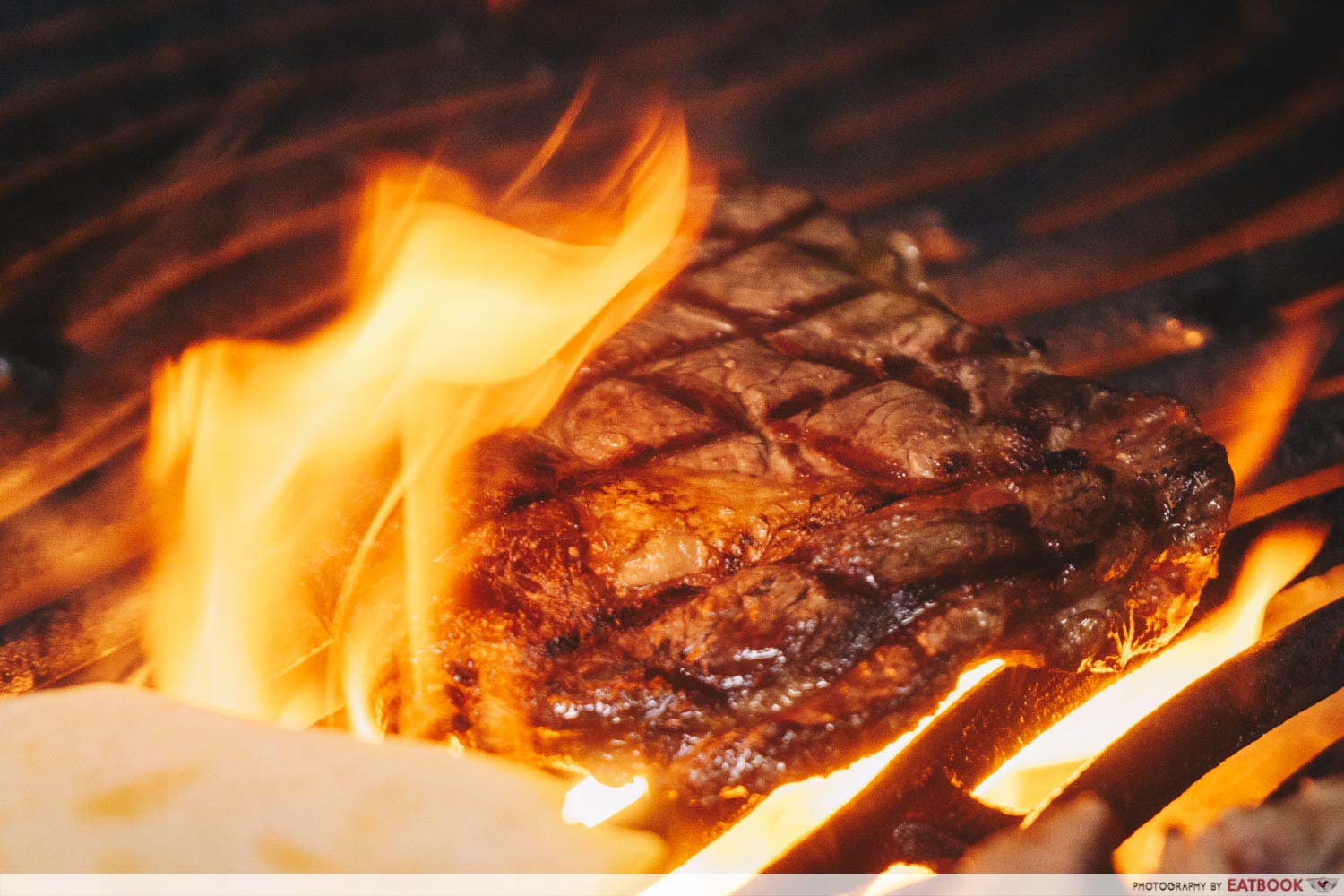 The menu is kept simple, with a choice of Ribeye Steak, Beef Skewers, and Half Chicken going for $19.90+. Each order also comes with free-flow house-made french fries and fresh chopped lettuce.
Ribeye is the most popular option here, and it's easy to see why. Each piece is carefully flame grilled, giving a nice kiss of smokiness that goes beautifully with the juicy meat. 
Check out our full review of Braseiro! 
Braseiro Review: Steak With Free-Flow Fries For $19.90 At Joo Chiat
Address: 333 Joo Chiat Road, Singapore 427588
Opening hours: Mon-Thur 6pm to 11pm, Fri-Sat 11am to 3pm, 6pm to 12am, Sun 11am to 3pm, 6pm to 11pm
Tel: 9116 3304
Website | Menu
---
3. The Feather Blade
---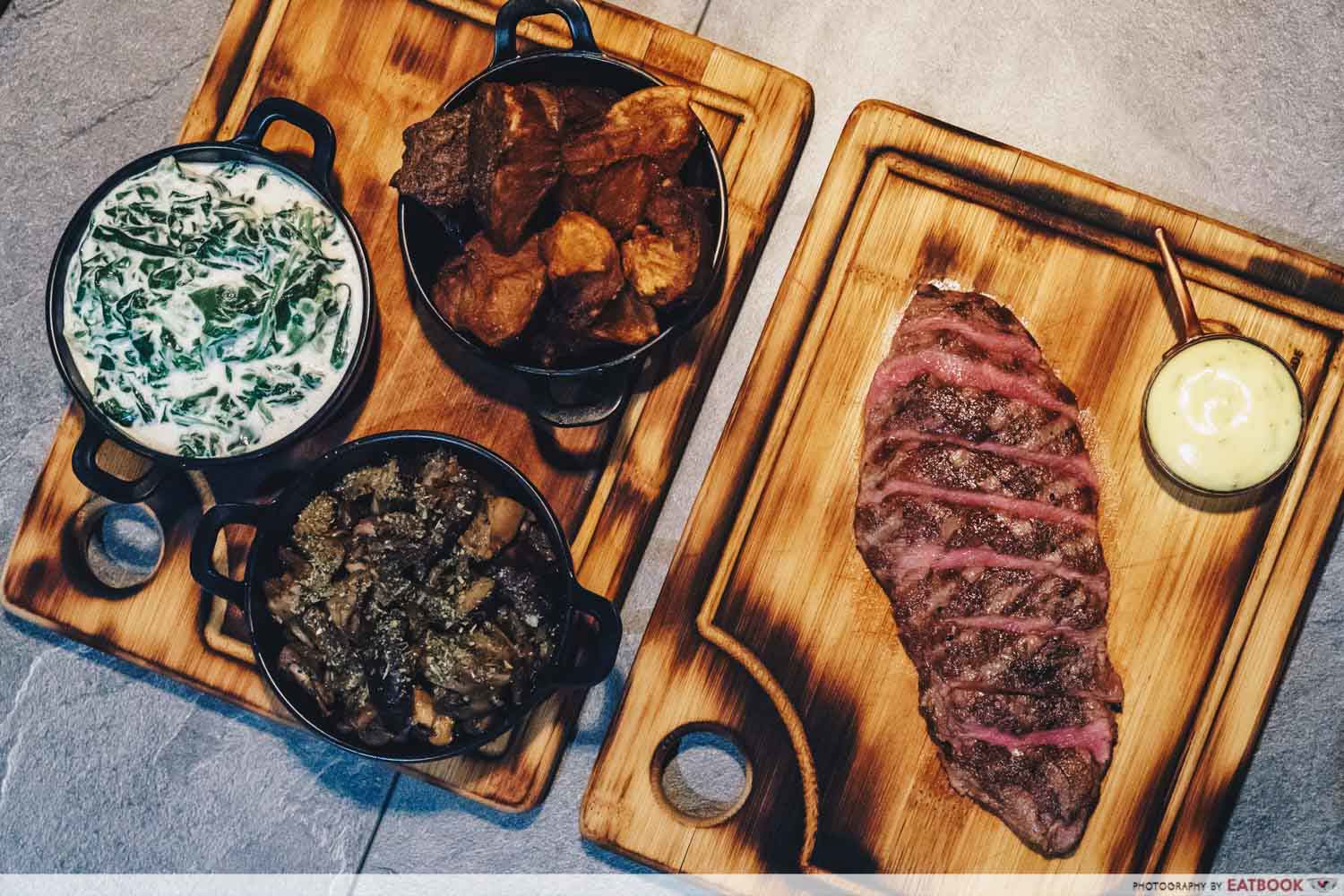 What makes The Feather Blade different from the other players on this list is its focus on the feather blade cut. This cut of meat isn't traditionally the most popular around, as it requires a bit of finesse to trim it from the beef chuck. 
In 2002, scientists found a new way to trim the feather blade off and realised that its ranked second in tenderness behind the tenderloin. The end product is an affordable piece of meat that is tasty and tender.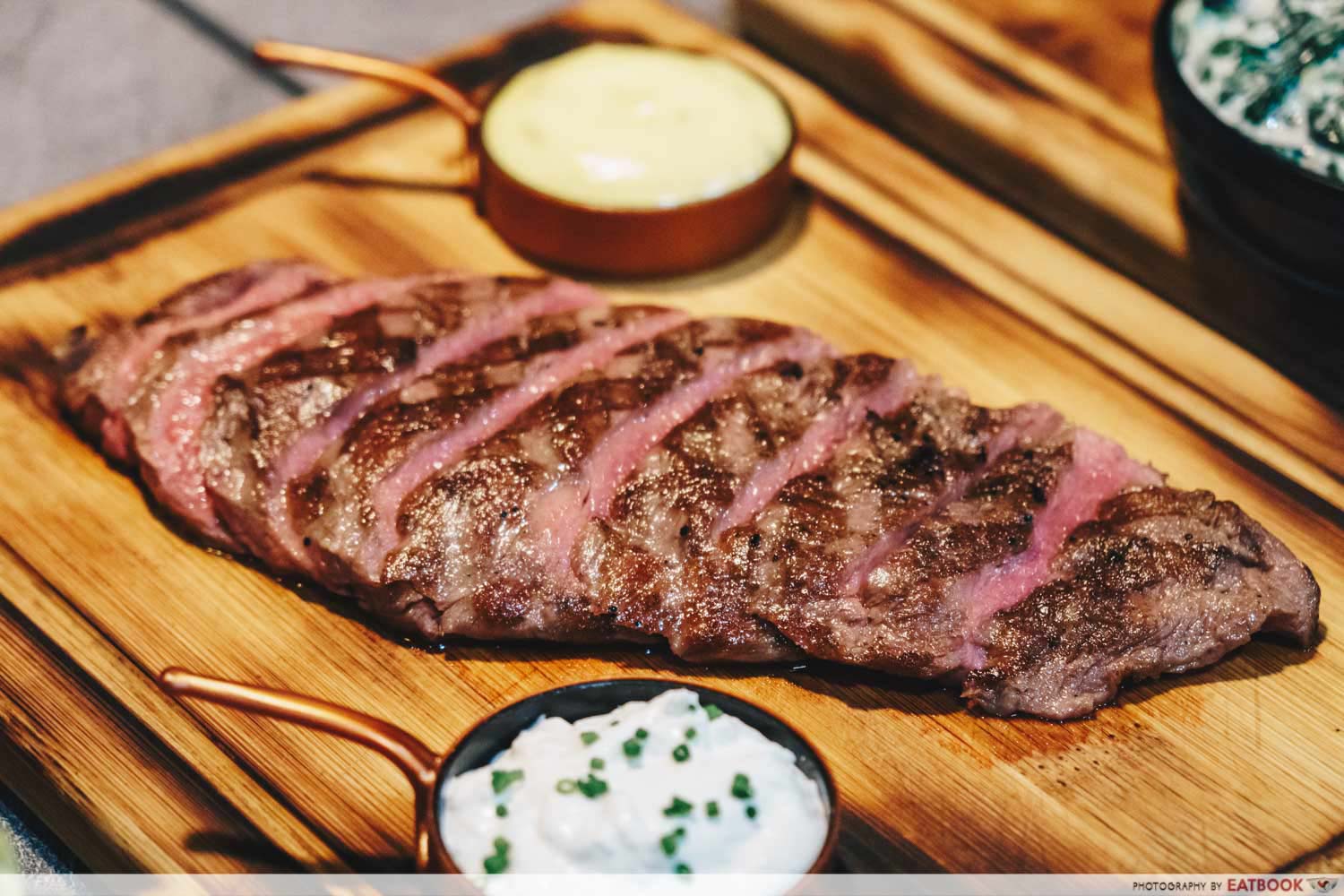 We're huge fans of the Feather Blade Steak ($21++), which won us over with its tenderness that came along with robust and meaty flavours. The steaks here are also sous vide before being cooked, resulting in consistently cooked pieces of meat.
You can also pair the meats with an impressive selection of sides that costs $7++ each. While the store offers four different house-made sauces such as Sichuan Peppercorn, Bearnaise, Horseradish Cream, and Red Wine at $2++ each, we recommend having the steak as is. 
The Feather Blade Is Now Permanent At Club Street Along With Secret Burger Item
Address: 90 Club Street, Singapore 069458
Opening hours: Tue-Sun 5:30pm to 1am
Website
---
4. Armoury Craft Beer Bar & Steak House
---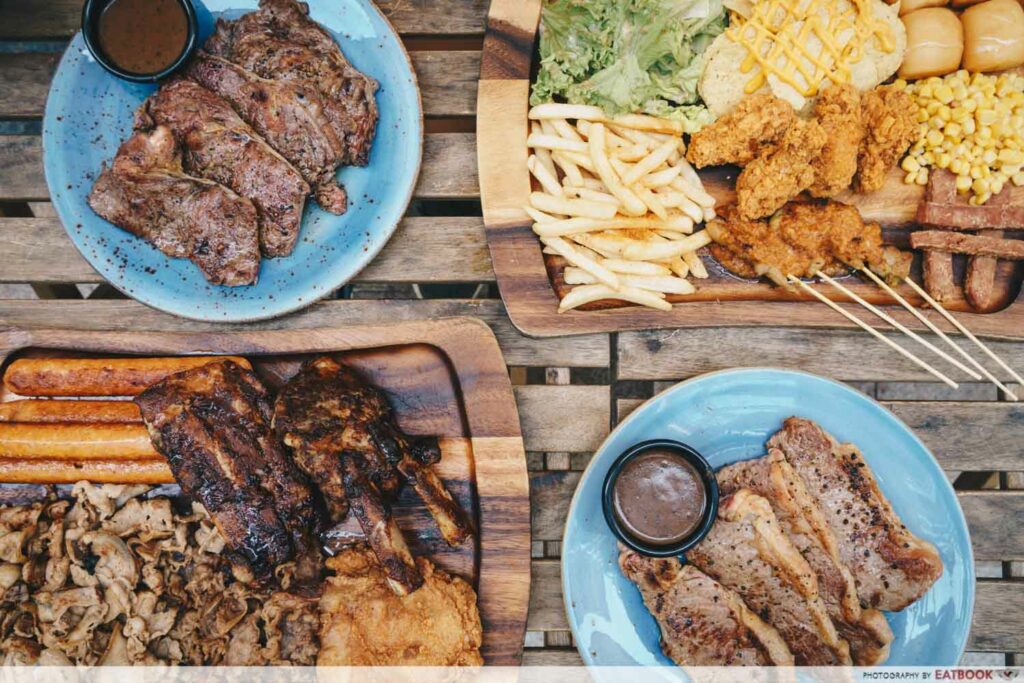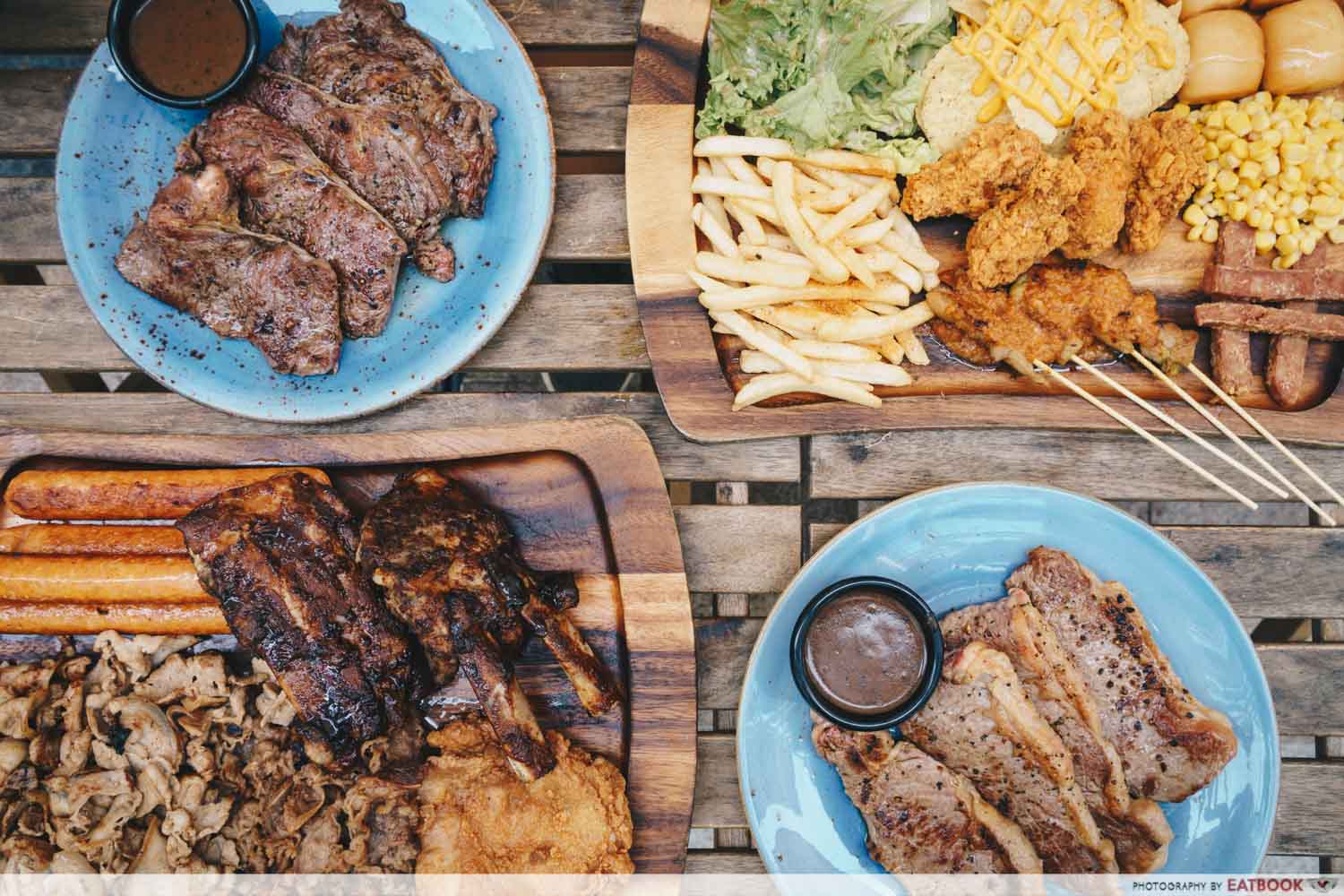 There's no better way to welcome the weekend than the weekend Steak Buffet ($30) at The Armoury. This all-you-can-eat meat feast features Australian grass-fed rib eye and striploin, along with a variety of sides such as nacho chips, fries, spam fries, and many more. 
On top of the cheap steaks, BBQ pork ribs, grilled pork belly, and fried chicken thigh are some of the other meat options that are included in this meat buffet.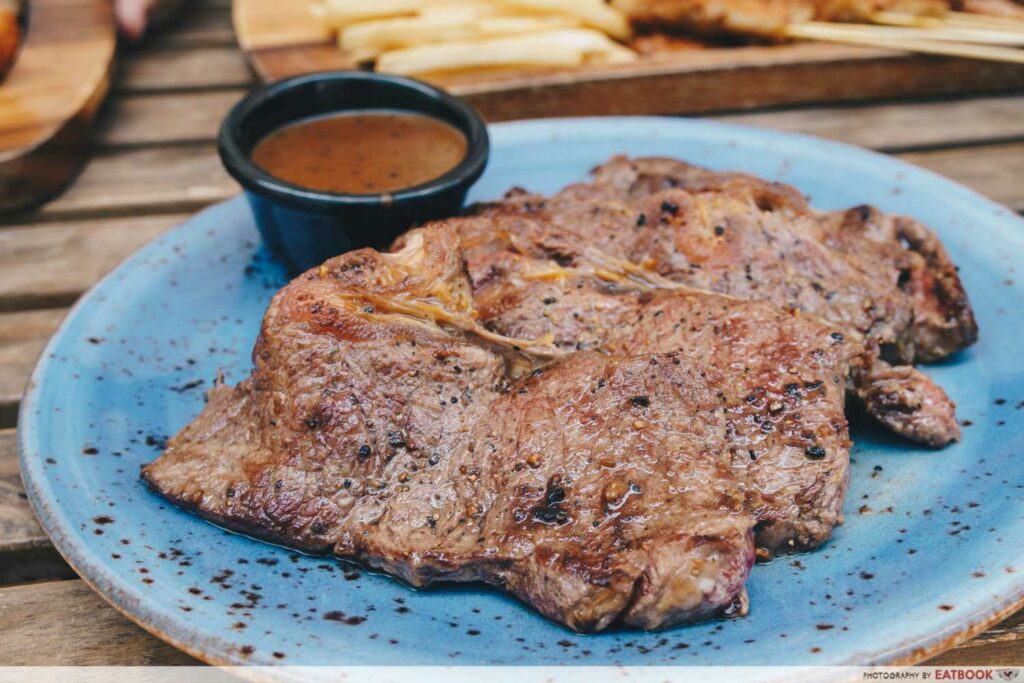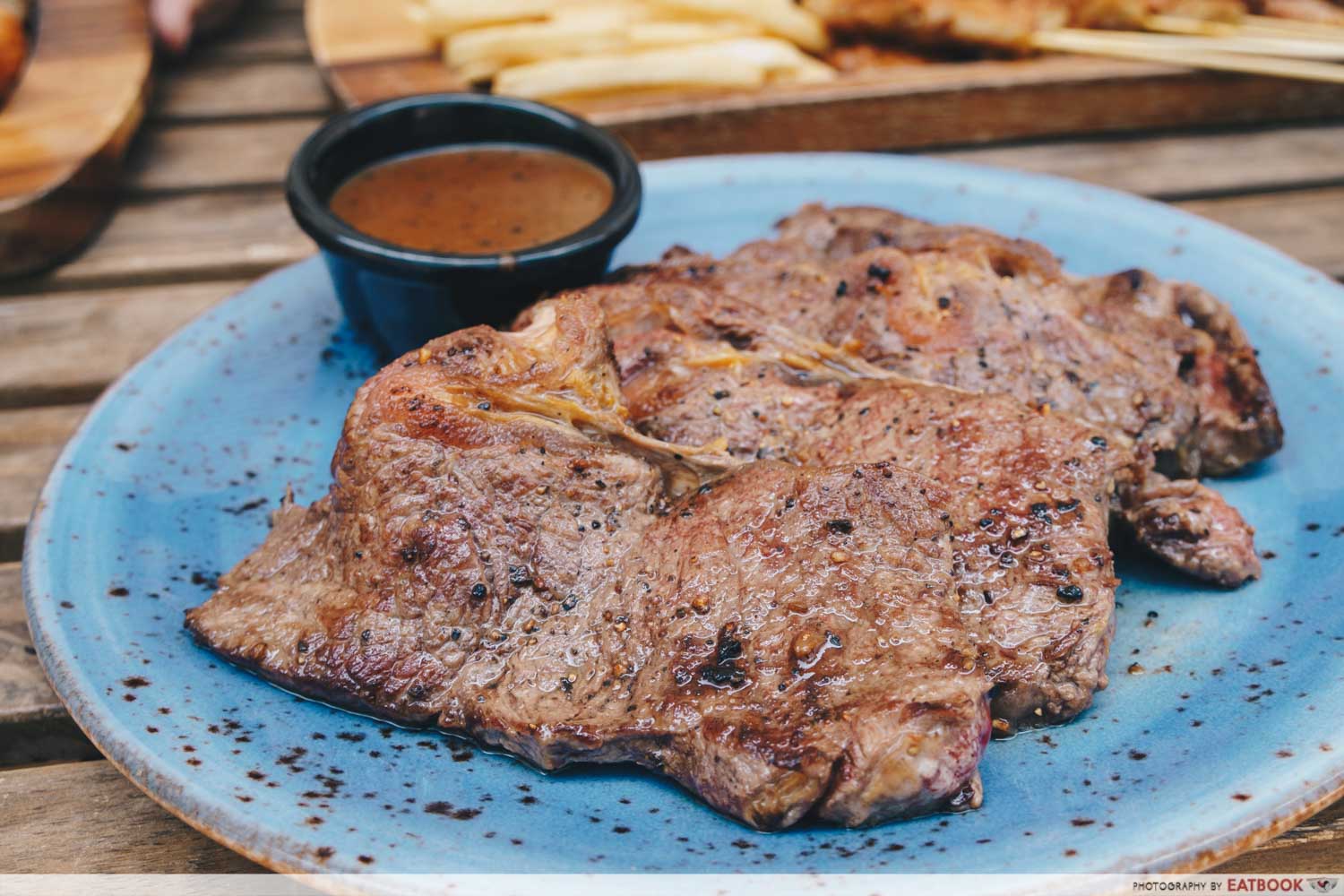 Of course, what you pay is what you get and it's hard to label the steaks here as top-quality nosh. I don't even remember the staff asking for the desired doneness of our steaks.
But at $30 nett, this buffet provides amazing value and is an undisputed option for those looking to fill up their belly. 
Address: 36 Beach Road, Singapore 189766
Buffet hours: Sat-Sun 12pm to 2:30pm, 5pm to 9:30pm
Website
---
5. MediumRare
---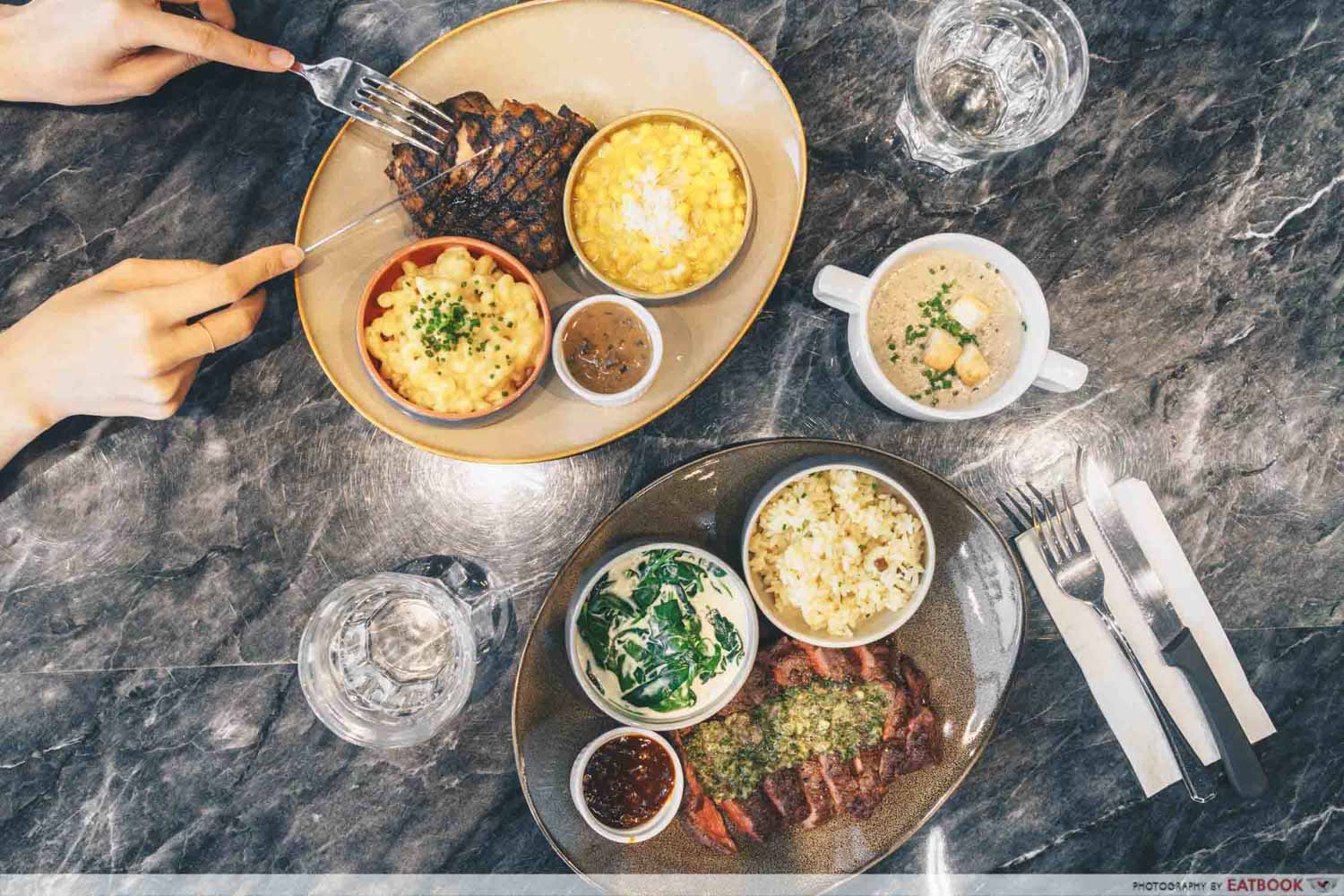 Opened by the people behind affordable French specialist Saveur, MediumRare follows the same ethos of its parent restaurant and serves up tasty fare at wallet-friendly prices. Despite presenting themselves as a steakhouse, they also carry other mains such as rice bowls, poultry, and Saveur's ever-popular duck confit.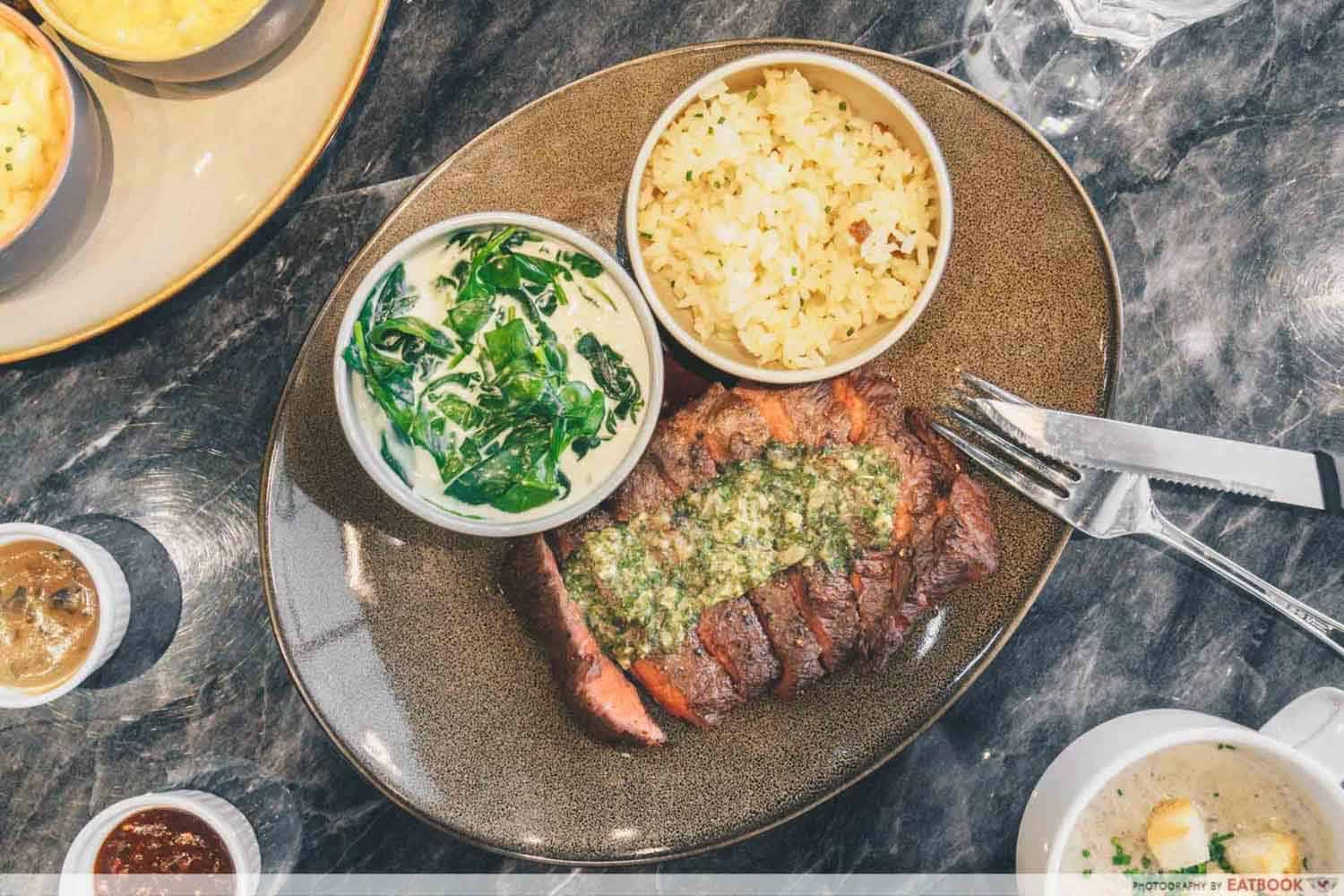 Ribete Steak ($23++) comes with a 200g slab of meat that's accompanied by a generous amount of marbling. We asked for a steak with medium doneness and were satisfied with how it had a nice pink in the centre. 
Unlike The Feather Blade, the steaks here also come with two free sides and a complimentary sauce. There are quite a few sides to choose from, which also include Potato Wedges, Onion Rings, and Crunchy Coleslaw. Sauce options are also aplenty, with Cafe De Paris, Mushroom, Black Pepper, Mala, and Black Bean available.
MediumRare Review: Saveur Opens A Steakhouse At Tampines With Steak Under $20
Address: 2 Tampines Central 5, #01-35, Century Square, Singapore 529509
Opening hours: Daily 12pm to 10pm
Tel: 6789 1121
Website | Menu
---
6. iSTEAKS Diner
---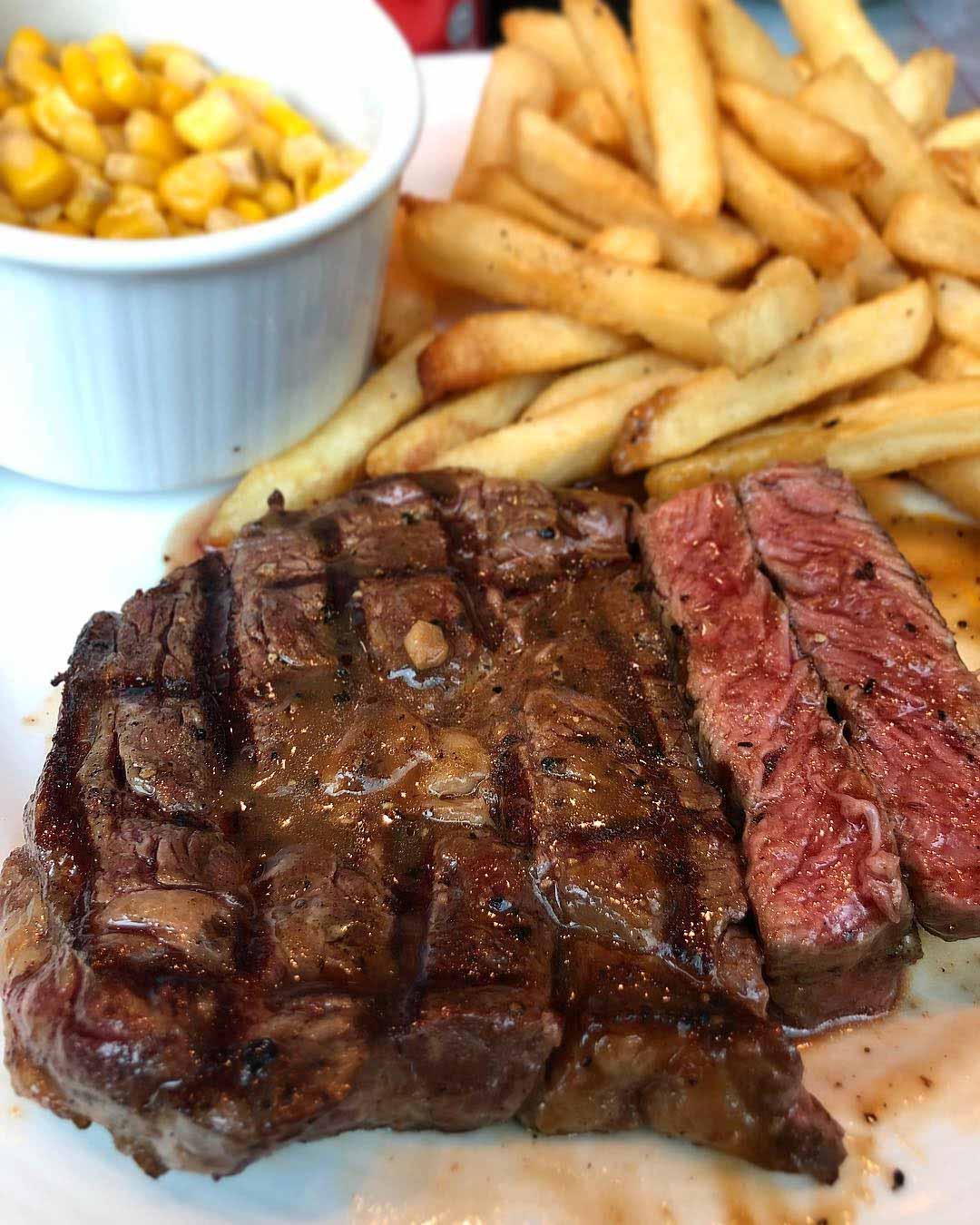 Image credits: @_vphang
Starting from a humble coffee shop store, iSTEAKS Diner has expanded over the years and now has three restaurants islandwide. It's a good idea to head down for their cheap steaks early as the queue tends to stretch for quite a bit. 
My go-to dish is their NZ Ribeye 200g ($23++). The steaks are always cooked to the right doneness and are beautifully marked with even grill marks. 
It also comes with two complimentary sides, with 20 different options to choose from. Popular favourites include Country Baked Beans, Cream Spinach, Cauliflower Cheese, and Mashed Potato. 
Address: 1 Maju Avenue, #02-03, myVillage@Gardens, Singapore 556679
Opening hours: Sun-Thur 11am to 11pm, Fri-Sat 11am to 12pm
Tel: 6285 8839
Website | Menu | Full list of outlets
---
7. BIZEN Okayama Wagyu Steakhouse 
---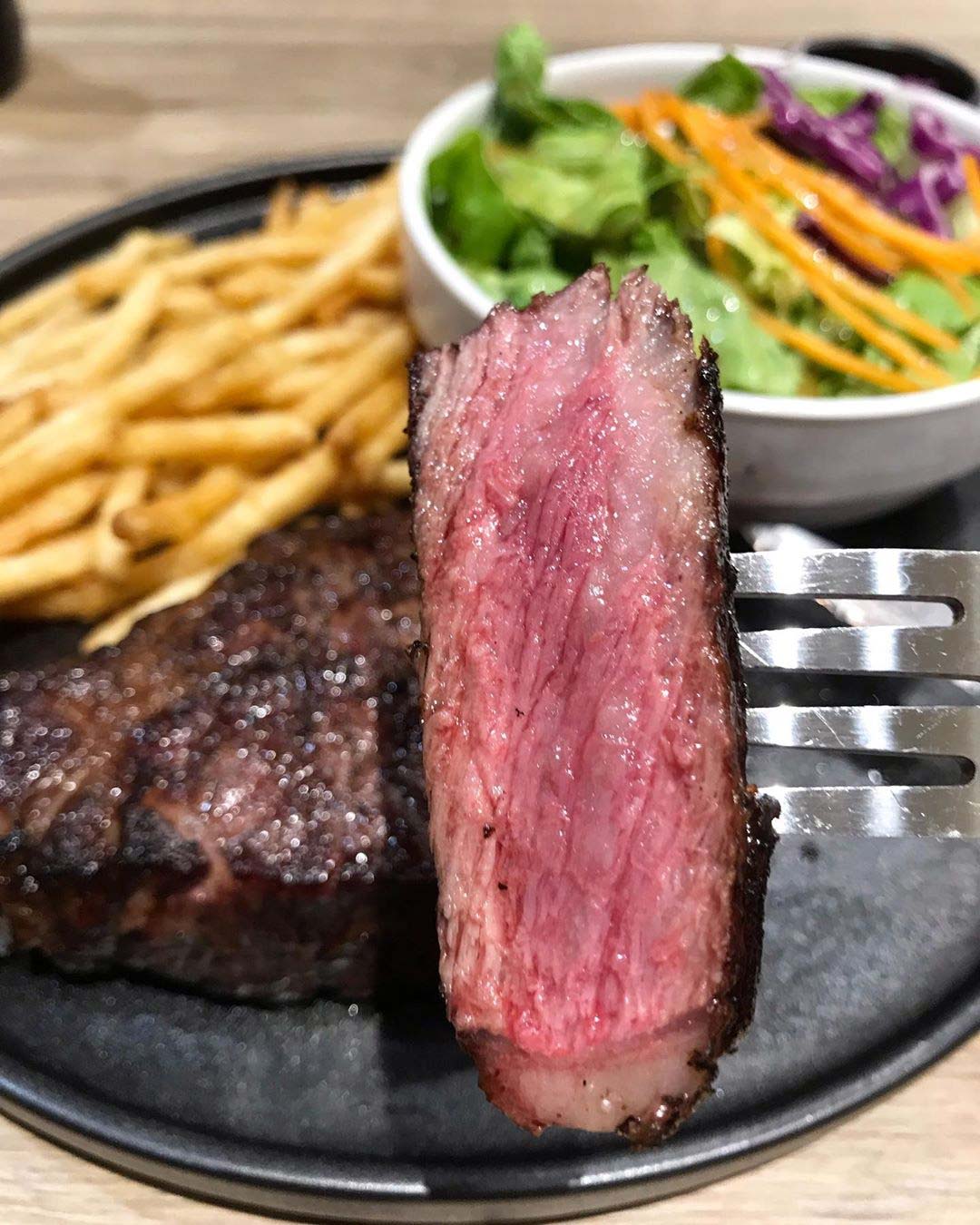 Image credits: @joewee72
Opened by the Astons group of restaurants, BIZEN Okayama Wagyu Steakhouse serves up wagyu steaks at affordable prices. The restaurant has an exclusive partnership with Okayama cattle farmers in Japan, giving them access to many unique cuts which are otherwise hard to find in Singapore. 
There are a whopping 20 different cuts to choose from, with many exciting variants such as Flank 150g ($22.90+), Tri Tip 150g ($23.90+), and Plate 150g ($22.90) available. 
Move away from the usual sirloin and ribeye options, and check out their Flap Steak 150g ($23.90+). It's popularly known as a butcher's cut as butchers usually keep it for themselves to enjoy instead.
Address: 68 Orchard Road, #N3-10, NomadX@Plaza Singapura, Singapore 238839
Opening hours: Daily 11:30am to 10pm
Tel: 6219 3463
Website | Menu | Full list of outlets
---
8. Hamburg Steak Keisuke 
---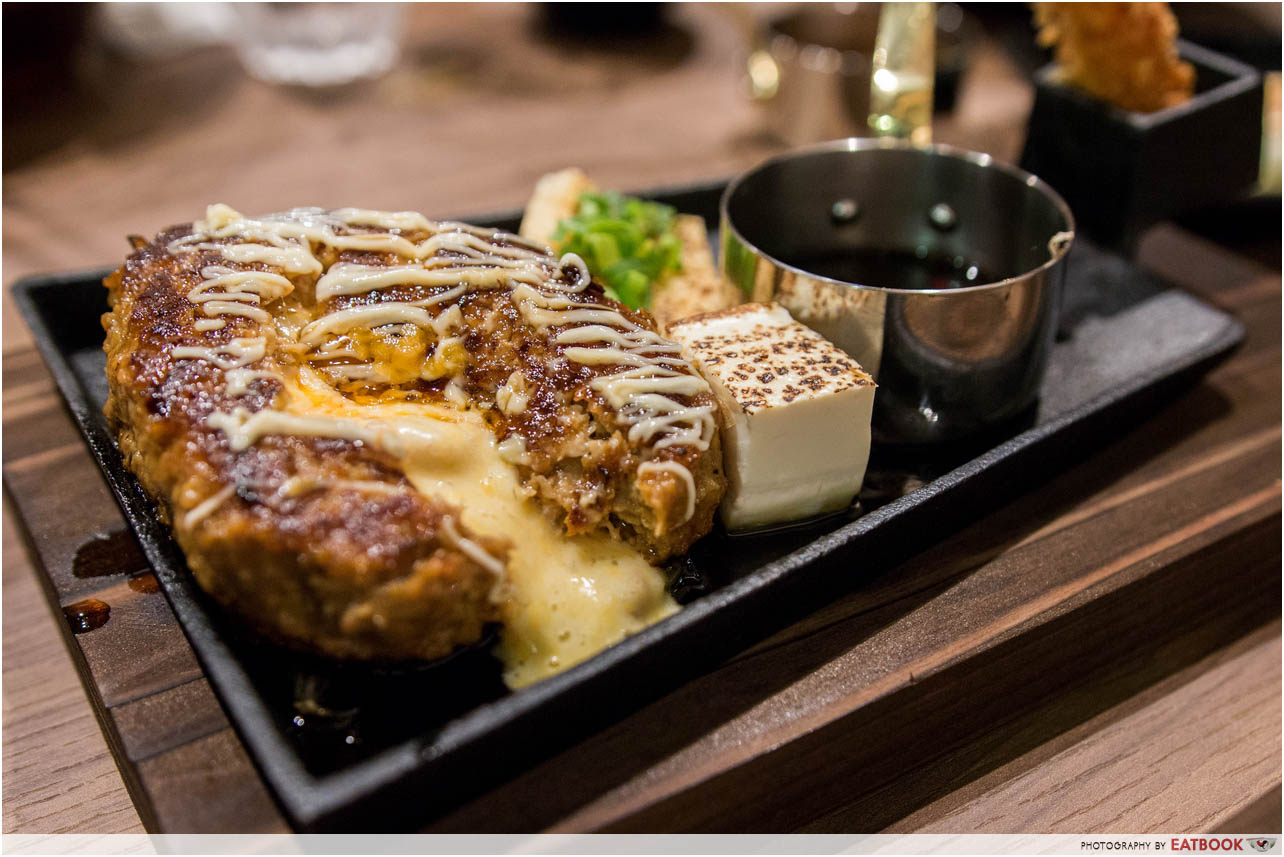 While they're not technically proper steaks, the hamburger steaks at Hamburg Steak Keisuke ought to satisfy any meat cravings. Using only quality US prime beef, the patties here are full of flavour and comes with a beautiful sear. 
There are only two options on the menu, a regular hamburger or one with cheese inside. We went for their Triple Cheese Prime Hamburg Steak Set ($22.90++), which comes with a sharp creamy cheese filling that pairs nicely with the tender meat.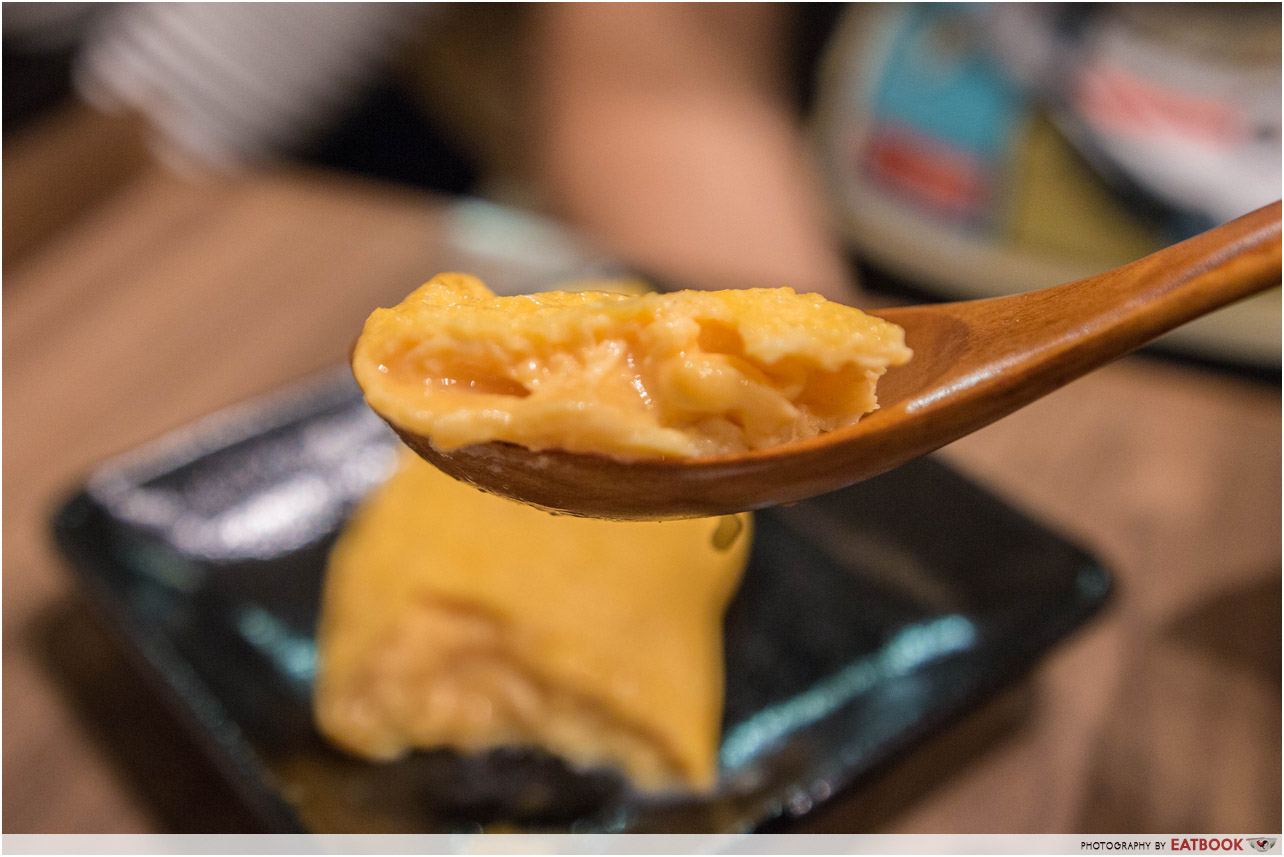 There's also unlimited access to the salad bar, and an egg station here. We liked their plain omelette, which is served in a creamy omu-style. The fluffy inside is buttery and proved to be dangerously addictive. 
Hamburg Steak Keisuke Review: Japanese-style Beef Hamburg Steak With Hidden Cheese Lava
Address: 72 Peck Seah Street, Singapore 079329
Opening hours: Daily 11:30am to 2:30pm, 5:30pm to 10pm
Tel: 6908 4348
Website | Menu
---
9. Outback Steakhouse
---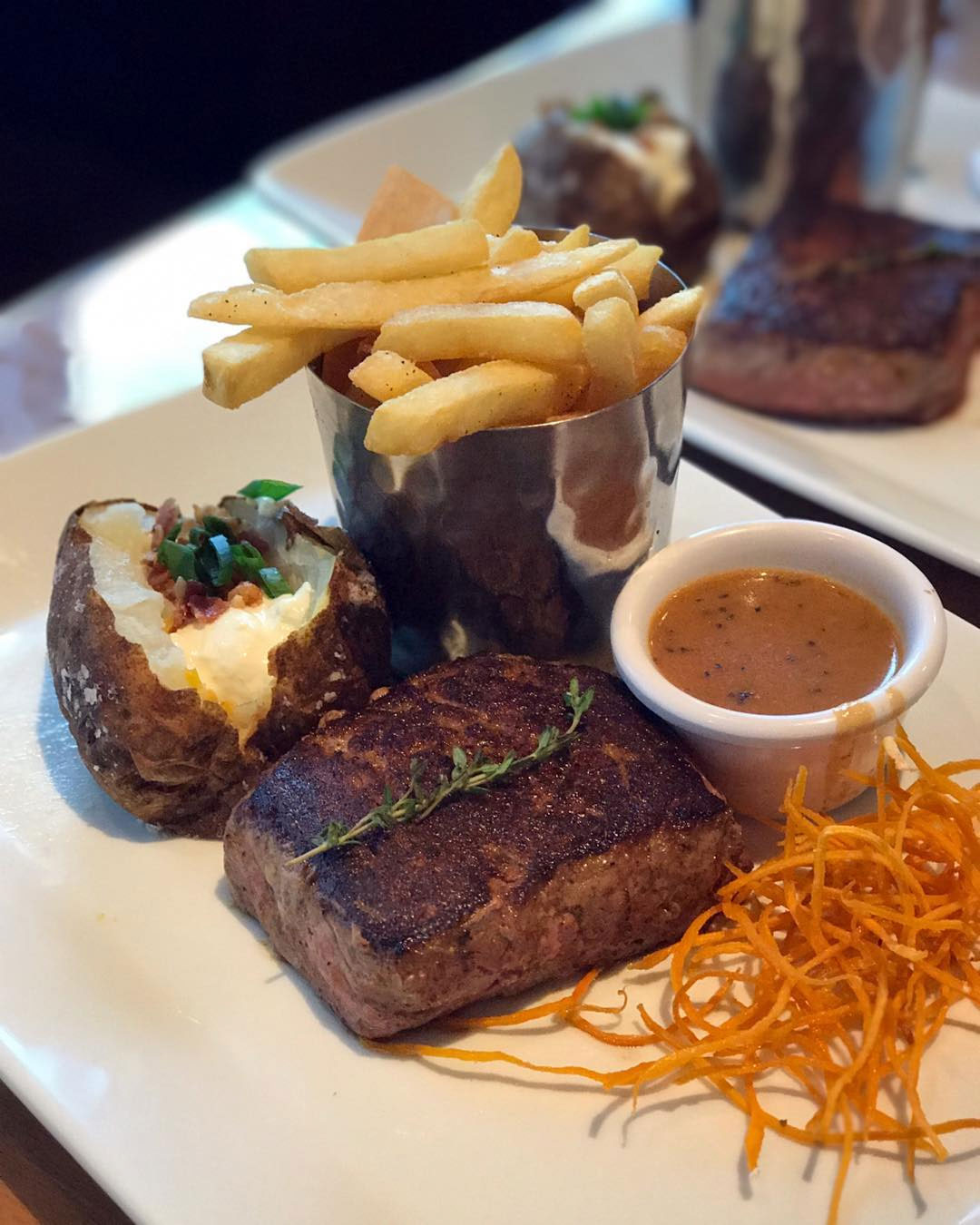 Image credits: @niwlya
At Outback Steakhouse, the juicy steaks from Down Under are dry-aged to concentrate their rich beefy flavour. This process also tenderises the meat, giving it a more palatable texture.  
Their Lunch Menu ($29.90++) is particularly attractive with a soup and drink, along with their signature sirloin that's seasoned with Outback's special blend of spices. Krikey!
Address: 277 Orchard Road, #04-01, Orchard Gateway, Singapore 238858
Opening hours: Daily 11:30am to 10:30pm
Tel: 6702 6842
Website | Menu
---
Tasty steaks for all occasions 
---
Serving up affordable steaks, the restaurants on this list ought to please any hungry meat lover. If you're looking to save even more money, you can also try purchasing some steaks from the supermarket and cook them in the comfort of your kitchen! You can find out more with our steak hacks to ace your homecooking game.
10 Best Steak Restaurants In Singapore For A Classy And Romantic Date Night
If you're feeling a little more indulgent, be sure to check out our guide on the best steak in Singapore instead! 
The top placement in this listicle is brought to you by Meat N Chill.